There is a good chance that this post contains affiliate links. If you make a purchase through them, I may receive a small commission at no extra cost to you! As an Amazon Associate, I earn from qualifying purchases. As ever, all opinions are my own.
Last Updated on January 11, 2022 by Ella
Lisbon is the type of city you fall in love with at first sight. It's gorgeous, it's affordable, and the weather is awesome – what's not to love?
There are so many things to see and do in Lisbon, but once you've visited all of its main tourist attractions, it's time to break out into Lisbon's surrounding area to explore even more! Lisbon's incredible location makes it the perfect base for day trips, and with so many options, you really will feel spoilt for choice. 
There's great tourist infrastructure in this area of Portugal, so it's really easy to get to different day trip destinations from Lisbon without hiring a car. Wherever you want to go, you'll be able to get there by either train, bus or guided tour.
I've returned to Lisbon for two years in a row now, and each time I discover even more day trips I want to take the next time I visit! I feel like I'll have to take about 5 more trips to Lisbon before I have done them all! I've been keeping a mental list of all the possible day trips from Lisbon, but today I decided to finally put it into writing!
So, if you're looking for the best day trips from Lisbon, look no further.
Let's go!
Sintra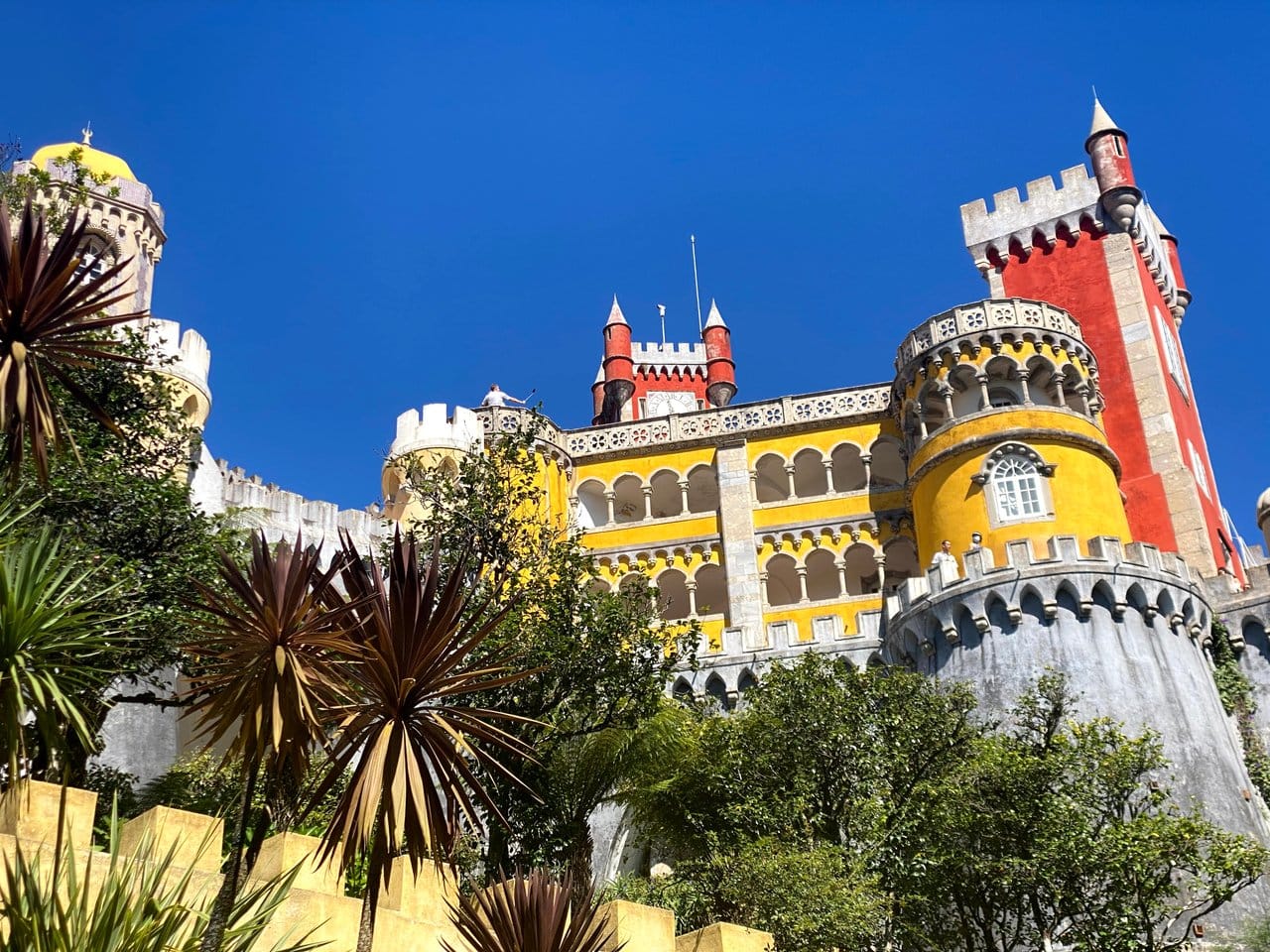 It's almost universally accepted that Sintra is the best day trip from Lisbon. I wholeheartedly agree! Sintra is just 40 minutes from central Lisbon by train, and it has some of the most iconic buildings in Portugal all within one small area.
I bet that most people who visit Lisbon also go to Sintra for a day trip. After all, there's no doubt you'll have seen the vibrant red and yellow walls of the Pena Palace during your trip research, and that palace lures tourists to Sintra like there's no tomorrow.
Sintra is more than just the Pena Palace, though. As well as Pena, you'll find the National Palace, the Quinta da Regaleira, the Castle of the Moors and Monserrate Palace all scattered across the hillsides of Sintra. 
You can visit Sintra independently, or join a tour group. I'm going to write a full guide to visiting Sintra independently soon, but in the meantime I should let you know that, if you want to visit more than one palace, an independent day trip to Sintra is a full-on day and absolutely exhausting! You'll end up walking miles during the day, and the buses between palaces are unreliable to say the least.
For this reason, if you're on a time limit, have mobility issues, or don't want to deal with the confusion of organising your trip, I do recommend taking a guided tour to Sintra from Lisbon. 
This awesome tour takes in the Pena Palace, Quinta da Regaleira and Monserrate Palace (my three favourites!) and gets outstanding reviews.
If you're feeling even more ambitious, this full-day tour visits Sintra as well as another day trip location on this list, the beachside town of Cascais!
Evora
Evora is one of the places I want to visit the most when I return to Lisbon!
This town in the Alentejo region of Portugal has a charming centre and a laid-back atmosphere. As well as being a UNESCO World Heritage Site, Evora's historic centre is also the perfect place to get away from the hustle and bustle of Lisbon and explore inland Portugal.
The main tourist attraction in Evora is the ruins of the 1st-century Roman Temple in town. It definitely isn't what you'd expect to find in Portugal, but it looks fascinating, and I can't wait to learn more about the town's Roman history.
From the Roman Temple, head to the Praça do Giraldo, Evora's main square surrounded by medieval buildings. This is the ideal palace to snap some photos and relax over a coffee before moving on to one of the most bizarre attractions to see on a day trip from Lisbon – the Chapel of Bones at the Church of St. Francis.
The walls of the church's chapel are lined with human bones and skulls, and I have no idea why! I guess I need to finally get myself to Evora to find out!
To get to Evora from Lisbon, you can catch the train or the bus (although services for both are infrequent). The journey takes around 1 hour and 40 minutes.
Many historical attractions surrounding Evora are difficult to get to via public transport. For this reason, if you want to explore everything the area has to offer in one day, I feel confident recommending this tour, which takes in Evora, Zambujeiro Dolmen, and the Evora monoliths. 
Cascais
Heading to the resort town of Cascais is one of the most popular day trips from Lisbon as it's one of the easiest!
You can catch a direct train from Lisbon to Cascais for just a few Euros, since it's just 25 km west of Lisbon. Most visitors to Cascais head straight to the beach, but there are plenty of other things to see and do in Cascais on a day trip from Lisbon.
Start by wandering along the cobbles of old town Cascais and exploring the waterfront to admire the colourful fishermen's cottages. Then, take the path along the Marina de Cascais up to the Santa Marta Lighthouse to snap some photos. A further 10-minute walk along the coast will bring you to Boca do Inferno, where you can stand on blustery days to see the power of the waves crashing into the mainland.
If you have time left, it's popular to take the 403 bus from Cascais to Cabo do Roca, which takes around 45 minutes. Cabo do Roca is the westernmost point of mainland Europe, and the views over the ocean are spectacular from here!
Cascais is also a good base for activities, and from Cascais you can go rock climbing, go on a sunset boat trip, or go deep sea fishing if that's your cup of tea.
Arrábida Natural Park
This coastal paradise is really not far from Lisbon (around 40km) but is a nightmare to get to without a car. For this reason, to go on a day trip to Arrábida you'll need to either rent a car or join an organised tour from Lisbon. The good news is, tours are quite affordable, less hassle, and far cheaper than renting a car.
The 108-acre park is one of 30 naturally protected areas in Portugal, so you can expect stunning natural beauty and plenty of flora and fauna. What's more, the coastline at Arrábida is pristine and totally unspoilt, making it the ideal getaway from the city.
Since Arrábida is not convenient to get to, this is one of the best day trips from Lisbon if you're looking to get off the beaten path and spend a day in paradise. Aside from lounging on the beach, popular things to do in Arrábida include snorkelling, kayaking, dolphin watching, hiking, wine tasting, exploring the sleepy fishing town of Sesimbra and checking out the Sanctuary of Our Lady of Cape Espichel, a popular pilgrimage site.
This epic full-day tour covers all the main attractions of Arrábida, including an optional dolphin-watching excursion, and has fabulous reviews. If you'd prefer to spend some time kayaking whilst in Arrábida, this tour is the one for you!
Nazare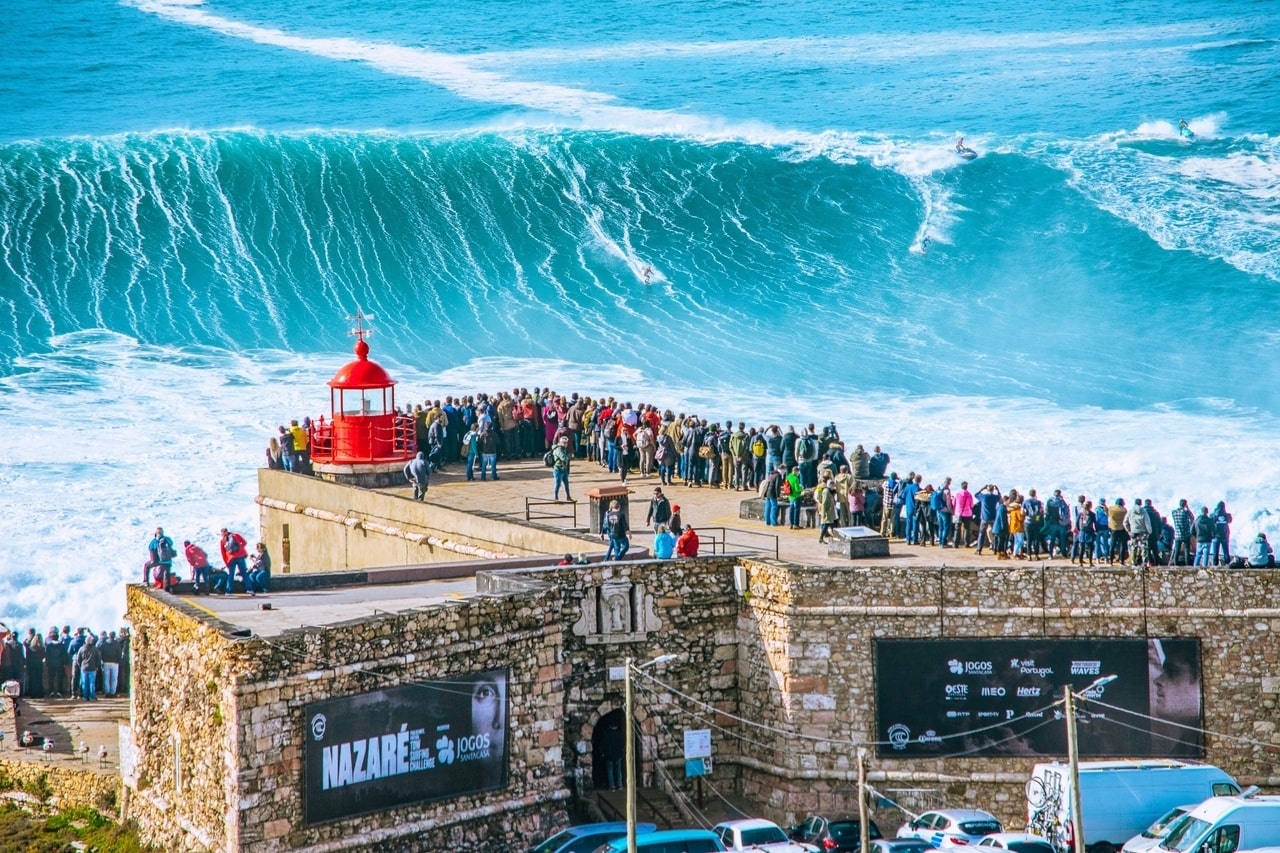 Nazare is famous the world over for its insane giant waves! In fact, the world record for the biggest wave ever surfed is continuously broken here. It's currently held by Brazilian surfer Rodrigo Koxa, who surfed a whopping 80-foot wave in 2017!
To see the big waves in action, you need to visit Nazare from October to March. However, you can visit the famous Nazare lighthouse, overlooking the beach where the huge waves break, year-round. At the lighthouse, you'll find a small museum which costs €1 and explains why the waves here are so massive. It also includes the surfboards and jetskis the surfers use to surf these waves!
Nazare is a brilliant town to visit to enjoy some top-rated seafood, spend time on the beach and generally relax. It's a beloved holiday town for Portuguese tourists, and it's only a matter of time before international tourists take note.
Getting to Nazare from Lisbon can be a chore. You can either drive, catch the bus or join a group tour. Driving takes around 1 hour and 25 minutes, but you'll have to hire a car and pay toll fees for the roads. The bus takes around 1 hour 50 minutes, with tickets costing around €11 each way.
I personally opted to join this guided tour because it stopped at four different day trip destinations from Lisbon, meaning I could see more places in less time. At just €60 for the day, I found it excellent value, and had an unforgettable day!
Fátima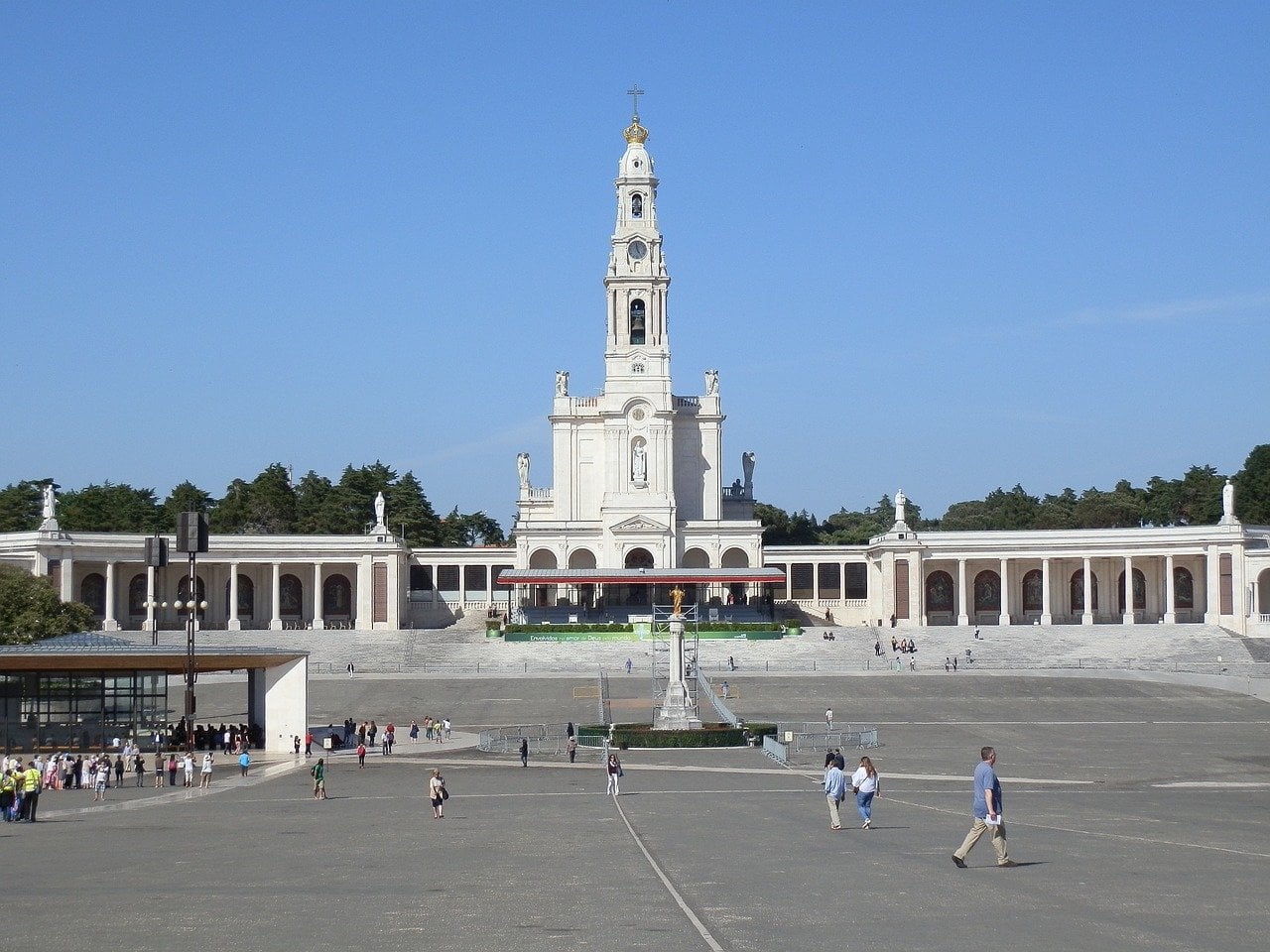 Fátima was another destination I visited on the Nazare, Fatima, Batalha and Obidos day tour I mentioned earlier. 
A visit to Fátima won't be for everybody, and to be honest it wasn't for me. Fátima is a small town in central Portugal that's home to the Sanctuary of Fátima, a Catholic pilgrimage site. I'm not religious, so to be honest Fátima wasn't a place I was super excited to visit.
The guide did a great job of explaining the story of the miracle of Fátima and explaining what the pilgrimage to Fátima involved, but if you're not religious I wouldn't recommend heading to Fátima specifically as a day trip from Lisbon. However, it is included in a lot of group tours, and a brief stop there is interesting and a good way to spend an hour as part of a bigger tour.
Although Fátima wasn't for me, I recognise that this is one of the most popular day trips from Lisbon. It's a sacred, must-visit site for many people, so I felt like it would be wrong not to include it on this list!
If you want to make a dedicated trip to Fátima, you can catch the bus from Lisbon, which takes around 1 hour and 30 minutes.
If you're happy just spending an hour or so in Fátima, a guided tour taking in numerous day trip destinations from Lisbon is your best bet.
Batalha
People head to the tiny town of Batalha from Lisbon to visit the epic Batalha Monastery, which is a designated UNESCO World Heritage site. The monastery was built to celebrate the Portuguese victory over the Castilians in the Battle of Aljubarrota in 1385.
Unfortunately, there's pretty much nothing else to see or do in Batalha aside from the monastery. Because of this, it's a place you should combine with another day trip destination because the monastery itself only requires 30 minutes or so to visit. Batalha was a short stop on the Nazare, Fatima, Batalha and Obidos tour I took, and I was super glad I visited as its gothic architecture is truly legendary.
The bus to Batalha from Lisbon takes 2 hours, so it's pretty far to visit just for the monastery. The bus from Batalha to Fatima is just 45 minutes, so combining these two destinations to make a self-guided day trip could be a good idea if you enjoy visiting religious sites.
Queluz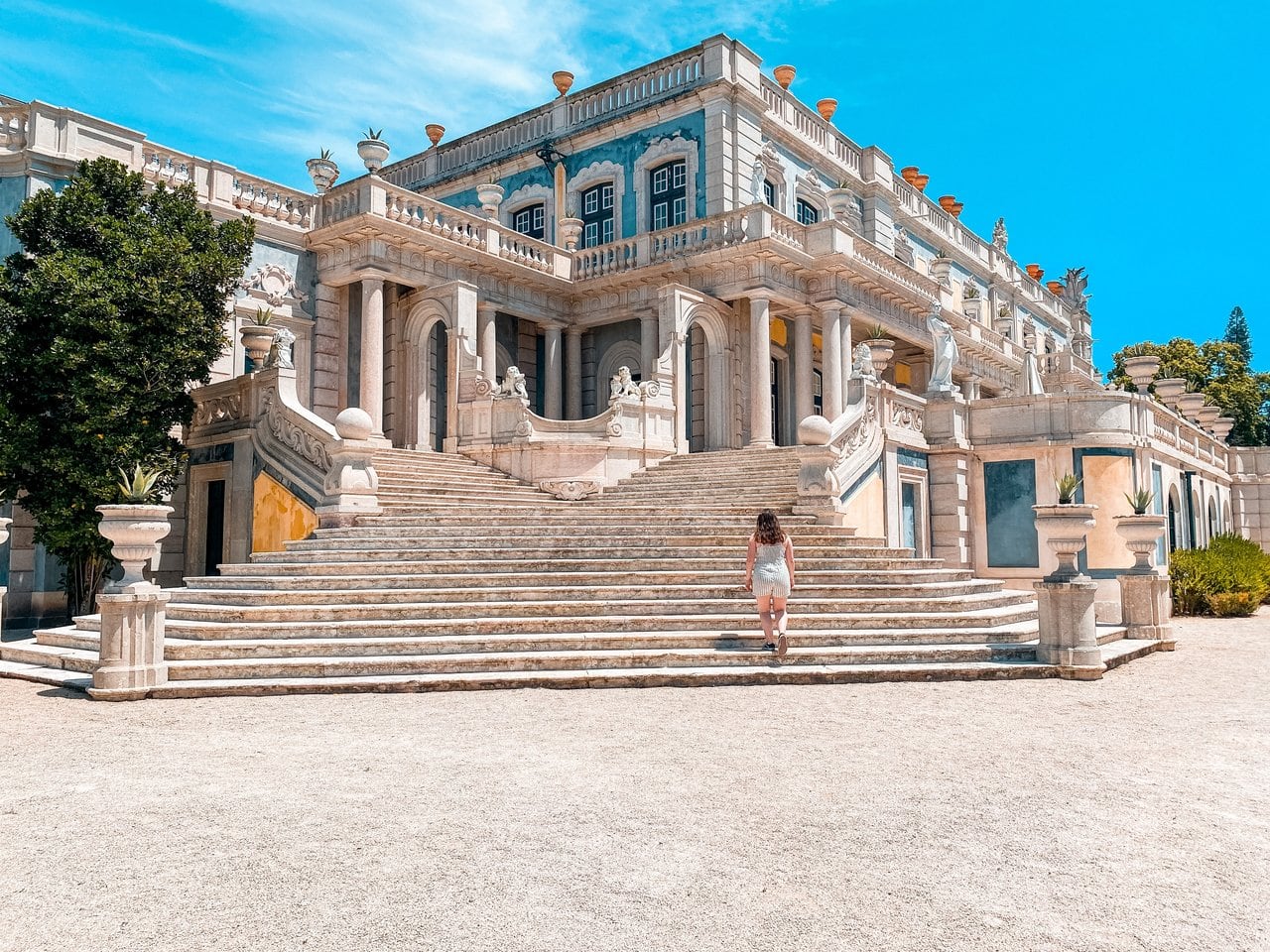 Queluz was SUCH a pleasant surprise for me, and I had no idea just how wonderful it would be until I visited!
The reason people visit Queluz is to visit the Palace of Queluz, as there's not much else in the town. The palace itself, though, will blow away all of your expectations. It's one of the best Portuguese landmarks I visited.
I had already visited Sintra before I visited the Palace of Queluz, so I expected that this palace would not be as brilliant as the many in Sintra.
Since many people head to Sintra only, Queluz is overlooked by most tourists. This makes visiting it even more amazing, though, as during my visit I didn't see another visitor during the three hours I spent there! Not one!!! You can read my post on how to visit Queluz Palace here!
Unlike the places in Sintra, Queluz Palace contained a ton of information about Portuguese history and the history of the palace. Not only are the interiors of the palace absolutely gorgeous, but wandering the gardens will make you feel like a fairytale princess. They're picture-perfect!
Getting to Queluz Palace is super easy from Lisbon – the train ride takes 20 minutes, and from the train station it's a 12-minute walk to the palace. Palace entry tickets cost €10, and you can get them here.
Peniche
If you fancy going surfing, a day trip from Lisbon to Peniche is the perfect solution!
Located in the Oeste region, about a 90-minute bus journey away from Lisbon, Peniche is one of the top surf spots in the country. Whether you're a seasoned pro or have never been surfing in your life, Peniche caters to every type of surfer. 
There are plenty of classes where you can learn to surf in Peniche, or, if you already know what you're doing, simply hire a board and wetsuit and head down to the beach.
Aside from surfing, Peniche has plenty of wonderful beaches to spend some time relaxing on. You can watch the pro surfers over on Supertubos beach or simply relax on Baleal, Areia or Peralta beaches.
Even if you don't want to surf, there are a ton of fun things to do in Peniche. The best thing to do here is definitely visiting the Berlengas Archipelago. You get here from the mainland via a boat (and can book your tickets here) and then explore the main island on foot, pay a visit to the Fort of São João Baptista, go for a snorkel, or simply lounge on the beach.
Obidos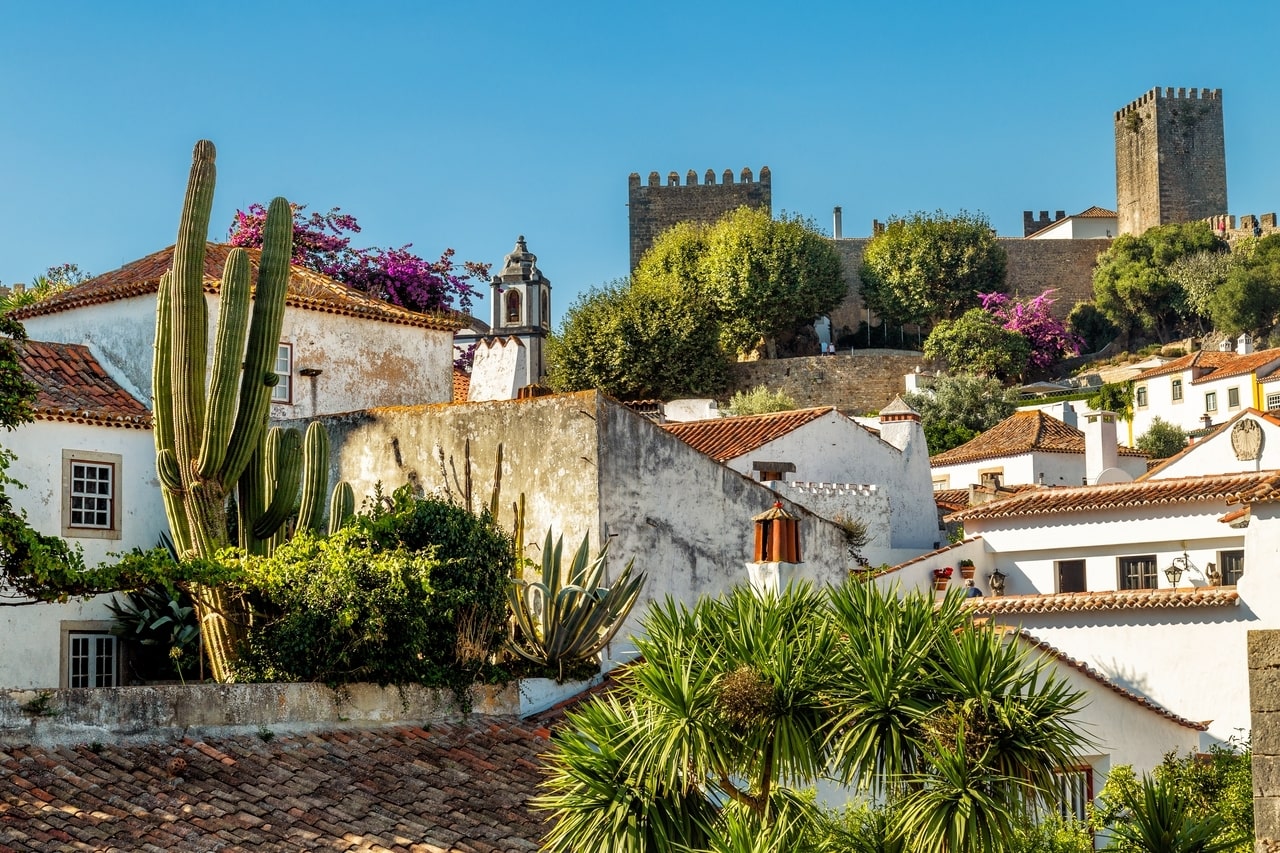 Obidos is a heaven for book lovers, and was named a UNESCO City of Literature in 2015! Ever since the Literary Man Hotel opened, bookshops have been popping up all over the town, and the bookish visitors have followed.
Literary fame aside, Obidos is a charming medieval walled town and an idyllic little place to spend a morning or afternoon. Start by wandering the old town and popping into a few of the cutesy gift shops before stepping up to the town walls for excellent panoramic views as you walk around the town's perimeter.
You shouldn't miss trying ginja, a traditional sour cherry liqueur, in Obidos, which is where it was first made! The bright red liqueur is served in edible chocolate cups, costs around €1, and you'll be able to find it all over the town.
Round off your trip to Obidos by heading to the Obidos Castle. Although it's now a luxury hotel, its original exterior is still intact, and it's a great photo opportunity.
To get to Obidos from Lisbon, you can catch a bus run by Rede Expressos, which takes around 1 hour and 10 minutes. Since there's only enough to do in Obidos (in my experience) to spend a few hours there, I recommend visiting with a group tour that stops at a few different destinations in one day, like the one I took.
Tomar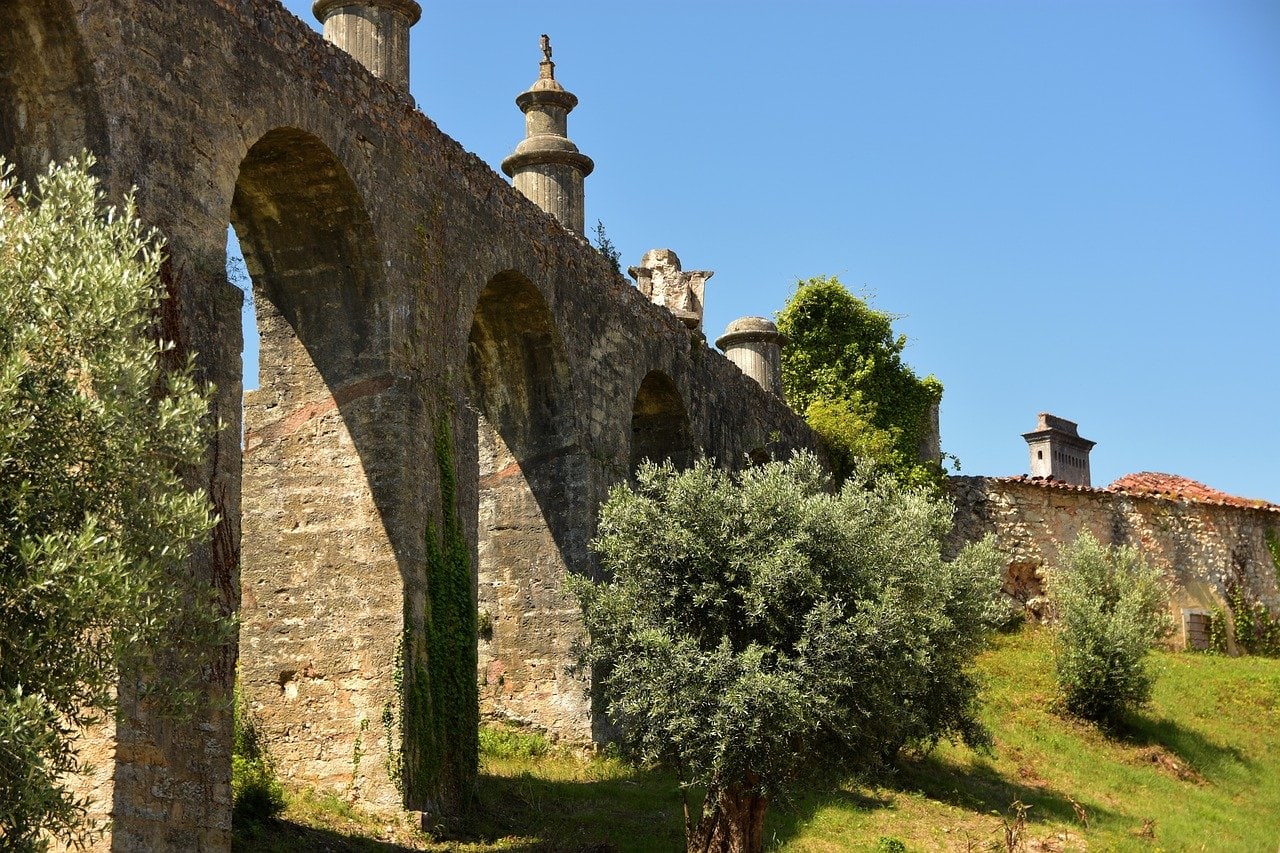 If you're looking for a day trip from Lisbon on the road less travelled, a visit to the ancient town of Tomar could be ideal for you.
This town is a well-kept secret because so few people who travel to Portugal know about it! It's not the place you head to for an exhausting, jam-packed day trip, but if you're a fan of stunning, ancient buildings or want to know more about Portuguese history, Tomar is a great option. 
Start off your visit with a relaxing stroll through the Mata Nacional dos Sete Montes (National Wood of Seven Hills). It's a very relaxing area with beautifully manicured gardens, tonnes of olive trees, and numerous vantage points overlooking the town. From here, be sure to visit the Convent of Christ and Castelo de Tomar, a UNESCO World Heritage Site and all-round beautiful place to visit.
Other not-to-be-missed sites in Tomar include Praca de Republica, the Nabao River and the Pegoes Aqueduct.
Driving to Tomar takes around 80 minutes, with the bus taking 1 hour and 45 minutes and the train taking 2 hours and 5 minutes. Both the bus and the train cost around €10 each way.
To tie in a day trip to Tomar from Lisbon with Almourol Castle, which is situated on an island in the middle of the River Tagus, check out this tour, which includes entry to attractions and transport and gets a lot of hype in the reviews!
Mafra and Ericeira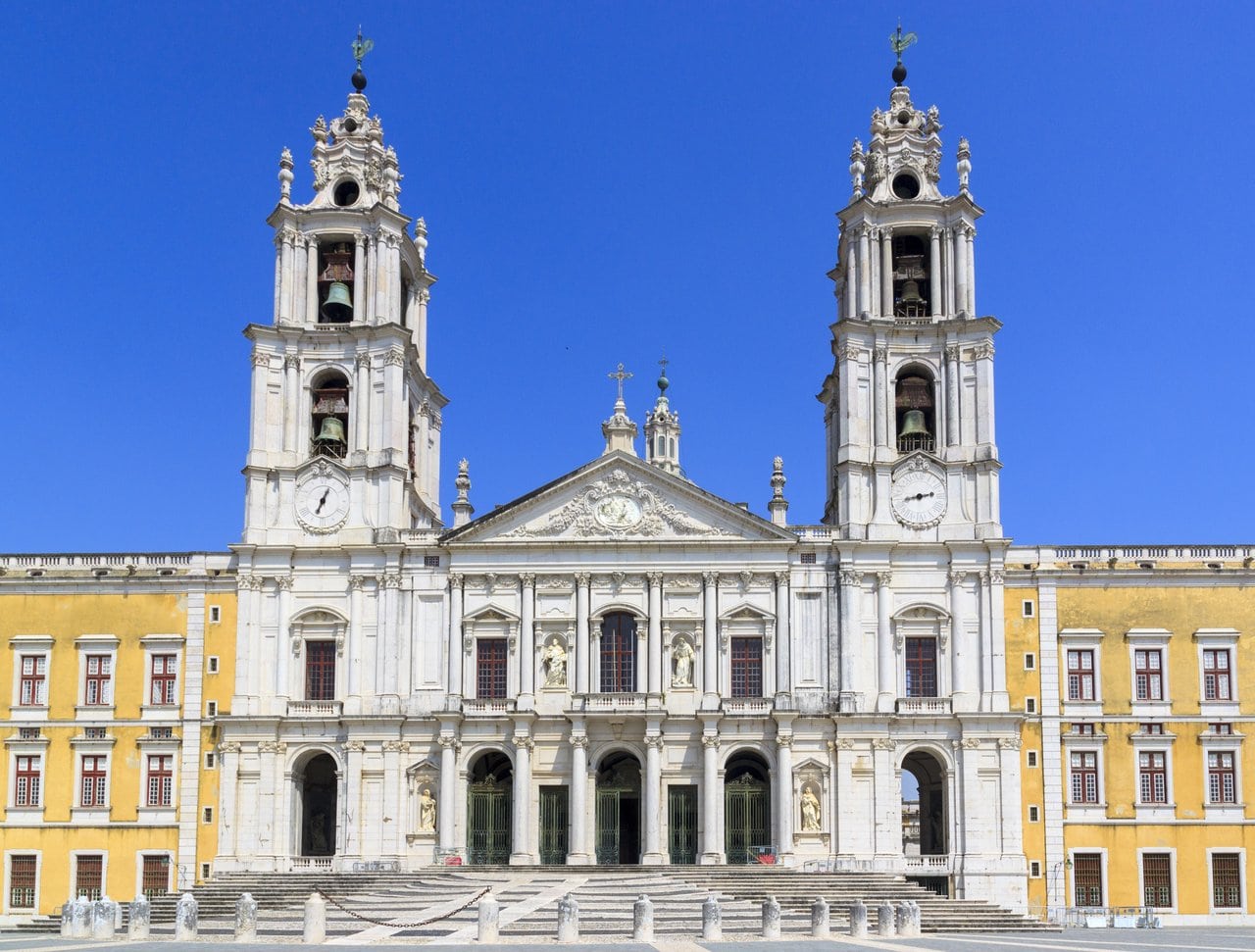 These two small towns are perfect to combine to make a varied full-day trip from Lisbon. 
Start the day in Mafra by paying a visit to the National Palace of Mafra. This HUGE palace contains over 1,200 rooms and a massive library thought to be one of the most beautiful in the world. The palace and grounds are a UNESCO World Heritage Site but, since Mafra is a bit out of the way, you won't see the huge crowds that are typical in places like Sintra or Obidos. Entry costs €6 or is free with the Lisbon Card.
From Mafra, catch the hourly bus operated by Mafrense to the coastal town of Ericeira, which takes just 16 minutes. In Ericeira, you'll be able to spend the afternoon relaxing on the beach or hit the waves. After all, Ericeira is a great surfing destination! With 7 surf breaks to choose from along its 2.5-mile coastline, you'll be spoilt for choice when it comes to waves.
Don't miss wandering through the town of Ericeira – it's very picturesque, and, for such a small town, has an impressive range of cafes and restaurants. Obviously, seafood is the most popular thing to eat at Ericeira, but there are plenty of other options.
From Ericeira, the bus to Lisbon Campo Grande takes 75 minutes. From here, you'll have to take a 10-minute metro ride to Lisbon's centre.
Coimbra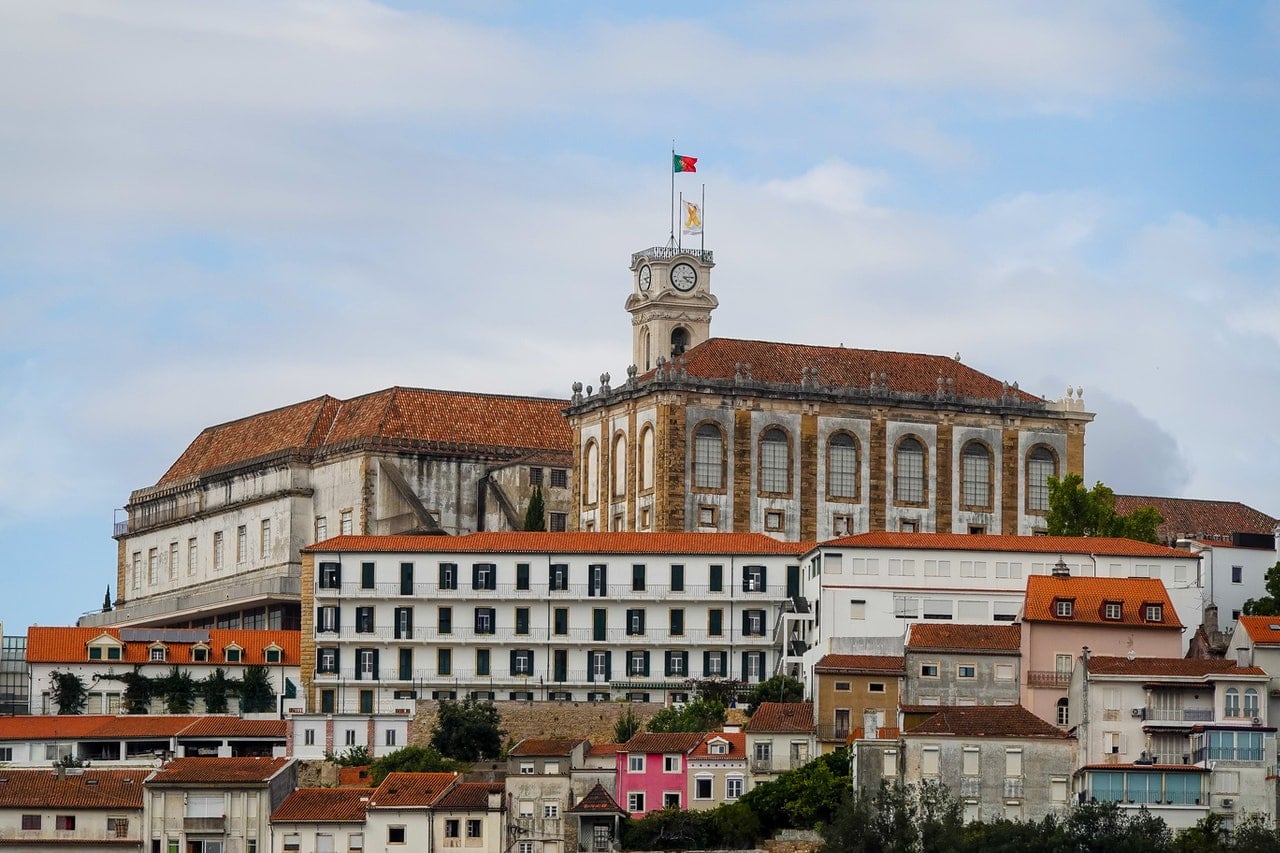 A visit to the UNESCO university city of Coimbra is a great opportunity to get away from the touristy Lisbon and visit a more 'typical' Portuguese city. It's home to one of the oldest universities in Europe! Heading to Coimbra without exploring the university buildings would be a missed opportunity!
Another unmissable stop is the Coimbra library, which contains over 55,000 books and feels like something straight out of a palace. 
Visiting Coimbra isn't all about exploring the city, though. Situated close to the Mondego River, Coimbra is the starting point for tours kayaking along the river.
Coimbra is more of a destination to relax and soak up the atmosphere than to check off a ton of different things to do there. It's also one of the best day trips from Lisbon in winter. Instead of making the 90-minute train journey to Coimbra just to visit for the day, the best way to visit Coimbra is as a stop-off to break up the long journey between Lisbon and Porto.
Cheleiros and Bucelas Wine Regions
When it comes to Portuguese wine, most people think only of the Douro Valley, but there are actually wine regions that you can visit from Lisbon!
This day trip is only really accessible via a guided tour, as you definitely don't want to be drinking and driving, and transport in the Cheleiros and Bucelas regions (and between wineries) is lacking to say the least.
Obviously, a day trip to the Douro Valley in Northern Portugal should be on your Portugal bucket list, but if you're not able to get there, Cheleiros and Bucelas wine regions are a good alternative.
This day tour includes a visit to two wineries, sampling nine wines in total, and a knowledgeable private guide to explain the history of winemaking in the region and the facts behind the wines made here.
Porto
I often see Porto listed as a day trip option from Lisbon, and although it is technically possible, I don't recommend it. The fastest way to get between the two cities is the express train, which still takes 2 hours and 40 minutes each way and costs over €60 for a return ticket. That means you'll be spending over 5 hours that day on public transport! 
No thank you…
Porto is a wonderful city in its own right, and although you can definitely see its highlights in one day, I recommend staying in Porto for at least three nights so that you can use it as a base to go on lots of day trips from Porto. Porto is a brilliant jumping-off point for exploring Northern Portugal, so to only visit Porto for the day would be a waste!
Anyway! My opinions aside, if you do decide to go for a Lisbon to Porto day trip, be sure to stroll along the Ribeira, a pretty street by the river, walk across the iconic Dom Luis I bridge, and walk to the top of the Clerigos Tower for panoramic views of the city. 
The Lello Bookshop is one of the most popular places to visit in all of Portugal, but you'll have to queue for at least one hour, so if you're only spending one day in Portugal this isn't ideal!
---
It's hard to tear yourself away from lovely Lisbon, but with so many fun and fascinating day trips just a short journey away, I promise the time you spend exploring Portugal on day trips from Lisbon is well worth it! 
Whether it's catching a few waves in Peniche, sipping wine in Cheleiros and Bucelas wine regions, or exploring palaces in Sintra, there's a perfect day trip from Lisbon just waiting for you!
Liked this post? Don't forget to pin it!