There is a good chance that this post contains affiliate links. If you make a purchase through them, I may receive a small commission at no extra cost to you! As an Amazon Associate, I earn from qualifying purchases. As ever, all opinions are my own.
Last Updated on July 2, 2021 by Ella
Buying gifts for the surfers in your life can be really tricky. I mean, at first glance, everything is so expensive, and if you're not a surfer yourself, all the equipment involved looks confusing! Who knew surfing involved way more than just a surfboard?
Then there's the issue that every time you search "best gifts for surfers" all the results that pop up seem to be like, a T-Shirt with a cringe slogan like "Surfing the Waves of Life" or something.
Ew.
I get it.
As a surfer myself, I've received a ton of heart-in-the-right-place gifts intended to appeal to my love of surfing that I would never, never use. And I've also spent a ton of time looking for gifts for my friends who surf and have come across the same issues. It's hard to find gifts for surfers that are, you know, actually good.
We don't want T-shirts saying "surf". Trust me. Plus, as I was doing my research on cool gifts for surfers I kept coming across roundups with insanely expensive gifts.
I mean – I love my friends a lot, but let's be real: there's no way I would drop $500+ on a new surfboard or a surfing trip for them! So, most of the gifts for surfers in this list are under $50.
So, here are some realistic and affordable gift ideas for surfers that they will actually love!
1. Sex wax
This is undoubtedly the cheapest gift you can buy a surfer, yet they're guaranteed to appreciate a gift of Sex Wax every time.
And, despite the weird name, it's nowhere near as saucy as it sounds.
Sex wax is the leading brand for surfboard wax. You rub this over your board to stop you from slipping off it. There are other brands which sell wax, but if you know nothing about surfing you absolutely can't go wrong with Sex Wax. Plus, it smells amazing!
Every surfer I know is constantly losing their wax, and probably has about 8 different half-used sticks of it laying around their house. This means buying them another pack (no matter how many they already have) is always a great small gift. 
There are different waxes for different water temperatures, which can be confusing for non-surfers, but just google the water temperature of where they surf and match it with the temperature guides for the wax. 
As a general rule of thumb, I recommend buying either the cold water or cool water versions, depending on the water temperature. If the person is heading on a surf holiday to like, Costa Rica, then obviously the warm water or tropical water versions would be better.
2. Balance board
These have grown in popularity in recent years, especially with surfers who don't actually live very near to the ocean (like me!).
The way this board works is that you stand on it and try to balance as it rolls and wobbles underneath your feet – which is supposed to improve your stability and balance whilst surfing.
Like many other landlocked surfers, a balance board has been on my wishlist forever. It's the ideal way to practice when I can't actually get to the beach!
They can get pretty pricey, though. Some balance boards I've come across cost $160! The good news is there really doesn't seem to be much difference between the expensive ones and the affordable ones, so you're fine to go for an affordable one. This one has almost 1000 5-star reviews, is affordable, and has all the pieces you need to set up the balance board!
3. Surf branded cap
Sun caps are important! They protect skin from the sun, and keep its glare out of your eyes. That's important when you're spending a ton of time in the water getting more sun than you strictly should.
The issue is, though, if you search for, like, "cap for surfers" on Amazon, you'll probably get results showing hats with SURF in big, bold letters.
We're a chill bunch. We're usually lowkey. I imagine your surfer friend would not walk around in a SURF cap. It's too obnoxious.
Instead, pay homage to their love of surfing and protect their face from the sun with a more subtle cap! I recommend this one from Quicksilver. Simple, stylish, and with a cool surf brand logo.
4. Sea glass jewelry
Sea glass is truly gorgeous, and if you want to buy jewelry for a surfer, especially a girl, this is your best bet. It comes in many shades (although the green is my favourite) and you can find it attached to bracelets, necklaces, earrings and even hair grips. 
The best place to look for sea glass jewelry is definitely Etsy, as they just have so, so many different options! These sea glass rings are dainty and stylish, but for more of a statement piece, check out this goooorgeous bracelet featuring sea glass every shade of the ocean. A surfer would be crazy not to love this!
For unisex jewellery, check out Earth Bands. The bracelet itself is made of hemp, and the beads are made of sand from some of the world's best beaches – we're talking Bondi Beach, Santa Cruz and Huntington Beach! It's a great option when it comes to choosing unisex presents for surfers.
If you want more info, I've written a full post evaluating the best and cutest surf bracelets on the market. Check it out here!
5. Reef friendly sunscreen
Another super affordable gift idea for the surfer in your life is to buy them reef-friendly sunscreen.
The bleaching of reefs from chemicals in the water is a real issue for all ocean enthusiasts, and normal sunscreen contributes to this bleaching (and wider pollution of the ocean).
Enter, reef-friendly sunscreen.
This sunscreen was designed with sport in mind, so it won't budge during a surf session. It doesn't pollute, it's water resistant, it's cruelty-free, it's vegan, and it has SPF 50, so it protects your skin like a pro! 
6. Surf Magazine or Magazine Subscription
There are so many surf magazines out there, and surfers unanimously love them. Slick surf photography, round-ups of the latest must-visit destinations and reviews of all the new gear? Yes please!
My favourite surf magazine of all time is Surf Girl, but I understand that it won't appeal to everyone. For unisex appeal, my vote goes to Carve Magazine. These are both UK-based surf magazines.
If you're US-based, Surfer Magazine is probably the most established surf magazine out there and is a safe bet. 
7. Beach changing robe
There's nothing worse than trying to yank a damp wetsuit off whilst trying to hold a towel up in order to not flash everybody on the beach.
That's why I recommend the genius piece of kit we call the changing robe.
It's basically a huge, towel-like poncho you can put over yourself to get changed in privacy on the beach or at the car park. It saves endless hassle and, although it definitely doesn't look cool, is super practical. Beach changing robes aren't just used by surfers, though. I know that families often buy these too to change and dry off their kids during days at the beach.
You gotta love a product that works for everybody!
8. Surf wall art
There are some kickass pieces of surf-inspired wall art available on Etsy, so if your friend's walls need brightening up, this is the place to look. Etsy, in general, is the best place to look for unique or personalised gifts for surfers.
This print of sunrise surfers at Bronte Beach in Sydney is undeniably dreamy, and is available in loads of different sizes.
This framed poster for the cult surf movie The Endless Summer will be recognisable to any surfer. It's such an iconic image and sur to be a talking point when they have people round at their place. (Also, if you haven't seen the movie yet, do it!)
Click here to browse more surf wall art!
9. Surf-inspired candle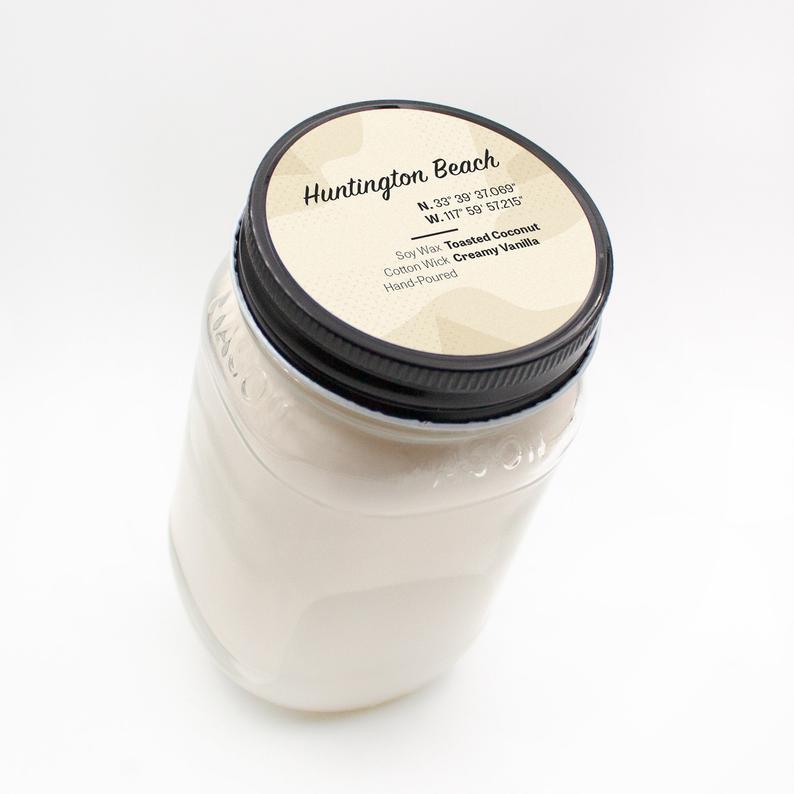 Although not particularly surf-related (after all, what does 'surf' smell like?) A surf-inspired candle is the way forward if the surfer in your life is into home decor and ~ambience~.
Etsy is my favourite place to search for candles as it has SO many different options and it's an easy way to support a small business. This Huntington Beach candle sounds like it smells heavenly. Coconut and vanilla are a match made in heaven in my mind!
If you prefer a lighter fragrance, check out this candle by the Beach Cottage Company, which contains notes of mandarin, jasmine and oceanic mist. I'm not sure what 'oceanic mist' smells like, but I definitely want to find out!
10. Surf coffee table books
Everybody loves coffee table books, and the out-of-this world surf photography was made for coffee table books. Not only is it a way for the surfer in your life to decorate their home and dream about surfing the epic waves included in these, but a surf coffee table book is also a top form of armchair travel! 
You can't go far wrong with surf coffee table books, because surf photography is just so universally great. That said, if you have no idea where to start, here are my recommendations of coffee table gifts for a surfer:
Lonely Planet's Epic Surf Breaks of the World –
Especially perfect for the surfer who's always dreaming of surfing breaks on the other side of the world, and loves to travel for surf. Part-travel guide, part-travel photography book, this tome works as an epic travel and surf bucket list. 
Jeff Divine: 70s Surf Photographs
Surfing in the 70s definitely had its own aesthetic, and this coffee table book captures it perfectly! With photos of Hawaii and California, this book captures the spirit of 70s surf culture.
The History of Surfing
Possibly the most popular surf coffee table book ever, Matt Warshaw's 'The History of Surfing' gets rave reviews across the board.

At nearly 500 pages, and with over 250 photos, this book is the be-all and end-all of the history and culture of surfing.