There is a good chance that this post contains affiliate links. If you make a purchase through them, I may receive a small commission at no extra cost to you! As an Amazon Associate, I earn from qualifying purchases. As ever, all opinions are my own.
If you surf, chances are it plays a pretty huge role in your life. And chances are, you love having surf-related things in your life – even if you're super low-key and don't go around screaming from the rooftops about surfing! So, if you've been looking for a surf bracelet to add to your collection, you've come to the right place.
Realising that the internet, as a whole, doesn't have just one post rounding up the coolest surf bracelets, I decided to make one myself!
Not only did I decide to write this post to save you the hours of scrolling through crappy surf bracelet options and downright cheap-looking s**t on offer, but also because I really want to hype up some of my favourite surf bracelet makers! 
Earth Bands, I'm looking at you!
Personal favouritism aside, It's safe to say that whether you're looking for a bracelet you can wear during a surf, or just looking for a bracelet that reminds you of the most awesome hobby on earth, there'll be a bracelet on this list for you.
Here's a snapshot of what we'll cover in this post:
Best unisex surf bracelet: undoubtedly

Earth Bands

! They get an A+ for sustainability, an epic concept, and the cool, laid-back look of their bracelets.
Best surf bracelet for women: This one. It's cute, dainty, and perfect to dress up or down.
Best surf bracelet for men: These bracelets! They're durable, come in a ton of different colours, and you never have to take them off
The Best Bracelets For Surfers
Earth Bands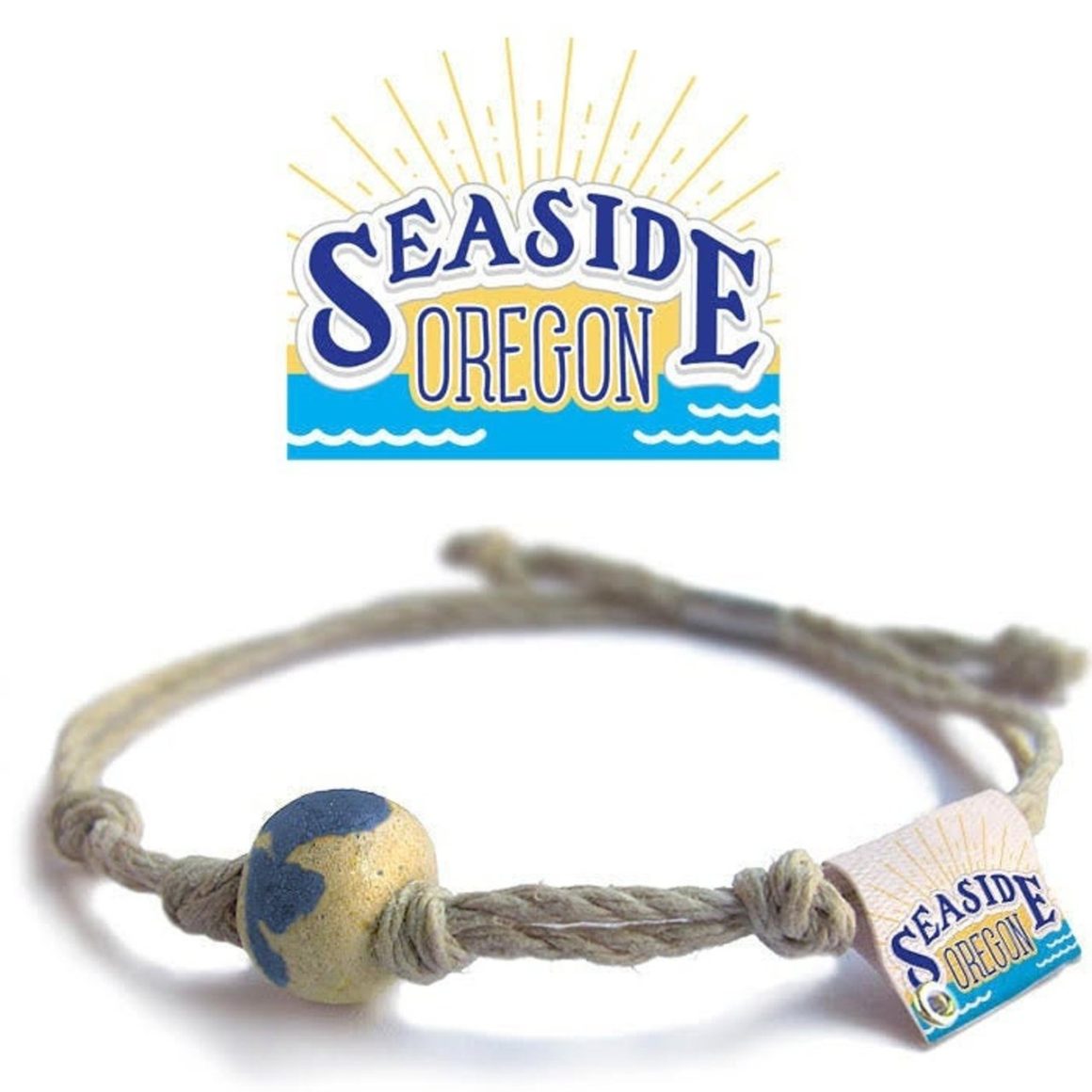 Earth Bands are a funky small business that produces uber-cute, eco-friendly bracelets. What makes their bracelets stand apart from the rest, though, is that each bead contains sand from the beach!
Earth Bands have quite a range of bracelets, but if you head over to their 'beaches' section, you'll find that each surf bracelet is named after a beach. The bead in these bracelets is made out of the sand from that exact beach! That means you can carry some of your favourite surf spots around with you.
What's more, Earth Bands takes being eco-friendly to the next level. Not only is each bracelet handmade with eco-friendly and US-sourced materials, but Earth Bands also donate $1 from each sale to Rainforest Action Network, Sea Shepherd or Protect Our Winters. 
Pros: Eco-friendly, wide range of US beaches to choose from, unisex
Cons: Very limited selection of beaches outside the US, made in the USA, so shipping to other countries may be expensive
Is an Earth Band bracelet the perfect surf bracelet for you?
If you're looking to purchase gifts for a surfer but aren't sure of their tastes, Earth Bands' bracelets are a safe pick. They're unisex, they're simple, and they're affordable. If you live and surf in the USA, there's also a good chance you'll be able to find a bracelet made out of the sand at your favourite break.
Cowrie Shell Surf Bracelet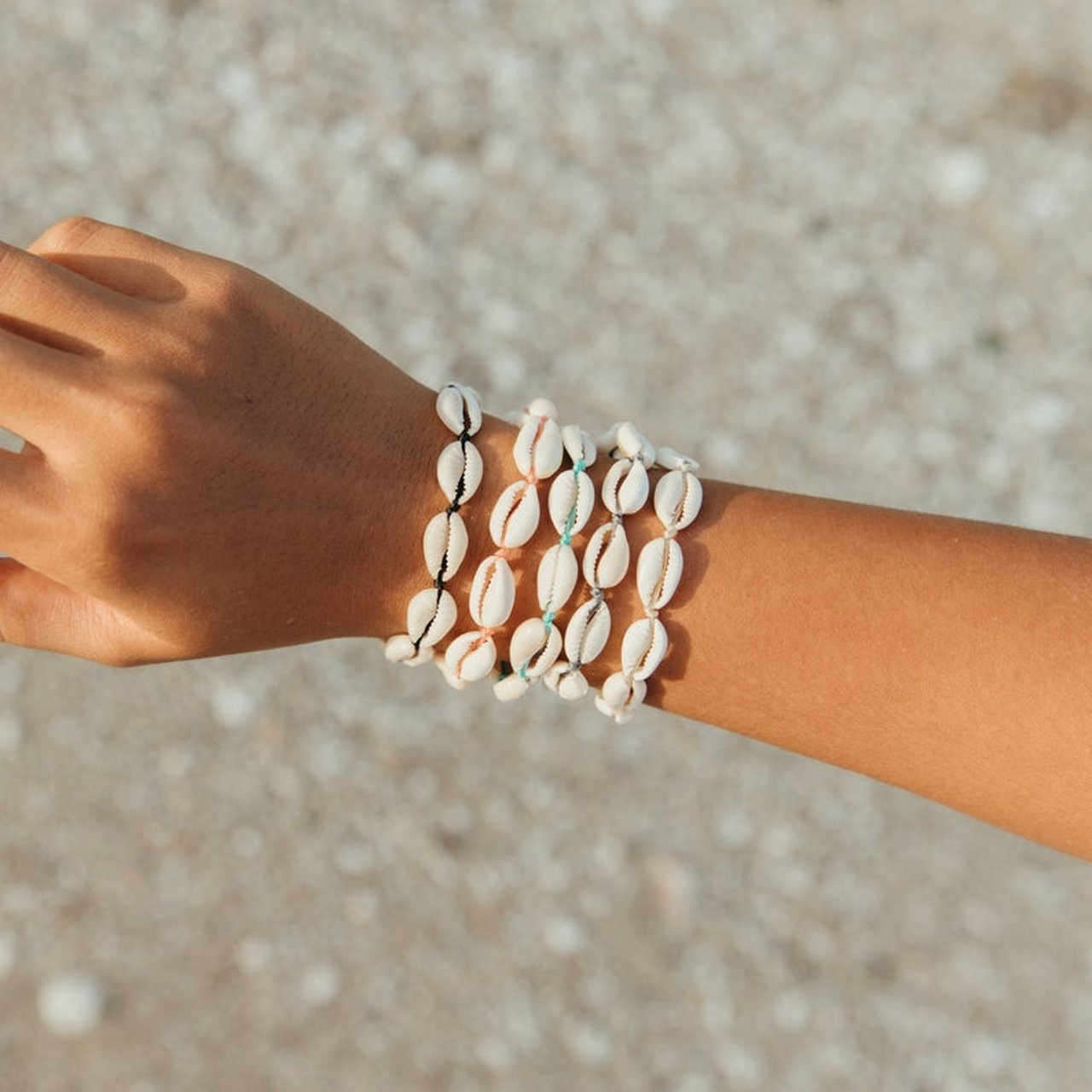 When it comes to surf bracelets, a Cowrie Shell Bracelet is as classic as they come. And this is for good reason – they're simple, yet look cute. 
This type of surf bracelet is more commonly worn by women, but it's also fine for men to wear as it's so simple and doesn't have any particularly feminine touches.
What I love about these bracelets is that you can choose the colour of silk thread that holds the shells together, so it's easy to customise the bracelet depending on your style. The bracelet is handmade and created using ethical practices – perfect for sustainability-focused shoppers.
Another great aspect of the Cowrie Shell Bracelet is that it's very affordable since its design and materials are so simple and natural.
Pros: Simple, customisable, ethically made, inexpensive.
Cons: Delicate – it may not last too long if you go surfing in it.
Is a Cowrie Shell bracelet the perfect surf bracelet for you?
For an inexpensive addition to your jewellery collection that has ties to surfing, the Cowrie Shell bracelet is a great option. Since the shells are white, this bracelet is a great staple piece that you can match with almost any outfit.
Sea Glass Bracelet
There's something about sea glass that makes it such a gorgeous addition to jewellery! This is especially clear when seen on this sea glass bracelet. 
Made in Hawaii, one of the best surf destinations on Earth, this surf bracelet consists of four different pieces of sea glass in different hues of blue, held together with an adjustable brown leather cord. It'll be impossible to look at this bracelet without thinking of the sea, due to the lovely blue shades of the glass.
Obviously, since this bracelet has glass pendants, it's a delicate piece. It'll still be fine to wear regularly but is probably not durable enough to wear to the gym or on a surf.
The bracelet ships in a gift box and is wrapped in ribbon as standard, so if you're looking to purchase a surf bracelet as a gift, this is the best one!
Pros: Unique sea glass pendants, already gift-wrapped.
Cons: Sea glass is delicate, so it shouldn't be worn for sport.
Is a Sea Glass bracelet the perfect surf bracelet for you?
A sea glass bracelet is a statement piece, and costs slightly more than the more 'casual' surf bracelets on this list. For this reason, it's ideal to dress up or down – but if you want something you can wear constantly, this isn't the right surf bracelet for you. Since sea glass is delicate, you'll have to take care with what you do whilst wearing it.
Silver Wave Surf Bracelet
The wave outline is always popular on jewellery for surfers, and on this sterling silver bracelet it looks pretty darn great!
The small silver wave outline is attached to a dainty sterling silver chain. It's simple, yet beautiful, making it the ideal surf bracelet for women. What's great about the bracelet is it's such a subtle nod to surfing, rather than having a bracelet with, like, the word SURF on it in big, bold letters.
Obviously, since this bracelet is made out of sterling silver, this bracelet is something to wear for more formal occasions, rather than whilst you're surfing. However, if you're wanting to carry a memento of the ocean with you whenever you're not in the ocean yourself, this bracelet will make a great addition to any outfit.
Pros: Perfect for formal occasions, adjustable length, subtle.
Cons: Too dainty for full-time wear.
Is a Silver Wave bracelet the perfect surf bracelet for you?
This bracelet is probably the best option on this list if you're looking for a surf bracelet that's more subtle, and ideal for wearing on formal occasions. However, if you're looking for the best surf bracelets for men, you can skip this option – the thin chain makes it look fairly feminine. 
Surf Friendship Bracelet
There's no bracelet more durable than a friendship bracelet, so if you're looking for a surf bracelet you don't ever need to take off, a friendship bracelet is the perfect option for you. Because these are made from cotton, you can wear them to the beach, wear them to the gym, and wear them in the shower with no problems. 
There's a chance that, after a lot of exposure to the sun or saltwater, the colours will start to fade. But to be honest, that all just adds to the charm. They look cooler when they're faded! You can also mix and match different styles and colours of friendship bracelets. The design on these friendship bracelets is super fun, but you can also find ones that are just one colour. 
Surf friendship bracelets are totally unisex, very affordable, and super low maintenance.
Pros: Durable, affordable, unisex.
Cons: Colours can fade.
Is a Friendship Bracelet the perfect surf bracelet for you?
Probably! They're affordable, you can mix-and-match, they're unisex, and they're durable! There are barely any downsides to friendship bracelets for surfers, so if you want to know the best all-rounder surf bracelet, the friendship bracelet is it!
Final Thoughts On The Best Surf Bracelets 
I hope this post has helped you to find some awesome surf bracelets, either to buy for yourself or as a gift! Obviously, which surf bracelet is best for you depends on what you're looking for, where you want to wear the bracelet, and what style you're into. 
Let me know if I've missed anything in the comments!
Until next time
Ella