There is a good chance that this post contains affiliate links. If you make a purchase through them, I may receive a small commission at no extra cost to you! As an Amazon Associate, I earn from qualifying purchases. As ever, all opinions are my own.
Last Updated on February 23, 2021 by Ella
Perranporth is a gorgeous beach town on the north coast of Cornwall in England. If you've spent any time on my blog before you'll know that I ADORE Perranporth. I have visited it almost 40 times at this point! Something I hadn't previously considered, though, was whether or not Perranporth is dog friendly. 
Since my delightful Border Collie joined my family two years ago, I've spent a lot of time on my visits to Perranporth seeing whether or not it is dog friendly. I've since learnt all the rules about dogs on Perranporth beach, which pubs in Perranporth are dog friendly and what the best things to do with dogs in Perranporth are.
Since getting our dog we have visited Perranporth with her 5 times, so I feel pretty clued up on the various dog rules in Perranporth by now. I truly believe Perranporth is an amazing place for dogs, and ours always has the time of her life playing on the beach!
So, if you're planning a trip to Perranporth with your pooch, here's everything you need to know before you go.
Can Dogs Go on Perranporth Beach?
The good news is that dogs can go on Perranporth beach all year round! There are some restrictions during the summer months, but you definitely don't have to worry about bringing your dog to Perranporth beach.
During July and August, dogs must be on their leads on Perranporth beach between 10am and 5pm. As the owner of a Border Collie, I know she requires a lot of exercise. Luckily, the rules are easy to work around.
I started the day by taking our dog on a long walk before 10am, so she could to play in the water and run wild. Then, I'd bring her to the beach with us in the afternoon on her lead. We made sure to take her for short strolls to the water if she needed to cool down a little. Then, I gave her her second long walk of the day in the evening. I liked to do this around sunset, which is one of the most gorgeous times to be on Perranporth beach! 
The lead restrictions are only for part of the beach (basically the part where all the people are). If you go onto the sand dunes or further up towards the Perran Sands area your dog can enjoy Perranporth beach without a lead at any time of day.
During July and August when restrictions are in place there are signposts clearly visible on the beach. The signposts have a map of where the rules apply to, so it really is simple and clear to understand.
Perranporth beach is 3 miles long, so it's safe to say there is LOADS of space for dogs to run around. In addition to the sea, which my dog loved paddling in, there are also plenty of rock pools. Some of them are even pretty deep, so if your dog wants to have a swim but is a bit scared of the waves in the sea they'll love the rock pools!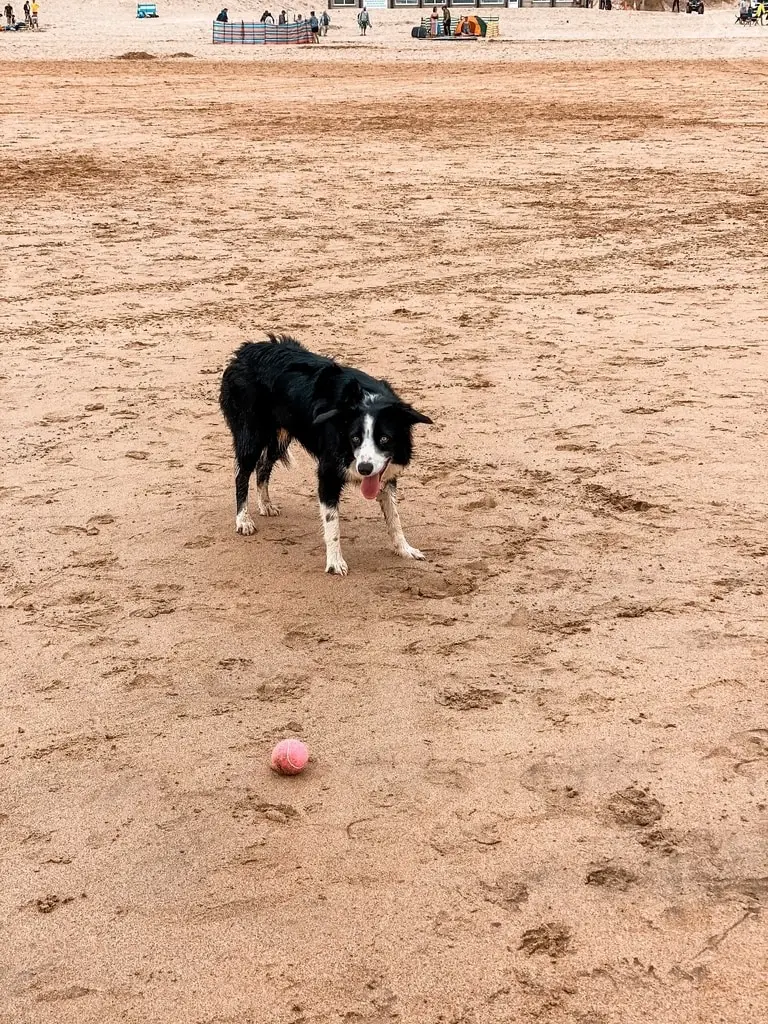 What to Pack for Dogs on Perranporth Beach?
If you're taking your dog to the beach during the day in summer be sure to do everything you can to keep them cool. Summer days in Perranporth can get super hot!
I recommend bringing a pop-up beach tent for shade and picking a spot on the beach near the stream, so you can take your dog to paddle and cool off there every so often. A fold-up bowl with enough water for them is essential too.
Be sure to pack a big bottle of water! If your dog is anything like mine, she will constantly get sand in her water bowl and you'll need to replace the water.
I also recommend packing some ice cubes if you're going to be taking a cool bag to the beach (perfect for keeping drinks cold, too!). My dog adores licking and crunching on ice cubes in summer. Not only does it look totally adorable but it keeps her hydrated and cool!
This year, we purchased a cool mat for our dog to lie on or for us to put on her back when it was hot. This was an amazing investment and helped to keep her cool when the sun was beating down.
Dog Friendly Cottages in Perranporth
As you'll probably have realised by now, Perranporth is a very dog friendly holiday destination. There's also lots of high-quality dog friendly accommodation.
The best place to find dog friendly holiday cottages in Perranporth is Airbnb, where you can input your dates and the number of people and explore what's available. Just don't forget to select the "pets allowed" filter before you search! You can search for Airbnbs in Perranporth here.
In terms of my personal favourites, here are my recommendations (please note prices can fluctuate depending on the season):
This amazing apartment is in The Dunes – an apartment complex that is without a doubt THE best place to stay in Perranporth. You simply can't beat the views and location of this place. It sleeps up to 6 and costs £110 per night (plus an extra £30 per night for your dog). 
If you split that between 6 of you it's a great deal! 
The interiors are brand new and sparkling clean as the building is only a couple of years old, and the apartment has an astonishing 4.97/5 rating. This modern apartment is also in The Dunes but sleeps 4 people instead, for the slightly lower price of £120 per night (including your dog)!
This cosy family home sleeps 6 and is just a few minutes' walk from the beach. It has all the home comforts you could possibly want, and at around £100 per night is excellent value! I love the way it's decorated and a huge perk of this house is that it has a garden! Perfect for letting your dog out for some fresh air.
This budget-friendly flat is in an ideal location right next to the beach and has recently been renovated. It sleeps up to 4 people and costs just £70 per night – a bargain!
---
Looking for different accommodation options in Perranporth? Check out my full guide on where to stay in Perranporth!
---
Which Pubs in Perranporth Are Dog Friendly?
You're going to love the answer to this – pretty much all the pubs in Perranporth are dog friendly!
Probably the best pub for dogs in Perranporth is the Watering Hole. This pub is right on the beach itself and has a tonne of outdoor benches on the sand. If it's after 5pm, your dog can play in the sand next to you without a lead. We loved being able to throw the ball for my dog whilst enjoying our beer at the pub.
The Watering Hole is also open for breakfast and coffee in the morning. If you need a caffeine fix during your dog's early morning walk this is the place to go.
There's also the Tywarnhayle Inn which is just off the beach and slightly cheaper than the Watering Hole. They also have a beer garden and a lovely interior which has recently been redecorated.
The Perranporth Inn always shows live sports and is another dog friendly pub in Perranporth. Their food isn't that amazing but the prices are decent and they'll make a big fuss of your dog!
The only Perranporth pub in my experience which doesn't allow dogs is the Wetherspoons, The Green Parrot. In fact, they don't even allow dogs in the beer garden. Obviously this sucks because everybody loves the cheap prices at Wetherspoons! On the bright side, it also means that you can visit and support local pubs instead of this huge chain. Win!
Things to Do in Perranporth with Dogs
Perranporth Beach
Obviously, the number one thing to do with dogs in Perranporth is to play on the beach! My dog absolutely couldn't get enough of Perranporth beach, and with all the sand dunes, rock pools, the stream, the ocean and the sheer amount of space, dogs will never tire of playing here!
The Perranporth to St Agnes Coastal Walk
This is one of my favourite things to do in Perranporth, full stop. The fact that it's also great for dogs is an added bonus! This walk is around 3.6 miles and goes along the coastline, offering up amazing views of the sea and hidden beaches. The walk is mostly flat (aside from the very start and the very end) and moderate.
There are some steep drops which are not cordoned or fenced off on the walk. Although it's fine to let your dog off their lead for the walk you will want to keep them close by. You may also want to put them back on the lead if there are any areas you're worried about.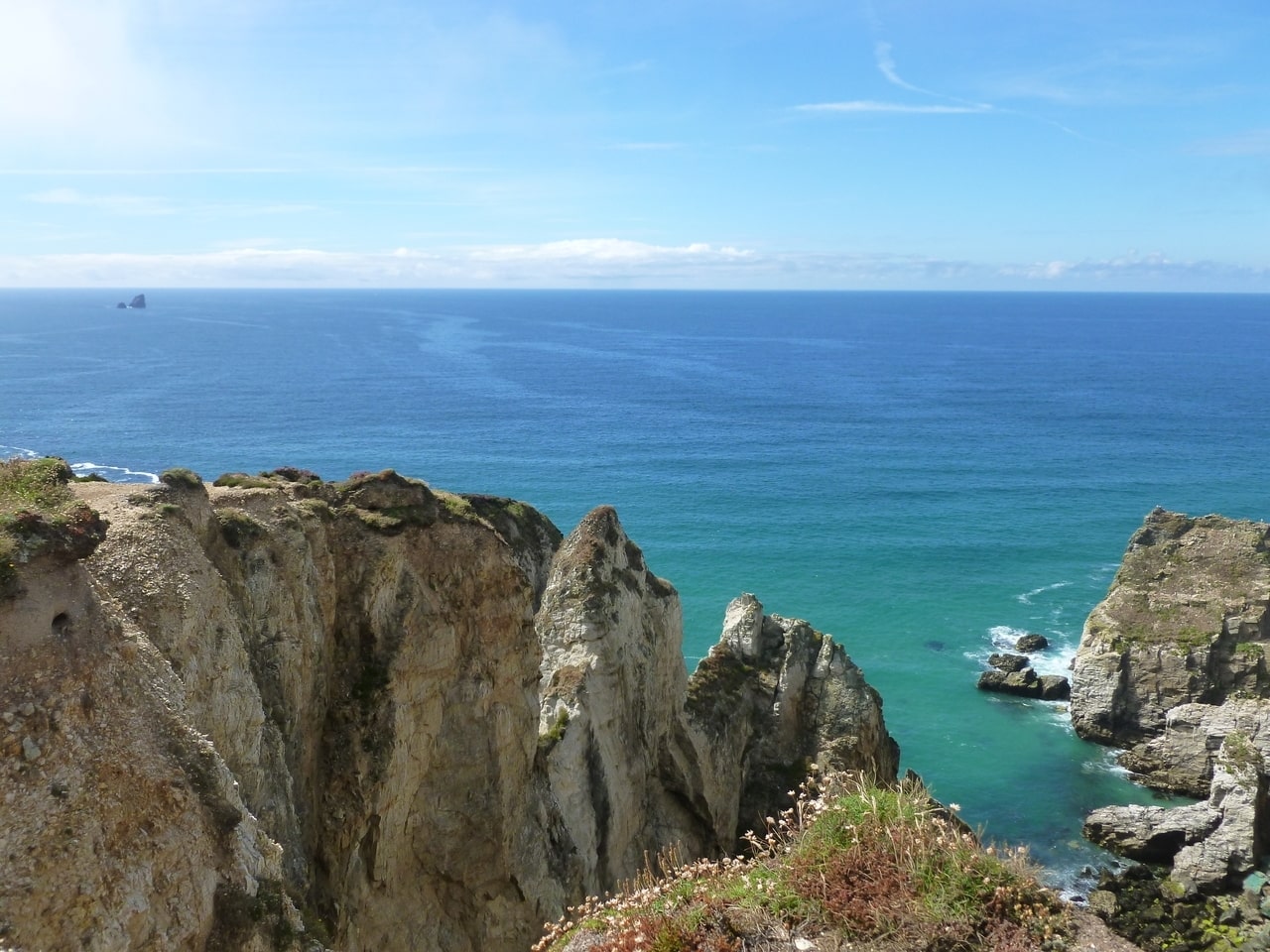 The Perranporth to Holywell Bay Coastal Walk
This is a slightly shorter walk over the Perranporth sand dunes and cliffs to Holywell Bay. It also offers glorious sea views and is much flatter and easier of a walk than Perranporth to St Agnes.
Your dog can run free without a lead for the majority of the walk, but there are some areas you pass which are cordoned off as military land. For this reason, it's a good idea to put your dog back on the lead when you get to these areas. They're very clearly signposted so you don't have to worry too much, though.
Once you get to Holywell Bay there's a really nice pub overlooking the beach at the end of the walk.
I'm sure I have convinced you by now that your dog will be welcomed with open arms in Perranporth! It's one of the best places in Cornwall to visit with a dog, and I'm sure you'll have an amazing holiday there.
Now, head over to my bumper guide of things to do in Perranporth to find out everything you need to know to plan your trip!
Let me know if you have any questions in the comments!