There is a good chance that this post contains affiliate links. If you make a purchase through them, I may receive a small commission at no extra cost to you! As an Amazon Associate, I earn from qualifying purchases. As ever, all opinions are my own.
It's hard to believe it's been a full year since I published my very first post on my blog! 
Obviously, with hindsight, starting a travel blog in January 2020 was ridiculously bad timing. Despite this, I've managed to grow my blog significantly in one year. Especially considering that the travel industry pretty much died in 2020.
In fact, if anything, starting a travel blog just before the pandemic worked out pretty well for me. I couldn't really do anything on my weekends aside from work on my blog! I also have had plenty of opportunities to write about my previous trips without getting distracted by newer trips.
I still have a LOT of work to do, but I've made a solid start in my first year. 
I can't believe how much I've learnt!
When I pressed 'publish' on my first post, I had never used Pinterest, had NO idea what SEO was, and (obviously) had no idea what 2020 had in store for us all.
So, I thought it would be fun to reflect on all the things I have learnt in my first year of travel blogging! Hopefully I'll be able to look back at this whenever I'm feeling like my progress is slow to remember just how far I've come already.
Here are a few of the things I learnt in my first year of blogging:
1. Writing a blog post takes SO. LONG.
When I decided to start a travel blog I had no idea just how much time I would need to invest. I thought that I could just write a blog post about whatever sprung to mind, upload it and clicked publish. It would take a couple hours maximum, right?
Ha!
Do you know how long writing a blog post takes, guys? 
I learnt last year that I seem to prefer writing long-form content – I usually hover around 3,000 words per post on average – and that means I'm including a LOT of information. Some posts, like my 2021 travel wishlist, are super quick to write, but big resource posts like my Ultimate Yorkshire Bucket List or my huge Vienna itinerary? They take DAYS for me just to write.
Then, I upload the post to WordPress and Yoast tells me all my sentences are too long and I'm using too much passive voice. Queue hours of revisions!
Writing blog posts is my very favourite part of blogging, so it's a task I really enjoy despite the amount of time I spend doing it. I just had no idea how long it really takes to get a post into a publishable state before I started.
2. I've learnt how the internet works
Before starting a blog, I'd never given much thought as to how the internet works. I certainly didn't think about how Google decides which search results to display first.
Now, I LOVE learning more about how to improve my blog for SEO (search engine optimisation). It's an area I feel like I learn something new about every day, and just looking back at the first few posts on my site shows me how far I've come in terms of actually writing Google-friendly posts and titles.
I also learnt about a thing called Domain Authority (DA), which is a ranking given to you based on loads of factors that basically gives you an idea of what keywords you have a chance of ranking for on Google. The best way I've found to boost this is to concentrate on guest posting and participating in collabs for other bloggers, who in return link to my blog, boosting its credibility in the eyes of the mighty Google.
To think I started from knowing nothing about DA to now having a DA of 24 in a year is awesome progress! After a few months' break from collabs and guest posting, I'm now ramping up my participation big time to try and get to DA 30 as soon as possible. At that point, I should start finding it easier to rank in Google.
3. I'm reallllllly never going to be an 'influencer'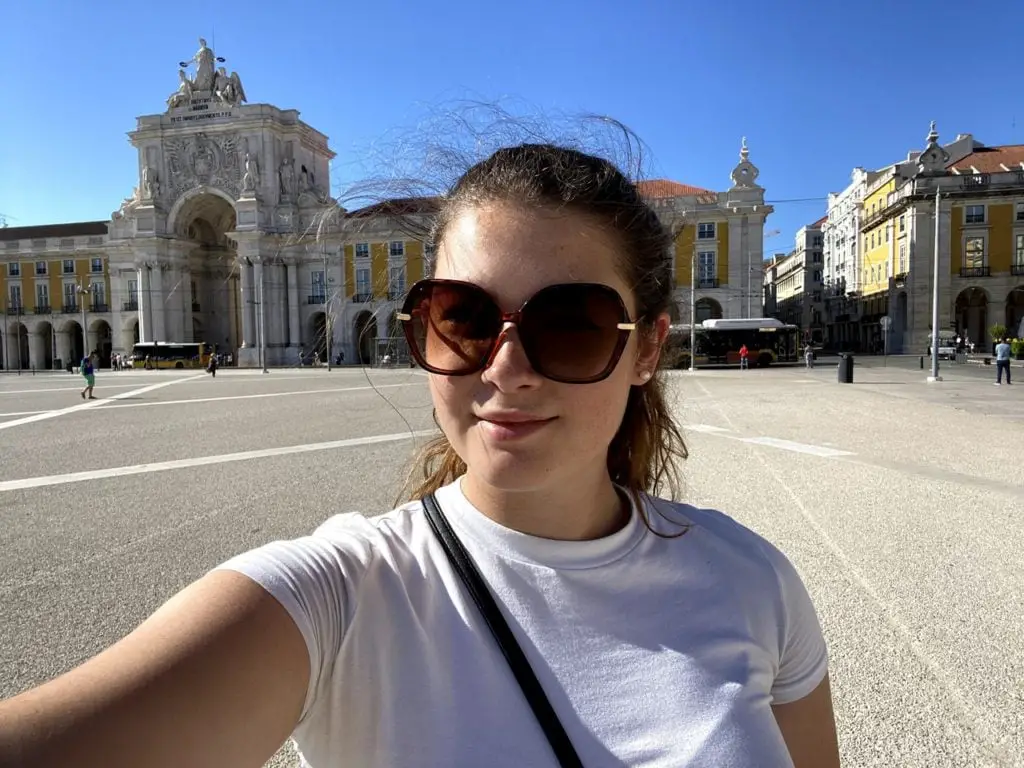 Oh my God, if there's one thing I've toyed with back and forth this entire year it's whether to buy into this whole "Instagram travel influencer" vibe.
I hate it.
It's totally not me.
I think Instagram is fake, unrealistic and bad for my mental health. I don't want to get up at 5am on my trip to get a photo of me in a floaty dress in front of an empty tourist attraction. I don't want to worry about taking a tripod everywhere if I'm travelling solo so that I don't miss out on photo opportunities.
I don't want an Instagram account for this blog.
This is like… A really bad decision business-wise. But it's the only option I feel comfortable with for now. I've swayed back and forth on whether this is the right decision, but I've just come to terms with the fact that if I have to work harder to grow and make an income from my blog without Instagram, then so be it.
I couldn't sell out and put time and effort into a platform I loathe just in the name of ~success~.
Travel (at least for me) isn't floaty dresses and drinking out of a coconut and doing my makeup immaculately to be #travelgoals. That's not the avenue I want to go down, and I'm okay with that.
4. Writing for the internet is a whole different ballgame
As a lawyer, I'm constantly writing witness statements, drafting responses to claims, and drafting letters on behalf of companies. I've noticed that we use a lot of passive voice in the legal profession. I didn't even realise this until I started writing for the internet and the Yoast plugin was like "… why is every single sentence in this post passive?!". 
Oops.
I'm slowly getting better at using the active tense in my writing, meaning Yoast usually rates the readability of my post as orange rather than red. Every post used to be red! I still have a long way to go here, but the progress is good.
Let's move on to sentence length. 
In legal documents, I could easily make a single sentence span 5 lines. A paragraph could be half a page long.
The internet does not like this.
Short, snappy sentences and short, snappy paragraphs are key! It took me, like, 9 solid months to realise this, but at least I finally got the hang of it. Nobody wants to click on a page and be faced with a huge wall of text! 
I've been working on breaking up all my writing into more bitesize chunks, and it's much more visually pleasing to look at.
5. It's hard to know when to stop
There is ALWAYS something more I could be doing. More pins on Pinterest, more posts, more guest posting, more time working on my site speed or on site design… The to-do list never ends, and it can be hard to switch off!
I regularly lie in bed awake for hours, unable to sleep because I'm brainstorming new post ideas or planning out the blog post I'm going to write the next day.
Recently, I've implemented a blog post calendar which has made a huge difference. I have set out which posts I want to publish and on which dates. These deadlines help me get my shit together and stop procrastinating and also mean once I've published my post that day I can give myself the night off. 
In theory.
I'm not perfect, and this is one I'm still working on. It's really hard to justify spending time chilling and watching TV when I know I could be working on a new blog post!
6. I have a procrastination problem
I'm the first to admit I spend way more time thinking and reading about writing than I do actually writing.
Writing is hard and requires brainpower, and I often find after work I'm just too tired to write. But I have just enough energy to read about writing.
Weird, I know.
I'm working on being more productive and actually getting stuff done. And in December and January, I've been doing SO much better! It's all about lowering my expectations and just doing it.
My fairly new writing technique is to write badly. To fully accept that my post is not going to be great the first time around. I spend a couple of minutes outlining the post, then pad it out with extra details. I don't even break this writing flow to research – I just write [x] where I need to check something, then come back to it later.
It's only once I have a finished draft that I go back to the beginning. I then fill in the details and revise what I wrote. Turns out, what I've written is never as bad as I expect it to be.
Yay for progress!
7. Taking a break is okay
This is something that took a while for me to accept, but it's essential to keeping blogging fun: it's okay to take a break when you need it. 
I lost my grandfather, who I was very close to, in July. I took that entire month off blogging – it just wasn't my priority at that time.
In September, I started a new job and was pulling some crazy hours. I only published one post in October. And in November. I hadn't found my feet enough to do anything other than go straight to bed as soon as I finished work! 
I felt guilty at the time, but looking back, taking this time off was absolutely necessary. If I had pushed myself to keep churning out content my heart wouldn't have been in it. The quality of my content would have probably taken a hit. And I'd have resented having to blog when all I wanted to do was relax.
I know there's a huge culture in blogging of "working harder". I'm always hearing "if you want it you have to put the hours in". And yeah, I agree. I love working hard on my blog. But sometimes there are more important things life throws at you than blogging. Listen to your body and rest when you need to!
There's always more to learn
This is one of the most exciting things about blogging! I doubt there will ever be a day where I wake up and think "yup. I now know everything there is to know about travel blogging".
There's always more to learn. And I love to learn. So the fact that I've embarked on this journey where I know I have soooo much to learn, and always will have, is so exciting!
---
Although I picked a really bad time to start a travel blog, I'm truly grateful that I did. If year 1 was all about getting set up, year 2 will be all about progress. I just hope we're allowed back out into the world again soon!