There is a good chance that this post contains affiliate links. If you make a purchase through them, I may receive a small commission at no extra cost to you! As an Amazon Associate, I earn from qualifying purchases. As ever, all opinions are my own.
Since it's unlikely we'll be able to travel far anytime soon, I've been doing a lot of trip research closer to home, and I came across loads of amazing glamping pods in Lancashire. This is mighty convenient, as the first thing I'll do when Boris finally lets us out is go to Lancashire to see my parents who I haven't seen in FOREVER!
That got me thinking about planning an amazing weekend away for us all. Our family used to love going camping, but nowadays, the thought of roughing it in a damp tent just doesn't appeal to me. Luckily, there are so many amazing places to go glamping in Lancashire!
Lancashire is criminally underrated as a holiday destination in the UK, but it's such a hidden gem! 
Where else can you get out in nature and away from all the other tourists so easily?
So, if you're planning a staycation in Lancashire this year and are looking for the best places to go glamping, I've got you covered. Here are the best glamping holidays in Lancashire in 2021!
1. Potters Brook Shepherd's Hut in Bowland
Price per night: From £75 for two people. Check availability here.
This off-the-grid Shepherd's Hut is super close to the forest of Bowland and sits in its own 2 acres of land. With your only neighbours being the farm's pigs and alpacas, this is the perfect place to get away from it all for a few days and enjoy some simple living! 
The hut is close to plenty of walking routes and just a few metres away from the Lancaster canal. It's also within walking distance of the nearby village, where you'll find a few pubs and restaurants. The hut is complete with a hot-water shower and a wood-burning stove, my two must-haves for any glamping trip! With its chic decor and all the equipment you could need, this shepherd's hut is ideal for an off-grid retreat.
The hut also has an outdoor fire pit, so at night you can get cosy and toast some marshmallows! There's something so wonderful about cooking on an open fire, so why not experience it for yourself!
2. Sweetwell Hideaway in Briercliff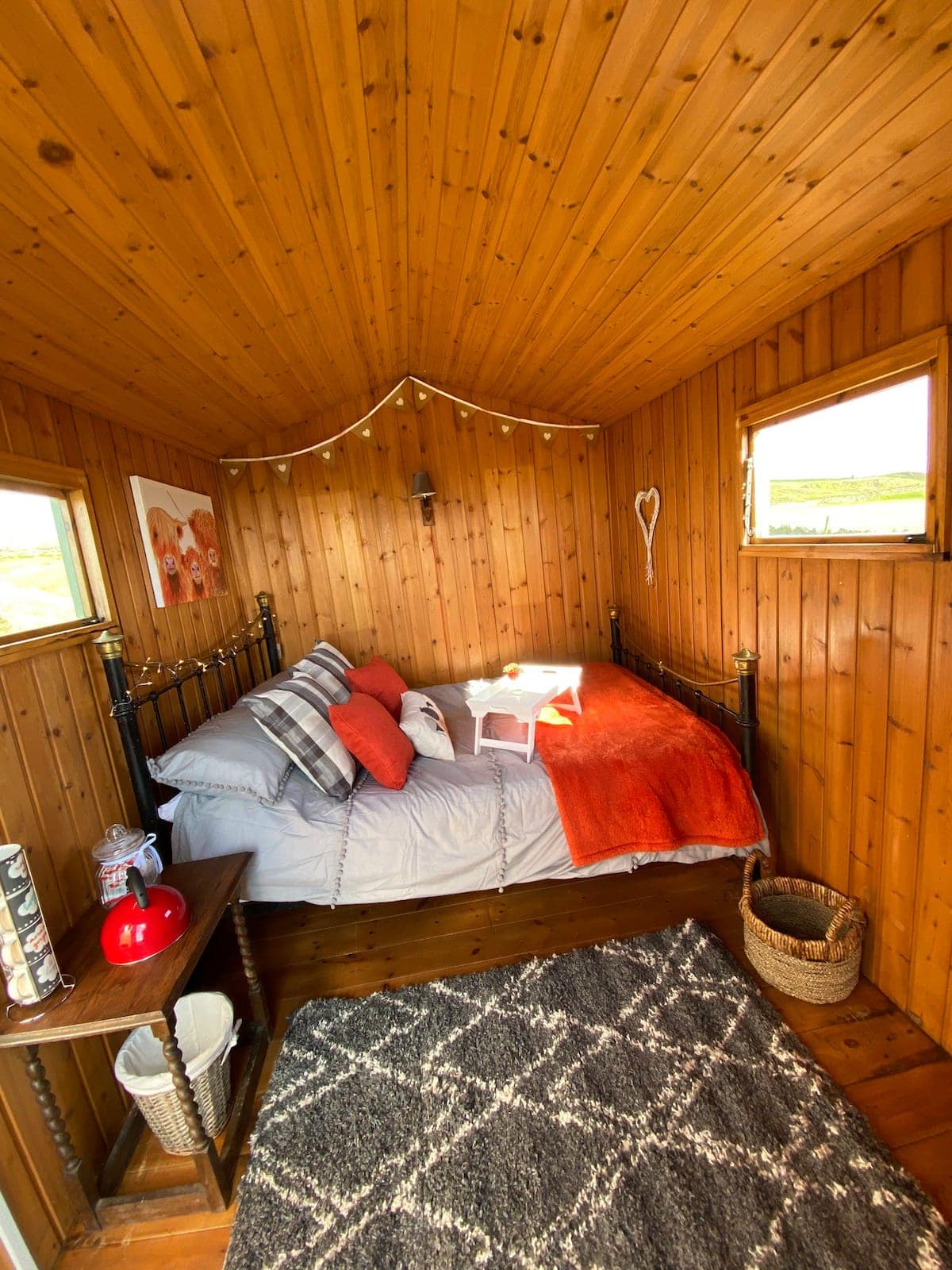 Price per night: From £85 for five people. Check availability here.
Doesn't this wooden hut look dreamy? I could easily imagine myself cosying up here for a few days and getting some much needed "me time". This glamping pod looks simply irresistible, and its 26 5-star reviewers also seemed to think so!
Located in the picturesque hamlet of Briercliffe, just 3 miles outside of Burnley, Sweetwell Hideaway is the ideal place for you to escape the real world for a few days. The hut has a double bed, cute fairy lights, and a wood-fired stove for cold winter nights. If you stay at Sweetwell Hideaway you can also make use of the site's indoor BBQ hut, which I'm sure will be a totally new experience! In here, you can BBQ your own food over the open fire. Talk about getting back to nature!
This glamping pod is surrounded by miles of some of Lancashire's best hiking paths, including the Bronte Way. Keen hikers among you won't be stuck for things to do. 
If you're looking to unplug, Sweetwell Hideaway gives you exactly that. With no internet and no TV, you'll have plenty of uninterrupted quality time here. And with such amazing views and a beautiful sunset, you don't want any distractions.
3. Sandvilla Grill Hut in Cockerham
Price per night: From £80 for two people. Check availability here.
This photo alone has me convinced this is one of the best glamping pods in Lancashire. The interior looks like it has come straight from Scandinavia and I, for one, am a huge fan of the thick and fluffy rugs! 
There's a double bed, a private toilet and a shower, but the main attraction of this hut is the indoor grilling and entertainment area! Not only does the host regularly leave marshmallows and a grilling cookbook (perfect if you don't have a clue what to do with the grill!) for guests, but she also leaves some locally brewed ale. Local beer and sitting around a fire pit go hand in hand in my book!
The glamping pod is located on a family smallholding near Morecambe in Lancashire. From the pod you'll get panoramic views over Morecambe Bay. As an added bonus, the smallholding has goats, chickens and alpacas, and guests are welcome to help feed them. For me, that makes the hut 100% even more appealing. I mean, who wouldn't want to feed cute alpacas on their glamping holiday?
4. Rivington Bell Tents
Price per night: From £53 for two people. Check availability here.
The Rivington Bell Tents are ideal for a Lancashire glamping holiday on a budget. Located in the idyllic village of Rivington, just a ten minute drive from Chorley, these Bell Tents are perfect if you're wanting to go camping but without the hassle.
And without roughing it!
Bell tents are definitely a more "into nature" glamping experience in Lancashire, but rest assured. Bell tents all have proper double beds, so you won't have to worry about your air bed deflating in the middle of the night.
With so many scenic walks right on your doorstep (try the 5.1 mile Rivington Pike and Lower Rivington route), this glamping site feels a million miles away from the hustle and bustle of Lancashire's cities!
Inside the bell tents, you'll find plenty of cosy touches such as fairy lights, fluffy blankets and cushions. If it's going to be chilly, the host will even provide you with a hot water bottle. What makes this one of the best places to go glamping in Lancashire is that the local brewery, Rivington Brewing Co, has a permanent taproom on-site! This means you'll never be far away from a pint (or three!) of local beer and some craft pizza. 
5. Rachel's Hut in Rawtenstall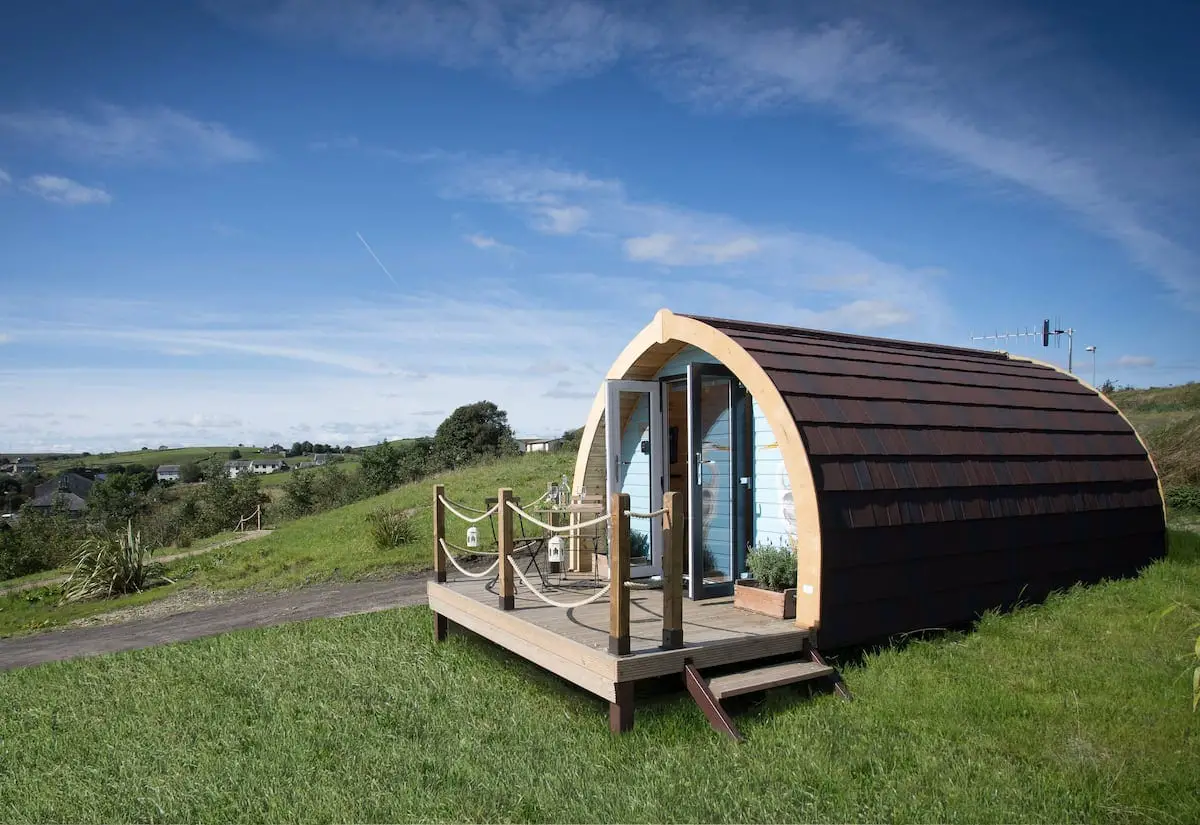 Price per night: From £65 for two people. Check availability here.
This modern glamping pod is a flawless setting for a relaxing short break in Lancashire. The inside of the cabin is bright and spacious, with a comfy double bed, tea and coffee facilities and a TV. Outside, you'll find your private decking area with outdoor seating, ideal for dining or watching the world go by. 
But it doesn't stop there! This glamping site has a blissful communal 'Island', which you can access by a wooden bridge over a brook. The Island is surrounded by weeping willows and is the place on-site to unwind and experience the tranquility of the area. This is where you can laze away a sunny afternoon before using the campfire/BBQ area to cook dinner by the stream.
If that didn't sound relaxing enough, this glamping site has a hot tub available for private hire. I can't imagine anything more relaxing than soaking in the hot tub with a glass of wine and listening to the silence of the countryside. Count me in!
6. Orchard Glamping Pods in Catterall
Price per night: From £102 for up to six people. Check availability here.
For glampers who don't want to lose those home comforts and connections to the outside world, the Orchard Glamping pods are for you. Located in the town of Catterall near Bowland, an area of outstanding beauty, you're right on nature's doorstep and just moments away from fabulous hiking trails. The site has 3 glamping pods, and they're extremely popular so you'll need to book in advance!
What makes these pods so special is the fact that they all have free WiFi and a kitchenette. So, if the thought of disconnecting for a couple of days puts you on edge, this is the glamping destination for you!
Each pod also has a terrace for you to sit out on and enjoy the sun, a flat-screen TV, and a private bathroom with shower. You'll be far from roughing it here, as this glamping holiday in Lancashire really does have everything you'll need. As if that wasn't enough, these pods are slightly larger than usual, meaning they can sleep up to 6!
It'll come as no surprise that you won't want to leave your pod. Luckily, the family who runs the site have catered to exactly that! During your stay you can purchase a range of homemade hampers including breakfast hampers, BBQ hampers, cheese hampers and 'couples special pack' hampers. All of these hampers contain local produce and make mealtimes as easy as can be. What's not to love?
7. Little Oakhurst Yurt in Clitheroe
Price per night: From £125 for four people. Check availability here.
This luxury yurt is what glamping in Lancashire is all about. Nestled in the heart of the gorgeous Ribble Valley, a highlight of this yurt is the panoramic views it offers of Pendle Hill – my favourite place to hike in Lancashire! Of course, we can't ignore the private hot tub surrounded by fairy lights! If you're looking for some rest and relaxation, this is the place to head to!
The inside of the yurt has a double bed, a sofa, and a wood-burning stove. I'm sure you'll agree that's everything you'll need to get that back-to-nature feeling without losing comfort and warmth. This yurt is on a family-run farm, and if you're interested the owner is more than happy to show you around and introduce you to their cute cows and calves.
Next to your yurt is your very own private bathroom hut, complete with a hot shower. No need to share communal facilities at this hut!
8. The Homewood Garden Pod in Forton
Price per night: From £100 for four people. Check availability here.
Putting the 'glam' in Lancashire's glamping scene is this fabulous pod equipped with everything you could imagine for a delightfully cosy getaway.
Underfloor heating? Check! Hot tub? Check! Bottle of bubbly on arrival? Check!
The list could go on, but let's turn our attention to the unique garden setting of this pod. Beside the hot tub, you'll find a picnic bench ideal for outdoor dining, and there are so many trees surrounding the pod! Tucked away in the corner of the garden, the pod itself is perfect for couples and young families.
Inside, the pod has it all – kitchen, living room area and a separate bedroom! The pod even has its own bathroom with a hot shower, so you won't even have to leave the pod if you don't want to.
In the surrounding area, you'll find Walling's ice cream, a hugely popular farm shop selling irresistible homemade ice cream. To walk it off, head to Nicky Nook, one of the best hiking routes in the area. If you're looking for something to do in the evening, the Patten Arms pub is just 0.9 miles away from the pod.
---
Researching all these amazing glamping opportunities in Lancashire has me ready to go as soon as we're allowed! Right now, we're all wanting to get away from it all, and where better than glamping in the unspoilt countryside in Lancashire? 
I'm sure this roundup has got you itching to book your next getaway, and who could blame you? We all deserve some staycation relaxation this year, and I for one can't wait!
Looking to go somewhere else in the UK? Check out the rest of my UK posts for some helpful trip planning ideas.