There is a good chance that this post contains affiliate links. If you make a purchase through them, I may receive a small commission at no extra cost to you! As an Amazon Associate, I earn from qualifying purchases. As ever, all opinions are my own.
Last Updated on June 29, 2021 by Ella
Checking in at the Stumble Inn Backpackers Lodge, I asked straight away if there was a Stellenbosch wine tour I could join for the day. I picked this hostel solely because its reviews mentioned the amazing wine tours they can get you on (and, admittedly, because the hostel selection in Stellenbosch is limited).
The lady at the check-in desk ran through a few different options before I selected a full day tour. The tour included lunch, lots of wine tastings and both cheese and chocolate pairings!
"Uh, it might be too late for you to join – it's supposed to start in ten minutes" the lady at the front desk informed me.
I furrowed my brow and checked my phone, making sure I hadn't jumped through time without knowing. Nope. All was normal. It was still 9:50am. I admit I hadn't been on a wine tour before. That being said, the fact that this tour was starting at 10am still seemed pretty hardcore to me.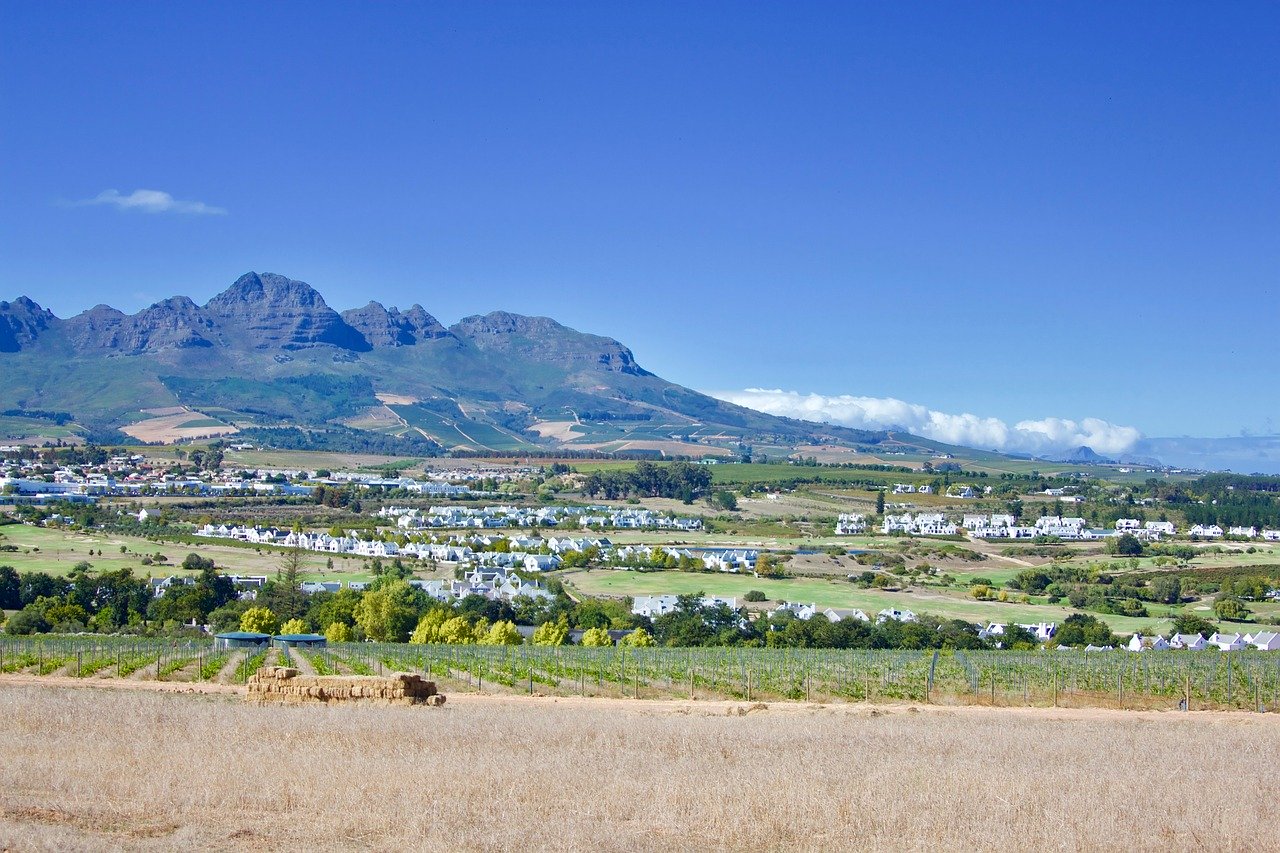 After making a hurried call, the lady confirmed that I was just in time. The tour guide arrived at the hostel a couple of minutes later and I breathed a huge sigh of relief. I had only given myself one day in Stellenbosch, thinking that would be plenty of time to get myself on a tour and explore a few wineries. If I had missed the tour I would have been gutted!
The tour guide greeted me and I jumped into the tour van to join my fellow tour mates. That's when I realised that the group consisted of a German couple, a Polish couple and myself. I felt immediately awkward. It had totally slipped my mind that wine tasting is quite a popular activity with couples. Realising that I was now the fifth wheel, I pondered this for a few minutes before shrugging. Whatever. I was on a romantic date for one. Who needs boyfriends! I laughed, as I hurriedly texted my boyfriend back home to tell him I missed him.
Buckling my seat belt, I took a window seat, plugged in my earphones and got ready to admire the Stellenbosch Winelands' stunning scenery. I was ready for my solo date!
Why You Need To Take A Wine Tour In Stellenbosch
Anybody with even a passing interest in wine will have heard of South African wines. Famously, Stellenbosch is the birthplace of the Pinotage, a cross between Pinot Noir and Cinsaut. The vast majority of South African wines come from areas close to Cape Town such as Stellenbosch, Paarl, Franschhoek and Constantia.
Stellenbosch is the second oldest wine region in South Africa. Not only that, but it's responsible for around 14% of all South African wine production! The first vines were planted in Stellenbosch way back in 1679, so it's safe to say they know a thing or two about producing amazing wine!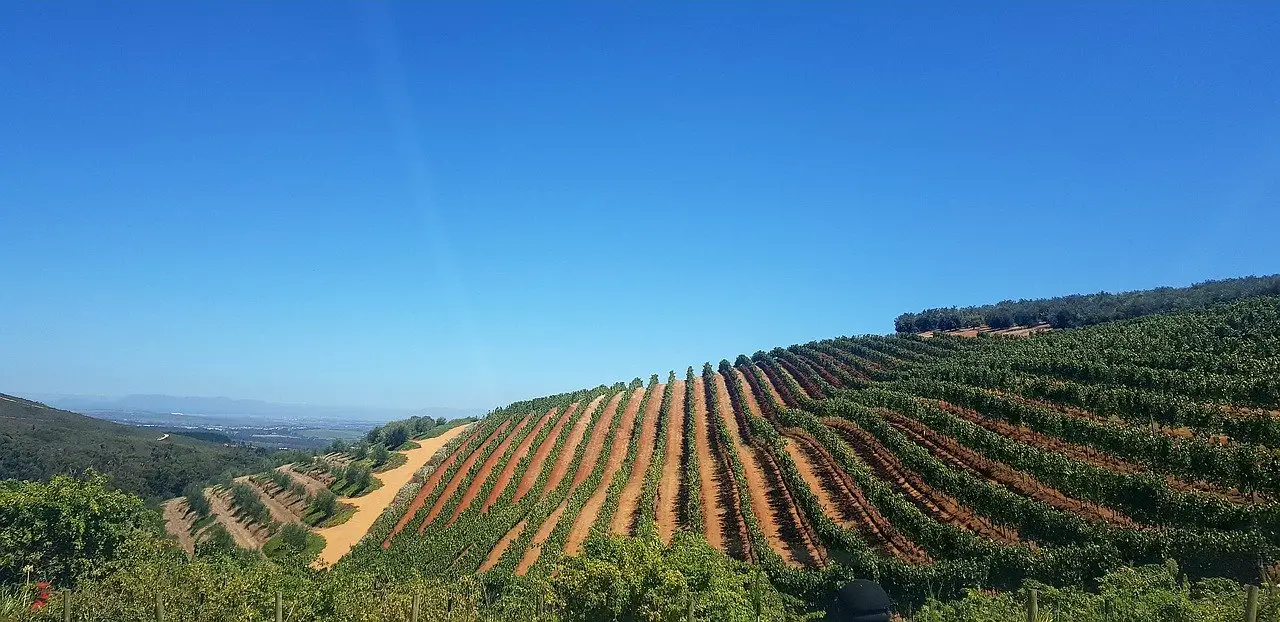 Stellenbosch is just 31 miles east of Cape Town, so you don't even need to stay overnight in Stellenbosch to sample some of its offerings! If you're looking to take a wine tour of Stellenbosch from Cape Town, there are loads to choose from. Check out a few of them below:
Personally, I think you're missing out if you don't stay overnight in Stellenbosch! Dramatic mountains surround the city, and everything is so green and lush! Plus, staying overnight means you get to witness a beautiful Stellenbosch sunset (and even a sunrise, if you're up early enough!). Being on a budget, I travelled to Stellenbosch from Cape Town on the Baz Bus and stayed at the Stumble Inn Backpackers Lodge.
How To Choose A Stellenbosch Wine Tour
The tour I took was the EasyRider Full Day Wine Tasting Tour. This tour included over 30 wines, a chocolate and wine pairing, a cheese and wine pairing, a knowledgeable guide, and included lunch! I can't recommend this tour enough, and will definitely book it again when I'm lucky enough to return to Stellenbosch. The wine on this tour was pretty much unlimited, and the value for money was insane! The tour lasted around 8 hours, and cost me just £55! I can only imagine how much the same tour would cost in an expensive country such as Australia or France.
Read More: How Much It Costs To Travel In South Africa
As I mentioned before, the lady at the hostel gave me a few different Stellenbosch wine tour options. After weighing up the pros and cons, I went for this tour, for reasons I'll get into now.
Firstly, the tour price includes everything. Looking back, this was one of the things that really allowed me to relax and enjoy the day! If I had opted for a tour which required me to pay per glass of wine I sampled I would never have tried such a wide range of wines.
I would probably also have been ridiculously drunk! If I had paid by the glass, I would have felt obliged to drink everything I paid for. It would hardly feel right to pay for a glass of wine, take one sip and then pour it away. On the EasyRider tour, I could try whatever I liked. I could ask for a top-up of any wine I particularly liked, and I could take a sip and then pour away any of the wines that weren't doing it for me.
Secondly, the included lunch was a great perk. The tour dropped us off at a restaurant, and we could pick whatever we wanted from the menu! If I had to pay for lunch separately, I would have been worried about my budget. Being a cheapskate when backpacking, I would have probably picked the cheapest and therefore least filling thing on the menu. This would have been bad when paired with 8 solid hours of drinking!
Finally, if you're booking a tour before arriving in Stellenbosch (which I recommend!) check out the TripAdvisor reviews. If you have any must-see wineries, make sure the tour you're looking at visits them! Doing this also helps to compare the price vs quality of different tours.
Lanzerac Wine Estate
Zooming through the winding roads and green surroundings, I couldn't get over just how stunning the landscapes of the Cape Winelands were. My jaw was on the floor the entire drive to our first winery of the day, the famous Lanzerac Wine Estate.
I spotted Lanzerac's iconic white Manor House as we pulled into the car park. Walking past vineyards towards the entrance, I tried to discretely snap photos of the very first winery I had visited! Established in 1692, Lanzerac is only a few years older than Stellenbosch itself!
We headed into the expensively decorated tasting room and sampled our first wine of the day – Lanzerac's iconic Pinotage. Lanzerac has been bottling Pinotage longer than any other winery in the world. I was beyond excited to sample it!
Lanzerac's pinotage was unbelievable, and probably my favourite wine of the entire Stellenbosch wine tour! Its colour was a sultry deep red, and it tasted simply luxurious. The cheerful waiter brought out a few other wines for us to try before taking us on a tour of the cellar and teaching us about the history of the estate. Having had next to no knowledge of wine-making, this tour was a great introduction to my day of wine education!
Feeling my belly rumble, I soon realised I hadn't had time to grab breakfast that morning. Knowing that a full day of drinking on an empty stomach was a bad idea, I ordered a croissant with jam. Unsurprisingly, it was delicious, and actually complemented the wines perfectly!
I was in love with the Lanzerac Estate, and we hadn't even been there an hour! In fact, I loved Lanzerac's Pinotage so much that I bought a bottle to take home with me! I figured I could recreate the Stellenbosch wine tour for my boyfriend, Rob, once I got home. As we left Lanzerac, I consoled myself that I still had so many amazing wineries to look forward to!
Wine, Wine, And More Wine at Simonsig!
A short drive later, we pulled up at another stunning winery, Simonsig. Here, we sampled five more red and white wines alongside a delicious sparkling wine! Our tour guide taught us how to pop the cork off the bottle with a sword – a party trick I was happy to acquire but doubted I could use back home at a packed bar in London.
The sun was out, the wine was crisp and refreshing, and I was starting to learn more about my tour mates. Luckily, they were all super friendly, and not intimidating at all. Our guide then led us through what I imagine is Wine Tasting 101. He taught us how to hold a wine glass (the stem), and why it's important (the heat from your hand on the glass could affect the flavour of the wine). Turns out I'd been looking like an amateur before this tour!
I also loved learning to take the time to smell the wine before sipping. Turns out it actually makes a difference!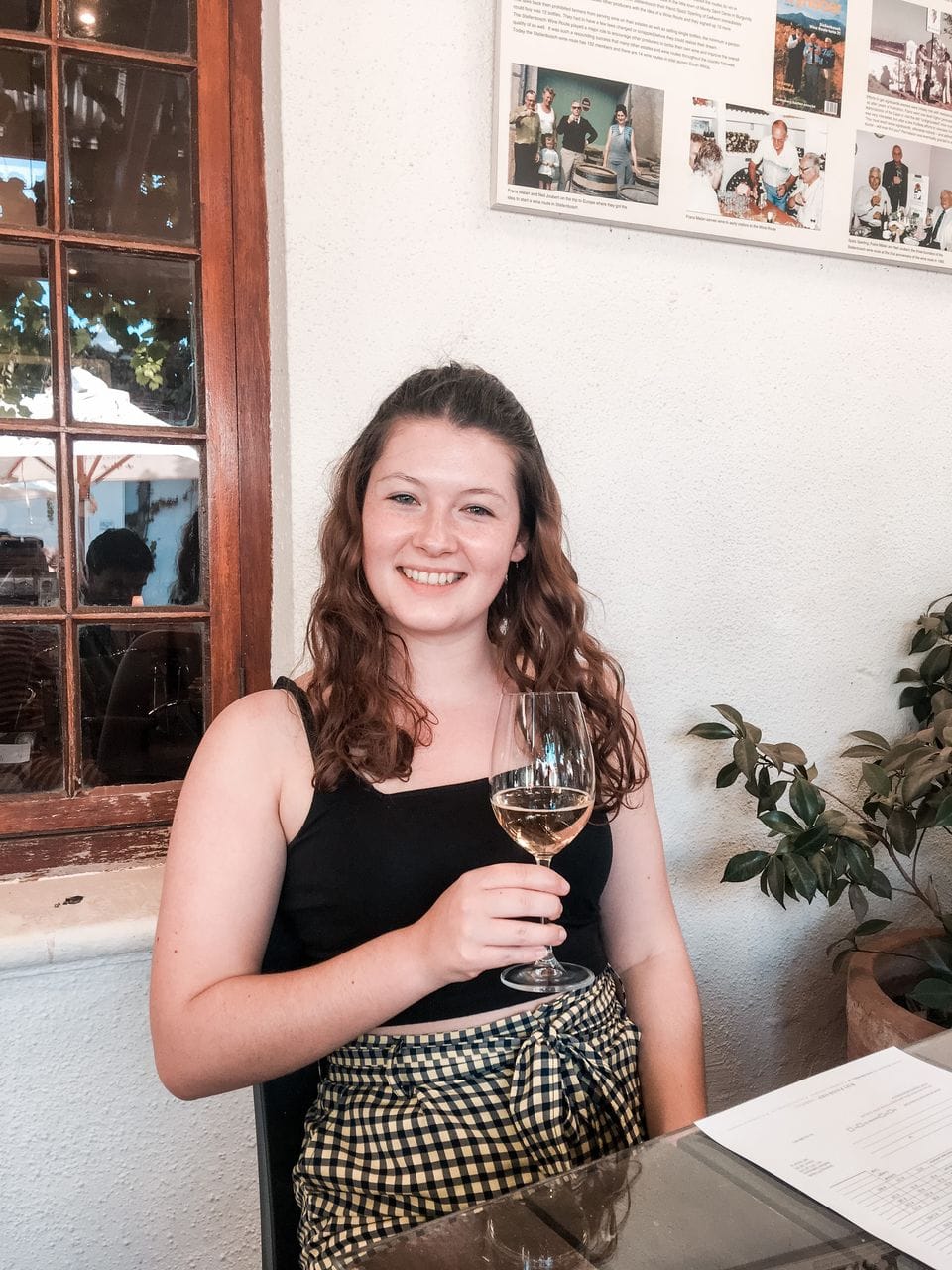 Lunch in Paarl
Driving over to Paarl, another popular wine region, I again didn't want to miss a second of the insane scenery we drove by. On arriving in Paarl we stopped at a hilltop café for lunch. I was feeling beyond drowsy from the early start to get to Stellenbosch and the numerous glasses of wine. Luckily, the restaurant we stopped at offered up pizza, which I was only too happy to order! Of course, lunch came with more wine. We had the choice of red or white, and could help ourselves from the bottles on the table!
If I had been with my boyfriend, or even my friends, I know for a fact I would have drank way more wine than I did. I just didn't want to get drunk by myself and then meet my new hostel dorm mates in that condition. Solo traveller problems!
Something about that lunch still puzzles me. The pizza… had no tomato base on it? It was just cheese and veggie toppings.
I was beyond confused.
I even considered whether or not that was just the way pizza they make pizza in South Africa (it isn't). Still, to this day, I have no idea why a veggie pizza would be served without tomatoes.
Bizarre pizza aside, the lunch was exactly what I needed. What's more, the wine was spectacular, even though it wasn't part of the wine tastings!
Wine and Cheese Pairings At Fairview Wines
Name a more iconic duo than wine and cheese.
Impossible, right?
I was super excited to be able to sample awesome pairings put together by some wine and cheese masters. And it sure didn't hurt that the winery was, you guessed it, beautiful.
Our server expertly poured us five wines each, placing the glasses in front of the corresponding bite-sized pieces of cheese on our tasting boards. I freaking LOVE cheese, so actually savouring it as I listened to the server's description and explanation of the cheese involved some serious self-restraint.
Needless to say, the cheese was divine. I also came away with a whole new perspective on the art of wine and cheese pairing.
Wine and Chocolate Pairings at Franschhoek Cellar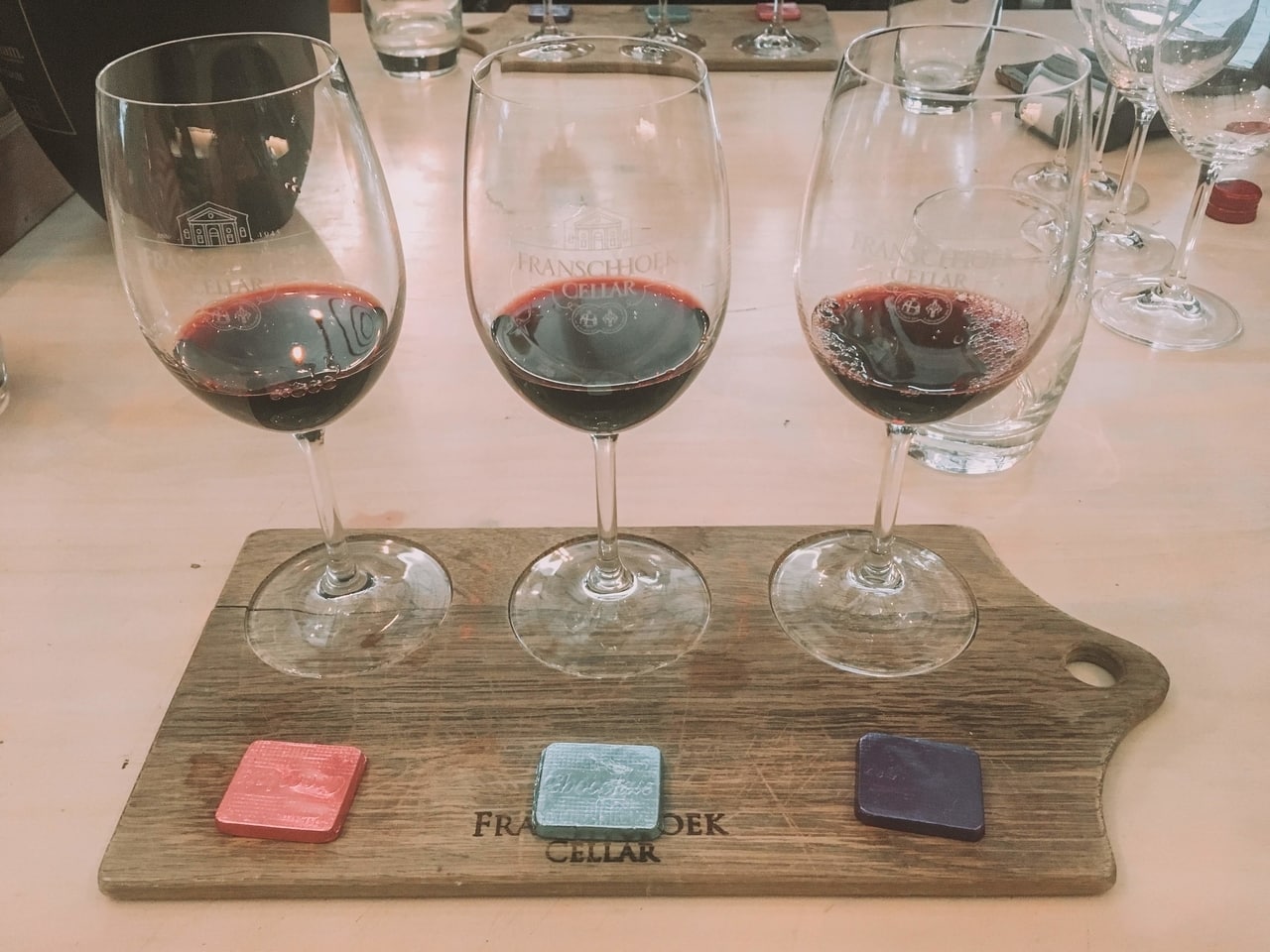 Despite what you just read about my love of cheese, I have a sweet tooth through and through. I had never really heard of wine being paired with chocolate in the same way cheese is, though. Regardless, I am always happy to try chocolate, so I welcomed this experience with open arms!
Being in Franschhoek was also exciting, as this meant I had managed to visit Stellenbosch, Paarl and Franschhoek all in one day!
An Unforgettable Day on a Stellenbosch Wine Tour
I took my final sips of wine before jumping back in the car to get back to the hostel. I was so full from the wine, cheese, chocolate and lunch that I didn't even have any dinner. At the hostel, I admired the Stellenbosch sunset before climbing onto my dorm bunk. I fell asleep with my clothes on, and didn't wake up until my alarm sounded the next morning!
That's when you know you've had a successful wine tour!
I hope you enjoyed reading about my solo wine tasting tour in Stellenbosch! This was a true highlight of my two weeks in South Africa. If you're considering booking your own wine tasting tour in Stellenbosch, check out my recommendations here!
If you want to check out my other tales of solo travelling in South Africa, you can find them here.
Have you taken a wine tasting tour before? How did it go? I'd love to hear all about it!