There is a good chance that this post contains affiliate links. If you make a purchase through them, I may receive a small commission at no extra cost to you! As an Amazon Associate, I earn from qualifying purchases. As ever, all opinions are my own.
Perranporth is my favourite place to surf in the world. It's the place I first learned to surf as a kid, and I've been back countless times over the years to return. Perranporth is undoubtedly one of the top surfing destinations in Cornwall, and for very good reason!
Hundreds of people learn to surf at Perranporth every year, and hundreds more return to hone their skills and try to catch the perfect wave.
Thinking about heading to Perranporth to go surfing, or considering learning to surf here? I can help! Here's everything you need to know before you arrive!
Planning a trip to Perranporth? Check out my Bumper Guide to Visiting Perranporth here for my tried-and-tested recommendations for the best things to do, best restaurants, best pubs, and best places to stay!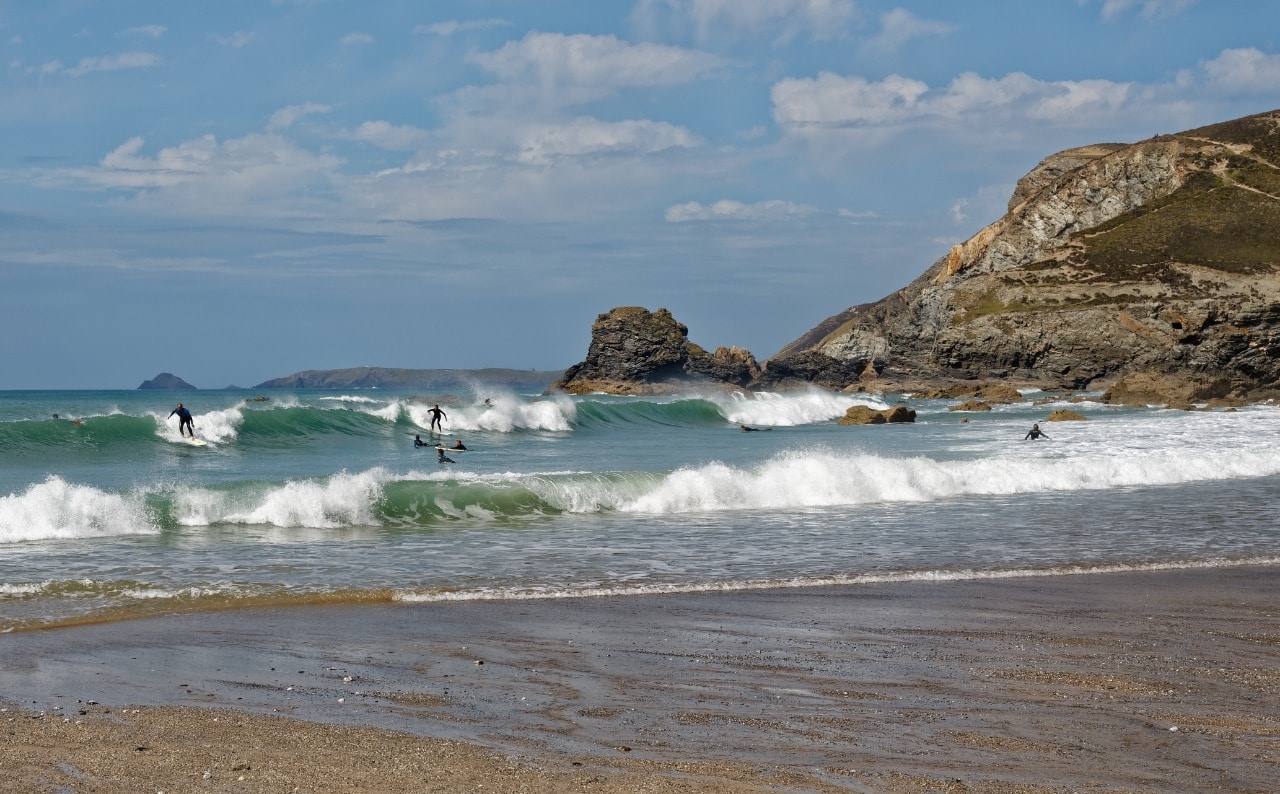 Best Time to Go Surfing in Perranporth
Perranporth, like most of Cornwall, is very seasonal. It's jam-packed in summer and a complete ghost town in winter. For this reason, if you're heading to Perranporth during the school holidays (mid-July until the end of August) expect the sea to be crowded, surf shops to be low on hire equipment, and surf classes to be full.
On the other hand, in winter you can expect the sea to be pretty much locals only. Not only is this because not many holidaymakers visit Perranporth in winter, but also because the surf schools often close from November to April. Plus, the lifeguards on Perranporth beach only operate from the start of April until the end of October. 
All of these factors, plus the strong currents and rip tides in Perranporth, mean that surfing here in winter (unless you're advanced) is not a good idea.
Perranporth only has one beach – imaginatively named Perranporth Beach – so this is the only place to go surfing in town.
The best time to go surfing (or learn to surf) in Perranporth is autumn. The water will still be a similar temperature as it was in summer, but there'll be far fewer people out in the water. If you're going to take a class, there will definitely be fewer people in the class, and it might even be slightly cheaper than in summer. 
Surf Conditions in Perranporth
What makes Perranporth such a great surfing destination is that there are very few flat days. This is because, with over 3 miles of shoreline on Perranporth beach, there's not much shelter, so the wind and swell can build up. Plus, since Perranporth is on Cornwall's North coast, and just a few miles away from Newquay, surf conditions are almost universally good in this part of Cornwall.
Perranporth is a beach break, which means that the waves break over sand (rather than, say, a reef). This makes it ideal for beginners since beach breaks are much more forgiving, and if you fall off your board, you'll have a soft landing. 
Currents and rip tides can be dangerous in Perranporth. They're strong, and there are a lot of them! For this reason, unless you're an advanced surfer, you should always surf between the black and white flags the lifeguards put up. This means the area is safe from rip tides and is being watched by the lifeguards in case you come into difficulty.
Like every surf break, conditions in Perranporth do vary, so be sure to check the surf forecast before you make the journey there.
Learning to Surf at Perranporth
Perranporth is a great place to learn to surf in Cornwall!
Is it the best? No, in my experience I would say Porthmeor Beach in St Ives is the best place to learn to surf in Cornwall. But Perranporth is definitely in the top 10. 
Since the waves are so reliable in Perranporth (unlike St Ives) it's very unlikely your class will get cancelled due to lack of surf. It also means you're very likely to stand up a few times on your first surf lesson! 
The waves here can be pretty powerful and unruly, so learning to surf in Perranporth can be quite daunting. For this reason, it's worth checking the surf forecast or speaking to the surf school before you book a class to ensure you're not learning to surf on a particularly big swell day.
Surf Lessons in Perranporth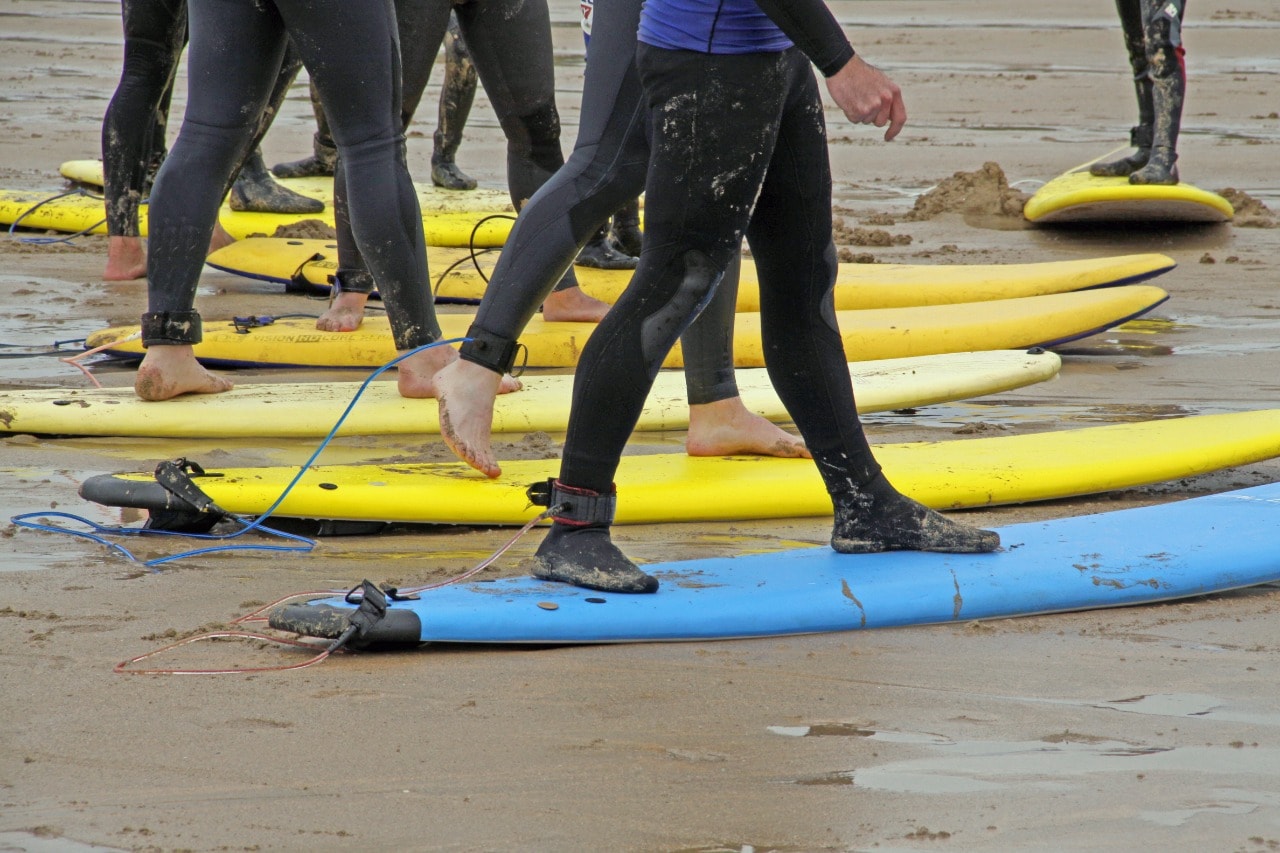 There are quite a few surf schools in Perranporth, meaning that prices are fairly reasonable because they have to compete with each other. Here are your options:
Piran Surf – the oldest surf shop in town also runs its own surfing classes, which are the cheapest in Perranporth. Plus, they limit their class sizes to 10 people per session, which is far smaller than their competitors. Classes cost £30 per person and include 20-minutes of theory (including learning about rip-tides) followed by 2 hours of surfing with the instructor. What's more, you can keep the wetsuit and board you use for the rest of the day if you fancy some extra practice!
Perranporth Surf School – This surf school is based on Perranporth Beach and does group, family or private classes. Their group surfing classes cost £35 per person and last for 2 hours. I have never taken a class with Perranporth Surf School but I don't recommend them as their class sizes are HUGE (I always scream internally when I see them entering the sea whilst I'm surfing). Plus, they seem to spend about 1 hour of the class just running up and down the beach and doing star jumps…
They get great reviews though, so maybe it's just me.
Ticket to Ride Surf School – Group classes here cost £35 per person and last for 2 hours. They run two classes daily: 10am-12 noon and 2-4pm. From what I've seen of them, their classes seem to be slightly smaller than Perranporth Surf School and they spend less time messing around on the beach. Unlike Piran Surf, you can't keep your equipment for the rest of the day for free to carry on practicing (it costs £50 for the class and all-day equipment hire option). 
Best Surf Hire Shops in Perranporth
If you're wondering if you can surf without a wetsuit in Perranporth, the answer is no (unless you're crazy!). For this reason, you'll need to buy or hire one.
If you're looking to hire equipment, stock up on some cool new clothes, or are just looking for advice, there are two main surf shops in Perranporth.
Piran Surf – as mentioned previously, Piran Surf is my pick for the best surf shop in Perranporth. Since they're not directly on Perranporth beach their surf hire equipment doesn't fly out of the door quite as quickly in summer. They have a huge range of surfboards, bodyboards and wetsuits to hire, and they're probably the cheapest rental place in Perranporth. 
Bathsheba Surf – this place has quite a limited stock of rental equipment and is instead more of a 'shop' in the typical sense. The ground floor is filled with surf-inspired clothing, and the first floor is filled with surf equipment for sale. 
Want to know more about surfing as a beginner in Cornwall? Read my post all about it!
Where to Stay in Perranporth
For a full, no-nonsense review of all of the different places to stay in Perranporth, you can check out my mega-detailed post here!
However, if you're in a rush, or just want to cut to the chase, here are my recommendations:
I hope this post has helped you with everything you could possibly want to know about surfing in Perranporth! Whatever age and whatever ability, surfing in Perranporth is definitely worth it, and so much fun.
Got any questions? Drop them in the comments and I'll be happy to help!