There is a good chance that this post contains affiliate links. If you make a purchase through them, I may receive a small commission at no extra cost to you! As an Amazon Associate, I earn from qualifying purchases. As ever, all opinions are my own.
Last Updated on December 30, 2021 by Ella
Ask any schoolchild in the UK and they'll be able to tell you about Henry VIII, his home – Hampton Court Palace, and his six wives, and dutifully repeat the rhyme drilled into them from a young age at school, which helps to memorise the fates of his wives: divorced, beheaded, died, divorced, beheaded, survived. This Henry VIII sounds like a wild guy, right?
Henry was not the only regal resident over the palace's 500+ year history, and each royal made their mark on the grounds, leaving us with gorgeous regal gardens, a palace as expansive as it is extravagant, architecture by the revered Christopher Wren, and even alleged ghost hauntings!
As a history nerd myself, I headed out on a freezing Sunday in January to Hampton Court Palace to find out more about one of the most historic buildings in London. Want to know a bit more about the palace before you go, or just want help planning your visit? Then look no further, I'm here to get you up to speed.
A brief history
Since 1494 Hampton Court has overlooked the River Thames, although the story doesn't get going until 1515 when Cardinal Thomas Wolsey began a rebuilding plan of epic proportions.
After converting Hampton Court into a lavish residence, it became clear to Thomas quite quickly that he had fallen out of favour with King Henry VIII, who was plotting his downfall. In a hurry, Thomas gave Hampton Court to him before it was, ahem, forcibly taken…
During the Tudor and Stewart era, the palace saw many historic events take place within its walls, including the birth of Edward VI, Henry's yearned-for son, and the death of his favourite wife, Jane Seymour. The palace even saw a performance by William Shakespeare for King James I!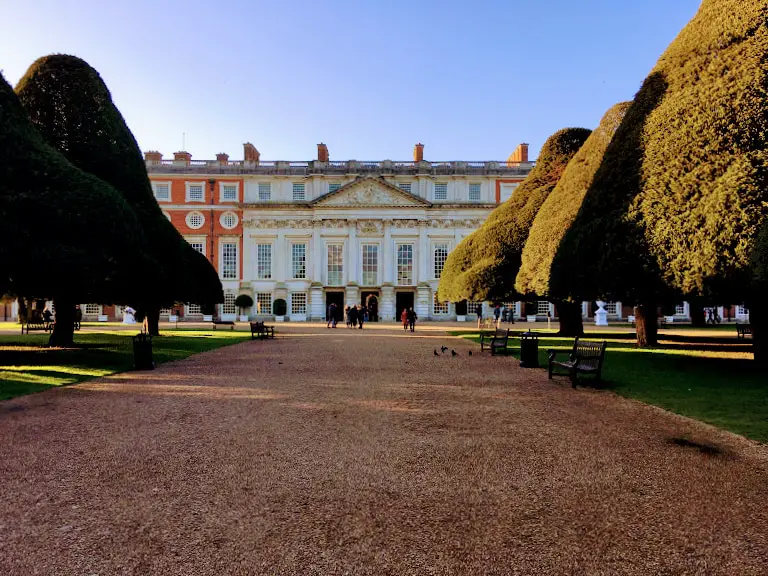 So, how do you get there?
Getting to Hampton Court Palace by public transport is fairly straightforward. The easiest way is to catch the train from Waterloo to Hampton Court, which will take you about 35 minutes.
You can book your tickets in advance via the Trainline website or app, or just use your contactless bank card to tap the monitor before and after your journey. During the week, this train usually runs twice an hour and costs £4.10 one way.
From Hampton Court train station, the palace is a ten-minute walk. I recommend that any visitor to London download the CityMapper app. Every Londoner swears by it as it provides real-time public transport recommendations to get you anywhere in London.
How much does it cost?
In summer, an adult ticket booked online costs £22.00 ($28.50), although they offer concession tickets for students for £17.60 ($23). There are also child and family tickets available. Book online when possible as it can save you up to £5 ($6.50) per person against on the gate prices!  You can buy your tickets directly from the palace website.
If you're visiting London in January or February you're in luck! As this is the low season, the palace usually offers half-price tickets when booked online. This meant I was able to get a half-price student ticket for just £8.50 ($11)!
How long should I spend there?
You don't have an allocated entry time, and you're free to wander the palace as long as you like. That being said, 4-5 hours is the ideal amount of time according to the palace's website.
I spent just over 4 hours there and it was plenty for me. Admittedly, I skipped one section of the palace and didn't go to see the maze. After 4 hours in the cold I could barely feel my toes! In winter this would be enough for all but the most hardcore of history fans.
If you're visiting in summer try to allocate 5 hours for your visit as the 'magic garden' will be open. You'll also want to spend longer enjoying the beautiful gardens and fountains. I wish I could have spent longer exploring the gardens as they made me feel like a princess, but, as previously mentioned, the temperature was becoming an issue.
Hampton Court Palace is open every day except 24-26 December; from 10:00-18:00 in summer (29 March-3 November) and 10:00-16:30 in winter (4 November – 28 March).
What should I bring?
Please, and I cannot stress this enough if you're visiting in winter, wear warm clothes and a good coat. You will spend a lot of time outdoors and even the inside of the palace can be chilly. In summer, bring a picnic lunch and enjoy it on the grass.
Regardless of what season you're visiting in, comfy shoes are essential as you'll be on your feet the whole day.
Planning your visit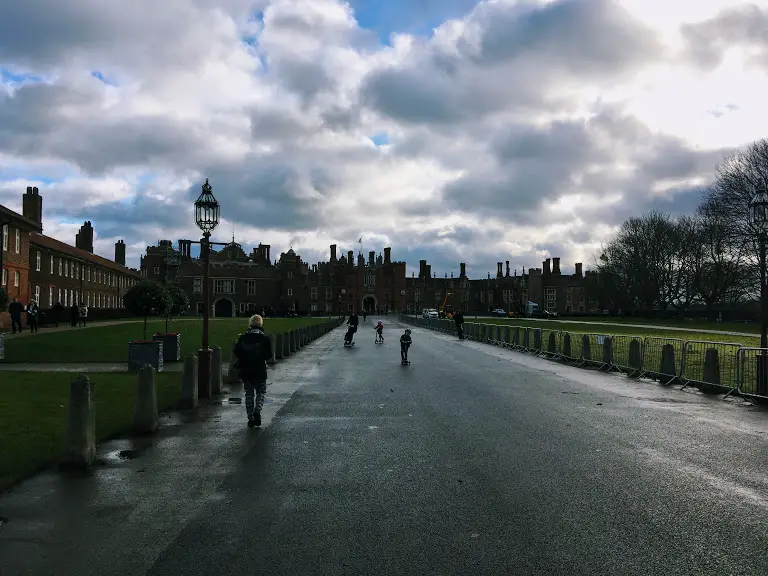 In my opinion, the perfect time to arrive at the palace is 10.30 am. Pick up your free audio guide (available in eleven languages) and then grab a 'what's on' guide and a map. The 'what's on' guide will inform you of any tours taking place that day, and the map is essential. Trying to navigate the palace is mind-boggling!
Once you're fully equipped, head to the Base Court to join the free Welcome Walk at 11 am. The tour lasts 30 minutes, is led by a costumed guide, and is the perfect introduction to the palace's history. It's also a fun way to get to know the layout of the palace and orientate yourself.
The man running my tour was acting as Sir Walter Raleigh, the famous explorer, but I believe this changes regularly so your tour guide could be anybody from the Tudor era. The guide was excellent, but I couldn't stop thinking that he must have been really cold in his costume!
After the Welcome Walk have a look if there are any other tours you would like to join. Tours offered include a garden history tour, Elizabethan cookery and more! I joined the 'Good Queen Bess' tour, where actors prepared the palace for the arrival of Queen Elizabeth I. It was good fun, and the actors crammed quite a bit of information about that area of the palace in.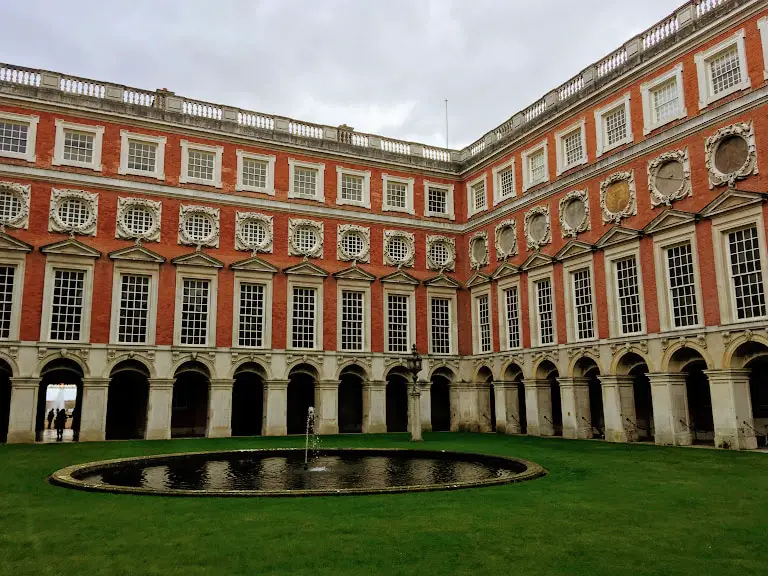 Before your next tour head straight to Henry VIII's apartments as these are likely to get busy the quickest. Don't forget to stop by the Great Hall, which used to be the very heart of the palace and welcomed hundreds of courtly visitors.
Unfortunately, the hall was closed off for conservation when I visited, but there were still windows to peek in so that I could see its famed opulent ceiling.
The second best area of the palace is, in my opinion, the Georgian Story. Wander the rooms of George II and Queen Caroline and peer in at their rooms, which include original furniture.
A lunch fit for a king?
By this point you're probably hungry. If you brought a picnic now is the perfect time to enjoy it! You can't take your audioguide into the gardens, so you will have to hand it in and collect a new one when you return).
If you're not picnicking, choose between the Privy Kitchen Cafe or the more upmarket Tiltyard cafe. If you're visiting in spring/summer, you could also visit the Fountain Court cafe. I opted for the Privy Kitchen Cafe and ordered a steak pie with mashed potato and gravy, the most popular choice.
And there, I encountered an issue.
This pie cost me £9.50. NINE POUNDS FIFTY!! I knew the price when I ordered it. I knew that I was at a tourist attraction, meaning prices would be higher than elsewhere. However, I expected it to be really good and it just…wasn't.
With hindsight, I'd just get a jacket potato or some soup as they're harder to mess up. It will still be expensive (I think jacket potatoes cost £6-7), but hey, you're paying for the location.
Moving swiftly on!
With hunger levels abated and all Privy Kitchen pies avoided, it's time to visit the exhibition area.
The exhibition during my visit, 'The Lost Dress of Elizabeth I', displayed the Bacton Altar Cloth, the only surviving dress of Elizabeth's. Interestingly, the cloth was used as an altar cloth for centuries before being identified as a rare piece of clothing.
A beautiful portrait named the Rainbow Portrait is also on display which shows Elizabeth wearing the dress, which was a cool piece of evidence pointing towards its authenticity. This exhibition closes on 23 February 2020, but I'm sure there will be a great exhibition to replace it!
A great stop is Henry VIII's kitchens, where the audioguide talks you through the processes used to cook the huge quantities of food required to feed the inhabitants of Hampton Court Palace each day, the ingredients prevalent in Tudor recipes, and there were even a few people in costume giving demonstrations of how different things were made.
Throughout the palace, there are a few gift shops: the Palace shop, the Henry shop, and the Garden shop. I didn't stop in any of them so unfortunately I can't give you any info about pricing or what's on offer there.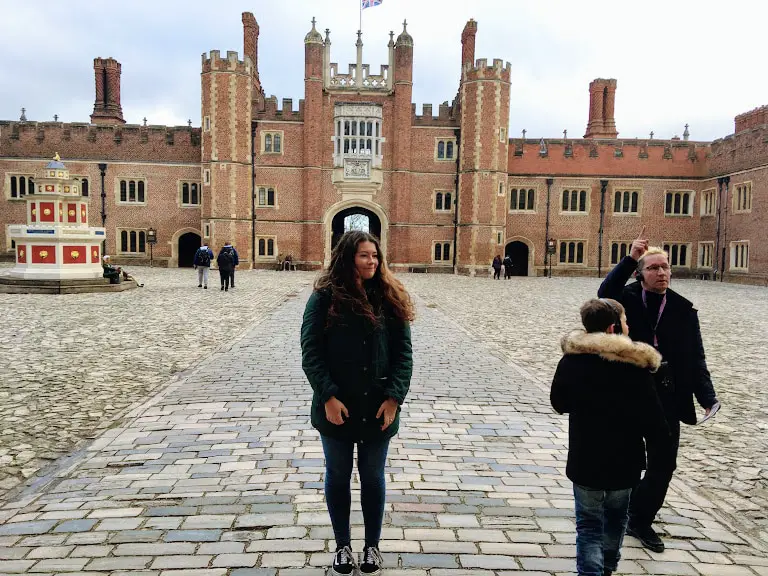 Other parts of the palace to discover include William III's Apartments, the Cumberland Art Gallery (which shows off paintings in the royal collection), the Mantegna Gallery (which shows off the series of paintings The Triumphs of Caesar) and the Chocolate Kitchens.
Unfortunately, the kitchens do not contain any actual chocolate but are in reality fairly empty rooms where chocolate used to be made. Disappointing!
So, onto a common question…
Is Hampton Court Palace haunted?
Into ghosts? Hampton Court Palace is claimed to be haunted and even offers ghost tours if that's your thing. The audioguide mentions any supposed ghosts as you enter the areas they are said to haunt, and it's a fun way to add some excitement if you have kids with you or are super into ghoul-hunting. 
A particular favourite for ghost enthusiasts is an area spookily referred to as the Haunted Gallery in Henry VIII's apartments.
Here, there are rumours that Henry's fifth wife, Catherine Howard, who was beheaded at the palace, still haunts the area. The story goes that after Catherine's arrest she escaped and ran across the gallery, screaming to Henry for mercy.
Many have reported witnessing Catherine's ghost repeating this desperate journey, or have reported feeling chills whilst in this area. Unfortunately I didn't have any ghostly encounters, but I probably wouldn't recognise a ghost if it walked right through me!
The perfect way to see history come to life
As I thawed out on the train and reflected on my day I couldn't believe how much I had seen! Hampton Court Palace transported me hundreds of years over the course of just a few hours, and I felt a much greater appreciation for just how grand and majestic life at the palace must have been. And let me say, I now feel very thankful to live in the age of central heating!
If you're heading to London anytime soon don't hesitate to add Hampton Court Palace to your itinerary. It's one of my favourite palaces in London!
Are you planning a visit to Hampton Court soon? Let me know in the comments!
Liked this post? Pin it!