There is a good chance that this post contains affiliate links. If you make a purchase through them, I may receive a small commission at no extra cost to you! As an Amazon Associate, I earn from qualifying purchases. As ever, all opinions are my own.
Puerto Vallarta is one of the most popular vacation destinations in Mexico – and with gorgeous sandy beaches, non-stop parties and drool-worthy food, it's not surprising! A question I get asked time and time again, though, is whether or not Puerto Vallarta is expensive.
It's a sensible question. Although Mexico has a reputation amongst travellers from countries such as the US, Canada and UK as being "cheap", that's certainly not the case for the whole country.
Take Tulum, for example. I found that things in Tulum cost pretty much the same as in my hometown of London, one of the most expensive cities in the world!
So, what about Puerto Vallarta? Well, Puerto Vallarta is more expensive than you may expect, but it's certainly not a budget-breaker. It's totally possible to visit Puerto Vallarta on a budget. Obviously, though, a lot of what you'll spend in Puerto Vallarta comes down to your travel style.
In this post I'm going to provide a comprehensive and detailed breakdown of prices in Puerto Vallarta for things tourists will be interested in, such as accommodation, food, transportation and activities.
This will help you calculate your daily budget for Puerto Vallarta and help you decide how much spending money to take on your vacation.
Let's go!
Top tip: The currency used in Mexico is the Mexican Peso (MXN), but I have listed most of the prices in this post in US Dollars to keep everything simple.
Price of Accommodation in Puerto Vallarta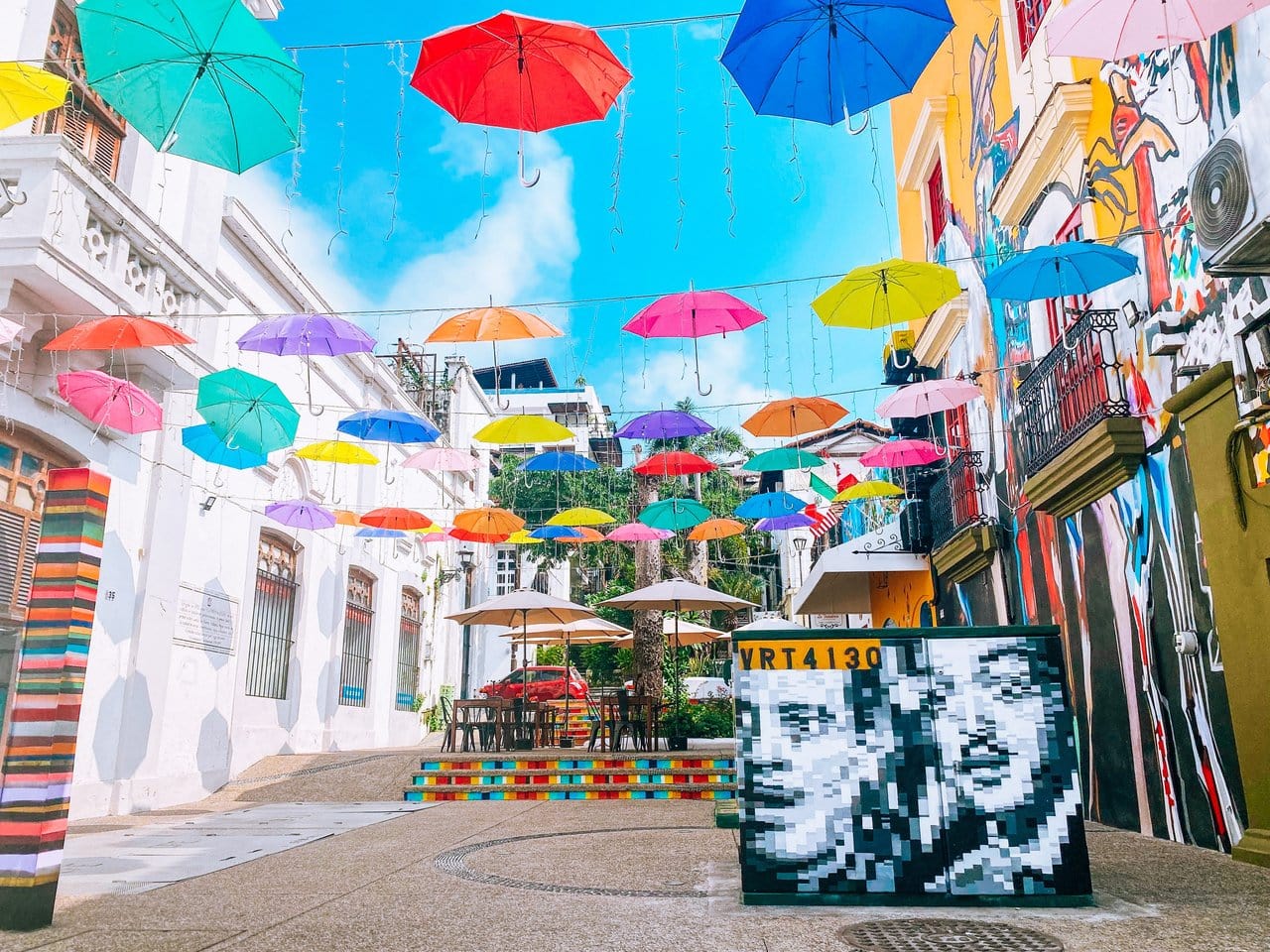 Accommodation is always one of the biggest expenses when you travel, and Puerto Vallarta is no exception. Fortunately, though, there's a wide range of accommodation options and prices in Puerto Vallarta. It's easy to find the perfect accommodation to suit your needs.
The types of accommodation that are tailored towards American tourists, like resorts and hotels with pools, will cost a lot more than local-style hotels, guesthouses and apartments. 
The cost of accommodation per night in Puerto Vallarta can range from $18, for a bed in a dorm room, up to $220+ for a beachfront resort hotel with a pool. As you can see, that is a HUGE range and isn't super helpful for calculating your daily Puerto Vallarta travel budget, so let's break this down further: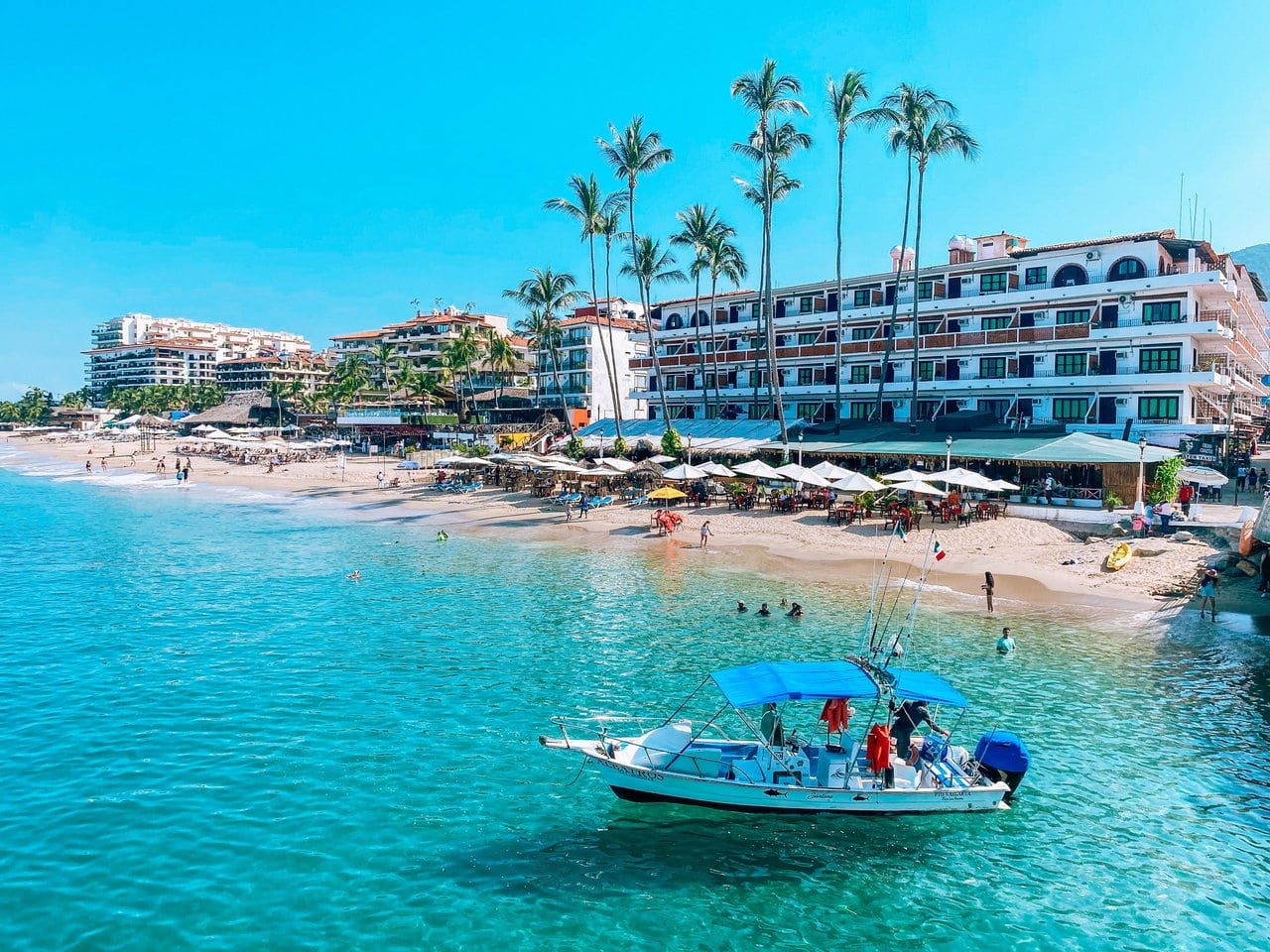 Where to Stay in Puerto Vallarta
There are two main places where tourists stay in Puerto Vallarta – downtown Puerto Vallarta (where I stayed) and the Hotel Zone, which is by the cruise ship port. Staying in the Hotel Zone will not only cost you more (because it's catered to foreign tourists almost exclusively), but it's also (in my opinion) pretty soulless compared to the real Puerto Vallarta. 
Because you'll mostly be eating, drinking and booking activities through your resort or hotel, everything is going to cost you more if you stay in the Hotel Zone.
Here are some example prices for different accommodation options in the high season (December-March) in Puerto Vallarta. Bear in mind that these prices are just averages. However, prices increase dramatically over Christmas and New Year and drop significantly during the rainy summer months:
Dorm bed in a hostel – $18
Private double room in a hostel – $45
Airbnb one bedroom apartment, downtown – $70
Double room, budget hotel, downtown – $95
Double room, beachfront hotel with pool, downtown – $130
Double room, beachfront hotel with pool, downtown – $220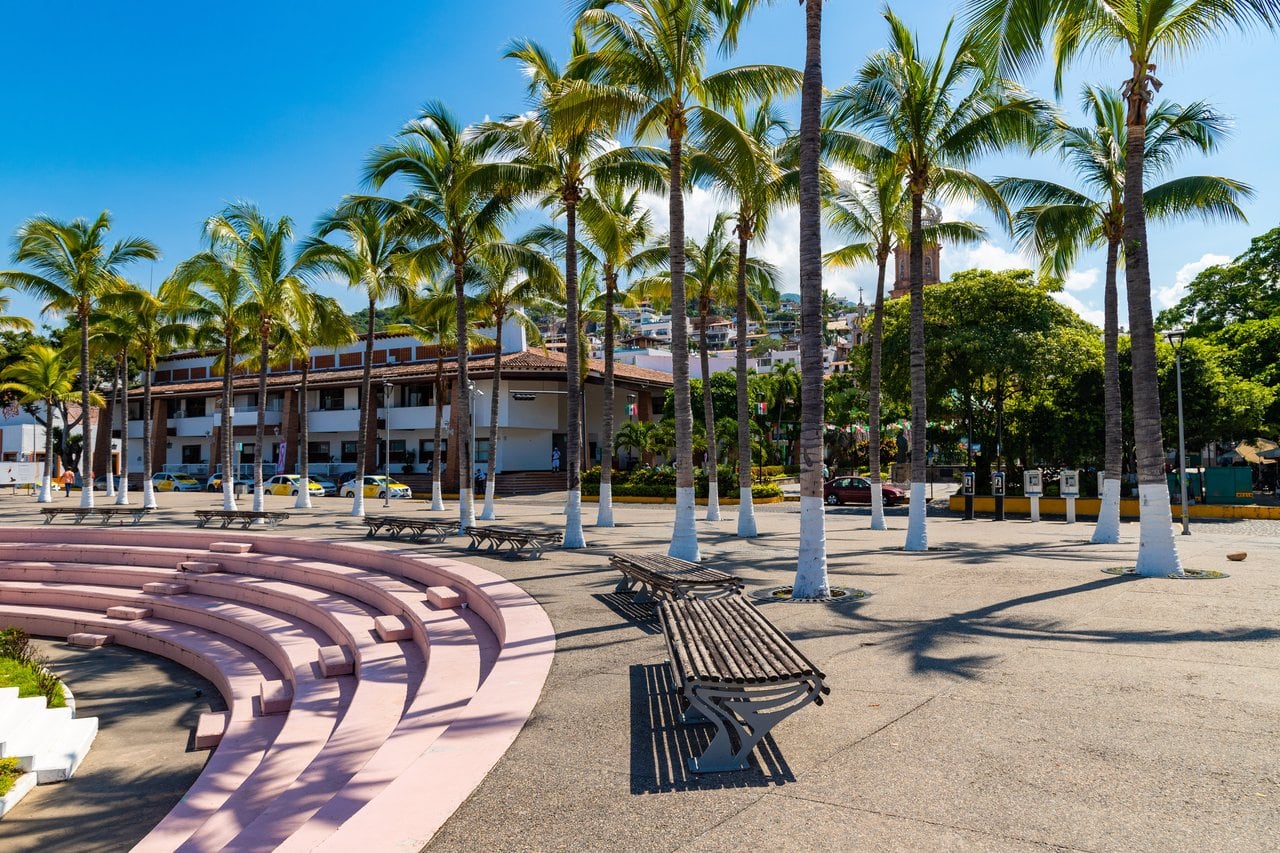 My Accommodation Recommendations:
Looking for some recommendations for accommodation in Puerto Vallarta? Here are a few places that I have either (a) heard great things about from other travellers, or (b) found during my research for this post that have excellent reviews and are worth mentioning!
Hostel
Full disclaimer here – I stayed at this crappy hostel and, despite its bizarrely high rating, it was one of the worst places I have ever stayed and I can't recommend it at all. 
I did, however, hear great things about this hostel, which was just down the street from the place I stayed and is in a central, safe location. Only some of the rooms have air conditioning so it's worth double-checking which dorm you're selecting before you book. Breakfast is also included in the price – win!
Click here to check availability & latest prices!
Budget Hotel
If you're lucky, you'll find a budget-friendly room at this traditional hotel, which is just 150 metres from the beach. The rooms are decorated in traditional Mexican style and there's a pool to cool off in. It's perfect for those boiling hot days in Puerto Vallarta!
Click here to check availability & latest prices!
I've noticed, though, that prices for that hotel do fluctuate quite a lot, so you may be out of luck and find that prices at the moment are quite high. that. If this is the case, check out this bold, bright and beautiful hotel that is one of the best places to stay in Puerto Vallarta on a budget.  
Resort-Style Hotel
This gorgeous beachfront resort and spa is the go-to if you're looking for a relaxing resort vacation in Puerto Vallarta. It has a huge pool, onsite bars and restaurants, a spa and plenty of activities on offer. If you want to get to Puerto Vallarta and then not have to worry about a single thing this is the perfect place for you to stay! 
Click here to check availability & latest prices!
Cost of Food & Drink in Puerto Vallarta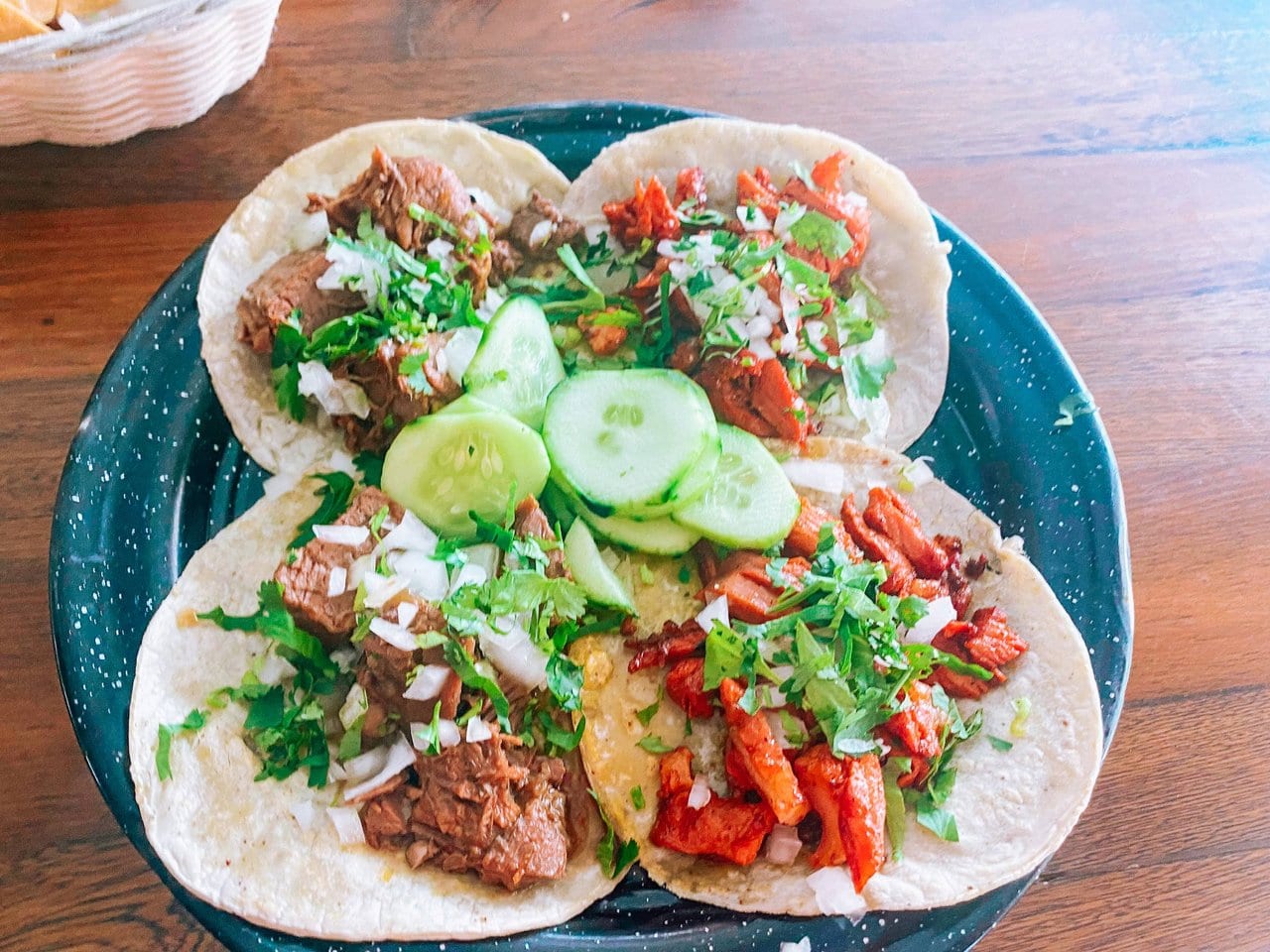 Like almost everything in Puerto Vallarta, the cost of food and drink varies greatly. If you visit tourist restaurants and beachfront bars, there's no doubt about it – eating and drinking in Puerto Vallarta is expensive.
However, if you want to taste authentic Mexican cuisine away from the tourist crowds you're in luck – there are plenty of affordable, or downright cheap, places to eat delicious tacos and drink local beer. It's very easy to eat and drink on a budget in Puerto Vallarta!
Breakfast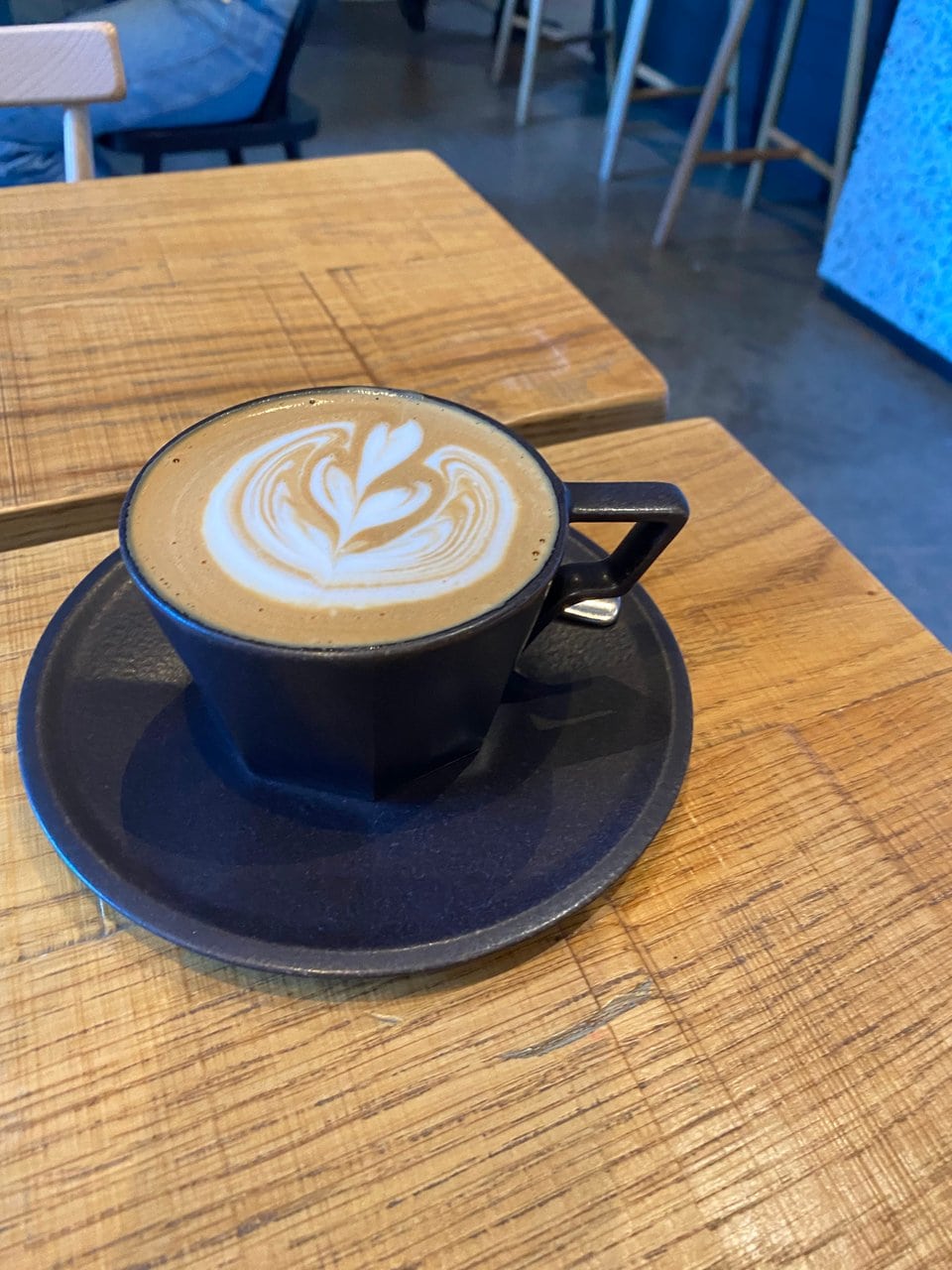 Some hostels, guesthouses and hotels will offer free breakfast, and this is almost always the case in resorts. It's always worth double checking, though. 
If breakfast isn't included in your accommodation, it's no big deal. There are plenty of coffee shops and restaurants which serve delicious and affordable breakfasts.
Local breakfast dishes, such as huevos rancheros or chilaquiles, will cost between 60 and 100 pesos ($3-5) at local-style restaurants. If you're looking for American-style breakfast dishes, such as pancakes, eggs benedict and french toast, your breakfast will be more expensive, at around 100-120 pesos ($5-6).
It's not hard to find artisan coffee in Puerto Vallarta. A latte will cost you around 50 pesos ($2.50), going up to around 60 pesos ($3) if you want it iced, and an Americano costs around 40 pesos ($2).
Lunch and Dinner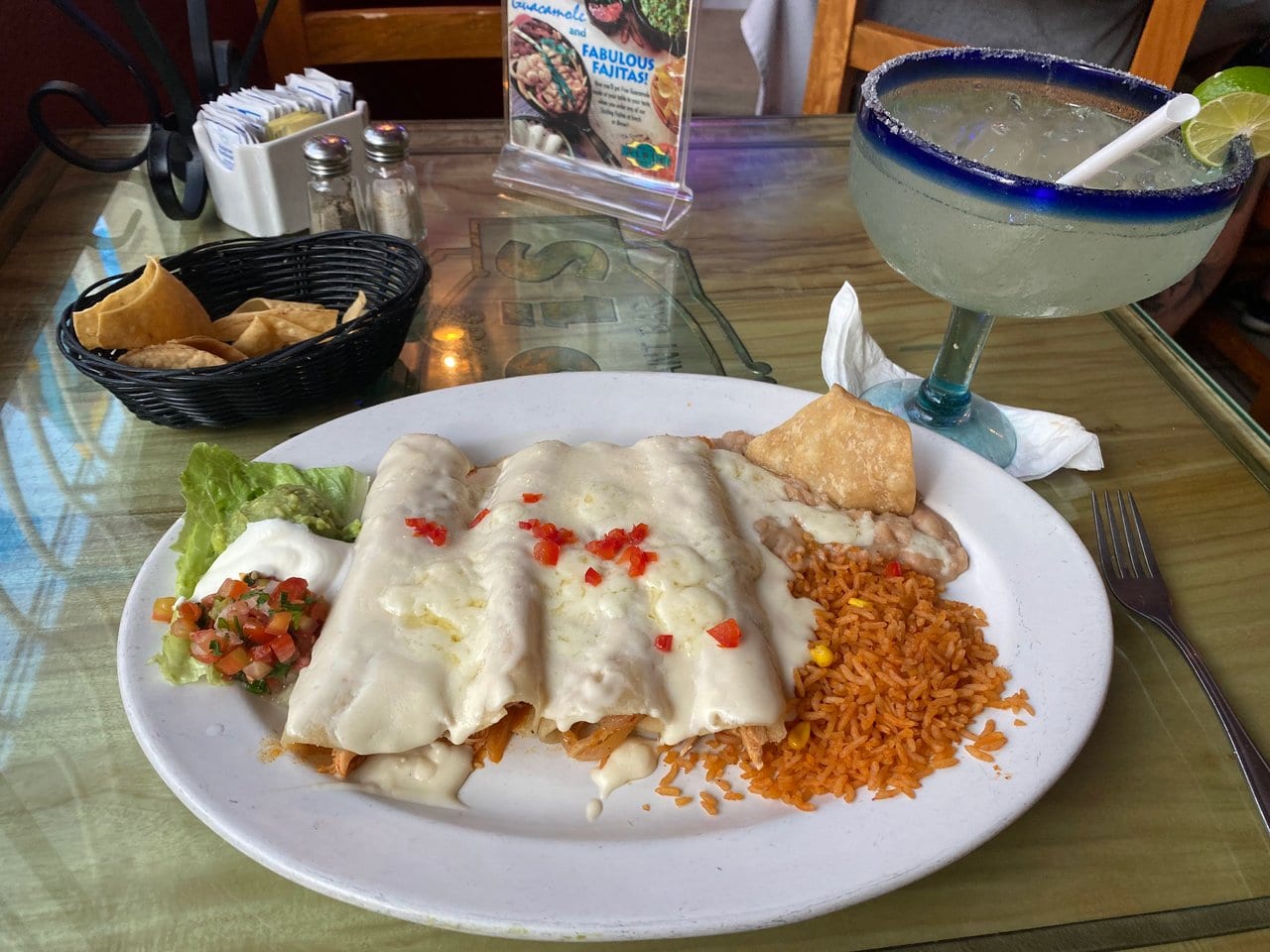 The food offerings in Puerto Vallarta are varied and delicious – from epic seafood to traditional Mexican favourites, great pasta to New York-style Deli sandwiches – this city has it all!
As a general rule Mexican food is the most affordable, with tacos costing around 20 pesos each ($1) at local taquerias.
There are also plenty of upscale restaurants in Puerto Vallarta, where the menu is much more expensive. For example, an entree of shrimp with mezcal at a more upscale restaurant will set you back around 520 pesos ($27). 
In the middle of the price range, you'll find Mexican restaurants catering to tourists, where a plate of red enchiladas will cost you 250 pesos ($13). Expensive by local standards in Puerto Vallarta, yes, but still fairly affordable for most foreign tourists.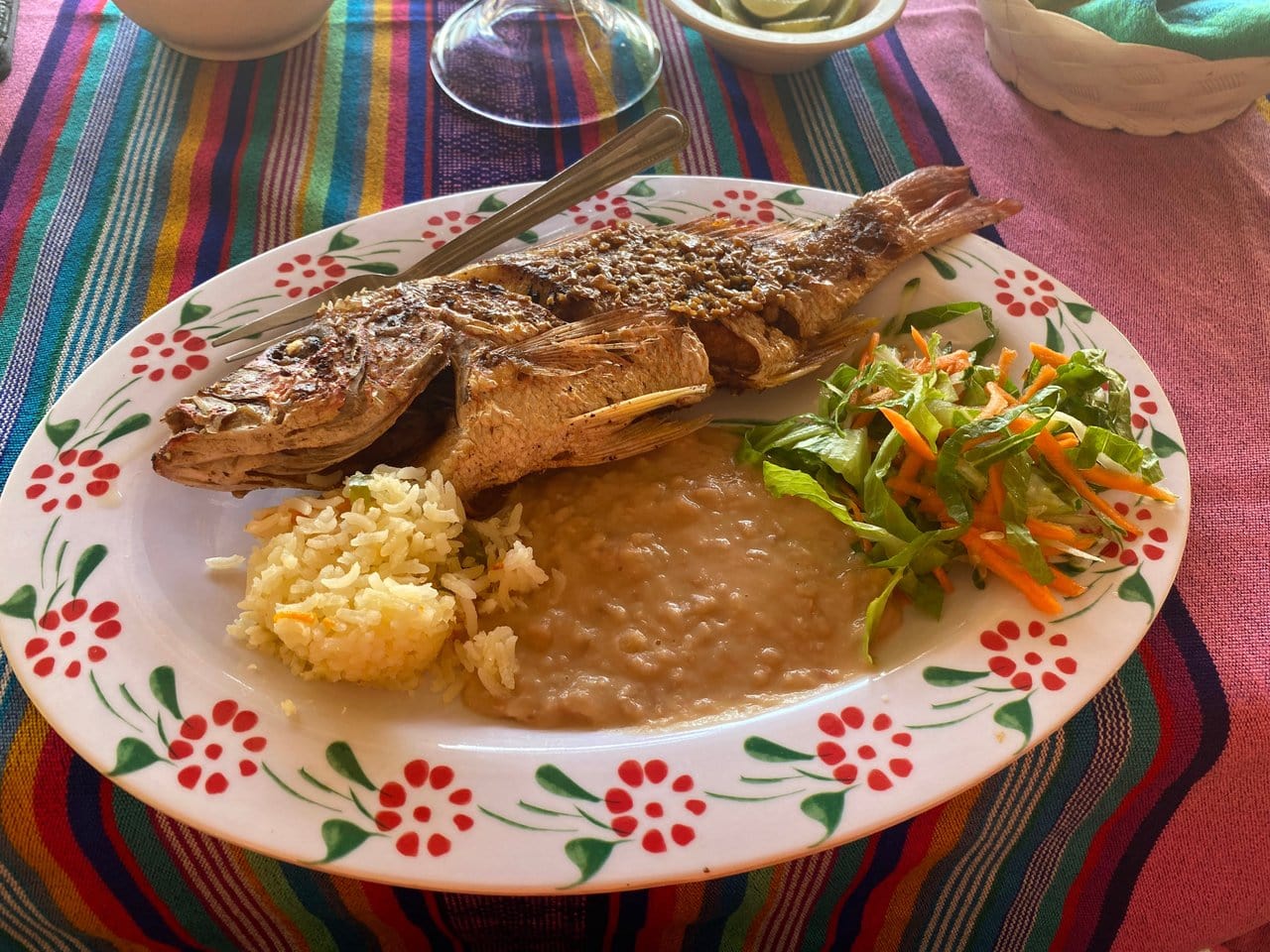 As you can see, prices for food in Puerto Vallarta range quite a bit. To keep a balanced budget I recommend having one meal per day in a local taqueria, which will cost around $4 for a full dish, and then the other meal in a more upscale or touristy restaurant for around $18 or so.
My average daily spend for food in Puerto Vallarta was 350 pesos per day ($18), which is very low! This is a realistic daily food budget if you're backpacking in Puerto Vallarta.
If travelling on a mid-range budget, around $35-40 per person per day for all three meals is more realistic.
Tipping in Puerto Vallarta
It's worth remembering that a 10-15% tip is customary in Puerto Vallarta, so make sure you build this into your travel budget.
Cost of Drinks in Puerto Vallarta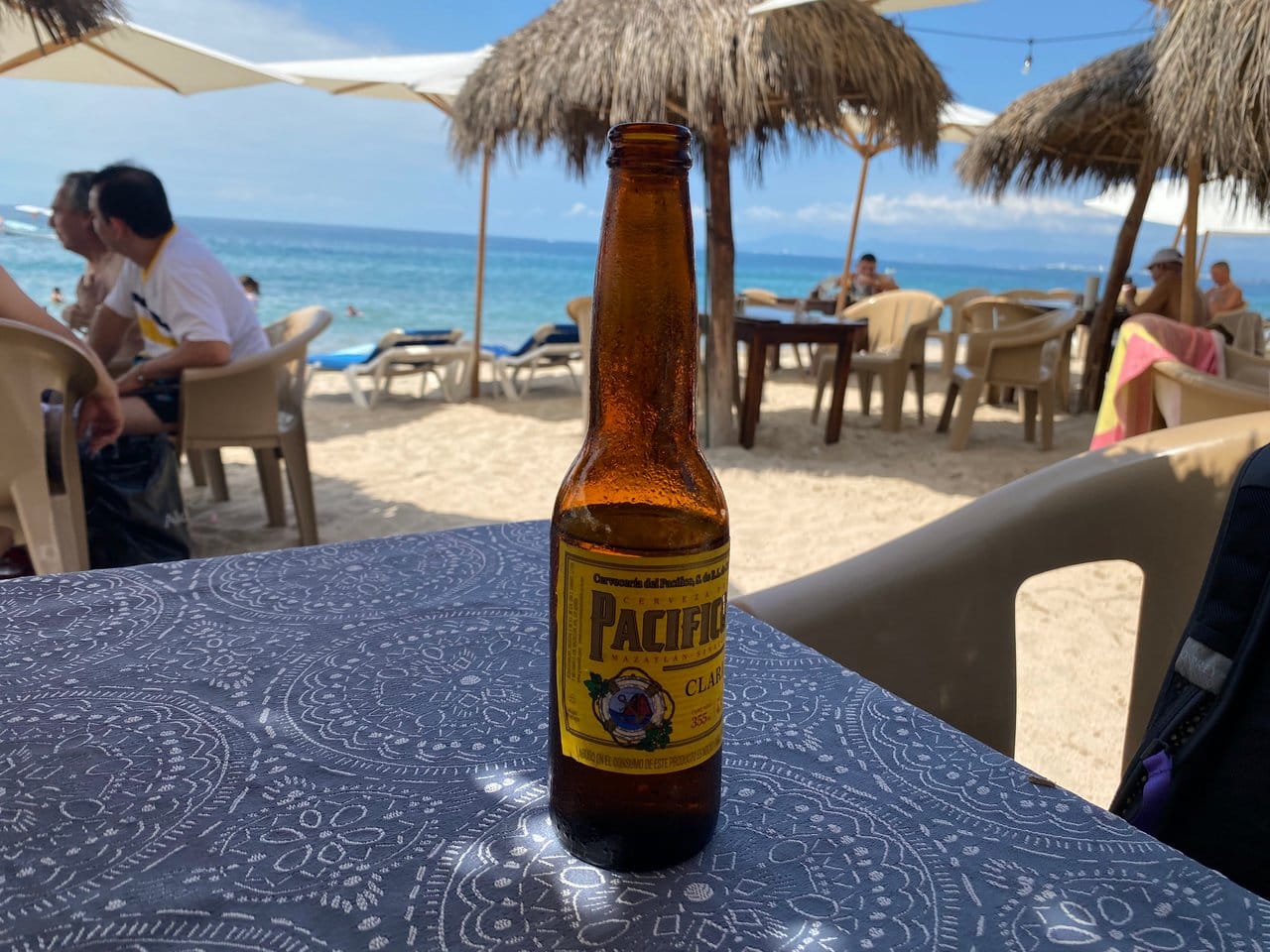 Puerto Vallarta is both a vacation destination and a party hotspot, so if you're planning a trip here chances are you'll want to know how expensive alcohol is!
The cost of beer is low in Puerto Vallarta, with a bottle of Pacifico at a bar costing around 35 pesos ($1.80). This price is pretty universal in Puerto Vallarta, and I found that the price of beer didn't vary much between different bars and restaurants. It's always cheaper to drink local beers like Pacifico, Victoria and Corona instead of imported ones.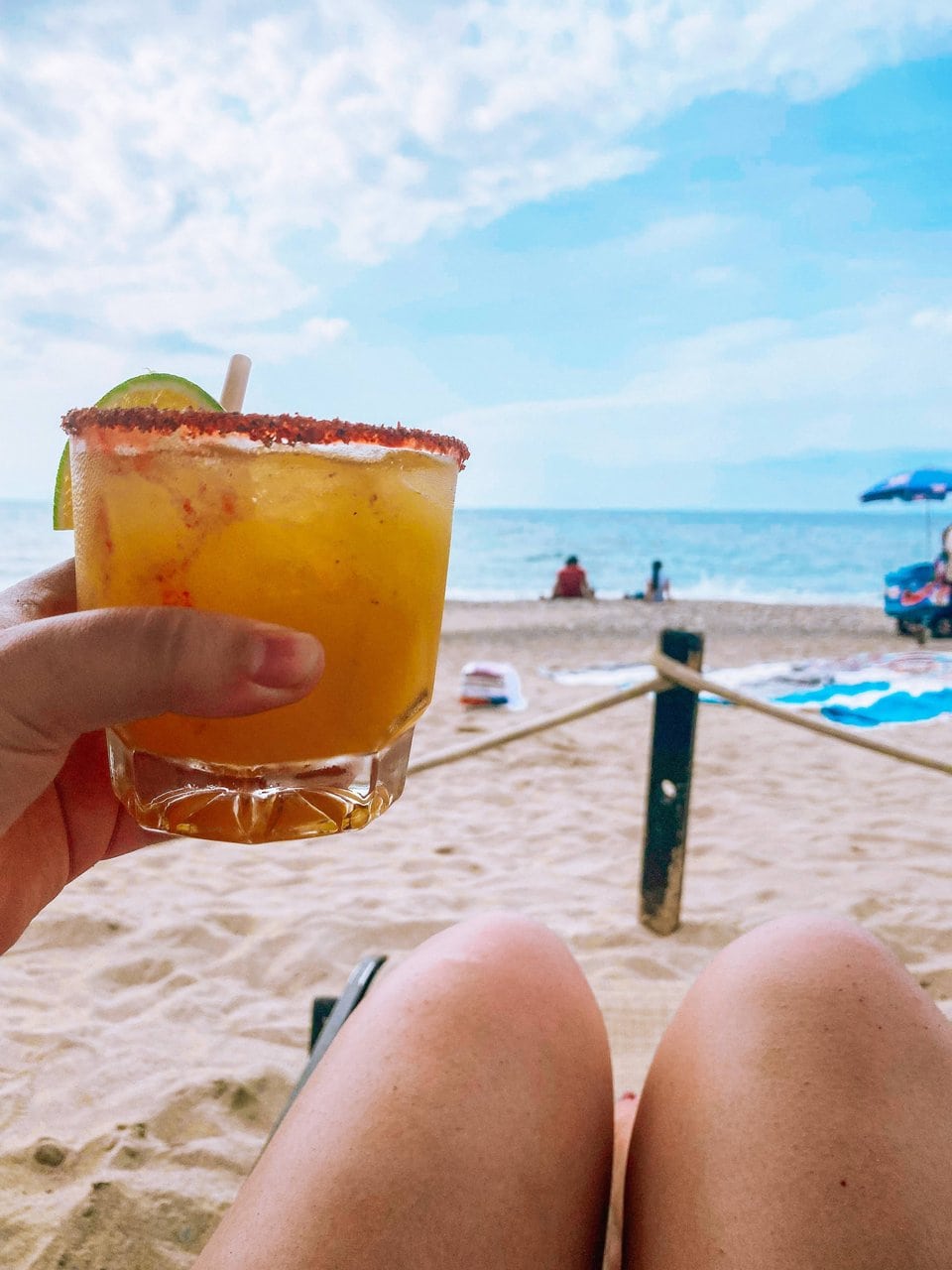 Now it's time for cocktails! At beach bars, 110 pesos ($5.65) is pretty standard for classic cocktails such as margaritas or mojitos. At local restaurants 95 pesos ($4.88) is more common. There are happy hour deals across town where you can get 2-for-1 cocktails, so if you're on a budget take advantage of these!
Wine isn't as popular as beer and cocktails in Puerto Vallarta, but it's not too expensive. A bottle of house wine in a restaurant will cost around 300 pesos ($15.50).
Obviously, it's always cheaper to buy alcohol at the supermarket. A 500ml bottle of local beer at the supermarket costs around 25 pesos ($1.30) and a bottle of wine is around 200 pesos ($10.25).
Price of Activities in Puerto Vallarta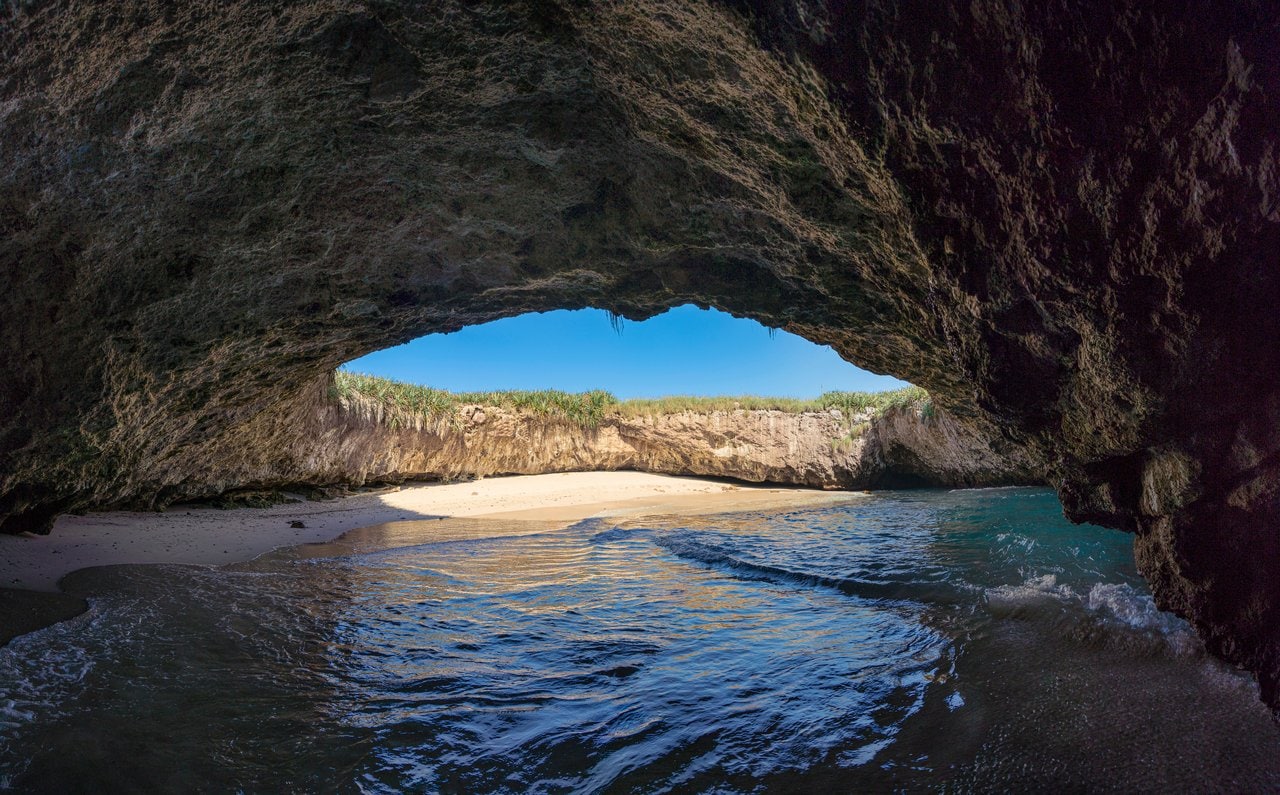 The great thing about the cost of activities in Puerto Vallarta is that it can be as high or as low as you like! There is a tonne of free things to do in Puerto Vallarta like going to the beach, exploring the local market, hiking to the Cerro del Cruz viewpoint or visiting the secret Colomitos beach!
One of the top things to do in Puerto Vallarta is to take a boat tour to the Marietas Islands. This half-day tour costs around $98 per person, so although it gets rave reviews it is certainly one of the more expensive things to do in Puerto Vallarta.
Let's go through the prices of some other popular activities in Puerto Vallarta: parasailing costs around $65, ziplining through the canopies costs $35, ATV riding costs $75 and a whale and dolphin watching tour costs $87.
Price of Transportation in Puerto Vallarta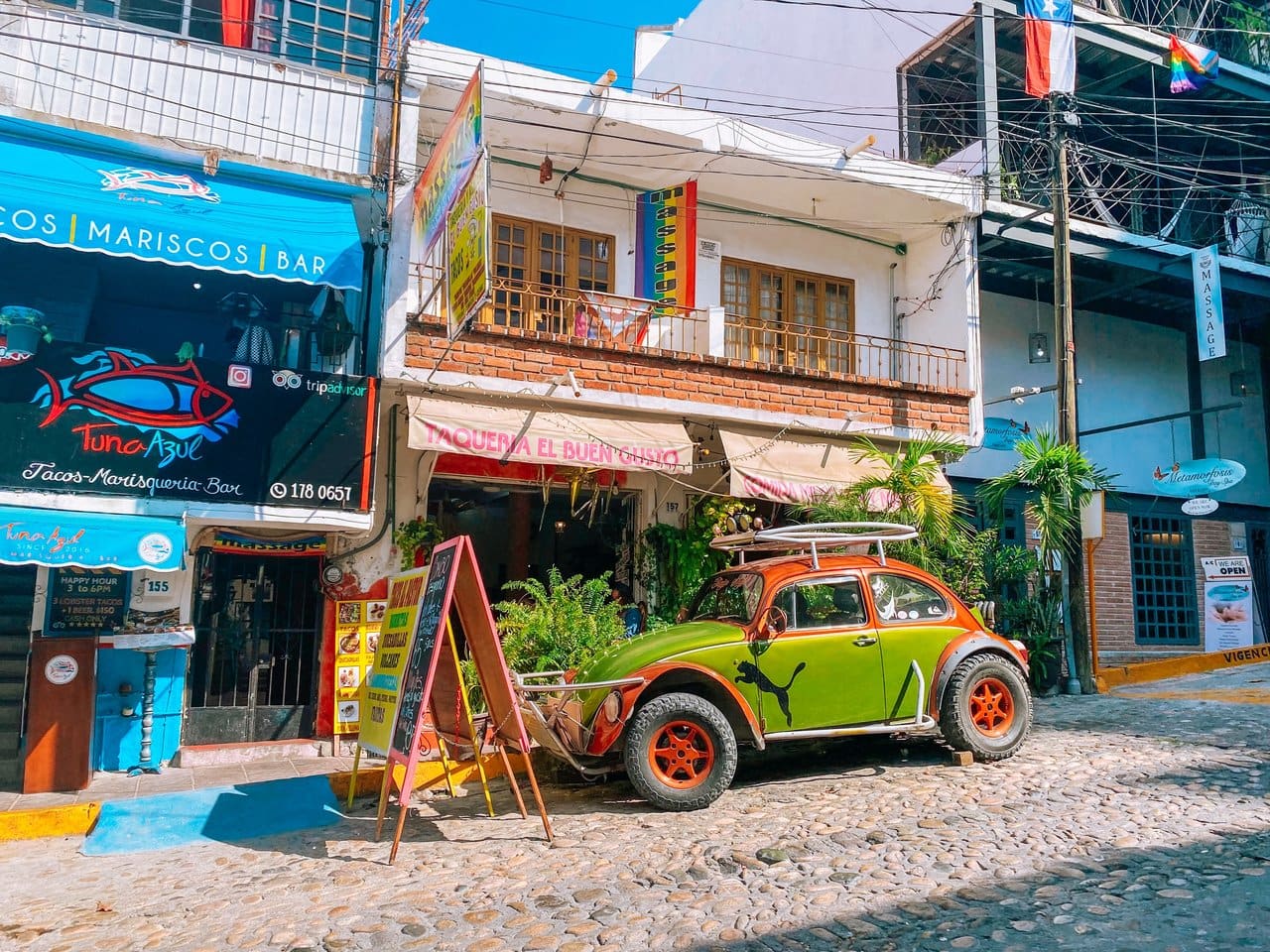 Unless you're planning to hire a car (which plenty of people do, but I don't think is necessary) you'll be relying on taxis and local buses. Luckily, there is Uber in Puerto Vallarta, and this is the best way to use taxis as it's the most secure option.
From the airport, you can either catch the local bus (I took this on my arrival during the daytime and felt totally safe doing so) or a taxi.
An uber from the airport to downtown Puerto Vallarta costs around 140 pesos ($7.20). To the Hotel Zone it costs around 80 pesos ($4.10). Alternatively, you can catch the local bus from the airport to downtown Puerto Vallarta for 10 pesos ($0.50) each way.
To get around Puerto Vallarta you can either use Ubers, the public buses (which usually cost 10 pesos – $0.50 – per journey) or walk. Downtown Puerto Vallarta is a walkable place, and very safe for tourists, so it's easy to get around for free!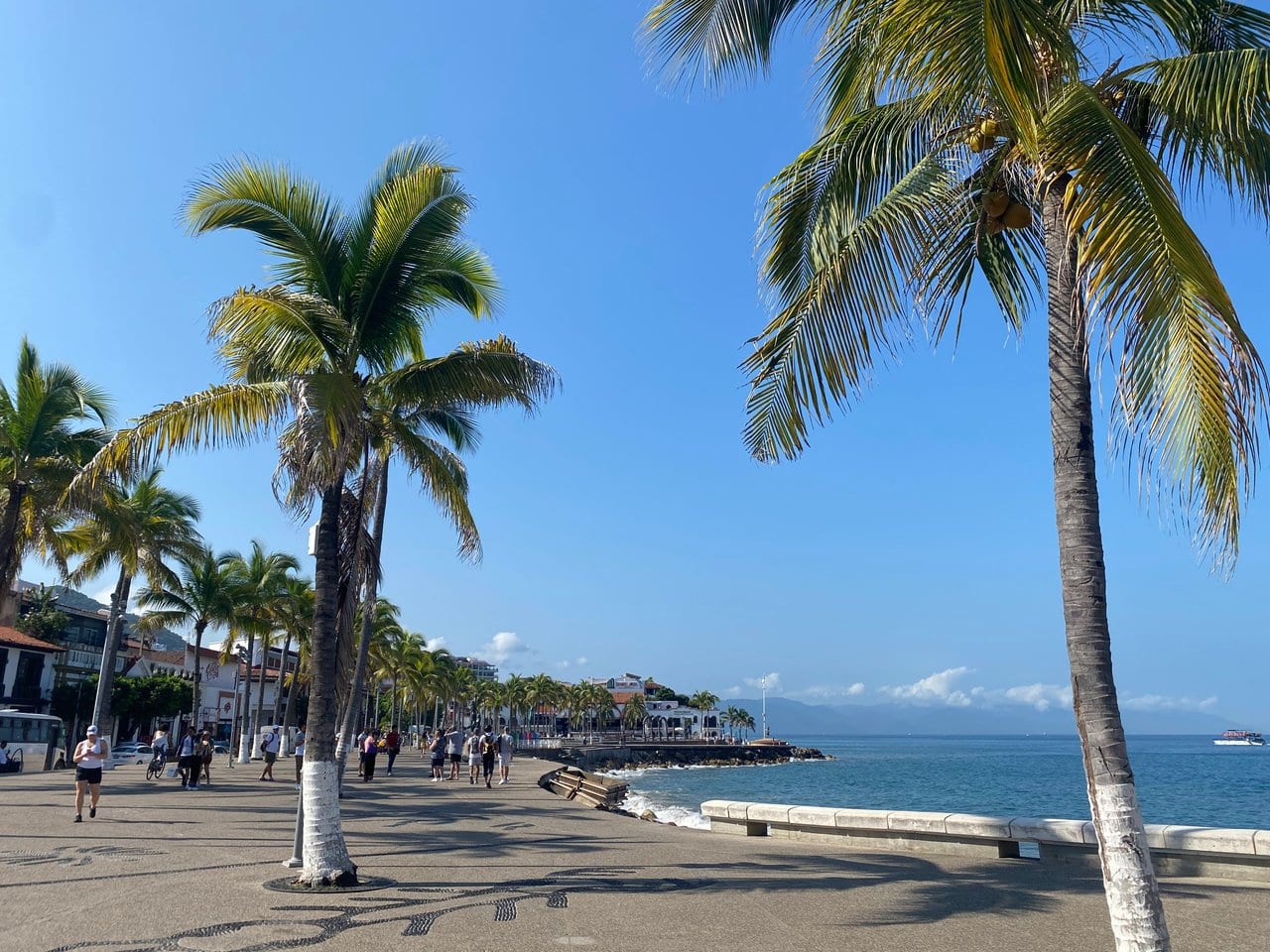 Flights to Puerto Vallarta
Flying to Puerto Vallarta can be surprisingly cheap. I flew directly to Puerto Vallarta from London with TUI Airlines for just £215 ($260) one way! Flights are usually affordable because so many budget package holiday providers fly here from the UK, Europe and the US. 
That said, if you're visiting Puerto Vallarta during the peak season over Christmas and New Year you'll see flight prices skyrocket. My best recommendation for travel during this period is to book your flights as far in advance as possible.
I can't provide an average price of flights to Puerto Vallarta because it totally depends on where you're flying from and what time of year you're flying in. Obviously, flying to Puerto Vallarta from Mexico City will cost far less than flying here from Sydney, Australia! I always use Skyscanner to find the best flight deals.
Cost of Travel Insurance for Mexico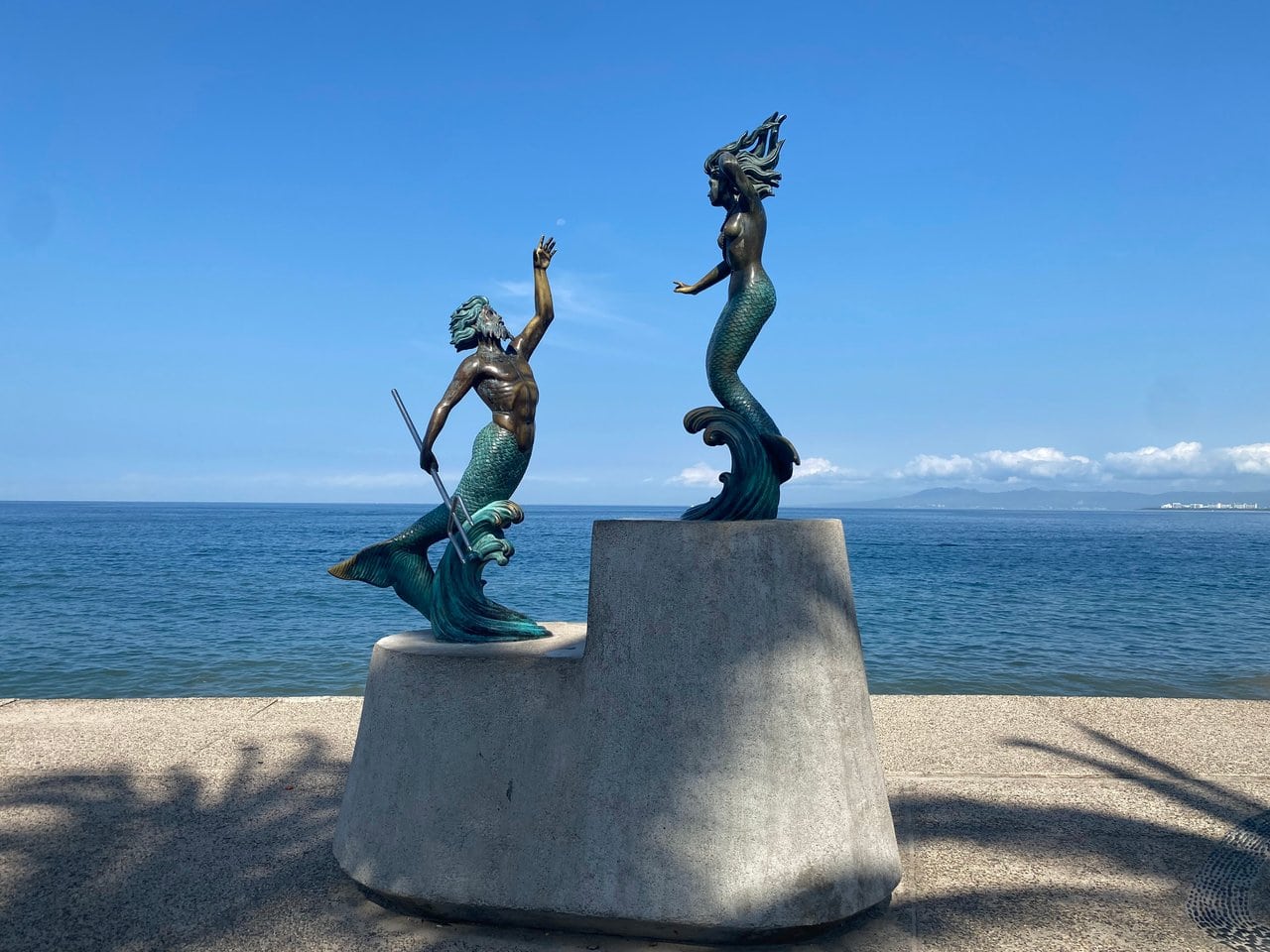 If you have even a single brain cell, then travelling without travel insurance is absolutely out of the question! It's a necessity no matter where you're travelling to, and although I felt very safe in Puerto Vallarta, bad luck can happen to anybody.
Mexico doesn't have the greatest reputation for safety, so it's always better to err on the side of caution and get travel insurance.
Of course, I can't force you to buy travel insurance, but I've heard of far too many people who skip paying the small price of travel insurance and instead end up with a hospital bill worth thousands of dollars when they accidentally get injured on their trip. 
Travel insurance will also cover you if your flight is delayed or cancelled, if any of your devices are lost or damaged, or if the airline loses your luggage, which happens alarmingly frequently!
For my readers I recommend SafetyWing. This is probably the most popular insurance in the world for adventurous travellers. It also covers a ton of fun activities so you can go hiking or mountain climbing with no worries.
Click here to get a quote from SafetyWing!
Average Travel Insurance cost = €30 for 1 month (€1 per day!).
Daily Budget for Travel in Puerto Vallarta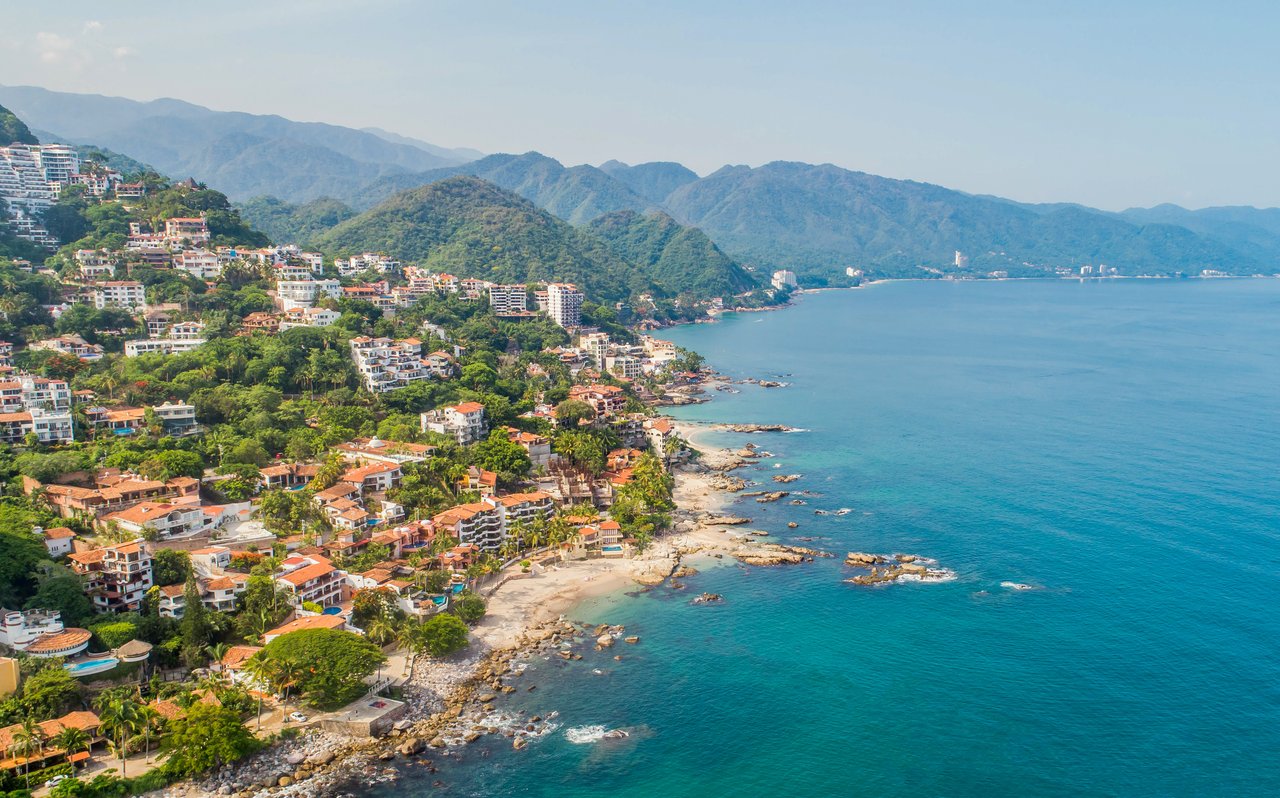 Phew… I know there has been a LOT of information in this post, so let's bring it all together to calculate a realistic daily budget for mid-range travel in Puerto Vallarta:
Double room, beachfront hotel with pool in downtown (shared with travel partner) = $65 each
Breakfast and coffee = $6.50
Lunch and dinner at traditional restaurants (not including drinks) =  $25
One cocktail and two beers = $9.50
Ziplining tour or another affordable tour/attraction = $35
Total average vacation cost for one day in Puerto Vallarta on a mid-range budget = $141. 
Obviously, this budget is the mid-range option, so it's possible to spend far more or far less on your trip to Puerto Vallarta. Each person's tastes are different, and the cost of your accommodation plays a huge role in your average spend for a trip to Puerto Vallarta.
A realistic mid-range budget range for Puerto Vallarta is around $100-160 per day.
As a budget backpacker, my average daily spend for Puerto Vallarta was just $43.50! I did this by staying in a hostel, only eating at local restaurants, and only doing free or cheap activities. A realistic backpacker budget for Puerto Vallarta is around $35-45 per day.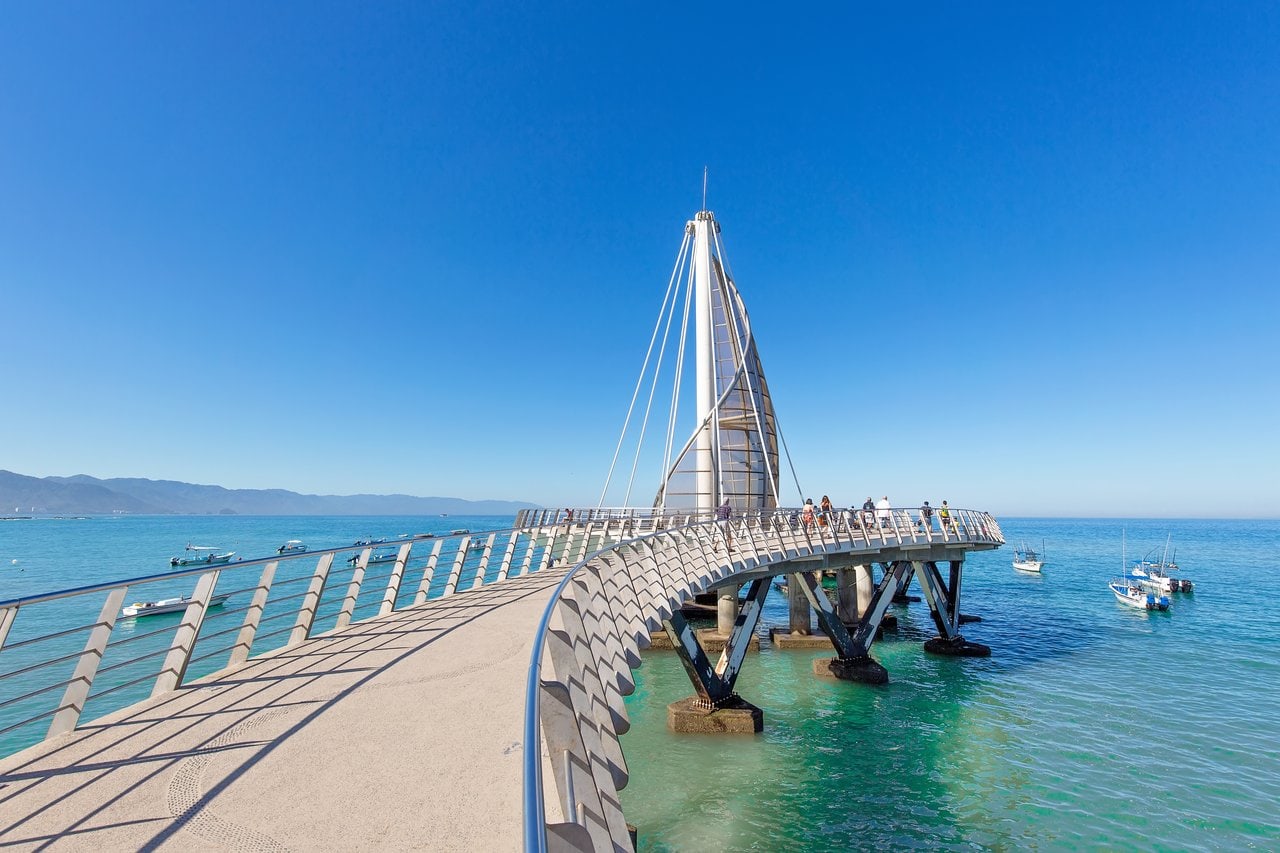 Is Puerto Vallarta Expensive?
Puerto Vallarta is expensive when compared to many other destinations in Mexico. In terms of why Puerto Vallarta is so much more expensive than other parts of Mexico, it's worth remembering that with the influx of tourists from the US and Canada, the cost of living in Puerto Vallarta has risen. 
With that, locals need more money to cover their living costs, and can also charge higher prices to these tourists who come from wealthier countries. After all, these higher prices will still seem "cheap" to these wealthier foreign tourists.
Just because Puerto Vallarta is expensive by Mexican standards does not mean that it is objectively expensive. It's certainly cheaper to visit Puerto Vallarta than cities in the US, Canada, UK and Australia.
Although it's very easy to spend a lot of money in Puerto Vallarta, with just a little effort and pre-planning it is very possible to visit Puerto Vallarta on a budget and have a cheap trip to Puerto Vallarta!
Have an amazing vacation!