There is a good chance that this post contains affiliate links. If you make a purchase through them, I may receive a small commission at no extra cost to you! As an Amazon Associate, I earn from qualifying purchases. As ever, all opinions are my own.
Last Updated on December 7, 2021 by Ella
Vienna is one of those places that's amazing to spend 2 or 3 days in at any time of the year. Whether you're soaking up the sun in one of the city's gorgeous parks in summer or nestled into a cosy corner of a café in the depths of winter, this city has something to offer every single month of the year.
Famed for its world-class opera and its grand royal palaces, Vienna is a great city break destination. You can visit Vienna for just the weekend or as part of a longer trip through Austria, or even Europe!
To truly get a flavour for Vienna and be able to see (and eat!) enough to have you head over heels and desperate to return, 2 or 3 days in Vienna is the ideal amount of time to spend in this great city! I actually spent 4 days in Vienna, but, realising many visitors are pushed for time, I put together this Vienna itinerary for 2 days (with some extra suggestions at the end if you're planning to stay for 3 or more days in Vienna).
Why Did I Visit Vienna?
Having spent 7 years of my life learning to speak German and having visited Germany more times than I could count, I was desperate to get to Austria to get my head around their different pronunciation of German. Also, I wanted to see just how different Austria is from Germany.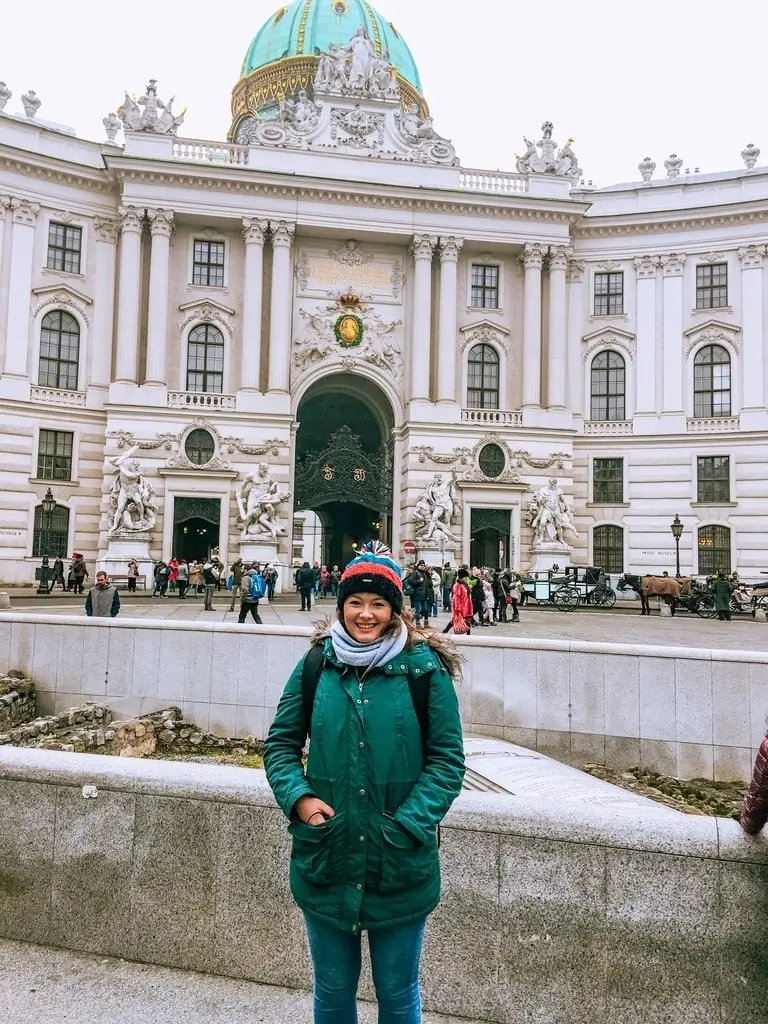 Scrolling through Skyscanner one rainy November evening, I found return flights to Austria's charming capital for just £20 return! Jackpot! I quickly booked two tickets for me and my boyfriend to spend a weekend in Vienna to celebrate our anniversary.
Trust me, I was not disappointed!
I would return to Vienna in a heartbeat, and this itinerary will have you desperate to get there too! I've started out this guide with an in-depth itinerary for 2 days in Vienna. There is a section after that on things you can add to the itinerary if you're planning to stay for 3, 4 or 5+ days in Vienna.
How to Spend 2 Days in Vienna
Day 1: Palaces, Libraries and Coffee
Stop 1: The Austrian National Library
Known as the Nationalbibliothek, this is the largest library in Austria and a book-lovers paradise! This majestic library contains an overwhelming amount of ancient books, maps, manuscripts, and even holds regular exhibitions! When I visited, the library was showcasing a Beethoven exhibition. I didn't know the first thing about Beethoven before visiting the library, so it was a cool bonus!
The highlight of the Austrian National Library is the Grand Hall, an extravagantly decorated room built in the 1720s! This room alone apparently houses over 200,000 books! As you enter, you'll find two-storey floor-to-ceiling bookshelves, all crammed full of ancient tomes.
Entry to the Austrian National Library will set you back €8, with an extra €3 for an audio guide. Although you can visit without the audio guide, I recommend getting one to get the most out of your visit. I would have missed out on so much information if I hadn't hired one!
Stop 2: Refuel in One of Vienna's Grand Cafés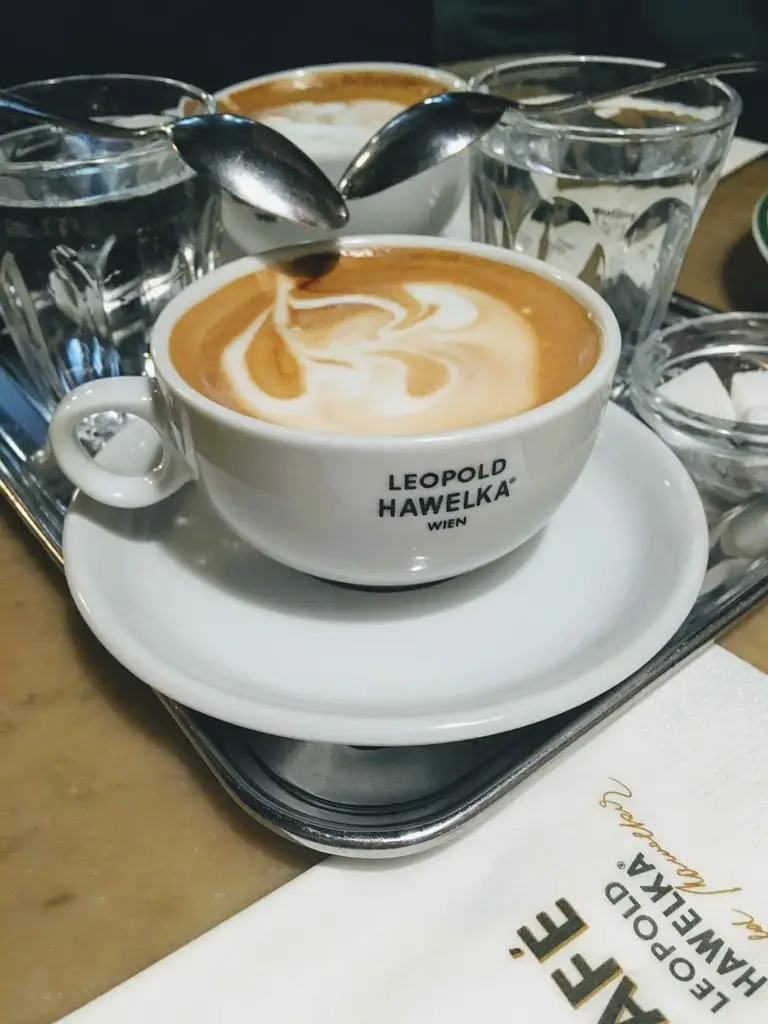 If you're visiting Vienna in winter, nothing will sound more appealing than settling into a cosy café and enjoying a steaming cup of coffee, with something sweet to go with it. For pure cosiness, you can't beat Café Hawelka.
Opened in 1945 and run by the same family for 3 generations, you wouldn't believe you're just minutes away from the hustle and bustle of some of Vienna's most famous tourist attractions. Settle into a seat, order yourself a Melange (a Viennese cappuccino) and a steaming plate of apple strudel, and enjoy some time spent people-watching.
Even in summer, Café Hawelka is a great stop – just maybe ask for a slice of Sachertorte instead. This cake is Vienna's one of Vienna's most famous exports – a chocolate cake with apricot jam. Unlike the apple strudel, it is served cold.
Café Hawelka is just a couple minutes' walk from the Austrian National Library. In my opinion, it's one of the best cafés in Vienna.
Want to know more about these delicious cakes? Check out my post on the amazing cakes you need to try in Vienna!
Stop 3: Discover Hofburg Palace
If you've heard the clip-clopping of horse's hooves as you explored Vienna, you'll soon realise that this is where they're coming from. The Hofburg Palace was the winter residence of the imperial Hapsburg family, who reigned from the 13th century. Visiting the Hofburg Palace is a highlight of this 2 or 3 days in Vienna itinerary!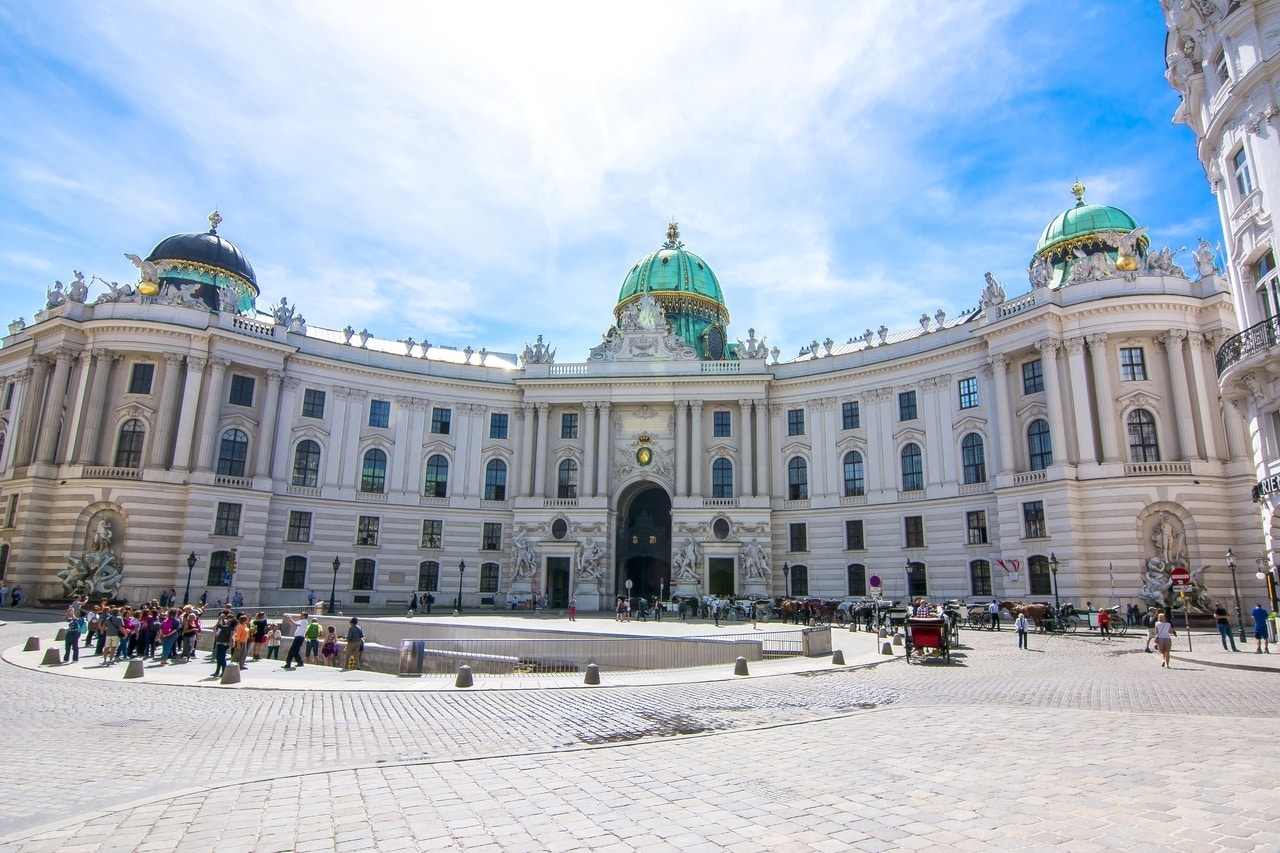 Stroll around the exterior of the palace and some of its surrounding gardens to get your bearings and snap a few photos. Once you've familiarised yourself with the Hofburg's grounds, head into the ticket office and purchase the Sisi ticket. This is a combined ticket which allows you to access the Hofburg Palace (including the Sisi Museum), the Schönbrunn Palace and the Imperial Furniture Collection.
Don't worry! You don't have to visit them all in the same day, as the ticket will remain valid.
In fact, I didn't even get round to visiting the Imperial Furniture Collection but the ticket was still worth buying to skip the huge queues when you get to the Schönbrunn Palace. The Sisi ticket costs €36.00 for adults, or €33.00 for students aged 19-25.
Entering the Palace, you'll get an audio guide, and the first exhibition you'll enter is the silver collection. Essentially this is a ridiculously extravagant collection of silver plates, cutlery and other dining equipment that the Hapsburg family owned.
If I'm being honest, you can breeze through this section as it's not very interesting (sorry!). There are in-depth information guides on the audio tour, but unless you're super into silver or something I wouldn't bother.
After a quick scan through the Silver Collection, head to the Sisi Museum. This is a part of the palace dedicated to Princess Elisabeth, affectionately known as 'Sisi'. This museum is totally fascinating and goes through the life (and dramatic assassination!) of Princess Elisabeth. Try to make your own mind up on what type of person Elisabeth was, but after touring the museum I personally thought she sounded like THE WORST.
Next up, your audio guide will tour you around the Imperial Apartments of the Hofburg. Unfortunately, you can't take photos inside, but trust me when I say it is as lavish and extravagant as you'd expect. The audio guide does a great job of giving you a concise history of the Hapsburg family and the palace.
Stop 4: Vienna Opera House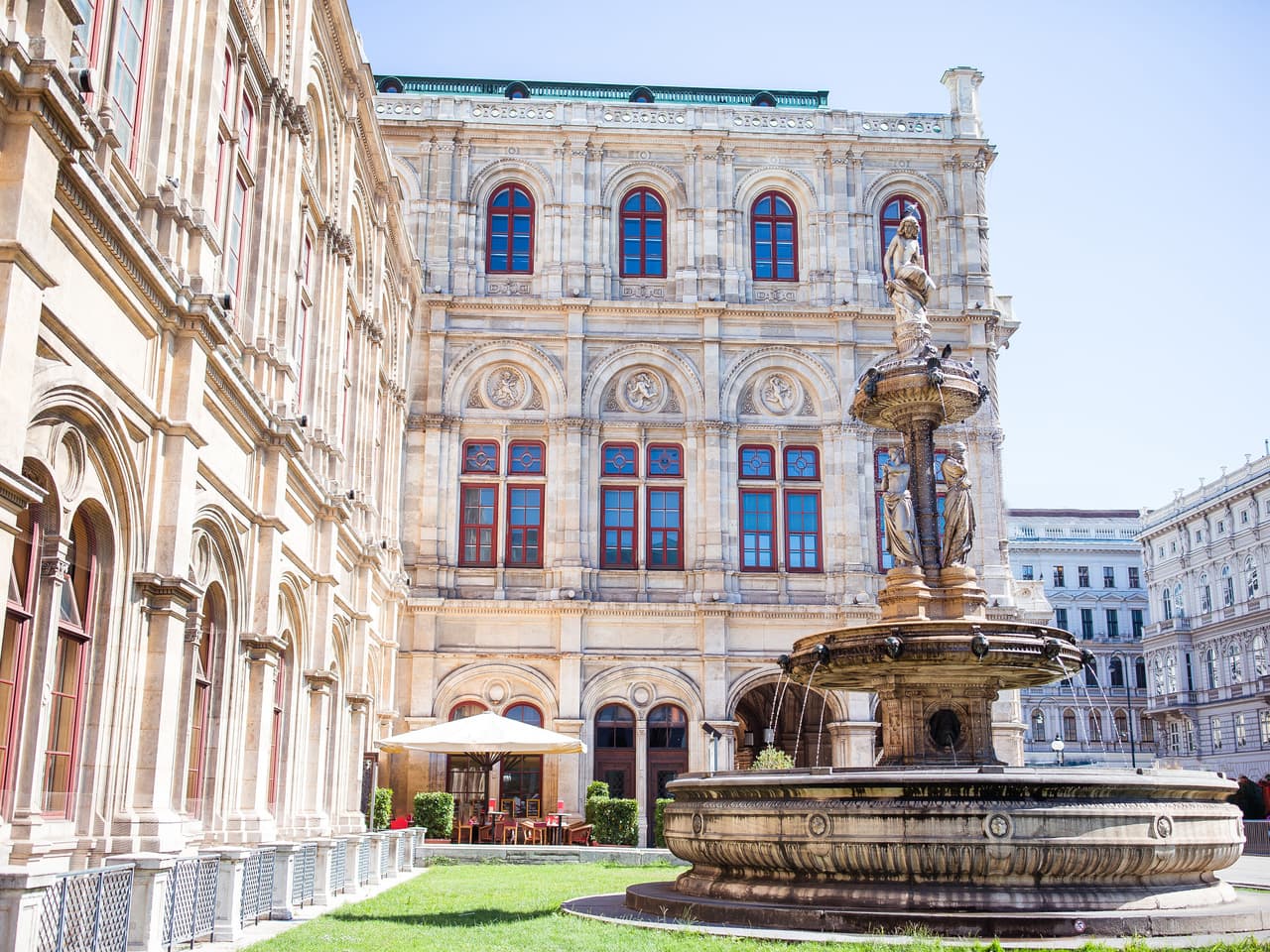 Walking back into the city, you'll pass by the world-famous Vienna Opera House. Although pretty, its exterior definitely isn't as opulent as you'd imagine. You can take a tour of the inside of the Opera House, which I've heard is highly recommended. We didn't have time to take the tour, but it's on my itinerary for my next visit!
If you don't have time to take a tour, walk around the exterior and snap a few photos, and see if you can return later in the evening or the next day for a performance. If you book very far in advance or turn up a few hours before the performance, you can get tickets for super cheap.
Stop 5: Dinner at the Griechenbiesl
To finish Day 1 of this itinerary for 2 or 3 days in Vienna, make sure you have reserved a table in advance at Vienna's oldest restaurant, Griechenbiesl.
If you're visiting in summer, I've heard that you need to make a reservation weeks in advance! As we travelled at the end of January, we just booked a couple of hours beforehand. We were very lucky to get a reservation.
This upscale and traditionally decorated restaurant first opened way back in 1447. It has served countless famous customers over the years, including Mark Twain, Schubert and Strauss! Fortunately, you don't need to dress up at this restaurant, but it's definitely one of the fancier Austrian restaurants in Vienna.
Its interior feels like a rabbit warren, with each ancient dining room leading to another hidden dining room. The vibe is intimate, the food is INCREDIBLE and the service is great. The waiters here didn't seem to speak English (or perhaps just preferred not to?) so having some basic German phrases will get you a long way.
(Psst – don't worry – I have a list of easy German phrases you should know before your trip at the end of this post).
I ate some amazing schnitzel, and Rob ordered the duck, which he said was one of the best things he had ever eaten. Mains were around €20, so this isn't the place to head to for cheap food in Vienna. That being said, the portions are MASSIVE and the experience as a whole was totally worth the price, no doubt about it. This is probably the best restaurant for dinner in Vienna.
Day 2: Schönbrunn and Sausages
Stop 1: Feel Regal at the Schönbrunn Palace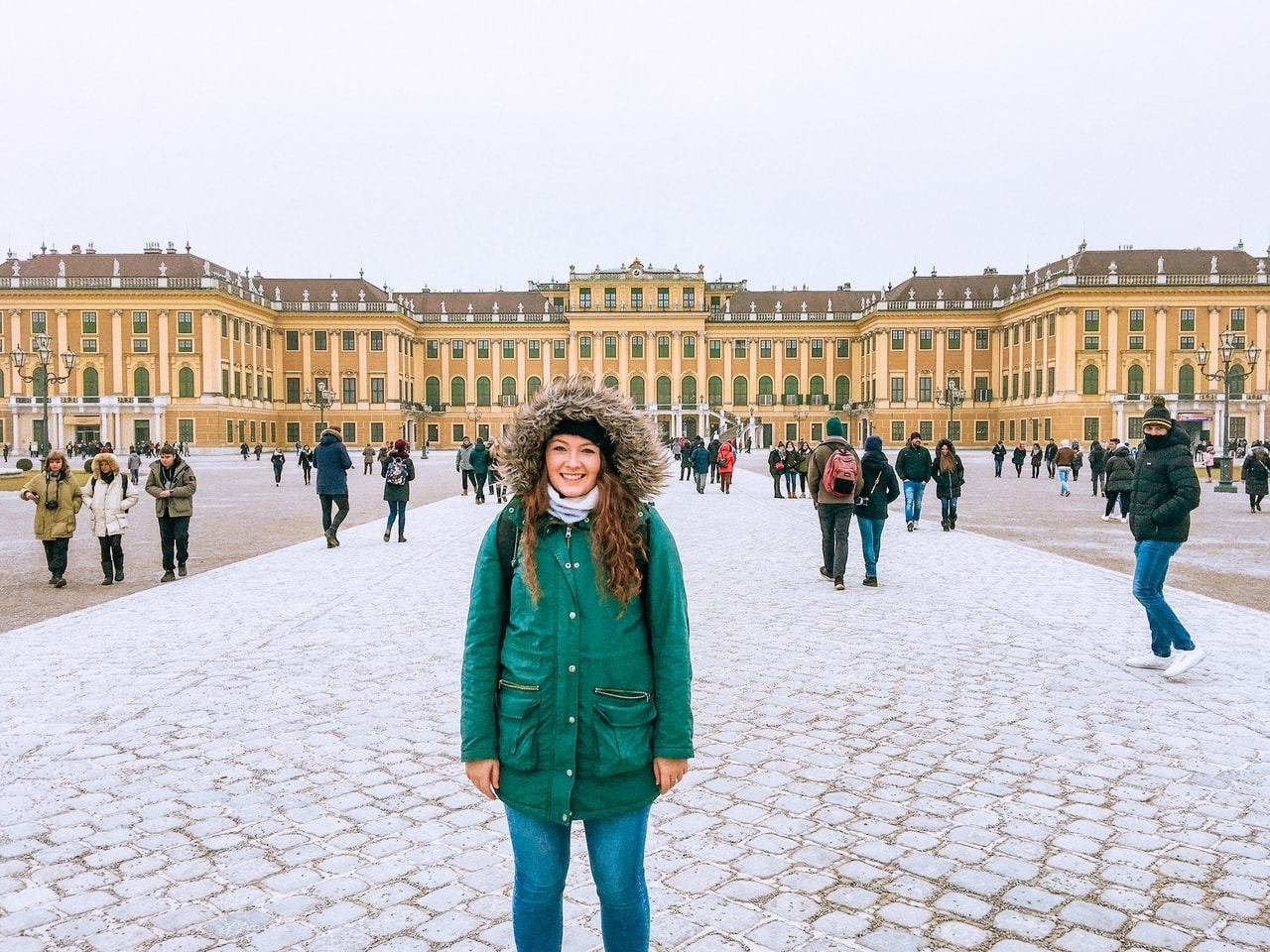 Start your second morning in Vienna with a short train journey to the iconic Schönbrunn Palace. If you can only visit one tourist attraction during your 2 or 3 days in Vienna, it should be this.
If you've come across photos of Vienna when researching your trip, chances are they were of this gorgeous yellow palace. Queues can get out of control here in summer (and even in winter), so grab a pastry from a bakery on your way here for breakfast to save time.
Luckily for you, the Sisi ticket you bought at the Hofburg also covers your entry here so there's no need to queue at the ticket desk.
There are two different types of tour available at the palace –  the shorter Imperial Tour or the longer Grand Tour, which covers an extra area of the palace. The Sisi ticket includes the Grand Tour. This will take around 60 minutes, and you'll get an in-depth tour of the palace via audio guide. If you didn't purchase the Sisi ticket, the Imperial Tour would be the best option, in my opinion. You don't get that much extra on the Grand Tour to justify the increase in the ticket price.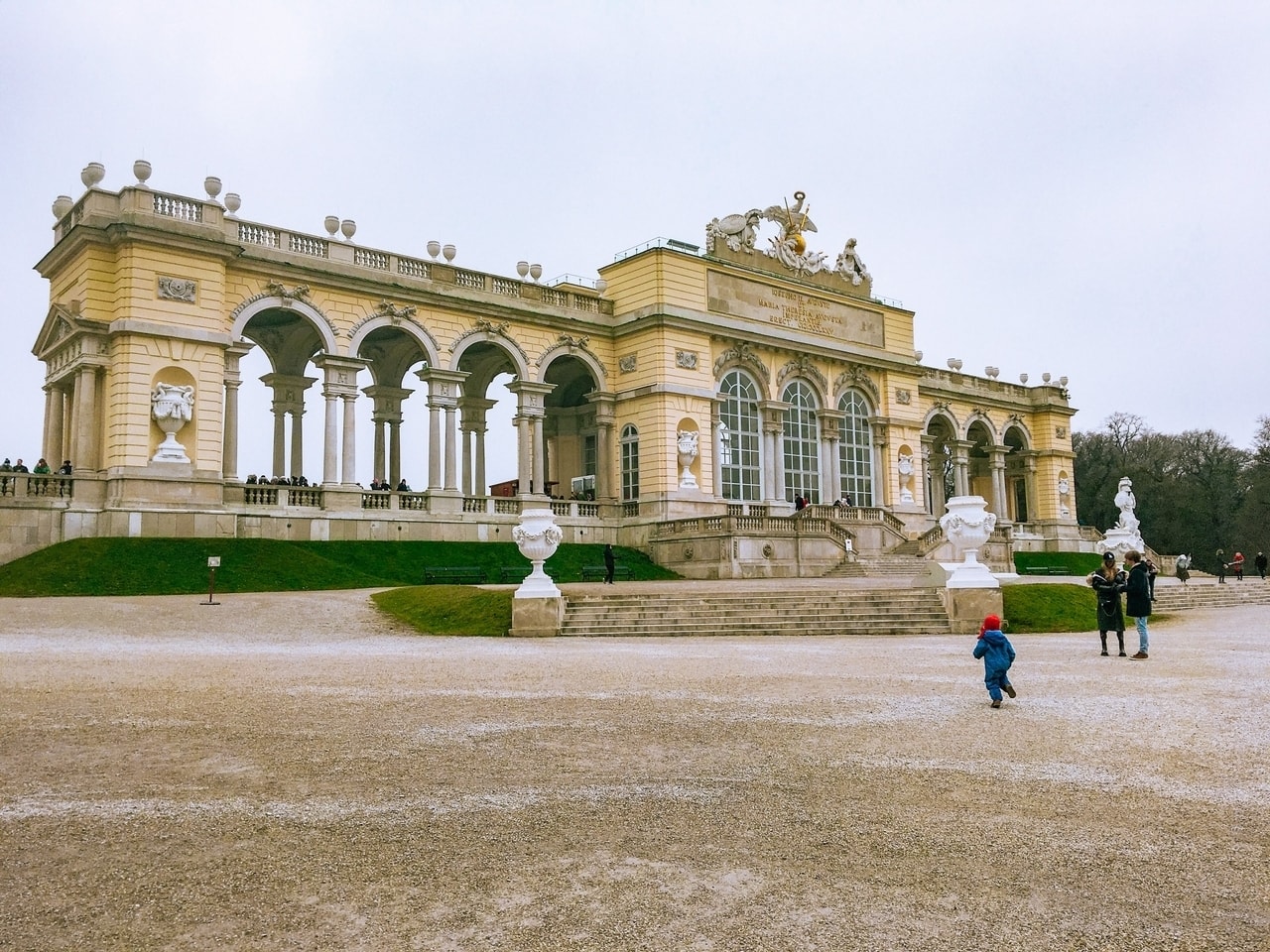 Once you've discovered the palace's interiors, allow at least an hour (if you're here in summer, plan for at least two!) to stroll the Schönbrunn palace gardens. These are a true highlight of the palace and feel so tranquil!
The palace's opening times are 9:30am-5pm, and the gardens are open from 6:30am-5:30pm.
Stop 2: Lunch on a Delicious, Oozing Käsekrainer
One thing you'll notice immediately in Vienna is the number of sausage stalls. They're everywhere! It's at one of these that you can sample the famous Viennese staple – the Käsekrainer sausage. This long sausage, which contains chunks of cheese on the inside, is cooked until crispy then typically served in a crusty hot dog bun with ketchup and mustard.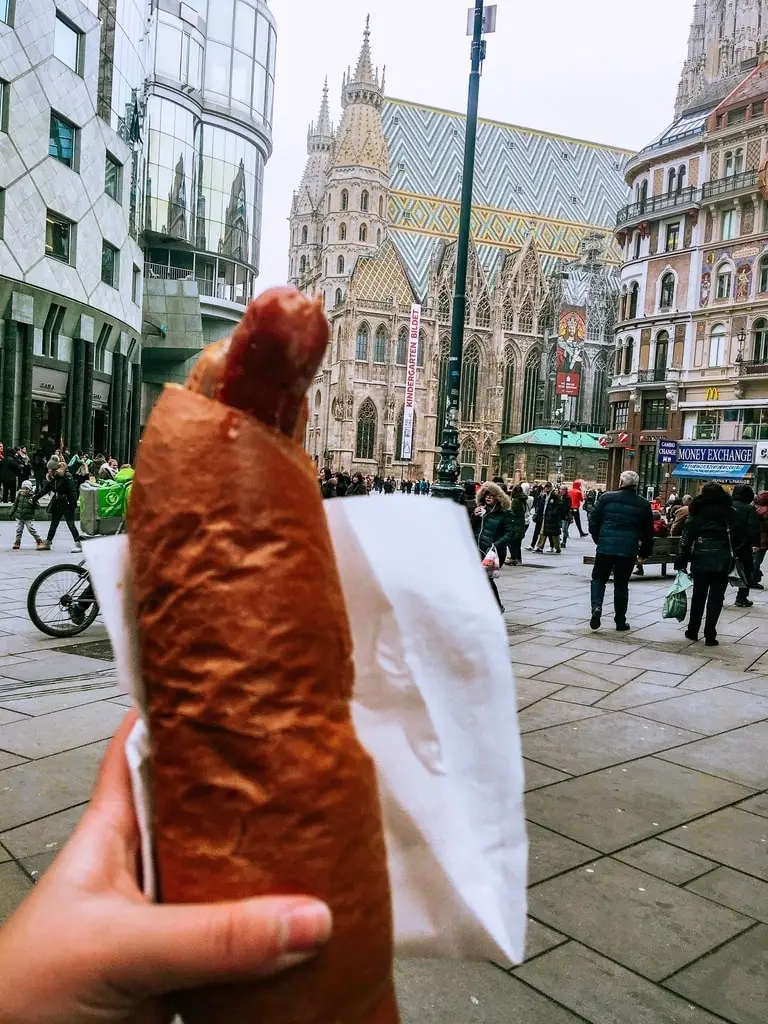 Trust me guys, these things are delicious.
Delicious as they are though, they're definitely not the easiest things to eat. As you take your first bite into the sausage you'll find yourself covered in melted cheese which oozes out of the sausage. Sounds gross, but trust me, it's SO TASTY!
There are stalls all over the city, but each stall is not born equal. After hearing great recommendations of the Bitzinger Wurstelstand Albertina, we tried our first Käsekrainers there. They were… meh.
To find my favourite Käsekrainer stall in the city (which I returned to multiple times!) head to Stephansdom (St Stephen's Cathedral). If you stand outside the cathedral and look towards Zara you'll find a sausage stall outside – this is the one! I would genuinely consider going back to Vienna purely for their Käsekrainers! These are one of the best things to eat in Vienna, and you can have one all to yourself for €4.50.
Stop 3: Tour St Stephen's Cathedral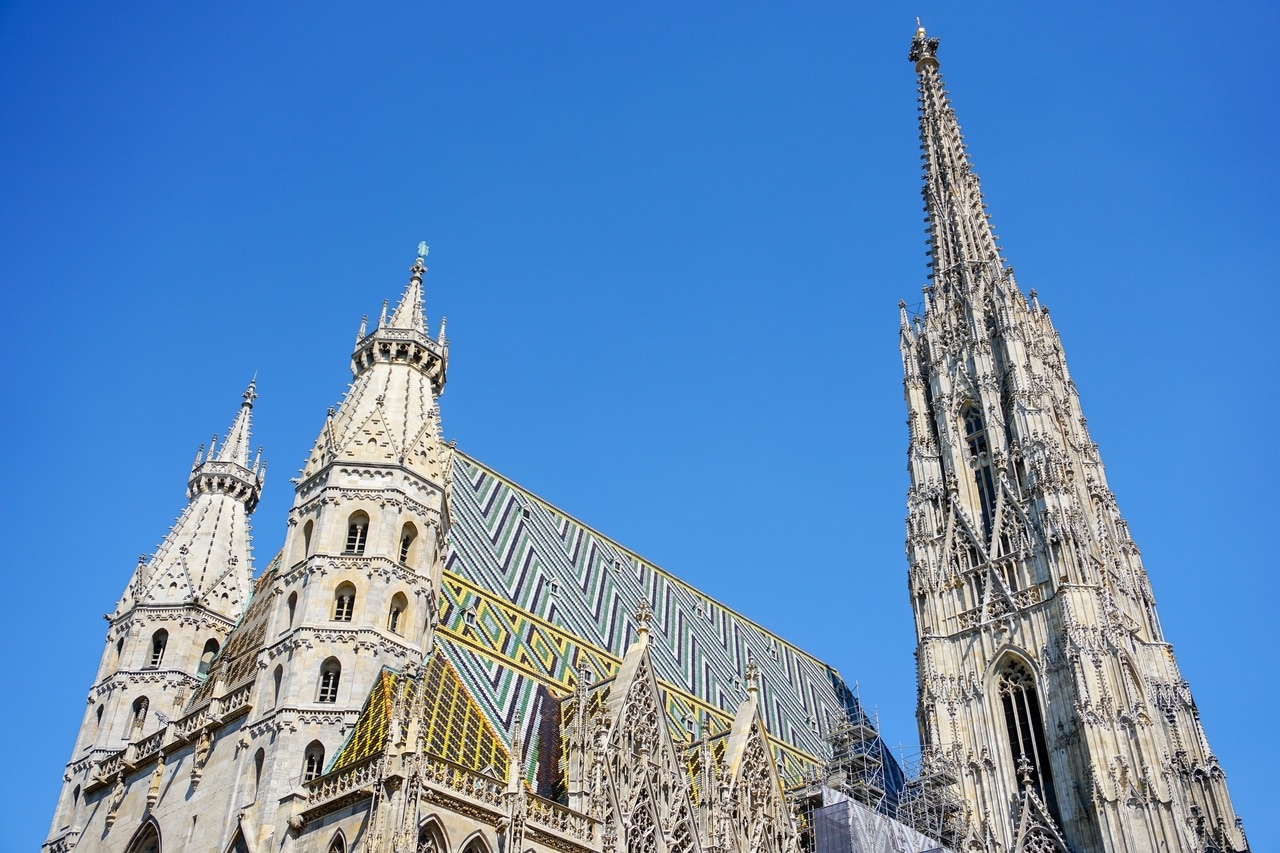 Since you've just enjoyed a Käsekrainer right outside, it's now time to turn your attention to St Stephen's Cathedral. Its colourful tiled roof is often photographed and shared on social media – and for good reason. It's stunning!
You can enter the cathedral for free, but to do all the things on offer at the cathedral – a tour of the catacombs, an audio guide of the cathedral and entry to the north and south towers for excellent views over the city, you'll have to pay €14.90. Although I didn't get the chance to take the tour of the catacombs on my trip to Vienna I've heard it recommended countless times. I really wish I had done it!
Stop 4 – Drink Some Delicious Beer at the 1516 Beer Company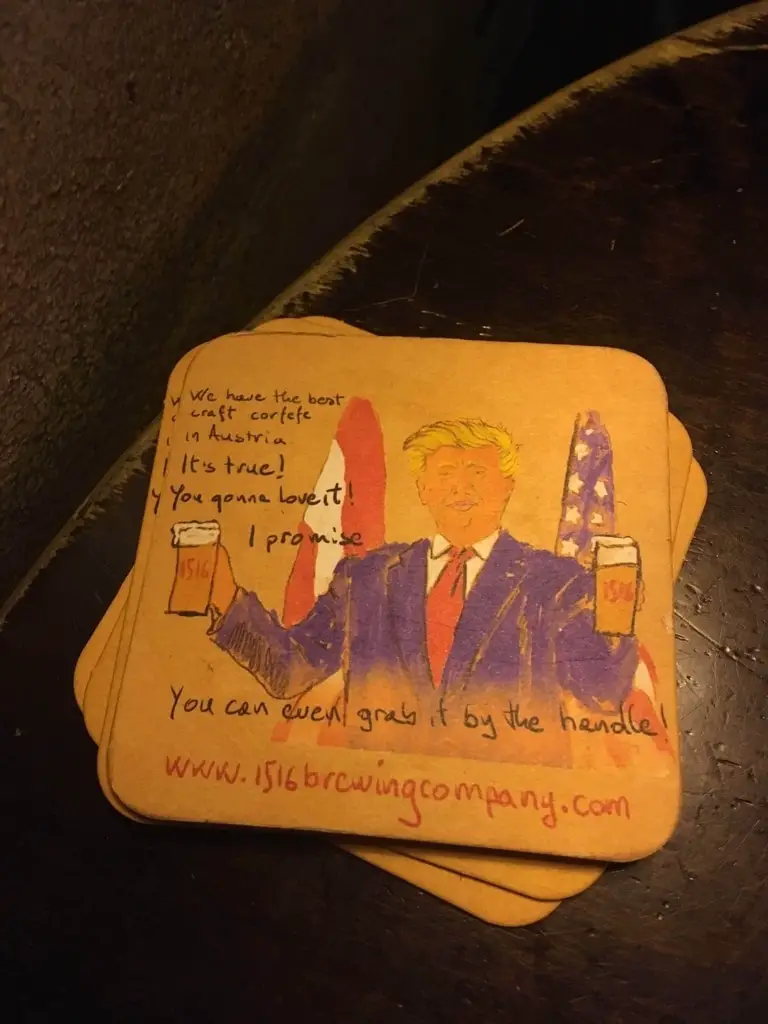 From St Stephen's Cathedral make the 10-minute walk to 1516 Beer Company, my favourite pub in Vienna! We loved this place so much that we returned for dinner the next day! The food is great here, so if you're looking for an early dinner of some of the best Austrian food in Vienna, go ahead. If you're okay to hold off for a while, you should definitely have a few drinks here.
They brew their own craft beer on the premises and it was totally mouth-watering. There are a few different options to choose from, but my personal favourite was the Black & Tan beer – a mix of dark and blonde beer.
This place is definitely slightly rowdier at the weekends – full of groups of friends and locals, and it has a great, upbeat vibe. In the winter it's super cosy and the perfect place to hole up away from the cold.
Stop 5 – Dinner at Figlmüller
Ooooh boy, if you're looking for the best Wiener Schnitzel in Vienna get yourself to Figlmüller. They have restaurants at both Wollzeile and at Bäckerstraße and either one will gladly serve you their famous schnitzel.
Once again, I was so happy we visited in January, as we managed to get a table without a reservation, but I've heard you definitely should book on weekends or during peak or shoulder season.
The waiter recommended we pair our schnitzels with their potato salad, and I'm so glad he did! The potato salad was out of this world, and the schnitzel was crispy, golden and just downright tasty.
The prices, for Vienna, are also super reasonable – their house schnitzel costs €15.50, and a glass of Austrian wine costs around €4.
How to Spend 3 or 4 Days in Vienna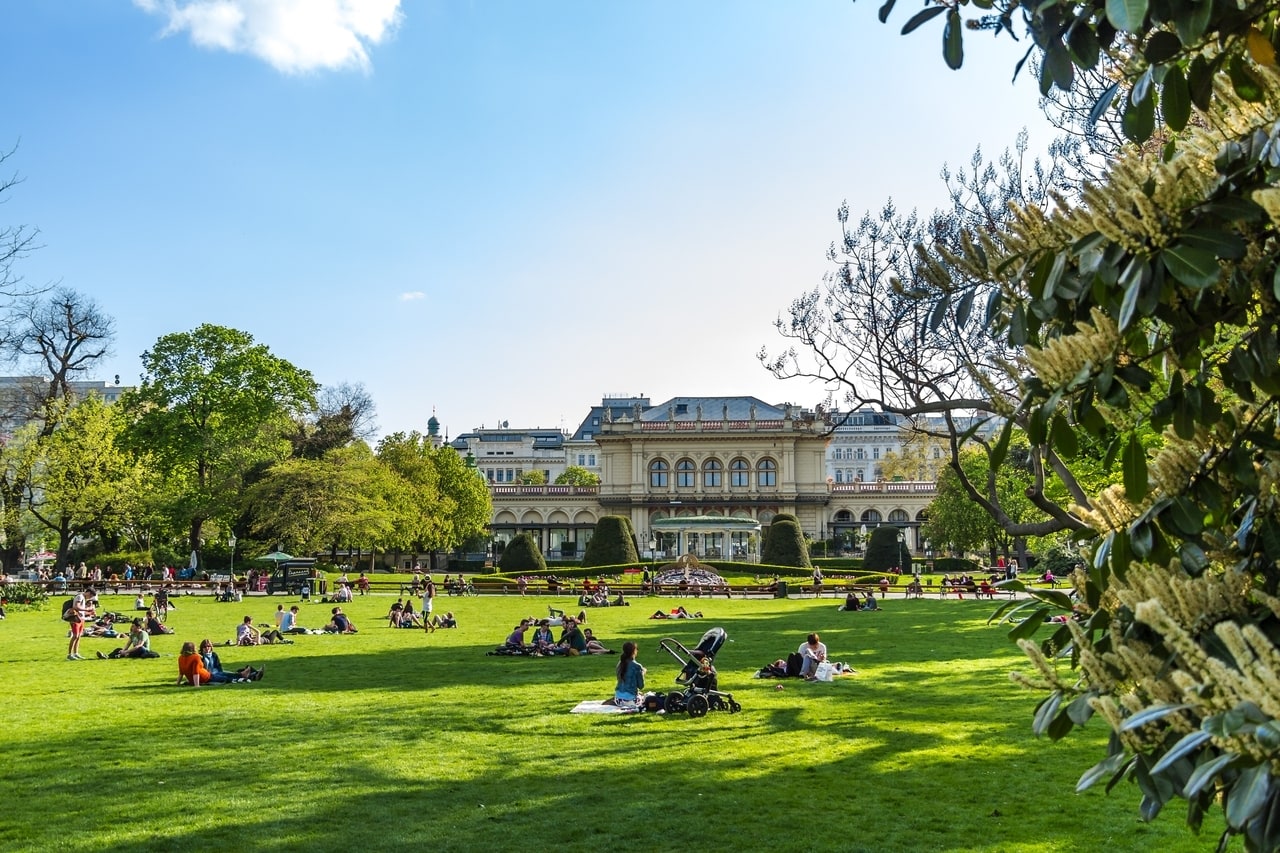 Got more time?
Lucky you!
It's impossible to fit all the amazing things to do in Vienna into 2 days. With 3 or 4 days in Vienna you'll get to eat more delicious food and check out more city landmarks. Here are some of the best things to do in Vienna if you're staying for 3 or 4 days:
Visit the Karlskirche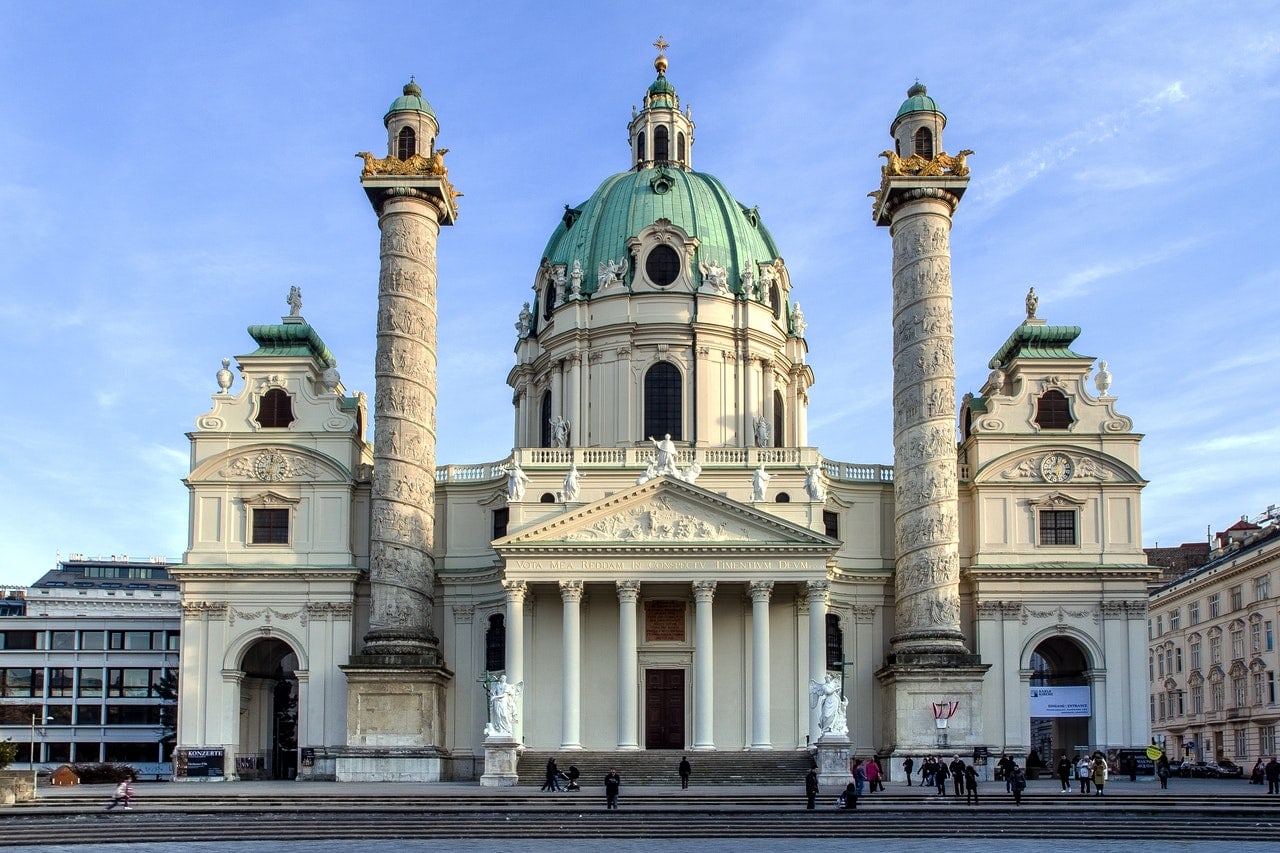 This gorgeous blue church will be the perfect addition to your Insta-feed and has some fascinating history to boot. You can pay €8 to go inside, but personally I found that pretty expensive. Instead, I decided to admire the church from the outside for free.
Visit the Belvedere Palace
This gorgeous former palace is now arguably the most popular art museum in Vienna. Even if you're not into art, the Belvedere Palace Gardens are gorgeous, and often used on postcards of Vienna. The gallery costs €16 to enter but wandering through the gardens is totally free. To skip the queues, I recommend buying your ticket online in advance.
Enjoy coffee and cake at Café Landtmann
Runner up for my favourite café in Vienna is the prestigious Café Landtmann. The queues here (like many cafes in Vienna) get long, even in winter, so allocate plenty of time for your visit and expect to spend some time standing in line. It really is worth the wait though. There are countless cakes on offer as well as an array of fabulous coffees. What's more, Café Landtmann serves full meals too, so if you're craving another schnitzel this is the place to go.
Go wine tasting at Grinzing
This old traditional wine town on the outskirts of Vienna (just a short ride on the bus or tram) is jam-packed full of traditional wine taverns and is the starting point for tours around its gorgeous vineyards. If you're wanting to learn more about Austrian wine during your trip to Vienna, this is the place to go! Naturally, Grinzing is much busier and more enjoyable in summer, but some of the cosy wine taverns/restaurants (called Heurigen) remain open year-round, so you can head there from Vienna even in winter. If you fancy trying some Austrian wine without leaving Vienna, I recommend joining this wine-tasting tour.
Ride Vienna's famous giant Ferris Wheel at Prater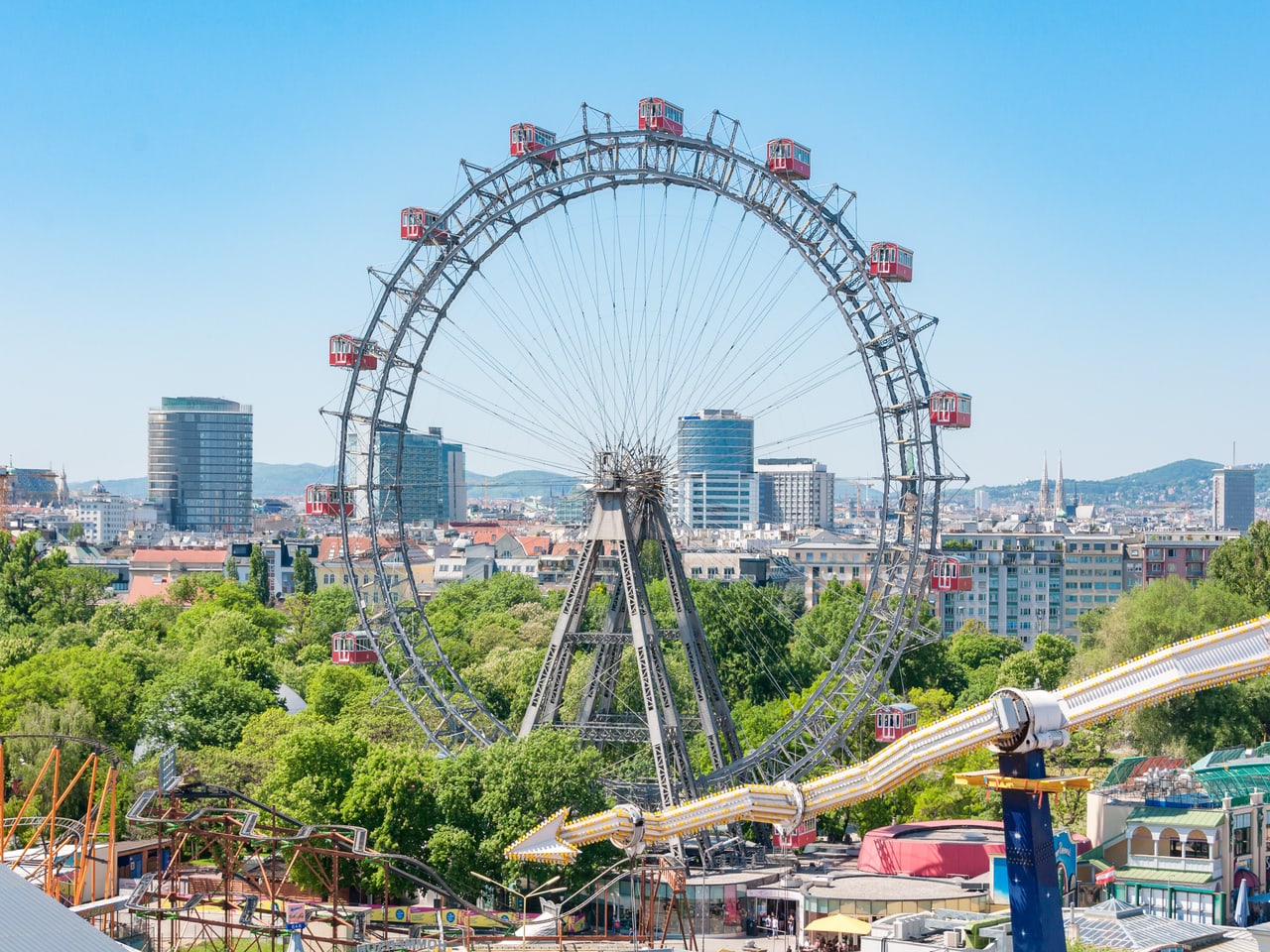 In the district of Vienna's Leopoldstadt you'll find Prater, an old amusement park which used to be the hunting ground of the Emperors of Austria. Today, you'll probably recognise it for the photos of its Ferris wheel you've probably seen on Instagram. For a long time this was the largest Ferris Wheel in the world. Nowadays, the Ferris Wheel is an iconic landmark of Vienna. Prater's season runs from March-October, although the Ferris Wheel, and a few other attractions, are open year-round. To buy your ticket for the giant ferris wheel, click here.
Munch on street food at the Naschmarkt
You'll find every food you can imagine at the Naschmarkt, Vienna's sprawling, old-fashioned food market. It's a great idea to allocate a couple of hours to visiting here. Just make sure you arrive with an empty stomach! The best way to explore the market is on a guided tour (which costs around €38) and will take you to all the best market stalls and get you to taste some unique traditional and international food.
How to Spend 5+ Days in Vienna
Got even longer? If you have more than 4 days to spend in Vienna, I would highly recommend taking a day trip from Vienna to one of the other nearby cities! You can take a day tour to Bratislava, the capital of Slovakia, or go there for a while longer as it is a little over an hour on the train from Vienna! I LOOOOVE Bratislava and highly recommend spending two days there if you have time. Plus, as soon as you cross the border, prices plummet, so your wallet will thank you!
If you'd rather stay in Austria, you can easily take the train to Salzburg, which takes around 2 hours 20 minutes each way. It takes 4 hours 15 minutes to get to Innsbruck. If you're searching for those gorgeous landscapes that Austria is famous for but don't want to rent a car, check out these awesome tours below!
Extra Travel Information for Your Trip to Vienna
Travel Tips for 2 or 3 Days in Vienna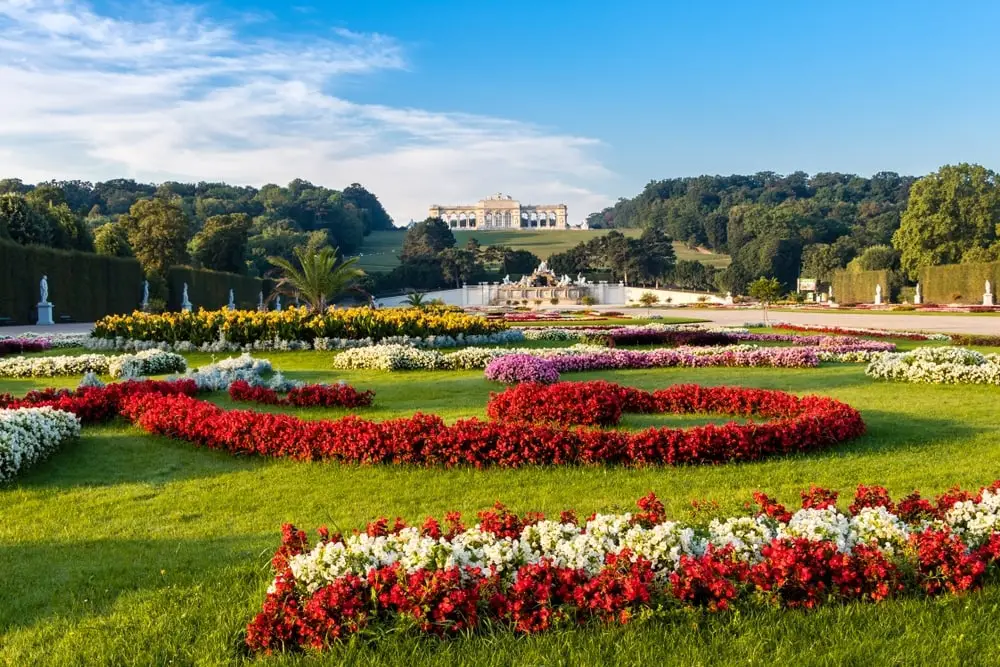 If you're visiting during peak season (or want to cram in a lot of attractions during your trip to Vienna) it could be worth purchasing the Vienna City Pass. The pass includes free entry to over 50 attractions in the city and fast-track entry to all the popular attractions. From what I've heard about Vienna in summer, this pass would be worth it for the fast-track entry alone! If you're only in Vienna for 2 or 3 days and want to see as much as you can, passes like this usually save you a lot of money.
Concession discounts are fairly common in Vienna and help to save you a few Euros here and there. If you're under 18, a student, senior or travelling with kids, make sure you check out any discounts you're eligible for. These discounts usually apply for public transport (including getting to and from the airport) and museums.
Tips for Visiting Vienna's Cafes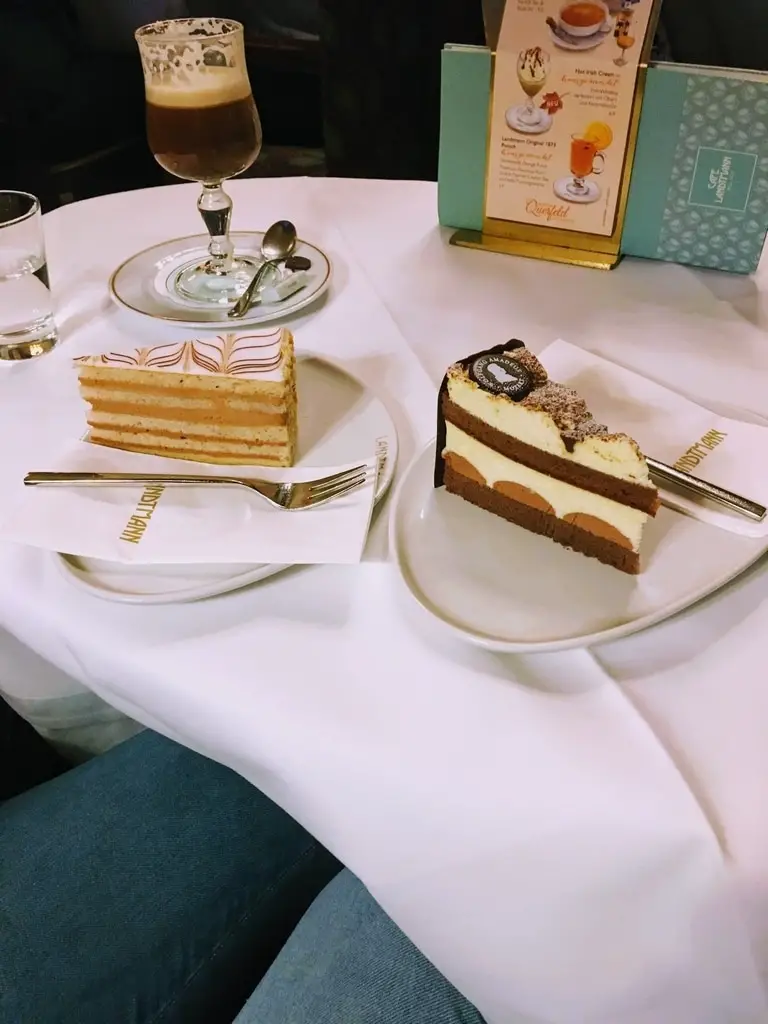 Let's be honest: the famous Viennese coffee and cake is a huge draw for visitors in the city. In fact, the Viennese take their cafes so seriously that UNESCO deemed them to be "intangible cultural heritage". The cafes in Vienna truly are amazing, and you should try to visit at least two on your 2 or 3 days in Vienna. That being said, it's often not as simple as just rocking up and ordering a cup of joe. Here's my guide to Vienna's cafes:
First of all, some cafes, such as Café Hawelka, have no menu. Instead, the waiter will simply list off what is available and you choose what you want. This can lead to some shocks when the bill arrives! For two Melanges, a slice of Sachertorte, a piece of apple strudel and a small bottle of water I think we paid around €24!
So, uhm… yeah. It's not the cheapest.
Do I think it was worth it?
Well, to be honest… yes!
You're paying for the whole experience when you visit a café in Vienna, so although our order was very expensive for what it consisted of, I still think it's worth it.
It's not just Café Hawelka though – all Viennese cafes are expensive, so keep that in mind. Their waiters are mostly pretty snobby too, but that's kind of their traditional role by now. You'll get used to it.
Vienna has it's own vocabulary when it comes to coffee. Cappuccino or latte? Nope! In Vienna a coffee with frothed milk (the closest you'll come to a cappuccino or a latte) is called a Melange. You'll 100% get the names of Austrian coffees wrong when ordering, and maybe get funny looks from the waiters. Just accept that it'll happen and don't worry about it! They experience it every single day. This post explains way better than I ever could what the different types of coffee are called in Vienna.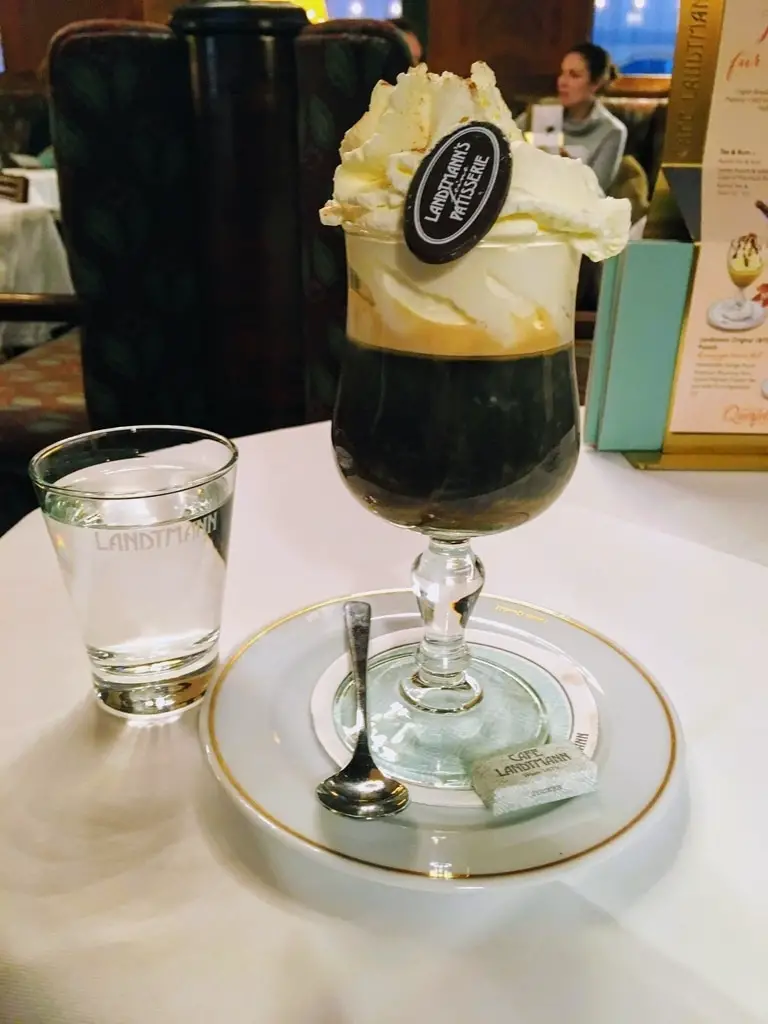 In all honesty, though, if you just ask for what you want in English the waiters will almost definitely understand what you want.
Don't miss out on the opportunity to try some wacky coffee combinations you've never tasted before whilst in Vienna! My personal favourite was the Maria Theresia, which is black coffee with orange liqueur and topped with whipped cream. Yum!
There are SO many cafes in Vienna that it can be hard to choose where to go. You'll hear loads of hype about Café Central and Café Sacher, but unless you fancy standing in line for over 2 hours just to have some cake that tastes exactly as it does in every other café in the city, I wouldn't bother. In fact, Café Central was probably my least favourite café. My personal recommendations are Café Hawelka and Café Landtmann. If you'd rather have an expert take you to the best cafes, check out this Vienna coffee houses tour. It costs around €46 but, given how expensive I mentioned just a single coffee with cake can cost at Vienna's coffee houses, the price is pretty reasonable!
Whilst it's possible to travel to Vienna on a budget, it's definitely more expensive than I anticipated. The cost of travel is as high in Vienna as other Western European capitals such as Brussels, Paris and London. Unfortunately, visiting its cafes is one of the most expensive things to do in Vienna.
Airport and Transportation Tips for Vienna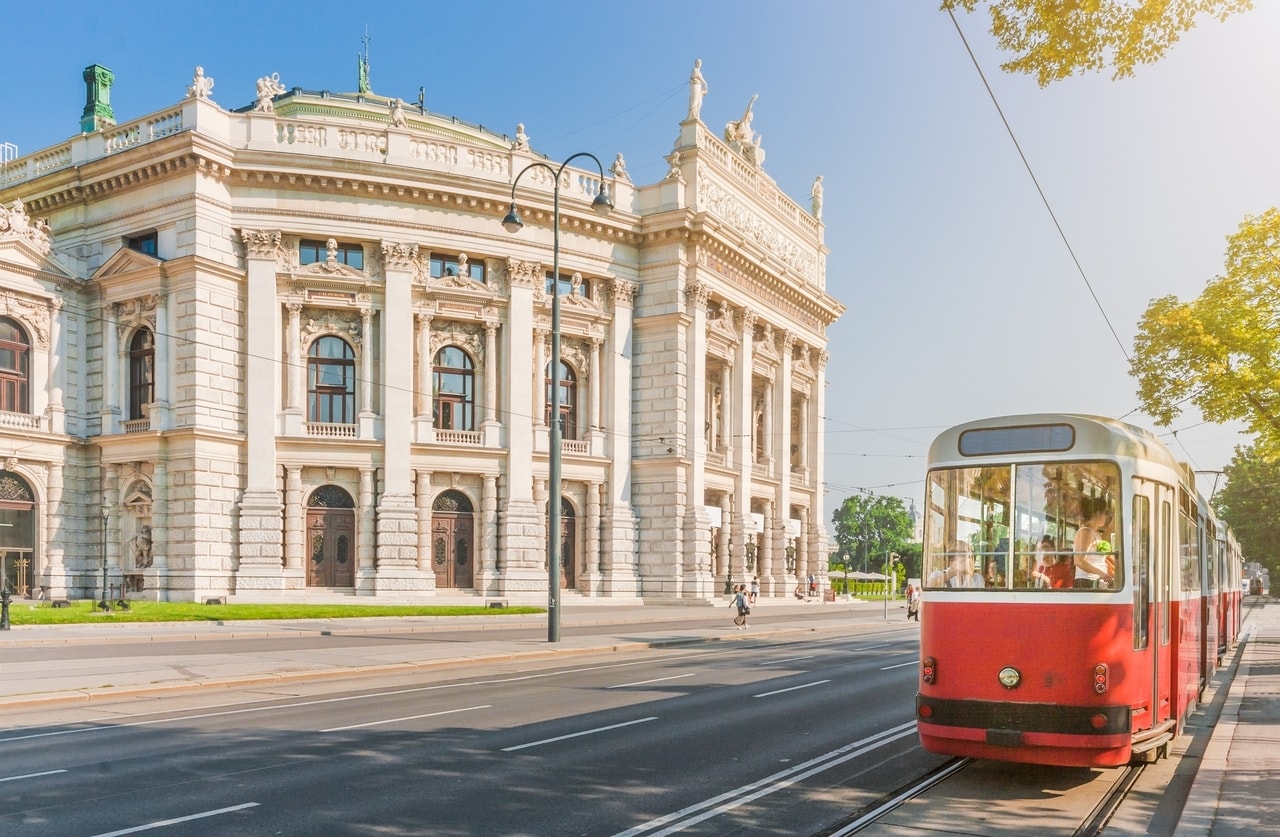 Vienna is a landlocked country, bordered by eight other countries! For this reason, many visitors arrive in Vienna by train. Vienna is a hugely popular stop for interrailers, so, especially in summer, the Vienna Hauptbahnhof (central train station) is always busy with visitors coming and going.
If you're flying, Vienna has only one international airport – aptly named Vienna International. The airport is only 18km from the city centre and getting from the airport to the city is super straightforward. If you're in a rush, the City Airport Train (CAT) connects the airport with Wien Mitte train station in just 16 minutes. However, the train only runs every 30 minutes. A single ticket costs €12, and a return (which is valid for up to 6 months) costs €21.
A huge perk of this train is that Wien Mitte, where you disembark, is right in the city centre. This means you can walk to wherever you want to visit first. If you're only spending 2 or 3 days in Vienna and are pushed for time, the CAT could be worth it. That being said, I wouldn't recommend getting the CAT as I find it really overpriced.
Instead, I got the ÖBB Railjet train, the regional train service, which travels to Vienna Hauptbahnhof in just 15 minutes! Like the CAT, services only run every half hour. Unlike the CAT, tickets are just €4.20 each way! The only downside to using the ÖBB Railjet train is that it drops you off at the Vienna Hauptbahnhof. This is slightly further from the city centre than Wien Mitte station, where the CAT drops off its passengers. For the price difference, though, it's totally worth it.
Buses, trams, trains and underground trains bustle through Vienna all day long, so you won't need to walk long distances if you don't want to! Single tickets cost €2.40 and you can buy them online or at the ticket machines in the train stations. You can also buy 24 or 72-hour transport passes.
When Is the Best Time to Visit Vienna?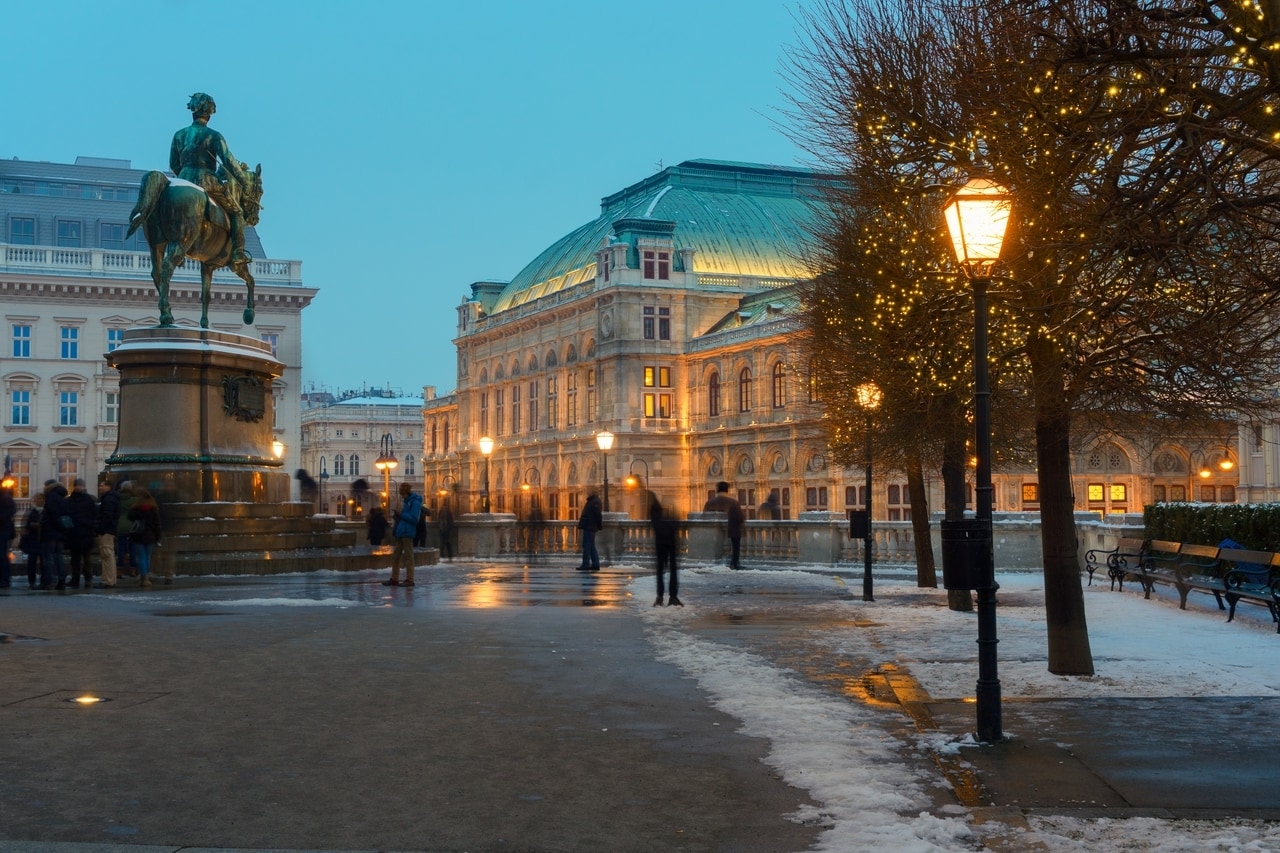 High season in Europe runs from mid-June until early September. This means, unless it's unavoidable, you really should avoid travelling during this time! Schools and universities are on break and prices get crazy to reflect that.
To get the best out of your trip to Vienna, I recommend visiting anytime from the start of April to early June. This way, you'll enjoy the milder weather without spending your entire trip waiting in line for attractions.
I actually visited Vienna in January, due to finding those insanely cheap flights. If money is tight, visiting Vienna in the low season (Jan-Feb) will bring your daily budget to a more manageable amount. Hotels and flights are way cheaper, you won't have to make restaurant reservations more than a day in advance and you'll barely have to queue for any tourist attractions.
Despite all this, it was bloody cold! Temperatures in January hover between -1 and 4°C, so if you're going to spend 2 or 3 days in Vienna in winter, pack plenty of warm clothes!
If you want to experience all the beauty a Viennese winter has to offer, it goes without saying that you should visit in December. Sure, flights and accommodation will be slightly pricier, but I can imagine the magic of Christmas time in Vienna more than makes up for it.
What Language Do They Speak in Vienna?
Austria's official language is German, although if you speak German well you'll notice Austrians use some different vocabulary and have a different accent to standard German.
Not everybody speaks English. You can expect younger people who work in bars and cafes, as well as most staff in the tourism industry, to speak basic English, but not necessarily. It'll be useful to learn some basic German phrases before your trip. Not only will it help you out, but it'll go a long way with the locals if you make a bit of effort.
Here are a few key phrases that will help you during your 2 or 3 days in Vienna! How you should pronounce the words is in the brackets:
Yes = Ja ("yah")
No = Nein (like the number – "nine")
Thank you = Danke ("dan-kuh")
Please = Bitte ("bitt-uh")
One adult ticket please = Ein Erwachsenticket bitte ("ein er-vacs-en-tick-ayt bitt-uh")
The menu, please = Die Karte bitte ("dee cart-uh bitt-uh")
The bill, please – Die Rechnung bitte ("dee reck-nung bitt-uh")
Is Vienna Safe to Visit?
Absolutely! I felt totally safe travelling in Vienna. Like all major cities, I'm sure it has its problems, but provided you keep your wits about you, stay sensible and watch out for pickpockets you should be fine.
As I mentioned before, I travelled with my boyfriend, but I regularly travel by myself and would have felt safe if I was a solo traveller. So – yes. Provided you're sensible, Vienna is safe to visit for solo female travellers, solo travel, couples and all tourists!
Where to Stay in Vienna
Trying to get a place to stay in central Vienna can get very pricey very fast. Especially if you're going to spend your 2 or 3 days in Vienna at the weekend. If you're looking to visit Vienna on a budget, you're going to have to get creative. Obviously, the best way to stay centrally on a budget is to stay in a hostel.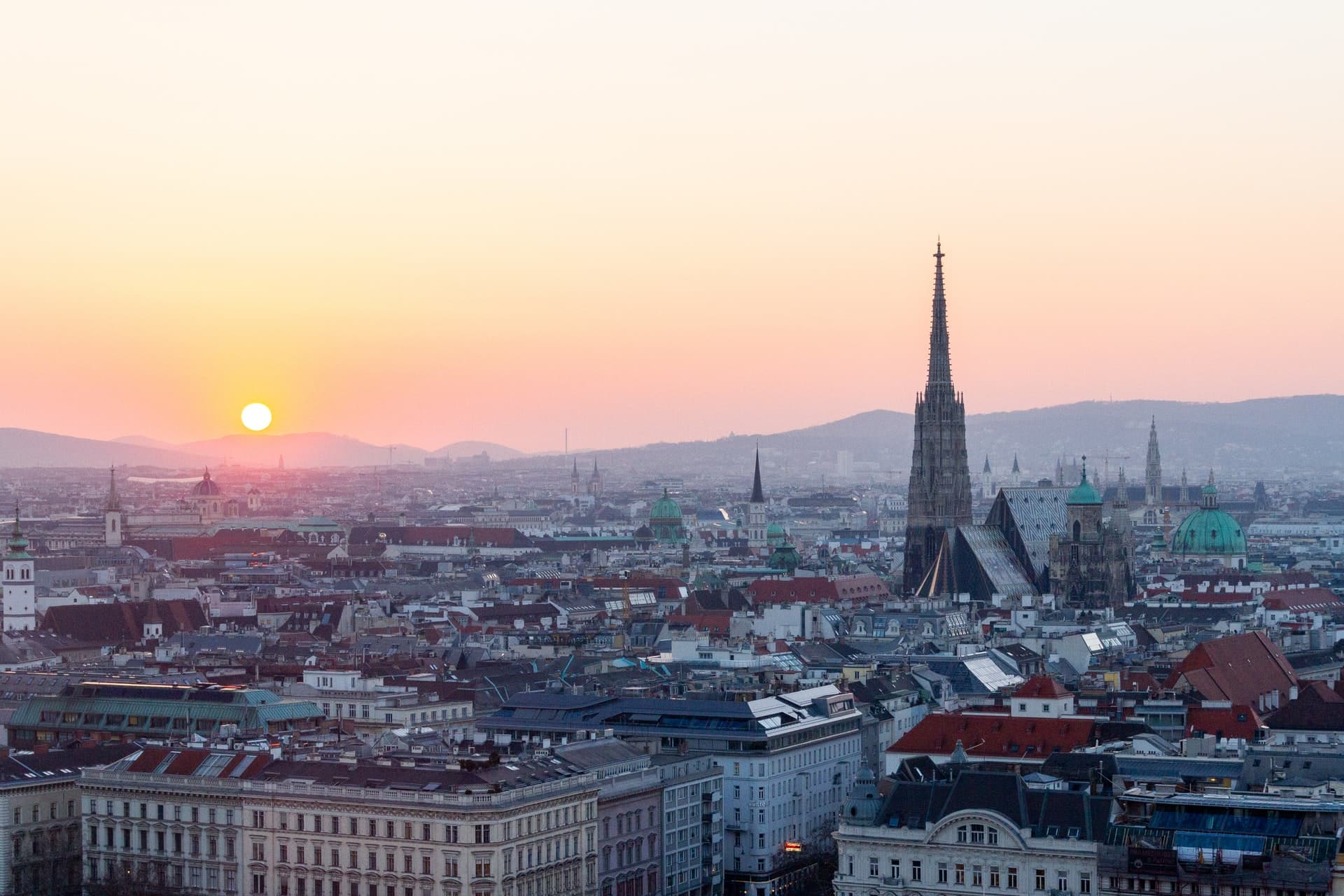 Hostels in Vienna
In terms of location and consistent rave reviews, you don't need to look any further than Wombats City Hostel Vienna – The Naschmarkt. This backpacker hostel is right next to Vienna's biggest market and is only a short walk from all of Vienna's attractions. If you're going to travel solo in Vienna, I'd highly recommend staying at this backpacker hostel! If Wombats is full you can find other hostels in Vienna on Hostelworld.
In fact, if you're travelling with a friend (unless you're a couple), I'd recommend booking 2 beds in a dorm here rather than finding a private hotel room. You'll win on both price and location! A bed in an 8-bed mixed dorm will cost you €22 per night, and they also offer female-only dorms. I was planning to stay here before my boyfriend confirmed that he could come on the trip with me.
Hotels in Vienna
If, like my boyfriend and I, staying in a dorm isn't quite what you're looking for, you'll probably need to search further out of Vienna's city centre if you want to find cheap hotels.
We paid €65 per night at the awesome Hotel Babula am Augarten and couldn't believe our luck! This hotel was a hipster paradise, the rooms were big and the décor was modern and cool. I had begun to lose hope that we could find anywhere in Vienna to stay on our budget. Fortunately, as soon as I started looking away from the city centre, our options opened up a bit.
This hotel was about a 30-minute walk from the city centre, which wasn't ideal given we visited in January and it was FREEZING. If you're visiting in any other season I'm sure the walk would be quite pleasant.
I mean, there was also the option of getting public transport to the city, which would have been sensible, but we found the blasts of cold air as we walked were great for waking us up in the morning.
If you're wanting to browse, this handy search tool below is a great way to find cheap hotel deals based off their location in the city:
---
Phew! I'm at over 5,000 words now, so I'm pretty sure I've covered everything you could possibly need to know to plan your 2 or 3 days (or more!) in Vienna. Vienna is an amazing city and definitely worth visiting as an introduction to travel in Austria. I hope you love it as much as I do!
If you fancy reading about any of my other travel experiences, head to my Destinations page to check out where I've been!
Don't forget to Pin this blog so you have it saved for later! Subscribe to my mailing list in the sidebar to be the first to hear about new articles, travel stories and travel tips! And as always, let me know about your trip to Vienna in the comments – I'd love to hear from you!
Ella