There is a good chance that this post contains affiliate links. If you make a purchase through them, I may receive a small commission at no extra cost to you! As an Amazon Associate, I earn from qualifying purchases. As ever, all opinions are my own.
As a budget-minded traveller, Vienna hit me right in the wallet.
I was not prepared for how expensive it would be! 
In fact, I found it easier to visit Oslo on a budget – and Norway is supposed to be one of the most expensive countries in the world!
Almost all of the things you'll need to spend money on as a tourist in Vienna (accommodation, food, attractions) are expensive.
Luckily for you, I've been there and learnt my lesson the hard way. Don't get me wrong – I didn't spend a fortune in Vienna. I just realised that I had to work way, way harder than I expected to stay on budget. 
So here are my top tips to save some of your hard-earned cash in Vienna – all without missing out on making awesome memories on your trip to Vienna!
1 – Limit the number of cafes you visit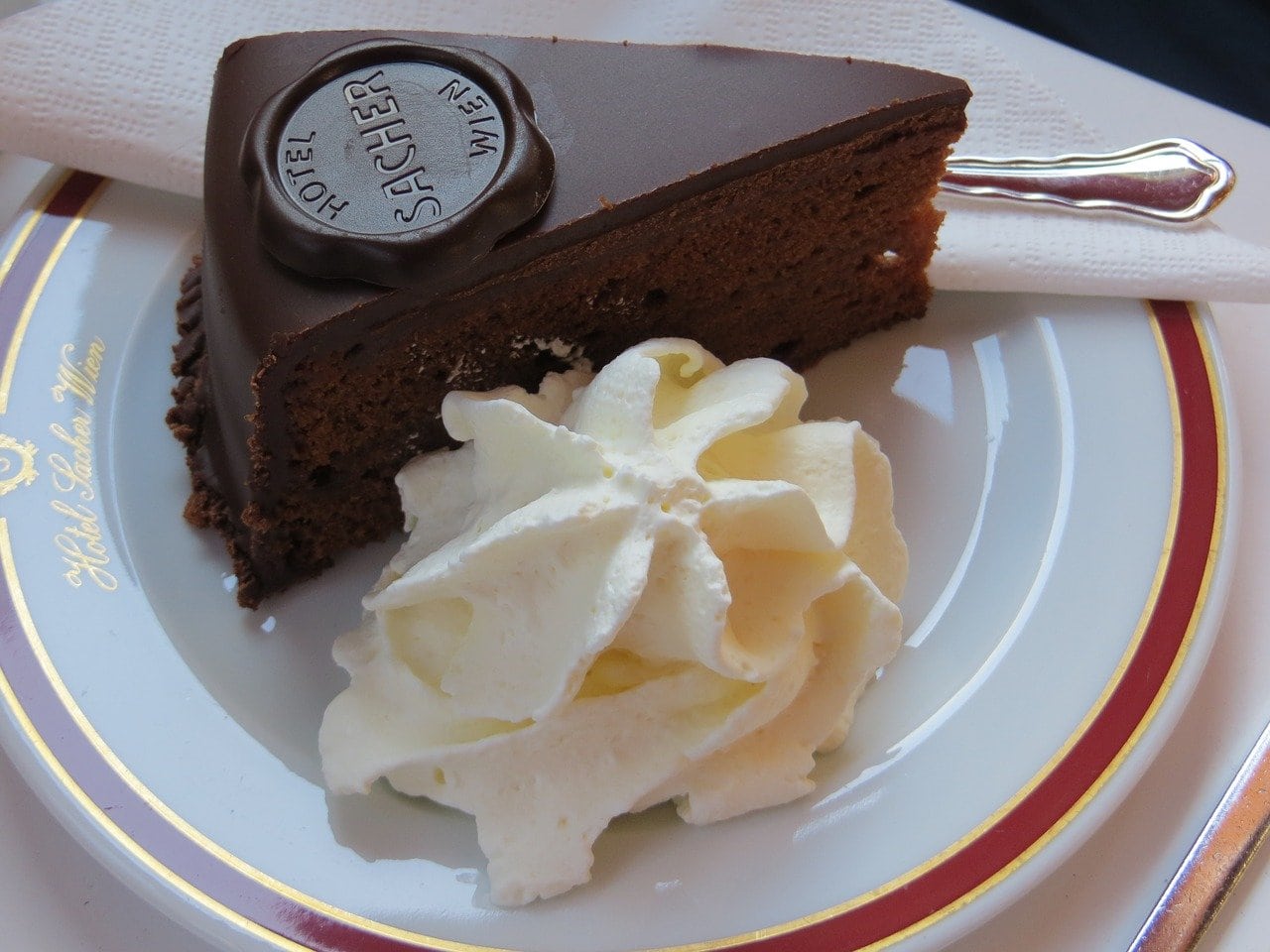 This is an important one, as Vienna's cafe culture is world-famous, and you absolutely shouldn't miss visiting a cafe. If you're visiting Vienna in winter, you won't be able to resist ducking into one of the city's many cafes for a warming cup of coffee and a slice of apple strudel.
However, what's not particularly clear before you arrive in the city is just how expensive Vienna's cafes are. They're extortionate – and that's not an exaggeration!
At Cafe Hawelka (my favourite cafe in Vienna) I paid €24 for two Melanges (Viennese cappuccinos), a slice of Sachertorte, a slice of apple strudel and a small bottle of water. Unfortunately, I'm not joking. What made the situation worse was that many cafes do not have menus, meaning you have no idea how much the bill will come to before you order!
And yeah, Cafe Hawelka wasn't even an odd-one-out. That was the typical price for coffee and cake in Vienna.
I absolutely believe you should go to a cafe or two whilst in Vienna, but just be sure to budget for it, expect it to be incredibly expensive, and limit the number of times you visit (as hard as it may be).
Don't forget to check out my post all about the best cakes to try in Vienna before you visit a cafe!
2 – Score CRAZY cheap opera tickets
Watching an opera performance in Vienna is a bucket list experience for Austria, but spending over €100 on a ticket is not possible on a budget.
Unfortunately, we ran out of time in Vienna and didn't get to see an opera – but that doesn't mean I hadn't done my research on how to score cheap tickets before we visited the city!
The first option is to head to the State Opera's website and watch like a hawk for tickets to go on sale. As soon as they do, snap up the cheapest seats you can find. Seats can be as low as €14 – but obviously there aren't many at this price so you need to pounce on them.
Another option is to book a standing-only ticket, called a Stehplatz. The opera provides padded backings for you to lean on, so apparently it's not actually too bad (but make sure not to book a 4-hour performance!).
To get standing tickets for the Vienna State Opera, you have two options. The best option is to sign up for a free Austrian Federal Theatre Card. The card allows you to purchase standing tickets in advance, and they're suuuper cheap – around €4 or €5! You can only buy one ticket per card though, so every person wanting to attend the opera will need to sign up.
The other option is to turn up to the ticket office 80 minutes before the performance to buy a standing ticket for that performance. They usually cost around €10. To stop resellers abusing the system, you can only buy one ticket per person, so if you want to visit the opera with friends you ALL have to turn up at the ticket office.
3 – Get breakfast from the grocery store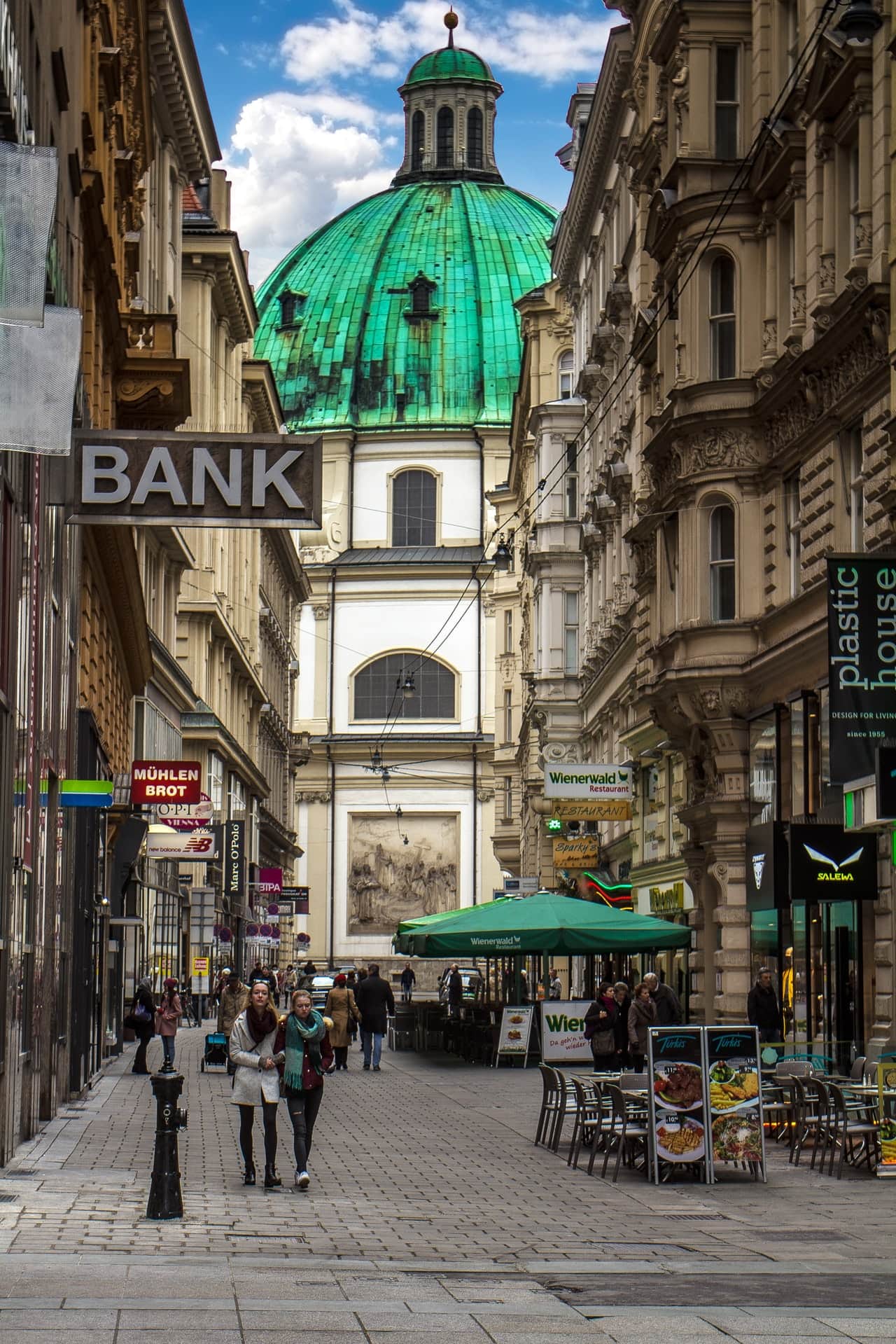 Breakfast and brunch isn't really a thing in Vienna. 
Tragic, I know.
Finding cafes or restaurants to get an actual breakfast from (not just cake) proved challenging, and obviously expensive. 
This provided us with a brilliant money-saving opportunity, though! There are plenty of bakeries and grocery shops dotted around Vienna, so pick up a croissant and some fruit and eat on the go. You'll save both time and money!
4 – Visit Vienna in the off-season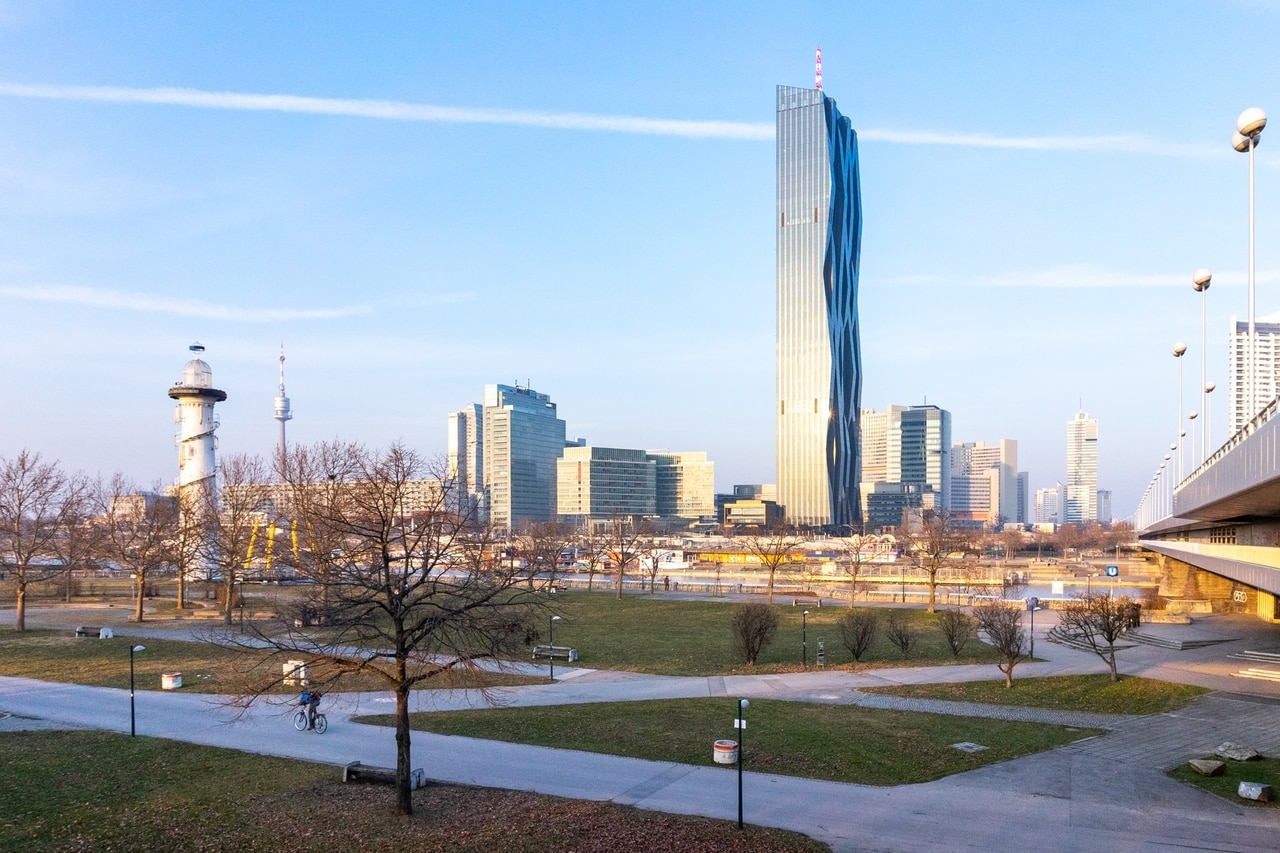 I'm a HUGE fan of European city breaks in the off-season (winter), and if you're wanting to travel on the cheap you should be too!
Vienna gets pretty cold in winter, and it doesn't have the wintertime appeal like the ski towns in Austria do. For this reason, winter is absolutely the best time to visit Vienna on a budget. That's because the winter months (January-February) are the lowest in Vienna in terms of visitors.
Not only will you get to explore Vienna without the annoying crowds, but things are so much cheaper! Hotels are far cheaper than in summer (and there's more choice) and you won't have to spend HOURS queuing for cafes. Yeah – that's not even an exaggeration.
5 – Fill up on Käsekrainers for lunch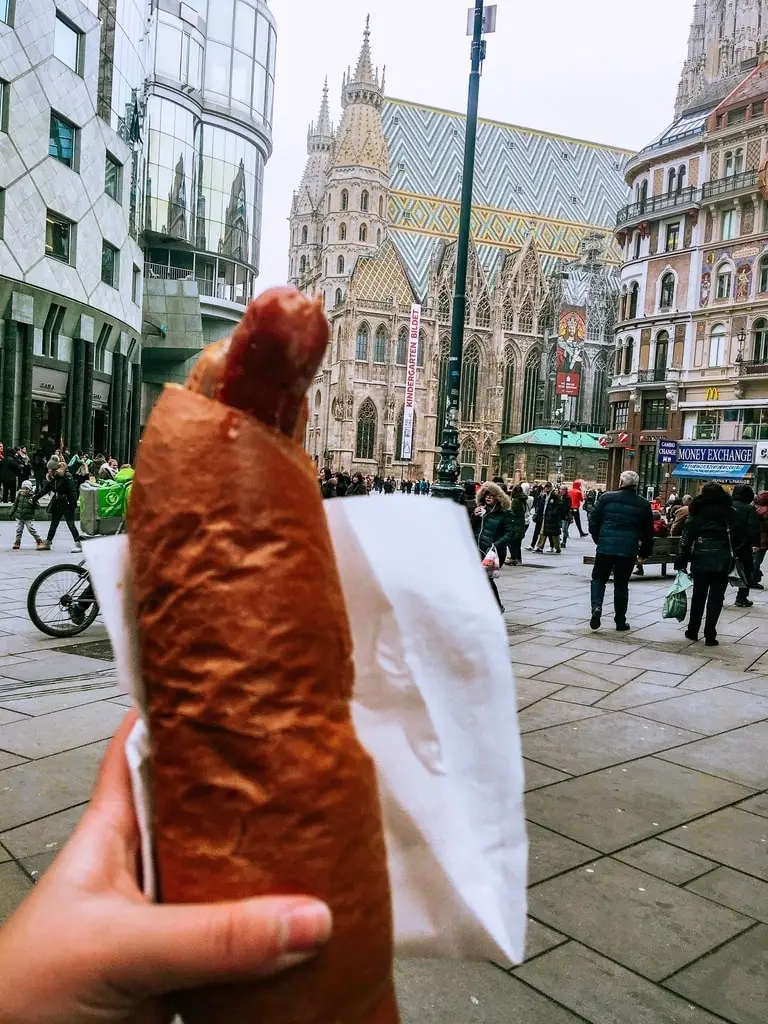 Ahhh, I loved Käsekrainers!
The Käsekrainer is a huge hotdog with chunks of melted cheese inside the sausage. It's Viennese street food at its finest, and you'll find the Würstelstände (sausage stalls) that sell them all over the city!
Not only are these absolutely delicious, but they're also very affordable. They usually cost around €4.50 and will fill you up. They're also ideal to eat on the go, meaning more time for sightseeing.
I tried a Käsekrainer at a couple of different places, and not all were created equally. To find my favourite Käsekrainer head to Stephansdom (St Stephen's Cathedral). Stand outside the cathedral and look for Zara. In front of the shop, you'll see a sausage stall. This is the one!
6 – Catch the regional train from the airport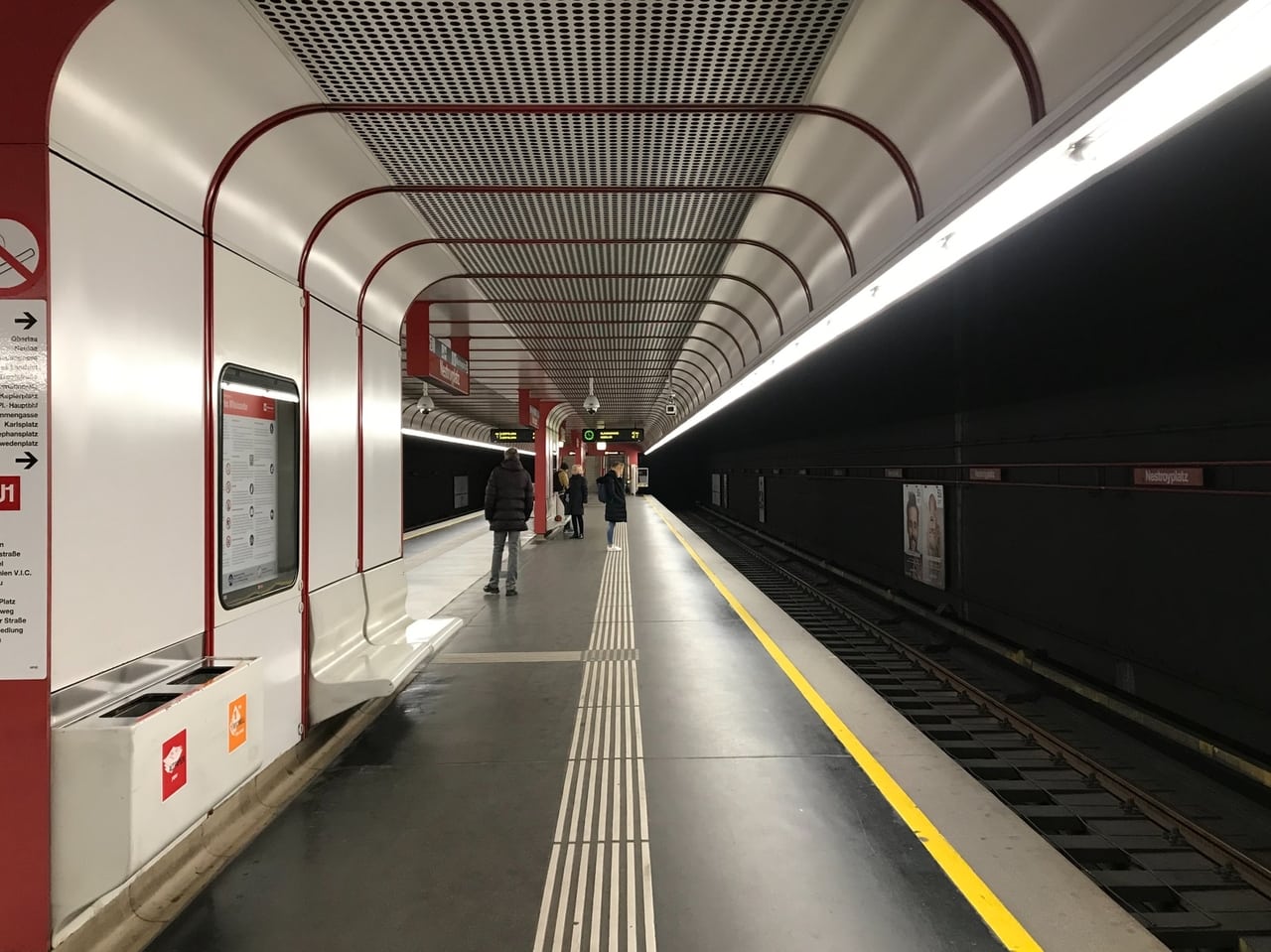 As soon as you get off the plane at Vienna airport you'll see signs for the City Airport Train (CAT) which runs from the airport to Wien Mitte station in just 16 minutes. This train is a total ripoff though! A single ticket costs €12, and a return costs €21!  It's absolutely designed to catch tourists who don't know any better.
When we compare the price of the CAT to the price of the alternatives available, you'll see how extortionate it is!
The ÖBB railjet runs from the airport to Wien Hauptbahnhof (the main train station) in 15 minutes, and costs just €4.20 each way! The S7 train runs from the airport to Wien Mitte station (the same station the CAT goes to) for just €4.20 each way.
So, you see, the CAT train is not worth the price, and choosing one of the local trains instead is a great way to save money in Vienna.
7 – Don't buy attraction entry tickets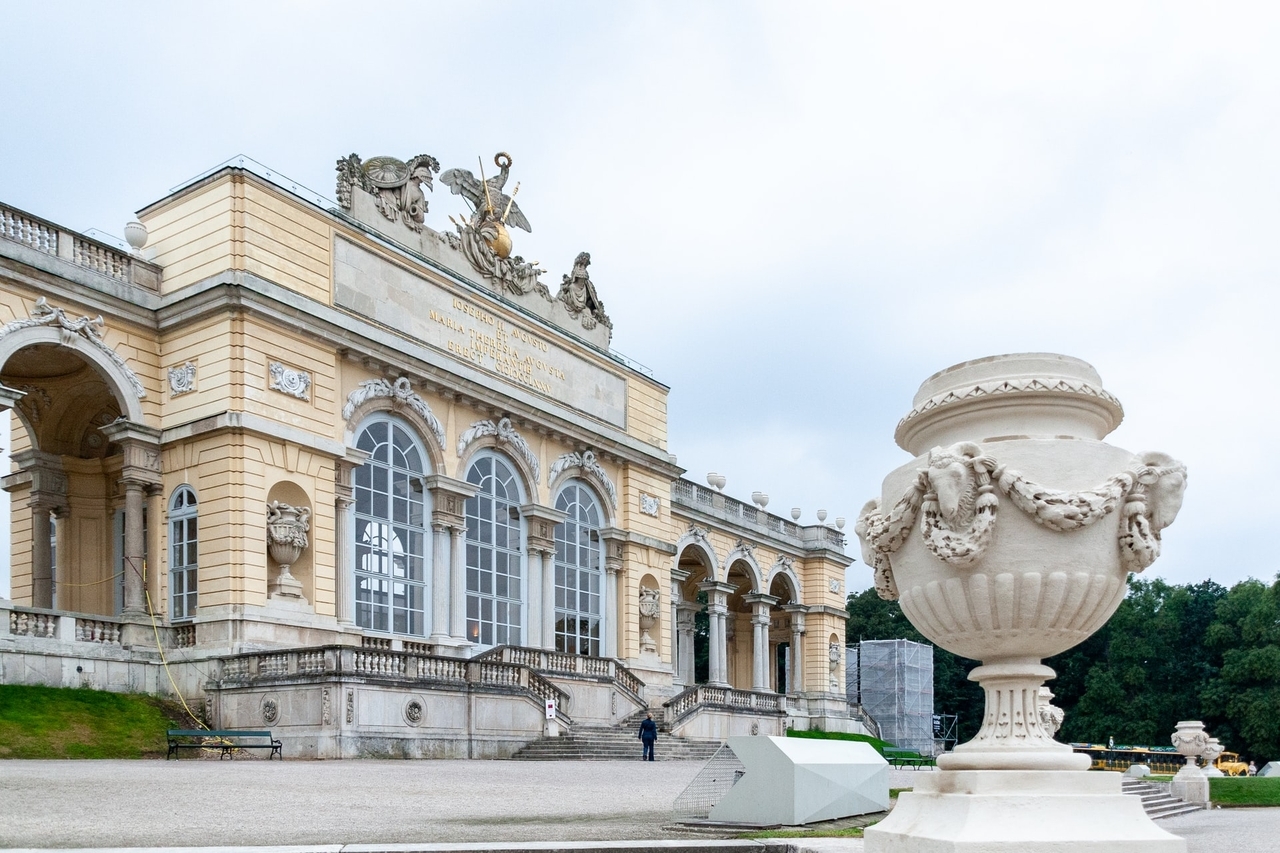 Depending on how much of a budget you're on, it's still possible to see most of the best attractions in Vienna for free.
Here's the catch – you'll have to visit them from the outside only.
We visited the Vienna Opera and just wandered around the exterior of the building, as we didn't have the time to book a guided tour or go to see an opera.
This is a relatively unknown tip, but the gardens of the Schönbrunn Palace are free to explore, meaning you can get a view of the Schönbrunn from all angles. Plus, having been inside the Schönbrunn, although I found it cool, I found the outside more impressive.
It's also free to walk around the gardens and grounds of the Hofburg palace and, again, it's the outside that's the coolest and most impressive. 
Stephansdom is free to enter, and you can have a look around. Although you'll have to buy tickets if you want to go to either of the viewing towers or tour the catacombs, we just wandered around for free and snapped photos from the outside.
Although many of the attractions in Vienna are expensive and it's not really necessary to buy an entry ticket, I felt like the Sisi Museum at the Hofburg Palace was worth the entry fee as we learnt so much!
8 – Stay outside of the city centre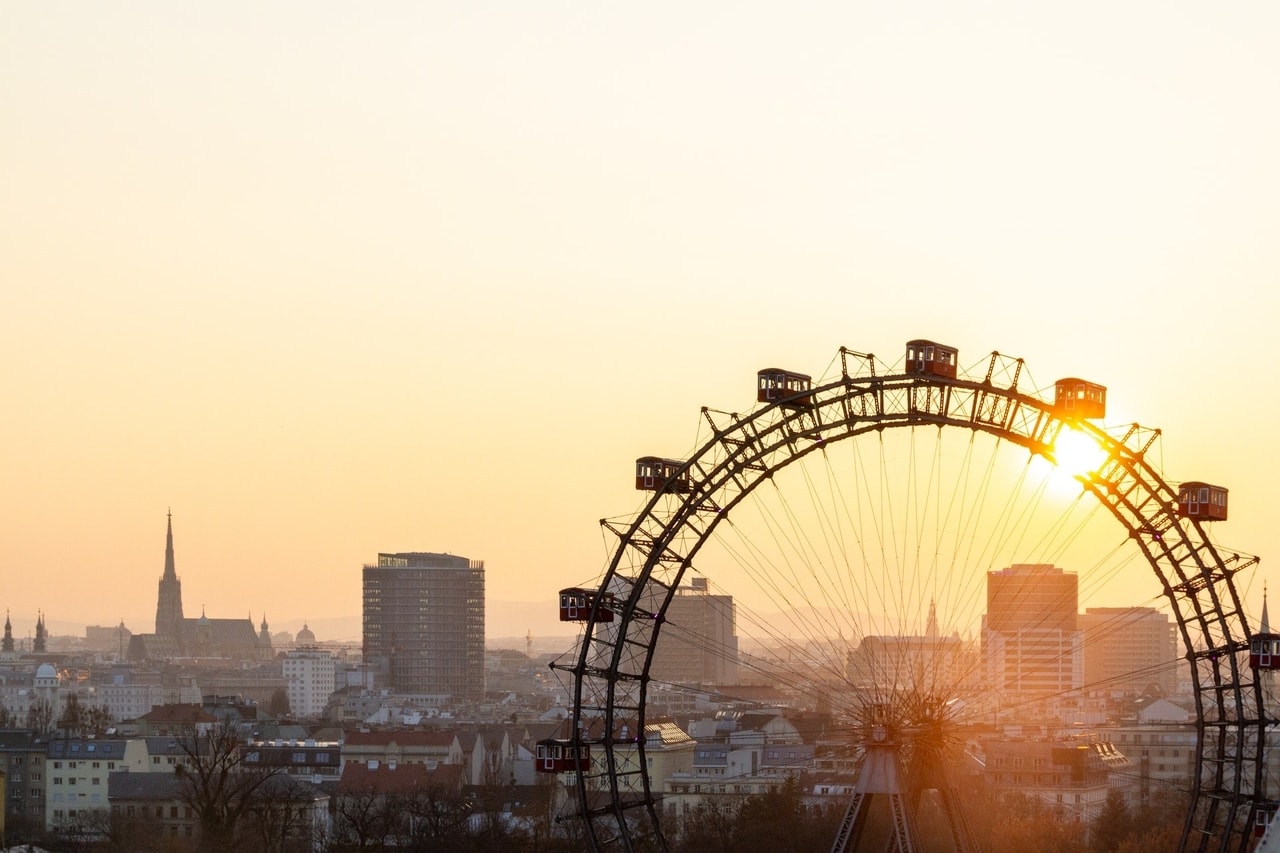 Accommodation in Vienna is expensive.
That's it. There's no way around it.
Unless you book really far in advance, even in the low season you'll struggle to find accommodation for a good price in Vienna. It just seems to be one of those cities.
Of course, one solution is to stay in a hostel, and I absolutely LOVE hostels, but if, like me, you're travelling with your partner, you probably want something a bit more up-market and private.
My best workaround for this is to find a hotel further out of the city centre of Vienna. It'll add a 30-minute walk into and out of the city to your day, but it's quite a nice way to 'warm up' and 'wind down' from your day of sightseeing. If you don't want to walk, there are always public transport options.
We stayed at the Hotel Babula am Augarten in Leopoldstadt, and it was really good value for money! We would have definitely struggled to find such a nice hotel in a more central location on our budget.
My (insanely detailed) 2 or 3 days in Vienna itinerary goes into a lot of detail about finding affordable accommodation in Vienna, so I recommend hopping over to that post once you're done here.
9 – Skip the transportation pass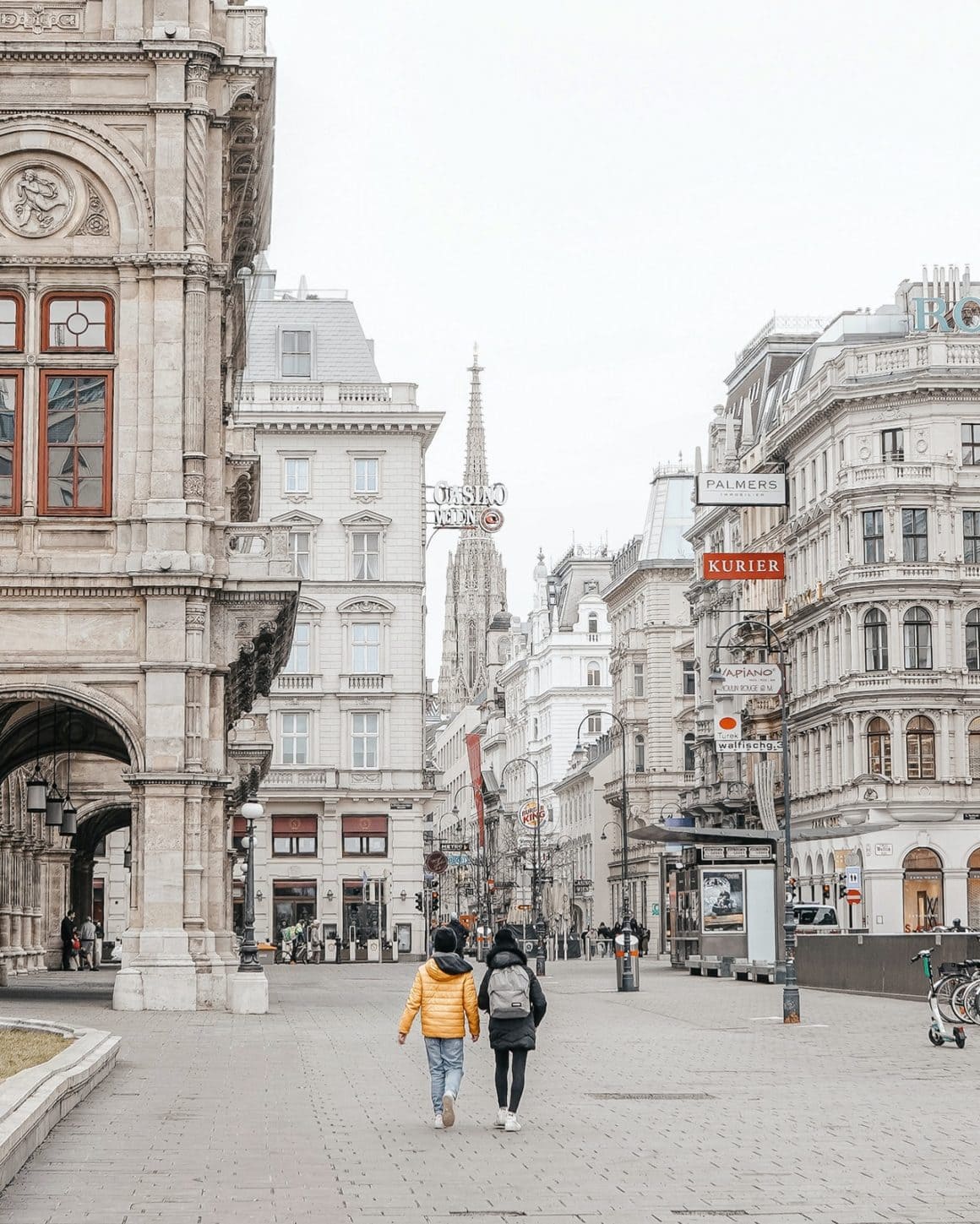 Vienna's city centre is easy to get around on foot, and walking around it is one of the best ways to get to know the city and soak up the vibe.
I know there are transport cards you can purchase for Vienna that cover 24 or 48 hours, but unless your hotel is really far away it's just not necessary.
The only time we used public transport in Vienna was to get to and from the airport and to get to and from the Schönbrunn Palace, which is outside of the city centre.
So yeah – I know it's tempting to purchase a transport pass thinking it'll save you money, but chances are you won't use it enough to get your money's worth!
On that note – to save money on public transport, make sure you buy your tickets at the machines in the stations, rather than onboard the tram/bus. They always cost more on board. 
Also, don't get caught out! If you bought your ticket from a machine ALWAYS remember to validate it by stamping it at the blue machines at the entrance of the underground stations, and on buses and trams. It's super simple to do, and if you want more detailed instructions you can find them here.
---
Vienna was way more expensive than I expected, but I still had a blast there!
This city is jam-packed with fun things to do, and as far as winter city breaks in Europe go, I thought it was a great pick! The truth is that it's still definitely possible to visit Vienna on a budget – it just takes more work than in other nearby cities.
But now you're armed with my top money-saving tips for Vienna, so go forth and save money on your trip!
Until next time
Ella