There is a good chance that this post contains affiliate links. If you make a purchase through them, I may receive a small commission at no extra cost to you! As an Amazon Associate, I earn from qualifying purchases. As ever, all opinions are my own.
If you're looking to spend one day in Nuremberg, chances are you're super interested in history! Nuremberg is world-famous for being the site where the Nuremberg trials took place, which is when leading Nazi figures were sentenced for their crimes during WW2.
Although the fascinating Nuremberg Trials Museum is a must-visit whilst in Nuremberg, there are actually plenty of other interesting things to do and see in Nuremberg!
One day in Nuremberg won't be enough time to see everything the city has to offer, but it's definitely is enough time to get a taste of the city. One day is definitely enough to see the highlights. That's why so many people head to Nuremberg on a day trip!
Whether you're staying overnight or just visiting on a day trip, this one day in Nuremberg itinerary will be perfect for you! In it, I'll cover everything you need to know before you visit, the best things to do, places to eat, and my hotel recommendations.
Let's go!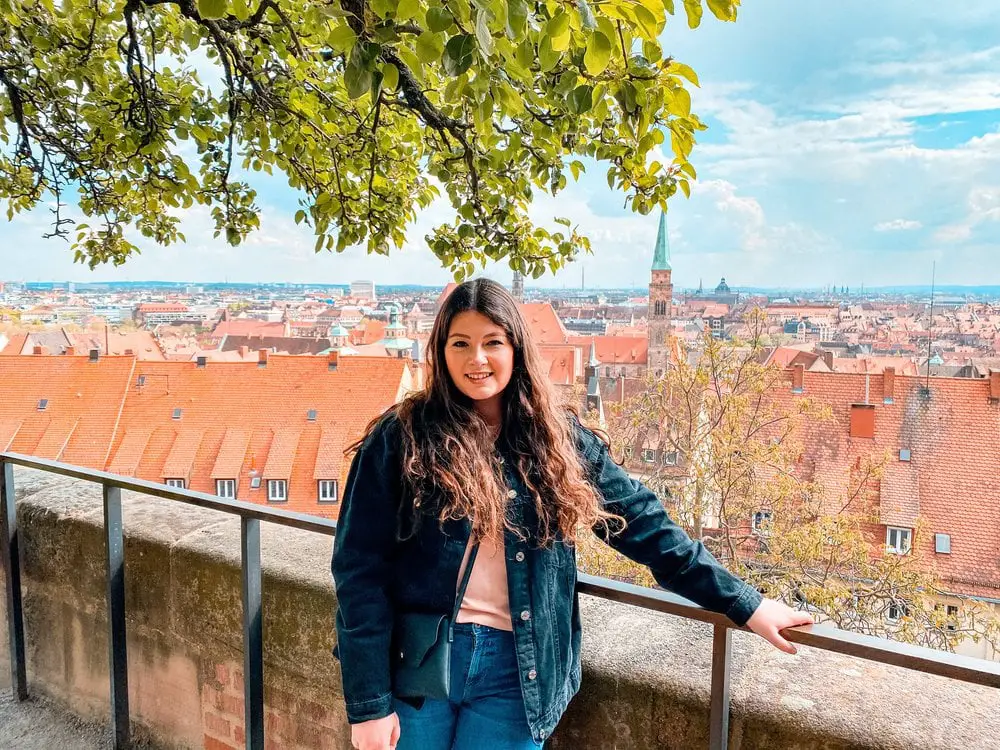 Where is Nuremberg?
You'll find Nuremberg in the state of Bavaria, in southern Germany. After Munich, it's the second biggest city in the state!
Getting to Nuremberg from elsewhere in Germany
Many people visit Nuremberg as a day trip from Frankfurt or Munich, but it's also common for people to visit Nuremberg as a quick city break from other European cities. 
The train from Frankfurt takes just over two hours, making a day trip to Nuremberg a pretty long day! However, the train is direct, so in terms of actually getting here, it's pretty straightforward. Return tickets cost around €40, and you can buy them in advance from the DB website.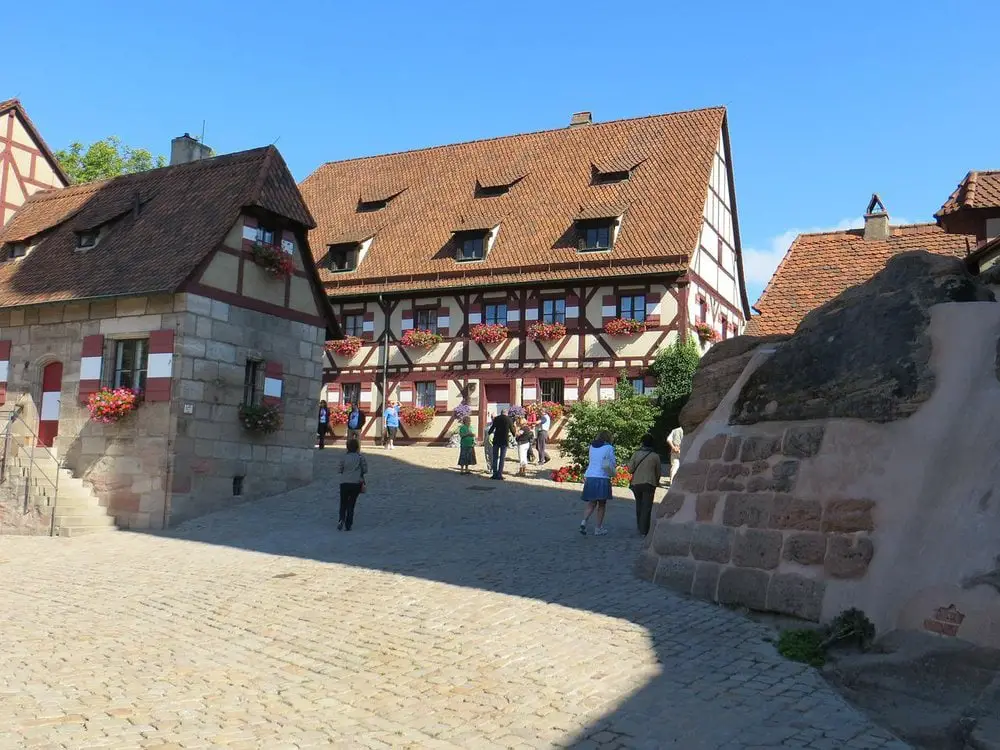 From Munich, the train takes around 1 hour, making it a super quick and easy day trip. Once again, the train is direct. To save money on this journey, buy the Bavaria Ticket from the DB website.
This ticket allows you to go anywhere in Bavaria for just €26 for a single ticket. Up to 5 people can be added to a Bavaria ticket, and the more people you add the less it costs per person. It's a great deal.
Getting to Nuremberg from the airport
Getting to Nuremberg city centre from Nuremberg airport is super straightforward, and very quick. At the airport train station, simply purchase a single ticket at the train station and catch the train to Rathenauplatz. The journey takes just 10 minutes.
One Day in Nuremberg Itinerary
Note: This one day in Nuremberg itinerary doesn't include a visit to the Nazi Rally Grounds, since they're outside the city centre and you'd get far more out of your visit there if you went with a tour guide to explain the context.
If you're interested, you can join this 4-hour tour of Nuremberg's old town and the Nazi Rally Grounds, led by a historian, for just €24. If you're into dark tourism, this is one of the best places to visit in Nuremberg.
Stop 1 – Imperial Castle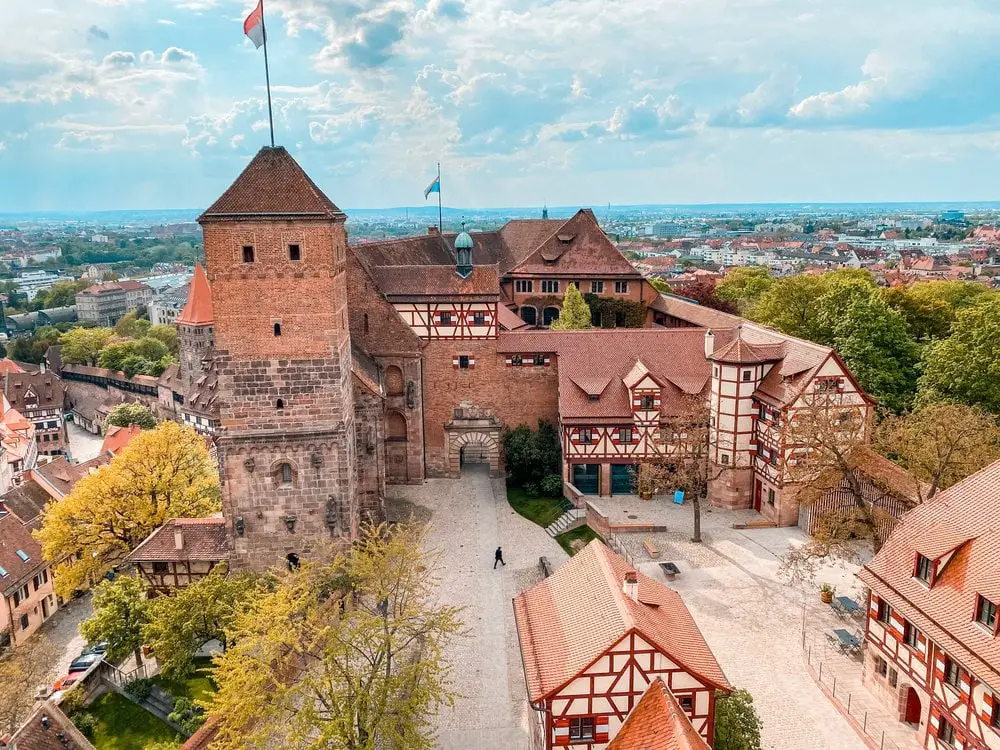 Start your day by visiting the Nuremberg Imperial Castle, which offers some of the best views in the city! The castle complex dates back to the mediaeval period and has overseen the city for hundreds of years.
It's totally free to walk around the castle complex itself, but you do have to pay (€5.50) to go inside.
I made the mistake of doing this, and trust me – it's not worth it. The exhibitions inside the castle are sparse at best. Instead, simply walk around outside taking in the views for free.
Stop 2 – Albrecht Dürer's House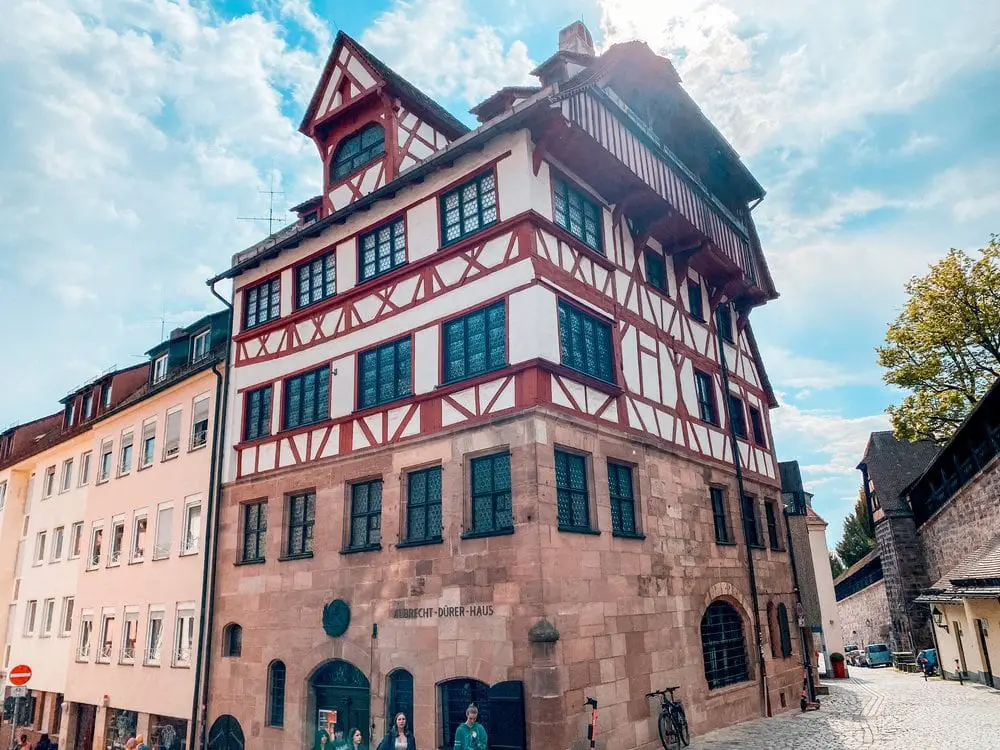 The next stop, just a short stroll from Nuremberg Castle, is the house of arguably the most famous former resident of Nuremberg, the artist Albrecht Dürer (1471-1528).
Dürer lived here from 1509 to 1528, and the house is now a museum and gallery dedicated to him.
Inside, you'll find a recreation of Dürer's workshop, a rotating exhibition of Dürer's works, and you can also receive a guided tour by audioguide, narrated by an actress playing the part of Dürer's wife, Agnes Dürer.
Entry costs €6.
Stop 3 – Hauptmarkt and Schöner Brunnen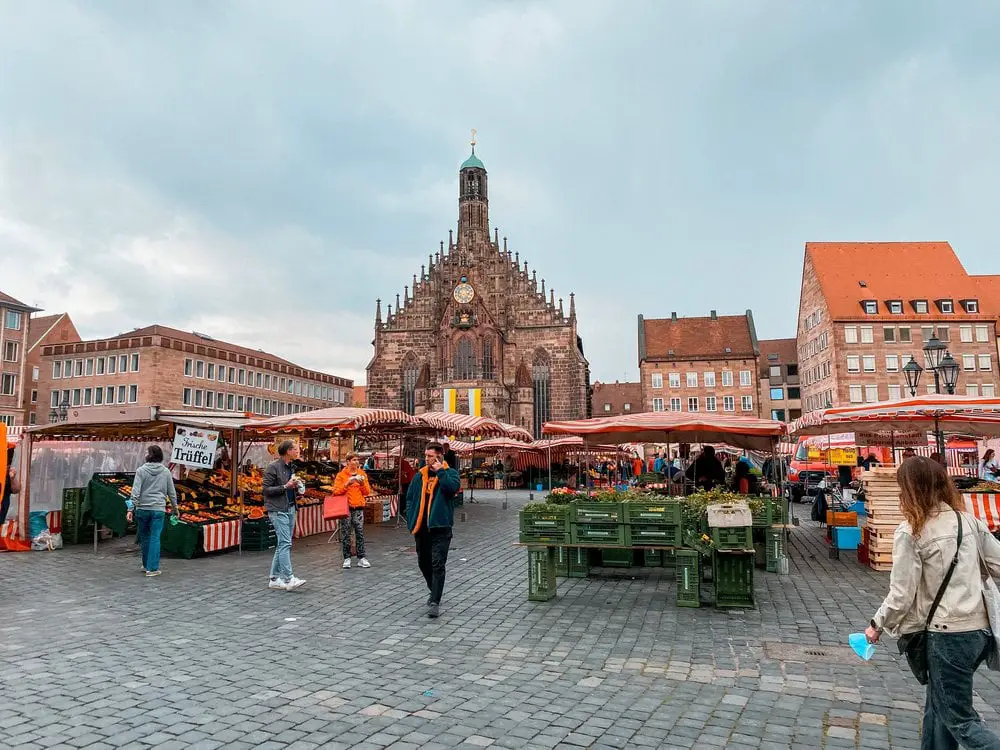 This pretty square, in the heart of the Nuremberg old town, is home to daily markets where you should spend some time perusing the local goods, crafts and street food on offer. If you're visiting Nuremberg in December, this is where you'll find the Nuremberg Christmas Markets, often voted the best in Germany.
On the eastern side of the square you'll find the gothic-style Frauenkirche church, and to the north you'll find Schöner Brunnen, an ornate, 19-metre tall fountain that has three tiers. 
After perusing the market and the square's most notable landmarks, it's time to move on. You have a lot to see if you're visiting Nuremberg in just one day!
Stop 4 – Maxbrücke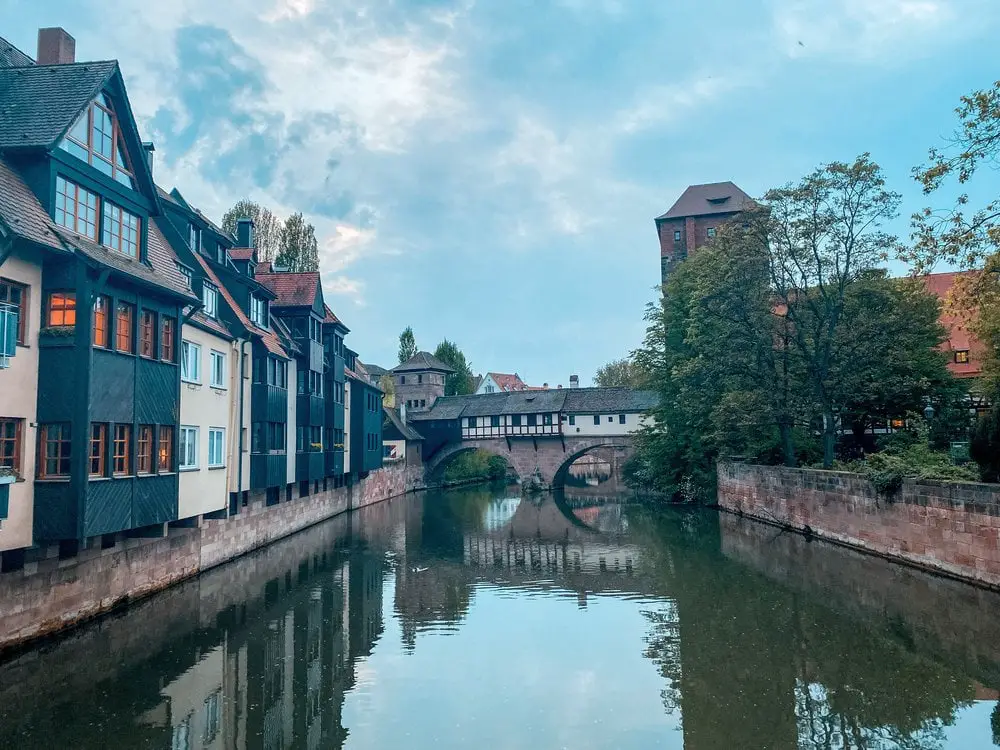 On your way to the next destination on this itinerary make a quick stop at the Maxbrücke, one of the city's prettiest viewpoints. You'll only need a few minutes here as it's just a pretty area to snap some photos, but still definitely worth visiting nonetheless.
The river flowing through Nuremberg has plenty of scenic places to stop and snap some photos, but the area surrounding the Maxbrücke was definitely my favourite.
Stop 5 – Lunch at Zum Gulden Stern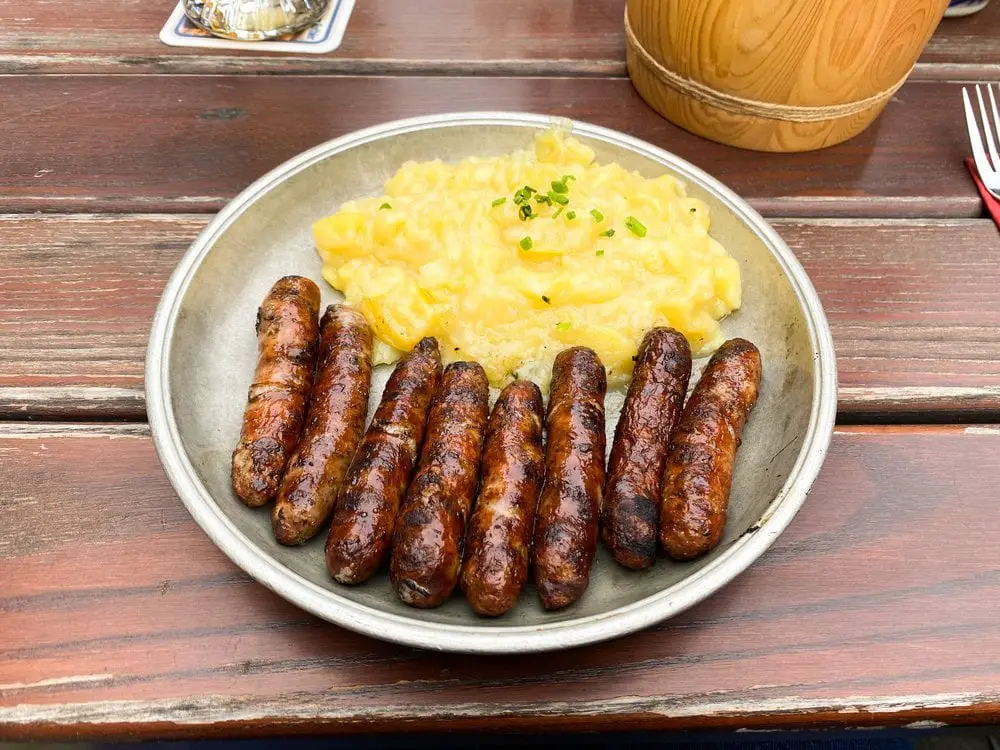 Zum Gulden Stern is easily one of the most quaint restaurants in Nuremberg. In summer, you can enjoy the weather in the beer garden, and in winter, snuggle up inside surrounded by their cosy and old-timey decor. 
Nuremberg is famous for its own style of sausage, the Nürnberger Rostbratwurst, which you should order here. They're similar to typical bratwurst but they're much smaller – about the size of your index finger!
For this reason, dishes usually come with 6, 8, 10 or 12 of them, and you can choose a side dish, which is usually either potato salad, horseradish or sauerkraut. 
I paid €14.20 for 8 Bratwurst and a side of potato salad. Go ahead and order a Weissbier (€4.20) too. After all, you're on holiday!
Stop 6 – Nuremberg Trials Museum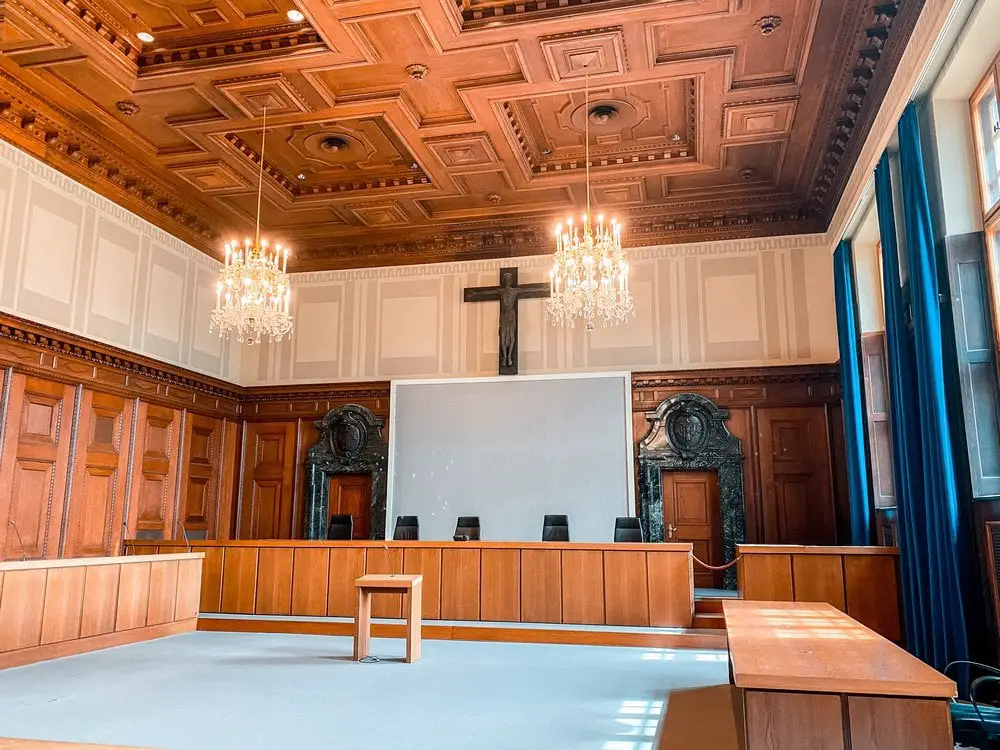 The majority of the afternoon of this one day in Nuremberg itinerary is spent at the fabulous Nuremberg Trials Museum, an absolute must for any history (or law) nerd! Even if you're not a nerd on these topics it's definitely worth a visit to learn more about the aftermath of WW2.
Unless you can speak very good German you will need to use the free audio guide here, as all of the written information is in German. This means that you'll need to spend longer at the museum than you'd expect because you can't skim through the information.
That said, this museum is very good indeed, and you can actually enter the courtroom where the trials took place! We're not typically taught about what happened in Germany after WW2 at school, so I learnt a lot here, and I'm sure you will too.
Entry costs €6.
Stop 7 – Dinner at Albrecht-Dürer Stube
This cosy and intimate restaurant is the most popular in the city, so if you want to eat here a reservation is essential at the weekend. It's the best restaurant in Nuremberg if you're looking for local Franconian food and beer. 
Inside their Dürer-inspired dining room you can sample dishes such as Käsespätzle (German mac and cheese), pork shoulder, and, of course, Nuremberg sausages. Mains cost between €8.50 and €13.50, which is super reasonable given how popular this place is.
If you can't get a table at Albrecht-Dürer Stube, I can also vouch for Alte Küch'n & Im Keller, which is pretty similar and has great service.
Spending 2 or More Days in Nuremberg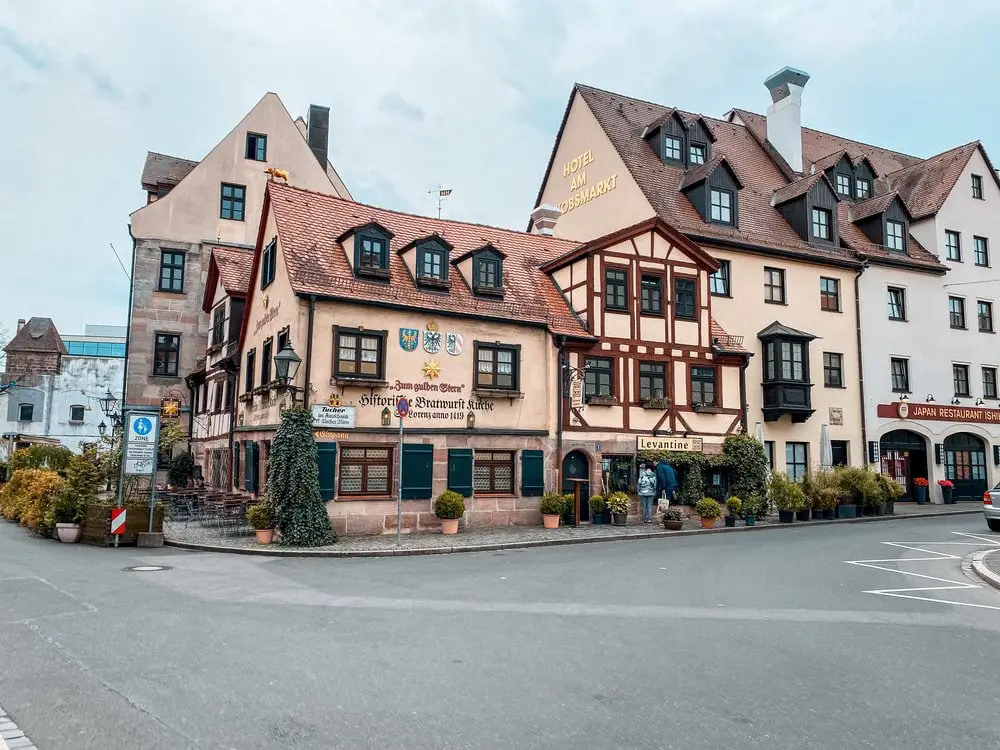 If you're looking to visit Nuremberg for two days, or even spend a weekend in Nuremberg (which is what I did!) you'll want to add a few extra attractions to your itinerary. Here are a couple of suggestions:
Historischer Kunstbunker
If you have time, you should definitely visit the Historischer Kunstbunker. During a visit to this underground bunker your guide will take you around the network of underground tunnels.
The tunnels were previously used as a medieval beer cellar before being converted into a bomb shelter in WW2 where the Nazis stored priceless artworks to protect them from bomb damage.
The tour runs just once a day, at the same time each day, and costs €10.50. If a visit to the Historischer Kunstbunker sounds like something you'd enjoy, check the timings here and book your place in advance!
Former Nazi Rally Grounds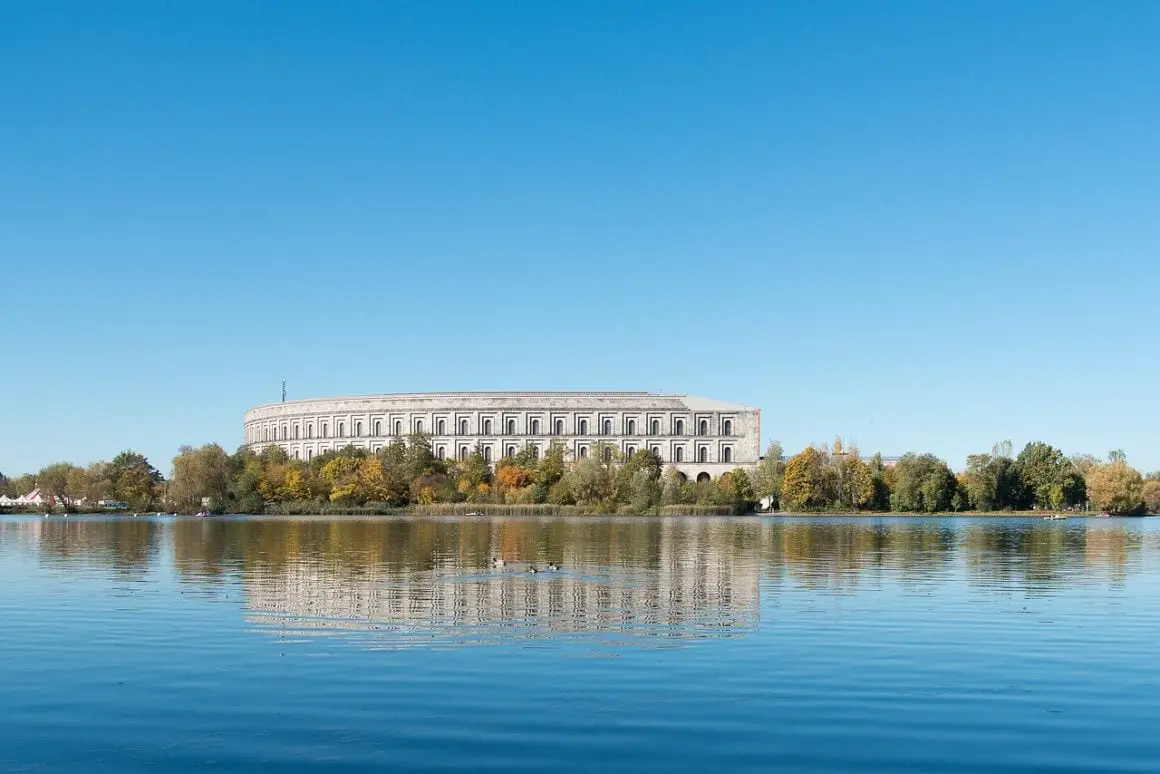 As I mentioned earlier in this post since the Former Nazi Rally Grounds are slightly outside of the city centre and would take up too much time to visit on just one day in Nuremberg if you want to cover as many attractions as possible.
However, if you have extra time in Nuremberg, or are willing to join a tour like this one, you'll be able to squeeze a visit in. 
Germanisches Nationalmuseum
If you want to learn more about the history of German culture and art, look no further than the Germanisches Nationalmuseum. This place is massive, so I recommend picking up a museum map and choosing the sections you want to see, otherwise you'll spend ages here.
Day trips from Nuremberg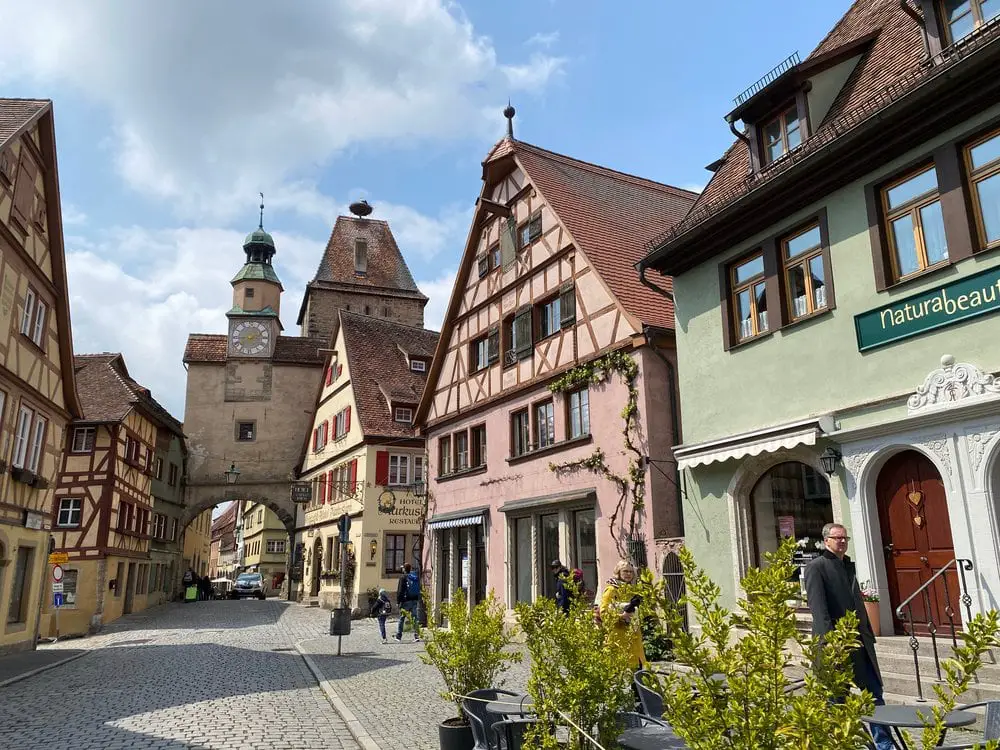 My top travel tip for Nuremberg is to use it as a base for taking day trips to other parts of Bavaria. This is because Nuremberg is well-connected by public transport and the accommodation in Nuremberg is far cheaper than the more popular Munich.
For this reason, I highly recommend adding an extra couple of days to your Nuremberg itinerary to go on a day trip or two.
Read more: The Very Best Day Trips from Nuremberg, Germany
Accommodation in Nuremberg
Hostel
If you want to travel to Nuremberg as a solo traveller or on a tight budget, look no further than this cool hostel. It has spacious rooms, is located right next to the town walls (so most things are within walking distance), and it's Hostelworld's top-rated hostel in Nuremberg!
A bed in a dorm room costs around €27, so it's definitely not cheap, but dorms in Western Europe very rarely are!
Budget Hotel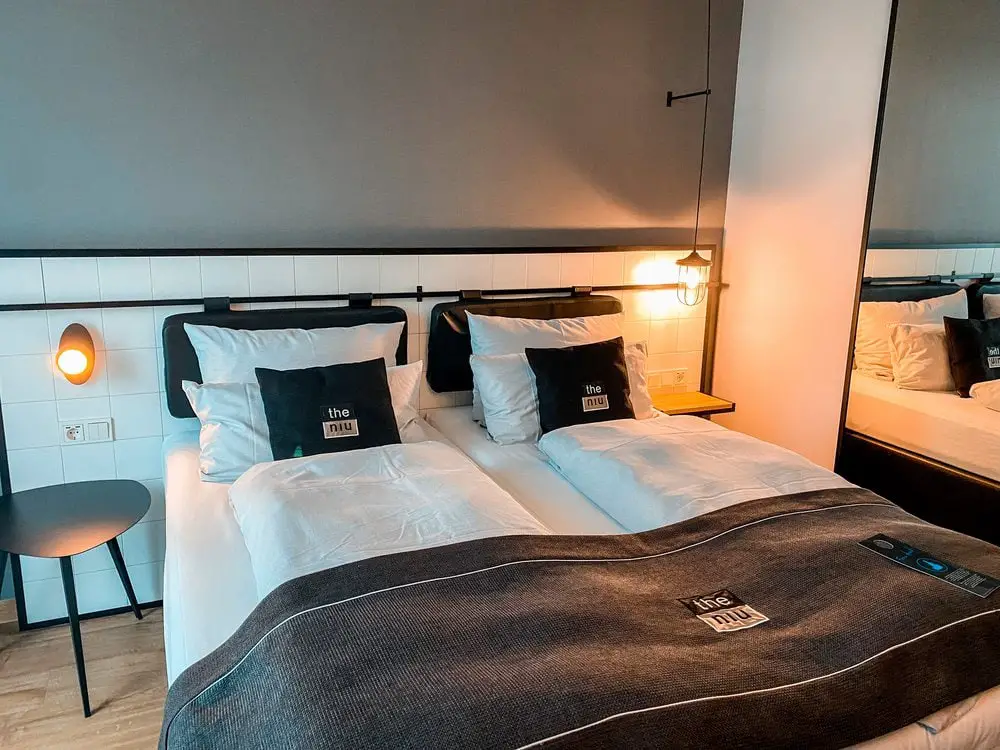 I opted to stay at this fabulous budget hotel whilst in Nuremberg and feel confident recommending it. For around €60 per night you'll get a double room in this cool hipster hotel with an amazing shower (always an important factor for me!). 
The only downside is that it's around a 25-minute walk, or a short ride on the underground, from the city centre. In my opinion, the price more than makes up for that, though.
Mid-Range Hotel
Want more space? Then these chic studio apartments right in the city centre will be perfect for you. They're perfect for mid-range travellers due to their fancy decor, but the fact that you have a kitchen to be able to cook your own food means you'll save money during your stay overall. A studio apartment for two costs around €100 per night.
Click here to check availability!
Getting Around Nuremberg
Getting around Nuremberg is simple. Most of the attractions in the Old Town are within walking distance of each other, and for anything further out of the city you'll probably use the underground. You can buy tickets at the vending machines at all underground stations. 
Don't forget to validate your ticket by putting it into the machines that are just in front of the escalators before you head down to the underground!
Best Time to Visit Nuremberg
Nuremberg is one of those rare places that is great to visit at any time of year. In winter you have the world-famous Nuremberg Christmas Markets, in spring and autumn the weather is mild, and in summer Nuremberg's beer gardens come to life!
If I had to recommend a time of year to avoid, though, it would probably be January-March. The limited daylight hours, lack of Christmas markets and generally poor weather would make things pretty bleak.
I visited in late April and it was perfect! The weather was mostly dry and sunny, but not too hot.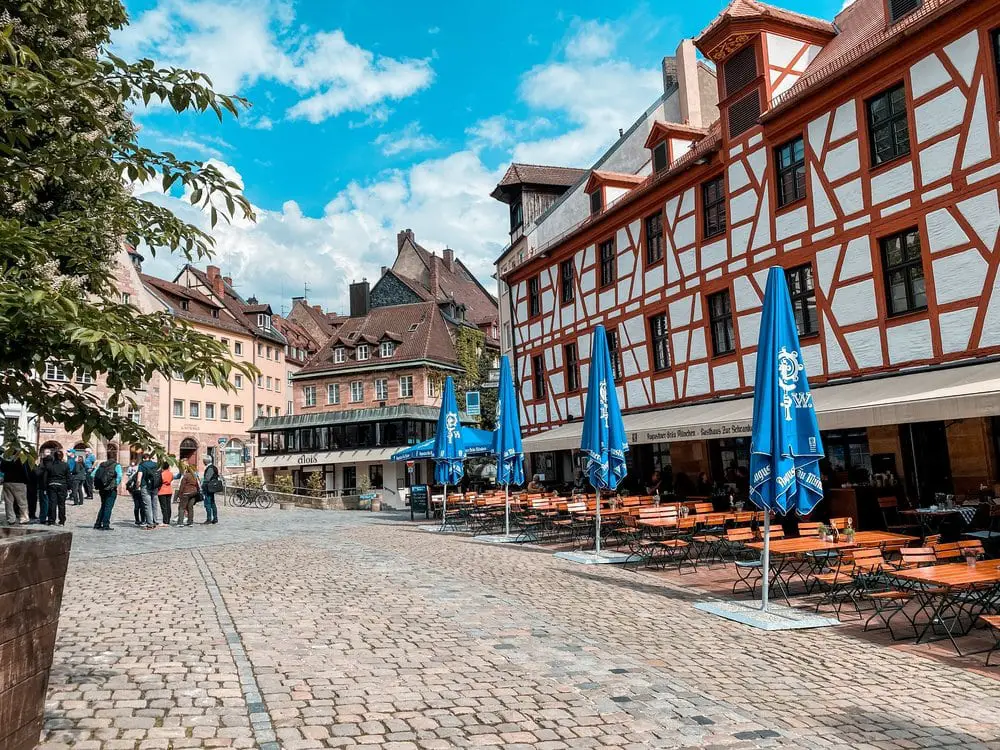 Is Nuremberg Worth Visiting?
If you're a German travel fanatic, or a history or a law fanatic, Nuremberg is definitely worth visiting. I loved my time here!
However, I don't think Nuremberg is worth adding as a standalone stop to a first time in Germany itinerary. There are quite a few cities that are prettier and have more to do than Nuremberg. Instead, if you've never been to Germany before, I would recommend making a day trip to Nuremberg from a bigger tourist hub such as Munich.
If you've already gone on a few trips to Germany it's time to branch out. Nuremberg is a great place to start.
Language
German is the official language in Nuremberg. At most tourist attractions, bars, restaurants and hotels, though, you'll get by with English. 
I personally speak German, so I didn't have any difficulties here. I also saw plenty of tourists speaking only English, though, and there didn't appear to be any problems. Of course, though, learning "Danke" (thank you) is always a good place to start.
---
So there you have it, everything you need to know to spend one wonderful day in Nuremberg, Germany! I hope you have an amazing trip. If you have any questions feel free to drop them in the comments!
Liked this post? Pin it!