There is a good chance that this post contains affiliate links. If you make a purchase through them, I may receive a small commission at no extra cost to you! As an Amazon Associate, I earn from qualifying purchases. As ever, all opinions are my own.
If you're new to surfing, chances are you're wondering whether you can surf without a wetsuit, or whether they're completely necessary. After all, they can be pretty expensive if you're still not sure you'll want to commit to surfing.
The good news is that you can absolutely surf without a wetsuit, and in some situations, it's actually better to surf without one! The biggest factor deciding whether you will need to wear a wetsuit to go surfing is the water temperature, but there are also other considerations such as sun protection and injury prevention that we'll go over in this post too.
Water Temperatures and Wetsuits
Water temperature is the biggest deciding factor for whether or not you'll need to wear a wetsuit when you're surfing. The easiest way to work out whether you should wear a wetsuit is to look at surfers already out on the beach (if you're at home you can search for webcams of the specific beach). If all of the other surfers are wearing a wetsuit, chances are you'll need to wear one. 
There are also a few surf destinations where it'll be pretty obvious that the water temperature will be cold enough that a wetsuit is needed – such as the UK, Ireland and Canada. There are also destinations where you can expect to surf without a wetsuit – places such as Costa Rica, Indonesia and Sri Lanka.
If you're in doubt, head on over to Magicseaweed.com to check the water temperature of your chosen break. If it's around 18°C (65°F) or above, you don't need to wear a wetsuit – although some surfers may prefer to wear one anyway.
Anything 17°C (63°F) or below and you'll need to wear a wetsuit. As the water temperature gets colder, you may need to wear a thicker wetsuit, a hood, booties, and gloves. That said, chances are if you're wondering if you can surf without a wetsuit you're not planning to surf in the arctic.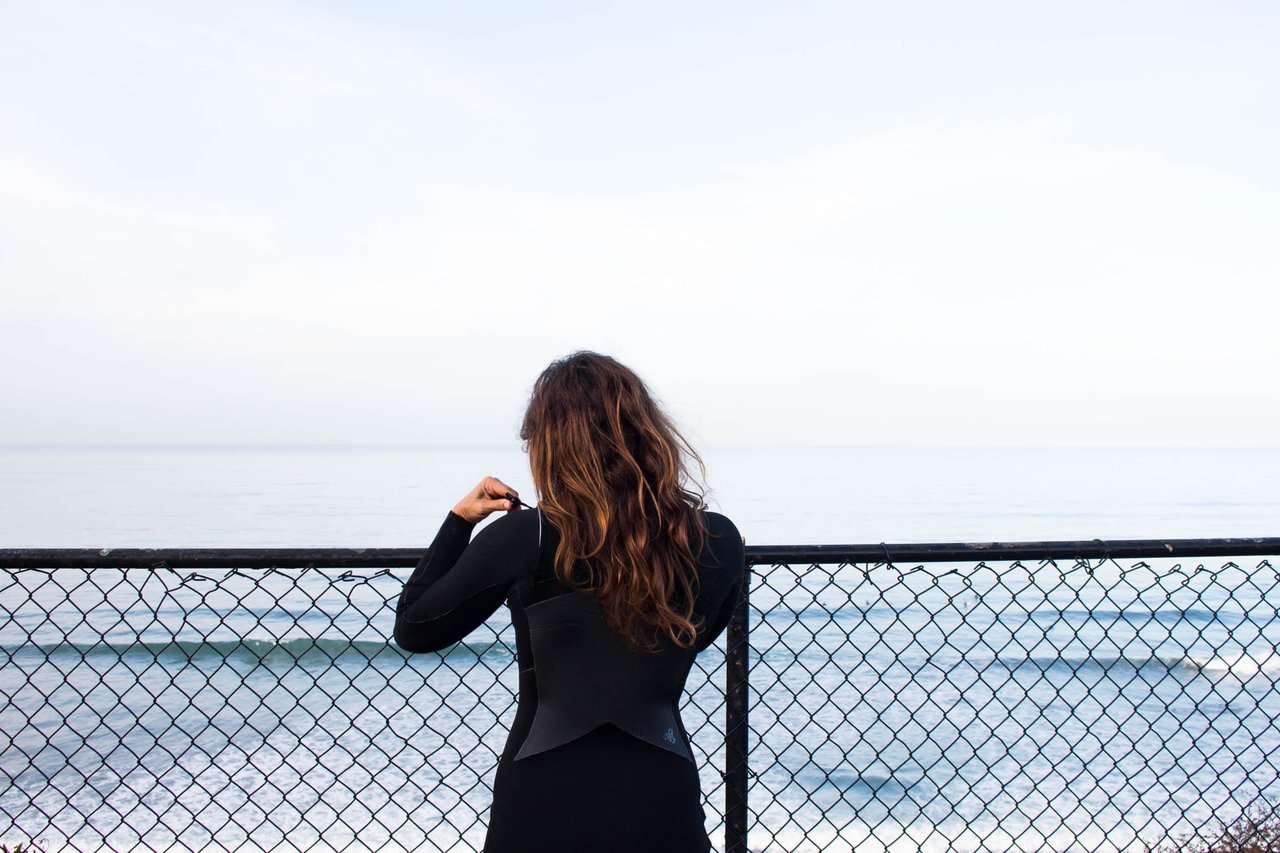 Benefits of Wearing a Wetsuit
Even if it's warm enough to surf without a wetsuit, many surfers choose to still wear one. There are a few reasons people have this preference, and here are the reasons you should consider wearing a wetsuit:
1. Provides Buoyancy
A huge benefit of wearing a wetsuit, especially if you're a beginner surfer, is that it provides buoyancy. The material wetsuits are made out of, neoprene, is naturally buoyant, which comes in very handy if you fall off your surfboard.
2. Sun protection
When you're in the water it's easy to forget about the strength of the sun, and it's very easy to get sunburnt. By wearing a full-length wetsuit you're covering your skin and protecting it from the sun's harmful rays. Just remember to put a waterproof, reef-friendly sunscreen on your face and hands.
3. Protection from injuries
Taking a hit to the body from a surfboard can be incredibly painful, but having an extra layer over your skin can help to protect you from the full impact. Plus, if you go surfing without a wetsuit, chances are you could get a rash on your stomach from it rubbing against the wax on your board. Wearing a wetsuit protects you from that.
4. Keeps you warm for longer
Even if the water is warm enough to surf without a wetsuit, wearing one will keep you warm for longer, and can even help to prevent injuries by keeping your muscles warm. Just make sure you're wearing a thin wetsuit so that you don't get too hot!
Reasons to Surf Without a Wetsuit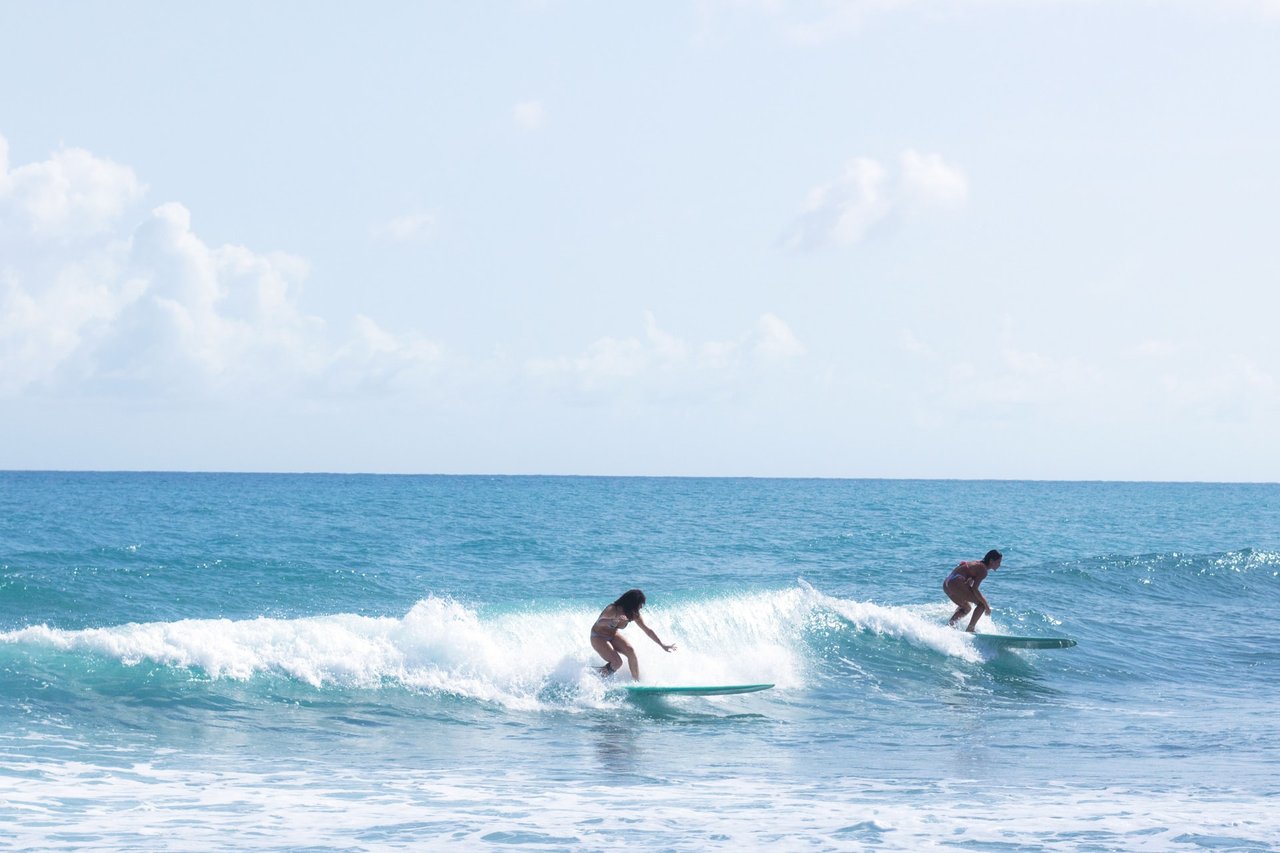 Surfers are often in two minds about surfing without a wetsuit – but I personally love it! If the water is warm enough, you can almost guarantee that I won't wear a wetsuit to surf. Here's why:
1. No restriction of movement
This is the main one for me. Wetsuits, even the best ones, can restrict your range of motion, making you less agile and flexible as you surf. If you're a total beginner, chances are this won't make much of a difference, but as you start to progress and need to move quicker, you'll find it a lot easier to do so without a wetsuit.
2. No chafing
Although there are steps you can take to avoid chafing from a wetsuit, if you're wearing it for long enough, there's a chance it may rub your skin and be slightly uncomfortable. The more expensive and high-quality wetsuits generally do this less, but even then, if you have a bit of sand inside the wetsuit it can cause discomfort. 
3. Quicker
Going surfing without a wetsuit is just quicker – you don't have to spend time putting it on (which, if your wetsuit is still damp from a previous surf, can feel gross!) and you don't have to spend time raising it and hanging it out afterwards. Surfing without a wetsuit just involves less effort!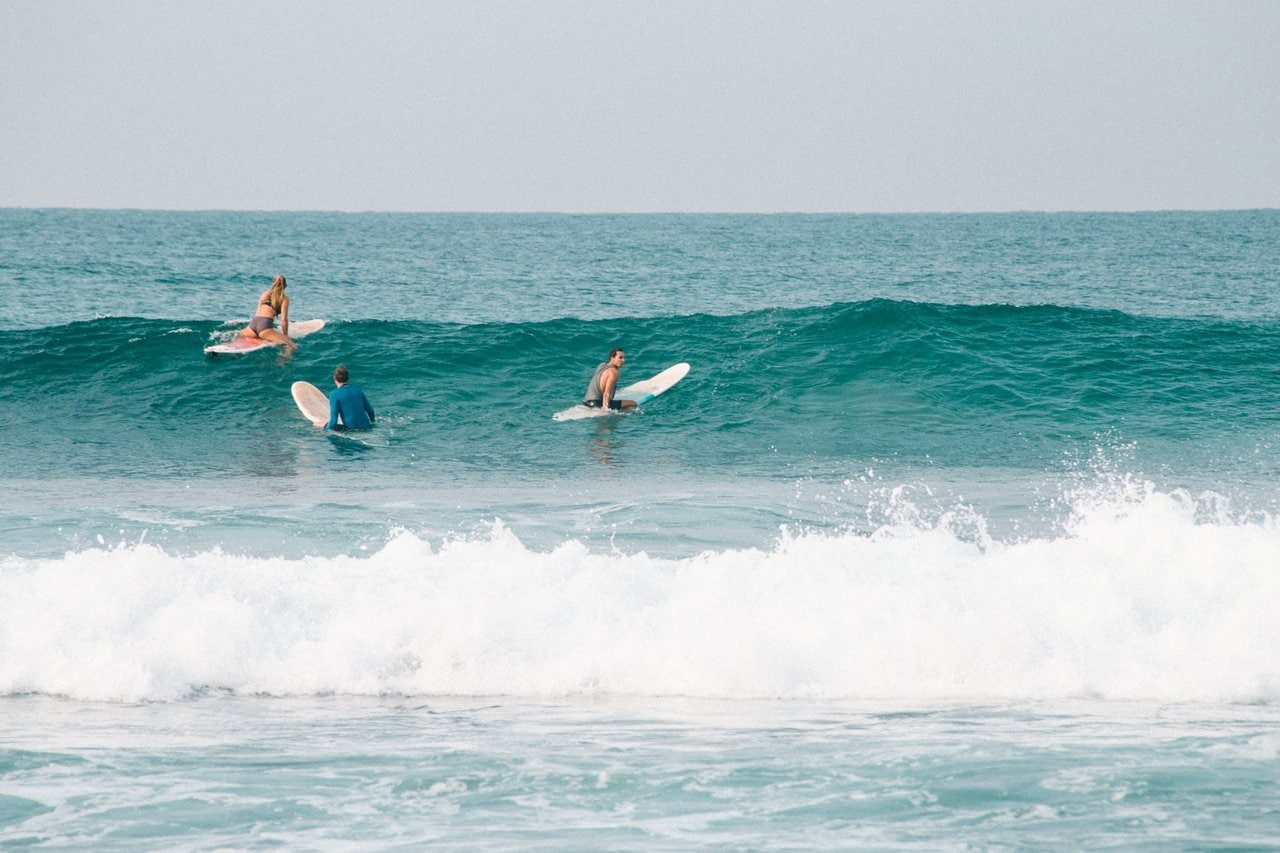 What to Wear If You Don't Have a Wetsuit
Most surf spots will have a surf shop nearby where you can hire a wetsuit for a couple of hours or for the day. This is perfect if you're not sure you want to purchase your own yet, or if you're new to surfing and just trying it out.
If you don't have a wetsuit and can't hire one, just wear a supportive (and practical!) bikini or swimsuit if you're a woman, or board shorts if you're a man. For protection from the sun and chafing from the surfboard, you can also wear a rash vest. Basic rash vests are inexpensive, and you can even buy them on Amazon!
Looking for gift ideas for surfers? Check out the best surfer gifts under $50 here!
So, Can You Surf Without a Wetsuit?
Provided the water temperature is around 18°C (65°F) or above, you can surf without a wetsuit. However, many surfers still wear a wetsuit in warmer water so that they can surf longer, prevent injuries and protect their skin from the sun.