There is a good chance that this post contains affiliate links. If you make a purchase through them, I may receive a small commission at no extra cost to you! As an Amazon Associate, I earn from qualifying purchases. As ever, all opinions are my own.
Last Updated on September 5, 2021 by Ella
If you're looking to go surfing or learn how to surf whilst you're in Cornwall, this is the post for you!
I learnt to surf here myself, and I feel passionately that Cornwall is a fabulous place for beginner surfers!
Of course, unless you have someone to show you the ropes, learning how to surf can feel pretty daunting. After all, there are so many things to consider.
Enter, my incredibly detailed guide to everything you could possibly want to know about learning to surf, and surfing as a beginner, in Cornwall!
What to Expect Surfing in Cornwall
Expect it to be really cold but really fun!
The surf in Cornwall is (usually) quite beginner-friendly, and with many beaches fully lifeguarded during the summer months, Cornwall is a great place for beginner surfers. There are a ton of surf schools and surf equipment hire shops in Cornwall, so the competition keeps prices low. 
In summer, expect the water to be crowded. Cornwall is one of the most popular places to go on summer holidays in the UK, so there are plenty of people who learn to surf whilst they're there. This means water during the 6-week school holidays in summer can get very busy!
The conditions at many beginner surf beaches in Cornwall can be a little unpredictable (especially in summer). If you want to learn to surf, I recommend staying at least 3 days. That way, it's more likely you'll have at least one day of good conditions. Cornwall's beginner surf beaches have the occasional day with no waves whatsoever, which can be so annoying!
When to Go Surfing in Cornwall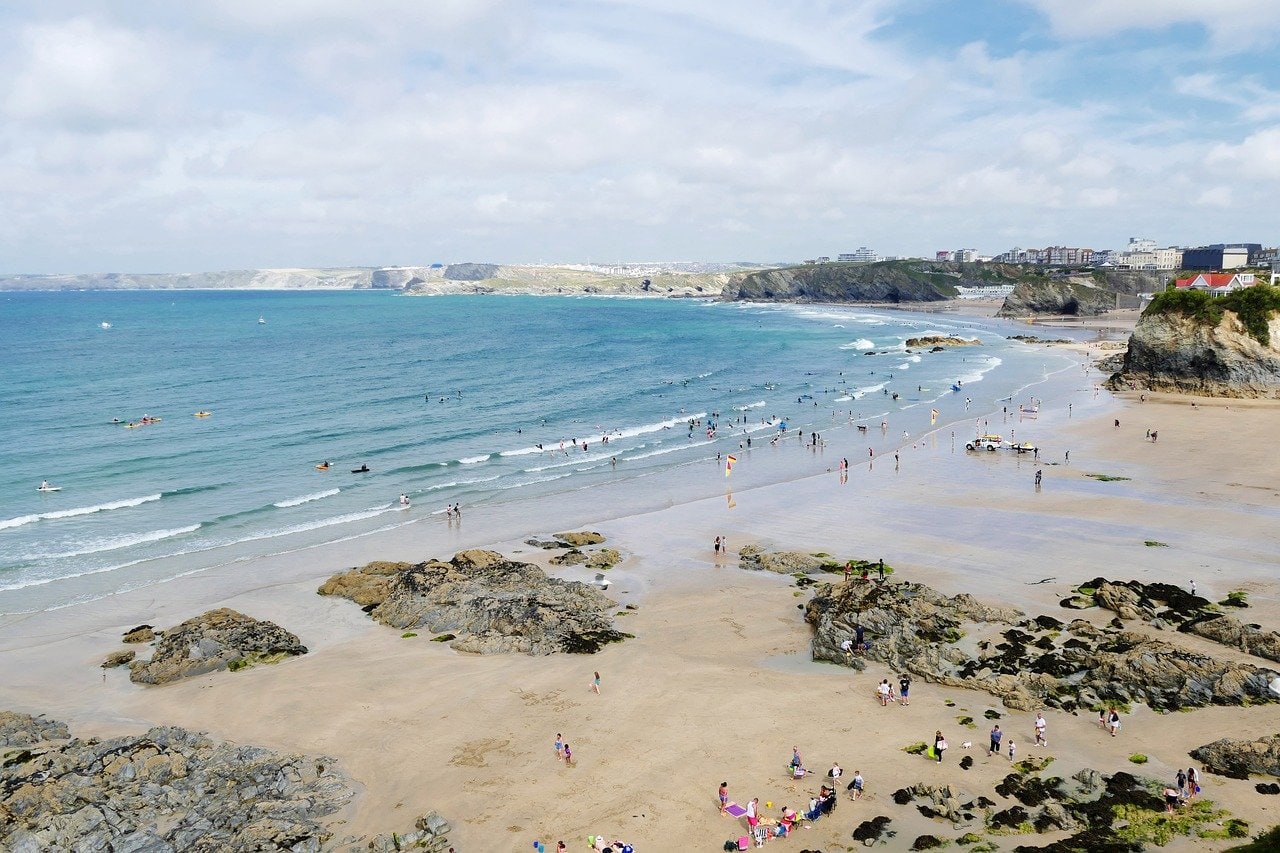 There's no doubt about it, if you're learning to surf in Cornwall, you'll want to do that whilst lifeguards are on duty. This is usually between April and the end of October, but the water in April and May can be pretty darn cold, so I don't recommend these months.
In an ideal world, September and October are the best times to go surfing for beginners in Cornwall. This is because the water has had plenty of time to warm up over summer, there are lifeguards on duty, and there won't be any crowds!
It's safe to say most people will be visiting Cornwall in summer though.
Don't get me wrong – summer is a brilliant time to learn to surf in Cornwall due to the weather, but on sunny days the water can be incredibly crowded. Plus, if you join a group surfing lesson chances are you'll have to share the teacher with a lot more students in summer vs in spring or autumn.
I don't recommend surfing in Cornwall in winter if you're a beginner. This is because the currents are often very strong and unpredictable, and the wind can make the waves unruly. Plus, there are no lifeguards and fewer people around to keep an eye on you.
Water Temperature in Cornwall
This might surprise you, but the water temperature in Cornwall varies massively from area to area – for example, Perranporth and Newquay always feel substantially warmer than St Ives, which is ALWAYS freezing cold!
The water temperature in Cornwall in summer hovers around 16°C, which is fairly mild. In winter, it drops to around 10°C. You'll definitely need a thicker wetsuit for that!
Surfboards and Wetsuits for Beginner Surfers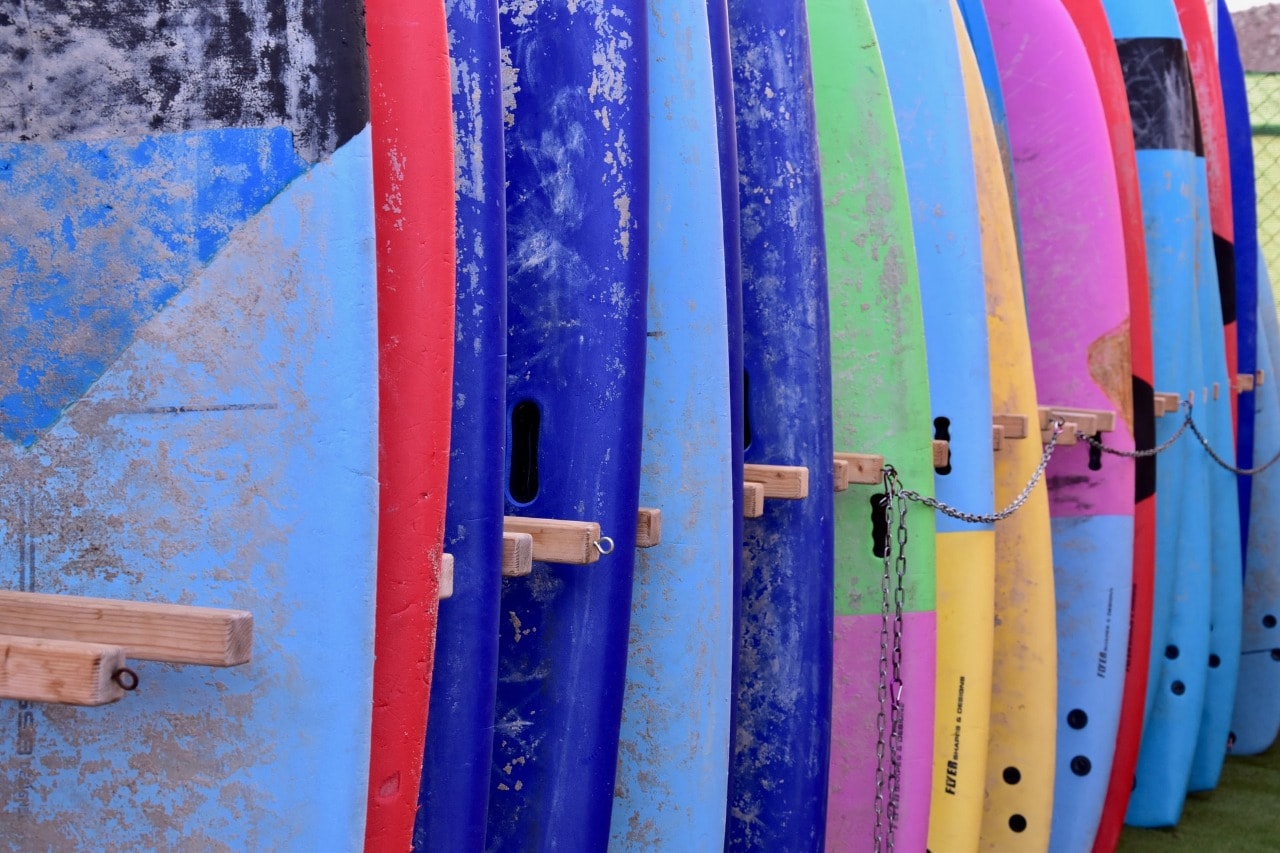 It can be intimidating working out what you'll need to buy or hire to learn to surf, as the amount of equipment can be mind-boggling for a beginner.
Do I need a rash vest?
What are fins?
There are different types of surfboard?!?
Don't fret though – it's actually really simple if you're a beginner!
In fact, you only need two things: a wetsuit and a surfboard. Cornwall is far too cold for most of the year to surf without a wetsuit.
Where to Find Surf Equipment
I recommend hiring a wetsuit and surfboard (or the surfboard, at the very least). This is because, as you improve, you'll outgrow surfboards very quickly – so you'd end up wasting money.
If you head to a surf shop (they're in most beach towns in Cornwall), you'll be able to hire a full-length wetsuit and a surfboard for around £20 a day. A short-sleeve wetsuit is also fine, but a long-sleeved one means you'll be able to stay warm, and therefore in the water, longer. They also offer your skin a bit of protection from the board to start off with.
The wetsuit should be quite tight, but you should still be able to move freely.
Hiring a Beginner Surfboard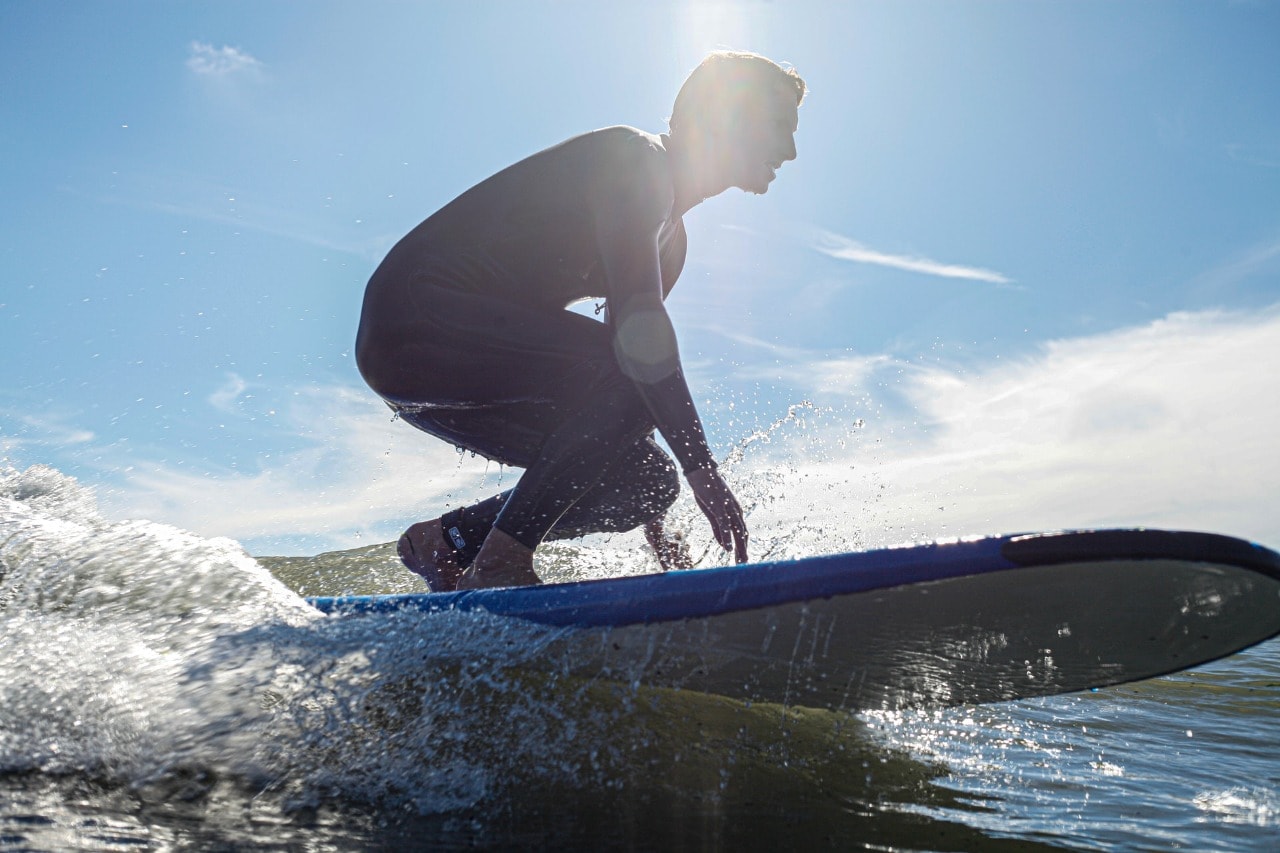 The surf shop will select a board for you if you're a beginner, but as a rule of thumb the best board to learn to surf on is a Swell board. These boards are super long and very heavy, but it also means they're incredibly buoyant! 
You may have seen them on the beach before (they're usually yellow and blue). They don't look cool, but they're the absolute best boards for beginners because they're very forgiving whilst you're wobbling and trying to stand up. Plus, you'll soon be able to 'graduate' to a more challenging board.
Don't fret though, if you just tell the people at the surf shop that you're a beginner they'll find you a suitable board.
In terms of other equipment – if your wetsuit chafes or rubs (for example, around your neck or under your arms) it might be worth buying a rash vest. They really help! If you don't want to splash out on one, putting a load of vaseline on the area before you put your wetsuit on does help a little.
Everything else – wax, fins, gloves, and everything else, can wait until you're a surfing pro.
Do You Need to Take Lessons to Learn to Surf?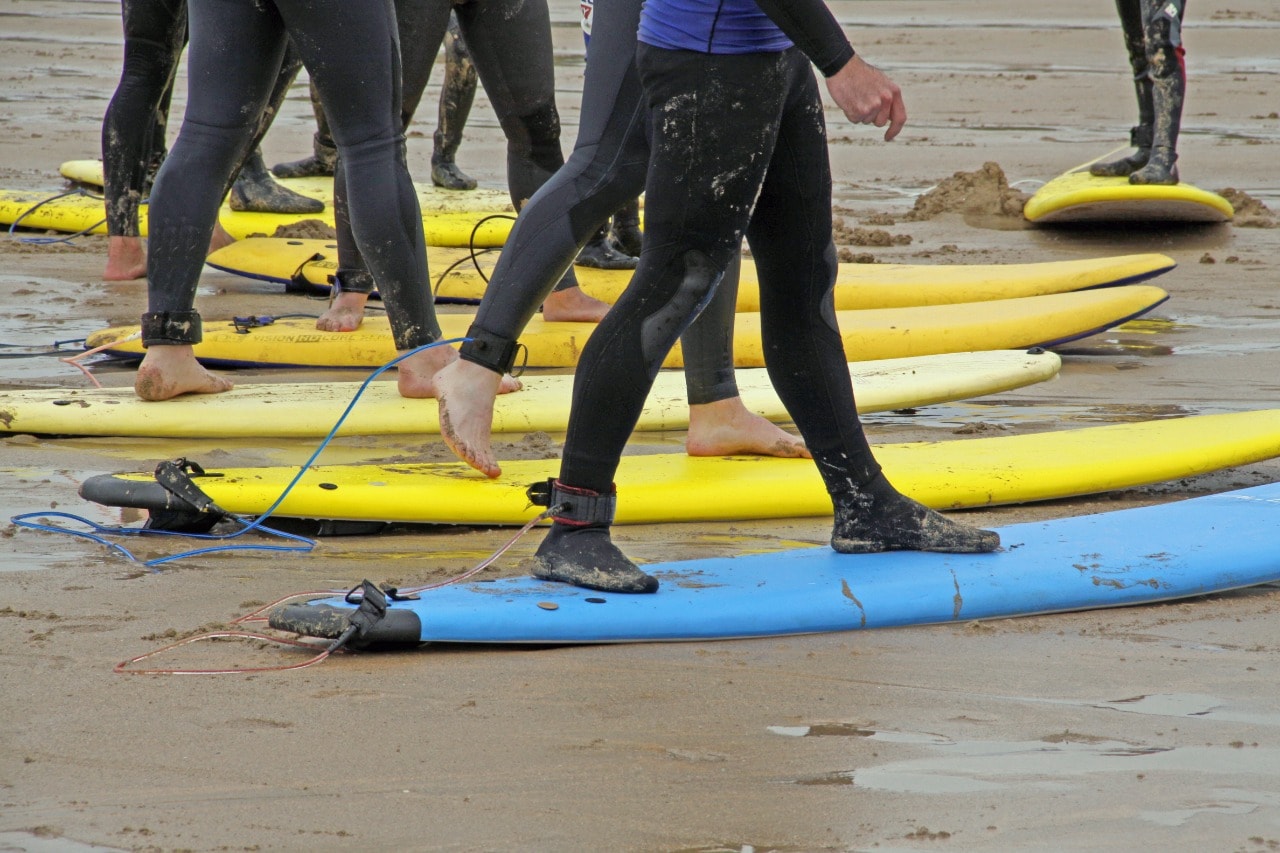 You absolutely don't have to take lessons to learn how to surf in Cornwall. I'd been surfing for 3 years before I ever took a lesson!
But… Would it help you to take a lesson? 
Absolutely, 100%!
Surfing lessons teach you the basic technique, teach you how to prevent injuries or developing bad habits, and you get one-on-one feedback and corrections from your teacher. They also teach you how to fall off your board correctly, so you don't injure other surfers. This is super important for beginners, as falling off wrong can make you a beach hazard!
The reason I never took formal lessons was because my auntie was a really good surfer, so she just taught us herself. If we didn't have her, I definitely would have signed up for a few classes.
If you're not going to join a surfing lesson in Cornwall, I really recommend doing a deep dive on YouTube beforehand to find surfing lessons and tips for beginners.
At the very least, you need to learn how to fall off the board safely before you ever take one into the sea!
Overall, I recommend taking at least one surfing lesson in Cornwall before you dive in by yourself. Some surf lesson providers offer discounts if you purchase a bundle of classes, and other places offer multi-day surf camps if you really want to make fast progress.
Best Surf Schools in Cornwall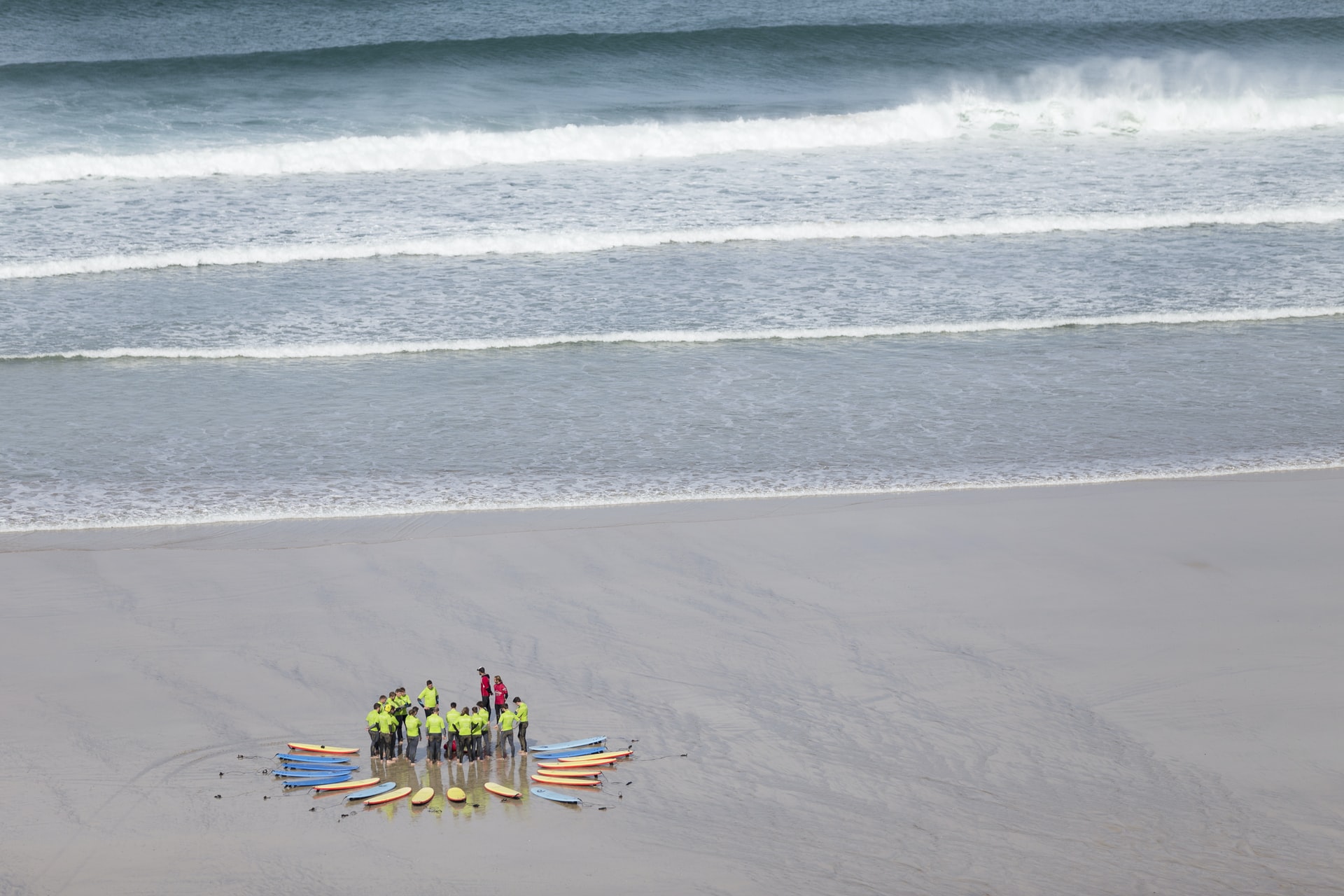 On the beach and in the town centre of almost every surf town in Cornwall you'll find a surf school. The majority are excellent. After all, there's just too much competition for a bad surf school to stay in business.
If you're in the area for a few days, spend some time on the beach where you'll see the surf school heading out. You can then weigh up the class size, teaching style, and how long the lessons seem. Outside of the peak season, this technique is the best approach to find a great surf school.
In summer, though, it's important to book in advance. At any time of year, if you do some research into the surf school's reviews beforehand it'll pay off!
As I said, I haven't done a whole lot of lessons, but there are some surf schools I have heard of time and time again, and feel confident recommending:
Cornish Wave, Newquay
Cornish Wave has classes for pretty much every adventure activity you can do in Cornwall, and this includes surfing.
Their surfing lessons are based across Towan Beach and Fistral Beach in Newquay – both hugely popular surfing beaches. Their classes are approved by the World Surf League, so you know you'll be being taught by a pro. They also monitor conditions and do their best to move your class if there will be no surf when you're booked on. Their reviews say it all! 
Group classes cost £35 and last 2.5 hours.
St Ives Surf School
This surf school is one of the most popular in Cornwall because of its knockout location! Right on the famous Porthmeor Beach, St Ives, this beach is ideal for learning to surf as the waves here are usually really clean and easy to ride.
St Ives Surf School offer complete beginner, improver, advanced and private lessons, with beginner lessons lasting for 2 hours and costing £40.
Surf Camps in Cornwall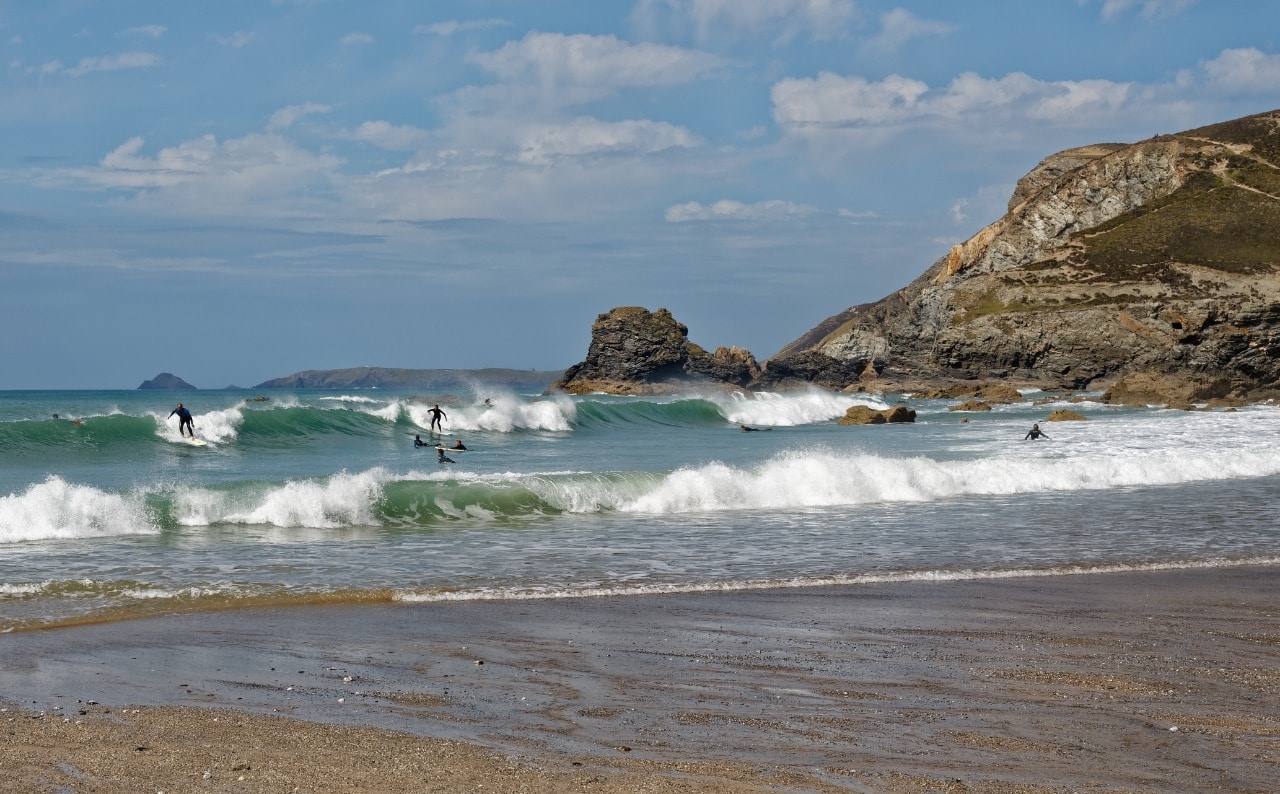 If you'd prefer to really sink your teeth into surfing, rather than just taking a surf lesson or two, a surf camp is for you!
A surf camp is a holiday that you spend learning how to surf, amongst other things (yoga, hiking, coasteering – etc.). It's a great way to get a crash course in surfing, make friends and improve your skills drastically over a few days or even a week!
Most of the people on surf camps are there by themselves, too, so it's a great way to dip your toe into solo travelling if it's something you've never tried before.
Surf camps are definitely aimed at the 18+ crowd, so if you're looking for ways to get your kids surfing this isn't the right option for you. But if you're an adult, this could be the perfect solution!
The surf camp craze started abroad but is slowly making its way to the UK. Over the last few years, several surf camps have popped up in Cornwall, which is incredibly exciting!
King Surf, Mawgan Porth (Newquay): These guys really know how to deliver a killer introductory course to surfing! Their surf camps include 2 nights' accommodation, 4 surf lessons, and video analysis of your surfing. They're also looking at introducing new elements to their retreats, such as yoga and massage.
Base Surf Lodge, Newquay: What's great about this surf camp is that there are no set dates – you can arrive whenever you like and stay for as long as you like! Every day includes a 2-hour surf lesson followed by all-day hire of their equipment, and they hold camps for complete beginners, improvers and even advanced surfers.
Best Beginner Surfing Beaches in Cornwall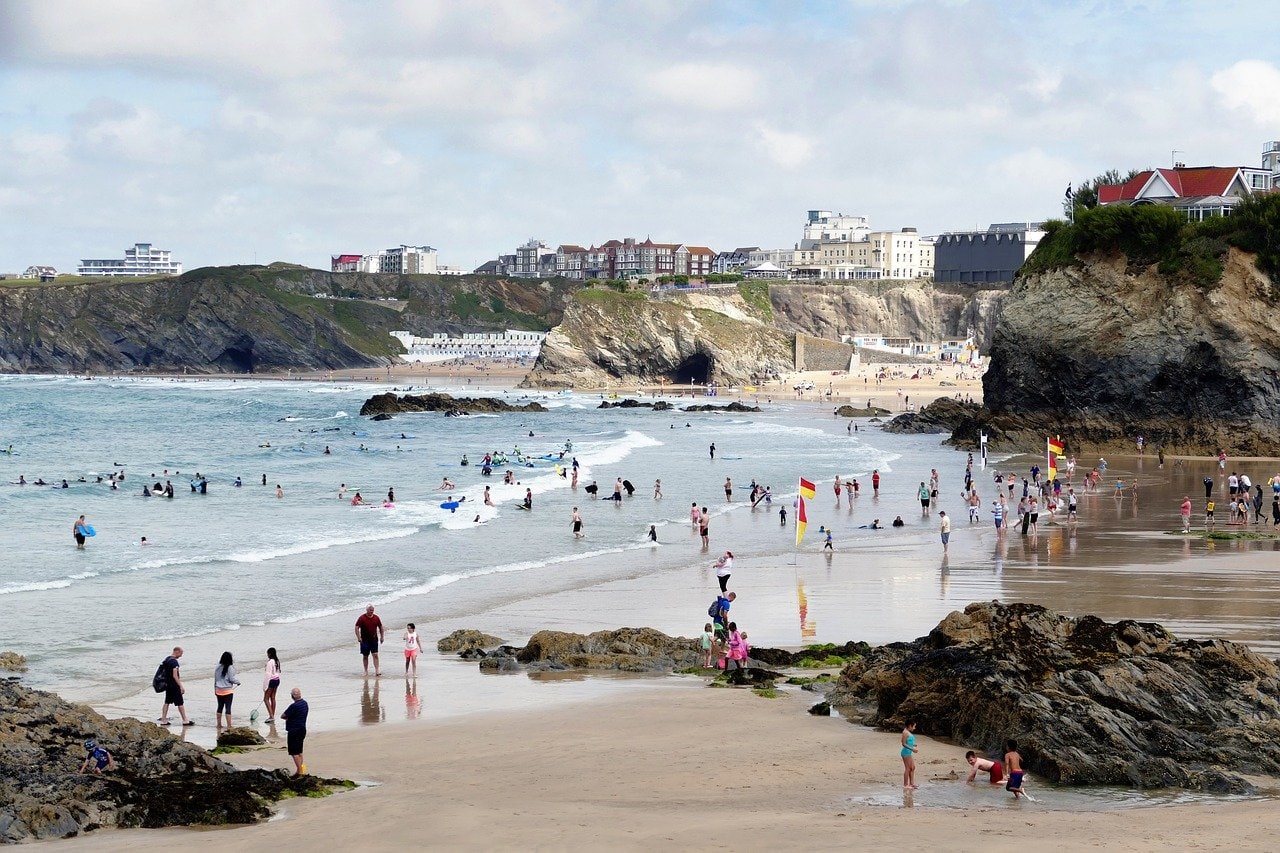 After you've had a lesson or two and are ready to improve your skills, it's time to hire a board and head out by yourself! It can be daunting working out which beaches in Cornwall are best for beginner surfers, though. After all, chances are surf forecasts mean nothing to you yet – and that's totally fine!
The good news is there are RNLI lifeguards present on most beaches in Cornwall. You can check if a beach is patrolled here. Always surf between the black and white flags the lifeguards set out, and you can relax knowing that they're keeping an eye on you and you aren't surfing in a rip tide.
However, even if a beach is safe to surf at for beginners, it doesn't mean the conditions will be ideal! For this reason, I have a few tried and tested recommendations for the best beginner surf beaches in Cornwall:
Widemouth Bay, Bude
The waves around Bude are incredibly popular with surfers of all abilities due to their consistency. Widemouth Bay has the best conditions in the area. On this beach, you'll see that it's perfect for beginners at low and mid-tide and ideal for more advanced surfers at high tide. Equipment is available to hire at Widemouth Surf Co.
Lusty Glaze, Newquay
Although nearby Fistral Beach is the surfing mecca of the UK just around the corner you'll find Lusty Glaze Beach. The waves here are more forgiving and there are fewer crowds. This beach produces gentle left and right sloping waves, perfect for mastering the basics and moving on to improver-level skills.
There aren't any surf-hire places right on the beach here, so you'll have to hire before you arrive or collect your equipment from Blue Surf at Porth beach just around the headland.
Watergate Bay, Newquay
What's so awesome about Watergate Bay is that it gets consistent, clean waves and you'll very rarely get blasted with huge walls of swell whilst you're starting out as a beginner. In general, the best time for beginners to surf at Watergate Bay is during low tide. The higher the tide, the bigger the waves! You can hire equipment from Blue Surf School.
Polzeath Beach, Polzeath
This beach is rare in that it's pretty much only for beginner surfers. This is because the beach has slow breaking, relatively weak waves. It's an amazing spot for building your confidence and getting used to standing up on the board. You can hire a board and wetsuit from Wavehunters.
---
That's pretty much everything you need to know before you dip your toes into the sea and go surfing for the first time in Cornwall! 
I've been surfing in Cornwall for over 10 years now, and I'm super passionate about introducing others to this fabulous hobby!
If there's anything I've missed, or if you have any questions, please feel free to drop them in the comments!