There is a good chance that this post contains affiliate links. If you make a purchase through them, I may receive a small commission at no extra cost to you! As an Amazon Associate, I earn from qualifying purchases. As ever, all opinions are my own.
Last Updated on March 1, 2022 by Ella
Often overlooked in favour of the fairytale city of Bruges, Ghent has all of Bruges' charm with half the crowds! We're talking Medieval castles, mouth-watering food and more pubs serving up strong Belgian beer than you could count.
I spent 5 days travelling in Belgium, and during my time there I visited some of the very best Belgian cities including Brussels, Ghent, Bruges and Ypres. Out of all of these destinations, Ghent was my favourite Belgian city!
Ghent is – in my opinion – the perfect all-rounder, offering visitors a bit of everything. Since we had such a fast-paced itinerary for Belgium unfortunately we could only spend one day and night in the city. 
That's not an issue though! 
In fact, most visitors to the city only spend a day here. Ghent is compact enough that you can easily see the highlights in one day (although it'll be a jam-packed day!). 
To help you plan your trip, I've put together this one day in Ghent itinerary. In this post I'll share all my Ghent travel tips, favourite places, and the best things to do which will have you falling in love with Ghent! 
How to Spend One Day in Ghent
Stop 1: Breakfast at Luv L'oeuf
We didn't expect to find the best breakfast in Ghent right next to the hotel we stayed in! We waited half an hour for a table, which for me is always the sign of a great brunch place. It was well worth the wait.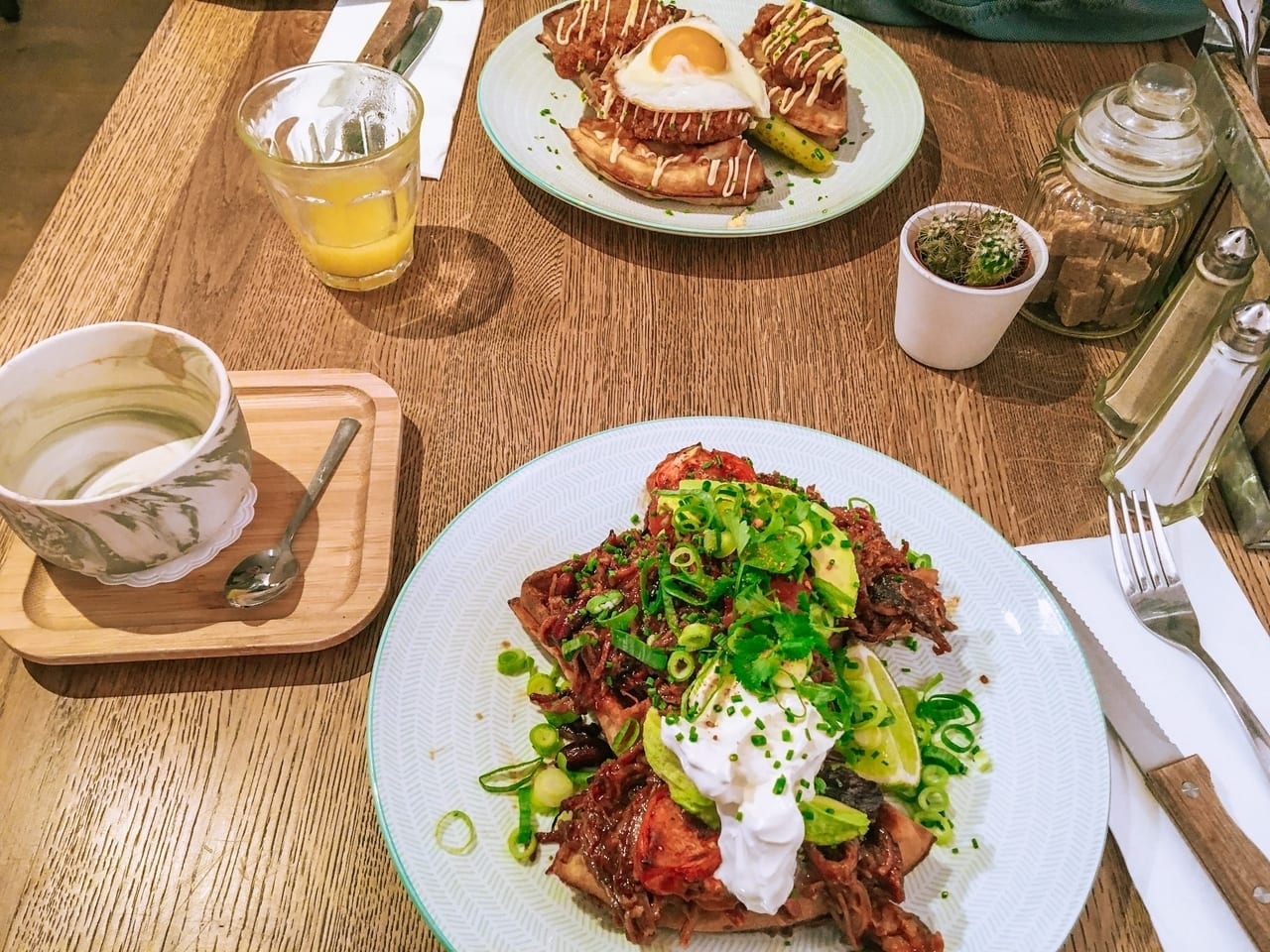 At Luv L'oeuf you'll find all the fan favourites such as Eggs Benedict, pancakes, granola and more! I had their Tijuana waffle – a cheddar waffle with pulled pork, avocado, sour cream, and a load of other exciting additions. It was soooo good and definitely the best breakfast we had in Belgium!
What's more, their coffee was fabulous. As a coffee snob I'm always thrilled when I can start the day with a great cup of coffee. 
Stop 2:  Saint Bavo's Cathedral
Just a 10 minute walk away from Luv L'oeuf, you'll come across Sint-Baafsplein. This is the town square which stands between Saint Bavo's Cathedral and the Ghent Belfry. Sint-Baafsplein is a great place to snap a few photos of the two stunning buildings from the outside.
After checking out Saint Bavo's Cathedral from the outside, it's time to head inside to explore its lavish interior. What's more, entry to Saint Bavo's Cathedral is totally free!
What draws many visitors to the cathedral is the altarpiece, 'the Adoration of the Mystic Lamb' by the Van Eyk brothers, which is one of the most significant artworks of Belgium.
If you want to see this, you'll have to pay €5.00. We decided not to pay for this, but if you're into religion or renaissance art I'm sure this will appeal to you. The altarpiece aside, the church is still a great place to spend 20 minutes or so exploring. 
Stop 3: Ghent Belfry
Across Sint-Baafsplein and opposite Saint Bavo's Cathedral you'll find the Ghent Belfry.
Standing at almost 300 feet tall, the Ghent Belfry is one of the city's most famous landmarks. What's more, it offers unparalleled views of the city and is even a recognised UNESCO World Heritage Site!
The Ghent Belfry has been the city's main watchtower since 1442 when it was used to warn the citizens of oncoming enemies.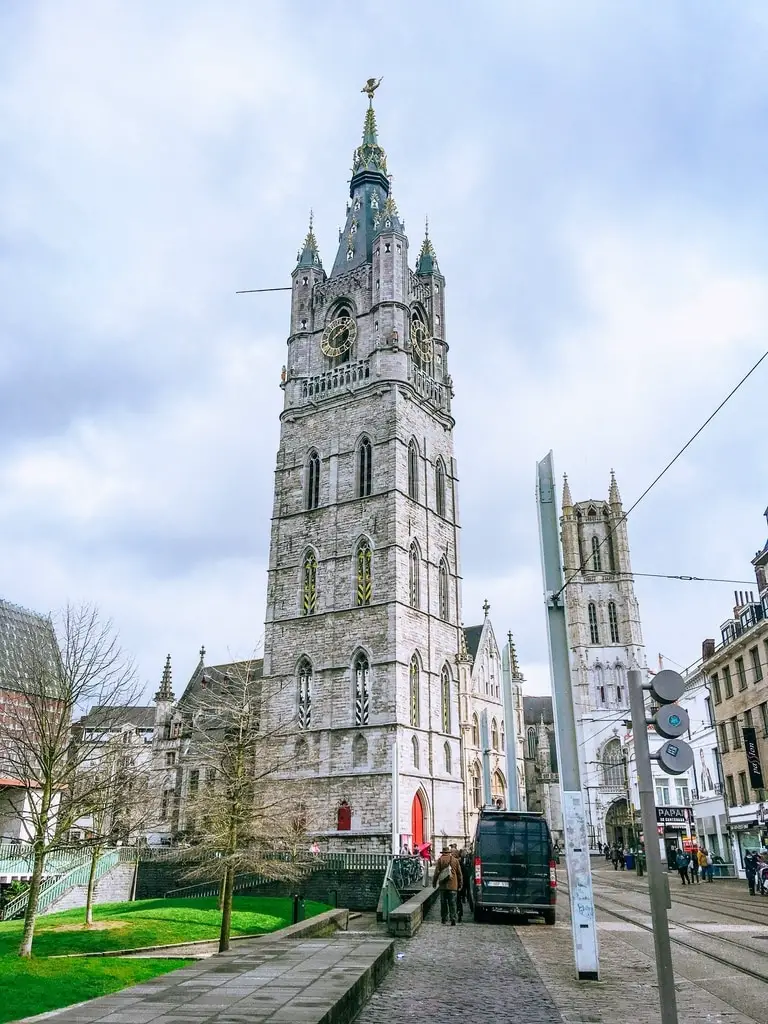 Entry costs €8.00, and because it's so popular, the Ghent Belfry can get crowded on weekends and in summer. For this reason, I highly recommend booking your tickets in advance as you'll be able to skip the queue.
You can access the Belfry via stairs or a lift, but unfortunately isn't suitable for visitors with reduced mobility as the lift doesn't cut out all of the stairs that you need to climb.
Stop 4: St Michael's Bridge & Graslei
Possibly the most photogenic spot in Ghent, St Michael's Bridge is the only place in Ghent where you can see both St Bavo's Cathedral, the Ghent Belfry and St Michael's Cathedral.
St Michael's Bridge is also one of the most romantic places in Ghent, especially at dusk when it gets quieter and the daytrippers have returned to Brussels. The bridge becomes peaceful and you're able to enjoy the unspoilt views in relative peace.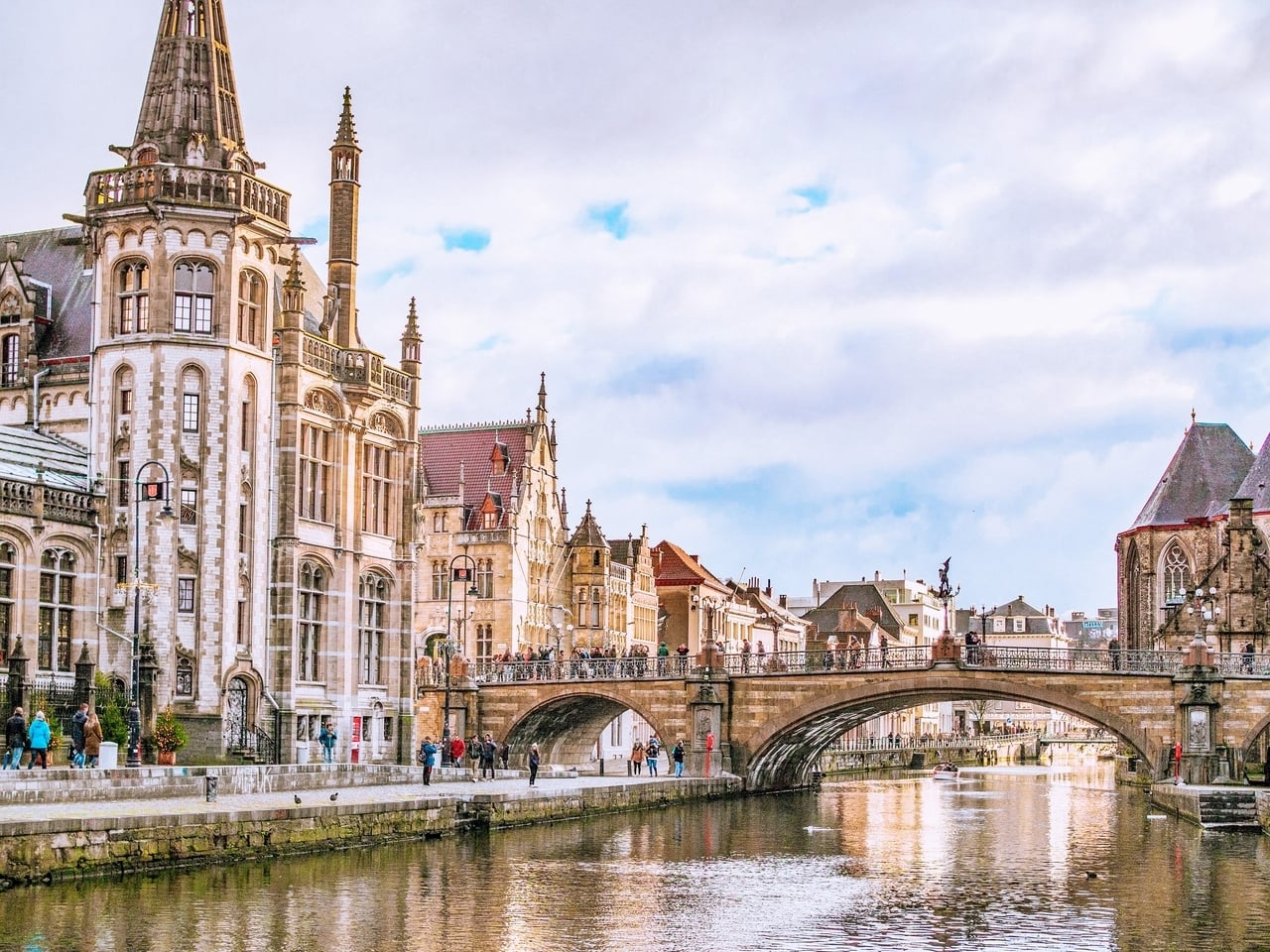 After snapping some photos on St Michael's Bridge, take the short walk to Graslei, a historic quay in Ghent. This is another area of the city that's incredibly picturesque and great for photos.
If you're visiting anytime aside from winter I highly recommend booking onto this boat tour of the Ghent canals. These usually last around 45 minutes and cost €8.50. I love taking boat tours as it's such a unique way to explore a city, but unfortunately ours got rained off in Ghent.
Stop 5: Lunch at Würst
I know hot dogs aren't the stereotypical food that springs to mind when you think of Belgium, but man this restaurant is great!
I had the Sauerkraut dog, which included ketchup, mustard, pickled onion, sauerkraut, and, like, 4 different types of onion. It was sooooo good! The meat was clearly high quality and everything tasted fresh.
My boyfriend ate the Memphis soul dog, which had coleslaw, pulled beef, relish, honey, jalapeno, fried onion and coleslaw, and, as you'd imagine, was absolutely delicious.
These hot dogs were ideal for our lunch, as they were substantial enough to fill us up without making us feel too full and drowsy. They were the perfect sightseeing fuel!
---
Planning a trip to Belgium? You'll love these posts!:
• Attending the Last Post Ceremony at the Menin Gate, Ypres
• A Magical Itinerary for One Day In Bruges!
---
Stop 6: Gravensteen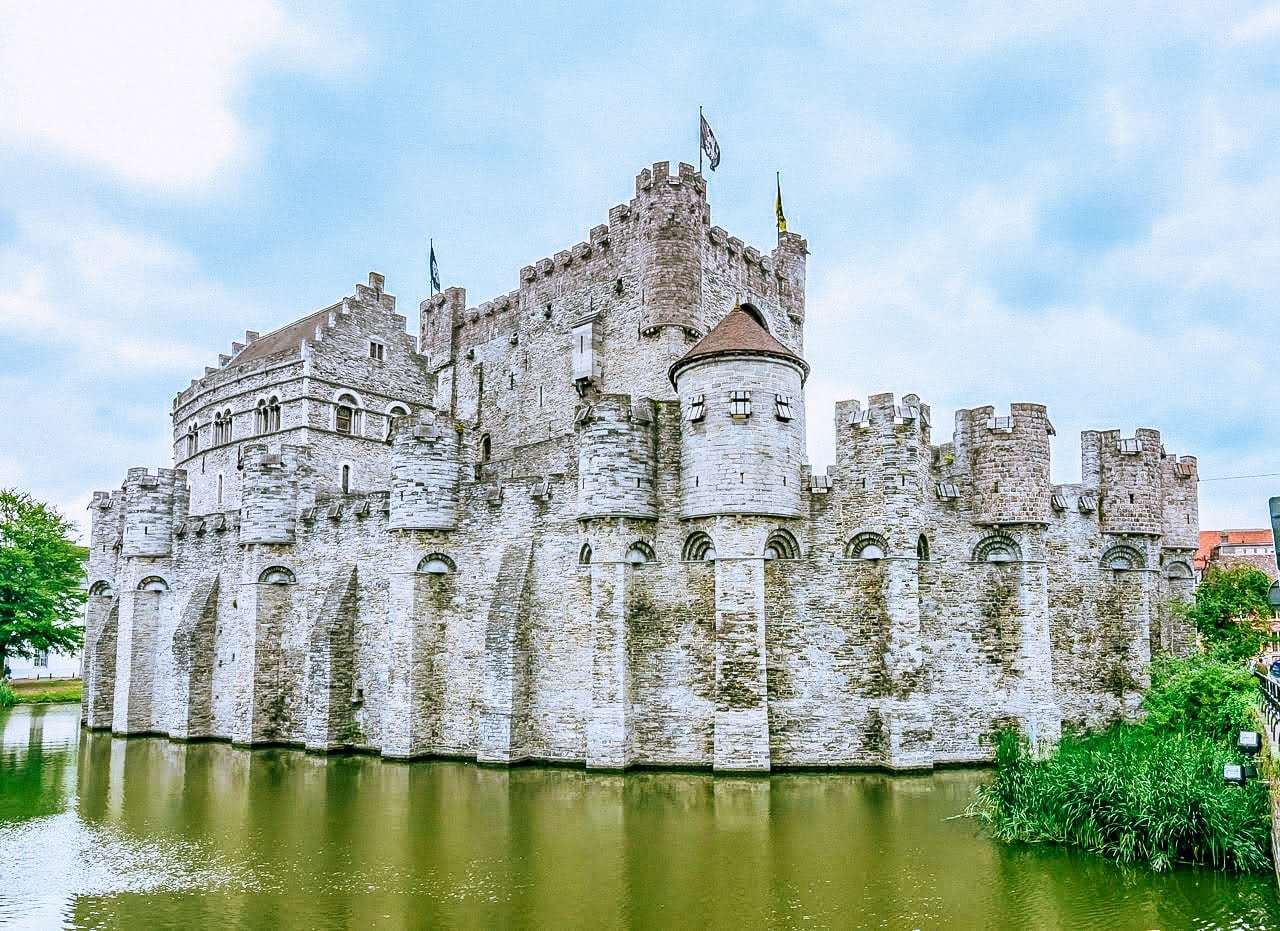 Time for the highlight of any trip to Ghent – Gravensteen! Visiting this 10th-century castle is a crash-course in medieval Belgian history, and is massively interesting even for those who aren't massive history buffs.
What makes a visit here so interesting is that the audio guide is absolutely hilarious! I later found out that the audio tour is presented by a Ghent comedian, which explains why it was so funny.
The castle looks every bit the intimidating medieval castle (complete with a moat) and has been standing tall since 1180. I didn't know a single thing about Belgian history pre-WW1, so it was fascinating to learn some more! 
Gravesteen is, in my opinion, the very best thing to do in Ghent. It was also one of my favourite things I did in Belgium! Entry tickets cost €12.00 for adults and €7.00 for students aged 19-25. We spent around 1 hour and 15 minutes there, and I can't recommend it enough.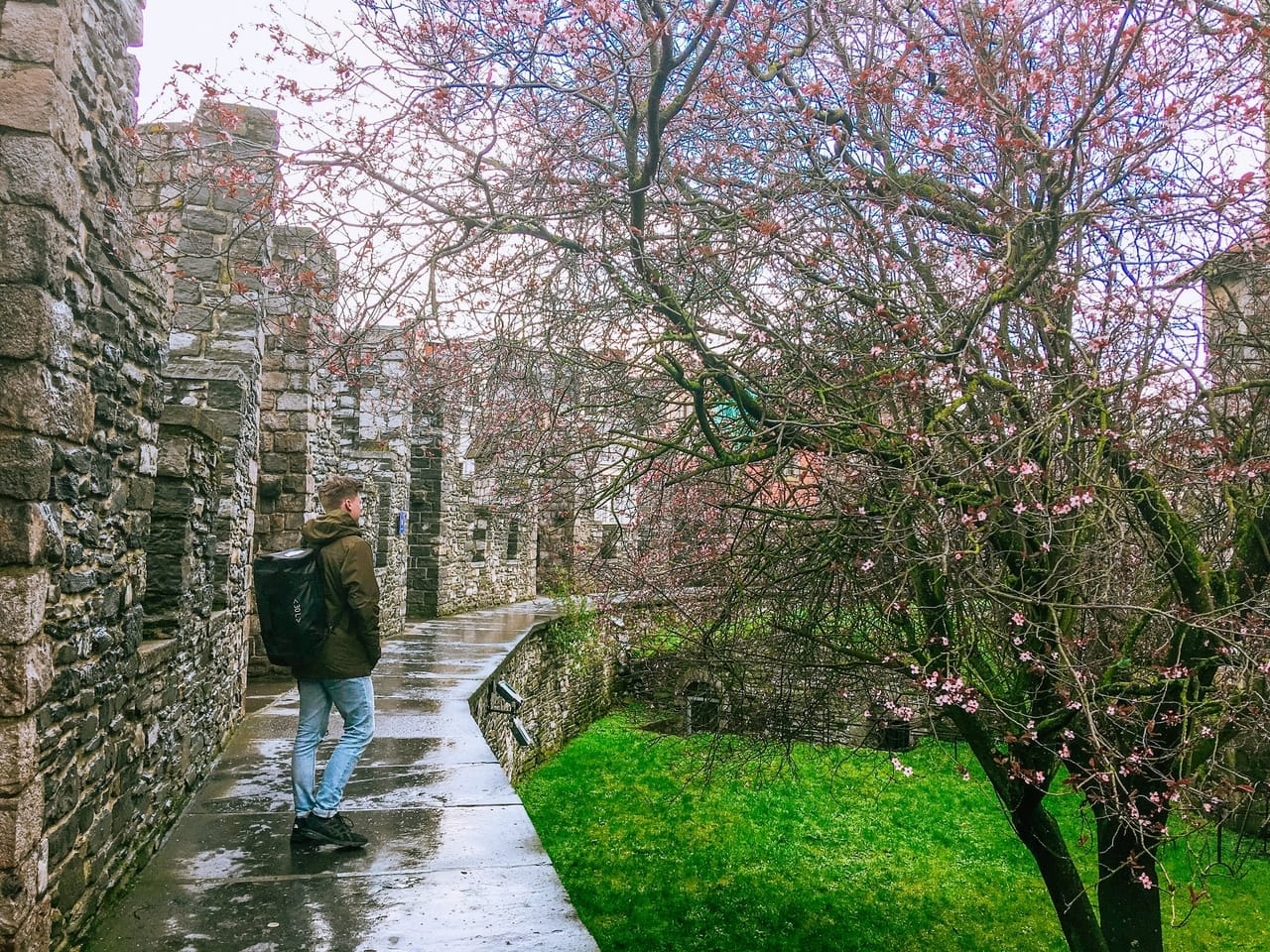 Stop 7: Sample Belgian Beer at t'Galgenhuis
Out of all the places I sampled beer during my 5 days in Belgium (and there were many!) t'Galgenhuis has to be the most unique, and probably my favourite.
Getting an indoor seat in here can be tricky – they call it the smallest bar in Ghent for a reason – but if you're willing to squeeze in it'll definitely be worth it. During my visit there were quite a lot of locals in the bar, so although it's popular with tourists it's far from a tourist trap.
Their beer menu is extensive and full of all the popular Belgian beers, as well as a few lesser-known ones. They also offer cheese, cured meats and other bar snacks.
Stop 8: More Beer at Dulle Griet!
Ready to have your mind blown?
Dulle Griet is the most fun bar I visited in Belgium, and also one of the most bizarre!
Their menu is an entire book, and there's pretty much every beer ever here. In fact, Dulle Griet claim they stock over 500 beers – and I believe them. It's always packed with both locals and tourists alike, and the decor is fabulously cosy.
The real reason this place is so insanely popular, though, and why it's a must-visit on this one day in Ghent itinerary, is their giant beers!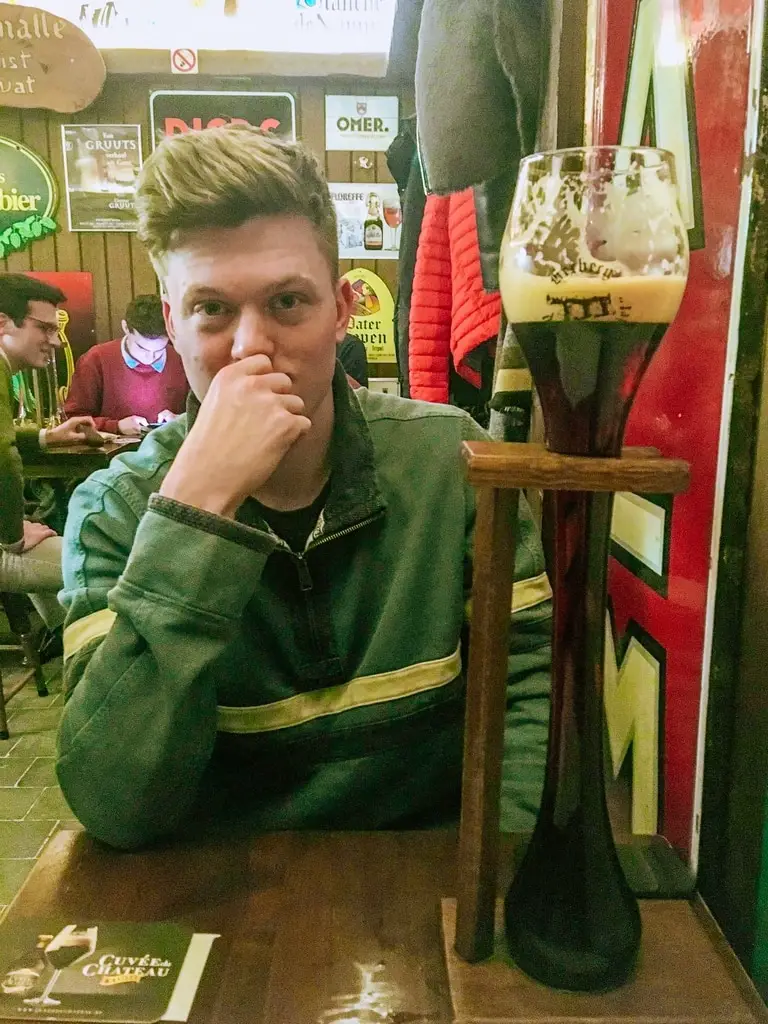 For 1.2l of their Max van 't Huis blonde or brown beer, you'll pay around €10 and give the waiters one of your shoes. 
Bizarre, right?
Your shoe will be held as collateral since, if you break the huge beer glass, you have to pay €90 – and you can't run away with only one shoe!
I thought this was hilarious, and Rob couldn't resist ordering one and surrendering his shoe. Surprisingly, this huge beer isn't just a gimmick – the beer tasted delicious and was great value.
Stop 9 – Dinner at Balls & Glory
To round-off your one day in Ghent, it's time to make your way (or stagger – Belgian beer is strong!) to Balls & Glory for dinner.
It's tricky finding traditional Belgian restaurants in Ghent which don't break the bank, but fortunately a lot of research led us to Balls & Glory. Here, you have a choice of different meatballs, which are huge, served on stoemp – a traditional Belgian side dish of potatoes mashed with other root vegetables.
Most of the meatball dishes cost €12.00, which is super reasonable for an evening main meal in Belgium! You can check out their reviews here.
After an amazing one day spent in Ghent, it's time to head to your hotel for a good night's sleep.
Where to Stay in Ghent, Belgium
Hostels in Ghent
Accommodation in Belgium can get pricey, and Ghent is no exception. As always, if you're visiting Ghent on a budget the best place to stay is in a hostel.
Ghent is fairly limited in terms of hostels, but this stylish hostel has a fabulous 9.3/10 rating on Hostelworld from over 3,000 reviewers! What's more, it's located right in the centre of town and offers free walking tours of Ghent for guests.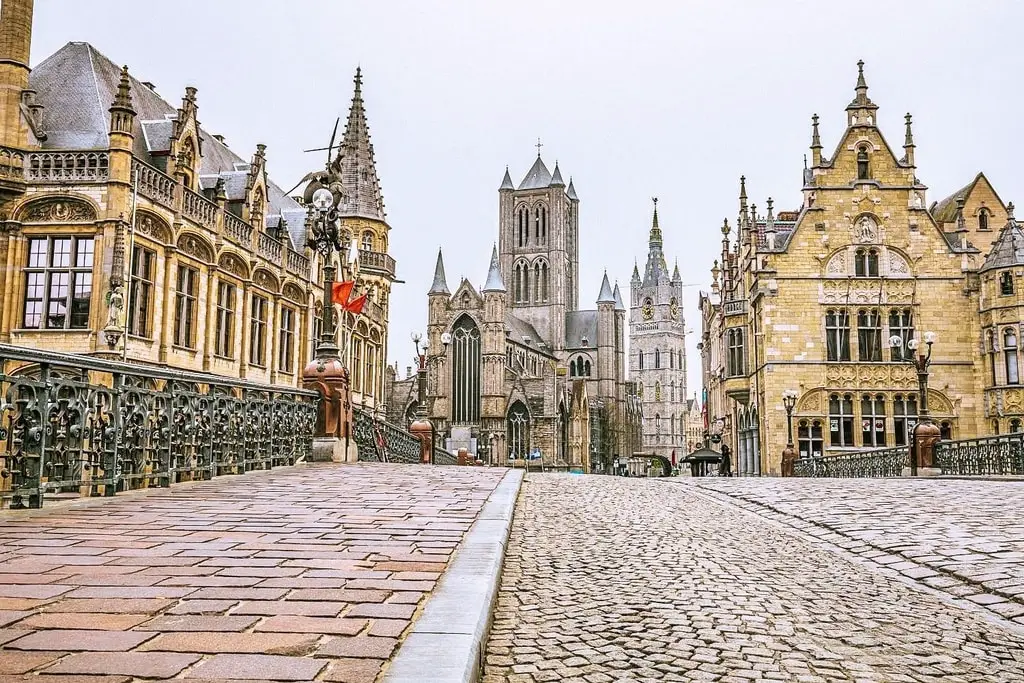 Budget Hotels in Ghent
Since I was travelling with my boyfriend, we wanted to stay in a private room within walking distance of the city centre and for an affordable budget. Hotels in Ghent are surprisingly expensive! Luckily, we came across this brilliant budget hotel.
Although the hotel is about a 10-minute walk from the city centre tourist attractions this was perfect as it allowed us to stretch our legs and get some fresh air after all that food and Belgian beer.
We paid €90 for a double room on a Friday night. Split between the two of us, this came to just €45 each, which was pretty reasonable.
Click here to check availability!
An Alternative Option
If you book far in advance you'll be able to snag a double room at this fabulous central hotel for just €70 per night. It's right by Gravensteen Castle in the centre of town, has great reviews, and is cheaper than where we stayed.
Click here to check availability!
Extra Travel Information for Your Trip to Ghent
Language
As Ghent is in the Flemish region of Belgium, the official language is Dutch. This can be confusing, especially if you arrived in Ghent from Brussels where everybody speaks French. I speak absolutely no Dutch! 
I read online before my trip that you should speak English in Ghent if you can't speak Dutch. This was obviously no problem for me, but I came across a few stories online of French visitors being treated pretty badly by locals for expecting them to understand French. I'm sure this is rare, but it's worth being aware all the same.
Airport and Transportation in Ghent
The easiest and most common way to get to Ghent is to catch the train from Brussels. This is super easy, and also quite affordable. The train from Brussels Central train station to Gent Sint Pieters takes 35 minutes and is a direct journey. A single journey costs €9.10, and if you're under 26 you can get a discounted ticket (called the Go Pass 1), which costs just €6.60! 
Trains are frequent, although they may be fairly busy early in the morning with all the visitors from Brussels going to Ghent!
I use and recommend Trainline to book all my train travel in Europe as it always finds cheap tickets and allows me to keep all my train tickets for my Europe trips in one place.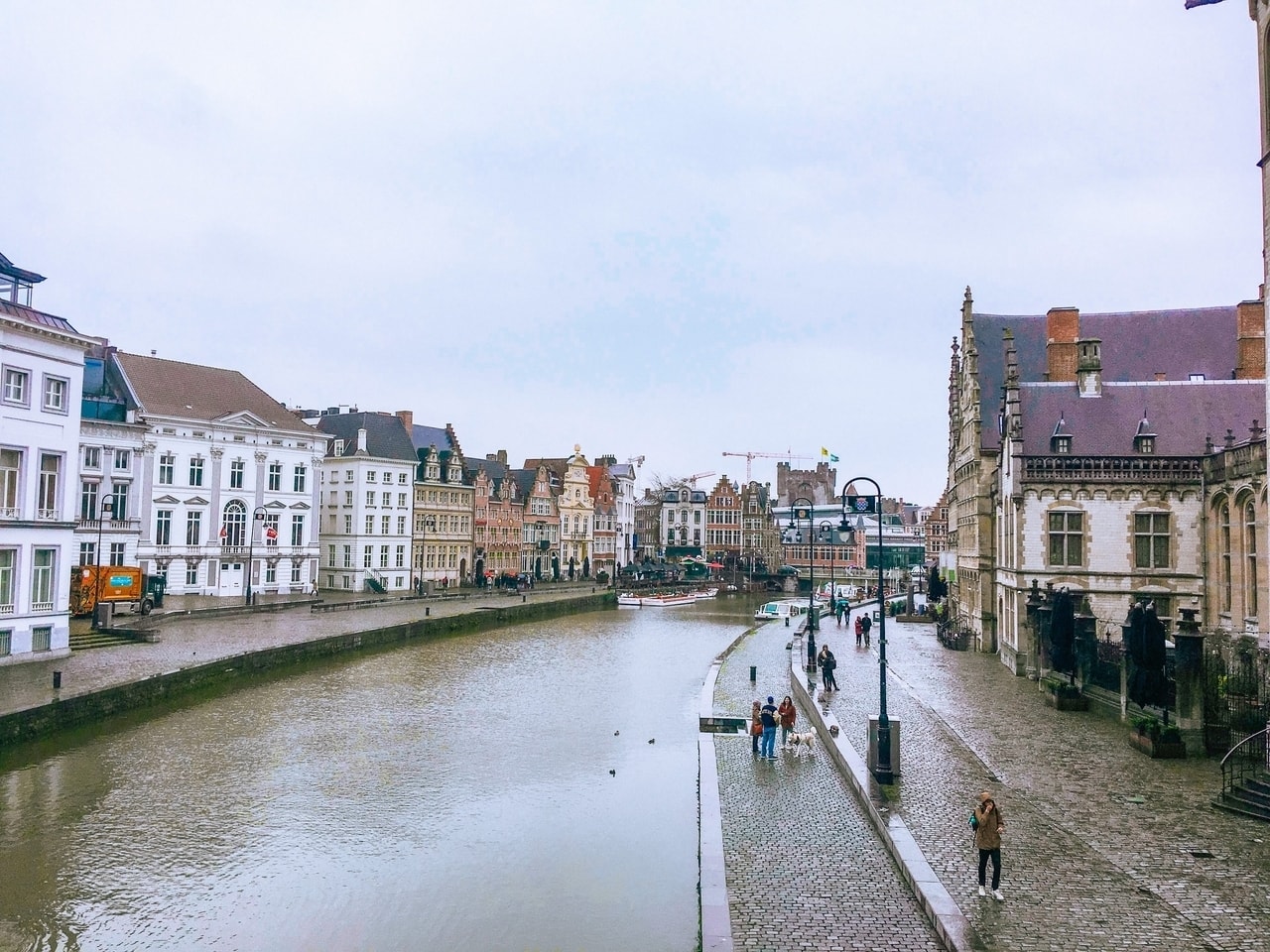 Belgium has a comprehensive train system, so unless you're arriving from reeealllly far away, I recommend catching the train rather than flying.
If you're flying into Belgium and want to head to Ghent straight away, this is possible from both of the Brussels airports – Brussels airport and Brussels South Charleroi airport. Unfortunately, Ghent does not have its own airport. 
Getting from Brussels airport to Ghent is simple. The airport has its own train station which runs directly to Ghent. The journey takes between 55 minutes and 1 hour 20 minutes (depending on the route). Adult single tickets cost €15.80 and youth tickets cost €12.10. 
From Brussels South Charleroi Airport the Flibco bus runs 9 times a day directly to Ghent. The journey takes around 70 minutes and drops you off at Gent Sint Pieters train station. 
Getting around Ghent is straightforward as it's a small and walkable city. I used Google Maps to get around and never needed any public transport. Plus, part of the charm of Ghent is exploring on foot.  
When Is the Best Time to Visit Ghent?
I visited Ghent in March, and it rained for quite a lot of the day. Normally, I advise not travelling in summer in Europe because of the crowds.
However, I think Ghent would've been way more beautiful in the sun, so I recommend visiting Ghent in spring or summer, which runs from April-September in Belgium.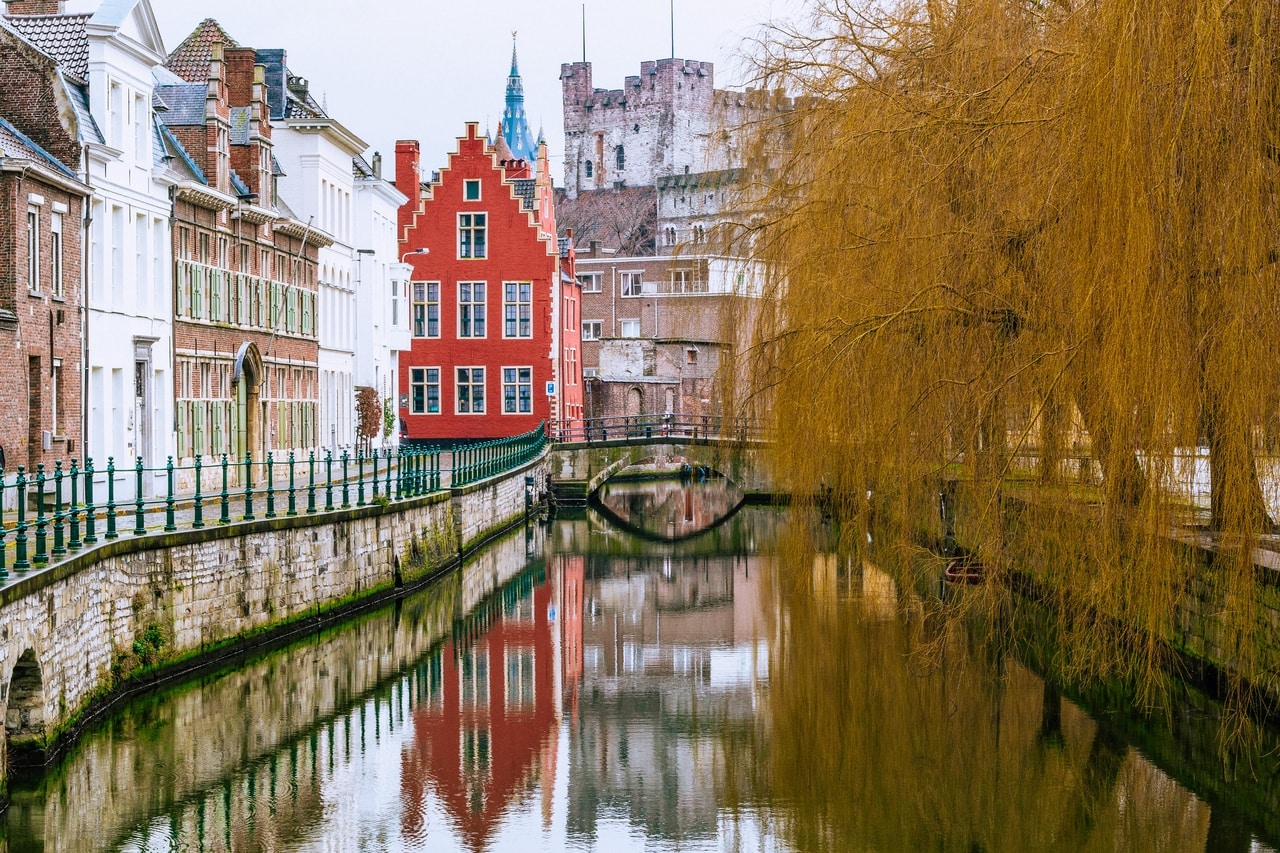 ---
I really enjoyed putting together this itinerary for one day in Ghent for you. I sure hope you enjoyed reading it! Feel free to drop me a comment or an email if you have any questions I didn't answer in this post.
To read about more of my travel experiences in Belgium, head to my Belgium page to check out all of my posts on this awesome country!
Enjoy your trip to Ghent!  
Ella 
Liked this post? Pin it!