There is a good chance that this post contains affiliate links. If you make a purchase through them, I may receive a small commission at no extra cost to you! As an Amazon Associate, I earn from qualifying purchases. As ever, all opinions are my own.
Last Updated on January 27, 2022 by Ella
Before arriving in Bruges, I'd heard about how busy it gets with crowds in summer. I'd seen the Instagrammers posing in front of the gorgeous buildings to get 'that shot'. I thought I would hate it. I begrudgingly added one day in Bruges to my Belgium itinerary because it felt like I kind of had to.
Well, as we've seen time and time again on this blog, my expectations were absolutely wrong!
Now, I totally agree with the masses that Bruges is a must on any Belgium itinerary. There is so much to do and see! Everywhere you look, you'll be gobsmacked by the dreamy canals, cute cobbled streets or stunning red-brick buildings.
One day in Bruges is the ideal amount of time to see the highlights of the city. We spent one day and one night in Bruges. Although I wish we had stayed the previous night too it was a great amount of time.
Our visit to Bruges was part of a larger 5-day Belgium itinerary, where I visited four of the best cities in Belgium.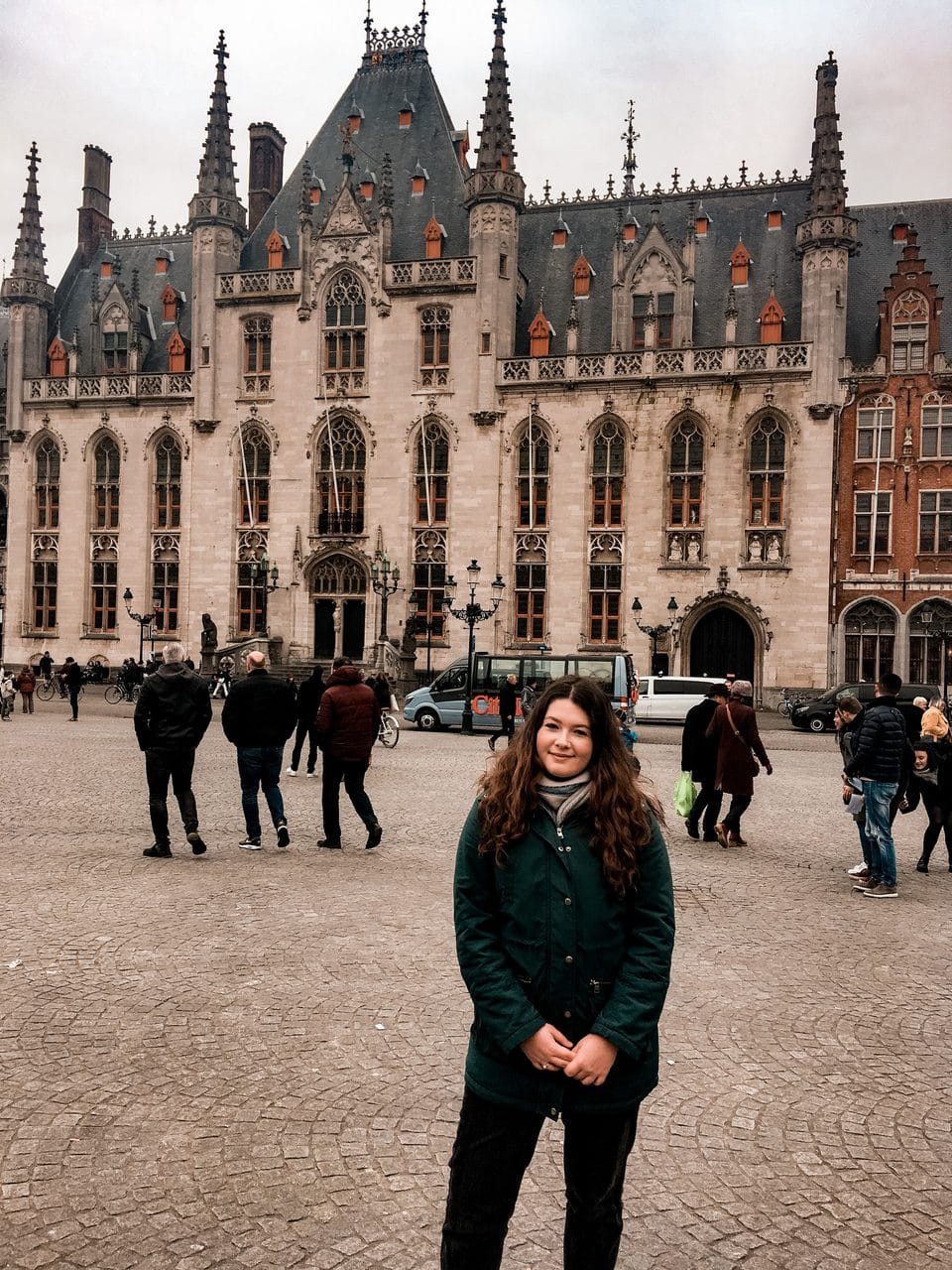 How to Spend One Day In Bruges – The Perfect 24 Hour Itinerary
Stop 1: Take a Boat Tour of the Bruges Canals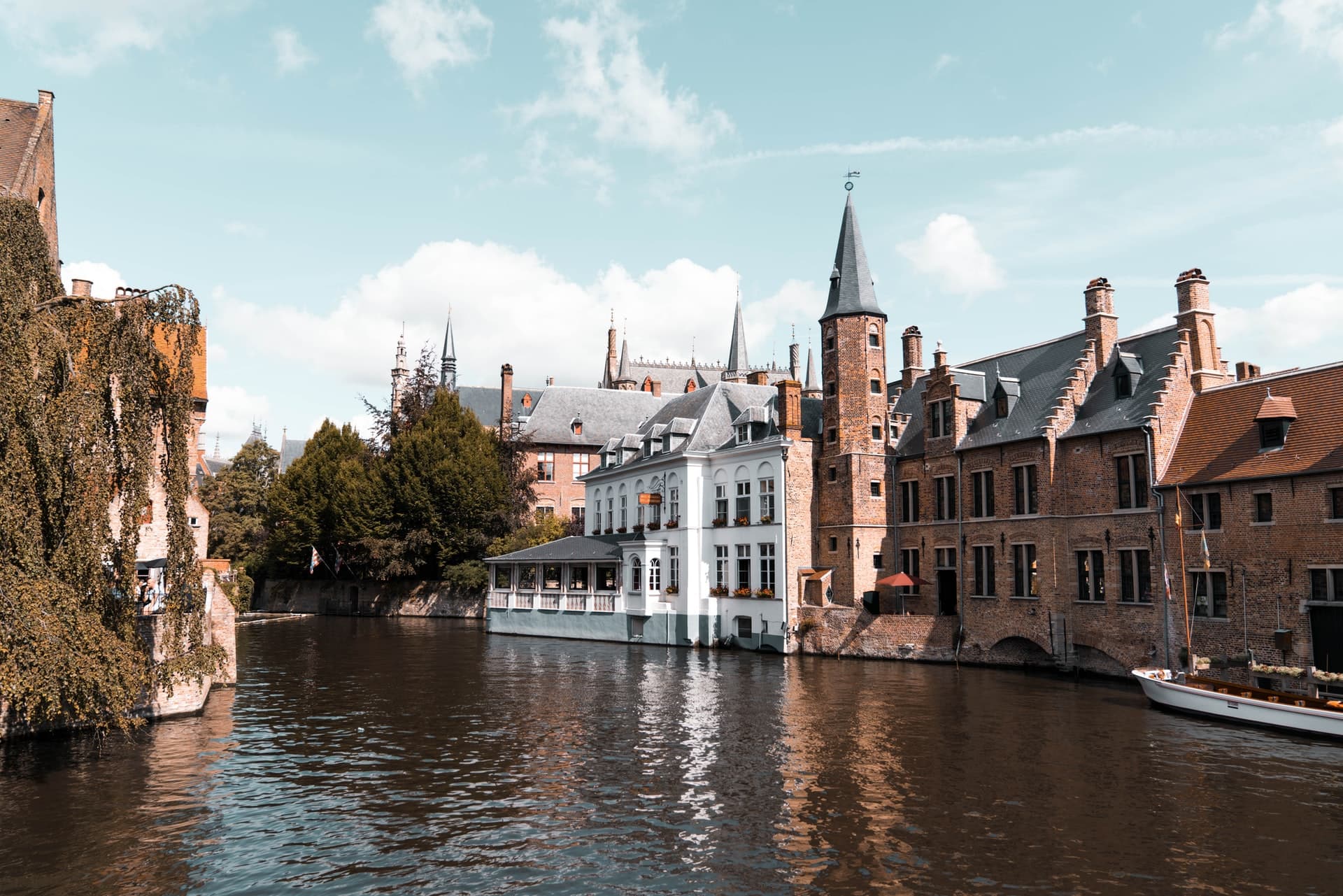 The best way to get to know the city of Bruges is on this guided boat tour of its world-famous canals! It's the perfect introduction to the city and offers a unique way to learn about its history and see some of its famous landmarks.
After you've cruised along the canals your guide will lead you on a walking tour of the city's many alleyways and most beautiful tourist attractions, meaning you'll have been able to explore Bruges both from the water and from the streets!
If the weather isn't on your side, a great (and tastier!) alternative is to join this Belgian chocolate-making class! During the class, you'll learn how to make three different types of chocolate from scratch.
You'll also end up with around 35 pieces of Belgian chocolate to take home with you – win!
Stop 2: Market Square & Belfort Brugge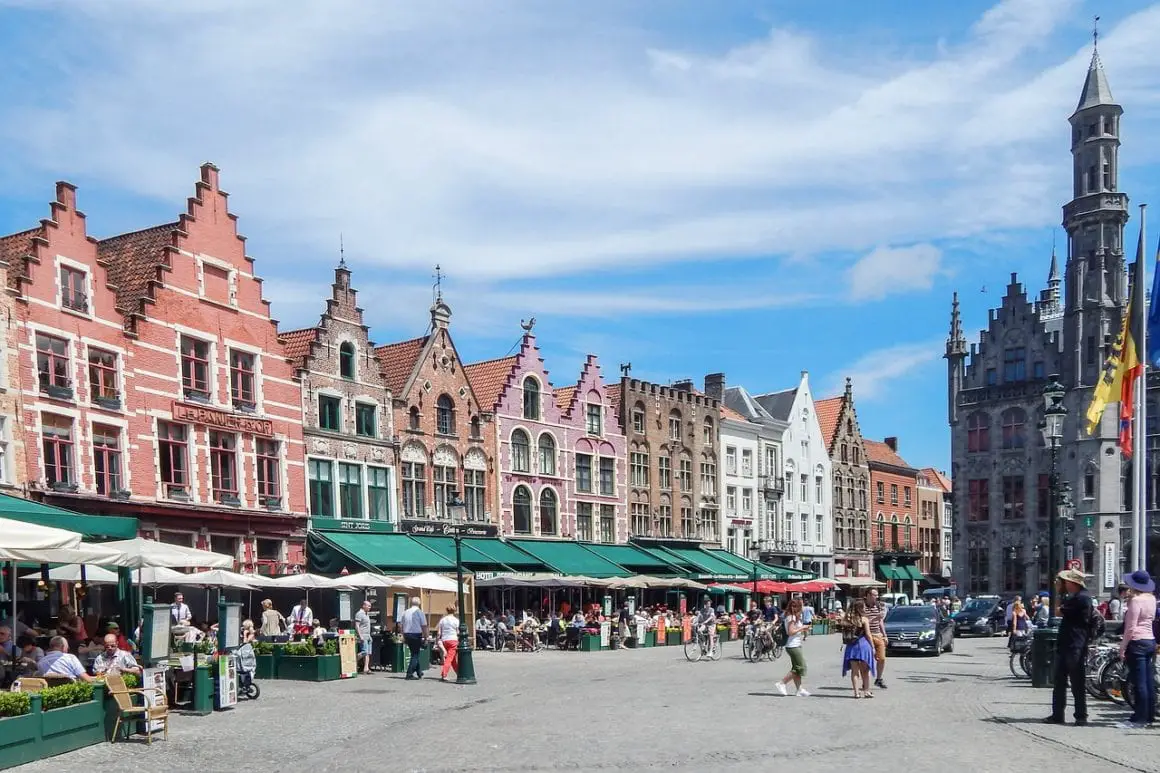 After your boat tour or chocolate class it's time to head to the heart of Bruges, Market Square. Be sure to take your time making your way to the Market Square – chances are you'll get distracted and want to explore Bruges' charming streets and ancient buildings.
Arriving in Market Square, you'll immediately recognise the majestic Provincial Palace, a gothic-style building originally used for government meetings.
Nowadays, it's main use is as a ceremonial building, and it's one of Bruges' most well-known landmarks. Join in with the other tourists snapping pictures of it before turning your attention to the Belfort.
Bruges' Belfort tower dates back to the 13th century and is a key part of the city's UNESCO World Heritage status. It costs €13 to enter and climb the 366 steps to the top of the tower, which offers breathtaking views over central Bruges.
To break up the climb, there are a few stops such as the Treasury, where the city treasury and city seal were kept in the Middle Ages, and the Tower Room, where you can see the keyboard from which the tower's bells are played.
Stop 3: Sampling Traditional Belgian Frites for Lunch
For lunch, stop by 't Brugsch Friethuys, just on the other side of the Market Square, to get some quick takeout Belgian fries.
There are so many different sauces on offer here, but since you're in Belgium it would be a crime to not sample the mouth-watering Andalouse sauce.
This Belgian speciality is a mix of mayonnaise, tomato paste and peppers. It's absolutely delicious when smothered over thin and crispy Belgian fries! You should eat these back out on the Market Square for some extra time taking in the hustle and bustle.
Stop 4:  Tour De Halve Maan Brewery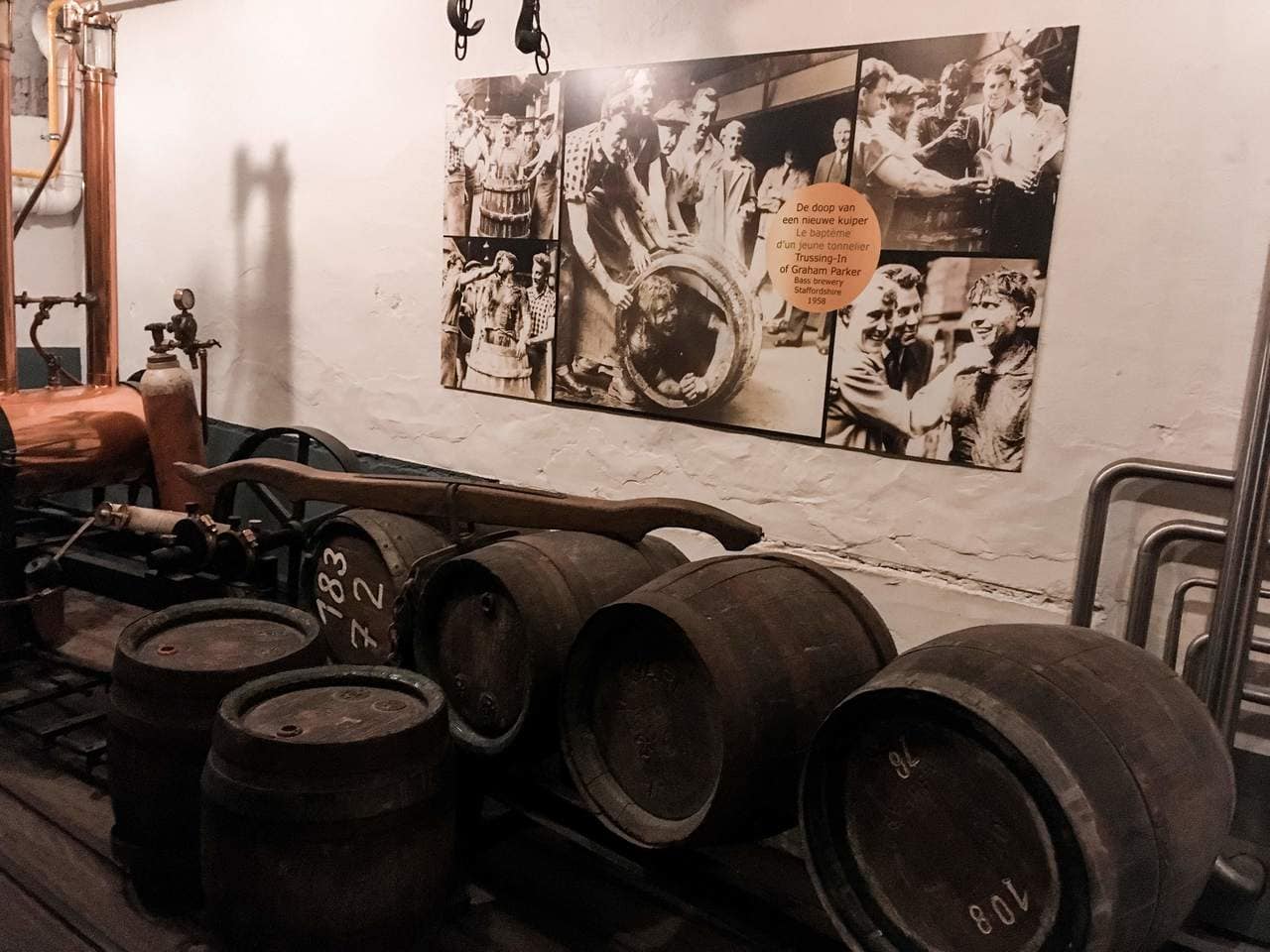 This was definitely the highlight of my one day in Bruges, and is a great stop for any beer-lovers! De Halve Maan is the most iconic brewery in Bruges and creates award-winning beers that harness loyal fans.
The brewery also has an insane amount of history behind it. The earliest mention of the brewery was way back in 1564, and the Maes family, who still run De Halve Maan, became its owners in the 19th century.
Tours of the brewery in English, French and Dutch run hourly from 11am to 4pm. The tour costs €12 and lasts 45 minutes, ending in their lovely restaurant. Your tour ticket includes a free glass of their absolutely delicious beer, Brugse Zot Blond, which you can try here.
The tour takes you through the brewing process as well of the history of beer brewing in Bruges. You'll also learn a lot about De Halve Maan itself, including its history and how it evolved to stay in business through two world wars.
After a steep climb, the tour emerges onto the brewery's roof, which offers amazing views over the charming city of Bruges.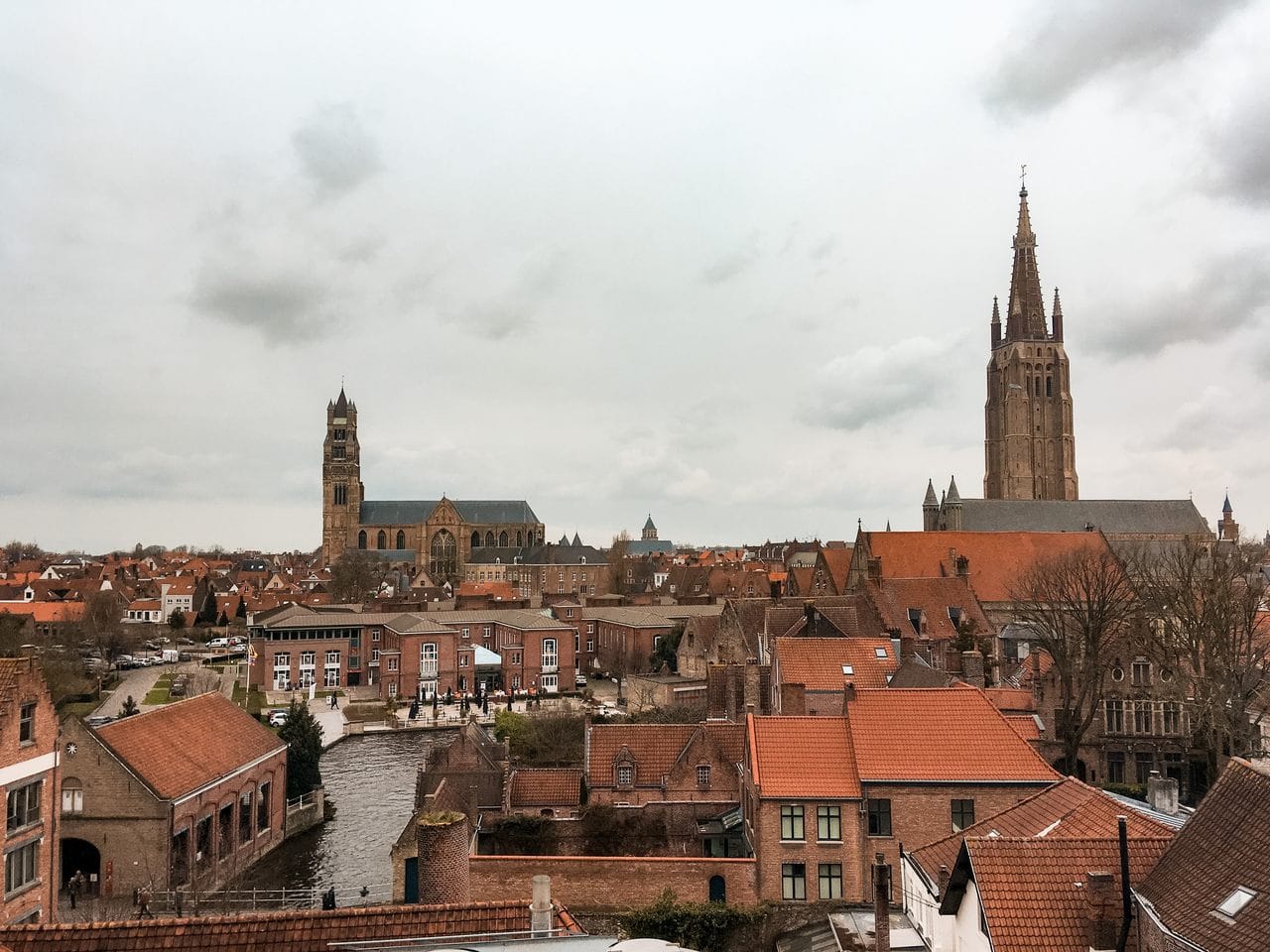 From here, our guide pointed out De Halve Maan's factory in the distance. It was fascinating to learn that to transport the beer from its brewery in the inner city to the bottling plant, De Halve Maan actually installed a 3.2km pipeline underneath Bruges for the beer to travel through. Talk about an eco-conscious company!
Top tip! Buy your ticket from their website for €11 to save some money.
Stop 5: Snap Some Photos of the Church of Our Lady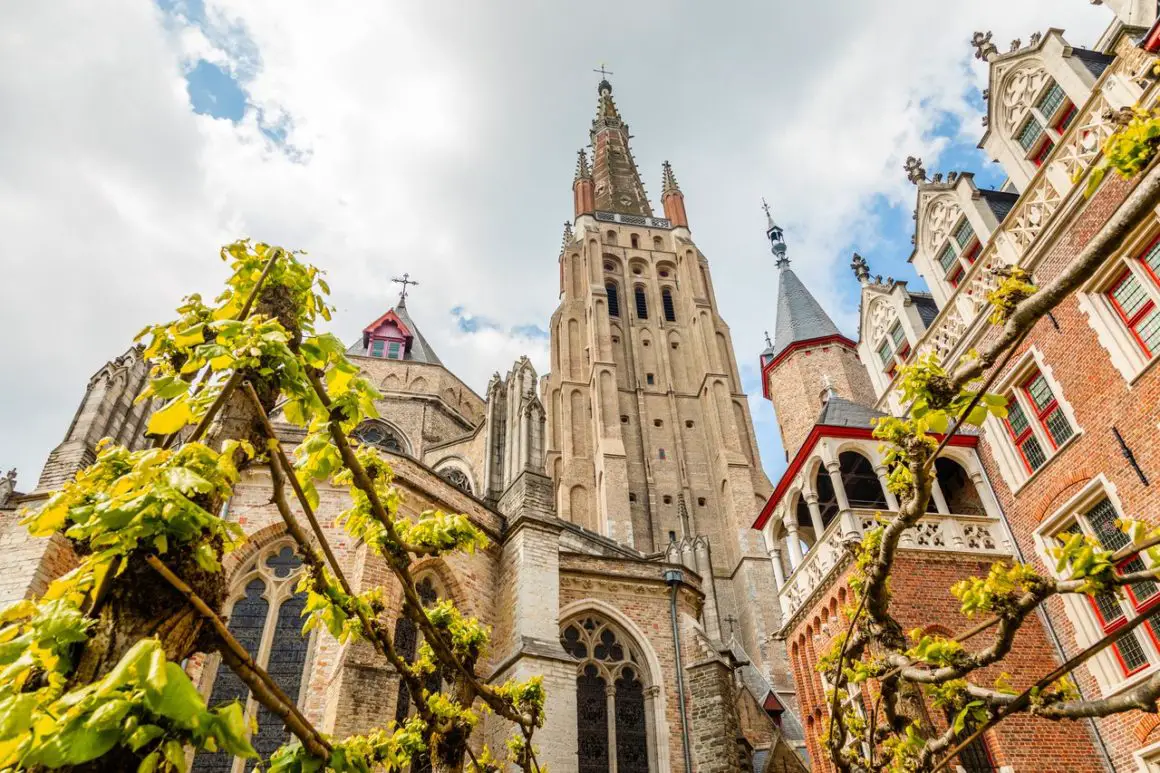 On your short walk back to the city centre, stop by the picturesque Church of Our Lady. You won't get lost trying to find it – its 155.5-metre brick steeple is one of the highest points in the city and takes pride of place in the city's skyline.
The church took two whole centuries to build (between the 13th and 15th centuries), so it's worth seeing for yourself why they spent so long on it.
Not only is the exterior of the church gorgeous, but inside you'll find a marble sculpture, 'Madonna and Child', by Michelangelo. It's an amazing feature of the church, and worth checking out.
Once you're inside, you'll find lots of paintings, 13th and 14th century painted crypts, and the tombs of Mary of Burgundy and Charles the Bold.
The church is free to enter, but it costs €6 to see the highlights in the church museum.
Stop 6: Stop by the Iconic Burg Square & Bruges City Hall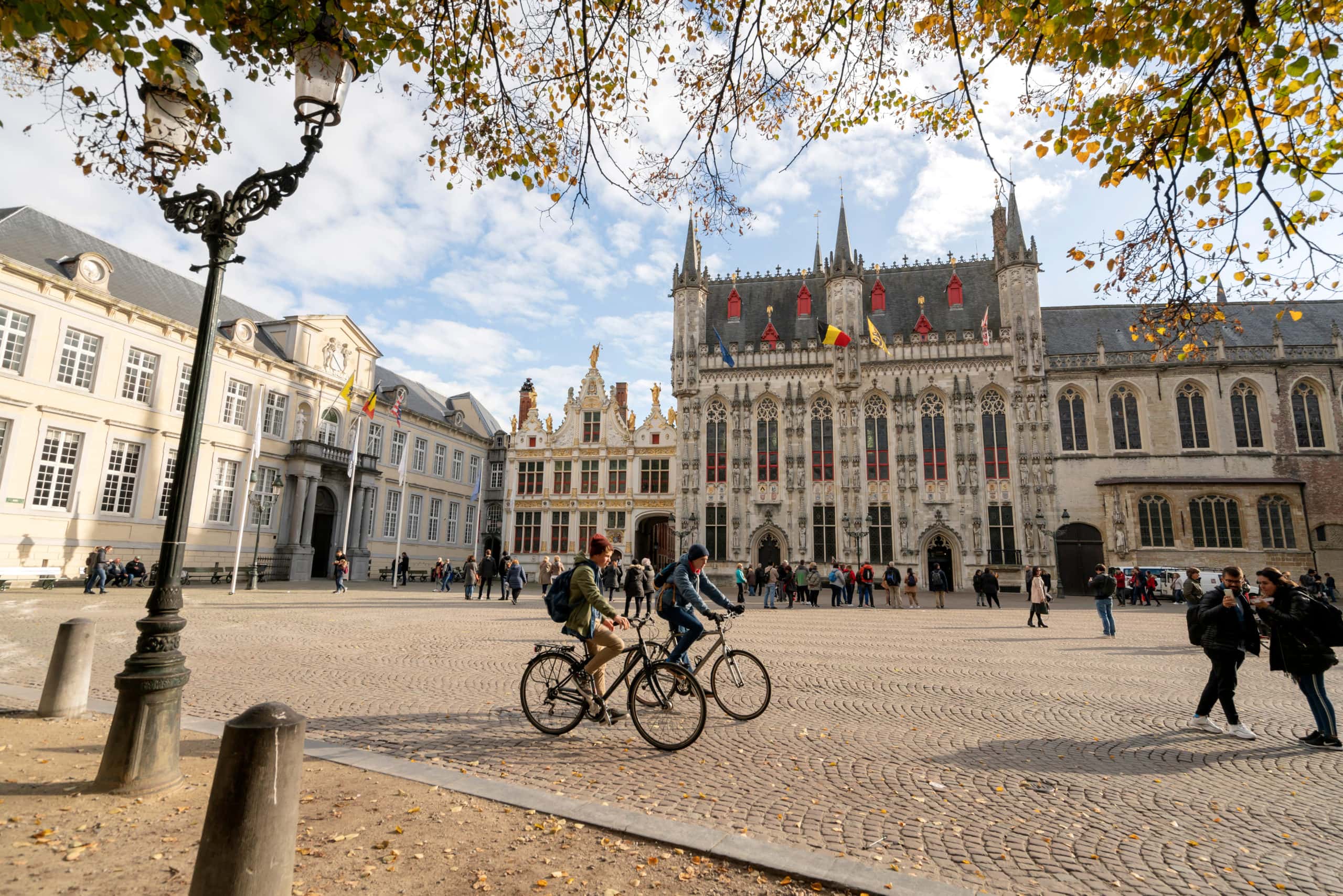 If you've ever seen a photo of Bruges, you'll recognise this postcard-perfect town square, complete with the instantly recognisable Bruges City Hall.
Wander the square and people watch for a while before stepping inside the City Hall. The Hall was built in 1376 – it's hard to even imagine that far back!
At only €6, the entry price is well worth it to wonder at its elaborate interiors. The highlight is undoubtedly the Gothic Hall, which contains intricate murals depicting the history of Bruges over the 600 years the City Hall has governed it.
There's a really neat multimedia exhibition which documents the evolution of the Burg Square and a museum section which educates on the city's history. If you're looking to really get to grips with how long Bruges has been around for, the City Hall is a great stop.
Next door to the City Hall you'll find the Basilica of the Holy Blood, another ornate church that's popular with visitors.
I didn't explore the Basilica so I can't offer much information, but if you have plenty of time left it could be worth checking out.
Stop 7: Taste the Best of Belgian Beer at Le Trappiste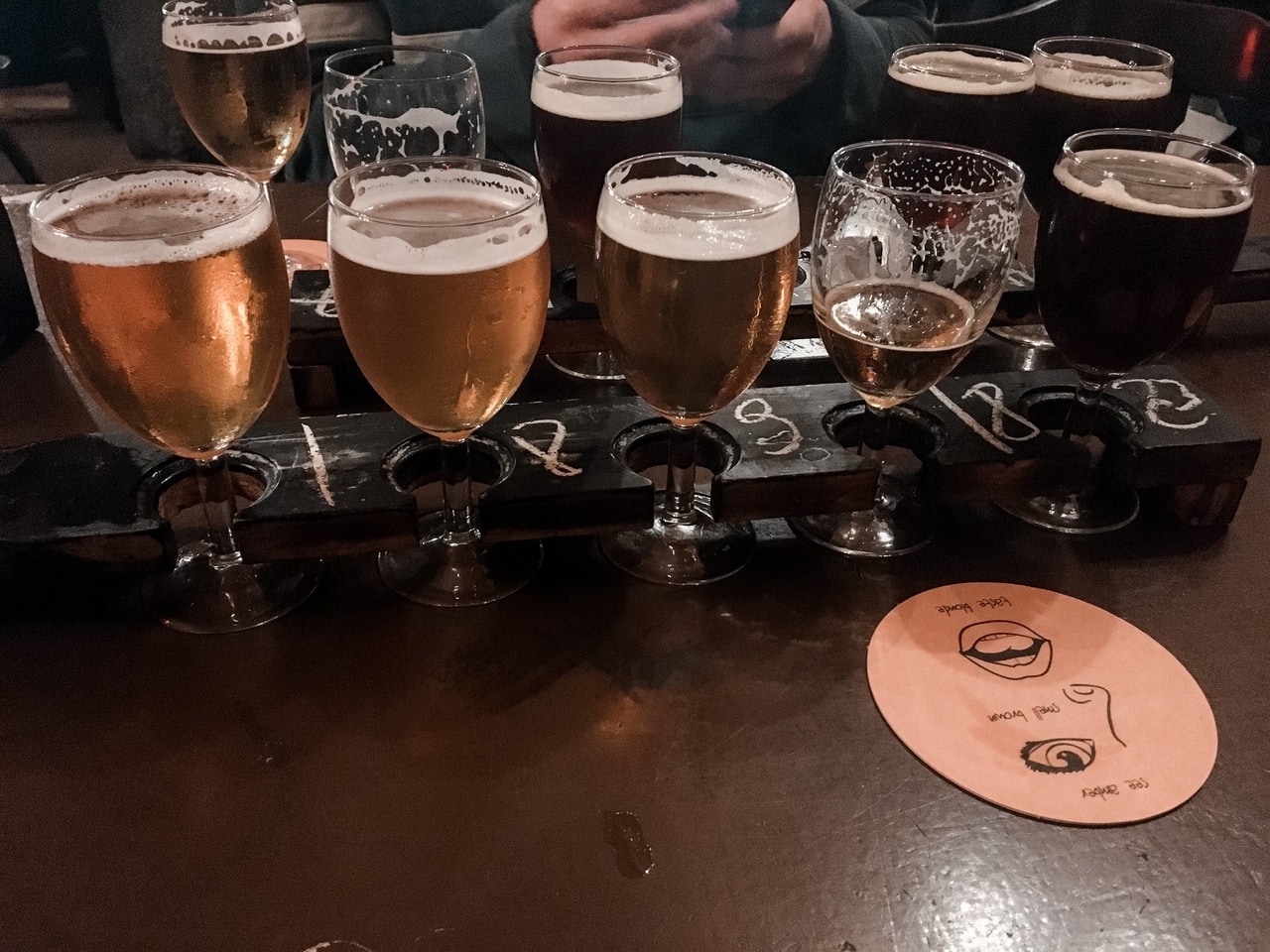 Can't decide which Belgian beer you want to try the most? At Le Trappiste, you don't have to!
Here, you can choose a 'paddle' of 5 different beers for just €13. The list of beers for you to choose from is huge! If you're feeling peckish, they even offer combos of cheese, olives and salami to snack on in between sips of beer.
Le Trappiste is set in an 800-year-old medieval cellar, and is voted one of the best placed to drink in Bruges!
Stop 8: Dinner at De Halve Maan
Does this place look familiar? That's right, you've already been here, but it's so good I recommend coming back!
Trust me when I say it – finding Belgian food in Bruges without dropping a shedload of cash is really tricky. Luckily, De Halve Maan, in addition to having great beer, also has pretty affordable (by Bruges' standards…) dinner options.
The restaurant is open from Wednesday to Saturday from 6pm-9pm, and, like every restaurant in Bruges, you really should make a reservation in advance. Even in early March, the restaurant was totally packed!
A Flemish Beef Stew cooked with Brugse Zot will set you back €18.00, and chicken vol-au-vent will cost €19.00. This might seem pretty pricey, but it was one of the cheapest places we found in Bruges serving up traditional Belgian food!
After dinner, where the night heads is up to you! You could head straight back to your hotel to recover from such a busy day (which is what I decided to do!) or head out to sample some more beers.
Just don't forget that Belgian beers are super strong!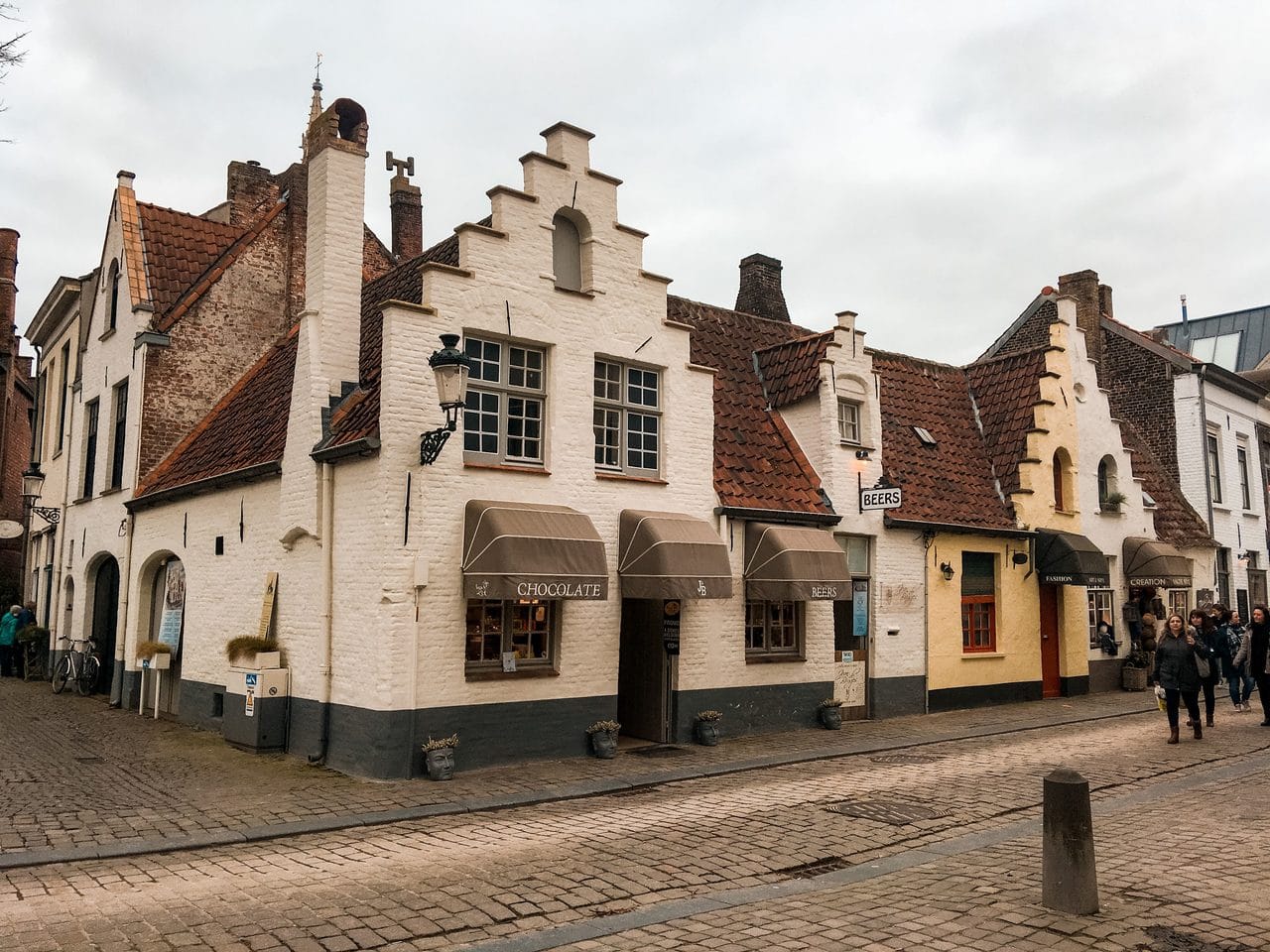 Where to Stay in Bruges
Finding good quality budget accommodation within walking distance to the city centre can be tricky. Obviously, Bruges is hugely popular with tourists. For this reason, accommodation here was quite a bit more expensive than in other cities in Belgium I visited.
Hostels
As ever, the best way to keep costs down is to stay in a hostel. Bruges, fortunately, has quite a few hostels, but they do sell out quickly in summer. This fabulous hostel gets consistently great reviews and is located right in the city centre.
It even has its own Belgian beer bar stocking over 40 types of beer! A bed in a 16-bed dorm will set you back €21.90, or you can pay €84 for a private double room with your own bathroom.
Click here to book your hostel stay!
Hotels
Being the disorganised person that I am, I didn't book my accommodation until the week before my trip. By this point, obviously, a lot of the budget accommodation was fully booked.
Fortunately, I managed to snag a room at this perfect hotel, and I was really happy with my stay. It's super close to the city centre, and just round the corner from Herberg Vlissinghe, the oldest pub in Bruges!
The rooms were comfortable and the location was right on the canal – perfect! We paid €135.00 for one night. As I said, this was quite pricey compared to the other places we stayed in Belgium but seemed to be in line with hotel prices in Bruges.
Plus, splitting the cost with my boyfriend really helped!
Click here to book the hotel I stayed at!
Is One Day in Bruges Enough?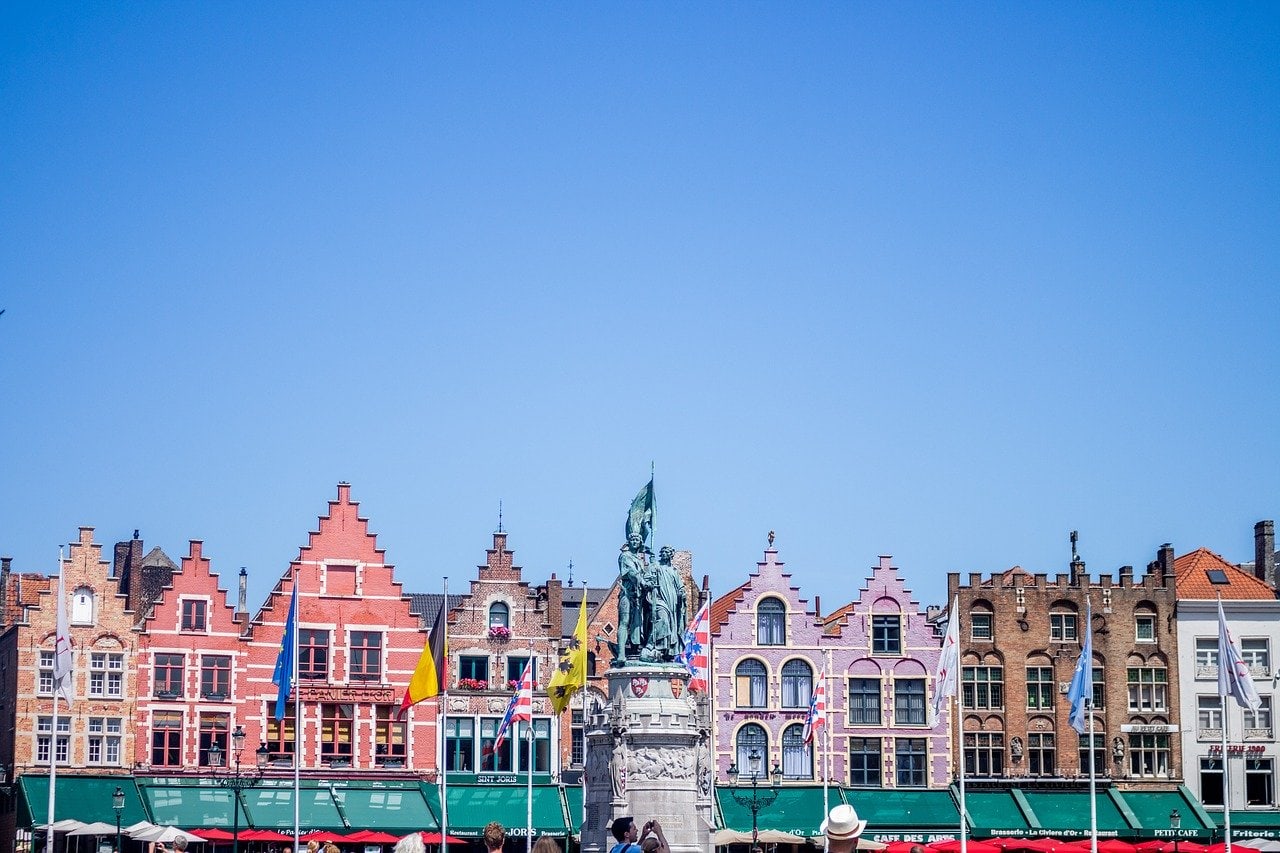 One day in Bruges is the ideal amount of time to get to know the city and see its highlights.
Of course, you can extend your time in Bruges and stay another day, but I personally recommend moving on to another city in Belgium if you can. This tiny country packs a punch, and there is so much to see and do!
From Bruges, we moved on to Ypres. I highly recommend a trip to Ypres if you're looking to extend your time in Belgium! If you're looking for a slightly more cosmopolitan city, head to Brussels, Ghent or Antwerp.
How to Get to Bruges
Getting the Train to Bruges
The best way to get to Bruges is by train – either from another Belgian city, or even another nearby country! To get to Bruges, you'll want a ticket to Brugge-Sint-Pieters station.
If you're travelling from another Belgian city, you can purchase tickets at the train station at any of the ticket machines, or on the Trainline. It's not worth the hassle of buying tickets far in advance as train ticket prices in Belgium stay the same regardless of how early you book them.
If you're under 26, you can get some awesome savings by buying a Go Ticket. This ticket allows you to travel anywhere in Belgium, and costs just €6.60!
Adult standard tickets vary in price according to the distance – from Brussels to Bruges you'll pay €14.30. From Ghent to Bruges, it costs €6.70.
Flying to Bruges
If you're flying to Bruges, the most simple and cost-effective option is to fly into either Brussels Charleroi or Brussels Zaventem airports and then travel to Bruges. I always use Skyscanner to find cheap flights.
From Brussels Zaventem, there is a direct train to Bruges every hour. There are also options to catch connecting trains in central Brussels. The direct train costs €21.20 and takes just over 90 minutes.
The best and quickest way to get to Bruges from Brussels Charleroi airport is by taking the shuttle bus run by Flibco.com. These shuttles run 9 times per day. The journey takes around 2 hours and costs €5.
Of course, you can also travel by train to Bruges from various cities in Europe. This includes London (3 hours 20), Paris (2 hours 30), Cologne (3 hours 10) and more.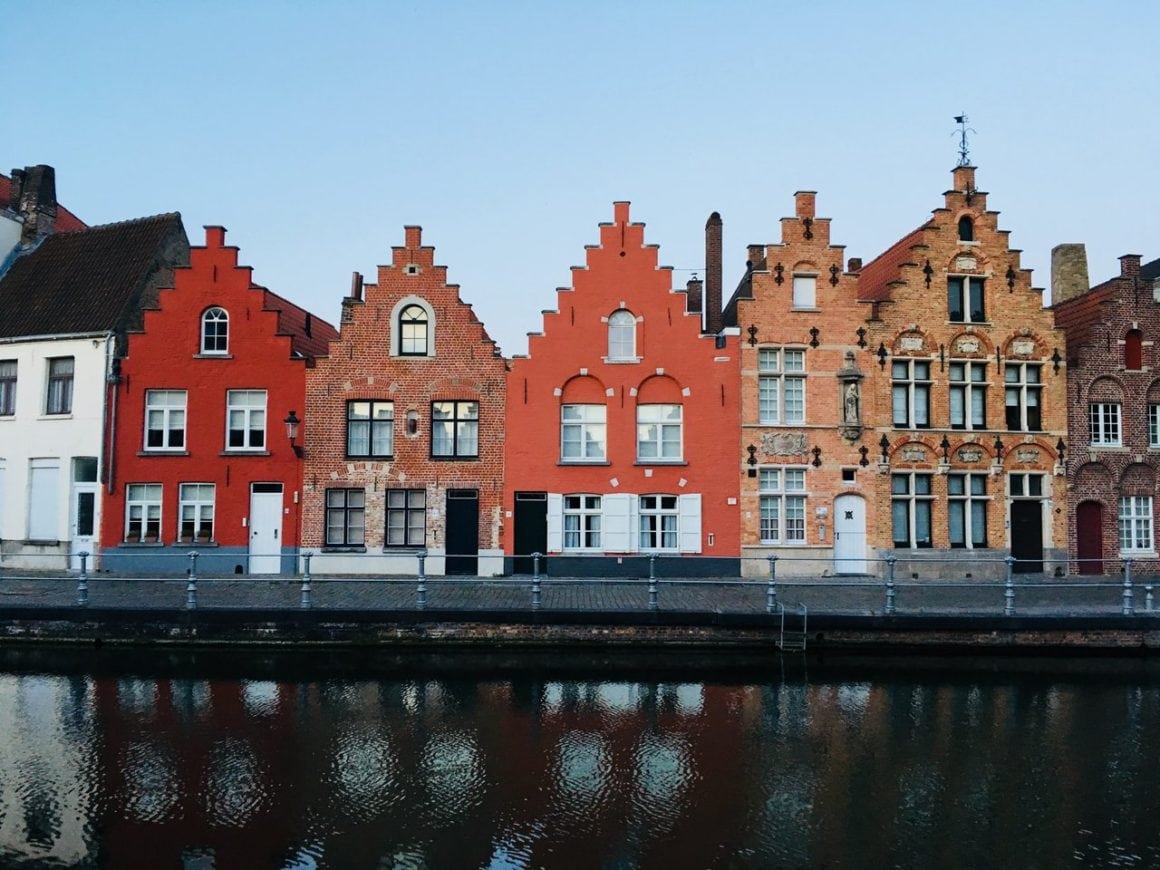 Taking a Tour to Bruges
A really popular way to visit Bruges is via a tour from another European city. High competition means these trips are super affordable, and usually include all your transport and entry fees.
Taking a tour is a great idea if you're wanting to relax and leave all the organisation to somebody else. I recommend heading over to Viator to browse through the options!
Public Transport in Bruges
Bruges is a very walkable city, so it's unlikely you'll need to use the city's public transport unless your hotel is not in the city centre.
I recommend paying extra to stay in the city centre so that you don't need to worry about this. If you do need to use public transport, you will need to use the bus – there is no tram or metro.
Languages
The locals in Bruges speak Flemish, a dialect of Dutch. Don't worry though – English is widely spoken and you won't have a problem getting by.
Locals often understand French, but sometimes feel offended if tourists presume it is the language used in Bruges. You have been warned!
When Is the Best Time to Visit Bruges?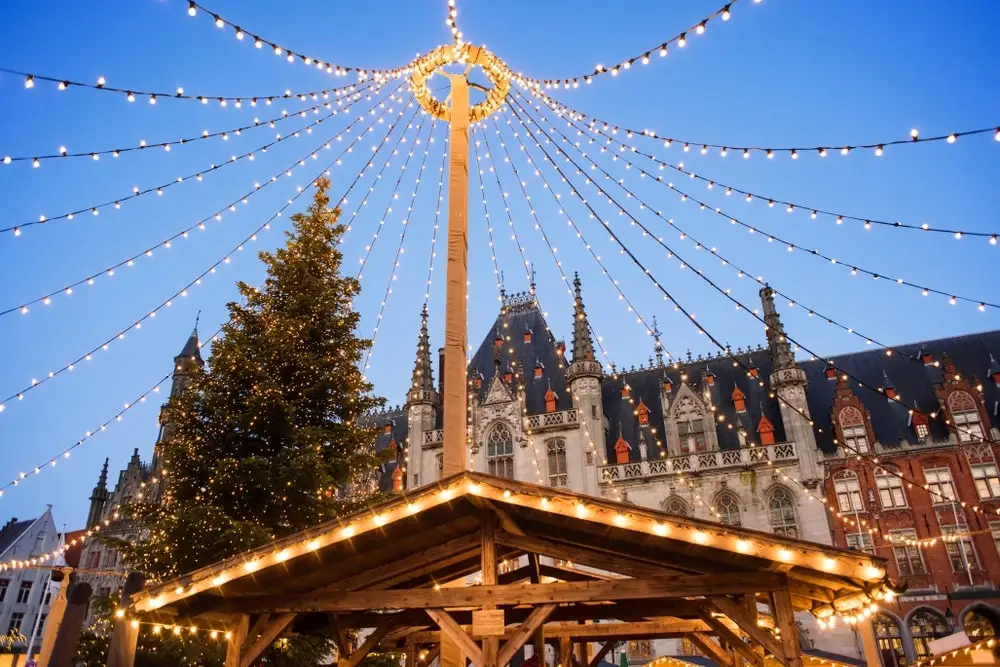 High season in Europe runs from mid-June until early September. I recommend spring and autumn as the best time to visit Bruges. These seasons offer fairly good weather without the huge summer crowds.
Visiting Bruges for Christmas would also be ideal, as the beautiful old town already looks like something out of a Christmas story. It will definitely get you feeling festive!
I actually visited Bruges in early March and found this a great time to see the city. Bruges was already pretty busy, so I'm really glad I visited in the off-season. The weather was a bit patchy, but overall March was a good time to visit. I could imagine the summer crowds driving me insane!
---
I hope this 24 hours in Bruges itinerary has helped you to plan your upcoming trip! If you're looking for more travel tips and stories of my time in Belgium, check out my Belgium page here.
Don't forget to Pin this blog post so you have it saved for later!
Have you visited Bruges yet? What was your favourite memory of your trip?