There is a good chance that this post contains affiliate links. If you make a purchase through them, I may receive a small commission at no extra cost to you! As an Amazon Associate, I earn from qualifying purchases. As ever, all opinions are my own.
Last Updated on February 15, 2022 by Ella
As a history buff, I knew that a visit to Ypres was a non-negotiable on my 5-day trip to Belgium. This city was pretty much decimated in WW1, and its marshy surroundings are where a lot of the fighting took place. Nowadays, the town has been completely restored, and there are a ton of things to do for visitors who are interested in learning more about the war or paying their respects.
The white gravestones of thousands of soldiers who never returned home from Ypres line the countryside near Ypres, and adding Ypres to your Belgium itinerary is pretty much essential for any history enthusiast! 
There's a ton to learn in Ypres, and, having spent two days in the town, it definitely doesn't disappoint. Learning about Ypres' history isn't exactly easy, but it's absolutely fascinating. In my opinion, Ypres is one of the best places to visit in Belgium. 
Oh, and top tip – Ypres and Ieper are the same place, and the two names are used interchangeably. Ypres is the town's French name, and Ieper is its Flemish name.
The Best Things To Do In Ypres (Ieper), Belgium
Menin Gate Memorial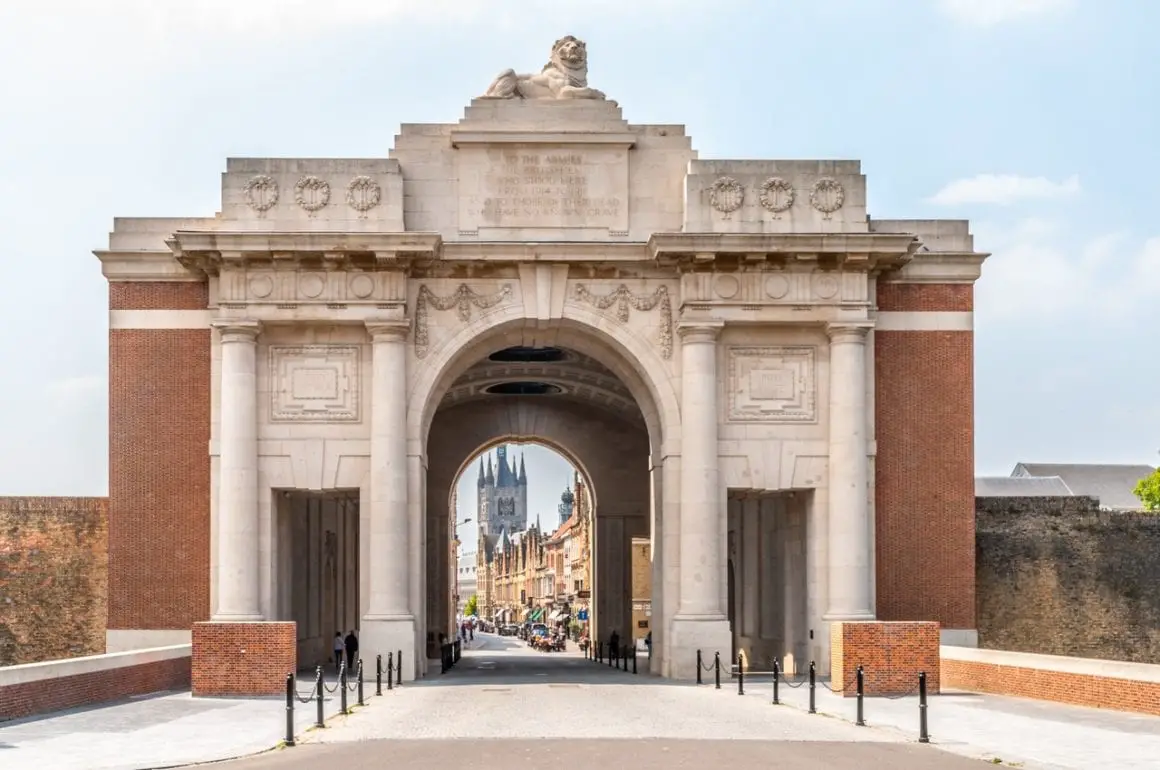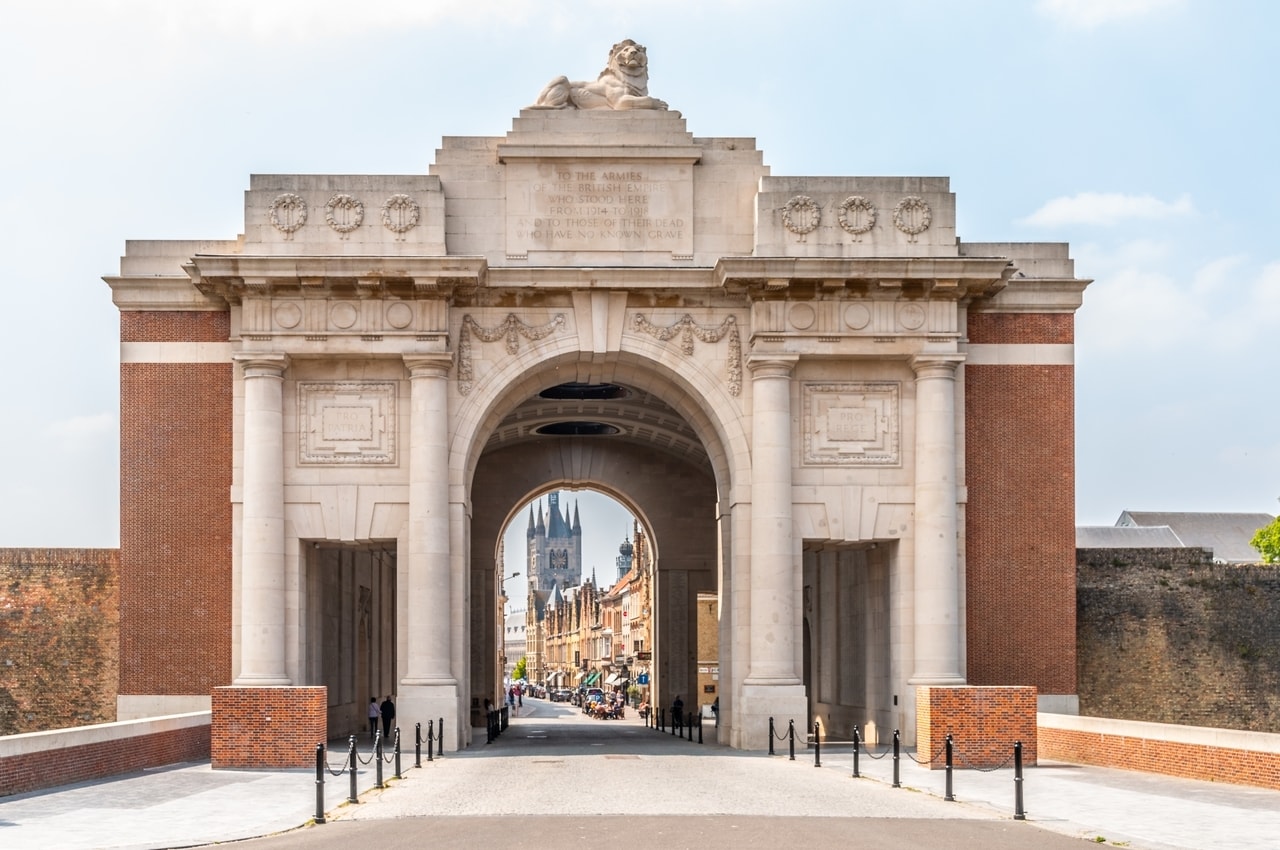 This huge white archway covers a passageway that countless British and Commonwealth soldiers walked through on their way to the trenches of the Ypres Salient. At the end of the war, the arch (called the Menin Gate) was erected to serve as a place of memorial for those who never returned home, and were missing. 
An overwhelming 54,395 names of missing soldiers are inscribed into the walls of the Menin Gate…And that wasn't even everybody. A further 34,984 names of the missing are inscribed on walls of the nearby Tyne Cot war cemetery.
Although you should definitely attend the Last Post Ceremony in the evening during your time in Ypres, which takes place at the Menin Gate, it's also worth visiting here during daylight hours. Without the crowds of the ceremony, you'll be able to properly inspect the names on the wall and take in the full impact of them.
Last Post Ceremony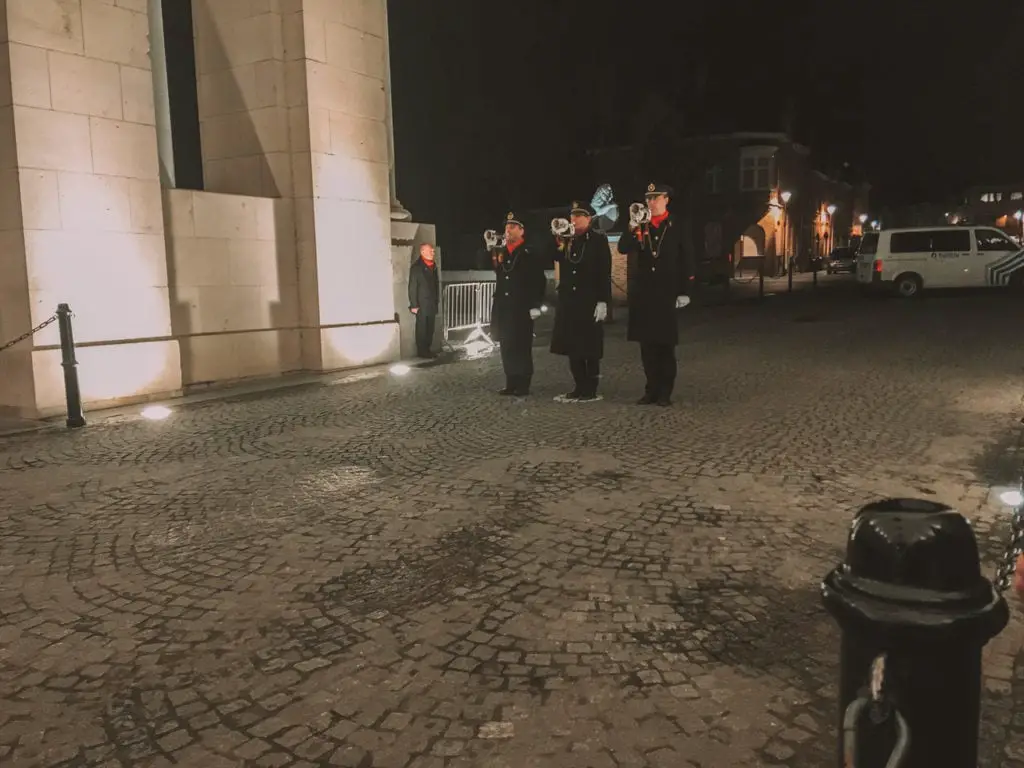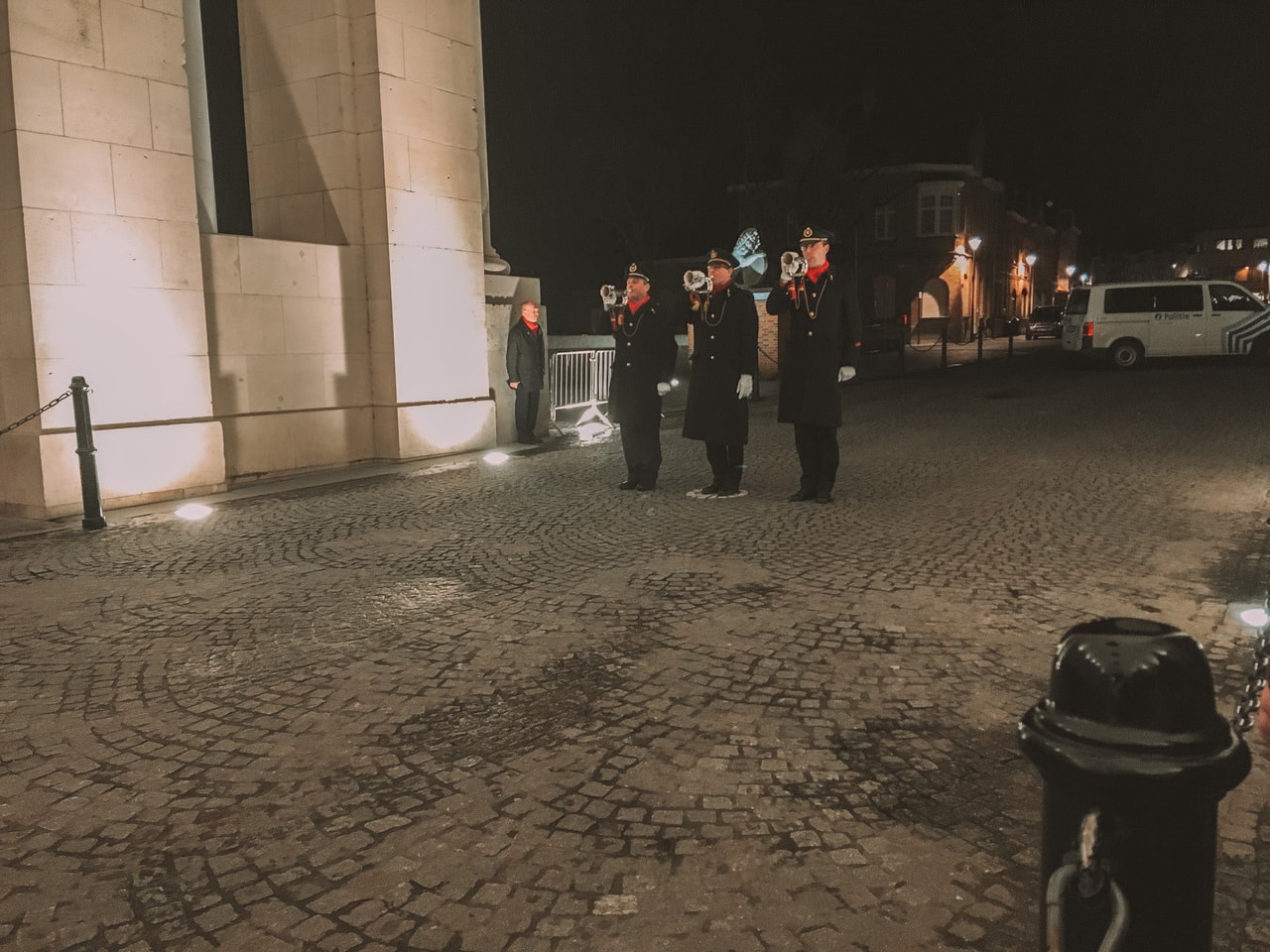 The Last Post Ceremony is the most unique thing to do in Ypres. Thousands of people flock to the town from all over the world to attend the ceremony each night.
The ceremony starts at 8pm sharp, and has taken place every night since 1928! It commences with buglers performing 'The Last Post', a traditional song which now represents remembrance for those who died in WW1, before visiting groups will either perform songs, read poems, or make speeches to show their respects. Then, people lay wreaths of poppies on the ground in remembrance.
Attending the Last Post Ceremony is totally free. All you have to do is turn up (by 7.30 at the latest ideally) and take your place standing under the Menin Gate. 
For tips about finding the best place to stand and what to expect, check out my complete guide to attending the Last Post Ceremony.
In Flanders Fields Museum
Is this one of the best museums I have ever been to? Yes indeed!
The In Flanders Fields Museum, named after the famous poem by war poet John McCrae, documents the experience of soldiers in the trenches of the Ypres salient during WW1. Its permanent exhibition contains hundreds of artefacts and photos from WW1, including objects left behind in the trenches. It also does a great job of keeping the story of the battles focused on the people who fought them, and their stories.
It was incredibly refreshing to visit a war museum that focuses on the people the war affected, rather than the strategies and tactics implemented by generals. What was most fascinating was the focus on physical and mental health struggles the soldiers faced both during and after the war. For so long these experiences were completely left out of the story of WW1, so I really appreciated learning about the war from another angle.
Entry tickets to the museum cost €10, or you can purchase a combined ticket (which also includes entry to the Yper Museum) for €13. I recommend allocating around 2 hours for your visit.
Essex Farm Cemetery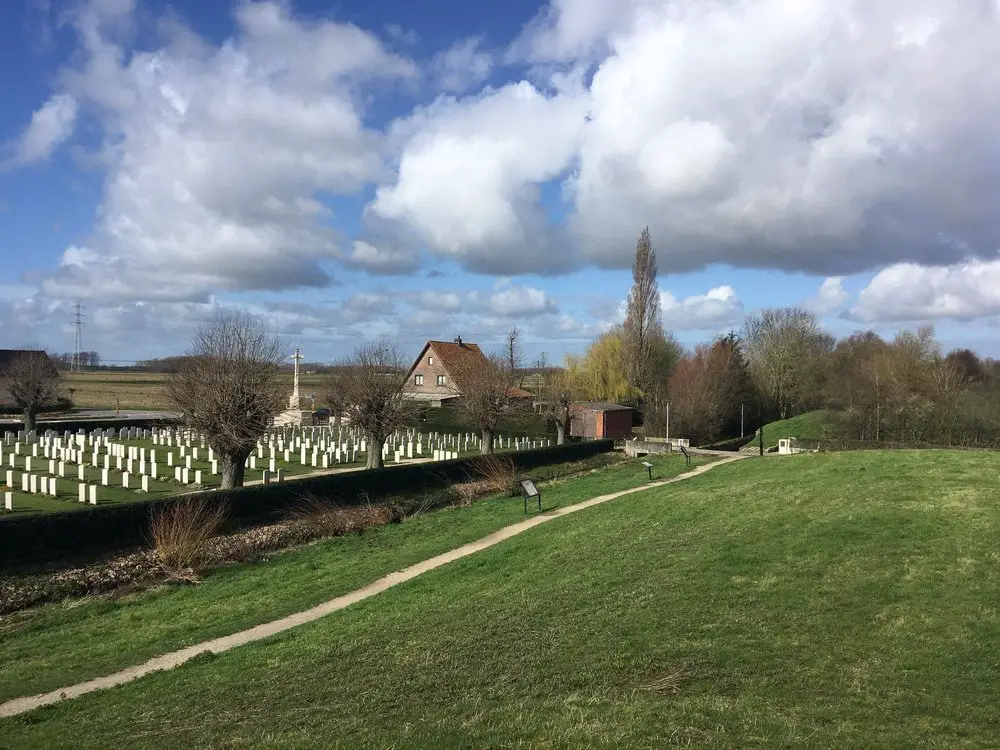 Since it's just a leisurely 30-minute walk away from central Ypres, Essex Farm Cemetery is the best war cemetery to visit if you don't want to hire a car or a bike (most of the war cemeteries, trenches and museums are not within walking distance from Ypres). 
The land just south of this cemetery was a dressing station for wounded soldiers and casualties from 1915-1917. It was here that John McCrae wrote the world-famous poem, 'In Flanders Fields'. There's a short exhibition near the bunkers on the site teaching about the life and wartime experience of McCrae, and how he came to write 'In Flanders Fields'.
There are over 1,200 soldiers buried or commemorated here, with 103 burials still unidentified. Although it's not on the map, there is also another war cemetery just across the road from Essex Farm where you can visit and pay your respects.
Ypres Market Square
The Market Square is the very heart of Ypres' old town, surrounded by charming historical buildings, cafes and restaurants. It's a bit deceptive to call this area Ypres' old town, since the majority of it is only a hundred years old. That's because the town was almost completely destroyed during the First World War. 
However, since then, the Market Square and old town have been painstakingly restored to resemble the original medieval buildings. So it's like… a replica of the old town. But it's very convincing, and I would never have known if I hadn't read it in my guidebook!
The Market Square is super photogenic. Well, I imagine it would be! The Market Square is often the venue for different events and festivals, and whilst I was in Ypres the Market Square was hosting a carnival. At other times of the year, you'll find an international car rally, a Christmas Market or, every Saturday, the Ypres Market, where you can shop for food, clothes and souvenirs.
Cloth Hall & Yper Museum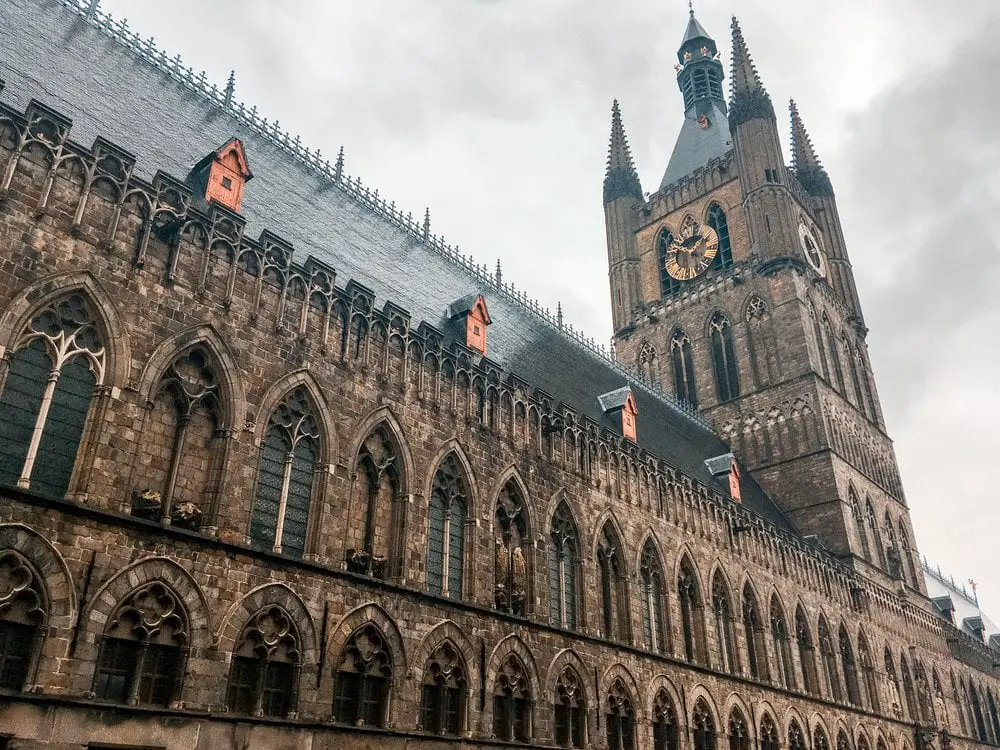 The Cloth Hall, which was originally constructed in 1304, was the commercial hub of Ypres in the middle-ages, when it operated as the market and warehouse for the area's lucrative cloth industry.
Unfortunately, though, (like most things in Ypres) it was almost completely destroyed during the First World War. Just a few walls and a section of the tower are the only remaining parts of the original structure.
The Cloth Hall was rebuilt and restored between 1933 and 1967. Today, the Cloth Hall houses the In Flanders Fields Museum and the Yper Museum. The In Flanders Fields Museum definitely attracts more visitors, but the Yper Museum is also worth visiting if you'd like to know more about the town's history before WW1.
In the Yper Museum you'll learn why people throw stuffed toy cats off the Cloth Hall's Belfry once every three years at the Ypres Cat Festival. Nope, I'm not joking!
Entry to the Yper Museum costs €7, or you can get a combined ticket with the In Flanders Fields Museum for €13.
Best Things to Do Near Ypres, Belgium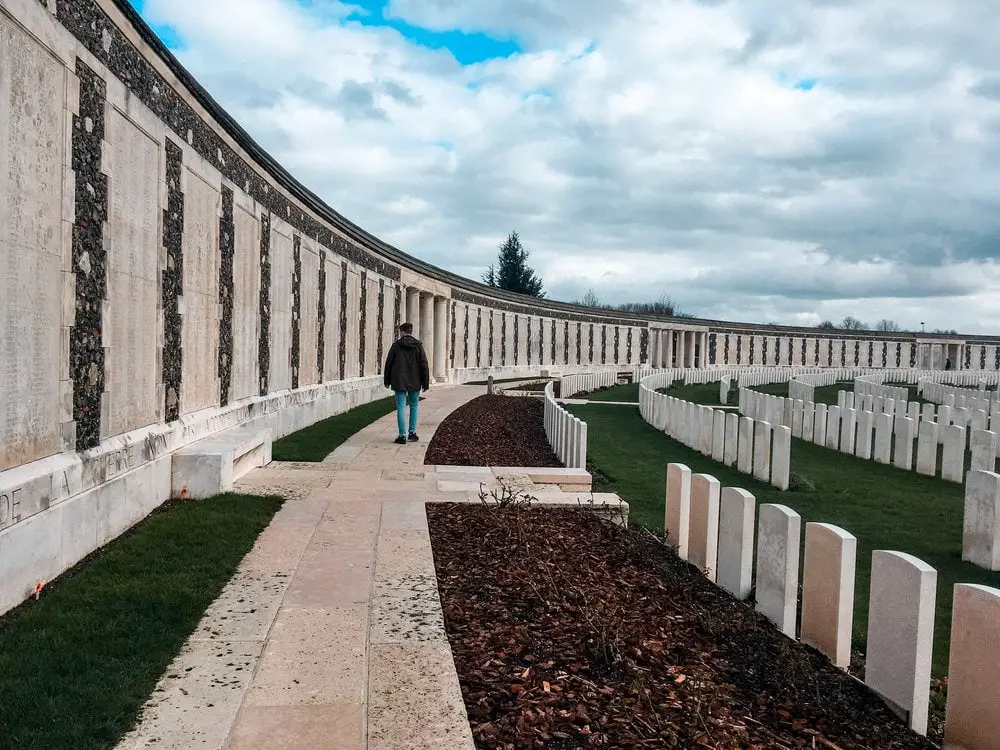 If you have more than one day in Ypres, I highly recommend getting out of the town to explore the history of the Ypres Salient. Getting here can be tricky, though, so I recommend either joining a guided tour or, if the weather is decent, hiring a bike. You could also rent a car, but this works out to be more expensive.
In terms of seeing as much as possible in one day, you really can't beat this guided tour. It takes in some of the most important locations of WW1, including the site of the Christmas Truce, the Sanctuary Wood Museum (which includes original trenches), the Tyne Cot Cemetery and many more!
Check out the full itinerary & latest prices here.
Here are some suggestions of places to visit near Ypres:
Tyne Cot Cemetery
Memorial Museum Passchendale 1917
Sanctuary Wood Museum
St Julien Canadian War Memorial
Yorkshire Trench and Dug Out
How Long to Spend in Ypres
If you're planning a visit to Ypres I recommend spending a minimum of two days (although three would be better) to get through all the amazing things to do here. 
You'll only need one full day in the city of Ypres itself, but if you want to explore the war cemeteries, trenches and museums of the Ypres salient, allow one or two more days. One to get a flavour, and two to do and see absolutely everything.
Best Time to Visit Ypres
The great thing about visiting Ypres is that all the tourist attractions stay open all year round – despite its tourism being very seasonal. That means, if you're wanting to travel on a budget, you can get some great deals on hotels, tours and even restaurants in winter.
The tourism season in Ypres runs from around May until late September. However, I actually think autumn would be the best time to visit Ypres. Not only will the temperatures and weather not be too bad yet, but it means the summer crowds will have disappeared. You'll get the good deals and quiet tourist attractions of winter, but without the awful weather.
I visited Ypres in early March, which admittedly wasn't a great time to go. It rained hard for our entire first day in the city (and actually for most of our 5 days in Belgium!), and it was pretty cold. 
On our second day, we were very lucky to get lovely clear blue skies, but if you can choose from any time of year to visit Ypres, I wouldn't choose winter. It's too risky!
Where to Stay in Ypres
Ypres is still very traditional, and as a result the boutique hotel scene hasn't really arrived here yet. For this reason, if you're looking for somewhere to stay in Ypres, you're pretty much limited to chain hotels.
The good news, though, is that tourism to Ypres is incredibly seasonal, and outside of May-September you can get some insanely good hotel deals here. My boyfriend and I visited Ypres in February, and our hotel stay in Ypres cost approximately half what we had been paying in other Belgian cities. And we got a free upgrade!
We stayed at Novotel Ieper Centrum hotel and only have good things to say about it! Its location was fabulous, as it was just a minutes' walk away from Market Square. Plus, our upgraded room was massive, the bed was super comfy, and everything was spotless. 
The only issue was that it cost an extortionate additional fee to add breakfast to our stay, which we just chose not to pay.
The Novotel Ieper Centrum is hardly going to be a hotel you'll remember forever, but it's practical and very affordable – and that was perfectly fine by us!
Click here to check latest prices & availability
Best Restaurants in Ypres
Ypres hardly has a thriving culinary scene. It's a tiny city, so you don't really have much choice! There are definitely a few solid options if you're looking to eat at a restaurant whilst in Ypres, though:
In 't Klein Stadhuis – Traditional Belgian food with an impressive range of Belgian Beers. We ate here and I definitely recommend their Flemish Stew. It's super heavy but super delicious!
Ypresburger – A popular and very affordable fast food restaurant with countless different burgers on the menu and great reviews.
Captain Cook – Italian/Belgian restaurant with a large selection of pizzas and plenty of vegetarian and vegan dishes.
I hope this post has inspired you to book a trip to Ypres – you definitely should! it's one of the best cities to visit in Belgium, and there is so much to learn here! I had such a blast writing this post of the best things to do in Ypres that I'm desperate to book my second trip there now!
Liked this post? Pin it!