There is a good chance that this post contains affiliate links. If you make a purchase through them, I may receive a small commission at no extra cost to you! As an Amazon Associate, I earn from qualifying purchases. As ever, all opinions are my own.
It seems like most people associate Madrid with summer – but what people often don't realise is that Madrid sees its fair share of heatwaves, and temperatures can often soar to over 40°C (104°F). That's why I recommend visiting Madrid in winter.
Not only will you experience longer daylight hours and warmer temperatures than most other European capital cities in Madrid in winter, but the city also has a tonne of cosy winter activities you absolutely can't miss – like dipping fresh churros into a steaming cup of hot chocolate!
Although I once lived in Spain I had never actually made it to Madrid or Northern Spain, so I had no idea what to expect when I booked myself a January city break there.
However, I was totally blown away by what an awesome winter destination Madrid is!
In this blog post, I'm going to cover everything you could possibly need to know before visiting Madrid in winter, including the winter weather, the best things to do in winter, how to save money on your winter trip, and what to pack for Madrid in winter.
Let's dive into this!
Weather in Madrid in Winter
It's time for some good news – you won't spend your winter trip to Madrid freezing your butt off or battling snowstorms. Hooray!
The weather in Madrid is also fairly consistent from month to month in winter – from November-February you're looking at around 5 or 6 days of rain per month and temperatures hovering between 3°C and 12°C (37-54 °F). In March, temperatures rise to hover between 6°C to 16°C (42-60°F).
It barely ever snows in Madrid. Instead, you're very likely to find clear blue skies and crisp air all day – even in the middle of winter! What if the weather sucks, though? No worries, just cosy up in one of Madrid's many tapas bars and wait for the bad weather to pass.
Daylight Hours in Madrid in Winter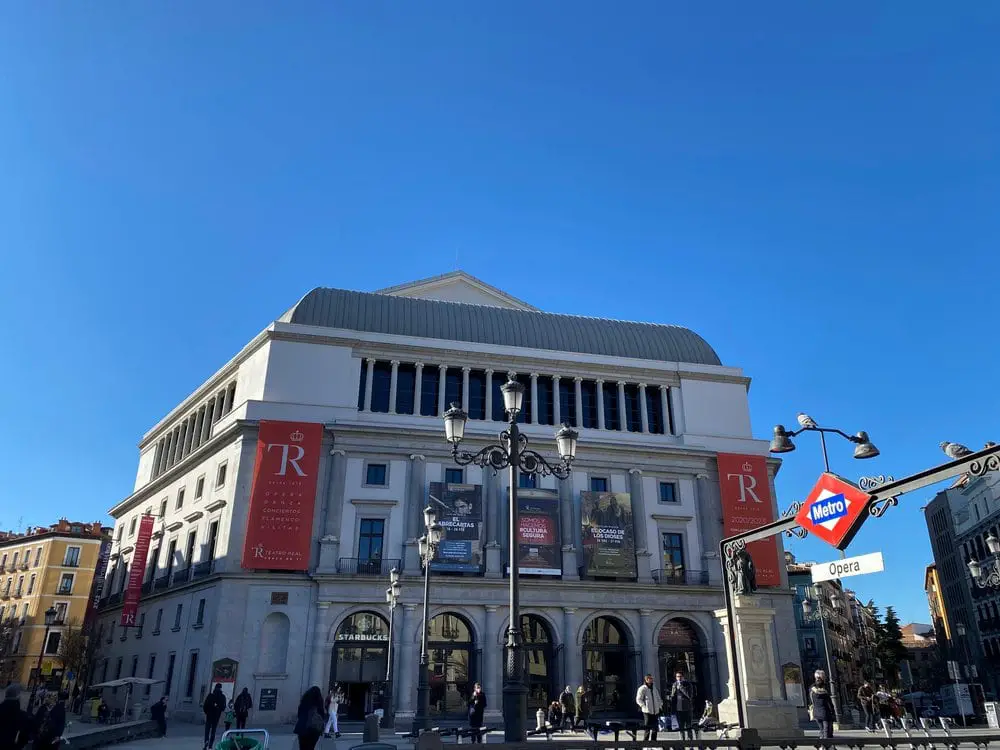 Although the days in Madrid in winter are far shorter than summer, they're much longer than countries further north in Europe. This means you get more daylight hours for sightseeing!
December is the month with the shortest daylight hours – the sunrise is at around 8.20am and the sunset is around 5.30pm. In January, the sun doesn't set until around 6pm, in February, the sunrise is around 8am and sunset around 7pm! 
When it comes to daylight hours in Madrid, March is the best time to visit in winter – you can expect the sunrise at around 7.30am and the sunset at around 7.20pm. That's almost 12 hours of daylight!
Reasons to Visit Madrid in Winter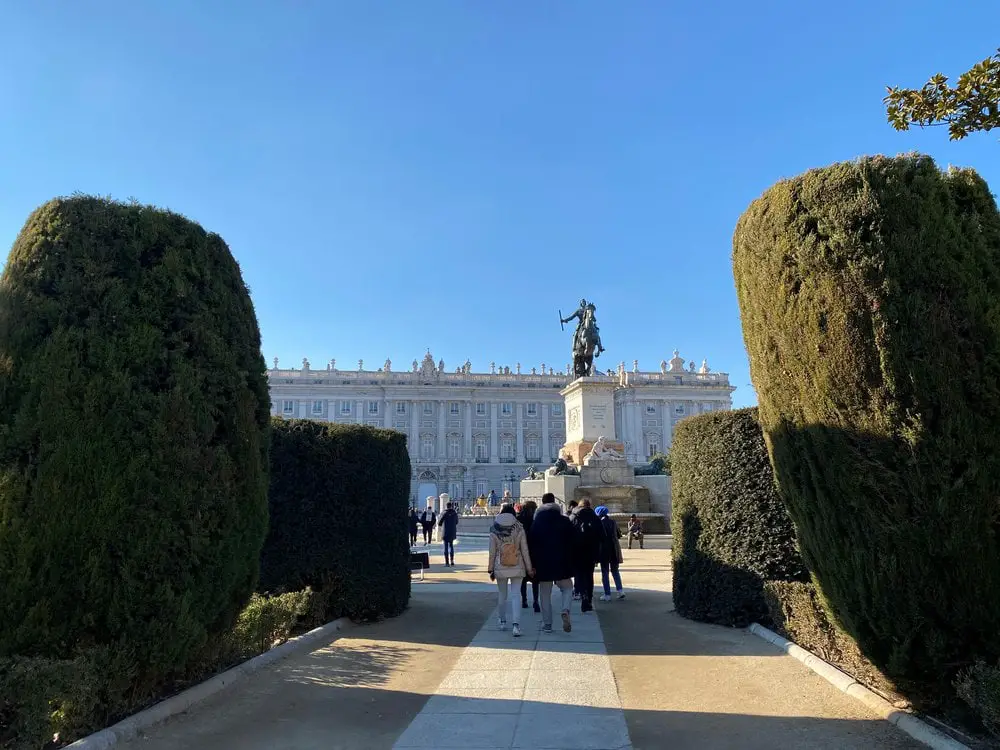 So, now that we've gone over the winter weather and daylight hours in Madrid, it's probably clear that these are major reasons to visit Madrid in winter. It's one of the very best winter city break destinations if you're looking to escape the short days and freezing weather of many other European cities.
Here are a few more reasons you should visit Madrid in winter!:
The winter temperatures in Madrid mean that you can actually do full days of sightseeing without passing out from heat exhaustion like you would in summer!
The city sees fewer tourists in winter, which leads to cheaper hotel prices, less crowded tourist attractions, and less time spent queuing for restaurants and attractions.
Spanish food is usually served hot, and is very hearty and filling, especially if you choose to enjoy a Menú del Día. I can imagine eating some of Madrid's most delicious dishes in summer is a pretty sweaty and unpleasant experience!
Madrid has a huge Christmas Market in December at Plaza Mayor, which has over 100 stalls! If you're looking for an untraditional Christmas Market trip, Madrid is the ideal destination!
Best Things to Do in Madrid in Winter
Royal Palace
Madrid's Royal Palace is one of my favourite palaces in Europe and is a must-visit whilst you're in Madrid. I've visited a tonne of palaces in Europe, and after a while they can start to feel pretty similar. However, trust me when I say the decor in Madrid's Palace is very unique and fun!
The Palace is still the official residence of the Spanish royal family in Madrid, although now it's usually only used for state ceremonies and, of course, tourism. The Palace was built around 1735, and inside you'll learn a lot about the history of the Spanish royal family.
I actually didn't even know that Spain still had a royal family before I visited (oops), so it's safe to say I found it very educational.
Entry costs €12 per person, but the queues here are huge even in winter, so if you haven't bought your ticket in advance expect to queue for around half an hour minimum.
If you book your ticket in advance you get to walk right past the queue to enter straight away and get a guided tour of the palace!
Eat Churros and Chocolate at Chocolatería San Ginés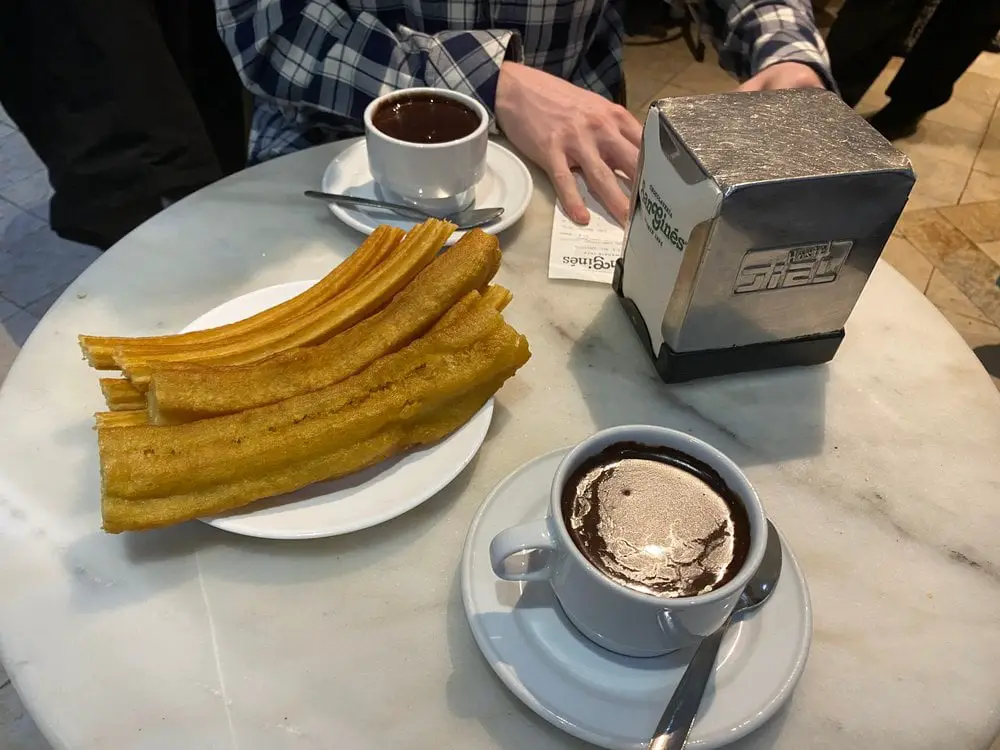 Founded in 1894, this cafe is one of the most popular in Madrid, and has served chocolate and churros to many Spanish and international celebrities! 
The queues here can be pretty hectic, especially in the morning, but it's definitely worth the wait – just make sure you leave yourself plenty of time to queue. The cafe is open 24 hours, so if you're a night owl you'll probably get in with no queue at all if you visit late at night.
This is one of the best things to do in Madrid in winter because it would be horrifically unpleasant in the summer heat! The cafe is small and hot, even in winter, and the churros and chocolate are so warming and heavy – it's definitely a winter experience!
A cup of chocolate with 6 churros costs €4.50, making it a pretty inexpensive (and delicious!) breakfast!
El Retiro Park
El Retiro Park may not be as beautiful in winter as summer, but it's definitely more pleasant to walk around in the mild winter weather. It's one of the largest parks in Madrid and belonged to the Spanish Monarchy until the end of the 19th century. That explains why it's so grand!
Aside from just strolling through the park, there are a few attractions you should definitely visit whilst in El Retiro Park. 
The first is the Crystal Palace. This grand glass building was originally built in the late 18th century and was used as a greenhouse exhibiting the flora and fauna of the Philippines, which was a Spanish colony at the time.
Nowadays it's an exhibition space as part of the Reina Sofía Museum. Even if you don't go inside the Crystal Palace you should definitely check out the exterior as it's a very cool sight.
The next is the Retiro Park Lake, which is the focal point of the park. As well as being freaking stunning, it's also fun! At the lake you can hire a paddleboat and get out on the water! Boat hire costs around €6 for 45 minutes.
Plaza Mayor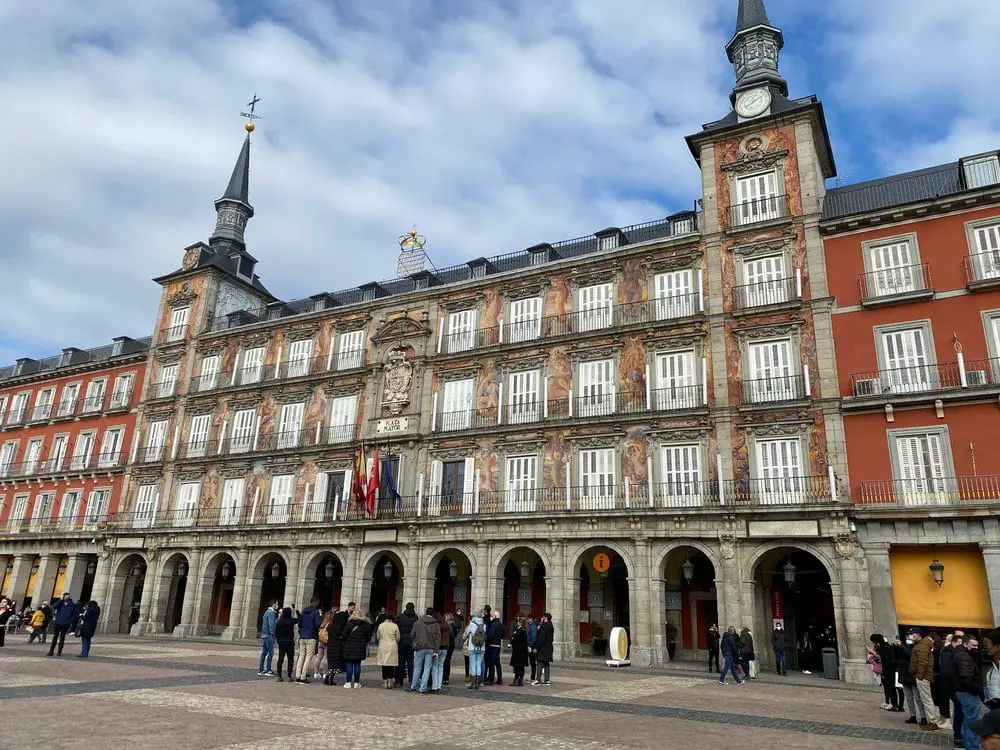 Madrid is famous for its hidden plazas, which are tucked away through unassuming alleyways. Plaza Mayor is arguably the most famous and beautiful, and since the weather in Madrid in winter should be mild enough to spend time outside sightseeing, you should definitely pay it a visit!
The square was once the focal point of old Madrid when it was known as Plaza del Arrabal. The current Plaza Mayor was built on the same spot as Plaza del Arrabal in the 17th century by King Philip III. 
There's not anything in particular to do here – it's just a pretty area of the city. However, since it's one of the most famous landmarks in Madrid many walking tours stop here.
For this reason, if you look discrete enough, you can sidle up to one of the tour groups to overhear the tour leaders sharing the history of the square and its most interesting features. 
Go to a Flamenco Show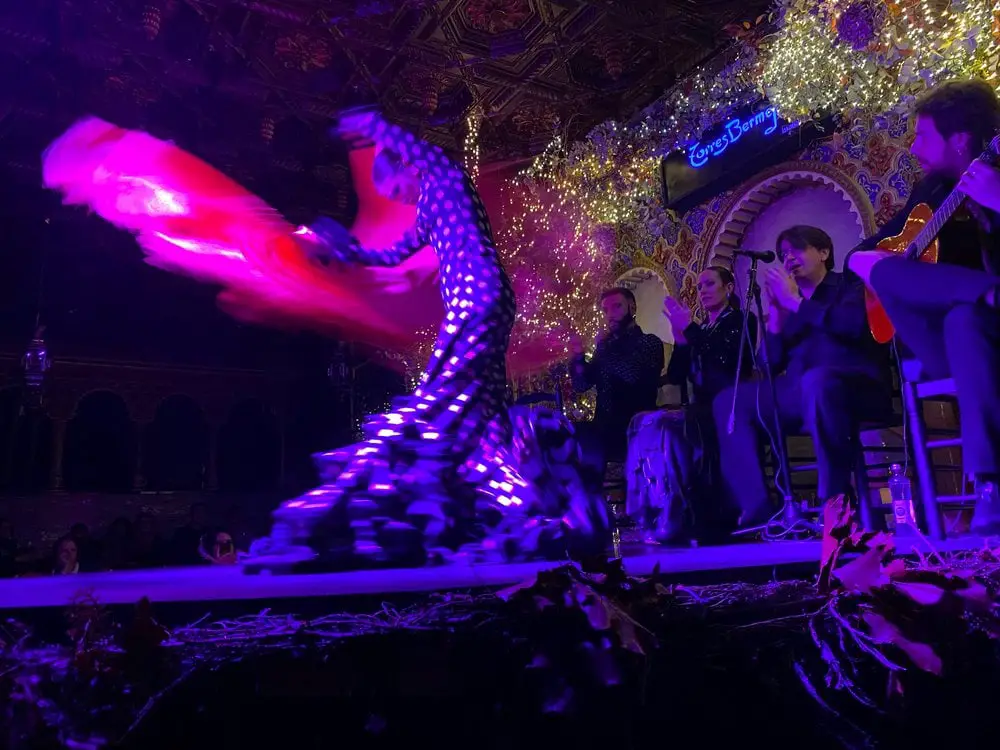 You simply can't visit Madrid without going to see Flamenco! It's enthralling, fascinating and so much fun.
Although Flamenco originated in Southern Spain, it's Madrid that flamenco dancers flock to to make their name. This means Madrid is jam-packed with amazing flamenco shows.
The fiery and energetic dance and music will transport you out of winter and into another season, making it one of the very best things to do in Madrid in winter! Shows typically last around 2 hours, and you can choose to have tapas served to you whilst you watch if you want to combine the show with dinner.
I went to this flamenco show and I can wholeheartedly recommend it. It was the highlight of my trip to Madrid!
Prado Museum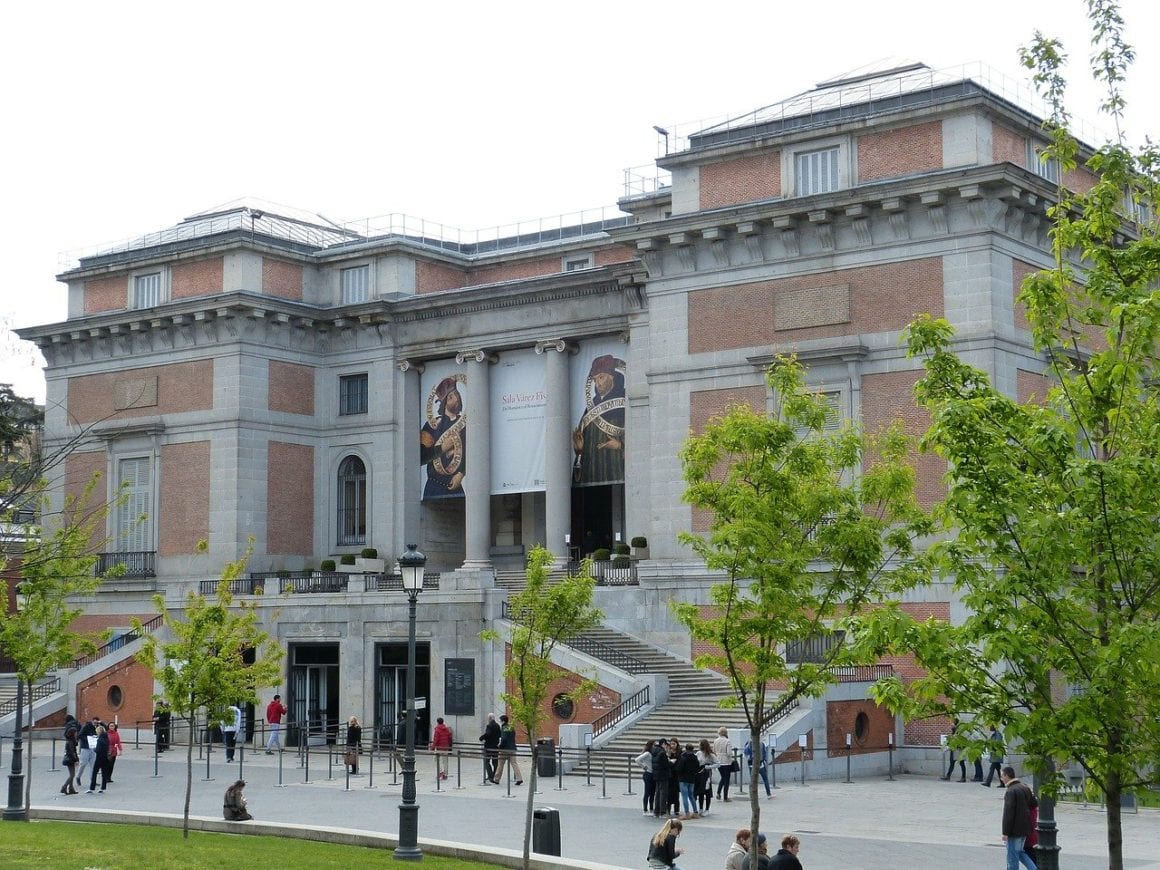 If you're an art appreciator, the Prado Museum will be your jam. It's one of the world's most famous art galleries, housing around 7,000 paintings (although they're not all on display at once – the number is more like 1,500). 
The Prado Museum is one of the best things to do in Madrid in winter because it's indoors, so if the day is particularly cold or even rainy you can easily spend all day here perusing the paintings and sheltering from the weather.
There's a catch, though – entry costs a whopping €24! For this reason, I personally decided to just check out the museum building without going inside, because I'm not into art enough to justify that price. However, if you are into art, I'm sure it'll be worth it!
Day Trip to Toledo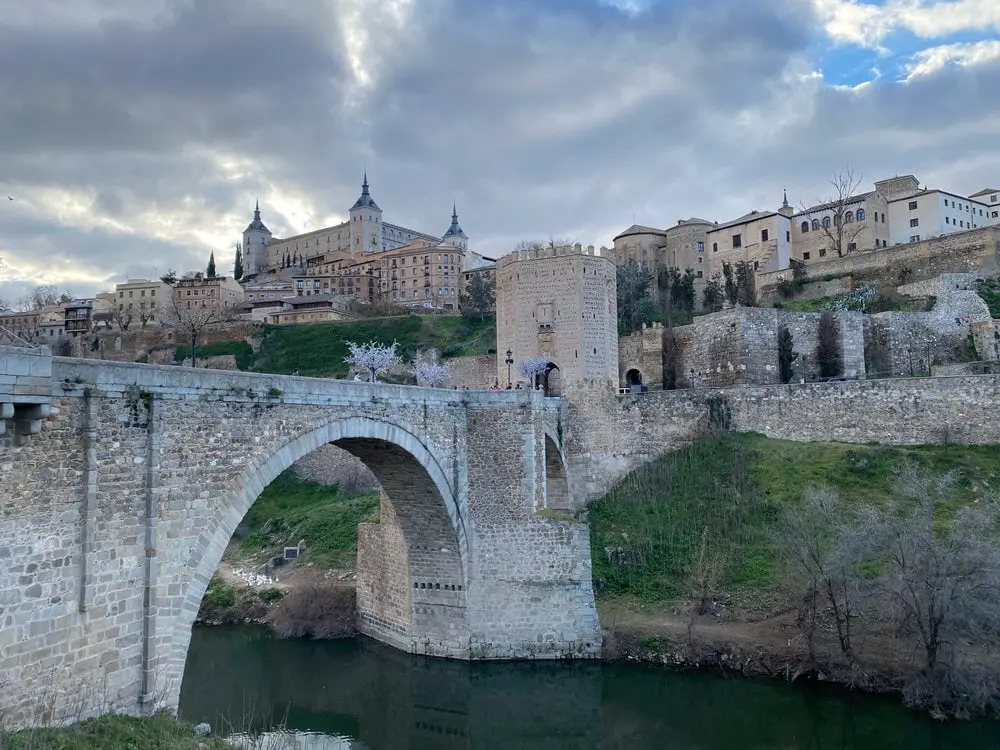 Toledo is an ancient hilltop city just half an hour by train away from Madrid. It's freaking GORGEOUS, and a visit here should definitely feature on your Madrid itinerary if you have time!
Given how close it is to Madrid, though, Toledo apparently gets overrun by day trippers in summer, which isn't surprising given its narrow streets and small alleyways – it's definitely not a huge place.
For this reason, if you're visiting Madrid in winter you should definitely take the opportunity to visit Toledo on a day trip! 
Once you arrive in the city your first stop should definitely be the Alcázar of Toledo. This HUGE fortress, which is now a museum, sits at the highest point of Toledo so although it'll be quite the trek to climb up here the views over Toledo's surroundings from this spot are well worth it. 
You could spend hours in the museum, which documents the military history of Spain and Portugal, because it really is massive.
Once you've visited the museum, head over to the stunning Plaza de Zocodover, the Santa Iglesia Cathedral, the San Juan de los Reyes Monastery and the dreamy San Martin's Bridge.
Top tip: tickets to the Alcázar of Toledo normally cost €5, but on Sundays entry is free! You're welcome 😉
What to Pack for Madrid in Winter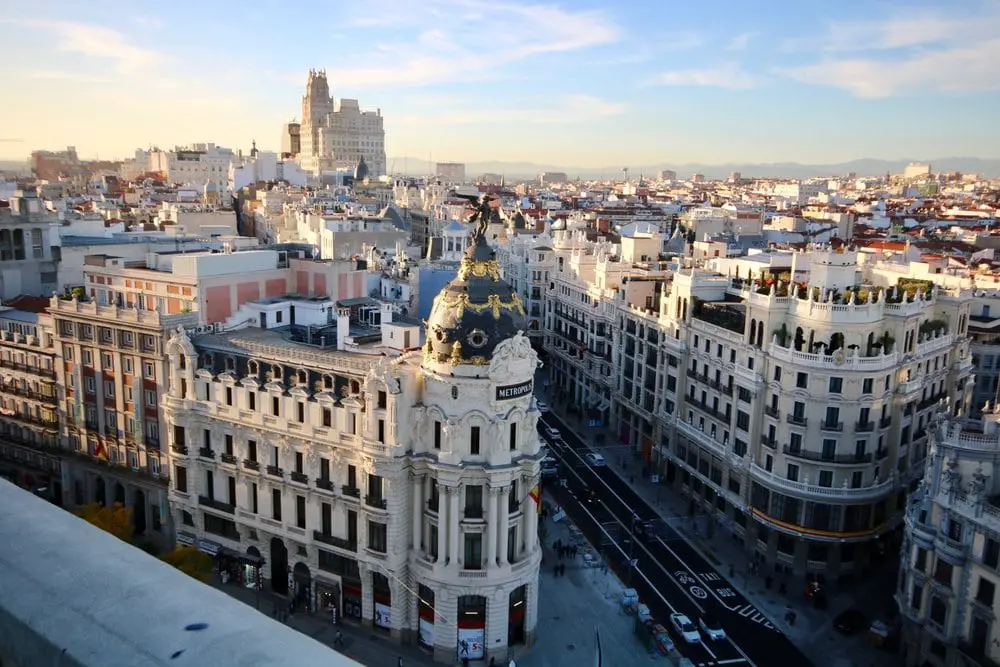 Madrid can be tricky to pack for in winter because it's hard to work out whether you need to go for winter clothes or spring clothes. Here's what I recommend you to pack:
A couple of jumpers, a coat, and a couple of pairs of jeans. I personally don't think a scarf, gloves or hat are necessary, but that's up to you.
Surprisingly, sunglasses! It can get very bright in Madrid in winter when the sun is shining, and I really wish I'd packed some – I feel like I spent half of my trip squinting!
You'll definitely need a portable charger for Madrid, as you'll be using your phone for directions and also snapping photos! I use one like this and it holds around 7 recharge's worth of battery power. Yay!
It doesn't rain as much in Madrid as it does here in London, but you're better off being safe than sorry. For this reason, I packed a small umbrella like this one, just in case. It barely takes up any space and will save you if you're caught in a downpour!
I always travel with a travel guide, either digital or physical, and I recommend packing this one for Madrid if you're going to be spending more than a couple of days in the city. It's fun to read whilst you're travelling and gives a great overview of all the best things to do and places to see in and around the city. 
Visiting Madrid on a Budget in Winter
Visiting Madrid in winter is a brilliant idea if you want to travel on a budget. That's mainly because your biggest travel expense, your accommodation, will be much cheaper in the low months of January and February than any other time of the year.
Many of the free things to do in Madrid become available to you in winter, because, provided you're dressed properly, you can spend the whole day outside strolling in parks and checking out plazas without coming down with heatstroke.
Although many of Madrid's attractions cost the same all year round, many organised day tours, for example a tour from Madrid to Segovia or Ávila, will decrease in price slightly in winter, so it's a great time to travel save a few euros.
The Best Travel Insurance for Madrid
I've never travelled without insurance, but it's scary just how many people do. Even if you're only visiting Madrid for a few days, you definitely need travel insurance. You can be as careful as humanly possible, but bad luck happens to all of us and some things are just totally out of our control!
It's unlikely that anything bad will happen to you in Madrid, or Spain in general, but insurance is the safety net that could be the difference between the trip of a lifetime and a total nightmare!
For Madrid, I recommend SafetyWing. It's a very affordable option for both short and long trips, with plans starting from as low as €2 per day.
SafetyWing is also one of the few travel insurance providers that offer COVID-19 quarantine coverage, so you can rest assured that even if you test positive whilst travelling you won't go bankrupt as a result. 
Click here to get a quote from Safety Wing!
Is Winter a Good Time to Visit Madrid?
In my opinion, winter is actually the best time to visit Madrid! Not only is the weather generally mild, but there are also fewer tourist crowds and better deals on tours and accommodation.
I absolutely cannot imagine trying to sightsee in Madrid during summer, when heatwaves of over 40°C are not uncommon in the city. That would be unbearable, and doing absolutely anything would feel unpleasant. 
I may have just been extremely lucky with the weather in Madrid during my visit in January, but it was the perfect winter city break for a respite from the cold and rain of London.
For this reason, if you're looking for a winter getaway that you won't need to pack a stash of jumpers, gloves, hats and scarves, Madrid is the perfect place!
Liked this post? Pin it!