There is a good chance that this post contains affiliate links. If you make a purchase through them, I may receive a small commission at no extra cost to you! As an Amazon Associate, I earn from qualifying purchases. As ever, all opinions are my own.
As an avid flamenco enthusiast, I know that the best way to experience this captivating and vibrant art form is by watching it live in its birthplace – Spain! Obviously, as the Spanish capital city, Madrid is one of the best places to see flamenco in Spain.
You simply can't visit the city without adding a flamenco performance to your Madrid itinerary!
From traditional flamenco tablaos where the dances haven't changed for hundreds of years, to modern performances with cutting-edge choreography, there are plenty of remarkable flamenco shows in Madrid that will leave you spellbound!
But… it can feel a little overwhelming picking just one. That's why I'm here to help!
The first time I ever saw flamenco was in Madrid, and it kicked off a love affair with flamenco that has been pulling me back to Spain over and over again to watch more of it! In this blog post, I'm going to share my top recommendations for the best flamenco shows in Madrid. 
And yes, I'll even share the details of the flamenco show I visited in Madrid that very first time, so you can experience the magic of it for yourself!
So, whether you're a flamenco fanatic, or brand new to the world of flamenco, here are the nine best flamenco shows in Madrid. You can't leave the city without seeing at least one of them!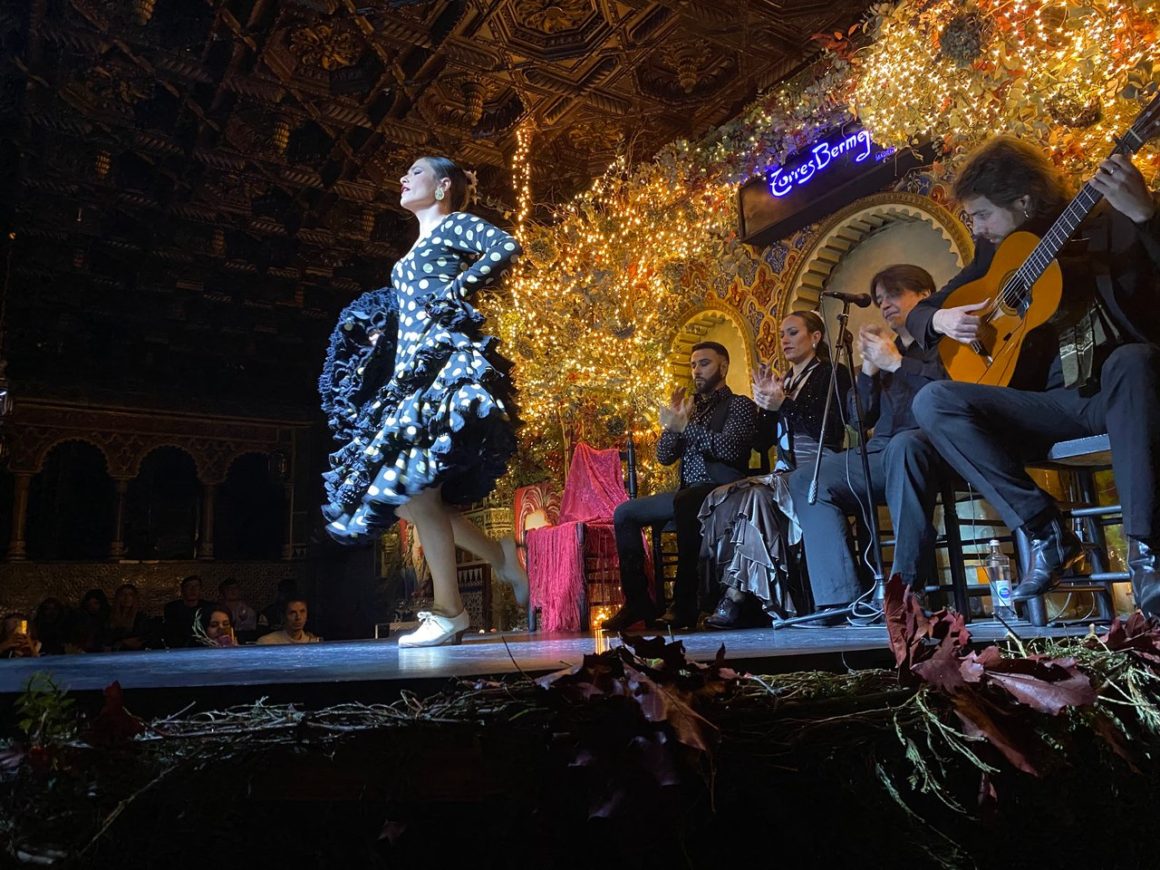 What is Flamenco?
Okay, we're here for the best flamenco shows in Madrid, but before we get into it, some of you may be wondering: what actually is flamenco?
Despite what many people think, the word "flamenco" doesn't just refer to dancing. Instead, flamenco encapsulates everything about a flamenco performance, from the singing, which has its own unique style, to the guitar playing, the dancing, and even the people clapping and shouting in the background!
The art form comes from Andalusia, a region in Spain that encompasses famous cities like Seville, Malaga, Cordoba and Cadiz. Madrid is still a competitor for the title of the best place to see flamenco in Spain, though.
So, now that we've settled that, let's get to it. Here are the best flamenco shows in Madrid!
Best Flamenco Shows in Madrid, Spain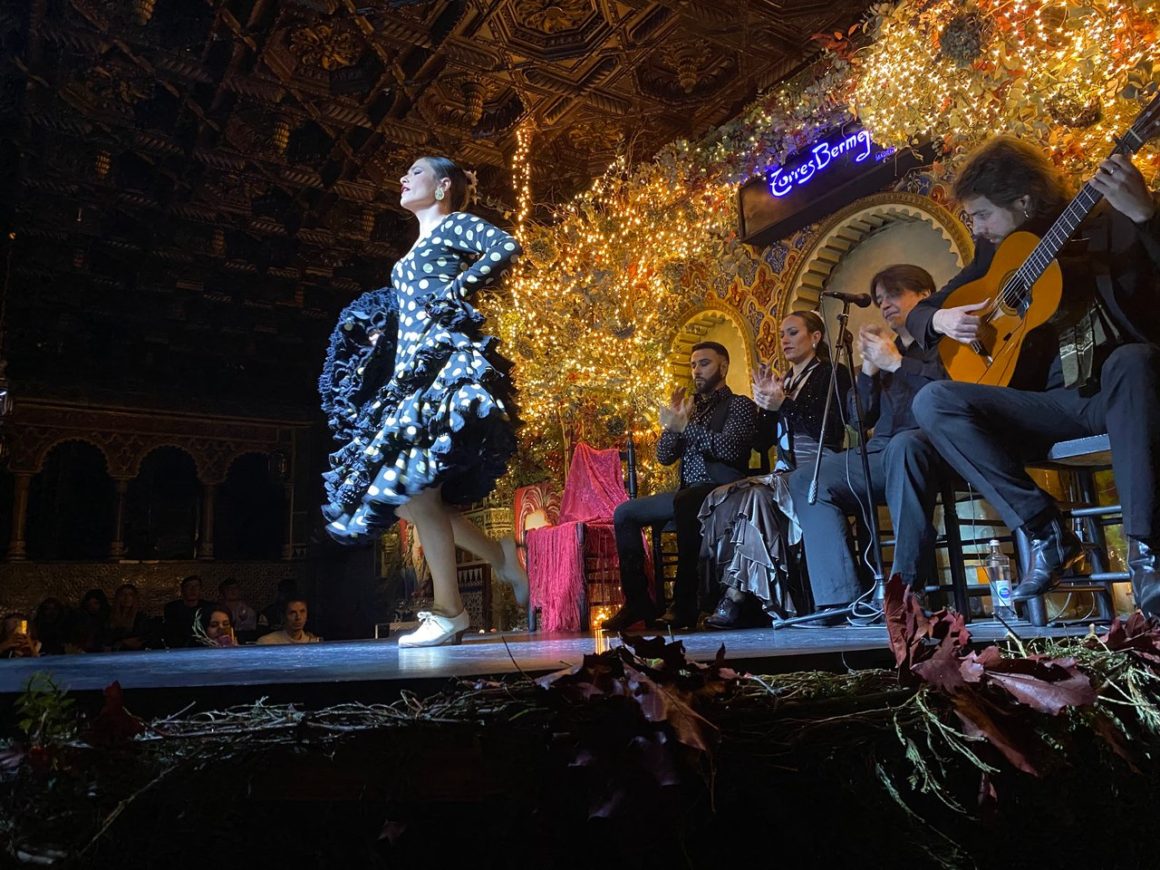 ✔️ Rating: 4.5/5 | 💃🏻 BOOK NOW!
This spectacular live flamenco show was the one I opted for when I visited Madrid, and it was nothing short of mind-blowing! The performance takes place at the historical Tablao Torres Bermejas, which has unique decor inspired by the Bermejas towers of the Alhambra, in the city of Granada.
The walls at the Tablao Torres Bermejas in Madrid are a sight to behold. With intricate Arabic motifs, ornately designed tiles and wooden carvings on the ceilings, it's no wonder why this tablao has been a staple of Madrid's flamenco scene since its opening in the 1960s!
Prepare to be mesmerised by the passionate rhythms, sultry dances, and entrancing sounds of flamenco here. This is, in my opinion, the best flamenco in Madrid. Book the dinner option, and I'd also say it's the best flamenco dinner show in Madrid.
The performance lasts for 1 hour, with performances starting at 7pm and 9pm. If you opt for the dining option, you'll enjoy a delicious tapas selection, with special dietary options such as halal or vegan to choose from. There's also a full meal option.
I think the best option is either the drink + performance option (€35), or the tapas, drink + performance option (€50) so that you don't have to rush to finish your food.
If you couldn't already tell – this is the best place to watch flamenco in Madrid!
Book this unforgettable flamenco show here!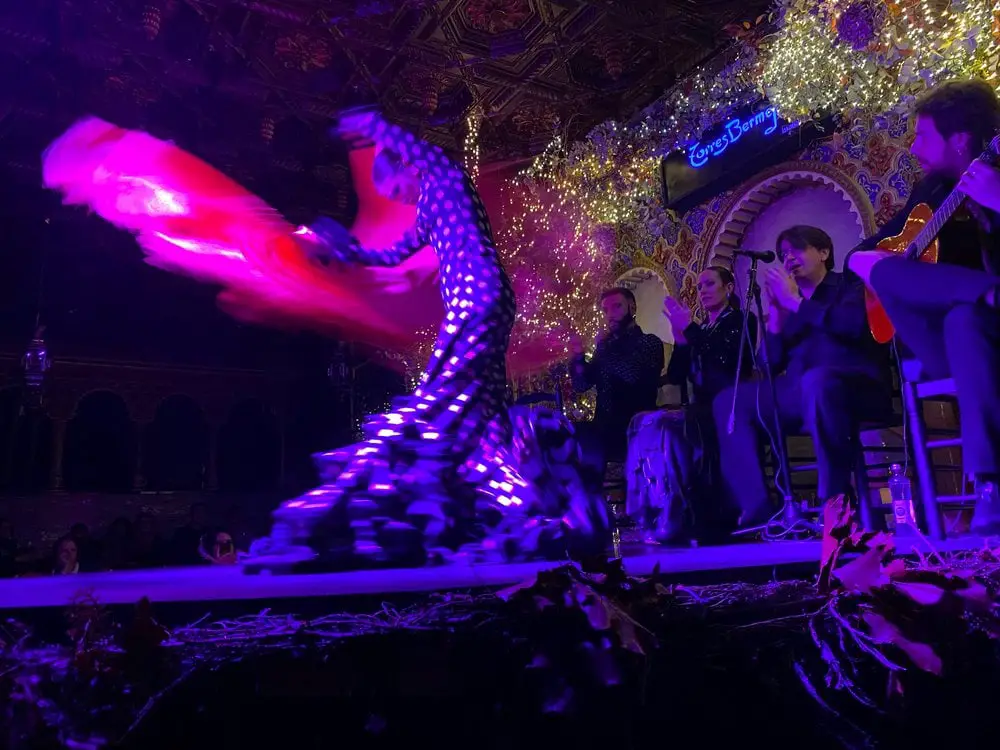 ✔️ Rating: 4.8/5 | 💃🏻 BOOK NOW!
Experience "Emociones" Live Flamenco Performance for an unforgettable night of some of the best flamenco dancing in Madrid!
As soon as you enter the venue, which is actually the world's first flamenco theatre (wow!), you'll be immersed in an atmosphere unlike any other. The air is thick with energy and anticipation, and the passionate rhythms and enthralling choreography of the flamenco dancers will take your breath away. 
The intensity of this performance is unmistakable, and you'll be so close to the dancers that you'll be able to see the details of their traditional long-tailed gowns.
Performances are at 6pm and 8pm and last for one hour. Tickets cost €29, but to make the most of the experience I recommend paying for their €35 ticket, which includes a seat right at the front (so you can see every step!) and a drink.
Prepare to be mesmerised by the remarkable spectacle of "Emociones" – book your tickets here! 
✔️ Rating: 5/5 | 💃🏻 BOOK NOW!
If you're short on time, or just want to see and do it all, this cultural tour of Madrid, which includes tapas tasting, wine, checking out local flamenco shops and a mesmerising flamenco performance is the perfect solution!
This 2 hour 40 minute tour really packs a punch, so there's no time to waste! You'll start off by visiting two family-run tapas bars where you can sample local wine, cured ham, cheeses, and other tapas – all while learning about "tapas culture" from knowledgeable guides.
Catering is available for dietary requirements so there's something for everyone here!
With full bellies, you'll then visit two flamenco dance stores owned by local artisans to learn about the costumes and guitars of flamenco while admiring the intricate craftsmanship. And best yet: round the tour off by enjoying an amazing one-hour-long Flamenco show.
This unforgettable performance is sure to captivate you with its intensity and emotion! The dancers bring an incredible level of energy and passion to the stage, with every move a testament to the cultural heritage of flamenco in Spain. 
This tour costs €115, and this price includes absolutely everything, so you'll not have a single thing to worry about during the tour! The group is limited to just 12 people, so you'll get plenty of one-on-one time to ask your guide any questions you have.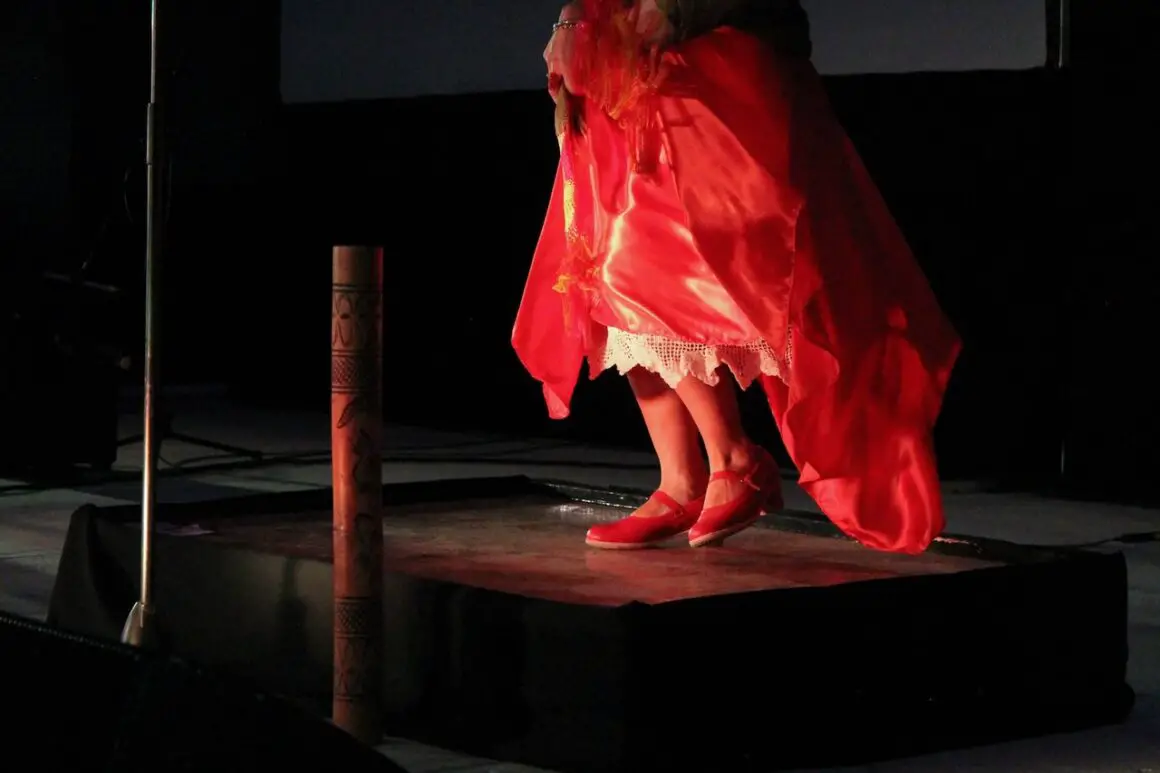 ✔️ Rating: 4.5/5 | 💃🏻 BOOK NOW!
This authentic flamenco experience in Madrid goes beyond just watching a show! As well as a spectacular traditional flamenco show, your ticket also includes dinner and an optional workshop where you can learn some of the basics of flamenco.
It's perfect for anyone who wants to get to know flamenco at a deeper level! Considering tickets are just €42, you get a lot of bang for your buck!
The night starts off with a workshop, where you'll learn some basic flamenco steps and techniques. With the help of experienced dancers, you'll get to grips with the basics in no time – it's a great way for beginners to start learning about flamenco.
Following the workshop, a delicious three-course dinner awaits you. With plenty of options to choose from, you're sure to find a delicious Spanish dish to suit your tastes. The wonderful array of food options make this one of the best flamenco restaurants in Madrid!
After dinner, it's time for the show – a spectacular 1 hour and 20-minute performance featuring some of Madrid's best flamenco dancers!
This performance is perfect for those spending a weekend in Madrid since it only runs from Thursday-Sunday. The optional workshop starts at around 8pm, with the performance finishing at midnight. It sounds late, but fear not, all the public transport will still be running to get you home! This is Madrid, after all.
✔️ Rating: 4.5/5 | 💃🏻 BOOK NOW!
For one of the best flamenco shows in Madrid that goes deeper into the history and cultural background of the art, look no further than this performance, which includes a drink and an introduction by a flamenco artist for €35.
This flamenco experience takes place in a historic vaulted cave from 1850, just a few minutes walk away from Puerta del Sol, in the centre of Madrid. Before the performance begins, you'll get to take part in an informative talk about the history of flamenco and its roots – it's great for anyone who wants to learn more about the art form. 
After this, it's time for the performance itself – an hour-long show that features some of Madrid's best flamenco dancers, directed by El Mistela who won the National Flamenco Critic Award!
The best part? You'll be so close to the performers you can almost feel the heat of the dance. 
The acoustics are also incredible – no microphones or speakers are used here, so you can truly experience authentic flamenco music in its best form. This is how flamenco has been performed for hundreds of years! Plus, your ticket includes a complimentary drink to enjoy during the show.
Don't miss out on this unforgettable experience – book your tickets today!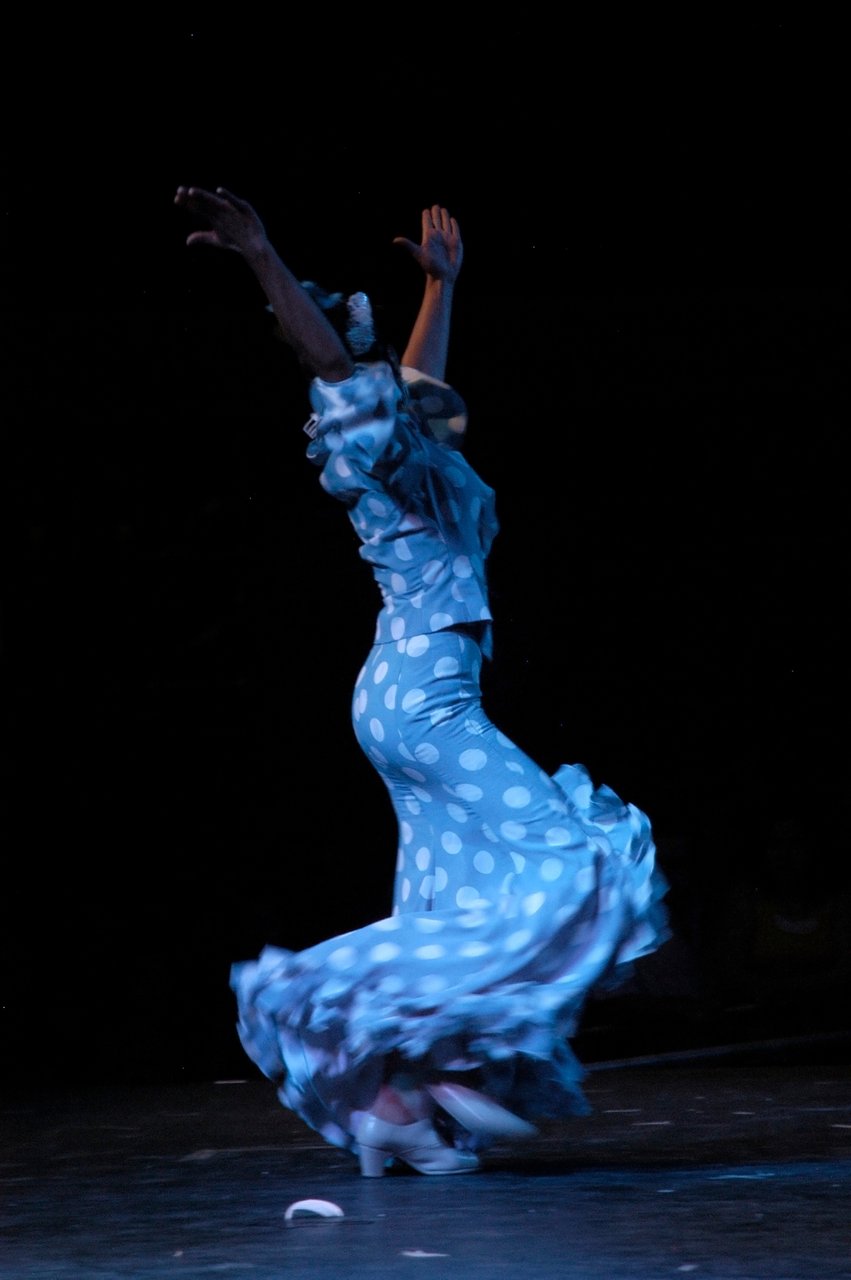 ✔️ Rating: 4.8/5 | 💃🏻 BOOK NOW!
One of the best flamenco shows in Madrid is this intimate performance over at Centro Cultural, a cultural centre dedicated to the history and art of flamenco!
This intimate setting hosts just 54 people and the performance includes a variety of flamenco styles, including dances decorated with shawls, castanets, tambourines, and tail gowns.
This performance is done without the help of a microphone or sound amplification, so you can experience truly authentic flamenco in Madrid.
As if that wasn't enough, your ticket includes entry to the cultural centre which you can explore before or after the performance. At just €25 per person, this is an affordable way to transport yourself to a Spanish village on a balmy summer evening – even if you're visiting Madrid in winter!
This is one of the best cheap flamenco shows in Madrid – making it the best option for those travelling to the city on a budget. However, it's worth noting that there are no food or drink options available here.
Don't miss out on this unforgettable evening – book your tickets here!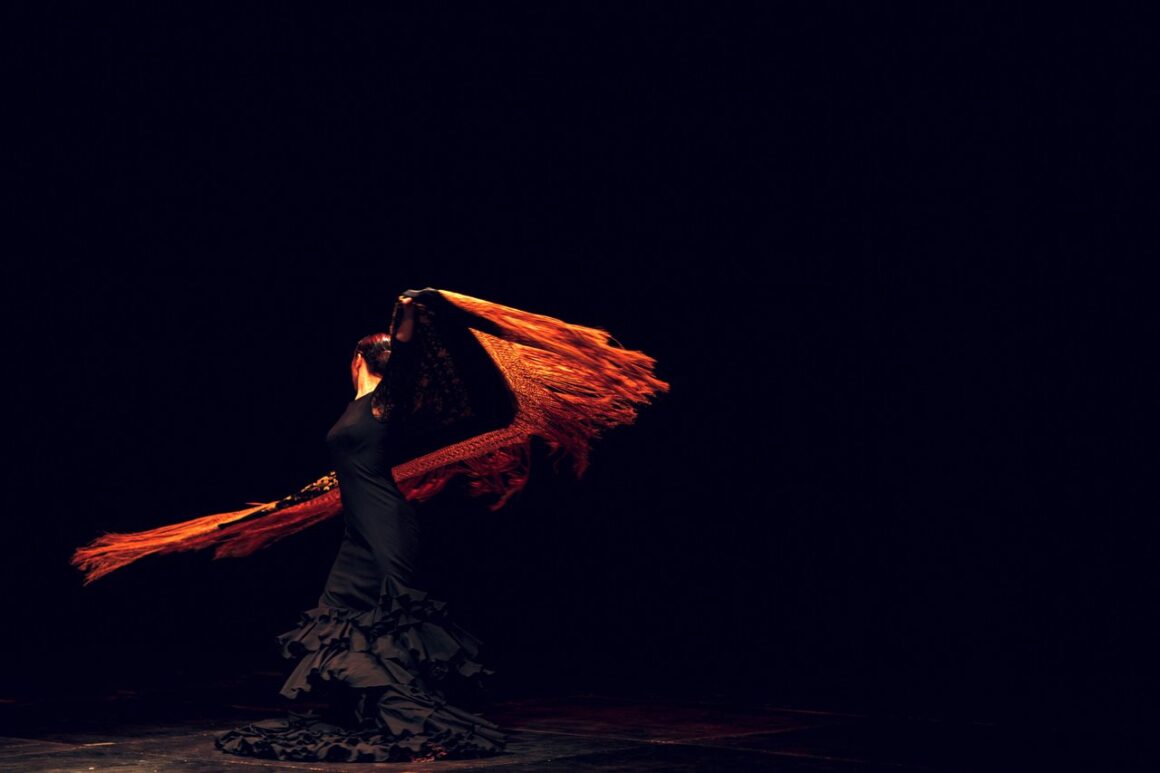 ✔️ Rating: 4.6/5 | 💃🏻 BOOK NOW!
Experience the best of Madrid's flamenco culture and immerse yourself in this traditional performance at Tablao Las Carboneras! This is one of the best flamenco shows in Madrid for solo travellers, who say that the staff are particularly welcoming and accommodating here.
Located in the basement of an old palace, this venue is regarded as one of the best flamenco tablaos in Madrid. It's also some of the best non touristy flamenco in Madrid. Choose either the show ticket or show plus dinner option, both with a complimentary drink included. 
Here, you'll get to enjoy an hour-long performance featuring some of Madrid's best flamenco dancers and admire the old cabaret-style interior that combines tradition with contemporary flamenco. Plus, if you arrive early enough, the staff will give you several options to choose from when selecting your seats! 
Show ticket prices start from €45.
During the show, you will witness incredible levels of energy and passion as the dancers take to the stage, each performance featuring breathtakingly intricate choreography. Their technical excellence and creative flair come together to create a show that is both captivating and powerful – best experienced up close!
What are you waiting for? Book your tickets today!
✔️ Rating: 4.8/5 | 💃🏻 BOOK NOW!
This mind-blowing performance takes place in an ancient 17th-century cave, making this a fascinating venue to watch flamenco in Madrid. Oh, and your ticket includes a complimentary drink!
Witness the power and passion of this iconic Spanish art form at La Cueva de Lola as you sit back with a glass of sangria or wine in hand. It's the easiest way to transport yourself to the sun-streaked cobbled streets of Andalusia, where flamenco originated from.
The performance takes place every day at 7pm, and you can expect experienced performers with impeccable technical skills and creative flair here.
With tickets starting from only €25, it's easy to experience this captivating Madrid flamenco show on a budget. Seats are assigned in booking order, so the sooner you book your tickets the better your seat will be.
✔️ Rating: 4.6/5 | 💃🏻 BOOK NOW!
If you want to experience one of the top flamenco performances in Madrid, La Quimera is definitely worth considering. Even seasoned flamenco enthusiasts will be impressed by the show's unique vocal and dance techniques that evoke strong emotions of passion and sorrow. 
One of the things that set La Quimera apart is that the performers embrace an improvisational style, letting their inspirations guide them on stage.
You can choose from a ticket option which includes a refreshing drink, or a ticket which comes with dinner and two drinks. Prices start at €35!
The La Quimera flamenco show is true to the 19th-century style of Flamenco. There are no techy gimmicks involved here! Instead, the experience is all about the dancers' skill and prowess, making each performance unique. The venue is a dimly lit space which only adds to the atmosphere as you take in the passionate music and spellbinding moves.
A ticket including drinks will get you one free drink of your choice – from a selection of wine, beer or sangria. Alternatively, the dinner and two drinks option includes tapas such as cured ham, cheeses, fish and vegetables. There's also catering available to meet dietary requirements.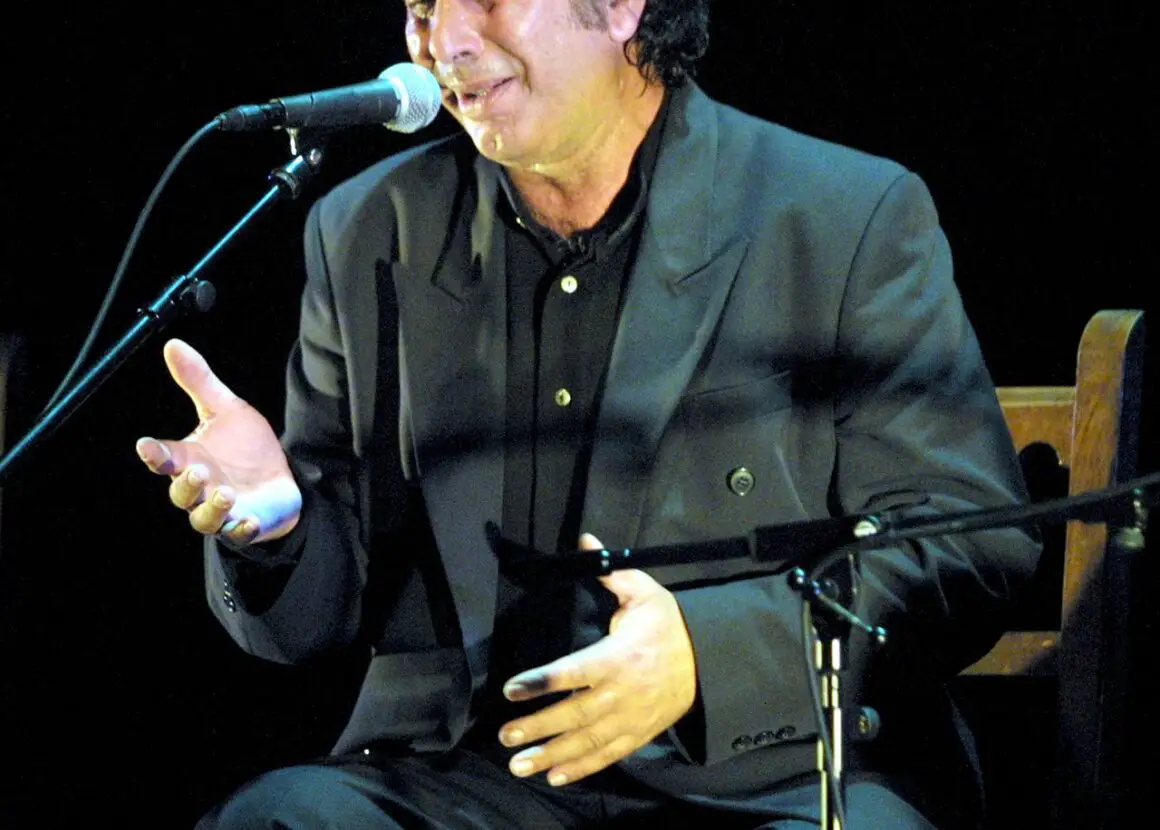 ✔️ Rating: 4.5/5 | 💃🏻 BOOK NOW!
Experience the best of Madrid at night with a sunset walking tour and round it off with a wonderful flamenco show. On this walking tour, you'll explore Madrid's sights illuminated by night, from the Royal Palace (Palacio Real) to Plaza Mayor and Gran Via, all led by your expert guide. 
After checking out the best sights in Madrid, you'll head over to a tablao for a traditional flamenco performance. It's perfect for visitors looking for a unique, immersive experience of Madrid.
The best part of this walking tour and flamenco experience is that it happens in the cooler evening hours, so you can explore the city without having to worry about heat exhaustion. Madrid in summer is HOT, guys. With the small group size limited to just 15 people, it's easy to get an intimate connection with your surroundings.
Take part in the lively atmosphere of this traditional Madrid flamenco show, as the passionate performers give their body and soul to this awe-inspiring performance, complete with hand-clapping rhythms and powerful vocals. You'll feel the energy and intensity of the dancers as they move and stomp across the stage, showcasing their love of flamenco.
Best of all, you can book your tickets for just €17 for the walking tour alone or €55 for the walking tour and flamenco show combined! So, why not enjoy the best of Madrid at night and see what the city has to offer?
FAQs About Flamenco in Madrid:
Does flamenco come from Madrid?
This may come as a surprise, but Flamenco comes from Andalusia, a region in southern Spain. That's right, flamenco is not actually from Madrid! Despite this, flamenco has become one of the best-known forms of traditional Spanish culture, and you can watch flamenco shows all over Spain – including Madrid.
Is Madrid a good place to watch flamenco?
Madrid is one of the best places in the world to see flamenco! Many aspiring flamenco dancers flock to Madrid to work on their craft and try to break out in the profession since it's home to some of the best flamenco schools in the world.
Where can I see a flamenco show in Madrid?
There are a tonne of venues in Madrid offering flamenco shows, and I've covered the very best of them in this post! The best place to see flamenco in Madrid, in my opinion, is Tabalo Torres Bermejas. Of course, there are plenty of other great Madrid flamenco bars in Madrid.
What is the cost of seeing a flamenco show in Madrid?
Tickets for flamenco shows generally cost around €35. That said, some venues offer discounts, and it's possible to find flamenco shows in Madrid that cost just €25. If you book a flamenco package with meals and drinks included your experience will be slightly more expensive. Flamenco and meal packages generally start at around €55.
Can I learn flamenco in Madrid?
Absolutely! There are lots of flamenco dance classes in Madrid that welcome tourists. I even made a recommendation in this blog post of a flamenco show that also includes a short flamenco workshop!
If you'd prefer a proper dance class, though, consider this one. You'll get to learn flamenco techniques from a pro in a welcoming and inclusive class, all for just €34.
What to wear to a flamenco show in Madrid
It's a good idea to check your flamenco venue's dress code, as they do vary. Overall, you can wear whatever you like to a flamenco show in Madrid! Many people choose to dress up a bit, going for smart-casual attire, but it's also fine to wear jeans and sneakers provided you look clean and presentable. It is best to avoid shorts and sandals or flip-flops.
Is there any etiquette I should follow at a flamenco show?
Yes, it is important to be respectful of the performers and the audience. Applause is allowed (and encouraged!), but it's best to wait until the end of a performance before applauding. Don't try to clap along with the performers – this will be distracting to both the performers and your fellow audience members.
Can I take photos at flamenco shows in Madrid?
Different venues have their own rules about technology. At some flamenco shows, you're more than welcome to take photos and videos (without flash), whereas, at others, all use of technology is strictly forbidden. 
---
I hope this blog post has helped you find out more about the best flamenco shows in Madrid, and you now know where to see flamenco in Madrid, no matter what type of performance you're looking for.
See you at the Tabalo!
Liked this post? Pin it!
Want more flamenco? Check out this guide to the best shows in Malaga.