There is a good chance that this post contains affiliate links. If you make a purchase through them, I may receive a small commission at no extra cost to you! As an Amazon Associate, I earn from qualifying purchases. As ever, all opinions are my own.
Last Updated on November 25, 2020 by Ella
I struggle to believe I will ever travel somewhere I loved as much as the Garden Route in South Africa.
Big words, I know.
I spent 2 weeks in South Africa travelling the Garden Route, a scenic road trip from Cape Town to Port Elizabeth, and I had the time of my life!
I could go on and on (and on and on) about this beautiful country, but today I'm going to focus on how much backpacking the Garden Route will set you back. Before my trip, I had no idea how much it would cost. To my absolute delight, the Garden Route is perfect for backpackers, and most things are pretty cheap. Activities are, if not cheap, incredibly value for money, hostels are cheap and of good quality, food is cheap and transportation is cheap. What's not to love?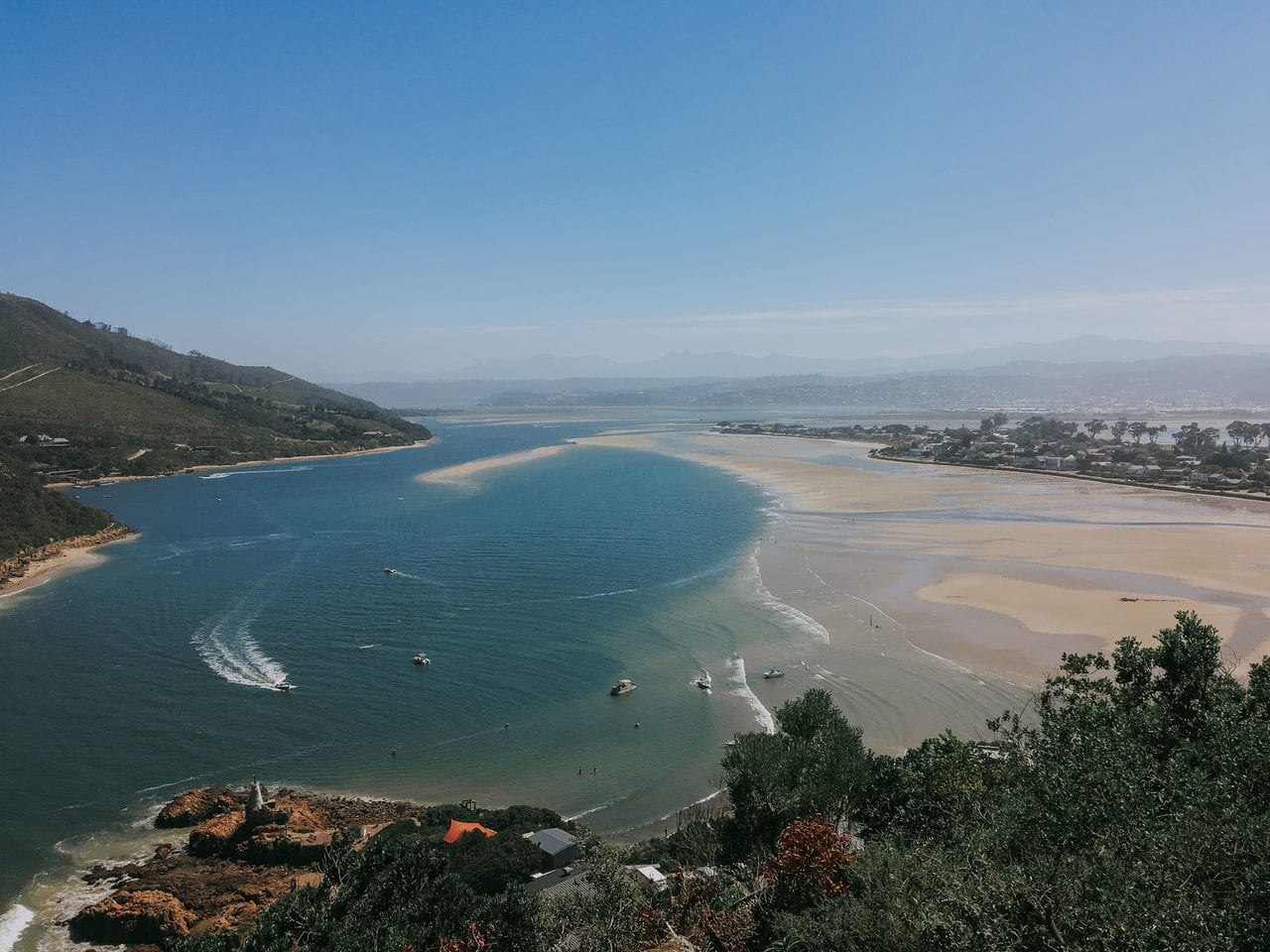 This post refers to the Garden Route specifically, and the prices I mention in this post are from my experience travelling the Garden Route. This is because South Africa is a huge country, with varying prices depending on where you are. The Garden Route is one of the most popular areas of the country, for travellers and backpackers, prices here are slightly more expensive. I'm hoping to go back to South Africa very soon, and then hopefully I can let you know how the cost to spend 2 weeks on the Garden Route compares to other areas of South Africa.
Prices in this post are in US Dollars (because I feel it's a currency most of us understand) and South African Rand (ZAR).
The Cost of Accommodation on the Garden Route
Accommodation definitely won't break the bank on the Garden Route, and, in general, is really good value for money. Due to the popularity of the Garden Route with travellers, there's lots of choice when it comes to accommodation for backpackers, both in Cape Town and along the Garden Route. Competition with other hostels and hotels along the Garden Route keeps the prices low and all fairly similar.
The Garden Route is definitely a seasonal location, so of course the travel cost is going to skyrocket in summer (December-February). If you're planning to backpack the Garden Route in summer make sure you book ahead (I'd recommend booking as early as you can) in order to snap up the best places before they're full. I travelled in March, meaning not only was the weather still great, but the prices were also great and I didn't have to book any of my accommodation more than a couple of days in advance. Travelling in shoulder season always wins!
Here is where I stayed during my trip in the order I visited.
Once Hostel, Cape Town: $15 (ZAR 285) per night. I stayed for three nights.
Once is right in the middle of the action, but tucked away from the slightly less secure Long Street, where all the partying happens. It has its own rooftop bar which felt incredible to soak in the late evening sun, and the dorms were small (only two bunk beds in my female dorm!) clean, and had everything you need. The vibe at this place made me feel like I'd walked into a dream. The hostel hosts loads of different events every day of the week, so there are plenty of opportunities to explore Cape Town whilst meeting other travellers. Breakfast is also included, and although it wasn't too substantial (a croissant with jam), the coffee was freaking incredible.
Stumble Inn Backpackers Lodge, Stellenbosch: $11.60 (ZAR 220) per night. I stayed for one night.
Unfortunately, this was my least favourite hostel during my Garden Route trip, as Stellenbosch is definitely limited when it comes to budget accommodation. There was nothing wrong with this hostel, but the vibe just felt off. Most of the people staying there had been there for weeks or months, so I felt like an outsider as soon I walked in. The dorm was cramped and lacked lockers, and, to be honest, I wish I had just splurged on somewhere nicer. A huge positive to this hostel is the wine tour you can book through them, which was one of the best things I did during my 2 weeks in South Africa.
Jembjo's Knysna Lodge & Backpackers, Knysna: $10 (ZAR 180) per night. I stayed for three nights.
Probably my favourite hostel in South Africa, Jembjo's really felt like a home, complete with a living room, cutesy kitchen and a garden area. And, guys, no bunk beds! The feeling of being able to sleep without having someone wriggling around on the other bunk was so refreshing, the owner was super nice, and really went out of his way to help me find things to do during my stay without a car. A stay here is a must on your Garden Route South Africa itinerary.
Tube 'n Axe Boutique Lodge and Backpackers, Storms River: $10 (ZAR 180) per night. I stayed for one night.
Stopping at Storms River was a last minute choice for me, so most of the other hostels were already full. Luckily, the Tube 'n Axe wasn't. Their river tubing tour is unmissable, apparently – but I was running low on funds and that tour was pricey. The dorm room I stayed in housed a lot of people, but it didn't feel cramped. Also, the food they offer is awesome, and their bar is super cheap. At the front desk you can pick up free maps of the nearby hiking trails. They also have a pool area with sun loungers which are perfect for taking a break.
Cristal Cove Surf Lodge, Jeffreys Bay: $10 (ZAR 180) per night. I stayed for four nights.
Oh man, I loved this place. A little outside the town centre, Cristal Cove overlooks the world-famous surf break of Supertubes. Being an avid surfer almost all my life, this was a dream come true. The walk to the beach is less than two minutes, and it has a bar ready to chill in after a day of surfing and catching the sun. The dorm room (just four beds!) was in its own separate bungalow, shared with only one other private room, meaning we got a kitchen, living room and bathroom all to ourselves! The only downsides to this hostel are that it's quite a trek out of town, and outside of the peak surfing season (winter) the place is totally dead. In mid-March I saw only three other guests in the whole hotel during my stay.
Lungile Backpackers Lodge, Port Elizabeth: $12 (ZAR 230) per night. I stayed for one night.
Oops, I take it back – this is the worst place I stayed during my 2 weeks in South Africa. When I walked into the lobby the receptionist was watching a sports game with her friends and ignored me for a solid ten minutes. Then, on taking me to the 6 bed female only dorm room I had booked, she opened the door to a room full of men with no spare bed. Improvising, she took me to a huge mixed dorm room and told me this was my room.
I thought not.
I had paid extra for the comfort of a small, female-only room the night before my long haul flight home. Slumming it in a huge mixed room for the price I paid was not an option. She fiddled around on her computer for what felt like forever before securing me a private room, which admittedly was a nice upgrade on my original booking. The room stank of stale sweat and body odour, but at that point I didn't care. My own space! I did a little happy dance before taking an ultra-long shower and falling asleep. The next day, I went to enquire about a walking tour of Port Elizabeth advertised on their website, but the receptionist had no idea what I was talking about. I don't know what I expected.
If you don't fancy a hostel…
Of course, there are loads of accommodation options for your Garden Route itinerary that don't involve staying in hostels. The amount of Couchsurfing hosts along the Garden Route is surprisingly high, and competition for a host is way less fierce than in Europe. In fact, even without references I got offers from highly rated hosts. I ultimately decided against Couchsurfing, as I was having way too much fun staying at hostels, but for super budget-minded backpackers this option is perfect.
There are some insane-looking Airbnb apartments and rooms available, although they were slightly out of my budget. If you're wanting to rent an entire beachfront villa expect to pay a pretty penny for it. If you're planning to travel the Garden Route in a group, renting an apartment together is a great way to spread the cost. You can find Airbnb's in South Africa here and get a sweet $35 off your first booking when you sign up using my affiliate link.
And finally, traditional hotels and guesthouses are all along the Garden Route. If you're travelling with a friend or as a couple, it won't typically be too much pricier to get a basic private room at a hotel. Obviously, quality (and therefore prices) vary greatly.
One thing to note is no matter how much you're willing to spend on the perfect accommodation, South Africa often experiences drought. Keep that in mind, as the last thing you want to do is get to your luxury accommodation and find the pool is empty and showers longer than a couple of minutes (let alone baths!) are forbidden.
The total cost for my 2 weeks of accommodation in South Africa: $118 (ZAR 2745)
Average accommodation cost per night: $9 (ZAR 211)
Cost of Transportation on the Garden Route
Renting a Car
When it comes to getting around the Garden Route, backpackers have a number of options. The most popular one by far is to rent a car and drive. South Africa is ideal for road tripping. If I knew just how easy it was to drive the Garden Route I would have opted to road trip too. For around $200 you can hire a car from Cape Town Airport, spend 2 weeks travelling around South Africa, and drop it off at Port Elizabeth airport. From what I heard, petrol to drive the whole route will cost around $65!
Read More: Knysna One Day Itinerary Without a Car
Baz Bus
Being a hesitant driver and a newbie solo traveller, I opted to get around by the Baz Bus. This is the perfect solution for those of us who can't, or don't want to, drive. The Baz Bus is aimed at travellers and backpackers, and for those who have concerns about just how safe it is to travel in South Africa, it's the perfect solution. The Baz Bus runs shuttles between all the highlights of South Africa (not just the Garden Route). It picks you up right from your hostel or hotel door and drops you off at your next accommodation. This means no navigating sketchy bus stations or getting lost in a new town in the dark.
Baz offers loads of ticket options, but I opted for the one-way Cape Town to Port Elizabeth ticket, which costs $155 (ZAR 2,950). What's super sweet about this ticket is there is no time limit! You can take your time exploring the Garden Route with no deadlines, and no pressure. Buy your ticket, book your seat on the bus a day or two before you travel, and that's it. Although it's not the cheapest option, using Baz to travel the Garden Route was worth the additional cost for me.
Intercape Bus
The option for getting around the Garden Route on a serious budget is the InterCape bus. I met a few travellers who were getting round this way, and they said it was totally fine. I checked out their timetable, and a lot of the InterCape buses leave super early in the morning (1-3am), which, for me, wouldn't be worth it. It's apparently much cheaper than the Baz Bus though, so will bring your overall cost to travel the Garden Route way down. If you're a confident traveller with plenty of time it's worth looking into.
Uber
I used Uber to get around Cape Town and Port Elizabeth, which felt perfectly safe. Uber in South Africa is so cheap, and the extra safety made me feel reassured. I paid $2.40 (ZAR 43) to get from Once Hostel to Table Mountain in Cape Town, a journey of 4km. I paid $2.15 (ZAR 39) get to the V&A Waterfront from my hostel (4.5km), and $3.25 (ZAR 59) to get from my hostel to Camps Bay (5km).
The total cost of my transport for two weeks: $206.10 (3722 ZAR)
The Cost of Food on the Garden Route
If you're wanting to eat out, it's surprising just how hard it is to find traditional food. If you're a foodie wanting to try the local fare, search way in advance and make reservations.
The food I ate during my 2 weeks in South Africa was inexpensive, but the quality varied massively. It felt like very often the only options were high end or fast food. That being said, the 'high end' meals I had were incredible and worth every penny. As expected, Cape Town is more expensive than the rest of the Garden Route.
For a high end dinner and drinks (fancy restaurant, fresh seafood dish with a side and wine/beer) you're looking at around $20-25. A less formal dinner of pasta and a glass of wine set me back $5.50. A quick lunch of a sandwich, salad or a burger will cost around $3-5.
Most of my hotels included breakfast, which saved me a good amount of money every day. I also ate ramen noodles with snacks such as fruit and yoghurt for a few dinners if I just wanted to chill out at the hostel. This saved me quite a bit of money. If you're able to cook a few meals at the hostel or grab lunch on the go you'll be able to bring your total spending for your 2 weeks in South Africa right down.
Along the Garden Route, expect to pay around $1.55 (ZAR 28) for a latte. A local beer will cost around $2 (ZAR 36). If you're in the market to try my favourite beer of all my travels, order a Milk Stout! Man, I wish I could get my hands on that stuff again.
Total I spent on food and drink in 2 weeks: $212 (3828 ZAR). That works out at $15.14 per day!
Cost of Activities on the Garden Route
Activities on the Garden Route were jaw-droppingly cheap, especially considering how good value they were. Time and time again, I found myself doing something that would have cost four or five times the price back home in the UK.
Unfortunately, being on a tight budget and being stingy meant that I missed out on some experiences which could have been epic. Next time I visit, there are a few activities I'm definitely going to splurge on.
The first will be to go paragliding off Signal Hill in Cape Town at sunset. I saw people doing this whilst I hung out there to watch the sunset. Honestly, it looked like the most epic and out of this world experience (and surprisingly not too terrifying!).
The second will be to go blackwater tubing at Storms River. I'm so mad that talked myself out of this activity once I saw the price tag! It was the only reason I stopped off at Storms River, for crying out loud! Sure, $60 (ZAR 1100) for an activity isn't cheap, but it was also a full-day activity and looked like so much fun. Womp.
Here is a list of every activity I did during my 2 weeks in South Africa that cost me money, and how much I paid:
District Six Museum – $2.50 (ZAR 45)
Table Mountain Return Cable Car – Afternoon (It's slightly more expensive to go in the morning as the skies are often clearer) – $16.65 (ZAR 300)
Cape Peninsula Tour including Boulders Beach – $25.50 (ZAR 450)
Bo Kaap Walking Tour – Donation-based. I paid $13.90 (ZAR 250)
Wine Tasting in Stellenbosch – $66.50 (ZAR 1200) included (and I'm not exaggerating) over 30 wines, lunch, cheese tasting, chocolate tasting and a driver. Some people on my tour paid more, so I think the price is dependent on how you book the tour. I booked my

Stellenbosch wine tour

through my hostel, who must have had a good deal as I paid the lowest out of everybody on the tour!
Full Day Bike Hire in Knysna –$15.30 (ZAR 275)
2 Hour Private Surf lesson in Knysna – $36 (ZAR 650)
Half Day Surfboard and Wetsuit Hire in Jeffreys Bay –$11.10 (ZAR 250). I did this four days in a row!
Total cost of activities over two weeks – $230 (ZAR 4170)
Miscellaneous Costs on the Garden Route
SIM Card: I bought a South African SIM card from Cape Town Airport. For $25 (ZAR 450) I got 2GB of data – more than enough for my 2 weeks in South Africa. I could have possibly found a cheaper SIM outside the airport, but the convenience sorting it out straight away makes the price worth it to me.
Bottled Water: tap water in South Africa is technically safe to drink, but guys… I got some of the worst diarrhoea of my entire life after chugging a litre of the stuff before bed on my first night. Process of elimination meant it was definitely the water. After that, I stuck strictly to bottled water. Huge bottles are so affordable that the cost is pretty much negligible. However, I didn't feel great about the extra plastic I had to use. If I would have anticipated my problems with the water I would have invested in a Grayl water bottle, which purifies all water to make it safe to drink.
Travel Insurance: I always purchase an annual travel insurance policy, and I use MoneySupermarket to find the best deal. I know a lot of bloggers recommend World Nomads, but I haven't heard great things about them. Instead, I just compare policies and pick one that works for me. For a year of cover I paid £33 ($41/ZAR 750). I probably take around 7 trips a year, so that works out to $5.85 (ZAR 106) per trip.
Travel Guide: after swearing by my Insight Guides guide to Vietnam, I Invested in their South Africa guide. This set me back $17.50 (ZAR 317). However, unless you're travelling extensively through South Africa, a lot of the information will be quite redundant for your trip. On my next visit, I'll invest in Lonely Planet's Cape Town & the Garden Route guide, as I expect it to be way more detailed for the area.
Total cost of miscellaneous items during my 2 weeks in South Africa: $48.35 (ZAR 873)
My Total Expenses For 2 Weeks on South Africa's Garden Route:
Accommodation: $118
Transportation: $206.10
Food: $212
Activities: $230
Miscellaneous: $48.35
Total amount spent over 2 weeks in South Africa: $814.45
Average amount spent per day: $58.18! Not bad at all!
Conclusion: the Garden Route is a backpacker's paradise.
That's all from me for now, folks! I'm sure it's obvious by now, but I had the time of my life backpacking the Garden Route! I would go again in a heartbeat. If you have any questions about the cost to travel the Garden Route let me know in the comments below!
Liked this post? Pin It!