There is a good chance that this post contains affiliate links. If you make a purchase through them, I may receive a small commission at no extra cost to you! As an Amazon Associate, I earn from qualifying purchases. As ever, all opinions are my own.
If you're looking for an adventure-packed destination with dramatic coastlines, flowing rivers, and endless forests, look no further – you found it! Tsitsikamma is a jaw-dropping region located in Eastern and Western Cape that is home to the Tsitsikamma National Park.

In Tsitsikamma, there's an adventure waiting in every nook and cranny. The place is teeming with great hiking, kayaking, ziplining, animal watching, and tubing.
You name it, Tsitsikamma's got it!
With so many activities to choose from, planning a trip to one of South Africa's most abundant destinations can get a bit overwhelming. So, to help you plan your trip, let's take a look at 8 of the very best things to do in Tsitsikamma.
A word of warning – Tsitsikamma is one of the adventure capitals of South Africa, so most of the things to do here are paid attractions, so make sure you budget in advance.
Best Things to Do in Tsitsikamma
Go Blackwater Tubing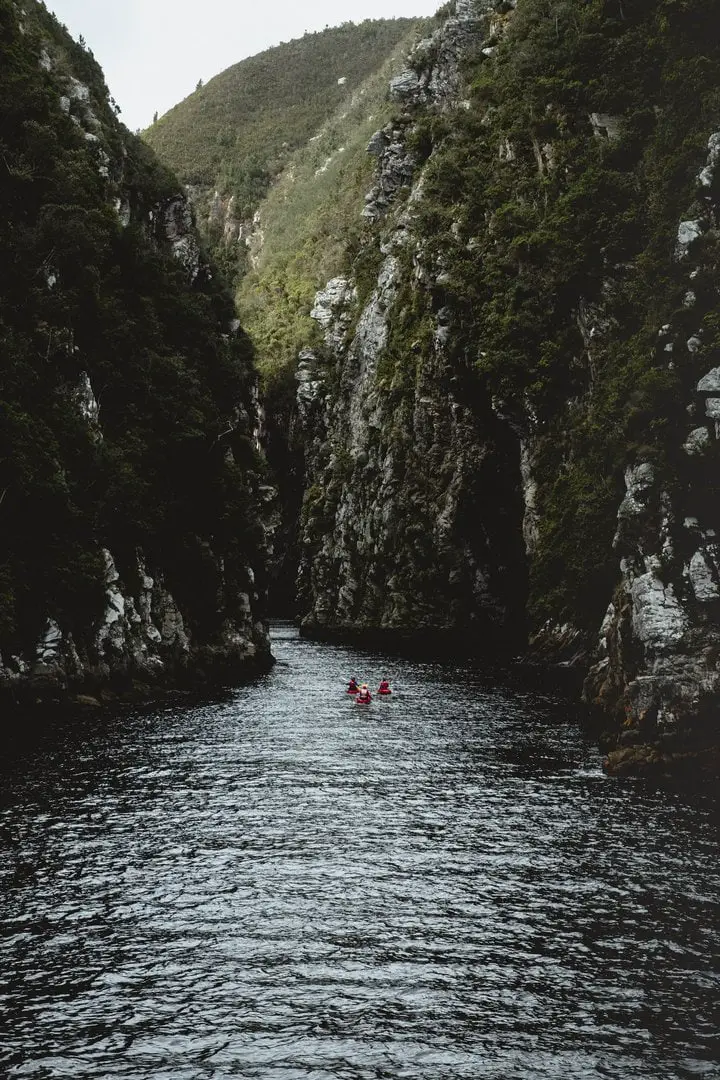 Now that you're warmed up from ziplining, head over to the Storms River for an unforgettable tubing experience! The Storms River gracefully flows through some of the National Park's most remote and gorgeous regions, and you can flow along with it – bliss!
The tubing experience in Tsitsikamma is a fun, all-day activity that takes you down light rapids. In other words, you probably won't get flipped out of your tube (probably). Perfect for first-timers! The trip will include paddling, bouldering, and tubing, so make sure you're up for a big adventure!
 
To ensure a memorable experience, I suggest booking your trip here. Prices run at about €73 (1,255 ZAR) a person.
Go Ziplining
If you've just arrived in Tsitsikamma and are wondering what to do first, I have a simple solution – go ziplining! There's nothing quite like floating through an endless green forest, and Tsitsikamma has some of the most breathtaking views you can find!

On your zipline tour, you'll go deep into nature and traverse from platform to platform across forests and streams. The canopies you'll be soaring through are home to dozens of rare birds, so keep your eye out for them!

Zipline tours book up fast, and it's a good idea to book yours in advance – especially if you're travelling during the peak season (November-March). Book your trip here for around €40 a person (700 ZAR).
Bungee Jumping at Bloukrans Bridge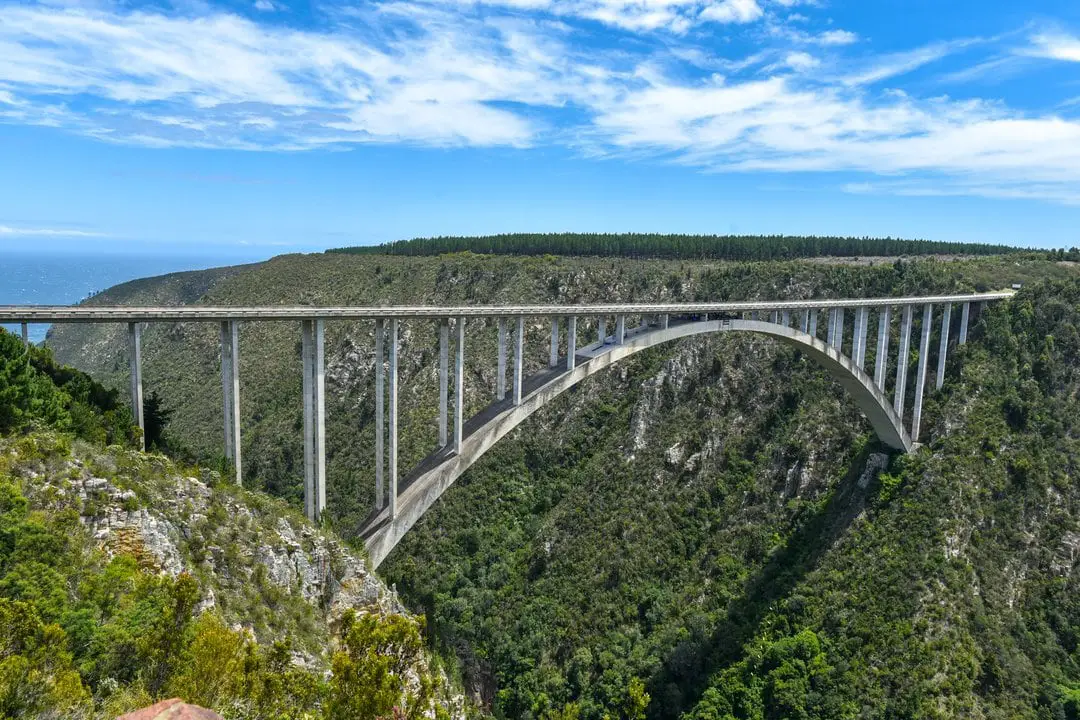 Let me ask you a question: If everyone else jumped off the tallest bridge in South Africa, would you? Inside the Tsitsikamma National Park is the world-famous Bloukrans Bridge. It's famous because it's the tallest bridge in South Africa, standing at 216 meters, and because…well…they sort of…let you jump off it.
Bungee jumping at Bloukrans Bridge is one of the most popular and adventurous things to do in Tsitsikamma, and indeed the whole of South Africa.
Thrill-seekers travel from around the world to leap from its platform and bathe in the view of indigenous forests and rushing water.

Okay, okay, you might be thinking, that's not happening. But hold on a sec! This is a once-in-a-lifetime opportunity, and you should at least consider taking the plunge! You're in South Africa after all!

As one of the most popular activities in Tsitsikamma, it's best to plan your bungee jump in advance, and you can do that right here for €85 (1,460 ZAR)!
Go Hiking
Tsitsikamma is packed with great hiking that will put you up close and personal with the nature around you. From short walks through the forest to multi-day hikes along the coastal cliffs, there are trails for all tastes!
A must-do hike that's great for everyone is the Woodcutters Journey through the Plaatbos Nature Reserve. Your hiking guide will lead you beneath the canopies of the indigenous forest where you'll be face to face with Giant Yellowwoods, Hard Pear trees, and beautiful forest flora.
The guided hike takes about three hours through fairly easy terrain, and it costs about €20 (340 ZAR) a person. Not only will your guide be your personal encyclopedia, but they will also equip you with a snack pack.
Explore Storms River Village
Do you need to catch your breath after all those Tsitsikamma adventure activities? I thought so! Let's look at a free thing to do in Tsitsikamma.
You can take a trip over to the charming Storms River Village to explore and learn how the Tsitsikamma National Park got started.
Trailblazers and hunters, who used convict laborers, created a path through the dense forest to eventually build the Storms River Village in the 1800s. The forest was often so packed with giant trees that the trailblazers followed the paths created by the elephants that roamed there – crazy, right?
You won't see elephants now, though – Storms River is a modern village with restaurants, paved roads and lodges. It's a unique, vibrant town that acts as the central hub of the region.
It's the perfect place to base yourself for your trip to Tsitsikamma too. I stayed in this awesome place (which has a pool!) and definitely recommend it.
Visit The Wolf Sanctuary
Sadly, the elephants no longer roam the region, but there's another species to admire from a safe distance – wolves. The Tsitsikamma Wolf Sanctuary rescues and protects wolves in South Africa and educates the public about common misconceptions.
Wait, there are wolves in South Africa? Yes, but they were slowly brought here by people and unfortunate circumstances. South African wolves are often mistreated, and so the Wolf Sanctuary was created to combat abusive activity.
Bookings are required out of season, and it costs €15 (250 ZAR) for adults and €9 (150 ZAR) for children. The sanctuary is a non-profit that can use all the help it can get! You can learn more here.
The Big Tree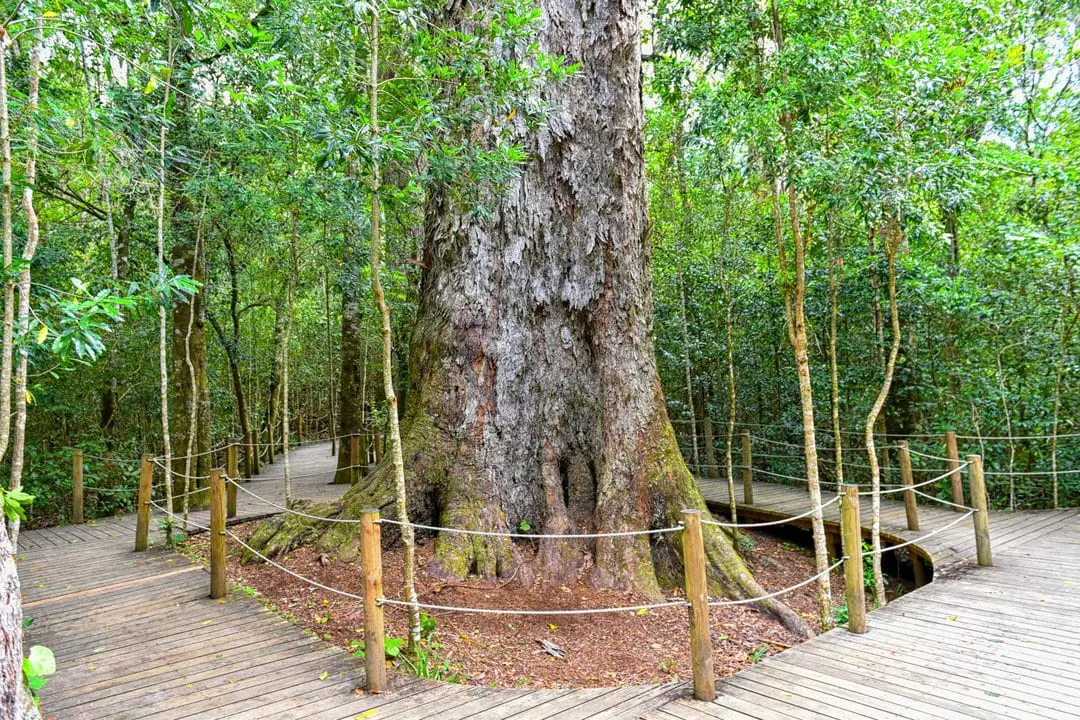 Just past the Storms River Village stands a giant among giants! The Big Tree is a massive Outeniqua Yellowwood that is around 1,000 years old and has a height of 36.6 metres!
To get to the Big Tree, there's a short, but worthwhile, boardwalk that leads you through a beautiful, lush forest. It's an easy, shaded stroll that any confident walker can do!
There's an entrance fee of less than €1 (17 ZAR) for adults and children, making this one of the best things to do in Storms River and Tsitsikamma on a budget.
Go Snorkelling
Let's not forget about the stunning ocean that Tsitsikamma has to offer! Spend the day snorkelling with the region's vibrant sea life! It's an activity that's available all year round and it's great for most types of travellers.

Under the bright blue water, you'll swim across a brilliant coral reef and float alongside the various marine life. It's also a great way to spilt up all your activities in the forest.
Tour companies offer self-guided and guided tours, and, whichever you choose to do, they'll supply you with all the necessary equipment and a few safety lessons. Snorkelling tours cost around €10 to €25 (200 to 400 ZAR).
Best Time to Visit Tsitsikamma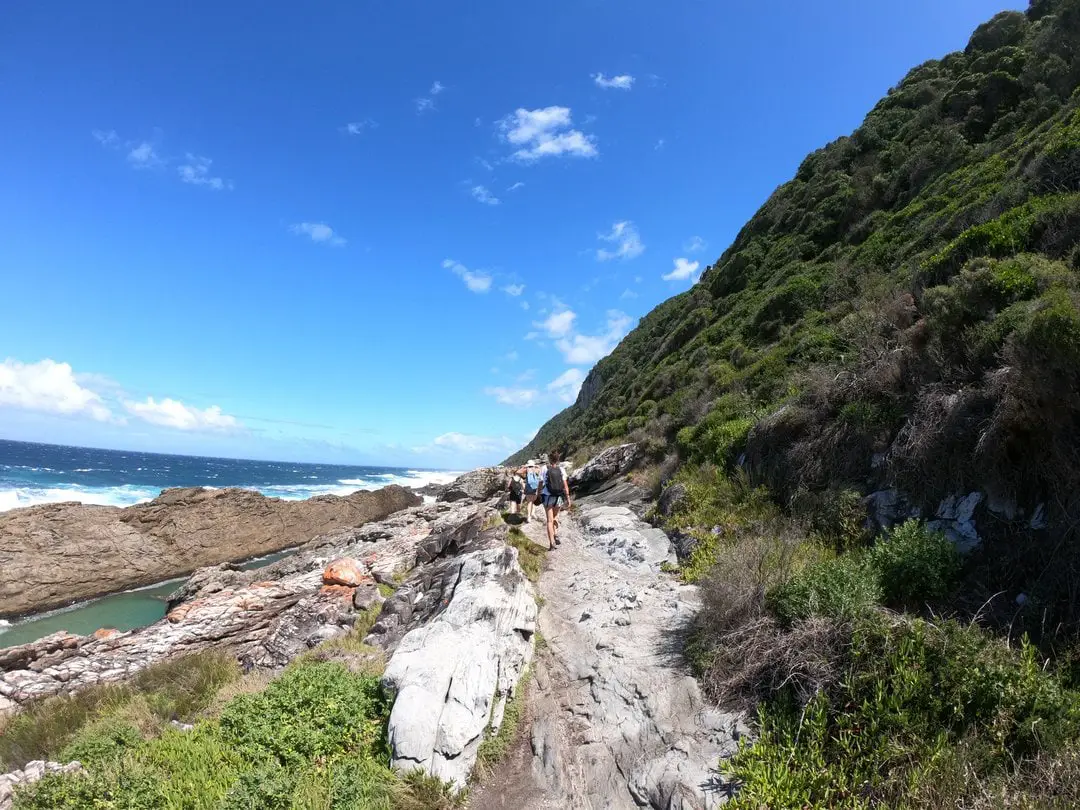 The ideal time to visit Tsitsikamma is in the spring and summer months (October to March), which is also when the most wildlife can be spotted!
You can expect moderate weather that is perfect for hiking, tubing, and all the other great outdoor activities. Keep in mind that the summer months are often the busiest, so it's always best to plan your travel early during this season.
Is Tsitsikamma Worth Visiting?
If you are a nature lover or adventure seeker, Tsitsikamma is without a doubt worth visiting! The region is jam-packed with amazing activities that you'll never forget.

Not a big outdoors person? Then Tsitsikamma might not be your cup of tea. But, if there's someone in your group that wants to sit out while the rest of the gang jumps off a bridge, the Storms River is a great place to hang out.
How Many Days Do I Need in Tsitsikamma?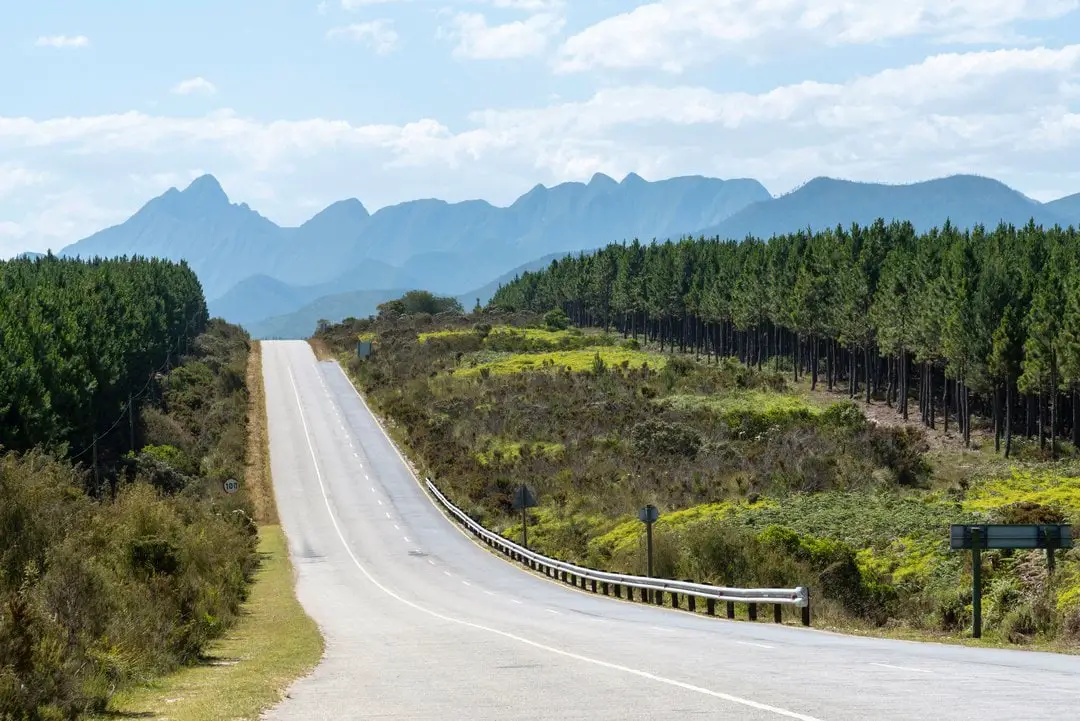 Two days in Tsitsikamma is a good place to start. There are a lot of things to do in Tsitsikamma and nearby Storms River, and you'll have a better idea of how long to stay once you've decided on how many activities you want to fit in.

For serious adventure seeks, there are also multiple-day hikes along the coastal mountains! So, if that's your thing, you'll want to set aside more time.
---
Are you excited to visit one of South Africa's most abundant and special regions yet? It's home to national parks, nature reserves, animal sanctuaries, indigenous forests, and so much more!
Outdoor enthusiasts are guaranteed to have an amazing time here, and it's just down the road from other national parks and the world-famous Jeffreys Bay surf town!
By the end of your trip, you might finally feel confident pronouncing Sit-See-Kama!
Planning a trip to South Africa? Check out these other posts!