There is a good chance that this post contains affiliate links. If you make a purchase through them, I may receive a small commission at no extra cost to you! As an Amazon Associate, I earn from qualifying purchases. As ever, all opinions are my own.
You're planning a trip to Jeffreys Bay, huh? Great choice! It's home to South Africa's most renowned white-sand beaches and surf spots. In fact, it's considered to be the Surf Mecca of South Africa! Now that's a reputation to uphold.
But, which beaches are the best? And who the heck is Jeffrey? Don't worry, because I'm here to be your personal Jeffreys Bay travel guide! Let's check out some of the best things to do in Jeffreys Bay (J-Bay).
From learning how to surf, to sandboarding down dunes, to visiting a world-famous shell museum – yup, you read that right – Jeffreys Bay is a beach-goer's paradise!
How to Get to Jeffreys Bay
The nearest airport to Jeffreys Bay is Port Elizabeth (code PLZ). You'll find Port Elizabeth Airport in the city of Port Elizabeth, which is around 75 km away.
To get from Port Elizabeth to Jeffrey's Bay, the drive will take around 50 minutes.
The Best Things to Do in Jeffreys Bay
1. Take A Surf Lesson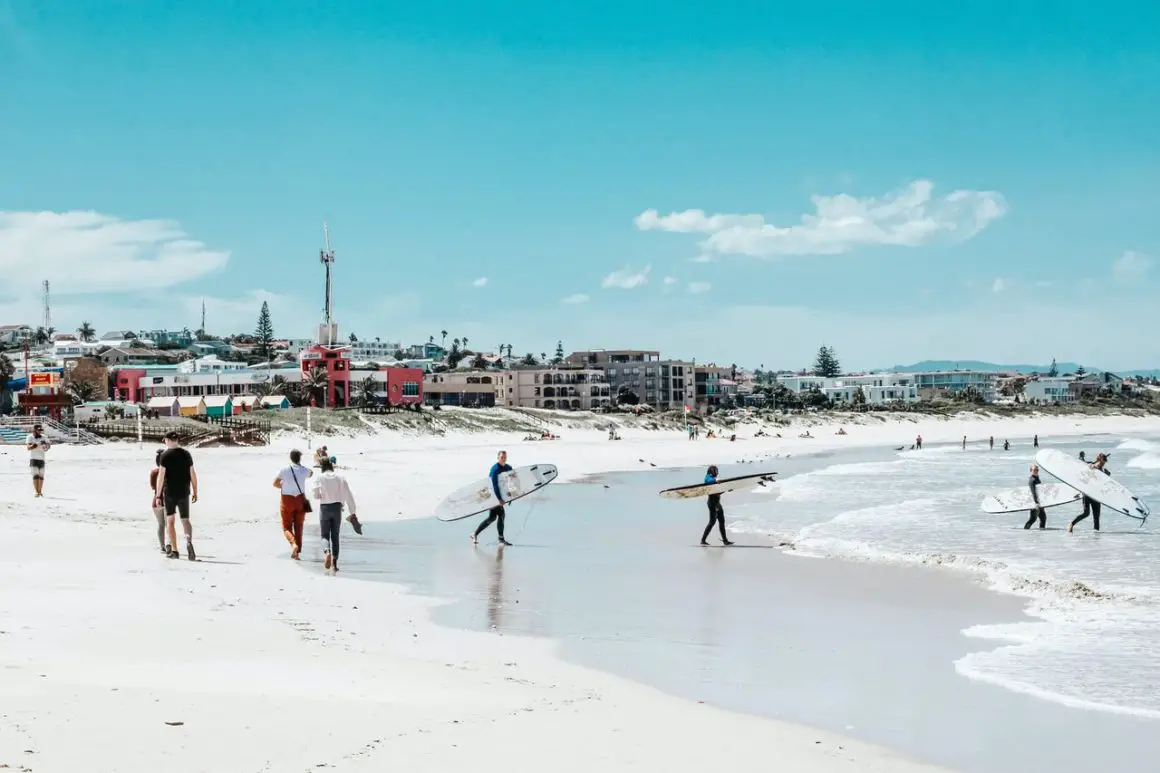 Now, let's get back to talking about that pristine water! One thing to do in Jeffreys Bay is to take some surf lessons. J-Bay is home to world-famous waves, and it's even a stop on the World Surf League tour.
You don't have to be a professional to get your feet wet and give surfing a try, though. JBay is filled with surfing pros who are more than happy to teach you the tricks of the trade and have you riding the waves in no time.
As you can imagine, there are a million surf lessons to choose from in JBay, so I went ahead and found the crème de la crème of surfing instructors to ensure a safe and fun time for the whole gang.
You can book your lesson here for less than €25 a person (430 ZAR) – don't mind if I do!
2. Explore Kabelijous Reserve
Just north of Jeffreys Bay is the Kabelijous Nature Reserve. It stretches for over 2.5 kilometres along the coast, and it contains the Kabelijous River estuary, thickets, wetlands, forests, and wildlife.
Inside the reserve are several great hiking trails that range from three to seven kilometers through moderate terrain.
It wouldn't be a bad idea to pack a pair of binoculars to try and spot some of the 100 different species of birds, mongooses, bushbucks, caracals, and more that call Kabelijous home.
When you finish exploring the reserve, head over to the picnic area by the estuary to relax and regroup before your next Jeffreys Bay activities.
3. Visit Supertubes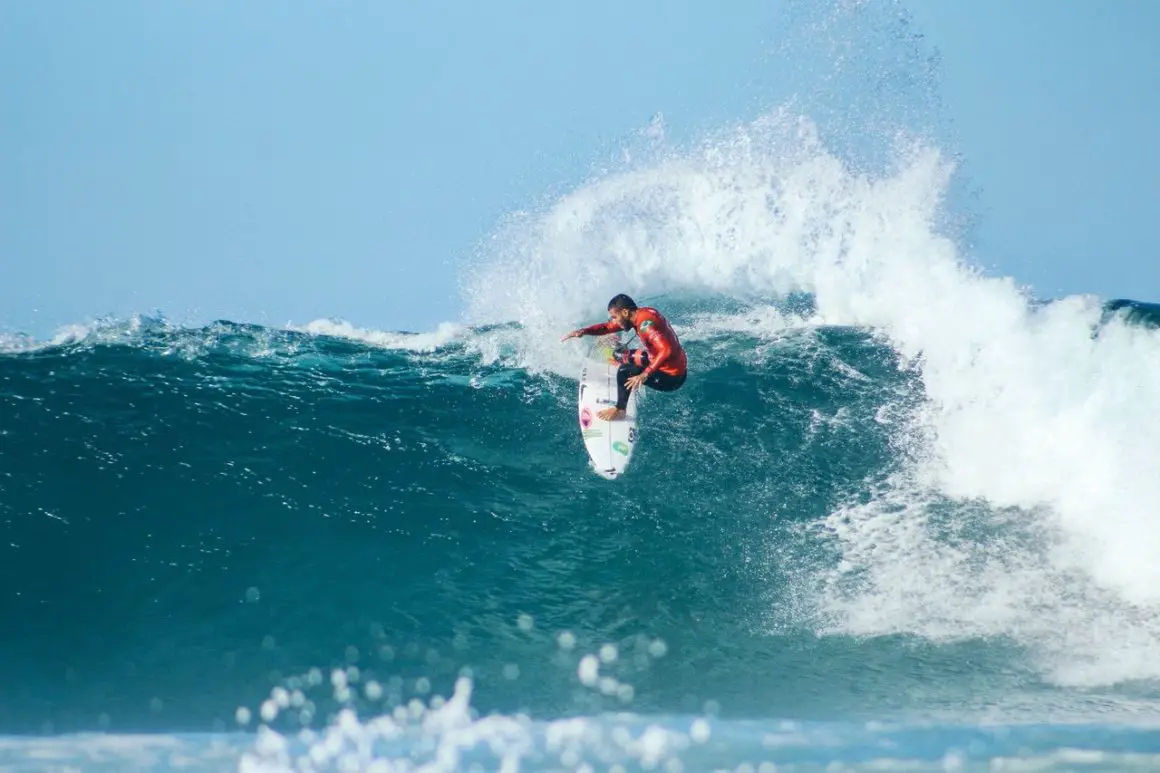 The World Surf League comes to Jeffreys Bay for a reason, and that reason is Supertubes! It's home to one of the best surf breaks in the world, where legendary surfers can be found chasing the perfect wave. It's that good!
The waves tend to be for the more advanced crowd, so if you're just learning how to surf this would be a good time to relax on the beach instead.
Plop yourself under an umbrella, crack open a cold drink, and enjoy the views of picture-perfect waves rolling across the horizon. Keep your eyes peeled for frequent dolphin and whale sightings!
Even if you're not a serious surfer, checking out Supertubes is a Jeffreys Bay activity you can't miss!
4. Go Sandboarding
Let's turn our attention away from Jeffreys Bay's pristine water for a second and direct it towards the beautiful, sandy dunes. Why? Because we're going sandboarding, baby!
One of the most fun things to do in Jeffreys Bay – besides surfing – is linking up with a tour guide company and hitting the dunes!
Sandboarding is a lot easier than snowboarding – you can even sit down. Oh, and you don't have to worry about getting ice down your pants. It's a great way to relax and have some fun on the beach with friends and family of all ages.
If you get hot and sandy, just run over to the water and cool off!
A two-hour session of guided sandboarding only costs about €18 a person (300 ZAR)! Your guides will take you to the best spots and provide all the equipment necessary.
You can book your experience with the best company by clicking here or using the availability tool below!
5. Go Outlet Shopping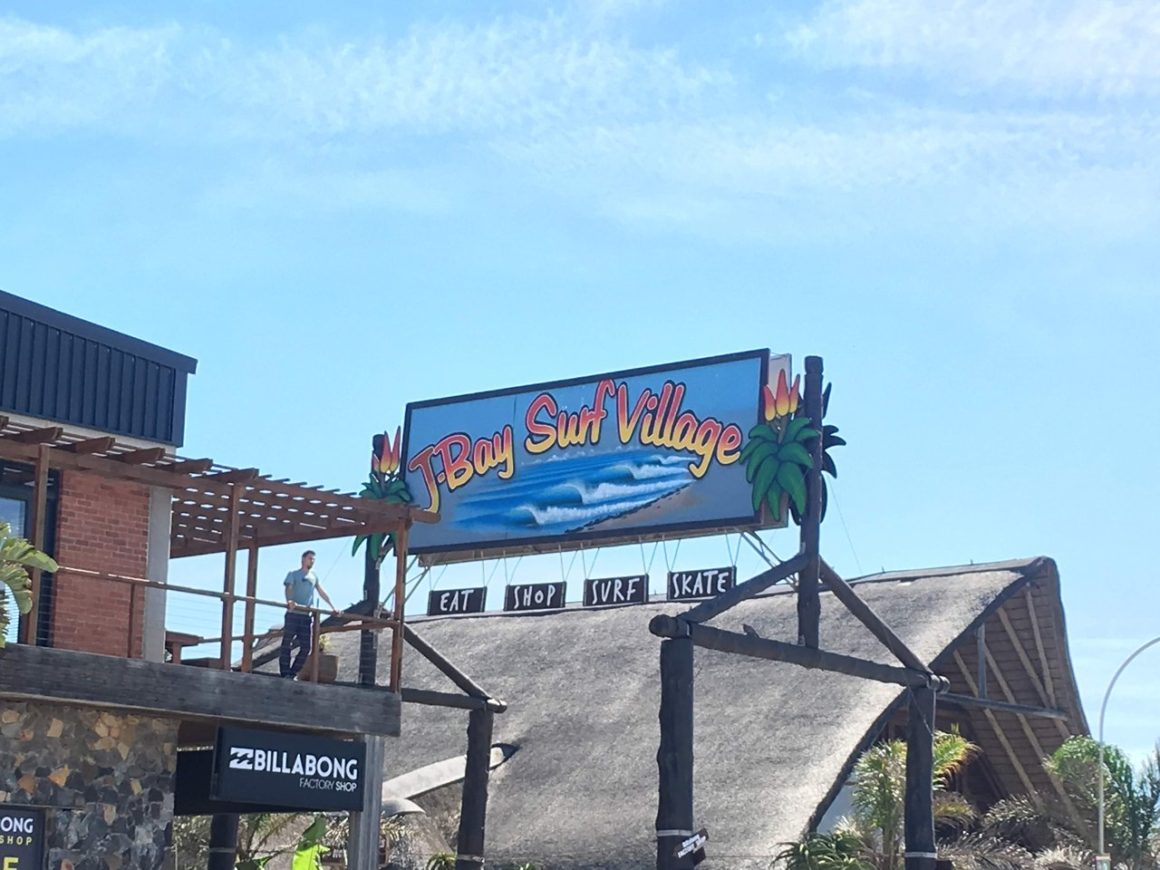 If you're wondering what to do in Jeffreys Bay when it rains, fear not! There are a ton of great outlet shops in the town of J-Bay that are indoors.
You can find outlets and factory shops for all the top surf brands such as Billabong, Rip Curl, Quicksilver, RVCA, and many more! Do be aware, though, that the Billabong outlet shop doesn't always have reduced prices.
At the other shops, you can find top-quality products at major discounts.
For those of you who didn't forget your swimsuit, the shopping outlets are still worth checking out. There are many great restaurants and bars nearby to replenish after a full morning of shopping.
Or, if you headed here in the afternoon check out the nearby Jeffreys Bay Craft Brewery for a cold beer.
6. Visit the Shell Museum
After you've spent the day at the beach, go check out the Jeffreys Bay Shell Museum. There you can find over 600(!) shells from around the world. You'll learn about all the shells you've been seeing on those long beach walks you've been taking.
Friendly guides will take you through the museum and answer all your shell-related questions.
Admission is cheap! It costs less than one euro per person to enter (10 ZAR), making it one of the best things to do in Jeffreys Bay on a budget. There's no excuse to miss out on this Jeffreys Bay activity!
7. Head to the Beach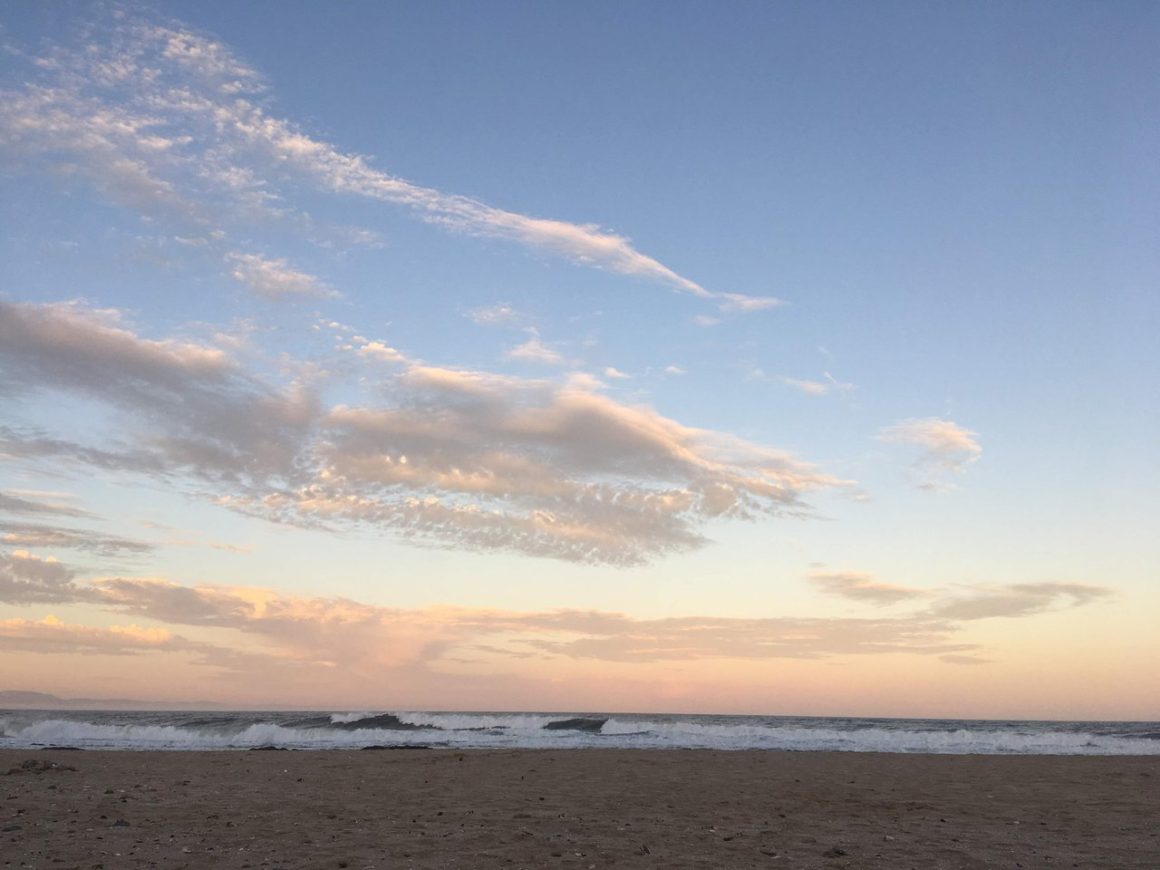 Obviously hitting the beach is one of the top things to do in JBay, but what're the best beaches to visit?
Head over to Paradise Beach for a beautiful white-sand beach. It's a great spot to stroll down the coast or go for a swim.
If you walk far enough, you'll make it to the small town of Cape St. Francis to grab a bite to eat and check out the famous Seal Point Lighthouse and other attractions!
Dolphin Beach is home to the famous Supertubes surf break that I was talking about earlier. It's one of Jeffreys Bay's most popular beaches, and for a good reason.
The beach is gorgeous, and the shoreline is packed with seashells! Watching the sunset here is easy one of the most romantic things to do in Jeffreys Bay.
Point Beach is another popular surfing spot just east of Dolphin Beach. The swells are generally smaller here, but the waves are known to be some of the longest rides in JBay. Grab a board and have some fun!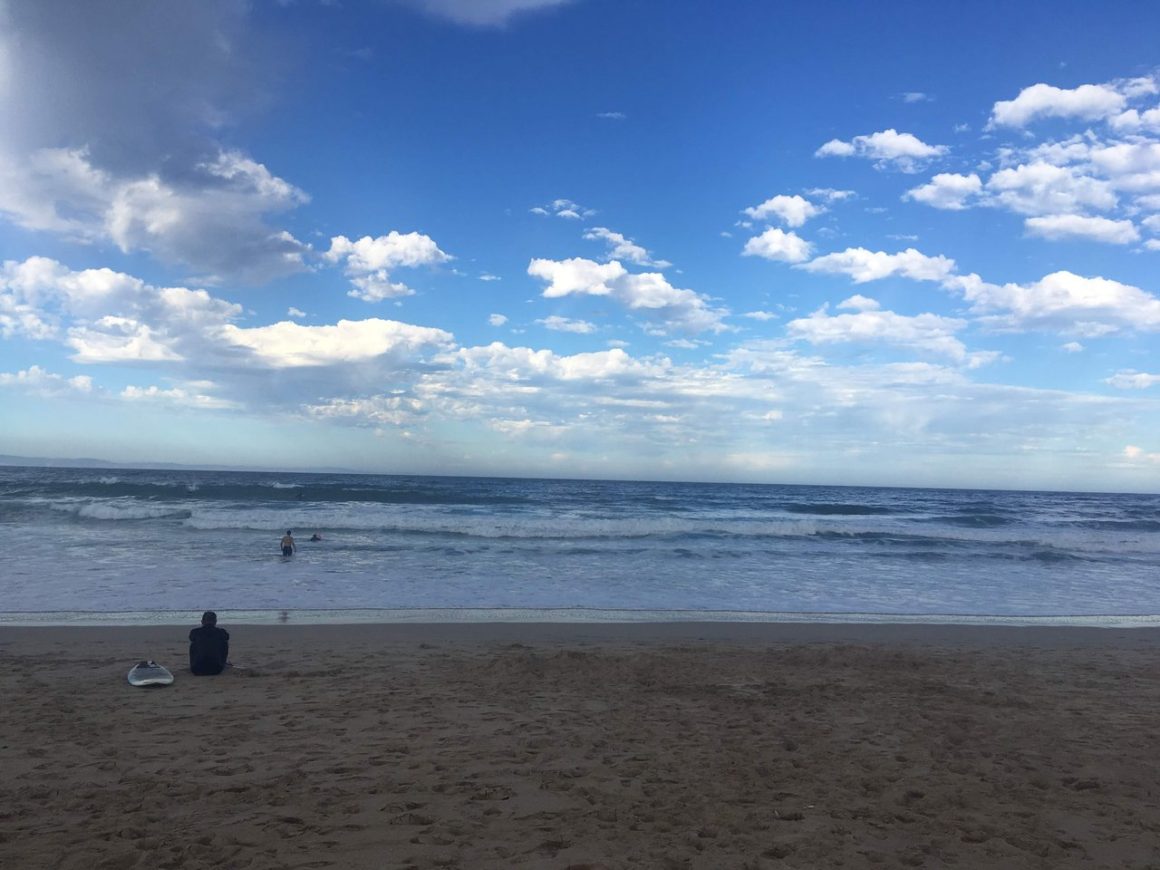 8. Visit the Surf Museum
Jeffreys Bay has become the popular destination it is today because of its reputation as one of the best surf spots in the world. To pay tribute to that, a surf museum was built!
In the museum, which is free to enter, you'll learn about the legendary figures who trailblazed the sport of surfing, and how surfing impacted the development of J-Bay.
The museum will take you on a historical journey of the surfboard-making process, from wood boards to high-tech, ultralight fiberglass boards.
Important note! The Surf Museum is located inside the Quicksilver shop, and it won't pop up when you search for it on Google Maps.
Best Time to Visit Jeffreys Bay
Alright, now that we know all the best things to do in Jeffreys Bay, when's the best time to visit?
Well, that depends on you!
The summer months in South Africa are from December to March when the sun is out and the water is warm. If you're looking to avoid the crowds, consider planning your trip after the holiday months. February and March would be ideal.
I visited March and the weather was fantastic. Just don't forget to book your tours in advance before they sell out!
If you're a surf fanatic, you might want to plan your trip during the winter months when the waves are at their best. The World Surf League comes to JBay during July, so you can go surfing with the pros!
However, keep in mind, it will be packed around the time of the contest and accommodation prices will skyrocket.
J-Bay doesn't necessarily have a rainy or dry season, but the highest rainfall occurs during the shoulder months of spring and autumn.
Read More: The Cost of Travel in South Africa: My Detailed Budget Breakdown!
Is Jeffreys Bay Worth Visiting?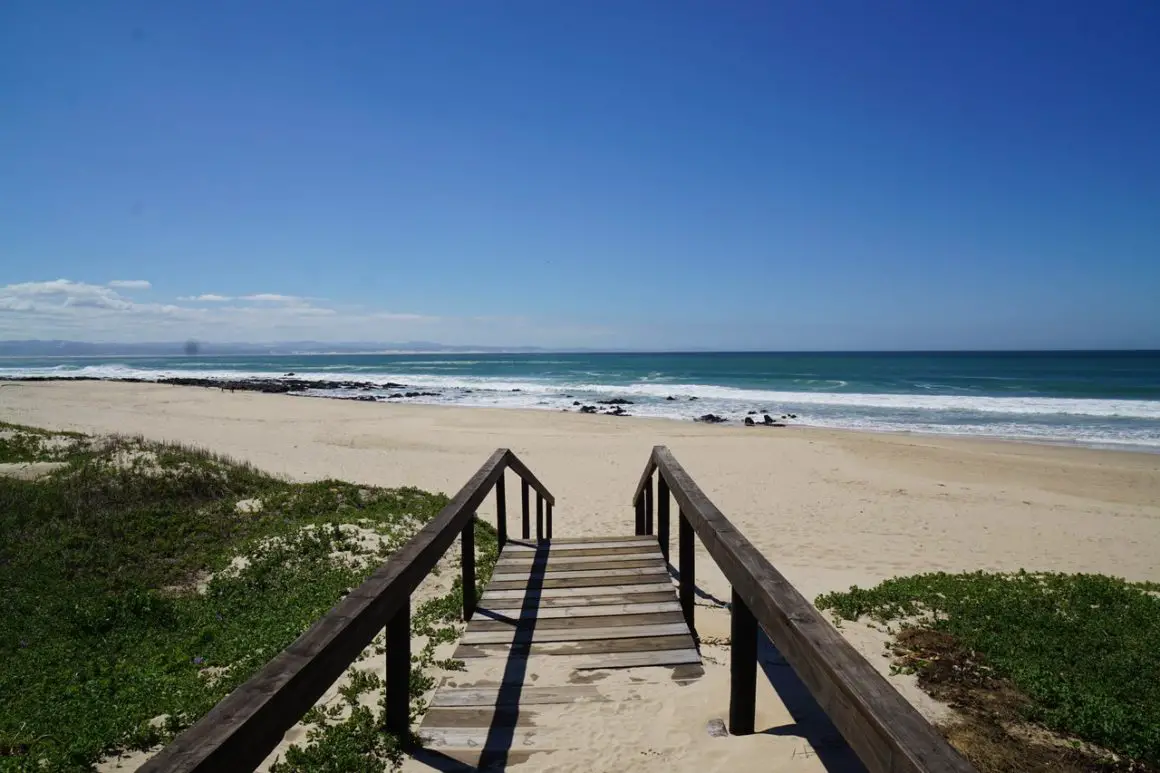 Jeffreys Bay is hands-down worth visiting if you're a surfer. It's home to some of the best waves and barrels in the world, and the town is built around surf culture.
Throughout the year, professional surfers are spotted out in the water, so you never know who you'll bump into.
For non-surfers, Jeffreys Bay still a place worth visiting – as long as you're a beach person! There are great activities to fill up your day and beaches to stretch out on. You just might not want to stay as long!
How Many Days Do I Need in Jeffreys Bay?
If you're not planning on surfing in JBay, two days should be enough time to get a taste of the town and relax on the beach. For serious surfers, you could stay a lifetime and not want to leave those perfect waves at Supertubes!
Where to Stay in Jeffreys Bay
The lovely place I stayed at in JBay has now unfortunately closed down, but that doesn't mean I don't have any recommendations for you!
I stayed in JBay for four days as part of a longer South Africa trip, so I ended up speaking to quite a few people about the places they stayed at.
Hostel
I heard great things about this hostel, which is a 10-minute walk from the beach, has a very social vibe, and is clean. Oh, and its low prices make it perfect for budget travellers!
Click here to check latest prices and availability.
Hotel
If you'd prefer a bit more privacy, check out these epic beachfront apartments!
The view from this place is to-die-for, you'll be just steps away from the beach, and it's the perfect solution if you want to travel somewhere beautiful on a mid-range budget.
Click here to check latest prices and availability!
---
So now you know what makes Jeffreys Bay so special! Its endless white-sand beaches and perfect waves have been drawing in people from around the world for years.
Oh! And don't think I forgot to tell you who Jeffrey is… Legend has it that the town is named after Captain Jeffreys who sailed around the East coast of South Africa in the 1840s.
Others say that the town was named after the senior partner of the firm Jeffrey & Glendinnings that opened a store here way back in 1849.
So I guess the answer is – nobody knows!
See you in the water!
---
Where are you travelling next after Jeffrey's Bay? Check out my post all about the best things to do in Tsitsikamma, which is just a 75 minute drive away!