There is a good chance that this post contains affiliate links. If you make a purchase through them, I may receive a small commission at no extra cost to you! As an Amazon Associate, I earn from qualifying purchases. As ever, all opinions are my own.
Looking for a rejuvenating getaway in a laid-back destination that has a slow pace of life and stunning historical architecture? Then let me introduce you to the city of Altea in Spain!
Located in Alicante on the coast of Costa Blanca, Altea is nothing short of a relaxed yet charming paradise. The city has two sides — an old, picturesque side perched on the top of a hill, and a relatively new neighborhood that has the feel of a cosmopolitan city.
If you're planning a trip to Altea, you'll want to know the best things to do, places to stay and what to pack — which is exactly what I'll cover in this travel guide! So, let's wander around Altea's cobbled streets together and explore the city.
Stick around till the end for an honest opinion on how many days you need to spend in Altea!
Where is Altea?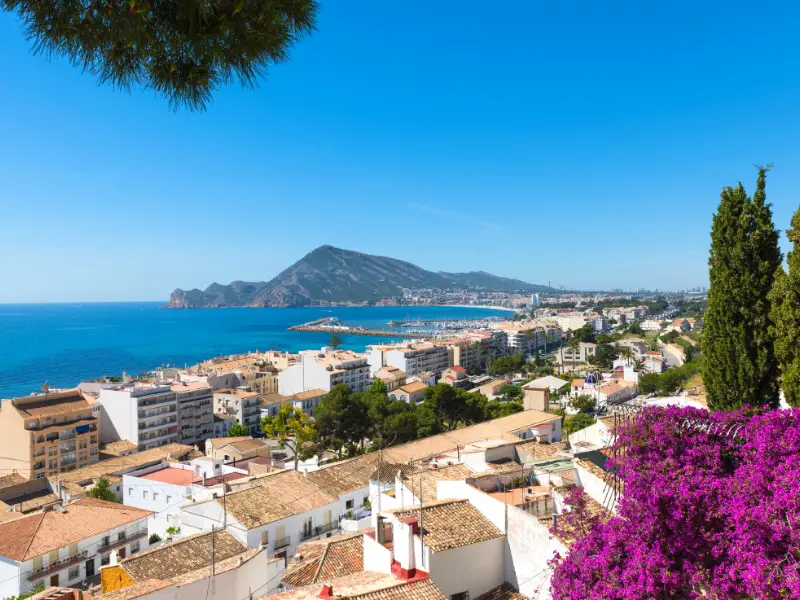 You'll find Altea on the coast of southeastern Spain, and it's one of the many popular tourist towns on the Costa Blanca. Altea is around 10km from the popular holiday destination of Benidorm, but the two destinations feel worlds apart!
Unlike Benidorm, Altea still feels authentically Spanish, and is the perfect place to visit if you want a relaxed couple of days on the coast.
How to Get to Altea, Spain
The nearest airport to Altea is Alicante, which is around 70km away. To get to Altea from Alicante Airport by public transport you'll need to catch a bus from the airport to Benidorm, which takes around 45 minutes, and then catch another bus from Benidorm to Altea, which takes around 15 minutes.
To get to Altea from Madrid you'll need to catch a train and a bus, and the journey will take around 4.5-5 hours.
Best Things To Do In Altea, Spain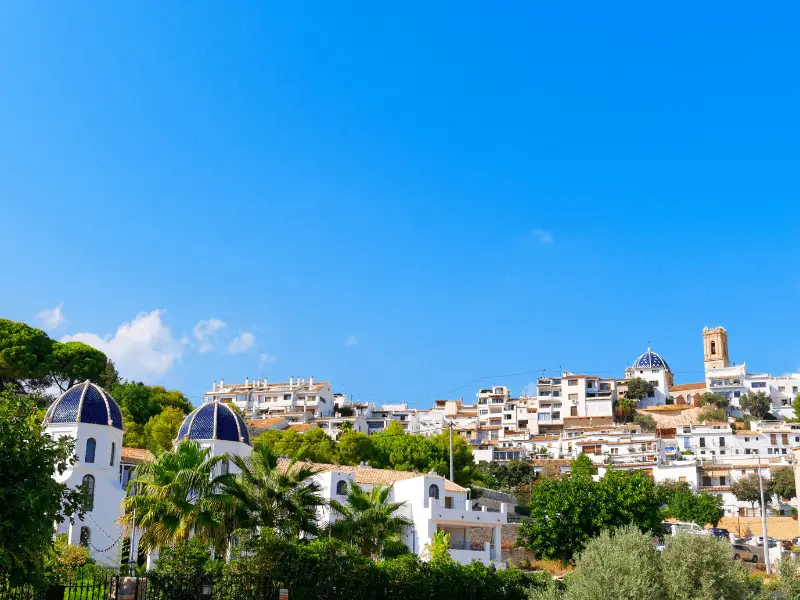 Altea, Spain is a small, compact city, but even then, you can find a good number of things to do to keep you (and your travel companions) entertained.
Here are my top 7 picks you simply need to add to your Altea itinerary!:
Catamaran Cruise
Setting sail from Altea, this catamaran sightseeing cruise provides the opportunity to soak up the sun and enjoy the panoramic vistas around Altea, ending with a nice swim in the clear waters of the Mediterranean.
The €22 ticket gives you access to the catamaran sightseeing cruise with snorkeling equipment available so you can explore Altea's crystal clear waters.
Campomanes
Also known as the port of Greenwich Marina, Campomanes is a must visit during your stay in Altea. This is the city's glamorous marina, and here you can snag impressive views of luxury yachts whilst enjoying a drink (or two) at one of its high-class bars.
Altea Old Town
An artist's dream, the Altea Old Town preserves traditional Spanish charm. You won't be able to stop yourself from reaching for your camera whilst strolling its ancient streets.
In the Old Town you'll find quaint cafes and boutique shops, plus a mesmerizing blue-and-white domed church, the Parroquia Nuestra Senora del Consuelo. You'll also find plenty of craftsmen's studios where you can stop by to take a look at their work.
The Old Town sure makes for fantastic Instagram-worthy pictures and authentic souvenirs!
Sierra Helada
A 5-mile-long mountain plus natural park, Sierra Helada provides sweeping views of the Mediterranean from its many hiking trails. If you are physically fit and up for a tough hike, trekking to Sierra Helada is oh-so-worth-it.
This strenuous hike extends to 439 meters above sea level, giving you access to hidden crags and beautiful species of flowers along the way.
Torre de la Galera
A historical landmark located in Altea, Torre de la Galera is a must-visit for history enthusiasts. The tower was built in the 16th century and has recently undergone modern touches. It has now been declared a Cultural Asset of National Interest.
If you're seeking a visit to one of the oldest-standing buildings in Altea, this tower should be on your itinerary.
Altea Beaches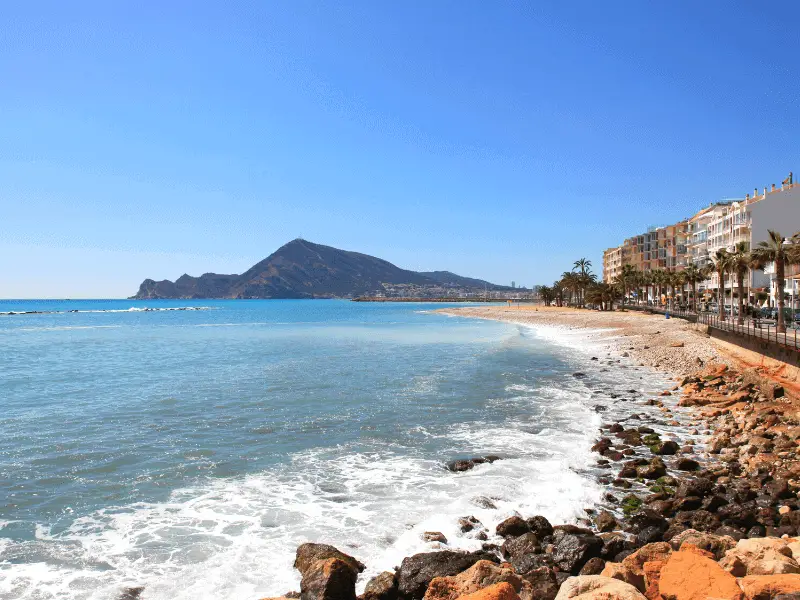 From peaceful coves to extensive stretches of sand, it's easy to find a beach in Altea to suit your taste. Altea's two main beaches are Playa de la Roda and Playa de Cap Blanch, but their easy access means they can get busy.
If you're seeking a more secluded experience, you can consider Pueblo Macarat.
Fun fact: most of Altea's beaches are pebbly with a mix of sand!
Orthodox Russian Church
Built largely from wood and adorned with gold, a visit to the Orthodox Russian Church is one of the most unusual things to do in Altea and makes for another interesting addition to your itinerary.
It was designed to resemble a 17th-century Russian church and has an interior you could marvel at forever. To explore the Russian church you'll have to head here on a weekday, when the church welcomes visitors from 10am to 2pm.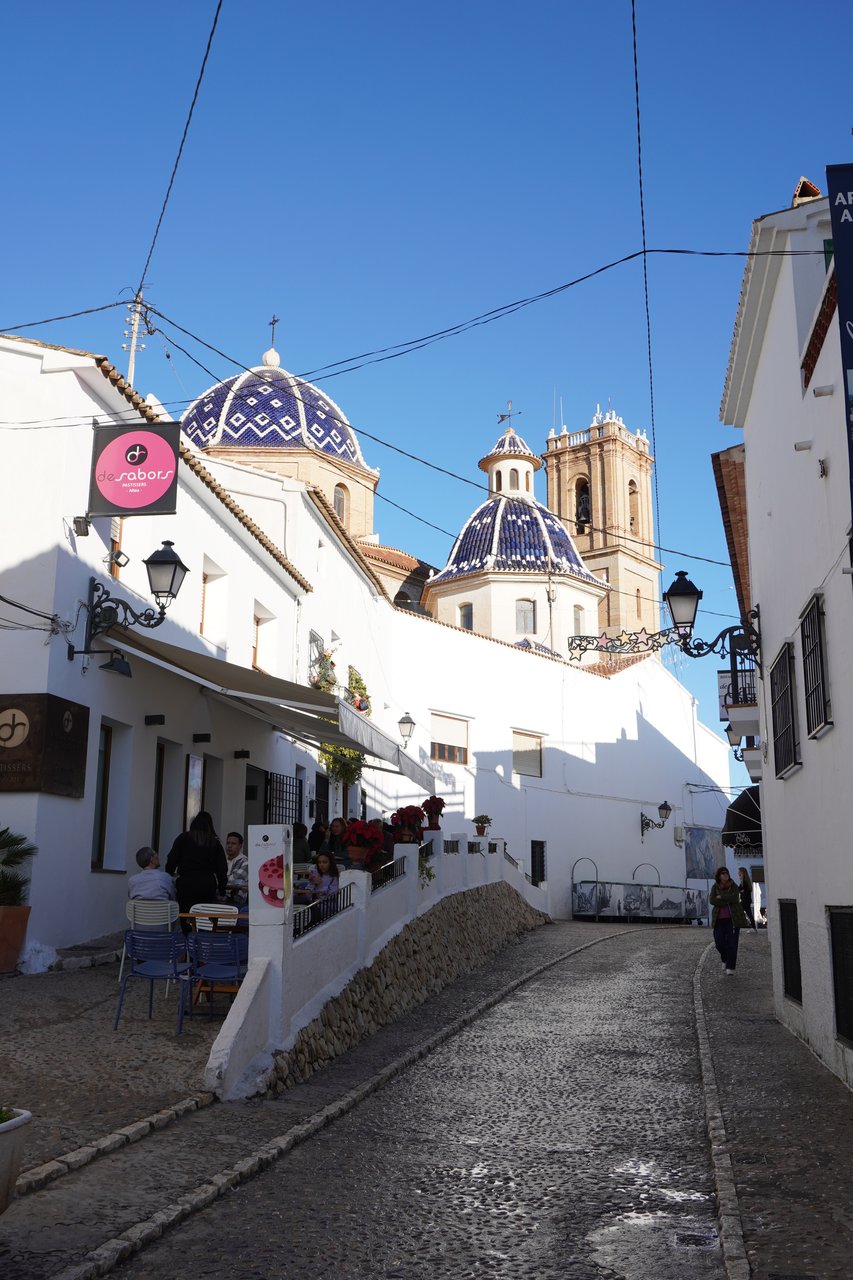 Best Restaurants In Altea, Spain
Altea may be a small city, but it has numerous opportunities to devour local Mediterranean bites and sample some cuisines from around the world! If you're looking for the best places to eat in Altea, here are some of the most popular:
La Costera De Altea — this family-owned restaurant seats no more than 19 people at once. Featuring a modest exterior coupled with a cozy ambiance, this place serves delicious food plus exquisite wine. You can expect to pay more here compared to other local restaurants, but the depth of flavors in the dishes makes it worth it!
Quel Que Quieres — this is one of the best restaurants of Altea serving Mediterranean, European, and Italian cuisines. The staff are friendly and welcoming, and the food served is made with love (the taste will prove it)! If you happen to visit, don't miss their homemade Tiramisu!
Crown Of India — This Indian restaurant in the Old Town is the perfect place to get away from Mediterranean cuisine and try something different. As well as their varied menu their decor is stunning to look at. Be sure to book a table on their rooftop terrace! The beautiful ocean views will make your dining experience even more memorable.
Bonus recommendation: if you have a sweet tooth head to Qvo Helado Artesano for mouthwatering desserts and arguably the best ice cream in Altea!
Where to Stay in Altea, Spain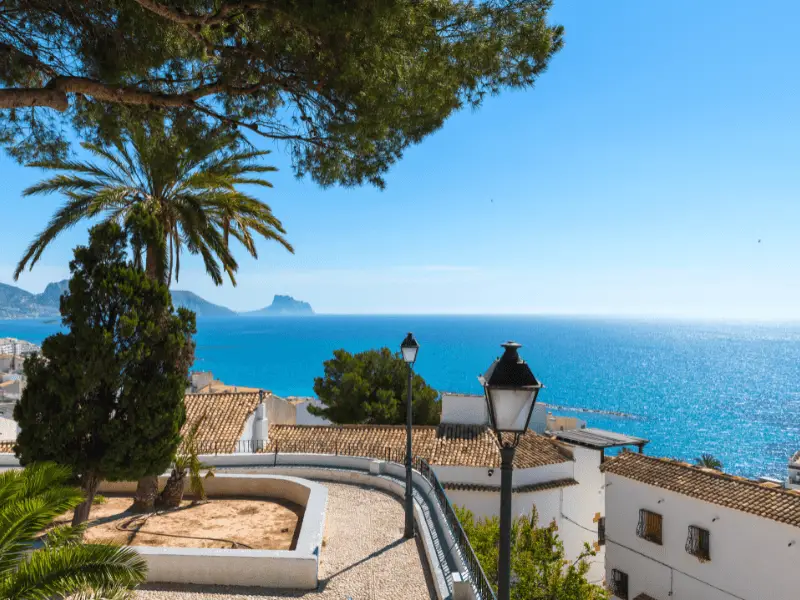 Budget Hotel
At just a 5-minute walk from the beach, this modern apartment is the perfect option for those travelling to Altea on a budget. It even has two bedrooms, so if you're travelling as a group it'll be even cheaper! Plus, since the apartment has its own kitchen you can save even more money by cooking your meals here. Hooray!
Mid-Range Hotel
If you're looking for accommodation that has it all, look no further than this top-rated resort! With gorgeous boutique rooms, a huge pool for you to cool off in and epic sea views, this is the perfect place to stay if you're looking for somewhere to unwind in the sun for a few days.
How Many Days To Spend In Altea, Spain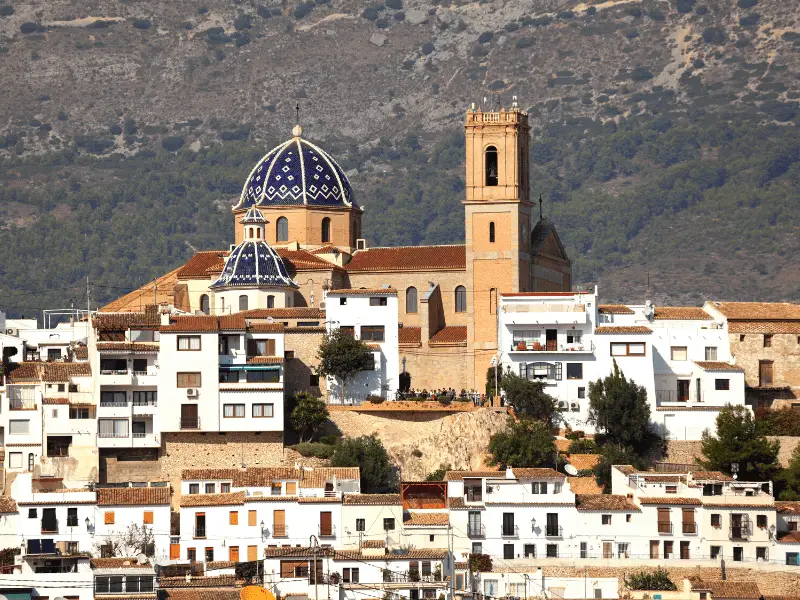 Considering the size of Altea, it's very easy to explore the best it has to offer on a half or full-day trip. You can also just about find enough to do to fill a two-day trip if you're taking things slower. If you're wanting to keep busy on your trip to Altea then anything longer than that would be too long!
However, with so many stunning beaches and plenty of resorts with pools to choose from, many people plan to spend a week in Altea and combine a few days of sightseeing with a few days lounging by the pool, sunbathing on the beach, and doing plenty of relaxing.
It all depends on what type of trip you're looking for!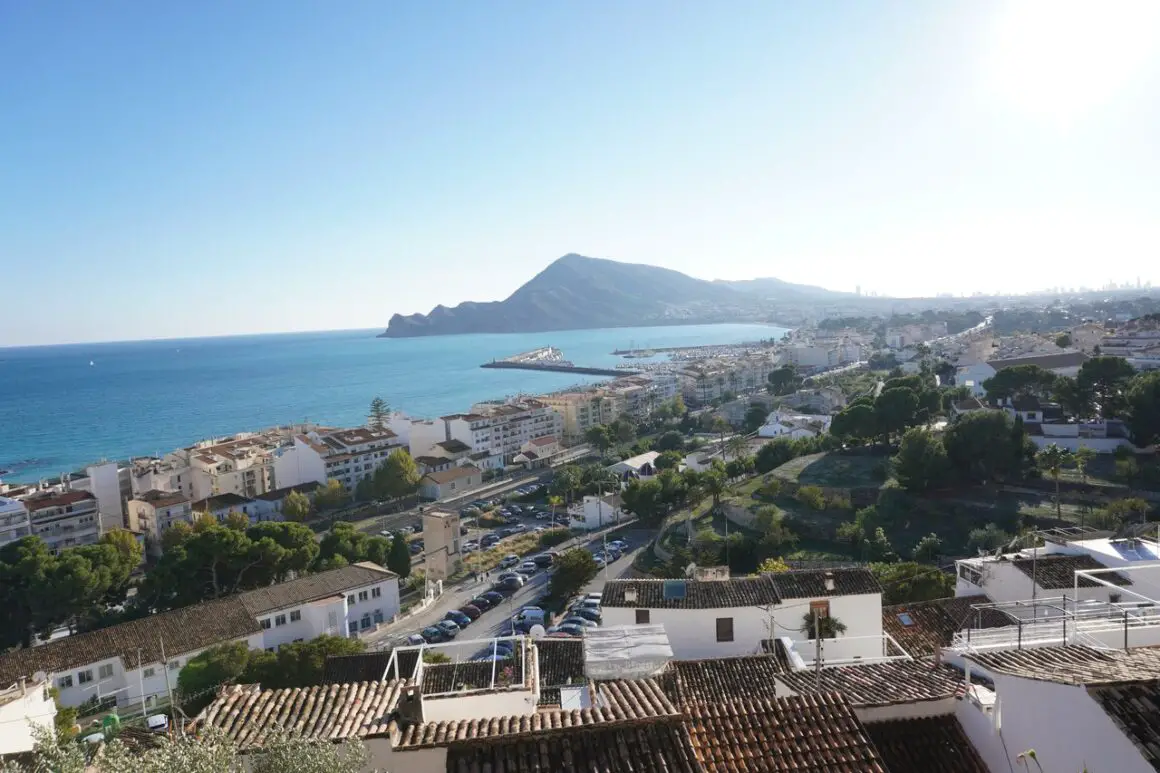 What to Pack for Altea
You won't need to pack anything specifically for Altea that you wouldn't need for a trip to anywhere else on the Costa Blanca. However, there are a few travel essentials I always recommend for travel to warmer destinations on the coast:
This quick-dry towel is my go-to! It dries super quickly, so you don't have to carry a soggy towel around with you, rolls up into a tiny ball, and sand doesn't stick to it. It's perfect for a beach trip.
Reef-friendly sunscreen is the way to go if you want to protect your skin without polluting and damaging the ocean and marine life there.
This waterproof phone lanyard. If you want to go into the sea but don't want to leave your valuable belongings on the beach I can't recommend getting one of these enough! You can put your phone, money and ID in the waterproof pouch and wear it around your neck as you go for a paddle or swim. I also love that the case is see-through, so you can take selfies and videos underwater!
I'm obsessed with guidebooks and love to read about the destination I'm travelling to whilst I'm on bus or train journeys or sunbathing at the beach. I recommend packing the Lonely Planet Spain guidebook to help you to plan your trip.
Best Travel Insurance for Spain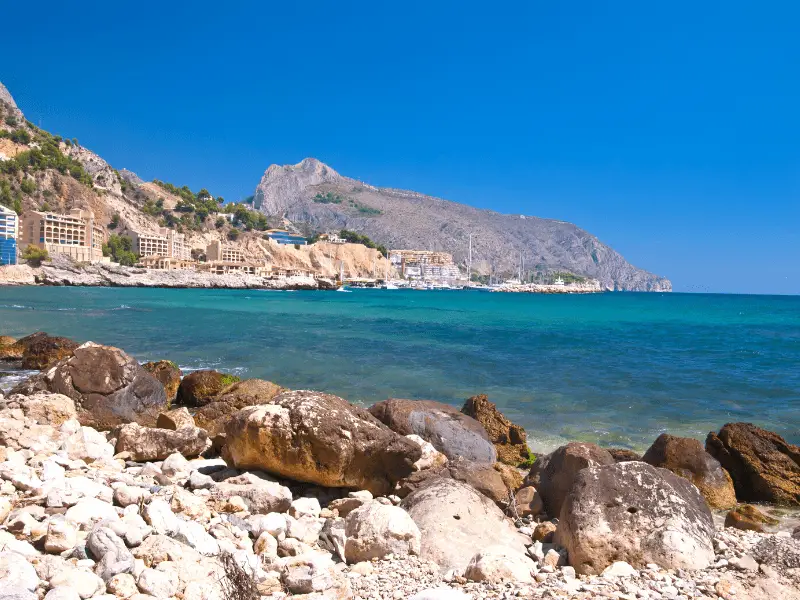 I've never travelled without insurance, but it's scary just how many people do. You can be as careful as humanly possible, but bad luck happens to all of us and some things are just totally out of our control. 
That's where travel insurance comes in. Get your wallet stolen? Fall sick and need emergency medical treatment? The airline loses your luggage? No problem, your insurance will have you covered.
It's unlikely that anything bad will happen to you in Altea, or Spain in general, but having insurance could be the difference between the trip of a lifetime and a total nightmare.
For travellers from outside the EU I recommend World Nomads. This is probably the most popular insurance in the world for adventurous travellers. It also covers a ton of fun activities so you can go hiking or mountain climbing with no worries.
Click here to get a quote from World Nomads!
For my EU readers I recommend SafetyWing. World Nomads isn't available to EEA residents at the moment, so SafetyWing is a great alternative. They offer a pretty similar service and cover package and very competitive rates.
Click here to get a quote from Safety Wing!
Is Altea Worth Visiting?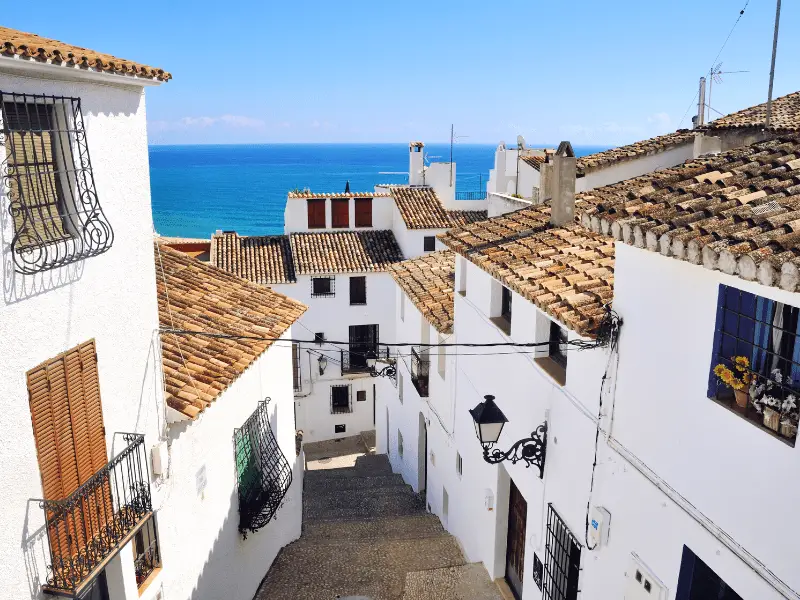 The honest answer to this question is more or less relative. If you're someone who enjoys a calm, rejuvenating holiday at a quiet destination, Altea is definitely worth visiting. After all, it's gorgeous!
If, on the other hand, you are aiming for a thrilling trip with a jam-packed itinerary full of sightseeing, Altea is probably not worth visiting. If you do decide to visit, a half-day trip will be plenty.
Once again, whether or not Altea is worth visiting totally depends on the type of traveller you are and the type of getaway you're looking for, but hopefully this information has helped you to decide!
Take The Rein And Explore Altea, Spain!
Altea is a serene and scenic destination to visit for those who enjoy a slower-paced holiday away from the madness of Benidorm.
If you have any questions at all that I haven't answered in this Altea, Costa Blanca, travel guide, please feel free to drop me a comment and I'll do my best to answer!
Have a great trip!