There is a good chance that this post contains affiliate links. If you make a purchase through them, I may receive a small commission at no extra cost to you! As an Amazon Associate, I earn from qualifying purchases. As ever, all opinions are my own.
Last Updated on June 28, 2022 by Ella
On the Southeastern coast of Spain you'll find an area called the Costa Blanca, which encompasses over 200km of glittering coastline, jaw-dropping beaches, and a tonne of wonderful things to do and see! The Costa Blanca also has plenty of gorgeous towns, and you'd really miss out if you didn't visit at least a few during your time here!
The Costa Blanca is an incredibly popular holiday destination, and plenty of visitors to the area find themselves struggling to choose which of the many Costa Blanca towns are worth visiting or booking accommodation in. 
That's where I come in!
I spent three months living on the Costa Blanca, and during that time I learnt a lot about the area and the best things to do and see there. So, today, I'm going to share the very best towns to visit on the Costa Blanca to help you plan your next trip!
The Best Towns to Visit on the Costa Blanca
Denia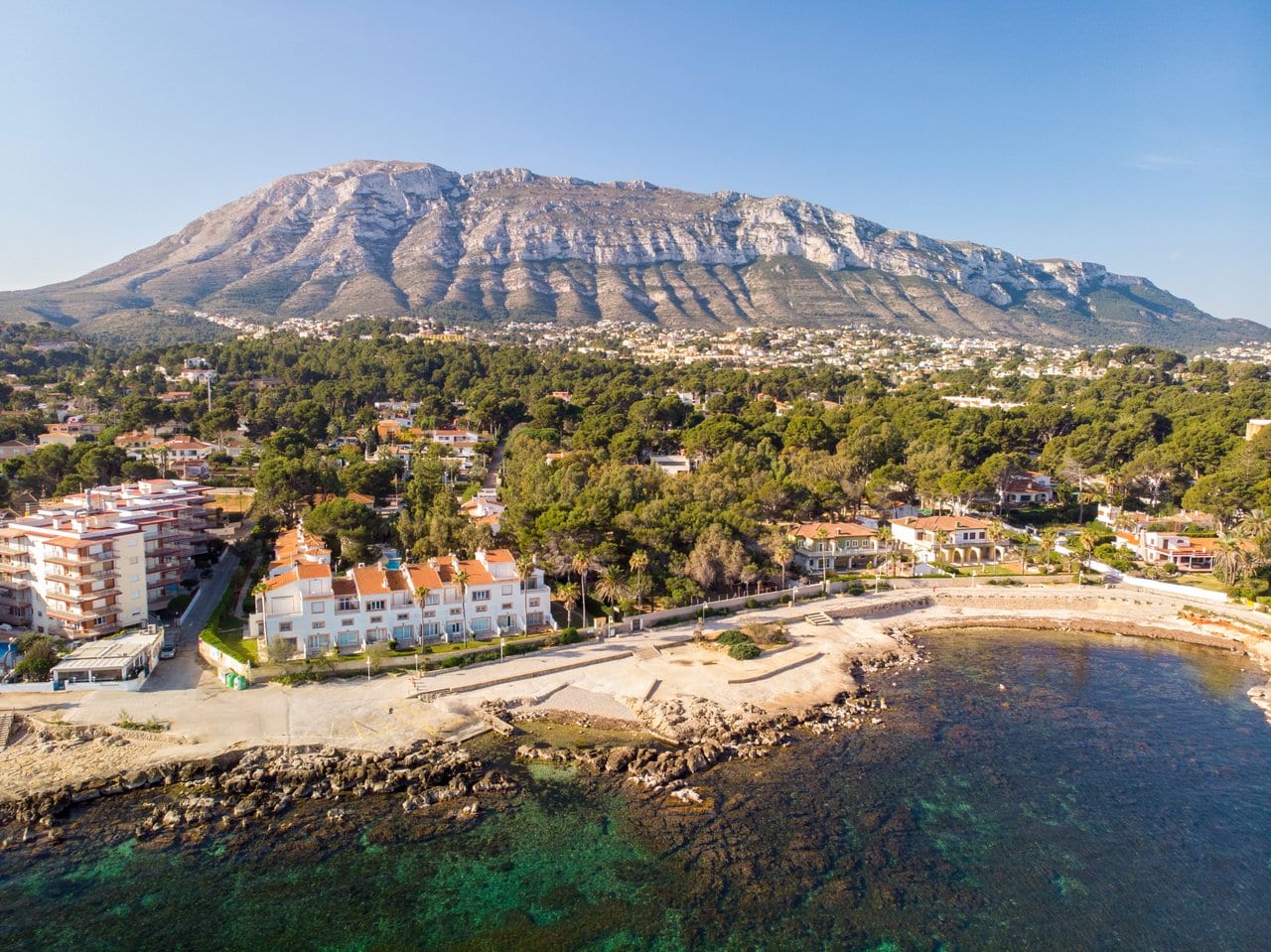 Among the numerous tourist destinations on the Costa Blanca, Denia is one of the most charming towns. It's also the one I'm most familiar with since I lived there for three months!
If you're looking for a memorable beach vacation, but also some fascinating lifestyles and activities, Denia is the perfect place for you! In particular, the mediaeval historic centre that's great to explore. If that wasn't enough, Denia has an active harbour area, where you can take boat tours like this one along the gorgeous coastline. 
The historic centre of Denia provides a fascinating blend of contemporary architecture and mediaeval structures, such as the Denia Castle. The castle is the town's main tourist magnet and exploring its walls is one of the best things to do in Denia. From the top of the castle you'll enjoy fantastic views of the old town and the coast. 
However, for the best views over Denia, you should definitely head out on a hike in the Montgó Natural Park which is home to 650 different species of foliage and fauna. The best hike is up the Montgó mountain itself, which towers above Denia and the coastline.
For many visitors, Denia's beaches are the main attraction. The town has a shoreline of nearly 15km, which is divided into two areas. There's Las Rotas, characterised by rocky and quiet bays, and Las Marinas, with long and gorgeous sandy beaches. 
Related Post: The Pros and Cons of Living in Denia, Spain.
Jávea/Xàbia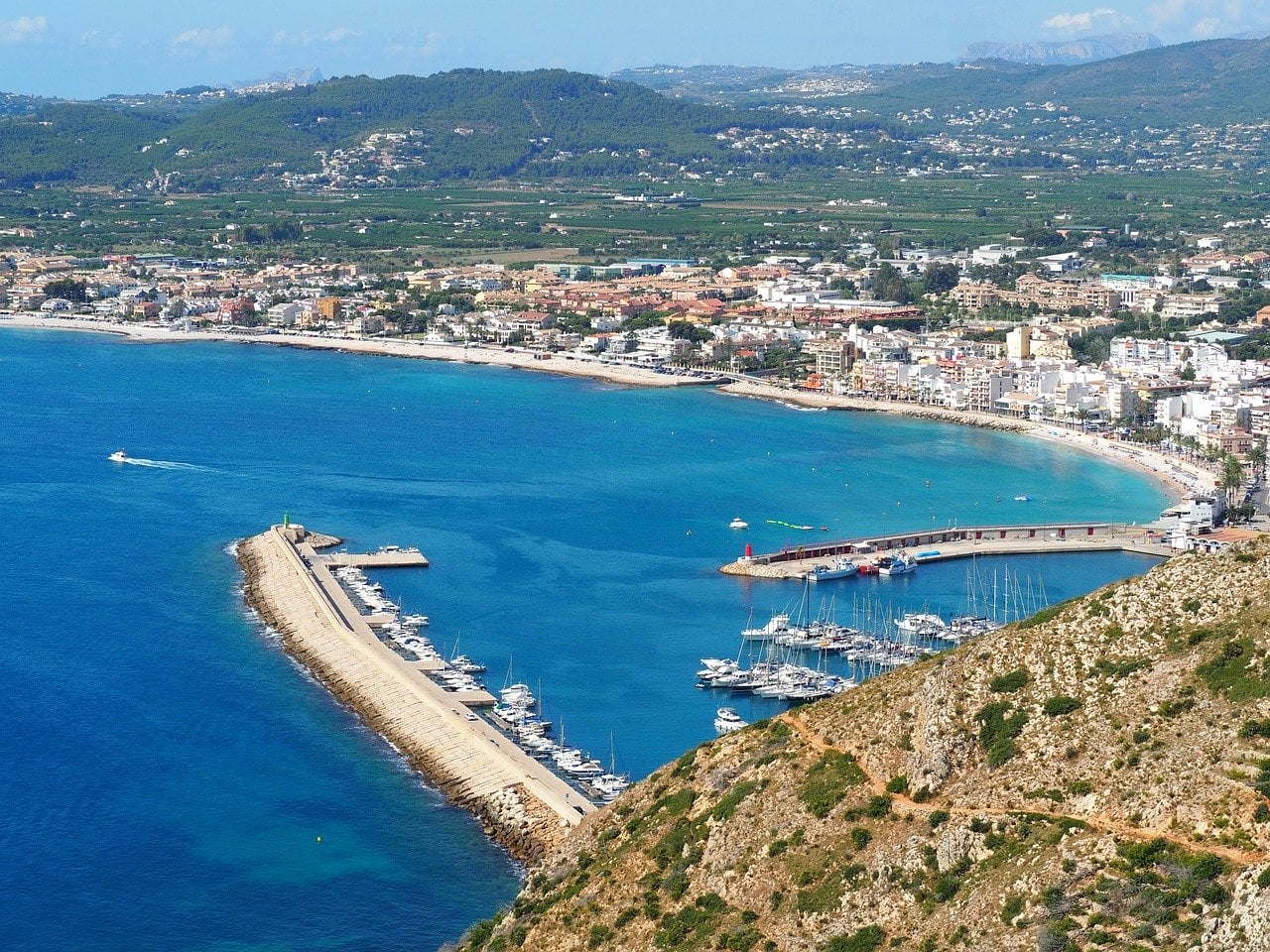 This town actually has two names – Jávea and Xàbia, and you'll see them used interchangeably. The town is just a 40-minute drive north of Benidorm, in between the towns of Denia and Moraira.
Positioned on a plain at the bottom of the Montgó, the historic centre of Jávea developed inland around the fortress church of San Bartolomé. This church is the most important building in Jávea's historic centre, with parts of it dating back to 1304!
As well as its role as a church, this building also acted as the town's defence against attacks from the sea for hundreds of years. 
Another one of the best things to do in Jávea is the Archaeological and Ethnographic Museum, where you can discover everything you'll need to know about the history of the town and the area in general.
To round off your sightseeing in Jávea head to the harbour area where you'll see the church of Nuestra Señora de Loreto, which resembles the keel of a boat!
As is common in Valencian towns, the star product in Jávea is rice. Paella is perhaps the most famous recipe, but here the traditional paella comes with with turnip, or is baked in the oven. Don't leave Jávea without tasting this amazing dish!
Benidorm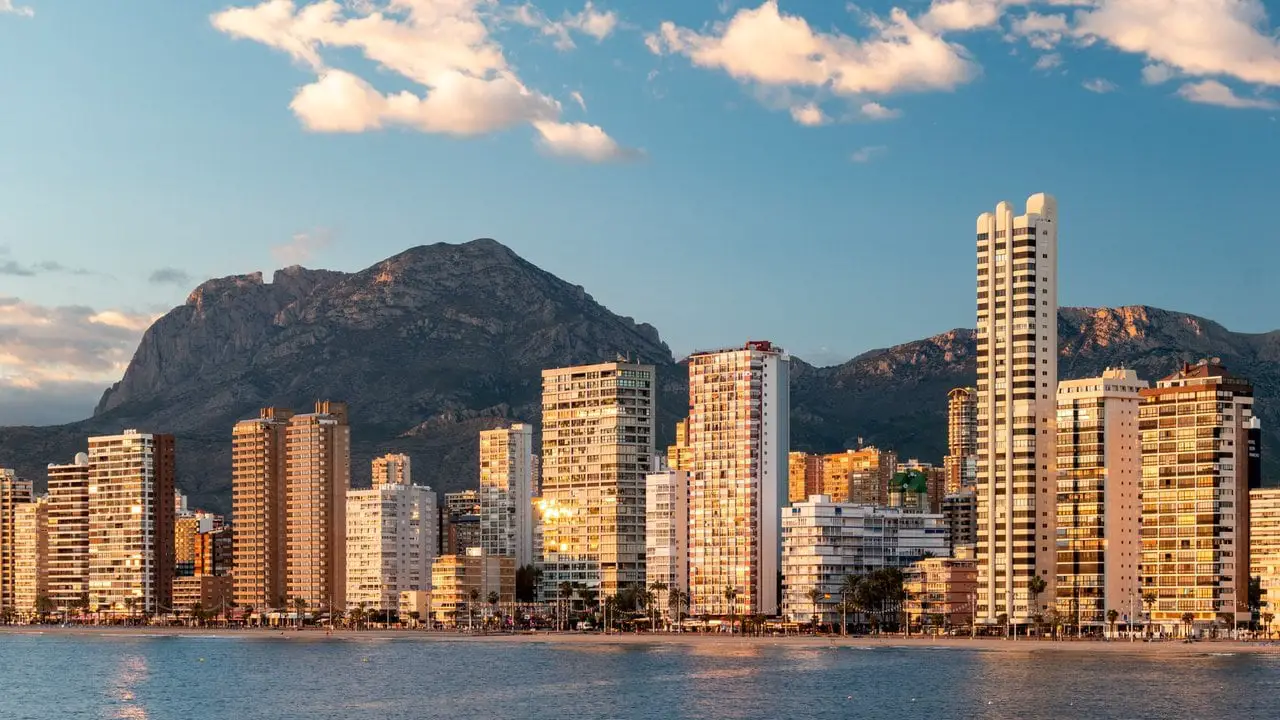 Travelling to Benidorm is a rite of passage for many Brits, to the point that it's sometimes referred to as "England in the sun". I promise, though, that you can still find authentic Spanish experiences in this town. You really shouldn't miss taking a tour to the Algar Waterfalls from Benidorm – it's epic!
If you're looking for the classic Costa Blanca holiday destination, Benidorm is where it's at. There are fantastic beaches, lively nightlife, very cheap prices and, given the booming tourism industry, pretty much everyone you meet will be able to speak English.
If you're bored of lounging on the beach and drinking, there are still plenty of sights to see in Benidorm. In its historic centre you'll find all the main monuments and points of interest located on a slope that separates Playa de Levante and Playa de Poniente.
This is also where you'll get the best panoramic views in the town centre. Around Plaza Santa Ana, the main square in Casco Antiguo, you'll also find several viewpoints where you can enjoy perfect views of the shore. The stunning Mirador del Castillo and Balcón del Mediterráneo, located at the ends of the slope, are both definitely worth a visit!
When it comes to food, Calle Santo Domingo is the place to go for a tapas session in true Basque style. Leaving Benidorm without tasting a horchata with fartones (doughnut-like pastries) at lunchtime or a glass of Cava (Valencian sparkling wine) would be a wasted opportunity!
Alicante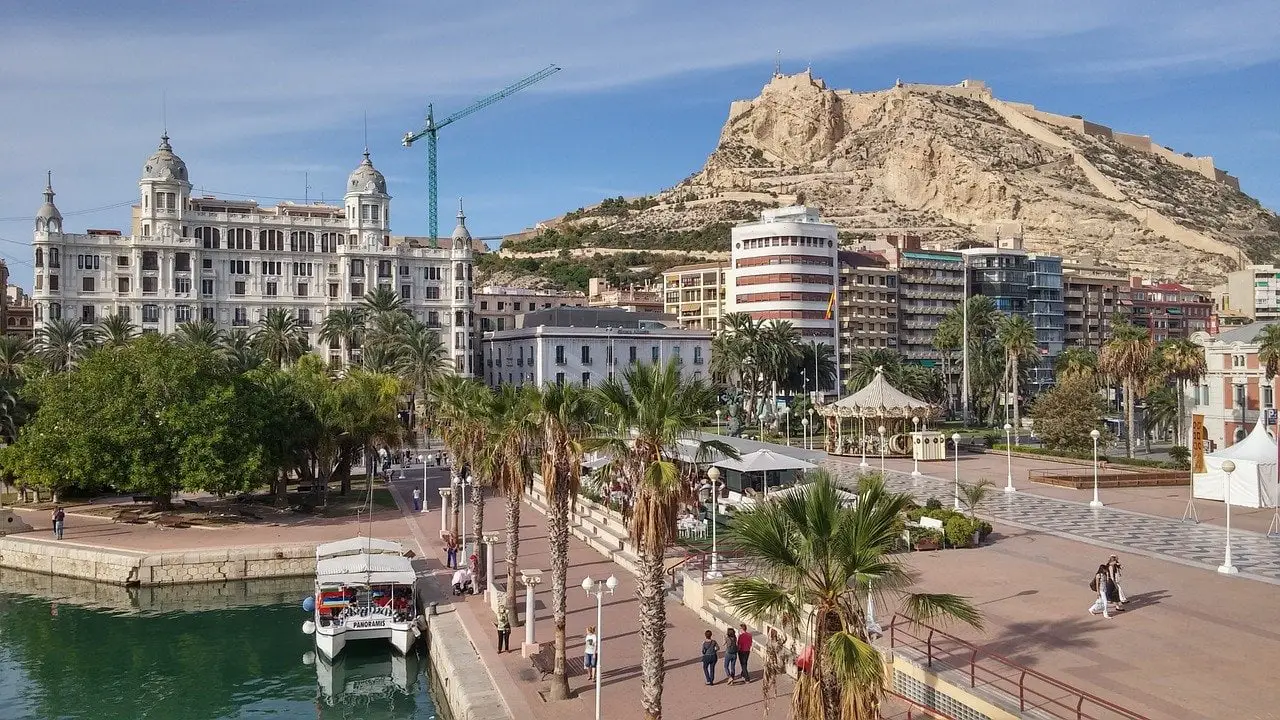 It's easy to fall in love with Alicante, and I spent a lot of time here during my three months living on the Costa Blanca. You may notice that Alicante is actually a city, not a town, but its captivating small historic centre will definitely make you feel like you're in a town which is why it's on this list.
This city has beautiful beaches with crystal clear waters, top-notch cuisine and a location that's ideal to use as a base to visit other towns on the Costa Blanca. It's also a wine region, and going on a wine tasting tour is one of the most fun things to do here!
Since I've already mentioned the historic centre of Alicante it makes sense to start your visit to Alicante there. Stroll through the avenues, discover the restaurants with local dishes and check out the galleries and monuments that deserve a closer visit.
After that, go up to the Santa Bárbara Castle, getting a panoramic view over Alicante's historic areas and beautiful coastline.
When you're getting hungry, it's time to head to Calle de San Francisco, which has an array of restaurants and tapas houses which are the perfect stop if you want to dive into Alicante's cuisine. It's also the "mushroom street".
Yup, you read that right – there is a street full of toy mushrooms!
A few years ago, someone had the idea of livening up the street by gathering some giant mushrooms there, and now it's one of the most visited streets in Alicante.
This is such a bizarre concept, but it's a lot of fun to visit! 
Torrevieja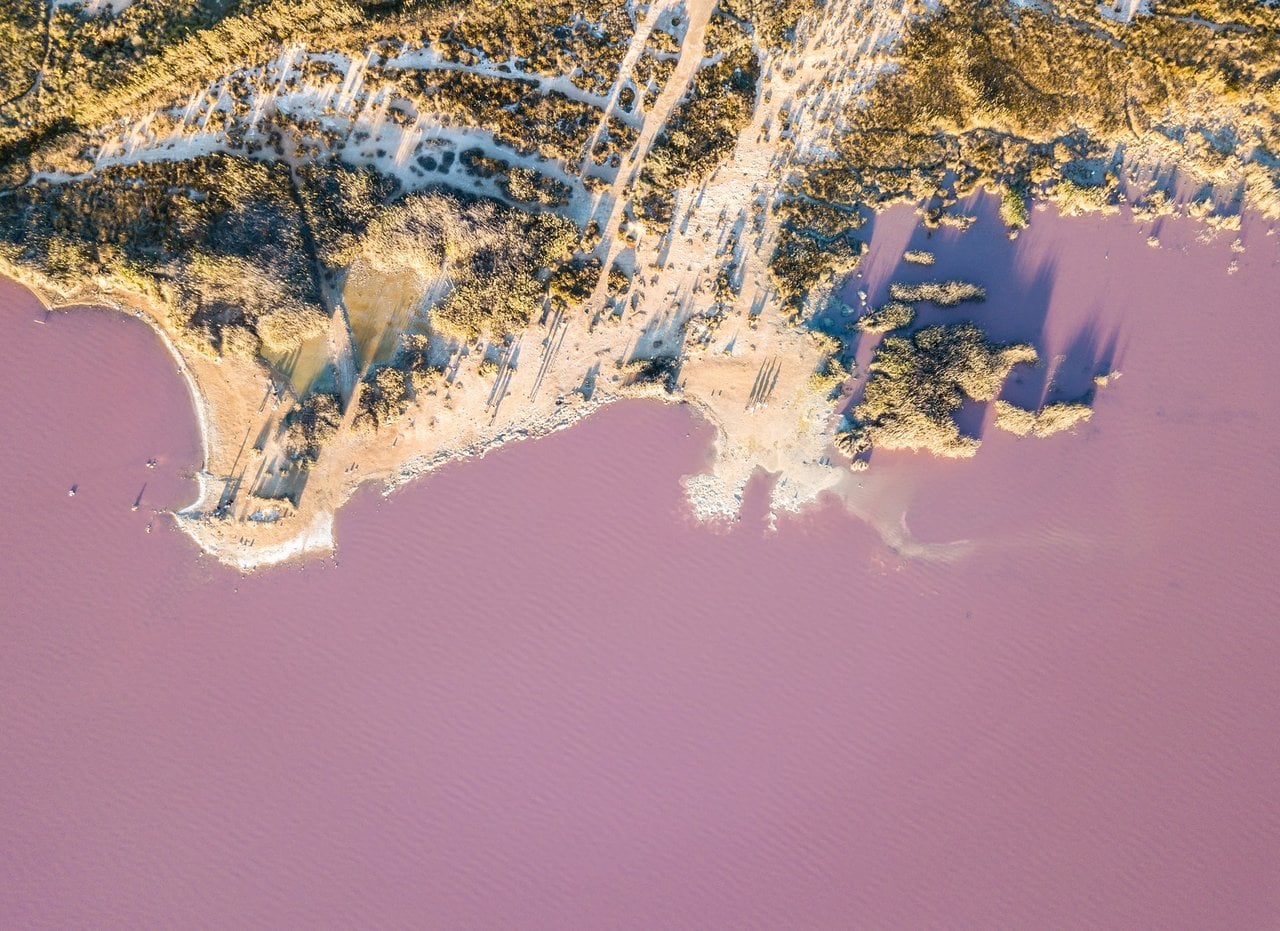 One of the best towns on the Costa Blanca is Torrevieja, a place where life revolves around the ocean and salt. Its two huge salt flats, La Mata and Torrevieja, have actually been declared a natural park. 
The exploitation of salt here dates back as far as anybody can remember, but it saw a huge boom in the 19th century. Today, Torrevieja salt is exported all over the world and its annual production exceeds one million tons.
The two salt flats are the town's main tourist attraction, and the fact that Laguna de Torrevieja has a pink tinge makes it very popular with Instagrammers! As well as snapping photos, visitors can float in the thermal part of the lagoon. To learn more, visit the Museum of the Sea and Salt which documents the salty history of the area.
Whilst you're in Torrevieja it's worth seeing the Torre del Moro, a lookout tower from the region's Moorish period. It was built in the 14th-century to help defend the town from pirate attacks. It all sounds very whimsical!
Other places to see in Torrevieja include Torre de La Mata, Parque de las Naciones, and the structure of the Sociedade Cultural Casino de Torrevieja.
Albir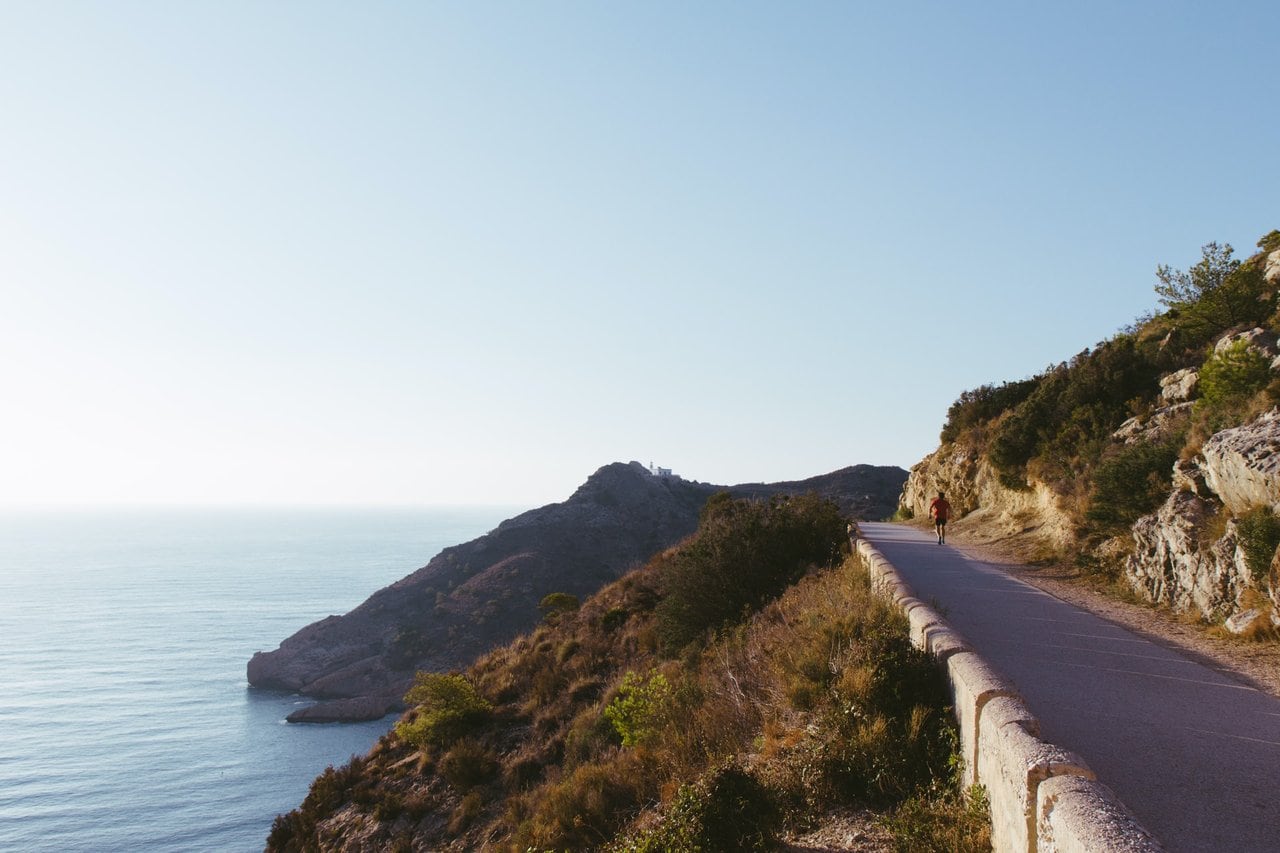 You'll find Albir next to Benidorm, but these two Costa Blanca towns couldn't be any more different! It's the best town to visit if you want a quiet, relaxed holiday destination, but within reach of everything a larger place like Benidorm has to offer. 
Albir beach, also called Racó del Albir beach, is a beach of pebbles, not sand. But don't let that deter you, as it's still beautiful. Due to its position next to the Serra Gelada Natural Park, its waters are particularly clear and vibrant. You'll see it pops up often on lists of the best beaches in the Costa Blanca.
The Frax Foundation is a private foundation located right on the beachfront of Albir. Its role is to promote Culture, Arts and Sciences in all their many forms. On a visit here you'll get to check out a rotating number of exhibitions covering all areas and artistic forms.
To finish your trip to Albir you definitely have to visit the most popular visitor attraction, the Albir Lighthouse. It's so popular that over 300,000 visitors go there every year!
Located in Serra Gelada, to access it you must follow the path that runs over cliffs and coves. With more than 150 years of history, this is the only lighthouse that you can visit in the Valencian Community.
Benissa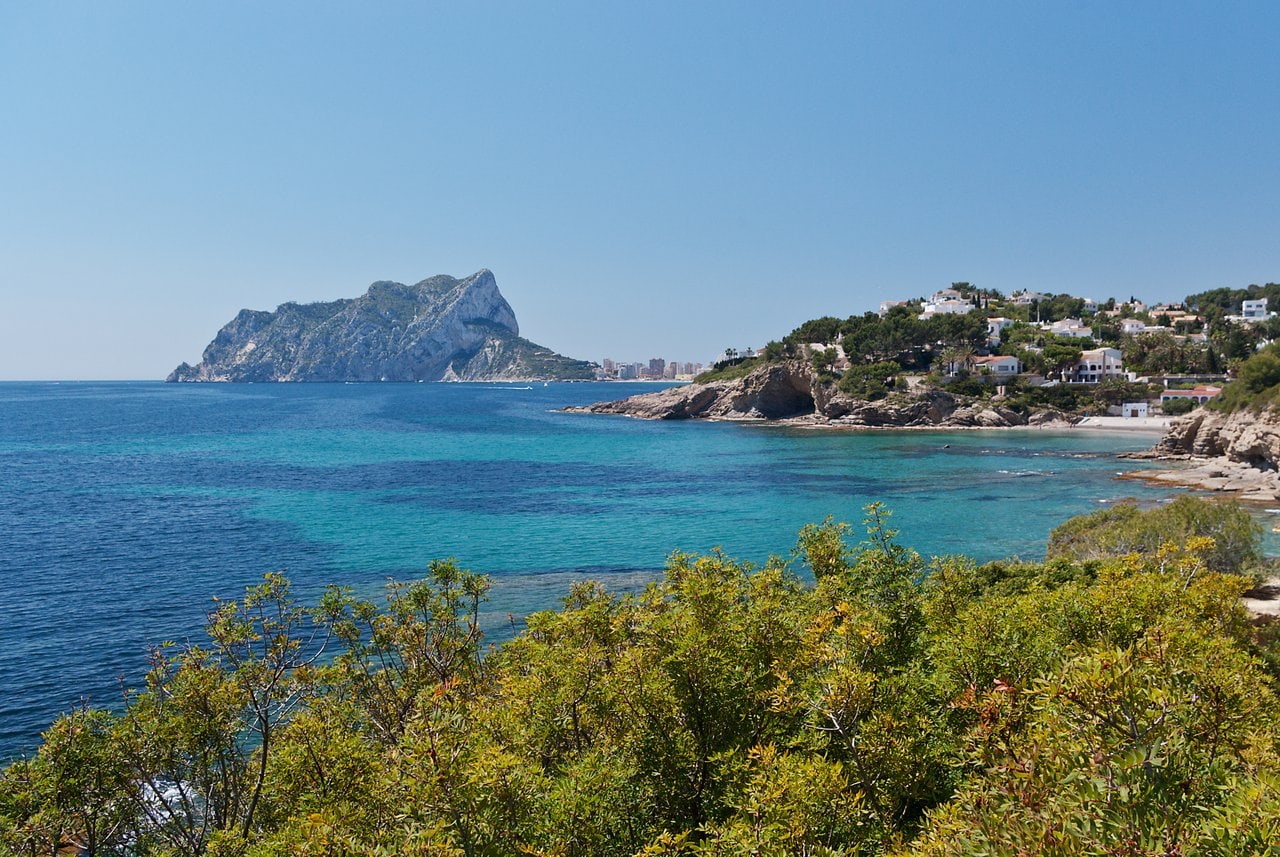 If you want to rest a few days between the sea and the mountains, Benissa is your destination. It's a very chill town in the heart of the Marina Alta. Unlike many of the towns on this list, Benissa isn't on the Costa Blanca coast. Though, at just 5km away, it's certainly not far.
One of the best places to see in Benissa is the Calle Puríssima, a typical mediaeval street full of history and with interesting monuments and cute buildings. As you walk along this street you'll also see stately homes with latticework balconies, adding to the beauty of the town.
If you're into hiking, you can't miss Sierra de Bèrnia, a mountain range that towers over Benissa. It acts as a huge natural wall that separates the Marina Alta and Baja with a beautiful circular hiking route.
From the hiking path you have to cross the mountain through a natural tunnel dug into the stone. Coming out of the other end of this tunnel, you'll reach a place with magnificent views of the coastline of the Costa Blanca and the valleys and mountains of the Mediterranean. 
The Sierra de Bèrnia is one of the essential places to see in Benissa and that you cannot miss if you're a nature addict!
During your Benissa visit you can't forget to explore the historic centre of Benissa. This place will transport you to another era! I recommend you walk along Calle Puríssima and Calle Desamparados, two of its best streets. If you want to explore one of Benissa's stately homes, head to the Abargues House-Museum.
Villajoyosa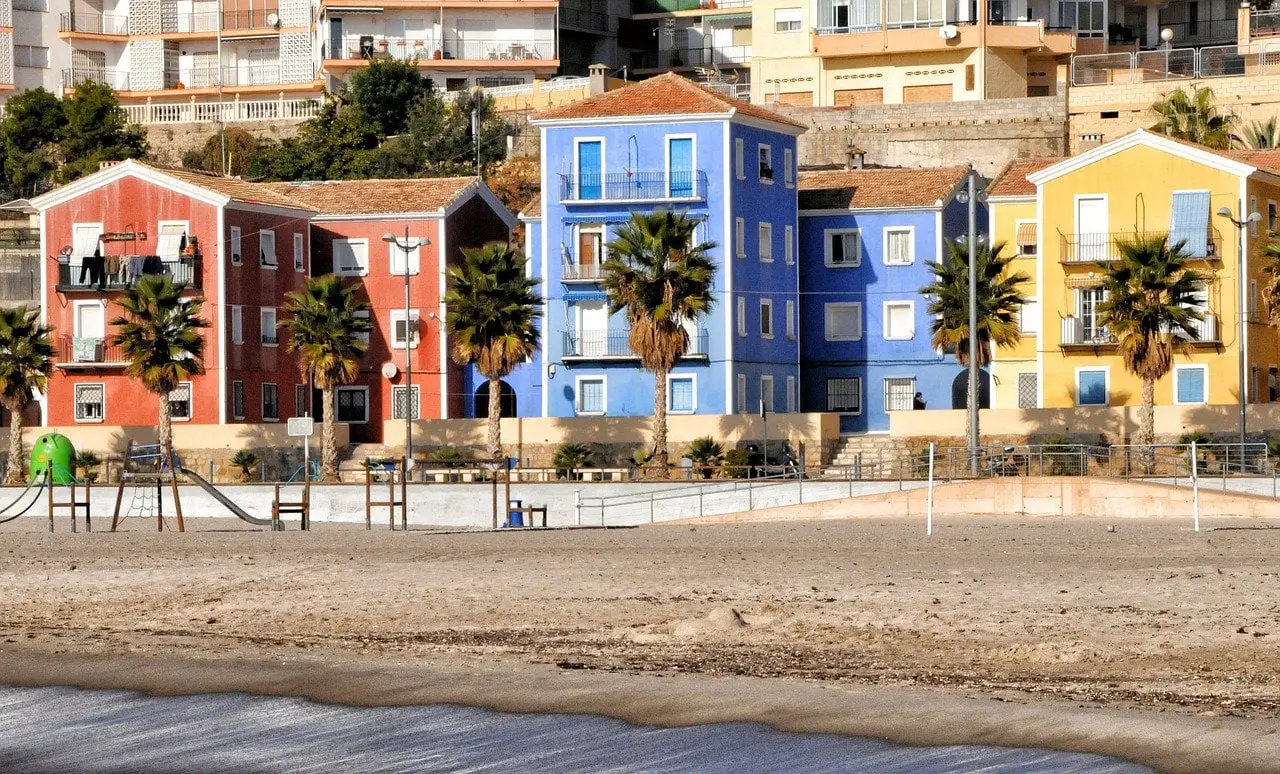 Villajoyosa Is one of the best and most popular towns to visit on Costa Blanca, with a history that dates back to the times of ancient Rome.
At the entrance to the town of Villajoyosa you'll find one of the most beautiful and quiet beaches on the entire Costa Blanca, Playa del Bol Nou Beach.
Even if you're visiting from elsewhere on the Costa Blanca, this beach is easily accessible by car and with plenty of parking. It's a slightly rocky beach but, since it's far from the town centre, is never overcrowded. Plus, there's a bar on the beach!
In the town itself, the harbour of Villajoyosa is a beautiful place to walk and breathe. You'll also notice from the smell of the area that there are a lot of restaurants in this area, and, given the town's status as a fishing area, you'll find some of the best seafood in the region.
If you'd prefer something sweet, the best thing for you to do in Villajoyosa is to visit the Chocolate Museum. It opened in 1998 and is connected to the Valor Company, which has a factory right there. Visitors to the museum learn about the chocolate-making process, and it'll leave you drooling!
If you're unsure when to visit Costa Blanca, visit between July 24 and 31 and head straight to Villajoyosa! The Moor and Christian festivals that take place in this town during that week are something special!
---
So, have you decided which towns you're going to visit on the Costa Blanca on your next trip to Spain? As you can see, you have loads of great options to choose from for your Costa Blanca trip, and this list really does offer the perfect town for every type of traveller.
My favourite is Denia, but obviously that's because it's the place I spent the most time, so it makes sense!
Do you have a favourite town on the Costa Blanca?
Liked this post? Pin it!