There is a good chance that this post contains affiliate links. If you make a purchase through them, I may receive a small commission at no extra cost to you! As an Amazon Associate, I earn from qualifying purchases. As ever, all opinions are my own.
Blue seas, cool breeze, and breathtaking beaches – sounds like the perfect summer holiday, right? If you're craving just that, head to Moraira, a peaceful little village on the Costa Blanca in Spain. 
Previously a small fishing town, Moraira has preserved its small-city charm – you won't find tall buildings or hotels obscuring the landscape here. The city mainly consists of cozy holiday villas, smaller apartments, family-run restaurants, and a big marina.
The tranquility of Moraira is ideal for a family holiday or a quick summer getaway, especially if you're looking to do some slow-paced sightseeing or chilling out at picturesque beaches.
If your Spain itinerary includes Moraira, here is everything you need to know to plan your trip to the town, including the top things to do and the most magical Moraira beaches!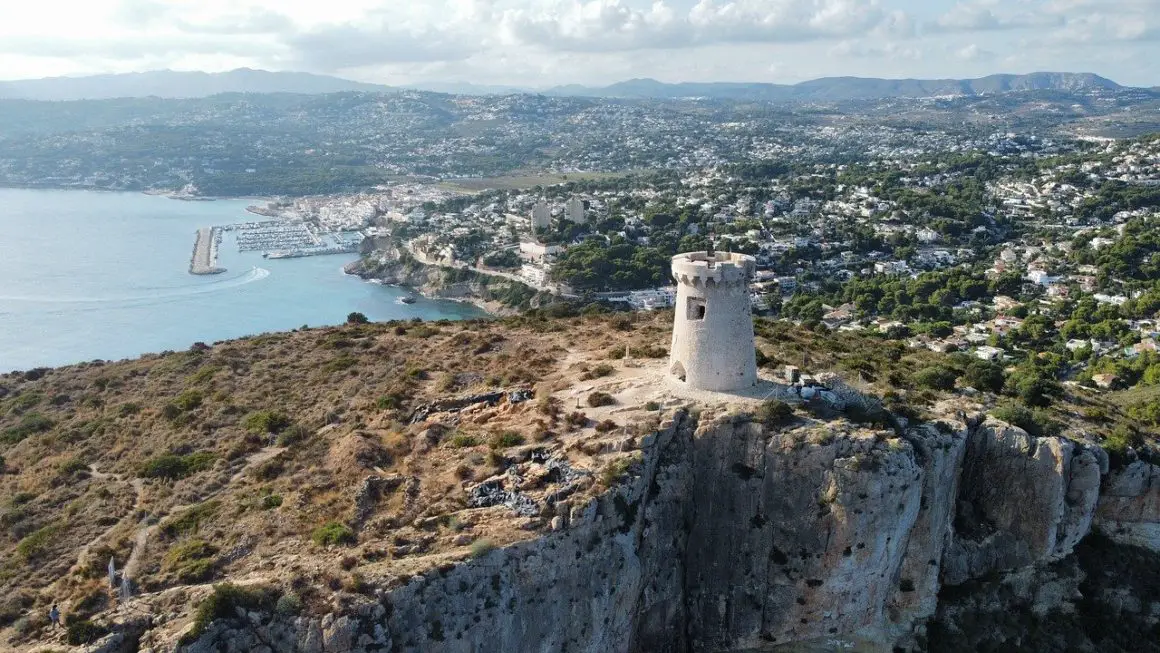 Where is Moraira?
You'll find Moraira on the Costa Blanca, which is on the coast of southeastern Spain. It's in between the popular Costa Blancan towns of Altea and Javea, but Moraira has its own unique vibe.
Here, you'll find some of the most glorious coastline in all of Spain. Plus, Moraira's upmarket vibe makes it the perfect place to lounge for a few days and get away from it all.
How to Get to Moraira, Spain
The nearest airport to Moraira is Alicante, which is around 75km. It's also possible to fly into Valencia airport too, which is around 100km from Moraira.
Getting to Moraira from Alicante airport is super easy with the Beniconnect shuttle bus. The journey takes around 65 minutes and costs €27 per person, each way.
From Valencia, the only realistic option aside from hiring a car (unless you want to travel for 5 hours!) is to take a taxi, which costs a whopping €200+ each way! So yeah, if you're not renting a car perhaps fly into Alicante instead…
Best Things To Do In Moraira, Spain
The biggest tourist draw to the city is its coastline, so it makes sense that most of the things to do in Moraira involve the beach or the sea! There isn't a million things to do here, but there's plenty to keep you occupied for a day or two.
Playa de l'Ampolla Beach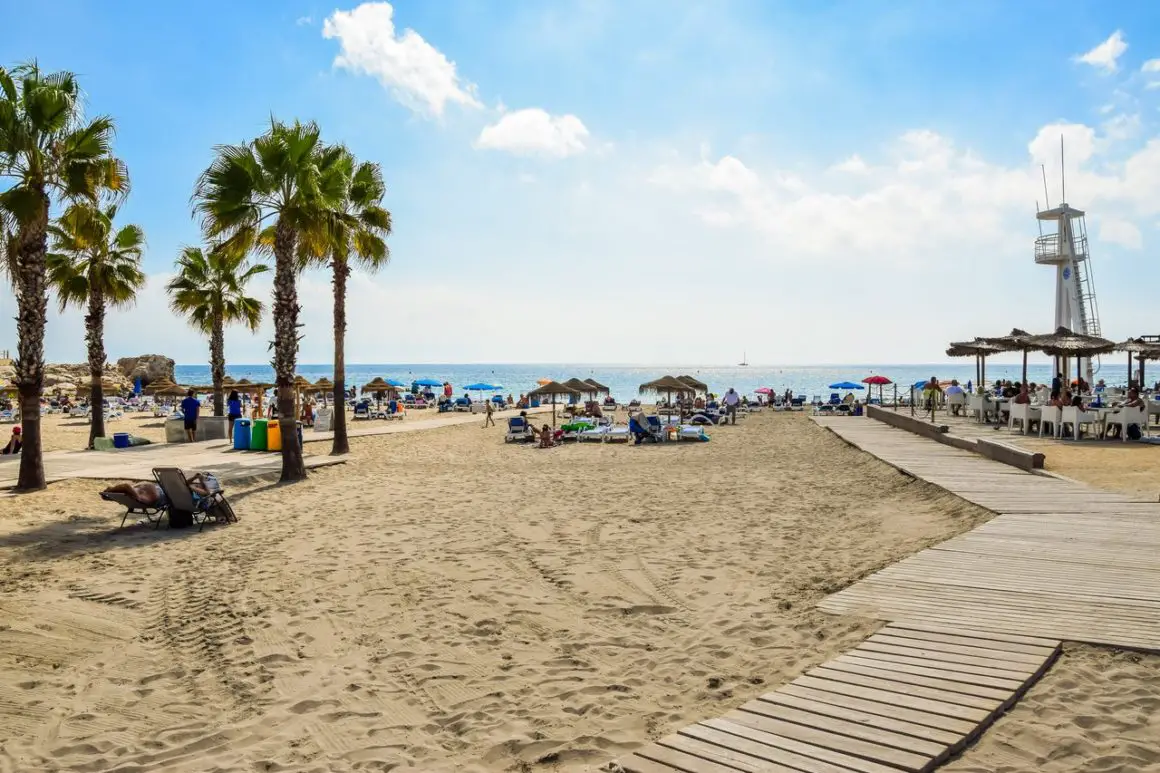 l'Ampolla is the town's most popular beach. Located at the heart of Moraira, this beach offers crystal clear water and soft sand perfect for sunbathing on.
Pick seashells, go snorkeling, head for a light swim, or just sit back and marvel at the enchanting scenery – the calm Playa de l'Ampolla is perfect for a lazy afternoon.
Playa del Portet Beach
This popular beach is another great option if you want sun and sand, and you could even visit both of these beaches in the same day if you fancy doing some beach-hopping.
As well as lounging, you'll also find a few beachfront bars here, so if you need to escape the sun for a little while and crack open a cold beer nobody is going to blame you!
Castillo de Moraira
Need a break from all that relaxation? Moraira has its own historical landmark, the small but charming Castillo de Moraira, that you can check out to get your culture and history fix.
Built in the 1700s to protect the town from pirate attacks, it's now one of the most popular tourist attractions in Moraira and is also right by the beach, so you don't need to part with your sunbed for long! For the best views, head here are sunrise or sunset.
Moors And Christians Fiesta
The Moors and Christians fiesta is one of Moraira's most famous attractions, pulling in visitors from miles away! Held in June each year, the fiesta brings Moraira to life and is home to a whole host of fun activities and exhibitions.
At the festival you'll find live music, a medieval market and parades, as well as lots of locals wearing costumes for the festivities!
Hike the Coastal Paths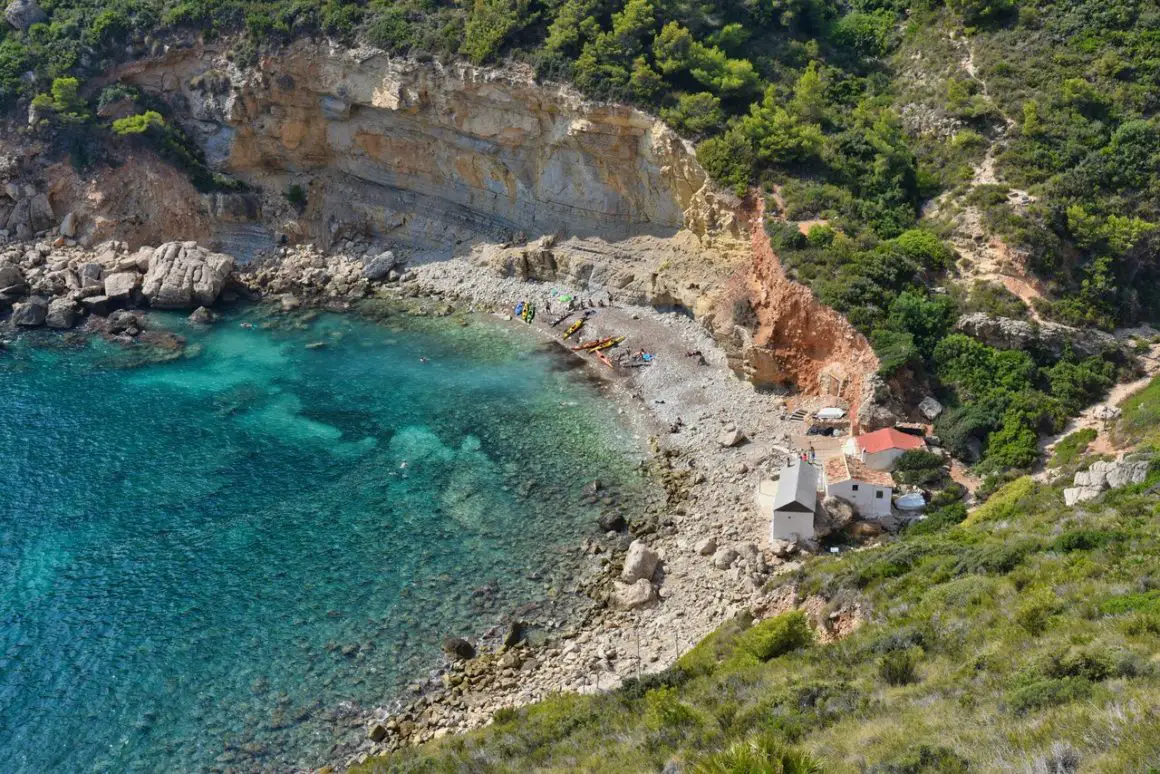 The best way to check out Moraira's stunning coastline is from above – on the clifftop hiking trails!
This full-day hiking tour run by a local guide is the best way to get out and about on Moraira's hiking trails and old fisherman's paths. The route will take you from Moraira Port to Cap d'Or, Cala Llebeig, and Cala del Moraig, some of the most breathtaking points along this part of the coast.
The guides are super laid-back, and are happy to take breaks whenever you like, extend the day, or finish early if that's what you'd prefer. Oh, and the hike also finishes at a bar, so you'll be able to reward yourself for your efforts with a glass of wine or a cocktail. Wahoo!
Moraira Market
Like many Spanish towns, one day a week Moraira comes to life when it holds its very own market! In Moraira, market day is every Friday, where you'll find the market from 8.30am until 2.30pm.
Moraira Market is actually one of the largest on the Costa Blanca, and you can buy pretty much anything here – from fruits and vegetables to underwear and sunglasses. It really does have a random mix of offerings!
Strolling around the market is a great taste of local life, and one of the most authentic things to do in Moraira.
Where to Stay in Moraira, Spain
Budget Accommodation
If you're visiting Moraira on a tight budget, your best bet is this top-rated apartment. With two bedrooms and a location that's right in the centre of all the action, you can't go wrong with this place if you want a clean and relaxing place to stay on a budget.
Mid-Range Hotel
For affordable luxury on a mid-range budget, check out this elegant hotel. Surrounded by lush green countryside, it's hard to imagine a more relaxing setting for a Spanish getaway. Cool off in the pool by day and enjoy a glass of wine on your balcony at night. Things don't get better than that!
Best Restaurants in Moraira, Spain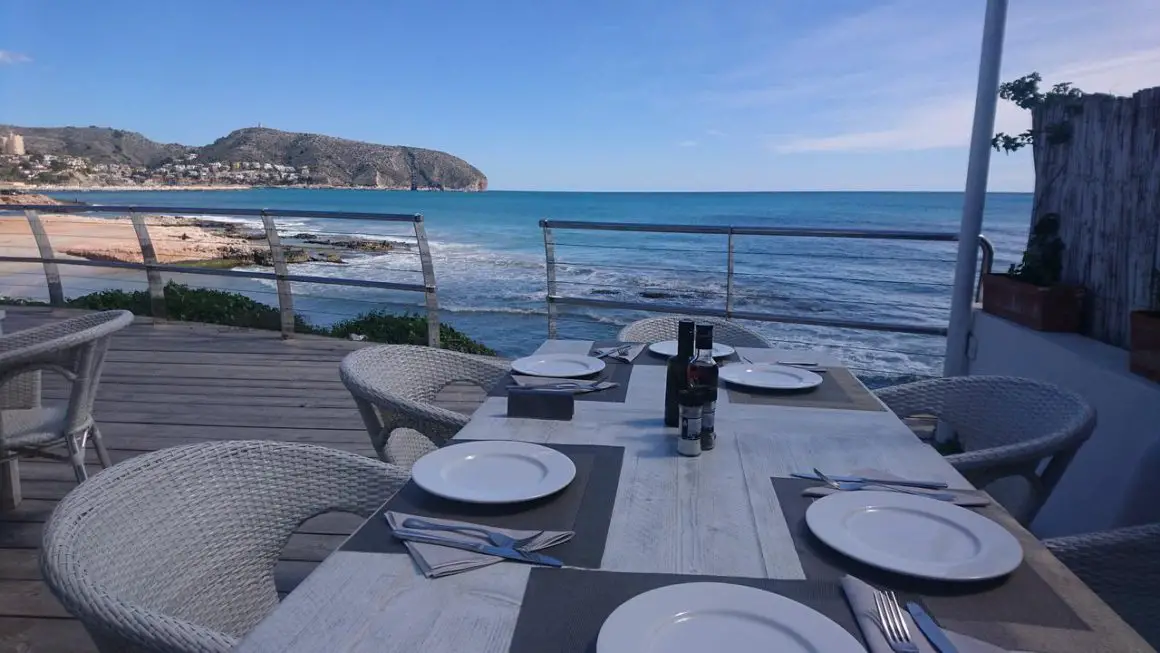 For a small town, Moraira has a surprisingly diverse restaurant scene. From traditional Spanish dishes to Asian and Italian food, you won't have to search too far to find a restaurant offering whatever you're craving. If I can make one recommendation, though, it's to make sure you order some seafood during your time in Moraira!
Here are my top picks when it comes to restaurants in Moraira:
El Raco de l'Arros – Searching for authentic Spanish cuisine? El Raco de l'Arros is your place! It serves some of the most delicious local seafood dishes, and this place is famously known for its paella. The restaurant is family-run, gives you that traditional Spanish feel, and has welcoming wait staff.
Brasserie Vivaldi Moraira – The Brasserie Vivaldi is beloved by locals and tourists for its classy ambience, diverse menu, and excellent drinks. This modern European restaurant serves the yummiest salads in town as well as a range of European dishes, from spaghetti to schnitzel. With outdoor seating available, this is the place to enjoy a breezy summer evening.
The Kathmandu – Moraira eateries don't leave Asian food lovers disappointed. The Kathmandu is one of its most popular Asian restaurants that serves mouth-watering Indian and Nepali dishes. This is the go-to place for curries in Moraira.
How Many Days To Spend in Moraira, Spain?
Moraira is a pretty small town. Though it is perfect for unwinding and relaxing you can explore all important landmarks and places in a day. If you want to spend time hiking or on the beach, extend your stay to two or three days.
What to Pack for Moraira
You won't need to pack anything specifically for Altea that you wouldn't need for a trip to anywhere else on the Costa Blanca. However, there are a few travel essentials I always recommend for travel to warmer destinations on the coast:
This quick-dry towel is my go-to! It dries super quickly, so you don't have to carry a soggy towel around with you, rolls up into a tiny ball, and sand doesn't stick to it. It's perfect for a beach trip.
Reef-friendly sunscreen is the way to go if you want to protect your skin without polluting and damaging the ocean and marine life there.
This waterproof phone lanyard. If you want to go into the sea but don't want to leave your valuable belongings on the beach I can't recommend getting one of these enough! You can put your phone, money and ID in the waterproof pouch and wear it around your neck as you go for a paddle or swim. I also love that the case is see-through, so you can take selfies and videos underwater!
I'm obsessed with guidebooks and love to read about the destination I'm travelling to whilst I'm on bus or train journeys or sunbathing at the beach. I recommend packing the Lonely Planet Spain guidebook to help you to plan your trip.
When Is The Best Time To Visit Moraira?
Do you enjoy the sun? Or are you more interested in avoiding the crowds as much as possible? 
If you enjoy a warm, bright sunny day at the beach June till August are the best months to visit Moraira. The temperatures are usually moderate, with the highest point being at 32 degrees celsius – perfect for getting some flaunt-worthy tan lines!
If you'd prefer to chill out in Moraira without a lot of tourists, consider visiting during the shoulder months of April, May and September. These months are just as lovely weather-wise, but enjoy fewer crowds and lower accommodation prices. That's why I adore travelling in shoulder season!
Best Travel Insurance for Moraira
I've never travelled without insurance, but it's scary just how many people do. You can be as careful as humanly possible, but bad luck happens to all of us and some things are just totally out of our control. 
That's where travel insurance comes in. Get your wallet stolen? Fall sick and need emergency medical treatment? The airline loses your luggage? No problem, your insurance will have you covered.
It's unlikely that anything bad will happen to you in Altea, or Spain in general, but having insurance could be the difference between the trip of a lifetime and a total nightmare.
For travellers from outside the EU (the USA, UK, etc.) I recommend World Nomads. This is probably the most popular insurance in the world for adventurous travellers. It also covers a ton of fun activities so you can go hiking or mountain climbing with no worries.
Click here to get a quote from World Nomads!
For my EU readers I recommend SafetyWing. World Nomads isn't available to EEA residents at the moment, so SafetyWing is a great alternative. They offer a pretty similar service and cover package and very competitive rates.
Click here to get a quote from Safety Wing!
Is Moraira Worth Visiting?
Whether Moraira is worth visiting or not totally depends on what you're looking for. If you crave adventure and are after a party atmosphere, Moraira may not be an ideal destination for you!
However, for families, retirees, and tourists who just want to unwind by the beautiful coast Moraira will be your idea of heaven.
So Pack Your Bags – The Moraira Beaches Are Waiting!
Sunny, serene, and safe – that's how I'd describe Moraira, Spain, and what it has to offer. It's a quintessential family vacation and a haven for those into slow-placed town life and admiring nature.
And, after reading this travel guide you are sure to have the time of your life. Bueno, hasta la vista!