There is a good chance that this post contains affiliate links. If you make a purchase through them, I may receive a small commission at no extra cost to you! As an Amazon Associate, I earn from qualifying purchases. As ever, all opinions are my own.
If you're heading to the US, almost everybody tells you that public transport sucks and that you really do need to hire a car.
In Las Vegas, though, that's really not the case. If you're visiting the city on a short break, getting around Las Vegas without a car is surprisingly easy!
Sure – I've heard that if you actually live in Las Vegas you'll need a car, and I can agree with that. After all, the city's bus system doesn't go much further than the tourist centre of the city.
However, if you're visiting Vegas on a short break you definitely don't need to hire a car.
I recently spent five days in Las Vegas and was very shocked by the city's public transport. You can pretty much get everywhere you want to go, and all buses have strong air-con, a must if you're visiting Las Vegas in summer.
So, if you're planning your first trip to Vegas and want to know how to get around Vegas without a car you've come to the right place.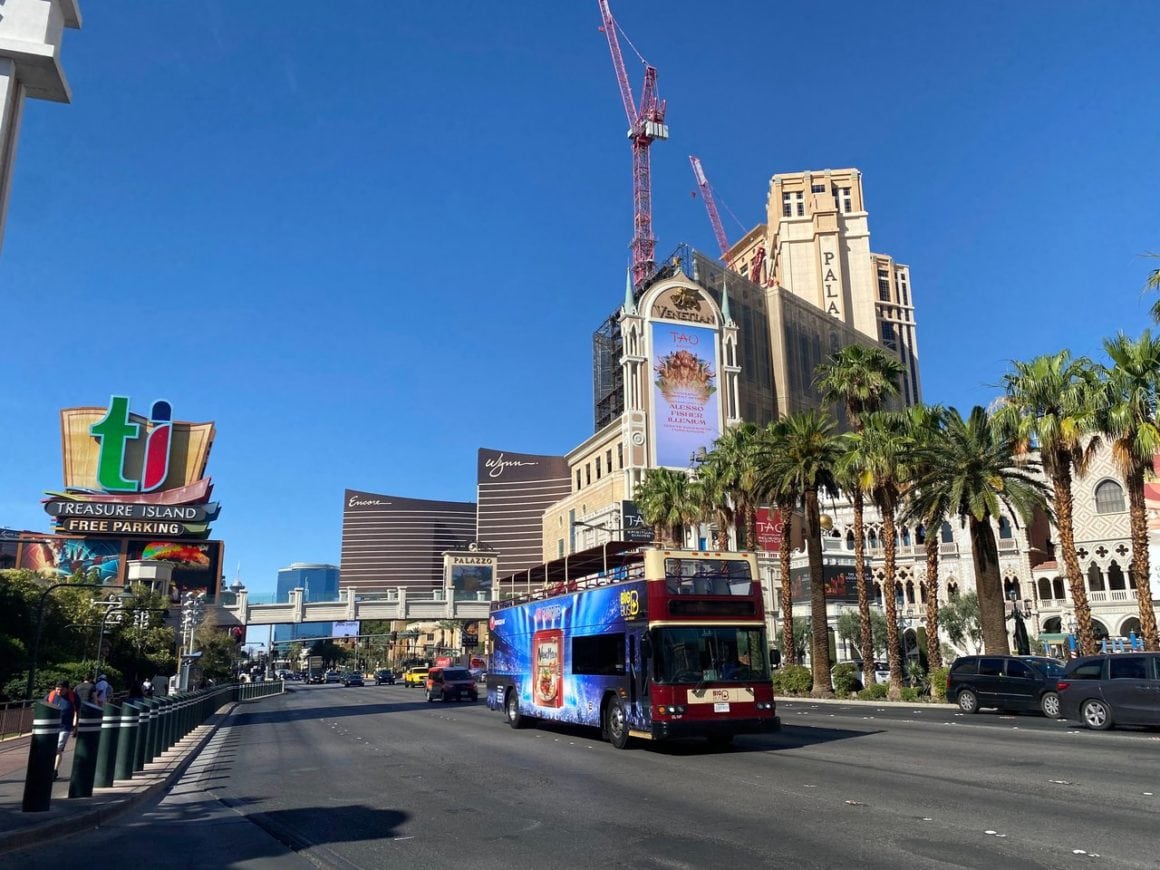 Walking in Las Vegas
Looking at a map of Las Vegas, it's tempting to think that you can just walk from place to place and cut out the need for transportation completely.
On paper, you can definitely do this most of the time (although getting between the strip and Fremont Street would be too far to walk).
However, in reality, when it's 42°C (107°F) outside I can promise you that you won't want to walk for more than a couple of minutes. 
Things are also far more spread out than they look on the map. For example, on the map it looks like The Cosmopolitan and New York New York are right next door.
On the ground, though, it takes 17 minutes to get from one to the other!
Therefore, although walking is definitely a good method to cover shorter distances in Vegas, you'll definitely need to use some method of transportation during your trip to Vegas.
If you're planning to get around Vegas without a car, that means using public transport.
How to Get Around in Las Vegas
There are a couple of public transport options in Las Vegas, although in my experience the best bet is to use the Deuce bus.
It runs from the Welcome to Las Vegas Sign at the southern end of the Las Vegas strip all the way up north past the Pawn Stars shop in the Arts district and beyond the Fremont Street Experience. 
The Deuce Bus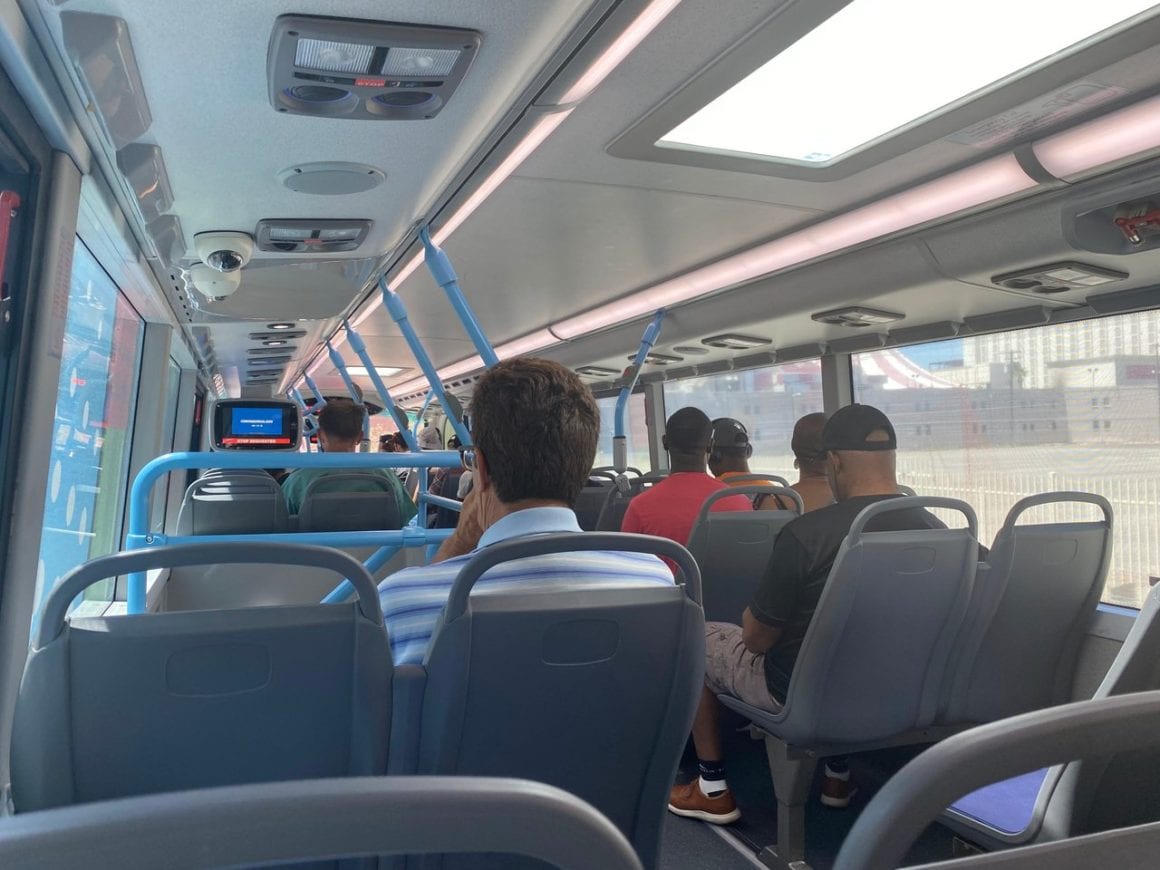 The Deuce bus is the city's best transportation system for tourists and locals alike.
It runs 24 hours a day, buses are pretty frequent (around every 10 minutes), and the air con is fierce (which you'll appreciate!).
Tickets cost $6 for a 2-hour pass, $8 for a 24-hour pass, and $20 for a 3-day pass. I bought the three-day pass twice for my 6-day trip and it was great value.
I must have taken around 25 journeys, which reduces my average journey cost to a meagre $1.60. Nice!
You're able to buy tickets on the bus, but I personally recommend downloading the RideRTC app and buying your tickets there. You then simply scan your ticket QR code each time you board the bus – it's far less hassle.
I will add that the bus isn't the best thing in the world – it was often pretty dirty and sometimes smelled.
However, when compared to the other cities in the US' abysmal reputation for public transport the bus is pretty decent and gets you from A to B easily. It's definitely the best way to get around Las Vegas without a car.
I found that Google Maps had accurate bus times for the Deuce and was quite good at updating your directions if certain stops were closed, so I recommend planning your journeys on that app.
Las Vegas Monorail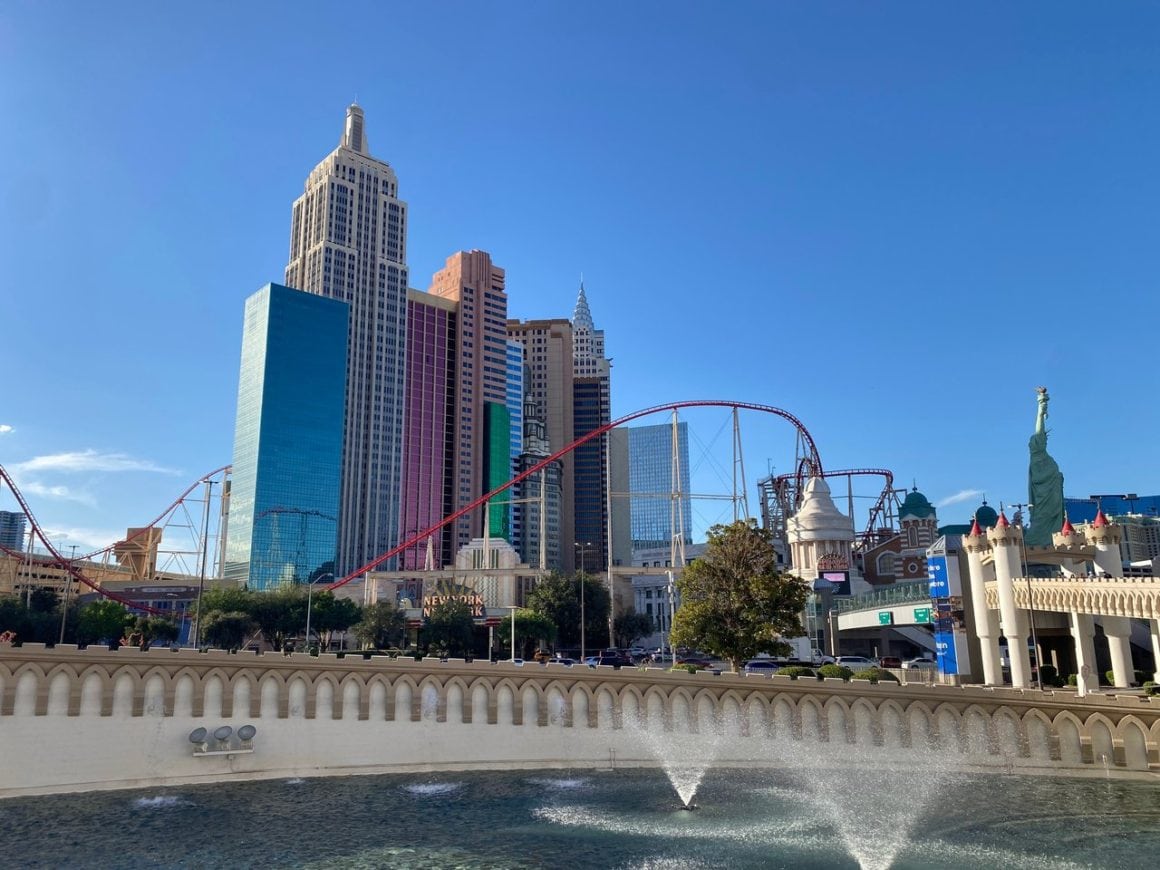 Full disclaimer here – I didn't use the monorail on my trip to Las Vegas. It's a great idea, but due to a few reasons I'll list here, it's actually just more of a tourist novelty than a functional way to get around the city.
The Deuce bus is just far more convenient.
The monorail runs for 3.4 miles along the strip and has seven stops: MGM Grand, Bally's/Paris, Flamingo/Caesars, Harrah's/The LINQ, Las Vegas Convention Center, Westgate Las Vegas and Sahara Las Vegas.
The stops are often behind the casinos and trying to find them can be a bit of a mission. 
Trains run very frequently, around every 5 minutes, but the limited number of stops and its inconvenient location means that the monorail won't be useful for every visitor to Vegas without a car. 
However, if you're staying at one of the hotels that have a monorail stop, this could be a convenient option for you.
Tickets cost $5 for one ride, $13 for a day pass, and $29 for a three-day pass (there are other durations available too).
As you can see, this also means that the monorail is more expensive than the Deuce too.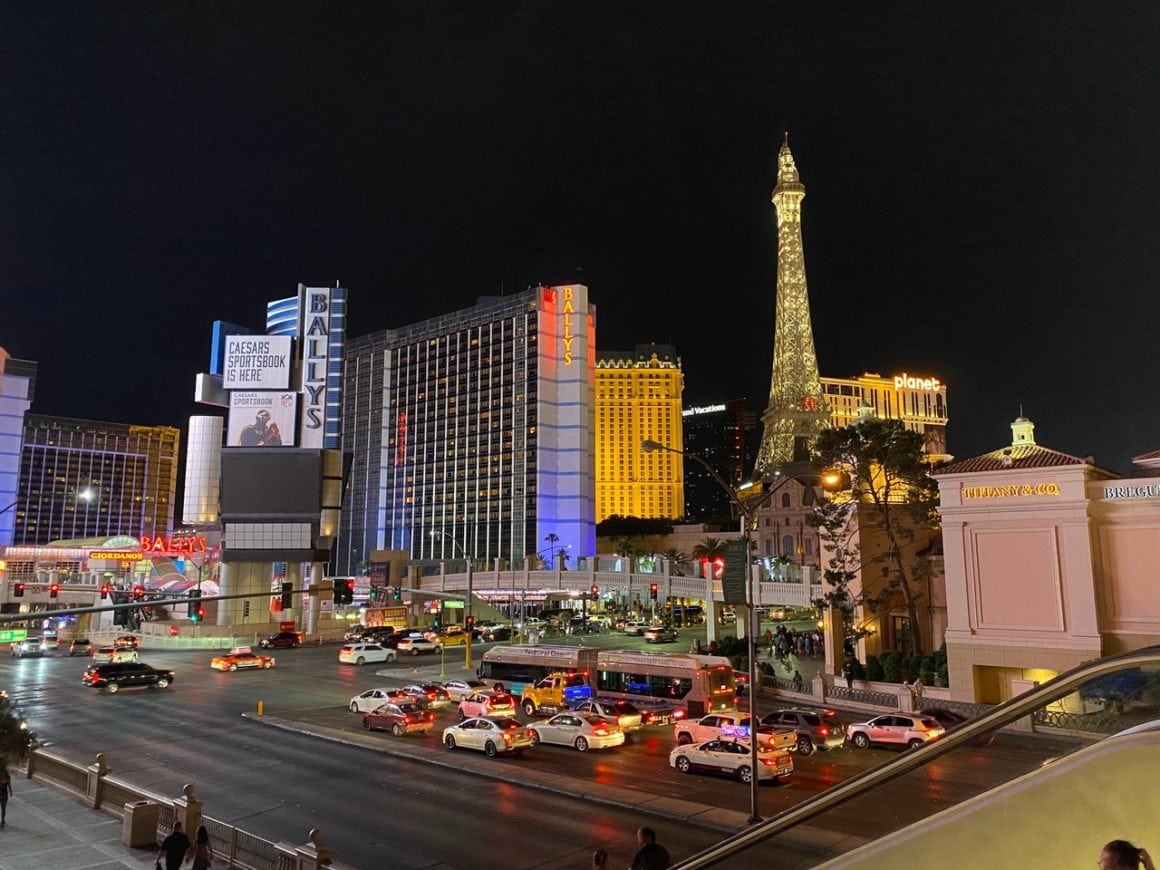 Uber/Lyft
Both Uber and Lyft operate in Las Vegas, and they're a convenient way of getting to any destinations further off the beaten path. They're typically less expensive than traditional taxis and are very convenient.
They are, however, more expensive than the city's public transport options. 
One important thing to note, though, is the surge pricing these apps use. This means that during busy periods the prices can double, triple, quadruple, or even more!
For this reason, if you're looking to use Uber or Lyft late at night you'll probably find that the prices can get crazy due to it being the peak time that everybody heads to the clubs.
Taxis
I usually steer far clear of traditional taxis as they're usually a rip-off.
However, in Las Vegas there is one situation when they're worth using – if you're looking to get to the strip from the airport and Uber/Lyft is using their surge pricing.
When we landed at Harry Reid Airport at around 10.30pm we couldn't believe the prices Uber was quoting us – around $55 for the 15-minute journey to our hotel!
For reference, our trip back from the strip to the airport during non-surge cost us around $10. So surge pricing really can get crazy!
Fortunately, though, we learnt that traditional taxis have flat rates for transfers from the airport to strip hotels.
You'll either pay $19, $23, or $27 depending on how far away your hotel is located.
Traditional taxis are therefore definitely worth using if the rideshare apps are trying to charge a fortune!
How to Get From Harry Reid Airport to Las Vegas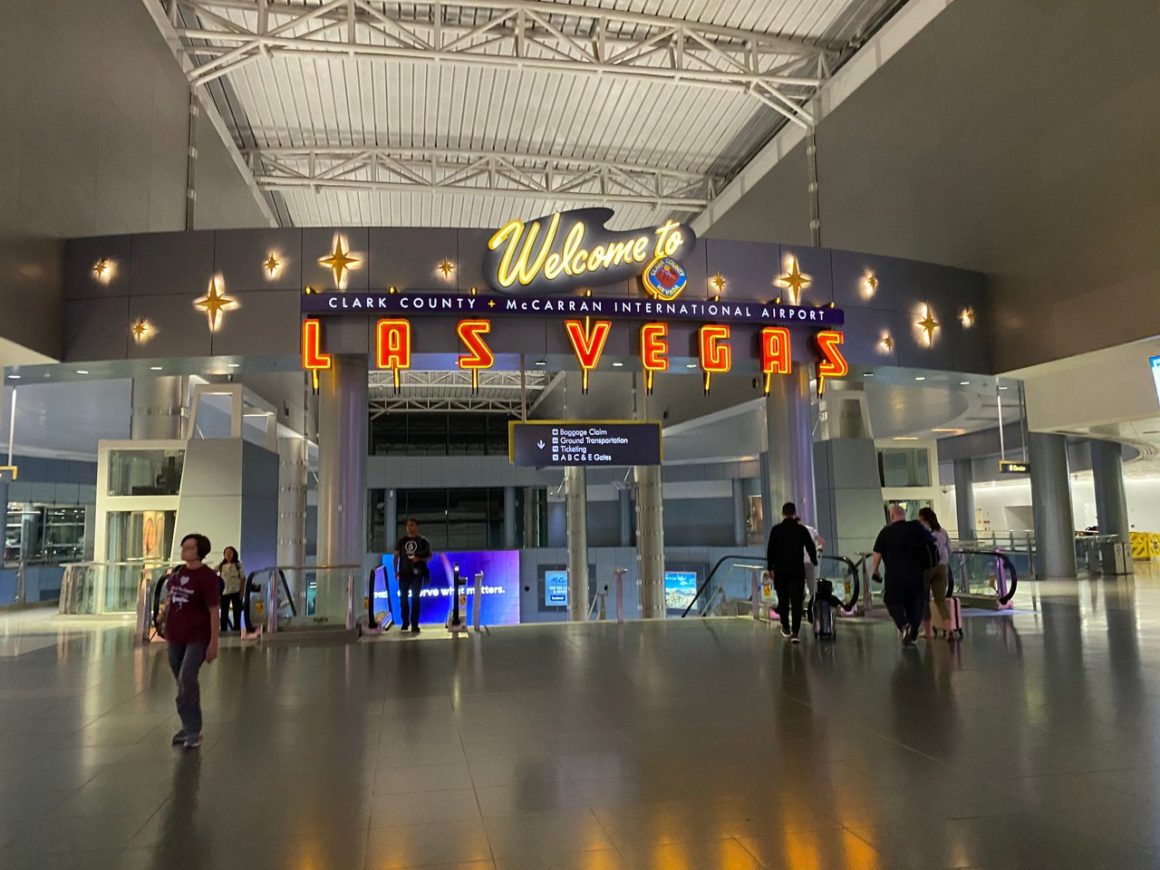 Harry Reid Airport (previously named McCarran) is the city's international airport, and you'll find it at the southern end of the Las Vegas strip.
Since it's so centrally located, getting from the airport to your las vegas hotel without a car is a breeze.
The most convenient option is to either order an Uber/Lyft ($10+, depending on the time of day) or catch a traditional taxi ($19+). As I mentioned earlier, Uber/Lyft will be cheaper unless they're using surge pricing.
During these periods, traditional taxis (which offer a flat fare) are cheaper.
Unless you're travelling solo, I recommend using some form of taxi to get from Las Vegas airport to the city. It's far quicker, and if you're travelling with others you can split the cost, which could potentially make it cheaper than public transport.
If you're on a super tight budget, you can use the airport shuttle bus or public transport buses.
There are numerous options on this route. To find the best option for you, I recommend using Google Maps to search for your destination and see what journey it recommends.
FAQs About Visiting Vegas Without a Car
Do you need a car in Las Vegas?
While having a car in Las Vegas can be convenient if you want to leave the city on day trips, you don't need a rental car in Las Vegas. The city's public transportation is surprisingly good by U.S. standards, and it's possible to reach all the main tourist attractions by bus or train.
How to get around Las Vegas Strip without a car
The best way to get around the Las Vegas strip without a car is via the Deuce bus, which runs up and down the strip 24 hours a day, is air conditioned, and stops at all the hotspots. Another option is to use the Vegas Monorail, though the stops are much more limited.
Is Uber cheaper than taxi in Vegas?
During surge pricing, especially on evenings and weekends, local taxis are actually far cheaper than Ubers in Vegas, because they have fixed prices they must adhere to for a few different routes. However, if you're looking to travel during an off-peak time, an Uber will cost as little as 1/3 of the price of a local taxi.
What is the cheapest way to go around Vegas?
The cheapest way to get around Vegas is on the Deuce public transport bus. Tickets cost just $6 for a 2-hour pass, $8 for a 24-hour pass, and $20 for a 3-day pass.
---
I hope this post has convinced you that you really don't need to hire a car in Las Vegas!
Getting around Vegas without a car is surprisingly easy and affordable, and I highly recommend it!