There is a good chance that this post contains affiliate links. If you make a purchase through them, I may receive a small commission at no extra cost to you! As an Amazon Associate, I earn from qualifying purchases. As ever, all opinions are my own.
There's no doubt that the "Welcome to Las Vegas" sign is one of the city's most famous tourist attractions. Aside from Elvis and gambling, I'd bet that it's one of the first things people think of when they think about Vegas. That's why most visitors to the city want to visit the Las Vegas sign.
Getting a photo at the Las Vegas Sign should definitely be on your Las Vegas itinerary, and, as someone who has been there twice, I promise it's worth it.
The thing is though, it's unfortunately not quite as simple as just walking up to the sign and taking a photo! Plus, you probably don't even know at this point where to find the Las Vegas sign!
In this blog post, I'll cover everything you need to know to get that perfect shot of yourself in front of the "Welcome to Fabulous Las Vegas, Nevada" sign. It's one of the best souvenirs you can take home from your trip!
History of the Las Vegas Sign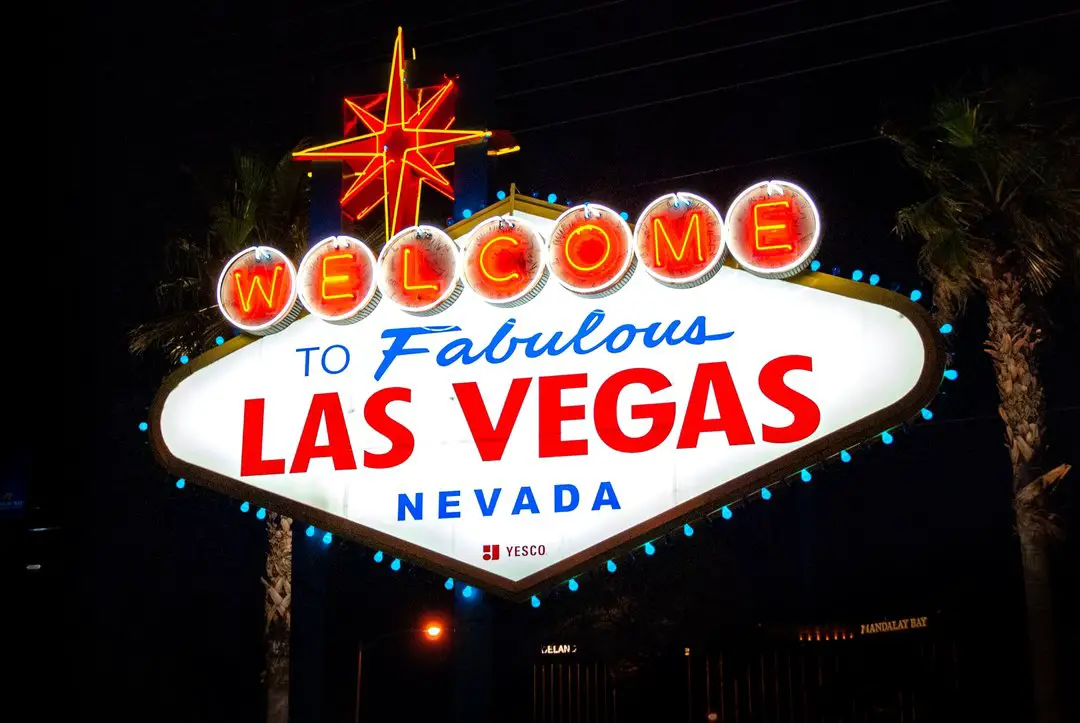 Way back in 1959, Clark County realised that they wanted to erect a landmark to represent the city itself, much in the same style that the neon signs of Vegas' extravagant hotels welcomed their visitors.
The task was passed on to Western Neon, who instructed one of their employees, Betty Willis, to design the Welcome to Las Vegas sign. It was erected in 1959.
Bizarrely, Willis never trademarked her design, instead considering it to be a gift from herself to the city. That's why you'll find mugs, T-shirts and lots of other souvenirs all over Las Vegas with the sign's design on them.
In May 2009 the Welcome to Las Vegas sign was added to the National Register of Historic Places.
Where is the Las Vegas Sign?
You'll find the 25-foot tall Las Vegas Sign at 5100 Las Vegas Boulevard South. That's the southern end of the Las Vegas Strip, and the sign traditionally marks the start of the Strip.
How to Get There
You can drive to the Las Vegas Sign if you really feel like it, but it's far easier to just catch the Deuce bus there so you don't have to worry about parking.
You can catch the Deuce from pretty much all of the tourist destinations along the Strip and Downtown Las Vegas, and the Las Vegas Sign has its own designated stop. It's the perfect solution if you're visiting Las Vegas without a car!
You're also able to take an Uber or Lyft to the sign if you'd prefer. You can walk to the Las Vegas Sign, technically, but it's so hot in Las Vegas that I don't recommend it unless you're staying very close by.
Best Time to Visit Las Vegas Sign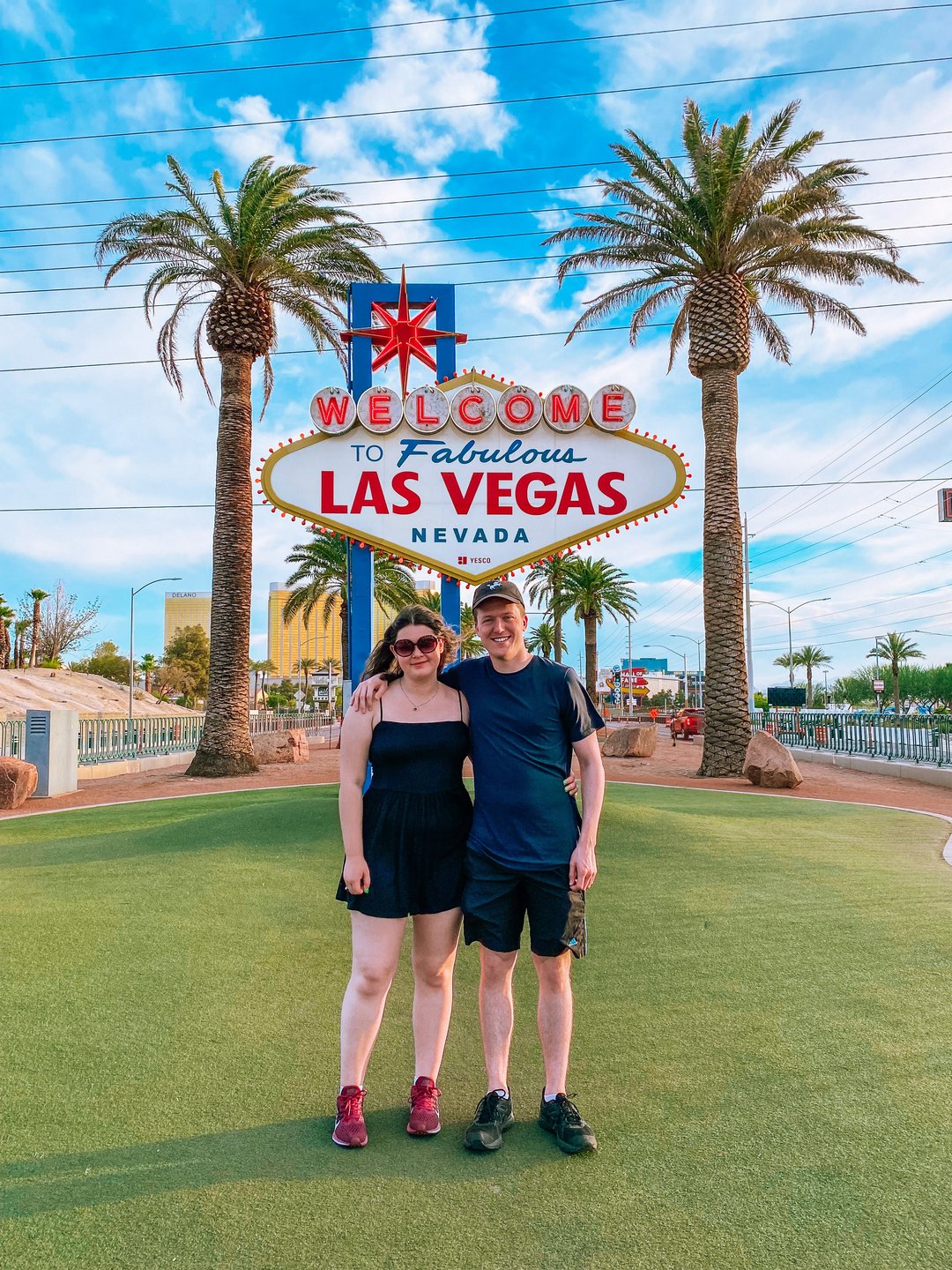 A lot of people will say that getting to the Las Vegas Sign super early, around 6am, is the best time to visit the Welcome to Las Vegas Sign. And I get it – you won't have to queue at that time, and you'll probably have slightly longer to pose for your photos without feeling rushed.
But who on earth wants to be up at 6am on their vacation??
As someone who actually visited the Las Vegas Sign at 6am, I can confirm that there weren't many people there at all at that time. However, the sky also isn't as vibrant blue as it is later in the day, and the sun isn't quite beaming down on you at this point. If you want a super sunny photo, 6am isn't the time for you.
Plus, if you want someone to take a photo of you in front of the sign you might struggle at 6am if there are no other tourists around. It's worth bearing in mind.
And, before you ask, the only reason I was at the Las Vegas Sign at 6am is because it was the first stop on this day tour I took to the Grand Canyon from Vegas. I promise I'm not completely nuts!
I also visited the Las Vegas Sign at around 5pm, and it was much busier, but the queue really wasn't too bad – which you can read about below in the "tips" section of this post.
So, basically, I don't really think there is a "best" time to visit the Las Vegas Sign. As long as you're able to handle the heat if you stop by later in the day, you can visit it whenever you like!
Visiting the Las Vegas Sign at Night
We've all see those cool photos of the signs' neon lights lit up in the dark, so you may be wondering if it's worth visiting the Welcome to Las Vegas Sign at night.
If you just want to visit to check out the sign and take some photos of it, it's definitely still worth visiting the Las Vegas Sign at night and in the dark. However, when it comes to getting your photo taken with the Vegas Sign, that's a whole other story.
Unless you have a really good camera with you, it's probably not worth trying to get your photo taken at the Las Vegas Sign at night. You'll barely show up in the photos, and the lights will have glare that'll show up on the photo if you're using something like a smartphone.
Standing in Line at the Las Vegas Sign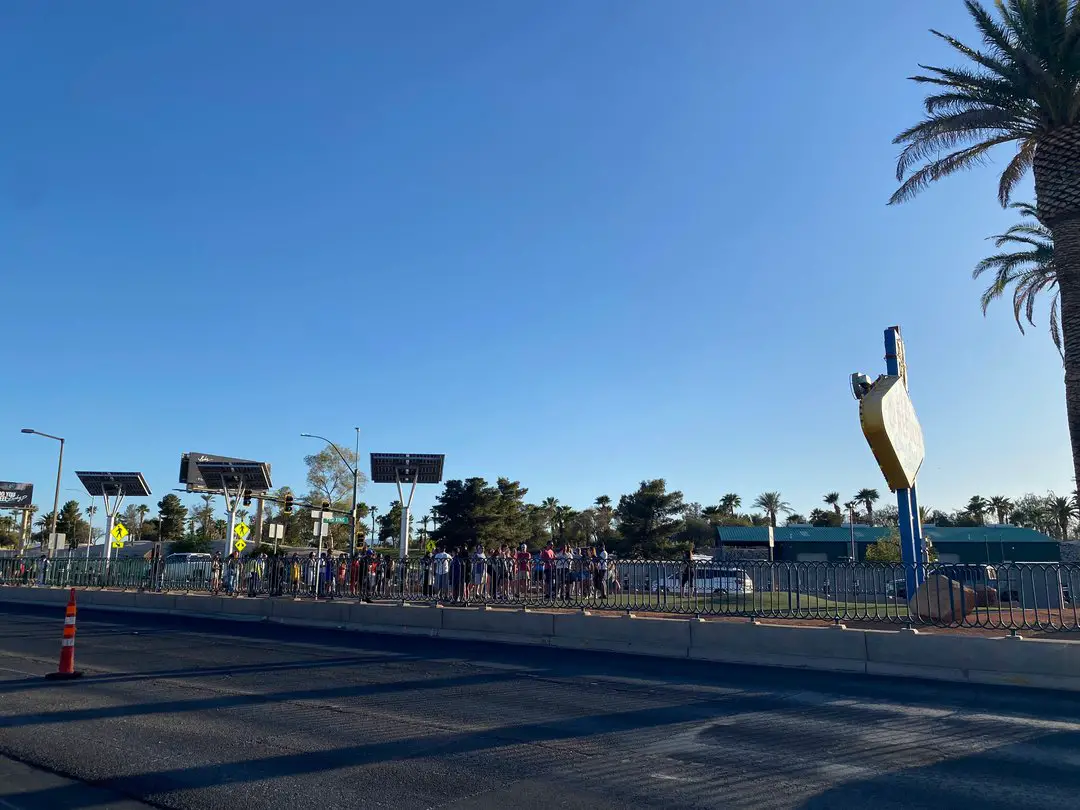 Unless you manage to visit the Las Vegas sign at 6am, chances are you'll have to stand in line to get your moment to pose in front of the Las Vegas sign. The line is to be able to have the sign pretty much to yourself and get a head-on shot.
I've heard of people waiting in line for almost two hours, but to be honest I don't understand how that could be possible. Maybe it's a weekend thing? I visited the Las Vegas Sign at around 5pm on a Wednesday in June and we stood in line for approximately ten minutes before getting our photo opportunity.
If you're visiting at the weekend, maybe head to the sign early in the morning or allocate more time to spend standing in line.
If you really don't care about having people in the background of your photo, or that the sign won't be head-on, you can skip the queue by just standing off to the side and snapping a photo.
Just don't get in the way of the people that have queued or else you might cause an argument!
My Top Tips for Visiting the Las Vegas Sign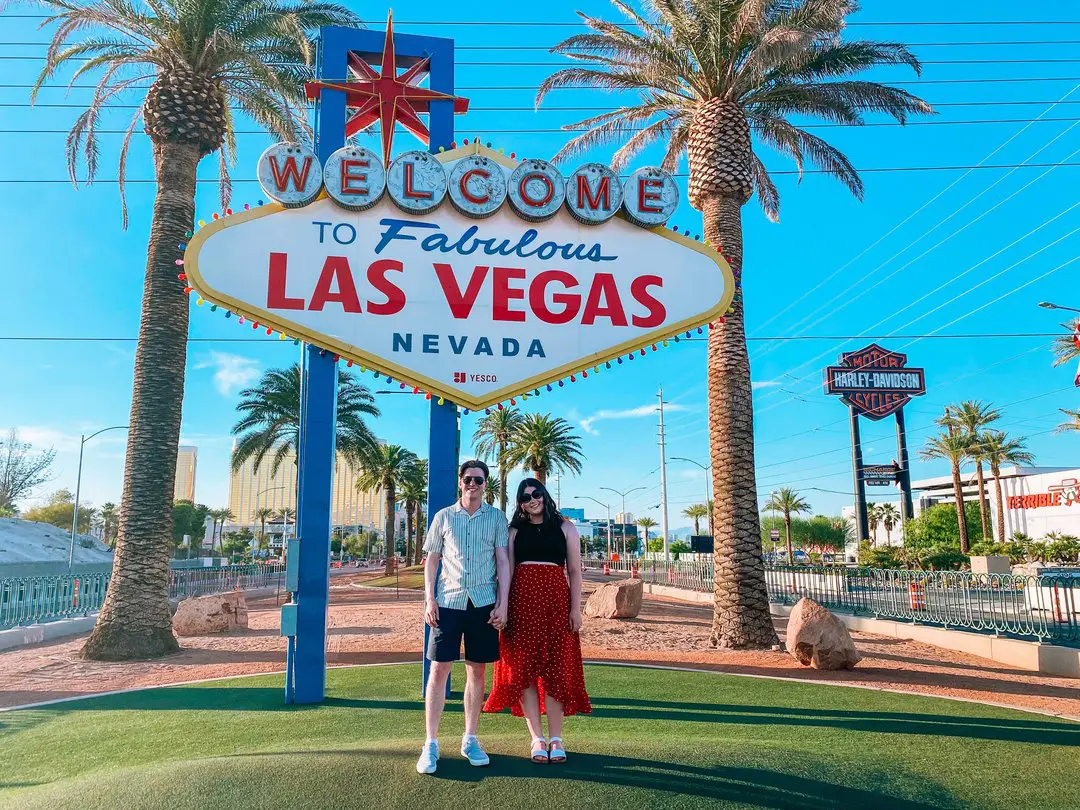 Much like the rest of the city, the Las Vegas sign never closes, so you can visit it whenever you like.
Visiting and taking your photo at the Las Vegas sign is totally free. There will be people at the sign pretending to be official photographers, but this is literally not a thing and you'll be expected to tip heavily, so just ignore them.
You'll probably also find a few other characters hanging out at the sign such as a dude in an Elvis suit, or maybe girls dressed as showgirls. They'll offer to pose in your photos with you, which, obviously, if you want to do this, go ahead! Just remember to always ask the price beforehand so that you don't end up paying through the nose. These are never free!
There's no shade in the queue for the Las Vegas sign, so make sure you have a lot of water and sunscreen with you.
Pretty much everybody wants to get cool photos with the Las Vegas sign, so if you don't have anybody to take them for you, just ask the people standing behind you in line (if they look trustworthy, of course). If you offer to take their photos once they have taken yours they're very likely to help you out.
To find out more about visiting Vegas, check out my 18 must-know tips for visiting Vegas for the first time!