There is a good chance that this post contains affiliate links. If you make a purchase through them, I may receive a small commission at no extra cost to you! As an Amazon Associate, I earn from qualifying purchases. As ever, all opinions are my own.
Are you thinking about travelling to Budapest, but aren't sure if it's within your budget? Is it true that Budapest is cheap? How much does it cost to travel to Budapest? Fear not – I'm here to answer all of your questions!
After my wonderful trip to Budapest last year I can confidently confirm that yes, Budapest is cheap, and it's definitely possible to travel on a budget in Budapest!
It's important to keep in mind that when I refer to "cheap", I'm not talking about bad quality. When I use the word "cheap", I simply mean affordable to those visiting from Western countries. Budapest offers great value for money for travellers, and there's nothing wrong with that at all!
In this blog post, we'll take a look at the prices in Budapest, and I'll provide an overview of how much things cost in Budapest, based on my personal experience in the city.
Plus, for those who are curious, I'll be including real examples of what I spent during my time in the Hungarian capital so that you can plan your trip budget with confidence. 
So let's get started!
Top tip: The Hungarian currency is the Hungarian Forint (HUF), and this is the currency in Budapest. With that said, I have listed most of the prices in this post in Euros to keep everything simple.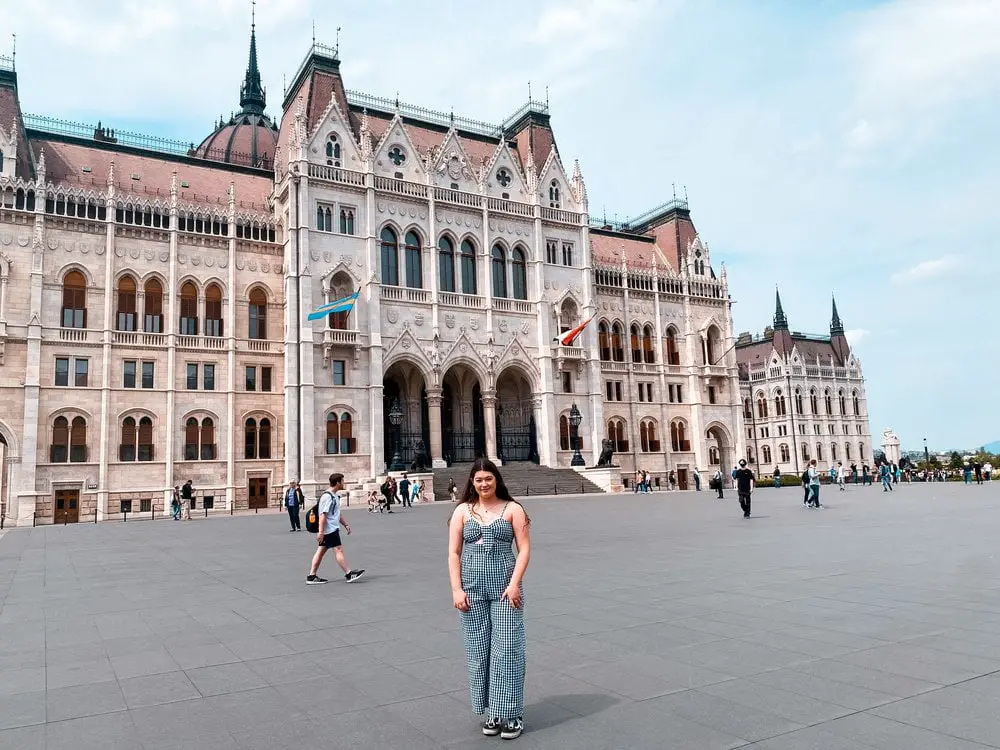 Price of Accommodation in Budapest
If you're worried about accommodation costs when travelling to Budapest, don't be. Sure, accommodation costs will probably take up the biggest chunk of your Budapest travel budget, but there are plenty of budget-friendly options! 
This is definitely one cost in Budapest that's higher than you might expect, though. In summer, you're looking at around €80 per night for a well-located 3-star hotel. Obviously, split between two, this works out at €40 each, which isn't bad at all, but it's higher than what you might expect.
What's the reason for these prices? Well, Budapest is one of the most popular city break destinations in Europe. It makes sense, then, that hotels can be slightly pricier than you might expect. Hotel rooms don't need to be as in line with local prices as, say, food does, since locals won't be using them.
If hostels are more your thing then you'll save money on accommodation. Expect to pay around €20 per night for a bed in a dorm room – prices rise during summer due to all the Interrailers though.
Important tip! Budapest is one of the most popular city breaks in Europe at the moment, so that means that accommodation costs are much higher over the weekend than during the week!
During wintertime, however, Budapest is pretty cold and dark. There's a bright side to this, though – accommodation prices drop slightly! If money is tight, consider winter as the best time to visit Budapest on a budget.
Where to Stay in Budapest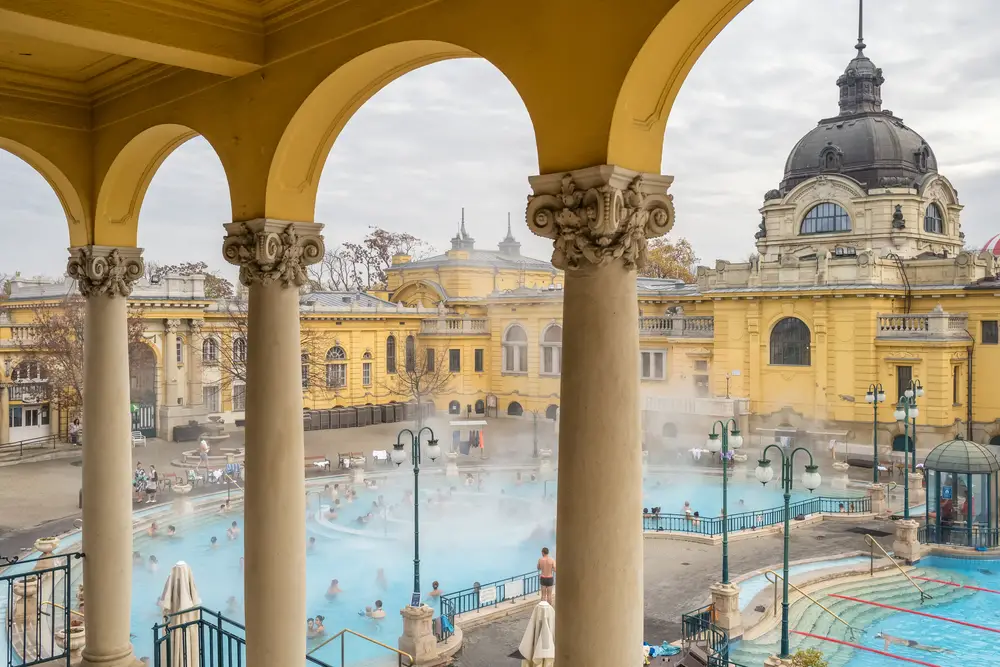 The best place to stay in Budapest is in the city centre! The city is surprisingly spread out, so staying in the centre limits the amount of time you'll need to spend getting from A to B.
I stayed in an apartment in Budapest, but I can't recommend it because the location sucked and it barely got any daylight! Sometimes photos can be so deceiving… Grr!
Instead, I've done some research and picked out three great options for Budapest accommodation in three different price categories – hostel, budget hotel, and mid-range hotel.
Backpacker
There's no shortage of great hostels in Budapest, but this one gets rave reviews for its security, location and homely atmosphere. This is what I look for when I'm choosing a hostel in European cities because the last thing you want to do is accidentally book a party megahostel! 
Dorm rooms cost around €23 per night, and the rooms are bright, colourful and clean. Click here to check it out!
Budget Traveller
When it comes to a budget hotel you can rely on in Budapest, this is the one. I LOVE this affordable budget hotel chain! I stayed in their Belfast branch and was hyped with how clean, well-organised and well-located it was. I expect the Budapest branch to be exactly the same. 
Double rooms cost around €55 per night, but they sell out fast, so if you see a room available snap it up before it's too late! Click here to check it out!
Mid-Range Traveller
If I had my time again, this is where I would stay in Budapest! The decor is so charming and unique, its location can't be beaten. It's just steps away from the House of Terror. Oh, and it's got an epic 9/4/10 rating on Booking.com. 
Double rooms cost around €99 per night, and it has everything you need for a clean and comfortable stay. Check it out here!
Cost of Food & Drink in Budapest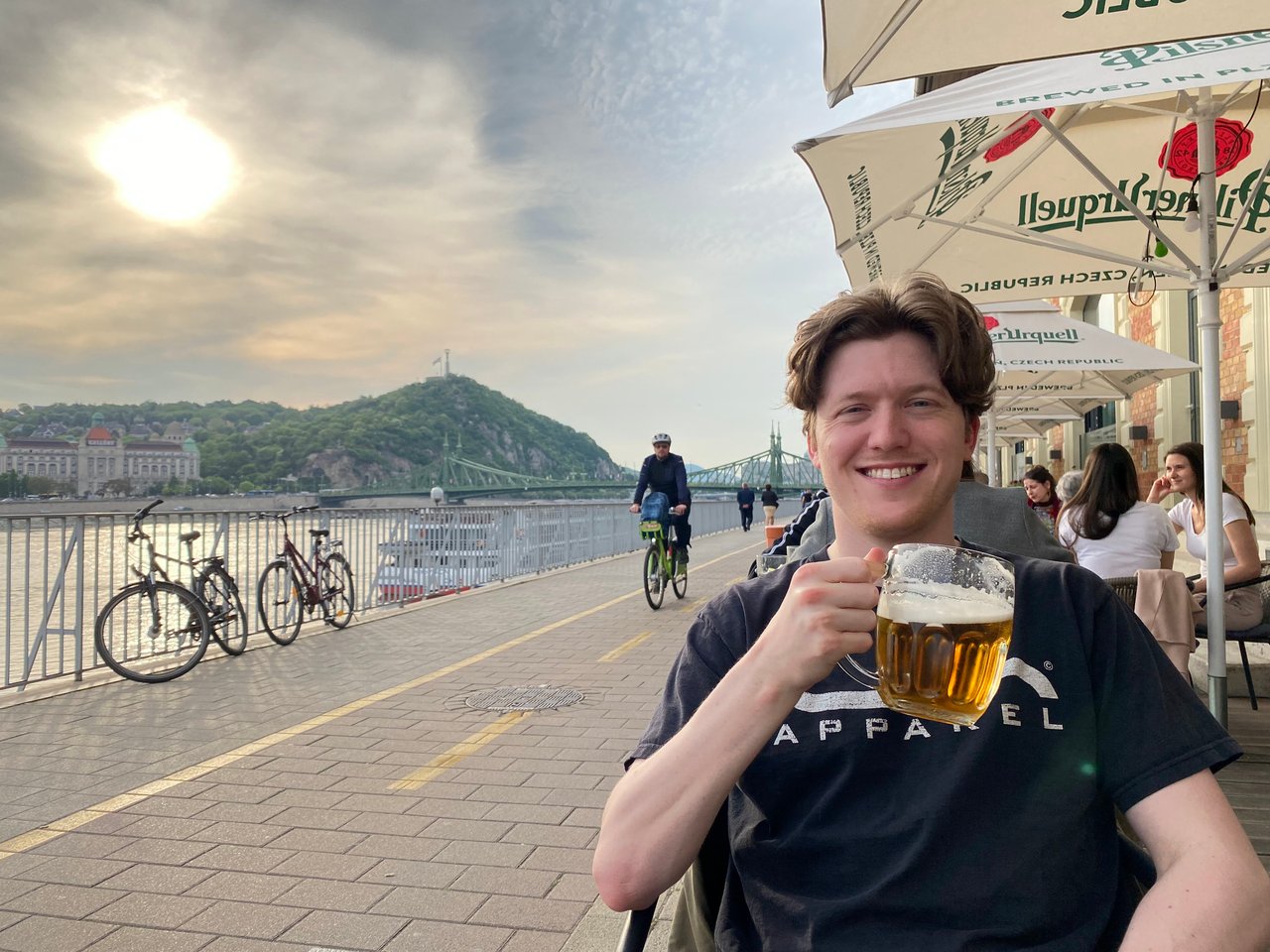 If you love sampling local food, I have good news – Budapest is very cheap to eat and drink, so you'll be able to indulge without breaking the bank! Budapest isn't exactly known as a foodie destination, but I was very pleasantly surprised by Hungarian cuisine. 
What the city is known for is its parties, so it makes sense that the cost of alcohol in Budapest is low! Want to check out my top restaurant and bar recommendations for Budapest? Head over to my guide to a weekend in Budapest to find out!
Breakfast
When it comes to breakfast in Budapest, you can't go wrong with stopping at a bakery, where you can grab a pastry and a coffee on the go for around €3. Whilst in Budapest, you HAVE to sample a kakaós csiga, a traditional Hungarian chocolate pastry that's to die for!
Of course, there are fancier breakfast places serving pastries and coffee in a more "cafe" setting, where you'll pay around €5 for breakfast. There are also Western-style "brunch" restaurants, where you'll pay around €12!
So, overall it's fair to say that the cost of breakfast and brunch in Budapest can be low, but it can also be high, depending on what you opt for.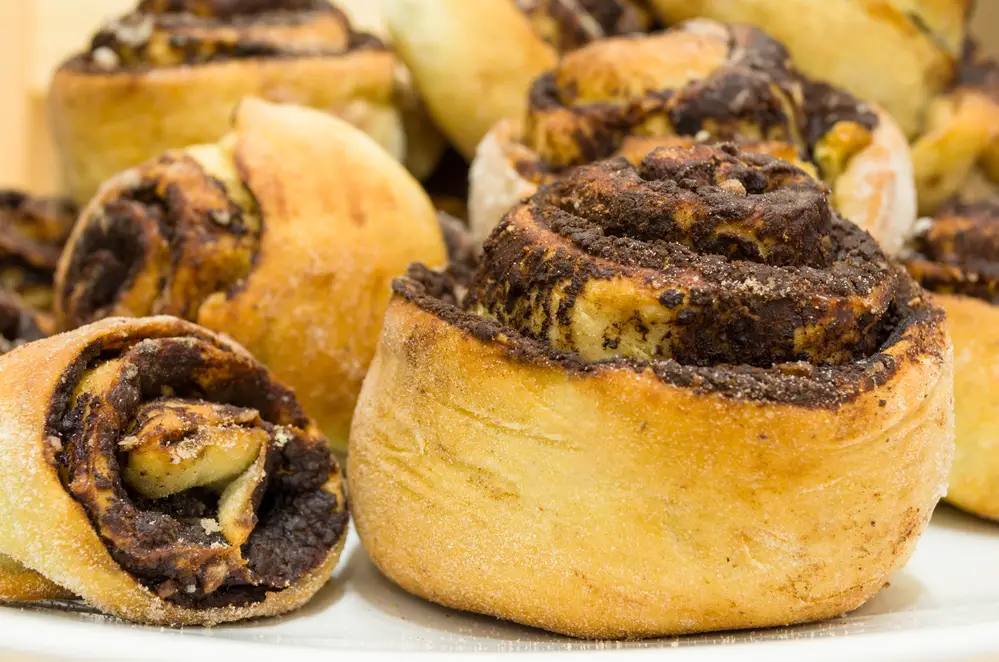 Lunch & Dinner
Hungarian food is generally hearty, served in big portions, and meat-based. The good news is, there's almost always at least one vegetarian option on the menu. You'll probably want to try Hungarian food for both lunch and dinner in Budapest, but it'll be cheaper to eat more at lunch. 
You see, traditional restaurants often have a "set meal" offer at lunch in Budapest, which includes a soup, a main (usually a few different versions of stew) and a beer. I paid, on average, €10 for these, which I thought was great value!
Here are some examples of what I paid for different dishes in Budapest:
Big plate of Chicken paprikash = €8
Bowl of garlic soup = €4.50
Beef goulash = €6
Langos (Hungarian pizza) = €6.50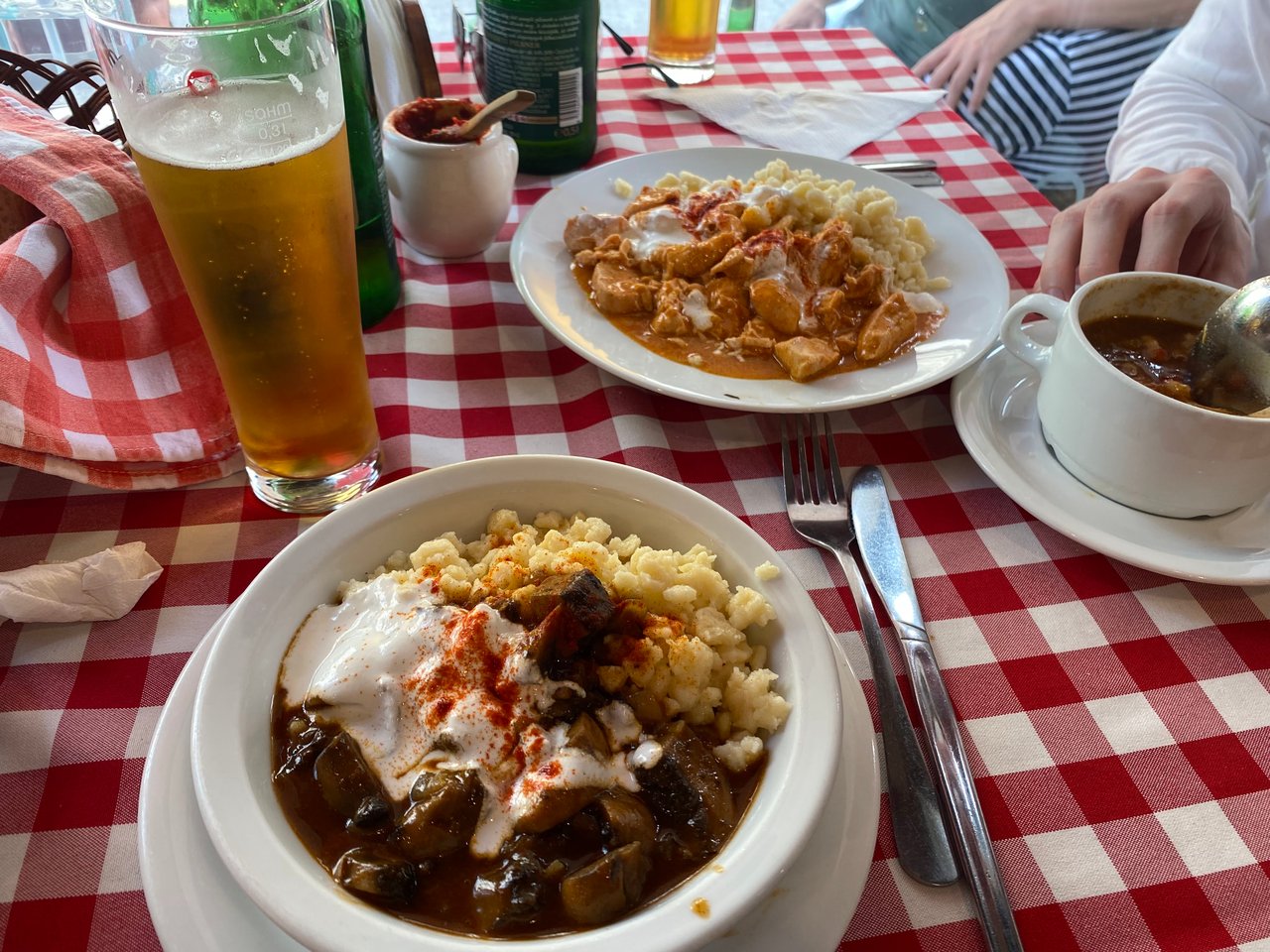 Tipping in Budapest
Tipping isn't mandatory or expected in Budapest, but obviously it's still appreciated. If you come from a culture where you prefer to tip, 10-15% of the bill at a restaurant is a good rule of thumb. It's not common to tip at bars and pubs if you're just drinking.
Price of Alcohol in Budapest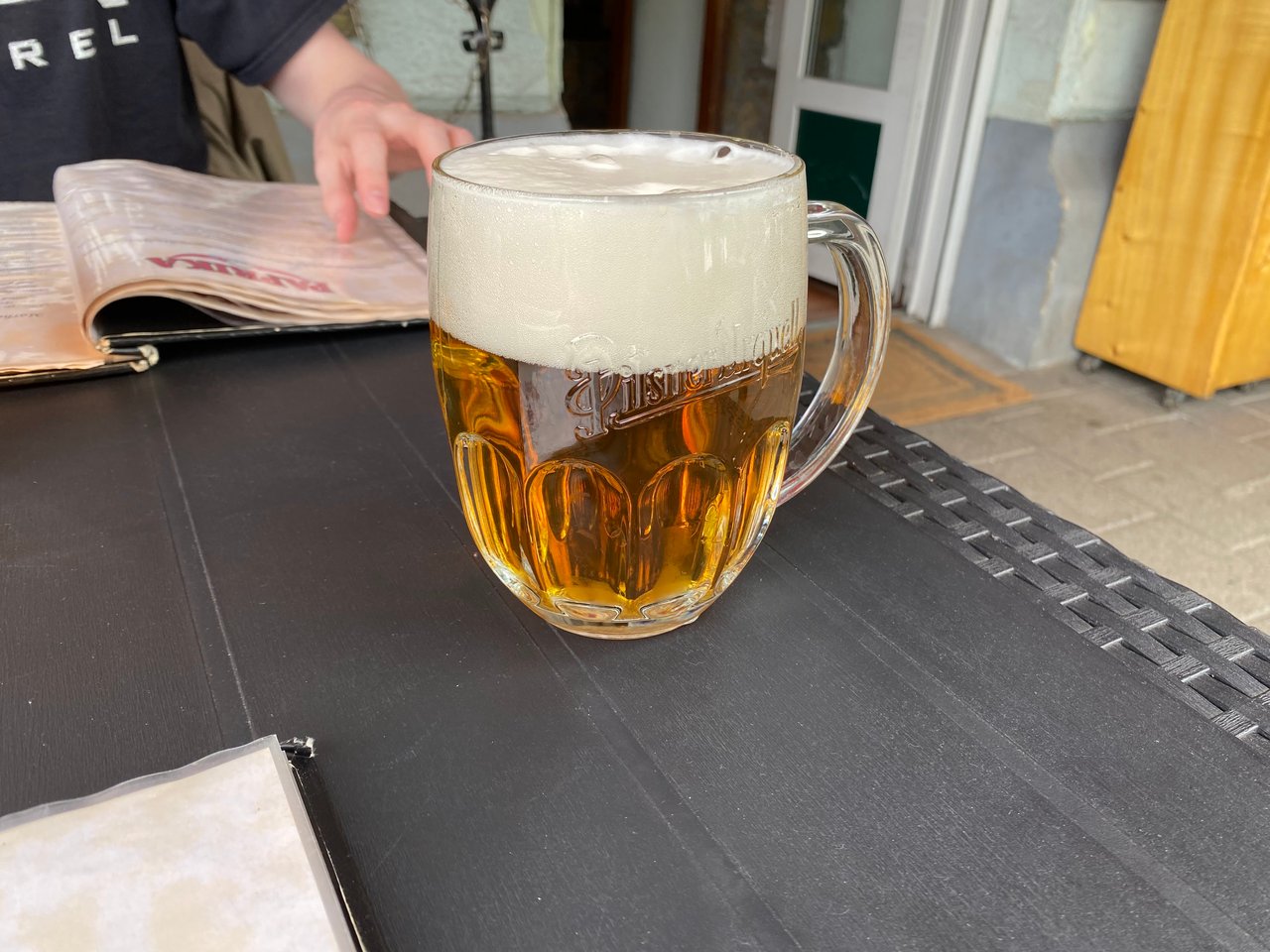 Budapest is a well-known party destination, so obviously the price of alcohol in Budapest is low! Beer is the cheapest thing to drink by far, followed by mixed drinks and wine. Cocktails are not very Hungarian at all, so they're the most expensive alcoholic drinks in Budapest.
Want to know how much a pint costs in Budapest? I don't blame you. I did too! Luckily, the cost of beer in Budapest is pretty low! The average price of a pint of beer in a pub or bar in Budapest is around €1.70, whilst from the supermarket beer will cost around €0.80. 
A glass of wine at a bar will cost around €2, and a bottle of decent stuff from the supermarket will cost around €6.50
For the cheapest drinks, head to the Jewish Quarter, also known as the party district! Sure, you'll be drinking along with huge groups of stag and hen parties (bachelor and bachelorette parties), but it's cheap, it's fun, and it's where all the cool Budapest ruin bars are!
Cost of Attractions and Activities in Budapest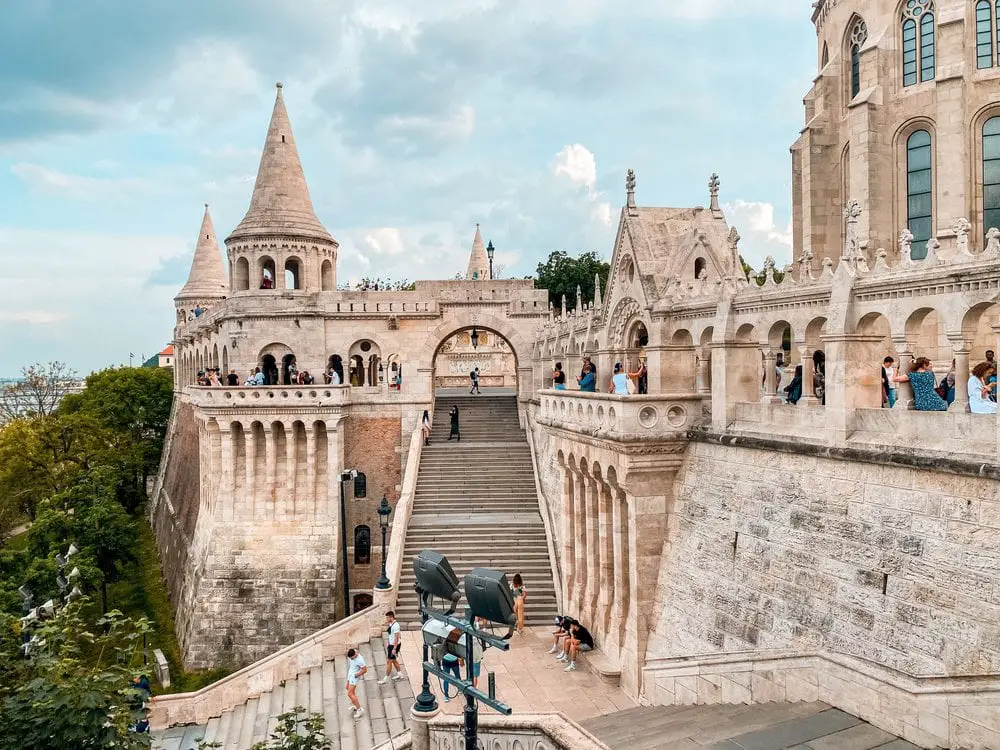 Most things to do in Budapest are fairly affordable – from boat tours, to museums, to walking tours. One must-visit museum in Budapest is the House of Terror, where you'll learn all about the Communist era of Hungary and the secret police who spied on the country's residents. It's a fairly expensive museum by Hungary's standards (€10.50) but well worth it.
You can't visit Budapest without going to one of the many thermal baths. I opted for Széchenyi Thermal Baths, the most famous, and (again) they were well worth it! €25 gets you access for the entire day with locker use. As you can see, even the more "expensive" activities in Budapest have very reasonable prices.
Another thing you need to include on your Budapest trip is a Danube Evening Sightseeing Cruise. There's nothing that quite compares with how stunning the city looks lit up at night! These cruises are surprisingly affordable – costing around €10.
Aside from that, most of the things you'll want to do in Budapest are free! The Hungarian Parliament, Buda Castle and the Fisherman's Bastion are all free to check out. There are also plenty of free walking tours that'll take you to the city's highlights.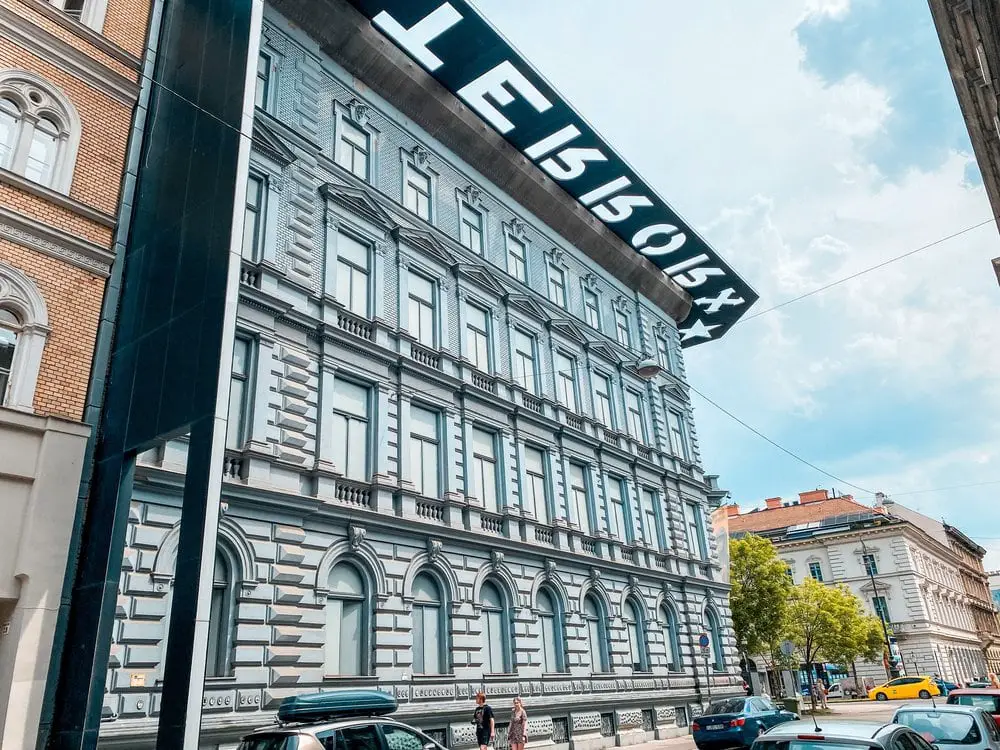 Price of Transportation in Budapest
Budapest has a very good public transportation system, so you definitely shouldn't hire a car in Budapest. From Budapest airport, you can take the airport express bus, the 100E, to the city centre for €6.
If you're on a backpacker budget, no worries – you can take a public bus and then a metro into the centre for just €2. Just use Google Maps at the airport to work out what your most efficient method is.
I recommend downloading the BudapestGO app and buying a Budapest mobile travel card before you arrive in the city. This is so helpful for getting around the city! A 24-hour travel pass costs €6.70, and a 72-hour pass costs €15. If you're staying outside of the main tourist area, you'll earn your money back easily with this.
You'll have to get used to the Budapest public transportation system because there is no Uber or Lyft in Budapest. The good news is, the buses and metros are so easy to use in Budapest that you'll soon forget all about Uber!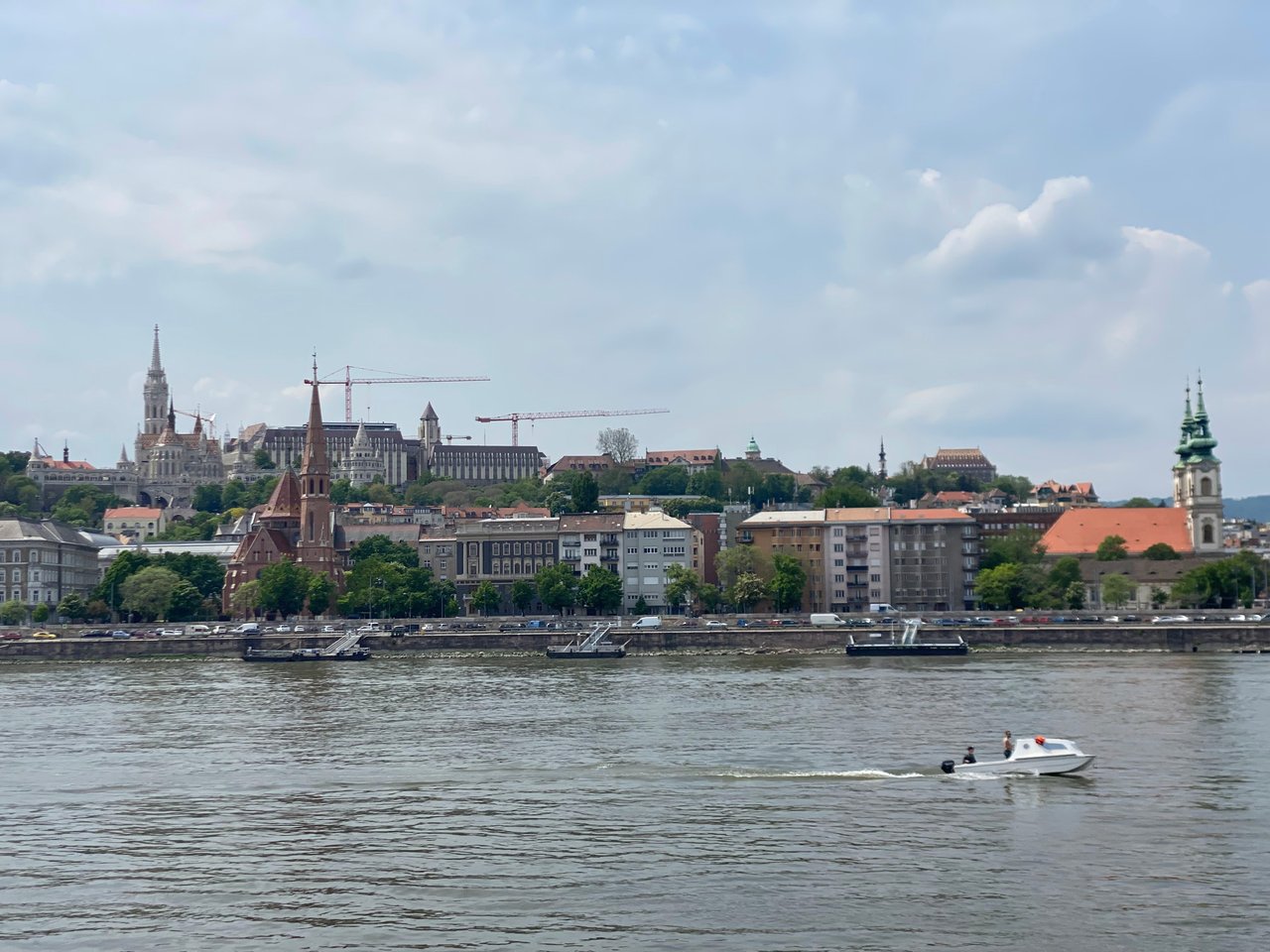 Cost of Flights to Budapest
The cost of your flights to and from Budapest will totally depend on where you're flying from. They can be as cheap as chips or a small fortune! 
From Europe
Let's narrow it down a bit. From the UK and other European countries, flights to Budapest can be seriously cheap. My return flights to Budapest from London cost me €50 return, but that's because I flew at the weekend, with good flight times. If you have more flexibility, you can get flights for as little as €20 return!
For these cheap flights to Budapest, you're probably going to be flying with Wizz Air or Ryanair.
You should aim to book your flights 4-6 weeks in advance for the best prices on flights in Europe – this has been my experience. If you're travelling in summer, though, that rule goes out the window – book as early as possible!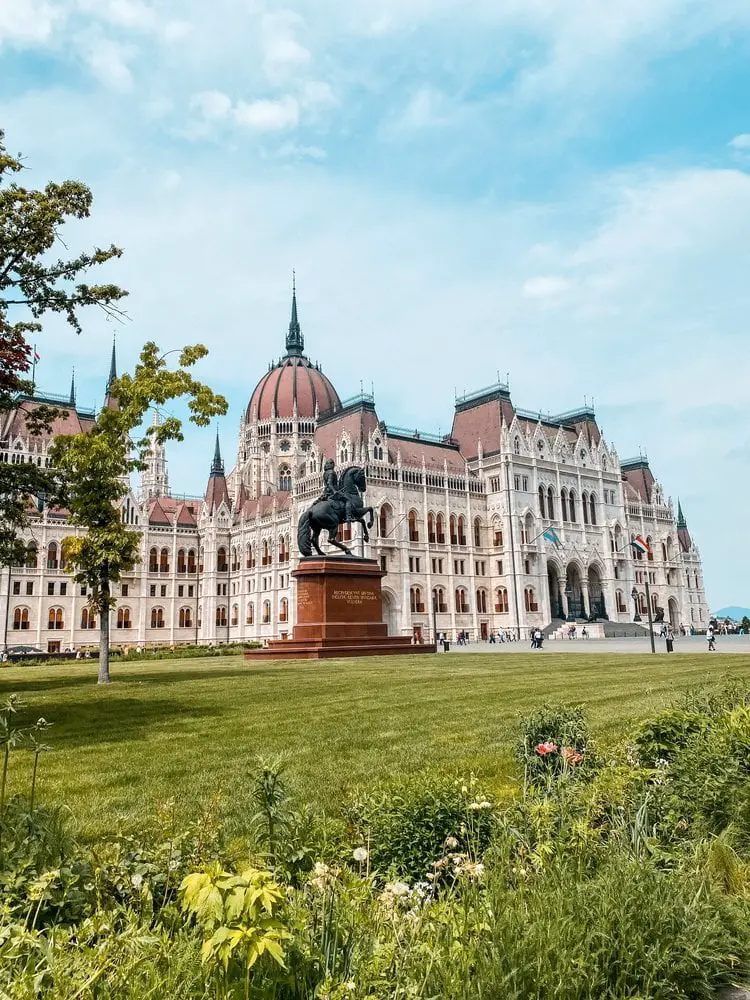 From the US & Further Afield
If you're flying to Budapest from further away, such as the US, you won't be able to fly directly. Expect return trips from the U.S. to cost around $750-900 – although, of course, there are a few flight ninja tips you can use to bring this price down. 
The main tip is to find the cheapest flight from your city to Europe, spend the night there, and then hop on a cheap Ryanair flight to Budapest the next day. The second option is to find the cheapest US city to fly to Budapest from, and then try to find a cheap flight to that city first. 
You're welcome.😉
Cost of Travel Insurance for Budapest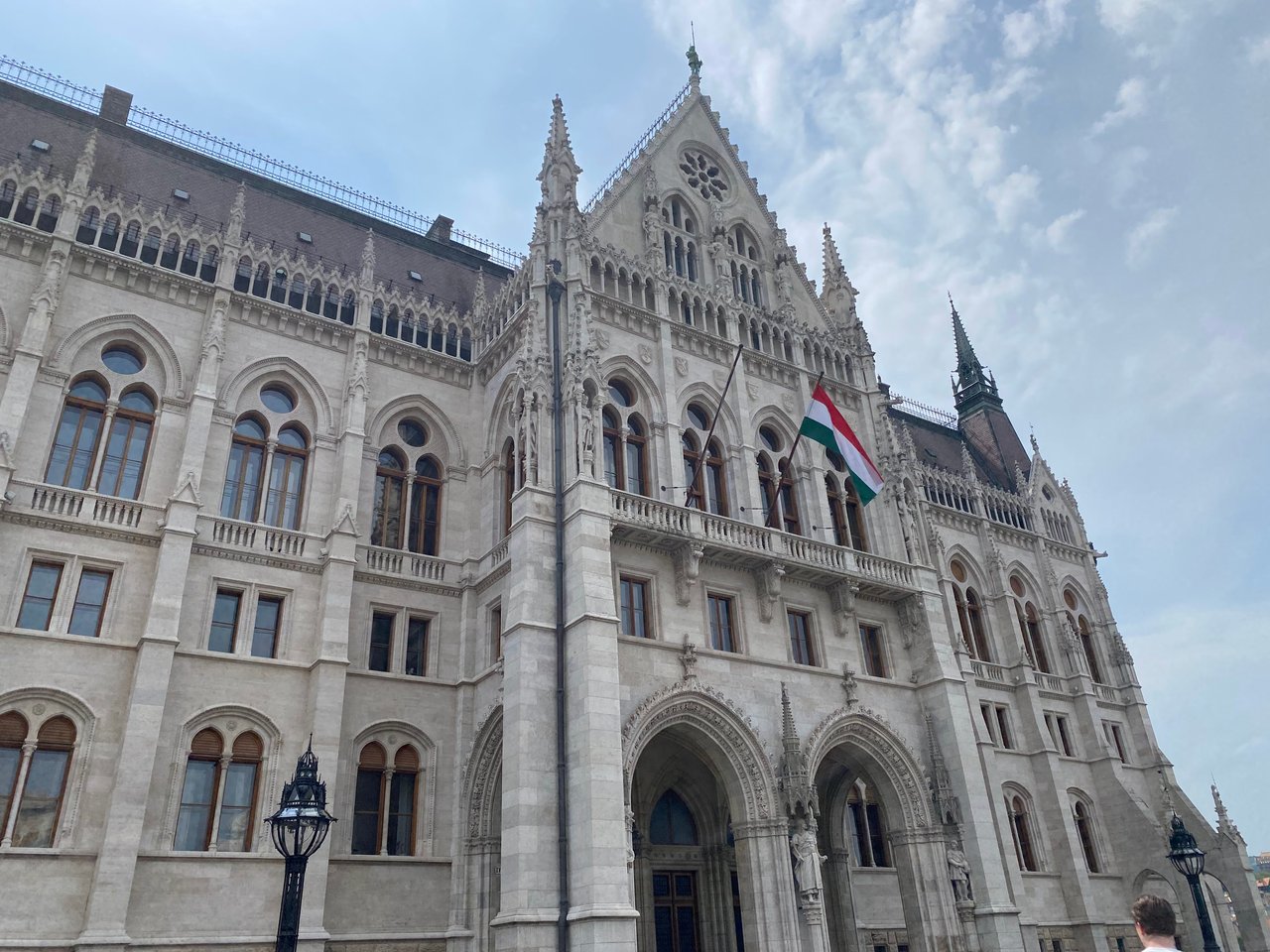 If you've got even a little bit of common sense, then you'll know that travel insurance is an absolute must-have no matter where you're going – and Budapest is no exception. You might be visiting a safe place, but bad luck can strike at any moment.
Travel insurance will cover you if something goes wrong while you're away: like your flight being delayed or cancelled, any of your devices getting lost or damaged, or even the airline losing your luggage.
If you need a reliable provider that covers loads of activities and doesn't cost an arm and a leg, then SafetyWing is for you. It's one of the most popular policies for adventurous travellers and backpackers worldwide. Plus with prices starting from just €30 for 30 days (that's less than €1 per day!), it won't break the bank either!
Click here to get a quote from SafetyWing!
Average Travel Insurance cost = €30 for 1 month (€1 per day!).
Average Daily Budget for Travel in Budapest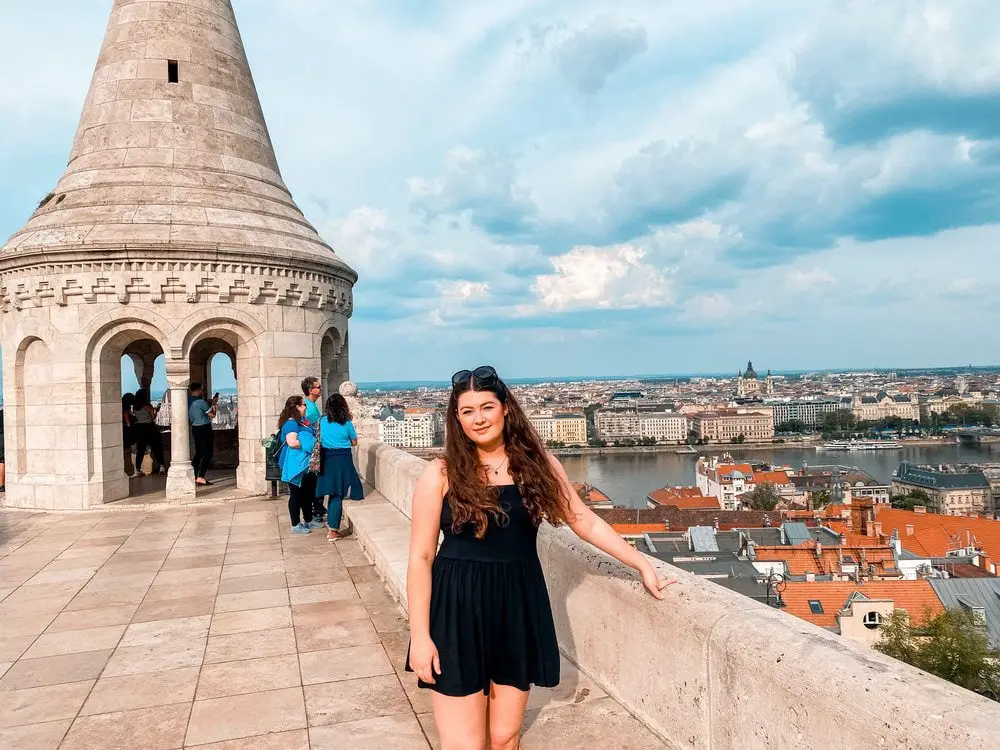 Okay, I know there has been a LOT of information in this post, so let's break it down into something easier to understand. So, how cheap is Budapest? This is my recommended daily budget for travel in Budapest on a mid-range budget.
Double room in a city centre hotel (shared with travel partner) = €80 (€40 each)
Breakfast and coffee = €5
Lunch and dinner at traditional restaurants (including drinks) =  €20
A few drinks at cheap bars = €6
Entry to House of Leaves or Sightseeing Cruise = €10
Public transportation for one day = €6
Total average daily travel cost for Budapest = €87
Of course, this budget is the mid-range option, so it's possible to spend a lot less on your trip to Budapest. Each person's travel style is different, and if I had been travelling solo, rather than with my partner, I would have probably spent around €55 per day. That's the amount I expect most backpackers will spend per day in Budapest.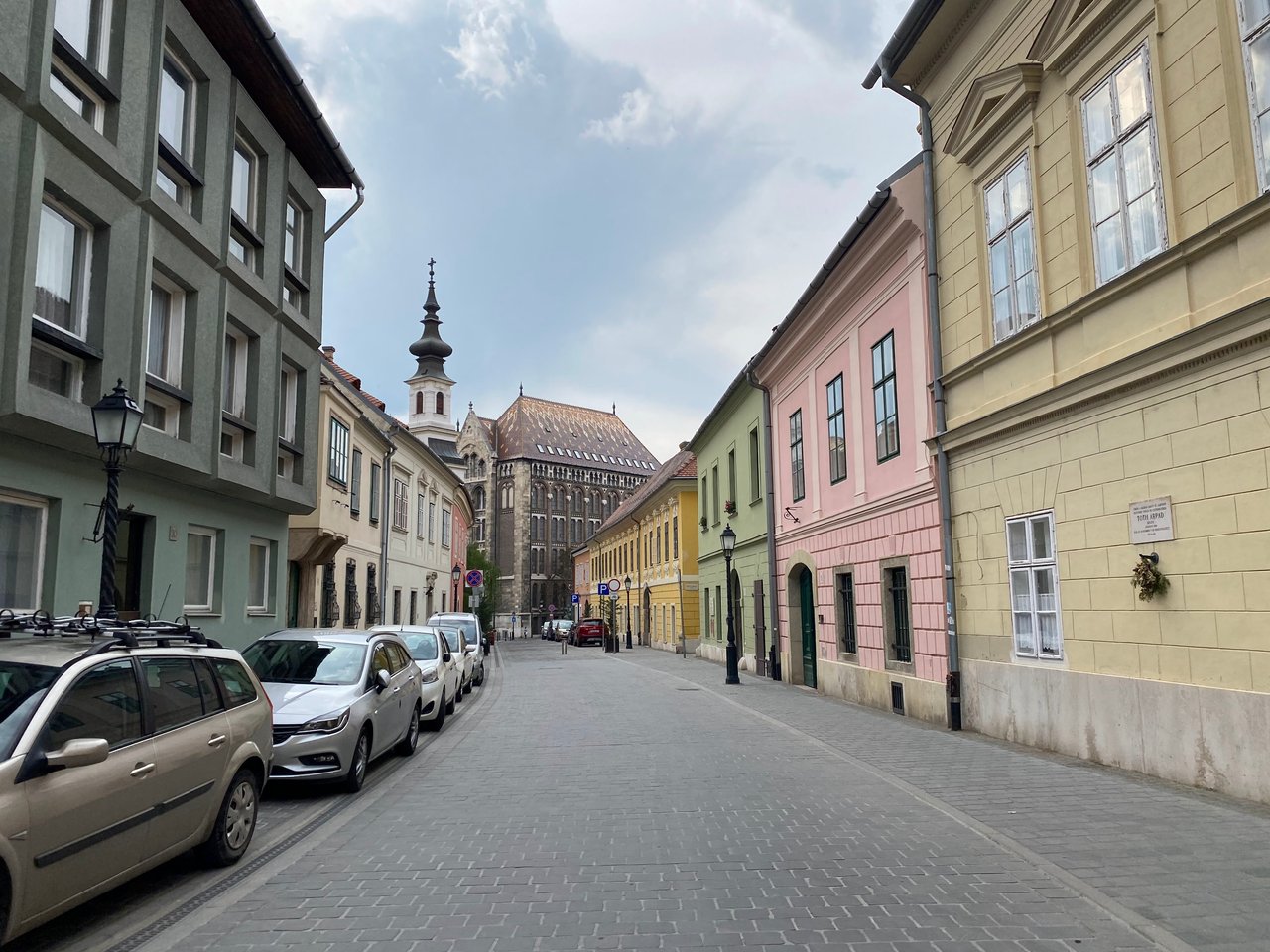 Is Budapest Cheap?
So, is Budapest cheap to visit? Erm… Yes and No. It's definitely affordable if you're coming from Western Europe, the USA or Australia. You'll see that prices in Budapest are low across the board and you get great bang for your buck.
However…
Budapest has this reputation for being incredibly cheap, like, ridiculously so, and I just don't think that is accurate anymore. Drinks are definitely cheap, yes, but compared to the cost of travel in Poland and the prices in Albania, for example, there's no doubt that Budapest is more expensive. 
So – my short answer is, yes, it is cheap in Budapest! It's just not crazy cheap. Inflation has hit most countries in Europe hard, and Budapest is no exception. 
Plus, Budapest is no longer an up-and-coming travel destination. It's already come-up! That means the local businesses can charge higher prices, as more tourist money is pumping into the city. Obviously that's a great thing for the local business owners, so we can hardly complain.
So what are you waiting for? Budapest is waiting for you. Book that trip now and get ready to explore everything it has to offer!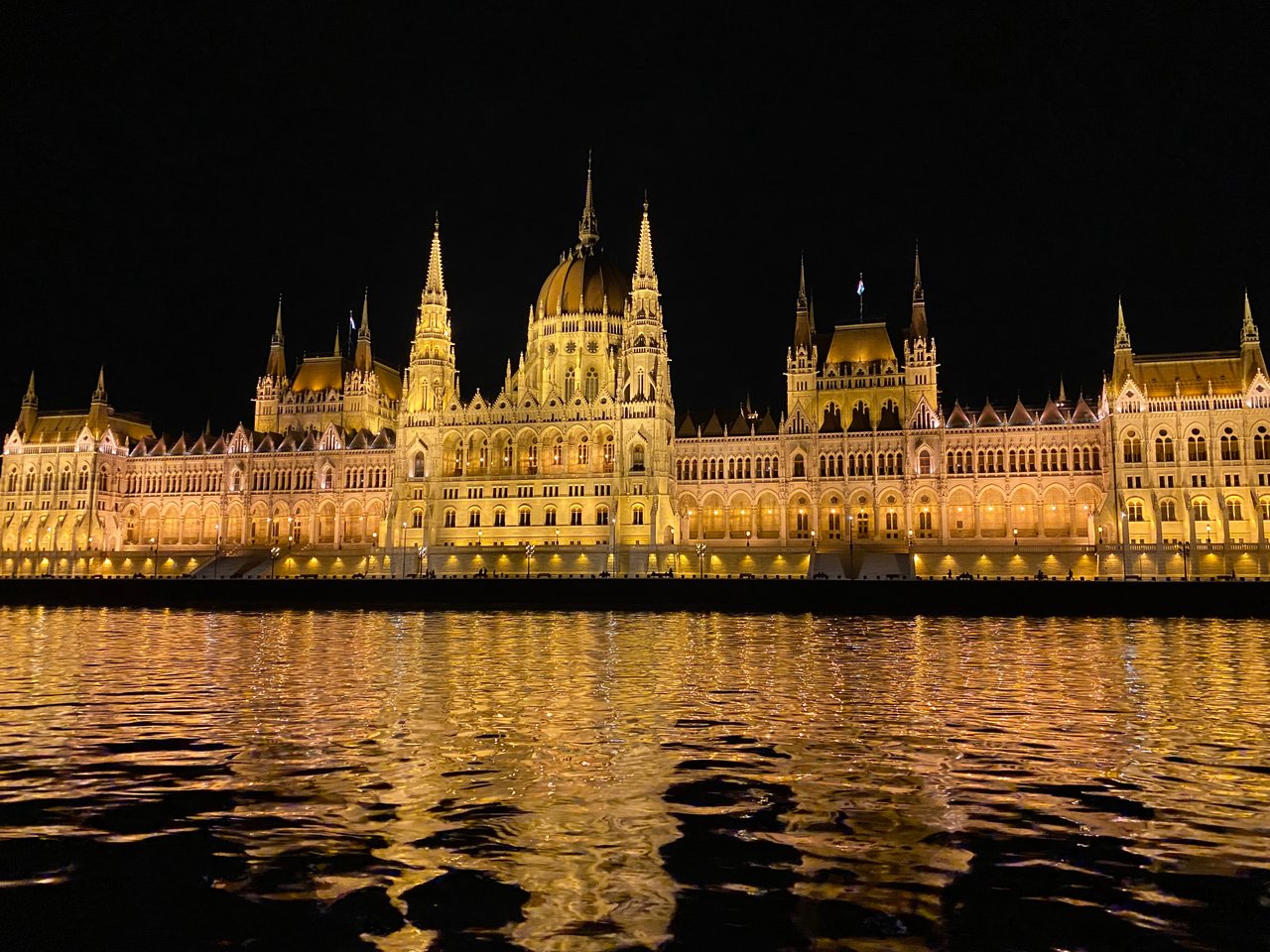 FAQs about the Cost of Travel in Budapest?
Is Budapest Expensive to Visit?
For visitors from Western European countries, the U.S., Canada and Australia, Budapest is not expensive, especially when compared to other European destinations. Of course, prices can vary depending on where you go and what you do, but in general, Budapest is cheap.
However, it's essential we put this into context. One of the reasons why Budapest is cheap to us is because wages here are lower. For this reason, it would be ridiculous to walk around saying that Budapest is cheap for everybody. For people working minimum wage jobs in Budapest, the city certainly won't be cheap for them! 
This blog post has covered the costs of travel in Budapest for my readers, who are mostly UK and US based, but it would be wrong of me not to mention that what's cheap to one person is definitely not cheap to another.
Is Budapest Cheaper than Krakow?
In my experience travelling to both cities (which is backed up by a quick Google search so I could be sure) Budapest is more expensive than Krakow in terms of accommodation, eating out, and activities. 
Is Budapest Cheaper than Vienna?
I've been to both cities, and I don't need to double check before telling you this: Budapest is a lot cheaper than Vienna. That makes sense because Vienna is known for being one of the most expensive cities in Europe! While Budapest can still be pricey in some areas, such as touristy restaurants and bars, it is generally much more budget-friendly than Vienna.
Is Budapest Cheaper than Prague?
Yes, Budapest is generally cheaper than Prague. While both cities are Eastern European and are generally considered "cheap" by Western European standards, Budapest is a bit cheaper in terms of accommodation, food, and transport. 
Is Budapest Cheap for Food?
Absolutely! Eating out in Hungary's capital city is very accessible and inexpensive with many restaurants offering good quality dishes at low prices. Local delicacies such as goulash soup are particularly popular within the city itself but there are plenty of international options too so everyone should find something that fits their budget!
Why is Budapest so Cheap?
Budapest is a cheap city compared to many other European cities mainly because of its lower cost of living, lower wages, and a history of economic struggles that have kept prices down. It was a communist country from 1949-1989, which definitely had a long-lasting impact on the country's economy.
Additionally, Hungary's currency, the Forint, is weaker than many other European currencies, which makes prices in Budapest more affordable for tourists. However, it's worth noting that the cost of living in Budapest has been increasing in recent years, particularly in the city centre. Prices for tourist restaurants, bars, hotels and activities have risen even in the last year!
What is Cheap in Budapest?
Food and drink is incredibly cheap in Budapest – especially compared to Western European countries. Public transportation and groceries are also cheap in Budapest.
Is Budapest Worth Visiting?
Absolutely yes! Budapest is a beautiful city with stunning architecture, delicious food, and plenty of things to see and do. Whether you want to relax in one of the city's famous thermal baths or explore the many wonderful historic attractions, Budapest has a lot to offer for a short city break. Plus, the affordable prices in Budapest make it a great choice for travellers on a budget.
What do you think about the cost of travel in Budapest? Are you surprised by how cheap or expensive Budapest is?