There is a good chance that this post contains affiliate links. If you make a purchase through them, I may receive a small commission at no extra cost to you! As an Amazon Associate, I earn from qualifying purchases. As ever, all opinions are my own.
Last Updated on June 24, 2022 by Ella
Lots of people add 2 days in Budapest to their Europe itinerary, or decide to visit there on a short city break, but don't really know why they want to go to Budapest, or what there is to do there!
Sure, it's famous for its scenic thermal baths, Hungarian Goulash and cheap beer, but there is plenty more to see, do and experience here!
No worries, though – I've got you. Having just returned from my first trip to Budapest, I'm armed with travel tips and insider knowledge. From my awesome experience in Budapest, I've pulled together this jam-packed itinerary for two days in Budapest. 
I actually stayed in Budapest for four days and made sure I did just about everything in the city, so you can be certain that this 2 days in Budapest itinerary contains only the absolute best, tried-and-tested activities that Budapest has to offer.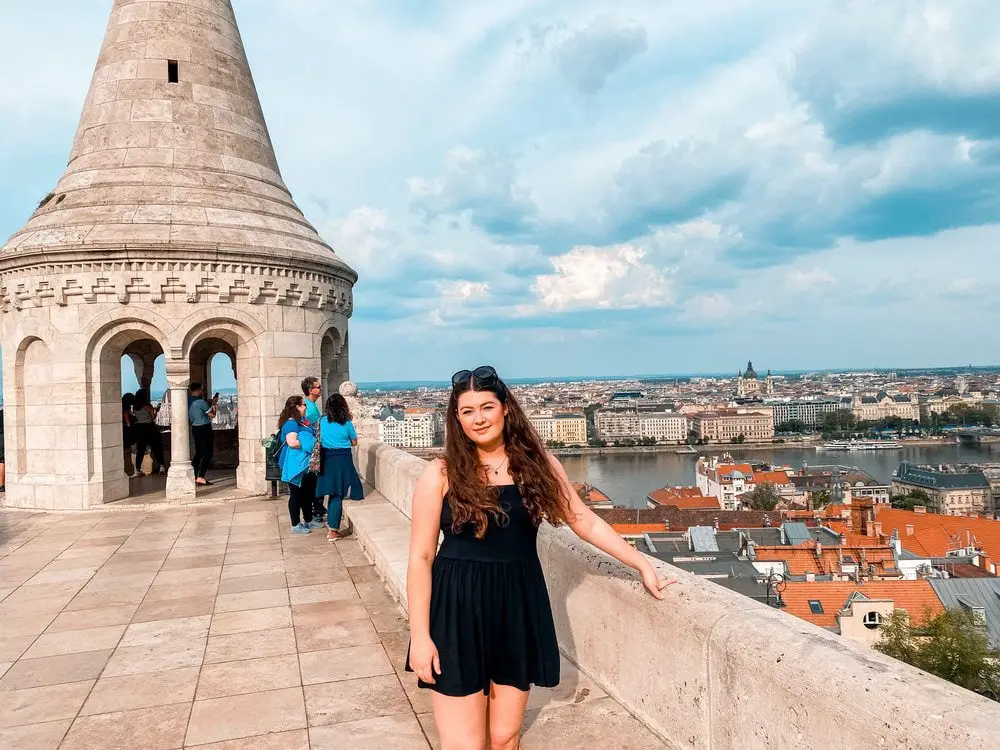 Top tip: The Hungarian currency is the Hungarian Forint (HUF), but I have listed most of the prices in this post in Euros to keep everything simple.
How Many Days Should I Spend in Budapest?
Like I said, I spent four days in Budapest as I wanted to move at a leisurely pace, visit everything (even the "meh" attractions) to ensure my recommendations to you are solid, and spend plenty of time lounging by the river with a beer.
If I was a regular traveller instead of a travel blogger, two full days would have been the perfect amount of time to spend in Budapest. With two days in the city you'll see all the highlights, get to cruise down the Danube River, eat your bodyweight in yummy Hungarian food and chill in the city's most famous thermal spa.
If you want to extend your trip to Budapest, I recommend following this itinerary over 3 days, which will leave you with more time to relax and sleep in.
Anything over 3 full days in Budapest would be slightly too long, in my experience. There aren't really any "must-visit" day trips from the city, and, to be honest, it doesn't really have that many attractions! That's why I overall recommend spending 2 days in Budapest. It's perfect for a weekend break.
Budapest Card: Is It Worth It?
Like many cities popular with tourists, Budapest offers a Budapest Card. The card covers entry to a few museums and also includes a public transport pass.
In my opinion, the Budapest Card isn't essential. Unless you're planning to visit tons of museums, you simply won't get your money's worth. However, it is pretty popular, so it's worth looking into it to see if it suits your plans.
The card lasts for 24, 48 or 72 hours, and costs €21.99, €32.99 or €66.90, depending on how long you get it for. You can find out more about it here.
How to Spend 2 Days (48 Hours) In Budapest
Day 1: Iconic Landmarks
Stop 1: Hungarian Parliament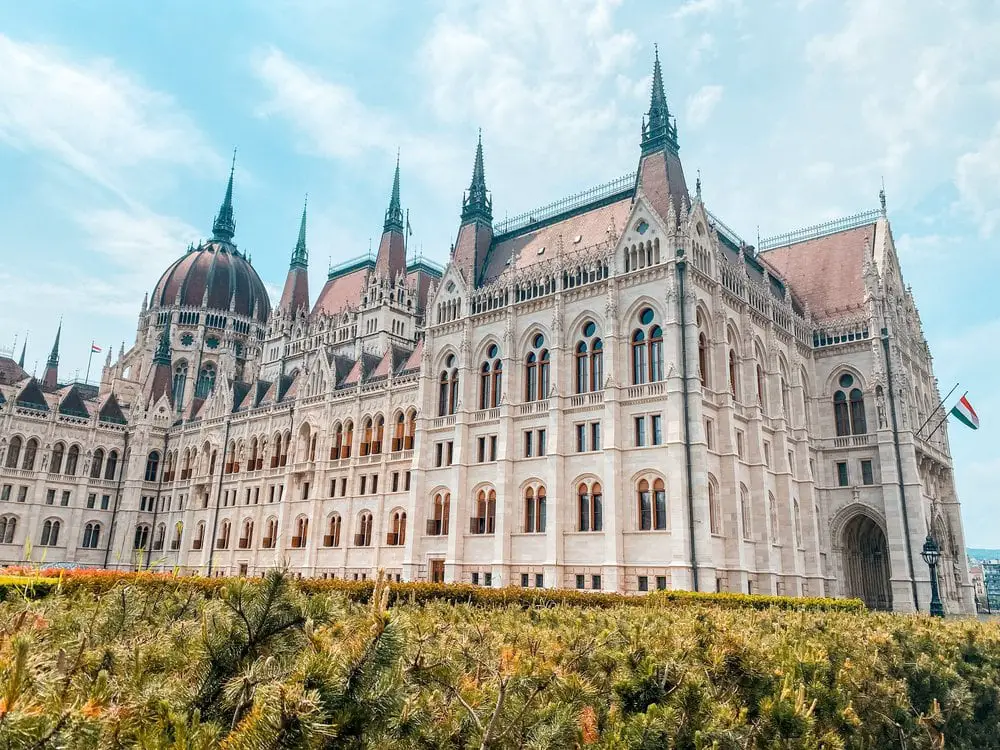 Let's start off this 2 days in Budapest itinerary with a visit to the most iconic landmark of Budapest, the Hungarian Parliament Building.
Situated on the banks of the River Danube on the Pest Side, the huge building is absolutely gorgeous. You won't be able to resist taking photos of it from every angle and looking out to the river. After all, it earned the label  The building has a staggering 691 rooms and took 17 years to build.
You can't go inside without a guided tour, but most visitors are happy just to see it from the outside. Plus, you're able to explore the outside of the building for free.
Top tip – Budapest actually consists of Buda, west of the river, and Pest, east of the river.
Stop 2: Shoes on the Danube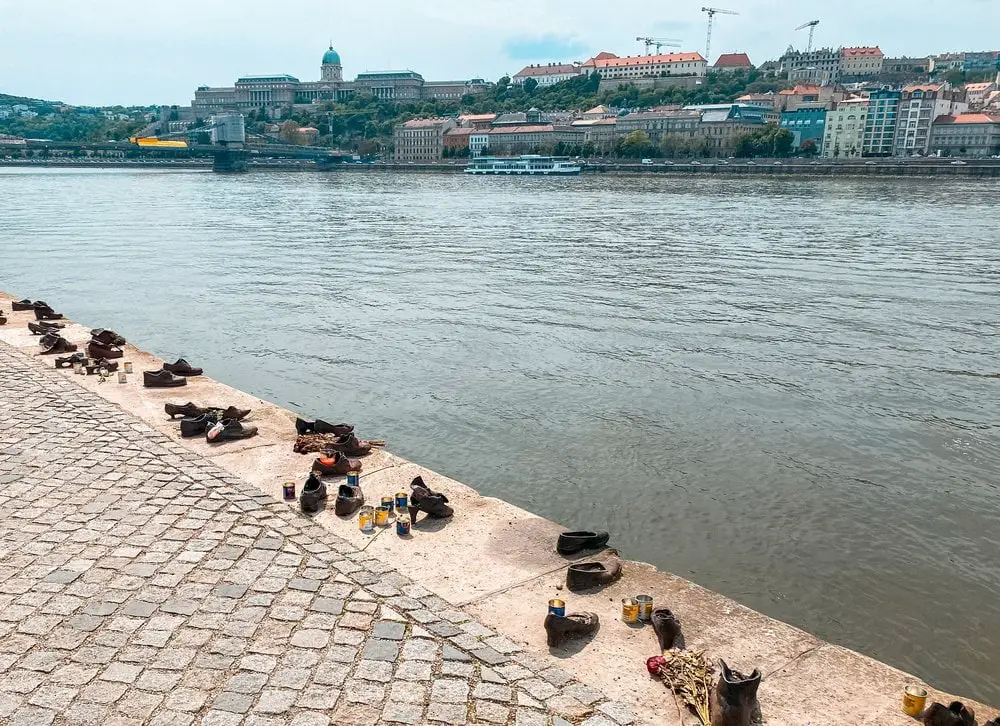 Near the Hungarian Parliament Building you'll find the "Shoes on the Danube" memorial. This collection of metal shoes pays tribute to the Jews who were murdered by the Arrow Cross Party in Budapest during WW2. 
During these executions, the victims were ordered to take their shoes off (because they were valuable at the time and could be resold by the militia) and were then shot, with their bodies falling into the river to be carried away.
It's an absolutely horrifying side to the city's history, but it's really important that these atrocities, and the victims, are remembered.
Stop 3: Lunch at Ildikó Konyhája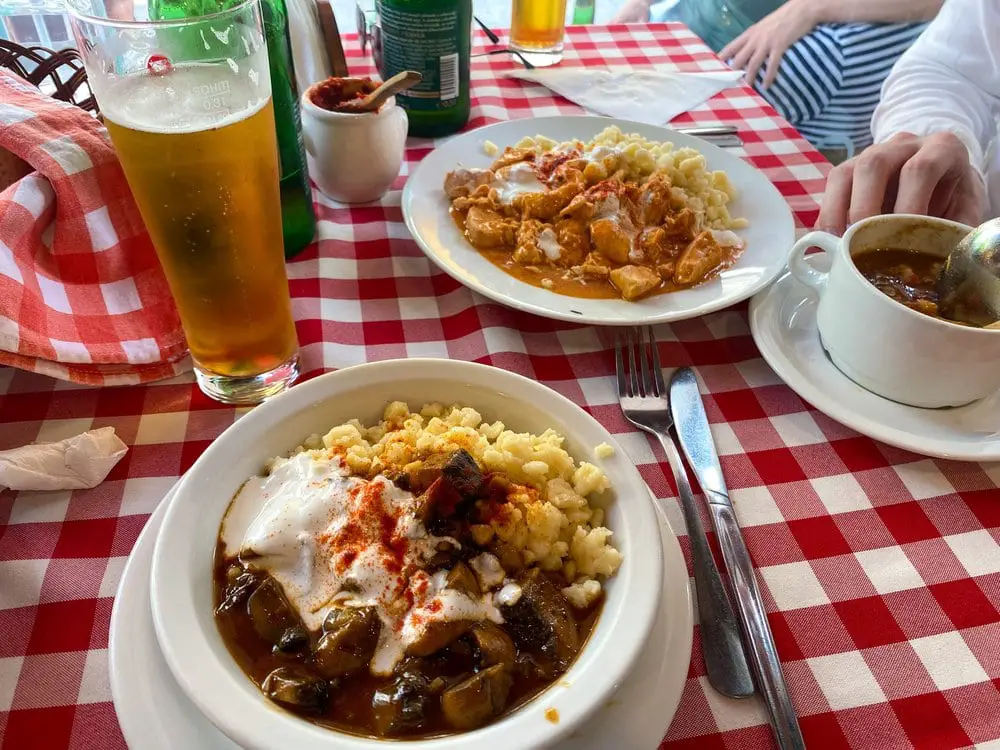 This super-cheap and homely restaurant is the perfect place to visit for lunch if you want to try some authentic Hungarian food. What's even better is they serve up both "regular" and small portions of each dish. You'll notice pretty quickly that "regular" Hungarian portion sizes are huge.
This option is ideal if you're wanting to try both goulash soup and a Hungarian stew because if you ordered the "regular" portions of both you would struggle to finish your meal!
I ordered a small goulash soup, a small mushroom Hungarian stew, and a large beer, and it cost me €8.80. Nice!
Stop 4: Fisherman's Bastion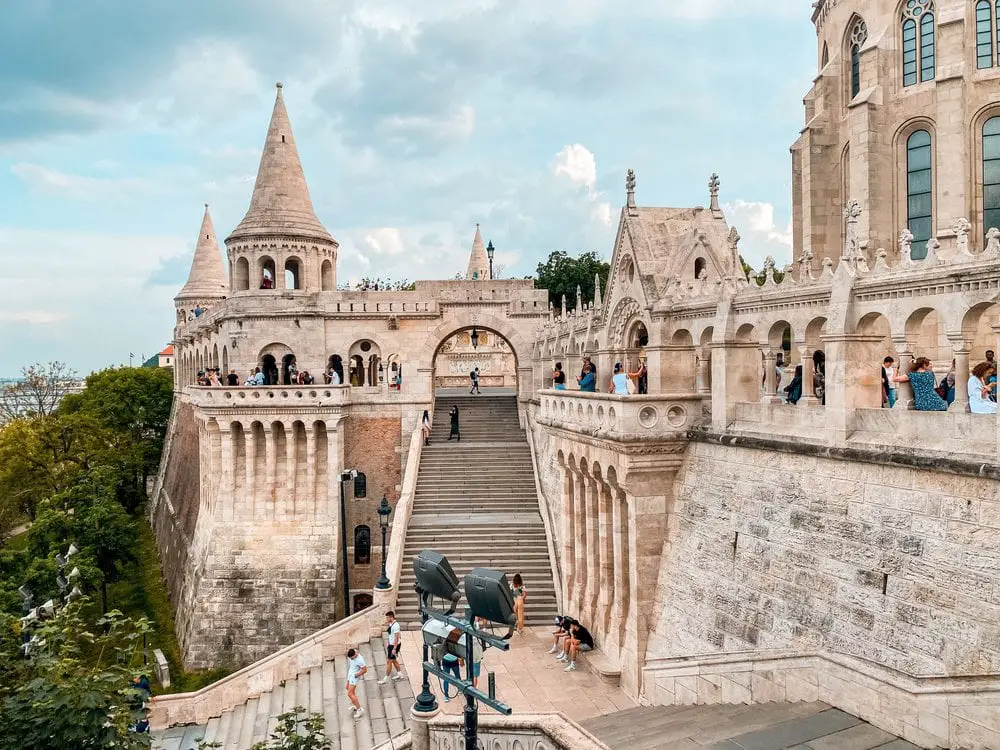 Now it's time to walk uphill to the prettiest viewpoint in Budapest, the Fisherman's Bastion! Not only are the views from up there incredible, but the structure itself is Insta-perfect. It's no surprise, then, that most people there spend their visit posing for Instagram photos.
Since everybody else is doing it, you may as well join in…
You can walk around the main areas of the Fisherman's Bastion for free, but there is a small upper area that offers slightly better views and costs around €3.40 to enter. Given the sweeping views and the fact that it's far quieter than the other areas (the small price tag deters the crowds) I did find that paying for entry to this section was worth it.
Built between 1895 and 1902 as part of several buildings constructed to commemorate the Hungarian State's 1000th birthday. It's easily one of the most beautiful spots in the city and a must-visit during your 2 days in Budapest.
Stop 5: Buda Castle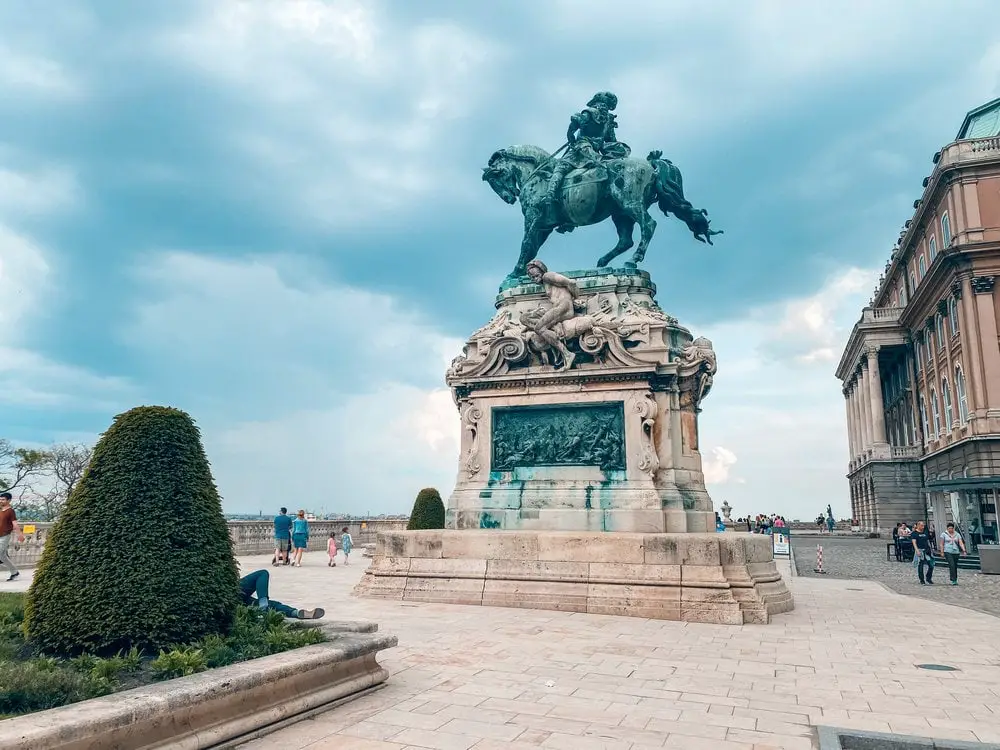 Just slightly further along from Fisherman's Bastion, and also on the city's "Castle Hill", you'll find Buda Castle. There's been a castle at this site since 1265, however the majority of the building we can see today dates back to the 1760s. 
It's now home to the National Gallery (€9) and the Budapest History Museum (€6.25). If you're on a budget you can just walk around the castle area for free, checking out more viewpoints.
There's a funicular that runs from Buda Castle back down towards the river but, at €3 for a one-way ticket, I decided to just walk down the hill which is fairly quick and not too gruelling.
Stop 6: Dinner
For dinner, I recommend heading to Koleves Vendéglő. This very cool and hipster restaurant in the Jewish Quarter serves up delicious Jewish food. It's not particularly cheap by Budapest standards (mains cost around €10), but a large beer only costs around €2, and their Jewish beans dish is delicious!
Stop 7: Szimpla Kert
You may have heard of Budapest's ruin bars, fun places to grab a drink that were once derelict buildings or warehouses, and they're most frequently in the city's Jewish district. You really can't leave Budapest without visiting a ruin bar. If you only have time to visit one, make it Szimpla Kert, the original and most popular.
Szimpla Kert opened in 2004 and has been a roaring success, inspiring many other ruin bars to pop up in the area. Inside, you'll see that this place is like a labyrinth, with plenty of nooks and crannies to explore. The quirky, mix-and-match-style decor adds to the fun vibe, and you'll find this place buzzing every night of the week.
Drinks are definitely more expensive here than elsewhere, which I guess makes sense given its popularity, but just bear that in mind. Also, since it's super popular, there's a chance you'll have to queue to get in, especially later in the evening, but the queue moves quickly. 
Day 2: Museums and Relaxation
Stop 1: New York Cafe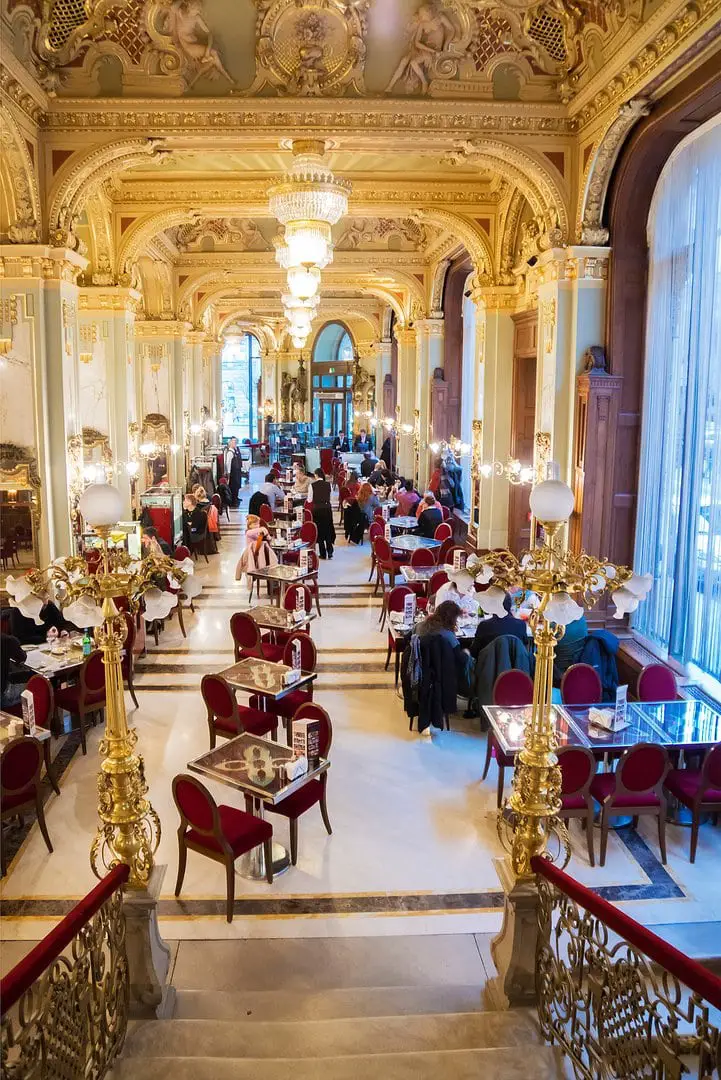 Opening its doors in 1894, Budapest's New York Cafe is one of the most opulent and downright regal cafes you'll ever step foot in. It's also beloved by tourists, so I recommend getting here as early as you can to reduce the amount of time you'll have to wait.
I also recommend only stopping by for a coffee or tea because the prices here are astronomical. It's justifiable, because having a coffee here is such a unique experience, but yeah… It's expensive. For example, you'll pay a whopping €8.50 for a coffee and €7.30 for a tea. Yikes!
If you'd prefer to start your day at a regular coffee shop and save some money I don't blame you, but since visiting New York Cafe is one of the most popular things to do in Budapest I knew it needed to be included in this 2 days in Budapest itinerary.
Stop 2: House of Terror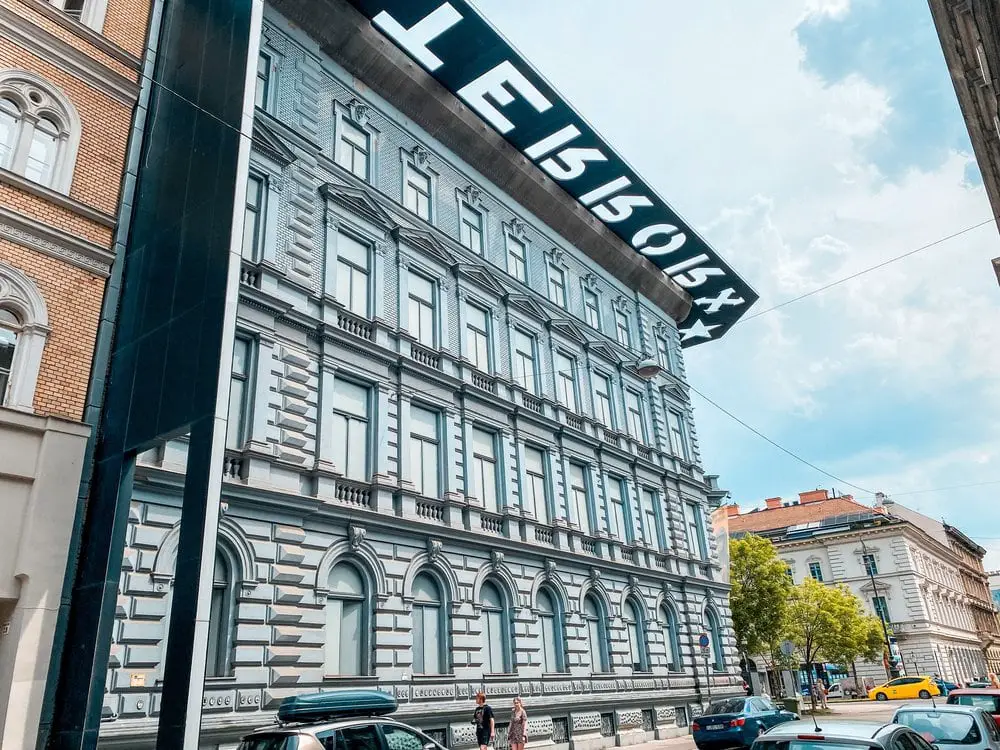 I'm embarrassed to say that before visiting Budapest I hadn't even realised that Hungary used to be part of the Soviet Union – and I'm a history nerd!
Not to worry, though, as the brilliant House of Terror museum documents Hungary's time under Nazi and then Soviet occupation, telling the story of what Hungary was like during this time, and what life was like for ordinary people there. It also acts as a memorial to the victims who lost their lives under these regimes.
You'll find the House of Terror at 60 Andrassy Boulevard. The building was once the Hungarian Nazi Party headquarters, and later the headquarters of the Soviet State Security Authority. It's fair to say that some truly harrowing things happened in this building, and the museum won't let you forget that.
This museum is up there with my very favourites in Europe – it's definitely worth the €7.75 ticket price. We spent around three hours here, and still didn't read everything, but if you're not a huge history buff you can probably get a good overview of everything in 2 hours.
Stop 3: Lunch at Paprika Vendéglő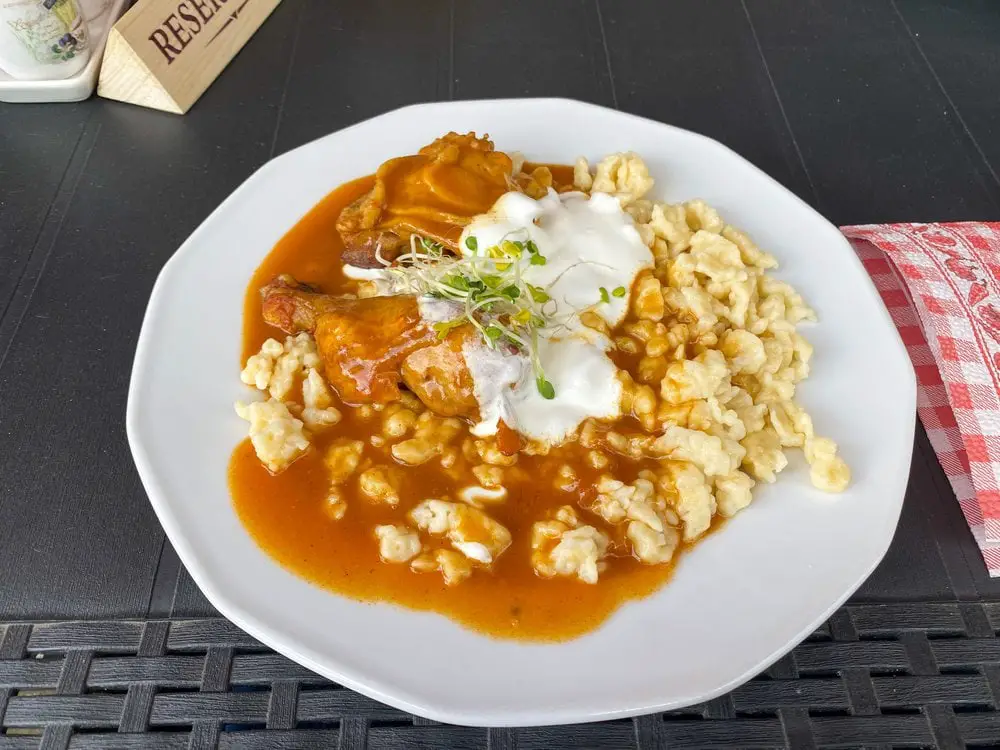 After a short journey on the bus or underground you'll arrive at Paprika Vendéglő. This is one of the most popular places in Budapest to sample the famous Hungarian dish, Chicken Paprikash. The dish costs €6.75, but if you fancy something else they have a huge menu offering up plenty of Hungarian classics.
Stop 4: Heroes' Square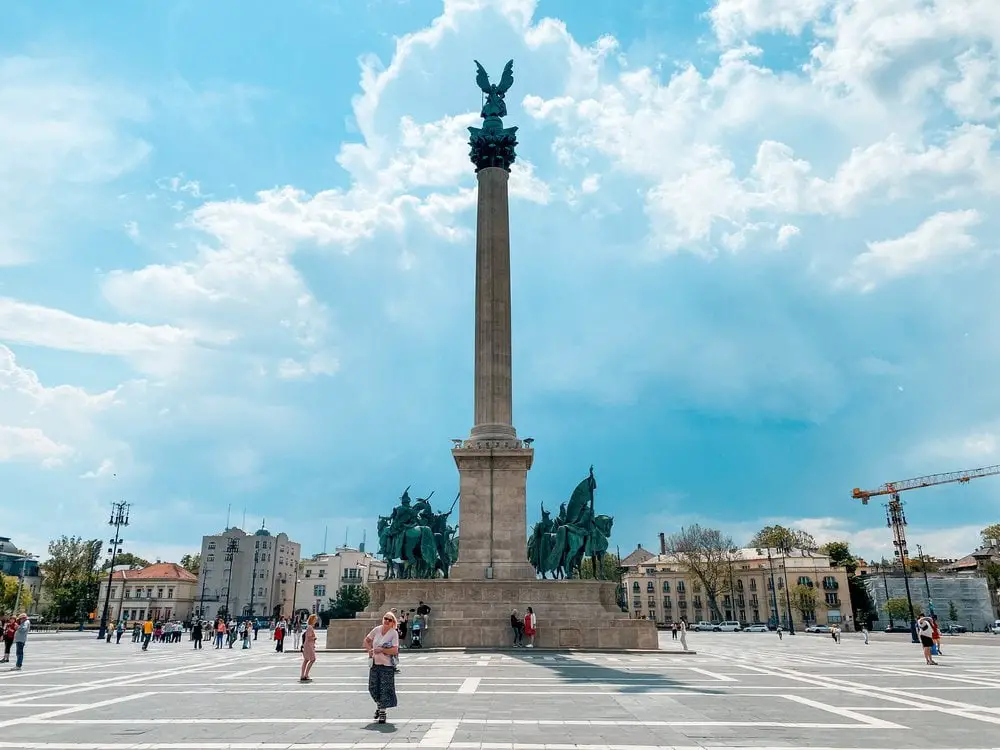 Just a short walk from Paprika Vendéglő you'll find Heroes' Square, the largest square in Budapest. In the centre you'll find a 36-metre tall pillar surrounded by statues of Hungarian rulers and statesmen and the original chieftains who first settled in the area in the 9th century.
You don't need to spend much time here, but since it's on the way to our next stop it's definitely worth the short detour to make a visit and snap a few photos.
Stop 5: Széchenyi Thermal Baths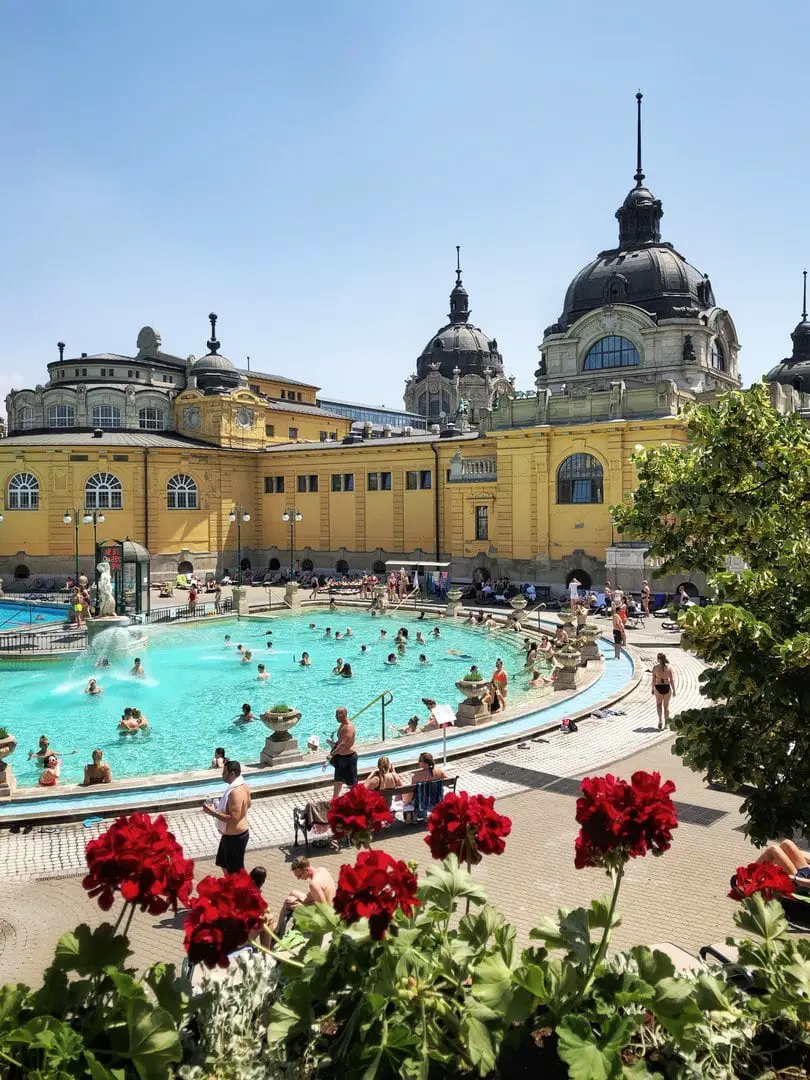 After such an intense morning at the House of Terror, it's time for some relaxation. And where better to chill out than one of Budapest's most famous attractions, the Széchenyi Thermal Baths!
This thermal spa complex is over 100 years old and is so huge that you'll almost definitely get lost wandering from pool to pool during your visit. You'll probably recognise its outside thermal pool, surrounded by the yellow, palatial-style baths building. 
There are a staggering 18 pools to lounge in, all with varying temperatures. You're also able to buy beer and other drinks by the outdoor pool, where you can relax on sun loungers (if you're visiting in summer, at least!). 
Although there are numerous thermal baths in Budapest, Széchenyi is definitely the most popular. You could easily spend 5+ hours here, but if you're just going for the pools, and not to sunbathe or receive spa treatments, three hours should be the right amount of time.
Since Széchenyi is so popular, the ticket queues can get pretty wild. We stupidly didn't book our tickets in advance and had to wait in line for half an hour… And that wasn't even in peak tourist season!
For this reason, you should definitely book your tickets online in advance. The counter for pre-booked entry had no queue, so it's definitely worth being prepared. 
Click here to book your Széchenyi tickets!
Stop 6: Dinner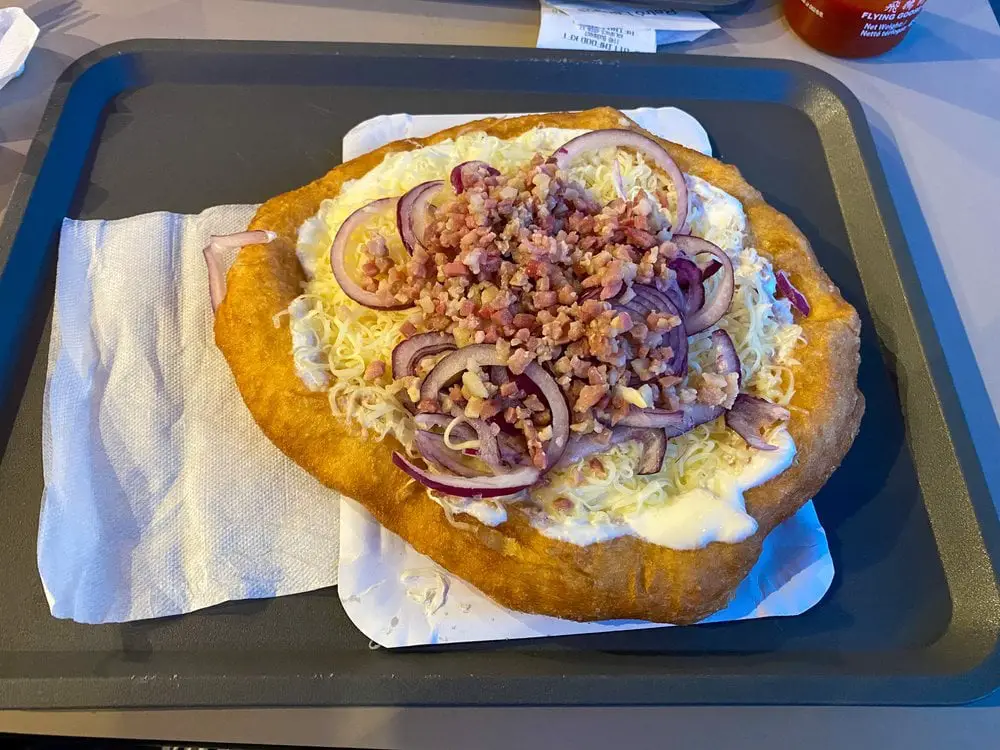 For dinner on your second day you may want to head to Retro Langos, a very popular and casual eatery serving up a Hungarian classic dish, Langos (Hungarian pizza). It has deep-fried dough and is topped with ingredients of your choosing. Langos are very cheap, at around €4 each, and they're very filling.
Langos are popular but weren't for me. However, I'm glad I gave them a try so I wanted to make the recommendation just in case you want to decide for yourself.
Stop 7: Evening Danube River Cruise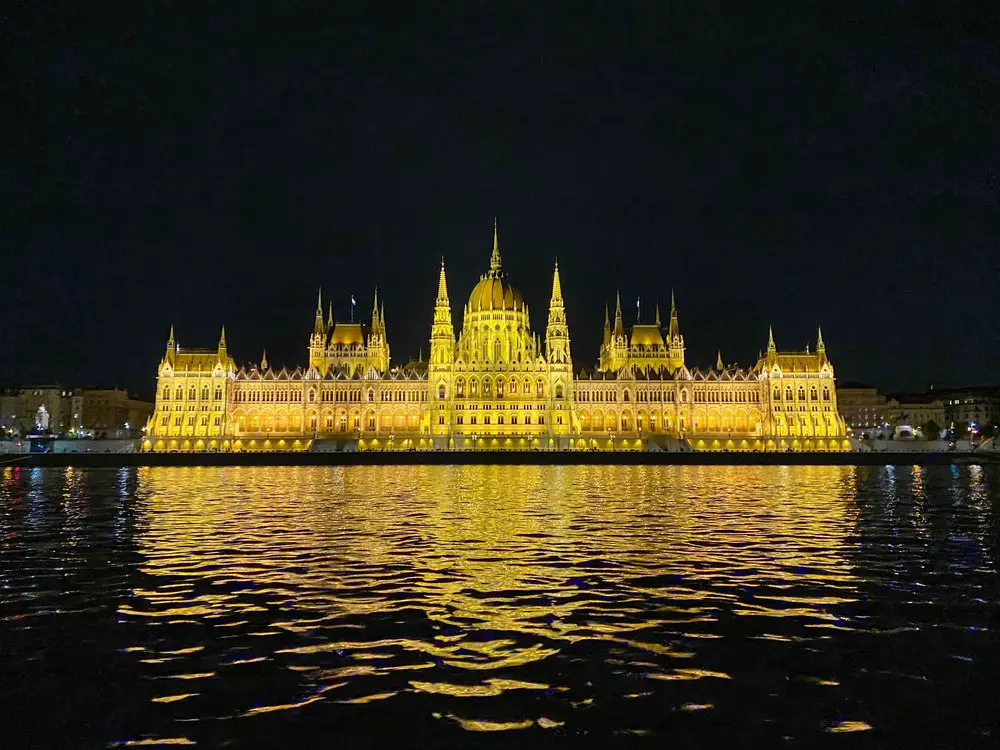 You can't visit Budapest without taking a short sightseeing cruise along the Danube River. These cruises are super cheap, last for around one hour, and pass all of Budapest's most famous landmarks such as the Parliament Buildings and Fisherman's Bastion. 
You'll also get the best photos of these landmarks from the water, so bring your camera!
I joined this sightseeing cruise which lasted for one hour, included a welcome drink, and cost just €9! There are loads of departure times, so you could take the cruise at 6pm, for sunset, or head out on the water as late as 11pm after some dinner and drinks.
Insider tip – when you board, everybody will flock to the top deck. Instead, stay downstairs. You'll actually be able to head outside to the downstairs "balcony" area that runs the length of the boat. It's far quieter here, and you'll feel like you're on a private cruise, even if the boat itself is busy!
Extra Travel Information for Your 2 Days in Budapest
Language
The language in Budapest is Hungarian, although for your trip you'll find that pretty much everybody you need to speak with on your trip will speak English. Tourism is huge in Budapest, so your ticket vendors, waiters, hotel staff and bartenders will all be able to communicate with you. 
It's worth learning the Hungarian words for "Hello" ("Szia" – see-yaw) and  "Thank You" ("Köszönöm" – keu-seu-neum) before your trip to show locals that you're willing to make the effort.
Most restaurants have an English menu even if they're not super touristy.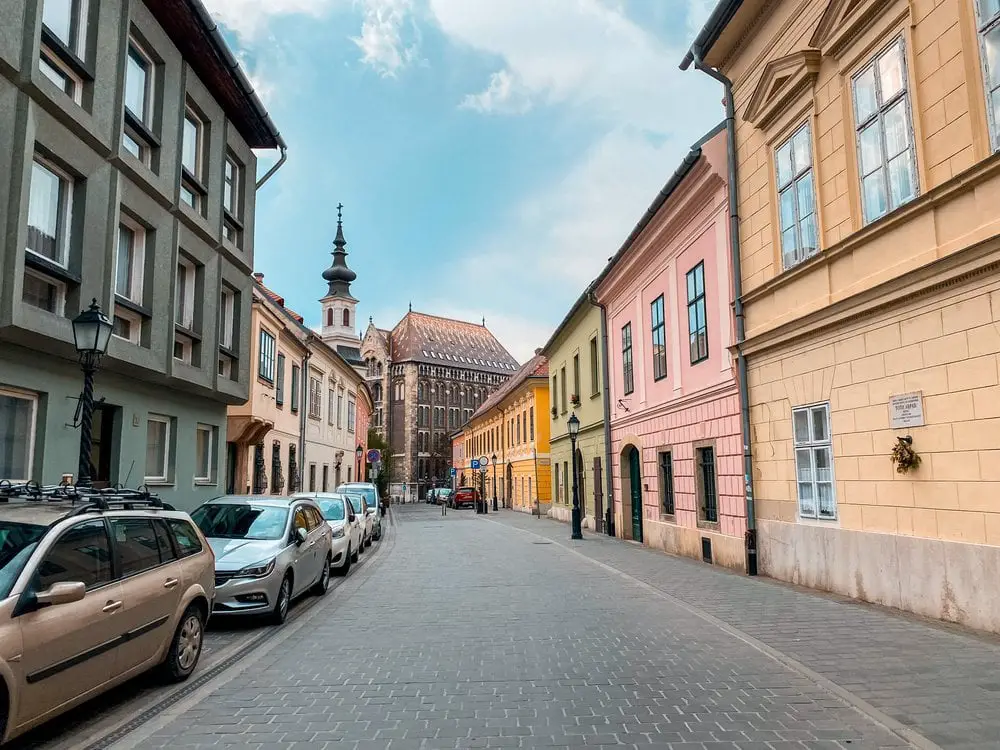 Budapest Airport and Transportation Tips
Budapest is surprisingly spread out, so you'll probably need to purchase a Budapest travel pass. The pass is valid for 24 hours – €4.30, 72 hours – €10.85, or one week – €12.95. You can purchase your pass on the Budapest Go app, which is also a great tool for working out how to get from A to B in Budapest.
Budapest has a great public transport system, with trains, buses, an underground system and a tram system. You won't really need to use taxis unless you're coming home super late after a night out.
Budapest Ferenc Liszt Airport is around 20km from the city centre, and you can get into the city by taxi, shuttle bus, or public bus.
A taxi to the city centre will cost around €30 and will take around 35 minutes. Uber isn't in Budapest, but Bolt is very widely used, so it's a good idea to download the Bolt app and set up an account in advance.
The shuttle bus is the 100E, and you'll find the bus stop by following the "shuttle bus" signs in the airport. Tickets cost €3 each way and the journey takes around 35 minutes. 
Getting to the city by public bus was the option I went for because it barely takes any longer than the airport shuttle bus and you can use your BudapestGo travelcard.
To use the public bus simply use your travelcard on the BudapestGO app then search for your destination and follow the journey plan (without using the 100E shuttle bus). The journey takes around 45 minutes, and the public bus stop at the airport is next to the shuttle bus stop.
What is the Best Time to Visit Budapest?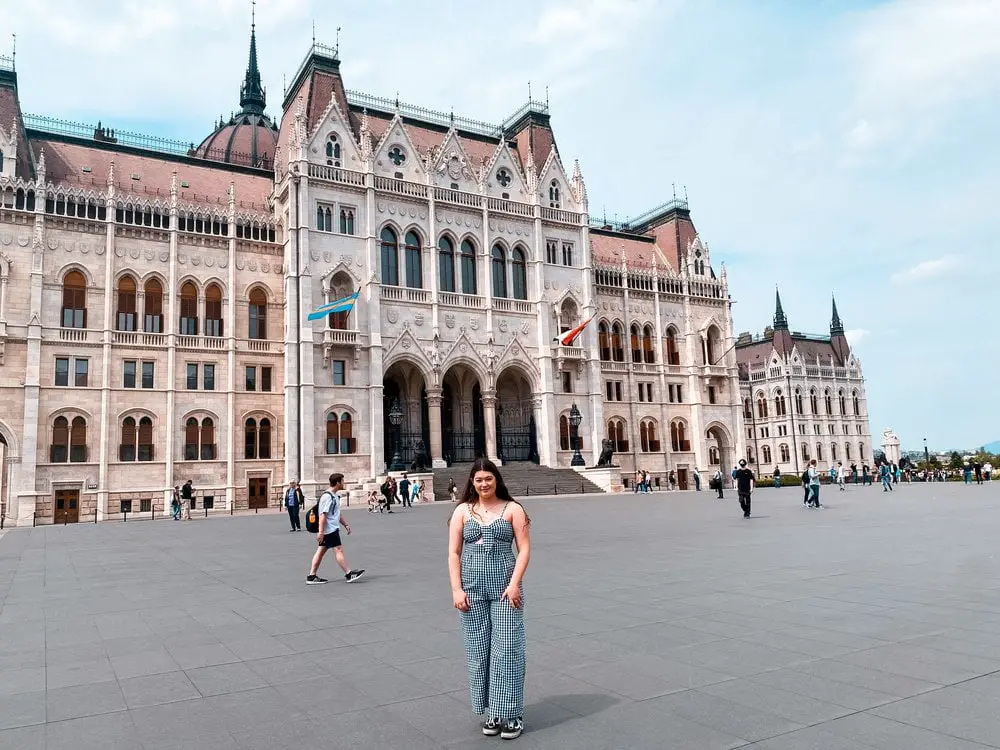 I visited Budapest in May, which felt like the perfect time of year. It was very warm, reaching 24°C on some days, but the summer Interrail crowd hadn't yet descended on the city. 
That said, I accidentally visited on the same weekend as Budapest hosted the Giro D'Italia, a famous bike race, so the city was PACKED! For this reason, it's definitely worth checking that your intended travel dates don't clash with a city event.
Overall, for the mildest temperatures and great value accommodation, I always recommend travelling to European cities in the shoulder season (spring and autumn). I personally wouldn't visit Budapest in summer as I think the crowds would drive me insane – but it's up to you!
Budapest is a very popular destination for British stag-do's (Bachelor parties), so most weekends of the year you'll see huge groups of drunk British men, usually in the Jewish Quarter. They're pretty harmless but can be intimidating due to the sheer size and rowdiness of the groups. 
If you'd prefer to avoid these, I recommend visiting Budapest mid-week, or simply researching pubs that don't allow stag dos before you visit (the Koleves Kert beer garden is one of these, and is a very chill place!).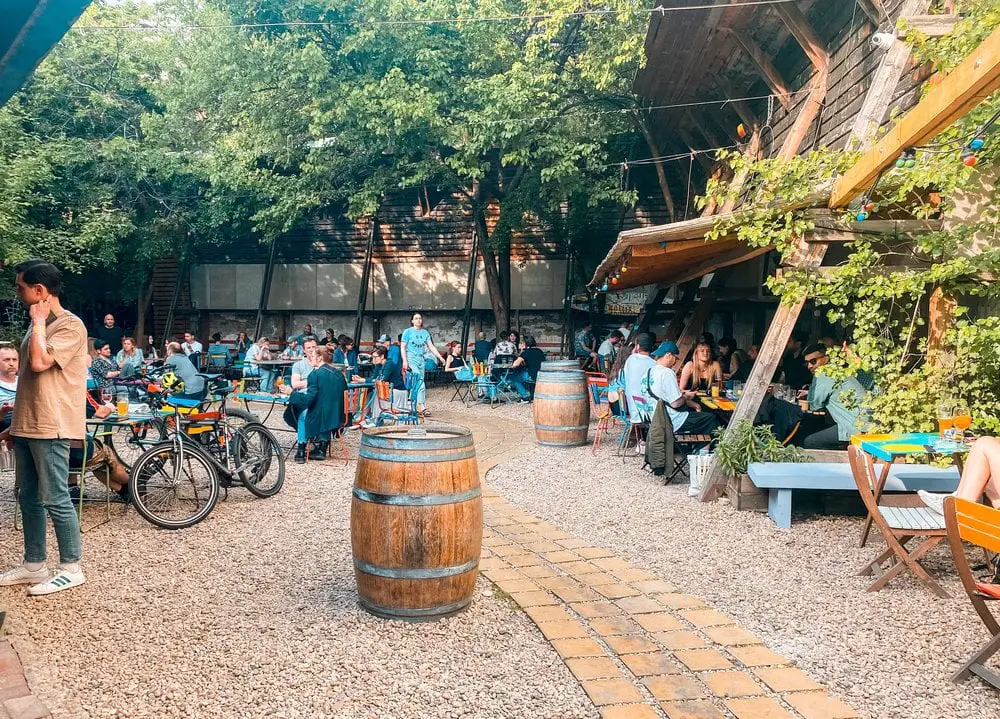 Where to Stay in Budapest
Hostel
Budapest is firmly on the European backpacker trail, so it has no shortage of kick-ass hostels for you to choose from. This top-rated hostel is your best bet – it has an epic 9.6/10 rating on Hostelworld, is located right in the centre of the city, and gets rave reviews for its cleanliness. It is slightly pricey, though, with a dorm bed costing €24 per night.
If you're looking for a cheaper hostel that still gets good reviews, check out this one, which costs just €12 per night for a dorm bed.
Budget Hotel
There's no shortage of great quality accommodation in Budapest, but this budget hotel probably offers you the most bang for your buck. At just €42 you'll get a clean and modern room, a comfy bed, and a central location. 
I've stayed with this hotel chain in Belfast and Brussels and can highly recommend them – for the price they really can't be beaten!
Click here to check availability!
Mid-Range Hotel
If you're looking for a memorable stay, look no further than this contemporary boutique hotel. It's just a short stroll from the nightlife of the Jewish Quarter, and, with breakfast included in the price, you'll save time in the morning by not having to go out searching for it – leaving more time for sightseeing! 
Double rooms start at €75, so if you're travelling as a pair this turns out to be a really good deal.
For more helpful blog posts to help you plan your trip to Budapest, don't forget to head over to my Hungary page. I hope you have an amazing trip, and feel free to ask any questions in the comments.
Until next time
Ella