There is a good chance that this post contains affiliate links. If you make a purchase through them, I may receive a small commission at no extra cost to you! As an Amazon Associate, I earn from qualifying purchases. As ever, all opinions are my own.
Last Updated on September 9, 2020 by Ella
If you're travelling the Garden Route in South Africa and have a day to spare in Knysna, you won't regret it. Knysna is a true highlight of the Garden Route.
The town itself is nestled on the banks of the dreamy Knysna Lagoon, and enclosed by the breath taking Knysna Heads. Sure, there are some epic adventures to be had around Knysna if you have a car to get around with, but for those of us who haven't, there's still plenty of fun to be had.
During my trip backpacking South Africa I spent three days in Knysna. I spent one day exploring the town, then on the second day I took a surf trip to Buffalo Bay (which was awesome, by the way!). On my third day I just hung out in the hostel and did some relaxing. If you're not planning on taking any day trips from the town, I recommend staying two nights and one day in Knysna. This means you can make the most of the full day you have in the town.
As usual, any prices listed are in US Dollars (because it's easy for most of us to convert) and the local currency, South African Rand ('ZAR' for short).
Read More: How Much it Costs to Backpack the Garden Route
Where to Stay in Knysna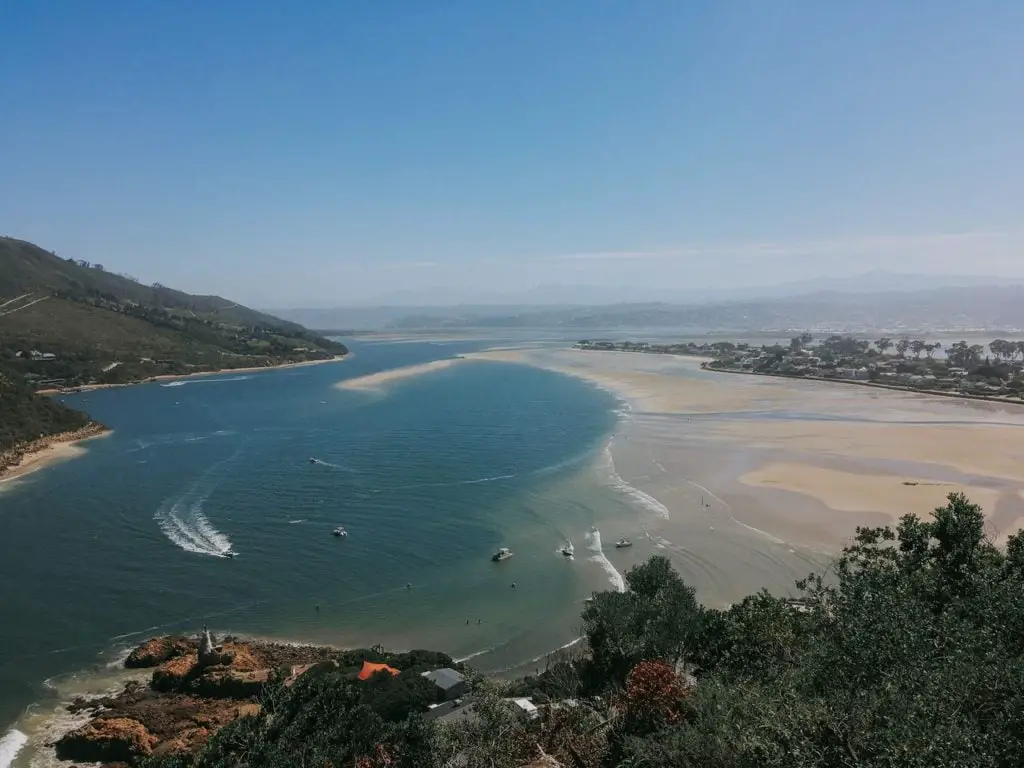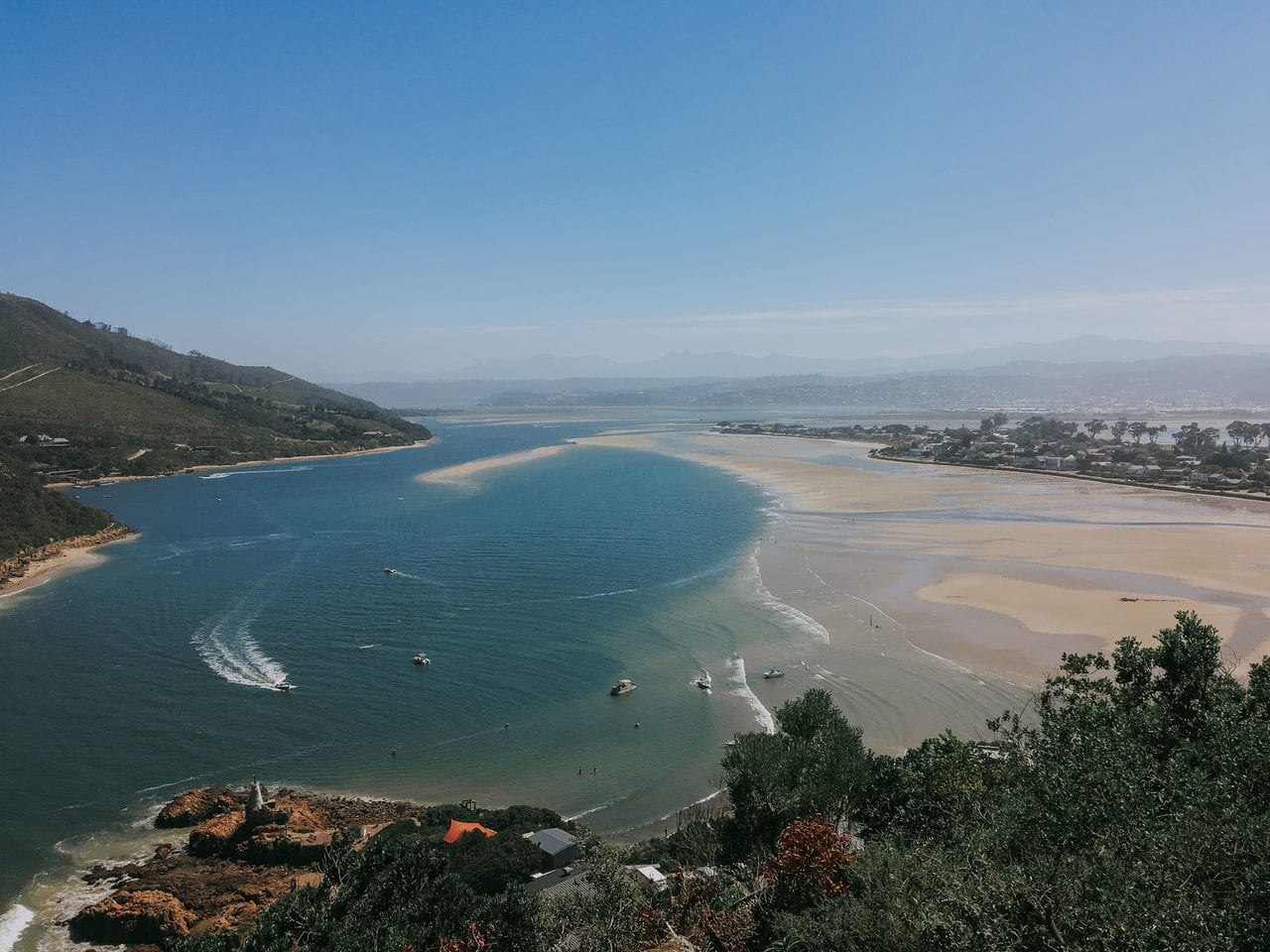 If you're visiting Knysna without a car a good rule of thumb is to base yourself near the Knysna Waterfront. Not only will that mean you're close to all the action, it also means you're based within a short cycling distance of the magnificent Knysna Heads and the Knysna Lagoon. I'm more familiar with budget friendly and mid-range accommodation, so a few suggestions are:
Jembjo's Knysna Lodge & Backpackers: double room $32/night (ZAR 610), dorm bed $9.50/night (ZAR 180)
I freaking loved this place! This is where I stayed in Knysna and it was probably my favourite hostel in South Africa. Jembjo's really felt like a home, not just a backpackers. Complete with a living room, cutesy kitchen and a garden area, and free breakfast, it has all you need. Most importantly, backpackers will love to hear there are no bunk beds in the dorm! The private rooms looked spacious and, if they're anything like the rest of Jembjo's, will be sparkling clean.
Knysna Pearl View Guesthouse: double room with sea view: $60/night (ZAR 1140)
100 yards from the beach and complete with a swimming pool, this place gets rave reviews from its visitors! The rooms look spacious and clean, there's an onsite bar and sun terrace, and breakfast is included!
SOUL on the Heads: double room with sea view: $92/night (ZAR 1750)
If you have a bit more cash to splash, or if you're travelling as a pair and splitting costs, I would definitely stay at SOUL on the Heads. Situated overlooking the stunning Knysna Heads, you'll get a sea view, a beach view, and all that fresh ocean air. What's more, their infinity swimming pool overlooks the Heads and the Lagoon! It's easy to imagine myself sipping a cocktail here and taking in the sunset.
There are some insane-looking Airbnb apartments and rooms available in Knysna. If you just want a bit more privacy, whether that's an affordable private room for a backpacker or an entire home if you're travelling in a group, renting an Airbnb is a good choice.
How to get around
I was concerned about how I was going to explore Knysna without hiring a car (or walking for miles). Luckily, the lovely Karl from Jembjo's Hostel where I was staying helped me out. After sketching a cycling route on a map for me, he pointed me in the direction of the Bike Centre on Queen Street. Hiring a bike is one of my favourite ways to explore a new town, so I was thrilled! There's nothing better than catching the fresh air as you cycle. I also feel you get a better opportunity to check out your surroundings than driving. See something that looks cool? You can pull over super easily to check it out.
The owner of the Bike Centre was one of the most laid-back people I have ever met. I just told him what time I was planning to return the bike, he gave me his number in case of emergencies, and off I went!
I paid around $15.30 (ZAR 275) to hire a bike and a lock for the full day.
Coffee stop at the East Head Café
I took the bike path along the gorgeous waterfront, hugging the shoreline until I got to my stop, the highly-recommended East Head Café. You can lock your bike up outside, and the parking attendants will keep an eye on it if you ask them. Stepping inside from the sun, which was already beating down on my neck at 10am, felt like a huge relief. Taking a table right next to the huge windows overlooking the ocean, I sipped on a flat white. The huge windows and fresh, airy decor in here make it the perfect place to start your day.
Explore the Knysna Heads
Caffeinated and ready to explore, it's time to begin the trek up the (really) steep hill to get to the East Head viewpoint. The great thing about the gruelling walk up there is that you get to stop off at loads of other viewpoints along the way. These aren't signposted, but anywhere on the path that has good views is the perfect excuse to stop, catch your breath and snap a few photos.
Another unexpected plus-side to walking up to the viewpoint is being able to nosey at the insane houses on East Head. I really wasn't expecting, when I woke up that day, to find my new dream house, or five, but that's exactly what happened. Some of these houses have floor to ceiling windows overlooking the million dollar view of the lagoon! Others have balconies on the roofs, where their inhabitants were sat, lounging and reading the morning paper. Sign me up for a lifestyle like that!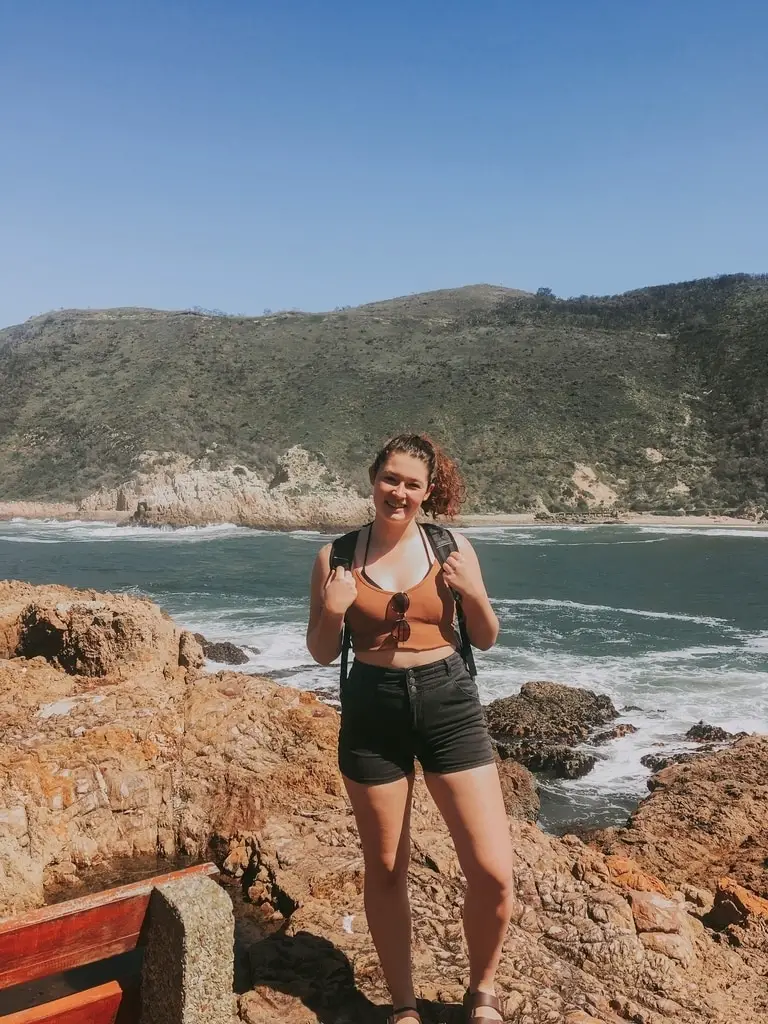 Once you finally get to the viewpoint, you'll agree that it was worth the hard work getting there. Visiting the Knysna Heads is one of the best things to do in Knysna, and for good reason. Getting to the viewpoint, you can see the boats jetting across the Knysna Lagoon on your right, and the seemingly endless Indian Ocean on your left. If you look to the middle of the Heads, you'll witness the raw power of the ocean as it crashes into the rocks guarding the lagoon.
East Head Viewpoint
Wondering whether or not you can take in the view from West Head? The answer is yes… so long as you're willing to pay for it. The West Head is private land, and is home to the Featherbed Nature Reserve. To get there, car-owners will be in a tricky situation as there are no public roads. Instead, all visitors must catch a ferry from the Knysna Waterfront. A trip to West Head, if you have an extra day in Knysna, would be an awesome thing to do. Not only do you get to hang out on the lagoon, but you can also explore the nature reserve and caves.
Once you've taken all the photos you can, tear yourself away from the view. It's time to walk back to the East Head Café. You'll be pleased to know the walk down is much less strenuous.
Lunch at East Head Café
Wait, haven't we already been here?
Yup! You may wonder why I'm recommending the same place twice. Trust me, once you've visited for the first time you'll want to come back a second. The food is amazing, the views are stunning, and the service is great. They're ranked one of the best restaurants in Knysna on Tripadvisor for a reason! You may have to wait for a table around this time of day, but I guarantee it's worth the wait. Seating is available both inside and outside, but I prefer outside. Hearing the rush of the ocean as I enjoyed my meal was spectacular.
I ordered the butternut, baby gem and blue cheese salad, and a craft beer. My meal was fresh and filling, and, dare I say it, one of the best salads I have ever eaten.
Another reason I loved this café is that I got 0 weird looks from people for dining by myself. Any solo travellers out there will understand what a relief this is.
Sunbathe on Leisure Island
Hopping back on your bike, cycle back the way you came, taking a left at the signpost for Leisure Island, a true highlight of Knysna. I felt like I had cycled into a dream as I arrived on the aptly named island. Homes were surrounded by flowers and lush green grass, the roads were totally empty and the water was almost always just a few metres away.
Carry on straight on the same road until you get to Bollards Bay Beach. There are a few signposts you can use to lock your bike up, but unfortunately they are out of eyesight of the beach. Despite the warnings about South Africa and safety, it felt totally fine to me to leave my bike chained up by a signpost. The island is full of expensive houses with the requisite expensive security, so it's probably safe to leave a bike. Of course, you could always place it next to you on the beach if you're concerned.
Lay out your towel, whip out a book and enjoy the gorgeous sunshine. Taking a dip into the lagoon to cool off is delightfully refreshing. From the lagoon you'll get even more great views of the Heads and Leisure Island itself.
Once you've finished lounging, head back into town to return your bike. Then, it's time to wash off all that sunscreen and sand, and get ready for dinner.
Dinner at the Knysna Waterfront
If it's dark by this point, I would recommend getting a taxi to the waterfront. They are super cheap, and definitely worth it in terms of safety. If it's still light, it should feel totally fine to walk to the waterfront instead.
The Knysna Waterfront is a tourist attraction in and of itself. Shops lining the promenade sell cute bikinis, sandals, and everything else you could possibly need in a beach town. There are also a few high-quality souvenir shops if you fancy picking up something unique to Knysna.
For dinner, you'll be spoilt for choice at the Knysna Waterfront. Even before I set off on my South Africa trip, I'd been told I had to try oysters in Knysna. A few people from the hostel had reserved a table at the restaurant 34 South, so I joined them. This was super lucky, as the waterfront was packed and most of the restaurants had queues.
The restaurant was right on the water and had a good buzz about it. Following up on the advice I had, I tried oysters for the very first time. Admittedly, they tasted pretty good (if it wasn't for the slimy and slippery texture which I couldn't get on board with. I decided to follow up my oysters by ordering Nachos as a main course. Unfortunately I can't explain the logic behind this, but, you know, maybe oysters and nachos could become a thing?
The wine list at 34 South is huge, so it's best to have a look beforehand at what you'll want to order.
As you sample some of the world-famous South African wine, you can toast to an awesome day in Knysna, all without having to hire a car!
Have Some Extra Time?
If you have an extra day to spend in Knysna you're in luck! There are loads of great tours you can take from Knysna to explore the wider region. I took a full-day surf tour with TripOut, and I can't recommend it enough! I spent $36 (ZAR 650) for 2 Hour Private Surf lesson including equipment hire. This also included transport to and from my hostel in Knysna to Buffalo Bay. The instructor was super flexible, and I was able to stay at the beach the whole day after the lesson before being driven back.
Don't fancy surfing? These tours look like great fun and get awesome feedback!

If you're visiting Knysna, I'm very jealous! I hope this guide helped you to plan out what to do at this awesome stop along the Garden Route. If you have any questions just let me know in the comments below!