There is a good chance that this post contains affiliate links. If you make a purchase through them, I may receive a small commission at no extra cost to you! As an Amazon Associate, I earn from qualifying purchases. As ever, all opinions are my own.
It's not a secret that winter is definitely the low season when it comes to visiting Cornwall. Hotels see their occupancy rate plummet, beaches are empty, and some attractions close their doors until spring.
So why on earth would you want to visit Cornwall in winter?
Well, it turns out there are plenty of reasons you should consider paying a visit to Cornwall this winter. After all, staycationing is here to stay, so it's time to embrace the British winter and not let it stop us from exploring Cornwall!
With that said, here are 11 reasons why winter is an excellent time to visit Cornwall. 
1 – No crowds
This is the biggest, number one reason to visit Cornwall in winter. There are no crowds, no queues, and you'll often have the beach or hiking trail to yourself. Who could argue with that?
Over the last few years (especially with the recent rise in staycations) I've noticed Cornwall in summer has been busier than ever. The tiny, cobbled streets just can't cope with that many people, and crowds are everywhere. You can't get a parking space, you can't find a spot on the beach, and you'll have to sit in traffic FOREVER if you decide to drive anywhere.
But visiting Cornwall in winter? Well, you avoid all of that. You get to enjoy Cornwall the best way possible – in peace and quiet!
2 – Cheaper accommodation
We all know that seasonal holiday destinations shoot their prices up in summer, but it's quite surprising just how much of a difference this can be!
By visiting Cornwall in winter, you'll almost definitely be paying less for your accommodation than you would in summer. Many hotels have fabulous packages and offers for winter visitors, and, since the demand is so low in winter, you'll have the pick of the crop when it comes to choosing where to stay.
3 – Cosy pubs
Cornwall has no shortage of old and cosy fisherman's pubs, but these are completely wasted in summer when everybody wants to sit out in the sun!
In winter, an unmissable activity in Cornwall is to visit some of its best old-fashioned and cosy pubs and enjoy a pint or two of local ale. You'll feel like you're in a smuggler's den for sure! 
Speaking of smugglers, the novel Jamaica Inn by Daphne Du Maurier was set at a real-life location. Yup – you can actually visit the real Jamaica Inn on Bodmin Moor. With its misty and foreboding landscape, winter is the perfect time to visit the moor and cosy up inside the Jamaica Inn with an ale.
4 – Storm watching is epic
The winter storms that hit the North Cornwall coast can be spectacular, and there's no better way to spend a stormy afternoon in Cornwall than watching the wild waves crash into the beach.
It's not just at the beach that you'll be able to do some great storm watching, though. Be sure to book some cosy accommodation and you'll be able to watch the rain and winds whip across the countryside from the comfort of your bedroom.
In fact, storm watching is such a popular activity in Cornwall in winter that The Headland Hotel, which overlooks Fistral Beach in Newquay, offers its very own storm watching package in winter. I'm so desperate to go!
5 – Dogs can run wild
Visiting Cornwall with a dog can be a an organisational nightmare in summer. There are different rules about where dogs can go, and when, on every beach.
Not only are the rules sometimes not very clear or very well-signposted, but there are also fines for breaking them. And yes, people really do get fined!
In winter, almost all beaches remove their dog restrictions completely – meaning your dog can run wild no matter what time of day it is!
If you're a dog owner, winter is undoubtedly the best time for you to visit Cornwall. Seeing your dog zooming around the beach and playing in the rockpools is so much fun – and you don't have to even think before letting them off their lead.
6 – The weather isn't *that* bad
Unlike most of the UK, Cornwall's winters are surprisingly mild. You even get quite a few days of sunshine! Yes – sunshine in winter!
Don't get me wrong, you'll still have to pack warm clothing. Especially so if you're heading out on walks or going in the sea. But it's definitely warm enough to spend your days outside exploring if you pack the right clothing.
In the majority of Cornwall in winter it's basically unheard of for temperatures to drop below freezing, and they usually hover around 8°C. Not bad at all!
7 – Christmas in Cornwall is magical
I mean, what could be more magical than Christmas in a town or village that already looks like it's straight out of a fairytale?
Visiting the Christmas lights at Mousehole is unmissable in December, as is going ice skating at the Eden Project's very own ice rink. You'll find small yet beautiful Christmas markets at Truro and Fowey, and make sure to visit the Padstow Christmas festival!
For New Year's Eve, head to St Ives. It's the town's most buzzing night of the year, and it turns into one giant street party, complete with mandatory fancy dress and fireworks! 
There truly is no time in Cornwall quite like Christmas.
8 – It's the best time of year for advanced surfing
If you're an advanced surfer, winter is the best time of the year to go surfing! The surf is generally bigger, more consistent and, of course, empty of other surfers during winter.
The RNLI Lifeguards don't patrol many of Cornwall's beaches in winter, so definitely make sure you know what you're doing before paddling out.
If you do want to learn to surf or take a surf lesson during winter, there are a few places that stay open year-round that would be happy to provide you with a toasty winter wetsuit and show you the moves! For winter surf lessons, your best bet is to head to Fistral Beach Surf School. You're also able to book private lessons with St Ives Surf School. 
9 – The pace of life is even slower than usual
What attracts so many of us to Cornwall is the fact that life feels so much simpler there. The rat race simply doesn't exist in Cornwall. It's beyond refreshing to visit a place where flip flops are acceptable footwear absolutely everywhere!
Well, in winter, the pace of life in Cornwall slows down even more. Without the stresses of the summer peak season, locals can relax and enjoy themselves.
In fact, since Cornwall is a tourist destination, many locals end up working extremely reduced hours in the winter. They then work like maniacs in the summer to earn enough for the rest of the year!
This all results in a truly relaxing experience for any tourists visiting Cornwall in winter. Life just feels simpler, slower, and stress-free. 
10 – Winter walks are incredible
In winter, it's pretty easy to feel cooped up, sluggish and low-energy. But not in Cornwall!
With almost 300 miles of coastline, you'll never be too far from the sea here. And trust me – you can really feel that sea air every time you step outside in winter. Going for a brisk walk in winter, whether that be along the breathtaking coastal paths, over Bodmin Moor, or just across town, is guaranteed to blow your cobwebs away!
The 630-mile South West Coast Path wraps itself around Cornwall. Although I don't suggest embarking on the whole 52-day walk in winter, it's really easy to just walk a manageable chunk of it in one day (or just a few hours!).
Obviously, another big bonus to going hiking in Cornwall in winter is that you'll likely be the only hiker on the route!
11 – The locals won't hate you
And finally, and I'm joking a little bit here, but… If you visit Cornwall in winter the locals won't hate you!
Don't take it personally. It's just that in summer, I've heard from many Cornish locals that living in Cornwall becomes a real headache. The hordes of tourists that descend on the county in summer make everything harder work.
In summer, locals' commute times quadruple, the beaches are always packed, and they can no longer pop to the supermarket without allowing for a spare hour to stand in queues. 
Cornwall in summer gets insanely busy, and it just doesn't really have the infrastructure to cope with it.
In winter, you'll find the anti-tourist sentiment has almost completely disappeared. Locals are usually grateful that you're visiting Cornwall in the low season, making tourism more sustainable year-round. They'll probably even be downright friendly! *Gasps*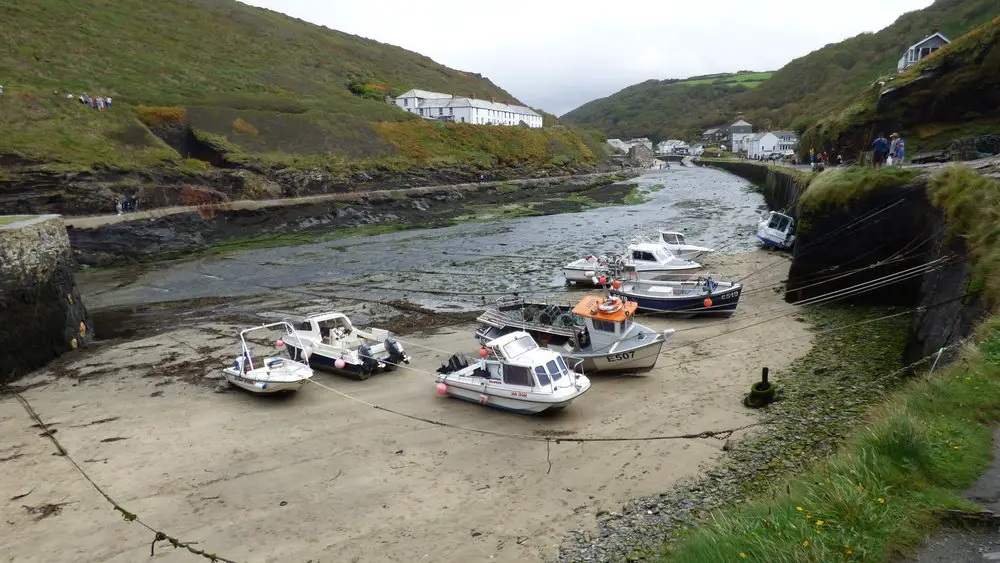 ---
So, there you have it, 11 awesome reasons to visit Cornwall in winter! I know it's slightly unconventional, but I honestly believe that winter is a brilliant time to visit Cornwall. You get a completely different experience in winter compared to summer. 
Have I convinced you? Good! I've written a post all about the best places to stay in Cornwall in winter, so I highly recommend you head over there next to start planning your trip!
Until next time,
Ella 🙂