There is a good chance that this post contains affiliate links. If you make a purchase through them, I may receive a small commission at no extra cost to you! As an Amazon Associate, I earn from qualifying purchases. As ever, all opinions are my own.
Last Updated on November 25, 2020 by Ella
If you have read my 2020 goals post, you'll be familiar with my goal this year to visit 50 London tourist attractions from my handwritten list of over 300. It's a lot to get through, and in January I made a start by visiting a few, one of which was the Benjamin Franklin House.
What is the Benjamin Franklin House?
Tucked away down a quiet and unassuming street just metres from Charing Cross Station you'll find the former residence of US founding father Benjamin Franklin, who lived here from 1757 to 1775. On flicking through my TimeOut guidebook of London I was shocked to find out that he had lived in London, and even more so at realising you could visit his former house. I immediately added it to my list.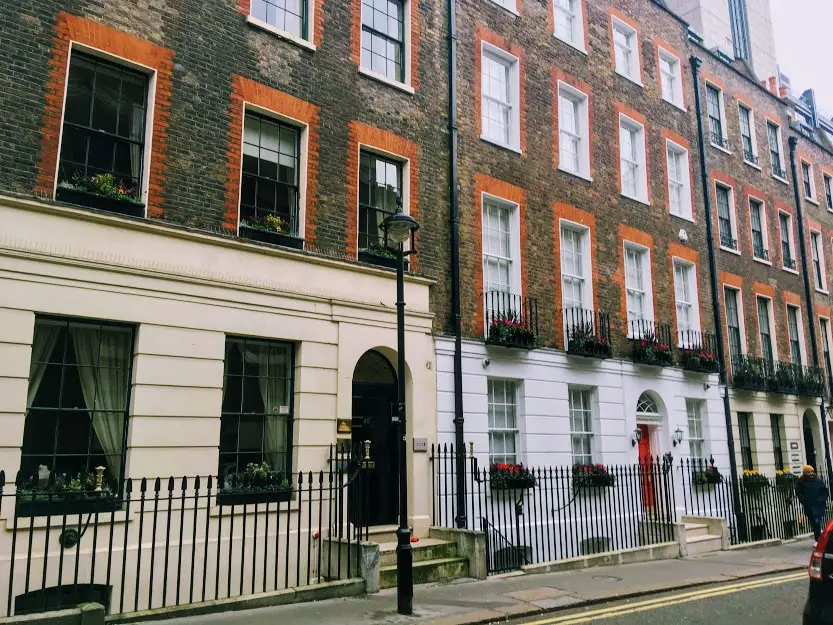 What struck me as odd straightaway was that my guidebook stated the house does not operate as museum, instead offering 'historical experiences'.
I had no idea what that meant, and was intrigued.
Still, the Benjamin Franklin House was hardly at the top of my list. In fact, it might not have even been in the top 50. Essentially, the reason I visited Benjamin Franklin House was because it was in the right place at the right time. I had just visited the Banqueting House and wanted to tag on another attraction, and Benjamin Franklin House was a five minute walk away.
Online, you can choose from a selection of times to join your 'historical experience' tour but, as I was visiting on a whim, I just showed up without booking 10 minutes before the next tour.
What's it like to visit?
It was difficult to find, with maps leading me on a winding trail through the train station and odd back streets (though I suspect this was just a glitch in the app). On arrival, I was greeted by a stretch of brick townhouses, the Benjamin Franklin House only distinguishing itself with a small banner on the railing outside. I proceeded to the closed front door and rang the doorbell. Already, I was kind of considering throwing in the towel. I can't say I've ever had to ring the doorbell for a tourist attraction.
I waited, and, hearing no sign of life from beyond the door, rang the doorbell again.
Just as I was about to walk off and call it a day, a woman opened the door, welcoming me inside. As I stepped through the threshold what first struck me is how completely silent the house was. I felt uncomfortable.
The quietest tourist attraction in London?
The lady guided me through a warren of corridors and outside through a courtyard before I was brought to reception. By this point, I don't know why I was surprised to find myself the only visitor in there. The 'experience' was due to start in five minutes, and I thought I would be the last to arrive. After I paid my £6 to enter (full priced tickets are normally £8! I'm lucky I got a student discount) I was guided down a long winding set of stairs to a dimly lit basement.
I'm going to get murdered, I thought.
The dude guiding me down into the basement politely informed me that if I just wait a moment there I will hopefully be joined by another person who had booked onto the tour.
Person. Singular.
"Is it always this quiet?" I asked
"Yep!" he smiled cheerily as he headed back up the stars.
I was confused. It was 1pm on a Saturday, surely the busiest time for any tourist attraction.
Sure, it was January, pretty much the lowest tourist month in London, but still.
I was lucky (unlucky?) that the other person had booked on, as I read a TripAdvisor review stating that a person didn't book before arriving and was told no tour was running for the time slot she had arrived for as nobody had booked on to it.
The Basement…
Sat in the darkened room, I watched a video reproduction of what the house looked like in Franklin's time. Then, my eyes adjusted to the darkness long enough to notice the boards of information scattered across the walls. I stood to read some, which briefly reflected on Franklin's life, what London was like in his era, and his living situation. Admittedly, this was interesting for somebody with no prior knowledge of Franklin (me). I learnt that he was a lodger of Margaret Stevenson and her daughter, Polly, information which would later come in handy. What I was not prepared for was a signboard telling me that during excavation of the basement area in 1998 over 1200 human bones were found.
I repeat. Over one thousand two hundred human bones.
I was sat by myself, in a dark basement, in the resting place of over 1200 human bones, next to a handy display case exhibiting some of said bones.
What. On. Earth.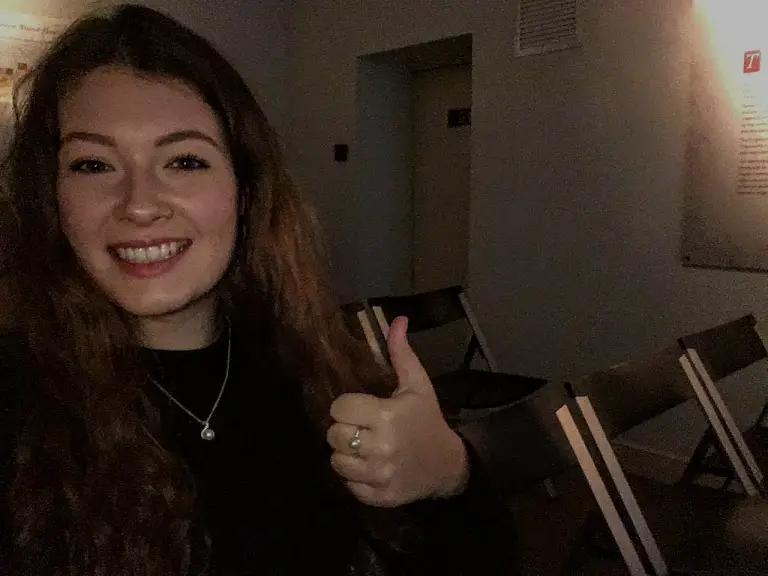 An introduction to the house
At that moment, the woman who had let me in to the building entered the basement to save me from descending into slow insanity. We were still waiting for one more person, but she said we would get started anyway. She gave a brief but detailed 5 minute history of Franklin, what he did in London and the history of the house. She then also (thank the Lord) explained that the basement used to be the house's garden, and that Polly's husband held a medical school in the garden, which is where the bones are thought to come from.
This was reassuring to an extent, as at least I wasn't just hanging out at a serial killer's secret stashing location, but being informed that the bones were probably acquired through grave robbery was only marginally better.
When it looked like the person we were waiting for wasn't going to show up (wise move, my friend) she exited the room, telling me my tour would start in just a minute and further dimming the lights.
I contemplated just leaving there and then. I wish I had.
The 'Historical Experience'
"You must be my visitor," said a voice from the doorway behind me. On turning around, I nearly jumped out of my skin! There, in the half-darkness, stood a woman dressed in full period regalia, including a wig. I started panicking. A bad experience at the Hamburg Dungeons means I find stuff like this super creepy!
She introduced herself as Polly, and I knew straightaway what was going on. The actress was pretending to be the landlady's daughter, and was going to guide me round the house.
As we entered the first totally unfurnished and darkened room a projector flickered to life, projecting various pictures of Benjamin Franklin onto the walls. Then, a voice recording started playing. The actress began to interact with the recording like the voices were coming from real people standing in front of her, replying as if she was taking part in a real-time conversation.
She was talking and laughing with thin air, and I was creeped out.
Every so often she would look at me and impart information as if sharing an in-joke, and I would have to awkwardly go along with it as I was the only other person there. It was so, so weird. Awkward is an understatement.
The whole performance seemed quite robotic, with no opportunity to ask questions because the actress was running to the audio recording and had to deliver her lines within the pause allocated to her. She left each room as soon as her segment there was over, and I had no idea whether or not to follow her. I figured that I should.
I learnt barley anything during the 'historical experience' and felt like cringing the entire time. Finally, the 'experience' came to an end, but bizarrely the actress just walked through a cupboard door with no parting words, and left. Then, the woman who gave me the initial introduction returned to say hello and ask how I found it.
How did I find it?!
Where to start…
As the only person on the tour, an awkwardly polite person, and a person who had absolutely no idea what in Tarantino they had just witnessed, I obviously ticked 'good' for everything when handed a review form to fill out. The pressure to do this wasn't helped by the woman standing over me and watching what I wrote. She asked me if I had any questions, to which I responded no (because all I wanted to do was leave as quickly as possible).
I got myself out of there in record time and burst out laughing. I had no idea what I had just witnessed. In fact, when I was telling my boyfriend about my escapades later on, I could barely make it through a sentence because I was crying with laughter. I had truly lost a good few brain cells during this visit.
How do other people find it?
Looking on TripAdvisor, it surprisingly doesn't have terrible reviews. A good few said the 'experience' was understandably confusing, but a few people did enjoy it (?!). Judging from the reviews, it seems most the visitors who enjoyed it were Americans, so maybe I was just missing something? Maybe the fact that it is the only remaining residence of Franklin's in the world is exciting enough to override all else?
An Empty House
I found it super bizarre that each room was completely empty. The house had clearly been redecorated extensively since the time of Franklin. On this subject, the Benjamin Franklin House's website states:
"Benjamin Franklin House is all about the story, so rather than bring in items unoriginal to the building, the rooms are unfurnished."
I personally believe this is a cop-out, and leaves the house feeling totally devoid of any kind of historic feeling as a result. I felt like I could have been standing in any house. There wasn't even so much as a rug to furnish it. To rely so heavily on "the story" I feel like you really need to deliver a story worth telling, which unfortunately was not the case here.
Learn from my mistakes.
In short, there is no reason for you to visit the Benjamin Franklin House on your trip to London. Not even if it's free as an inclusion in your tourist card. Don't do it!
What is the weirdest tourist attraction you've been to?
Liked this post? Pin it!