There is a good chance that this post contains affiliate links. If you make a purchase through them, I may receive a small commission at no extra cost to you! As an Amazon Associate, I earn from qualifying purchases. As ever, all opinions are my own.
Last Updated on February 4, 2022 by Ella
It's no secret that St Ives has some of Cornwall's most popular beaches. 
This idyllic beach town is beloved by holidaymakers, and hordes of them flock to its many beaches year after year for sun, surf and Cornish pasties!
I've been going to St Ives every year since I was born, and it's safe to say, like many others, that I'm a St Ives fanatic. There's something about it that just gets inside your head! Then, you turn into a complete St Ives nerd, returning year after year because you just can't get enough!
Whether you're already a fully-fledged St Ives fan or are planning your first visit, many people don't realise just how many beaches there are in St Ives. Sure, everybody knows of Porthmeor and the Harbour Beach, but I bet only a few know about Bamaluz!
So, if you want to find out more about St Ives' glorious beaches, read on! 
Porthmeor Beach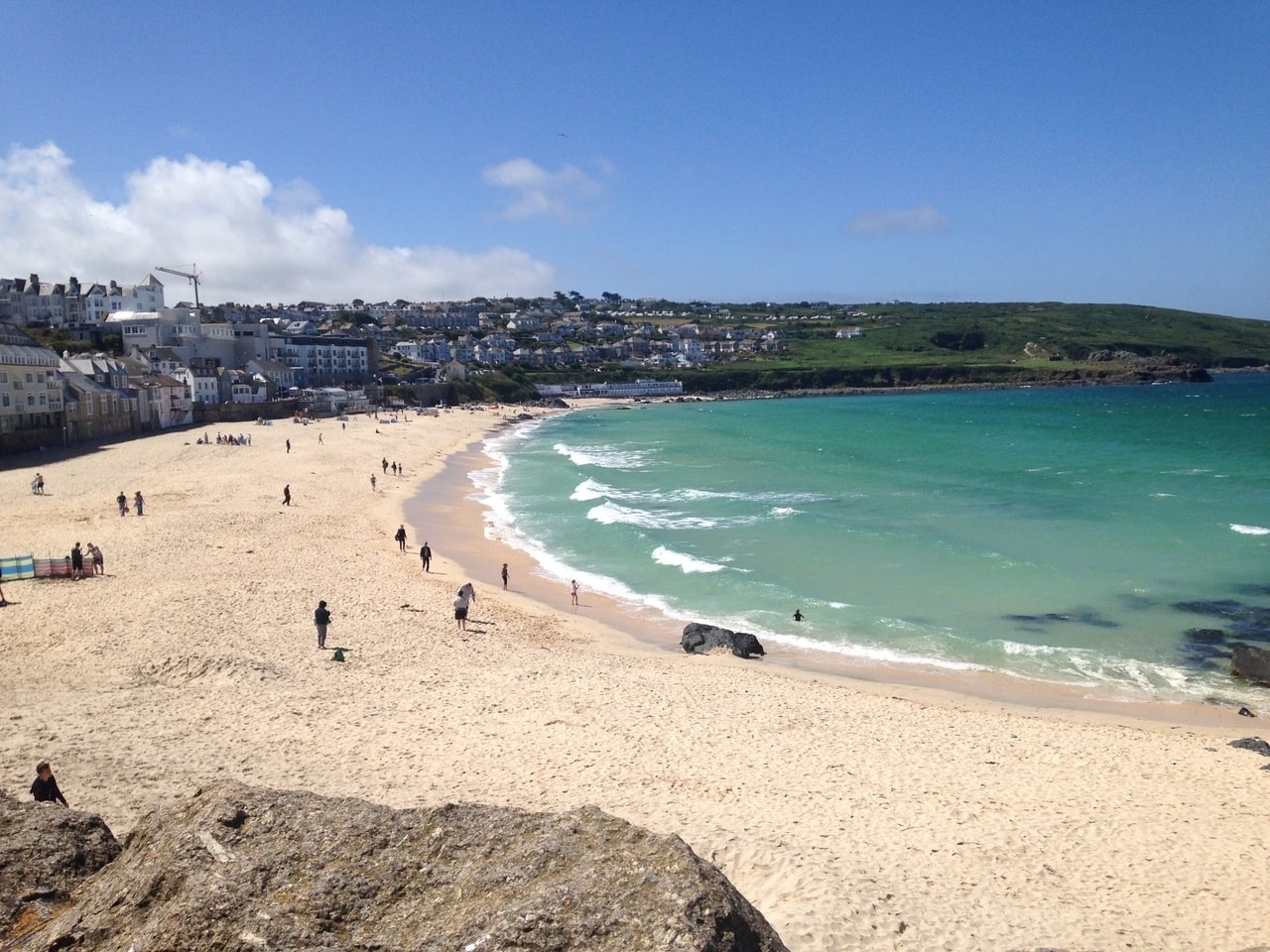 I know it's unfair to have favourites, but…
Porthmeor is (in my opinion) the most beautiful beach in St Ives. I spend day after day here sunbathing, surfing, and exploring the rock pools. Porthmeor Beach is just a short walk through the town from the harbour, but it feels far away from the hustle and bustle of St Ives' packed streets.
There's a seasonal dog ban on Porthmeor Beach, which starts on the 15th of May and lasts until the end of September.
Although Porthmeor Beach can get busy on sunny summer days, it's still absolutely worth visiting.
Lifeguards patrol the beach during school holidays, and its surf conditions are second to none! If you're looking to surf in St Ives, Porthmeor Beach is the place to do it. There's also a surf school on the beach where you can take lessons.
Aside from surfing, you can explore the rock pools on the beach at low tide, walk around 'the island', a headland right next to the beach, or grab a coffee or lunch at the Porthmeor Cafe.
Overlooking the beach, you'll also find the Tate Gallery, which offers up amazing views of Porthmeor from the top floor.
There's a pay and display car park right in front of the beach, but it fills up incredibly fast! A better option is to park at the St Ives Rugby Club and catch the shuttle bus. It's super convenient, and drops you off directly in front of Porthmeor Beach.
Porthminster Beach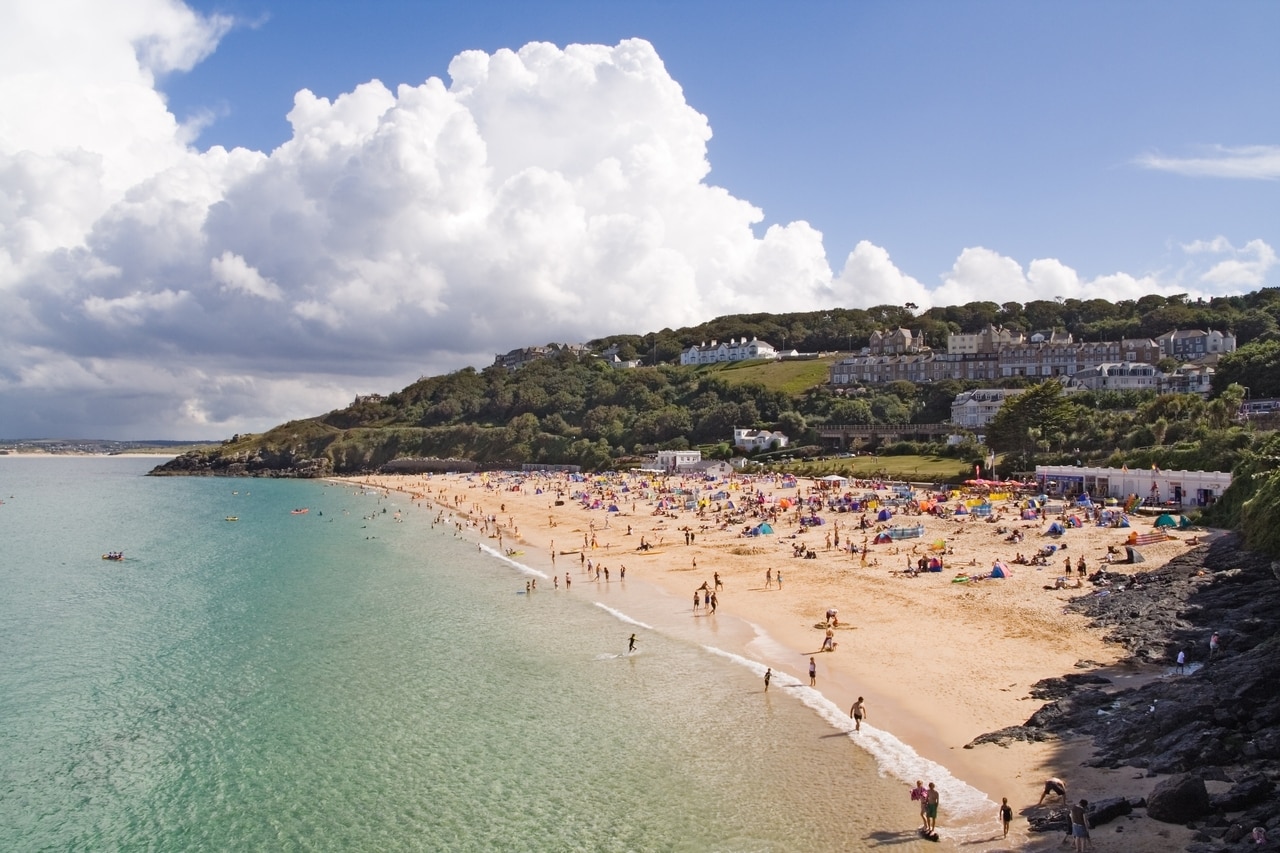 Porthminster Beach is slightly further away from the centre of St Ives and is right by the railway station.
From St Ives harbour, you can easily see the colourful beach huts on Porthminster Beach. That's because it's directly opposite the harbour!
This blue flag beach is sheltered from the ferocious winds you get on other St Ives beaches. It's also often much quieter than the Harbour Beach and Porthmeor Beach. 
You hardly get waves on this beach, so it's much less intimidating to go swimming in than Porthmeor! It's also patrolled by lifeguards from May to September.  There's also a dog ban on Porthminster Beach between mid-May and the end of September.
What's so awesome about Porthminster Beach is the views it has looking directly at St Ives Harbour, the Island, and the town. It's the place to head if you want a panoramic photo taking in the St Ives harbour!
If you look in the other direction, you'll see Godrevy Lighthouse, made famous by Virginia Woolf's book, 'To The Lighthouse'.
If you get hungry, the award-winning Porthminster Cafe is right on the beach. It has a relaxed vibe and serving up delicious Mediterranean and Asian-influenced food.
Porthgwidden Beach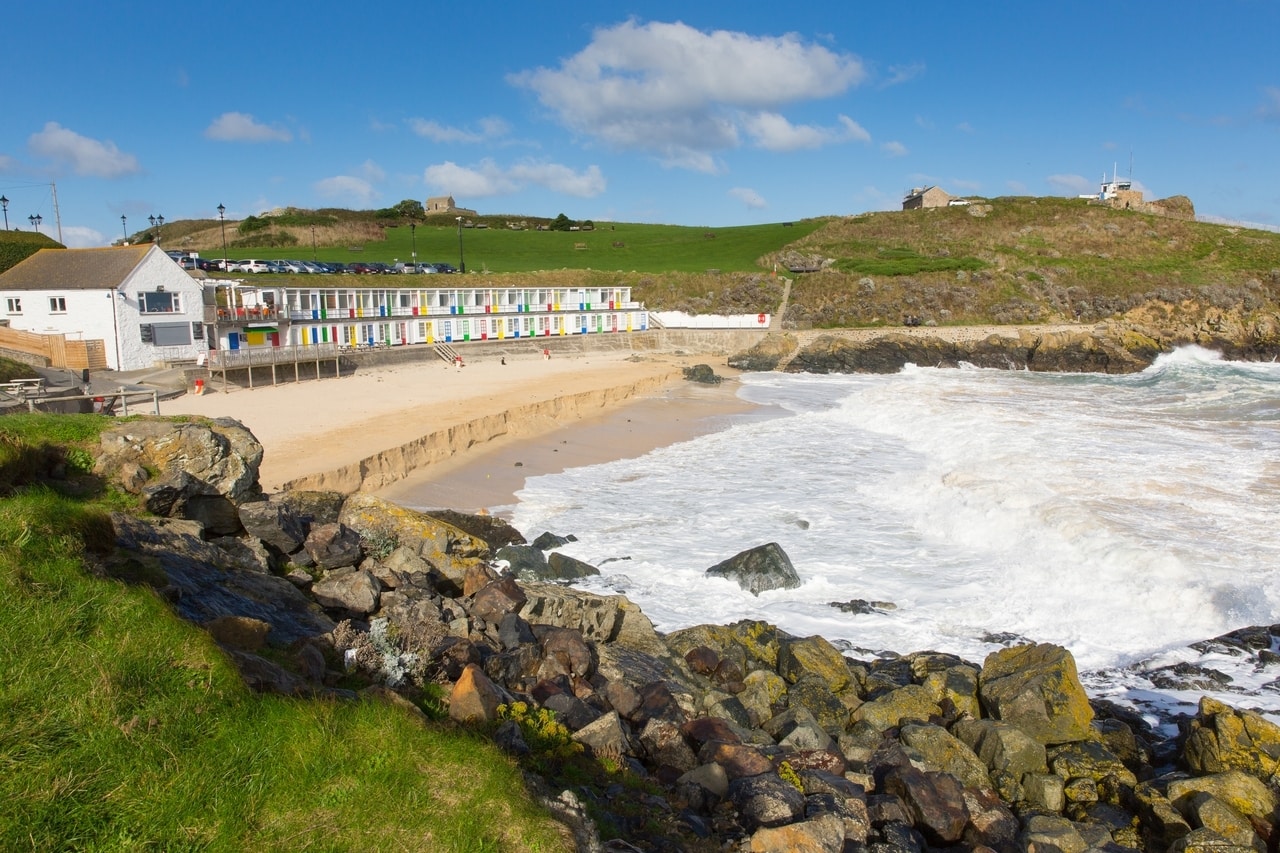 On the other side of 'the Island' from Porthmeor, Porthgwidden Beach is a sheltered sun trap. It's the first place I head if the wind on Porthmeor gets out of control.
Although this beach is small, it's absolutely charming. The sea is almost always flat, so it's perfect for paddling or letting your kids play without worrying.
There's also a small cafe here that serves up coffee, tea, beers and snacks. Eating cheesy chips on the beach is a family tradition of mine!
Porthgwidden is much smaller than the more popular St Ives beaches, but that's what makes it so popular with families. It's really easy to keep an eye on your kids here, and the tide doesn't go too far out so they'll never be too far away.
Although there is a seasonal dog ban on Porthgwidden Beach, it is much shorter than the ones on St Ives' more popular beaches. It's only in place in July and August.
There are no lifeguards on Porthgwidden, but it doesn't really need them. There are next to no waves or rip-tides here, and there are always plenty of people swimming.
Bamaluz Beach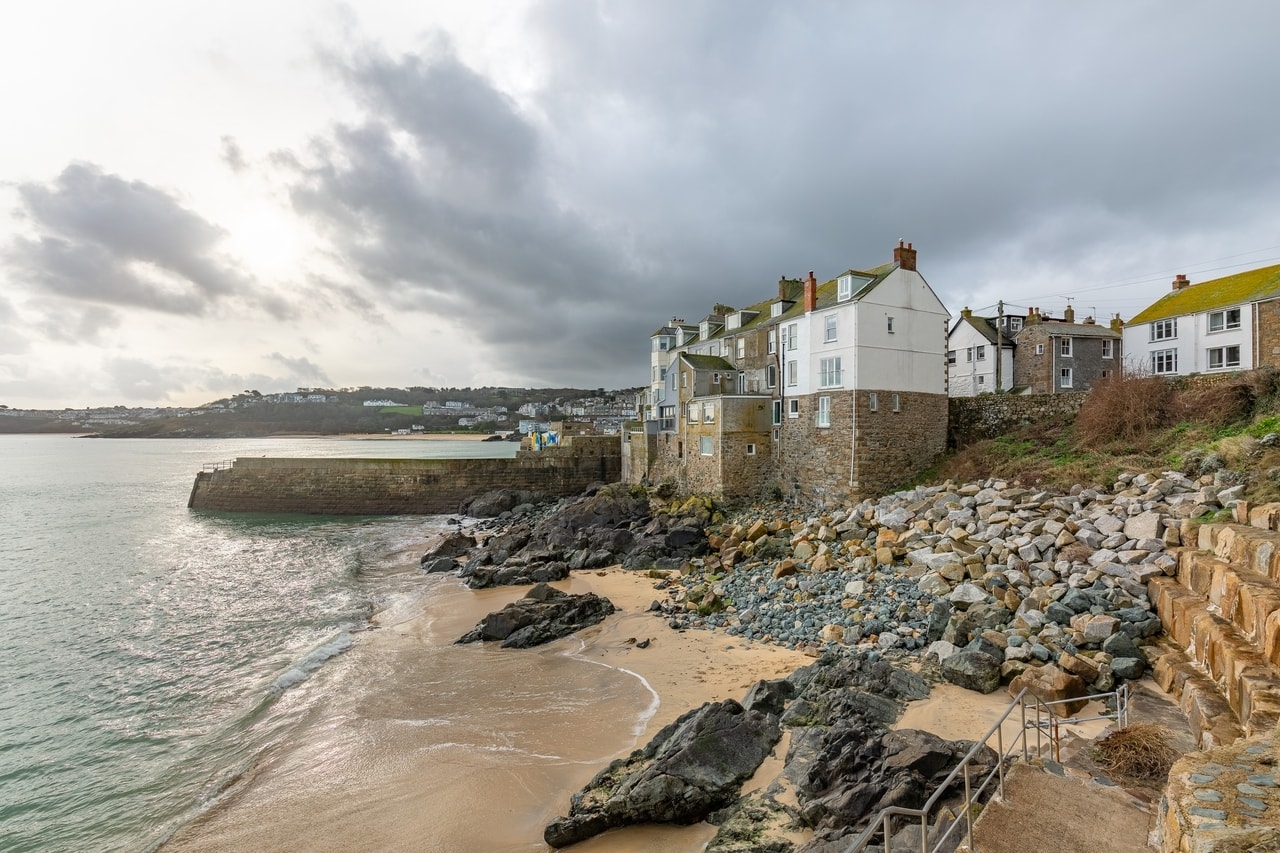 This beach is something of a well-kept secret, because during high tide it doesn't exist! At low tide, though, you'll find an excellent beach that rarely gets busy – even during the summer holidays! 
The ruins of the Wheal Dream tin mine overlook this secluded beach, one of the only tin mines to have been in St Ives.
The reason most people head here is that it's the only year-round dog-friendly beach in St Ives. Because of this, the word spreads fast among dog owners!
Families also enjoy the beach, though, as the boulders and rock pools at either side of the beach are fun to explore and play on (something I remember doing all the time as a kid).
It's a pretty small beach, but, since it's still fairly secret, it won't get too packed. 
You'll find Bamaluz Beach just behind the St Ives museum between Porthgwidden Beach and the harbour, and it's accessed by a steep set of steps.
St Ives Harbour Beach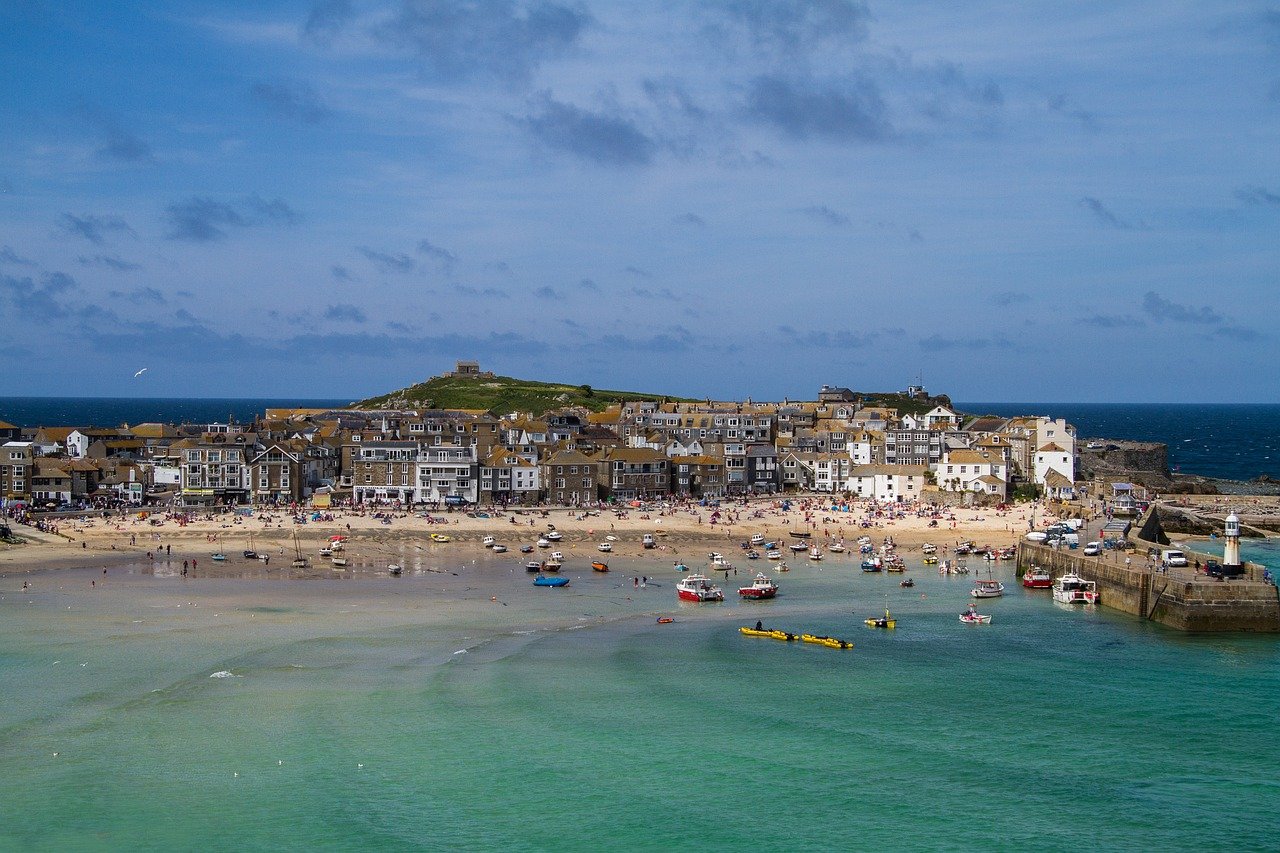 The St Ives Harbour Beach is, you got it, in the harbour. St Ives is still very much a working port and it's here that you can sit back and watch the fishing boats heading out and returning. 
Nestled in front of the shops, galleries and restaurants of St Ives harbour, the Harbour Beach is probably the best place to break up exploring St Ives town or to have a lunch break. It's ideally located as a pasty or ice cream shop is never far away!
To one side of Harbour Beach, you'll find the St Ives lifeboat station, which has been standing here for over 100 years. In summer, it's open to visitors, and sometimes they'll even show you around their huge lifeboat!
There's also The Sloop Inn just behind Harbour Beach, the most popular pub in St Ives. It dates back to 1312, so if you want a taste of St Ives' past, this is a great place to experience it as you enjoy a drink (or three).
Like most beaches in St Ives, the Harbour Beach has a seasonal dog ban. Luckily, this is only in place for July and August.
Although the Harbour Beach is a great place to hang out, it's probably more of a beach you chill at for a couple of hours rather than spend the entire day at. This is because it's not ideal for swimming (boats are always going back and forth) and the tide comes quite far in and out.
Carbis Bay Beach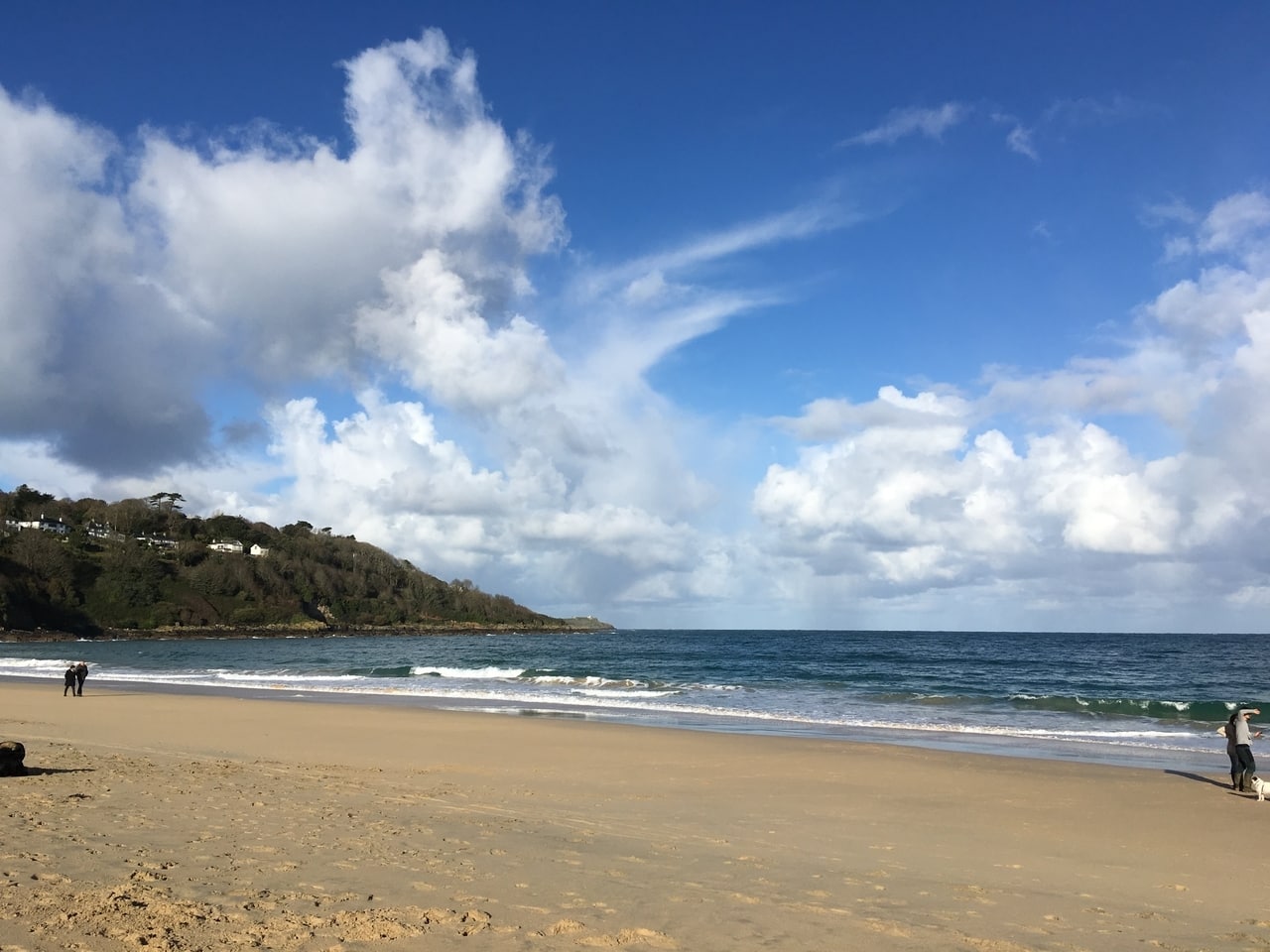 Although not technically in St Ives, this beach is worth an honourable mention. It's a lovely sandy beach that's accessible from St Ives via a short and picturesque coastal walk.
This is the only way I recommend getting to Carbis Bay Beach, as missing out on the panoramic views and the insanely gorgeous turquoise seascapes on this walk would be criminal!
Carbis Bay Beach is just one mile east of St Ives. This beach rarely gets any surf, so it's ideal for relaxed swimming and paddling. It also has lifeguard cover over the summer, so you can rest assured taking a dip in the sea here is totally safe. 
A dog ban is in place from mi-May until the end of September.
---
As you can see, St Ives has no shortage of amazing beaches for you to choose from, and it has beaches to suit every visitor. After all, it's one of the most popular holiday destinations in Cornwall for a reason!
The only way to choose your favourite would be to visit them all. Will you take up the challenge?
Let me know what your favourite beach in St Ives is in the comments!