There is a good chance that this post contains affiliate links. If you make a purchase through them, I may receive a small commission at no extra cost to you! As an Amazon Associate, I earn from qualifying purchases. As ever, all opinions are my own.
Kent is a land of castles – big ones, small ones, ruined ones, new ones… it has them all! As England's key frontier against foreign invasion for over a thousand years, it makes total sense that there are so many castles in Kent. 
As a history buff, I was super excited when I moved to London because it meant that it would suddenly be super easy for me to visit the wonderful castles in Kent on day trips!
Unfortunately, I found out quickly enough that, given their isolated locations, many of Kent's more popular castles can be a real mission to reach without a car. And let's be honest – if you're based in London, chances are you definitely do not own a car and rely on public transport like me!
Through trial and error, I've worked out how to visit each of these castles in Kent without needing a car. Hooray! 
Some are easier to visit than others, but I've provided step-by-step instructions on how to get to each of them. You're welcome 😉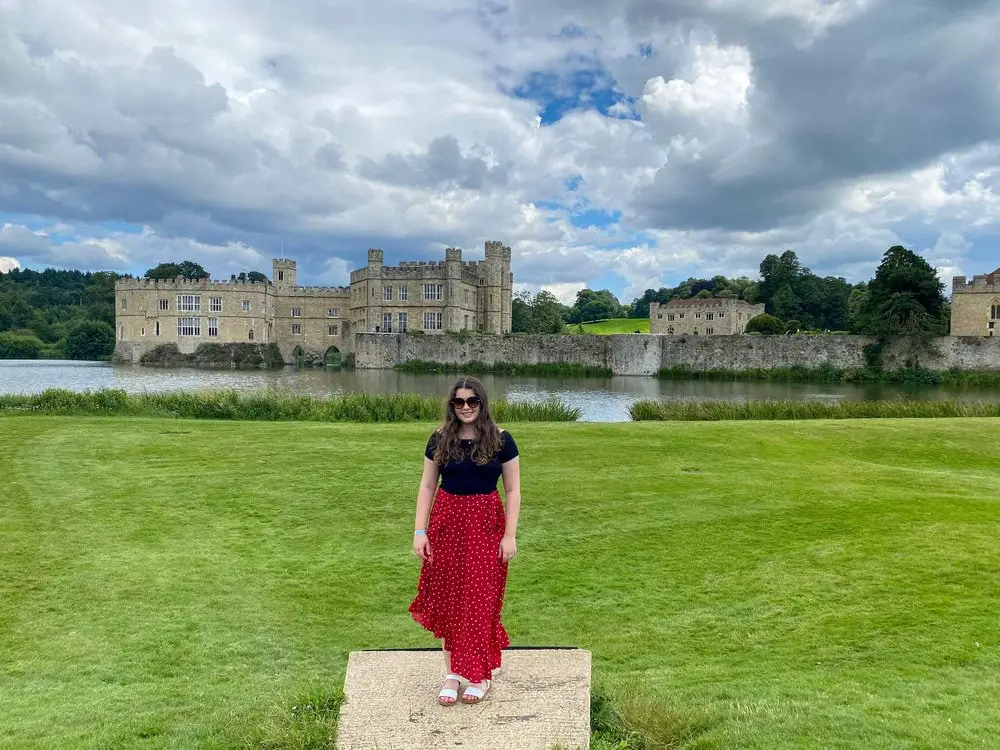 Kent Castles Map
To help you visualise this list of castles, and to help plan your trip, I've pulled together a map (below) that shows where you'll find each of the castles on this list. 
Let's get started with this list of the best castles to visit in Kent!
Rochester Castle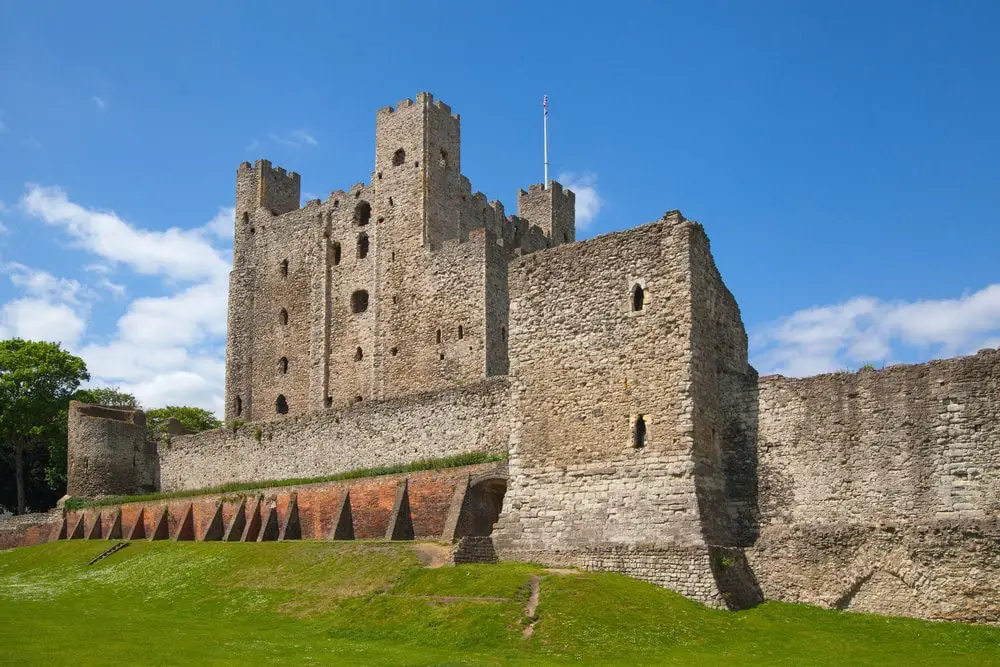 Dominating the city's skyline, Rochester Castle is easily the most recognisable landmark of the city, and the reason most visitors head to Rochester.
Built on a site that the Romans originally settled on, Rochester Castle's location was strategic due to its position overlooking the River Medway. From here, the castle's inhabitants could keep an eye on who was using the river crossing. 
Construction began in 1087, and almost immediately the castle began its journey of being besieged countless times. Rochester Castle has been the backdrop of numerous battles and was used as a fortress until the sixteenth century. 
From Rochester Castle you'll get panoramic views of the city and the river. Inside, the castle retains its medieval, bare-bones appearance. There is no furniture or adornments, but you're still able to explore the entire castle and check out the historic design of the building.
Rochester Castle Entry Price
Adults £7.20, children £3.10.
Rochester Castle Tickets: Get them here.
How to Get to Rochester Castle
The train from London to Rochester takes just 40 minutes, and then it's a 7-minute walk to Rochester Castle. From Canterbury, the train takes 1 hour.
Dover Castle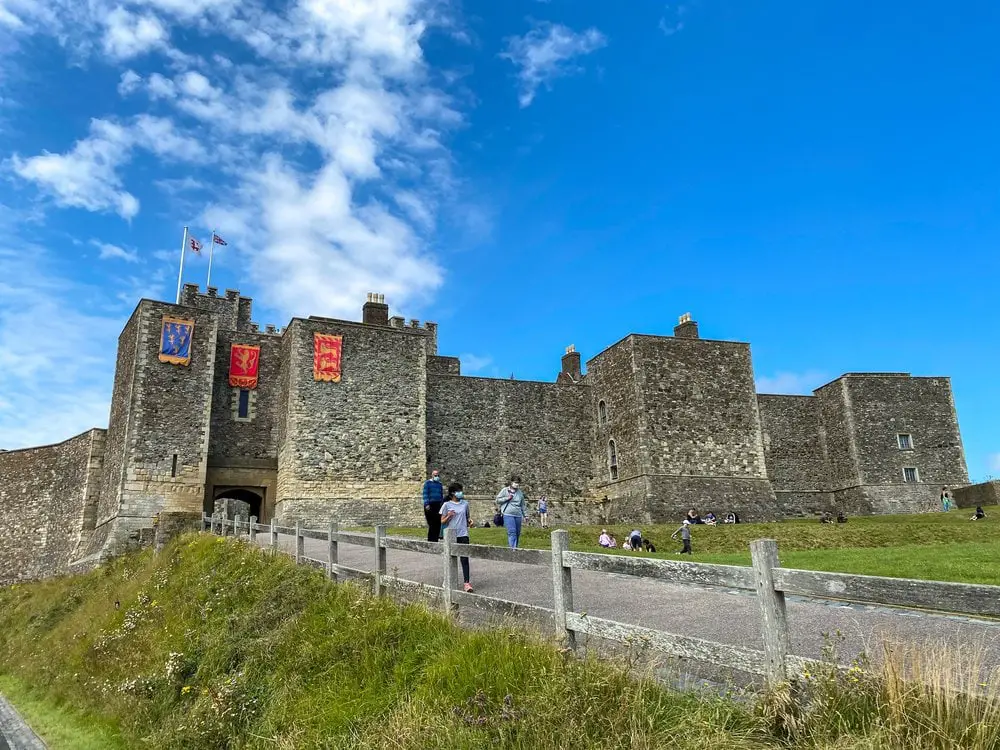 Dover Castle is the best thing to do in Dover, hands down! Majestically perched on the cliffs overlooking the town and the sea, Dover Castle is definitely worth the long uphill slog to get there.
Founded in the 11th century, Dover Castle has been referred to as the "key to England" due to its decisive role in fending off countless invaders over the years. In fact, it did so as recently as WW2, when the castle was used as an important military base that included secret underground bunkers! It's inside these bunkers that the Dunkirk evacuation was meticulously planned, and a visit to Dover Castle includes entry to these incredible underground bunkers.
Given its unrivalled location, a visit to Dover Castle guarantees you fabulous views over the town of Dover, the ferries running between Dover and France, and, of course, the miles of sea that stretches between the British and French coasts. You can walk along the walls of the castle or climb up to the admiralty lookout used in WW2 for the best views.
The interiors of Dover Castle are unfortunately nothing special – there is next to no original furniture there, and in fact the majority of the decor was designed for kids to play with was… Not exactly historically accurate… ButI'm sure kids enjoy it! 
To make up for the lack of history, there is an on-site museum that covers the history of the castle and the British Army.
Dover Castle Entry Price
Adults £25.00, children £15.00.
Dover Castle Tickets: Get them here.
How to Get to Dover Castle
The town of Dover itself is very easy to get to, with the high-speed train from London taking just 1 hour and 5 minutes! From Dover town, though, getting to Dover Castle is slightly trickier. 
The easiest way to get to Dover Castle is to catch the number 15 bus from Dover bus station. However, if you're in good shape and can manage a steep walk, it takes around 30 minutes to walk from the train station. The day we visited it was sweltering though, I had a knee injury, and we had all of our luggage with us, so this was not an option!
Eynsford Castle
If it's castle ruins you're after, look no further than the free-to-visit Eynsford Castle. It's been abandoned ever since 1312, but was originally built as an early-Norman style 'enclosure castle', meaning that it was protected by a huge outer wall, rather than a keep or a motte, both of which were much more common at the time.
There's not a huge deal to see at Eynsford Castle, so it's best to combine a trip here with a visit to Lullingstone Castle nearby. That said, the remains of the outer castle wall are still standing – in some sections to their full original height! The hall building, where the castle's inhabitants will have lived, is also still standing.
Eynsford Castle is totally different to the other castles on this list! If you're looking for a more rugged and outdoorsy experience, rather than exploring fancy and restored castle interiors, Eynsford is for you. 
Plus, it's free! Who could argue with that?
Eynsford Castle Entry Price
Free! No tickets necessary.
How to Get to Eynsford Castle
Public transport users, rejoice! Getting to Eynsford castle via public transport is super easy. Trains run directly between London Blackfriars and Eynsford, and the journey takes just 55 minutes. From the train station the castle is just a 13-minute walk away.
From Maidstone in Kent, you'll have to catch the train to Otford, where you'll change to catch the train to Eynsford. The whole journey takes around 45 minutes. Easy!
Deal Castle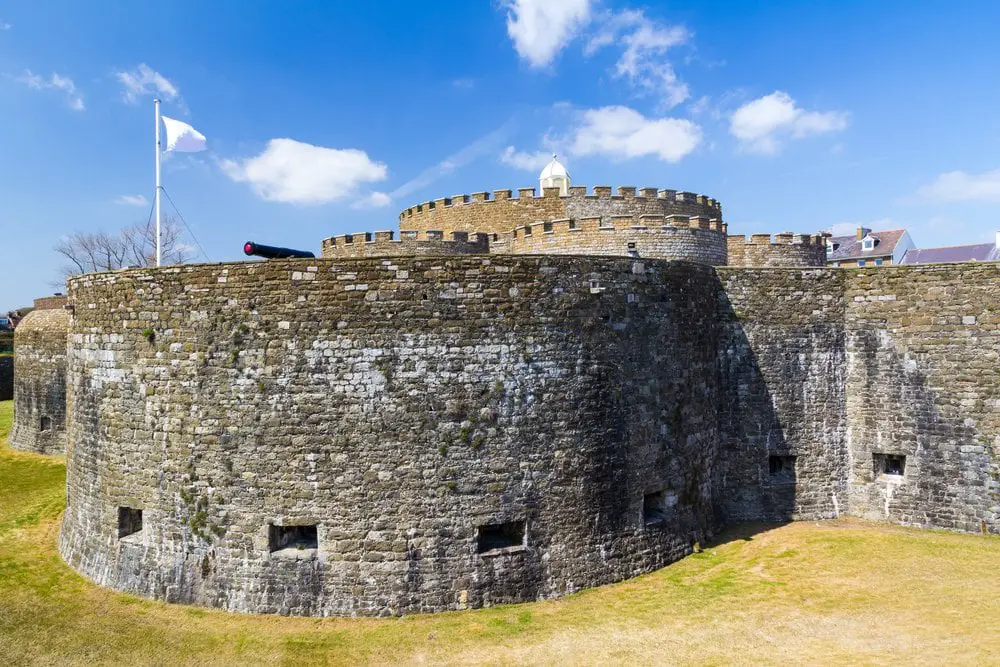 Unlike the other big, famous castles of Kent, Deal Castle is a smaller, less famous, and far less expensive alternative for those looking to visit one of Kent's castles without breaking the bank. 
Right on the coast in the South Kent seaside town of Deal, this castle was the first in an expansive chain of coastal forts ordered to be built by King Henry VIII. Yup – pretty much every castle in Kent has a Henry VIII connection! It was built to be an artillery castle, a defensive structure made to house the extremely heavy guns of the time.
Nowadays, Deal Castle is in the care of English Heritage, and you're able to visit the whole of the castle – from the captain's residence all the way down to the castle storerooms. You're also able to walk around the castle's defences to admire the strategically placed cannons. 
Unlike some of the more famous Kent castles, you won't need to spend half (or even a full) day exploring it. One to two hours will be plenty, and you can then spend the rest of your day either strolling Deal's seafront and harbour, or getting the train to the idyllic nearby town of Sandwich.
Deal Castle Entry Price
Adults £7.90, children £4.70.
Deal Castle Tickets: Get them here.
How to Get to Deal Castle
Luckily, this is one of the easiest castles to visit in Kent on public transport. Direct trains run from London to Deal in as little as 1 hour and 22 minutes, and the castle is just a 10-minute walk away from Deal train station.
Sissinghurst Castle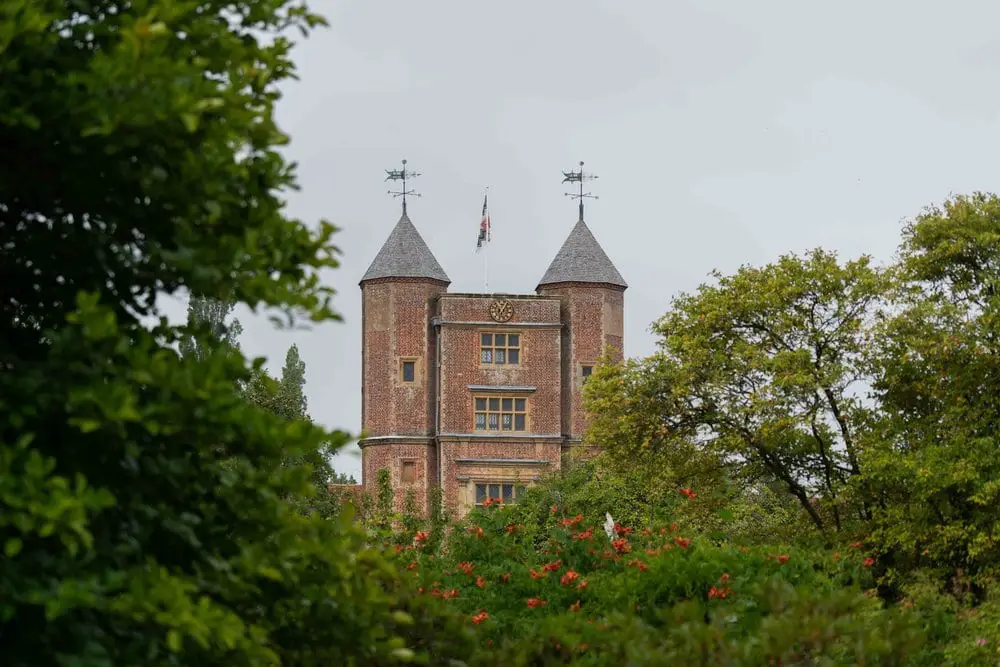 Although Sissinghurst is indeed a castle, it's pretty meh. Surprisingly, the reason you'd visit Sissinghurst is for its world-renowned gardens. The gardens are truly wonderful, but if you head here wanting to see a traditional medieval castle, you're going to be disappointed. The 'castle' section itself is more of a lavish country house than a castle. 
In fact, the Tower, which dates back to the 16th century, is pretty much all that remains of the original Manor House.
Well, Ella, why is it on this list of unmissable castles in Kent?
Because it's still worth visiting! You just need to manage your expectations and go in knowing that, although there is a castle there, what makes Sissinghurst so special is its gardens. They're divided into a series of 'rooms' which have the plants and foliage designed around individual themes, such as the White Garden, the Rose Garden and the Lime Walk.
The gardens were originally designed by the 1930s owners of the castle, writer and poet Vita Sackville-West and her husband Harold Nicolson, and you can visit her writing room as part of your visit to the castle.
Sissinghurst Castle Entry Price
Adults £15.00, children £7.50.
Sissinghurst Castle Tickets: Not available online – buy on arrival.
How to Get to Sissinghurst Castle
I can't pretend – Sissinghurst is an absolute nightmare to get to without a car. With some perseverance, though, it is possible. You have two options. The first is to get the train to Staplehurst and then call MTC Taxis on 01622 890003 to make the 6-mile journey. The taxi costs around £15 each way. 
The other option is to get the number 5 Arriva bus from Maidstone, going in the direction of Hawkhurst. You'll get off at Sissinghurst, and from there it's a 1.25-mile walk along muddy country footpaths (see what I mean about it being a nightmare?) to get to Sissinghurst Castle.
Tonbridge Castle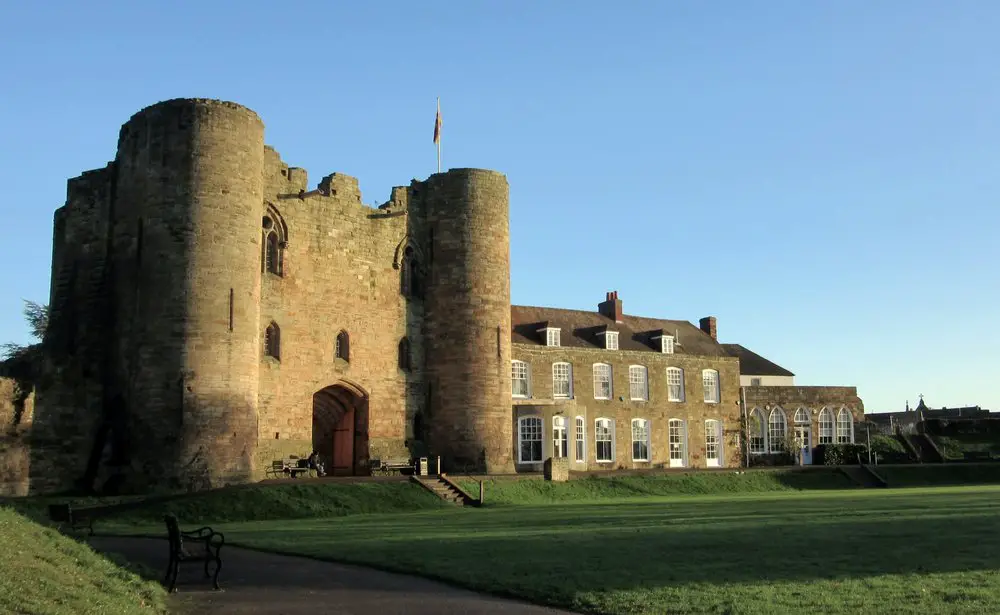 Hailed as England's finest example of a motte and bailey castle (a bold claim, but one I wouldn't disagree with!) the stunning Tonbridge Castle dates back to the 11th century. 
The original castle on the site, unlike the one you see today, was made of timber and earth and hastily thrown together by Norman invaders to protect themselves soon after they arrived in England in 1066. Shortly after this, the beginnings of the stone structure you see today were built.
The castle was used in the English Civil War, before being passed along a chain of owners and eventually being used in WW2 as a defence against possible German invasion. 
The best way to explore Tonbridge Castle is on the one-hour audio tour, which guides you along interactive displays and exhibits bringing the 13th-century heyday of the castle to life.
Tonbridge Castle Entry Price
Adults £9, children £6.50
Tonbridge Castle Tickets: Not available online – buy on arrival.
Getting to Tonbridge Castle
From London Bridge, the train to Tonbridge takes just 35 minutes. Tonbridge Castle is a 10-minute walk from the train station. The train from Ashford in Kent is 35 minutes.
Leeds Castle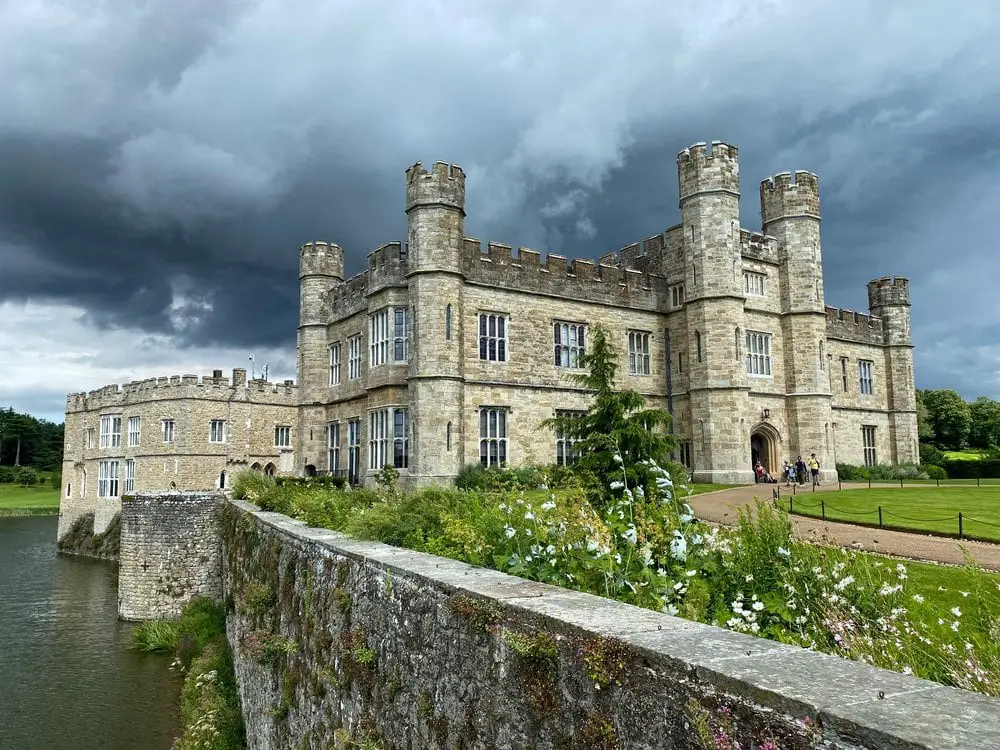 The castle Lord Conway named "the loveliest castle in the world" is definitely the star attraction of Kent. Leeds Castle is so old that its presence was recorded in the Domesday Book way back in 1086. This fact alone surely earns Leeds Castle its place on this list of the best (and oldest!) castles in Kent.
Confusingly, Leeds Castle is nowhere near Leeds, but no matter. With the traditional moat which surrounds the castle and the rolling 500 acres of exquisite gardens, Leeds Castle is pretty much the textbook definition of the perfect castle. 
The castle has played countless roles over the years – from being the private property of six of England's medieval queens, to a palace used by Henry VIII and his first wife Catherine of Aragon, to becoming the home of American heiress Lady Baillie. Leeds Castle has certainly seen its fair share of historical events.
Inside the castle, you'll see that quite a lot of its interiors are surprisingly decorated in the 60s and 70s styles popular whilst Lady Baillie was in residence. It's definitely not what you'd expect from a medieval castle! 
That said though, there's still plenty of sections that look like they have not changed for hundreds of years for those of you who want to step back in time.
Leeds Castle Entry Price
Adults £28.00, children £19.50. Your entry ticket grants you unlimited entry to the castle for a full year.
Leeds Castle Tickets: Get them here.
How to Get to Leeds Castle
This castle is a bit of a nightmare to get to without a car, but it can be done if you're willing to get creative! You have two options. The first is to catch the train to either Bearsted or Hollingbourne train station, and then call Express Taxis on 01622 222222 to get to Leeds Castle. They're quick, you can pay by card, and the fare costs around £8. 
The second option, if you're visiting in summer, is to pre-book a ticket for the shuttle bus which runs between Bearsted station and Leeds Castle. Tickets cost £5 return and you can find more information here.
Lullingstone Castle
It doesn't really resemble a castle (more like a fancy manor house), but Lullingstone Castle is a firm entry on the list of best castles in Kent and has been held by the same family for twenty generations.
The main attraction at Lullingstone Castle is not actually the castle itself, but rather the World Garden on the grounds of the castle, which features plants from all over the world. The World Garden's origin story is absolutely wild.
Tom Hart Dyke is the current heir to the estate and a tropical plant hunter. Whilst on a plant hunting expedition to Panama in 2000, Tom and his companion were kidnapped by a guerilla faction and held hostage for nine months. 
Convinced he was going to die, Tom began planning his dream garden. On his miraculous release, he decided to turn his dream into reality at Lullingstone Castle. 
See what I mean about it being pretty crazy?!
Nowadays, visitors head to Lullingstone to explore the world through the countless fascinating plants and flowers grown on the estate. There's also a few woodland walking trails and a cafe. The Lullingstone Castle itself is almost an afterthought since the gardens are so unique and impressive.
Lullingstone World Garden Entry Price
Adults £9, children £4.50. Access to Lullingstone Castle costs an additional £2.50.
Lullingstone Castle Tickets: Not available online – buy on arrival.
How to Get to Lullingstone Castle
The train from London Bridge or London Blackfriars goes to Eynsford in just 50 minutes. From Eynsford train station, Lullingstone Castle is a 25-minute walk. From Maidstone, you'll need to catch the train to Otford and then catch a train to Eynsford.
Scotney Castle
If you picture a fairytale castle, chances are it looks exactly like Scotney Castle. This 14th-century moated castle is the textbook definition of the perfect castle. With over 770 acres of woodland surrounding the castle for you to explore, there's far more to see here than just the castle itself.
You actually have two castles to see at Scotney Castle. Firstly, there's the old castle, which is on an island on a small lake. I don't think visitors can go inside the old castle (it wasn't an option when we visited) but its exteriors are beautiful enough that it really doesn't matter.
The earliest record of the castle dates back to 1137, and, although mostly ruins nowadays, it's still one of the key attractions of the Scotney Castle Estate. 
Secondly, there's the Scotney New Castle, which was built in the mid-19th century to replace the crumbling old castle. It's undeniably beautiful, and visitors are free to explore the impressive interiors of Scotney New Castle.
Scotney Castle Entry Price
Adults £12, children £6.
Scotney Castle Tickets: Not available online – buy on arrival.
How to Get to Scotney Castle
Unfortunately, like a couple of other Kent castles on this list, getting to Scotney Castle on public transport is a trek. From London, catch the train to Wadhurst. From Ashford in Kent, you'll need to change trains at Tonbridge to get to Wadhurst.
On arrival in Wadhurst need to catch a taxi for the remaining 6 miles to Scotney Castle. Call TW Station Cars on 01892 457979 – the taxi should cost around £16 each way. 
Hever Castle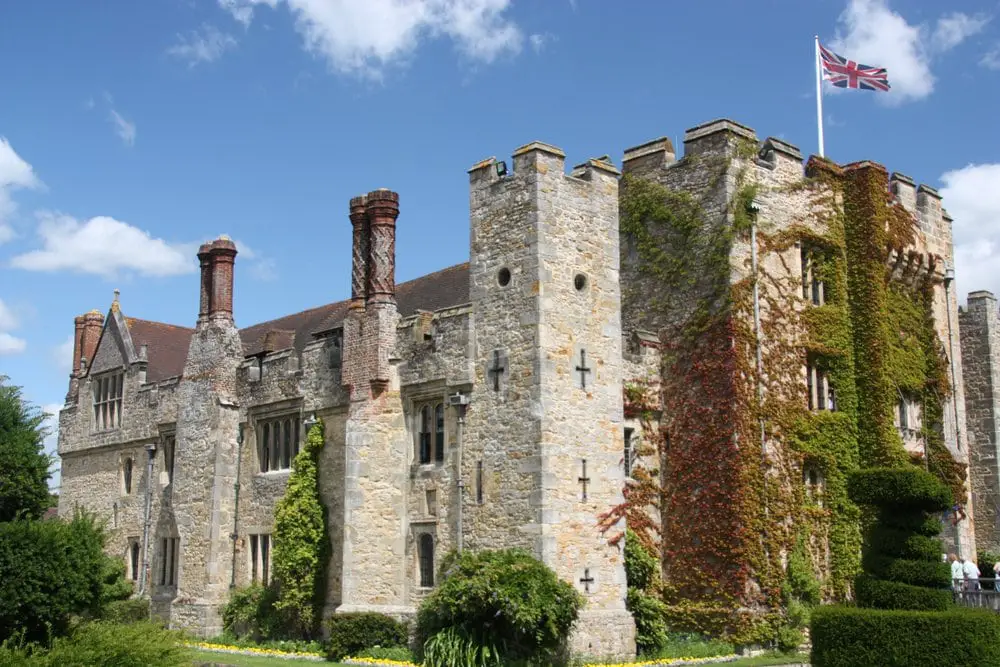 This charming castle was the childhood home of Anne Boleyn, Henry VIII's second wife (and the first to lose her head!). Built in 1270 as a medieval defensive castle, with its very own moat, it was later expanded in the 15th and 16th centuries by the Boleyn family. 
The castle was passed along to various owners over the years until it was purchased by William Waldorf Astor, the richest man in America at the time, in 1903. 
Today, the majority of the castle's breathtaking interiors are all thanks to the careful restoration efforts of Astor, and you'll be able to see the largest collection of Tudor portraits outside of the National Portrait Gallery here!
Outside Hever Castle, don't miss its spectacular 125 acres of gardens. Including a rose garden, a lake, and serene woodlands, it's worth allocating at least an hour and a half to strolling the grounds and gardens. 
The best way to check out what the grounds have to offer is on one of their walking trails – you can't go wrong with either the Roman Trail or the Lake Walk Nature Trail.
Hever Castle Entry Price
Adults £19.20, children £10.90.
Hever Castle Tickets: Get them here.
How to Get to Hever Castle
You have two options for getting to Hever Castle on public transport. The first option is to catch the train to Edenbridge Town, which is about 3 miles away from Hever Castle. From here, you'll need to call Relyon Taxis on 01732 863800 to get to Hever Castle. 
Your second option is to catch the train to Hever. From here, it's a fairly flat 1-mile walk to the castle, which takes around 20 minutes.
Walmer Castle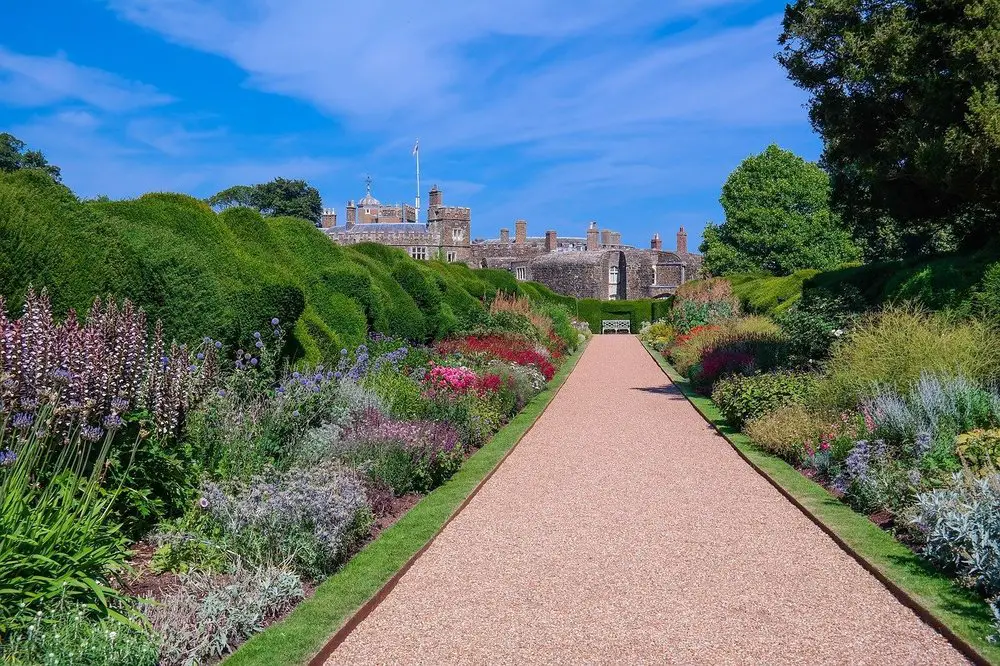 Constructed between 1539 and 1540 on the order of Henry VIII, this coastal artillery fortress is a total knockout!
The purpose of the castle was to protect England against coastal invasion from France and the Holy Roman Empire, and it did a pretty great job! Once the threat of invasion passed, Walmer Castle became the official residence for the Lord Warden of the Cinque Ports (a ceremonial role in charge of five port towns on England's southeast coast). 
The officeholders of Lord Warden of the Cinque Ports over the years have included William Pitt, Winston Churchill and Robert Menzies.
Visitors to Walmer Castle are welcome to explore the interiors of the castle and marvel at its historical portraits and objects relating to the castle's history and previous Lord Wardens. 
Outside the castle, don't miss the tranquil wildflower meadows and the Walmer Castle woodland walk, which leads you to the sunken glen, which dates back to the 19th century and has recently been rediscovered and restored after becoming overgrown.
Walmer Castle Entry Price
Adults £12.60, children £7.60
Walmer Castle Tickets: Get them here.
How to Get to Walmer Castle
Walmer Castle is slightly too far away to visit on a day trip from London (the direct train between London Bridge and Walmer takes 2 hours, and then it's a 25-minute walk from Walmer train station to the castle. However, it's incredibly easy to visit from nearby towns. From within Kent, there are plenty of direct trains between Dover, Ramsgate and Ashford to Walmer.
Day Tours to Kent Castles from London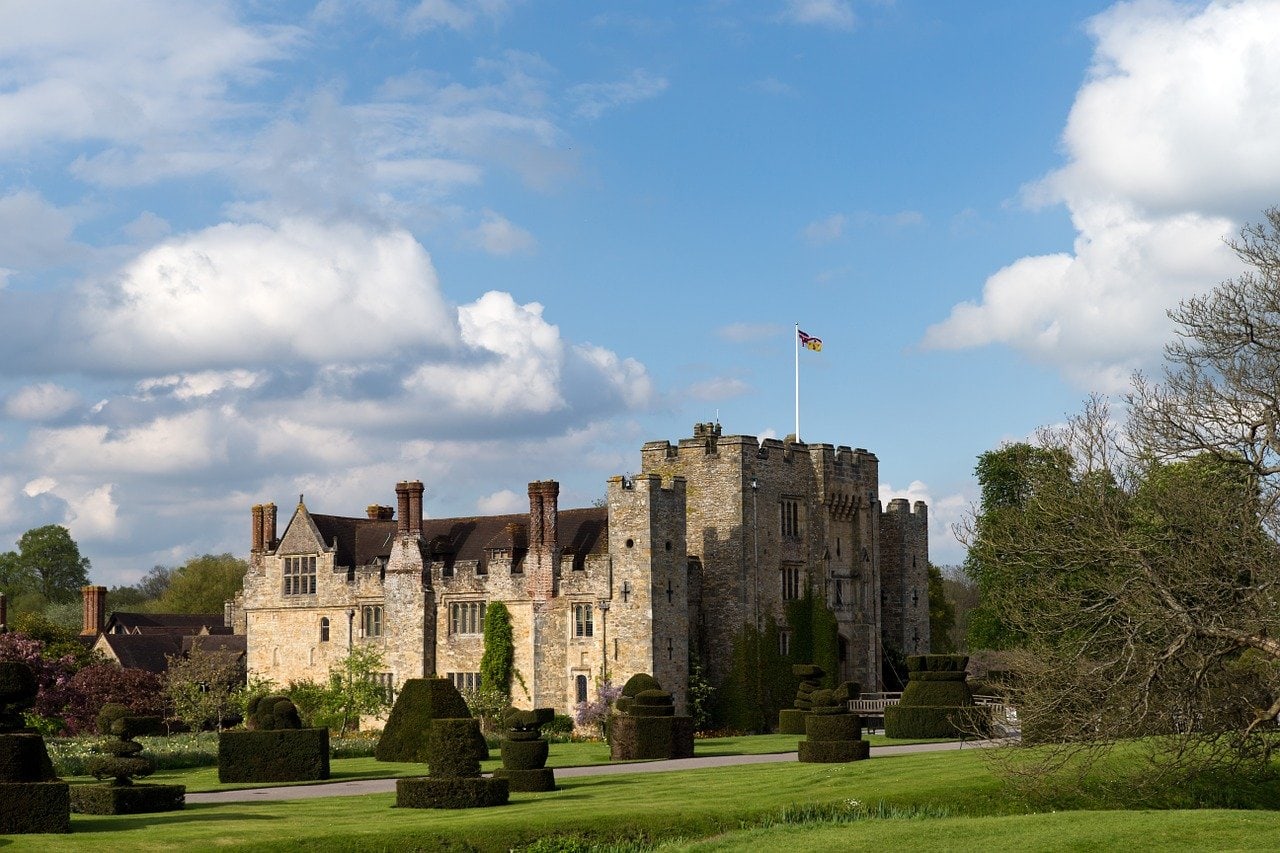 It's easy for me to sit here and tell you how to visit each of these Kent castles as day trips – but what if you don't live nearby, and you don't have time on your side? Chances are, you'll want to cram as much of Kent into your day trip as humanly possible.
That's where guided tours come in.
By having all of your transport between destinations taken care of, you can cram way more activities into your day – meaning you'll go home knowing you saw as much as you possibly could. This tour is a jam-packed day visiting two of Kent's best castles as well as some of the most famous attractions nearby.
Not only do you get a private tour of Leeds Castle before it opens to the public, stand on the White Cliffs of Dover, explore Dover Castle and check out Canterbury Cathedral, but you'll also get a walking tour of Greenwich and a Thames River Cruise. It would be impossible to fit any more into the day! Check prices and availability here.
---
Summary – The Best Castles in Kent
You'll struggle to find another area in England with so many wonderful castles as Kent. There's a castle for everybody! Obviously, though, I've just thrown 11 suggestions at you, and it can be tricky to choose which castle to visit. 
Here are my recommendations:
| | |
| --- | --- |
| Category | Castle |
| Overall Best Castle | Hever Castle |
| Easiest to visit from London | Tonbridge Castle |
| Best castle for families | Dover Castle |
| Best castle gardens | Lullingstone Castle |
| Cheapest castle to visit | Eynsford Castle |
Liked this post? Pin it!