There is a good chance that this post contains affiliate links. If you make a purchase through them, I may receive a small commission at no extra cost to you! As an Amazon Associate, I earn from qualifying purchases. As ever, all opinions are my own.
You'll find the tiny island of Antiparos right next to Paros, and the two islands are often associated with one another. If you take a Paros to Antiparos day trip, you'll soon realise that Antiparos feels like a sleepy island untouched by widespread development.
Sounds tempting, right?
Antiparos was once a relatively unknown island but is now becoming more and more popular (yet still quiet and peaceful) with tourists and celebrities. Tom Hanks owns a house here, and Matthew McConaughey has been known to visit. It makes sense that they would be attracted to the the quiet, unspoilt charm of the island.
Wanting to know what all of the fuss was about, I decided to embark on a day trip to Antiparos from Paros during my stay. Today, I'm going to help you to do the same.
Here's everything you need to know to go on a wonderful day trip to Antiparos from Paros.
Psst… Looking for more Greece travel guides? Check out my epic 3 days in Paros itinerary!
Getting to Antiparos from Paros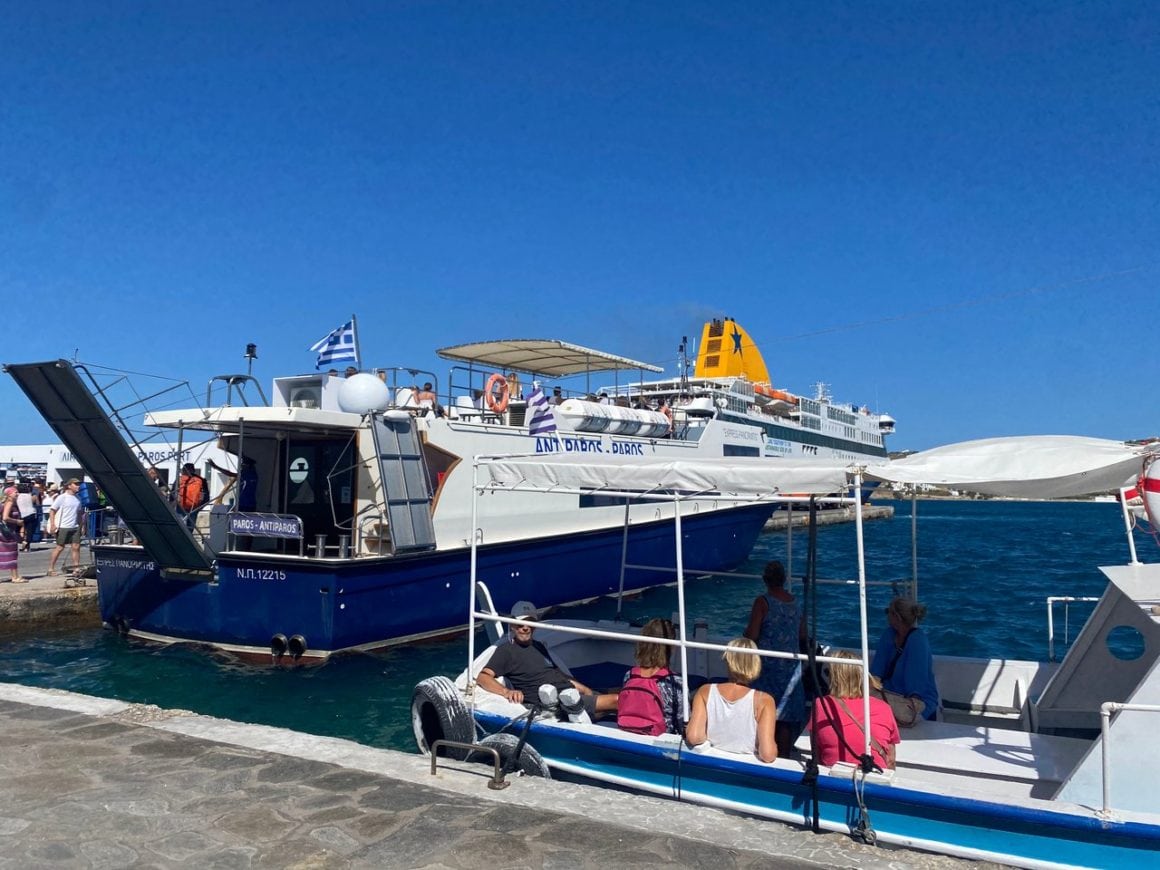 Antiparos from Pounta, Paros
If you already have a rental car, scooter or ATV in Paros you can take it to Antiparos for your day trip (which is a great idea!). To do this, you'll need to get the ferry from the port of Pounta, which is around 7.5km from Parikia and 18km from Naoussa. You're can also get a bus from Parikia to Pounta to catch this ferry.
Departures are very frequent and run almost every 20 minutes for most of the day. The journey from Pounta to Antiparos takes 7 minutes and tickets cost €2 per person each way for foot passengers, or €2 per scooter and €7 per car.
You purchase tickets once on board, and payment is cash-only.
Antiparos from Parikia, Paros
If you're staying in the town of Parikia on Paros it'll be far more convenient to get the express ferry from Parikia to Antiparos, which runs less frequently (check the timetable here). Tickets cost €7 each way, and you buy them on board the ferry in cash.
The boat departs from Parikia port, and you'll see the small boat that says "Antiparos" on the side, so it's easy to identify.
The journey takes around 25 minutes and is for foot passengers only. Because of this, the boat is far smaller. On the journey there it was fairly smooth but the ride back was very bumpy. If you suffer from motion sickness be prepared!
Another option is to hop aboard one of the many Paros sightseeing boat trips that stop off at Antiparos.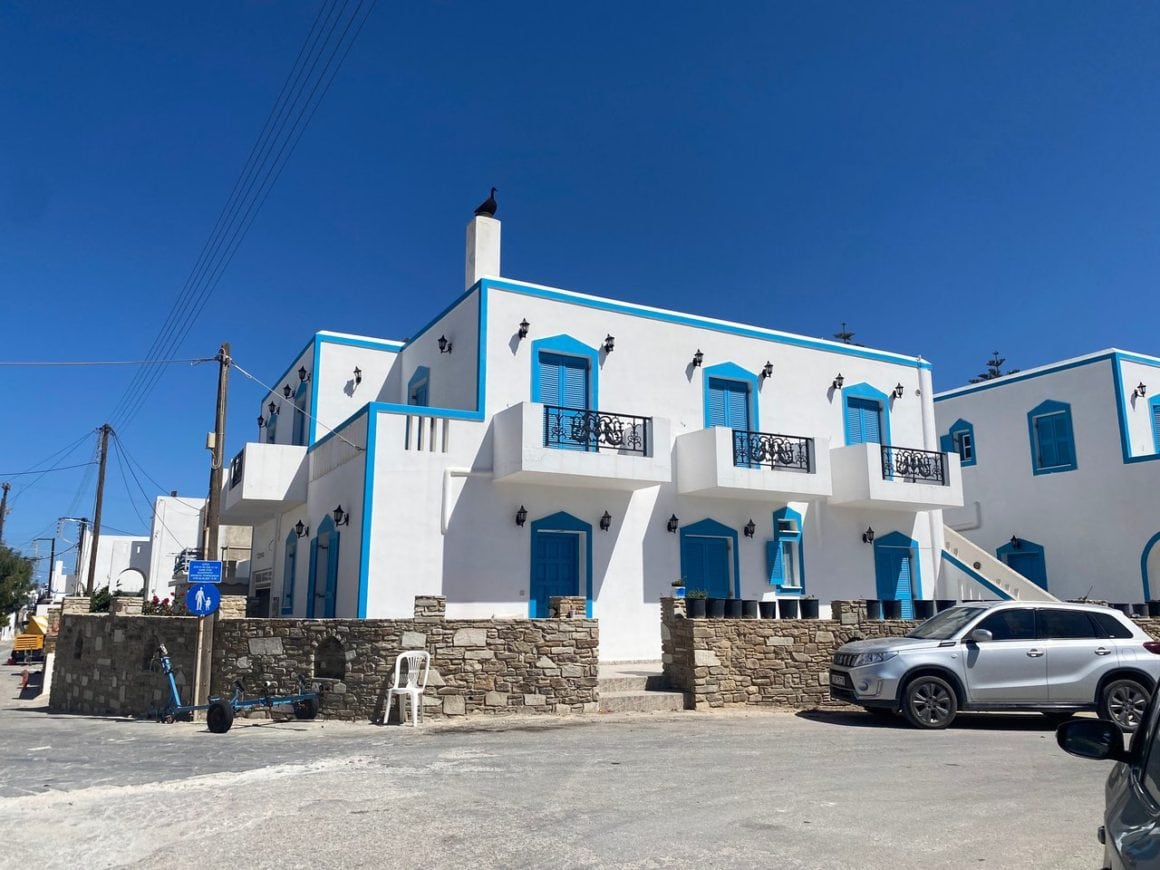 Getting Around Antiparos
If you're only visiting Antiparos on a day trip from Paros you can get by absolutely fine without a car. I was travelling Greece solo so didn't have a vehicle (it's too expensive if you don't split costs with somebody!). Despite this, I still feel like I saw the island's highlights.
Antiparos Chora is very walkable, and there are plenty of beaches within walking distance of the town. There's also a bus that runs between Antiparos port, the Antiparos Cave, and a few of the further-flung beaches, so you're still able to get out of the main town if you want to.
That said, if you have your own car you'll be able to cram more into your day and get to the more isolated spots in Antiparos. If you're comfortable driving I highly recommend this!
I heard from other travellers that it's slightly cheaper to rent a scooter or car in Paros and take it to Antiparos on the ferry than it is to rent in Antiparos.
It's also worth considering that there are fewer rental vehicles available in Antiparos, since it's so much smaller. If you're travelling in summer it's better to rent on Paros so that you can guarantee you'll have something to drive.
Things to Do in Antiparos
Antiparos Old Town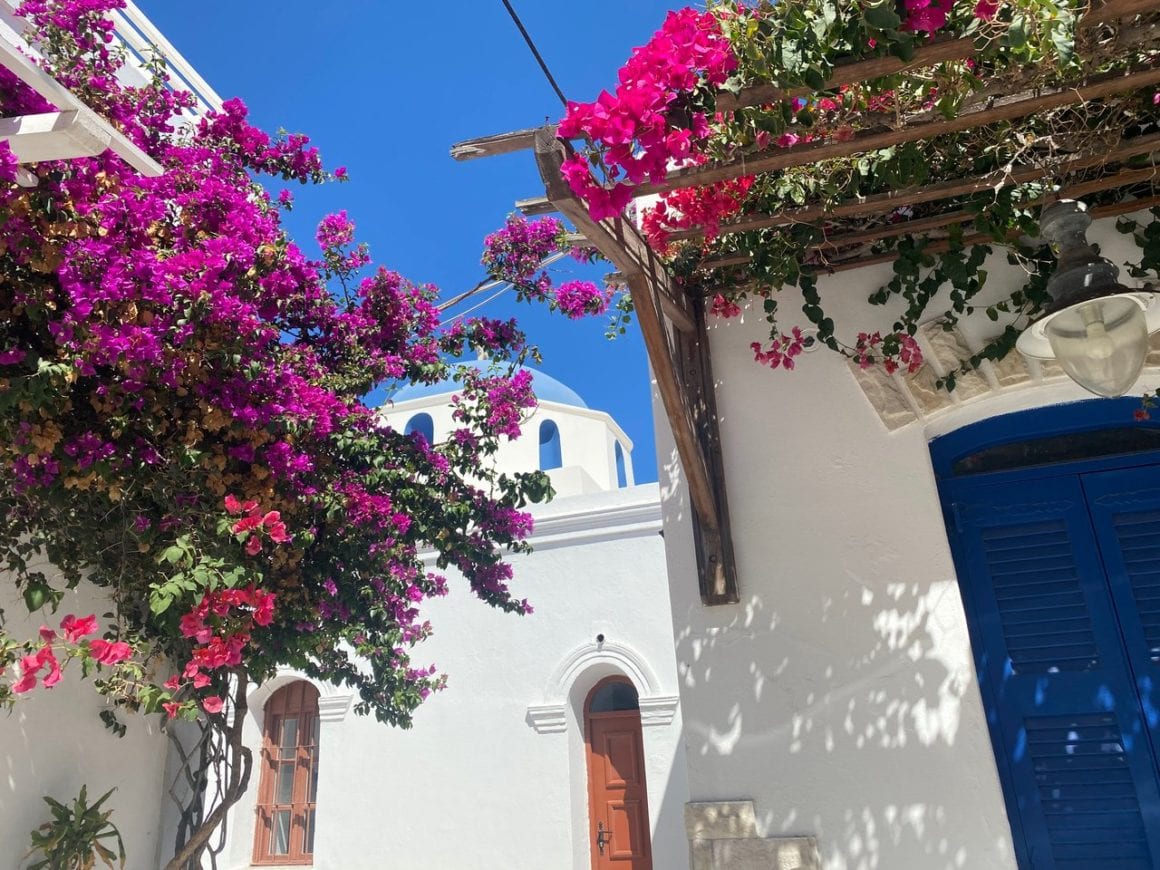 Arriving in Antiparos from the ferry you'll land right in front of Antiparos' stunning old town, called Antiparos Chora.
Antiparos' Old Town is what Greek travel dreams are made of. We're talking whitewashed buildings, winding cobbled alleys, blue windows and staircases and, of course, more vibrant pink bougainvillaea than you could imagine in your wildest dreams!
Since the ferry drops you off here, this is where I recommend you start your Paros to Antiparos day trip. It's the ideal place to stop off for breakfast or lunch or pick up a coffee, but even if you don't want to spend money you'll enjoy Antiparos Chora.
This part of the island is so staggeringly beautiful that just wandering around aimlessly is more than worth doing. You'll find Insta-worthy scenes around every corner, and won't be able to resist taking a tonne of photos.
Venetian Castle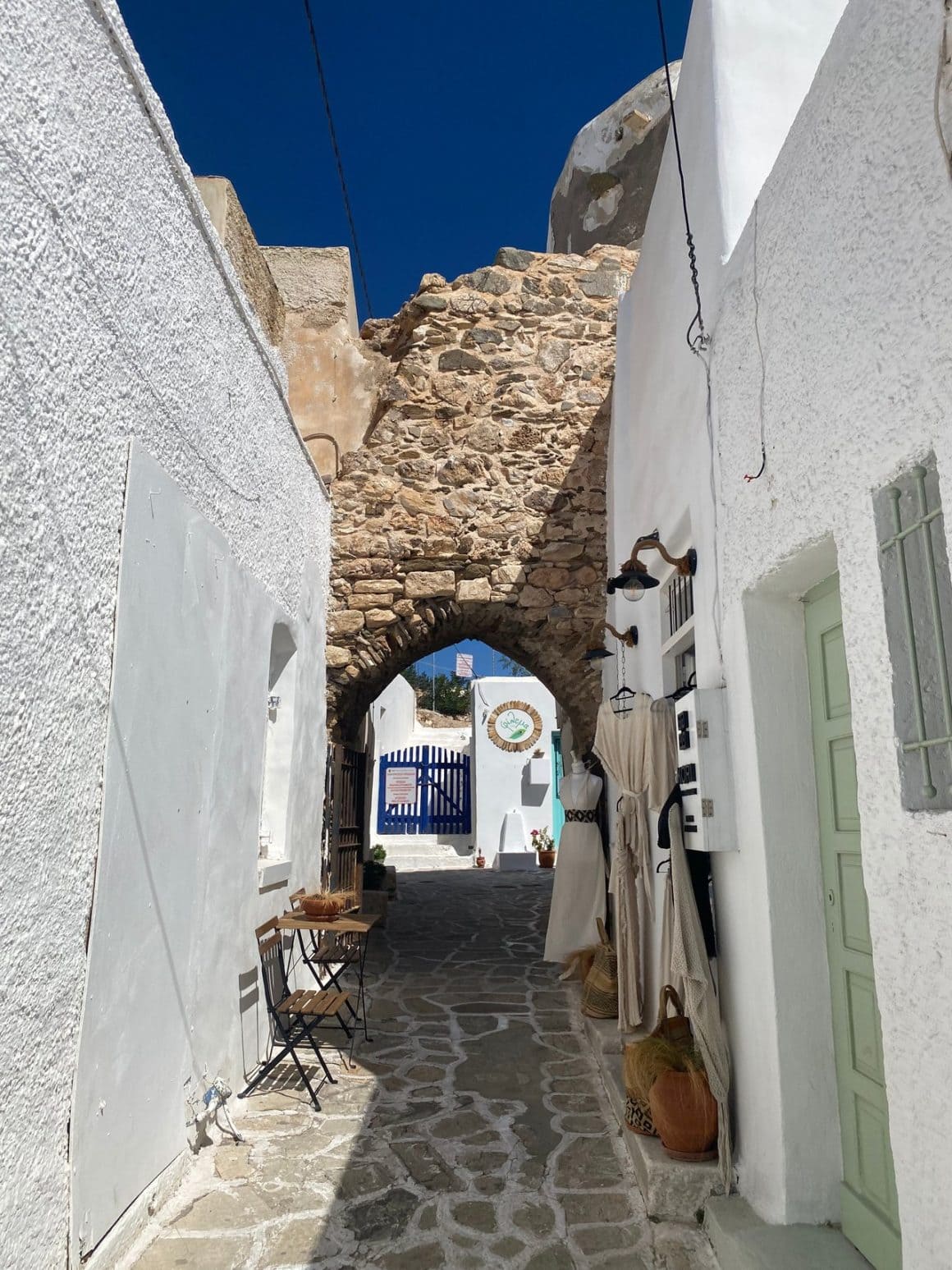 At the centre of Chora you'll find Antiparos Castle, also called the Venetian Castle. It's one of the island's star attractions, and it's easy to combine a visit here with the rest of Antiparos Old Town.
This isn't a castle in the traditional sense. It was built in 1440 for the residents of the island to live inside for protection. Nowadays, the castle has pretty much eroded over time and you can't see many traces of it left aside from one tiny remaining section.
Although the castle walls are no longer visible protecting the settlement, the area surrounding the castle is (in my opinion!) the most beautiful area in Antiparos Chora. It's still a residential area, so you can walk around a stunning whitewashed settlement that still feels "lived in" and authentic.
Antiparos Beaches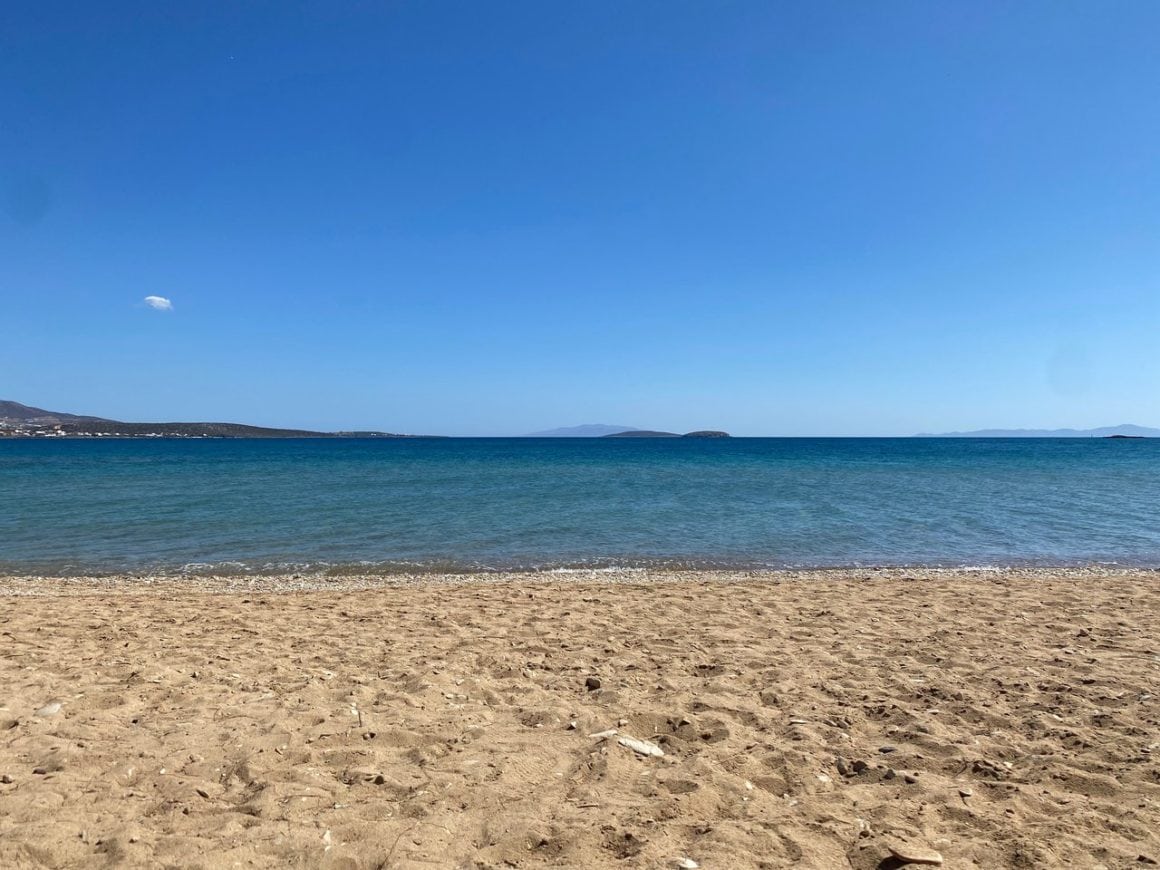 Antiparos, like Paros, is famous for its beaches, and it would be a crime to not visit at least one during your trip here.
Some of the island's most beautiful and secluded beaches are only accessible with a vehicle. If you have one, be sure to visit Livadia Beach and Glyfa Beach.
If you don't have a vehicle and don't fancy hopping on the bus, no worries. There are plenty of stunning beaches near Antiparos Chora. If you want to stay in the heart of all the action, you can't go wrong with the beach closest to the town, Paralia Psaraliki.
However, if you're up for a 25-minute walk (and be sure to pack plenty of water because there is NO shade on this walk!) I highly recommend heading over to Paralia Panagia.
This tranquil beach is the perfect place to laze away the afternoon under the shade of a tree before taking a dip in the glittering water of Antiparos.
Antiparos Cave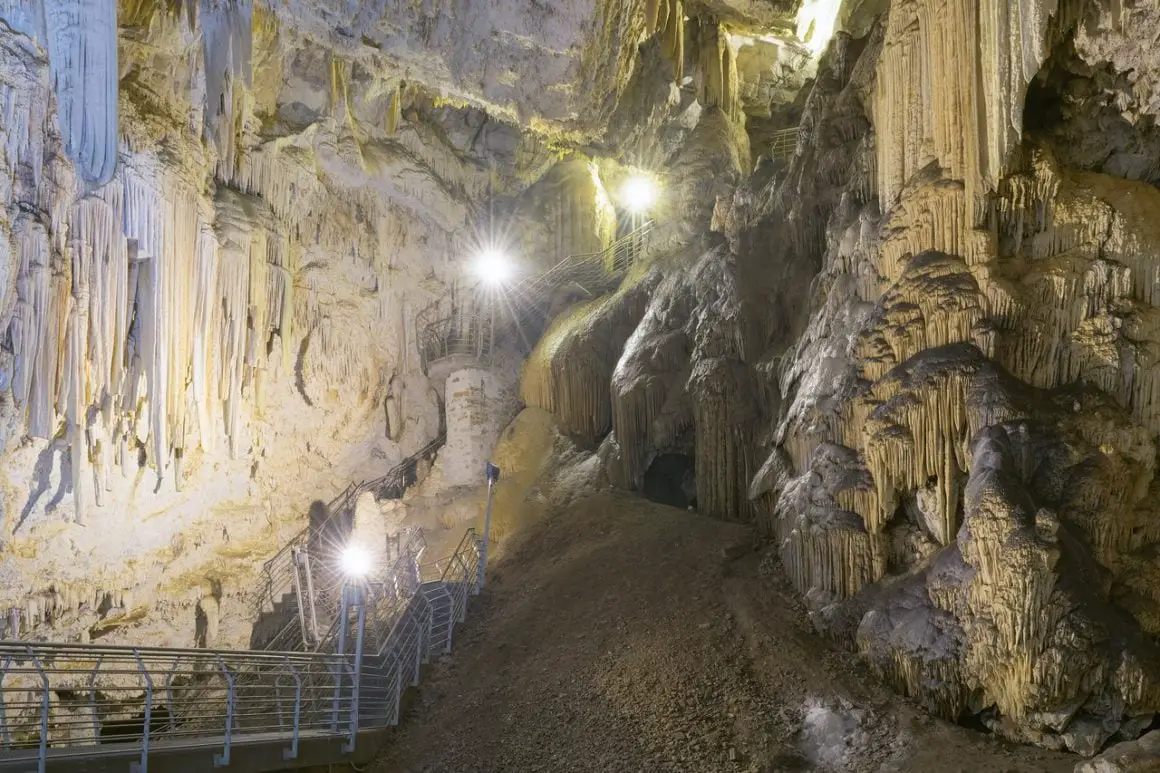 Antiparos Cave is undoubtedly one of the most popular things to do in Antiparos. With a maximum depth of 85 metres and a width of almost 60 metres, this is far more than the typical type of cave you'd find on the beach.
Originally the cave was a shelter, before becoming a place of worship for the goddess Artemis.
The cave is open to visitors from Spring until the end of October, but exact dates vary from year to year. For this reason, I recommend checking here for the current opening dates if you're visiting either side of the summer season.
Entry costs €6, which also includes entry to the Historical and Folklore Museum of Antiparos.
Obviously the easiest way to get here would be with your own vehicle. If you don't have one, though, fear not – during the summer months you can catch a bus from Antiparos Chora to the cave, which takes around 20 minutes.
You can check the current bus timetable here.
FAQs – Visiting Antiparos from Paros
Is Antiparos Worth Visiting?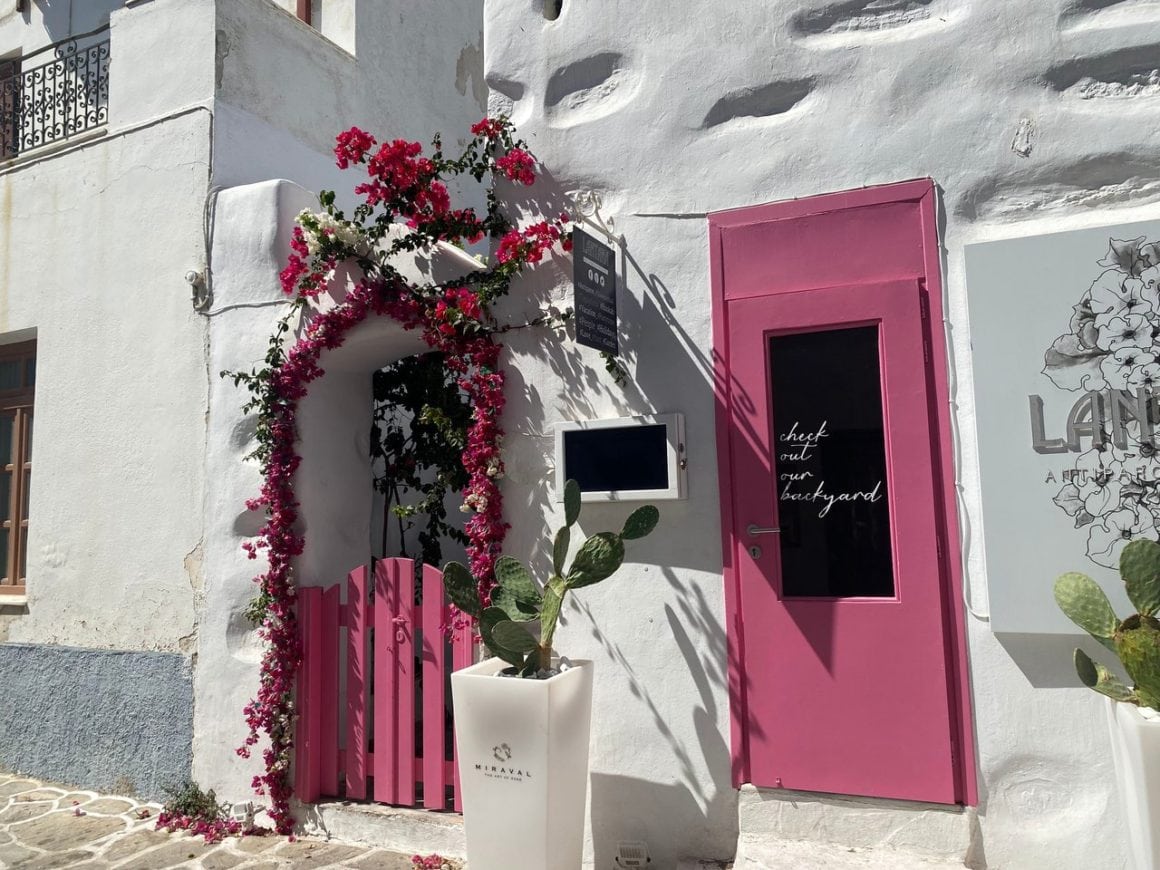 If you have a spare day during your stay in Paros, Antiparos is absolutely worth visiting, and it's the easiest day trip to do from Paros.
Antiparos, although similar to Paros, does have its own unique charm. It's perfect for visitors who want to get slightly off the beaten path and away from the crowds. It's also super safe, making it a perfect Greek island for solo travel.
However, if you're pressed for time and only have a couple of days in Paros, I don't think it would be the end of the world if you don't squeeze in a day trip to Antiparos.
Since a day trip to Antiparos takes up almost a whole day I don't recommend going there unless your stay in Paros is at least three days. Then, you could spend two days on Paros and one on Antiparos, which I think would be a good balance.
Is Antiparos Expensive?
I found Antiparos to be no more expensive than Paros, and it's very easy to visit on a day without spending much at all. Most of the island's tourist attractions and beaches are free or cheap. The return ferry from Paros to Antiparos is also affordable.
Naturally, if you choose to go shopping in the island's luxury boutiques, or stay overnight in a luxury villa, you may find Antiparos to be expensive. In general, though, most visitors to Antiparos won't find it very expensive.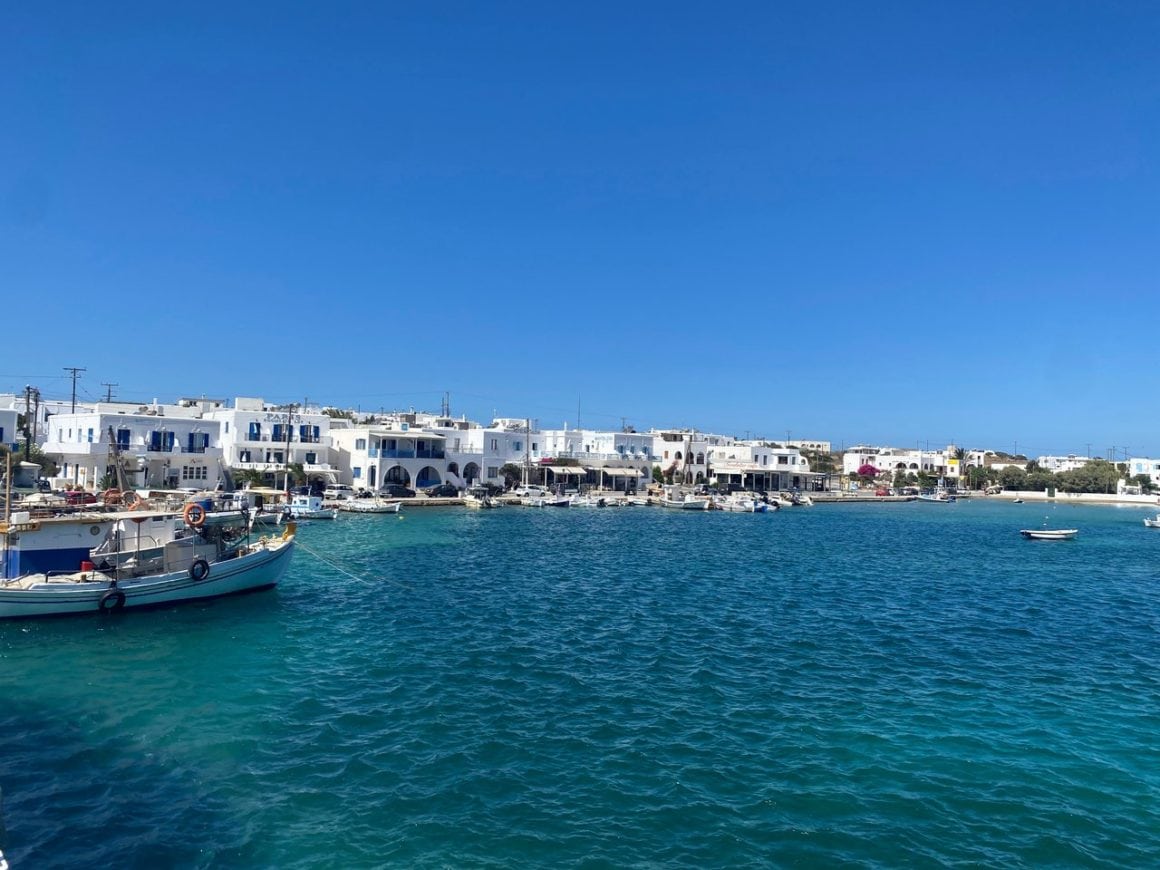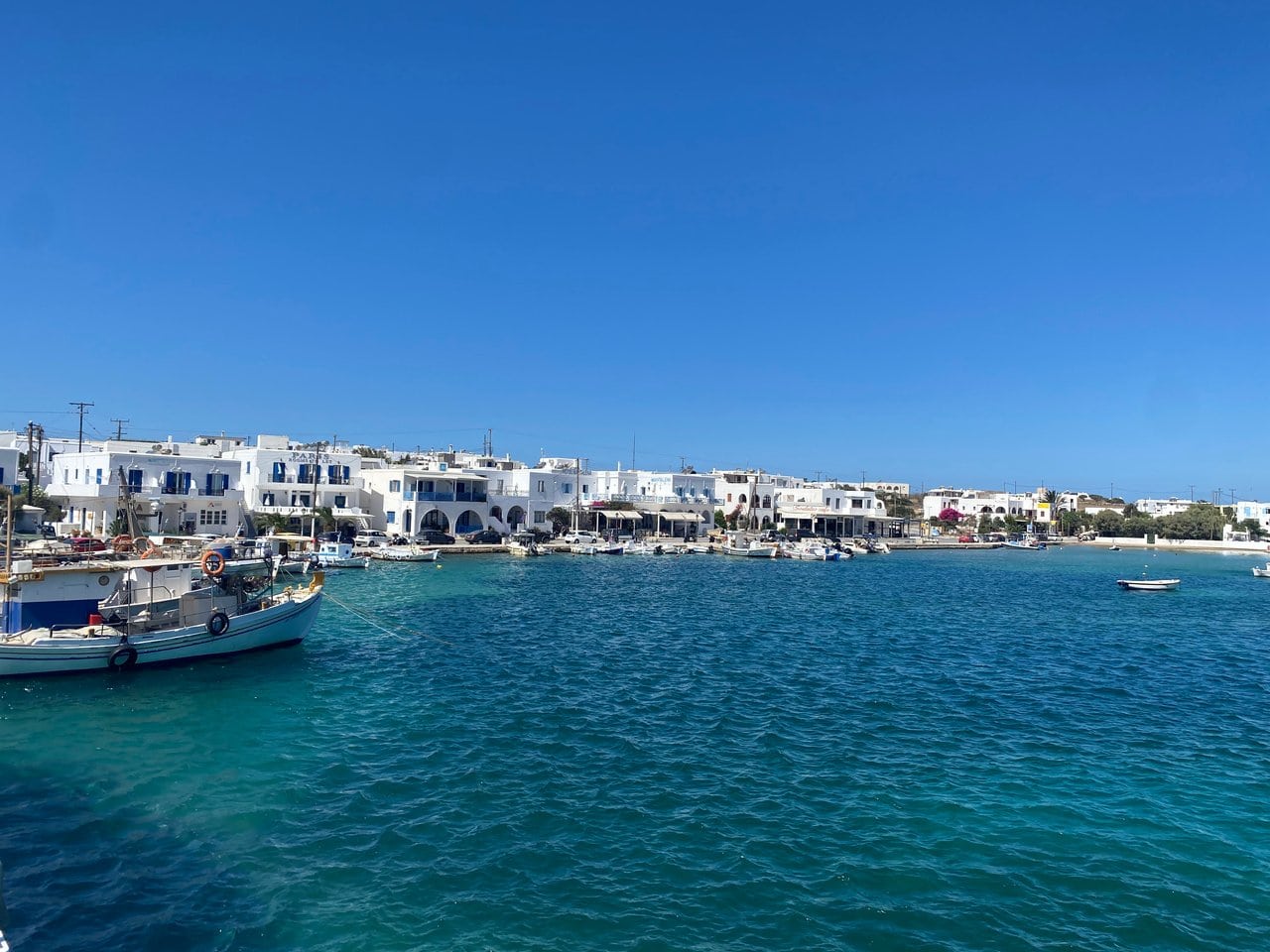 Is Antiparos a Party Island?
Although some islands have a reputation for being party islands (Mykonos, Ios, I'm looking at you…), Antiparos is definitely not a party island.
There's still some nightlife in Antiparos Chora, but it's pretty tame and sophisticated. Antiparos is definitely not the island for you if you want to dance the night away!
---
So there you go – everything you need to know to plan and go on a wonderful Antiparos day trip from Paros!
Until next time 😊
Liked this post? Pin it!