There is a good chance that this post contains affiliate links. If you make a purchase through them, I may receive a small commission at no extra cost to you! As an Amazon Associate, I earn from qualifying purchases. As ever, all opinions are my own.
Naxos was never part of the itinerary for my Greek island-hopping adventure. However, when I found myself with a few extra days I was delighted to be able to squeeze it in. And boy, am I glad I did.
With ancient temples, lush valleys and charming clifftop villages Naxos really does have it all. And, unlike some of its neighbours, you won't spend an arm and a leg travelling here (ahem, Santorini and Mykonos, I'm looking at you…).
Naxos sits right in the middle of the Cyclades islands, so it's super easy to reach. It's also one of the less developed Cycladic islands because Naxos is largely self-sufficient and doesn't rely on tourism as its main industry.
So, what does that mean for you? Well, if you're looking for an island that checks a lot of boxes, won't break the bank, and is, obviously, drop-dead gorgeous, look no further – head to Naxos!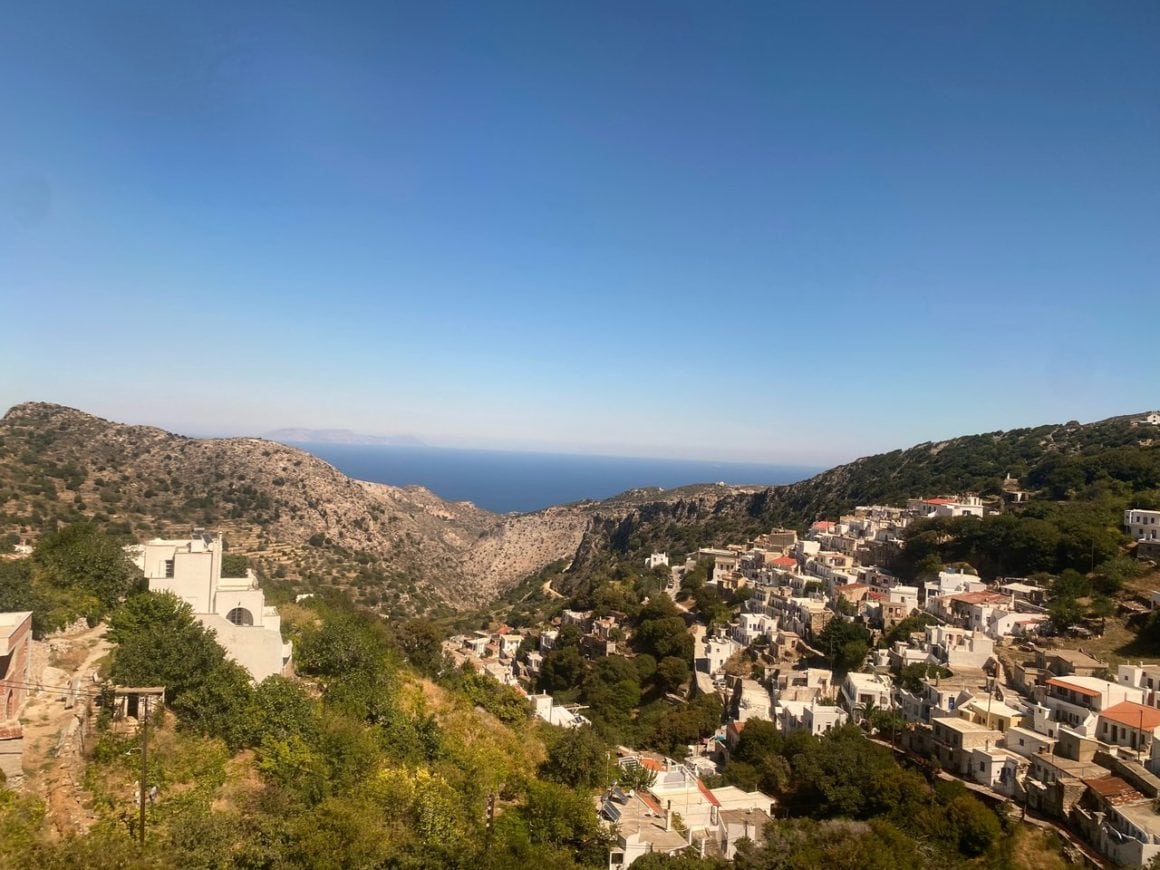 How Many Days Should I Spend in Naxos?
Although Naxos is the largest island in the Cyclades you only need two days in Naxos to follow this itinerary, see all the highlights, and check out a few of its beaches.
Of course, if beaches are your thing you might want to add a couple extra days to lounge on Naxos' golden sand, but most of us have places to be and things to do!
For this reason, this two days in Naxos itinerary is perfect. I spent two days myself here, and although I definitely could have spent longer, I felt satisfied that I had gotten a good taste of the island in the short time I spent there.
How to Spend 2 Days (48 Hours) in Naxos, Greece
Day 1: Temple of Apollo, Plaka and Agios Prokopios
Stop 1: Temple of Apollo (Portara)
You'll have seen this huge ancient gate towering over the port of Naxos as you arrived on the island, and it's the island's most recognisable landmark.
The gate is the only remaining part of the unfinished Temple of Apollo that was supposed to be built here. Construction began in the 6th century BC and, if you're not able to fit in any other ancient ruins during your time in Greece, this is a great place to visit.
A visit here will only take 15 minutes or so, and the Portara is just a short walk away from the port and bus station. This is also a popular sunset spot, so if you find yourself in Naxos Town at sunset one day it's worth the short journey here for magnificent views of the sun setting over the ocean.
On your descent down from the Temple of Apollo you'll find the Naxos Bus Station to your left, just opposite the port.
To follow the rest of this day one itinerary you'll need to buy a bus ticket from Naxos Town to Plaka (€2.30), a bus ticket from Plaka to Agios Prokopios (€2), and a ticket from Agios Prokopios back to Naxos Town (€2).
You can't buy tickets on the bus so you need to pick these up in advance!
Stop 2: Explore Naxos Town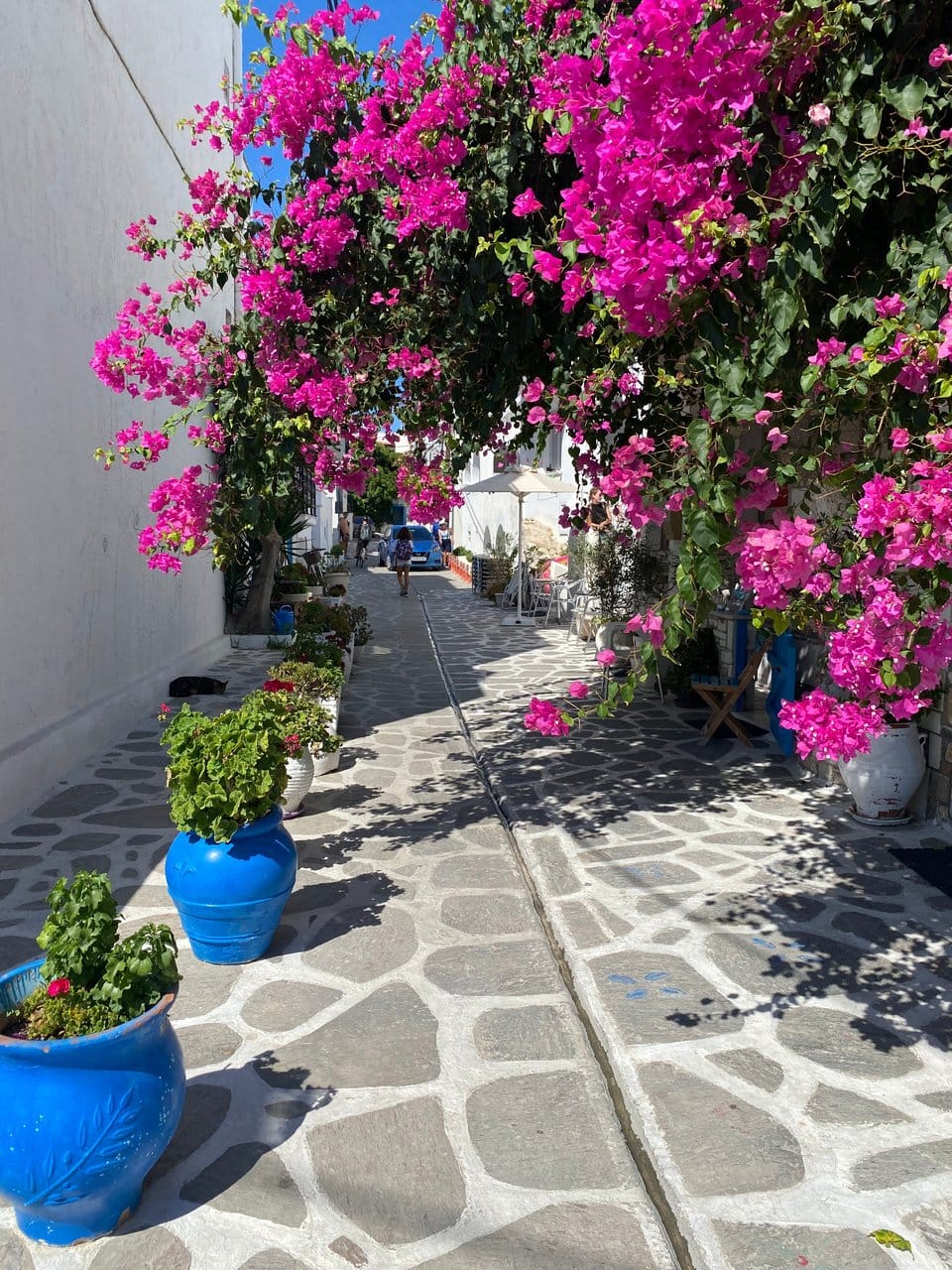 Since the Temple of Apollo is on the far end of Naxos Town, now is the perfect opportunity to get your bearings and explore this charming little town.
From the winding cobbled alleys to the streets covered in vibrant pink bougainvillaea, you won't be able to resist snapping plenty of photos from every angle!
You can spend as much or as little time as you like getting lost in the labyrinth of pathways, but if you have the stamina it's worth walking up to the Venetian Castle of Naxos for sweeping views over Naxos Town, the ocean and Naxos Port.
The castle itself isn't anything special if you've visited castles before, but the view from up there is worth the climb.
Stop 3: Lunch at Kavouri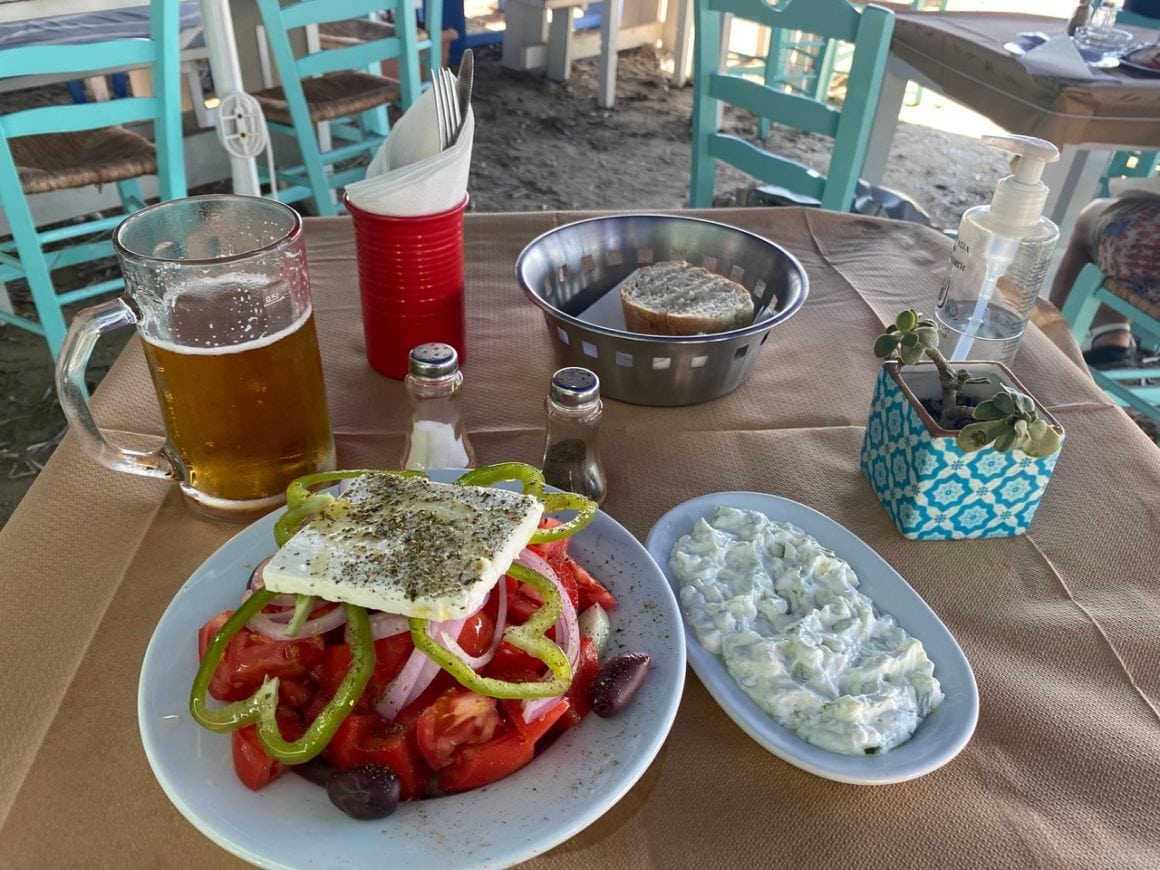 Located a 15-minute wander through Naxos Town, and right on Agios Georgios beach, you'll find Kavouri, a family Greek taverna with tables right on the sand.
Prices here are very reasonable, with Tzatziki costing €4.50, a Greek Salad costing €7, and a plate of fresh sardines costing €7. I dined here twice during my stay in Naxos (it was so good I went back the following day), so I can highly recommend it.
Stop 4: Plaka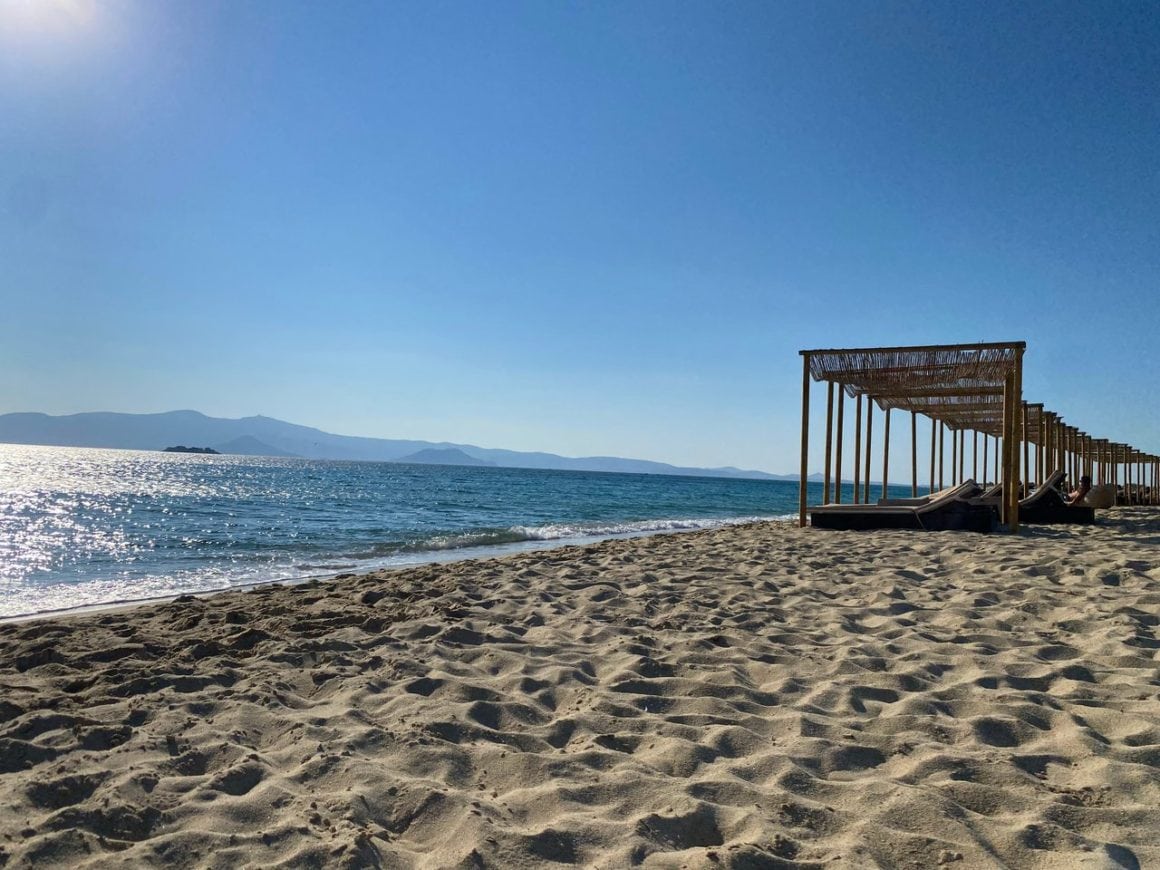 Ready to visit one of the most stunning and unspoilt beaches in Naxos? I sure hope so, because Plaka really does not disappoint.
You'll be amazed by just how far away you feel from Naxos Town when your bus descends down the sand and dirt road to pull up in Plaka.
This long stretch of golden sand feels far away from civilization, and except for a couple of hotels and a few sunbeds to hire, there's not much here but the sand, the sun and the sea – bliss!
Plaka is just a 25-minute bus journey from Naxos Town, making it super easy to get to. Despite this, most people get off the bus well before Plaka, meaning you'll easily be able to find a stretch of sand to enjoy all by yourself.
The sea here is calm, and it's not *too* windy (Naxos is notorious for its windy beaches!) which makes it the perfect location to take a dip into the crystal-clear water to cool off.
Once you've had enough of swimming and sunning yourself at Plaka it's time to head back to the bus stop and make the 10-minute journey to Agios Prokopios, Naxos' most popular beach town.
Stop 5: Agios Prokopios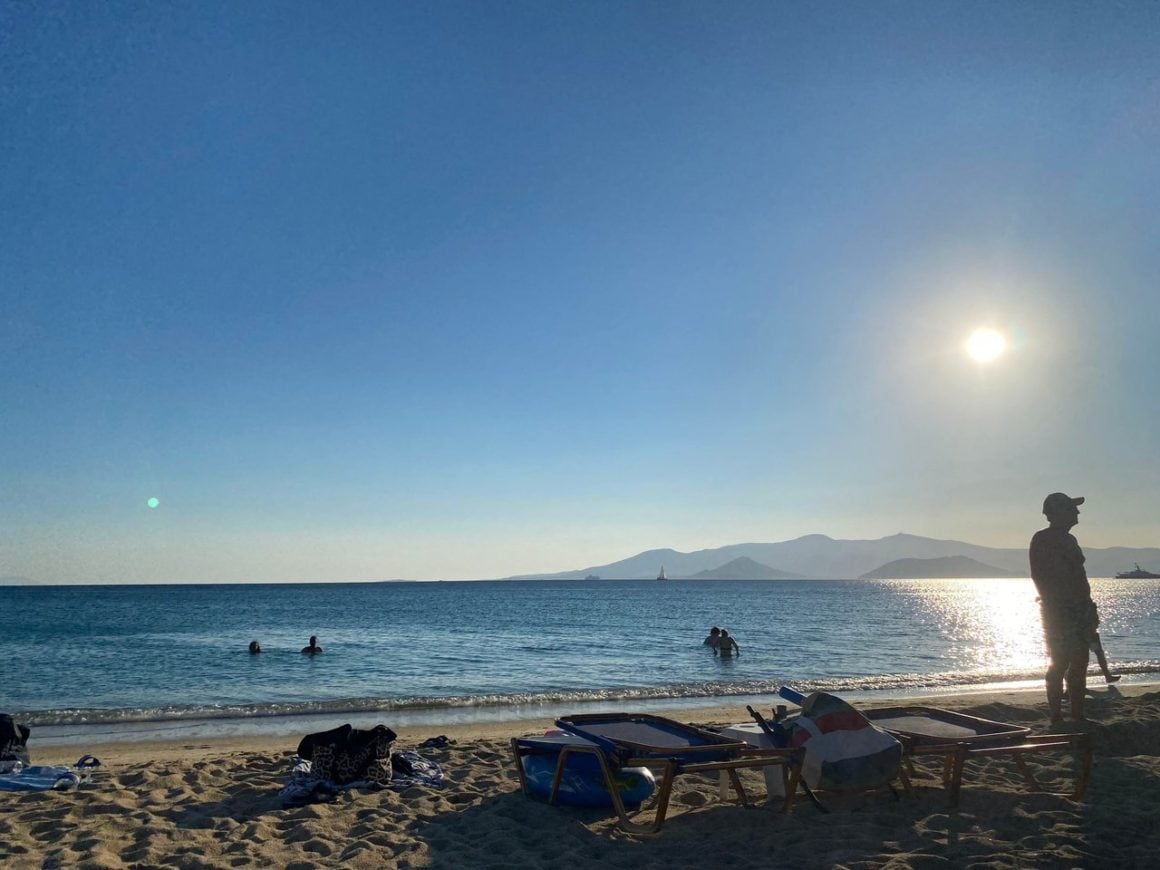 Next up, it's Agios Prokopios, the most popular beach town in Naxos.
Agios Prokopios is far more built up than Plaka, with an abundance of coffee shops, souvenir shops, restaurants and souvenir shops. That doesn't mean it's overdeveloped, though – Agios Prokopios beach is still more than worth the energy to get here.
With golden sand and water that's as clear as glass, this beach deserves all of the praise that it gets. It's also where I suggest you see the sunset on day one of this Naxos itinerary.
I decided to grab a beer from the grocery store and sit out on the beach for a cheap but beautiful sunset experience. There was an exciting vibe on the beach as the sun sank lower and lower, and you certainly won't be disappointed.
Note – you don't actually see the sun sink into the sea from Agios Prokopios, as there are some hills in the distance that the sun sinks behind first. Therefore, if this is important to you, I recommend heading to the Temple of Apollo for sunset.
Day 2: Historical Highlights of Naxos
Want to check out some lesser-visited highlights of Naxos without the hassle of renting a car? Then I highly recommend doing exactly what I did and taking this full-day tour of Naxos on your second day here. The tour gave me a fabulous insight into the island's history, top attractions, economy and way of life.
To show you why I recommend the places I visited on this tour I'm going to set them out one by one here. Then, even if you have hired a car, you can follow along on the same route.
Of course, though, if you follow this route independently you won't get that invaluable local insight from the tour guide. If you're in a rush and want to go straight to checking the current prices and availability, you can click here!
Stop 1: Temple of Demeter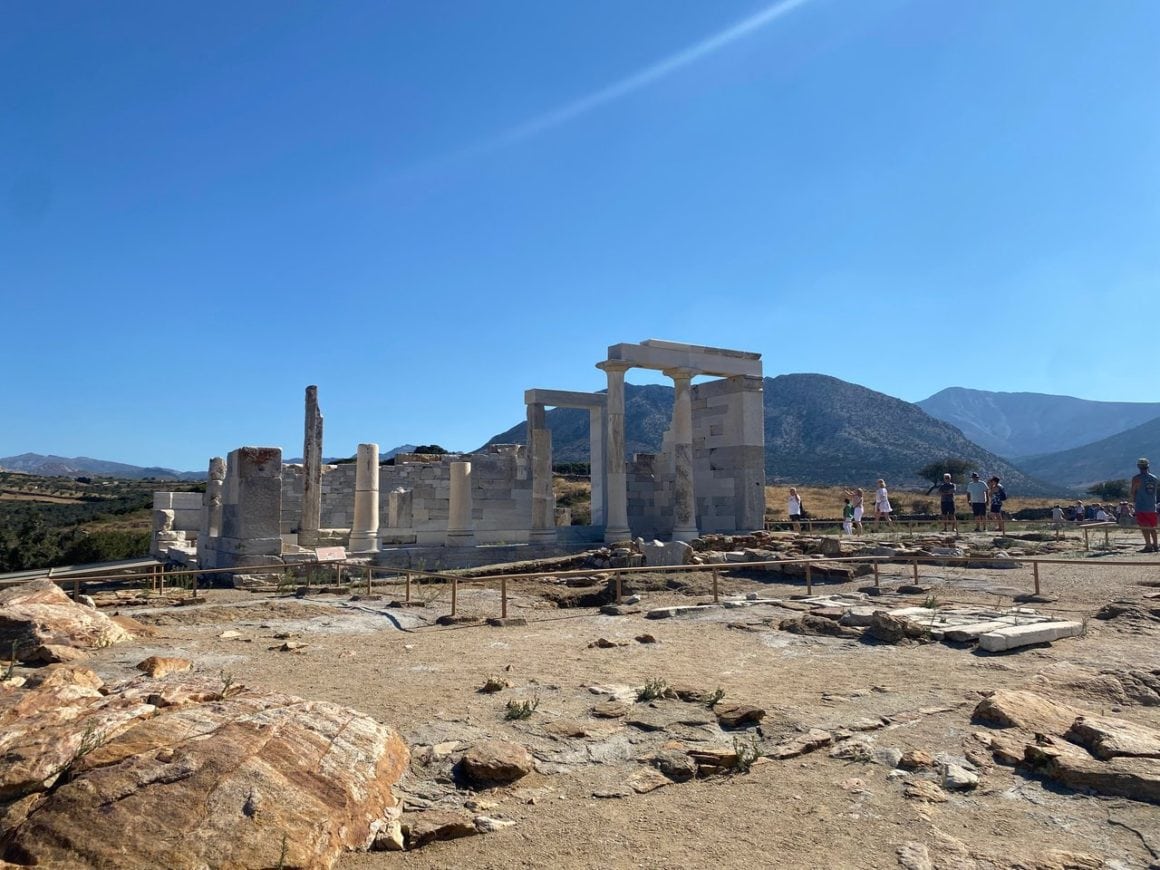 After a useful introduction to Naxos' history, it's time for the first stop of the day. Get ready to visit the wonderful Temple of Demeter, which is tucked up on the Naxos hillside.
This ancient temple, which dates back to the 6th century BC, is one of the most important archaeological sites in Naxos, and in my opinion an essential stop on any Naxos itinerary!
The temple was built to worship the goddess of harvest and fertility, which might go some way to explaining Naxos' thriving agricultural scene.
Side note – if you haven't tried Naxos cheese yet, make sure you try some during your visit! It's amazing…
Anyway!
Entry to this temple isn't included in the price of the tour but only costs €4. You'll get around half an hour to explore, which is plenty of time to read all of the information boards and check out the temple from every angle before heading back to the bus.
Stop 2: Chalki Village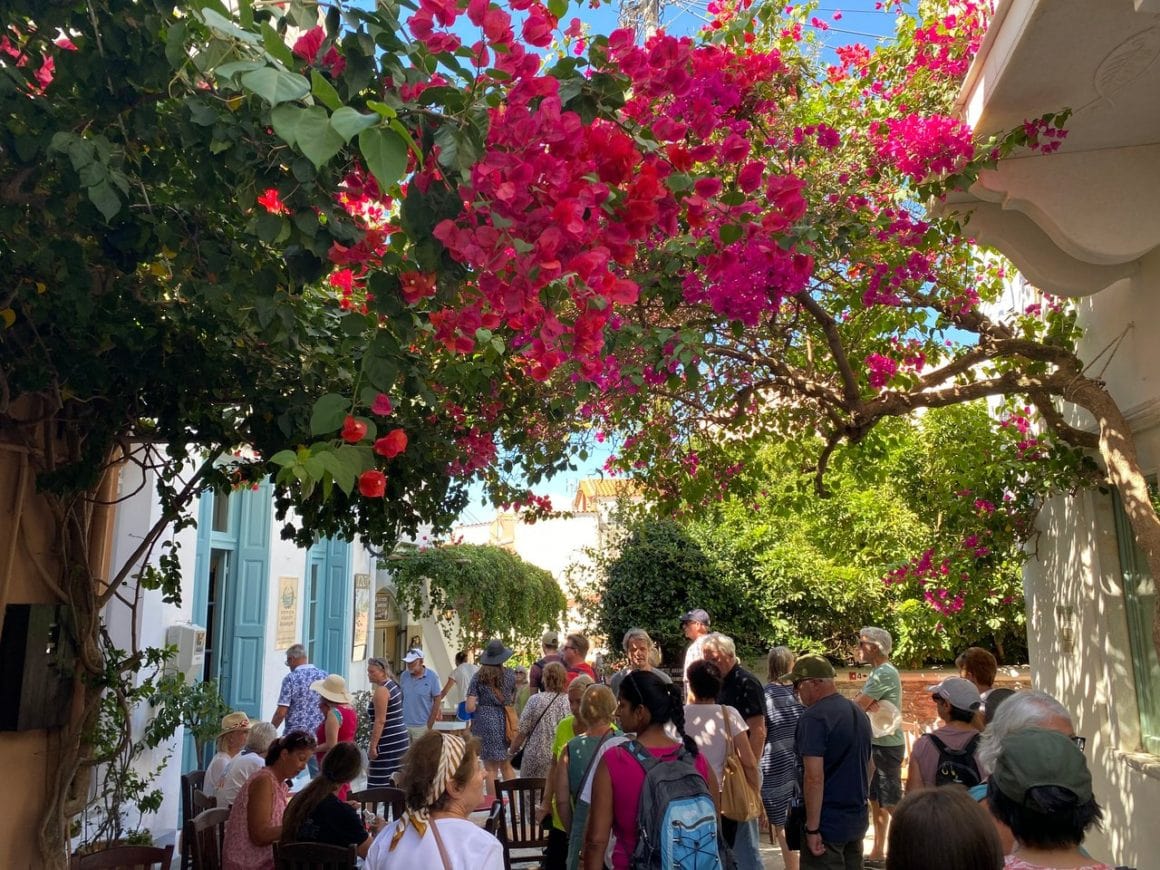 Next up is Chalki, also known as Halki, a tiny village that was once the capital of Naxos.
You'll get free time here to wander around its lovely whitewashed mansions, quaint coffee shops and pathways amongst olive groves, and it's pretty cool to get a taste of a more "authentic" Naxos on this itinerary.
The main attraction here is the Vallindra Kitron Mansion, where you can take a tour to learn all about how Kitron liquor is made from citrus leaves. Of course, the tour of the distillery also ends with a tasting, where you'll get to sample this beloved liquor.
Stop 3: Apiranthos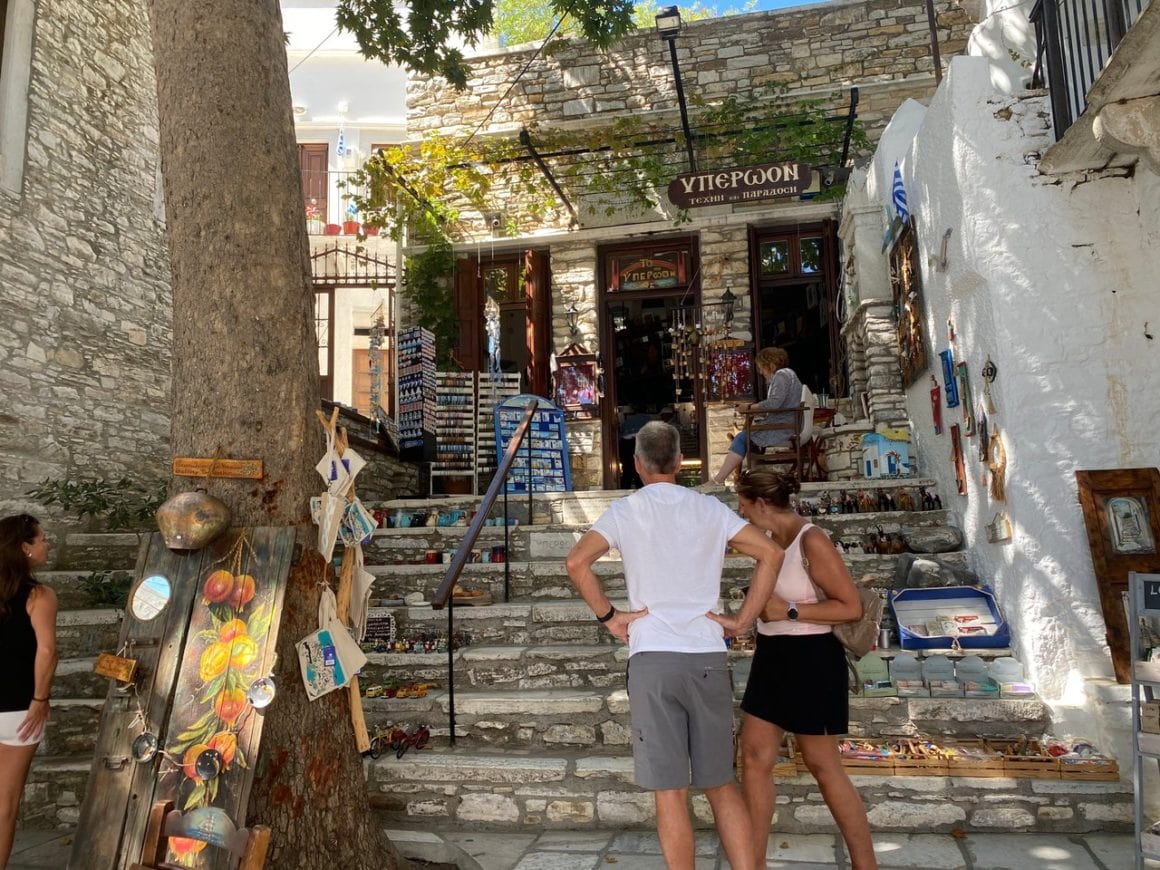 Apiranthos was a huge surprise to me, and probably my favourite stop on the tour! Located at the foot of Fanari Mountain, this village is just downright STUNNING!
You'll get around 45 minutes to explore its winding cobblestone streets, Venetian Towers and verandas looking out over the lush greenery of Apiranthos' surroundings.
Since it'll be around 1pm when you get here it's the perfect time to pick a bar with a balcony and take in the sweeping views of the village over a beer. I ordered an Alpha beer here which cost €3.60, so slightly cheaper than down in Naxos Chora.
Stop 4: Apollonas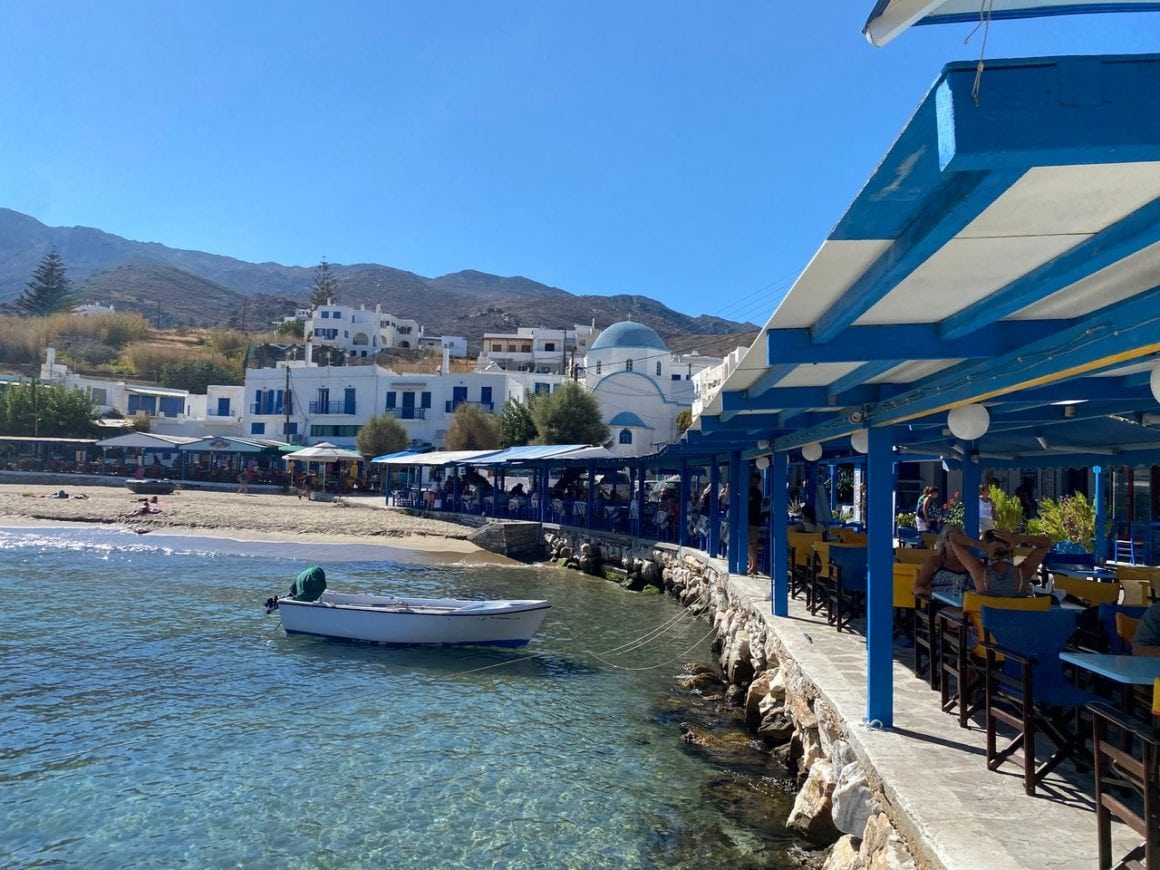 Apollonas is a hidden-gem fishing village on the north-eastern side of Naxos. It's a tiny settlement that was almost abandoned. Luckily, it was discovered by tourists, and the growing tourism trade there convinced some locals to stay!
Don't get me wrong though – this is still a sleepy little village, and definitely not a booming tourist metropolis. I recommend heading to one of the waterfront restaurants to enjoy some mouth-watering Greek food. Bonus points if you order seafood!
After your food you'll still have time for a quick dip in the clear-blue sea, and this is something you certainly won't want to miss. The water here was SO refreshing, especially after a full day of sightseeing and learning so much about Naxos.
Stop 5: Kouros Statue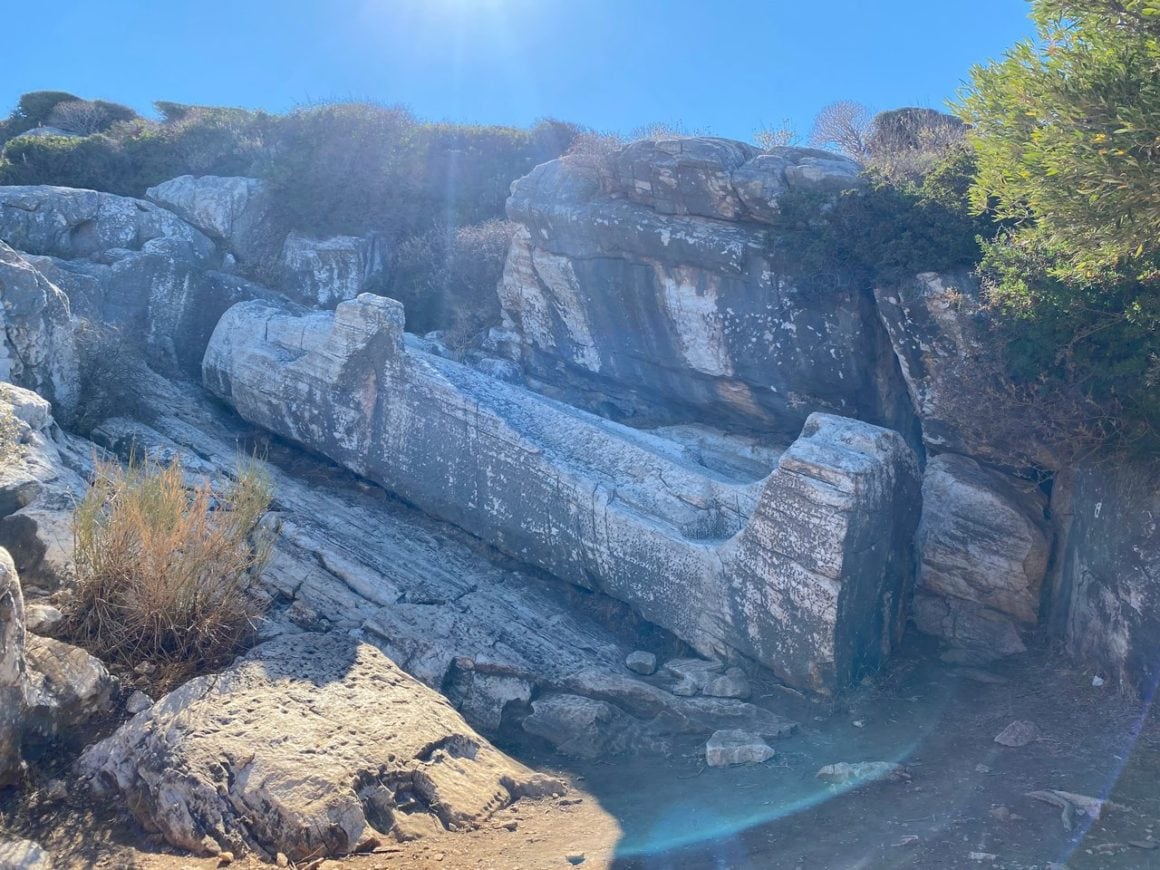 The final stop of the day is a fairly short one, but it's fascinating nonetheless. Up in the hills just above Apollonas you'll find the Kouros Statue.
The statue dates back to the 8th century BC and is over 10-metres tall. It remains incomplete, and archaeologists aren't clear why.
Archaeologists also aren't sure who it depicts, with some thinking that it depicts the Greek God Apollo and others thinking that it's actually the Greek God Dionysus.
The guide provided fascinating insight at this stop about how Naxian marble, which was used to create many of these sculptures, was transported around Greece in ancient times despite its staggering weight.
Extra Travel Information for Your 2 Days in Naxos
Getting to Naxos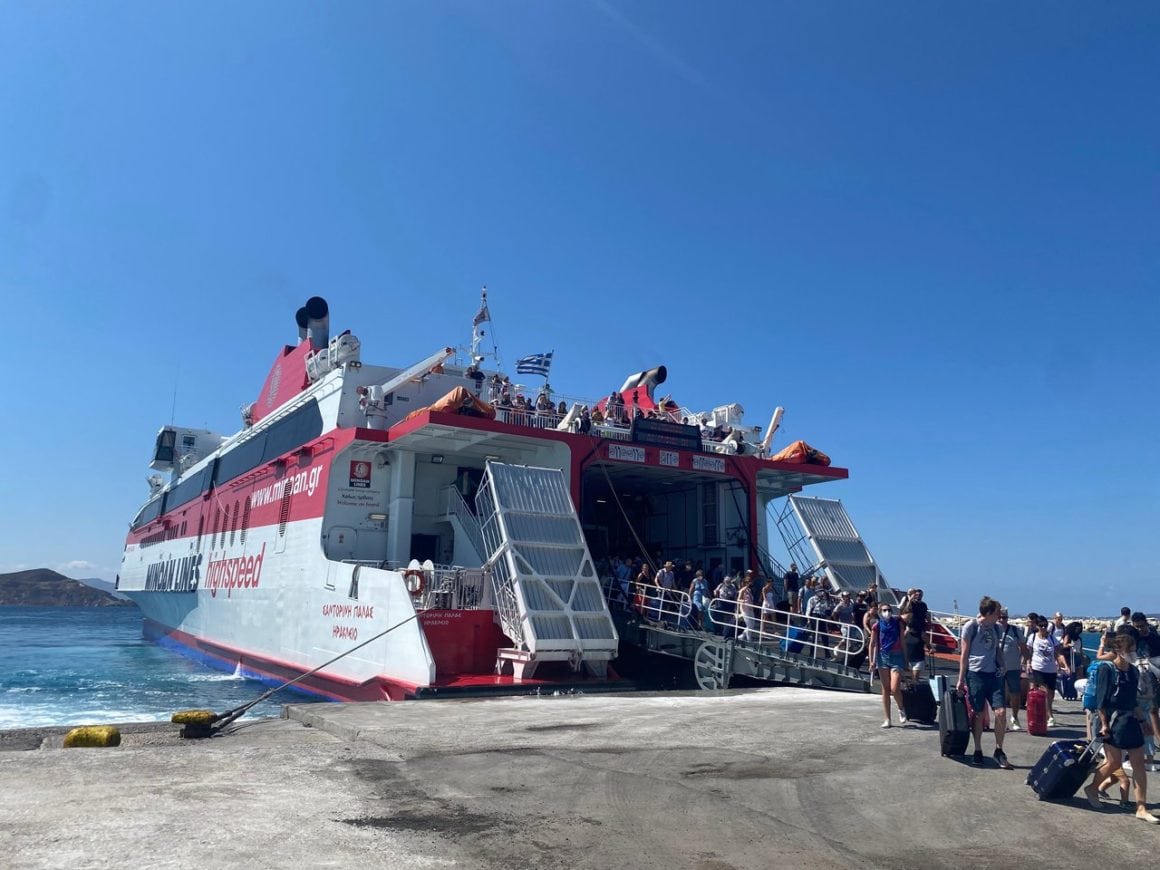 Naxos is very easy to get to from any of the other Cyclades Islands or from Athens on the ferry. Ferries run multiple times per day from the nearby islands and Athens. Ferry prices can be surprisingly expensive, but slower ferries are almost always the cheapest (and not really that much slower).
The company Blue Star Ferries was often the cheapest – I paid just €15 for the ferry from Naxos to Paros.
I used this website to book my ferries in Greece and had a good experience. This website allows you to compare prices and departure times across different ferry companies. You'll also be able to have all of your bookings in one place.
Plus, their prices are usually the same as on the ferry companies' websites. Click here to check ferry prices!
Naxos has its own airport, and the airport is just 4km from Naxos Town. You can get here from Naxos Town via bus (30 minutes) or taxi (8 minutes). Unfortunately, the only direct flights from Naxos Airport are to Athens, so you're most likely to arrive in Naxos via ferry.
Language
The language of Naxos is Greek, but you'll get by just fine with English. Everybody who works with tourists will speak English, so the language barrier isn't something you need to worry about.
That said, learning the basics of the local language is always a good idea. A little goes a long way. Here are some basic Greek phrases to use in Naxos:
Good morning/afternoon: "Kalimera" pronounced how it's spelled.
Good evening: "Kalispera" pronounced how it's spelled.
Thank you: "Efcharistó" pronounced sef-ha-ree-sto.
Cheers: "Yamas"- pronounced how it's spelled.
Getting Around Naxos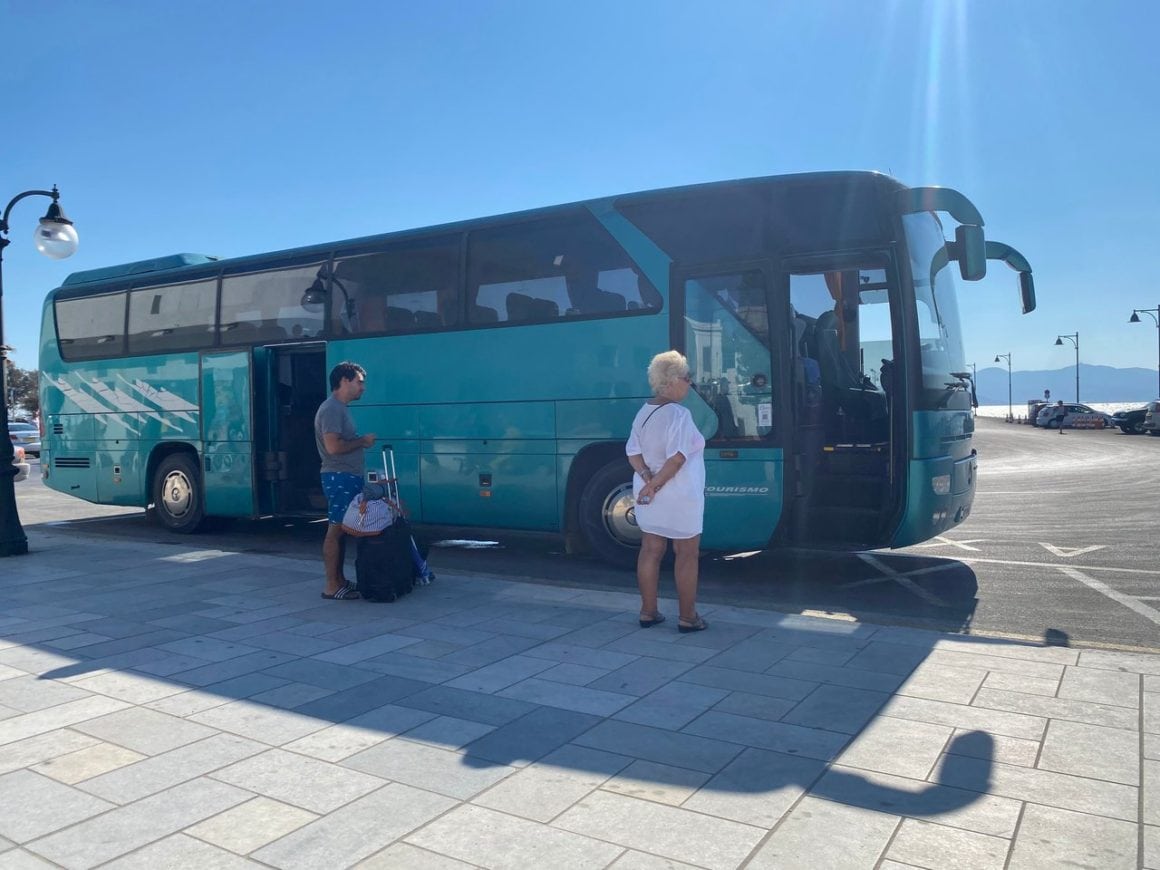 Naxos is a big island, that's for sure – it's the biggest island in the Cyclades. For this reason, you'll definitely need to consider how you're going to get around – especially if you're not staying in Naxos Town, the main tourist area of the island.
Luckily, Naxos has a pretty good bus network with routes taking you to most of the island's tourist attractions. You have to buy tickets before you get on the bus, and you'll need to use the bus to follow this Naxos itinerary.
You can buy tickets at the bus station in Naxos Town, which is right in front of the ferry port.
Tickets cost around €2 or €2.30 each way, depending on how far you're going, and run largely on time.
Where to Stay in Naxos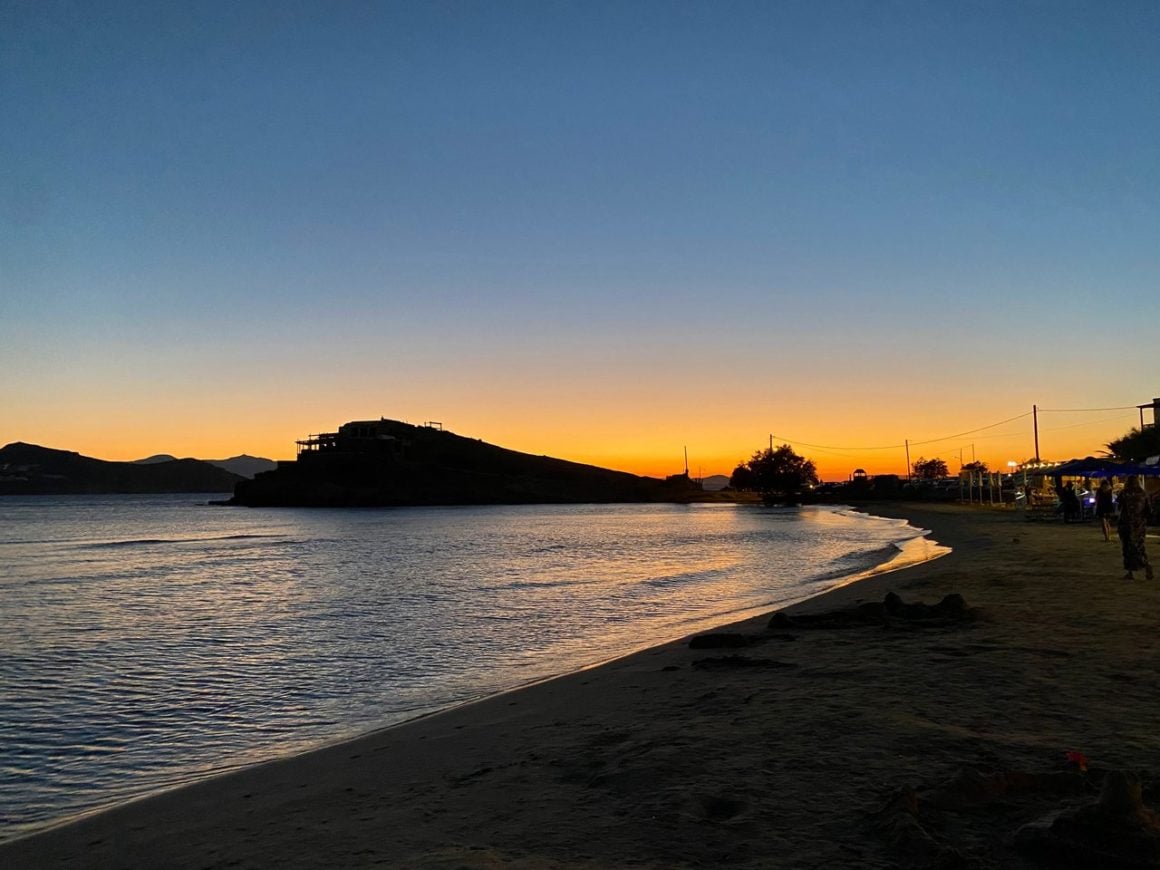 Because Naxos Town (also called Chora) is right by the ferry port, has tonnes of bars, restaurants, and shops, and is the island's bus hub, I highly recommend basing yourself here for this itinerary. You can then use the bus or guided tours to explore further afield.
Budget Hotel
I stayed at this brilliant budget hotel which was just steps away from the beach. It was also around a 15-minute walk from the ferry port, and spotlessly clean. Oh, and my room also had a kitchenette, so I was able to prepare food in my room to save money.
I paid just €30 per night for a private room in September, and it had three beds! If I hadn't been travelling solo I could have split this price with my travel companions for an even better deal!
Click here to check availability and latest prices.
Mid-Range Hotel
This beautiful beachfront hotel looks exactly what you're picturing when you think of your dream hotel on the Greek islands. We're talking blue and white traditional architecture, an exceptional traditional Greek breakfast included in the price, and private balconies to watch the sunset over the ocean.
Prices start at around €60 per night, and you can check availability and current prices here.
What is the Best Time to Visit Naxos?
Although obviously busy, Naxos doesn't suffer from the same level of over-tourism and overcrowding that the more famous islands do. For this reason, although you're likely to pay more for accommodation, summer is actually a great time to visit Naxos!
I visited Naxos in September which was a lovely time of year to be there. The weather was still fabulous, but prices were starting to drop. I also didn't have to book anything too far in advance.
I love travelling in the shoulder season!
Is Naxos Worth Visiting?
In my experience, Naxos is absolutely worth visiting. It feels less curated than some of the more popular Cycladic islands and has an amazing variety of landscapes, historical attractions and local produce to keep you entertained.
If you follow this itinerary I'm sure you'll have a fabulous time in Naxos. After your visit, you'll surely agree that it's definitely worth visiting!
---
For more travel guides, tips and advice for travelling in Greece check out these other posts: