There is a good chance that this post contains affiliate links. If you make a purchase through them, I may receive a small commission at no extra cost to you! As an Amazon Associate, I earn from qualifying purchases. As ever, all opinions are my own.
Dreamy beaches, crystal-clear water, whitewashed buildings and vibrant pink bougainvillaea… These are just a few of the things that make Paros an unmissable stop on any Greece itinerary.
I'd heard that Paros was pretty much Santorini but without the crazy crowding or prices. Since I had just been to Santorini and LOVED it, this comparison had me extending my stay on Paros before I'd even stepped foot on the island!
And, well… Paros certainly didn't disappoint. The island has its own unique and captivating charm, and by the end of my stay I'd decided that its label as "a less busy and cheaper version of Santorini" totally misses the point!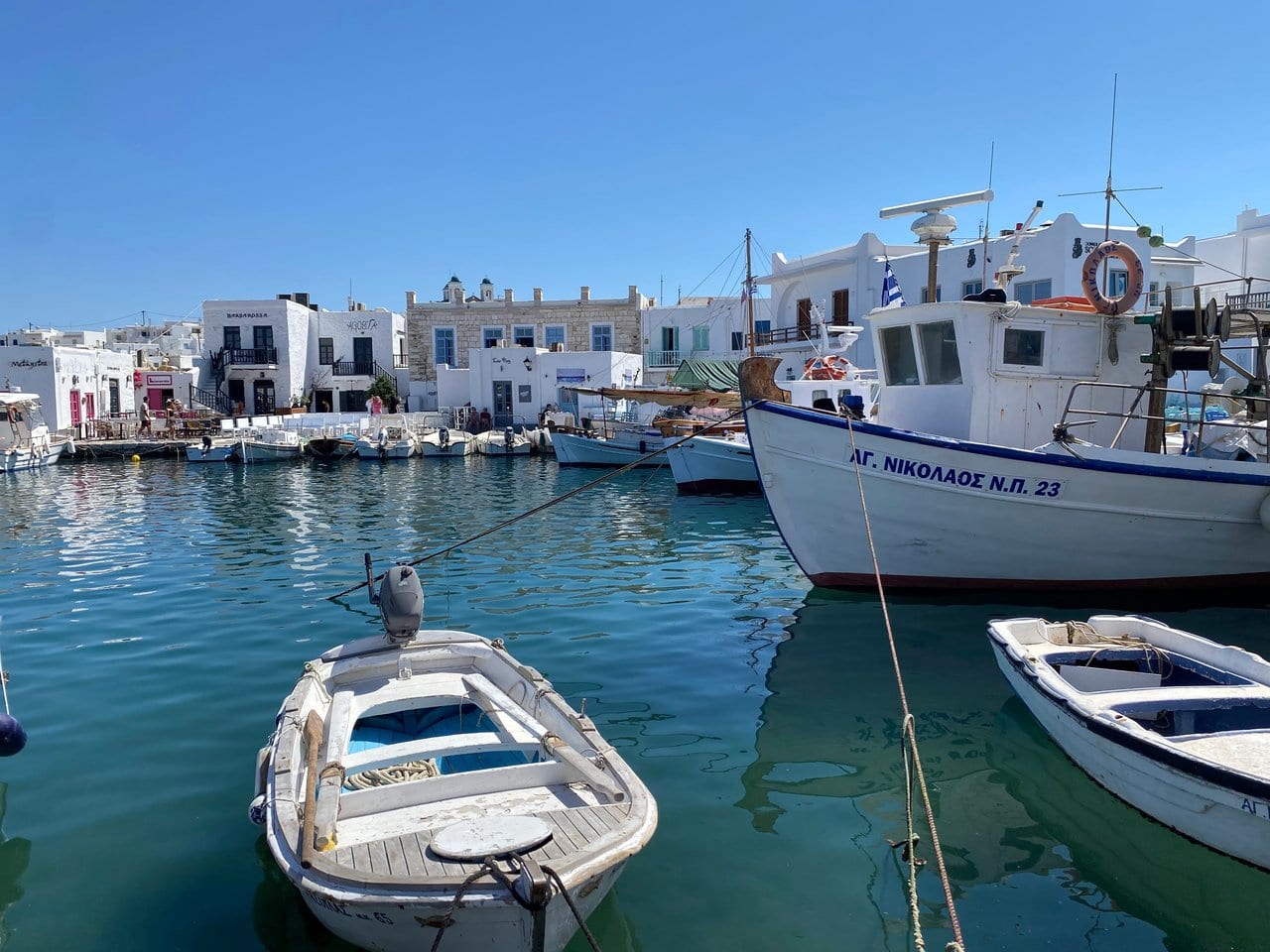 Paros is fast becoming one of the most popular islands in Greece. For now, though, it's still unspoilt. You won't find overcrowding or insane prices on Paros like you do on some other islands.
It's also one of the best Greek islands for solo travel, in my humble opinion.
For this reason, now is the perfect time to go to Paros! In this 3 days in Paros itinerary I'm going to show you all of the best places to visit and things to do to make your trip unforgettable.
3 Days in Paros Itinerary
Day 1: Parikia and Lefkes
Your first day in Paros is the perfect opportunity to explore two of the most beautiful towns on the island – Parikia and Lefkes. Let's start the day at Parikia Port.
Stop 1 :Parikia Port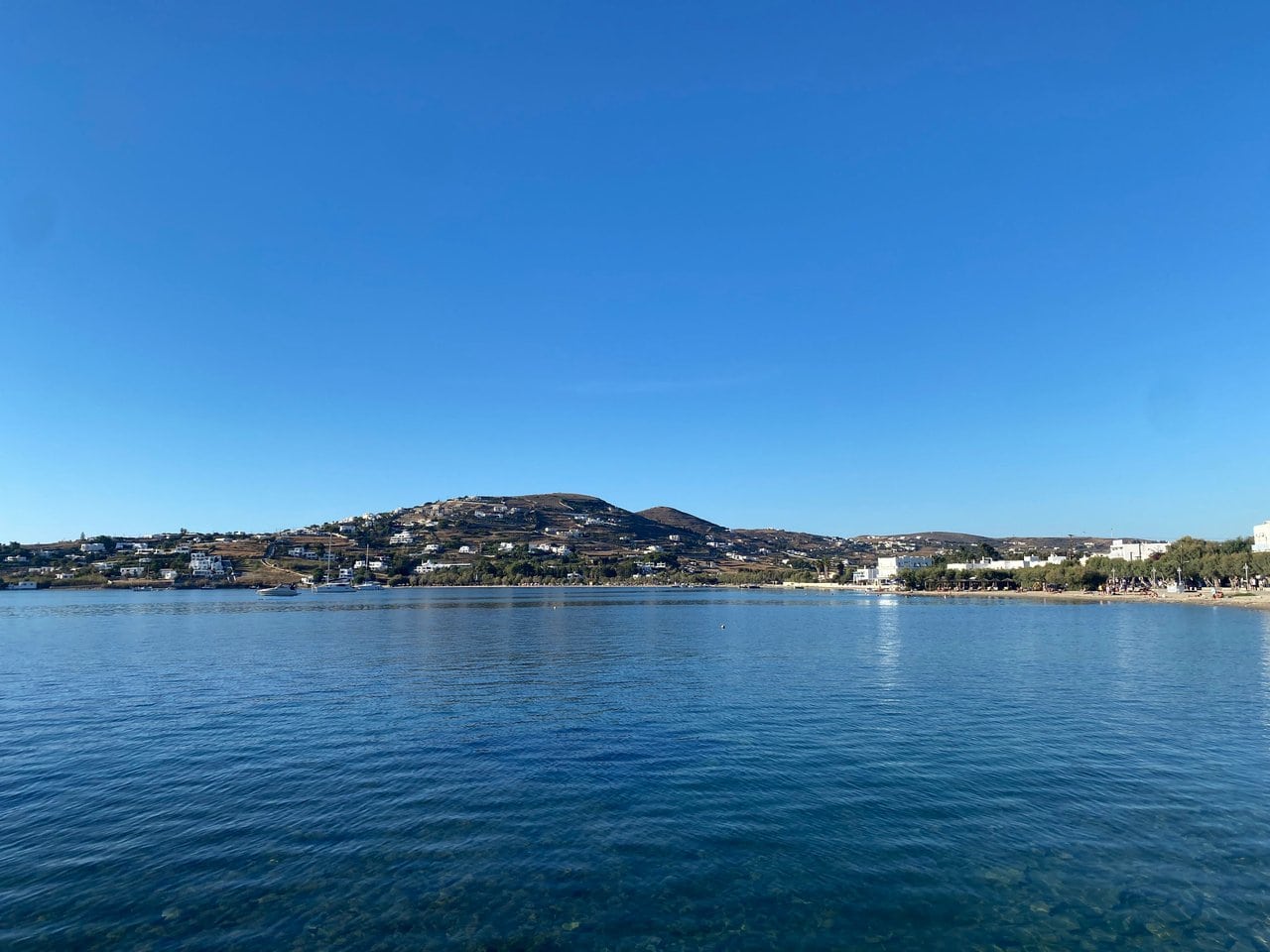 As I explained before, Parikia is the port town of Paros, but it's surprisingly very beautiful! Start your day in Parikia with a brief breakfast and coffee at one of the many cafes and bakeries by the ocean.
Parikia is buzzing all day long, so you'll have plenty of options.
After breakfast, it's time to explore the rest of Parikia on foot. There's an oceanfront promenade along the shore and strolling along here is one of the best things to do in Parikia.
If you decide to stop off at the beach for a short break, I certainly won't blame you!
Stop 2: Parikia Old Town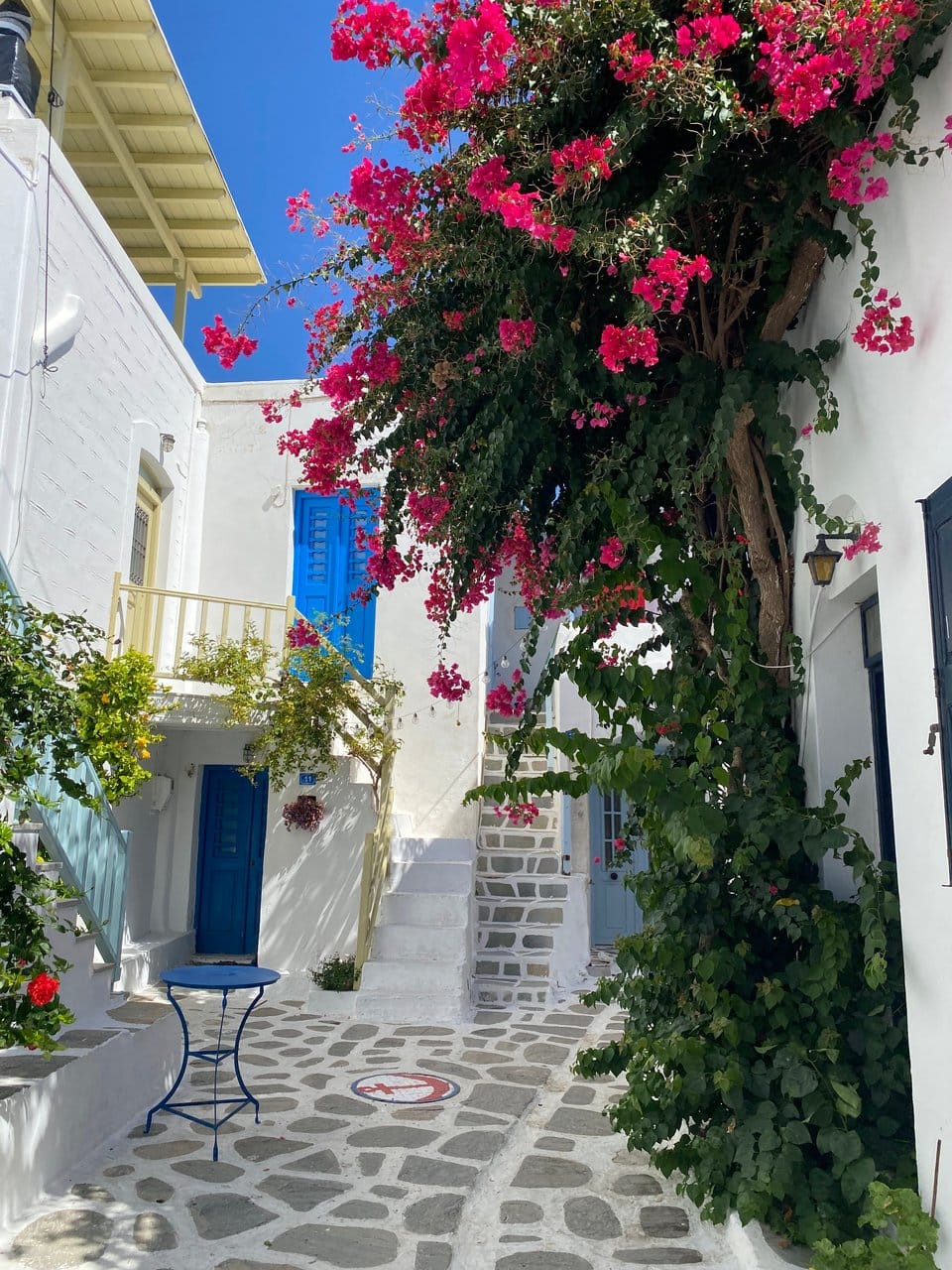 The true highlight of Parikia, and the reason that I think this area of Paros is a must-visit, is Parikia Old Town.
This is the oldest area of Parikia and is everything you'll have dreamed about when you thought of a Greek island holiday!
The winding labyrinth of whitewashed cobblestone alleys are captivating to get lost in, and the many adorable local boutiques will be heaven for you if you're into shopping!
Honestly, the best way to explore Parikia's Old Town is to just wander aimlessly, heading in whichever direction you feel like. 
It's crazy how fast you can get off the beaten path of the Old Town and suddenly notice that you're in the "authentic" area of Parikia, where you can smell traditional cooking wafting out of the windows of the surrounding houses and hear Greek music from around the corners.
It's magical here!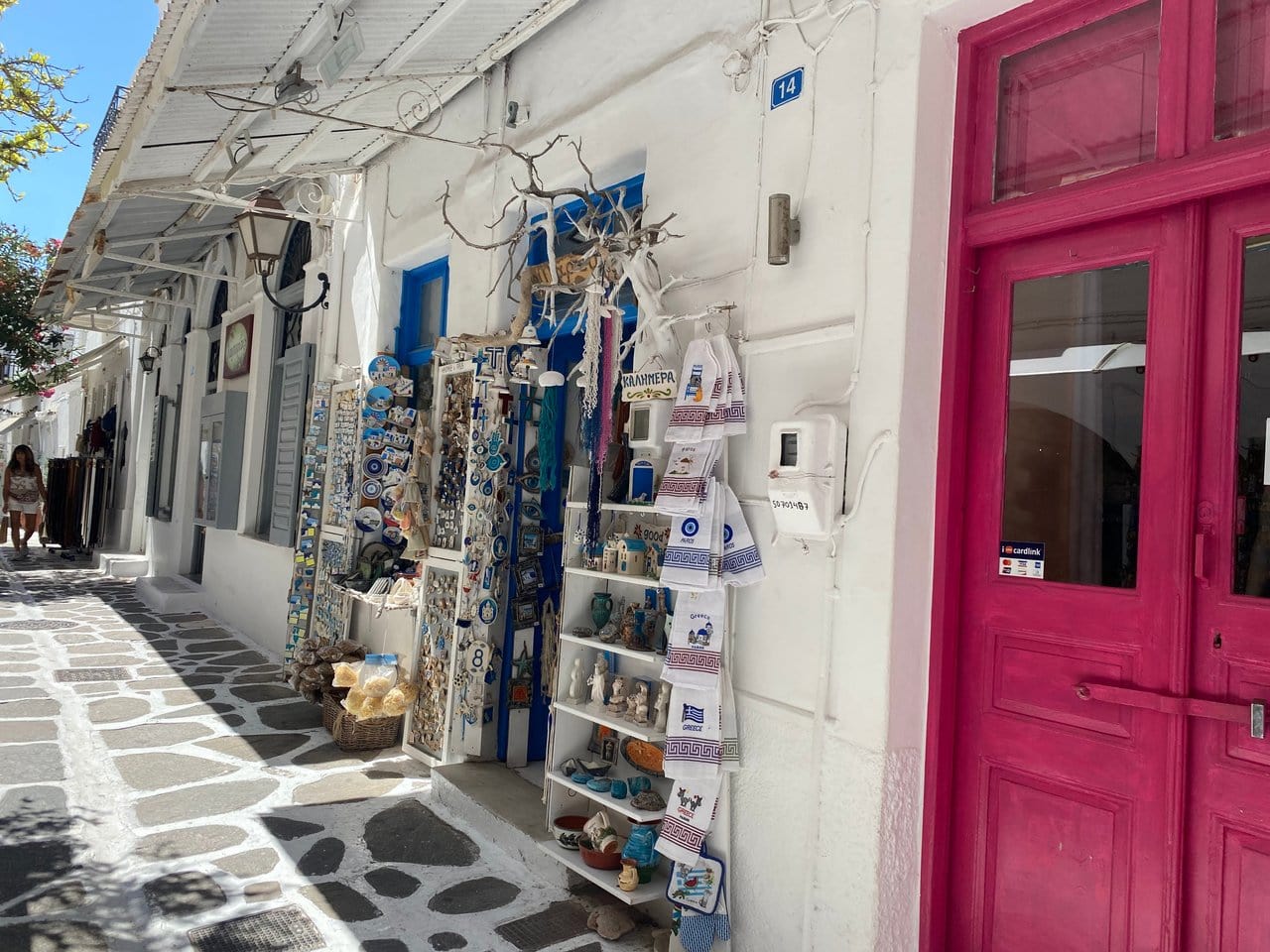 Stop 3: Lunch in Parikia
To round off your visit to Parikia, stop off for a delicious Greek lunch at a local taverna (there are countless great options in Old Town Parikia). I'm a sucker for a Greek Salad, but Moussaka is also a solid traditional option. 
After lunch, head to the Parikia bus station (located here) and queue for a bus ticket to the inland village of Lefkes. You can't buy tickets online, unfortunately.
Buses aren't super frequent (at least, not compared to London, where I'm from!) so it's worth checking out the bus times in advance here to avoid a long wait. 
The bus journey from Parikia to Lefkes costs €1.80 one way and takes around 25 minutes. Whilst you're at the ticket counter you'll also want to purchase a ticket from Prodromos to Parikia (this is the return journey you'll make).
This ticket costs €2.
Stop 4: Lefkes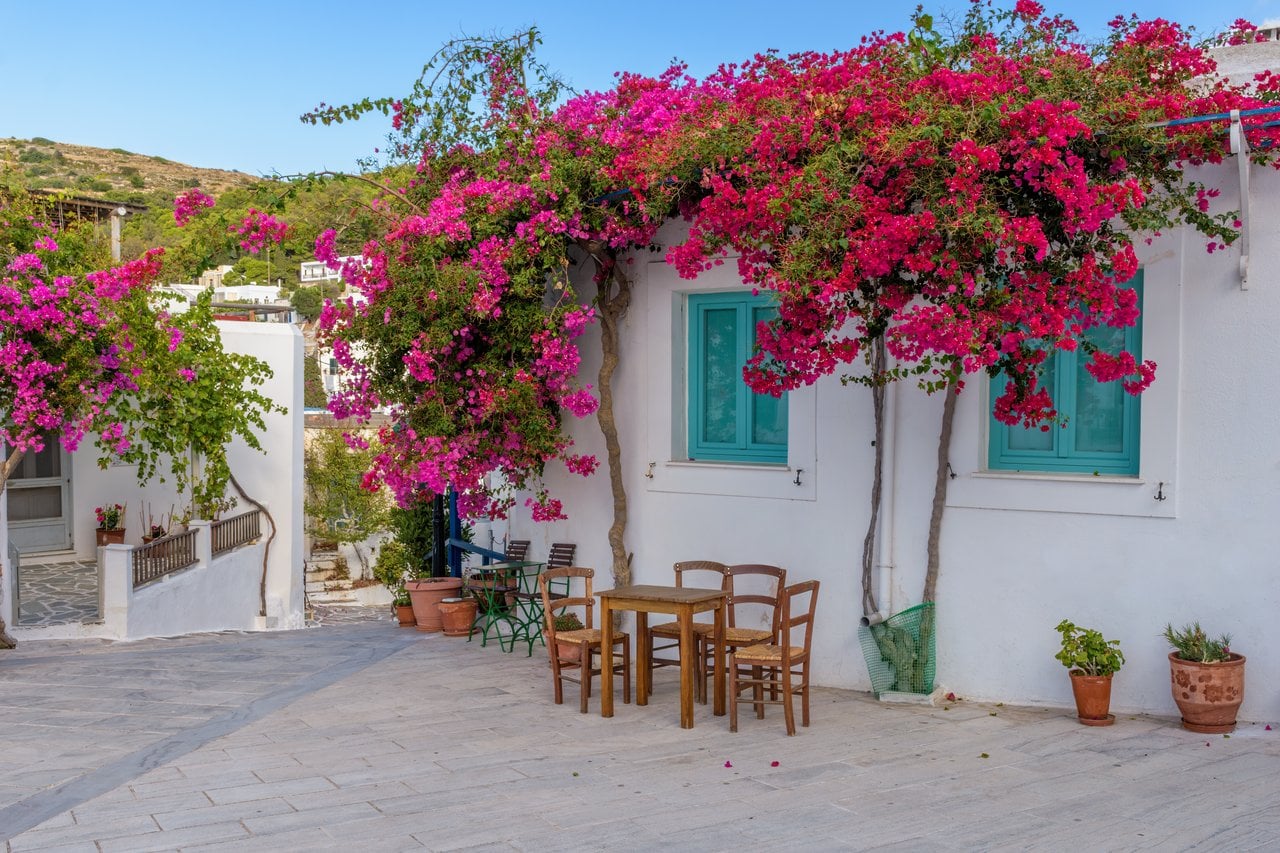 The charming village of Lefkes was the first capital of Paros, surrounded by ancient mountains and olive groves.
The town was established in the 17th century, and its old-fashioned architecture and calm atmosphere make it one of the best places to visit on Paros.
Since Lefkes is such a tiny village you only need a few hours to explore it, but what a wonderful few hours they will be!
It feels like time has stood still in Lefkes for hundreds of years, and the blooming bougainvillaea lining the alleyways and plazas here makes for vibrant and otherworldly photos.
Wandering around Lefkes you'll notice that it feels like an even more stunning version of Parikia's Old Town. It's one of Paros' top Instagram spots!
Stop 5: Paros' Byzantine Road
Instagram aside, the highlight of a trip to Lefkes is walking the Byzantine Road.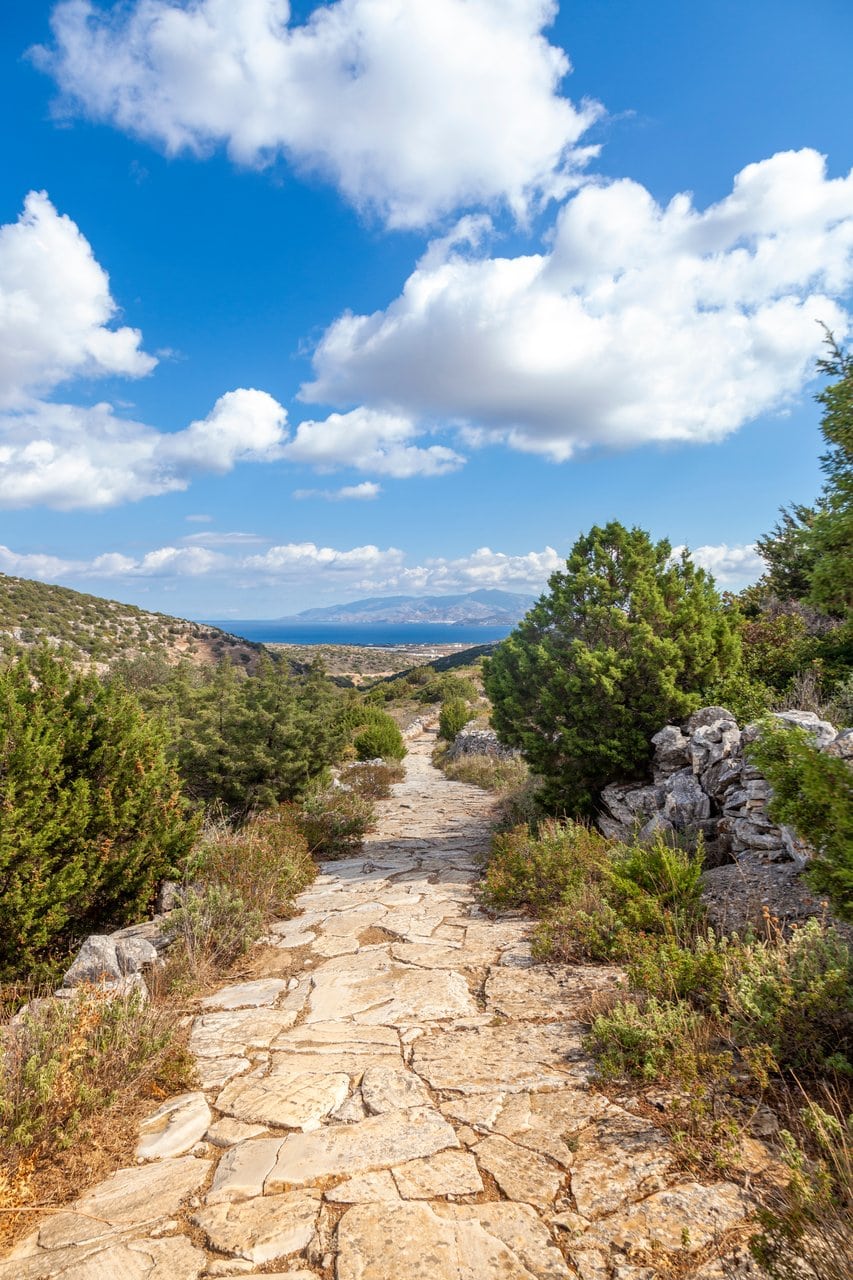 This short hiking trail dates back a thousand years to the Byzantine era (11th century), and it's the oldest path on the island. It connects Lefkes with the even smaller village of Prodromos.
The trail starts at Louki's cafe (in Lefkes), is around 3.5km long and takes around 45 minutes to walk. Be sure to pack plenty of water and take your time if you're doing the hike in summer, because it is HOT!
Once you've arrived in Prodromos, check when the next bus back to Parikia will be (they don't run frequently so you may have to wait).
If you have time, collapse into a tavern and refresh yourself with a cold glass of beer and a snack after your walk. You'll have earned it!
Day 2: Take a Day Trip from Paros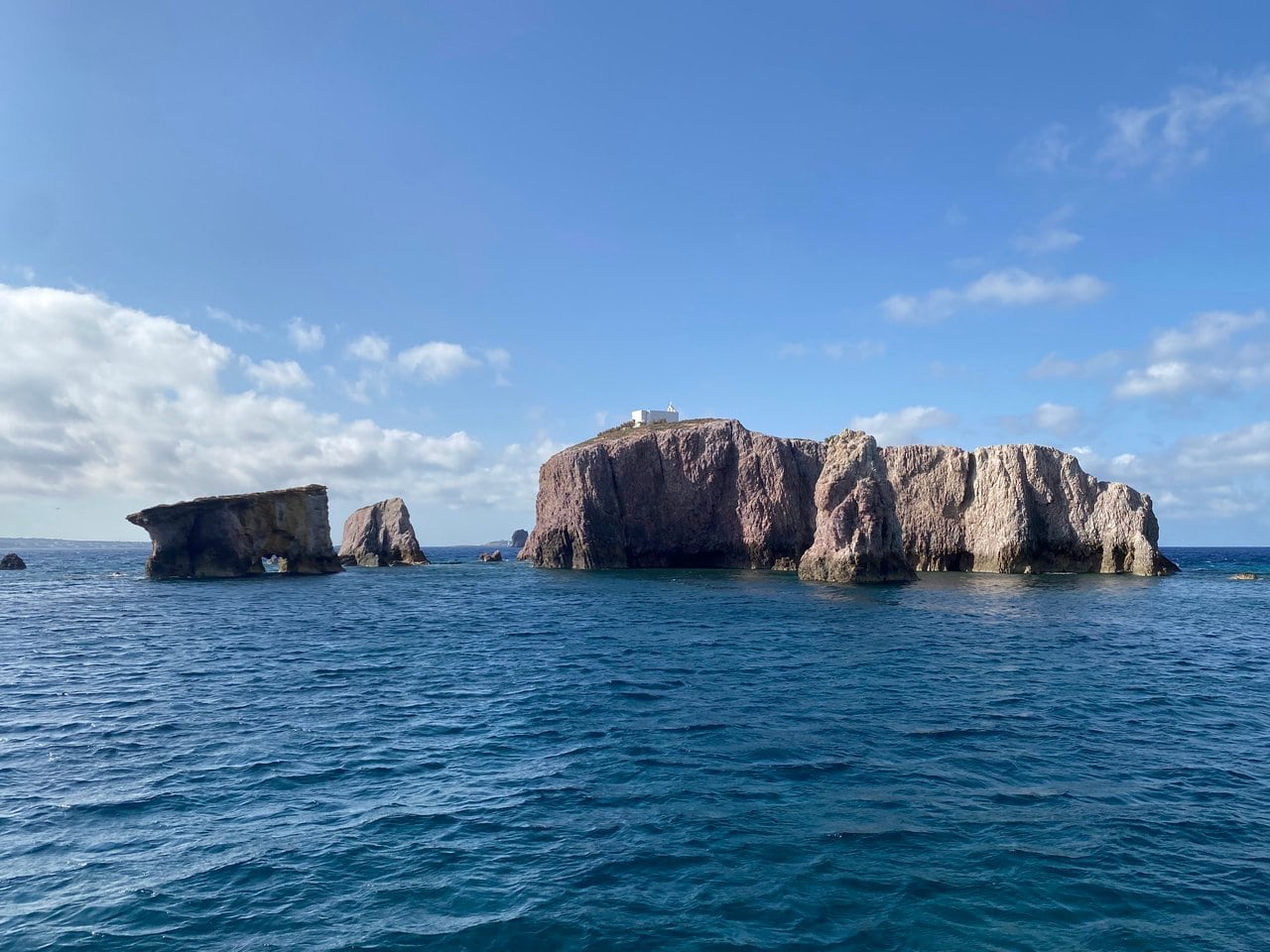 On your second day on the island of Paros it's time to take a day trip! This may surprise you – after all, Paros is absolutely stunning in its own right. Trust me, though – it gets even better.
Since I spent five days in Paros I managed to go on not one, but two epic day trips! I highly recommend them both, so I'm going to discuss both of them here and you can pick whichever one sounds best to you.
Or maybe you'll want to extend your stay in Paros to four or five days so you can go on them both!
Option 1: Day Trip to Antiparos from Paros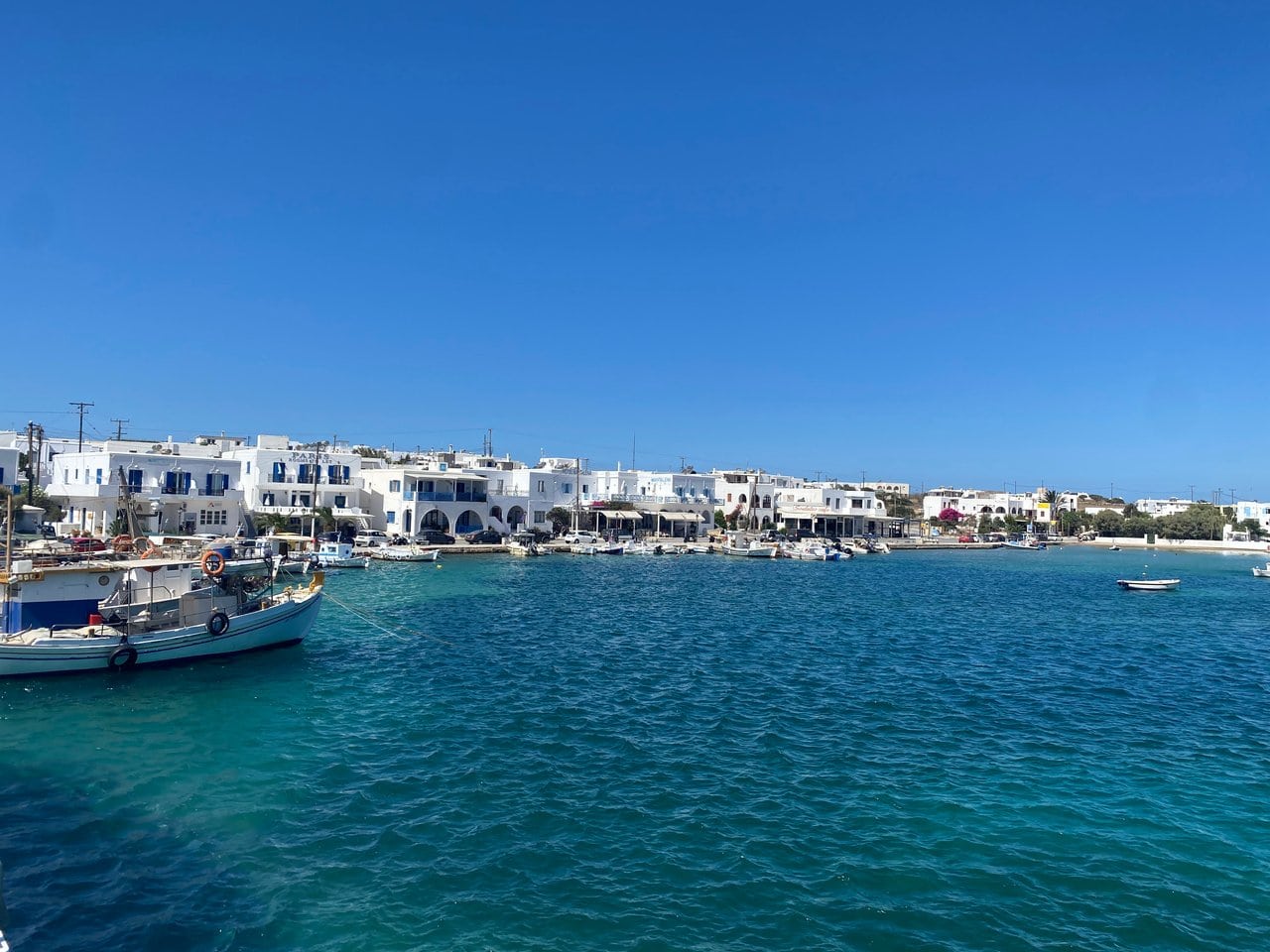 Take Paros, but make it quieter and more beautiful. Yup, such a place exists, and it's called Antiparos! This tiny island lies just off the coast of Paros, and it's the favourite Greek island of the rich and famous.
Tom Hanks owns a house here, and other celebrities such as Matthew McConaughey regularly choose Antiparos as their vacation destination.
If you want to know more about visiting Antiparos, you're in luck. I have a full guide to visiting Antiparos on a day trip from Paros, which covers absolutely everything you need to know!
In short, though, you can catch a ferry from Parikia port to Antiparos, which takes just 25 minutes and costs €7 each way. 
Once you arrive in Antiparos, it's time to explore its world-class old town, where you'll likely have many streets all to yourself. It's perfect for taking photos!
You're also able to walk to the remote and quiet Paralia Panagia beach, or take a bus to Antiparos Cave, one of the top attractions in Antiparos!
Option 2: Boat Tour Day Trip from Paros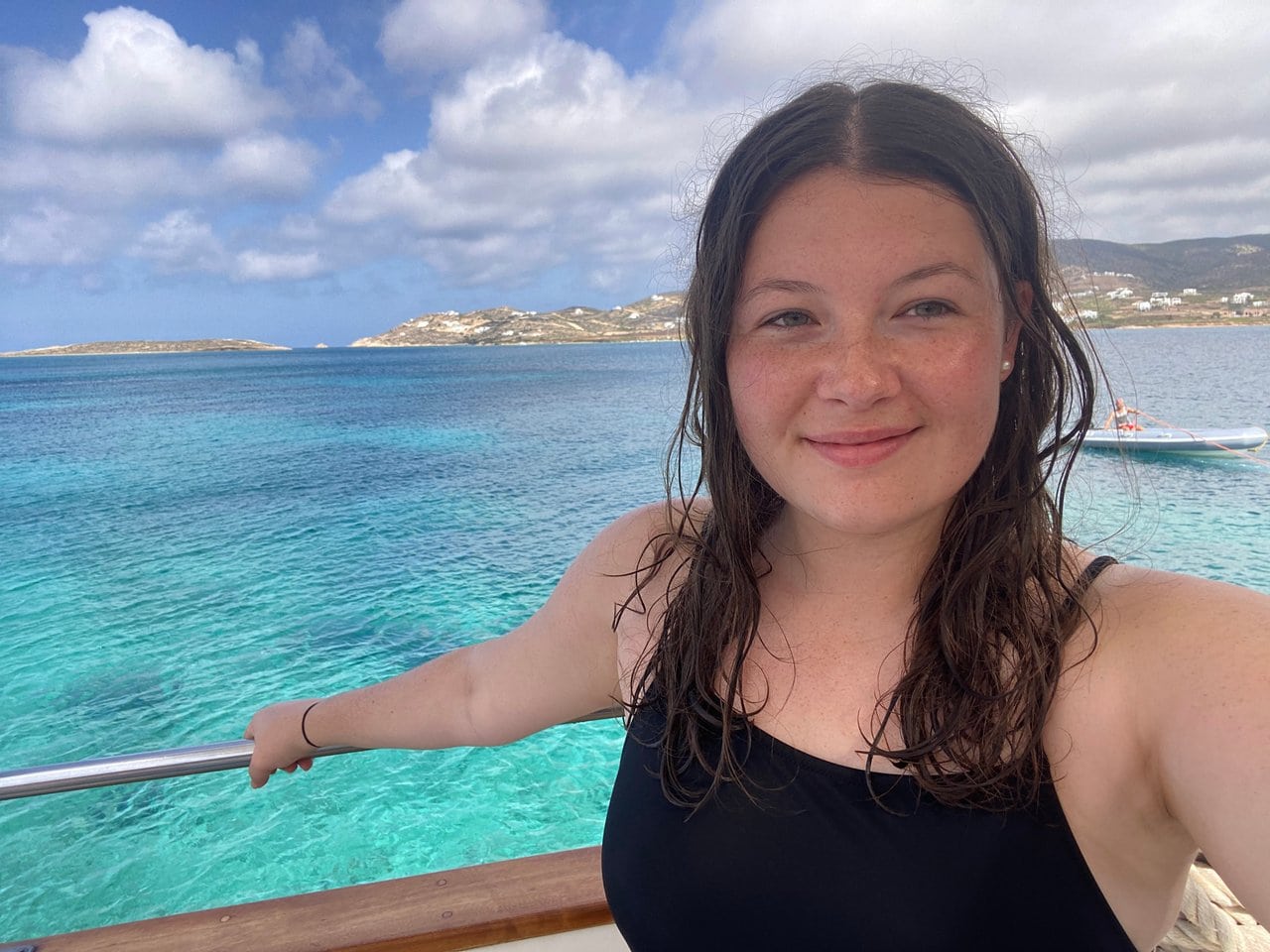 Your other option for a day trip from Paros is to join one of the many Paros boat trips to check out some of the staggeringly clear waters around Paros, go swimming, and admire the island's stunning coastline! 
I went on a boat tour arranged by my hostel, but this top-rated boat tour looks pretty similar to the one I went on!
The day includes travelling around the coastline of the Small Cyclades islands, seeing caves and dolphins (hopefully!), and spending time swimming, snorkelling, and sunbathing on deck! 
Going on a Paros boat tour was one of the best things I did in Greece, and I would happily do it all over again!
I admit, the price did put me off originally, but so many people had hyped this opportunity to me that I just had to trust them – and I'm SO glad I did.
Sailing around Paros and jumping into crystal clear water from the boat is one of those memories you'll never forget – I promise!
Click here to book your place!
Day 3: Naoussa
On the final day of this Paros itinerary it's time to visit one of the most beautiful towns you'll ever see – Naoussa! 
How to Get to Naoussa from Parikia
It's simple to get to Naoussa from Parikia – just go to the same Parikia bus station you went to on day one of this itinerary and ask for a return ticket to Naoussa.
Tickets cost €1.80 each way and the journey takes around 25 minutes. It's worth checking the timetable in advance here to avoid having to wait for the bus.
Once at the bus stop in Naoussa it's just a short walk into town. When you get there, your jaw will quickly hit the floor and it's going to be hard for you to recover.
There's only one word to describe Naoussa, and that is BEAUTIFUL!
Stop 1: Exploring Naoussa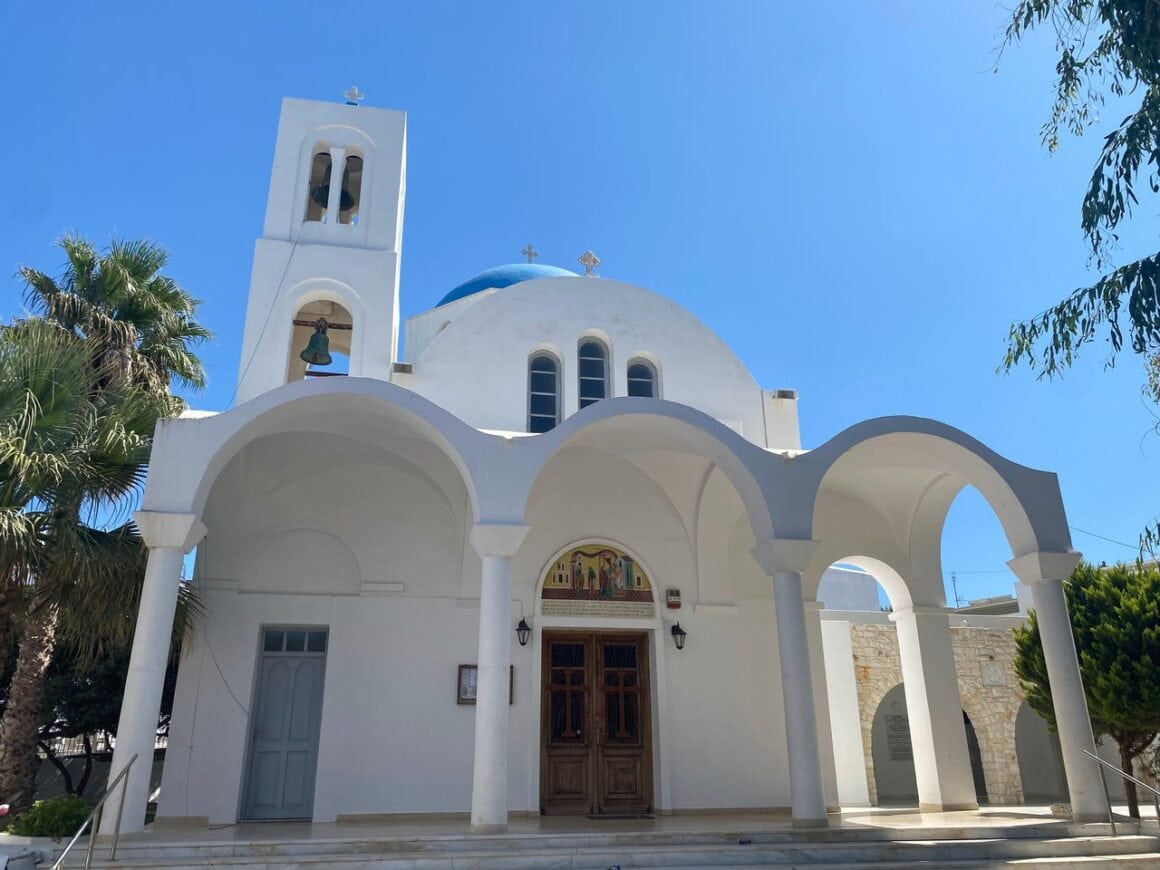 I recommend spending the morning strolling Naoussa's whitewashed streets, checking out the local boutiques and snapping a tonne of photos of the town from every angle. You just won't be able to resist!
You can easily spend one hour, if not two, doing this before taking a break for lunch.
There aren't a million things to do in Naoussa – its charm mostly lies in its beautiful scenery. That said, some of the top attractions in Naoussa include the Old Port of Naoussa and the Venetian Fortress, which is worth walking around.
Stop 2: Lunch at Taverna Glafkos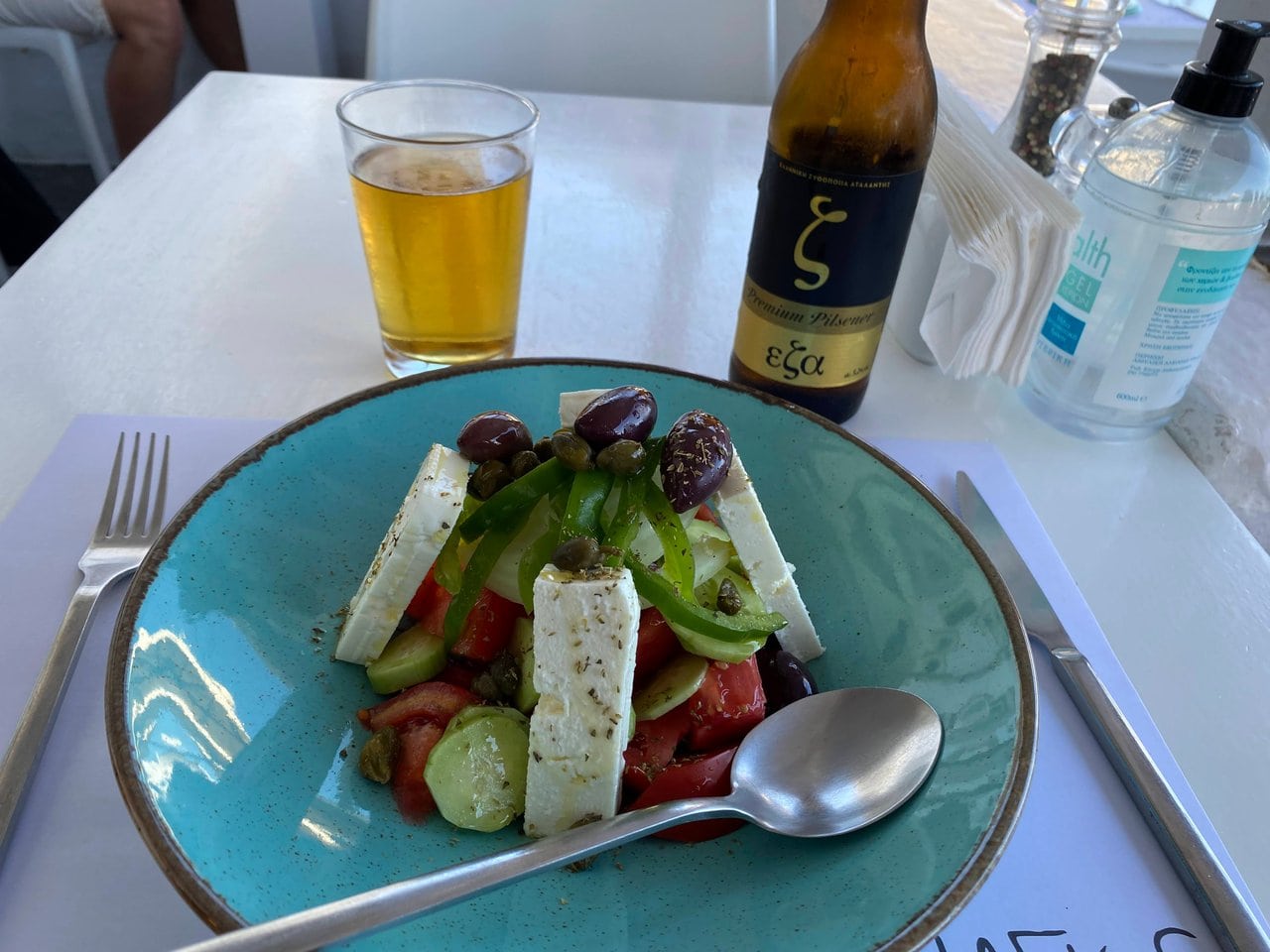 Since Naoussa is a place that caters towards modern tastes more than traditional experience, you'll find plenty of swanky and chic restaurants to choose from for lunch. Rest assured, though, the food in Naoussa is still exceptional.
I highly recommend lunching at Taverna Glafkos, which is where I dined. The restaurant's seating is right over the ocean, offering captivating views of the coast.
The food is also DELICIOUS!
I opted for a Greek Salad since I was on a strict budget and Taverna Glafkos isn't exactly the cheapest, but if you can splurge on a seafood dish I don't think you'll be disappointed. The seafood here looked amazing!
Stop 3: Beaches in Naoussa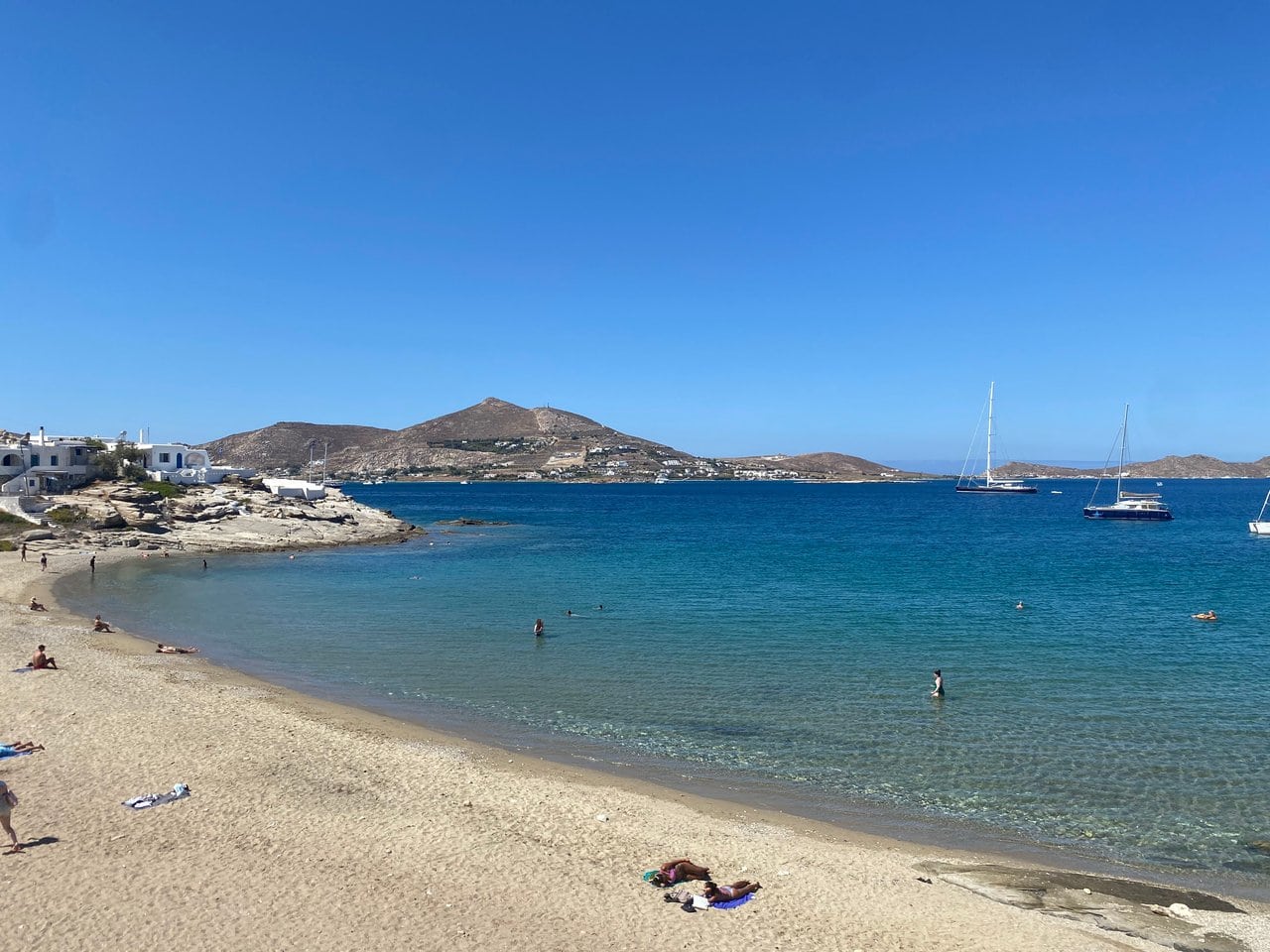 After lunch you'll be desperate to cool off in the ocean, so it's time to head to the beach!
I'll be honest – there aren't any epic beaches near Naoussa, so you can either head to one of the beaches near Naoussa by foot (which are still very nice – just not anything super special), or head to one of the beaches further afield by bus or taxi.
I've heard great things about Santa Maria Beach and Lageri Beach, but I chose to stay near Naoussa so I can't speak from personal experience. 
I opted to walk from central Naoussa to Piperi Beach, which took just 10 minutes, and it was the perfect spot to roll out my towel for a few hours.
What I liked about Piperi Beach is that there was plenty of shade to lie in if you don't fancy roasting under the summer sun!
There were also some superyachts moored along the coast surrounding the beach which I enjoyed watching.
So, for a relaxing afternoon to round off your Paros itinerary head to the beach with a good book and unwind!
Extra Information for your Paros Itinerary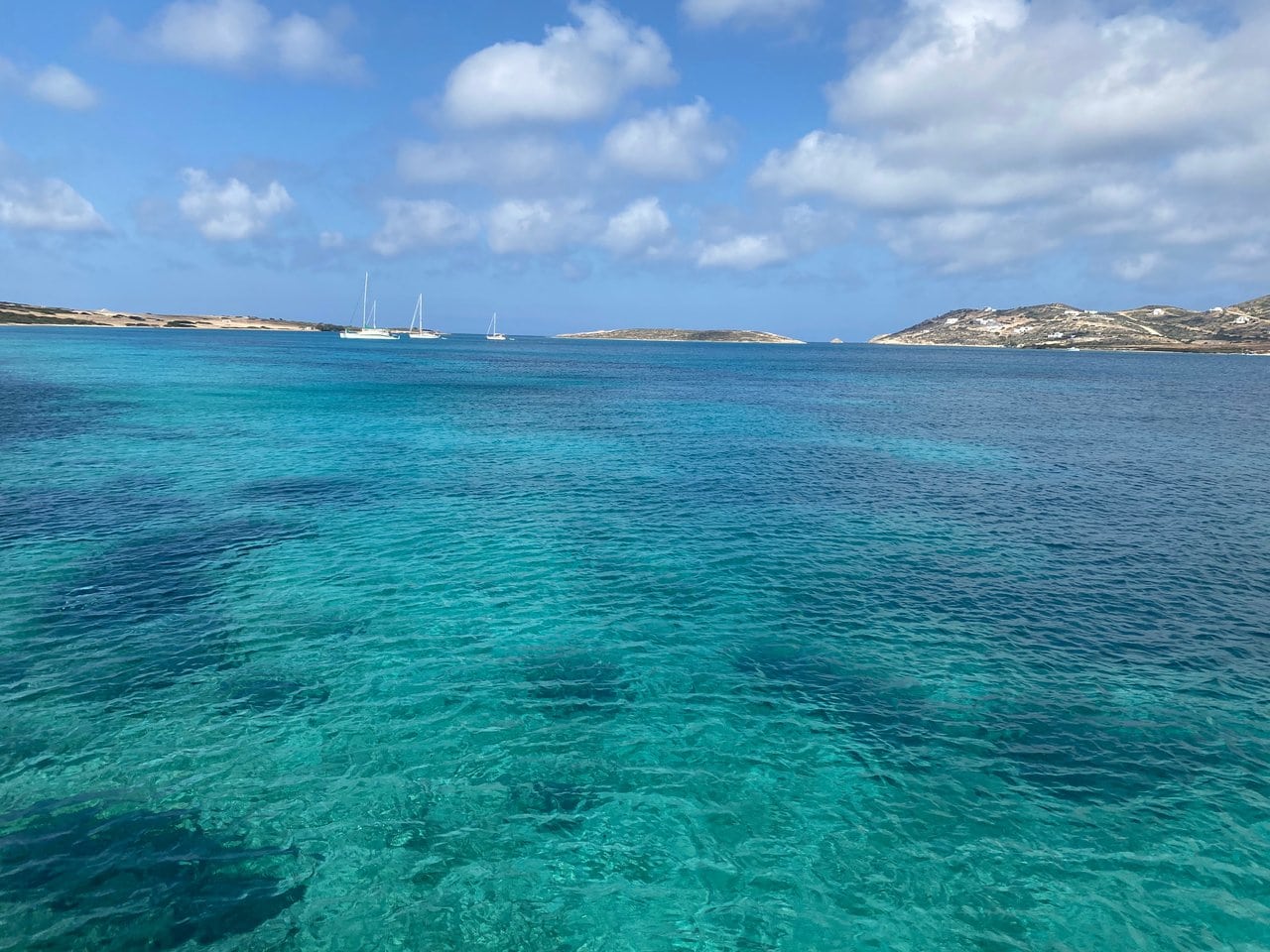 How to Get to Paros island
You'll find Paros in the Cyclades Islands, right next to the island of Naxos. Paros is very well-connected with other Greek islands and Athens via ferry, so it's a very popular stop on Greek island hopping itineraries.
Ferries run multiple times per day from the nearby islands and Athens. Ferry prices can be surprisingly expensive, but slower ferries are almost always the cheapest (and not really that much slower).
The company Blue Star Ferries was often the cheapest – I paid just €15 for the ferry from Naxos to Paros.
I used this website to book my ferries in Greece and had a good experience. This website allows you to compare prices and departure times across different ferry companies. You'll also be able to have all of your bookings in one place.
Plus, their prices are usually the same as on the ferry companies' websites. Click here to check ferry prices!
You're also able to fly to Paros from Athens, and the airport is 11km south of Parikia. You can get from the airport to Parikia via bus (€3, 20 minutes, 4 daily) or taxi (€15, 10 minutes).
Getting Around Paros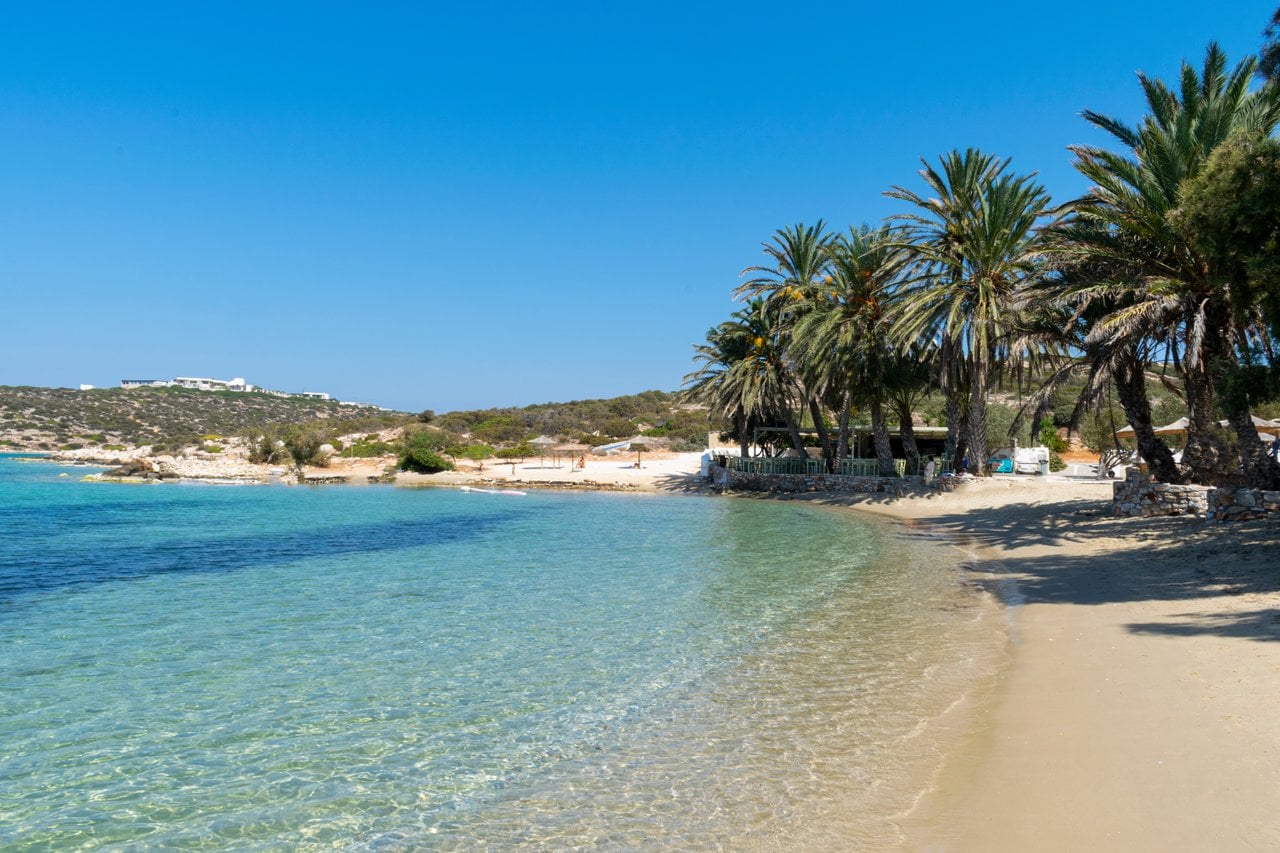 The best way to get around Paros is by renting a car or ATV. However, if you don't fancy driving (I certainly didn't) Paros' bus network is decent and will get you from A to B.
The main bus station is in Parikia, right by the ferry port, and buses depart from here to all over the island, including regular connections to Naoussa.
To get the best price, buy your bus tickets at the bus station before boarding the bus, so if you're planning to return to Parikia make sure you get two tickets! Otherwise, you'll have to buy tickets at a slightly marked-up price from the driver on the bus.
The price of bus tickets depends on the distance you're going, but they start at €1.80 each way. You can find the bus timetable here.
How Many Days to Spend in Paros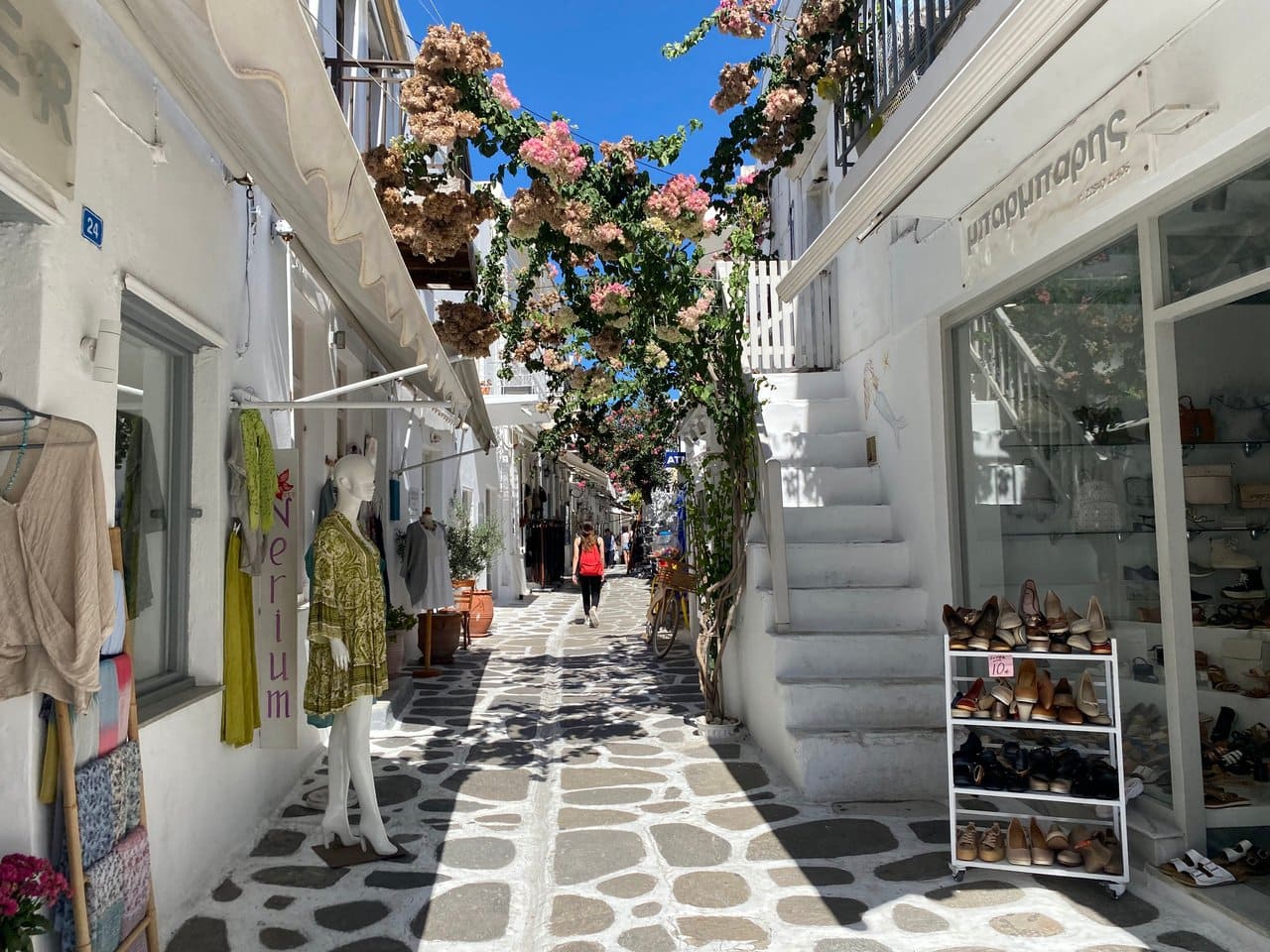 Although you probably only need to spend two days in Paros to explore the two main towns of Parikia and Naoussa, I recommend spending at least three days in Paros. 
With three days in Paros you'll have time to hit some of the beaches, explore the island's highlights and head out on a day trip to either swim and snorkel Paros' glittering coastline or visit Antiparos, Paros' neighbouring island.
I actually spent a whopping five days on Paros, but that was because I wanted to see as much of it as I could. That way, I knew I'd be able to create an itinerary for you that only covers Paros' best bits!
If you're a beach bum, you might want to add a day or two onto this 3 days in Paros itinerary to account for time lounging in the sun.
Where to Stay in Paros – Parikia or Naoussa?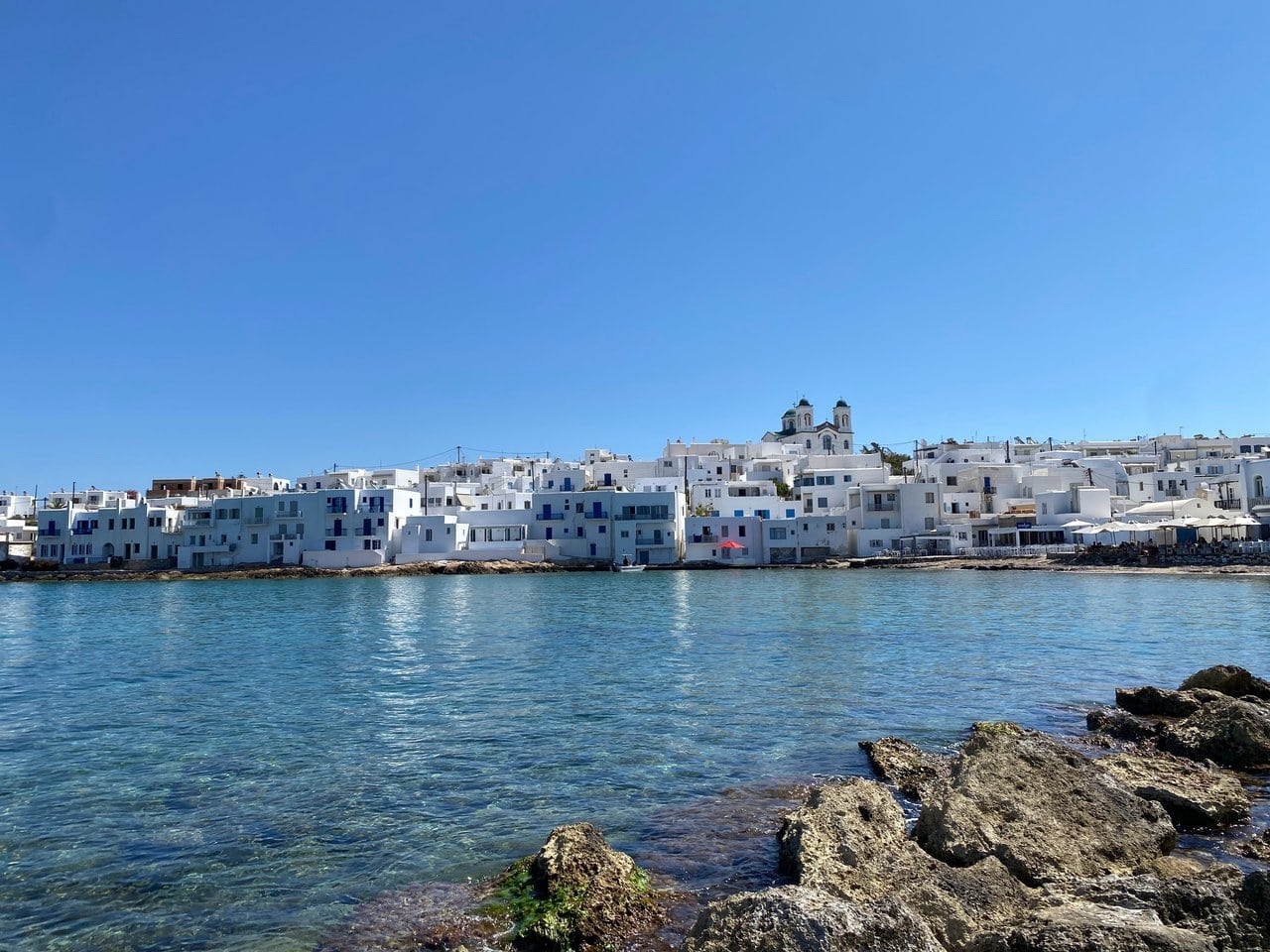 Most visitors to Paros choose to stay in either Parikia, the main town on the island, or Naoussa, a stunning town where you'll find the island's best nightlife as well as a wider range of luxury accommodation.
You can't go wrong with staying at either, but I personally recommend staying in Parikia – there are so many things to do there! 
I recommend staying in Parikia because your accommodation will be just a short walk away from the ferry port, which makes arrival and departure more convenient.
Parikia also has better transportation links, as it's where the island's main bus terminal is. This means it'll be easier for you to explore the rest of the island. 
Add in the great beaches, pretty cobblestone streets and thriving nightlife, and you can't go wrong staying in Parikia!
Top Accommodation Recommendations for Parikia
Hostel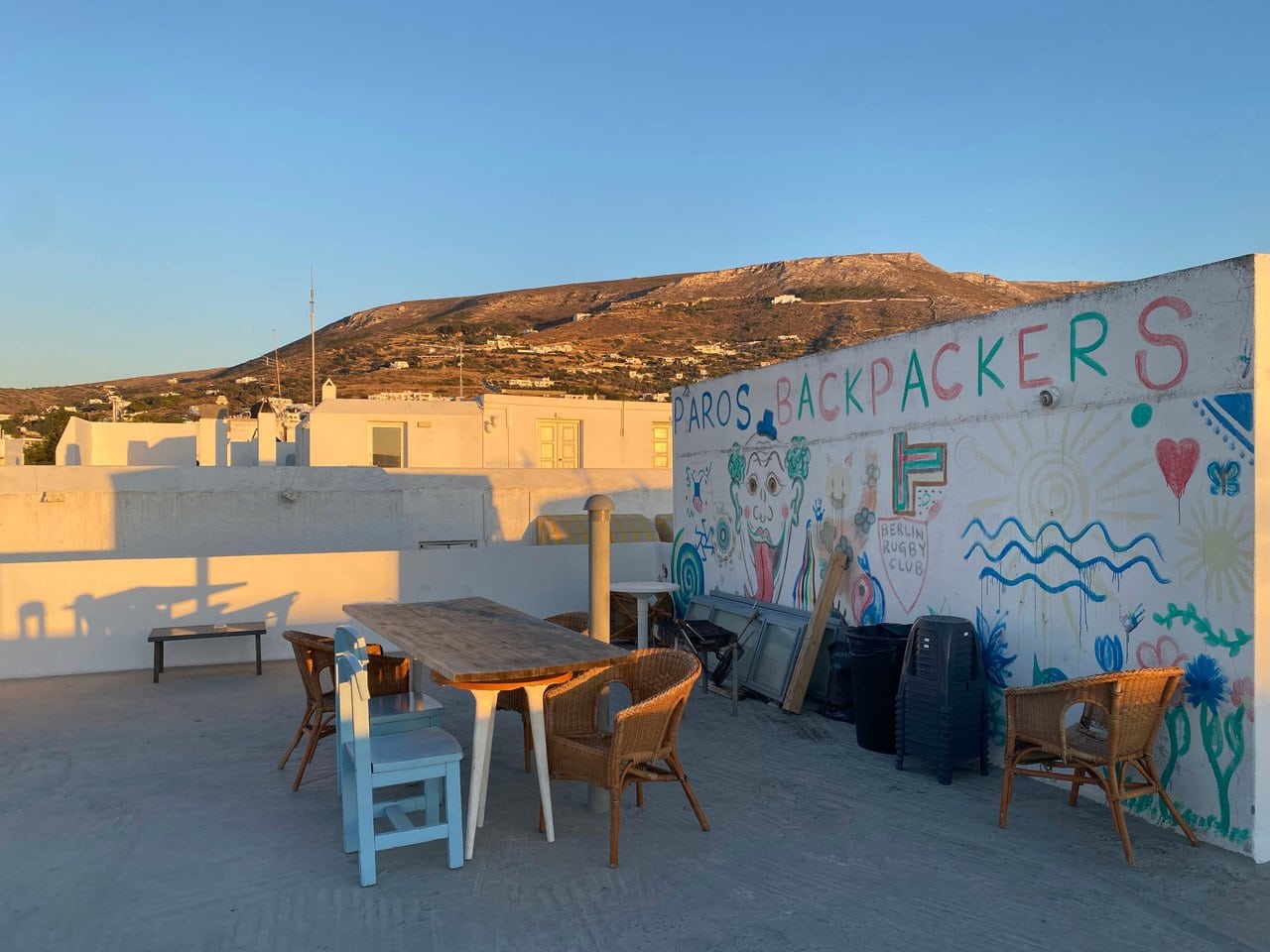 Budget travellers, you're in luck – Paros is one of the few Greek islands that has a hostel, making it a very popular island for backpackers and students. I stayed at Paros Backpackers and it was totally fine for the money.
This hostel is super sociable, so if you're here to make friends you won't have to look very far! The facilities are super basic, though, so I don't recommend this if you're more of a "flashpacker".
A bed in a 4-bed dorm costs around €17 per night. You should book as far in advance as possible because it gets full quickly in the high season. Check availability & latest prices here!
Budget Hotel
True budget hotels are tricky to find on Paros since so many people are willing to splash the cash here, but this top-rated budget hotel in Parikia will be your saving grace if you're travelling on a tight budget.
It's just 10 metres from the beach, has bright and airy decor, and has an impressive 9.6 rating on Booking.com!
A double room for two costs around €33 per night – you won't find better than that! Click here to check availability & book.
Mid-Range Hotel
Situated just half a mile from the centre of Parikia, this stylish mid-range hotel offers sea views over the port of Paros but is far enough away from the hustle and bustle that you'll get to enjoy a quiet and relaxing stay.
As well as offering rooms with balconies overlooking the ocean and an excellent breakfast included in the price, there's also a pool – perfect for escaping from the strong summer heat in Paros!
Budget double rooms cost around €78 per night, but it's worth the small price increase to get a sea-view double room for around €105 per night. Click here to check availability & book!
Language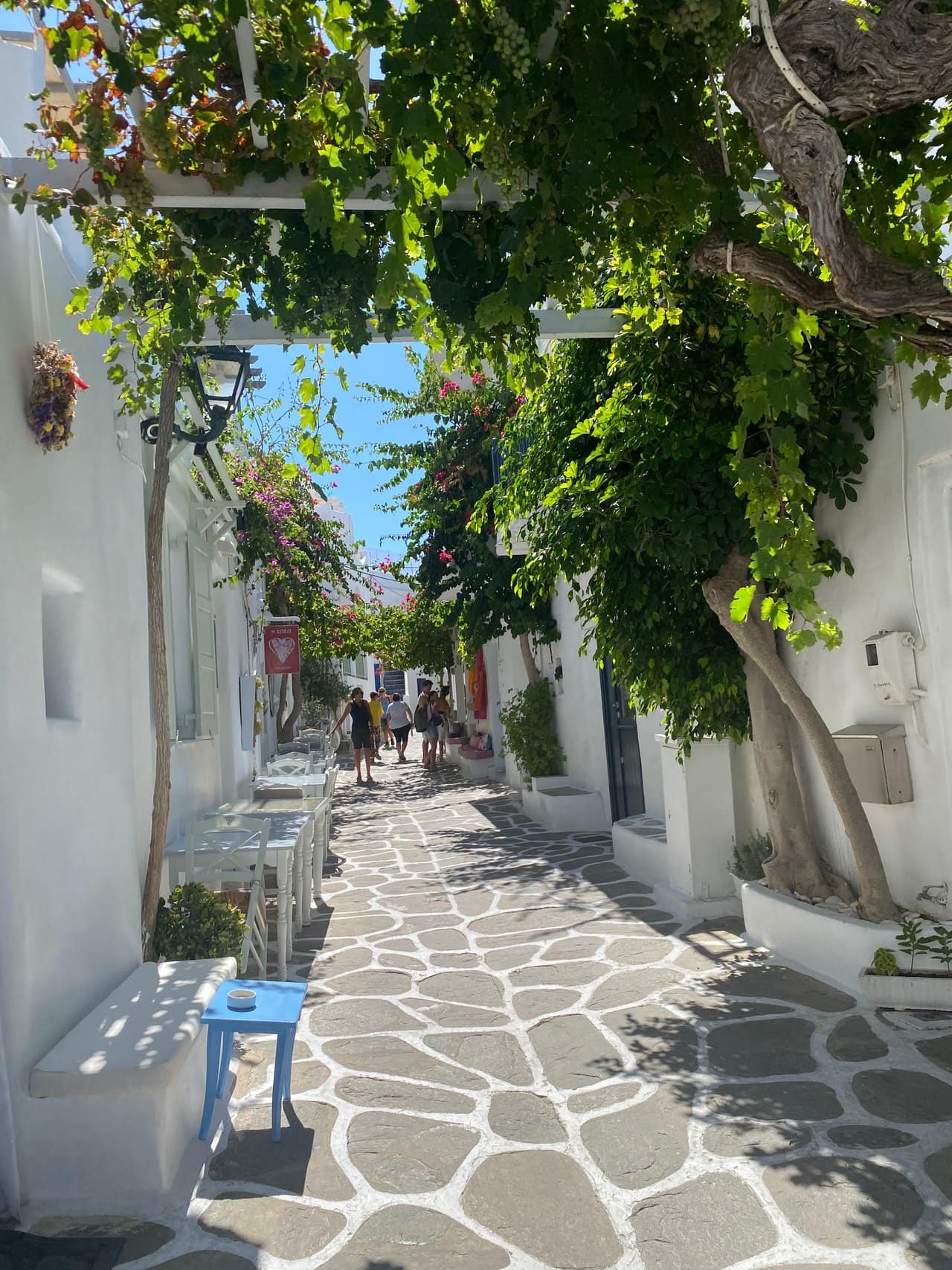 The language of Paros is Greek, but you'll get by just fine with English. Everybody who works with tourists will speak English, so a language barrier isn't something you need to worry about.
That said, learning the basics of the local language is always a good idea. A little goes a long way. Here are some basic Greek phrases to use in Paros:
Good morning/afternoon: "Kalimera" pronounced how it's spelt.
Good evening: "Kalispera" pronounced how it's spelt.
Thank you: "Efcharistó" pronounced sef-ha-ree-sto.
Cheers: "Yamas"- pronounced how it's spelt.
What is the Best Time to Visit Naxos?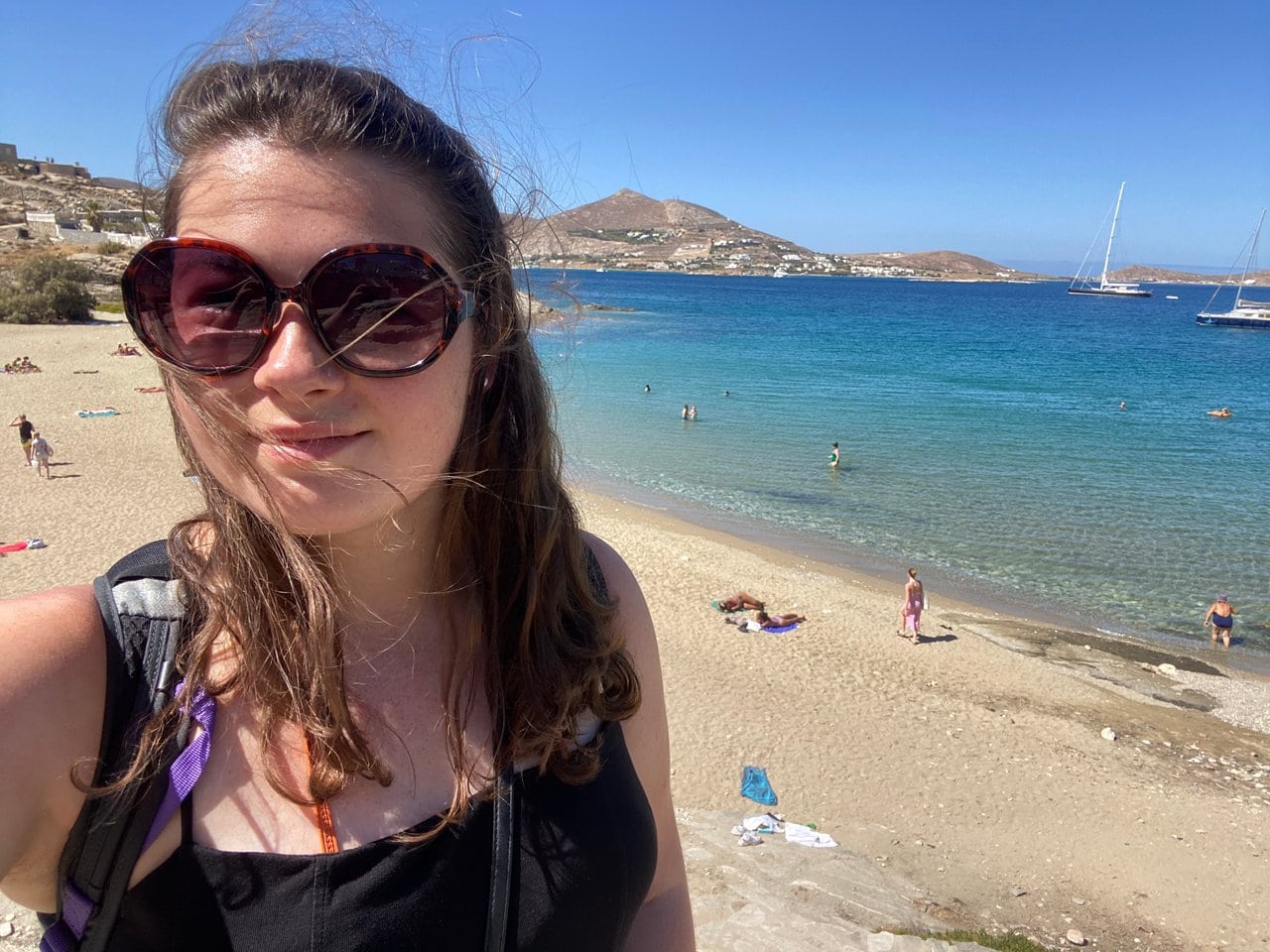 If you're looking to party, visiting Paros in the peak summer months of July and August is your best bet. This is also the most expensive season in Paros, though, so be prepared to deal with peak season costs and crowds!
If you'd prefer less crowding and cheaper accommodation, I'm a big fan of travelling in the shoulder season. The months of May, June, and September are all lovely on Paros!
You'd also be mostly fine in April and October weather-wise, but some restaurants and hotels will be closed at this time.
I visited Paros in September which was a lovely time of year to be there. The weather was still fabulous, but prices were starting to drop. 
Shoulder season travel is where it's at!
Is Paros Worth Visiting?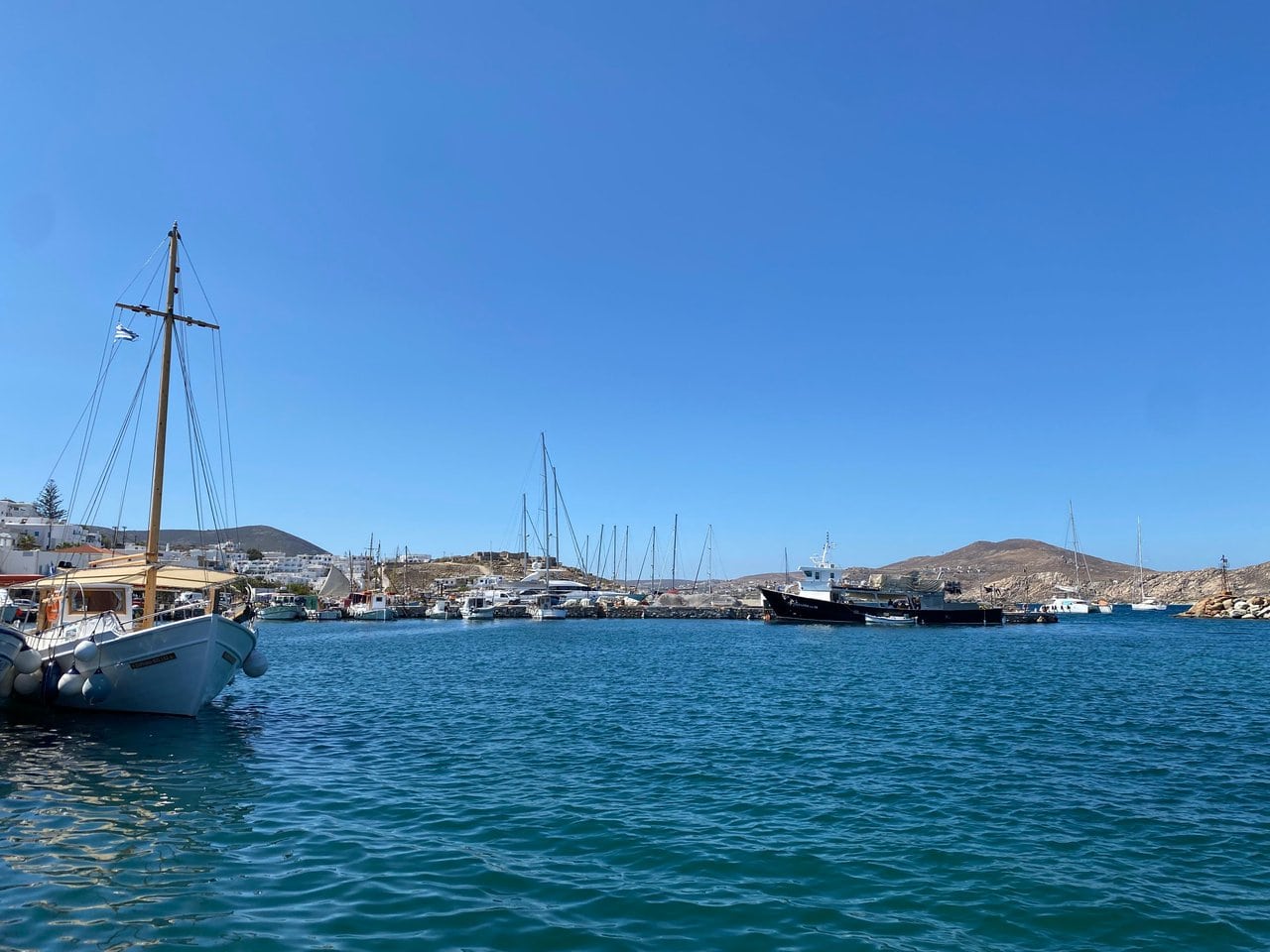 I really enjoyed my time in Paros, and it's definitely worth visiting. I'd argue that it's not as stunning as Santorini (but where is?), but Paros has plenty to offer tourists who want to explore a beautiful Greek island without Santorini's high prices and overcrowding.
Paros is definitely a good island to visit if you want to spend time hanging out on the beach or on a boat tour of its charming coastline.
The coastline, in my opinion, is Paros' star attraction.
I hope this travel guide has helped you to plan your trip to Paros – have a great time!