There is a good chance that this post contains affiliate links. If you make a purchase through them, I may receive a small commission at no extra cost to you! As an Amazon Associate, I earn from qualifying purchases. As ever, all opinions are my own.
Not many people think of Yorkshire when thinking about the best beaches in the UK, and that's because their beauty is a well-kept secret. From panoramic beaches backed by dramatic cliffs to tiny harbourside beaches, Yorkshire really does have some brilliant stretches of sand for you to visit.
Although plenty of Yorkshire locals flock to these beaches in summer, they're far quieter than the UK's more famous beaches in Devon and Cornwall. 
Today, I'm going to let the secret out, and tell you about the very best beaches to visit in Yorkshire!
The Very Best Beaches to Visit in Yorkshire, England
Runswick Bay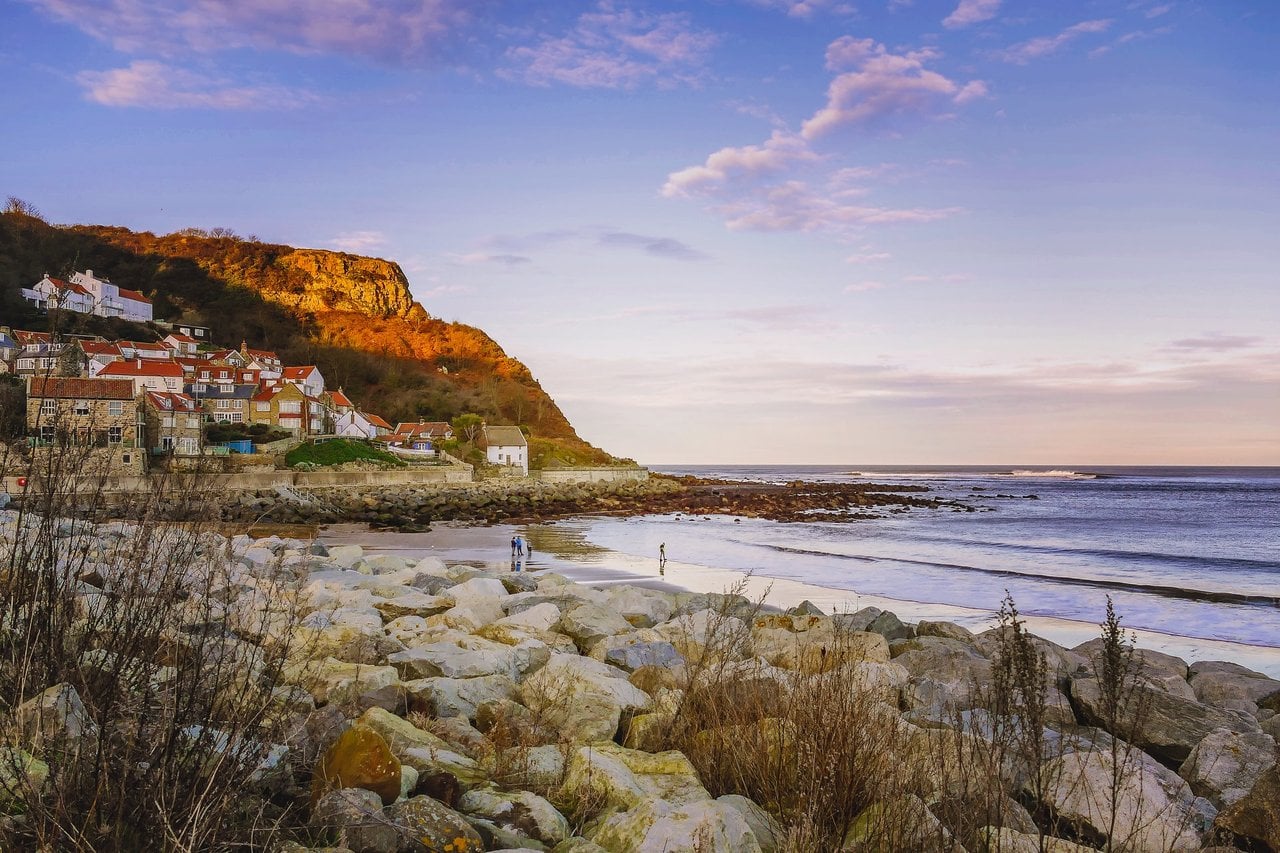 First up is Runswick Bay, arguably the most picturesque beach on the Yorkshire coast. It's a sheltered bay with a sandy beach and calm waves, making it a perfect holiday destination for families! In summer you're able to hire paddle boards so if you're brave enough you can paddle out into the water.
If you're not into watersports then why not try out your fossil-hunting skills and go on the hunt for the ancient fossils that are scattered around the bay. Many rock pools also lie within the bay during low tide and kids love paddling them and going on the search for tiny rockpool creatures.
Just behind the beach you'll find the charming village of Runswick Bay, packed with vibrant red roof cottages that make the bay even more special. Interestingly, this village is home to the only thatched cottage on the Yorkshire coast.
Runswick Bay is situated on the eastern edge of North York Moors National Park, and a trip here wouldn't be complete without taking a scenic coastal walk through the national park. I personally recommend the Runswick Bay to Staithes coastal walk, which is absolutely gorgeous!
Whitby West Cliff Beach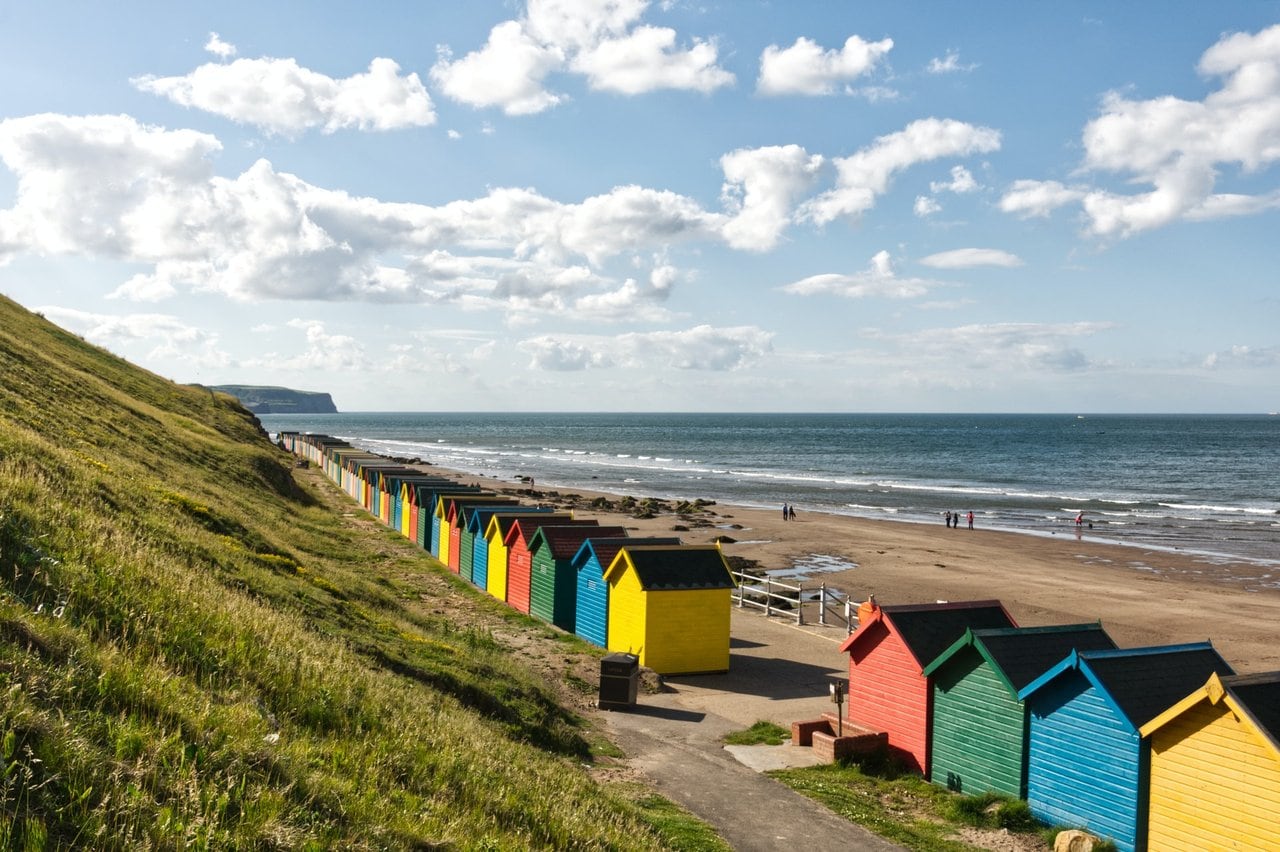 The Yorkshire coast wouldn't be the same without Whitby West Cliff beach. It's the main beach in Whitby, the coast's most popular town, which in turn makes it the Yorkshire Coast's most buzzing and popular beach!
Whitby has ancient history that dates right back to AD 657, and you'll notice plenty of historical features on your visit to the town such as its cobbled pathways and Victorian houses.
The West Cliff Beach is a 2-mile long stretch of sand, which leaves plenty of room for all of its visitors. It stretches from the Whitby's West Pier up to Upgang, where it merges with Sandsend beach. 
There's also a smaller beach in Whitby, Tate Hill beach, which is on the east side of the River Esk and stretches from the East pier to Tate Hill Pier. Tate Hill Beach, unlike West Cliff, is dog-friendly all year round.
Whitby's array of restaurants, pubs and hotels make it an ideal seaside getaway in Yorkshire for couples and families. If you visit in summer be sure to head over to the West Pier where you'll find fairground rides and food stalls.
In summer there are also seasonal cruises that take tourists out into the North Sea in search of whales and dolphins!
Filey Bay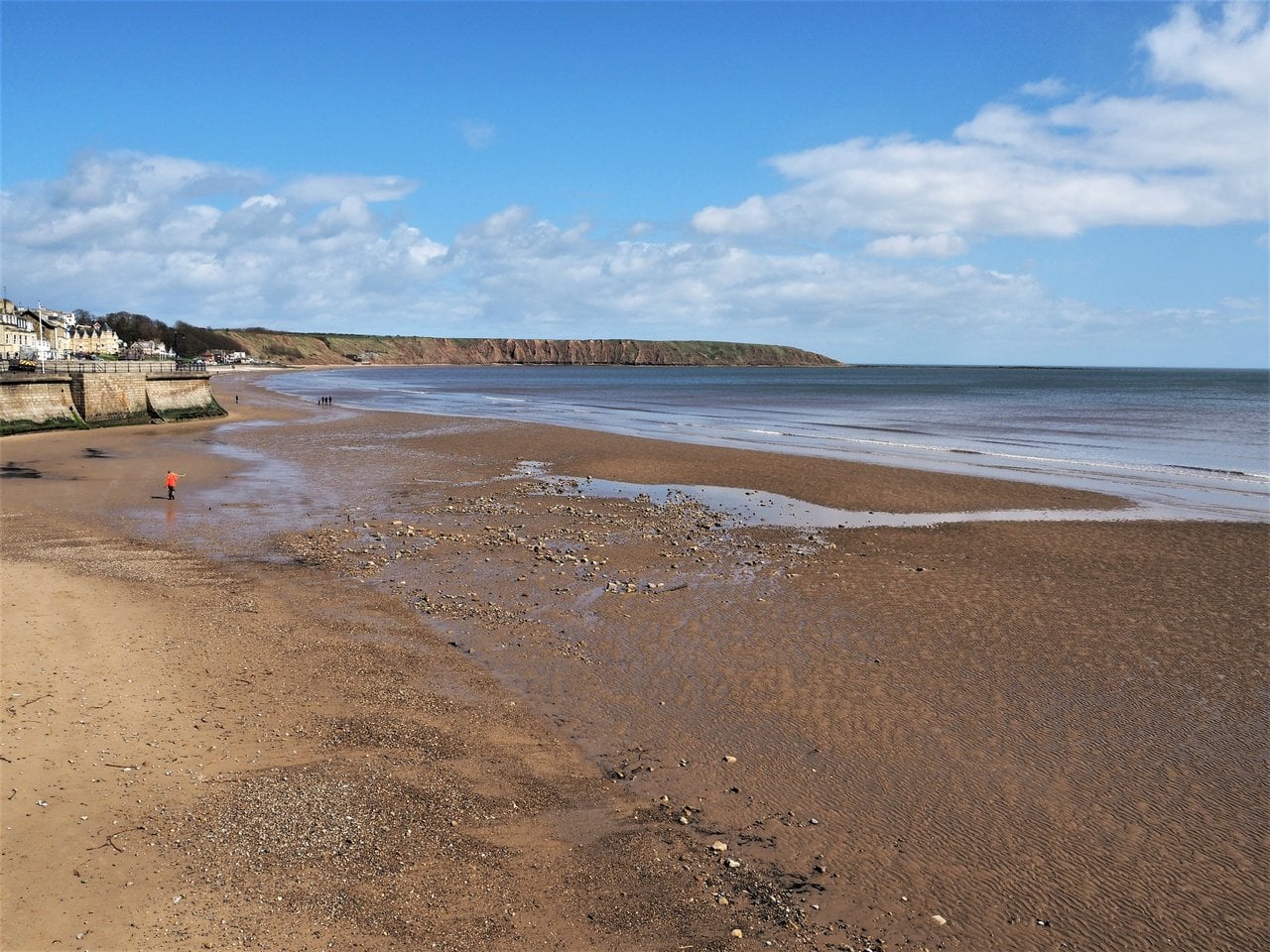 Filey Bay is a golden stretch of sand located just below the North York Moors National Park and is much quieter than the other beaches on this list. This could be because the bay stretches for over 5 miles, though, so it would be easy to feel like you're the only person on the beach! 
The bay itself nestles between the headlands of Brig to the north and Flamborough Head to the South. Not only is the beach long, but it is very wide. At low tide, it can be over a quarter of a mile wide!
It's at the northern end of the bay that you'll find the town of Filey, which is why it is often busier here than at the southern end. If you want to get away from everybody, the southern end can be a wonderful spot for a quiet walk with your family or dog.
Once you've finished exploring the beach I recommend wandering into the town of Filey, which is full of local independent pubs, grocery stores and (most importantly!) great fish and chip shops.
Scarborough Beach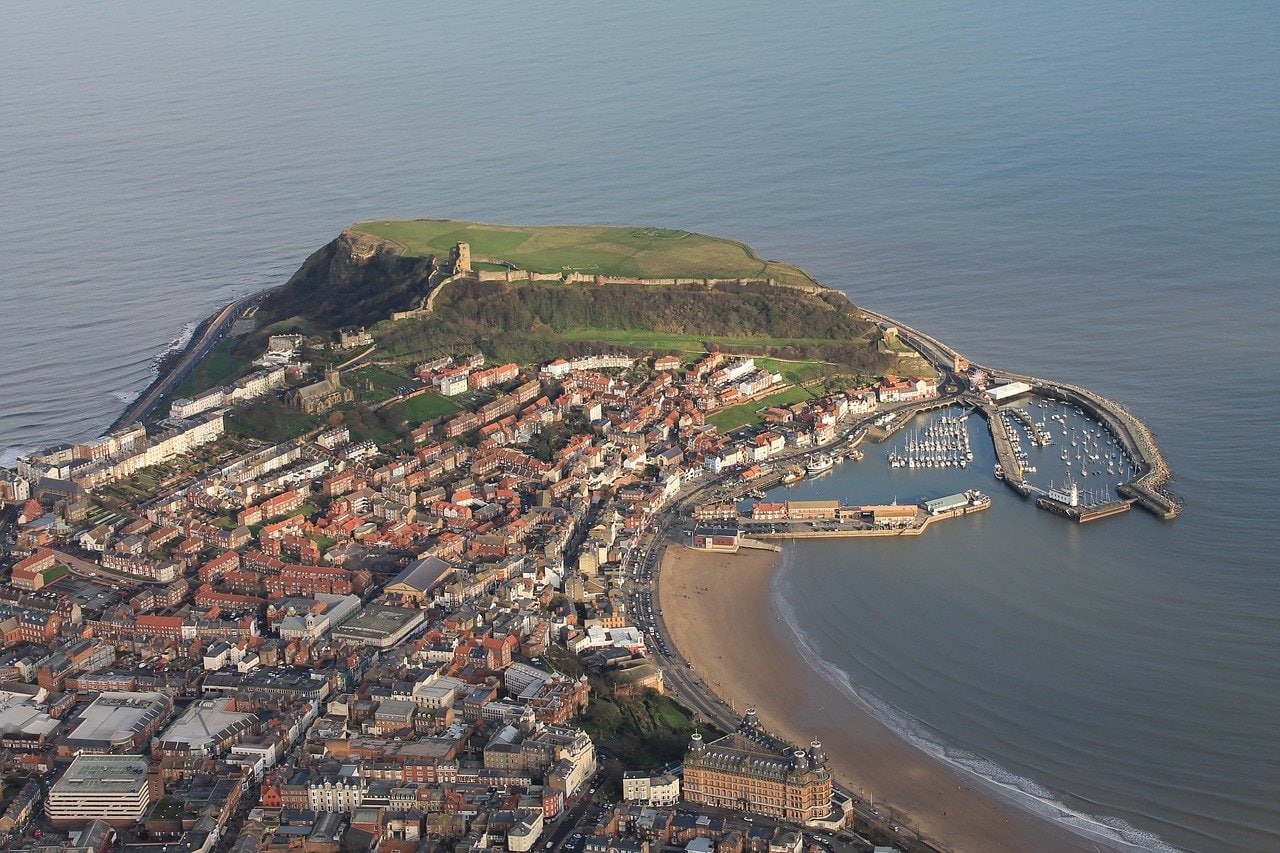 Scarborough Beach is famous, or infamous, in the UK as the stereotypical British beach. You'll find this beach in Scarborough, which you've probably heard of as being a run-down seaside town. However, don't let the rumours deter you!
Scarborough can be a tonne of fun if you visit with an open mind, and it's the best place on the Yorkshire Coast to go to for old-fashioned family fun.
In terms of beaches, there are actually two bays that make up Scarborough beach. A headland separates the North and South bays, and on this headland you'll find the 12th-century Scarborough Castle. If you have extra time in Scarborough a visit to the castle is essential!
Scarborough Beach itself is praised by tourists for its surprisingly clear waters. You can also take a donkey ride here, similar to many other Yorkshire beaches (but just make sure they look well taken care of first). 
If you're even more adventurous you can paddle out into the bay and catch some waves on your surfboard. Scarborough is one of the only places you can surf in Yorkshire, and, if the conditions are right, you can hire surf equipment or sign up for a surfing lesson. 
It may surprise you that Scarborough beach is on this list of the best beaches in Yorkshire, but it really does have a lot to offer!
Robin Hood's Bay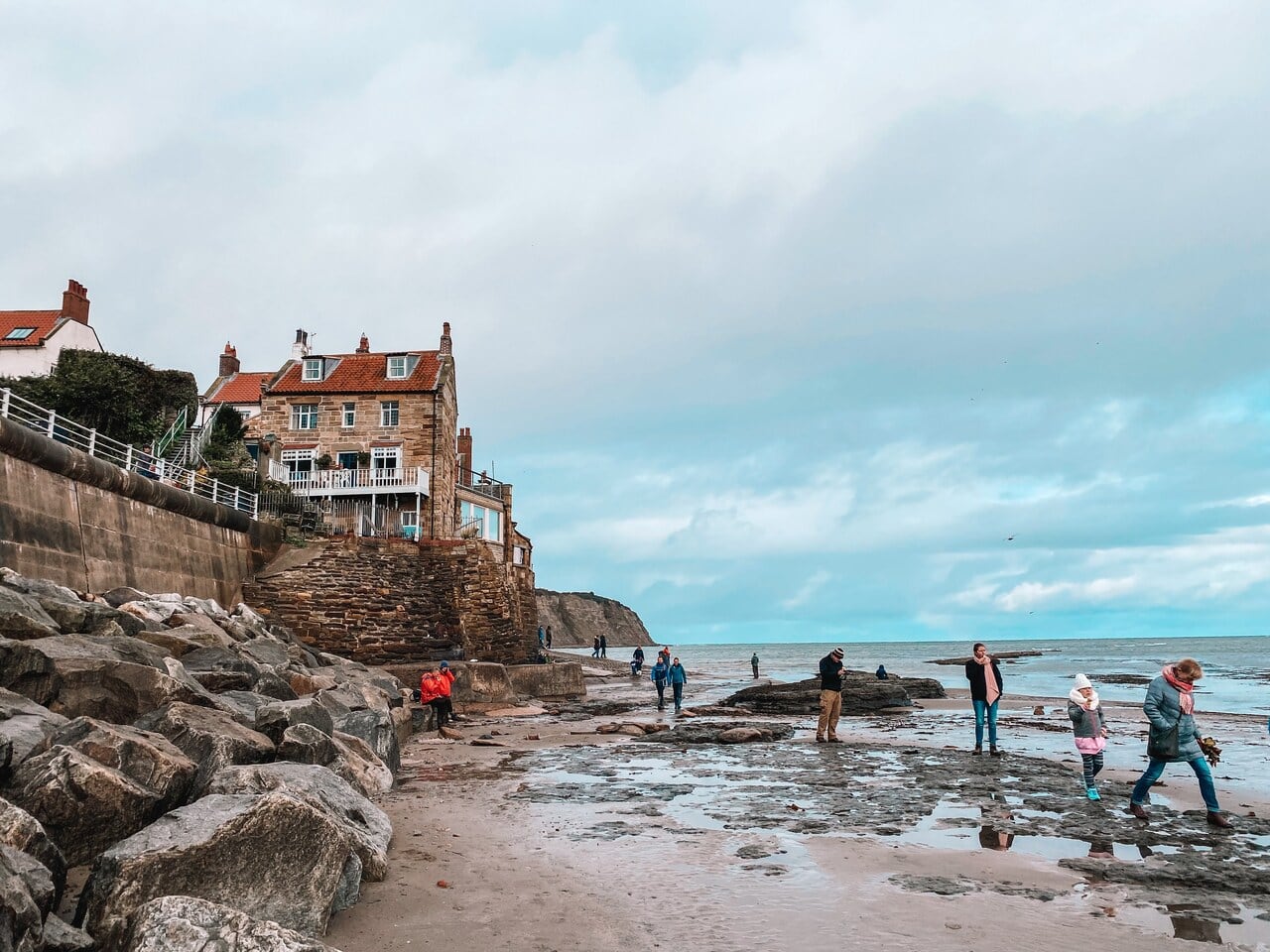 Robin Hood's Bay is one of the most well-known beaches in Yorkshire, and the small fishing village of the same name is a very popular place for tourists to visit on the coast. It's 15 miles north of Scarborough bay, so you could even combine a trip to both beaches. 
The sandy beach is both family and dog friendly and boasts an impressive amount of rock pools and ancient fossils on its shores. It's also a common place to see Seals and Bottle-Nosed Dolphins.
Robin Hood's Bay has a fascinating, crime-filled past as it was once the centre of Yorkshire's smuggling trade that exploited the bay's presence in the North Sea.
Today, Robin Hood's Bay is a cosy, historic village, and you'll love exploring its winding and cobbled alleyways. It's a beautiful village with an array of small local shops, cafes and restaurants. If you'd prefer to get out in the open air, then try one of the scenic coastal walks that can be taken from the bay.
Spurn Head Beach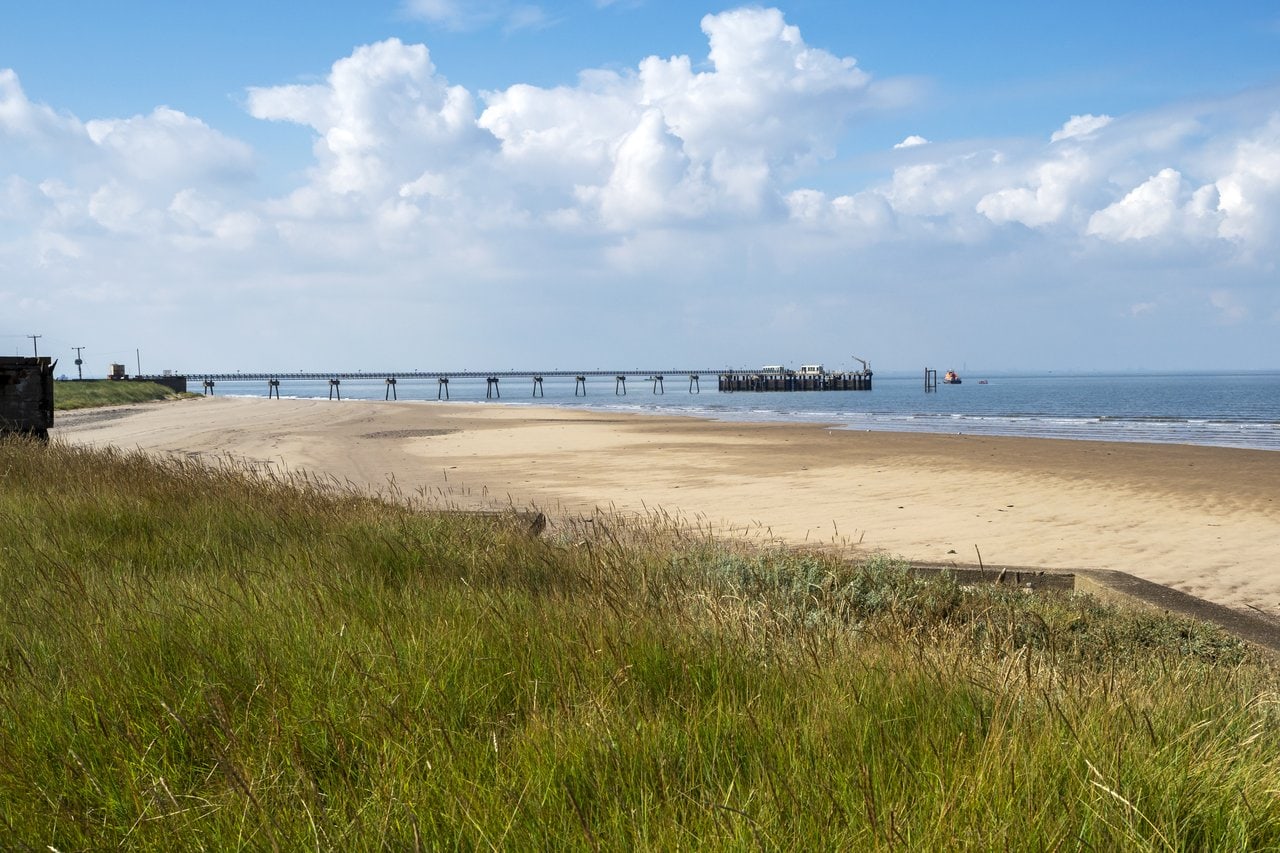 Situated on the tip of the coast of the East Riding of Yorkshire, the Spurn Head beach is a 3-mile narrow stretch of golden sand that runs along a sand spit. The spit then extends all the way out into the Humber Estuary.
Spurn Head Beach is one of the most unusual but beautiful beaches in Yorkshire. It's constantly evolving, and frequently changes its shape thanks to a natural process called longshore drift. Because of this process, it can often feel like you're on an island when you're at Spurn Head Beach! 
Due to its natural quirks, the beach has been named a Site of Special Specific Interest. Unfortunately, though, you can't swim at this beach because the tidal currents are strong and can easily sweep you out to sea. 
Given its role as a protected area, dogs are also not allowed here. I know, it sucks, but a trip to Spurn Head Beach will definitely be worth it even if you have to leave your furry friend at home!
Saltwick Bay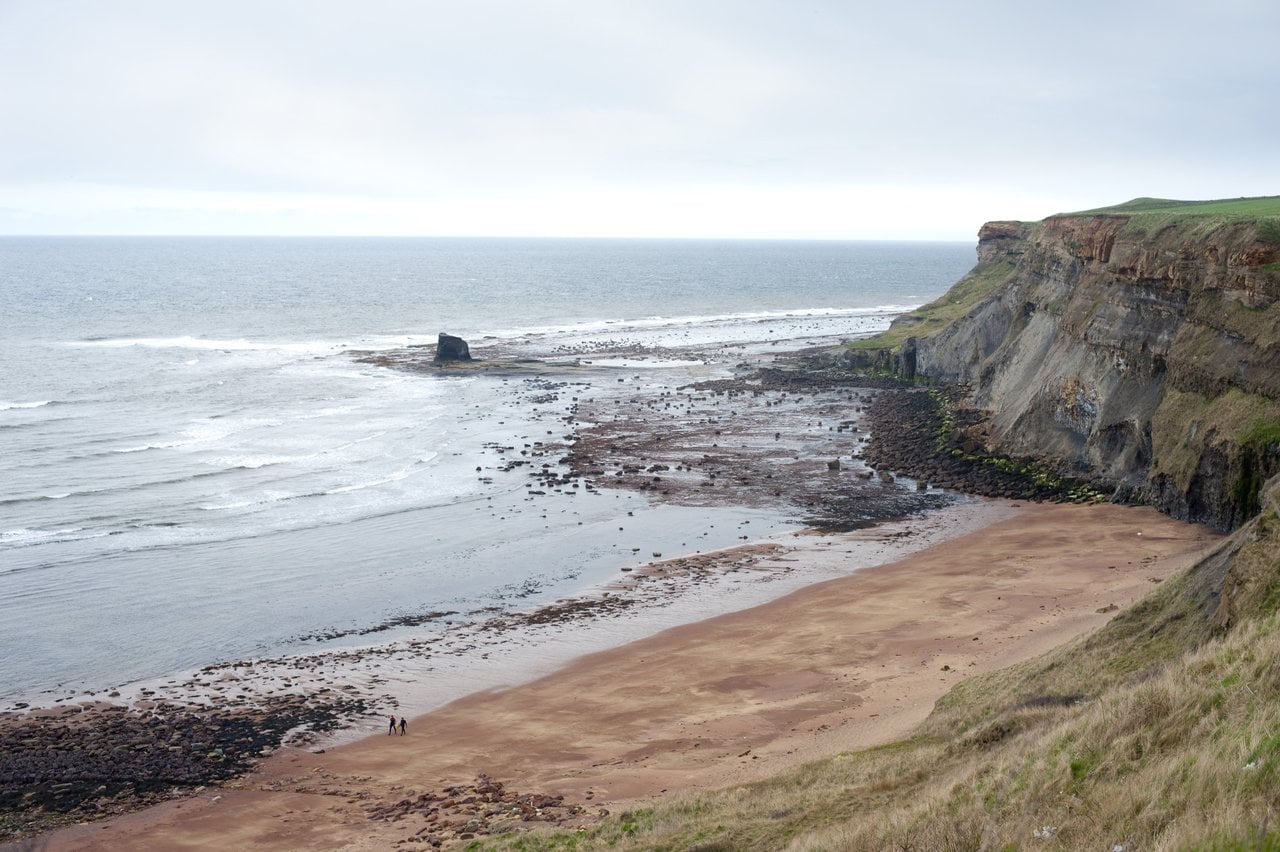 A breath-taking bay on the Yorkshire coast, Saltwick Bay has huge geological and historical importance. It's only 1.5 miles away from Whitby, but instead of driving between the two you absolutely can't miss the 3-mile round-trip walk. The views you get of the Yorkshire coastline on this route are incredible!
On the rugged Saltwick Bay beach you'll find some areas of sand and other areas of shingle. If you can find a secluded sandy spot make sure to take advantage of it by taking a seat and watching the world go by. 
On the beach you'll also find the Admiral van Tromp shipwreck, which has been lying on Saltwick Bay beach since 1976, under quite mysterious circumstances. In fact, a senior nautical engineer at the wreck's inquest said the ship could not have been wrecked unless somebody had done it deliberately!
Saltwick Bay is a hidden gem and not many tourists venture here since it's so isolated. It also doesn't have the typical tourist-friendly facilities that you'll find at other beaches on the Yorkshire coast. 
Who cares about facilities, though. Adventure is more fun anyway! 
---
Looking for more awesome places to visit in Yorkshire? Then you'll love my epic Yorkshire bucketlist post!