There is a good chance that this post contains affiliate links. If you make a purchase through them, I may receive a small commission at no extra cost to you! As an Amazon Associate, I earn from qualifying purchases. As ever, all opinions are my own.
Poznań is one of the most underrated cities in Poland, which I had the pleasure to discover for myself during my trip there a couple of months ago.
It's the perfect place to spend a day or two. It also feels more off-the-beaten-path than most other tourist destinations in Poland.
However, there aren't a million things to do in Poznań. If you're looking to extend your Poznan itinerary, chances are you'll want to know where the best day trips from Poznań are. 
Poznań is in a surprisingly remote area of Poland. Unfortunately, that means it's quite a journey away from most of the country's tourist attractions. That said, there are still some very solid options for day trips from Poznań, which we'll go over today! 
1. Bydgoszcz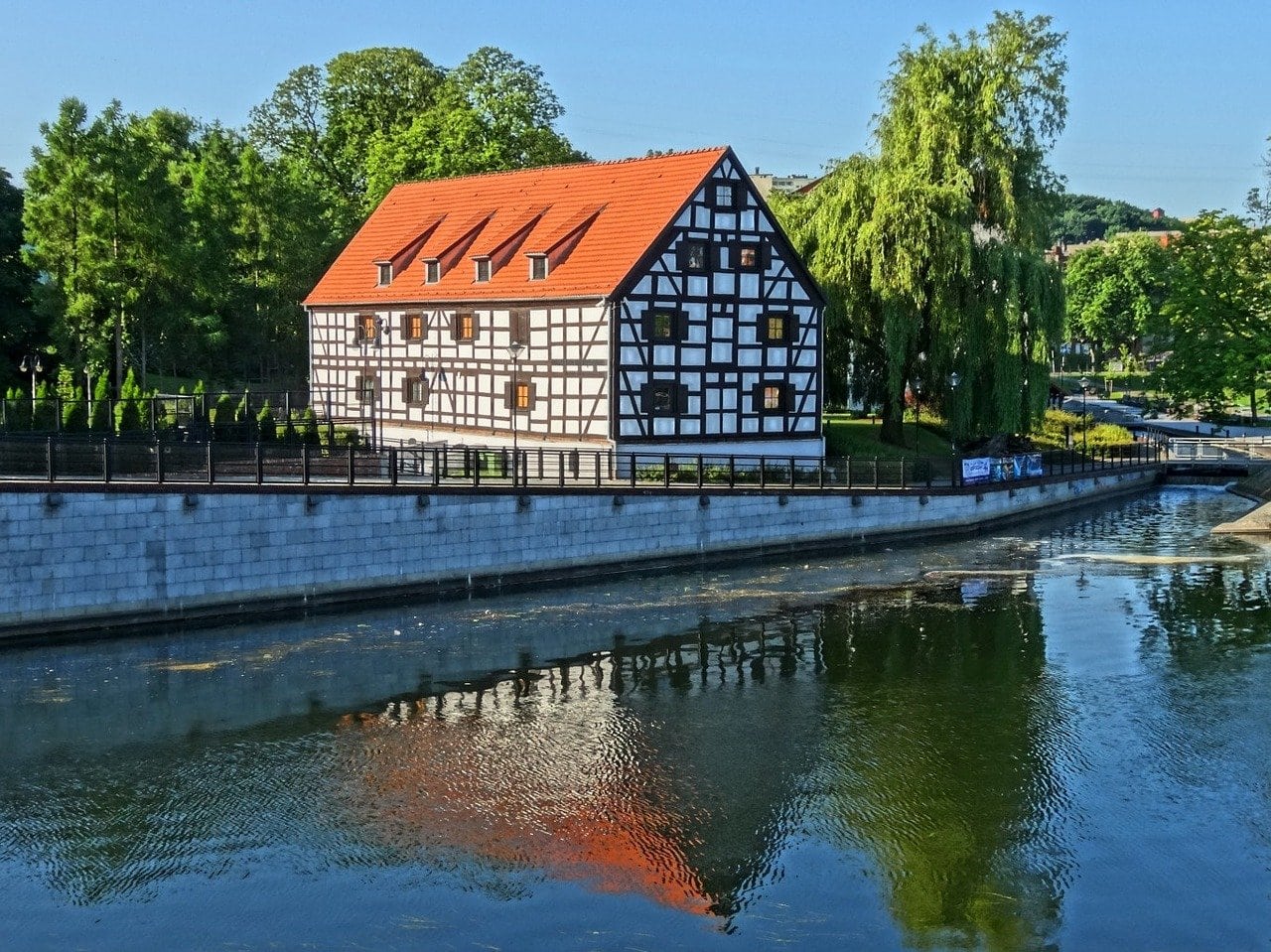 Bydgoszcz (pronounced Beed-Goshed) is probably the easiest of all of these day trips from Poznań. You can travel between the two cities on a direct train, and the journey only takes around 90 minutes.
Is Bydgoszcz worth visiting? Absolutely! Despite its beauty, the city remains a well-kept secret. Bydgoszcz is situated on 12 islands of the Odra River, and has around 200 bridges, earning it the nickname "the Venice of Poland".
The best way to start a day trip to Bydgoszcz is by exploring its old town, which has plenty of historic and beautiful buildings. You should also not miss visiting the bizarre Museum of Soap and the History of Dirt, which is the city's number 1 tourist attraction!
Another unique museum to visit in Bydgoszcz is the Exploseum.
This former Nazi explosives factory is now an interactive museum that documents the weaponry and explosives used in WW2, as well as providing lots of additional information about the resistance movement. 
All information at the museum is in Polish so make sure you have the Google Translate app. That way, you can get on-screen translations through your camera.
2. Wrocław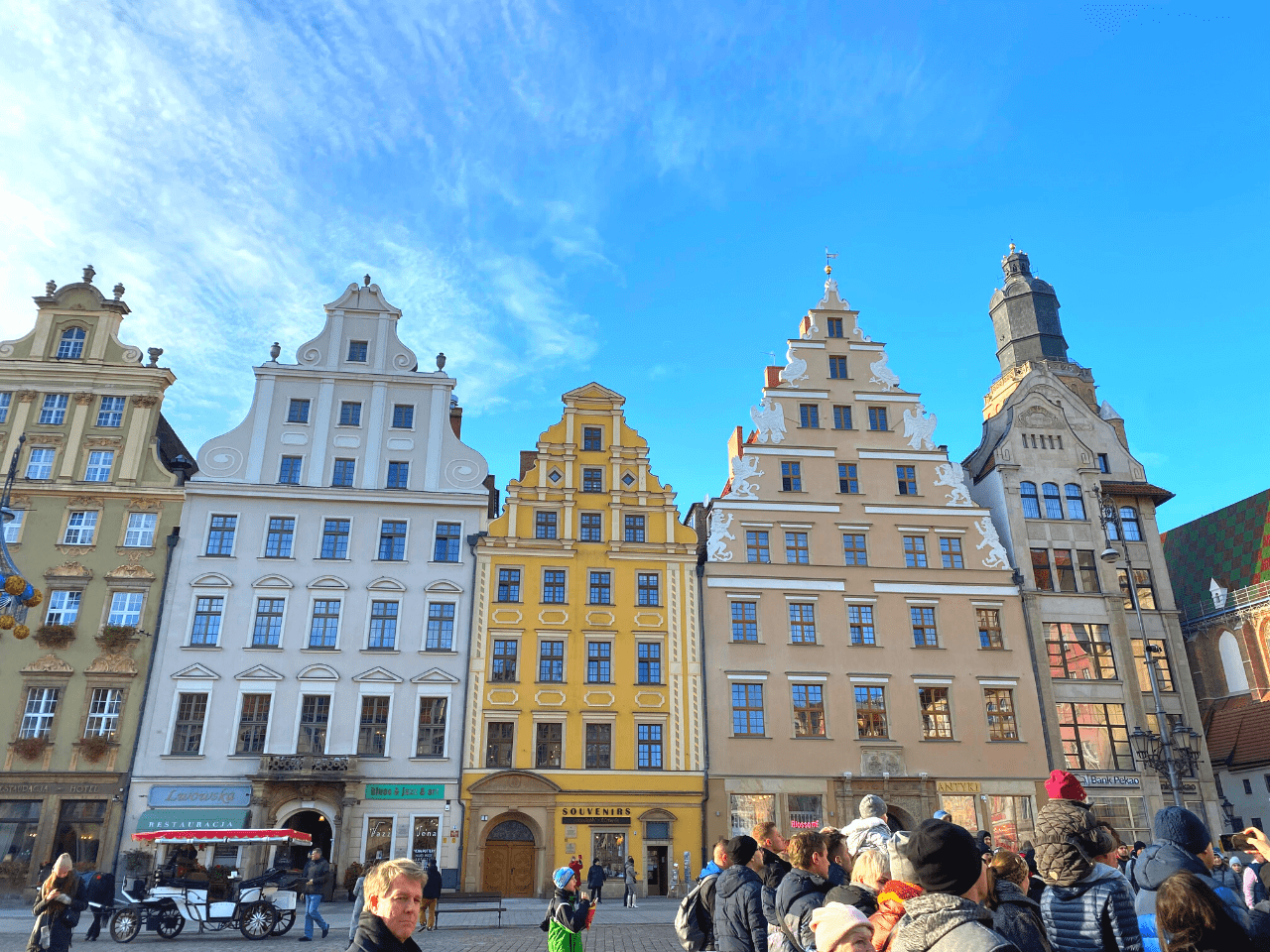 Wrocław (pronounced vrohts-wahf) is probably my favourite city in Poland! It's also another Polish destination that's not on the typical tourist trail. You can get here by direct train from Poznań, and the journey takes just 1 hour and 50 minutes each way.
Wrocław's old town is totally gorgeous and is definitely worth spending an hour or so walking around. Stay on the lookout for gnomes! These tiny figures are scattered all around the city's floors and buildings.
Interestingly, they were originally a symbol of resistance against the Soviet occupation of the city.
My favourite thing to do in Wrocław is the Racławice Panorama – but I had such low expectations when I visited! This huge (and I mean HUGE) panoramic painting of the Battle of Racławice (1794) makes you feel like you're standing right on the battlefield.
It's a fascinating experience, and an essential stop on any Wroclaw itinerary!
If you're visiting Poland in December, don't miss the Wrocław Christmas Markets – they're some of the best Christmas Markets in Poland!
Don't miss eating at Konspira whilst in Wrocław. I loved it so much that I returned the very next day! This restaurant, which always has a queue, serves some of the heartiest and cheapest traditional food in Poland.
It even has a secret dining room decorated in Soviet-era furnishings!
3. Warsaw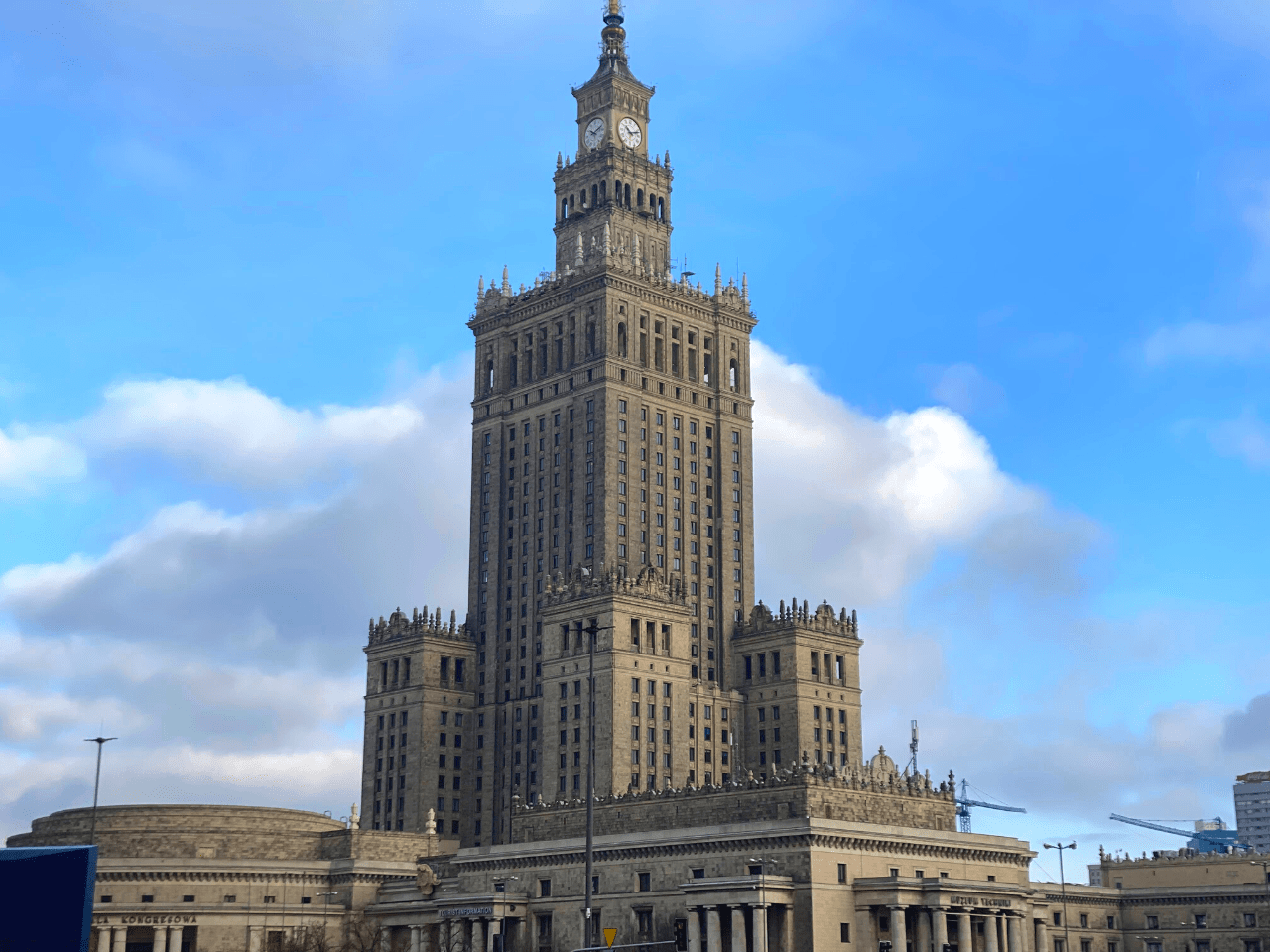 You may be surprised to see the Polish capital on this list of day trips from Poznań. After all, it's over 300km away! However, thanks to the fast, direct train between the two cities, a day trip to Warsaw from Poznań is just about doable. 
The train journey takes around 2 hours and 49 minutes. If you're willing to get up super early and get home late it's definitely worth considering!
One day is actually the perfect amount of time to spend in Warsaw, in my opinion. The city had to be rebuilt pretty much from scratch after WW2, so aside from its beautifully reconstructed old town you won't find many historic or pretty buildings here.
Since you'll arrive at the train station your first stop should be a visit to the intimidating Palace of Culture and Science. This building looks every bit the Soviet monstrosity it's famous for being.
It's worth visiting though – the views over Warsaw from its 30th-floor viewing platform are astounding. 
The Warsaw Uprising Museum is an essential stop on any Warsaw itinerary, and you'll need at least a couple of hours to peruse its thought-provoking exhibitions.
If you have time you should definitely also head to the POLIN Museum of the History of the Polish Jews.
4. Kórnik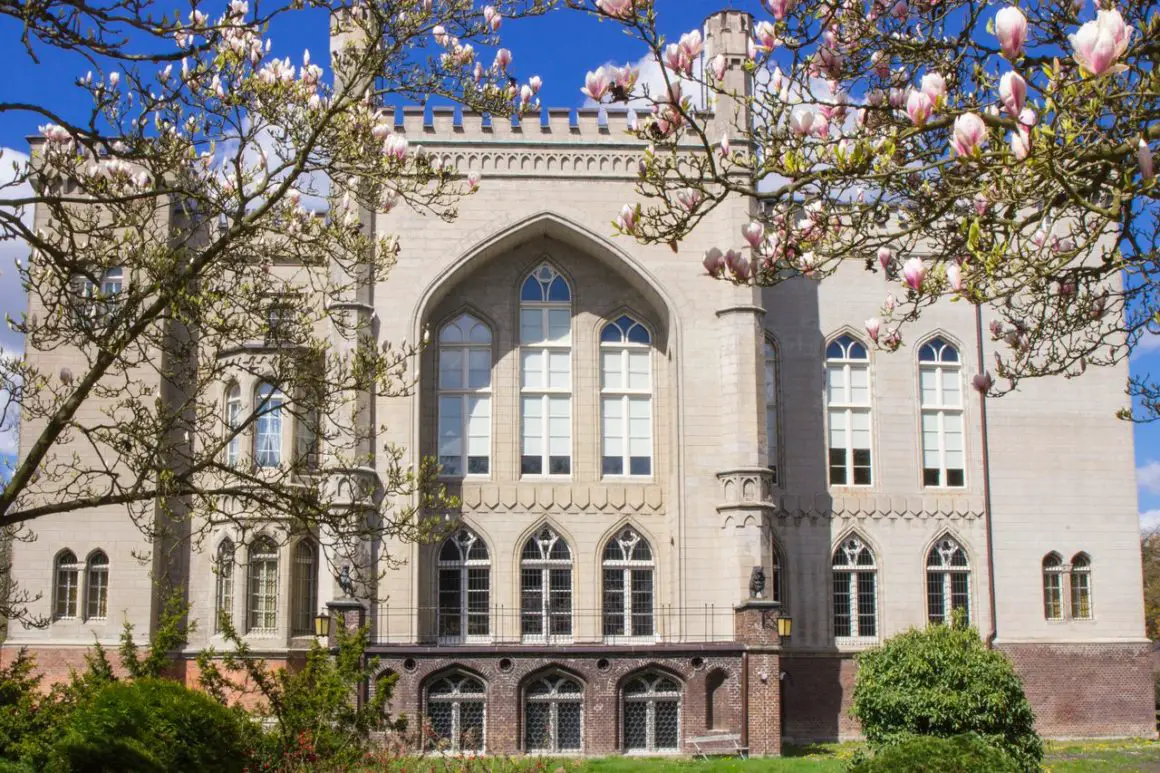 Kórnik Castle, in the town of Kórnik, is the perfect half-day trip from Poznań if you want to explore one of Poland's lesser-known landmarks. 
It takes about 90 minutes to get there via public transport from Krakow. The journey includes taking the Line 16 tram from Poznań to Franowo, where you catch the 501 bus to Kórnik.
Kórnik Castle was built in the 14th-century and rebuilt in the Renaissance style in the 16th-century. Today at the castle you can visit a number of the castle's rooms as well as the castle museum which exhibits some of the pieces from the castle and other artefacts.
5. Chelmno Kulmhof Concentration Camp
Auschwitz-Birkenau is undoubtedly the most notorious concentration camp in Poland, but it's a little too far away to visit on a day trip from Poznań. For that reason, you should visit Chelmno Kulmhof Concentration Camp.
Chelmno Kulmhof is around a 90-minute drive from Poznań, and, if you don't have a car, you can get there with this tour company.
Obviously, a visit to a concentration camp is pretty awful, but many people also feel like it's necessary and important to go.
Chelmno Kulmhof operated from autumn of 1941 until April of 1943 and was the concentration camp where the majority of the inhabitants of the Łódź ghetto were sent. 
6. Gniezno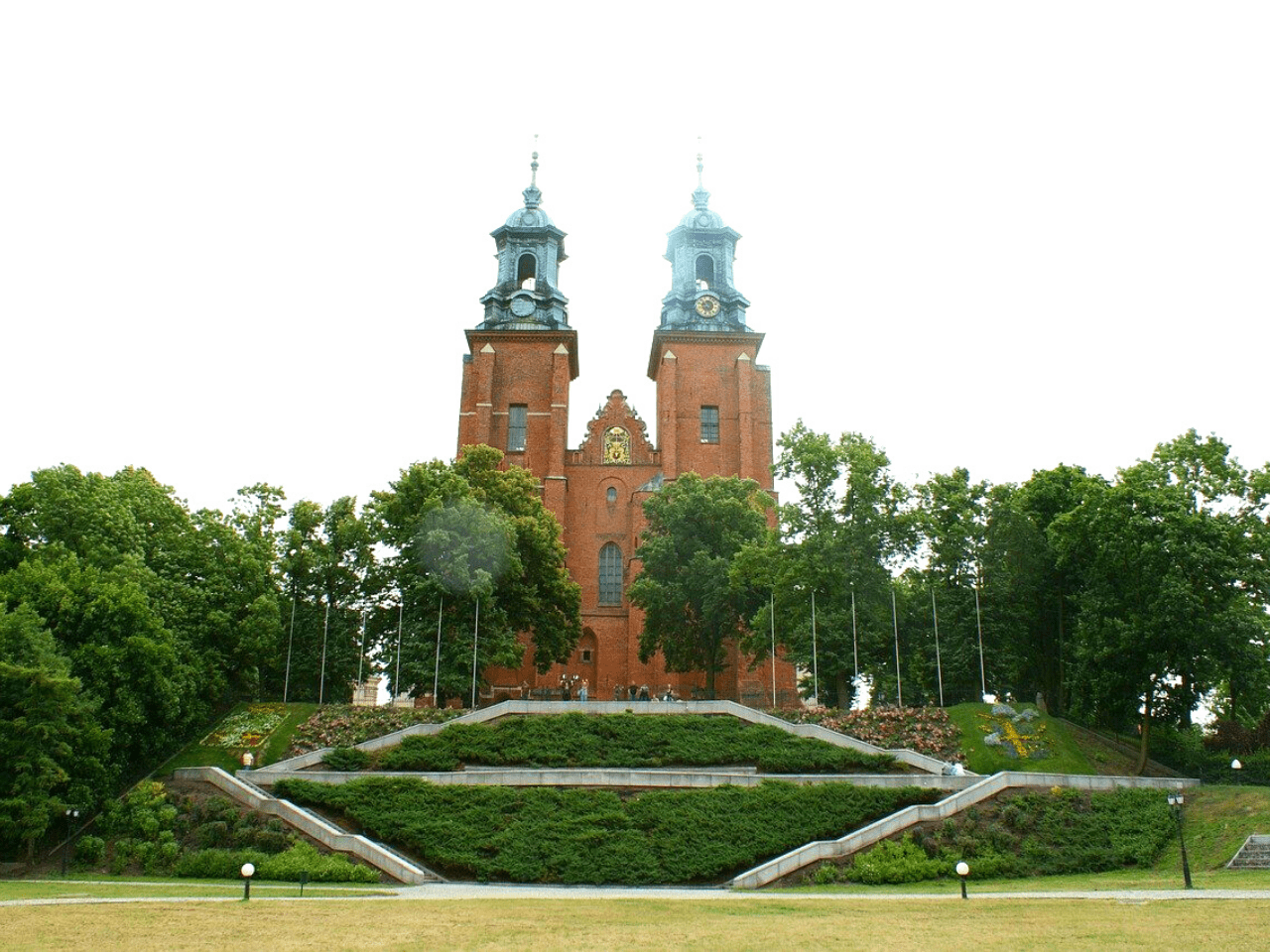 The city of Gniezno was the first capital of Poland in the 10th and 11th centuries and has been the place where many important events in Poland's history have taken place.
It's super easy to visit on a day trip from Poznań, as the direct train between the two cities takes just 30 minutes.
There aren't many things to do and see in Gniezno, so it's probably better suited to a half-day trip. That said, during your visit don't miss visiting the Basilica of the Assumption of the Blessed Virgin Mary.
This cathedral has been standing since the 10th century, and it's where many ancient Kings of Poland were crowned. This includes the first Polish coronations – Boleslaw Chrobry and Mieszko II, both of which took place in 1025.
Another one of the best things to do in Gniezno is the Museum of the Origins of the Polish State, which contains a variety of excavated objects documenting the history of early Poland.
If you're into history, visiting this museum in Gniezno is one of the best day trips from Poznań!
7. Berlin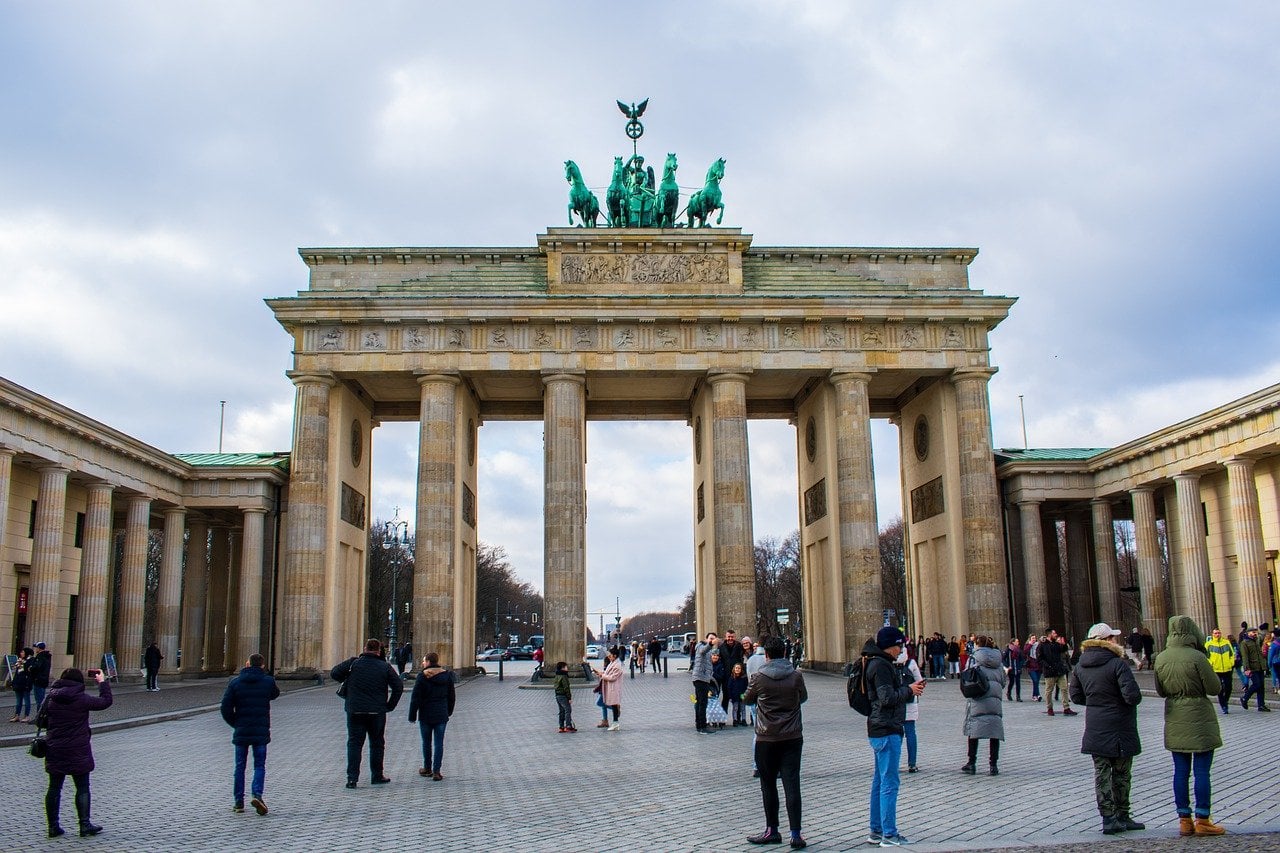 Another perhaps surprising suggestion when it comes to the best day trips from Poznań is actually Berlin, Germany! Be warned, though: the fastest train journey takes around 2 hours and 40 minutes, so this will be a very long day trip!
As the capital city of Germany, Berlin has enough awesome attractions to fill a few days. However, if you only want to sample the city you can just about do it in one day.
Be warned, though, that the cost of travel in Berlin is far higher than the prices in Poland that you'll be used to!
Top sights you can't miss in Berlin include Checkpoint Charlie, the Brandenburg Gate, the Jewish Memorial and the Reichstag Building. Those attractions alone will probably fill a full day in Berlin.
Just make sure you leave time to enjoy some traditional German sausage (Wurst) for lunch!
Unlike Poland, Germany's beer drinking age is 16, so if a few members of your group are underage in Poland they may particularly enjoy Berlin!
If you still have time, I highly recommend going to the DDR Museum. This fun and fascinating museum teaches you all about life in East Germany during the time of the Berlin Wall.
It's a must-visit if you're interested in things like that and I had a blast here!
---
As you can see there aren't a tonne of day trip options from Poznań since it's in a more isolated region of Poland. However, if you're willing to have a very long day there are some awesome day trip options further afield! 
If I had to take my pick of the best day trip from Poznań it would be Wrocław – I fell in love with this awesome, affordable city!