There is a good chance that this post contains affiliate links. If you make a purchase through them, I may receive a small commission at no extra cost to you! As an Amazon Associate, I earn from qualifying purchases. As ever, all opinions are my own.
Last Updated on July 5, 2022 by Ella
The thought of strolling around a Christmas market, sipping mulled wine and shopping for trinkets in the snow is what winter travel dreams are made of!
Thousands of tourists flock to Germany and Austria every year to visit their world-famous Christmas markets, and have the perfect festive getaway. However, barely anybody makes their way to Poland for Christmastime!
In fact, many people aren't even sure whether or not Poland has Christmas markets!
The good news is, Poland definitely does have Christmas markets, and they're wonderful! Not only are there plenty of Christmas markets in Poland, but, given the weather during winter in Poland, you're almost certain to see some snow.
If that wasn't enough, a trip to see the Christmas markets in Poland is far cheaper than other Christmas destinations in Europe.
We also need to mention the lack of crowds. One of the worst parts of visiting a Christmas Market is being crammed in like a sardine with hundreds of other visitors. In Poland, though, you won't have that issue! Since so few international visitors head to see the Christmas markets here, you'll get to enjoy them with far fewer crowds. 
Hooray!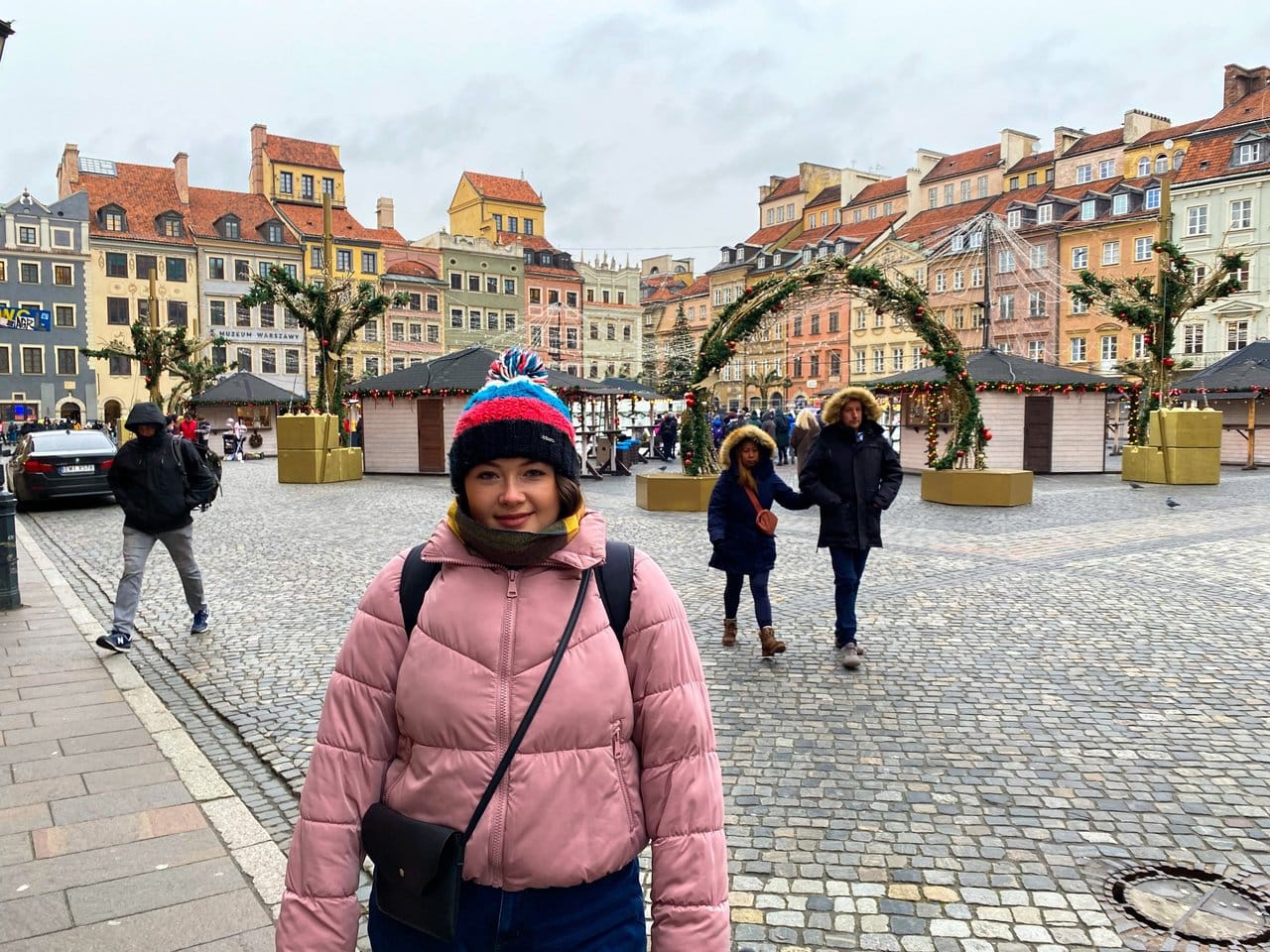 Christmas Markets in Poland in 2021
We can't really talk about Christmas Markets in 2021 without checking that they're even open…
It's been yet another nightmare year for Christmas Markets in Europe, with many of the world's most famous ones cancelled for the second year in a row. This has thrown so many travel plans into disarray – mine included!
I originally planned to visit the Munich and Nuremberg Christmas markets in 2021. When I heard that they had been cancelled, I was absolutely gutted, and had just over 24 hours to plan and book a completely new Christmas Markets trip to a country where the Markets were well and truly open.
I can personally confirm that the Christmas Markets in Poland in 2021 are open because I have just returned home from my very own Polish Christmas market trip! I had an amazing time, and really couldn't recommend Poland enough if you want to visit Christmas Markets in 2021.
Now that I've convinced you to visit the Christmas Markets in Poland, here is my list of the very best ones to visit during your trip! 
The Best Christmas Markets in Poland
Wrocław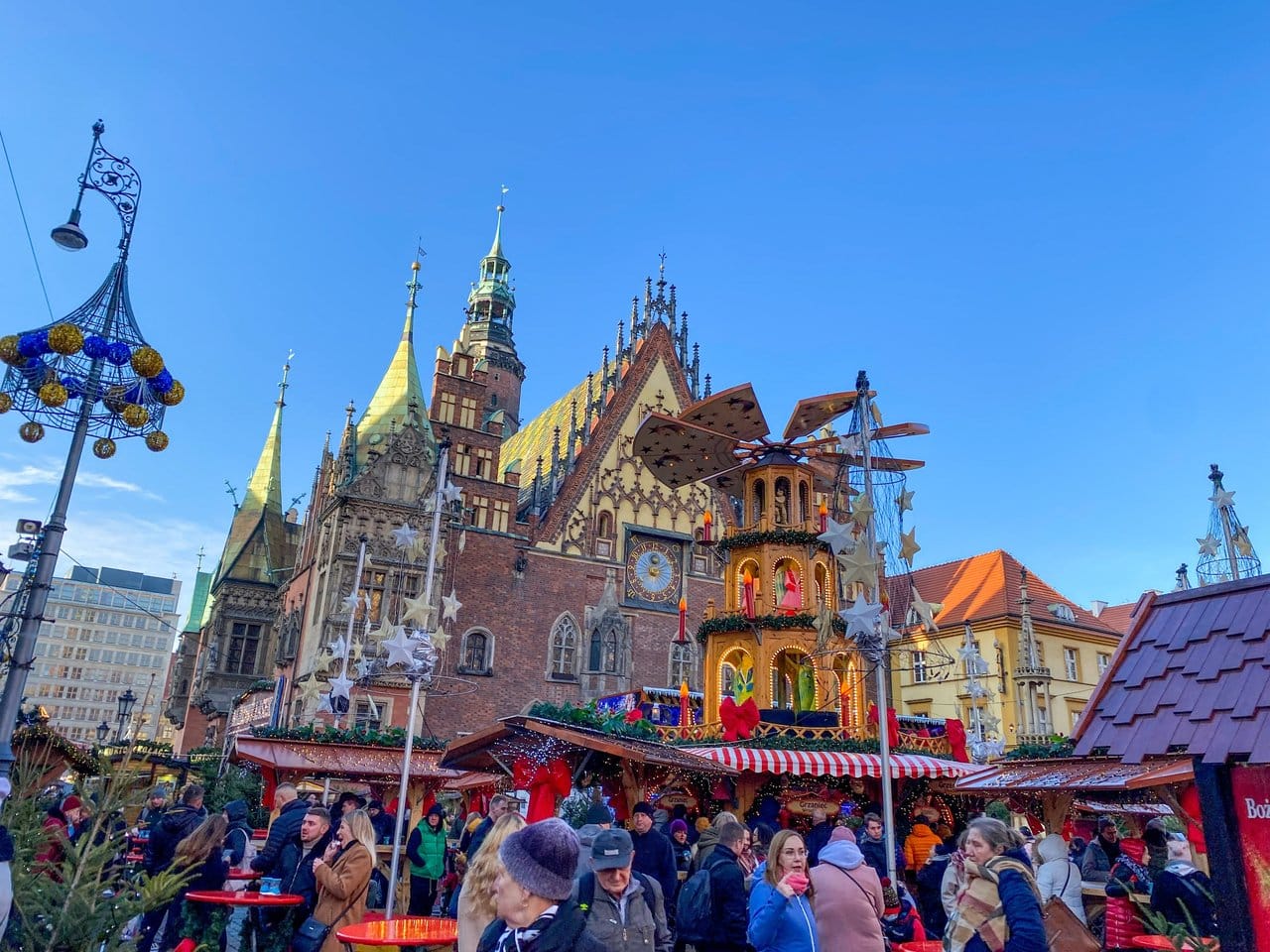 If there's only one Christmas Market that you visit in Poland, it should be Wrocław!
This Christmas Market is HUGE, and has absolutely everything you could want. We're talking cute Bavarian-style beer huts, sausage stands, kids' rides, sweet treats, and lots of stalls selling Christmassy and locally made trinkets.
The Old Town of Wrocław is unbelievably gorgeous – I couldn't believe that I had never heard of the city before my Christmas Markets trip! The Christmas Markets take place in the Old Town, and there really isn't a more beautiful place in the city. The pastel-coloured buildings overlooking the wooden market huts make you feel like you're in a fairytale town. Especially when it's snowing!
Wrocław doesn't make it on to many tourists' Poland itineraries, but it definitely should! The city itself is lots of fun, but Christmas is definitely the best time to visit the city. The Christmas Market really brings it to life!
Every year, the Wrocław Christmas Market releases its unique mulled wine mugs, which are only used for that year of the market. These adorable mugs are the shape of a little boot and have adorable decorations of Wrocław market on them! 
Mulled wine at the market costs 15 PLN and then you pay a 15 PLN deposit for the mug – but if you're fine to part with that 15 PLN you can keep the mug as a souvenir!
Dates: 19 November – 31 December 2021 (closed 24 & 25 December)
Location: Most of the Old Town! (In particular Market Square, Plac Solny and Oławska and Świdnicka Streets)
Where to Stay in Wrocław: I stayed in these brilliant apartments, just a 6-minute walk from the city centre, and highly recommend them! I paid around €40 per night for an apartment, which is just crazy!
Check availability and prices here!
Kraków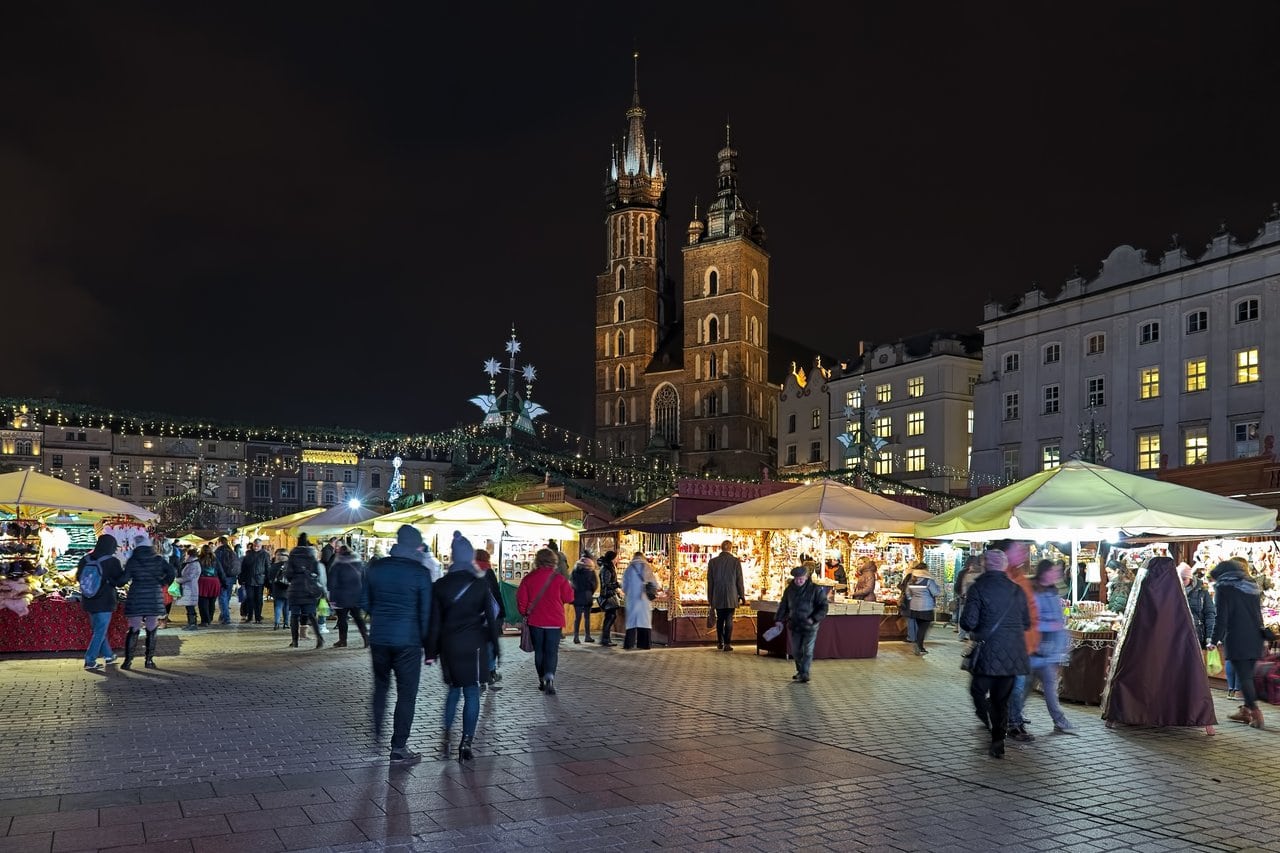 The Kraków Christmas Markets get more and more popular each year, and it's not surprising. Kraków is popular with travellers year-round, but at Christmas the city gets an extra boost as people arrive to explore its huge Christmas Market. In fact, Kraków is probably Poland's most popular Christmas Market.
Read More: The Ultimate 2 or 3 Days in Krakow Itinerary!
You'll find the Kraków Christmas Market in the Old Town square, a place used by market vendors for centuries. Kraków had a long tradition of holding Christmas Markets which unfortunately was put on pause during Poland's communist-era (for, you know, obvious reasons…). Nowadays, the Kraków Christmas Market is back with a vengeance and thriving!
The whole Christmas Market is draped in fairy lights, is delightfully cosy, and offers everything you could want – local crafts, family-friendly attractions, mouth-watering waffles and, of course, mulled wine! To embrace being in Poland, though, why not swap out the mulled wine with a shot of traditional Polish vodka?
Aside from the Christmas Markets, there's enough to do in the city for you to easily fill a weekend. There are also a ton of awesome day trips from Krakow if you want to extend your visit to the city!
Dates: 26 November 2021 – 2 January 2022
Location: Rynek Główny (the Old Town square)
Where to Stay in Kraków: I stayed in a hostel in Kraków, which probably isn't what you're looking for on your Christmas Market getaway. Instead, you definitely need to check out this stunning Aparthotel! It's right in the old town, has a 9.4/10 rating on Booking.com and costs around €45 per night which is a steal! 
Check availability and prices here!
Gdańsk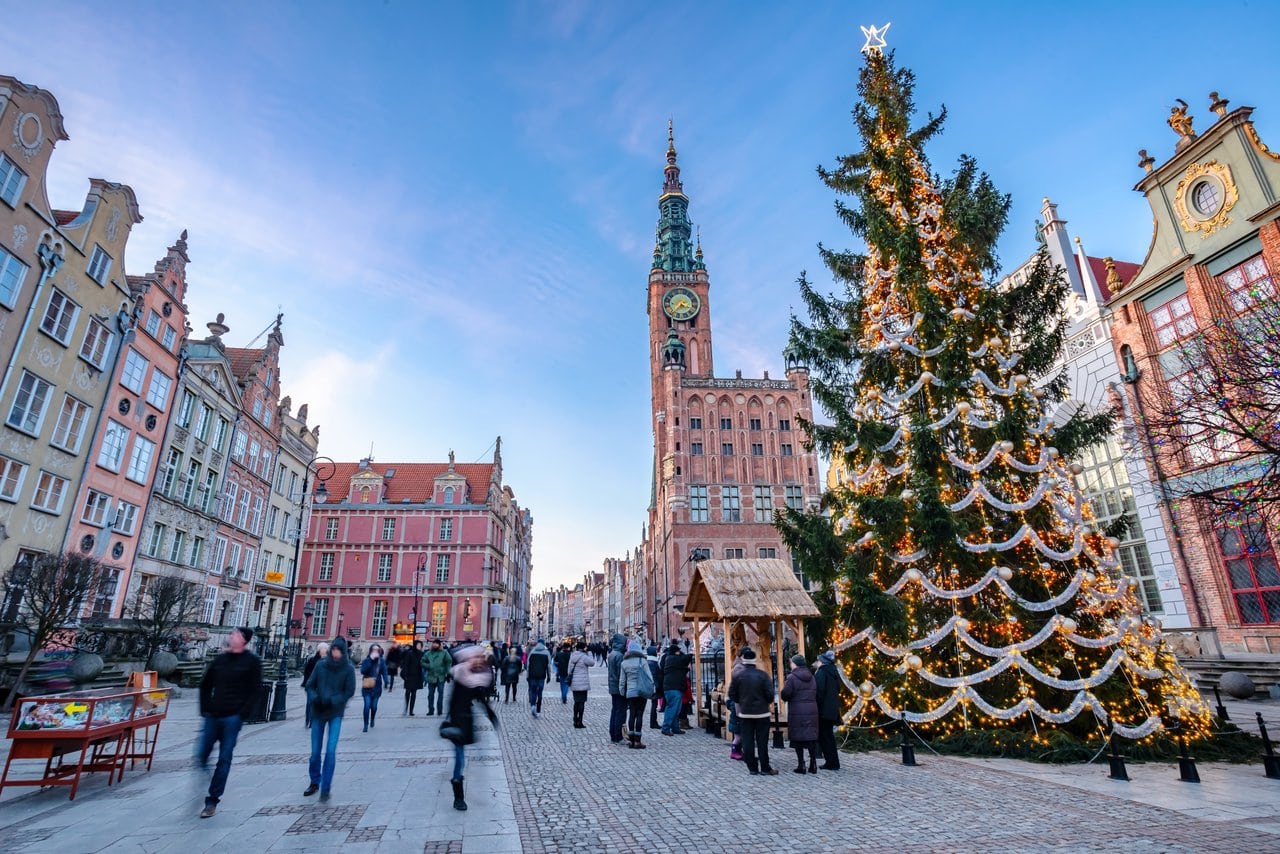 For the perfect mix of traditional and modern Christmas Markets, head to the Polish port city of Gdańsk! It's one of the oldest cities in Poland, but its Christmas Markets contain both the traditional wooden huts as well as an ice rink and a carousel.
Gdańsk Christmas Markets are very popular with international visitors since the city is so well connected with budget airlines WizzAir and Ryanair. For this reason, it could be the ideal budget Christmas Market weekend break!
Every year, the Gdańsk Markets display Christmas trees from all over the world, and the names of streets which form part of the market are renamed to more ones which are much more Christmassy – we're talking 'Cinnamon', 'Angel' and 'Christmas Eve' Streets. So cute!
If you're a foodie you'll find cuisine from all over the world at the Gdańsk Christmas Market. From steaming dishes of Hungarian goulash to Spanish cheese, and Polish Pierogi to German sausages, you definitely need to arrive with an empty stomach!
Gdańsk is probably the best Polish Christmas Market to visit with kids because there are a ton of kid-friendly attractions to keep everybody entertained. As well as the carousel ride, there's the opportunity to meet Santa, an interactive advent calendar, a Ferris Wheel, and, of course, the star attraction of the Gdańsk Christmas Market… Lukek the talking Elk!
Dates: 23 November 2021 – 1 January 2022
Location: Targ Węglowy and the Long Market
Where to Stay in Gdańsk: There are lots of high-quality places to stay for very cheap in Gdańsk, but Gotyk House has got to be one of the best. The building dates back to 1412, and it's absolutely gorgeous! Prices start at around €44 per night.
Check availability and prices here!
Warsaw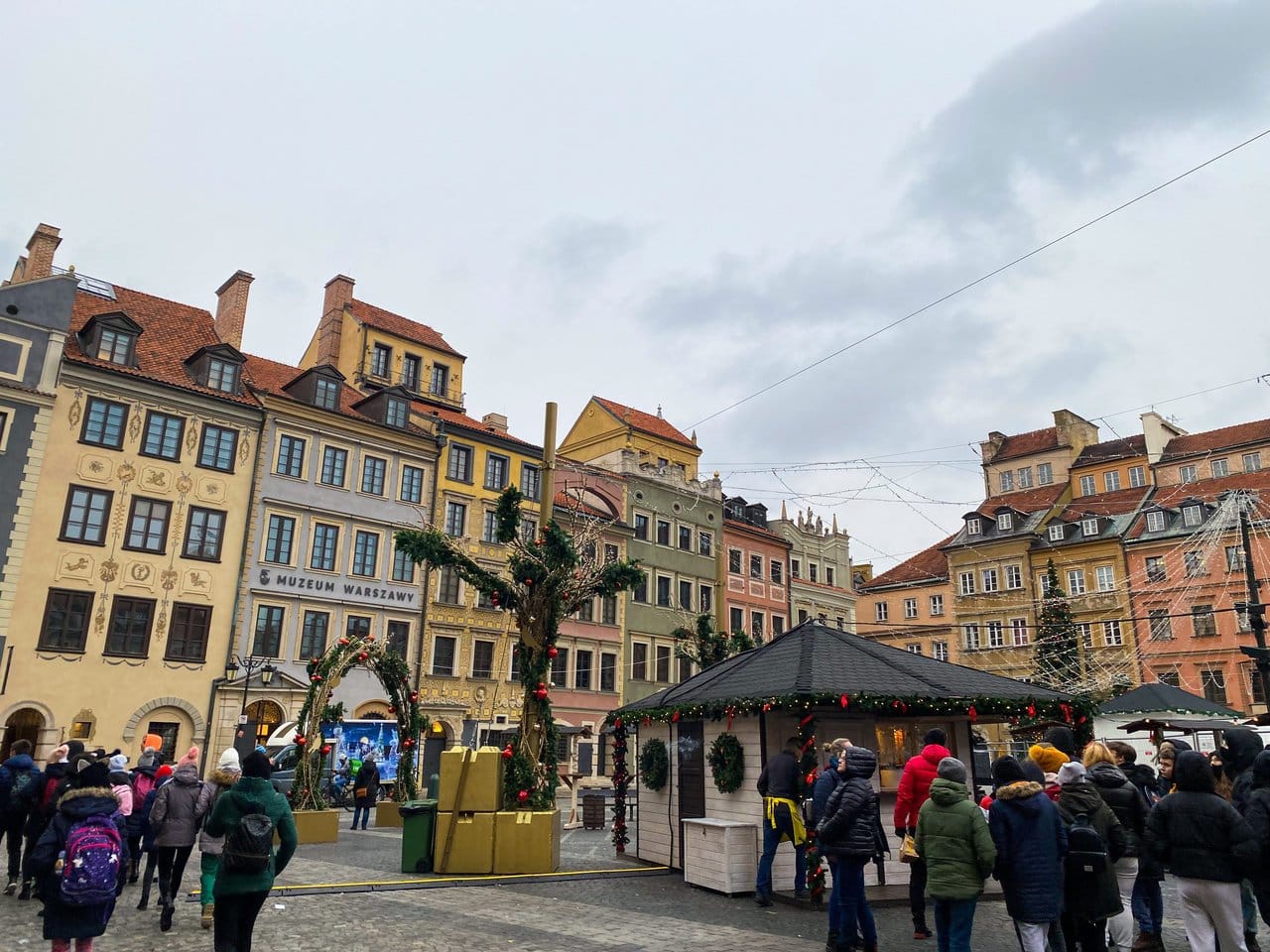 Since Warsaw is the capital city of Poland, it's only right that it has its own Christmas Markets, which are located in the city's stunning Old Town. 
Looking at the Old Town, it's hard to believe that it was all built from scratch after WW2, but it's true! Pretty much the whole of Warsaw was completely destroyed in WW2, so the Old Town you see today is actually a recreation based on the original.
Surprisingly, the Christmas Markets in Warsaw are quite small. However, they still offer everything you'll want. Plus, there's an outdoor ice rink right in the middle of Market Square! It's definitely hard to imagine a prettier place to go ice skating in Poland.
The whole of Warsaw's old town looks picture-perfect at any time of year, but add in the fairy lights of the Christmas Markets, the sound of choirs singing Christmas songs and the smell of mulled wine in the air, and there's definitely no better place to be in Warsaw.
It may be an unpopular opinion but I don't think Warsaw is as great as the other Polish cities on this list… I know. I'm probably gonna get some complaints for this but I stand by it!
There are only a few completely unmissable tourist attractions in the city (in my opinion), and since the city had to be completely rebuilt after WW2, it lacks the old-world charm of other destinations in Poland. 
For this reason, I recommend spending one day in Warsaw and then catching the train to one of the other Christmas Markets in Poland!
Dates: 23 November 2021 – 6 January 2022
Location: Old Town Market Square
Where to Stay in Warsaw: This cute guesthouse gets rave reviews across the board and is just a short walk away from the Market Square where you'll find the Christmas Markets! Prices start at around €47 per night for a double room.
Check availability and prices here!
Poznań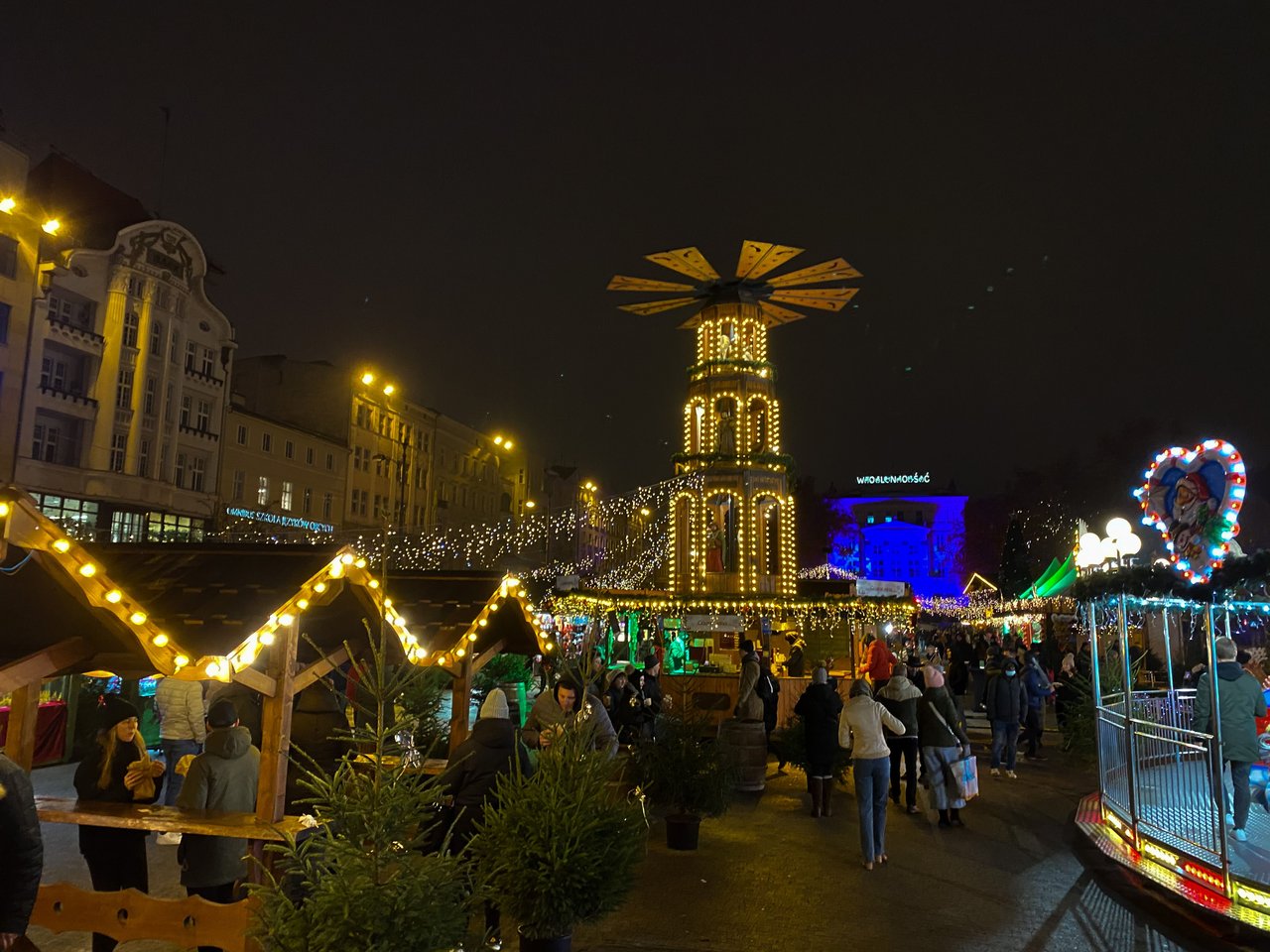 The Christmas Markets in Poznań may be small, but they're still brilliant. So brilliant, in fact, that they were voted the third best Christmas Markets in Europe for 2021 by European Best Destinations!
If you're looking for other things to do in Poznan during your trip to the Christmas Markets, you check out my Poznan itinerary.
The Christmas Markets in Poznań is called Poznań Bethlehem. What really sets it apart from other Polish Christmas Markets is its International Ice Sculpting Festival. This event runs on the second weekend of December every year, and sees artists from all over the world pick up their tools to carve enchanting ice sculptures whilst Christmas Market visitors can watch.
Since the Poznań Christmas Markets are quite small, they're the perfect place to explore if you're looking for a quieter Christmas experience. As you browse the market stalls you'll encounter a ton of tasty treats, as well as plenty of unique holiday presents! 
Dates: 20 November – 26 December 2021
Location: Old Market Square and Freedom Square (ice sculpting takes place at Kasprowicz Park)
Where to Stay in Poznań: I stayed in this incredible apartment in Poznań, and it's one of my favourite places I've ever stayed! It's right on the Main Square, and soaking into that huge bathtub after a freezing evening at the Christmas Markets was heavenly! I paid around €45 per night for the apartment.
Check availability and prices here!
Unusual Christmas Markets in Poland
Although we've already covered 6 awesome Christmas Markets in Poland, I have a couple of honourable mentions that I want to tell you about. I admit, I probably wouldn't call these two the *best* Christmas Markets in Poland, but they have something unique to offer that makes them worth visiting. 
Let's go!
Zakopane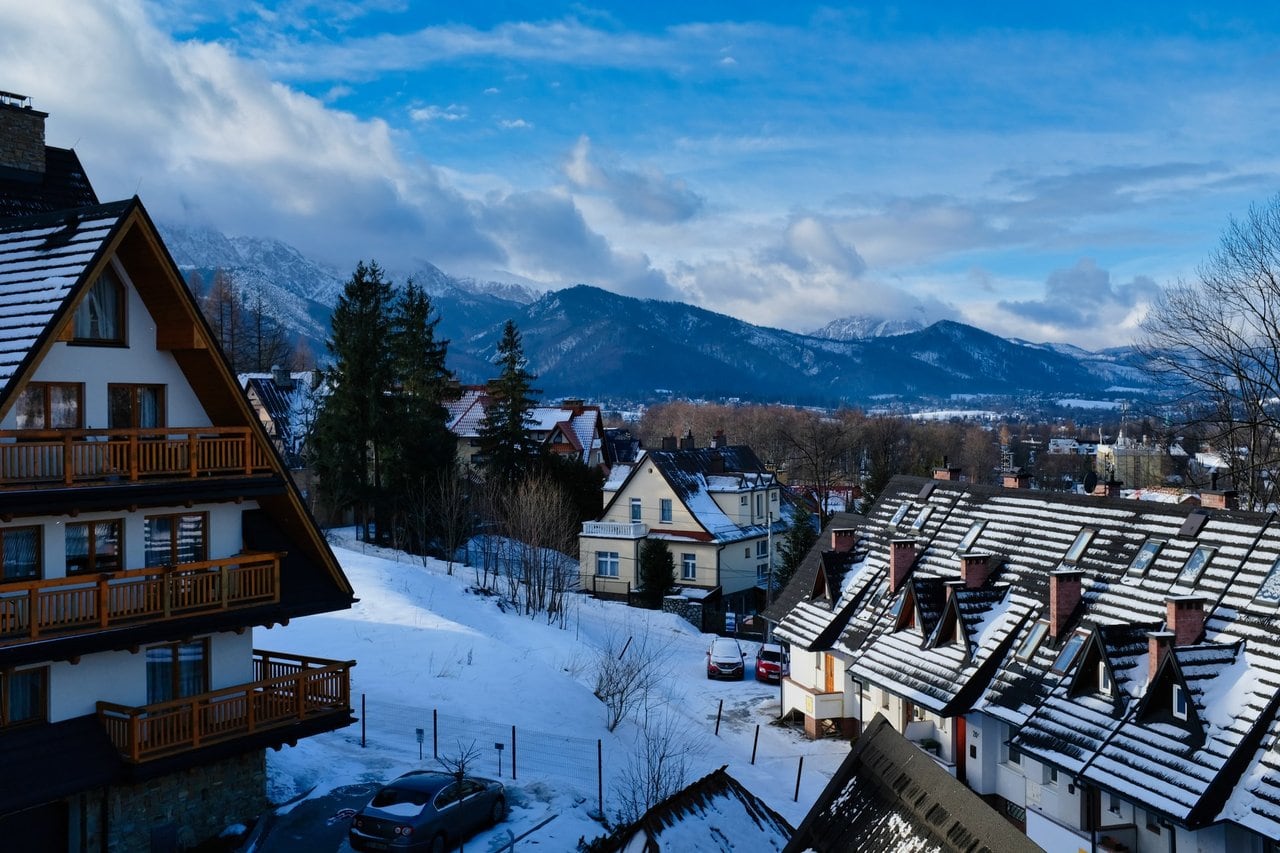 You won't find a Christmassier place than the mountain town of Zakopane. This small town sits in the Tatra Mountains National Park, on the border between Poland and Slovakia, and is absolutely GORGEOUS!
Many people visit Zakopane in winter to go skiing in the mountains, but if you don't want to hit the slopes you should definitely still visit Zakopane to relax by an open fire in one of the town's many cosy wooden restaurants and take the cable car to the top of the mountains for epic views!
There's a small market that runs year-round in Zakopane that sells a range of goods. The market's speciality, though, is Oscypek, the local smoked cheese which is served with cranberry sauce. 
At Christmas, these stalls continue to operate but there are some additional wooden Christmas Market stalls which sell handmade souvenirs, hot soups and plenty of Oscypek! 
Oscypek is one of my favourite cheeses of all time, so I highly recommend that you try it. It costs just 2 PLN (€0.45), so there's really no excuse not to try it!
Dates: Year-round
Location: Krupówki Promenade
Where to Stay in Zakopane: Since Zakopane is a ski town, accommodation prices are far higher than the rest of Poland. One of the best-quality options for travellers who still want to keep an eye on their budget is the Bellamonte Aparthotel. It's just a short walk away from the town and the ski slope, and rooms cost around €119 per night.
Check availability and prices here!
Toruń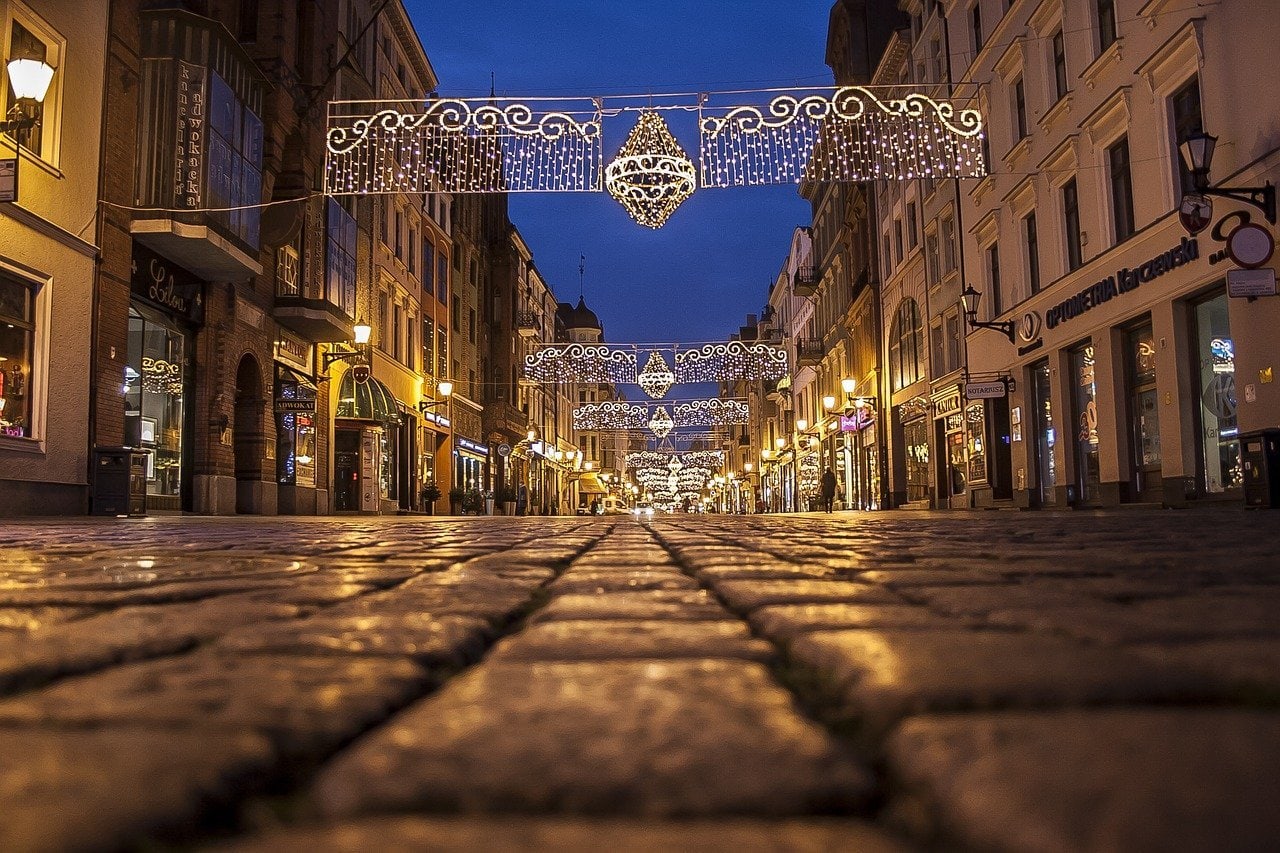 Another destination that has a very small Christmas Market, but which has lovely Christmassy surroundings, is the medieval town of Toruń. The town was established in the 13th century and is now a UNESCO World Heritage Site. 
What makes Toruń so great is its mouth-watering gingerbread, which plays a huge part in the town's history and has lots of tourist attractions dedicated to it! To me, gingerbread always tastes like Christmas, so sampling some of the town's offerings is the perfect way to kick-start your Christmas trip to Poland.
Toruń is simply gorgeous. It's a medieval city after all. Add in all of the festive decorations at Christmastime, and you'll agree that its small-town charm creates the perfect Christmassy setting.
Dates: 27 November 2021 – 21 December 2021
Location: Old Town Square
Where to Stay in Toruń: This Aparthotel is ideal for a stay in Toruń, is centrally located, and gets brilliant reviews. Prices start from around €47 per night for a studio apartment.
Check availability and prices here!
Top Tips for Visiting the Christmas Markets in Poland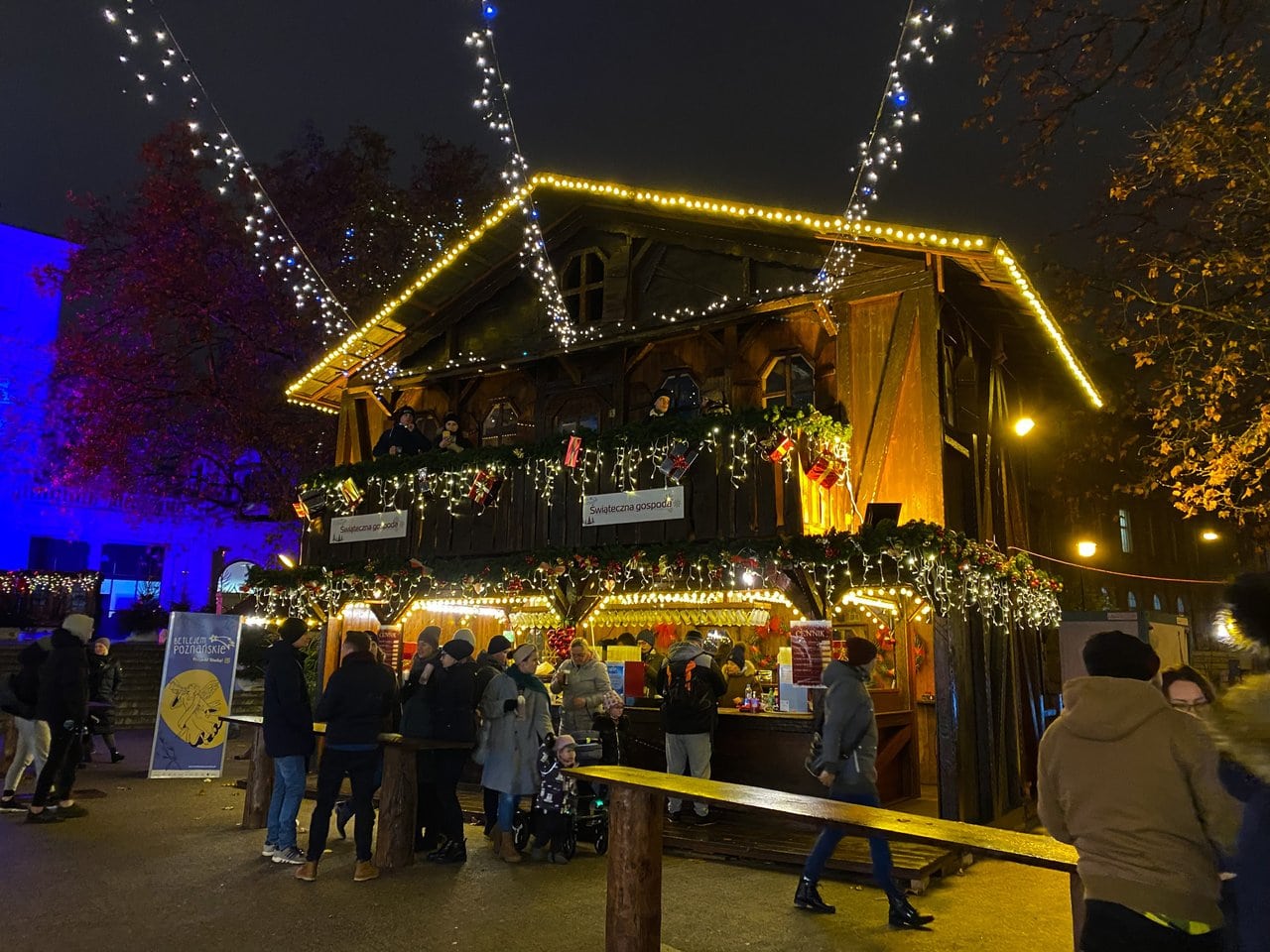 • Although the Polish Christmas Markets are still cheap compared to those in Western Europe, the food and drink at the Christmas Markets is expensive compared to local prices. If you're visiting Poland on a budget try to limit your drinks and food at the Market and then move on to a nearby bar or restaurant where everything will be nearly half the price.
• If you've visited Christmas Markets before you'll already know this, but when you get a drink at a Christmas Market you'll have to pay a fee (in Poland this is usually 15 PLN), to hire your mug. You can either keep the mug or return it once you've finished your drink to get your deposit back.
• You definitely need to try Oscypek cheese at a Polish Christmas Market! It's soooo delicious (if you couldn't already tell, I'm a big fan of Oscypek)! This famous cheese is local to the foothills of the Tatra Mountains, in places like Zakopane, but if you're not travelling to Zakopane you can still try the cheese at most Christmas Markets.
• If you're dreaming of a white Christmas, you've come to the right place! Expect snow on your Poland Christmas Markets trip, and wrap up warm. The Polish winter weather is no joke! I visited Poland for five days on my Christmas Markets trip, and it snowed for four of those. You'll need some sturdy, waterproof shoes and a warm coat, hat and scarf at the very least!
---
I had no idea what to expect when I embarked on my Christmas Markets trip to Poland, but I was blown away by just how fabulous this country's Christmas Markets are! If you're looking for a Christmas Market trip that doesn't break the bank, Poland is the ideal location. 
So – which city are you heading to first?
A big thank you to ChristmasMarketsinEurope.com for providing the dates for each Christmas Market!