There is a good chance that this post contains affiliate links. If you make a purchase through them, I may receive a small commission at no extra cost to you! As an Amazon Associate, I earn from qualifying purchases. As ever, all opinions are my own.
Want to travel, but you're broke? You're in luck – Poland is one of the most budget-friendly countries in Europe to travel in. The popular city of Krakow is especially popular with budget travellers. 
It's probably because there are so many historical attractions here (and lots of cheap beer!), but it could also be because there is a good amount of free things to do in Krakow.
With a little bit of advanced planning, you can visit Krakow on a shoestring budget and spend barely anything! Some of the city's very best museums are free to visit on certain days, too, so make sure you keep reading to find out when they are!
The Best Free Things to Do in Krakow
Wawel Hill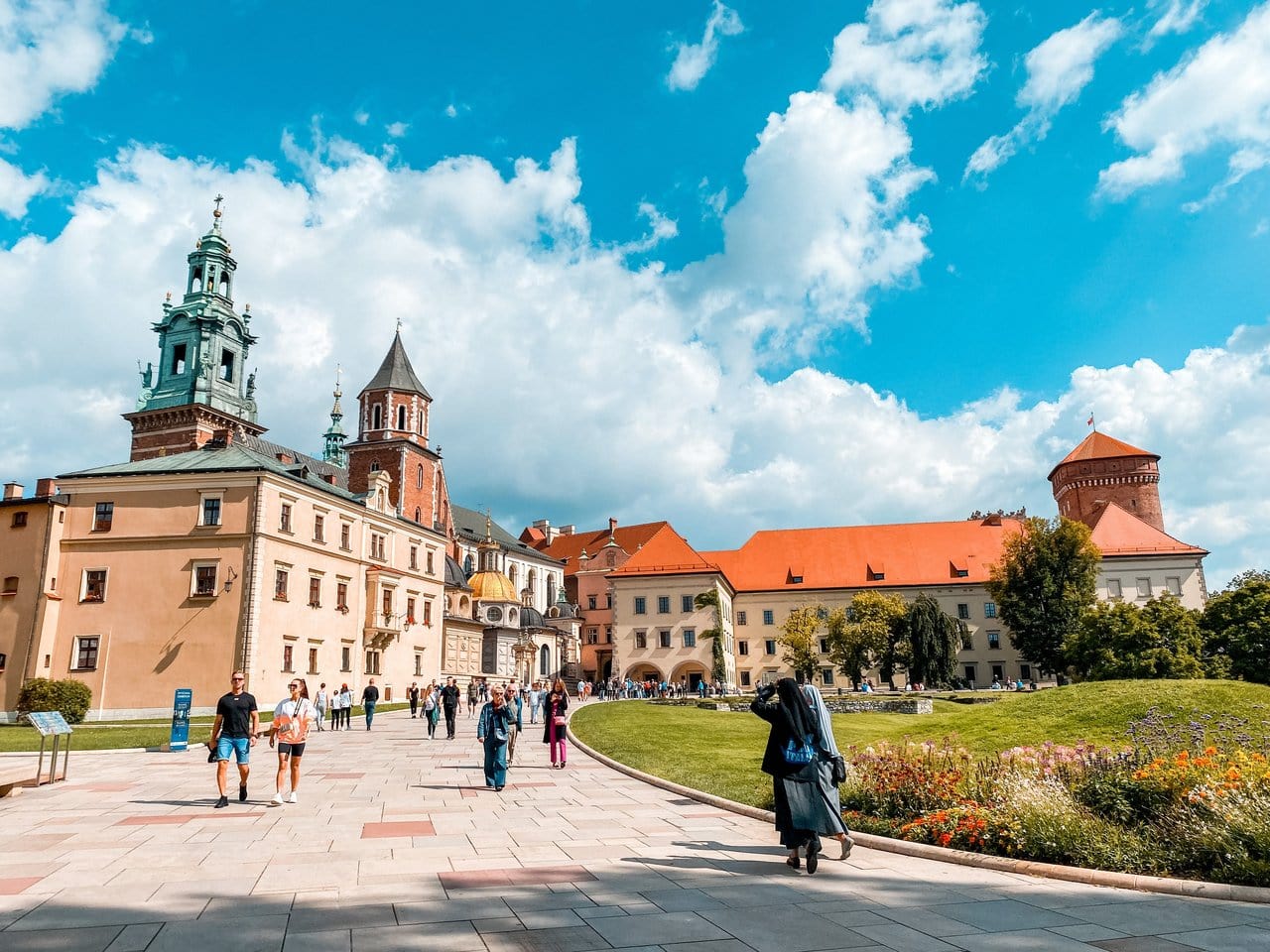 Wawel Hill is one of the most beautiful spots in Krakow, and although it's where you'll find some of Krakow's most famous paid attractions, you're actually able to wander around the hill and take in the views for free!
From the top of Wawel Hill, which sits on the edge of Krakow's old town, you'll get birds-eye views of the Vistula River that winds through the city. You'll also get to see the exteriors of Wawel Royal Castle and the Wawel Cathedral and snap a few photos.
This whole area is covered in flowers and is such a tranquil place to wander and maybe even take a seat and chill for a while. 
Krakus Mound
Across the river from central Krakow, in the Podgorze district, you'll find the Krakus Mound, a huge grassy hill thought to be the burial place of the mythical founder of Krakow, King Krakus. It's one of four "memorial" mounds in the city, and it's totally free to visit and climb to the top of.
As well as having an interesting history full of legend, the Krakus Mound offers brilliant views of the city from the top. After all, at around 16 metres tall, you'd certainly hope so! If it's a sunny day you'll find plenty of locals and tourists walking to the top of the mound to take in the view of its surroundings. 
Rynek Glowny
Rynek Glowny is the name of the main square in Krakow's Old Town, and it's one of the most buzzing places in the city. For this reason, it's one of the best places to visit for free in Krakow!
This square dates back to the 13th century, and is the largest mediaeval town square in Europe! At the centre of the square you'll find the Cloth Hall, which you're able to walk through for free and check out the tourist trinket stalls that line its archways. 
Rynek Glowny is also home to St Mary's Basilica, one of the most notable landmarks in the city! I personally prefer to just check out churches and cathedrals from the outside (their interiors usually look pretty samey) and you can do that for free!
There are usually buskers in Rynek Glowny which you can also enjoy for free, as well as lots of hustle and bustle. If the weather is nice this is the perfect place to stay awhile with a book or just simply watch the world go by.
Rynek Glowny is an essential stop on any Krakow itinerary!
Walk Around Planty Park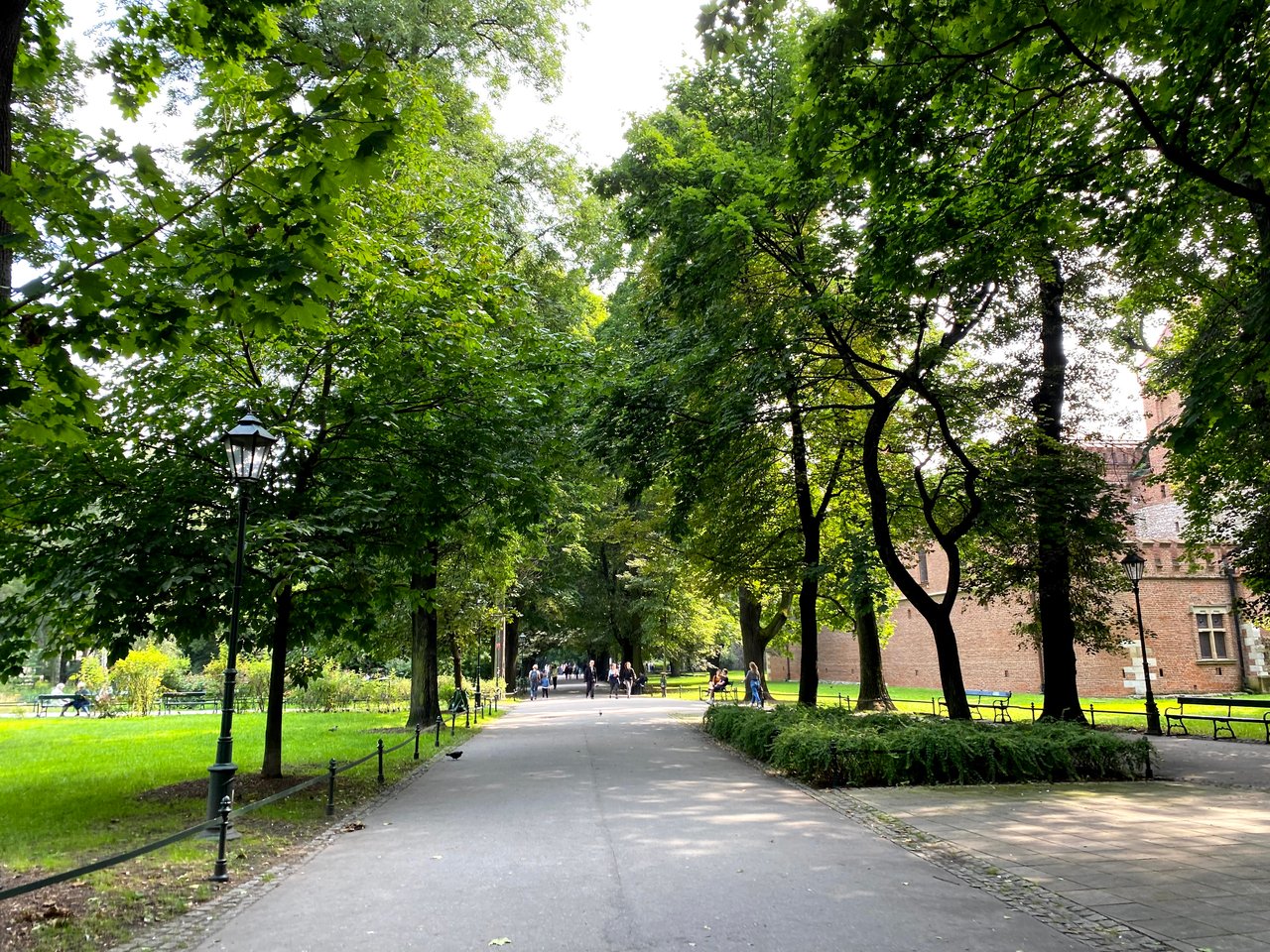 Planty Park surrounds Krakow's old town, and if the weather's right for it, taking a walk here is one of the best free things to do in Krakow. In the park, you'll pass countless statues of historical figures, including Nicolaus Copernicus.
This area is where the mediaeval city walls used to stand, and you'll still find remnants of Krakow's mediaeval history in the park such as the Florian Gate. 
There are plenty of benches in the park and in summer you'll see locals gathering here to catch up and spend time in the park's shade, away from the sun. You may as well act like a local, grab yourself a bench and spend a while watching the world go by here!
Fragment of Jewish Ghetto Wall
This is one of the less well-known things to do in Krakow, but it's an important attraction if you want to reflect on Krakow's dark history during WW2. 
Part of the Podgorze district in Krakow was designated as the Jewish ghetto during the Nazi occupation of Krakow in WW2, and the overcrowding, poor conditions and lack of healthcare in the area caused countless casualties.
Fortunately, most remnants of the Jewish ghetto have now been removed, however there is still a small fragment of the Jewish Ghetto wall standing to act as a reminder of the atrocities that took place here. It's totally free to visit and you'll find it just along the side of the road. 
It's a contemplative place to visit, and a lesser-known landmark in Krakow.
Museum Free Entry Days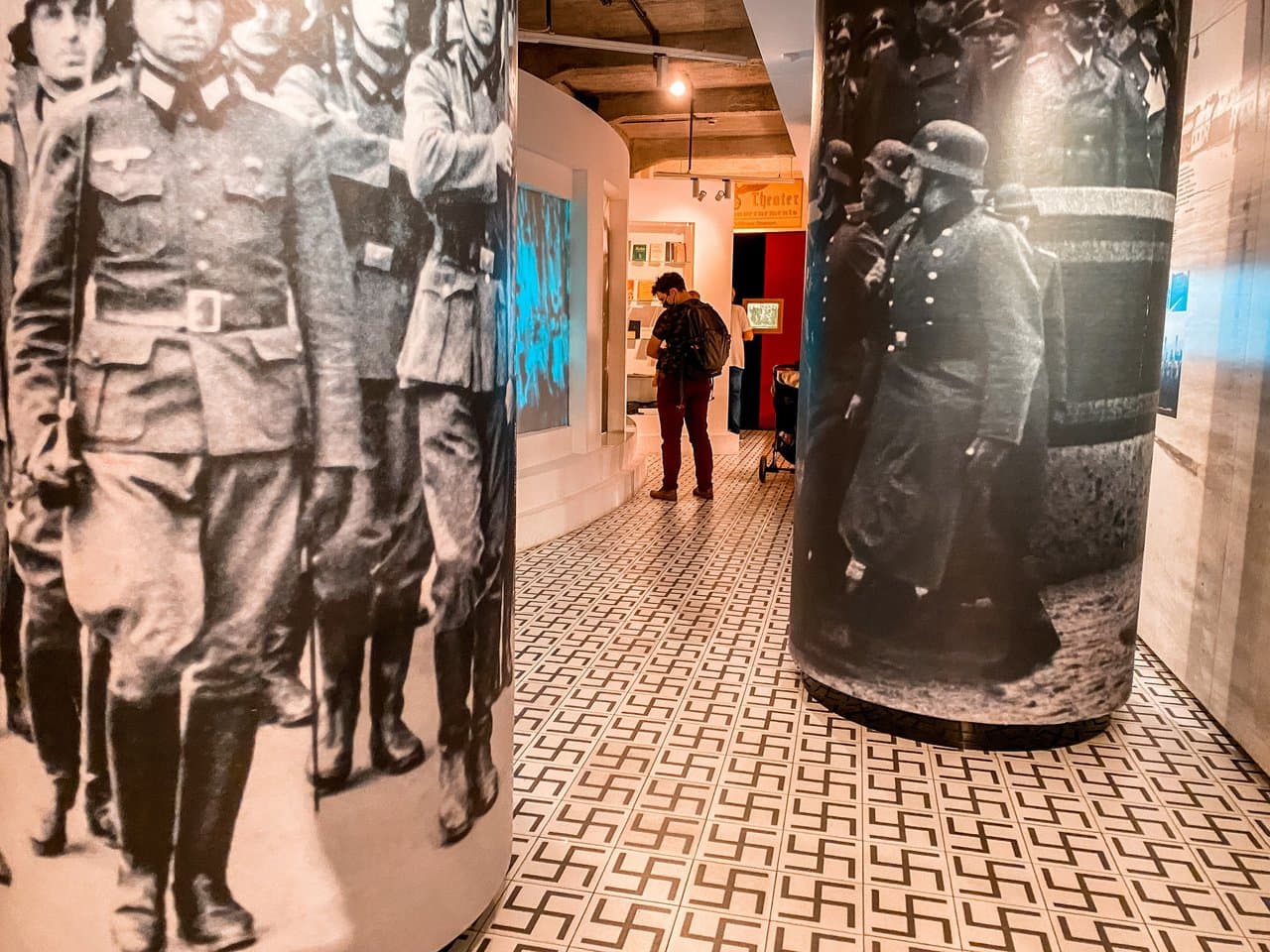 If you time your visit to Krakow right, you'll be able to visit some of the city's best museums for free! Many of Krakow's museums have one day per week when entry is free.
Although they may be slightly busier than usual on these days, it's the perfect way to familiarise yourself with Krakow's history without spending a penny! Here are the free days for entry for each museum that offers this:
Mondays: Jewish Museum, Schindler's Factory, Rynek Underground, Eagle Pharmacy.
Tuesdays: University Museum (3-6pm), Jan Matejko's House, Museum of Japanese Art and Technology, The Szolaysky House, Jozef Mehoffer House
Wednesdays: Hipolit House
Explore Kazimierz and Plac Nowy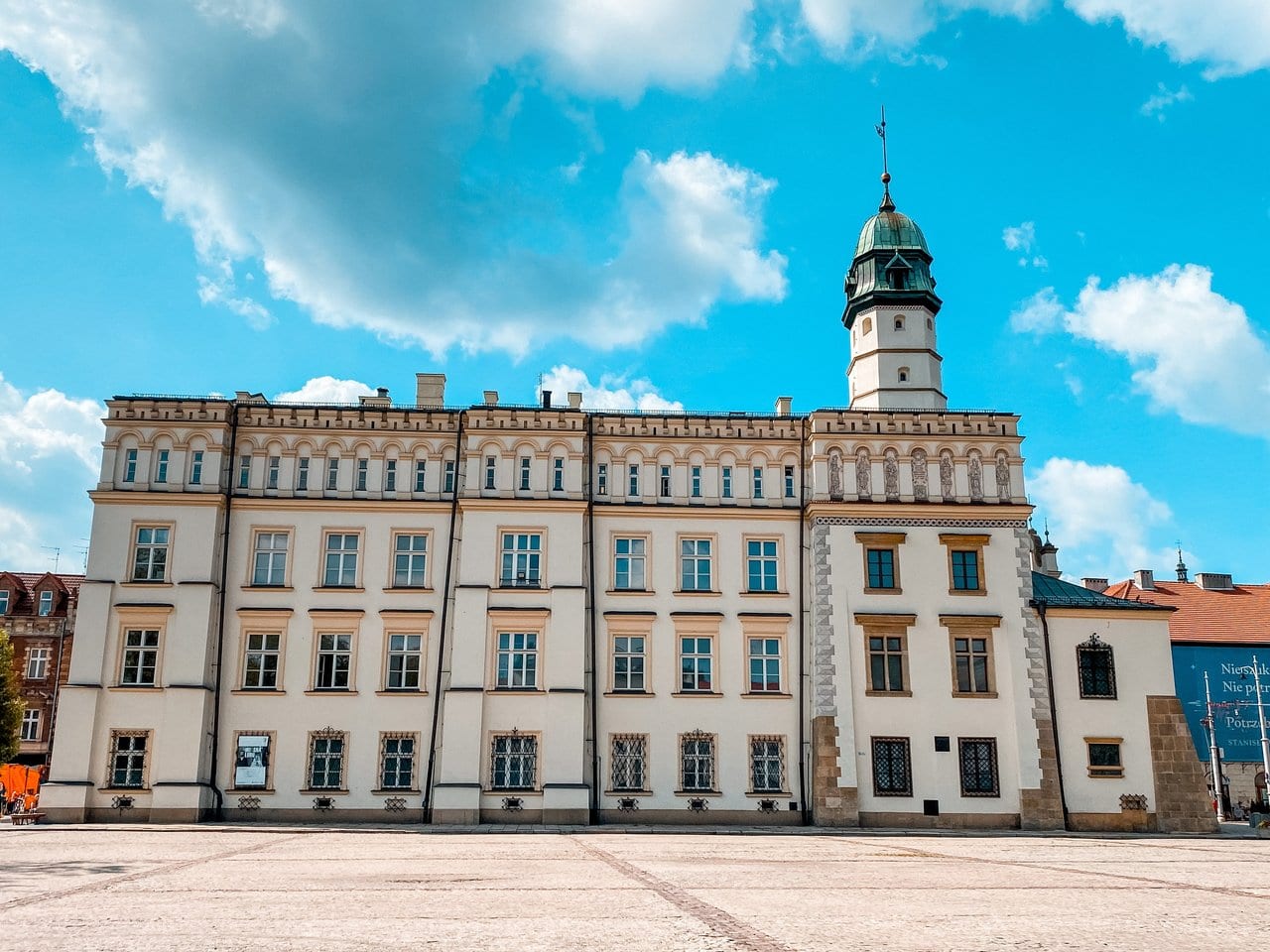 Kazimierz is Krakow's historic Jewish district, and it's now the coolest part of the city, filled with art galleries, vintage shops, trendy bars and lots of great coffee shops!
It's the perfect place to get lost, and you could easily spend hours exploring its side streets and window-shopping. If you visit on Saturday or Sunday, you'll also find flea markets and antique markets to browse.
To get to Kazimierz, the most scenic route is to walk along the Vistula River from Wawel Hill. This walking route is so peaceful and is the best way to get to this area!
Whilst in Kazimierz you should definitely pay a visit to Plac Nowy, the heart of Kazimierz. You should also take the opportunity to see the numerous interesting synagogues on Szeroka Street.
Free Walking Tour
One of the best ways to orientate yourself in a new city is by taking a free walking tour, and Krakow is no exception! 
There are quite a few different tour companies that operate in Krakow, and, since competition is so fierce, you'll be in good hands with any of them. 
In case you've never been on a free walking tour before, here's the lowdown of how it works: Typically, you'll meet a local guide and your tour group at a set location and they'll guide you around the city by foot for an hour or two, teaching you all about its history and culture. You'll also pass plenty of the city's most famous landmarks.
There's a slight catch, which is that you kind of have to tip your tour guide at the end of the tour. You're technically able to not pay, but that's pretty bad etiquette. I normally leave €10, however, if you're really broke leaving €5 will be fine.
If you're on a super tight budget, simply look up one of these tour companies' walking routes, do some research on each place, and then guide yourself along the route for free.
Walk Along the Vistula River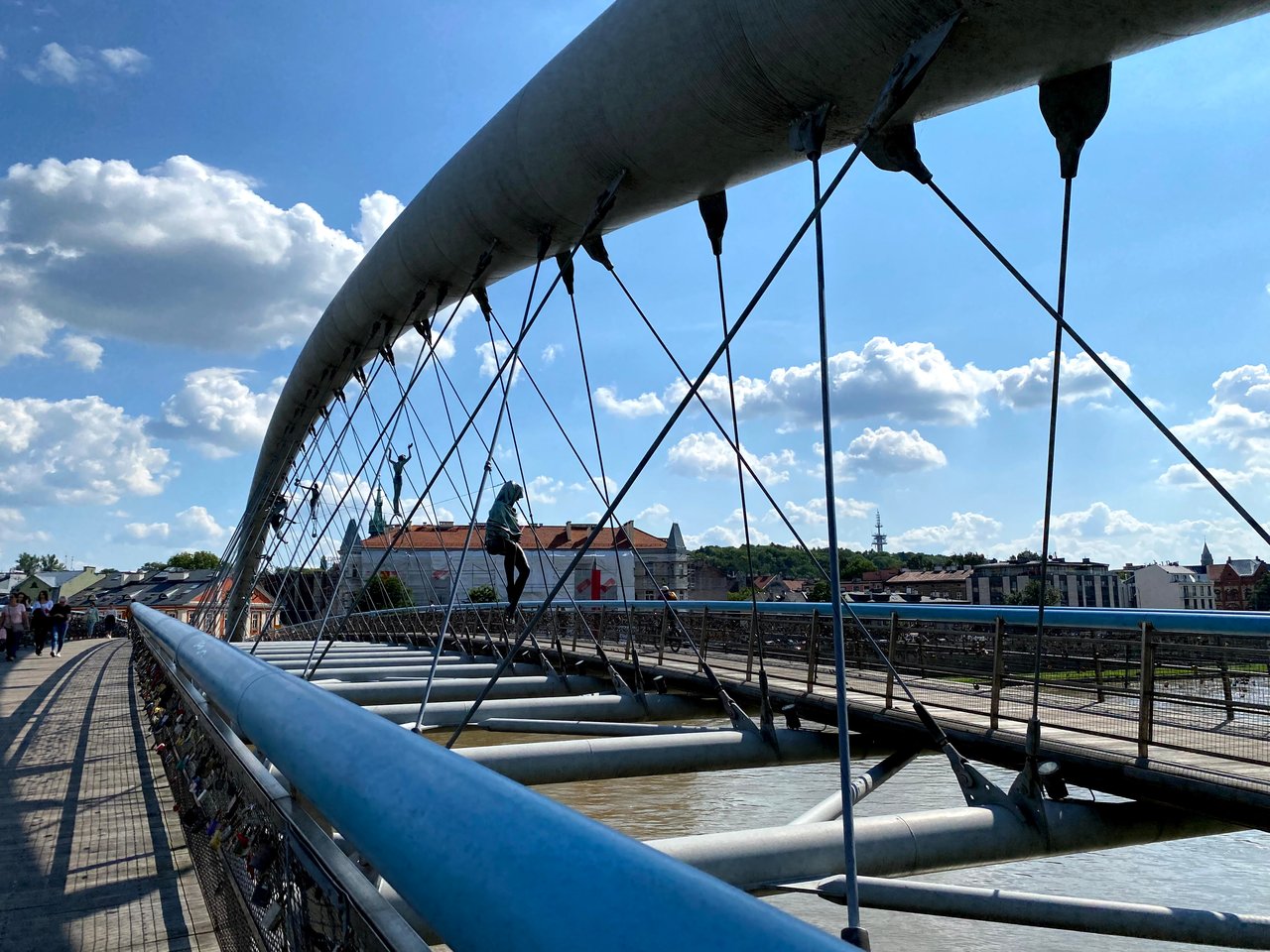 The mighty Vistula River flows through Krakow, and you'll have to cross it to get between Krakow's old town and the neighbourhood of Podgórze. On each side of the river you'll find wide walkways with plenty of benches, and plenty of locals head here to walk their dogs or ride their bikes.
One of the best things to do in Krakow is to take a sightseeing cruise along the river, but if we're on a broke traveller budget we can definitely compromise by walking along the river's banks and enjoying the views from the ground for free!
Look out for the Bertanek Footbridge, which connects Podgórze and Kazimierz, and be sure to walk across it to get up closer to the bizarre sculptures here. You wouldn't get to see them up close from a river cruise!
Balancing on the wires above this bridge, you'll find sculptures of acrobats looking as if they are defying gravity. This is also one of the most romantic places to visit in Krakow, with many people deciding to add love locks to the bridge. 
St Joseph's Church (Église Saint-Joseph)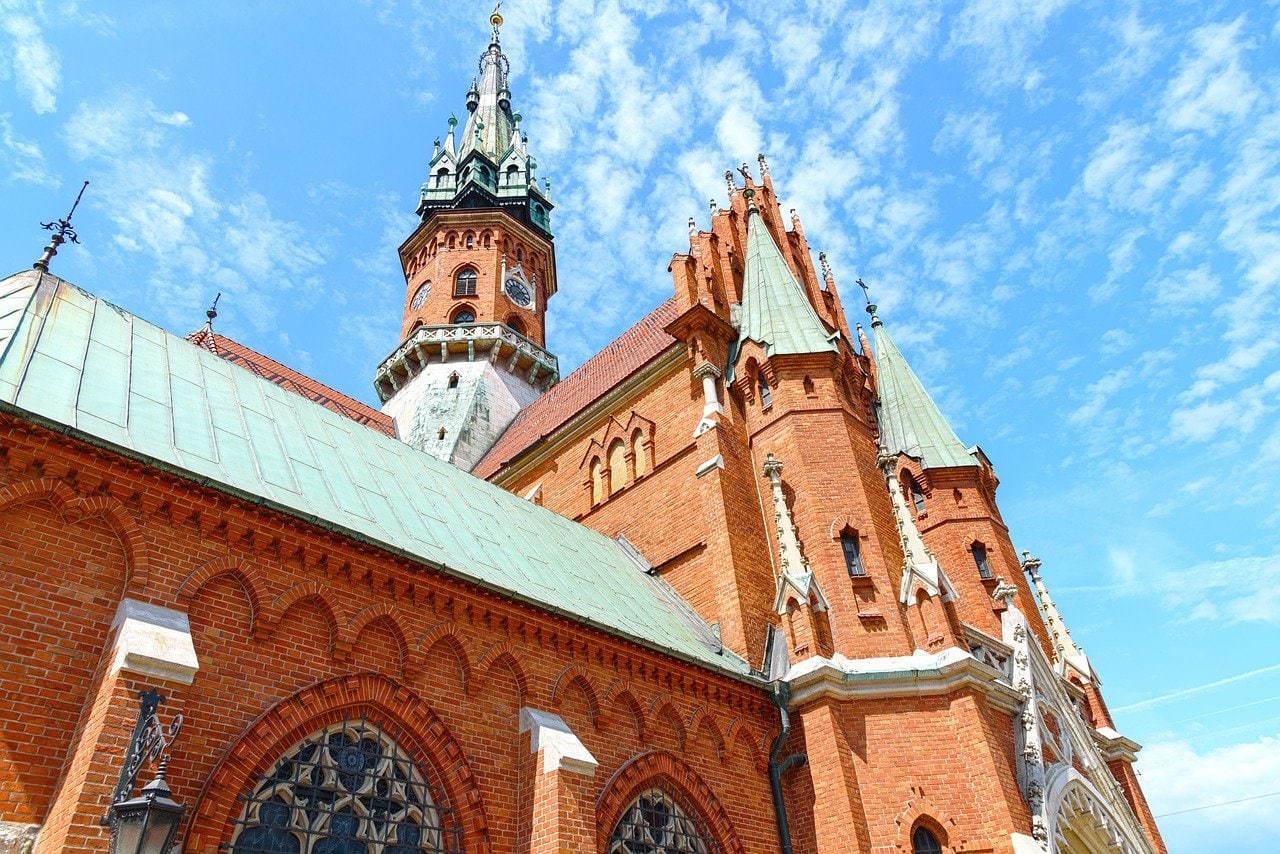 This gothic brick church, built in the early 1900s, is one of the most beautiful in Krakow. That's tall praise since Krakow has no shortage of stunning churches, but I stand by my words!
You'll find St Joseph's Church in the Podgorze district, and it's actually the largest church in the area. Since it's tucked away in Podgorze, you'll find that this area doesn't feel particularly touristy, so it's one of the best free things to do in Krakow if you're looking to get off the beaten path.
The church's most impressive feature is its exterior, although it's also free to go inside and explore.
Check out the Rainbow Stairs
The rainbow stairs in Krakow are the perfect Instagram spot, and if you're into photography this is one of the best free places to visit in Krakow. You'll find these rainbow-painted stairs at Tatrzanska Street in Podgórze, and they've been colourfully painted since 2013. 
There's not much more to say about this! After all, it's just a set of stairs painted in rainbow colours, haha. However, if you're looking for unique and unusual things to do in Krakow, and you're already in the Podgórze district, they're worth a visit. 
St Florian's Gate and Barbican
Two landmarks in Krakow that are totally free to visit and date back to the city's mediaeval past are the St Florian's Gate and the Barbican. 
Krakow's Barbican is a 15th-century defensive structure built out of brick. Its purpose was to protect Krakow's Old Town and the royal residences there. Although it's now nested in the charming Planty Park, back in the day this area was part of a deep moat to deter attackers.
Nowadays, the Barbican hosts various rotating exhibitions, and entry costs 6 PLN. However, it's far better to just walk around its outside and check it out from a park bench in Planty Park for free.
I already briefly mentioned St Florian's Gate when we talked about Planty Park, but this 14th-century gate is one of the last remnants of the city's defences, which were mostly destroyed during the 19th century.
Krakow Sightseeing and Money-Saving Tips!
I've covered all of the very best free things to do in Krakow, but I have a few more tips to share when it comes to visiting Krakow on a tight budget. Luckily, the cost of travel in Poland is very low, so it's not too difficult to stick to a budget!
Getting Around Krakow, Poland
Budget travellers, rejoice! Krakow is a very walkable city, and as long as you pack a pair of good walking shoes and the weather is on your side you won't even need to pay for public transportation – I didn't! 
From Krakow's airport, the cheapest way to get into the city is via bus, which takes around 45 minutes. Single tickets cost just 4 PLN (around €1). Hooray!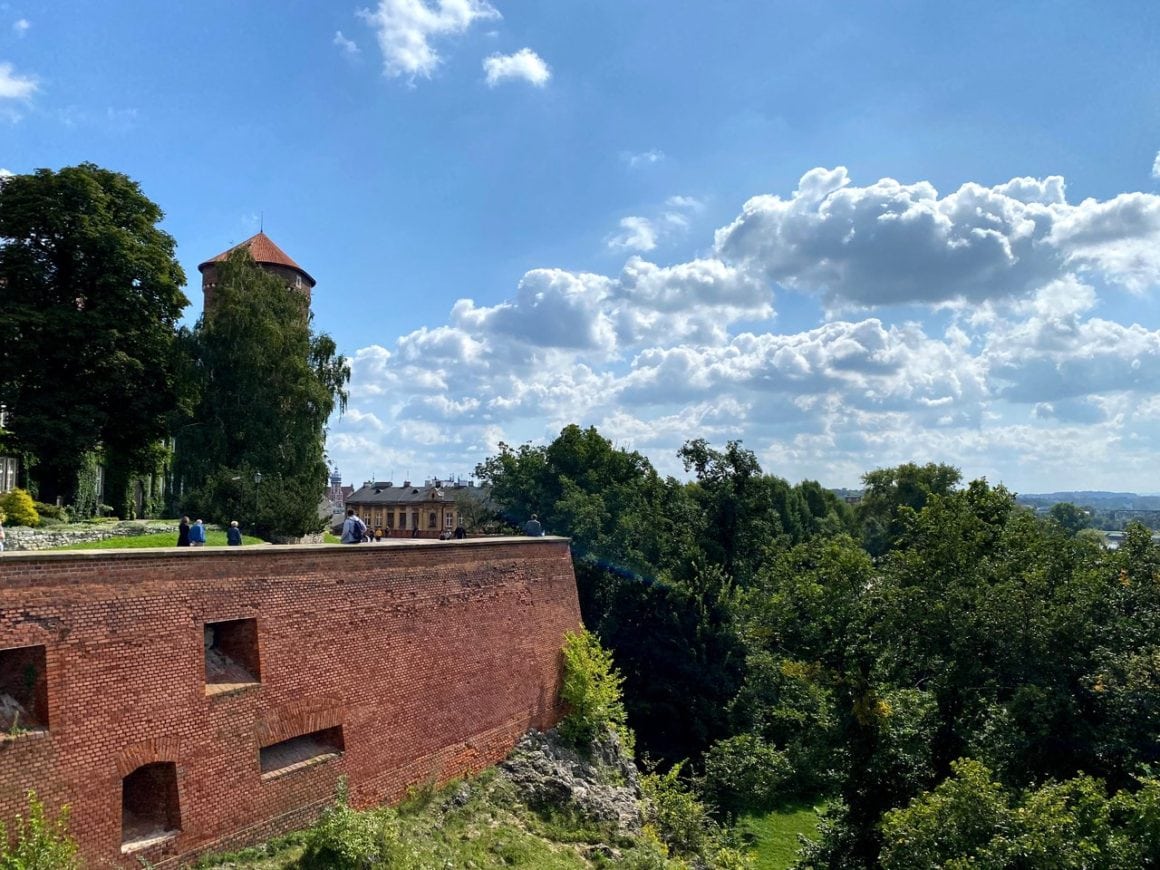 Where to Stay in Krakow on a Budget
The hostel scene is big in Krakow, so if you're travelling to the city on a tight budget you'll have no issue with finding cheap accommodation. Since there are so many options you'll find something right for you, no matter what your travel style is!
I stayed in this party hostel, which included free breakfast, free dinner each night (which was huge!) and 1 hour per night of free beer, all for around €15 per night for a bed in a 6-person dorm. It's definitely not the cheapest hostel in Krakow, but I found the added extras made the price worth it.
If you'd prefer to keep to an even tighter budget, but still want to stay in a highly-rated hostel, there's no need to worry. This popular hostel costs just €7 per night!
If you need your privacy, I recommend heading over to Booking.com to look through Krakow's budget hotel offerings. Staying at a hotel will definitely cost more than a hostel, but if you're travelling with somebody else you can split the cost and spend around €20/25 per night.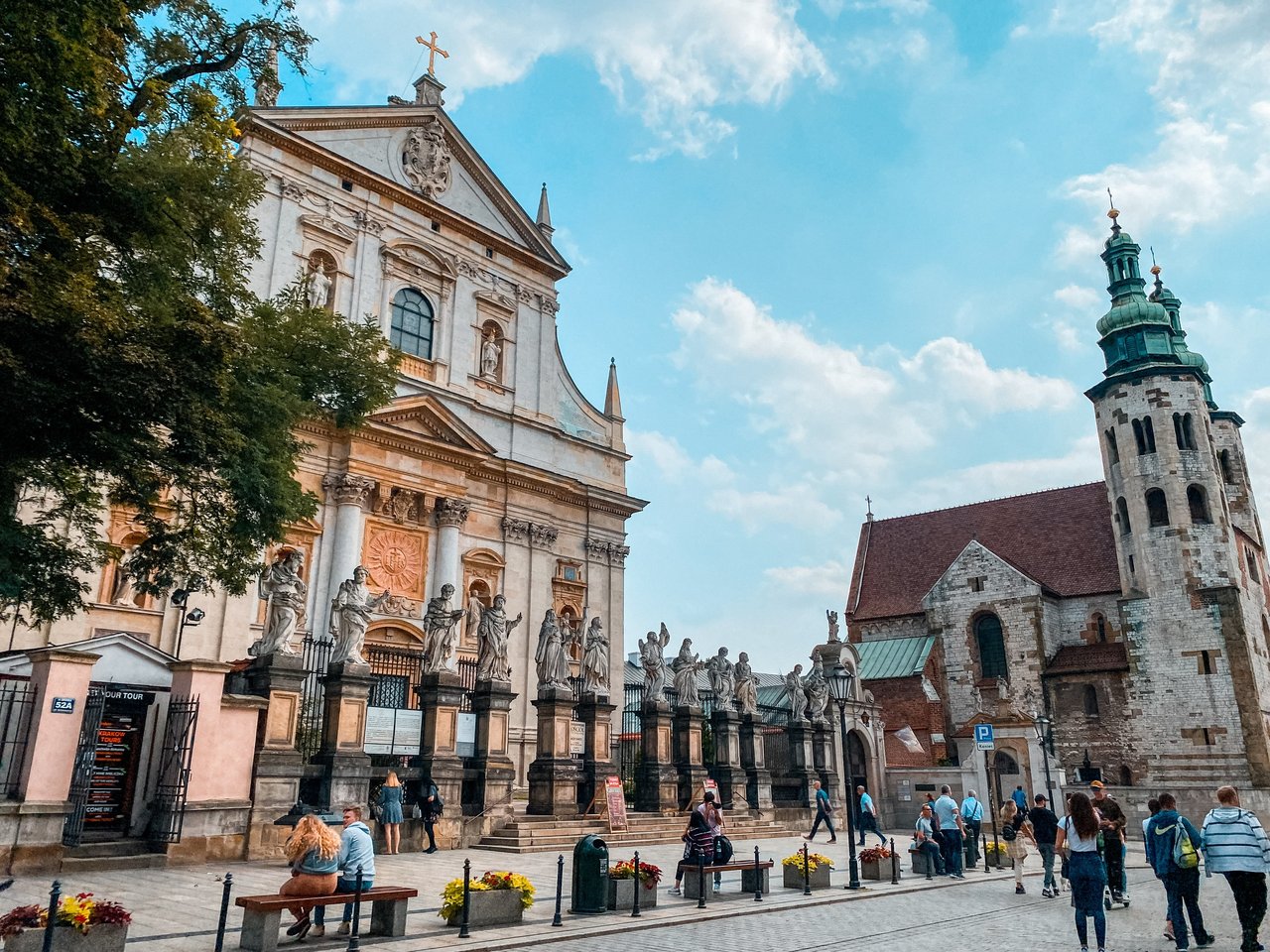 Before You Go to Krakow, Poland
I hope this guide has helped you to plan your shoestring trip to Krakow and has helped you to see that it's very easy to visit Krakow for very cheap!
If you're planning to do more travel in Poland, head over to my Poland page for more Poland travel tips, itineraries and advice!
Liked this post? Pin it!