There is a good chance that this post contains affiliate links. If you make a purchase through them, I may receive a small commission at no extra cost to you! As an Amazon Associate, I earn from qualifying purchases. As ever, all opinions are my own.
When I booked a 5-day visit to Poland in December most people thought I'd gone crazy. In case you didn't already guess, Poland in winter is FREAKING COLD.
Luckily, though, my madness paid off and I had an incredible winter getaway to Poland. Now, having survived it, I can personally say that visiting Poland in winter is possible and actually enjoyable. Yes, really!
However, there are definitely some things you should know before you visit Poland in winter. Things that I didn't know at all before I visited…
So, whether you're still wondering whether or not it's worth visiting Poland in winter, or you're already excitedly planning your Poland winter holiday, here's everything you need to know before you go!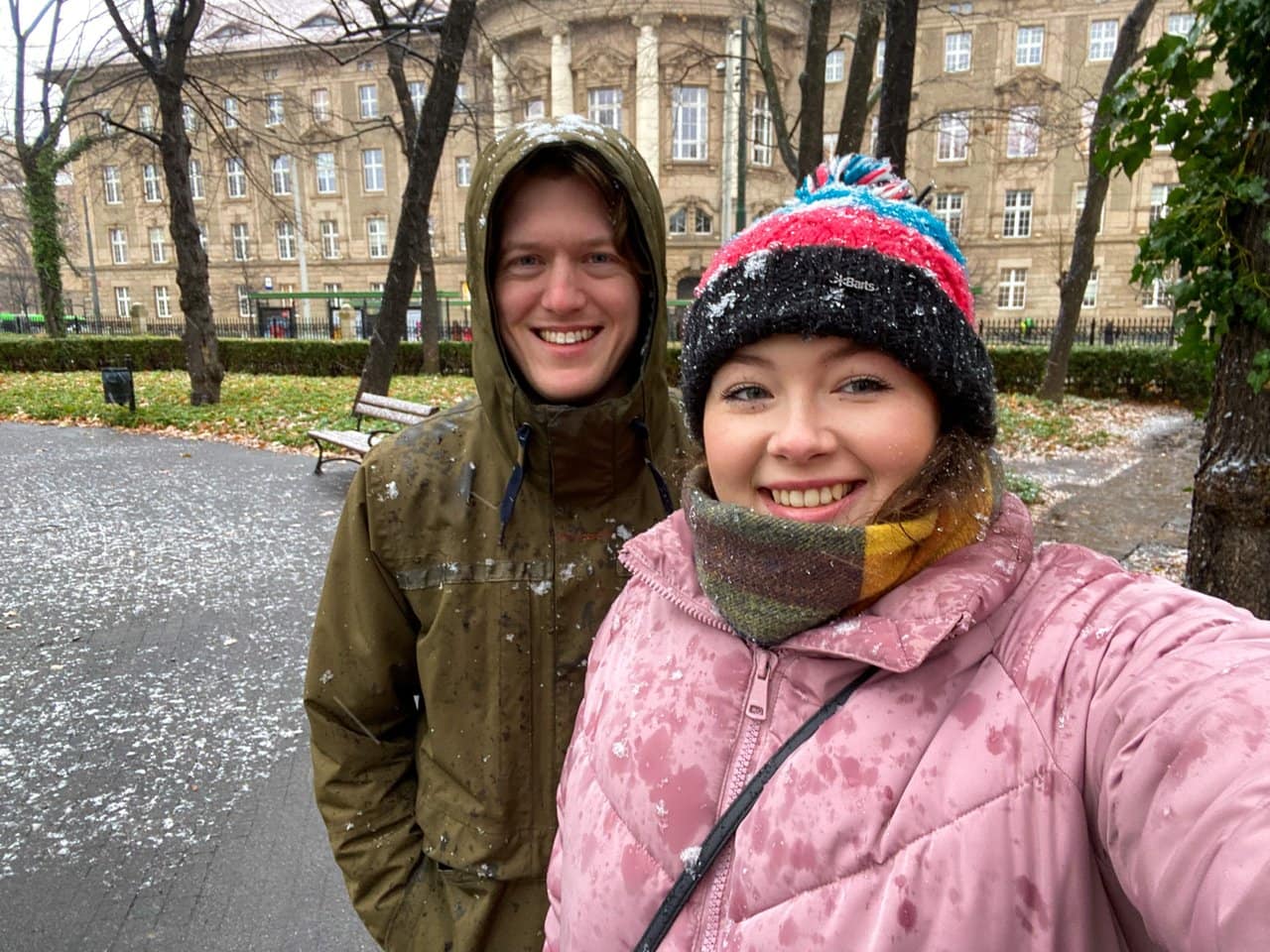 Poland Winter Weather
Let's start with the obvious: Poland gets really cold in winter. Especially for somebody like myself who comes from the comparatively mild-weathered UK! The average Poland winter temperature is around -2°C.
If you're a Canadian or Russian, chances are you'll find the winter weather in Poland totally tropical. But for the rest of us… Yeah. Poland is cold in winter!
Weather in Poland in November
Whether or not November in Poland is considered winter is debated, but by the end of the month, the weather has usually moved on from autumn, and you'll be able to tell! Average temperatures across the month hover around 3°C (37°F) during the day and 0°C (32°F) at night, getting colder as the month goes on.
Visiting Poland in November is a great time to visit if you want to take advantage of the lower accommodation prices and crowds of winter, without dealing with the full force of Poland's winter weather.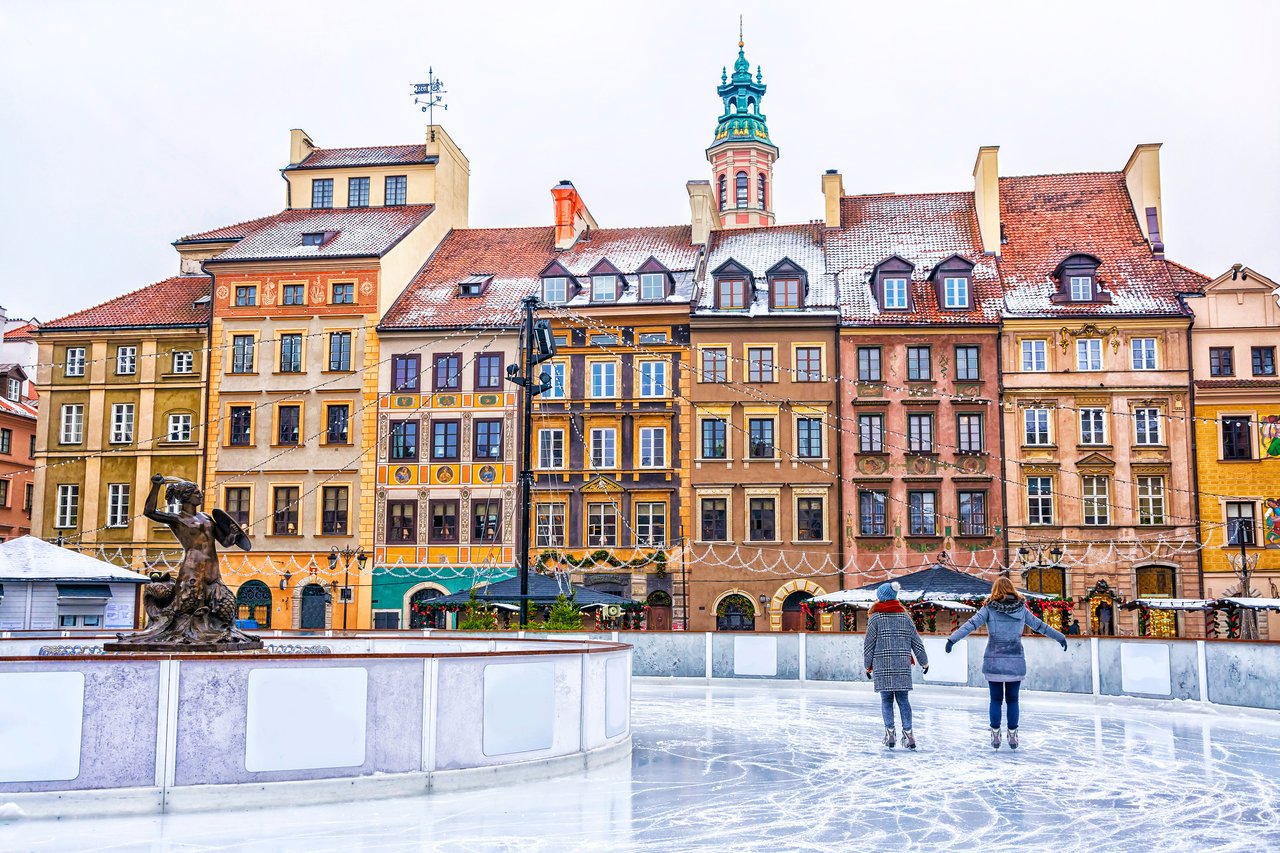 Weather in Poland in December
In December, the weather in Poland can be quite varied. During my five day trip, I had one day of glorious sunshine, followed by four days straight of heavy snow and rain.
You'll also get quite a few rainy, snowy or sleety days, so pack an umbrella and a waterproof coat! The average temperature during the day is around -1°C (30°F), dropping to around -3°C (26°F) at night.
Weather in Poland in January
The Polish weather in January can be summarised with one word: snow! January is the peak time that Poles go skiing and enjoy other winter sports. It's actually the snowiest month of the year in Poland. Of course, that means colder temperatures too.
The average temperature is around -3°C (26°F) during the day, dropping to around -5°C (23°F) at night which is obviously pretty darn cold.
Weather in Poland in February
Visiting Poland in February won't feel much different compared to January. In February, the weather in Poland is much the same as in January, but with slightly less snow and potentially more rain. The average temperature is -2°C (28°F) during the day, dropping to around -4°C (24°F) at night.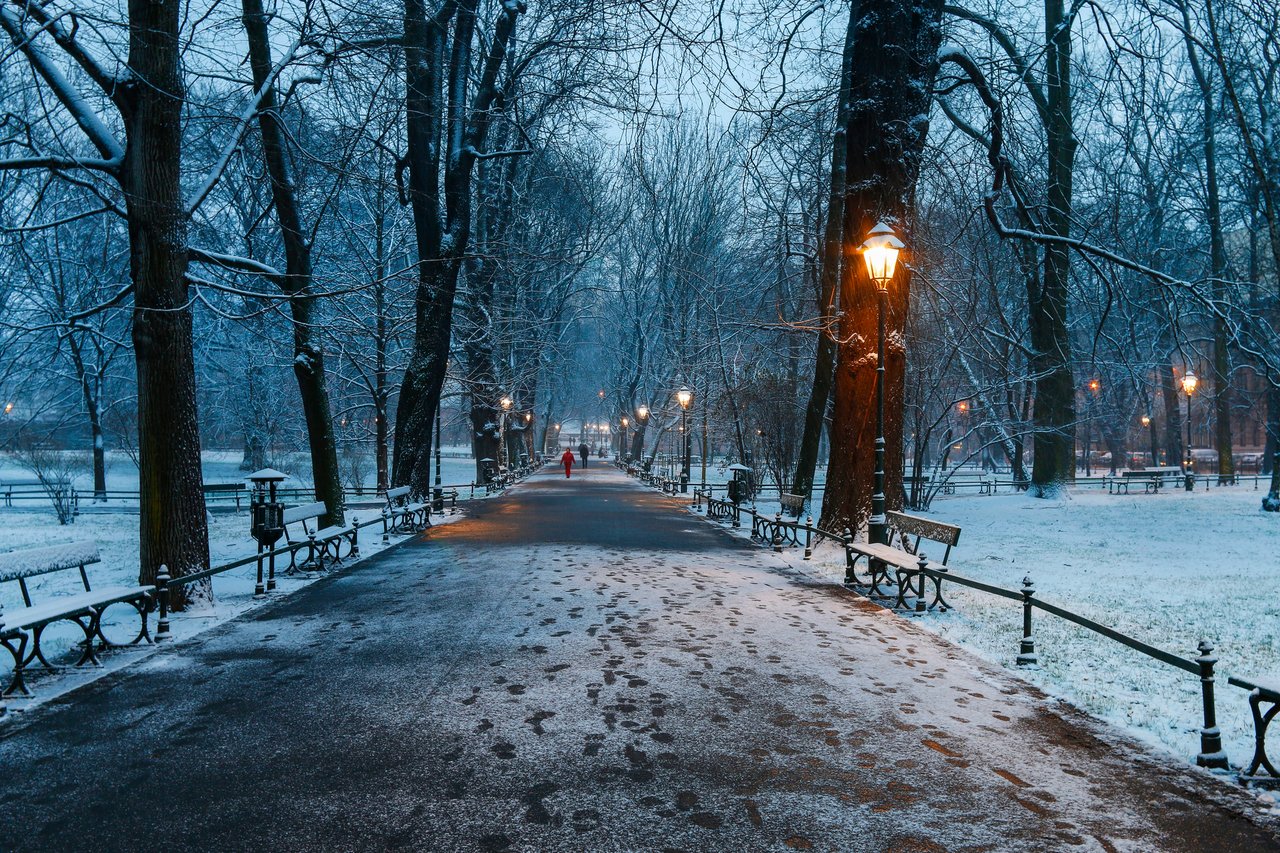 Winter Daylight Hours in Poland
As well as the cold temperatures, an issue with winter travel in Poland is the limited daylight hours. Winter days are very short in Poland, and as a result attractions close earlier. 
In December, the sun rises around 7:35am and sets at a very early 3:25pm. In January, the sun rises at a similar time and sets around 3:55pm. February is the best winter month to visit Poland in terms of daylight hours, as the sun rises at 6:48am and sets around 4:51pm.
The further south you go, the more time you'll spend in daylight (although the variation is only around 35 minutes).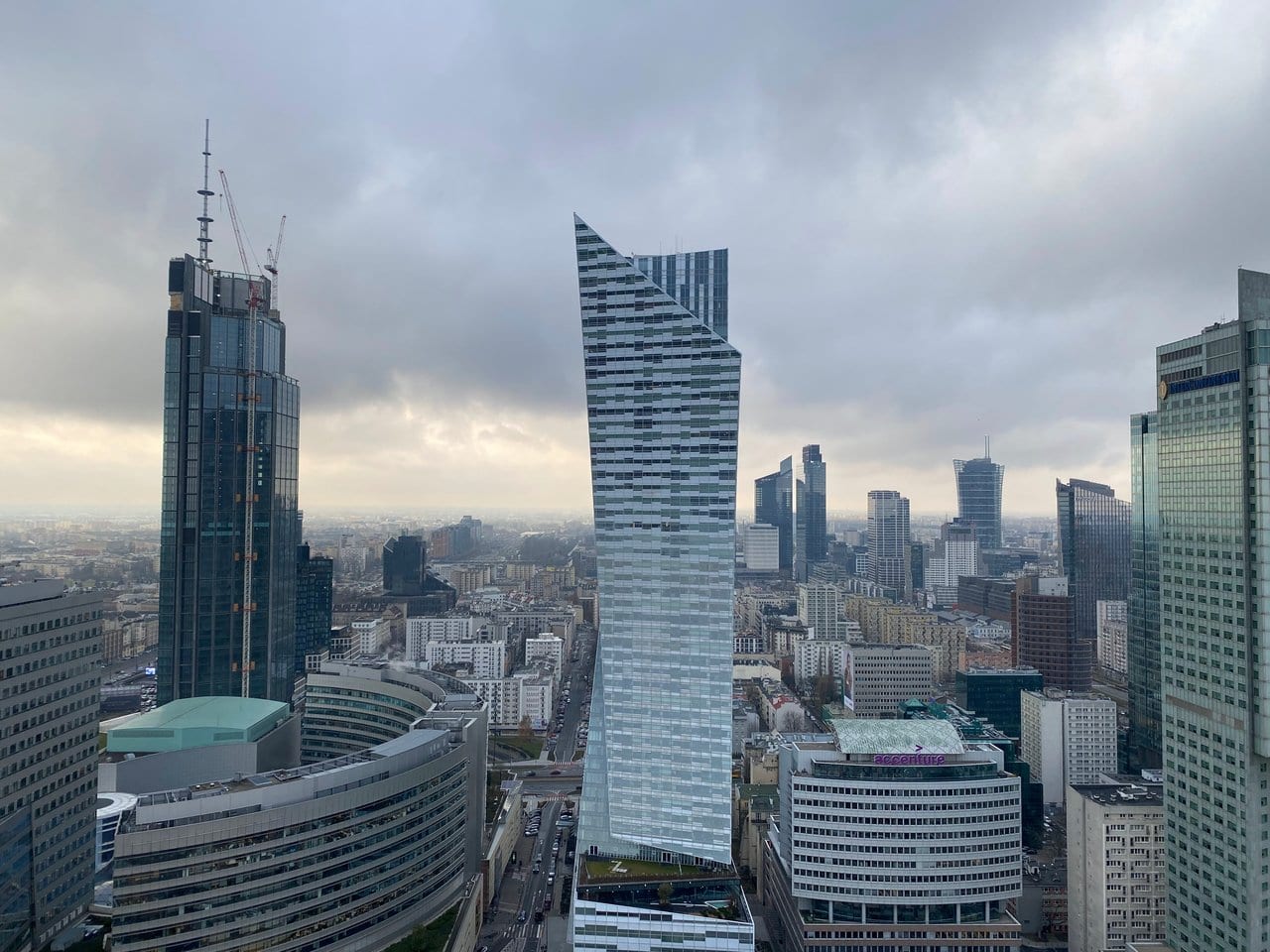 Best Things to Do in Poland in Winter
Thanks to the cold and snowy weather, you're probably wondering what to do in Poland in winter. The good news is, the winter weather really isn't as restrictive as you might think! Aside from things like sunbathing or visiting the beach, you can do almost everything in winter that you would do at any other time of year in Poland!
However, there are a few of the best things to do in winter in Poland.
1. Visit the Christmas Markets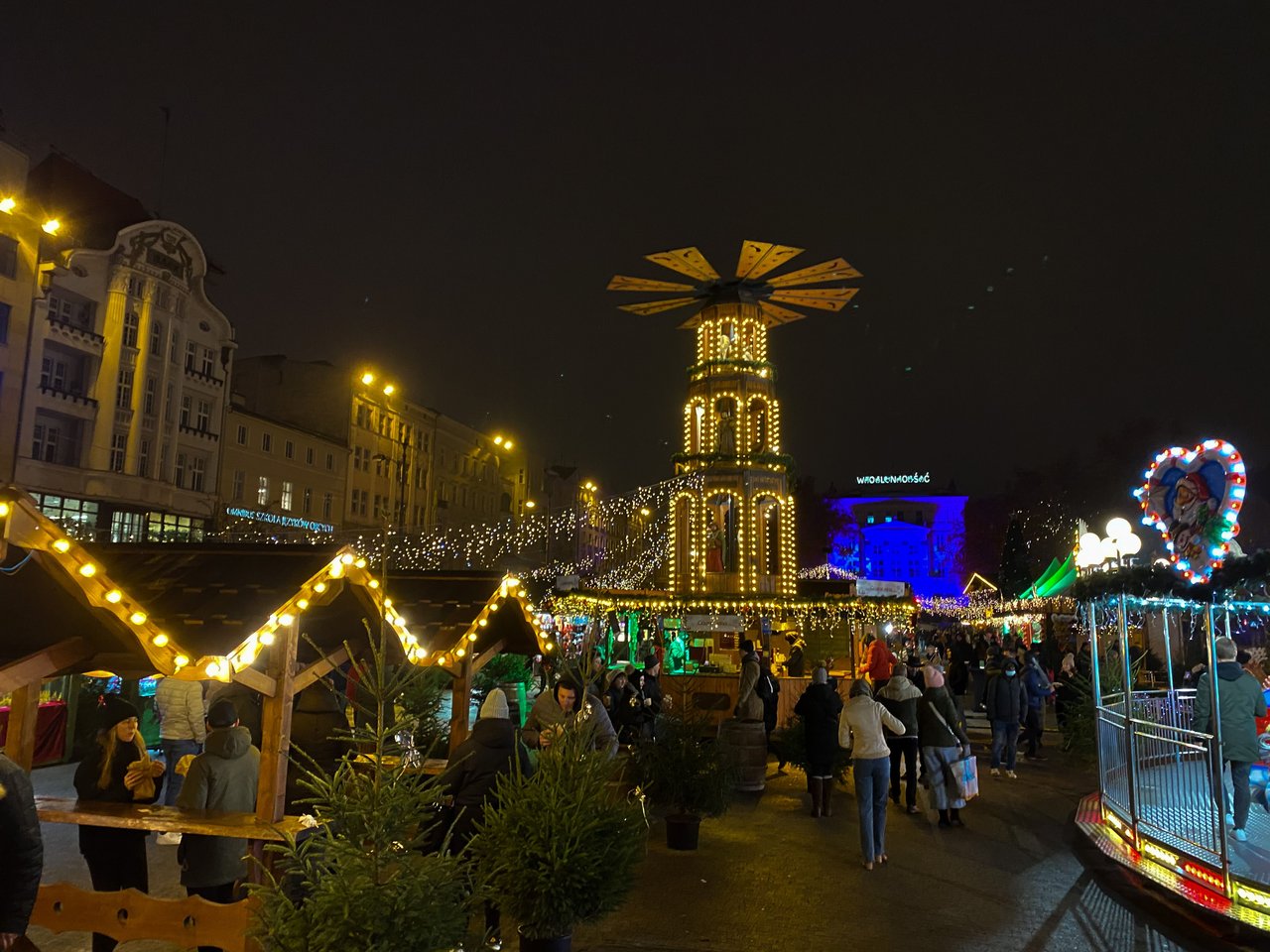 As I mentioned before, Poland is such an underrated Christmas holiday destination and has some epic Christmas markets. You'll find them in most large cities, but my personal favourite was in the city of Wrocław!
With pop-up ice rinks, wooden Christmas Market stalls and plenty of mulled wine, Christmas Markets in Poland are beloved by locals and tourists alike. They also never get *too* crowded, which is ideal in this day and age!
What's more, prices in Poland are much cheaper than in Western Europe and the US. This means you're able to visit the Christmas Markets and actually buy things without feeling ripped off!
A glass of mulled wine at a Polish Christmas Market costs around 15 PLN (£2.80). It's a bargain compared to the extortionate £5.50 the markets charge here in London! Remember to pack your ID, because the Polish drinking age is 18.
2. Try Out Some Winter Sports at Giżycko
This town in northeastern Poland is the home of the Great Masurian Lakes, a very popular place to spend the summer. However, Giżycko is actually great to visit in winter too!
From mid-December to April the lakes are covered over in a thick layer of ice. You can go ice yachting, ice fishing or go diving under the ice caps (supervised, of course!).
Since Giżycko is one of the coldest parts of Poland, you're also able to go cross-country skiing. To warm up, the town has an indoor pool and sauna.
3. Visit Zakopane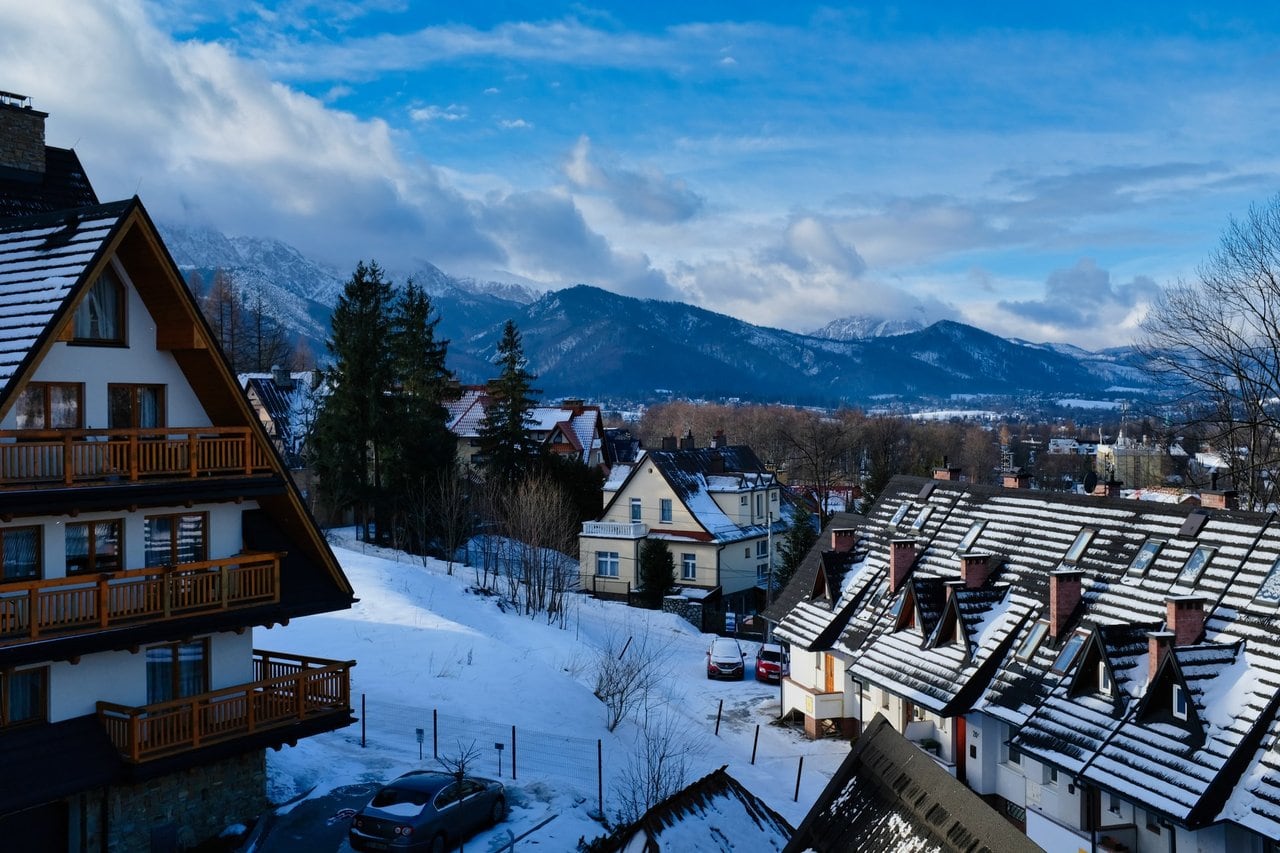 The mountain town of Zakopane is known as the winter capital of Poland. It's got to be one of the most beautiful places in the entire country to spend winter.
Not only is the view of the Tatra Mountains blanketed in snow jaw-dropping, but the town is full of cosy, wooden restaurants with open fires. Zakopane is all you could possibly want from a winter trip to Poland!
Although it's definitely worth spending a few days in Zakopane if you can (especially if you want to go skiing!) Zakopane is one of the most popular day trips from Krakow, so you can easily squeeze a visit into your Krakow winter city break.
There are lots of thermal pools near Zakopane, so if you've spent the day out in the cold exploring the mountains there's no better way to heat up.
Tempted to visit Zakopane? Read my full review of the tour of Zakopane I took from Krakow.
4. Go Museum-Hopping
Poland has no shortage of incredible museums, and as a self-confessed museum nerd, it definitely gets my royal seal of approval!
Most museums in Poland are cheap to visit and educational. They often teach us about things we don't learn about in our home countries (for example, the Warsaw Uprising, which I knew nothing about before visiting Poland!).
Spending the day hopping from museum to museum is one of the best things to do in Poland in winter whilst keeping warm.
5. Try Barszcz Zurek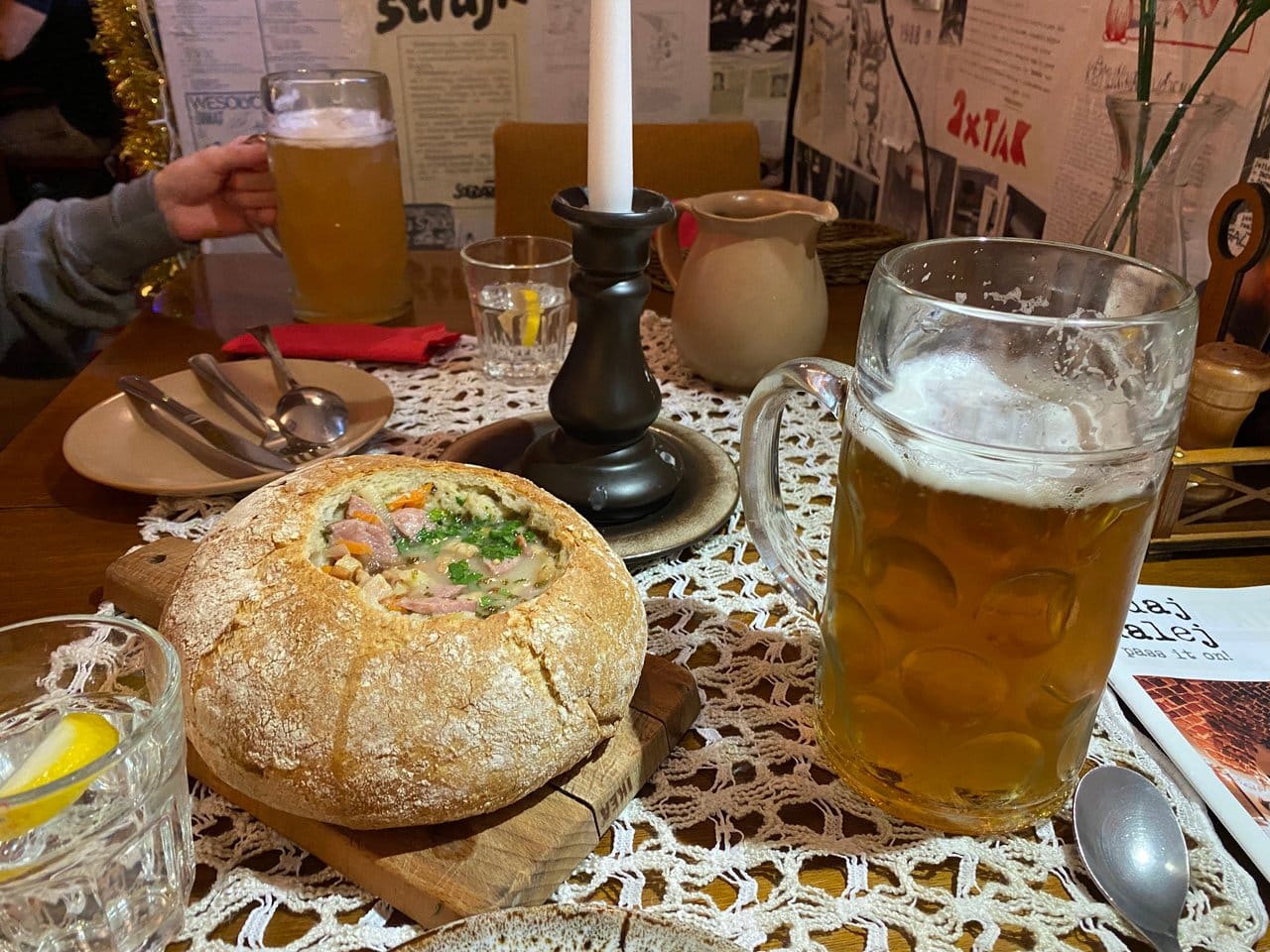 This traditional Polish soup is probably the heartiest and most warming soup I have ever eaten. I think it tasted even better because it was freezing cold outside!
This soup is a sour rye soup, and is one of the most traditional soups in Poland. To foreigners like me, though, it tasted very exotic and unlike anything I had ever tried before.
It certainly helps that the soup often comes in a hollowed-out bread bowl, which means you're able to scrape the bread into the soup… Yum!
After a morning spent exploring a Polish city in winter, Zurek is easily the best way to warm yourself up and prepare yourself for stepping out into the cold again.
Best Places to Visit in Poland in Winter
Okay, so I've convinced you that visiting Poland in the winter really isn't as bad as you might think. You've even learnt about all of the cool things to do in Poland in winter. But now you're wondering where to go in Poland in winter.
I highly recommend you spend most of your time in cities if you're visiting Poland in winter. Polish cities all have lots of indoor attractions, so these are the best Poland places to visit in winter if you want to have plenty of things to do without freezing or getting caught in the rain!
Here are my top picks!
Warsaw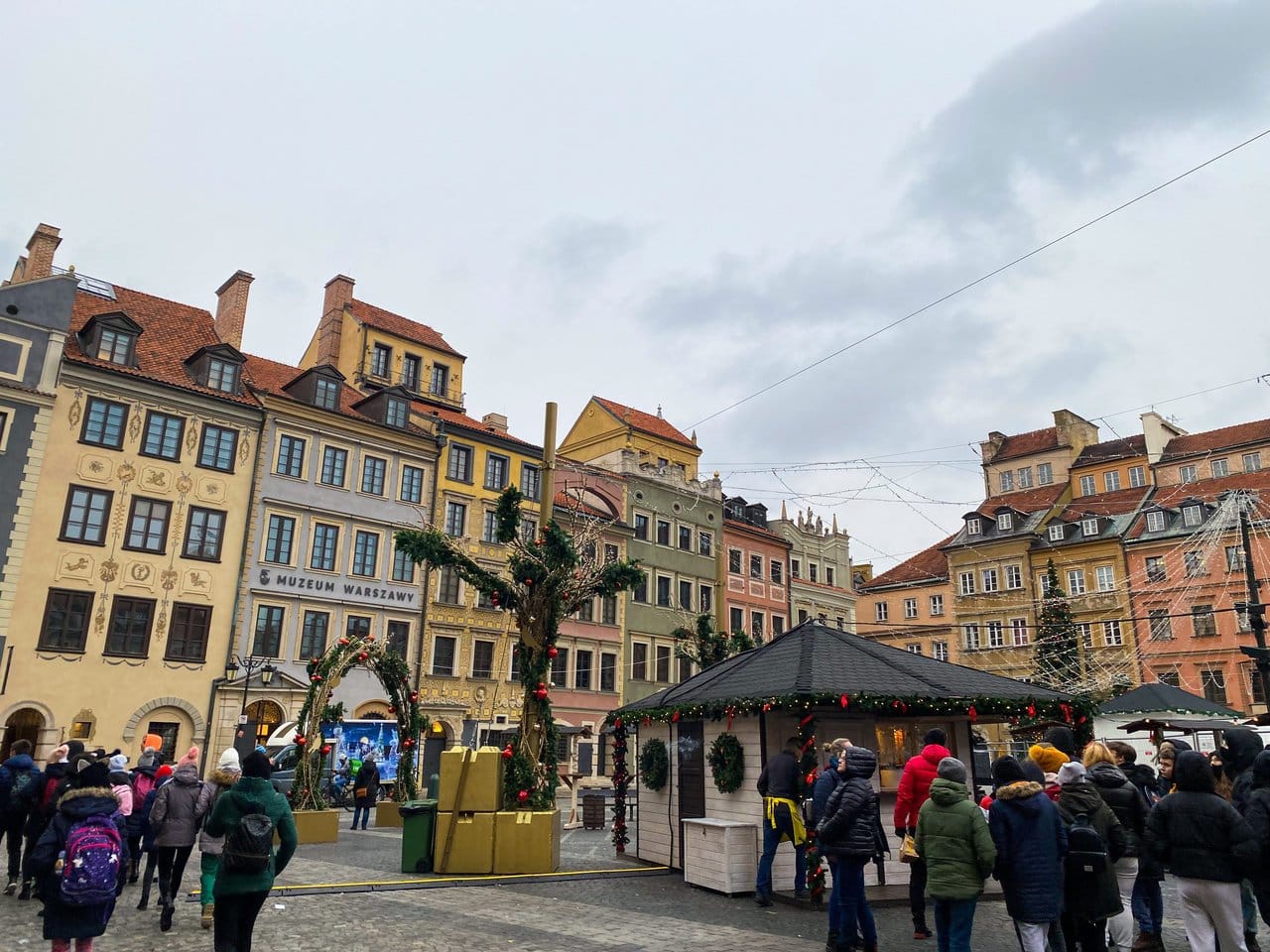 Despite the cold and snow, Warsaw has a unique charm during the winter season. The city is filled with Christmas markets, ice-skating rinks, and seasonal decorations that' will surely get you in the holiday spirit that'll make you feel super cosy.
One of the best Warsaw things to do in winter is to visit the Royal Castle, which looks stunning with a fresh blanket of snow. Inside, you'll find the Great Assembly Hall, the biggest and best room in the castle. Once you see it you'll know why it's a must-see!
Another must-see is the Soviet-era Palace of Culture and Science, which offers an epic view of the city from its observation deck.
If you're a foodie, make sure to try the famous pierogi (dumplings) at Zapiecek, a cosy restaurant that serves them in all sorts of flavours. Sipping on a hot cup of mulled wine at one of the many Christmas markets is also a must-do if you're visiting Warsaw in December!
And if you're into WW2 history, you can't skip the Warsaw Uprising Museum, which gives you an insight into the heroic struggle of the city's residents during World War II.
Krakow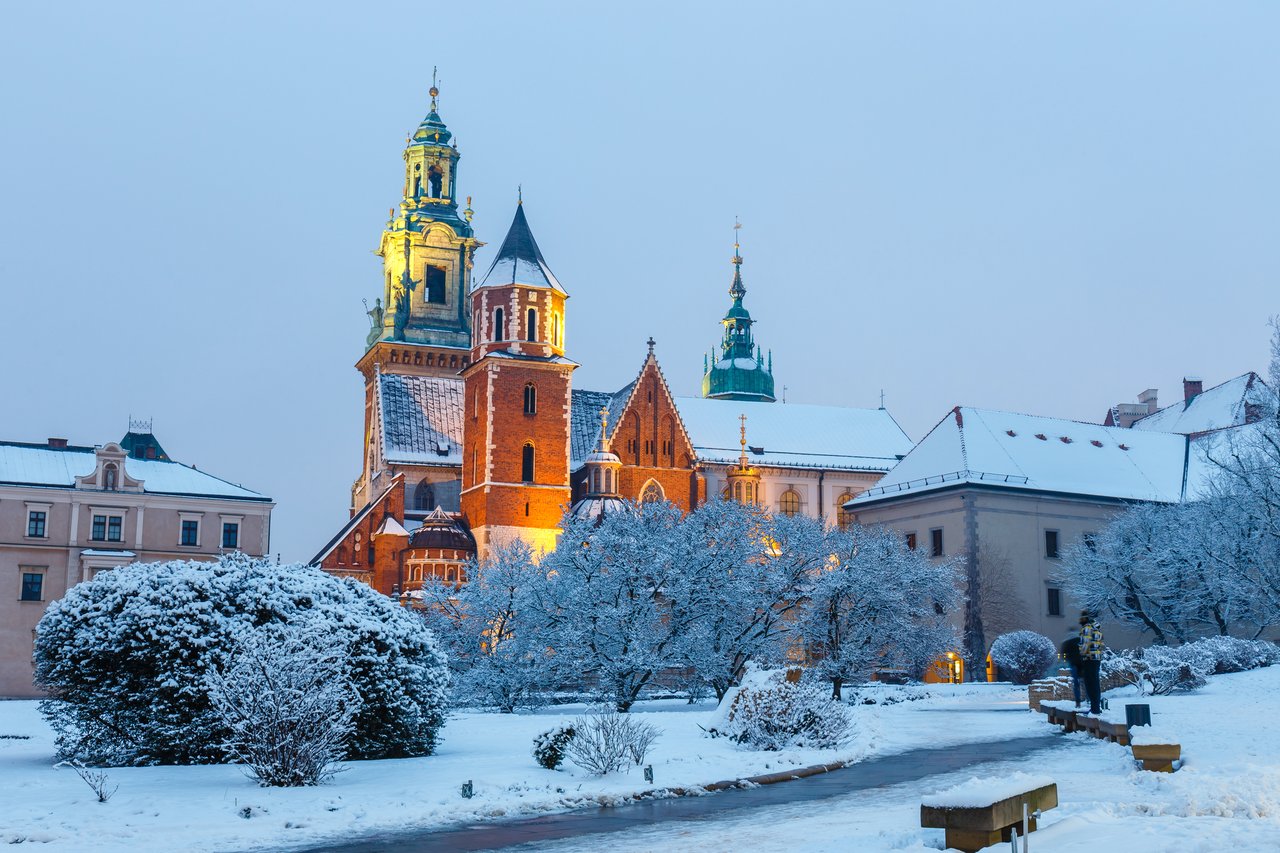 Krakow is a destination that's fun to visit all year round, but there's something extra special about visiting Krakow in winter. With fewer crowds and shorter lines, you can take your time exploring the stunning sights of Krakow, without all of the summer mayhem!
One of the highlights of visiting Krakow in the winter is the world-famous Christmas market in the Rynek Glowny, where you can enjoy traditional holiday fun, at a fraction of the price of other European Christmas Markets.
For a taste of the local culture, explore the historic Kazimierz Jewish District, which is jam-packed full of history, museums, and many of the city's best free things to do.
When it's time to warm up, head over to the Schindler's Factory Museum. It's one of the most famous museums in Poland and tells the story behind the real Schindler from the movie "Schindler's List".
Zakopane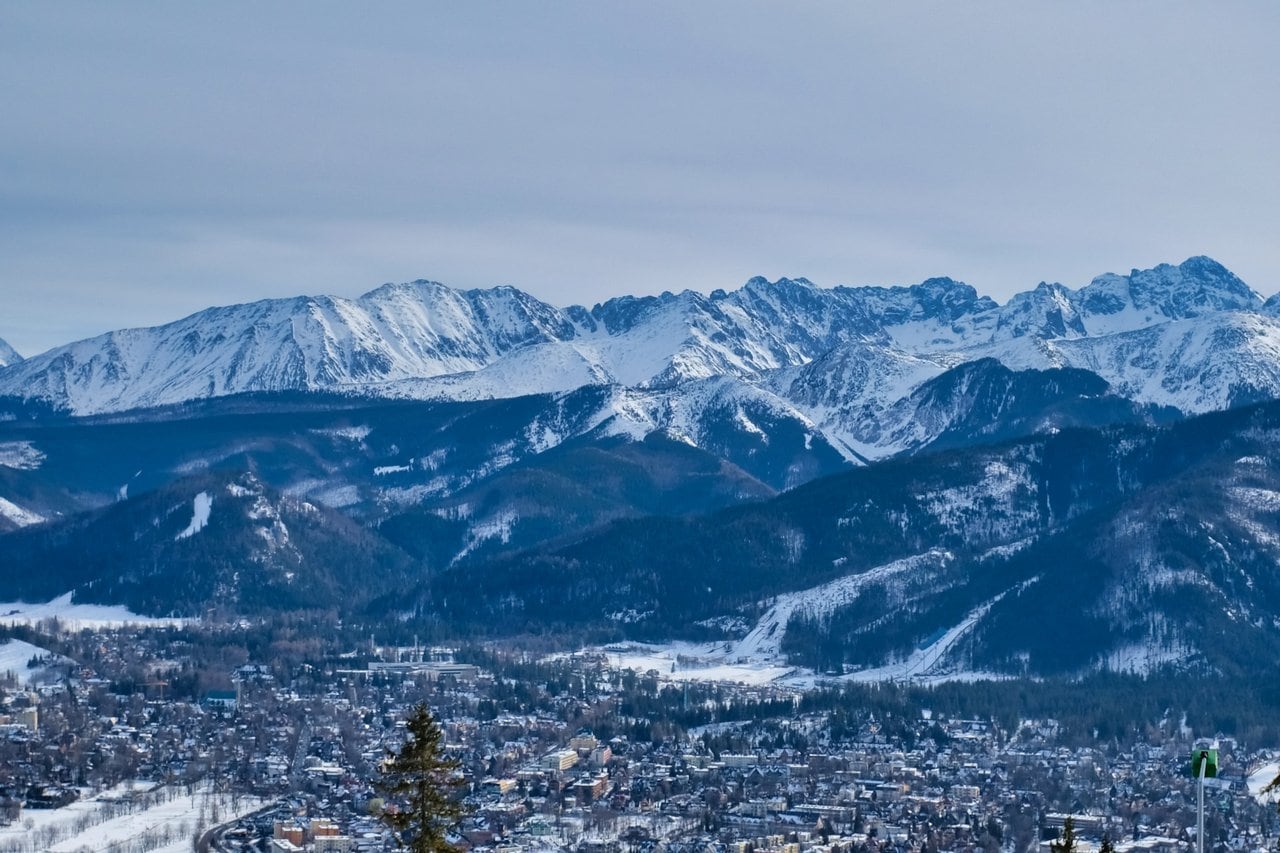 Zakopane, a picturesque mountain resort town in southern Poland, is an absolute must-visit destination for anyone looking to experience the true magic of Polish winter. With its pristine forests, snow-covered peaks, and charming wooden architecture, Zakopane is like something out of a fairytale.
One of the most popular things to do in Zakopane during winter is skiing and snowboarding. The town offers some of the best ski slopes in the country, and you can easily rent equipment and book lessons with experienced instructors.
If you're not into skiing, don't worry – there are plenty of other activities in Zakopane. The town is surrounded by thermal pools, so a spa day should definitely be part of your Poland winter itinerary!
The Gubalowka Mountain, accessible via a funicular ride from Zakopane, is one of the top things to do in Zakopane – even in winter. From the top, you'll get breathtaking views of the surrounding valleys, and there are also a few restaurants and cafes so that you can warm up over a hot chocolate or big bowl of soup.
Wroclaw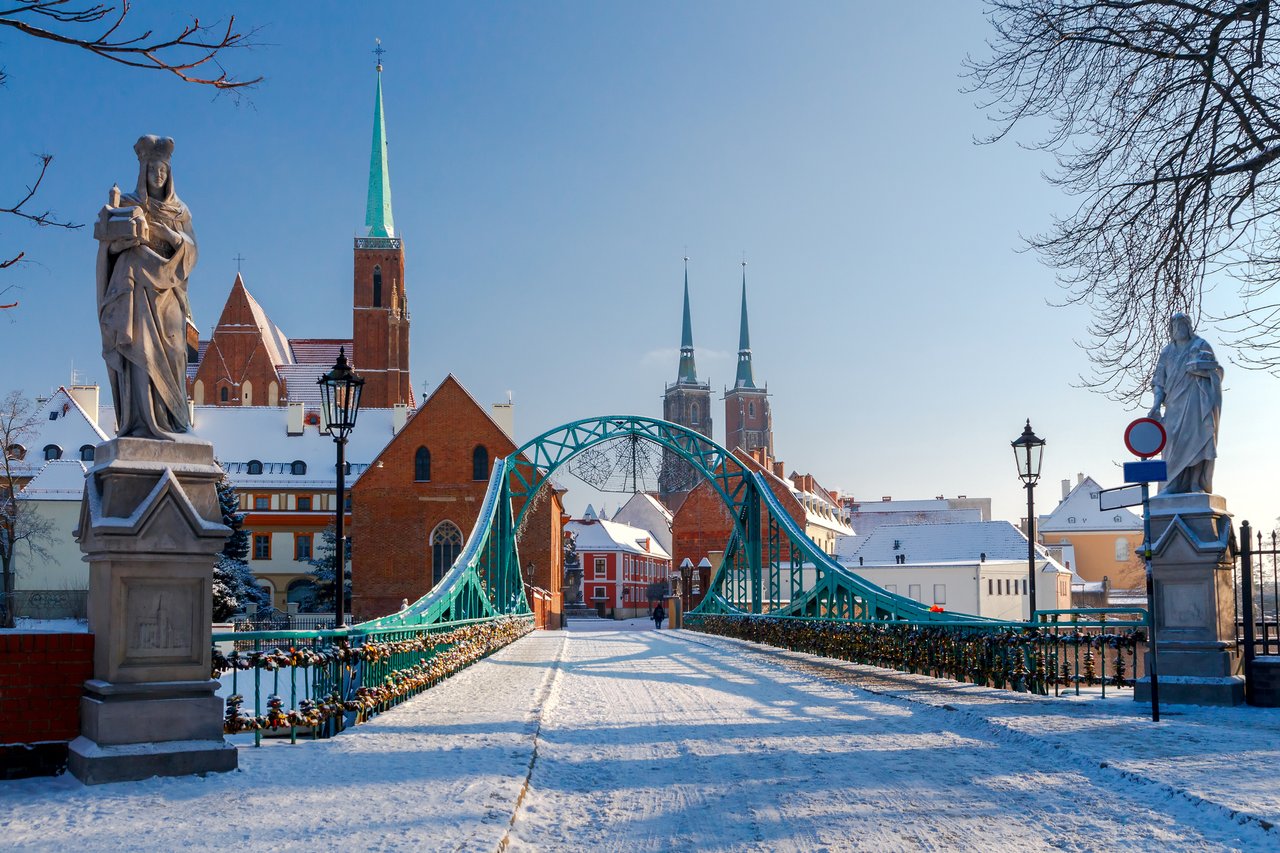 Wrocław, the fourth-largest city in Poland, is another fantastic destination to add to your Poland winter travel itinerary. With its charming cobblestone streets, Gothic architecture, and fun nightlife, Wroclaw has plenty of activities to keep you entertained during the winter.
One of the best ways to explore Wroclaw in December is to take a stroll through the city's beautiful Christmas markets. The Rynek Market Square is transformed into a winter wonderland, complete with an ice-skating rink, live entertainment, and plenty of vendors selling delicious food and drink.
Be sure to try the traditional Polish gingerbread, called piernik (yum!), and warm up with a cup of mulled wine or hot chocolate.
My favourite thing to do in Wroclaw is the Panorama of the Battle of Raclawice, a massive 19th-century painting depicting the Polish victory over the Russians in 1794. The painting is housed in a circular building, and you can walk along a raised platform to view it from all angles. It's mind-blowing!
Don't miss eating at Konspira whilst you're in Wroclaw. It's my favourite restaurant in the entire country! You'll probably have to queue, so wrap up warm, but boy oh boy, the Polish food here is out of this world!
Poznan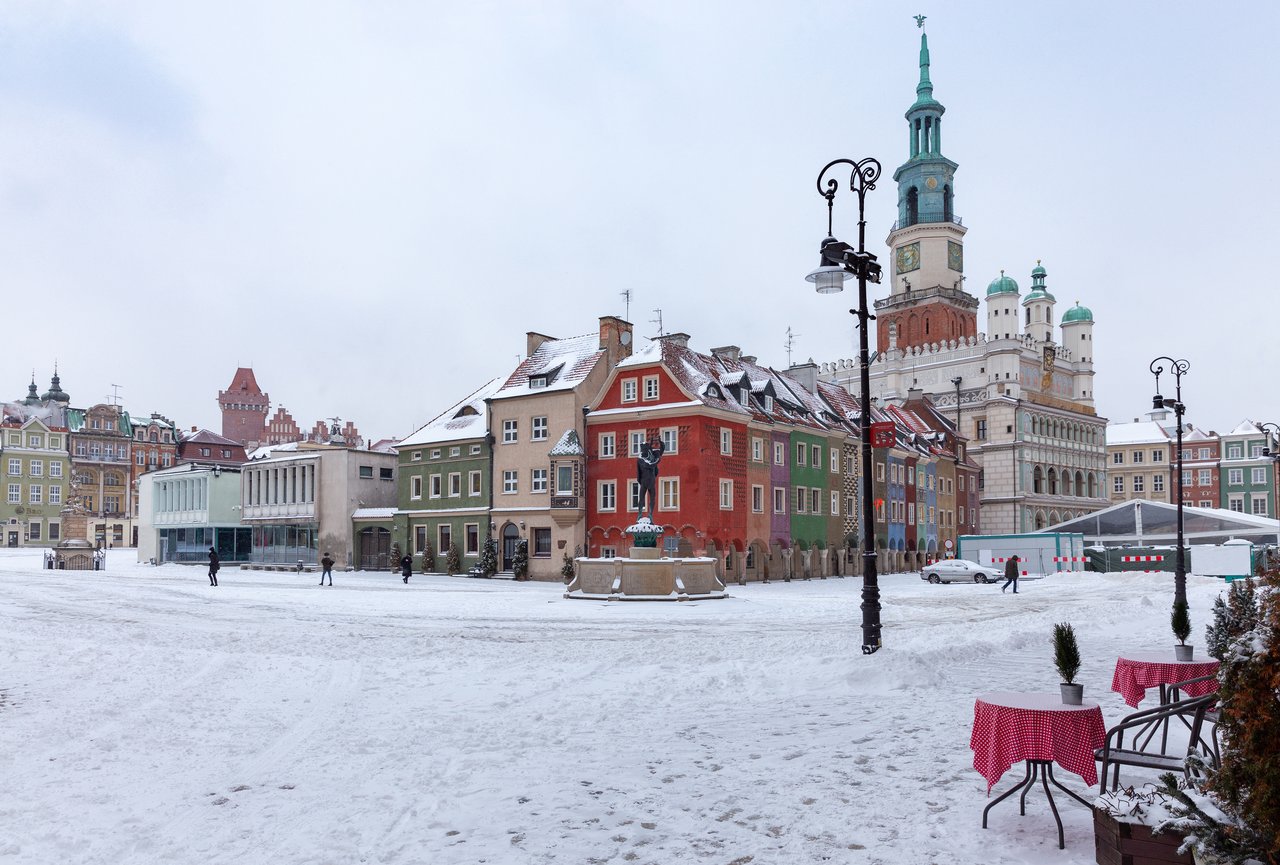 Poznań, one of my favourite cities in Poland, is another fantastic winter destination, thanks to its numerous indoor museums. I visited Poznan in winter during December and had a blast!
One of the best things to do in Poznan during winter is to visit the The Poznan Uprising Museum, which is dedicated to the events of June 1956, when workers and students in Poznan staged a huge anti-government protest that rocked the status quo.
Another museum worth visiting in Poznan is the Museum of the Wielkopolska Uprising of 1918-1919, which tells the story of the region's struggle for independence during World War I. I bet you haven't learnt about that before!
If you're staying in Poznan for more than a couple of days, you'll probably want to check out some other places to visit near Poznan. From Berlin to Warsaw, you'll be spoilt for choice.
Szczyrk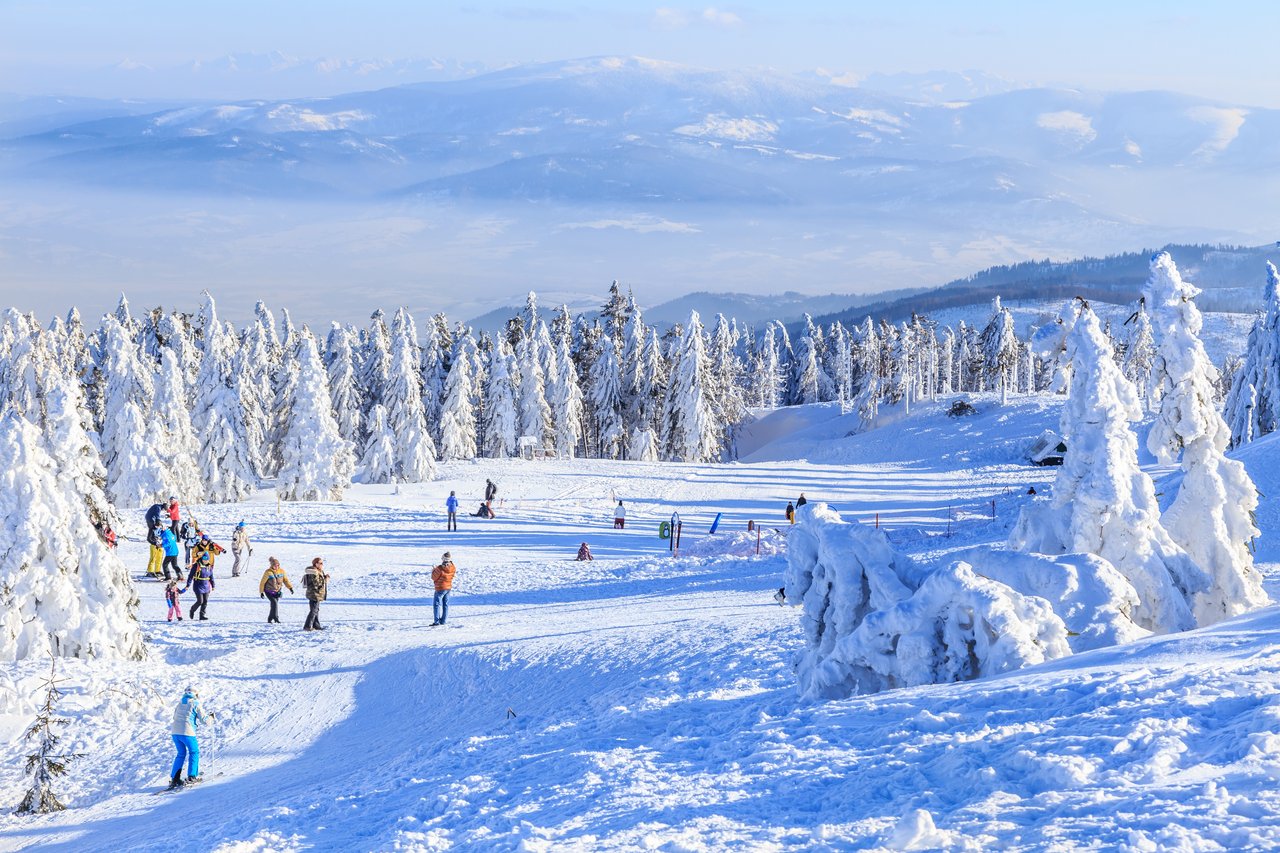 Szczyrk, a popular ski resort town located in the Beskid Mountains of southern Poland, is one of the best ski resorts in Poland! Obviously, this makes it a great place to visit in Poland in winter.
One of the best things to do in Szczyrk is, obviously, to hit the slopes at its famous ski resort! The resort offers runs for all skill levels, as well as equipment rentals and lessons with experienced instructors. Whether you're a seasoned skier or a beginner, you'll have a blast skiing or snowboarding in Poland.
After a day on the slopes, you'll love dining at some of the cosy local restaurants for some apres-ski fun, drinks and food.
Aside from skiing, one of the best things to do in Szczyrk is visit the Klimczok Mountain, which offers some incredible panoramic views of the surrounding countryside. You can take a cable car to the top of the mountain, so no hiking is necessary!
Gdansk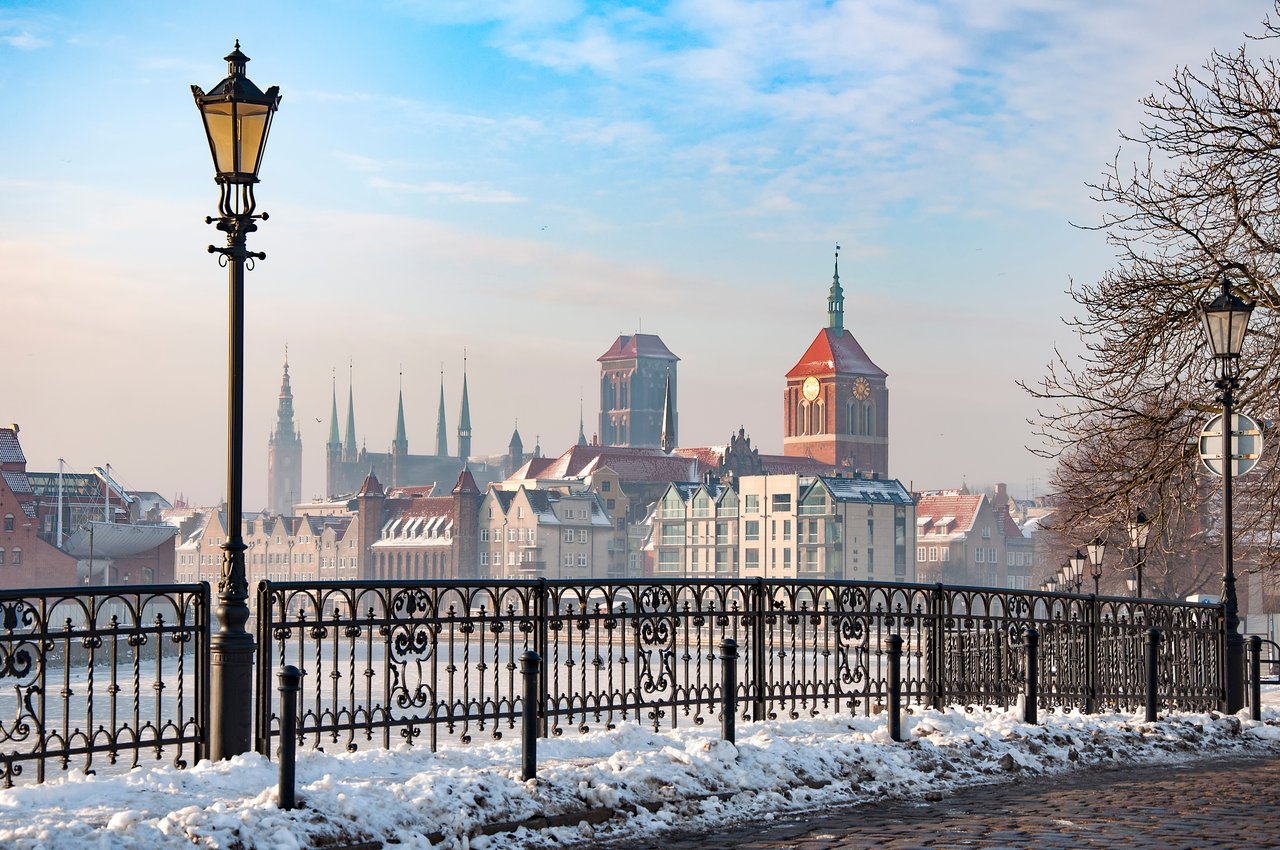 Gdansk, a port city located on the Baltic coast, is another one of the best places to visit in Poland during winter. Wait, a coastal city… in the winter? Yup! Thanks to its position on the coast of Poland, temperatures here don't get quite as cold as elsewhere in the country, making for some of the mildest winter weather in Poland.
If you're even half interested in history, then you can't miss one of the best Gdansk things to do winter – the European Solidarity Centre. This huge museum tells the story of the Solidarity movement, which played a crucial role in bringing down communism in Poland. I'm a huge museum buff, and trust me, this place is well worth your time.
Another must-visit destination in Gdansk is the impressive St. Mary's Church, which is one of the largest brick churches in the world. Inside, you can check out the beautiful stained glass windows and take in the stunning views from the top of the tower.
If you're looking to escape the cold, then head to the Amber Museum, where you can learn about the history of amber and see some incredible pieces of jewellery and artwork made from this beautiful material.
Lublin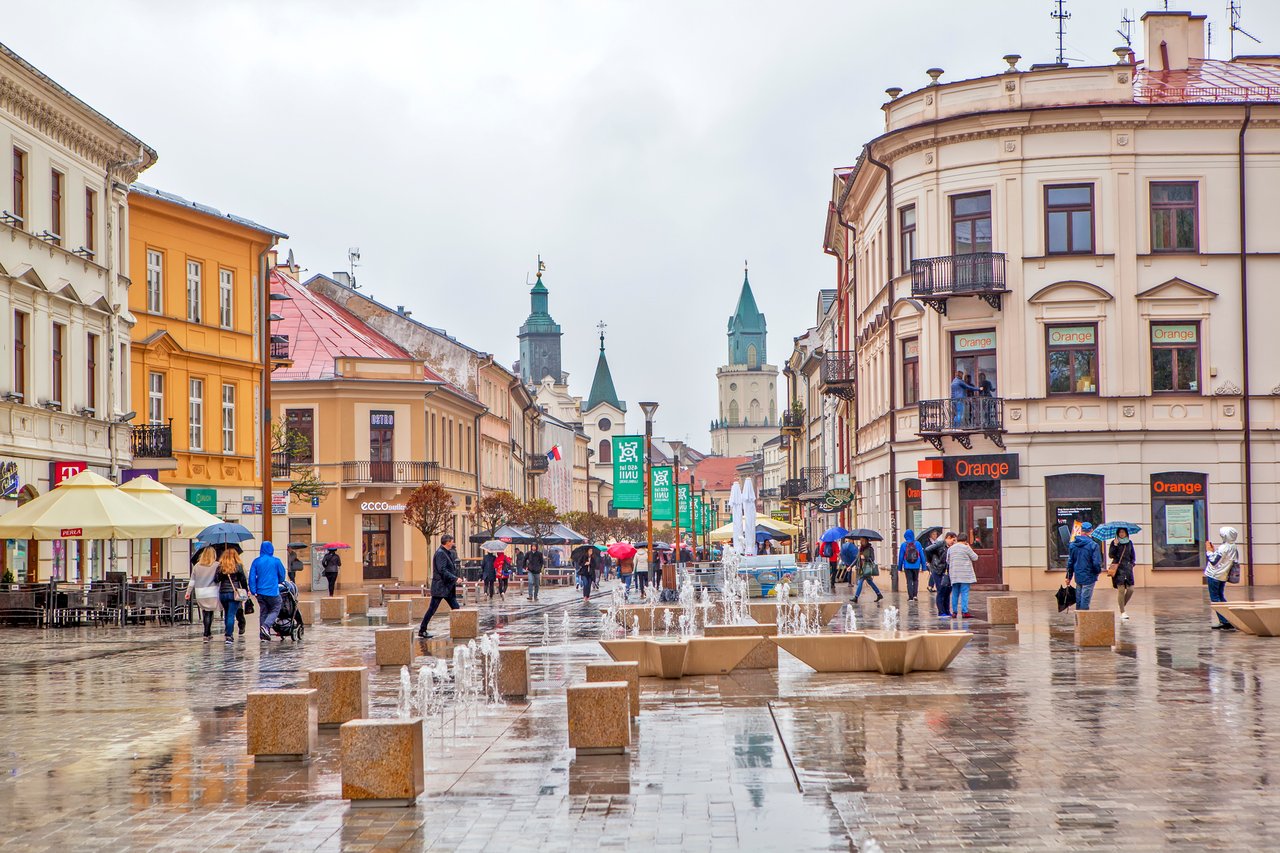 Located in eastern Poland, Lublin is a lesser-known city that's also a fun winter destination.
One of the best things to do in Lublin during winter is to explore the Old Town, which looks absolutely gorgeous with its colourful buildings and winding streets. Take a winter stroll down the cobbled lanes and admire the impressive Castle, one of the city's top landmarks.
If you're a foodie, then be sure to try the delicious pierogi (dumplings) at one of the local restaurants, such as Restauracja Magia, which serves them in all sorts of flavours in a cutesy and old-fashioned restaurant. You can also warm up with a cup of Polish hot chocolate at Vanilla Cafe, a cosy cafe located in the heart of the Old Town.
Another must-visit destination in Lublin is the State Museum at Majdanek, a former concentration camp which offers a sobering reminder of the atrocities committed in Poland during World War II. The camp is now a museum, and you can take a guided tour to learn about the history of the site and pay your respects.
Reasons to Visit Poland in Winter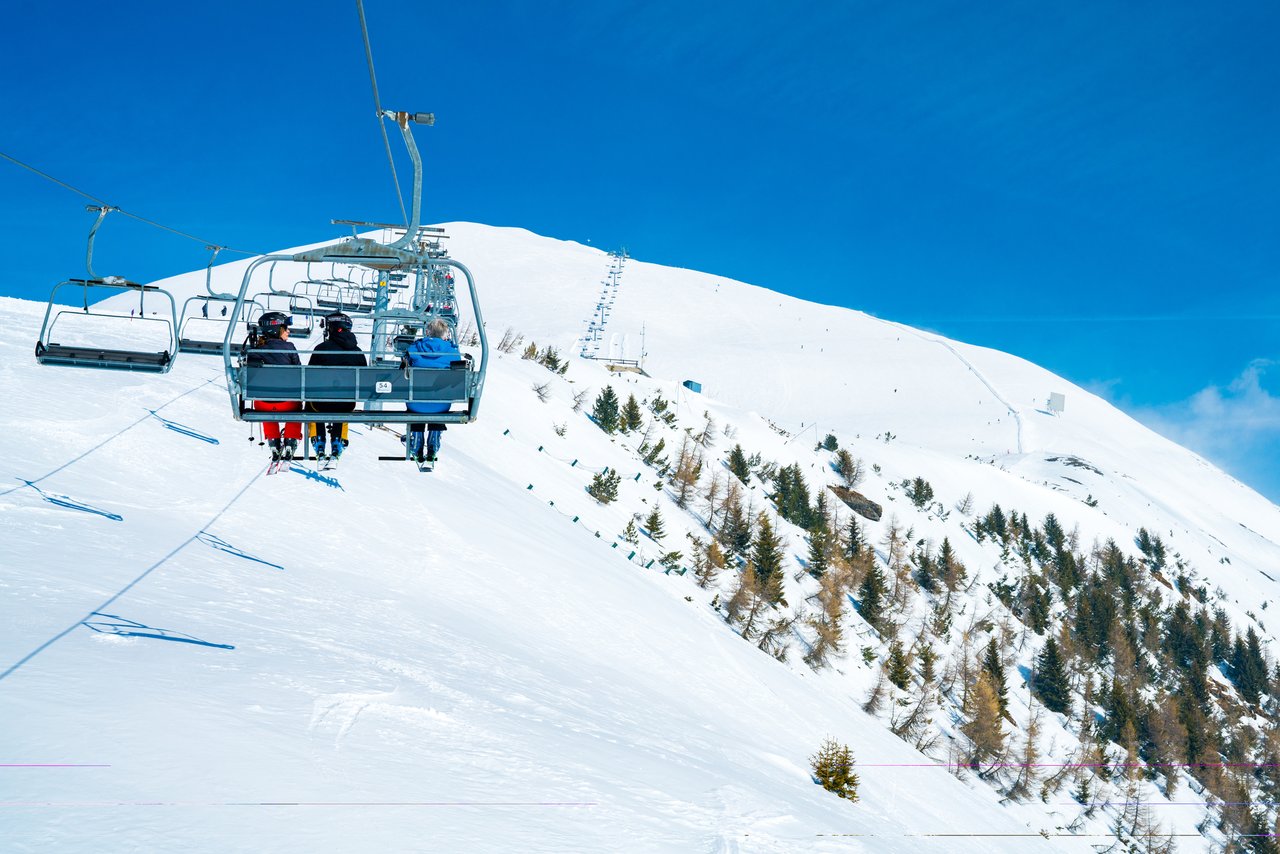 So, now that we've gone over the incredibly short daylight hours and the cold, cold temperatures in Poland in winter, you're probably wondering "why on earth would anybody want to visit Poland in winter?!?".
I get it. It does sound a bit bonkers, but there are actually some very good reasons to visit Poland in winter! Here are just a few:
• Poland has some incredible Christmas Markets which are not only less crowded than their German counterparts but, since Poland uses the Polish zloty, they are much more affordable. Exploring Christmas Markets is one of the best things to do in Poland in December.
• Poland has a thriving winter sports scene which is very affordable.
• Demand for hotels and accommodation is very low (except for ski areas). You can find some crazy bargains on Poland accommodation in winter!
• Polish food is hearty and warming, which is ideal for when it's snowy and cold outside. There's no way you could enjoy Poland's many delicious soups in the baking heat of the summer!
How to Visit Poland in Winter on a Budget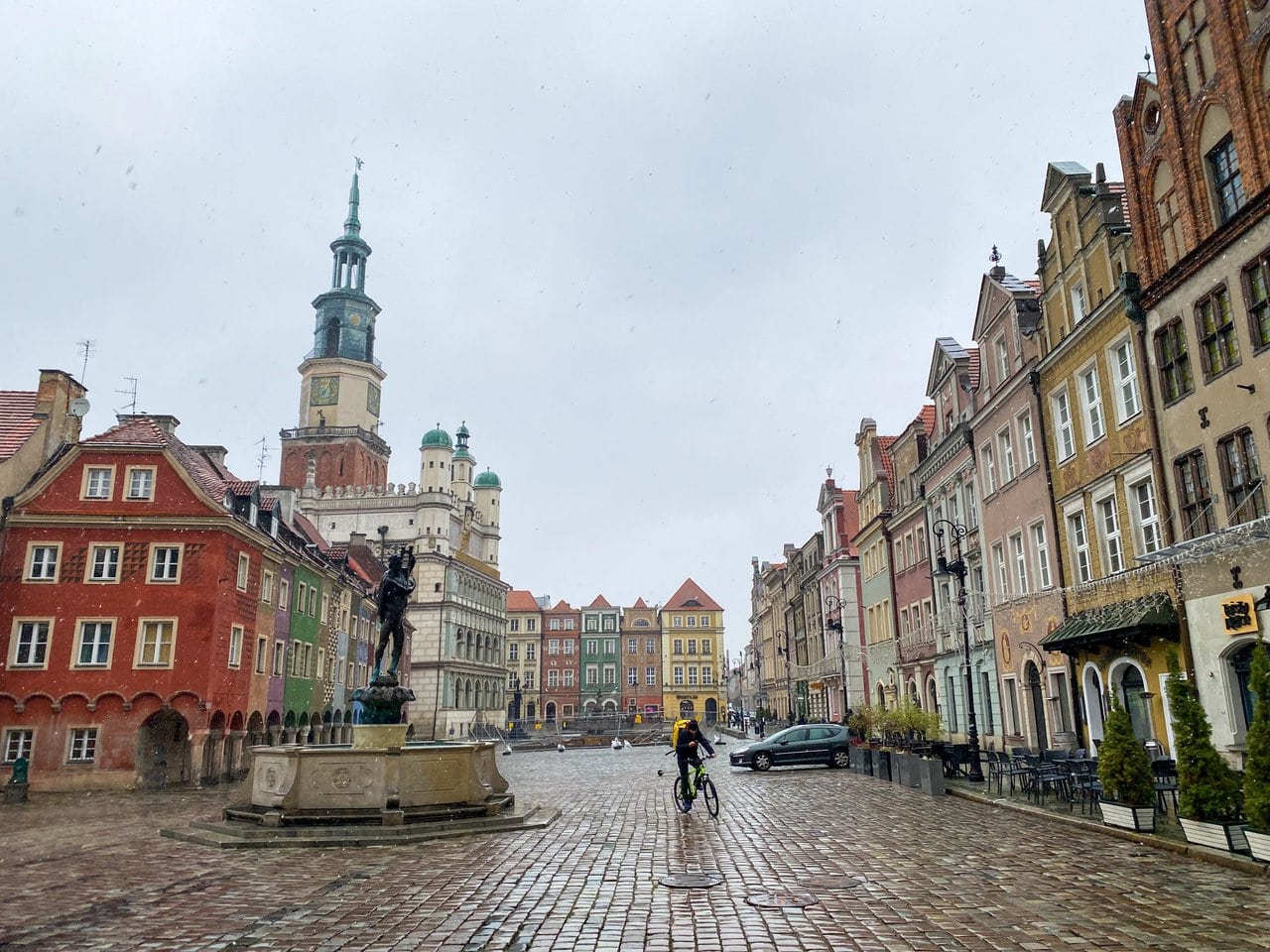 Visiting Poland in winter can be brilliant if you want to travel on a budget. This is mainly because the most expensive travel cost, your accommodation, will be much cheaper than in summer.
Unsurprisingly, not many people want to experience the Polish winter weather. If you're brave enough to do so your wallet will thank you!
However, we spoke earlier about the short daylight hours in Poland and winter. This not only limits the amount of sightseeing you can do, but also means you're likely to spend more than in summer.
You'll want to pop into cafes and museums often just to warm up, which of course costs money. 
Many free things to do in Poland, like lounging in the park or going hiking, become things you absolutely won't add to your winter Poland itinerary. It's just too cold or snowy!
FAQs About Visiting Poland in Winter
Is winter a good time to visit Poland?
Although winter isn't the best time to visit Poland due to the cold temperatures and short daylight hours, it's definitely still possible to have a good time in Poland in winter. Provided you fill your itinerary with indoor attractions and cosy restaurants, winter is a good time to visit Poland.
Is Poland worth visiting in winter?
Absolutely, Poland is definitely worth visiting in winter! There are plenty of fun ski resorts to try out, plenty of indoor attractions in the country's top cities, and hearty food that'll warm you up. Poland is especially worth visiting in December when you'll find some of the cheapest Christmas Markets in Europe.
What is Poland like in winter?
Poland in winter is cold and dark, but the locals don't let the weather stop them from having fun, and most tourist attractions remain open year-round in Polish cities. While it can be chilly, there's plenty to see and do indoors and out, from exploring historic city centres to skiing in the mountains.
How cold does Poland get in winter?
Poland can get quite cold in winter, with temperatures typically ranging from 1°C to -4°C in the daytime and -9°C to -5°C at night. It's important to pack warm clothing and be prepared for snow and ice if you visit Poland in winter. The warmest area of Poland is the south-west, with the coldest being the north-east and the mountains.
What do Polish people do in winter?
In winter, many Polish people head to the mountains to enjoy the snow by skiing and snowboarding. In the cities, Polish people spend a lot of time indoors in the winter, enjoying hearty food and drink together, hanging out with family, and going for brisk walks in the park. It's just like anywhere else in winter, really!
How long is winter in Poland?
Winter in Poland typically lasts from late November until the end of February, with temperatures at their lowest and snowfall at its heaviest during January. However, winter in Poland can feel very long thanks to the short daylight hours and cold temperatures, which often last until March or April!
What clothes to wear in Poland in winter?
Wear warm and waterproof clothes in Poland in winter! I wore jeans for my entire trip and they were warm enough. You should also pack long sleeve tops, jumpers, and a warm, waterproof coat with a hood. Waterproof shoes with good grip are essential for the icy and wet streets, and an umbrella will protect yourself from the snow and rain.
Should I visit Poland in winter or summer?
Unless you're visiting Poland to see the Christmas Markets, summer is always a more enjoyable time to visit Poland. You'll get far longer days, which means more time to sightsee, with plenty of warm weather so that you can spend time outside. Although Poland winters can be fun, the weather definitely makes outdoor sightseeing less pleasant.
Does it snow in Poland in January?
Yes, it does snow in Poland in January. In fact, January is usually the coldest and snowiest month of the year in Poland, with temperatures often below freezing. If you're visiting Poland in January expect to see plenty of snow, and be sure to pack warm clothes! January is the best time to see it snowing in Poland!
Does it snow in Poland?
Yes, it does snow in Poland. Winter, from November until February, is the most likely time to experience snowfall in Poland, but it can also snow in the early spring or late autumn. The amount of snow varies depending on the region, with the mountains receiving the most.
Is Poland cold?
Yes, Poland can be cold, especially during the winter months. The country's climate is classified as "humid continental", which means there are significant temperature variations throughout the year. Poland is cold in autumn and winter, with temperatures often dropping below freezing, but summer in Poland can actually be quite hot! Poland is cold in winter, but not all year round.
Top Tips for Visiting Poland in Winter: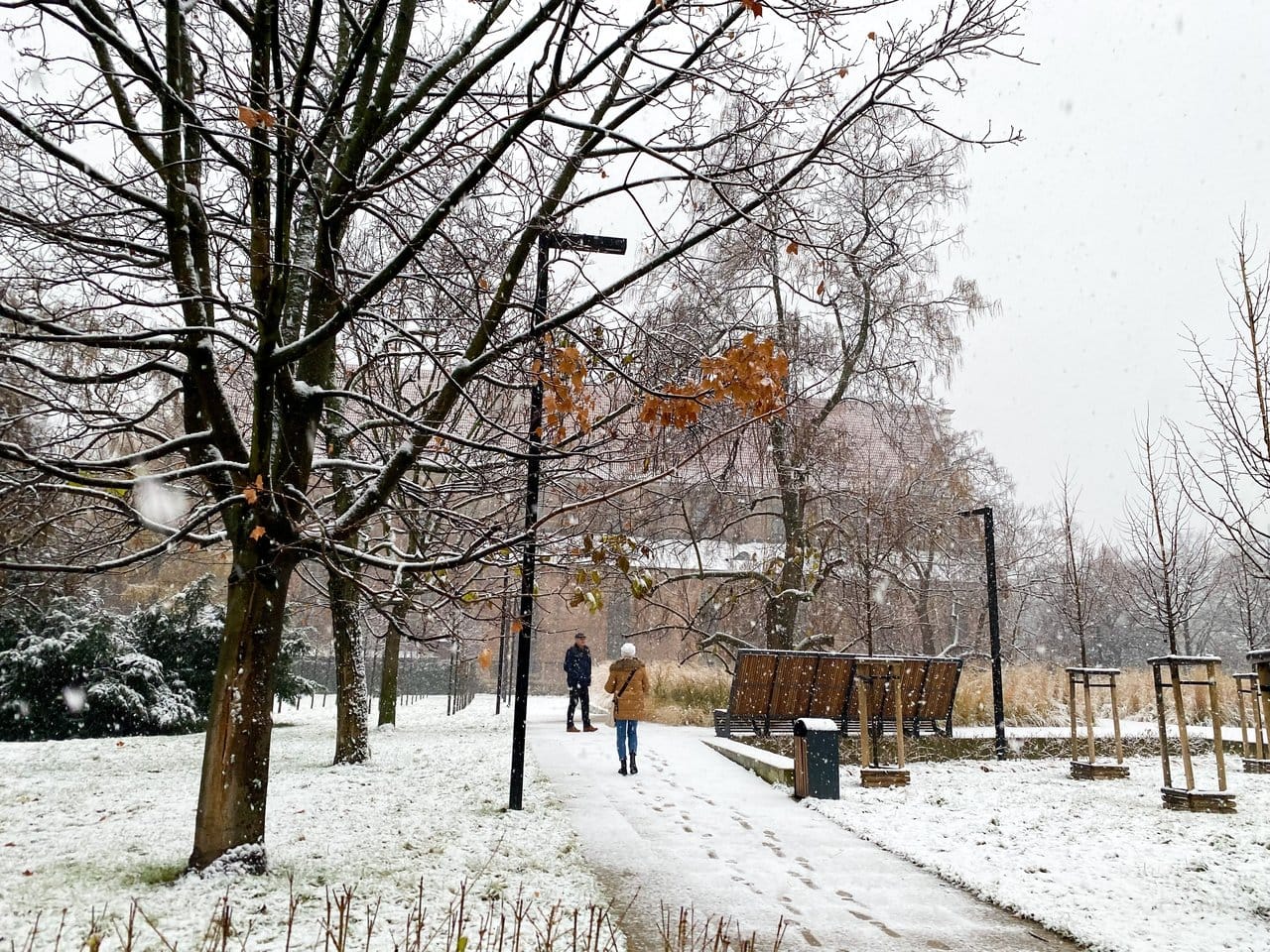 • Pack warm, waterproof clothes, a hat, scarf and gloves, waterproof shoes, and plenty of socks in case yours get wet in the rain!
• Book your accommodation as close to the city centre as possible to avoid long walks in the cold.
• Bring an umbrella! This was a lifesaver to protect me from the rain and snow.
• Try to start your sightseeing as soon as the attractions open, at around 10am, to maximise the daylight hours available to you.
---
If you're considering visiting Poland in winter, you're certainly making a brave decision! I've no doubt that you'll have a fabulous trip, though. I sure did! I hope this post helped you find out everything you need to know before embarking on your trip.