There is a good chance that this post contains affiliate links. If you make a purchase through them, I may receive a small commission at no extra cost to you! As an Amazon Associate, I earn from qualifying purchases. As ever, all opinions are my own.
When I booked a 5-day visit to Poland in December most people thought I'd gone crazy. In case you didn't already guess, Poland in winter is FREAKING COLD.
Luckily, though, my madness paid off and I had an incredible winter getaway to Poland. Now, having survived it, I can personally say that visiting Poland in winter is possible and actually enjoyable.
However, there are definitely some things you should know before you visit Poland in winter. Things that I didn't know at all before I visited!
So, whether you're still wondering whether or not it's worth visiting Poland in winter, or you're already excitedly planning your trip, here's everything you need to know before you go!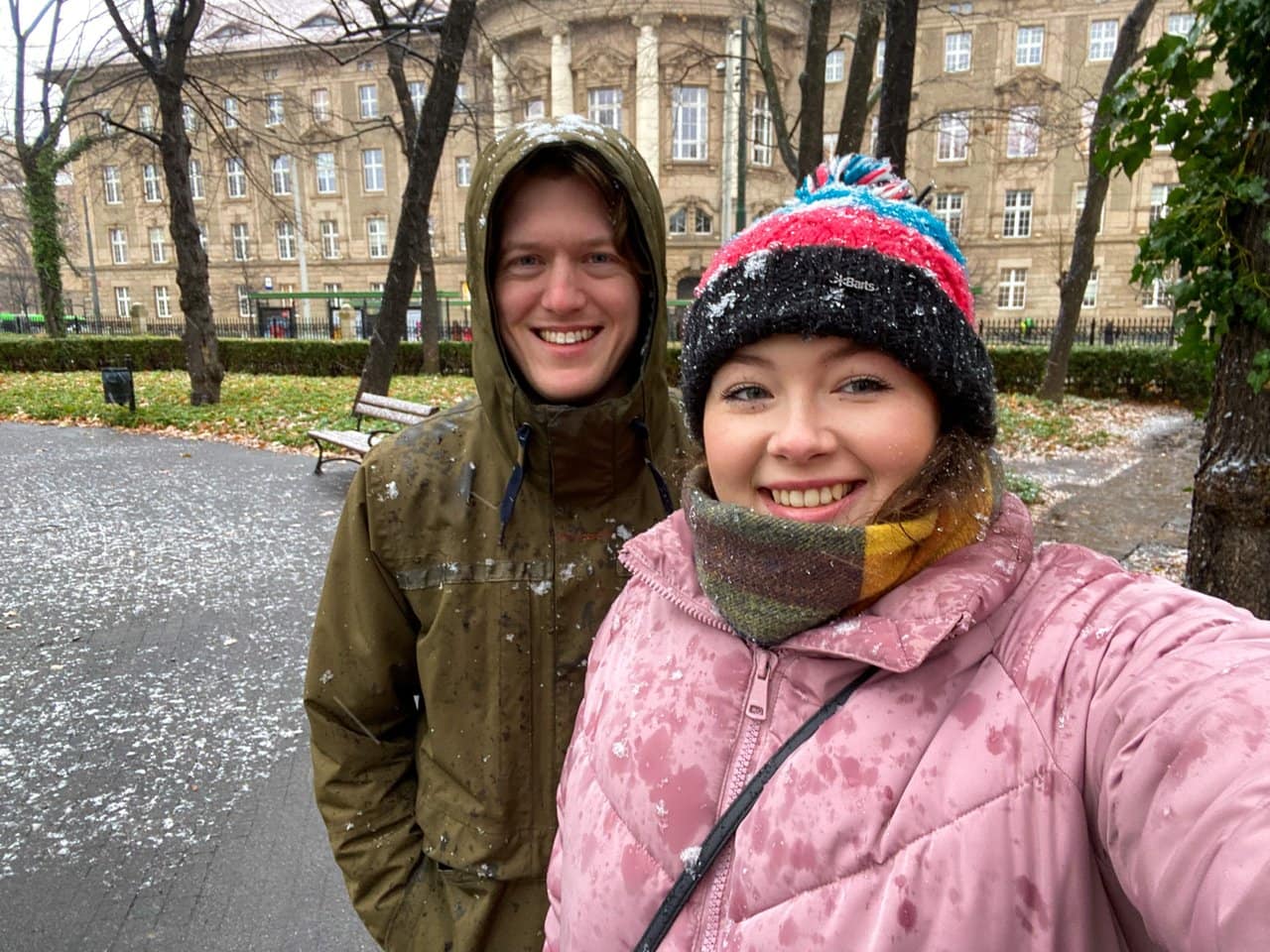 Winter Weather in Poland
Let's start with the obvious: Poland gets really cold in winter. Especially for somebody like myself who comes from the comparatively mild-weathered UK!
If you're a Canadian or Russian, chances are you'll find the winter weather in Poland totally tropical. But for the rest of us… Yeah. Poland is cold in winter!
In late November and early December, the weather in Poland can be quite varied. During my five day trip, I had one day of glorious sunshine, followed by four days straight of heavy snow and rain. You'll also get quite a few rainy, snowy or sleety days, so pack an umbrella and a waterproof coat!
The Polish weather in January can be summarised with one word: snow! January is the peak time that Poles go skiing and enjoy other winter sports. It's actually the snowiest month of the year in Poland. Of course, that means colder temperatures too. The average temperature is around -3°C, which is obviously pretty darn cold.
In February, the weather in Poland is much the same as in January, but with slightly less snow and potentially more rain. The average temperature is -2°C.
Winter Daylight Hours in Poland
As well as the cold temperatures, an issue with winter travel in Poland is the limited daylight hours. Winter days are very short in Poland, and as a result attractions close earlier. 
In December, the sun rises around 7:35am and sets at a very early 3:25pm. In January, the sun rises at a similar time and sets around 3:55. February is the best winter month to visit Poland in terms of daylight hours, as the sun rises at 6:48am and sets around 4:51pm.
The further south you go, the more time you'll spend in daylight (although the variation is only around 35 minutes).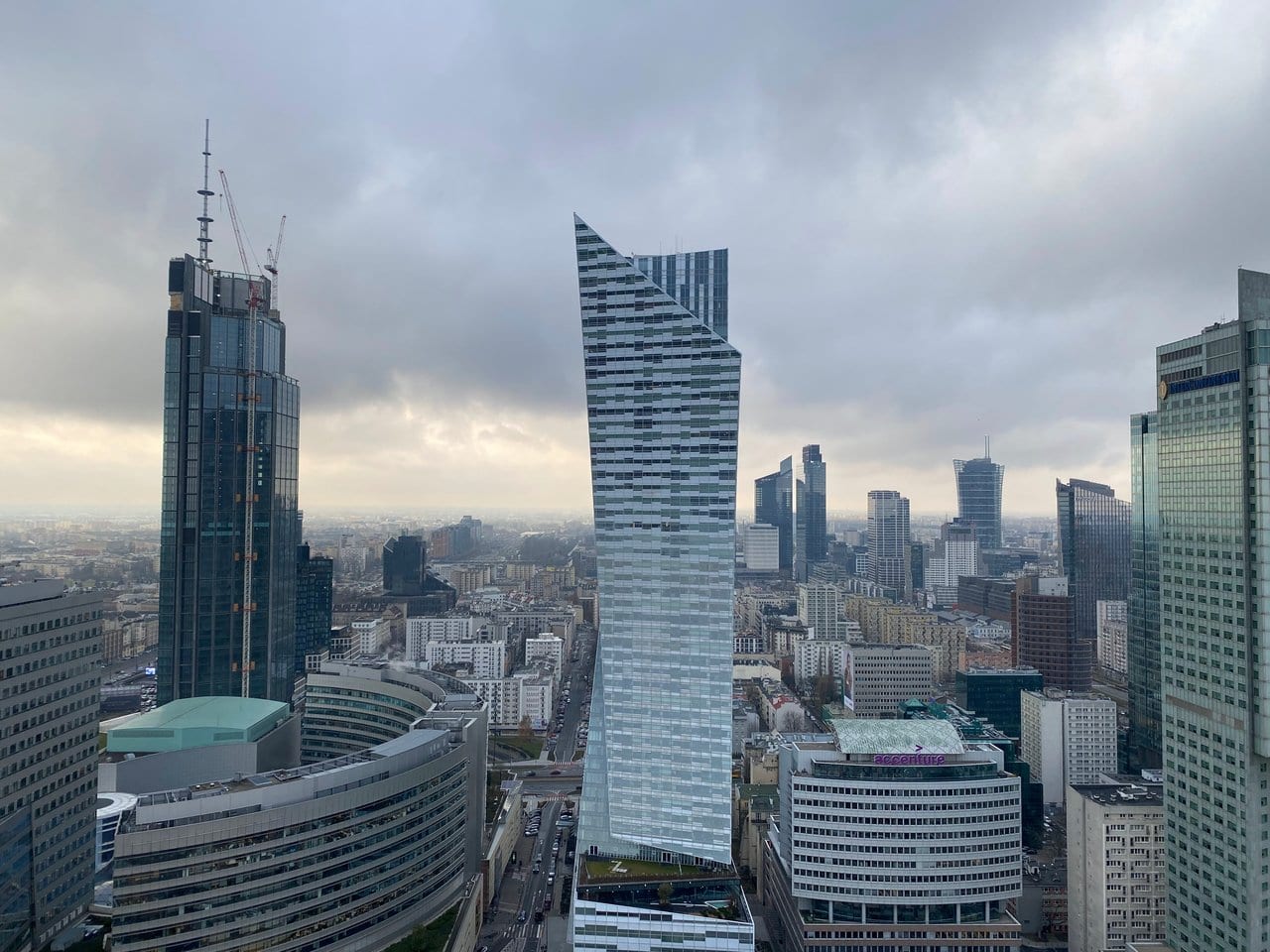 Reasons to Visit Poland in Winter
So, now that we've gone over the incredibly short daylight hours and the cold, cold temperatures in Poland in winter, you're probably wondering "why on earth would anybody want to visit Poland in winter?!?".
I get it. It does sound a bit bonkers, but there are actually some very good reasons to visit Poland in winter! Here are just a few:
• Poland has some incredible Christmas Markets which are not only less crowded than their German counterparts but, since Poland uses the Polish zloty, they are much more affordable.
• Poland has a thriving winter sports scene which is very affordable.
• Demand for hotels and accommodation is very low (except for ski areas). You can find some crazy bargains on Poland accommodation in winter!
• Polish food is hearty and warming, which is ideal for when it's snowy and cold outside. There's no way you could enjoy Poland's many delicious soups in the baking heat of the summer!
Best Things to Do in Poland in Winter
Despite the weather there are still plenty of fun things to do in Poland in winter. Aside from things like sunbathing or visiting the beach, you can do almost everything in winter that you would do at any other time of year in Poland!
However, there are a few things that you definitely need to do in winter in Poland.
Visit the Christmas Markets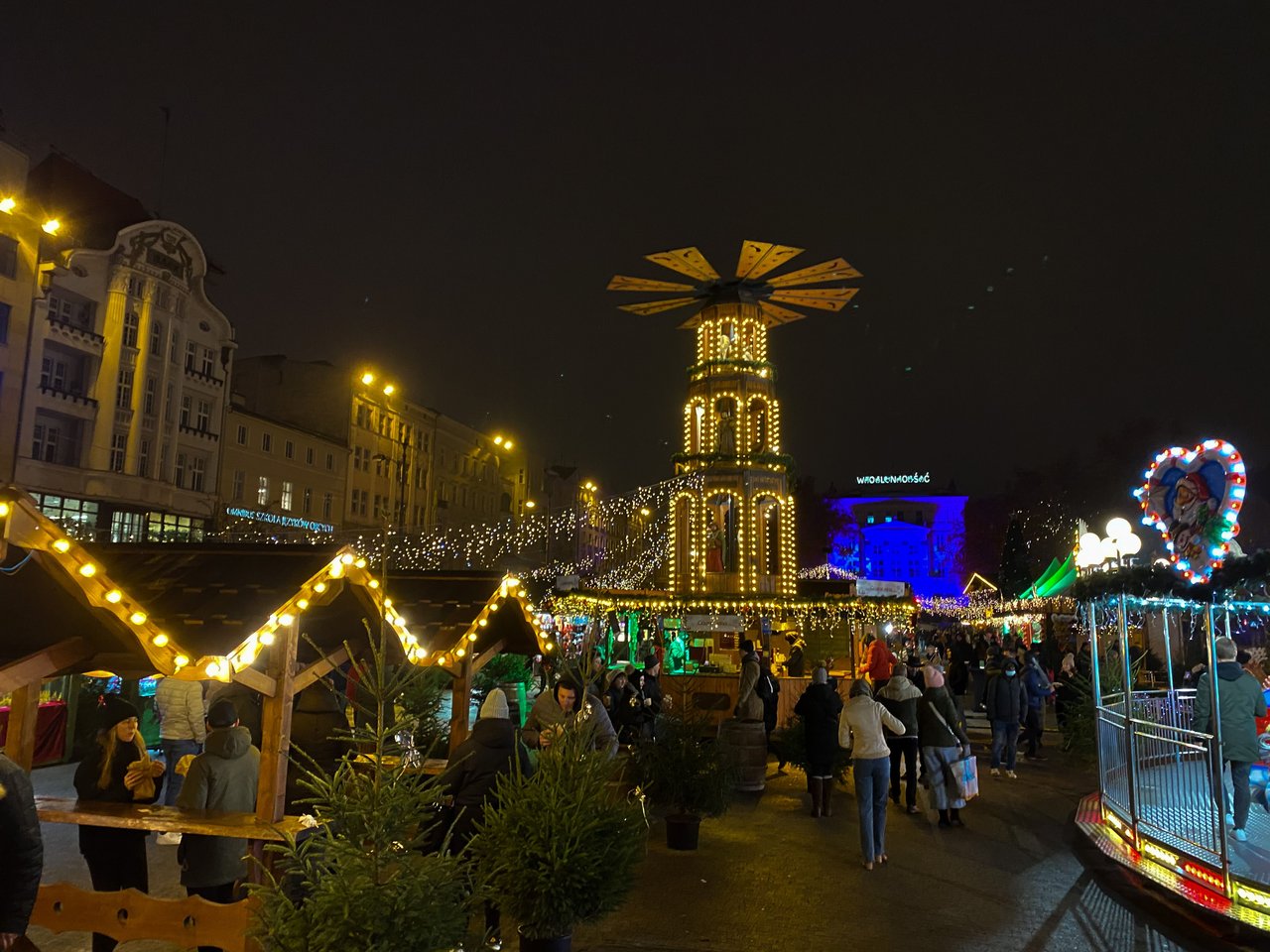 As I mentioned before, Poland is such an underrated Christmas holiday destination and has some epic Christmas markets. You'll find them in most large cities, but my personal favourite was in the city of Wrocław!
With pop-up ice rinks, wooden Christmas Market stalls and plenty of mulled wine, Christmas Markets in Poland are beloved by locals and tourists alike. They also never get *too* crowded, which is ideal in this day and age!
What's more, prices in general in Poland are much cheaper than in Western Europe and the US. This means you're able to visit the Christmas Markets and actually buy things without feeling ripped off!
A glass of mulled wine at a Polish Christmas Market costs around 15 PLN (£2.80). It's a bargain compared to the extortionate £5.50 the markets charge here in London!
Try Out Some Winter Sports at Giżycko
This town in northeastern Poland is the home of the Great Masurian Lakes, a very popular place to spend the summer. However, Giżycko is actually great to visit in winter too!
From mid-December to April the lakes are covered over in a thick layer of ice. You can go ice yachting, ice fishing or go diving under the ice caps (supervised, of course!).
Since Giżycko is one of the coldest parts of Poland, you're also able to go cross-country skiing. To warm up, the town has an indoor pool and sauna.
Visit Zakopane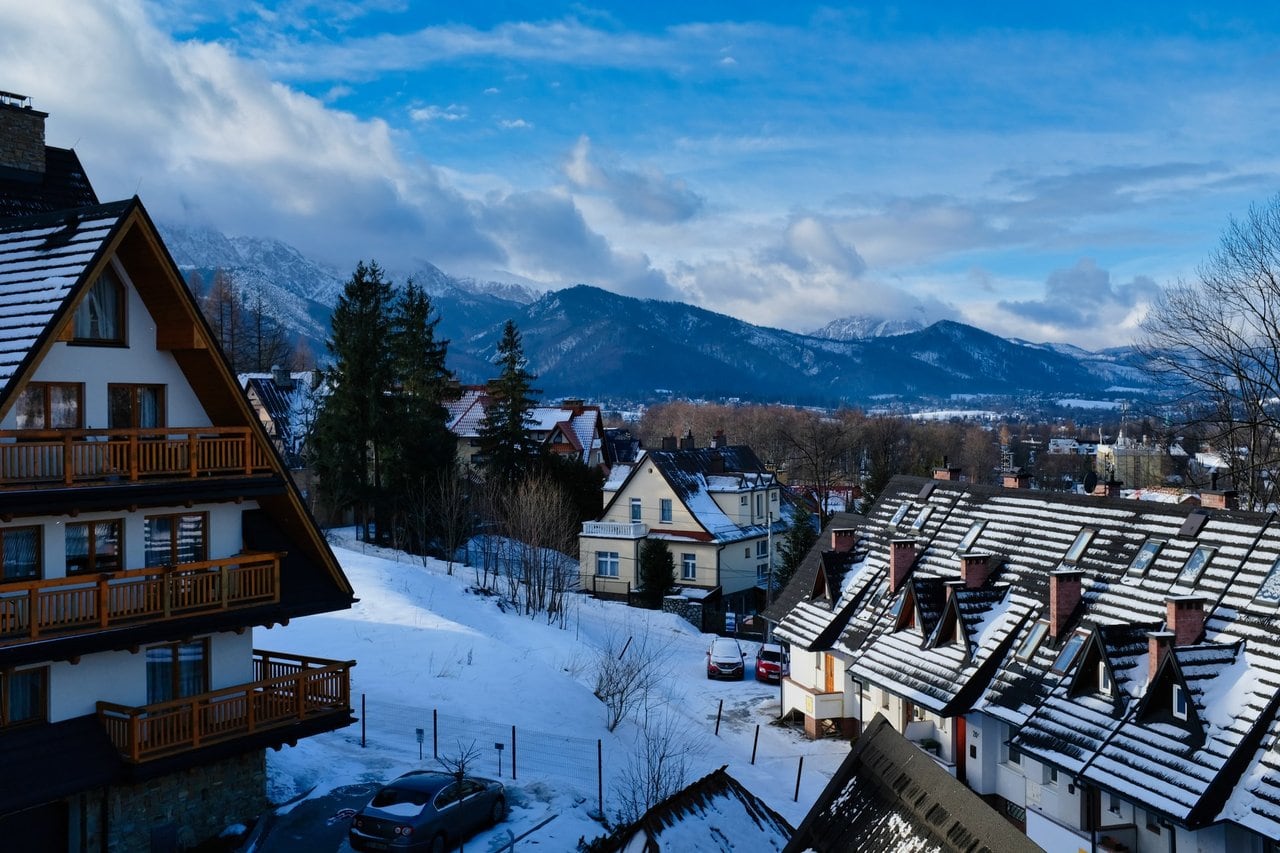 The mountain town of Zakopane is known as the winter capital of Poland. It's got to be one of the most beautiful places in the entire country to spend winter.
Not only is the view of the Tatra Mountains blanketed in snow jaw-dropping, but the town is full of cosy, wooden restaurants with open fires. Zakopane is all you could possibly want from a winter trip to Poland!
Although it's definitely worth spending a few days in Zakopane if you can (especially if you want to go skiing!) Zakopane is one of the most popular day trips from Krakow, so you can easily squeeze a visit into your Krakow winter city break.
There are lots of thermal pools near Zakopane, so if you've spent the day out in the cold exploring the mountains there's no better way to heat up.
Tempted to visit Zakopane? Read my full review of the tour of Zakopane I took from Krakow.
Go Museum-Hopping
Poland has no shortage of incredible museums, and as a self-confessed museum nerd, it definitely gets my royal seal of approval!
Most museums in Poland are cheap to visit and educational. They often teach us about things we don't learn about in our home countries (for example, the Warsaw Uprising, which I knew nothing about before visiting Poland!).
Spending the day hopping from museum to museum is one of the best things to do in Poland in winter whilst keeping warm.
Try Barszcz Zurek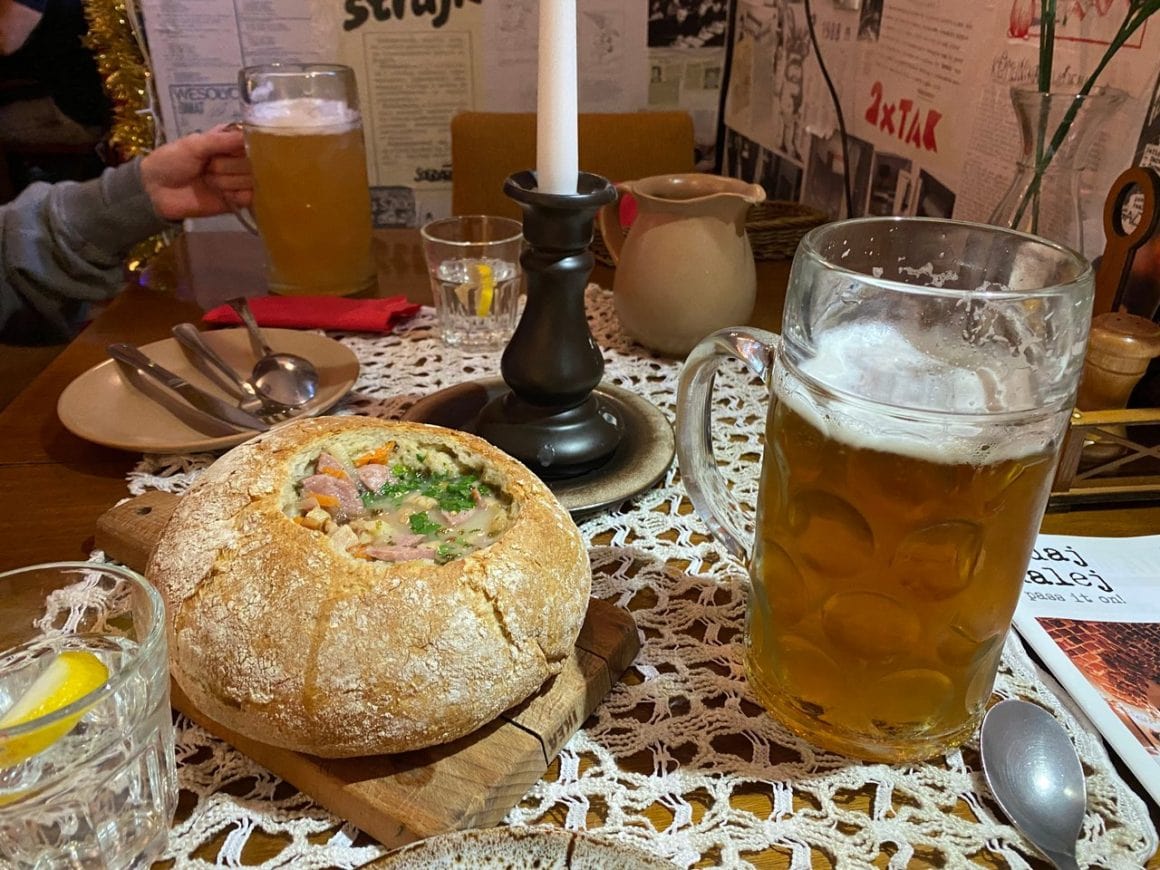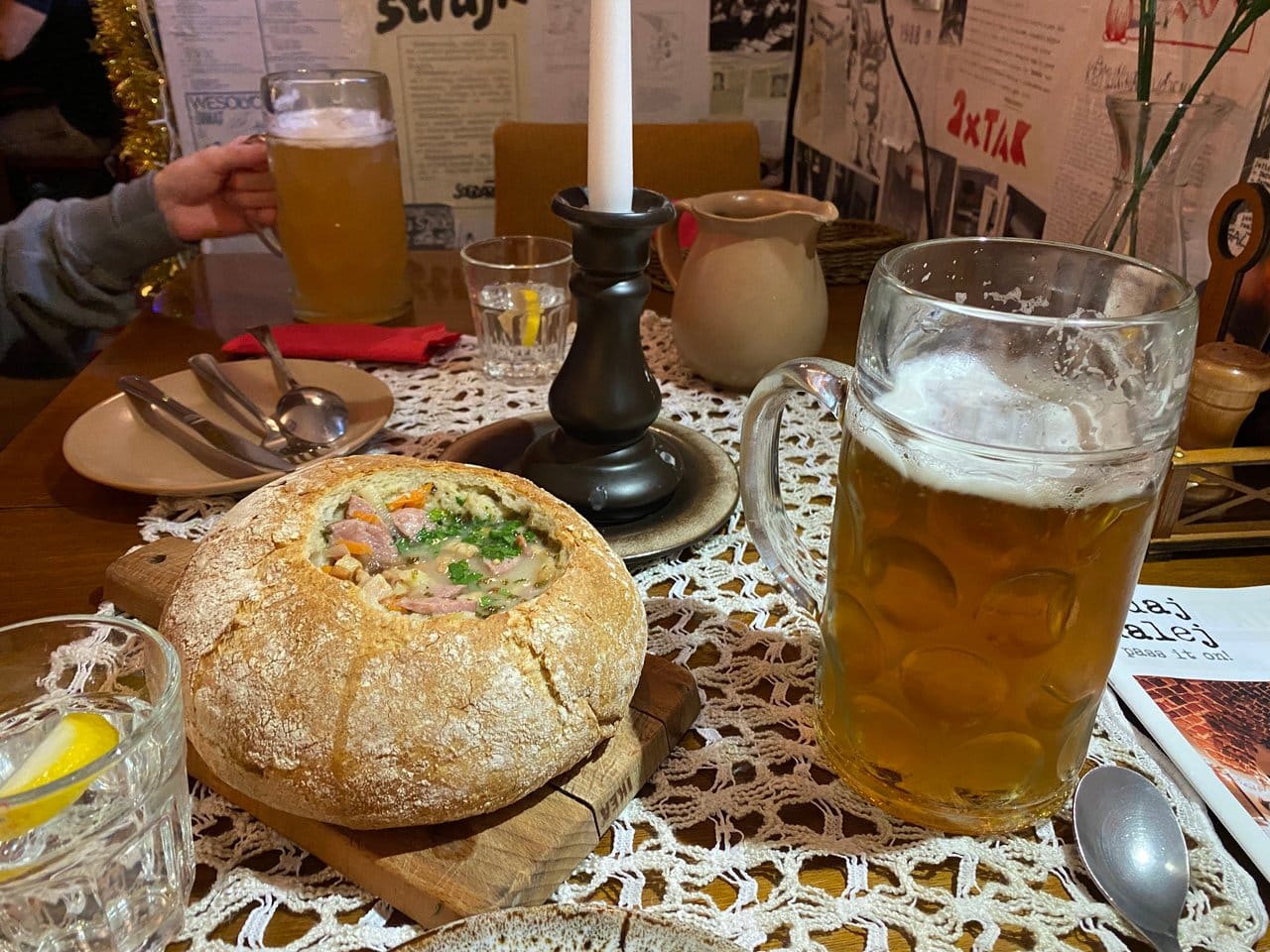 This traditional Polish soup is probably the heartiest and most warming soup I have ever eaten. I think it tasted even better because it was freezing cold outside!
This soup is a sour rye soup, and is one of the most traditional soups in Poland. To foreigners like me, though, it tasted very exotic and unlike anything I had ever tried before.
It certainly helps that the soup often comes in a hollowed-out bread bowl, which means you're able to scrape the bread into the soup… Yum!
After a morning spent exploring a Polish city in winter, Zurek is easily the best way to warm yourself up and prepare yourself for stepping out into the cold again.
Best Places to Visit in Poland in Winter
I already mentioned that Zakopane is the very best place to visit in Poland in winter! Aside from Zakopane, though, I highly recommend you spend most of your time in cities if you're visiting Poland in winter.
Polish cities all have lots of indoor attractions, so these are the places to visit in Poland in winter if you want to have plenty of things to do without freezing or getting caught in the rain!
I have visited Wrocław, Kraków, Poznań, Gdańsk and Warsaw so far and feel like there's enough in each of these cities to keep you occupied in winter.
Visiting Poland in Winter on a Budget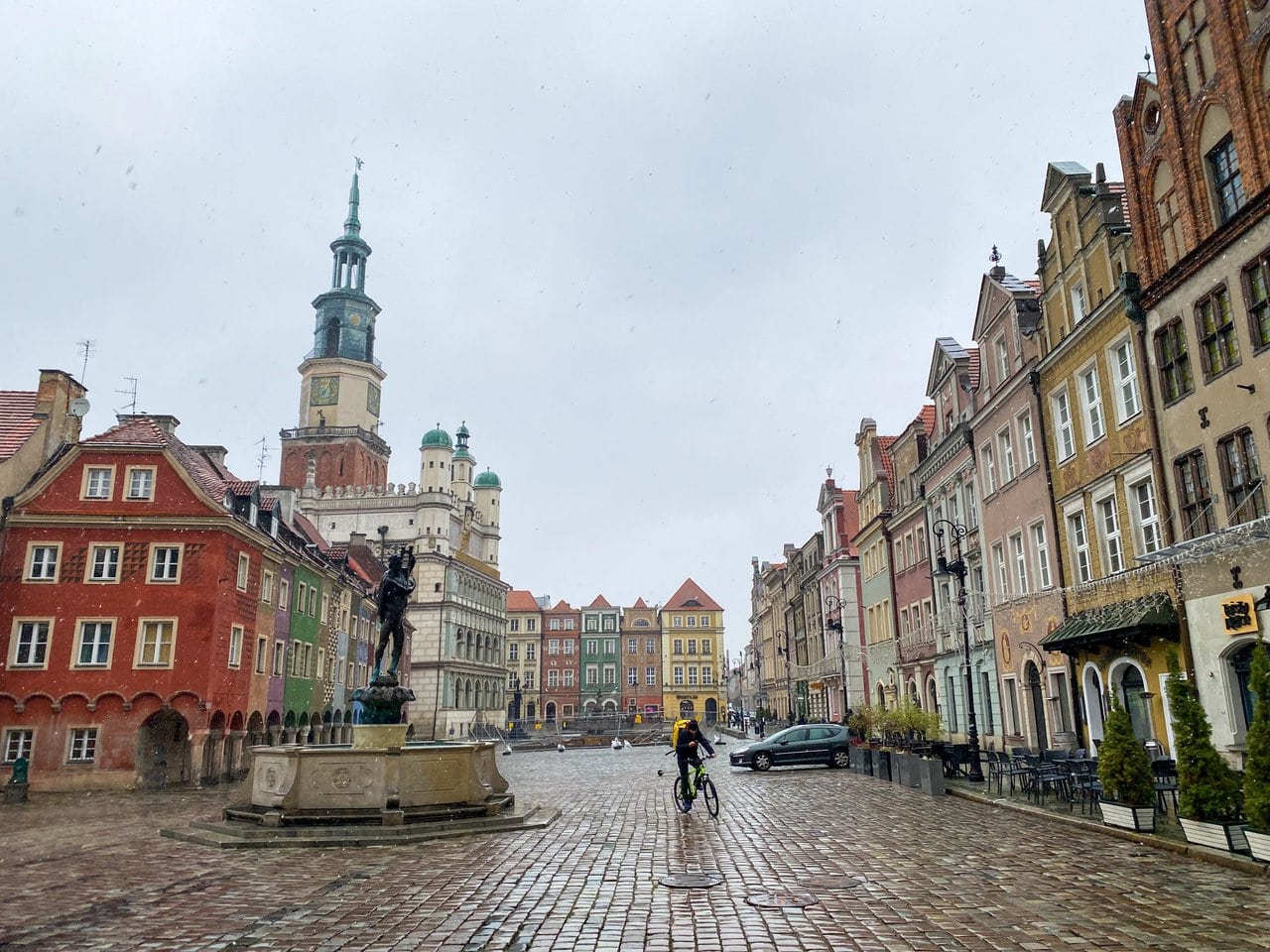 Visiting Poland in winter can be brilliant if you want to travel on a budget. This is mainly because the most expensive travel cost, your accommodation, will be much cheaper than in summer.
Unsurprisingly, not many people want to experience the Polish winter weather. If you're brave enough to do so your wallet will thank you!
However, we spoke earlier about the short daylight hours in Poland and winter. This not only limits the amount of sightseeing you can do, but also means you're likely to spend more than in summer.
You'll want to pop into cafes and museums often just to warm up, which of course costs money. 
Many free things to do in Poland, like lounging in the park or going hiking, become things you absolutely won't add to your winter Poland itinerary. It's just too cold or snowy!
Is Winter a Good Time to Visit Poland?
We're finally at the end of this post, and after all that information you're probably wondering if winter is a good time to visit Poland, or if it's worth visiting Poland in winter.
The truth is, I don't really know how to answer this! I had an amazing time on my trip, but the grim weather and almost constant darkness definitely took their toll.
I think if I hadn't been visiting Poland in December to see the lovely Christmas Markets then the cold, rain and snow would have had me saying that it's not worth visiting Poland in winter.
I'm not certain, though! And let's be real – I'm such a travel addict that if I found cheap flights to Poland in winter again I would probably go.
Plus, you may be less of a wimp than me and may actually be able to handle cold weather. If that's the case, good for you! You'll be rewarded on your trip with barely any crowds and cheap accommodation prices.
What to Wear in Poland in Winter
The simple answer to what to wear in Poland in winter is: warm stuff!
I wore jeans for my entire winter trip to Poland and found them warm enough. You should also pack long sleeve tops, jumpers, and a warm, waterproof coat (ideally with a hood). Waterproof shoes with good grip are essential for navigating the icy or wet streets. I wore my Doc Martens the whole trip and they were perfect!
It's a good idea to pack an umbrella for a winter trip to Poland to protect yourself from the snow or rain.
Top Tips for Visiting Poland in Winter: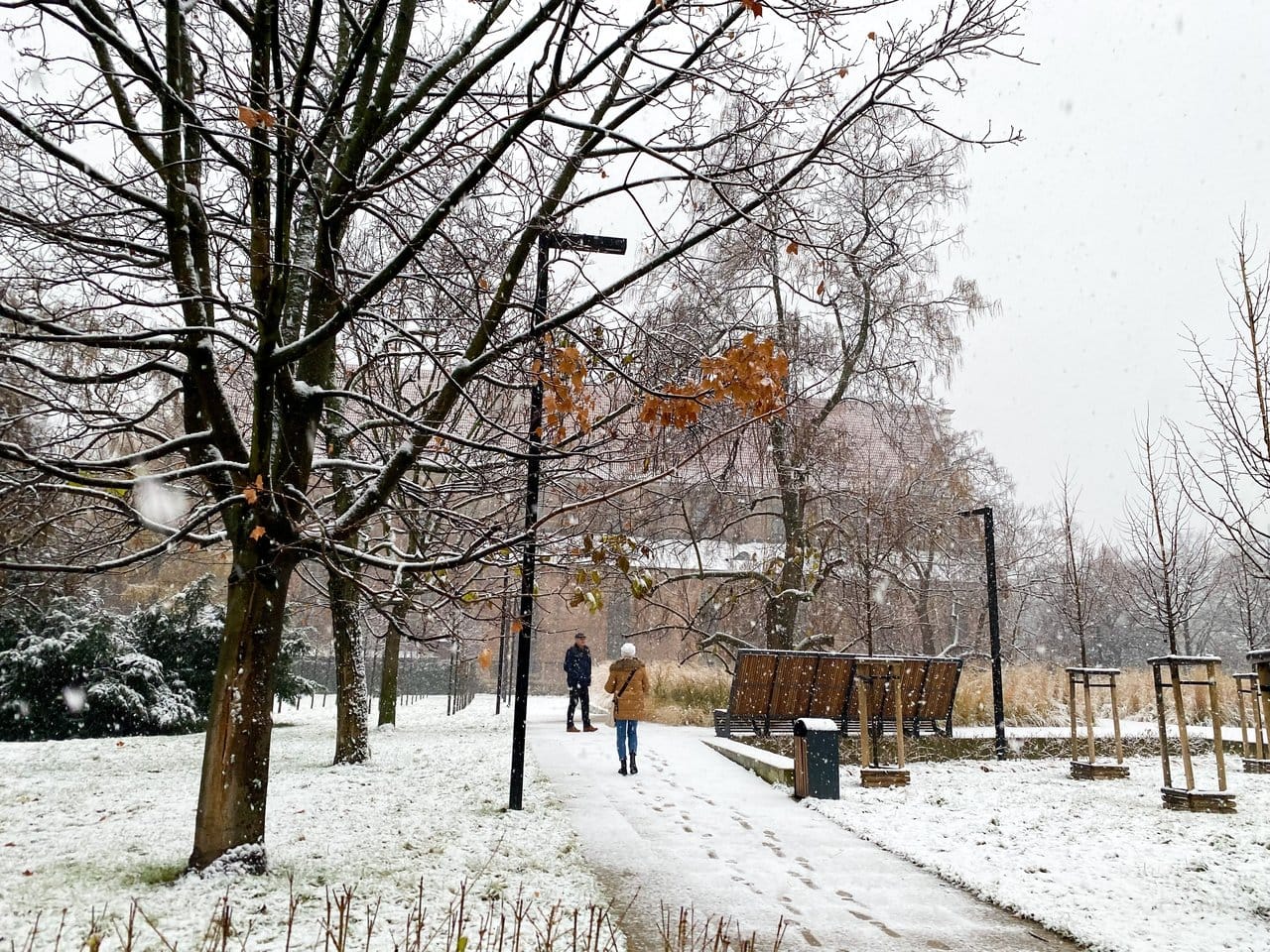 • Pack warm, waterproof clothes, a hat, scarf and gloves, waterproof shoes, and plenty of socks in case yours get wet in the rain!
• Book your accommodation as close to the city centre as possible to avoid long walks in the cold.
• Bring an umbrella! This was a lifesaver to protect me from the rain and snow.
• Try to start your sightseeing as soon as the attractions open, at around 10am, to maximise the daylight hours available to you.
---
If you're considering visiting Poland in winter, you're certainly making a brave decision! I've no doubt that you'll have a fabulous trip, though! I hope this post helped you find out everything you need to know before embarking on your trip.