There is a good chance that this post contains affiliate links. If you make a purchase through them, I may receive a small commission at no extra cost to you! As an Amazon Associate, I earn from qualifying purchases. As ever, all opinions are my own.
Last Updated on July 22, 2022 by Ella
If you want to explore more of Poland than just the city of Krakow, it's time to start thinking about the many wonderful day trips you can take!
From painted villages and mountaintop castles to emerald green lakes, fast-growing cities and horrifying history, there is a day trip from Krakow to suit every type of traveller – regardless of your budget.
On my first visit to Krakow I stayed in the city for five days and four nights. This meant that I had a couple of opportunities to break out of the city and take some day trips! I opted to visit Rzeszow and Zakopane, but it was so tricky narrowing down the many day trips available to just pick two.
So, if you want to get out of Krakow to explore some of the very best places in Poland, look no further. Here are the 16 very best day trips from Krakow!
Top tip: The Polish currency is the Polish Zloty (PLN), but I have listed most of the prices in this post in Euros to keep everything simple.
Warsaw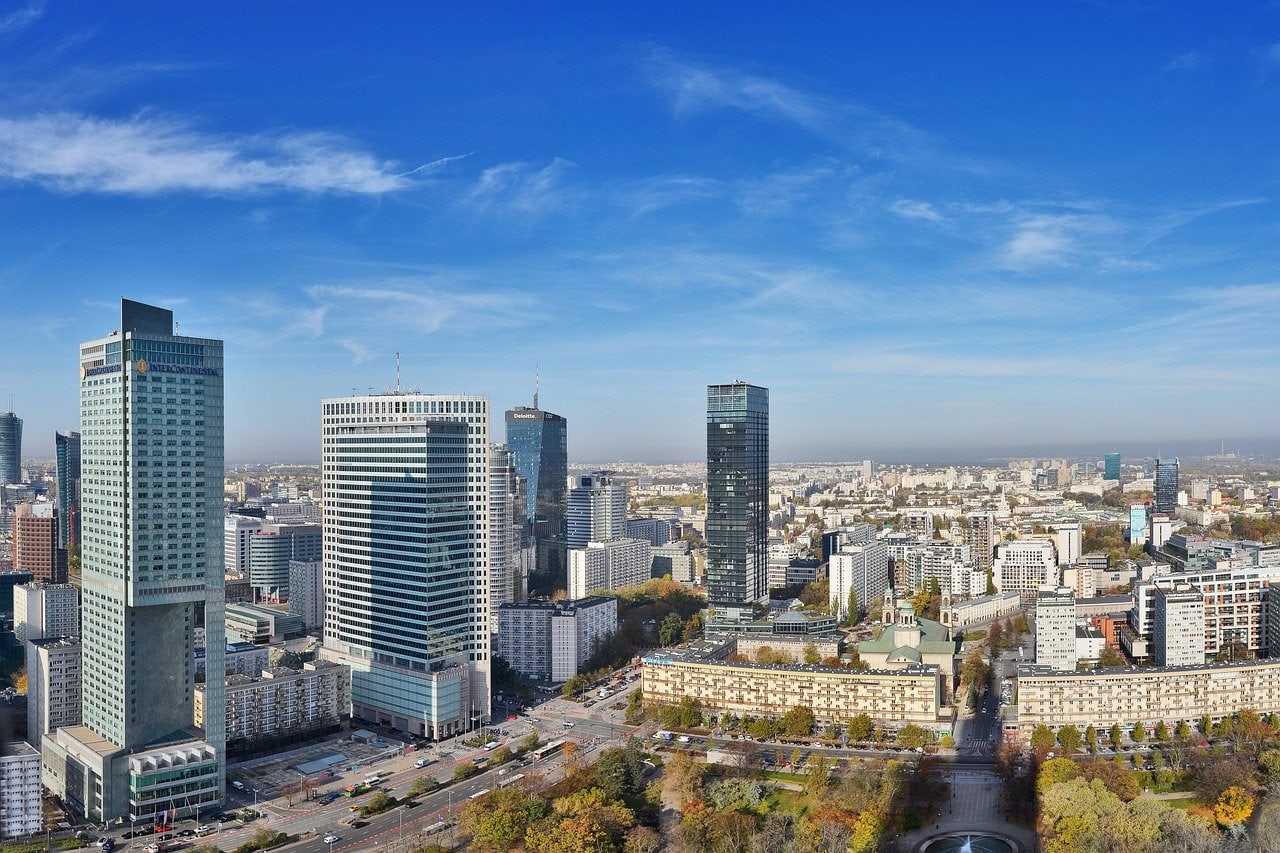 Visiting Warsaw is probably the most gruelling day trip you can take from Krakow, as the train takes around 2.5 hours each way, but if you're not afraid of getting out of bed early and you only have a few days to discover Poland, it'll be well worth it.
The capital city of Poland has enough to keep you occupied for a few days by itself, but if all you have is one day then you'll have to focus on the city's star attractions. Don't miss the colourful Market Square in the Old Town, the Warsaw Uprising Museum and the Royal Castle. 
Warsaw is one of the best places to visit in Poland in winter since there's so much to do indoors!
The best way to round off your day trip to Warsaw from Krakow is by checking out the view from the 30th-floor viewing deck at the top of the Palace of Culture and Science. This is the tallest building in Poland, and is viewed as Stalin's "parting gift" to the nation.
Getting to Warsaw from Krakow
If you want to visit Warsaw in one day, you'll need to book your train tickets as far in advance as possible. I was planning to do this day trip from Krakow, but I looked two days in advance and the trains I needed to take were already fully booked!
For a day trip to Warsaw to be feasible, you'll have to get the 7:29 am train from Krakow Główny to Warszawa Centralna, which will get you there at 10:05am. You can then get the 5:50pm train (arriving in Krakow at 8:15pm) or the 7:50pm train (arriving in Krakow at 10:32pm). 
Since you'll need to use the express trains for this trip, you'll unfortunately have to pay a premium. Single tickets in 2nd class cost around €36, so you're looking at around €72 just on transportation for the day. Yikes!
Rzeszów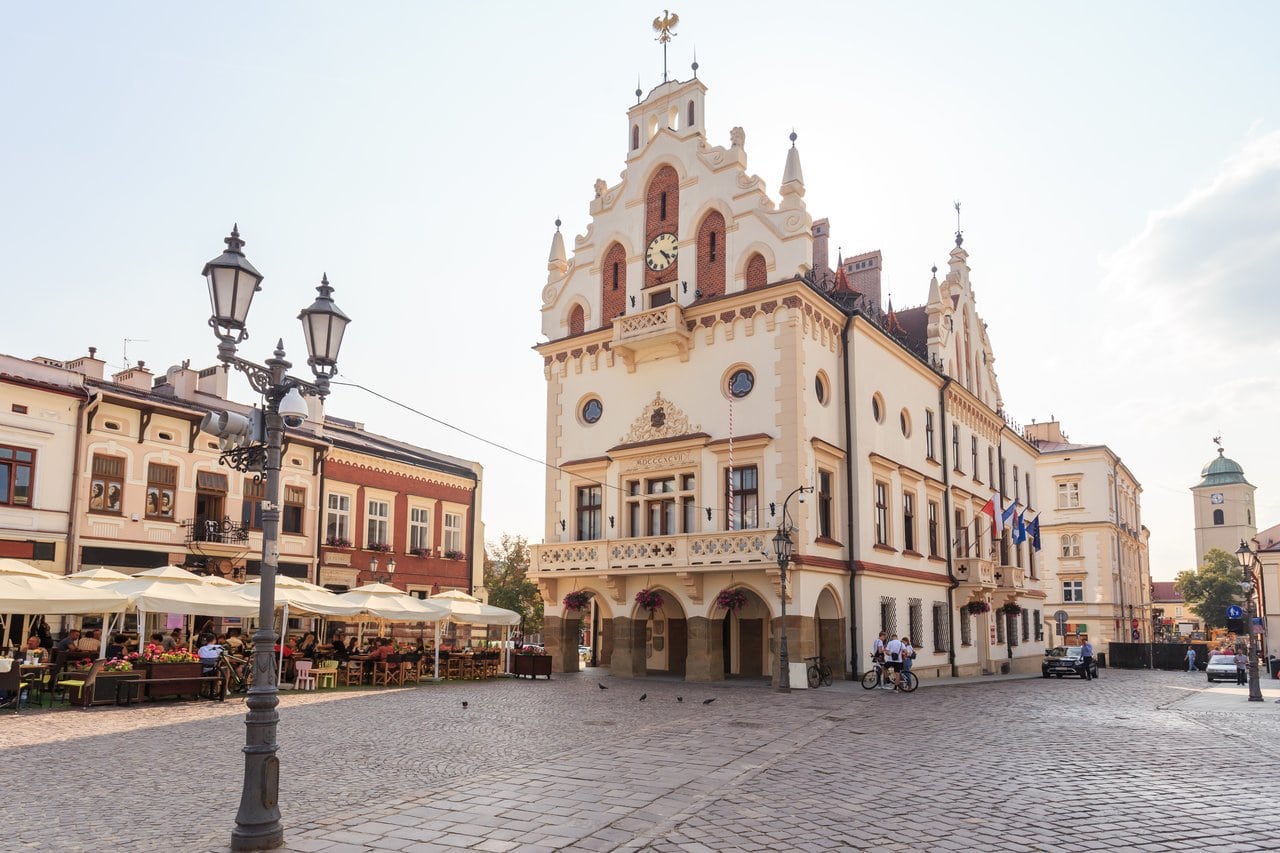 Another suggestion for an unusual day trip from Krakow is the small city of Rzeszów, which is the perfect size to be able to explore thoroughly in one day. The city also doesn't see too many international tourists, so a visit to Rzeszów feels like a taste of the "real" Poland.
Start your visit to Rzeszów at the City Hall and Market Square, the most beautiful part of the city. The buildings that line the square are painted in beautiful pastel colours and look like the idea of a Polish Old Town you were probably dreaming of when you planned your trip. 
From the Market Square, head over to the 3 Maja pedestrian street, probably the most beautiful area of Rzeszów's Old Town, and do some window shopping. 
For a bit of history, don't miss the imposing Rzeszów Castle and the Lubomirski Summer Palace just across the road. Spend the rest of the day enjoying pierogi, strolling the city and paying a visit to the Revolutionary Act Monument.
Getting to Rzeszów from Krakow
It's straightforward to get to Rzeszów from Krakow via public transport. You can catch the train or the bus, but the train is far quicker and takes around 90 minutes. The bus takes around 2 hours and 20 minutes.
Rzeszów is around 170km away from Krakow, so it's definitely not the quickest day trip option!
I recommend getting to Rzeszów from Krakow by train, which is what I did since it's much quicker and the train was very comfortable. It's also very affordable. 2nd class tickets cost around €6.40, so you'll pay around €13 to get there and back. I found 2nd class very comfortable (and far nicer than the trains here in the UK!) so there's no need to upgrade to first class.
Some train services do sell out, so it's better to book your tickets at least a few hours in advance, and you can get them here.
Zalipie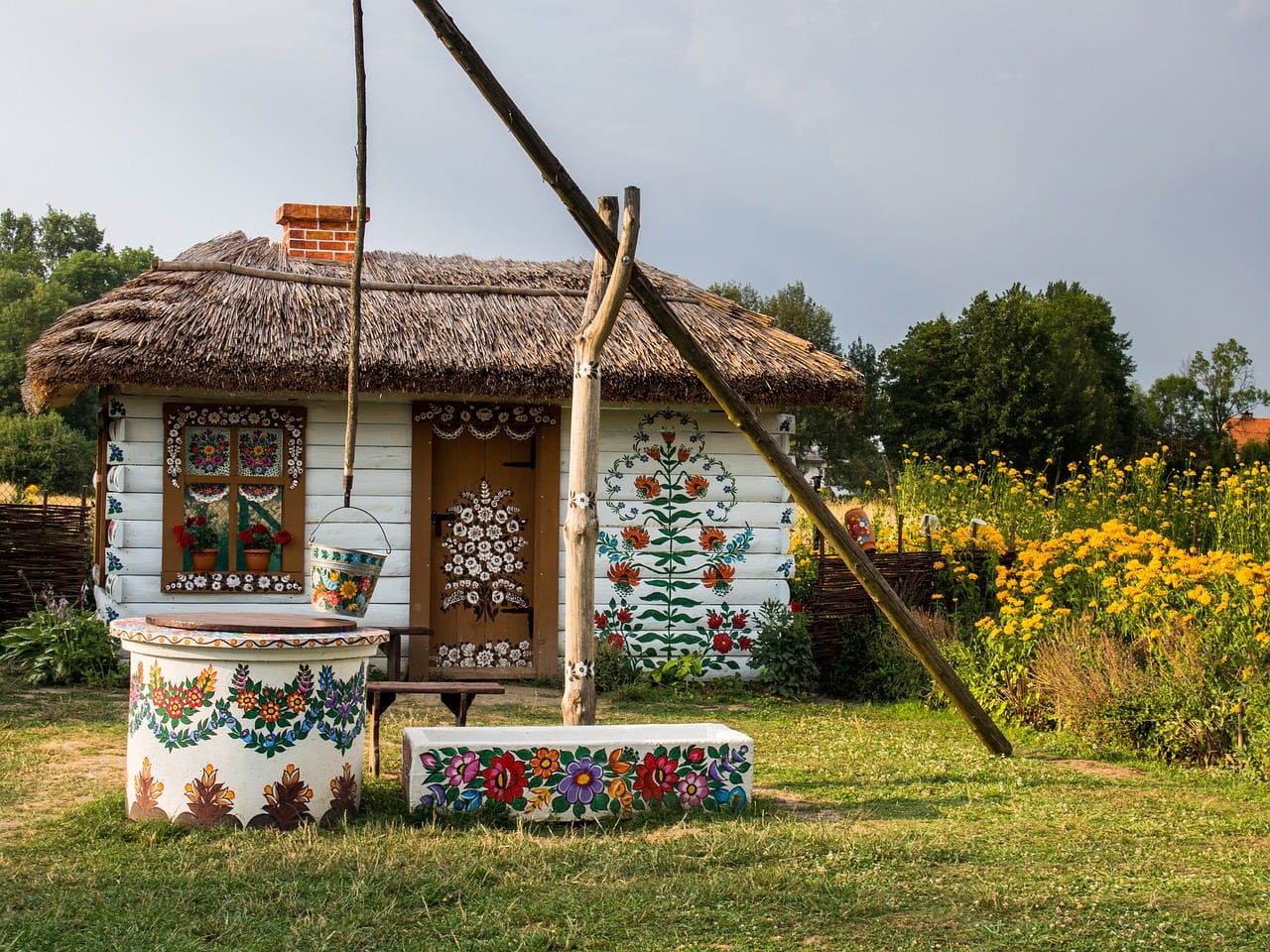 Zalipie has got to be the cutest village in Poland, and it's still a hidden gem so it's the perfect place to visit if you want to get off the beaten path in Poland. 
In this small village, you'll find a collection of tiny wooden cottages all painted with beautiful flower motifs and lots of bright colours.
The tradition of painting the cottages in Zalipie started over a century ago when the women of the village decided to paint over any faults on their cottage with bright paint they made from the fat of the dumplings they cooked. 
The tradition has been passed down through generations, with today's residents taking inspiration from nature and local folklore and incorporating this into their art. 
On a day trip to Zalipie don't miss paying a visit to the House of Maralek, where you'll learn more about the village's fascinating tradition. You can even join in on an art workshop! You'll spend most of your time in Zalipie outdoors, this is one of the best day trips from Krakow for spring or summer.
Since Zalipie is so tiny you really don't need to spend a full day here. A couple of hours will be plenty. For this reason, if you visit early in the day you'll be able to return to Krakow in time to visit a few attractions in the city on the same day.
Getting to Zalipie from Krakow
Zalipie is around 90km from Krakow, and there is no way to get there directly by public transport. This can be a pain, but its remote location stops it from becoming overrun by tourists so it's overall a good thing. 
To visit Zalipie from Krakow you'll need to either join a tour or hire a car. You could take the train from Krakow to Tarnow and then get a 40-minute taxi to Zalipie, but obviously that's a lot of hassle. It's far better to just join a one day tour from Krakow.
This tour costs €42.50 and lasts 6 hours – which includes around three hours spent in Zalipie, a tour guide, and return transportation by minibus. Book your place here!
Top tip: this tour will only run if there are a minimum of two people booked on to it, so if you're a solo traveller there's a possibility it may not go ahead. It may be worth trying to convince another solo traveller to join you to guarantee your trip!
Zakopane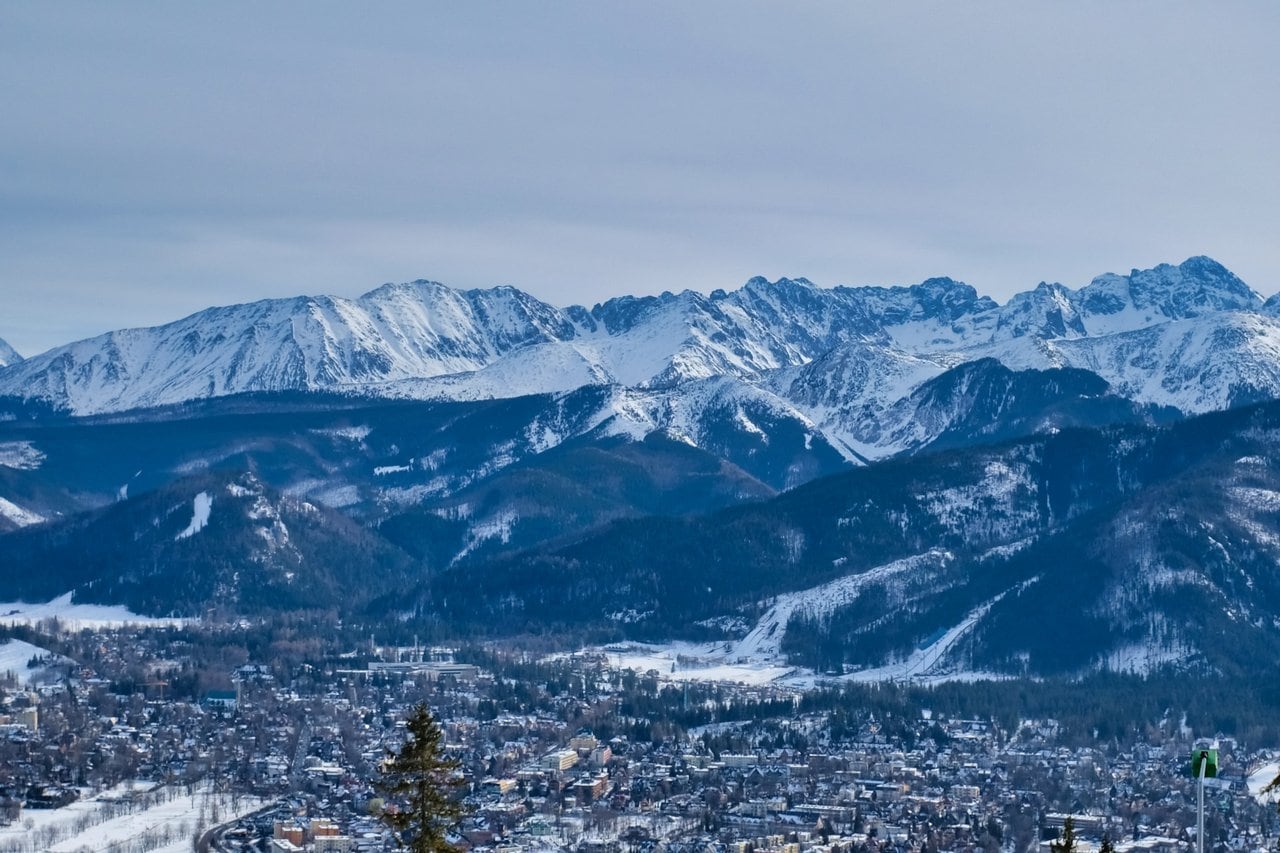 The mountain town of Zakopane is one of the very best day trips from Krakow. It's at the base of the Tatra Mountains, right on the Slovakian border, and you simply won't believe how beautiful this area of Poland is!
Before travelling to Krakow, I didn't even know that Poland had a mountain range, so I was blown away to discover this gorgeous area. 
Zakopane is a popular destination year-round. In summer, visitors flock to the area to embark on epic hikes around the mountains, and in the colder months Zakopane is home to some Polish Christmas Markets and excellent skiing!
Whilst you're on your Zakopane day trip from Krakow you absolutely have to eat some of the local cheese, Oscypek, which is absolutely DELICIOUS and sold all over town.
You can't visit Zakopane without getting the cable car up to the top of the mountain. The views from the top are awe-inspiring!
Although there are lots of tacky tourist attractions at the top of the mountain, I recommend walking just five minutes or so and you'll find yourself far away from all the other tourists with epic views all to yourself.
Getting to Zakopane from Krakow
If you're visiting Zakopane on a day trip from Krakow, you can get there by either train, bus or guided tour. 
The train and the bus both take a similar amount of time (around 2 hours and 30 minutes). The bus costs around €4 each way, and the train costs around €5.30 each way.
These are both cost-effective options, but the main issue with doing this is that you'll be pretty much limited to staying in Zakopane, which is a very small town. Unless you're going hiking, there's probably not enough to do there to fill an entire day.
For this reason, I chose to go on this full-day tour because it meant I was able to explore Zakopane as well as nearby areas and some thermal pools without the stress of using public transport. I had an epic day and highly, highly recommend the tour! Our guide was fabulous, and I feel like I got great value for money. 
The tour costs €64 and includes transportation, local cheese tasting, a cable car ticket in Zakopane and entry to the thermal pools! Click here to check availability and current prices!
Wieliczka Salt Mine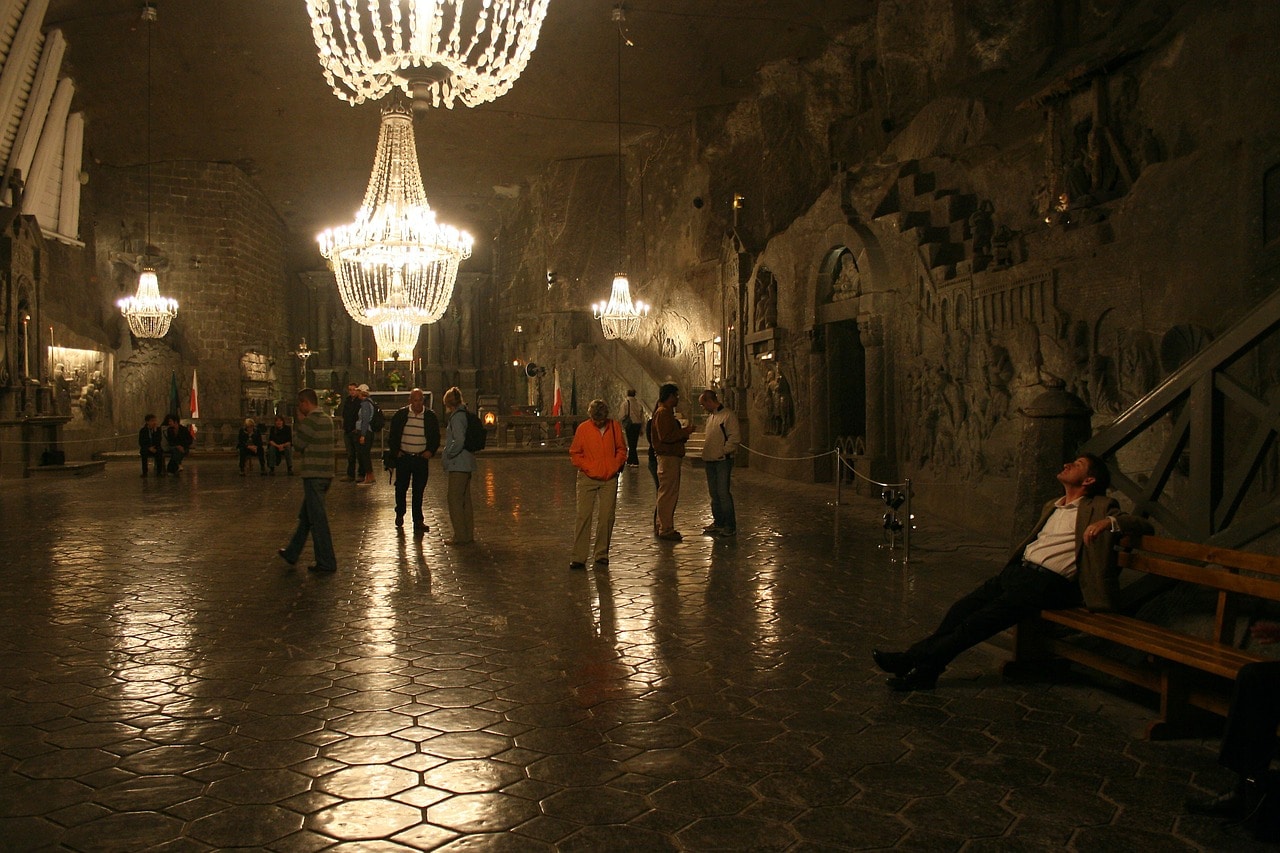 The Wieliczka Salt Mine is probably the easiest of all of these day trips from Krakow since it's just a short bus ride from the city. This makes it really easy to fit into your Krakow itinerary!
The Wieliczka Salt Mine has been welcoming tourists since 1772, so it's no wonder that it's now a UNESCO World Heritage Site and one of the most popular places to visit in Poland! Salt was produced from the mine from the 13th century up until 2007!
You're able to explore parts of the salt mine on guided tours, which last for two hours and lead you through the labyrinth of underground tunnels and salty attractions, including sculptures made from salt!
The Wieliczka Salt Mine also contains an epic underground lake and four extravagant salt chapels.
You'll need to buy a ticket from their website to visit the salt mine, which costs 100 PLN (€21.30) for a foreign language tour. Be careful when you're buying your ticket – don't accidentally book a Polish guided tour!
Getting to the Wieliczka Salt Mine from Krakow 
The Wieliczka Salt Mine is super easy to visit on a day trip from Krakow – you can get there by either bus or train.
The bus you'll need is the 304, which you can catch from the Dworzec Główny Zachód stop (near the Galeria Krakowska), and takes around 30 minutes. You can get off at either Wieliczka Kopalnia Soli or Wieliczka Rynek.
To travel by train, board at the Krakow Główny station and get off at Wieliczka Rynek Kopalnia station. The journey takes around 20 minutes.
Since the tours of the Wieliczka Salt Mine last just a few hours, it's popular for day-trippers to visit the Wieliczka Salt Mine and Auschwitz-Birkenau on the same day.
This guided tour runs trips visiting both Wieliczka Salt Mine and Auschwitz in one day, which is ideal if you're short on time but want to experience two of the very best day trips from Krakow.
Energylandia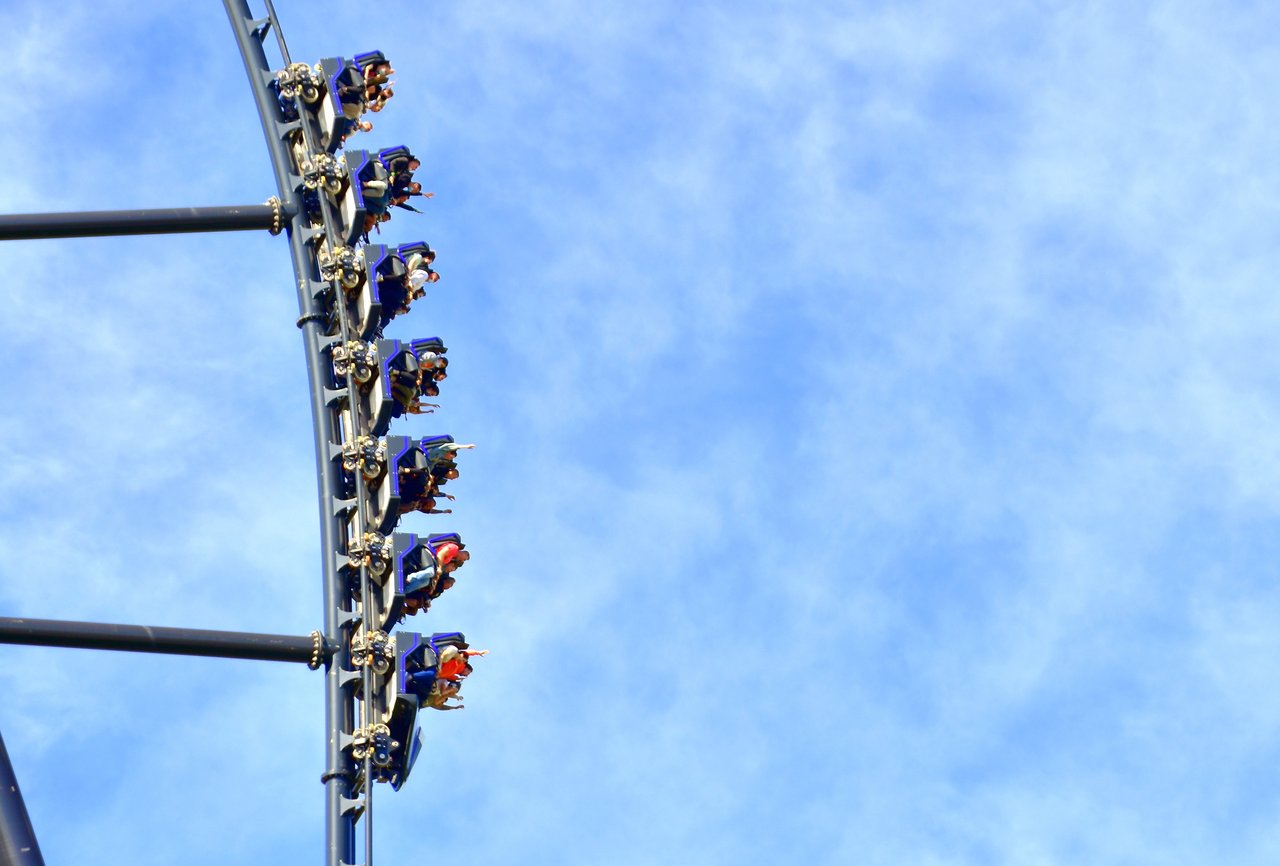 If you're into amusement parks, you should definitely head to Energylandia, the biggest in Poland!
This amusement park contains a water park as well as a huge theme park, which includes a range of adrenaline-inducing roller coasters.
There's also a family zone with rides that are more suitable for young kids, so if you're visiting Krakow as a family this could be the ideal day trip for you.
Entry tickets cost 149 PLN (€31.50) for adults and 99 PLN (€21) for children. Their website often has ticket discounts and deals, so it's worth checking if any deals are running before you buy!
Getting to Energylandia from Krakow
The Energylandia website has information regarding shuttle bus services to and from the park from Krakow, which cost 29 PLN (€6.15) per person for a return ticket. You can find out more about the bus service here.
Katowice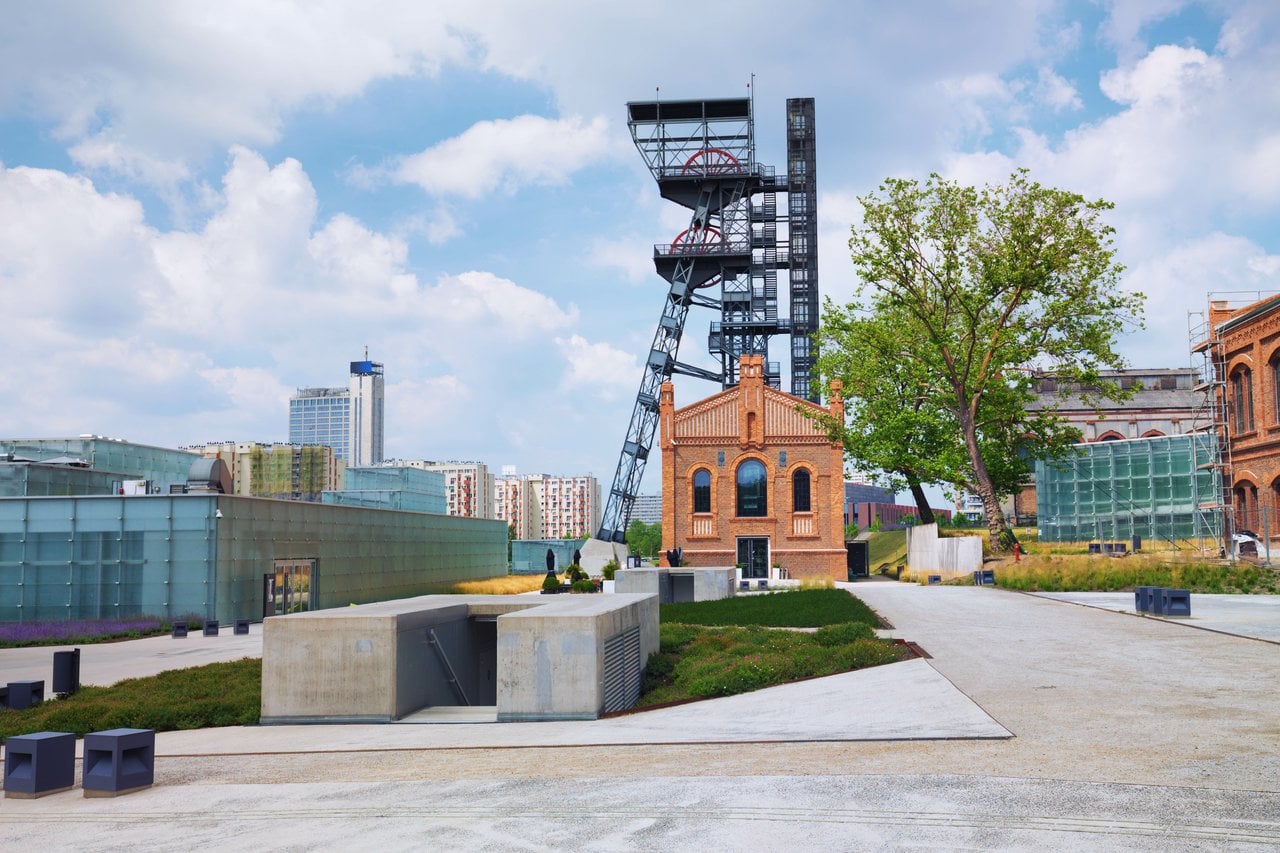 Known as Poland's industrial capital, this city in the mining region of the country is changing rapidly, so now is a great time to visit before it's changed completely! The majority of the best things to do in Katowice are all located in the city centre. This makes it easy to see the city in one day. 
The Silesian Museum, which is housed in a former coal mine, is an unmissable attraction in the city and teaches visitors all about the history of the Silesian region.
It's also worth paying a visit to Spodek, an arena that looks like a massive UFO, and the Nikiszowiec district, a residential area of the city that still looks as it did over 100 years ago. 
Getting to Katowice from Krakow
Katowice is one of the best day trips from Krakow by train since it's so easy to get to. Direct trains run between the two cities and take around 1 hour and 54 minutes each way. 2nd class tickets cost around €3.30 each way, making Katowice a very cheap day trip from Krakow!
Wadowice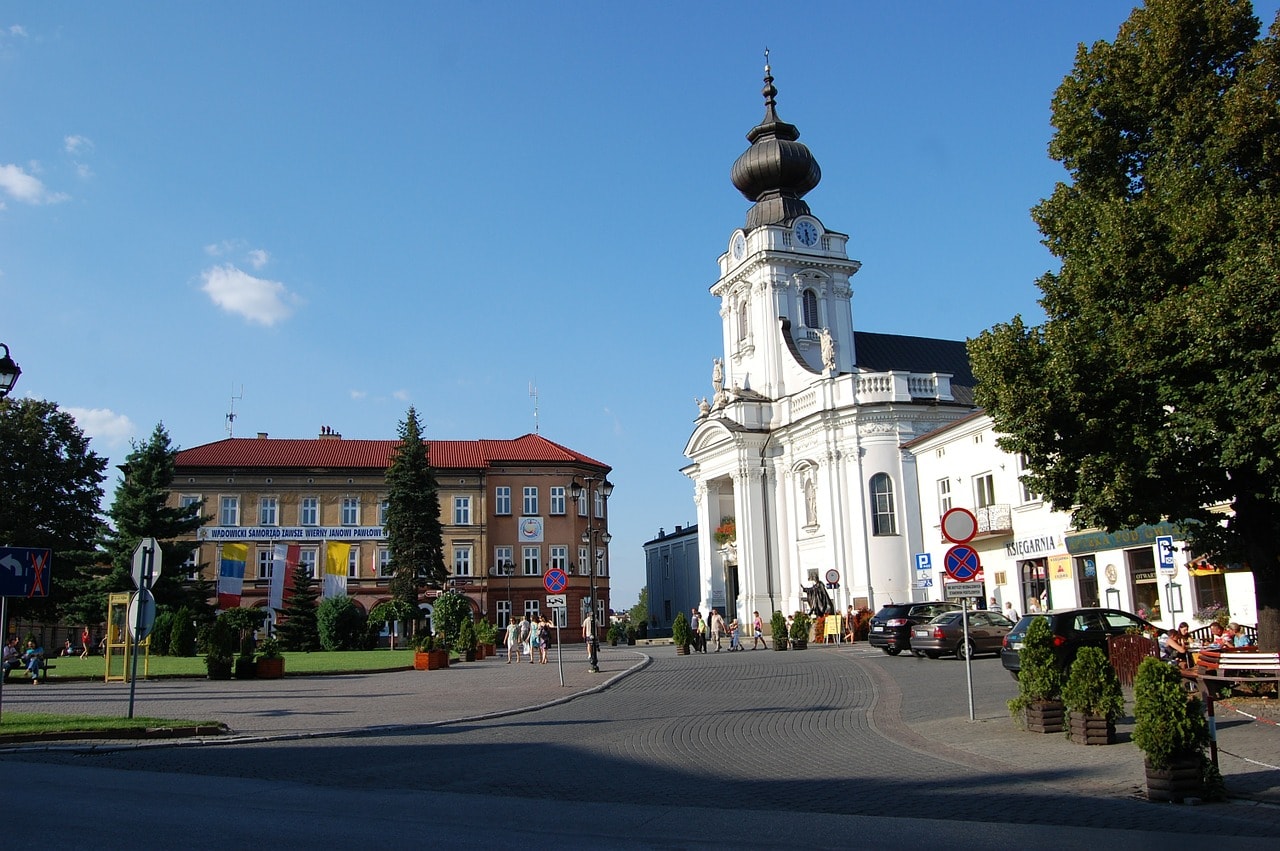 This small town in Southern Poland can easily be done as a half-day trip from Krakow, which is ideal if you're short on time. It's famous for being the birthplace and hometown of Karol Wojtyla, the man who later became Pope John Paul II.
The most popular thing to do for visitors to Wadowice is to visit Pope John Paul II's former home, which nowadays is a museum. The museum consists of four floors and 16 zones telling the story of Pope John Paul II's life, as well as the original flat itself, which is decorated as if the Wojtyla family was still living there. 
Although the museum focuses on Pope John Paul II, it also documents what Wadowice was like in the inter-war years, and tells the story of the town's Jewish population during WW2.
Whilst you're in Wadowice you should also definitely stop by a cafe to sample Kremówka, a Polish cream pie.
It's humorously referred to as the "Papal pie" after a story was published from Pope John Paul II's youth. Apparently, the future pope ate eighteen Kremówkas when competing against a friend to see who could eat the most. Despite this tremendous effort, the eighteen were not enough and he did not win!
Getting to Wadowice from Krakow
To get to Wadowice on a day trip from Krakow, you can drive there, catch the bus or train, or join a guided tour.
Buses depart frequently from Krakow MDA (bus station), and the train departs from Kraków Łagiewniki, taking around 1 hour and 20 minutes.
If you're looking for a tour, this tour is great value for money as it combines a trip to Wadowice with Kalwaria, a pilgrimage town established in 1601 and famous for its complex of 42 churches and chapels.
Click here to check tour availability and prices!
Auschwitz Birkenau
Over 1 million people a year visit the two death camps, Auschwitz and Birkenau, to pay their respects to the approximately 1.3 million people who suffered unimaginable horrors here during the holocaust. 
There's no doubt that a visit to Auschwitz is not a fun or lighthearted day out. It'll probably be one of the most emotionally draining days of your life, but everybody who visits says that it is unmissable. It's a good idea to briefly read about Auschwitz during the war before you visit so that you have some context.
The two sites are 3km apart, and it takes 30-40 minutes to walk between the two. However, there are also free shuttle buses that transport tourists between the two camps. Of course, if you have booked a guided tour, your tour guide will arrange for your transportation.
It's essential to book your visit to Auschwitz in advance. Since such a huge number of visitors to Krakow (and elsewhere in Poland) visit Auschwitz every day, the queues to book guided tours (which are mandatory in summer) can be over two hours long. For this reason, you absolutely need to either book in advance or join a guided tour from Krakow to skip the queues.
Getting to Auschwitz from Krakow
There are numerous ways to get to Auschwitz on a day trip from Krakow, although the easiest is undoubtedly to join a guided tour.
This exceptionally rated tour costs €38 and includes your entry tickets, transportation from Krakow and a knowledgeable guide. Make sure you book as far in advance as possible to secure a spot on the tour of your choice. Places sell out far in advance!
Click here to book your place!
If you want to visit Auschwitz independently, note that you should still book an entry ticket in advance to avoid queues, and there are times where you are only able to enter with a tour guide, which costs around €16. The timetable of when you'll require a guide to visit is here.
You can catch the public bus from Krakow to Auschwitz, which costs around €3 each way and takes two hours. There's also the option to catch the train from Krakow to Auschwitz in about 1 hour and 50 minutes, and tickets cost around €6 each way.
Some people who are extremely limited for time combine visiting Auschwitz and the Wieliczka Salt Mines in one day. This guided tour visits both places, but bear in mind this will be a very long day and it may be better to dedicate a day to each if you have the time.
Lanckorona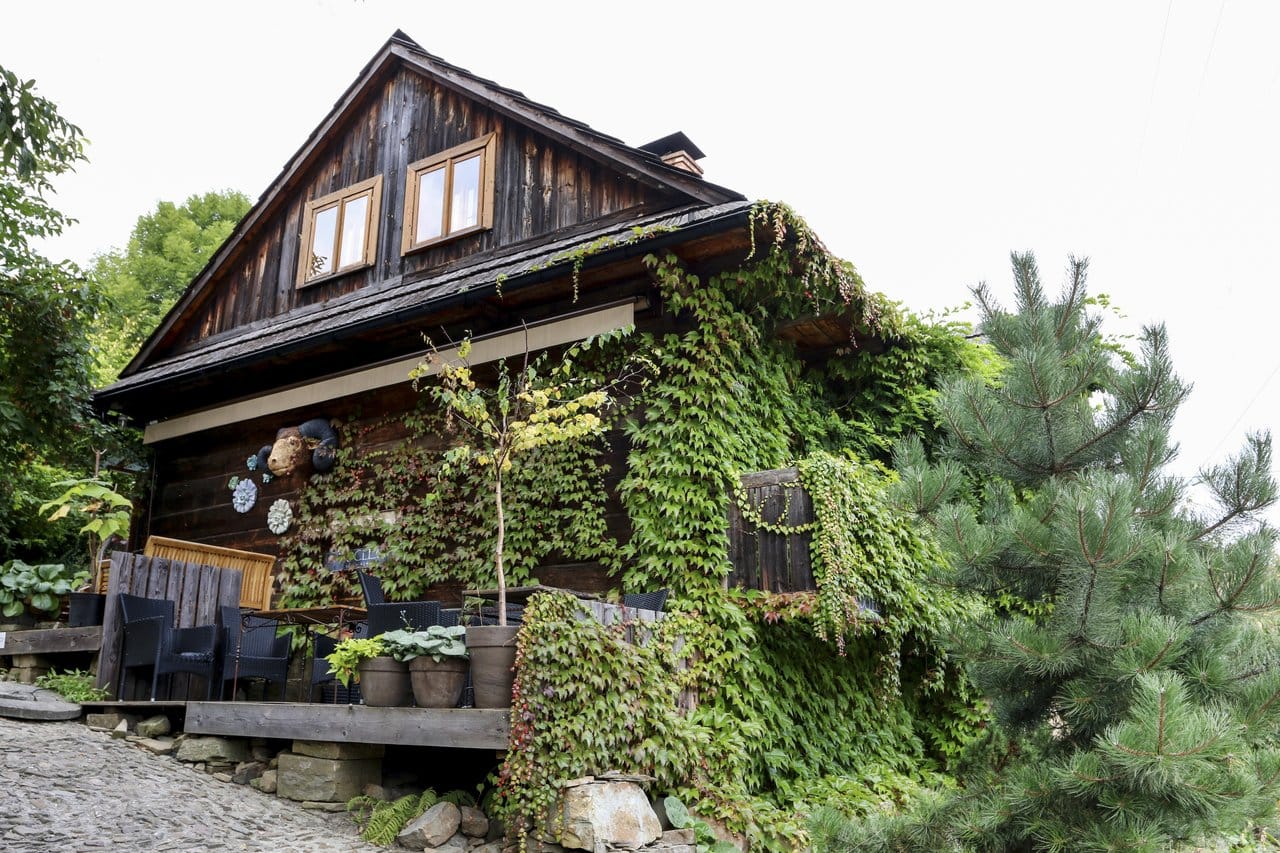 This village is just about as far off the beaten path as you can get, which makes it the perfect day trip from Krakow for adventurous travellers.
It's hardly the traditional day trip filled with must-visit attractions, but if you want to see traditional village life in Poland, this is a wonderful destination for you.
On arrival in Lanckorona, stroll through the village and check out the old wooden houses before stopping off at one of the adorable coffee and ice cream shops for a sweet treat.
If you're feeling energetic, take the steep walk out of the village to find the Lanckorona castle ruins and enjoy the views you'll be rewarded with over the surrounding area.
Lanckorona is the perfect palace to visit during the summer and autumn when the village comes alive and lots of local families visit for a relaxed day out. However, it's worth remembering that, since it's such a small place, there are not too many tourist attractions there.
Lanckorona is ideal if you're looking to take a relaxed walk, see Polish village life, and spend some time away from the city.
Getting to Lanckorona from Krakow
The easiest way to get to Lanckorona is to drive, but if that's not possible you can catch the train. The journey to Kalwaria Zebrzydowska Lanckorona station takes around 70 minutes, and then you'll need to take a taxi for the final 9 minutes to the village.
Dunajec River Gorge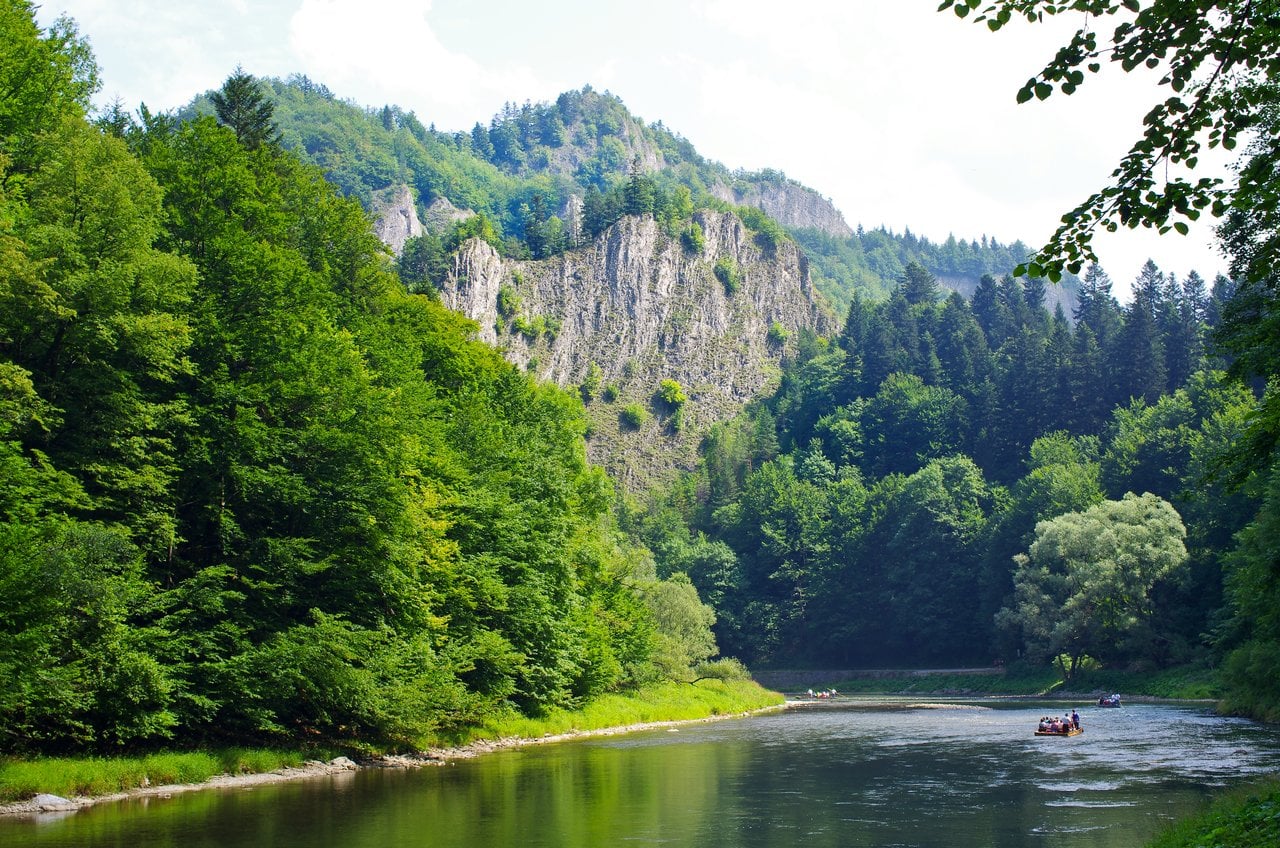 Running through the Pieniny Mountains in Southern Poland and Northern Slovakia, the Dunajec River is stunning, and easily one of the most beautiful day trips from Krakow.
The most popular way to explore the river is on a rafting trip, which is the ideal way to spend a summer afternoon!
Unlike white water rafting, rafting on the Dunajec River takes place on wooden rafting boats and is a very relaxing activity suitable for everybody. From your place on the raft you'll be able to take in the stunning surroundings of the Dunajec River, which includes thick woodlands and towering mountains. 
Rafting tours generally run from April to October and include two to three full hours of rafting around 15km down the river. 
Getting to Dunajec River Gorge from Krakow
To enjoy rafting at the Dunajec River your best bet is to join a guided tour like this one. The tour includes your return transportation from Krakow, a few hours of rafting down the river with your expert guide, and lunch at the pretty resort town of Szczawnica. This is a full-day trip, lasting between 8 and 9 hours, and costs €55.
Click here to check availability and book!
Ojców National Park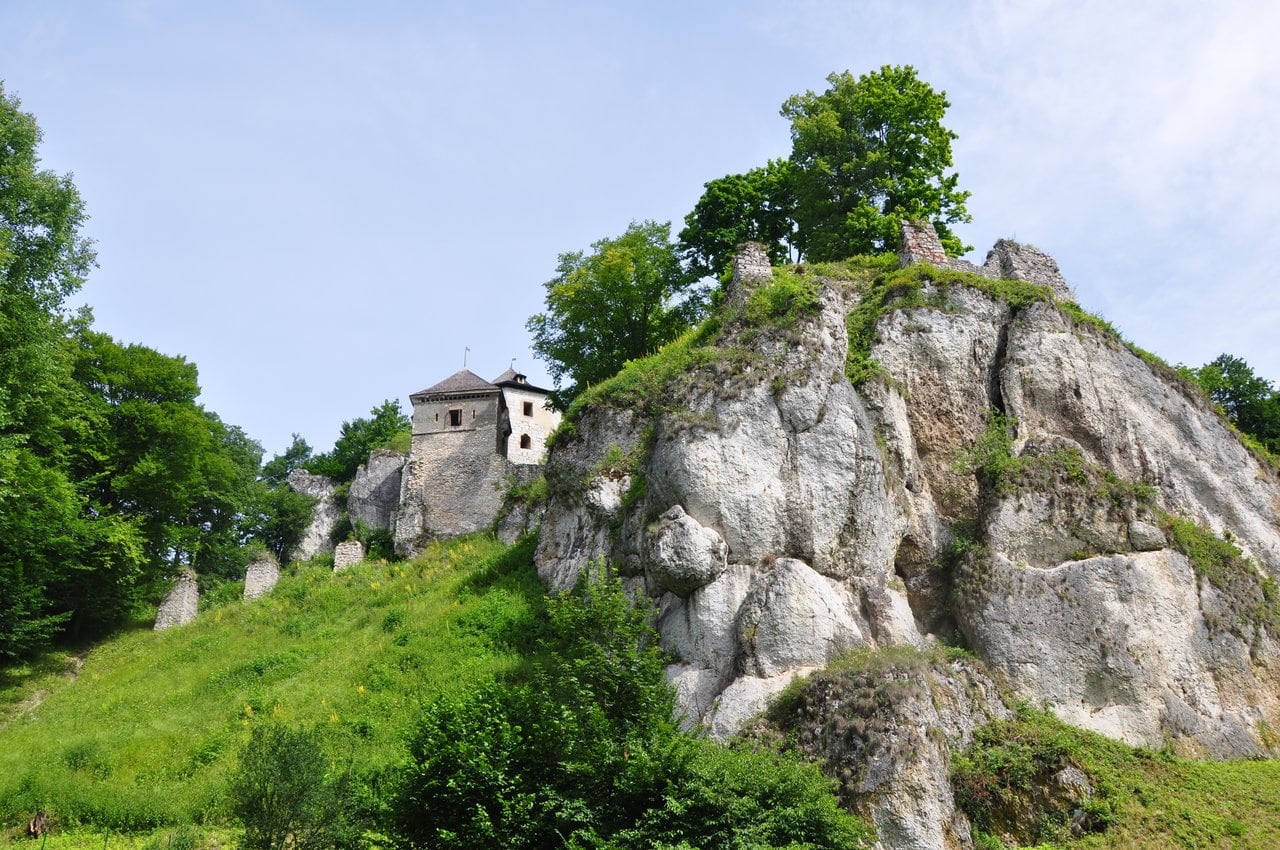 If you want to explore the natural beauty surrounding Krakow, you can head just 24km away to Ojców National Park, one of the best day trips from Krakow!
Ojców National Park is the very best day trip you can take from Krakow if you're on a tight budget. You can get there by hiring a bike or taking the bus, and entry to the park is free!
Once you're at the national park, you can spend the entire day cycling, hiking or picnicking, making it a very budget-friendly day out. 
As well as relaxing nature, you'll also find a few castles in the national park, which are referred to as the "Eagles' Nest Castles". You won't be able to follow the 25-castle route in its entirety on your day trip, but you can definitely pay a visit to the renaissance Pieskowa Skała castle. 
If castles aren't your thing, the best thing to do in Ojców National Park is to go hiking, and there are plenty of well-marked trails in the park to choose from.
Getting to Ojców National Park from Krakow
Since Ojców is so close to Krakow, you can choose to either cycle there or catch the bus. The bus departs from Czarnowiejska in Krakow, taking 48 minutes to get to Ojców. Tickets cost around €1 each way.
Ogrodzieniec Castle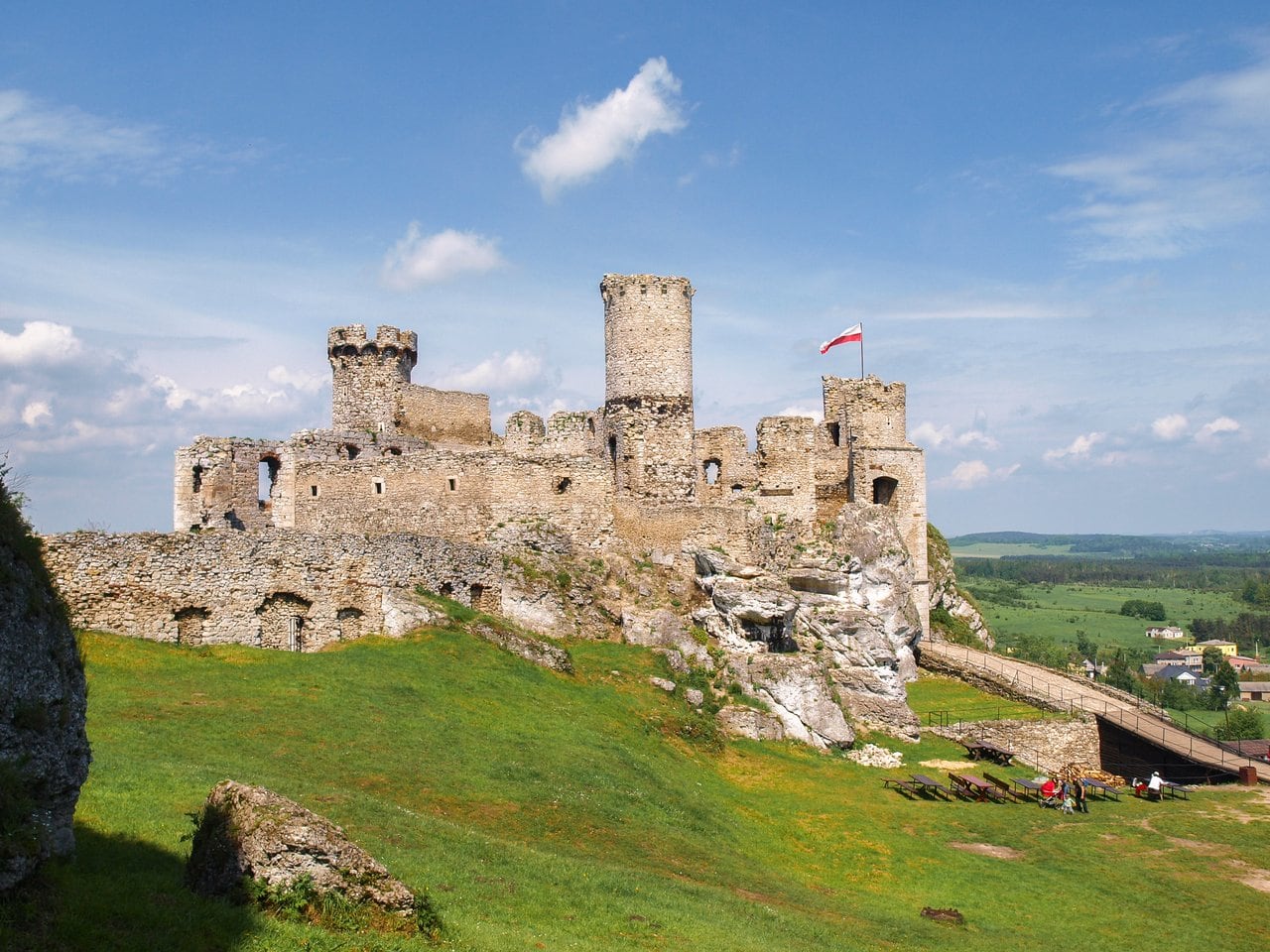 It's big, it's romantic, and it looks straight out of a medieval fantasy book – Ogrodzieniec Castle is one of the more unusual day trips from Krakow, but those who do make the journey there will be rewarded with a fascinating castle to explore.
You can visit the Ogrodzieniec Castle all year round, but this is probably one of the best winter day trips from Krakow as you'll find the castle covered with snow with barely any other tourists in sight. 
Although it has been rebuilt numerous times, the original castle on the site was built in the 14th century. Nowadays, it's part of the "Eagles Nest" trail of castles in the area, has featured in an Iron Maiden music video, and more recently was used as a filming location for Netflix's "The Witcher" series. 
Entry tickets to the castle cost €4 for adults and €2.80 for children. You can purchase them on arrival at the castle.
Getting to Ogrodzieniec Castle from Krakow
At around 70km from Krakow, the drive to Ogrodzieniec Castle takes around 1 hour and 20 minutes.
If you don't have your own method of transportation, the only other way you'll be able to see the castle without spending over five hours of the day on public transport is by joining a tour.
This 10-hour tour visits three of the Eagles Nest Castles, including Ogrodzieniec Castle, and costs €60.
Click here to check availability and book!
Babia Gora National Park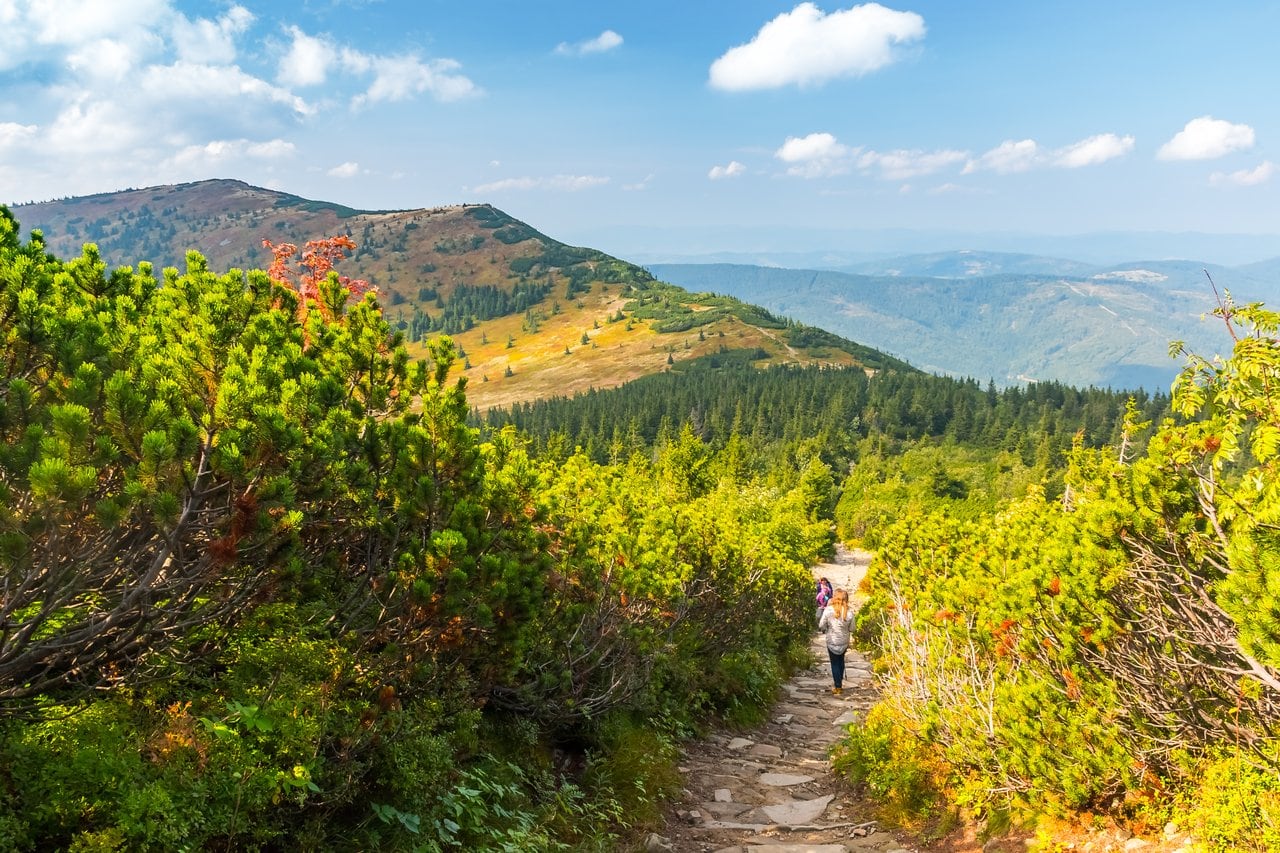 Another fabulous hiking day trip from Krakow is to Babia Gora National Park, which is the perfect mountainous escape from the city. Babia Gora National Park also offers knockout views of the Tatra Mountains National Park, so you get to experience the beauty of both national parks in one day trip!
The highest peak in the national park is Babia Gora vel Diablak, which stands at 1725 metres, and this is the most popular place to hike in the national park.
There are several different trails to the top, of varying distances and difficulty, so it's worth doing some prior research to pick one that meets what you're looking for.
If you don't fancy hiking to the summit, there are plenty of more moderate hikes in the Babia Gora National Park, where you'll still find breathtaking scenery and viewpoints. 
The weather at Babia Gora National Park is infamous for being unpredictable, so if you're visiting here make sure you pack the right things – warm clothing, hiking equipment and waterproofs are a must!
Getting to Babia Gora National Park from Krakow
This day trip is one you'll have to do independently, as at the time of writing there are no guided tours to the area and getting there by public transport is tedious.
For this reason, I highly recommend you hire a car to visit Babia Gora National Park. The drive is around 80km and will take you around 1 hour and 45 minutes from Krakow.
If not, you'll have to catch the train from Krakow to Sucha Beskidzka and then get a taxi for the final 17 miles to the national park.
Morskie Oko
At 1,395m above sea level, the lake of Morskie Oko is arguably the most popular place to visit in the Tatra Mountain National Park. Surrounded by steep mountains and crystal clear waters, there's no doubt that it's one of the most naturally beautiful places in Poland!
The 9km Morskie Oko hike takes around 2.5 hours, and you can visit the lake at any time of year. For the best, clearest skies you'll want to visit in summer. Unfortunately, though, everybody else visits Morskie Oko in summer too, so expect heavy crowds! 
The best way to avoid the crowds is to visit outside of the school summer holidays, on a weekday, and either early in the morning or later in the afternoon. If you're visiting in winter, keep in mind that the lake is frozen over from November to May.
Swimming is forbidden in the lake, but its staggering beauty means the hike up to it will still be worth it! 
Getting to Morskie Oko from Krakow
If you're a confident driver, the easiest way to get here by far is to hire a car. However, it's also pretty convenient to catch the shuttle bus that runs between Krakow and Morskie Oko. 
The bus departs Krakow at 7am, arriving at Morskie Oko at around 9am, then departs back for Krakow at 4:45pm, arriving in the city at 7pm. Return tickets cost €12.50. The bus will drop you off at the trailhead, and then you'll be able to embark on the Morskie Oko hike from there.
Tarnów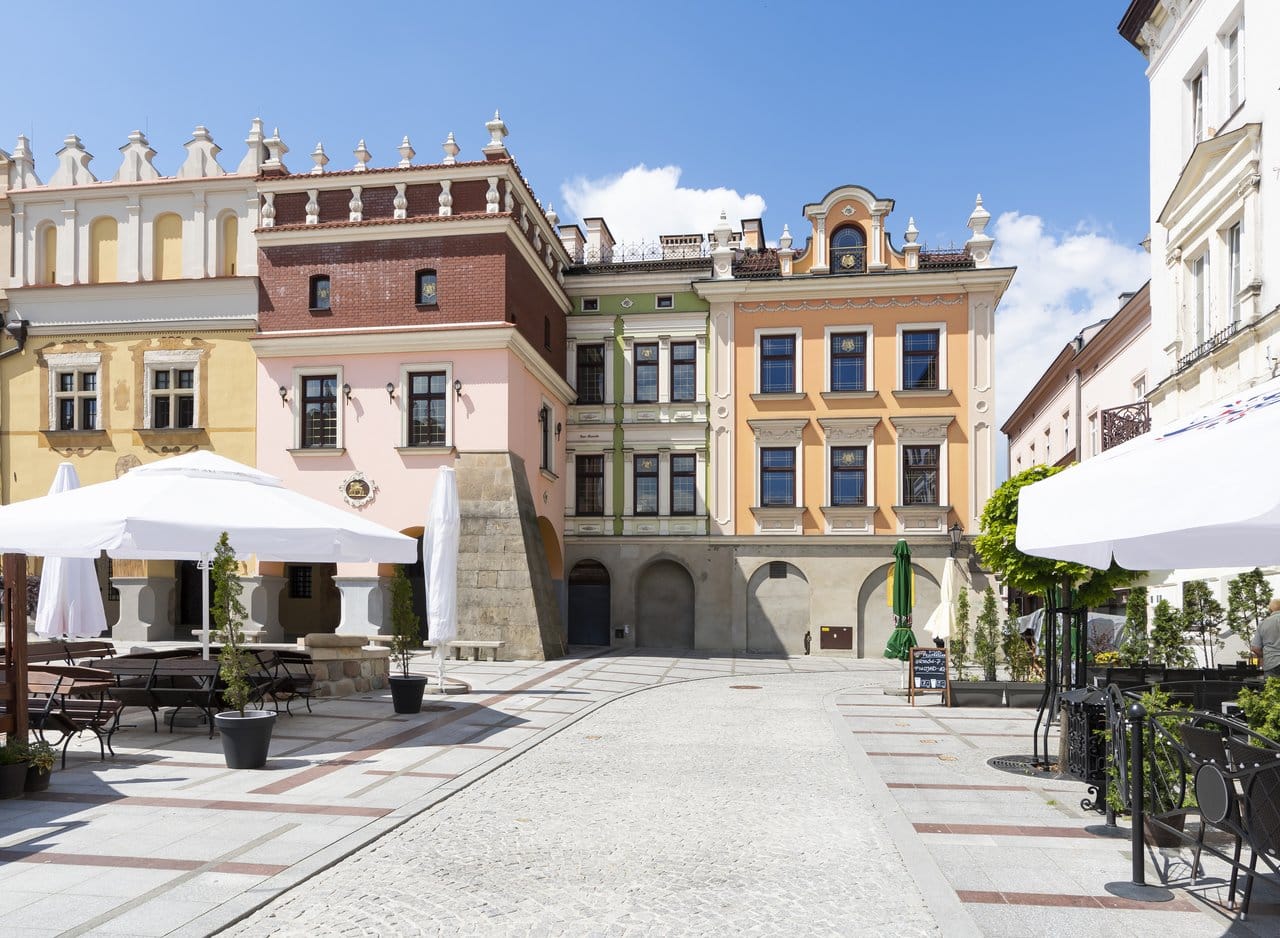 Home to an incredibly well-preserved old town, the southeastern city of Tarnów is a quick and easy city to visit on a day trip from Krakow. The city was one of the first Polish cities to be occupied by the Nazis in WW2, and you'll be able to find out more about the occupation at the town's many museums.
The best place to start your visit to Tarnów is the Main Square, which is surrounded by renaissance-style houses, the red-brick Tarnów Cathedral and the gothic-style Town Hall.
Next, head to the Jewish Quarter, where you'll find plenty of plaques documenting the history of the Jewish community in Tarnów, which was tragically destroyed during the Nazi occupation.
This area of Poland is famous for its wooden churches, and there are a couple that you can walk to from the city, so if you have time to spare it's definitely worth checking them out. 
Since the city feels like a mini version of Krakow, one of the best things to do in Tarnów is to wander aimlessly, looking at the beautiful buildings and exploring its medieval alleyways.
Unlike Krakow, you'll find hardly any other tourists here, so it's the perfect getaway from the crowds.
Getting to Tarnów from Krakow
Tarnów is one of the easiest day trips from Krakow by train since the journey is direct and takes just 1 hour and 11 minutes from Krakow Główny station. Second class tickets cost €3.80 each way, and you can get them here.
---
The Best Day Trips from Krakow, Poland
It can definitely be overwhelming to choose from 16 different day trips from Krakow, so, to summarise everything, here are my top picks for the best day trips from Krakow:
| | | |
| --- | --- | --- |
| Category | Destination | Best Organised Tour |
| Best Historical Day Trip | Auschwitz Birkenau | Click here |
| Most Beautiful Day Trip | Zakopane | Click here |
| Best Hiking Day Trip | Morskie Oko | N/A – independent day trip |
| Easiest Day Trip | Wieliczka Salt Mine | Click here |
| Hidden Gem Day Trip | Zalipie | Click here |
| Best City Day Trip | Warsaw | N/A – independent day trip |
| Cheapest Day Trip | Katowice | N/A – independent day trip |
Liked this post? Pin it!