There is a good chance that this post contains affiliate links. If you make a purchase through them, I may receive a small commission at no extra cost to you! As an Amazon Associate, I earn from qualifying purchases. As ever, all opinions are my own.
Last Updated on July 5, 2021 by Ella
Growing in popularity every year (and for good reason!) the town of Perranporth in Cornwall offers so much to its visitors and has so many accommodation options to choose from! Whether it's a camping trip you're looking for, a stay in a hostel, or even hiring an entire apartment to yourself, Perranporth caters to every visitor. The only issue is choosing where to stay!
There are so many accommodation options in Perranporth that it can feel overwhelming trying to choose just one. I've been there. I've visited Perranporth nearly 40 times so far (!!!) from way back when I was a toddler until the present day. You can trust me when I say that if there's a place to stay in Perranporth I haven't been to, that's because it's not worth visiting!
Perranporth is a hugely popular destination for family holidays, so prices skyrocket during July and August, and the crowds can be intense. It's during the off-peak season, such as April, September, and even winter, that you can snag some great deals!
Despite being so popular with families, you'll find couples and groups of friends alike also flock to Perranporth for its laid-back vibe, epic coastal hiking and unforgettable pubs (did you know Perranporth has a pub on the beach?).
So, where should you stay?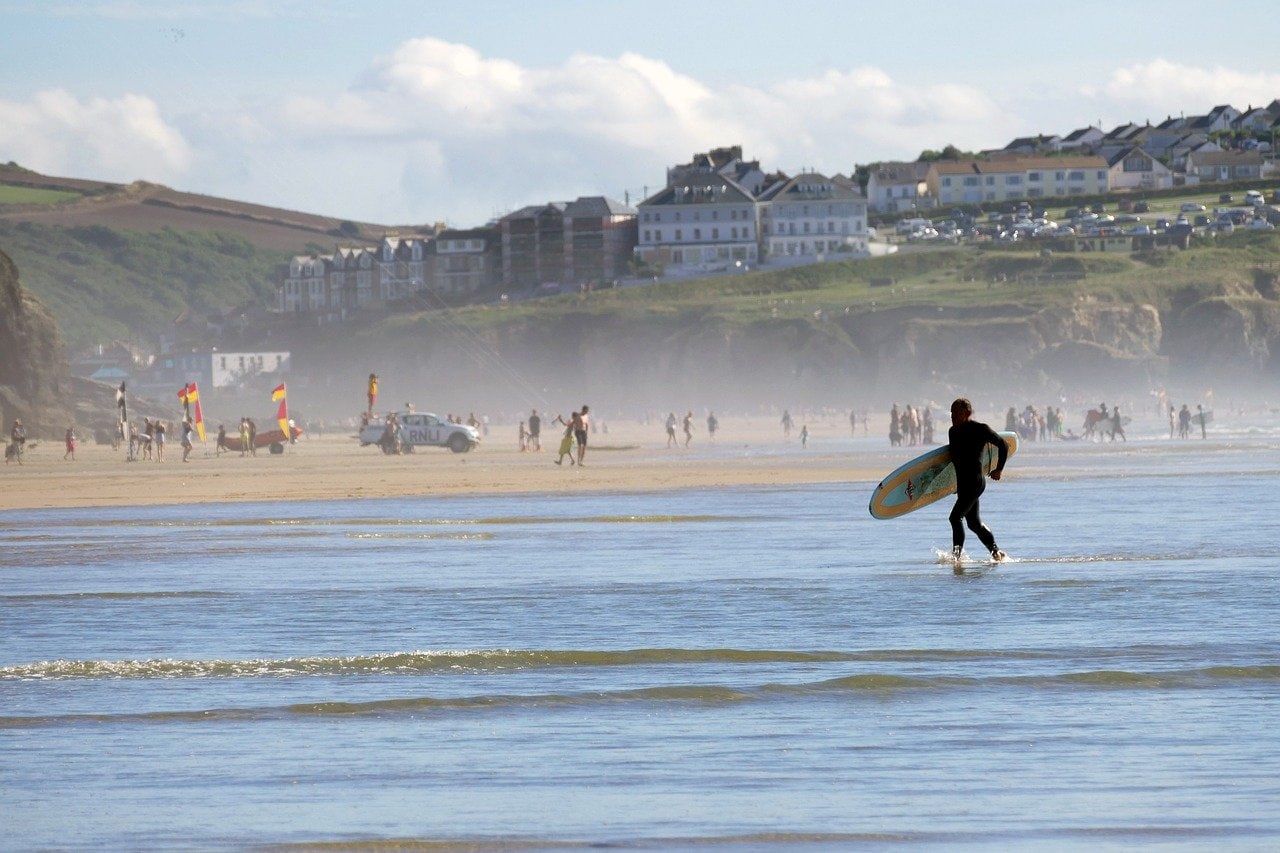 Camping in Perranporth
Perranporth Camping and Touring Park
Undoubtedly the best location for camping in Perranporth, this awesome site is just a 10-minute walk away from the beach. Open from May-September, this site has all the typical campsite amenities you'd expect.
There's a launderette, showers, and a children's park, and a few added extras such as a bar, a shop, a swimming pool, and a pop-up pizza stand on Thursdays! Alongside the obvious option of camping or staying in your caravan, Perranporth Camping and Touring Park also has static caravans and lodges on the site which you can hire if you're looking for slightly more comfort.
Although the static caravans are very outdated, they're pretty cheap considering their location – around £600 a week during the peak summer holiday season. Unfortunately, they book up fast, so be quick!
The site is fairly large, so you don't have to plan too far in advance to get a camping spot. Although booking as far in advance as possible is always a good idea, you should be fine booking a month or so before your stay during peak season, or just arriving on the day outside peak season. Electric hookup pitches sell out much faster, with non-electric sites being easier to score at the last minute. 
In July and August there is a minimum stay of 4 nights, but trust me when I say you wouldn't want to visit in summer for any less time than that anyway! Their website has more details on pricing but, as a rule of thumb, a car + tent or car + caravan costs £8 off-peak and £10 during peak season per night. You then have to pay an extra £7 per night (£8 in peak season) per person staying there.
This site is, in my opinion, the very best for camping or caravan holidays in Perranporth, and I've been here at least 10 times! Unfortunately they're not on Tripadvisor, so you'll have to take my word for it!
Visiting Perranporth with your dog? Check out my post on everything you need to know before visiting Perranporth with dogs!
Liskey Hill
This holiday park is static caravans only, and, although a steep walk away from central Perranporth, is still conveniently located. This means no battling for a parking space near the beach every morning.
The caravans are all owned by different owners rather than the site itself, meaning the quality of the caravans varies massively – as do the prices. Check photos online of the caravan you're looking to hire beforehand if you can.
Since the site doesn't have campers, it also doesn't have much in terms of facilities aside from a launderette. That being said, Liskey Hill is still a great accommodation option as its within walking distance of Perranporth beach. Again, the site isn't on Tripadvisor so you can't browse reviews, but their website has more information.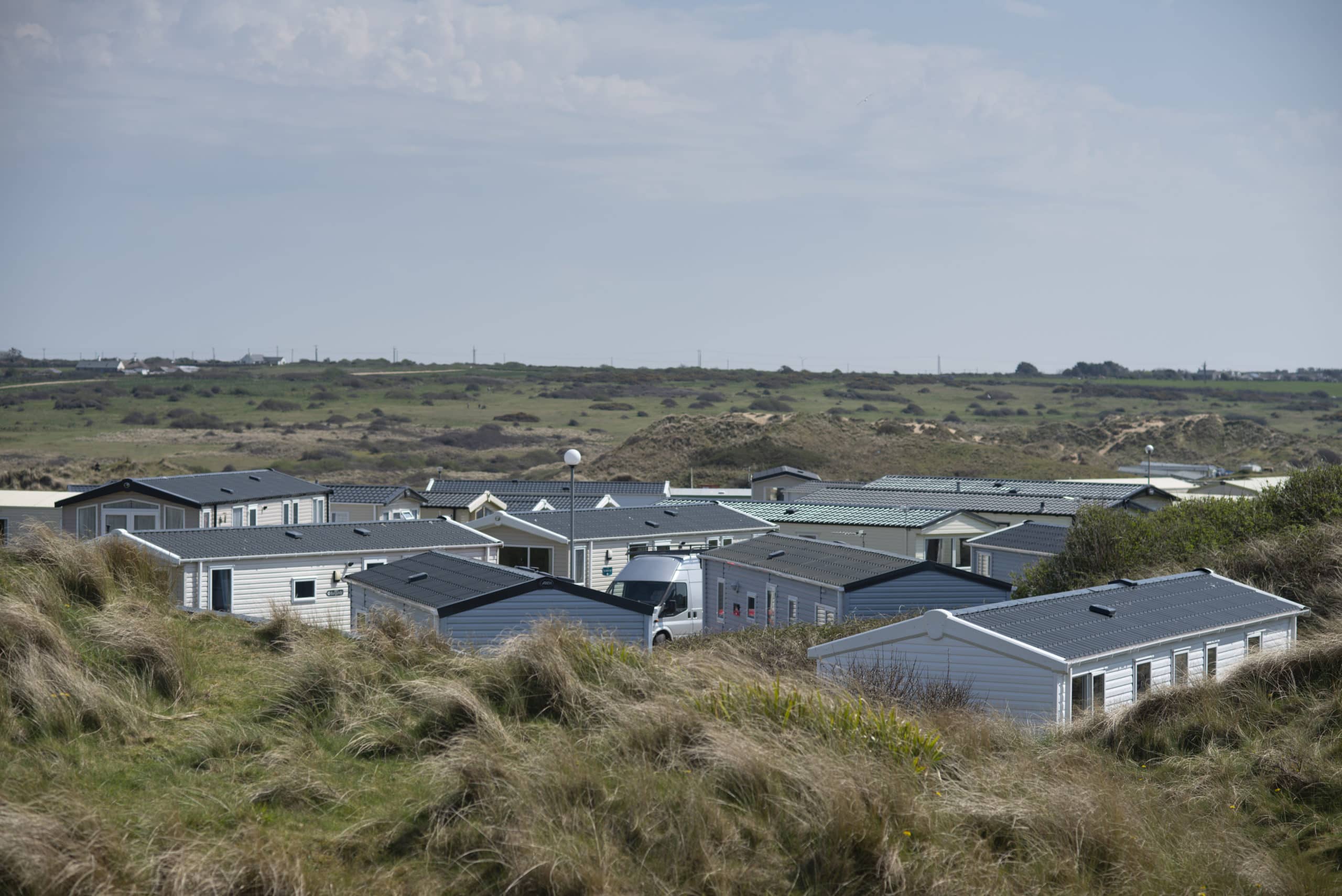 Tollgate Farm
This campsite gets the balance between perfect family-friendly fun and affordability perfectly. The site is tucked behind the town of Perranporth itself up on the hills surrounding the town.
Unfortunately, this means that if you're camping at Tollgate and planning to take anything more than a towel down to the beach you'll need to drive down to Perranporth! Bear in mind that traffic and parking can be a nightmare on sunny days! Another option is to sneak through neighbouring campsite Perran Sands to get to their own stretch of beach. 
What makes Tollgate Farm stand out is its farm section, where most mornings you can go and help feed the animals and pet them! What's more, it's all included in the price you pay for your pitch! There's also a pop-up takeaway food stand on the site in the evenings, and their jacket potatoes are legendary.
It's worth noting that Tollgate Farm is strictly families and couples only, so if you're travelling as a group of friends you'll have to look elsewhere.
Recently, the campsite has introduced glamping pods, which look like an awesome way to experience the outdoors without roughing it in a tent.
Open from April-September, prices vary depending on when you visit. In general, you're looking at £7-11 per night for a car + tent or car + caravan. Each person staying is charged at an additional amount (£5.50-11 per adult and £2.50-5 per child). Check out the site's reviews here then pop over to their website for more information.
Perran Sands
The biggest campsite in Perranporth by far, the Haven-owned Perran Sands has everything you could want from a campsite. It has indoor and outdoor swimming pools, a restaurant, an on-site surf school, and an activities hub!
Perran Sands is the only holiday park I haven't stayed overnight at in Perranporth, mostly because it just feels too big. Driving around the site had me convinced that it was its own village! That being said, the allure for most visitors is that, as it's part of Haven, you know what to expect. I can also imagine it's appealing for families as you don't need to leave the site, which cuts out a lot of hassle. And I really do mean you don't have to leave the site. Perran Sands has its own stretch of the 3-mile Perranporth beach which is fully lifeguarded during the summer holidays. As the site is so far away from town, this part of the beach is almost exclusively for those staying at Perran Sands (and the few who decided to sneak on from Tollgate Farm). 
Unfortunately, Perran Sands, like Tollgate Farm, is quite a trek to Perranporth itself. If you wanted to visit any of Perranporth's awesome pubs, shops or restaurants you'd have to drive down.
There are so many different types of accommodation on offer here that I can't even give a general indication of price – from camping, glamping, caravans and yurts to luxury chalets with decking, this campsite has the most variety of all the Perranporth sites and has something for everyone and every budget. You can check out reviews here and prices and availability on their website.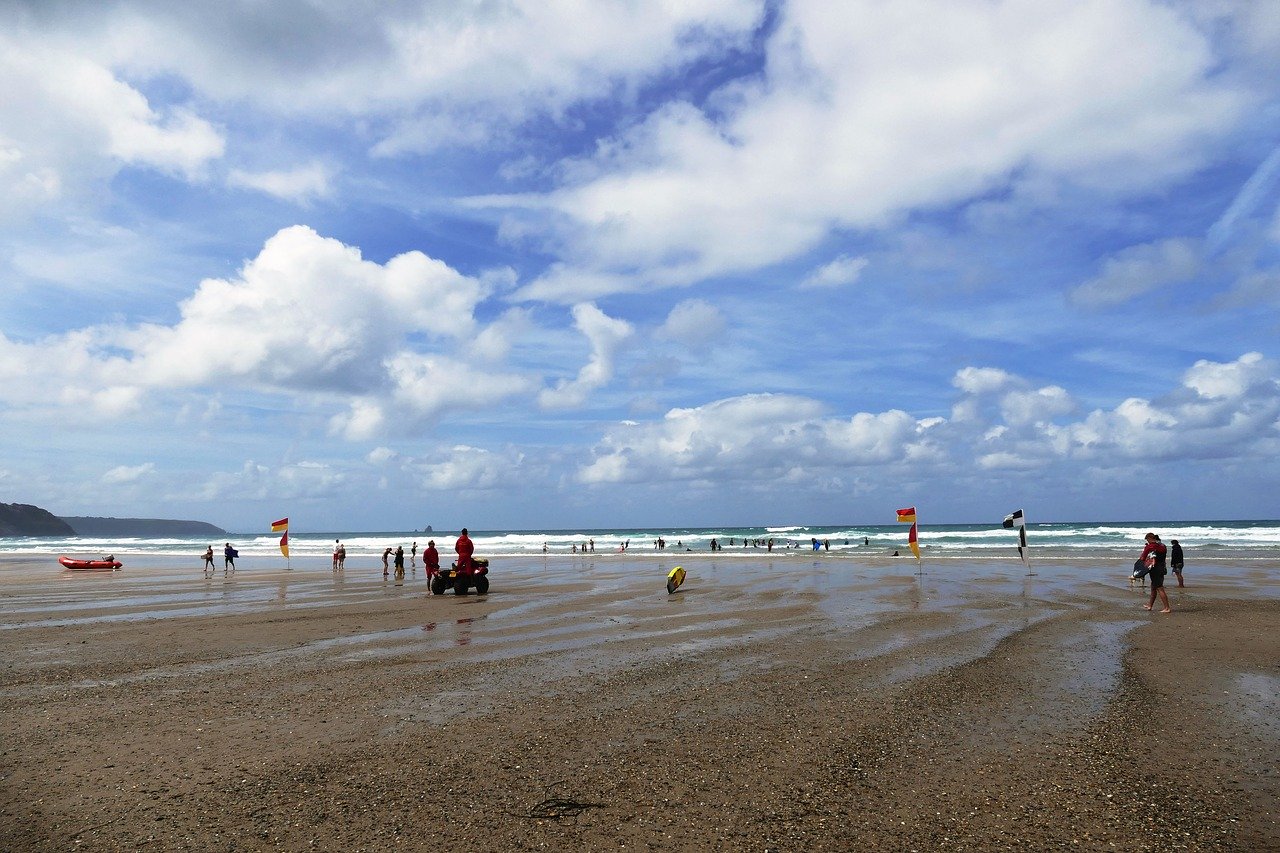 Holiday Cottages/Apartments in Perranporth
If you're looking to rent your own holiday cottage or apartment in Perranporth you'll be spoilt for choice. In general, the quality is exceptionally high and most places have modern decor and are light and airy.
Renting an apartment can pay off massively if you're travelling in a group or outside of peak season. Not only do loads of the holiday rentals in Perranporth have kickass views, but chances are, if you avoid the school holidays, you'll snag yourself a bargain! Here are my recommendations when it comes to choosing from the many Perranporth holiday apartments:
For a romantic couple's retreat that'll tick all your boxes, check out this epic apartment for two guests. With a sundeck overlooking the beach and a central location, you can't get much better! If you're travelling as a family or group of friends, you won't miss out!
Try the one right next door, which has all the same great features but for four people instead of two. Set overlooking the gorgeous beach and sea, the view will keep you entertained for hours. If that's not enough, these apartments are right on the coastal path from Perranporth to St Agnes, one of the most scenic hikes around, and gets rave reviews.
If you're travelling in a big group, you can't go far wrong with this huge house overlooking the beach! This is probably the most epic place to stay in Perranporth, and sleeps 12 people – perfect for a few families travelling together, a huge family reunion or a group of friends!
Accommodating up to 6 guests, this perfect apartment is a stone's throw from the beach and perfect for a family trip. You can't get any more central! Avoiding having to lug windbreakers and surfboards up the hills all over Perranporth, your trips to the beach will be totally stress-free! What's more, you can step outside your door to enjoy the beach all to yourself late at night or early in the morning.
If you're travelling during peak season, it's possible that my recommendations will be booked up already. Lots of visitors to Perranporth return year on year to the same holiday rental, so they'll book it far in advance. If that's the case, don't worry. You can find the best Perranporth holiday apartments and cottages on either Airbnb or Booking.com.
I have used both of these sites to find holiday apartments before and have had great experiences with both of them! 
Hostels in Perranporth
For backpackers or those on a tight budget, Perranporth has its own awesome hostel – the YHA Perranporth! Trust me when I say this hostel is a slog uphill to get to, but the views it offers over the beach and sea are second to none. It's just a  short walk away from the town, but you'll need to be moderately fit to get back since the walk is so steep.
The hostel offers private rooms as well as single-gender 8-bed dorms. It also has a kitchen for guests to use to keep costs down! As far as budget accommodation goes in Perranporth, this is the best there is! Prices start at a very reasonable £19 per night for a dorm bed. Book your stay and check out their amazing reviews here.
Hotels & B&Bs in Perranporth
Seiners Arms
If you want to stay right on the beach, you can't get closer than this. The Seiners Arms, which is both a (great) pub and a Bed & Breakfast, overlooks Perranporth beach. It's also just minutes away from the centre of Perranporth!  Each room is well equipped with everything you could possibly need and they're dog friendly. Prices start at a very reasonable £90 per room per night and include a superb cooked breakfast! Book your stay here.
Lamorna Court Bed & Breakfast
Also located in central Perranporth and less than 300 metres from the beach, this B&B is absolutely tiny! With just two guest rooms and a TV lounge (what a blast from the past) you'll have to act fast if you want to snag a room here. They only accept 4 guests at the property at any one time! Prices start at £105 a night for a room with breakfast included. Click here for more information.
The Residence at Bolenna
For accommodation that's slightly more luxurious, you can't go wrong with the Residence at Bolenna. Nestled behind parklands and tennis courts, you wouldn't believe that you're just a 5-minute walk away from central Perranporth! If you're looking for more of a hotel rather than a B&B, The Residence at Bolenna will meet your expectations. Dogs are welcome at the hotel. Prices start at £145 per night for a double room. Click here to book.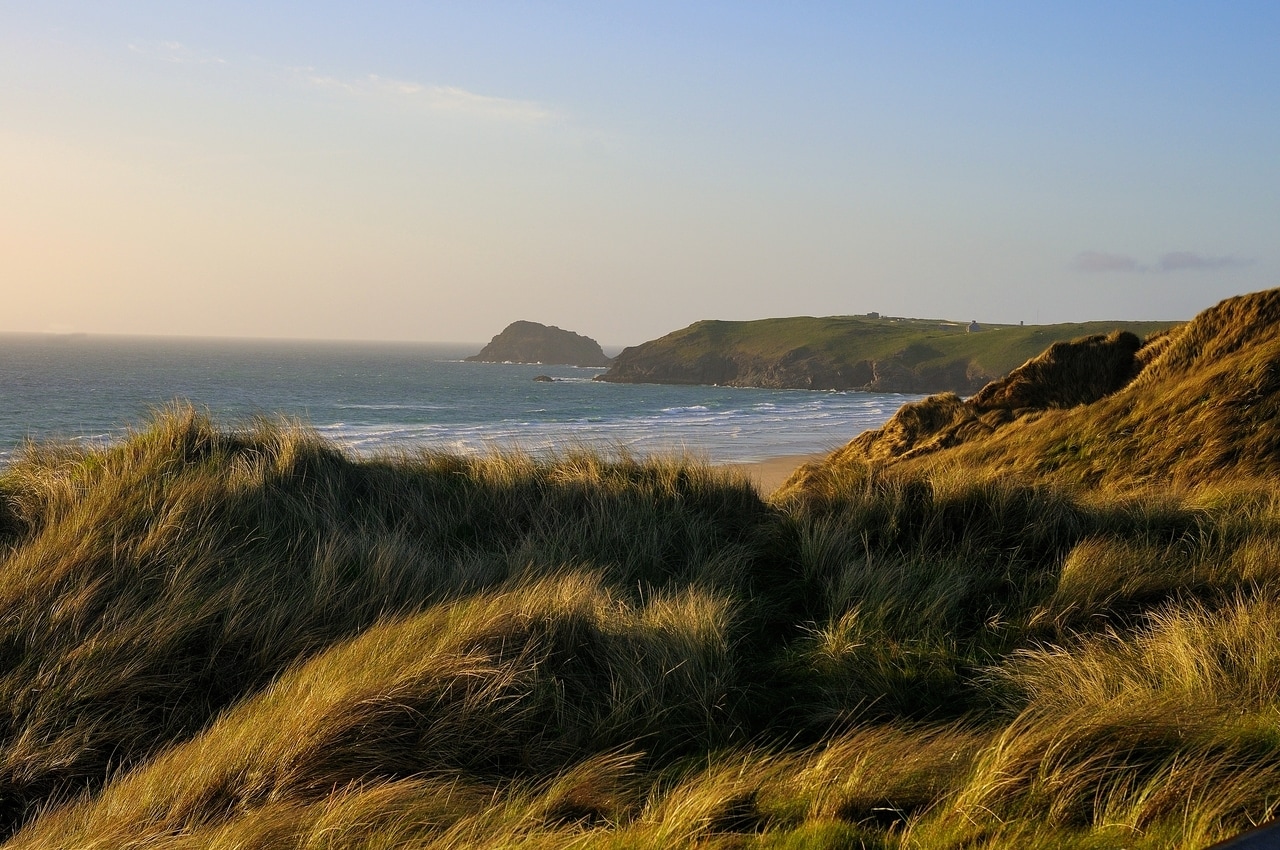 When's Your Next Trip?
I hope you found this post helpful and it gave you some inspiration to get planning your holidays in Perranporth! I absolutely adore this laid-back beach town, and I just love getting more people to explore it for themselves. Let me know in the comments if you book any of my recommendations, or if there are any other places to stay in Perranporth that I wasn't aware of!
Now you've got your accommodation sorted, it's time to head over to my things to do in Perranporth post to start planning your trip! Want to know what to expect before you go surfing in Perranporth? Read my post all about it here.
Liked this post? Pin it!
Photo credit: The Seiners Arms InspiredImages/Pixabay; Lifeguards InspiredImages/Pixabay; surfer InspiredImages/Pixabay.