There is a good chance that this post contains affiliate links. If you make a purchase through them, I may receive a small commission at no extra cost to you! As an Amazon Associate, I earn from qualifying purchases. As ever, all opinions are my own.
Last Updated on December 16, 2021 by Ella
Have you ever waited so long to visit somewhere that you're certain it could never live up to your expectations? That's how I felt about the Titanic Belfast, a museum and historical experience in Northern Ireland.
I've been a huge history buff my entire life, and developed a particular enthusiasm as a teenager for maritime history. Hey! We all have our quirks!
On hearing in 2012 that a museum dedicated solely to the Titanic was opening in Belfast, I could barely contain my excitement. I had hit the museum jackpot! Like any teenager, I had devoured the James Cameron movie over and over again, and… *leans in closer* I even wrote fanfiction about it.
Don't worry, I'm cringing too.
The point of what I'm trying to say is that I had more than a casual interest in the Titanic. So, when my parents asked me what I wanted to do for my 21st birthday, I had the perfect answer. I wanted to spend a weekend in Belfast to make my dream of visiting the Titanic museum come true!
Anybody who has a really close relationship with their family but lives a long way home will know how special it is to be able to spend time all together. The fact that we could also explore a new city at the same time was the icing on the cake.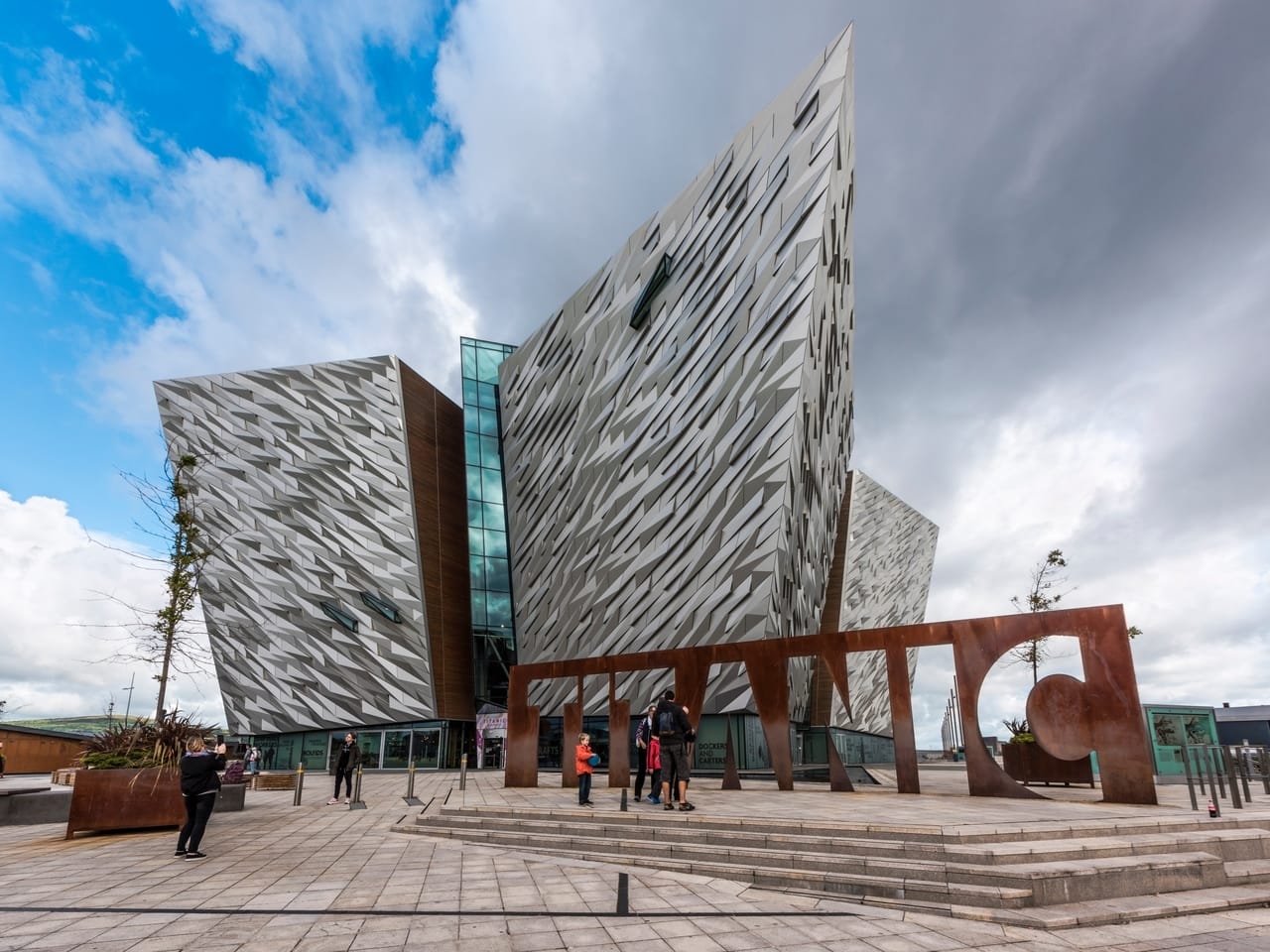 I had finally arrived in Belfast!
Fresh off a 6am flight which required waking up at an ungodly hour, I had finally made it to the Titanic Quarter of Belfast. The yellow cranes of the Harland and Wolff shipyard dominated the city skyline as an omnipresent reminder of the city's shipbuilding heritage.
I couldn't stop smiling.
It was my 21st birthday, I was with my favourite people in the world, and I was about to visit a place I'd spent years thinking about!
So, aware that not everybody is as nerdy as I am, I decided to share everything I know about planning a visit to the Titanic Belfast. At the end of this post, I'll also share whether I think the Titanic Belfast experience is worth adding on to your trip to Northern Ireland.
Get comfortable, grab some snacks, because we're about to go on a deep dive (pun absolutely intended).
The Basics
Where is The Titanic Belfast?
Titanic Belfast is in, you guessed it, Belfast, Northern Ireland, served by both Belfast International Airport (approx. 20 miles from the city) and Belfast City Airport, (approx. 5 miles from the city). Both airports fly to the rest of the UK and Europe, and return flights can often be found from most major cities in the UK for as little as £20.
Alternately, you can drive or catch the train from Dublin in just over two hours. Book as far in advance as you can for the cheapest tickets!
To get from the city centre of Belfast to the Titanic Quarter the walk is around 25-30 minutes. If you don't fancy that, you can catch bus 26, 26A, 26B, or 26C from the Belfast Welcome Centre in the city which will drop you off at the Titanic Belfast museum.
Uber also operates in Belfast and is very affordable, so it's usually worth saving yourself the hassle and just using Uber.
Tickets For The Titanic Belfast Museum
There are numerous different ticket options to include extras, but standard entry tickets for the Titanic Belfast museum will set you back £19.50 ($25). Concession tickets range from £8.50-£15.50 ($11-$20).
Many museums in the UK are free, so it came as a surprise to me that Titanic Belfast tickets were so expensive! Luckily, tickets include entry to both the Titanic museum and the SS Nomadic, the last remaining White Star Line vessel, which is moored nearby.
I recommended buying your tickets online in advance as it means you can skip the queue, which apparently in summer can be looong. My top tip is to get there as early as you can to enjoy the museum at your own pace with smaller crowds.
Click here to buy your tickets!
Titanic Belfast Opening Hours
Opening hours for the Titanic Belfast vary by month and also on weekends. At an absolute minimum, Titanic Belfast is open from 10am-5pm (with opening hours as long as 8:30am-8pm on some days in July and August).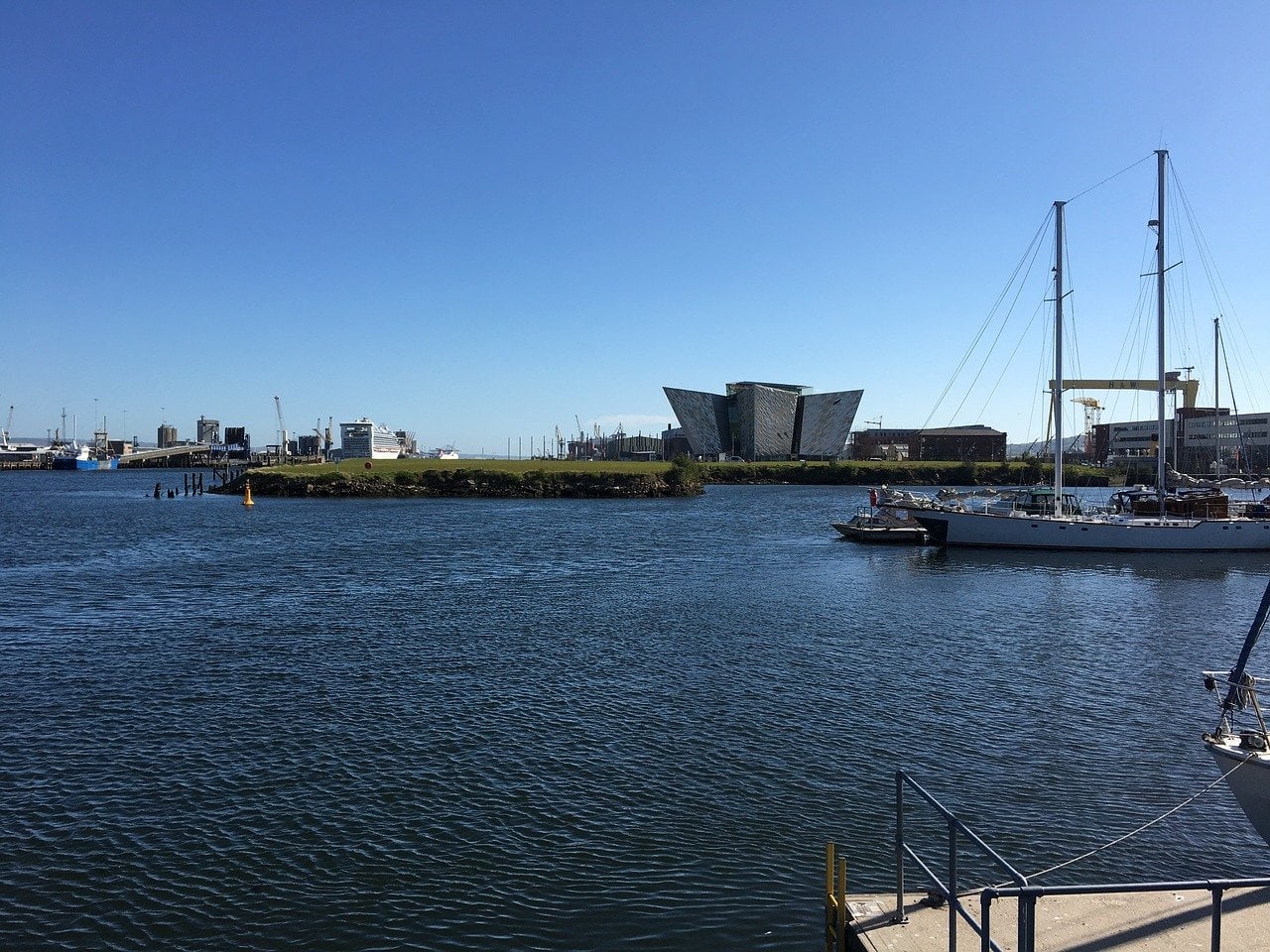 How Long Will I Need To Visit The Titanic Belfast?
I spent around 3 hours looking around both the museum and the SS Nomadic. For casual visitors, 2 hours would be the perfect amount of time to spend without feeling rushed. I just have a tendency to try to read EVERYTHING, rather than being selective.
Although your ticket has a specified entry time, you can stay there as long as you like. Fancy spending the whole day in the museum? Go for it, nobody is going to stop you!
Facilities:
Inside the Titanic Belfast museum there is a café which is free to enter. This is perfect for anybody in your group who doesn't want to cough up the entrance fee and is happy to wait. My mum, who is not a museum person by any stretch, vouched for this option and said it's a great spot for people-watching, if that's your thing.
There is also a pub and a well-stocked gift shop, which is pretty good and has all manner of Titanic and Belfast themed souvenirs as well as an impressive selection of books on the Titanic, the White Star Line and Belfast itself.
Have luggage or heavy bags with you? No problem. For £1 ($1.30) you can leave them in a storage locker to avoid heaving them around.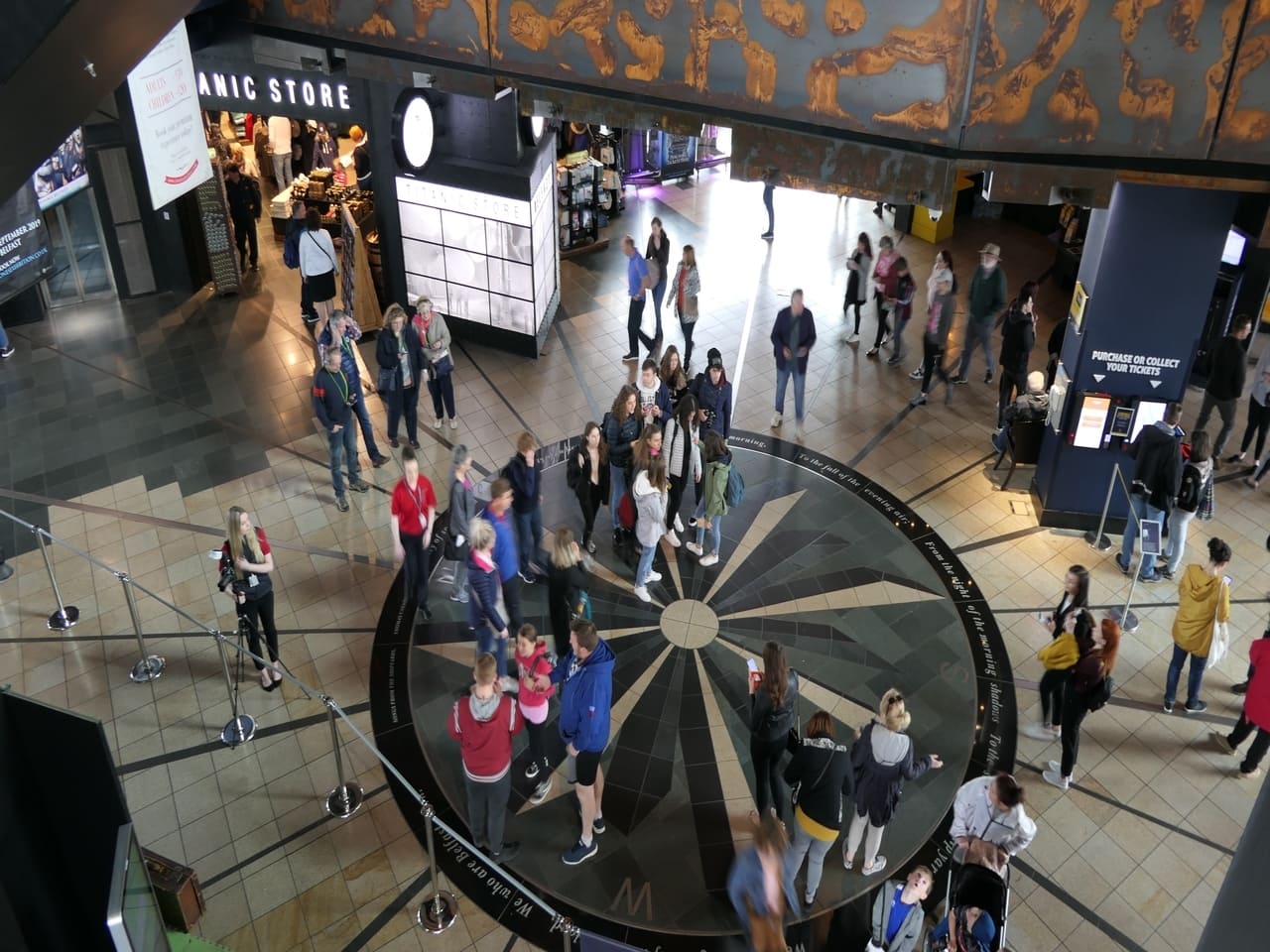 The Titanic Belfast Experience
If we're working on the assumption that you bought a standard admission ticket, you'll have access to the Titanic Belfast and the SS Nomadic, so let's break them down one by one.
The Titanic Belfast Museum
As a huge tourist attraction for the city, expect a lot of people. Even though I arrived early, the exhibition section of Titanic Belfast was already slightly crowded. I can imagine visiting in the afternoon on a weekend would be pretty cramped.
For the first part of the exhibition, the Titanic museum focuses on the history of industry in Belfast, discussing things like poverty and the lives of workers in Northern Ireland.
This area is really text-heavy and to be honest, a bit much. Obviously it was helpful to understand the background leading up to the Titanic's creation, but I felt the level of detail was a bit pedantic and lost its focus.
Next, you'll learn about the rise of the shipbuilding industry in Belfast. In particular, the exhibition focuses on Harland and Wolff, the shipyard which built the Titanic.
You'll learn about the rise in popularity of the transatlantic shipping route and then, finally, move on a section about the building of Titanic. This section spans from original blueprints of the ship to information about the ship's employees and even the people who died building it!
Then, in my opinion, comes the best part.
The Titanic Belfast Shipyard Ride
Ushered into a lift and propelled up many stories, you'll reach the queue for the Belfast Shipyard Ride. You get into a ride car with a group of others and are then whisked away and toured through the ship making process.
This includes feeling the heat of the furnace and hearing the hammering as you are guided through the exhibition by an audio recording of a 'shipbuilder' (with an authentic Belfast accent to boot).
Sure, it's gimmicky, and yes, the ride did break down for a few minutes whilst we were right in front of the furnace, which caused some slight discomfort (mild panic on my part), but it was still really cool.
In my opinion, the Shipyard Ride is one of the best parts of Titanic Belfast.
Interactive Exhibitions at Titanic Belfast
Moving on, you'll get to see the real dry dock the Titanic sat in out of an expansive set of windows. This was such an amazing experience, as I could picture just how huge the ship was.
Another neat experience which really makes you feel like you're getting value for that expensive ticket is an interactive tour of the ship! Walk into an area surrounded by three wall-to-ceiling screens and, starting in the boiler area of the ship, you are whisked away floor by floor, really feeling as if you are on the ship itself! This section is absolutely unmissable.
Finally, there is an area that projects the wreck site onto the floor. Here, you can walk around and inspect the wreck in as much detail as you like, which was a pretty awesome interactive element. A documentary about salvage efforts was also playing, providing more information about the wreck.
You can also have a browse through the Titanic in the Media exhibition, which shows off posters and props from all of our favourite Titanic films (though I'm sure most of us were there for one only!).
SS Nomadic
I hadn't even realised the SS Nomadic was a part of the Titanic Belfast museum when I bought my ticket. I was pretty excited about the added extra, though!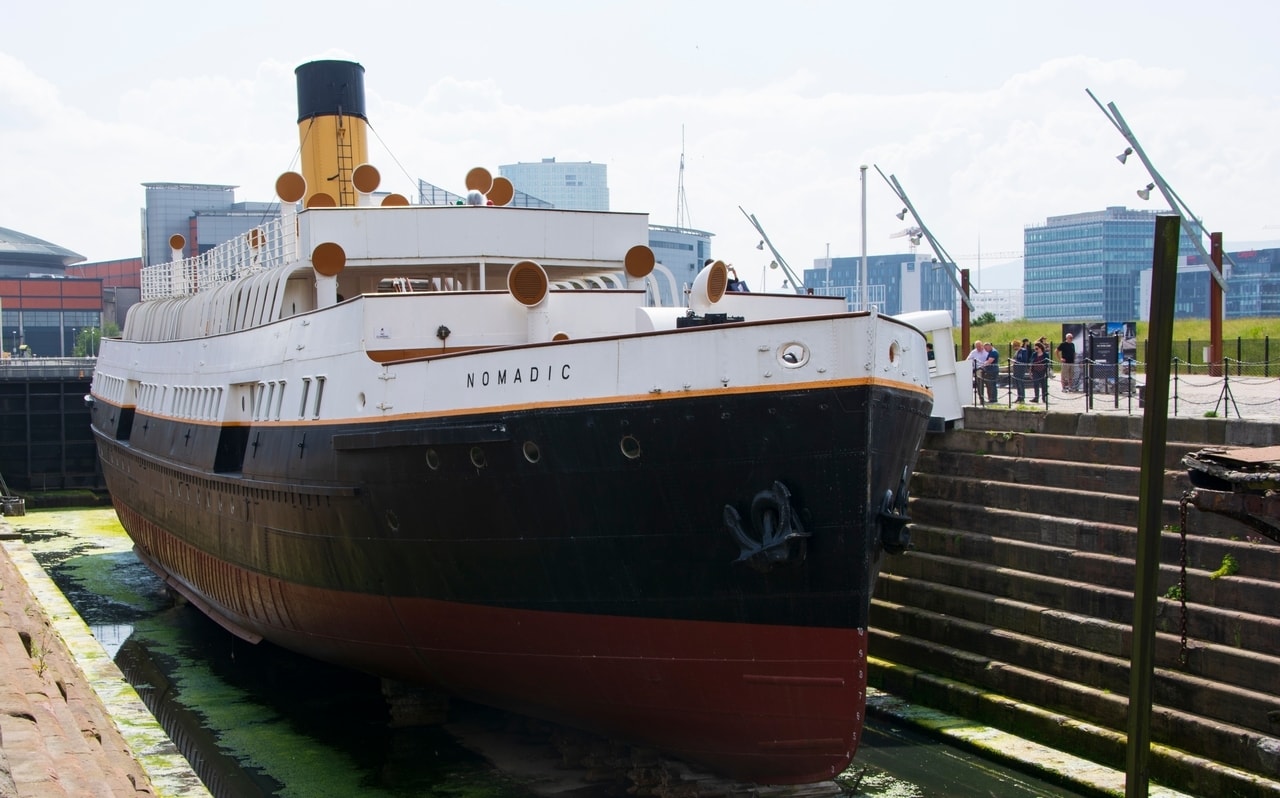 The SS Nomadic was built at the same time as the Titanic and had the same designer, Thomas Andrews.
Designed as a tug-boat, it famously transferred the first and second-class passengers from Cherbourg out to the Titanic! It's the last White Star Line vessel remaining, so I expected there to be loads to learn on board.
Unfortunately, I was wrong.
The whole ship had been gutted, and what was left was essentially a vast empty space with one or two placards offering up scant information. I spent 10 minutes in there, tops, and that included a bathroom break.
In fact, I think we would have been done in less than five minutes, but my brother is a welder and he wanted to check out some of the welding on board. If you're short on time, skip the SS Nomadic. If you're curious to look around, 5 minutes will do just fine.
So… Is The Titanic Belfast Worth A Visit?
The short answer: yes.
The better answer: if you're super into industrial history or shipbuilding, the Titanic Belfast will be your jam. There's no doubt this is one of the best museums in Belfast.
If you're not typically a museum person, the Titanic Belfast is still a great place to visit. My brother isn't typically a museum person, but the opening exhibit aside (which I think I've criticised enough at this point) the museum as a whole had plenty to keep him engaged and entertained. There's a certain thrill to standing in a place that history occurred!
If you're with kids, quickly skim over the first section about industry and get straight to the interactive sections – you'll have a blast.
However, if you're a full-blown Titanic nerd like myself, you might be slightly disappointed.
The fact that it costs so much to enter pushed my expectations way up. Although I do genuinely feel like I got good value for my money, I was expecting more. More information, more detail, more artefacts.
Could this be a result of me hyping up this visit to myself for seven whole years?
Absolutely.
But if you're a total history nerd like me you're going go anyway, regardless of what I say.
Long story short: GO!
Click here to get your tickets.
Are you planning to visit the Titanic Museum whilst you're in Belfast, or have you already been? Let me know in the comments!
For more UK travel inspiration be sure to check out my other posts on travel in the UK here.
Liked this post? Pin it!
Photo of Exterior of Titanic Belfast with Titanic Sign by CA Irene Lorenz/Shutterstock; of Titanic Belfast Foyer by Friemann/Shutterstock; of the SS Nomadic by Ross Mahon/Shutterstock