There is a good chance that this post contains affiliate links. If you make a purchase through them, I may receive a small commission at no extra cost to you! As an Amazon Associate, I earn from qualifying purchases. As ever, all opinions are my own.
Last Updated on January 27, 2022 by Ella
When I was asked where I wanted to spend my 21st birthday, I chose to spend the weekend in Belfast. 
It's maybe not the most common 21st birthday location, but I've never been one to follow the herd!
What I was met with in Belfast was, to my delight, a city full of fascinating attractions, a tonne of history, wonderful food and, unsurprisingly, lots of Guinness! Belfast was much more affordable than I expected, making it a very underrated budget city break in Europe. 
Although Belfast is part of the UK, it's on the same island as the Republic of Ireland, and the meshing between British and Irish culture is fascinating to explore. You'll find that the result of this meshing is a vibe that's uniquely Northern Irish.
I highly recommend spending a weekend in Belfast, and in this itinerary I'll cover all the best things to do in Belfast during your short trip, as well as a few hidden gems. 
Let's get started!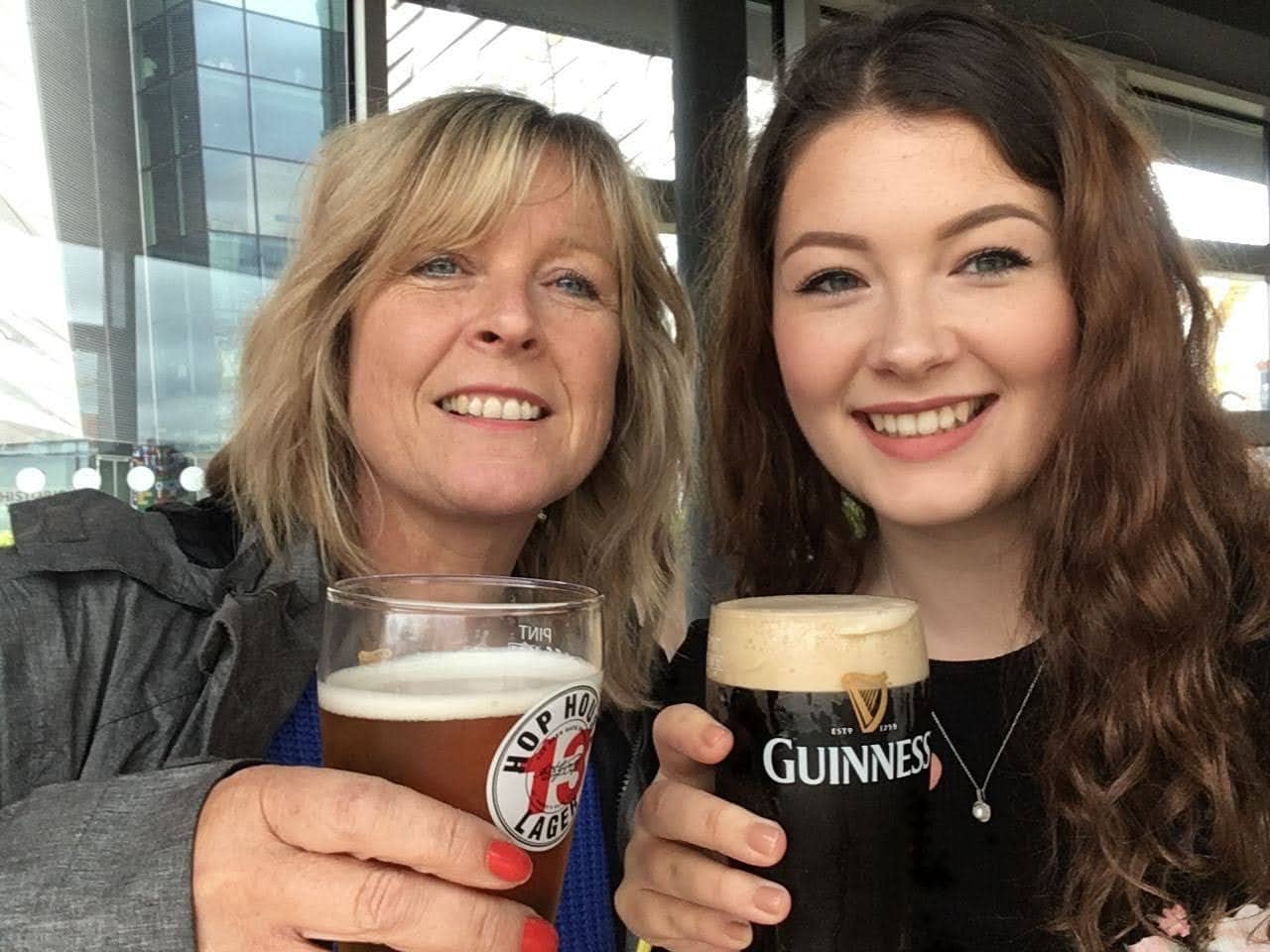 How Many Days Should I Spend In Belfast?
I stayed in Belfast for four days, but, in my experience, you only need a weekend in the city. If you're only able to visit Belfast for 2 days that's enough to see the city, but if you want to also take a day trip (like Giant's Causeway) you'll need to spend 3 days in Belfast – a long weekend.
To help you plan your trip, and to convince more people to cram in a short trip to Belfast, I've put together this "weekend in Belfast itinerary", perfect for two or three days in the city. Here, I'll share all my travel tips, favourite places, and the best things to do in Belfast that had me desperate to return.
How to Spend A Weekend in Belfast
Day 1: Titanic, Troubles and Black Taxis
Stop 1: Titanic Belfast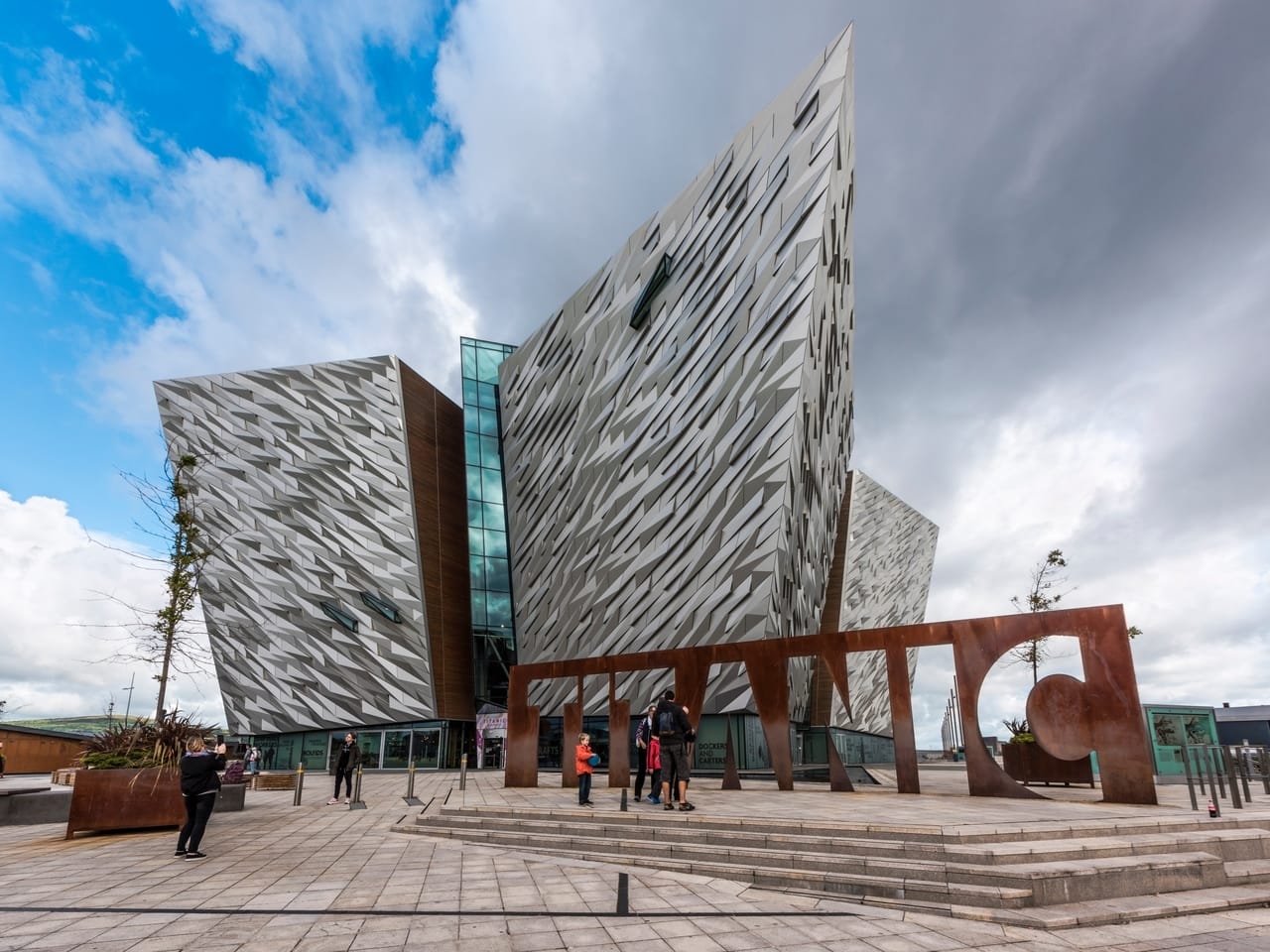 The best place to start this weekend in Belfast itinerary is at one of the biggest tourist attractions in the city! The Titanic Belfast is the main reason I first wanted to visit the city, and many other history fans will also be in Belfast for the very same reason.
This huge museum takes you along on an interactive journey through the past, from Titanic's construction in Belfast to its tragic sinking in the Atlantic Ocean. It's far better than a standard museum, though.
There's an interactive ride taking you through the shipbuilding process, a 3D immersive tour through the ship (this was freaking awesome!), and a huge projection of the wreck site which you can explore.
There's SO. MUCH. DETAIL at Titanic Belfast, so you're gonna have to skim read a lot of it if you're on a schedule. If you're a massive Titanic enthusiast, though, it's worth budgeting around 3 hours to visit! To learn more about visiting the Titanic Belfast, check out my post all about it here!
Even if you're not interested in the Titanic, I think you'll still enjoy this museum. My brother and father, who both weren't interested, visited with me and both really enjoyed the visit! 
Since this is arguably the most popular thing to do in Belfast, it can get suuuuper busy at the Titanic Belfast. For this reason, you'll save a lot of time if you book your tickets in advance. Tickets cost £19.50 for adults and £8.75 for kids.
Stop 2: SS Nomadic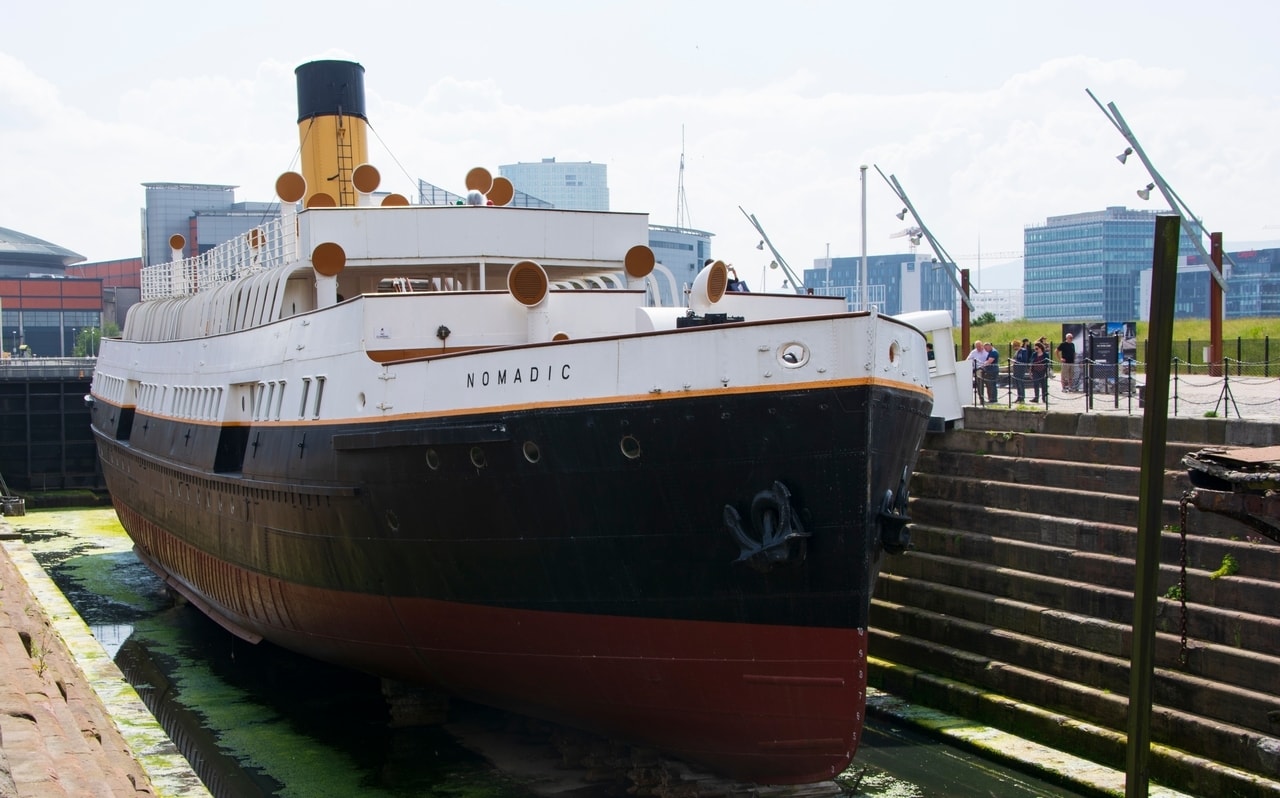 To sweeten the deal, entry to the SS Nomadic is included in your admission tickets for Titanic Belfast. The SS Nomadic was the tender for the Titanic in Cherbourg, ferrying passengers from the dock to the ship.
It's also the last remaining White Star Line (the shipping line that owned the Titanic) vessel in the world!
The SS Nomadic has now been restored, and you're able to board it to have a look around. 
I'm not going to lie – it's pretty bare inside the SS Nomadic, and there's not much information on display. Because of this, you won't need longer than 10 minutes there.
In fact, you probably only need five minutes, but I visited with my brother who is a welder, and, like a true nerd, he wanted to check out the welding on the ship.
Stop 3: St George's Market for Lunch
From the SS Nomadic, it's time to head over to St George's Market, the best place in the city to go for lunch. It's one of Belfast's oldest attractions, and, even in the 21st century, is still going strong! 
St George's Market contains around 248 market stalls selling everything you can imagine – from souvenirs and cute clothes to delicious food from all over the world. There are so many food options here that you should probably do a lap of the market to consider your options before making a decision!
Once you've enjoyed some lunch, it's time to check out the other market stalls. I bought a lovely hand-drawn bookmark from this market showing the Belfast skyline, and it's still one of my favourite souvenirs!
Stop 4: Black Taxi History Tour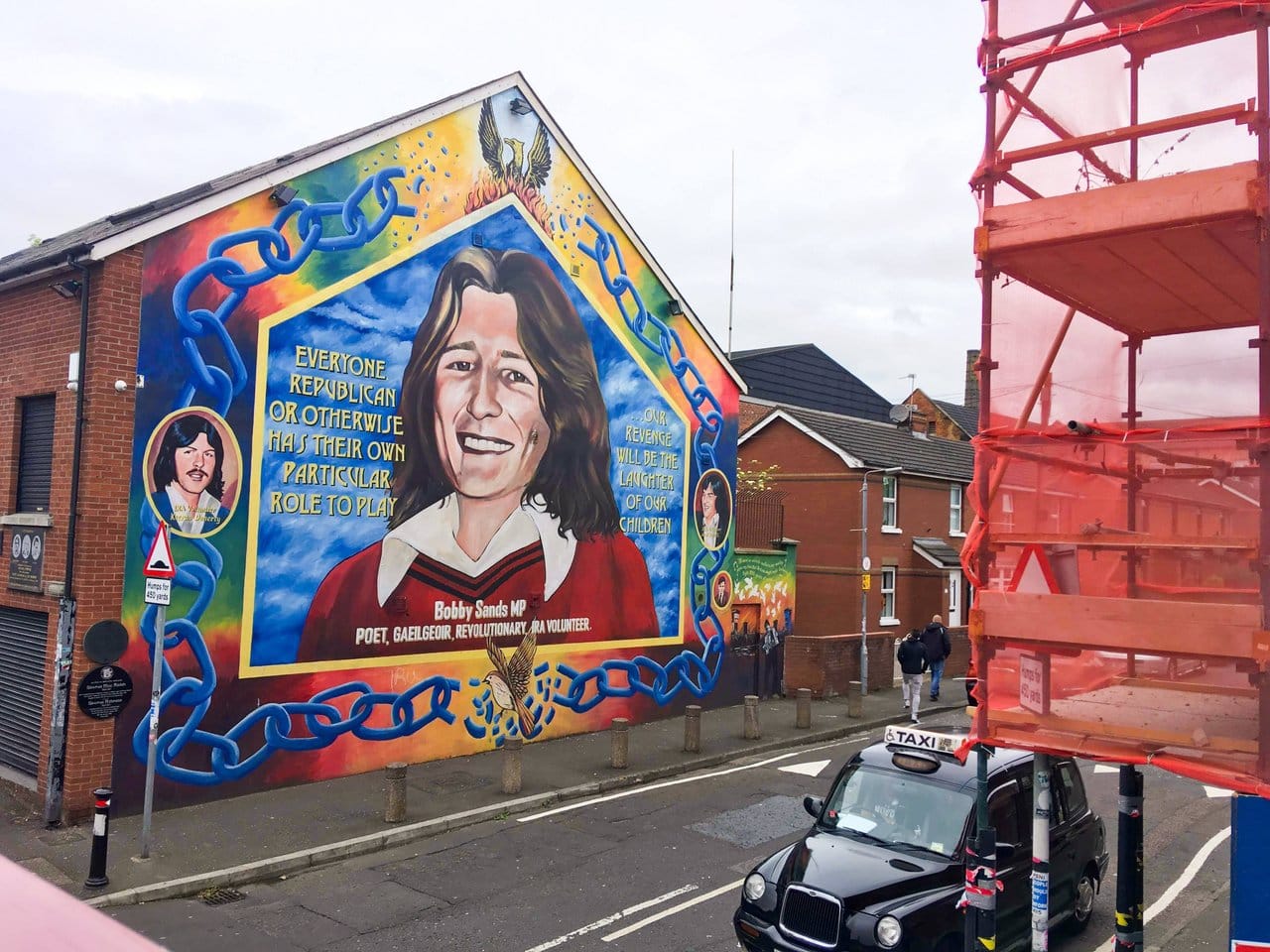 This is something you'll have to book in advance, but it's definitely worth it. A Black Taxi Tour should be on every Belfast itinerary!  
As somebody who did not live through The Troubles, I barely knew anything about them on my arrival in Belfast. Chances are, if you're not from the UK or too young to remember them, you won't know anything either.
Side Note: The Troubles in Northern Ireland…
In case you have absolutely no idea what I'm talking about, The Troubles, briefly, was a conflict from 1960(ish) to 1998(ish) – although some people would argue they are still ongoing. 
The conflict was between unionists (predominantly Protestants) who wanted Northern Ireland to remain part of the UK, and nationalists (predominantly Catholics) who wanted Northern Ireland to be part of the Republic of Ireland. 
This is an incredibly simplified version, and I recommend you read more about The Troubles before you visit Northern Ireland so that you have some important historical context.
Black Taxi Tours
Okay, back to the Black Taxi Tours. 
On a Black Taxi Tour you'll get picked up by someone who lived through The Troubles and will share their experience with you as you tour the most famous sights from the Troubles. These include the murals from both sides of the conflict, the Falls Road and Shankill Road.
Talking about The Troubles as a tourist can feel off-limits, so a Black Taxi Tour is the perfect opportunity to ask all the burning questions you have without worrying. The reviews of the tour really do speak for themselves! 
Black Taxi Tours last at least one hour and the more people you visit with the cheaper the tour will be per person! For up to two people, the tour costs £60, for three people it's £85, for four it's £95, and so on.
Click here to find out more & to book!
Stop 5: Belfast City Hall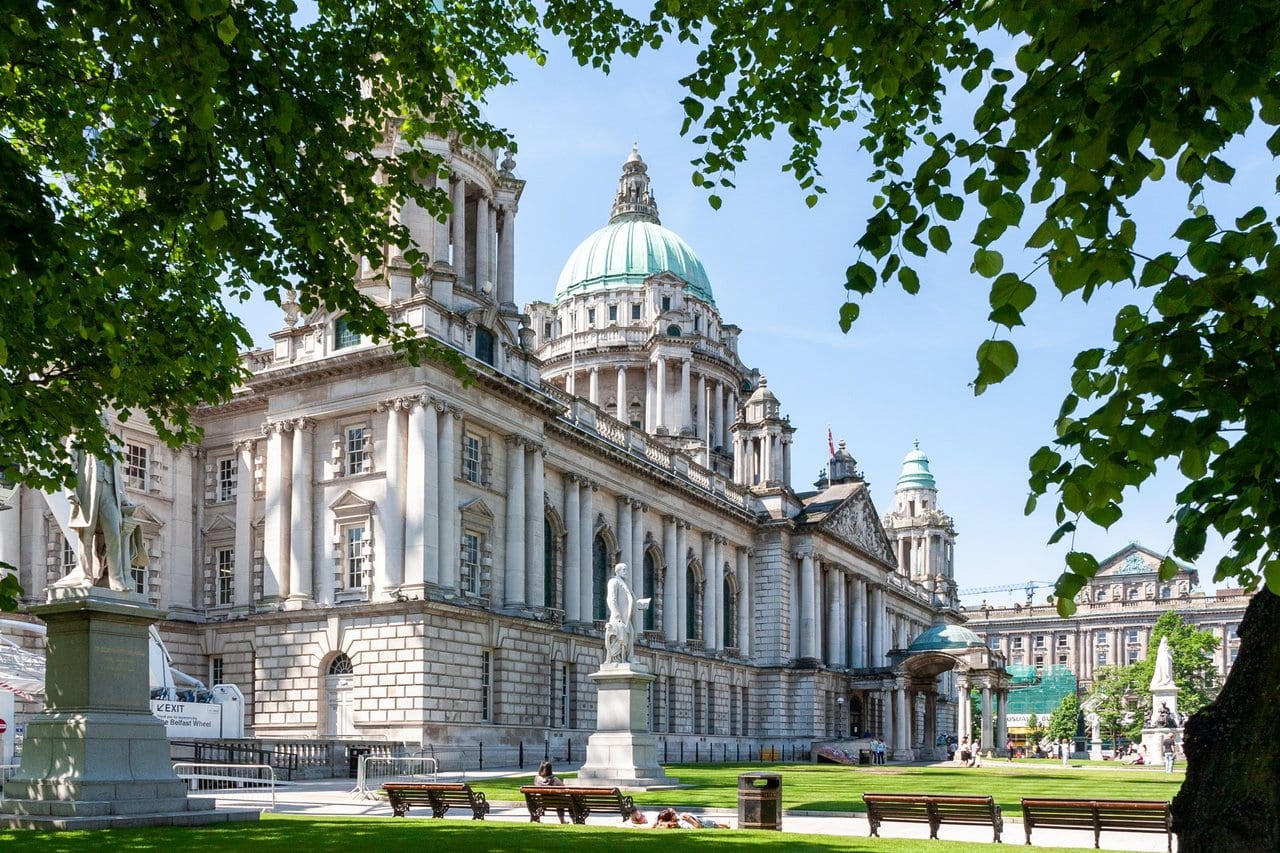 Next, it's time for a short visit to Belfast City Hall to snap some photos. The building was completed in 1906 and it's a beautiful landmark of the city. You'll also find the Titanic Memorial Gardens in the grounds, which are a very peaceful place to visit and pay your respects.
Stop 6: Drink at the Duke of York
The Duke of York pub is an unmissable stop during your weekend in Belfast! Located down a cobbled alleyway, the Duke of York is as traditional as it gets when it comes to pubs in Belfast. Their walls are lined with local memorabilia, and they have the largest selection of Irish Whiskey in Ireland!
Of course, they also serve up Guinness, which you can enjoy with some live music, which is on every night from Thursday to Sunday.
Stop 7: Dinner at Jumon
Vegan food may not appeal to everybody, but give Jumon a try and you'll definitely change your mind! 
This is one of the best meals I've ever eaten, and my brother and dad, who are super into their meat, also (begrudgingly) agreed! Their menu is Asian fusion food, and I'll be really surprised if you don't love your meal here!
Day 2: Gaols and Guinness
On day 2 of your weekend in Belfast it's time to explore the attractions surrounding the city, and the best way to do this is by getting a ticket to the hop-on-hop-off bus!
I have written this part of the itinerary in the order of the bus route, so you won't need to go back on yourself.
As well as being the easiest way to get between attractions, the hop-on-hop-off bus offers commentary from a local guide, so you'll learn lots about Belfast as you travel around the city.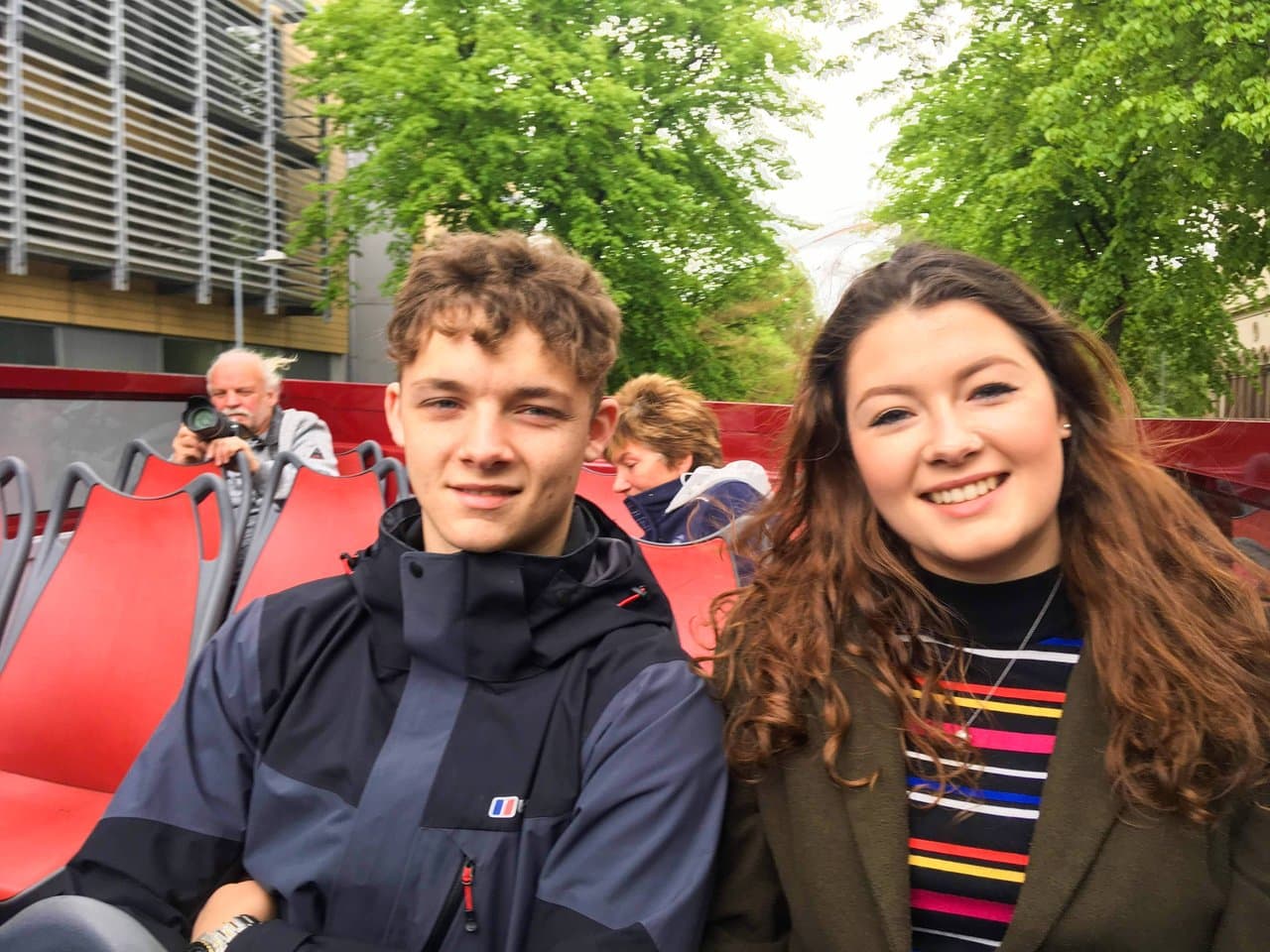 The departure point for the bus is Donegall Square West. A one-day ticket costs £15, and you can get yours here!
I recommend bringing a packed lunch along with you for this second day in Belfast, as there won't be many opportunities to buy food during the day.
Stop 1: HMS Caroline
The first stop of the day is the HMS Caroline (although this is actually the 4th stop on the hop-on-hop-off bus). The HMS Caroline is the only surviving ship from the Battle of Jutland in 1916. It was the largest naval battle of WW1, so a visit to this ship is a pretty impressive sight!
The HMS Caroline is now a floating museum, teaching us all about life at sea and the Battle of Jutland. Areas have been restored to look how they did during WW1 and you can even explore the original engine room. It's a pretty neat thing to do whilst you're in Belfast! You can book tickets here.
Stop 2: Falls Road (Irish Republican History Museum)
Next up it's time to catch the bus to Falls Road, an area you'll have no doubt visited yesterday on the Black Taxi Tour. This time, though, you're here to visit the Irish Republican History Museum.
This place contains thousands of artefacts which bring the story of The Troubles, and the history of Belfast, to life. The museum isn't a huge place, but it's full of information and interesting objects. Admission doesn't cost a penny, making this one of the best free things to do in Belfast!
A visit here is essential for anybody wanting to learn more about Irish history! 
Stop 3: Crumlin Road Gaol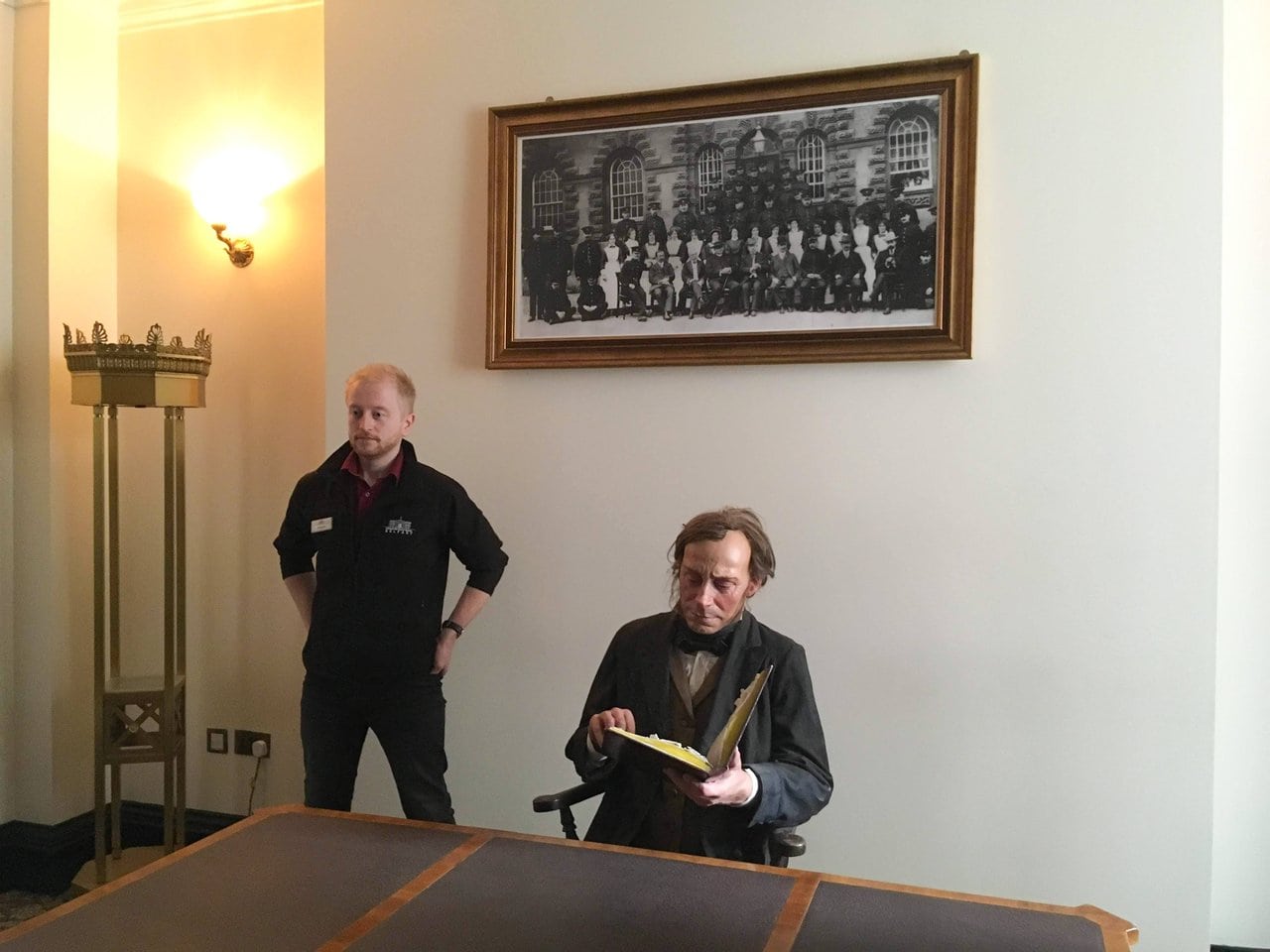 One of my favourite stops during my weekend in Belfast was Crumlin Road Gaol, which I had not even heard of before I arrived in Belfast! 
Dating back to 1845, this building operated as a prison until 1996. Nowadays, after some renovations, it has reopened as a visitor attraction. You can't wander around the prison independently, so to look around you'll have to join a tour.
Tickets cost around £12 per adult on the door, but if you book in advance on their website you can get them slightly cheaper. The tour lasts around 90 minutes and is 100% worth the money – I learnt so much! 
Starting at the very beginning of the gaol's history, you'll learn why this location was selected to become a prison, you'll get to explore the underground tunnel connecting the prison to the nearby courtroom, and you'll learn about the prison's role in The Troubles.
Our guide was excellent – both entertaining and very knowledgeable, and I highly recommend visiting here!
Stop 4: St Anne's Cathedral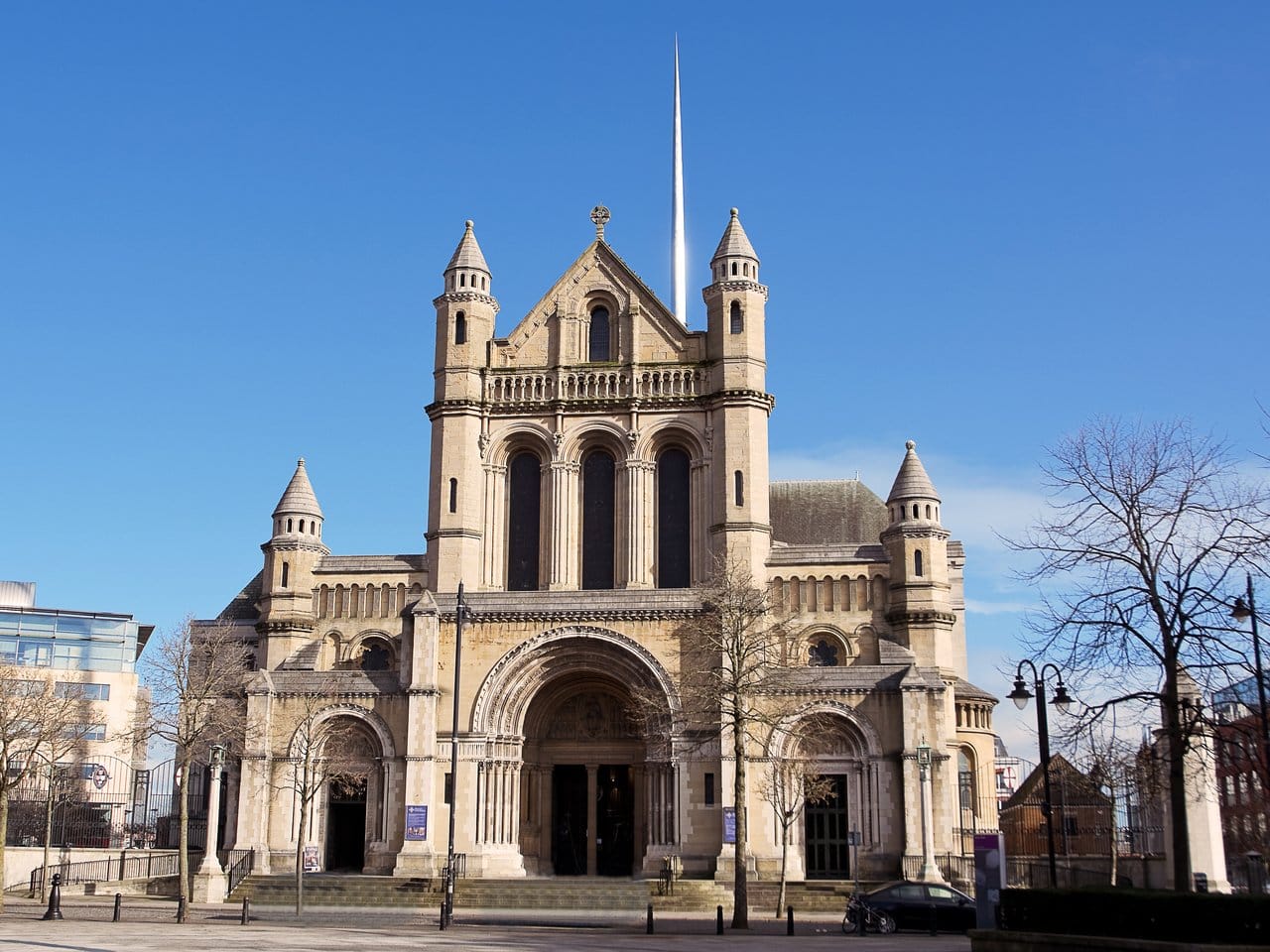 The final stop on your hop-on-hop-off adventure should be St Anne's Cathedral, the gem of Belfast's "Cathedral Quarter". 
It costs £5 to enter the cathedral which goes towards its upkeep. However, you're able to check it out from the outside for free, which is what I recommend. Even if you're not super into the cathedrals it's still worth checking out St Anne's for a few minutes as it really is a beautiful building. 
Stop 5: The Salmon of Knowledge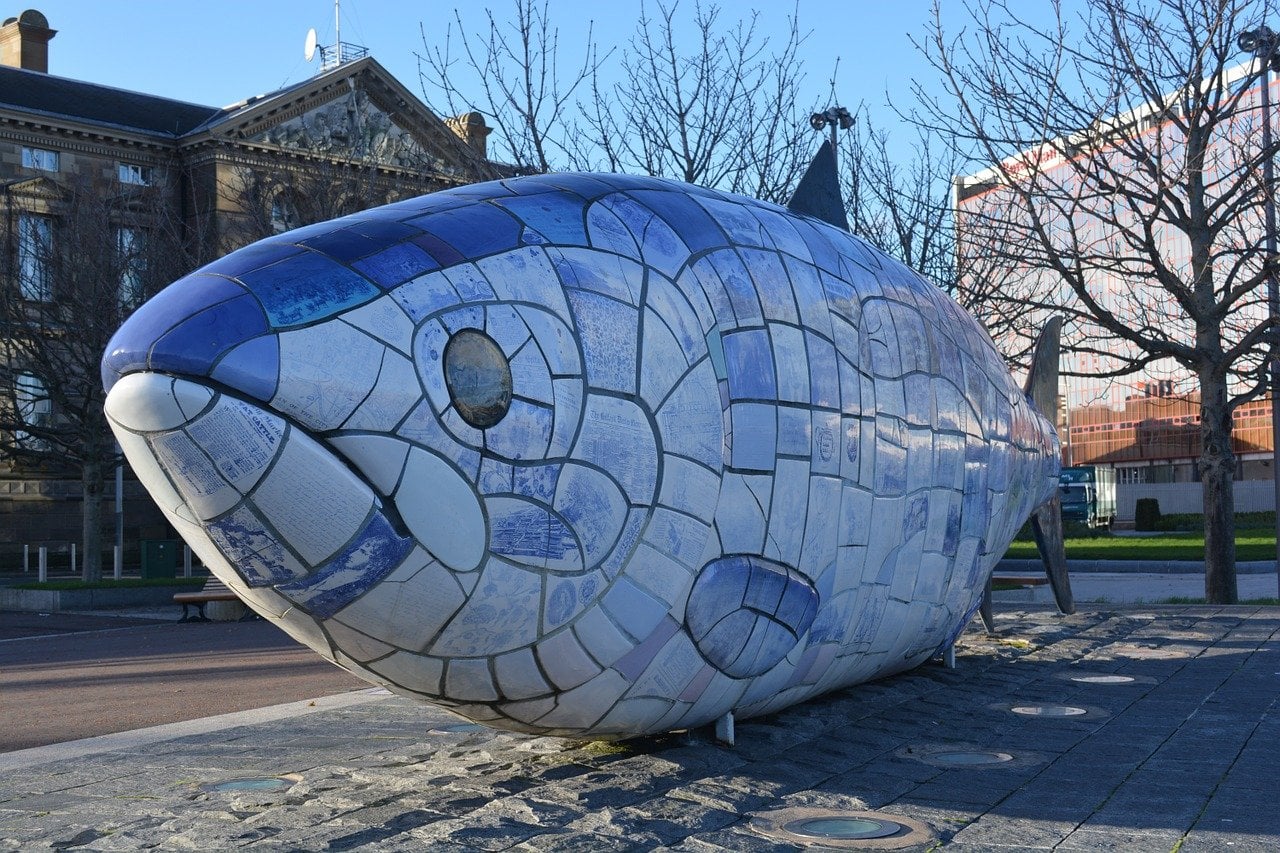 After just a 10-minute walk away from St Anne's you'll find the most random stop on this weekend in Belfast itinerary, The Salmon of Knowledge. 
You'll find this 10-metre long ceramic fish sculpture on lots of Northern Ireland tourism materials. After all, it's one of Belfast's most famous (and bizarre) landmarks.
It's based on a character from "The Boyhood Deeds of Fionn" which tells the tale of a fish that eats some hazelnuts and gains all of the knowledge in the world.
See what I meant when I said it was bizarre?
The sculpture was constructed in 1999, and each of its tiled scales features text or images relating to some aspect of Belfast's history.
Local folklore suggests that kissing the fish will give you wisdom. It's up to you, though, whether wisdom is worth the risk of looking very strange to passers-by!
Stop 6: The Crown Liquor Saloon
After a long day of sightseeing it's time for a drink in one of Belfast's most iconic pubs, The Crown Liquor Saloon. Some people see it as pretty touristy nowadays, but I genuinely don't care! The interior of this place is GORGEOUS and you'd be a fool to skip it.
The pub dates back to 1826, and most of the pub's original interiors are still there for you to see today. It has ten different "snugs" where your group can sit away from the rest of the pub-goers, or you can just have a drink at the bar.
Stop 7: The Dirty Onion and Yardbird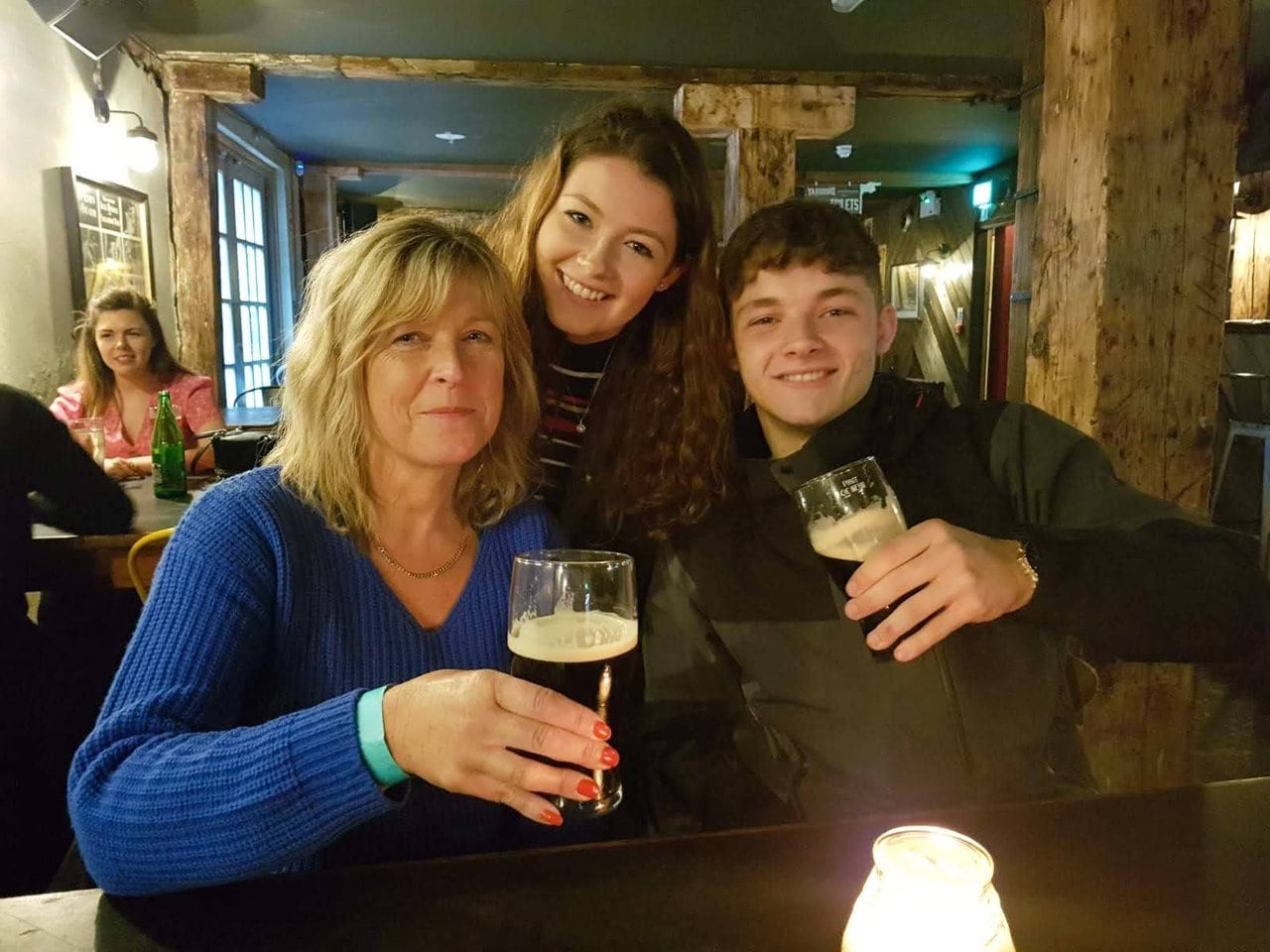 It doesn't sound like it, but this is one of the best Irish pubs in Belfast and one of my personal favourites. The candlelit interior of this pub (The Dirty Onion) is perfect for a cosy evening, and they have regular trad music sessions.
When you're ready to eat, head upstairs to Yardbird, a rotisserie chicken restaurant. Their menu is pretty small, but they serve up some really darn good chicken.
(Optional) Day 3: Giant's Causeway & The Dark Hedges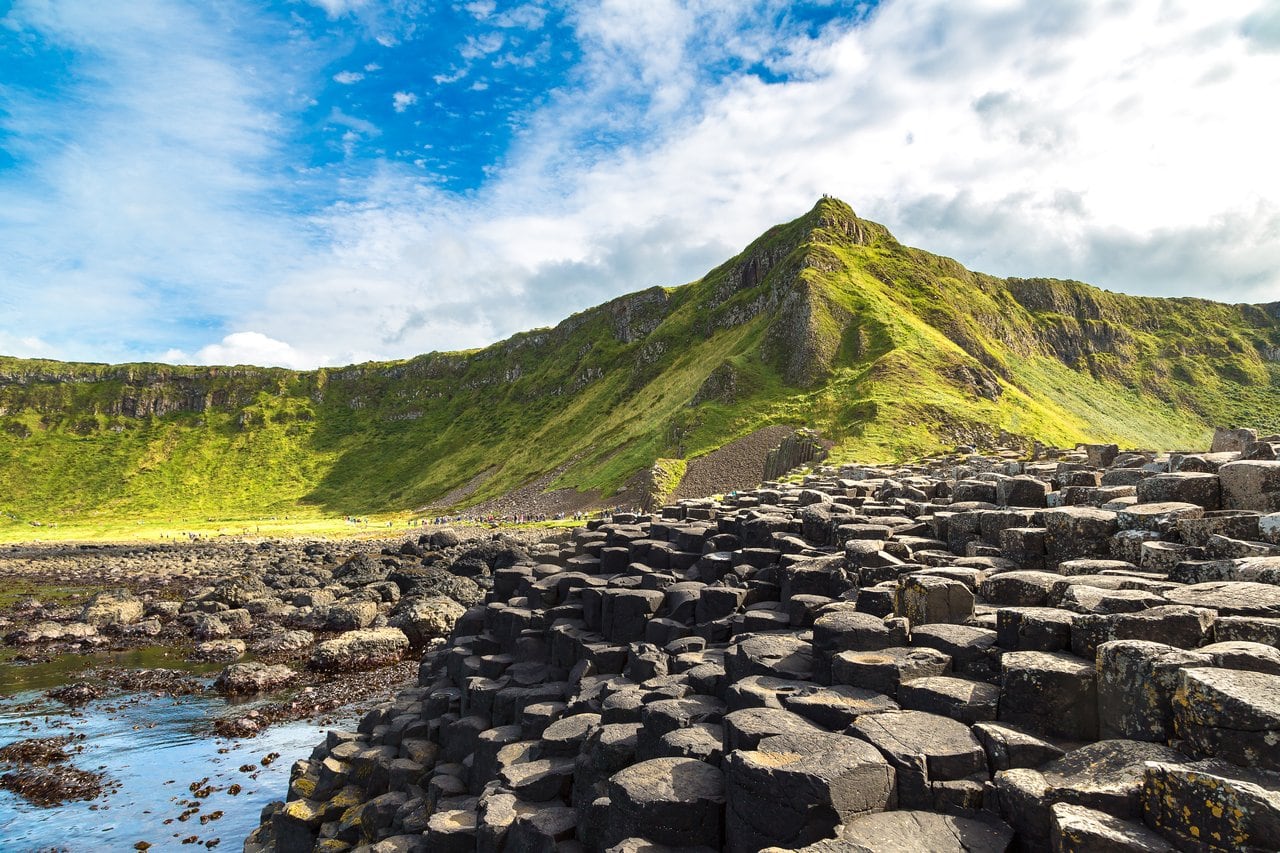 If you're able to spend three days in Belfast you definitely should do, as you'll be able to explore more of Northern Ireland! I recommend spending your third day on a day trip from Belfast, and the most popular one by far is a trip to the Giant's Causeway!
The Giant's Causeway is an area of uneven basalt columns next to the sea which looks completely otherworldly.
It's supposed to be the result of a volcanic fissure eruption, but the more romantic explanation, according to local legend, is that the columns are the remains of a causeway built by a giant. I much prefer this origin story!
Not only is the Giant's Causeway a UNESCO World Heritage Site, but it's also one of the most-visited attractions in Northern Ireland. A visit here is a truly unmissable experience for anybody visiting Belfast!
Getting to Giant's Causeway from Belfast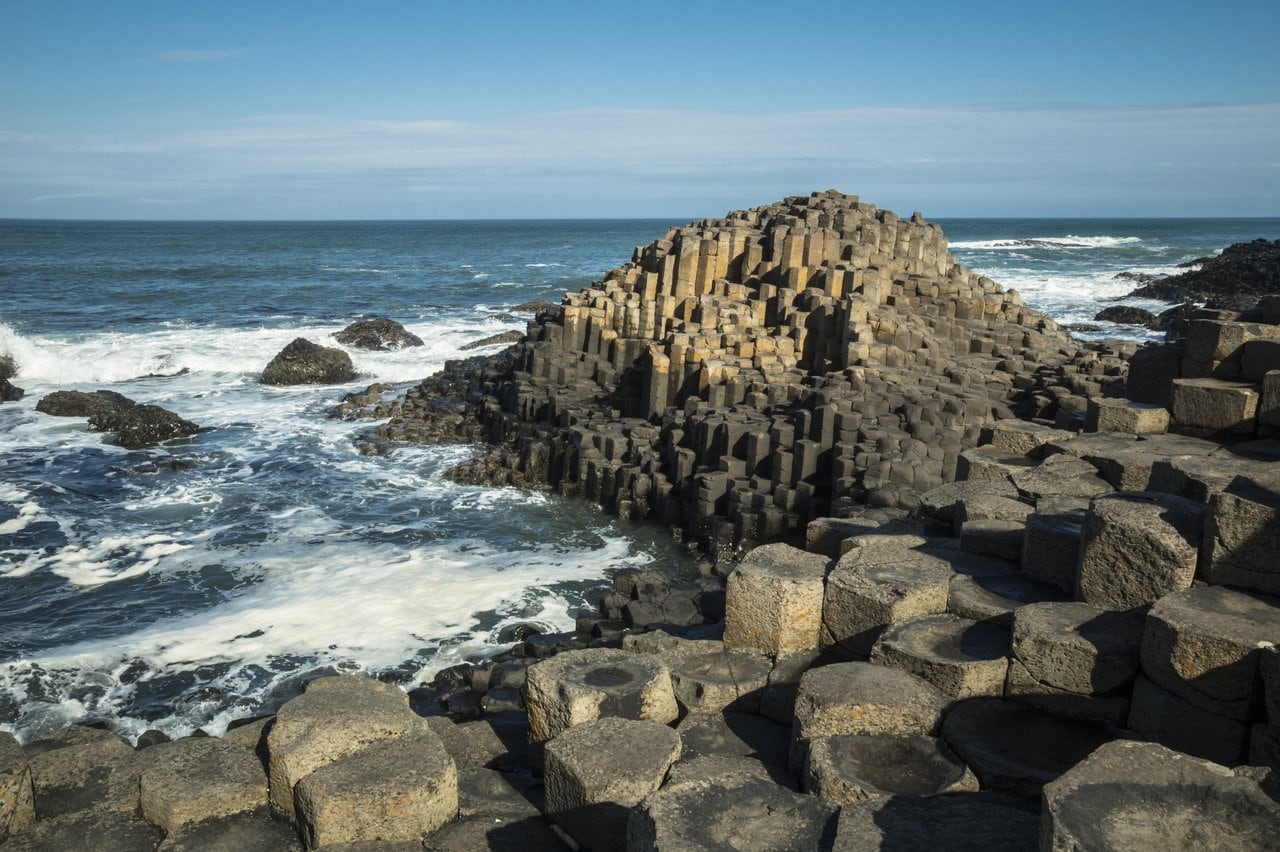 The easiest way to get to the Giant's Causeway from Belfast is by car, but chances are you don't have one with you in Belfast. Public transport to the causeway can be a bit of a mission, so your best bet is to join a guided tour from Belfast for the day. 
The reason I recommend joining a tour is that you'll get to see so much more with your day! This epic tour will take you to the two most iconic attractions in Northern Ireland in one day – the Giant's Causeway and The Dark Hedges, which would be a nightmare to combine by public transport.
The Dark Hedges will be well-known to Game of Thrones fans, but even if you're not interested in Game of Thrones (like me!) they're still worth visiting. After all, this avenue of beech trees looks like something from a fantasy world, which would be cool to see even if Game of Thrones had never been filmed there.
The tour I recommend is one of the highest-rated on GetYourGuide (my favourite tour booking website), lasts for the entire day, and includes a ton of facts and interesting history told to you by your guide for the day. They even throw in a few other famous attractions such as the Carrick-A-Rede Ropebridge, the Caves of Cushendun, and Larrybane Quarry! At just £25 for the whole tour, you can't go wrong!
Click here to check prices and availability!
Extra Information for Your Weekend in Belfast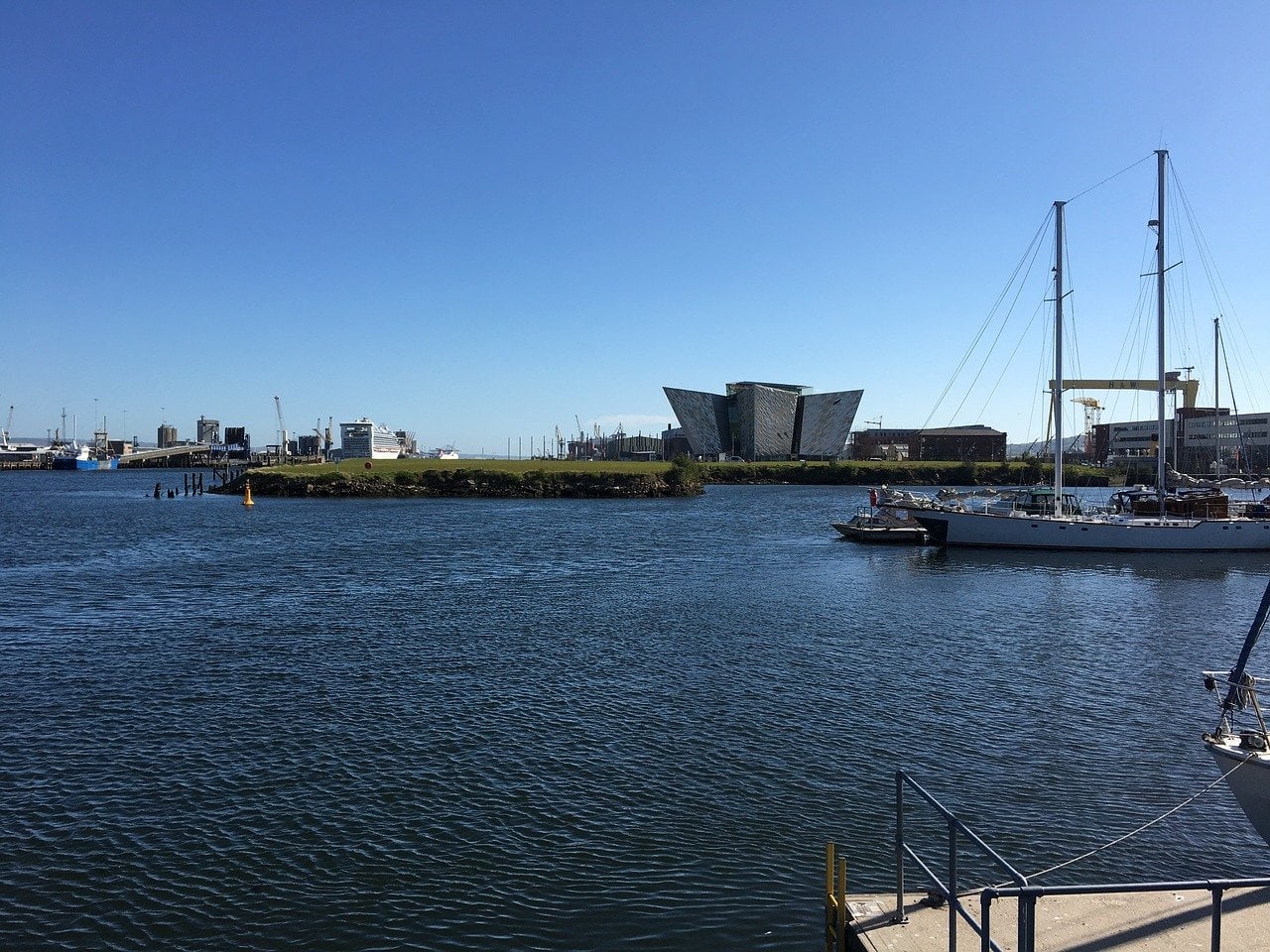 With a weekend in Belfast, you'll have enough time to check out the best things to do in the city and drink a couple of Guinnesses (or more!).
With a long weekend in Belfast, you'll also have time to visit the Giant's Causeway, arguably the best place to visit in Northern Ireland.
Belfast is a great city break year-round since the weather stays fairly mild. It's also not a "major" European travel destination, so although it gets busy, it never gets totally swarmed with tourists the way that London and Dublin do.
If you're looking for more details to help you plan your weekend in Belfast, I've got you covered. Below, you'll find all the practical information you'll need to plan your trip.
Language
The official language of Northern Ireland is English, and pretty much everybody in Northern Ireland can speak it. However, there are two regional languages, Irish and Ulster Scots. 
You could potentially come across these languages if you overhear locals speaking amongst themselves, but I personally didn't, and you don't need to learn any in advance of your trip to Northern Ireland.
Belfast Travel Tips
As I mentioned earlier, if you're planning to take a Black Taxi Tour in Belfast you really need to book this in advance. If you're visiting during busy periods, or are just short on time, it's a good idea to book as much as you can before you arrive in Belfast so you can skip the queues.
Quite a few museums in Belfast offer concession discounts, so it's a good idea to bring your student card with you if you have one.
You can pay with card or cash in Belfast, although card is definitely more common.
If you pay in cash, don't worry if the notes you get back in change don't look like typical British banknotes. Northern Ireland has its own banknotes which look different, but you're still able to use them or change them to English notes at a bank at the end of your trip. You can still use your English banknotes in Northern Ireland without a problem.
Airport and Transportation Tips
If you're already in Ireland, the easiest way to get to Belfast is by train, and there are a range of services from most major Irish cities. 
There's also the option to get the ferry from Liverpool in England to Belfast, but the journey takes around 8 hours and costs around £32 each way for an adult travelling without a car.
From anywhere else, the easiest way to get to Belfast is by flying. The city has two airports, Belfast International Airport and George Best City Airport. Confusingly, both offer international flights. 
George Best City Airport is the closest to the city centre, and you can get into the city in just 10 minutes via the Airport Express 600 bus. Tickets cost just £2!
To get to Belfast city centre from Belfast International you'll need to catch the Airport Express 300 bus, which costs £8 for a single ticket and £11.50 for a return. The bus journey takes around 35 minutes. If you're travelling in a group it could be more cost-effective to order an Uber, which costs around £24 each way.
Getting around Belfast is very straightforward – just use Google Maps to plan your route. The city centre is mostly walkable, and if you do need to get anywhere further afield the city has plenty of buses and Ubers which will take you wherever you want to go.
The Uber drivers in Belfast were fabulous, and each one we got took on the role of mini-tour guide. It was not what we expected at all, but it made paying slightly more for an Uber rather than a bus totally worth it! 
As I mentioned in the itinerary, I recommend doing all of the attractions that are not in the city centre in one day. That way you can get good use out of the Belfast hop-on-hop-off bus pass, which will take you from door-to-door between attractions. Buy your ticket here!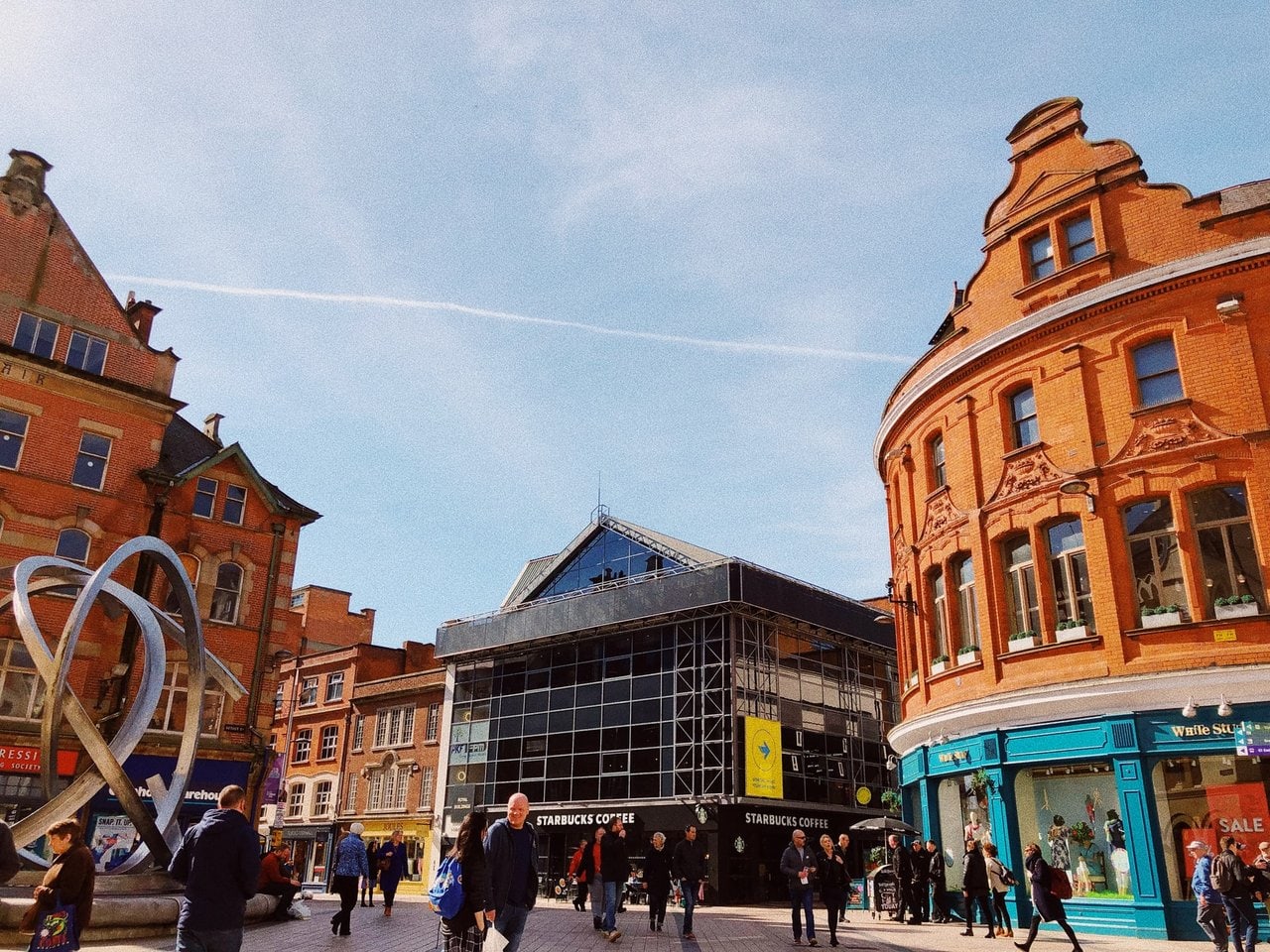 When is the Best Time to Visit Belfast?
I visited Belfast in mid-May, and I actually thought it was the perfect time to visit! The weather was (mostly) on our side, and it was warm enough to do outdoor sightseeing. Plus, in spring and summer you get more hours of daylight you can use to explore the city!
The temperatures are mild year-round in Belfast, so I don't think it would be the worst idea in the world to visit in winter. However, I always recommend travelling in Europe in spring or autumn so that you avoid the crowds of summer or the short, cold days of winter.
If you're spending a weekend in Belfast in summer, don't forget that school holidays mean most attractions are busy, and a lot of accommodation gets booked up far in advance (and will be much more expensive!). 
Is Belfast Safe to Visit?
Even though Belfast used to be notoriously unsafe, it's a different story nowadays. Of course, typical dangers such as pickpocketing exist, just as they do anywhere, but in general Belfast is safe to visit. 
Every so often disputes will erupt in Belfast and there is sometimes violence, however if you avoid protests and stay in the city centre during times like this you'll be totally fine.
It's a really good idea to keep your eye on the news in the months leading up to your trip just to be aware of what the current situation is. Situations like this are politically motivated, though, and rarely affect tourists.
As a female traveller I felt very safe in Belfast and would have felt fine if I had travelled solo. I definitely recommend Belfast to other female travellers.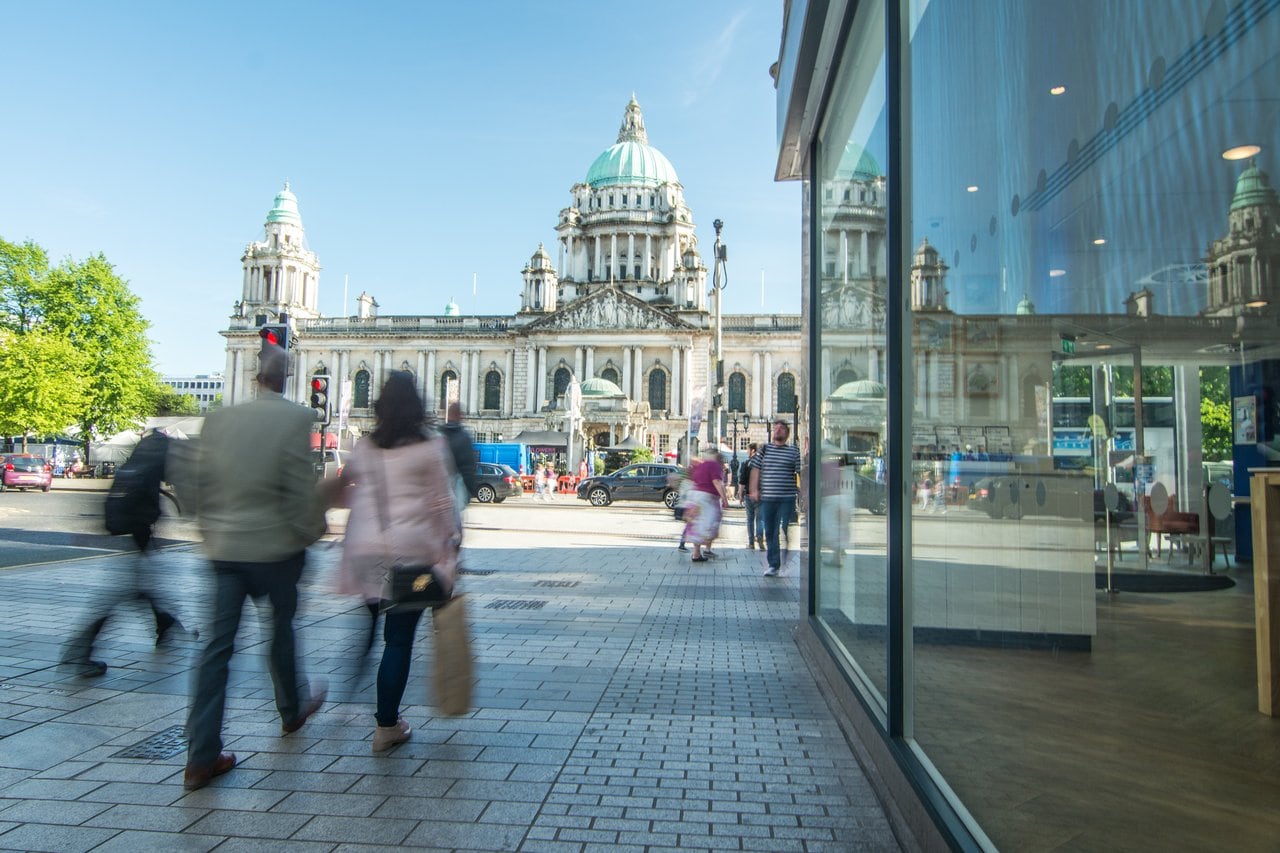 Where to Stay in Belfast
Hostel
If you're a solo traveller or just want to keep things as cheap as possible, staying in a hostel for your weekend in Belfast is the ideal solution. 
When it comes to awesome hostels in Belfast, you simply can't beat Vagabonds. This place has a 9.5/10 rating on Hostelworld (from over 500 reviews!), offers free breakfast, and is just a few minutes walk from the city centre. It costs around £16 per night for a bed in a 12-bed dorm room. 
Budget Hotel
The hotel I stayed at in Belfast is, for whatever reason, currently closed. So, if I was to visit Belfast on a budget again, I would book to stay at this very budget-friendly hotel. Not only are its prices some of the cheapest in the city, but its reviews are still great, it's part of a reputable family of hotels and it's right in the city centre. What's not to love?
Double rooms cost around £42 per night, which is such a steal for a room so centrally located. 
Mid-Range Hotel
When it comes to mid-range hotels in Belfast, your best bet is the Titanic Hotel. Not only is this stylish hotel just a stone's throw from the Titanic Belfast and beautifully decorated, but some rooms also have views of the iconic Harland & Wolff yellow cranes which hang over the city!
Double rooms cost around £89 per night, but you can check the latest prices and availability here!
---
If you fancy reading about any of my other travel experiences, head to my Destinations page to check out where I've been!
Don't forget to Pin this post so you have it saved for later! You can subscribe to my mailing list in the sidebar to be the first to hear about new articles, travel stories and travel tips! As always, let me know about your trip to Belfast in the comments – I'd love to hear from you!
Ella