There is a good chance that this post contains affiliate links. If you make a purchase through them, I may receive a small commission at no extra cost to you! As an Amazon Associate, I earn from qualifying purchases. As ever, all opinions are my own.
Last Updated on June 25, 2021 by Ella
I used to hate going to Looe.
Weird start to a blog post all about the best things to do in Looe, huh?
But I promise – my hatred of visiting there had absolutely nothing to do with the town itself!
For years, my aunt lived in Looe and so, every summer holiday as a child, my parents would pick a rainy day when there was nothing better to be doing to drag us over to Looe to visit my aunt. 
We rarely did more than sit in her living room, rain battering the windows, counting down the time until we could politely leave.
God, it was boring.
But as an adult, I have finally moved past my Looe dread and, as it turns out, it's a lovely little place!
Like many towns in Cornwall, you won't be blown away by the number of things to do there, but it's easy to fill a day or a weekend with fun activities in Looe. It's a fishing village, so although you certainly won't get any surfing done, you won't be short of shops, yummy food and old-timey cobbled streets with that Poldark vibe we all head to Cornwall for.
From someone who has visited Looe countless times, both as a child and an adult, I feel like I can now call myself an expert (that sounds very official!). As your very own ~self-appointed Looe expert~ I'm here to share my comprehensive guide to the very best things to do in and near Looe.
Let's go!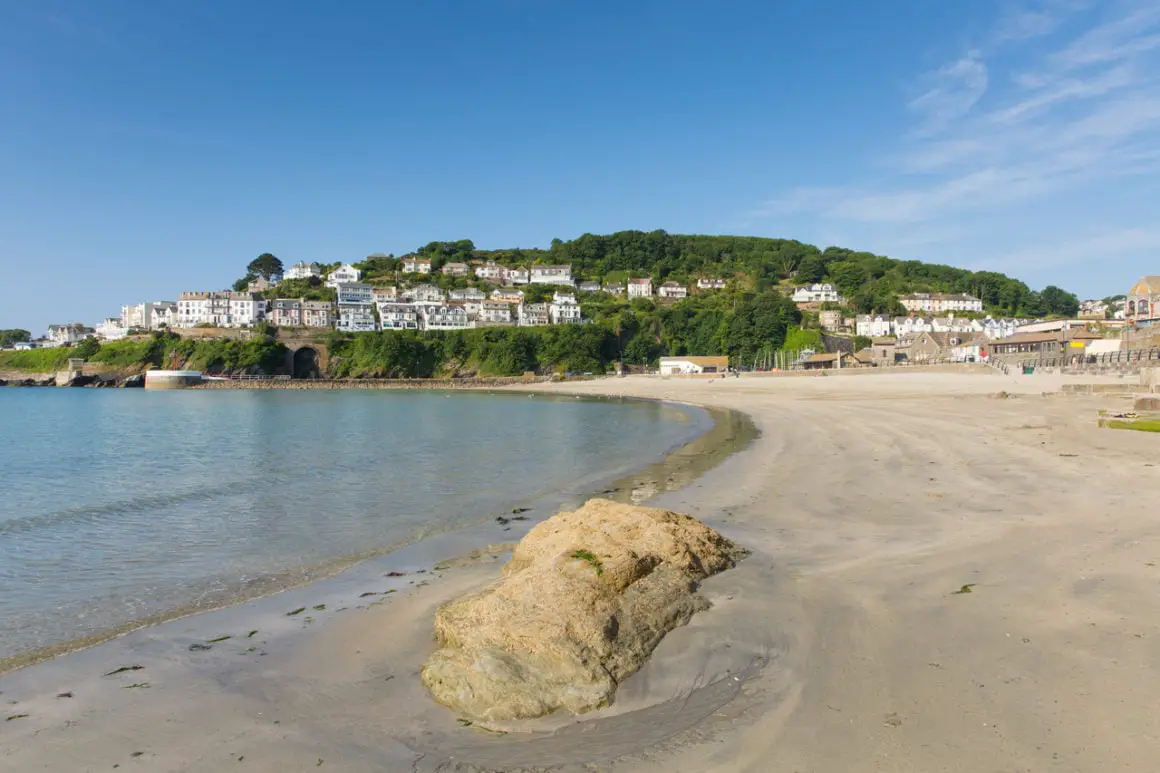 Things to Do in Looe
Go crabbing
This was one of my favourite things to do in Cornwall as a kid (and, let's be serious, it's just as fun as an adult). As far as crabbing goes, Looe is one of the top destinations in Cornwall for it!
I say this because Looe's harbour, and its many seaweed-covered harbour walls, seem to be the crabs' ideal hangout! This means you'll be able to catch crabs fairly easily, even if you have zero crabbing skills.
The Quay is the best area to go crabbing in Looe, and you'll find plenty of others trying it out with you. You also don't need to plan ahead – plenty of the town's shops sell crabbing equipment and bait for fairly cheap (just make sure you save your equipment for next year!).
Crabbing can be a lot of fun, but it's REALLY important that you take care of the crabs and go crabbing compassionately. 
Don't overcrowd your buckets, release all the crabs shortly after you've caught them, and make sure they have bits of sand, seaweed and pebbles in the bucket with them to make them feel more comfortable. 
Before you go crabbing, be sure to read this helpful guide to how to crab safely and respectfully.
East Looe Beach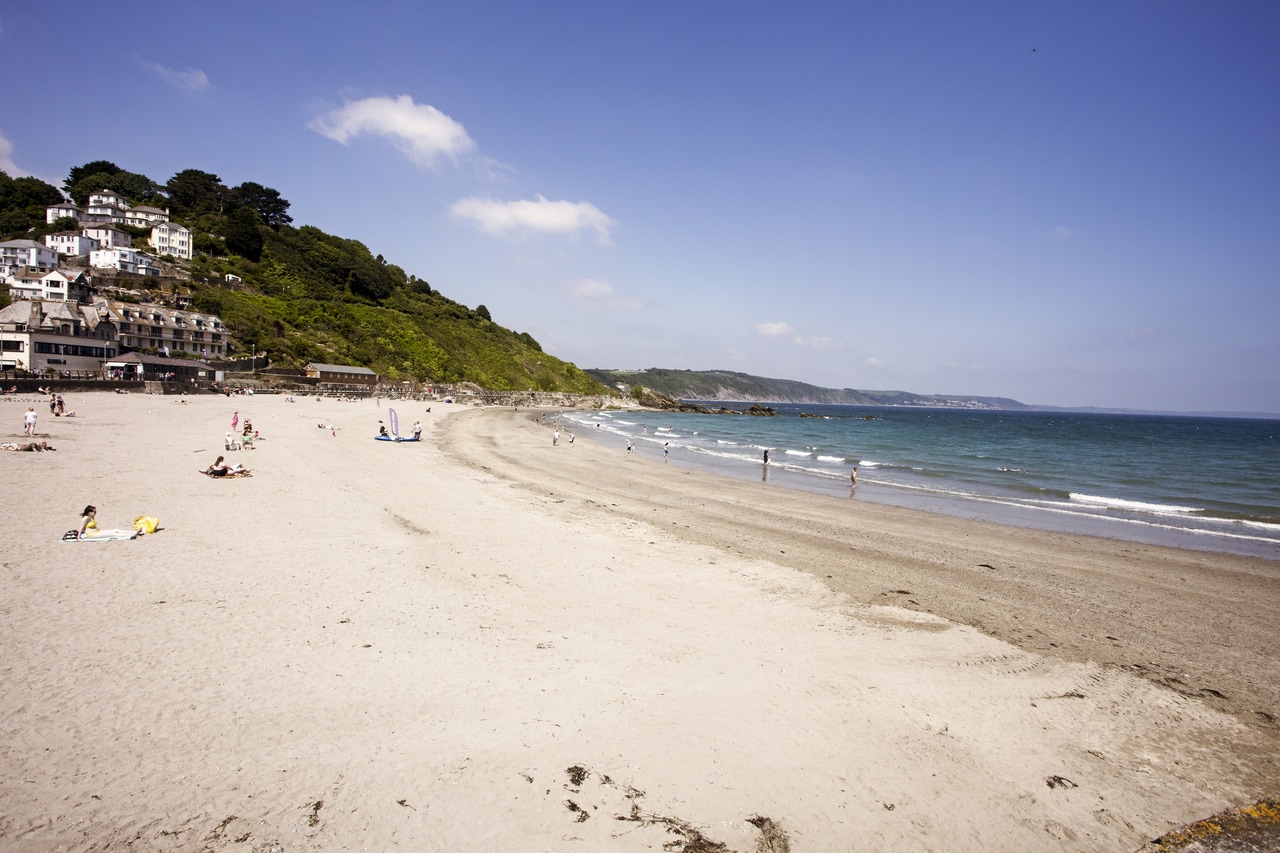 The East Looe Beach is the most popular beach in Looe, no doubt due to its handy location. The beach is directly in front of the town, bordered by the Banjo Pier and overlooked by the sloping hills of Mount Ararat.
At low tide, you'll find a sandy beach safe for swimming and perfect for families to play and make sandcastles. Since it's so close to town, toilets and cafes are all just a few steps from the beach. The downside to its location in central Looe, though, is that it gets super busy in summer, and you may struggle to find somewhere to lay down your towel.
Looe Monkey Sanctuary
Heading to the Looe Monkey Sanctuary is probably why most people find themselves in Looe. After all, it's one of the best things to do in Cornwall when it rains (and, even in summer, it rains quite a lot!).
The Looe Monkey Sanctuary cares for around 40 monkeys at a time, all rescued from the monkeys-as-pets trade. They teach the monkeys how to be monkeys again – which means making friends with others and becoming less reliant on humans.
A visit to the sanctuary includes touring the enclosures to see the monkeys playing and resting, and learning more about these adorable creatures from their extremely knowledgeable carers. 
A trip to the Looe Monkey Sanctuary is a fun thing to do in Cornwall with older kids. This is because the Sanctuary's focus is definitely on education and conservation, so if you go expecting a zoo environment you may be disappointed.
That said, if you go to the Sanctuary ready to learn you won't be disappointed!
Tickets cost £9 for adults and £6 for children, or there's a family ticket available for £27. All the money goes to the important work the Sanctuary carries out, and tickets are valid for a full year!
Read: 19 Wonderful Books Set in Cornwall You Can't Miss!
Looe to Polperro coastal walk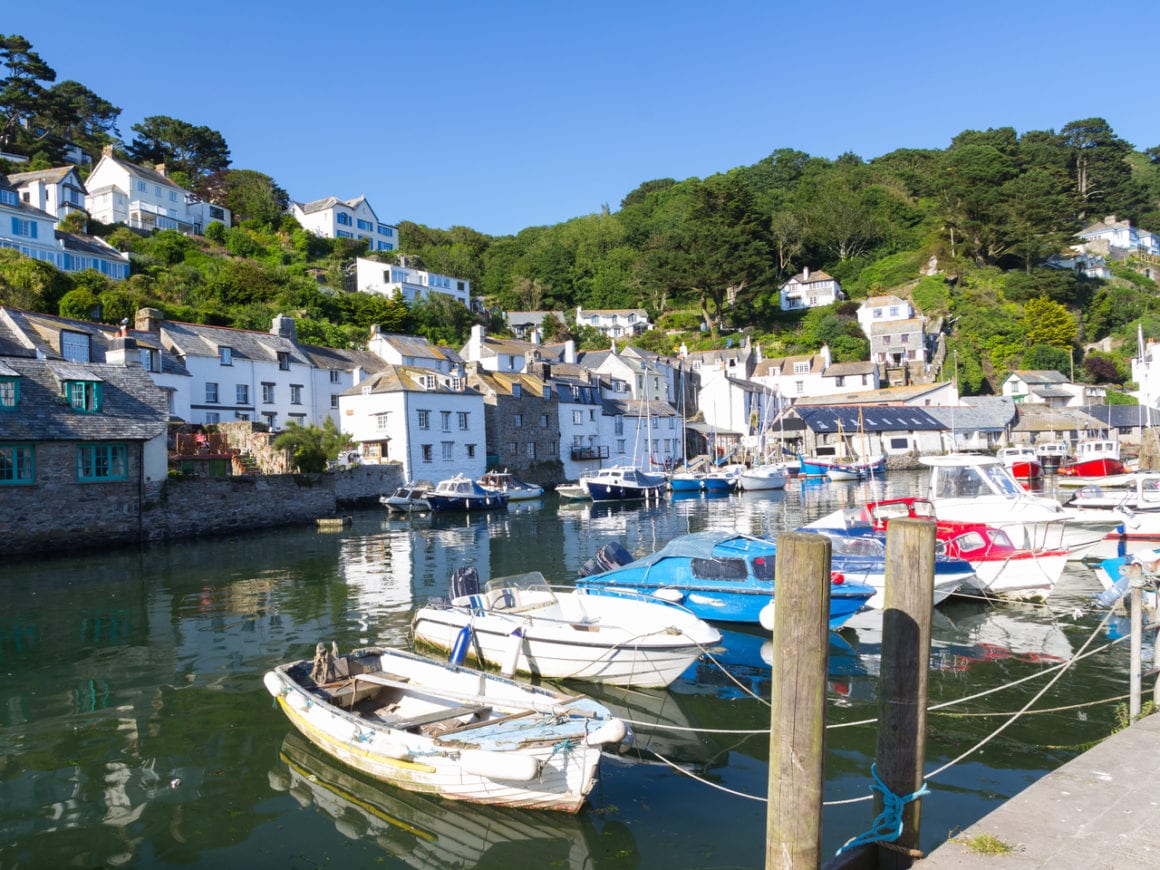 If you're in Cornwall, chances are you're partial to a coastal walk or two (I mean, who isn't?!). Luckily for you, the Looe to Polperro coastal walk won't disappoint.
The route is around 5.7 miles, and it's a very scenic chunk of the South West Coast Path. To be honest, every part of the SWCP I've ever walked has been incredibly scenic, but you know what I mean!
The walk is moderate, with some ascents and descents but nothing too steep. The walk takes in panoramic views of the sea, green grassy fields, and the rockpools of Talland Bay, which is another of the "things to do in Looe" on this list!
You'll finish up in Polperro, a village with a beach, a few cafes and a couple of pubs. Sit back, enjoy a drink to toast to your walk, and then catch the bus back to Looe (or maybe even walk back if you're really hardcore).
Looe Island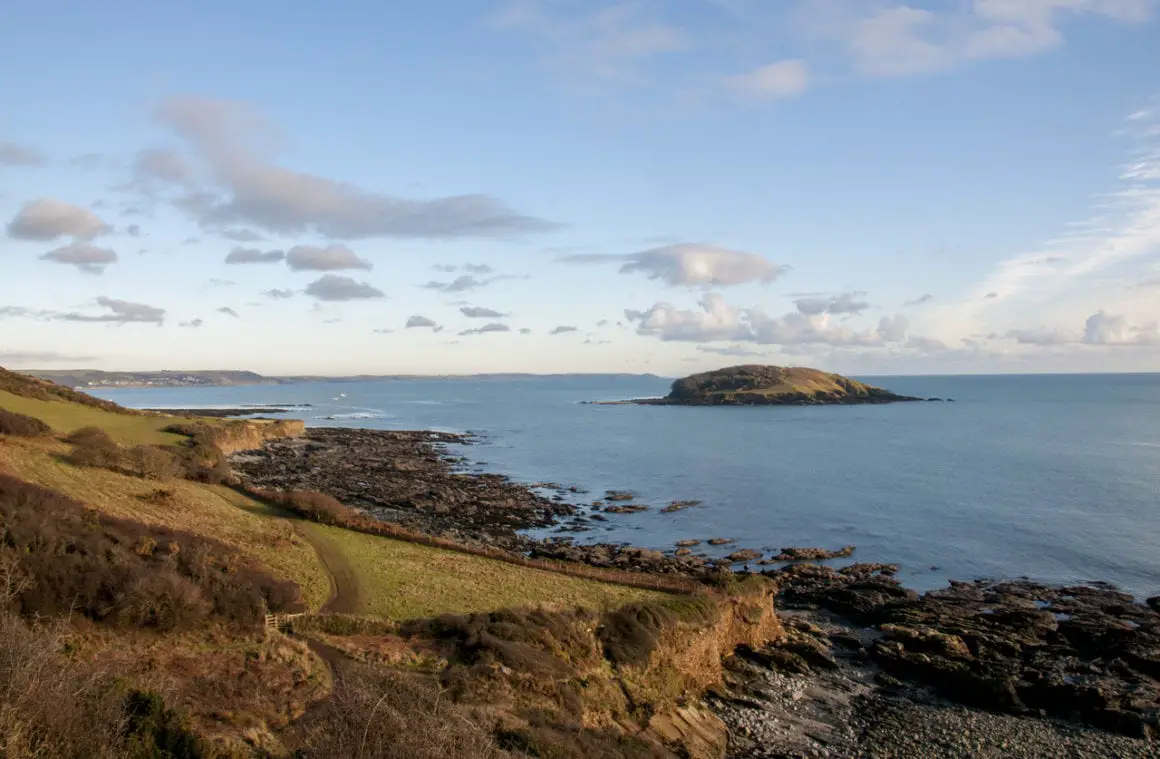 This island nature reserve sits a mile out to sea from Looe and is part of a marine conservation zone.
Visiting Looe Island is kind of an off-the-beaten-path thing to do in Looe, as barely anybody decides to visit. That's because it requires a bit of advance planning, but the effort is well worth the reward.
To visit Looe Island, you have to book an official, organised trip. These trips include your transportation by boat to the island, a copy of the trail guide to the island, and an introductory talk covering a brief history of the island (turns out it's been inhabited for like, forever!).
Once on the island, there isn't a ton of stuff to do – but that's kind of the point. The reason you visit Looe Island is to get away from it all for a while.
There's a 30-minute walk taking in the island's coastline, and you can also search for the abundant wildlife on the island.
The return ferry costs £10 per adult and £5 per child, then there's a landing fee of £5 per adult and £2 per child. You can find more info here.
Old Guildhall Museum & Gaol
Looe's town museum is like many small-town museums in Cornwall – it makes you think about pirates!
After all, it wouldn't be a museum in Cornwall if it didn't cover the area's relationship with smuggling!
Aside from smuggling, the museum, which is inside the 15th-century Old Guildhall Building, covers other local history including fishing and boat building. 
The Old Guildhall Building was used as the East Looe Town Hall between 1587 to 1878, which housed the town's magistrates court. You'll realise this as soon as you see the original jail cells inside the museum (complete with mannequins sat inside which scared the bejeezus out of me!).
The museum is one of the many things to do in Looe in the rain, and it's an interesting way to spend an hour or two as you learn more about the town. I remember coming here as a kid many times, and I always really enjoyed it! 
Adult tickets cost £2 and children go free.
Go kayaking or paddleboarding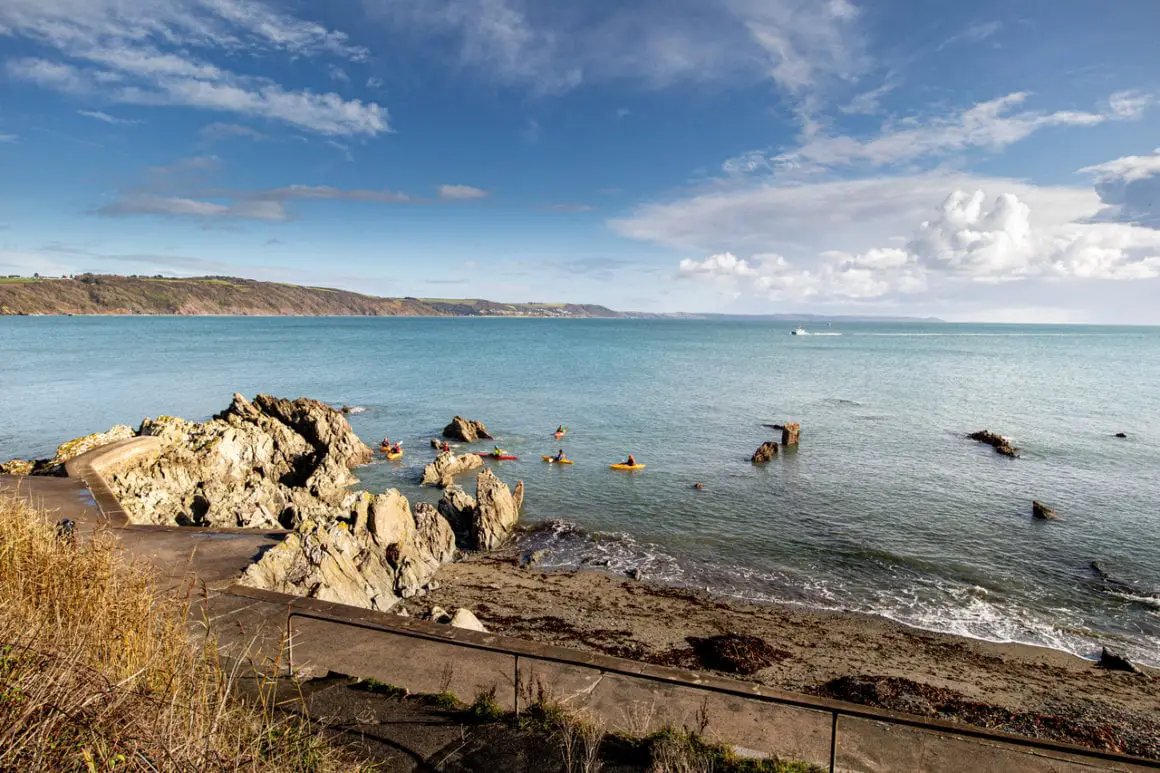 With Looe's location right on the water's edge, it would be rude not to take full advantage!
The sea around Looe is very calm and flat, making it the perfect place to try your hand at kayaking or paddleboarding. Not only is it a fun activity for all the family (made a thousand times more entertaining when somebody inevitably falls overboard) but it's the best way to explore Looe from a unique perspective.
One of the most popular routes is to kayak to Looe Island (but remember you can't actually step onto the island unless you're on an official tour). You can paddle around the entire island to admire the greenery and wildlife. 
If you don't fancy paddling that far, it's still a lot of fun to paddle along the beach just out past the small waves breaking near the shore.
The best place in Looe to hire equipment from is Sea Explorers, who have a wide range of fun sea activities to try and provide plenty of instructions. You hire items by the hour, with single kayaks and paddleboards costing £15/hour and double kayaks costing £20.
Old Sardine Factory
The Old Sardine Factory is, you guessed it, an old sardine factory, refurbished and brought into the 21st century. Nowadays, it's a heritage centre which tells the story of Looe's history, geography and culture. It's also one of Looe's most recognisable attractions.
Guided tours of the factory run frequently, teaching visitors all about Looe's maritime history. It also hosts educational talks such as 'Boat Building in Looe' and 'Spooks and Smugglers'.
Aside from the educational aspect, it's also home to a climbing wall, a coffee shop, and a very popular restaurant.
Hannafore Beach 
On the opposite bank from East Looe Beach you'll find Hannafore Beach, which is infinitely quieter. It's also one of the only truly dog-friendly beaches in Looe. 
The beach is mostly shingle, which may put some people off, but due to its south-facing location it's an absolute suntrap on summer afternoons!
Hannafore is incredibly popular with families at low tide. This is because its sizable reef is uncovered, revealing plenty of rockpools to explore and splash about in.
Take a glass-bottom boat tour
Want to explore what's under the water in Looe, but don't fancy plunging into the freezing sea with a snorkel? A ride in one of Looe's glass-bottom boats is the perfect solution!
Boats run from Looe harbour and sail along the coastline before circling around Looe Island. All the while, you'll be able to check out what's going on underwater through the boat's glass bottom.
The company that runs these trips is called Aquarius. You'll find them at a small stand on East Looe Quay near the RNLI lifeboat station.
Browse the old, traditional shops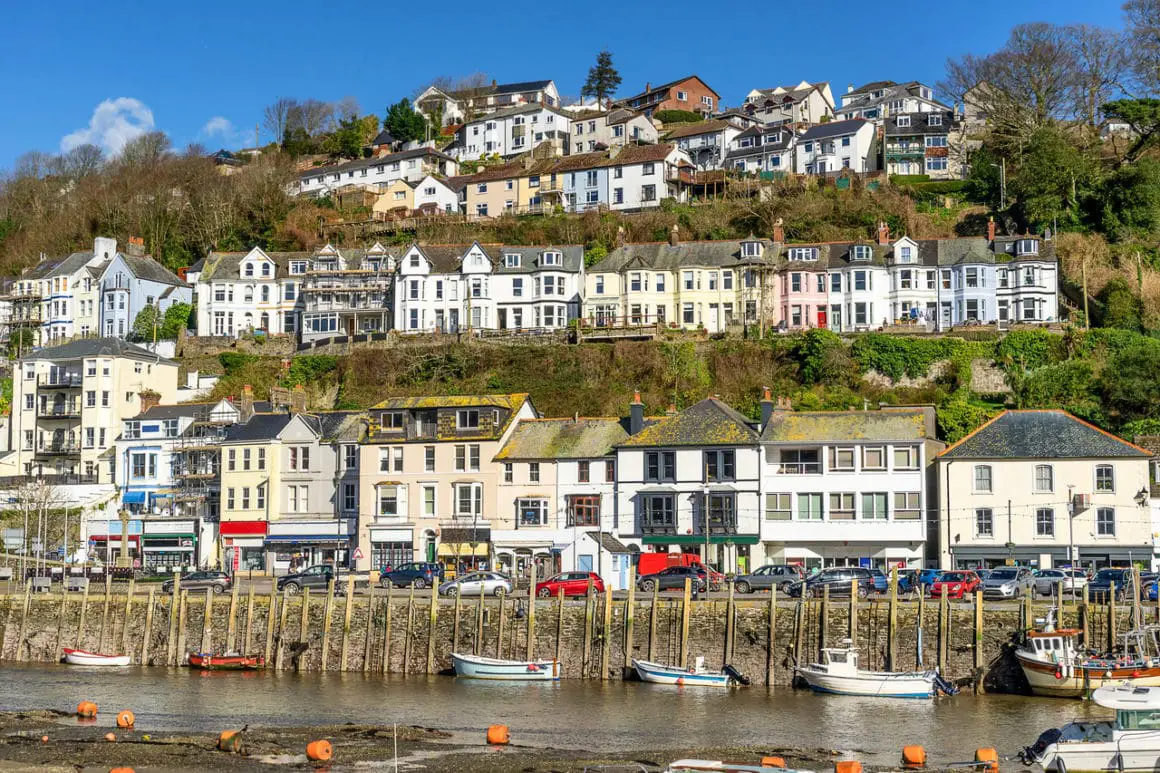 There are so many old-timey sweet shops in Looe! As a kid (and even as an adult) visiting the old-fashioned sweet shops was always exciting. With all those fascinating old-fashioned sweets I had never heard of, I couldn't wait to sample the weird and wonderful selection they stock!
There are also plenty of charming craft shops, selling local trinkets and home decor pieces. I'm a sucker for pieces made out of driftwood, and I've found so many stunning art pieces made out of it in Looe.
Looe is also a fab place to go food shopping. There are a handful of fishmongers where you can purchase the catch of the day, a few handmade pasty shops, and of course the Purely Cornish Farmshop & Deli, who are champions of local Cornish produce and stock a huge range!
Things to Do Near Looe
Adrenaline Quarry
This was one of my favourite things to do in Cornwall as a kid. Ziplining at Adrenaline Quarry is just so much fun!
The Adrenalin Quarry site is just a 16-minute drive away from Looe and is probably the best thing to do with kids near Looe. It's on the site of an old flooded quarry and offers a range of activities, including riding their 490 metre-long zipline, riding their giant swing, going coasteering and learning how to axe-throw!
The cost of ziplining is a pretty reasonable £12.50, and the giant swing costs £15. You can book your tickets on their website.
Talland Bay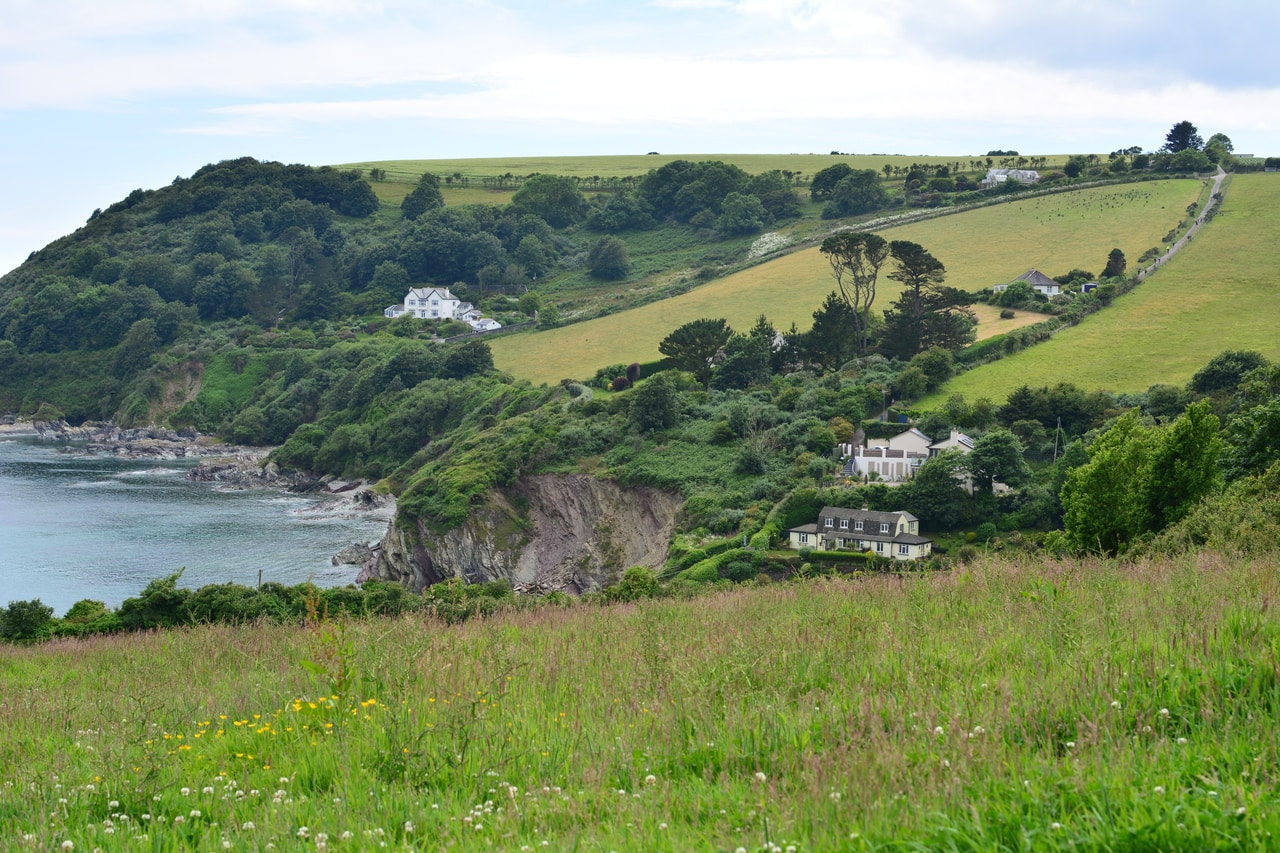 Sandwiched between Looe and Polperro you'll find the idyllic beachside village of Talland. If you're looking to enjoy some beach time in complete tranquility, heading over to Talland Bay from Looe is a must!
The beach has a ton of rock pools to explore, uncrowded sand for you to sprawl out on, and calm waters to swim in.
There's also the lovely Talland Bay Beach Cafe. Overlooking the beach and sea, this is the perfect place to stop for a cream tea, a cider or a Cornish pasty!
You can drive from Looe to Talland in 7 minutes, or you can get there and back via a circular walk, which comes in at around 7 miles total. 
Carnglaze Caverns
Visiting the Carnglaze Caverns is an incredibly popular thing to do in Looe when it rains. For obvious reasons – it's all underground!
The cavern complex consists of three underground chambers and an underground lake!  They were man-made as part of a slate quarry and were then used by the navy in the Second World War for storage. 
On arrival you'll get safety equipment, a route plan and a torch and can explore the caverns at your own pace. In summer, visits to the caverns are by guided tour only.
At just a 22-minute drive away from Looe, it's one of the best things to do in the area! Adult tickets cost £8, and child tickets cost £5.
Lanhydrock Estate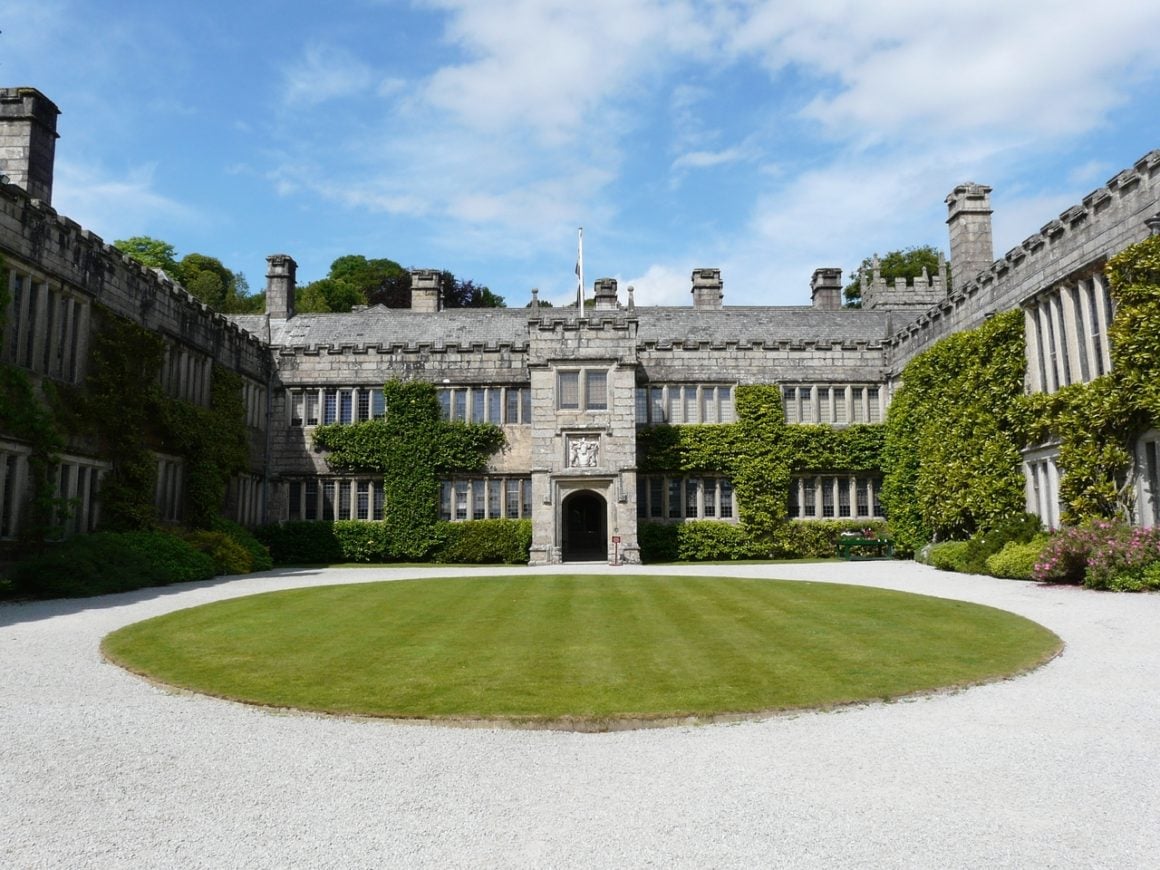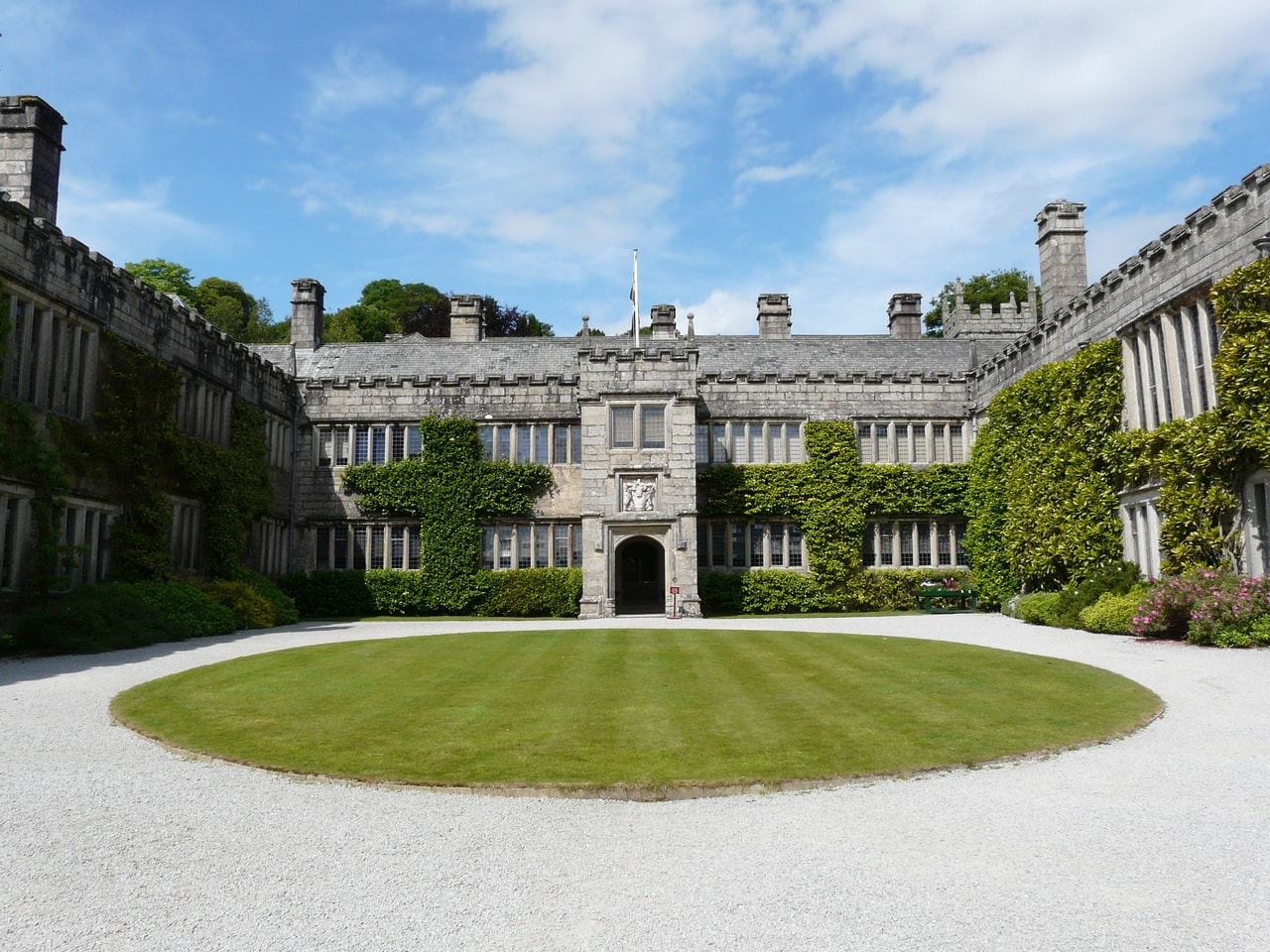 In its own 900-acre estate of woodland and gardens, you'll find Lanhydrock House, a Victorian country house and one of Cornwall's many fabulous landmarks.
Here, you'll get to learn about the history of the estate and the manor, and get to experience what life was like for both the inhabitants and the staff at the estate during the Victorian period.
Lanhydrock House looks like something from Oxbridge – so it's very jarring to find it in Cornwall! The grounds are simply breathtaking though, and if you're looking for places to visit near Looe that have absolutely nothing to do with the coast, Lanhydrock is your solution!
Lanhydrock is a 28-minute drive from Looe. Adult tickets cost £16.45 and child tickets cost £8.25.
So – Why Would You Want to Visit Looe?
To visit your boring Aunt.
Joking!
There are actually a ton of reasons to visit Looe, and my parents probably weren't wrong when they dragged the family to Looe whenever it rained. It's one of the very few towns in Cornwall that has plenty to do if you get bad weather!
It's also great for families as there are so many things to do with kids in Looe that aren't just sitting on the beach. 
Add to that its ideal location just a short drive away from many other popular attractions in the nearby area, and you'd be missing out not spending a day in Looe.
Have you been to Looe yet?
Liked this post? Pin it!