There is a good chance that this post contains affiliate links. If you make a purchase through them, I may receive a small commission at no extra cost to you! As an Amazon Associate, I earn from qualifying purchases. As ever, all opinions are my own.
Last Updated on July 21, 2021 by Ella
It's fair to say that when you think of Cornwall, the charming seaside county in the South West of England, you hardly think of it being full of famous landmarks.
After all, most of the attractions in Cornwall are totally natural. We're talking about its beaches, its hiking trails, and, of course, its stunning landscapes.
But Cornwall, despite what you may have thought, actually has lots of famous landmarks! Some are natural, some are man-made, but all of them show off the best that Cornwall has to offer. I've also included a map of these great places to visit in Cornwall, to make your trip planning easier.
I've been travelling in Cornwall for as long as I remember, and have explored a great deal of this wonderful county. That includes working my way down this list of landmarks in Cornwall! I haven't got to all of them yet, but I'm so, *so* close!
So, if you're daydreaming about Cornwall and want some ideas of places to visit on your next trip, look no further. Here are the best landmarks in Cornwall!
1. Botallack Mines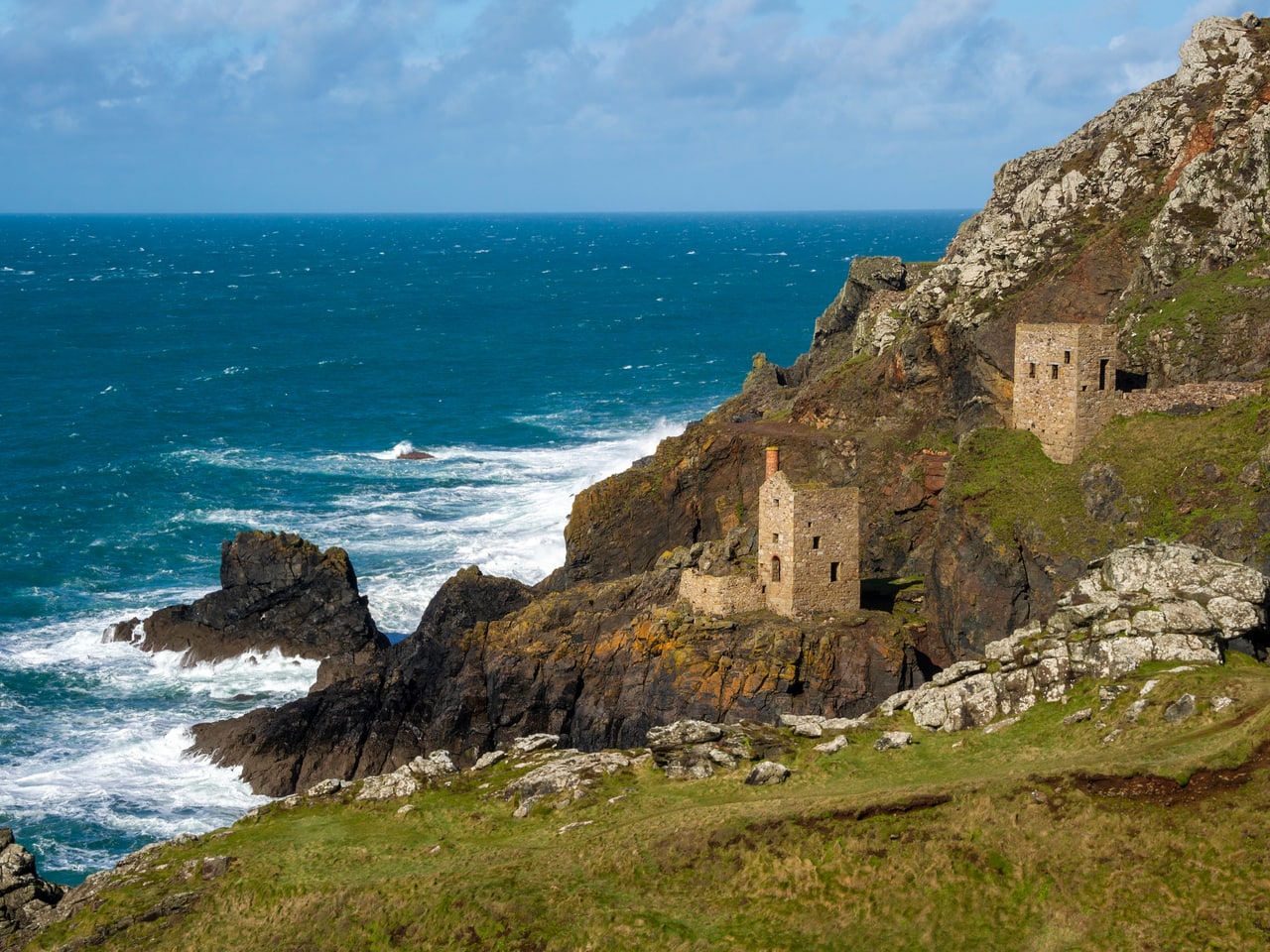 You won't find a more truly Cornish view than looking at the Botallack Mines. Perilously balancing on the cliff edge above the thundering sea, the Botallack Mines are one of the most beautiful places in all of Cornwall. 
Big words, I know.
Having recently rocketed to fame for featuring on the Poldark TV series, the Botallack Mines are quite a hot destination at the moment. They're also part of the UNESCO World Heritage Site – the Cornwall and West Devon Mining Landscape.
All of Botallack's newfound recognition absolutely won't ruin your experience, though. The mines are still hidden gems compared to other famous landmarks in Cornwall. 
When I visited them I actually had them almost to myself!
The Crowns Engine House, the part of the Botallack Mines which you see in all the photos, are perched that close to the sea because they were actually part of a submarine mine. The mine shafts extended 400 metres underneath the sea bed!
The best way to explore the site of the Botallack Mines (and the out-of-this-world scenery) is on the one-mile Botallack Mining Walk route. It'll take you around all the sites of the mine and some of the best scenery. 
The Botallack Mines are owned by the National Trust and entry is free, although parking costs £1.
2. The Watering Hole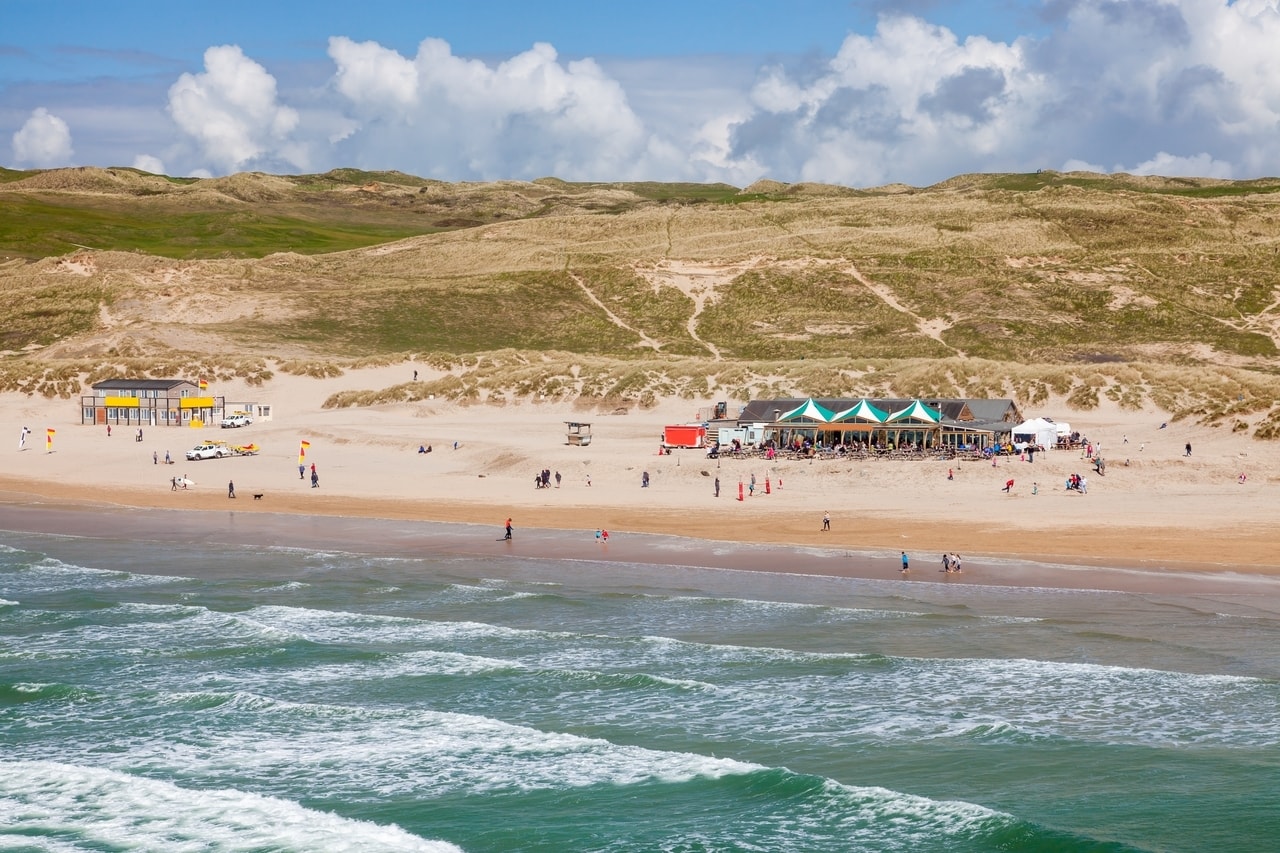 Take to the sand and enjoy a pint at The Watering Hole, the UK's only official bar on the beach!
Although it's not quite a castle or famed tourist attraction, this awesome pub and restaurant on Perranporth Beach is probably my favourite of all these Cornish landmarks! That's because I've spent a ton of time in Perranporth, so I visit this place at least twice a year! In my opinion, it's one of the best places to enjoy a beer in the entire world.
With a huge amount of picnic benches laid out on the sand, you can enjoy traditional Cornish ales (and even pretty decent cups of tea and coffee) whilst sitting out under the sun. Oh, and their hot chocolates are to die for!
The Watering Hole is also the best place to watch the sunset in Perranporth. And boy, Perranporth Beach gets fabulous sunsets! In the evenings, The Watering Hole almost constantly has live music planned – and quite often the artists are pretty famous!
If you've read my ultimate guide to visiting Perranporth, you'll have already heard me raving about the food at The Watering Hole (their nachos, in particular). But in case you haven't – don't miss eating here! Their food goes far beyond typical pub grub and, whilst pretty expensive, is still great value as it's all just so tasty!
Perranporth is a very dog-friendly destination, and The Watering Hole is no exception. Dogs are welcome to sit inside and outside, and water bowls are even provided for your four-legged friends.
3. Tintagel Castle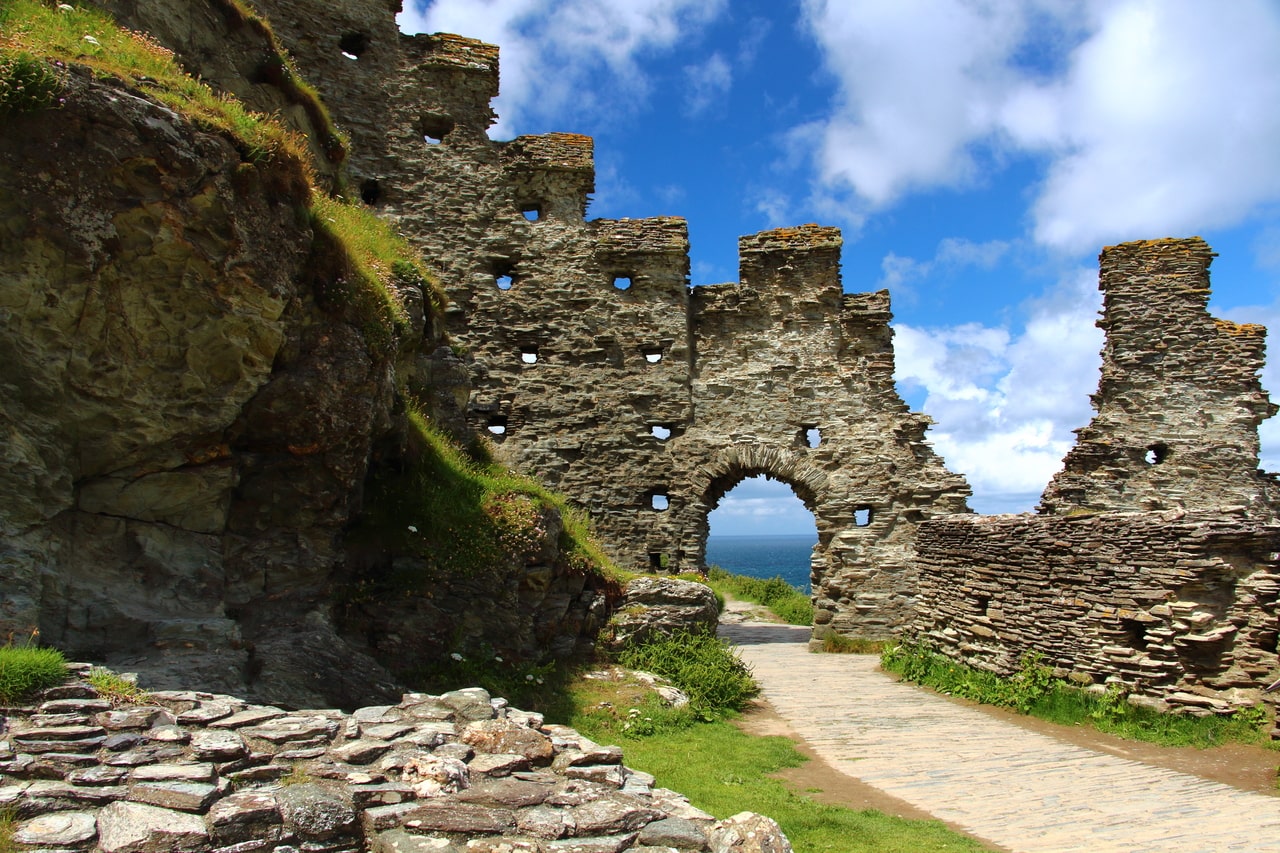 Shrouded in Arthurian legend, Tintagel Castle is one of the most mystical places in Cornwall. It's rumoured to be the birthplace of the legendary King Arthur, and this epic castle will have you believing the legend really is true.
The castle site has been around since the times of the Romans and was then occupied by Cornwall's Celtic Kings before being rebuilt in the 13th century by Richard, Earl of Cornwall. 
Surprisingly little of the castle still survives, so if you're expecting a huge, imposing castle you might have to squint a little to see it! That's what you get when you're visiting a castle that's been around for almost 800 years, though. 
Part of the castle remains on an isolated cliff called 'the Island', which you can only access by a terrifying wooden bridge over the crashing waves beneath you! When it comes to a dramatic setting, Tintagel really has got all bases covered.
Explore the castle's remains until low tide, when you can take the steep steps down to Merlin's Cave. Here, you'll find a foot-high etching of the bearded face of Merlin, who (according to local legend) used to conjure up his spells here.
So – is the Arthurian legend fact or fiction? It'll be up to you to decide!
Tintagel Castle is run by English Heritage, and is one of their most-visited attractions! The castle sees around 150,000 visitors a year, and up to 3,000 per day during the summer holidays. It's safe to say, visiting in Spring or Autumn is much more enjoyable. 
Entrance tickets cost £8.40 for adults and £5 for children.
4. St Michael's Mount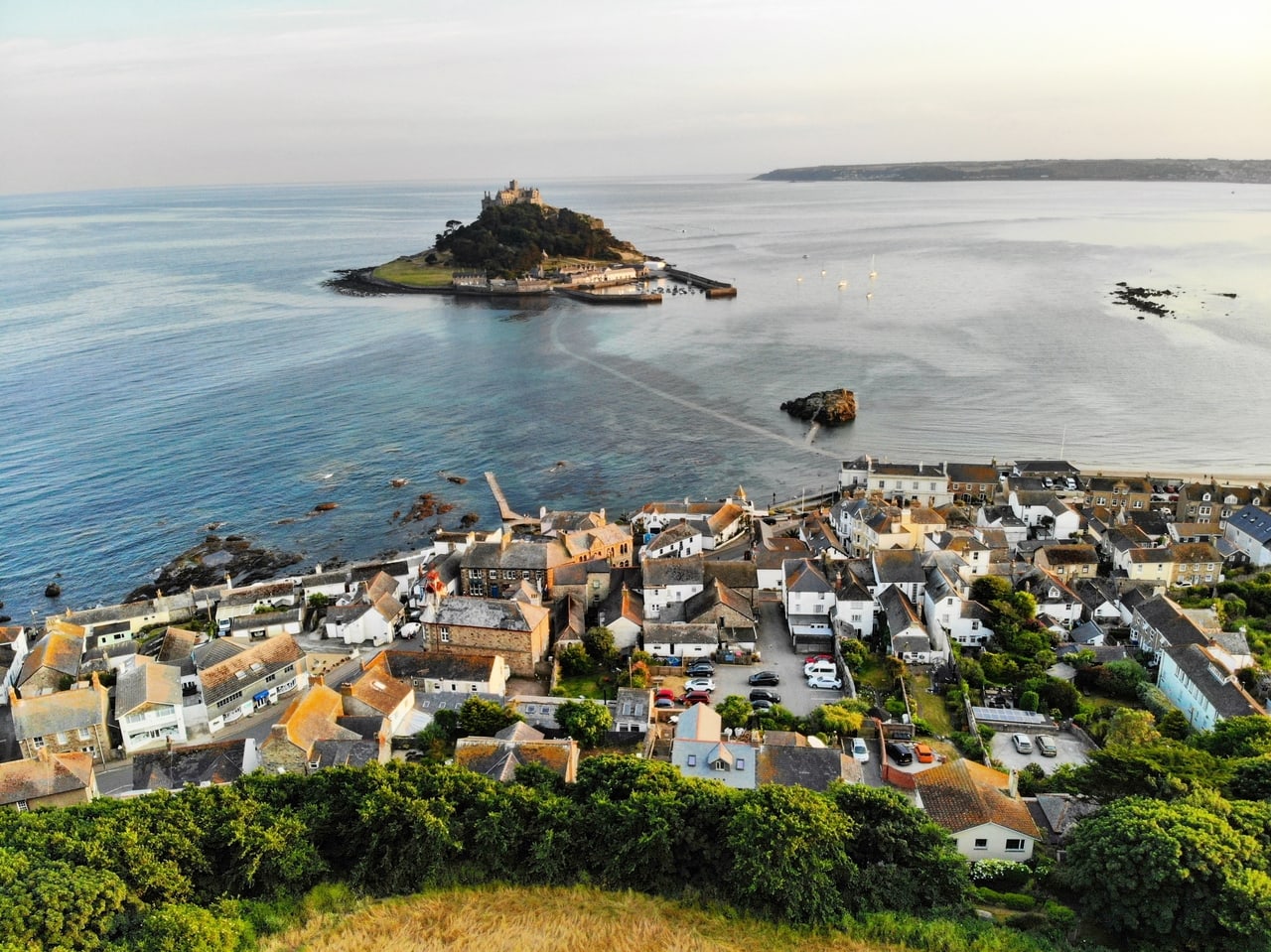 St Michael's Mount is probably the most famous and recognisable of all the landmarks in Cornwall. 
This small island, which is half a mile off the coast of Marazion, West Cornwall, is the stuff fairytales are made of. Completely cut off from the mainland at high tide, flocks of visitors head to St Michael's Mount to explore its medieval castle and experience life dictated by the tides.
The island is now under the care of the National Trust and is open to visitors on most days from April until October. I highly recommend visiting early if you're heading there during the summer holidays, as it can get very crowded very fast. The queues to enter the castle can also get ridiculous! 
If you can visit outside of the summer holidays, your visit to St Michael's Mount (and Cornwall in general) will be much more relaxed. 
Visiting the island at high tide involves getting a boat to the picturesque harbour. To do this would be missing out on one of the best experiences at this iconic landmark in Cornwall, though. During low tide, you'll be able to walk from the mainland to St Michael's Mount via a stone causeway, which is very exciting! 
Once on the island, head straight up the steep cobbled path to enter the castle (which gets busy very fast) before spending the rest of your visit meandering through the castle gardens and exploring the tiny harbour. 
Entry to the castle costs £11.50 for adults and £5.50 for children.
5. The Lost Gardens of Heligan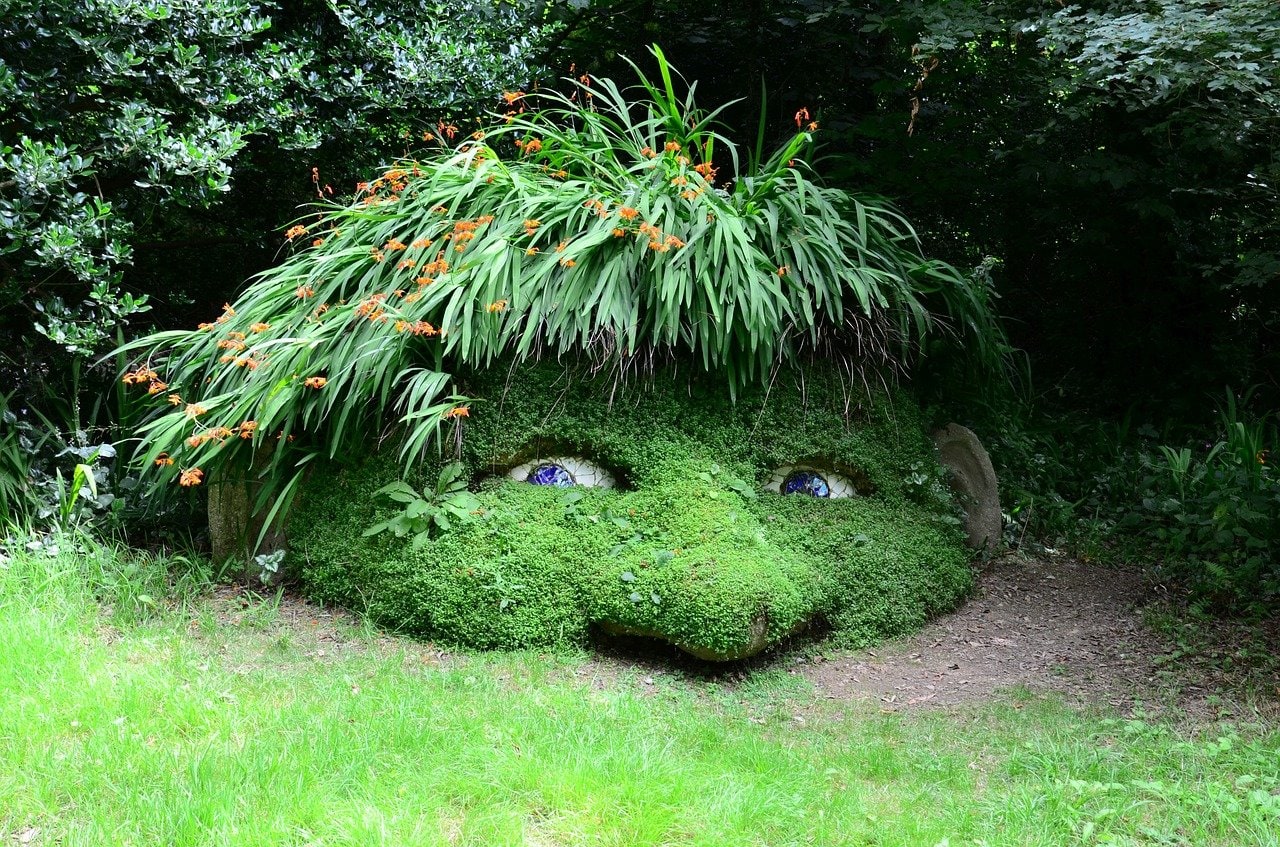 Did you know that secret gardens really exist?
Well, the Lost Gardens of Heligan really were lost, but now they've been found and restored to their former glory for you to explore. 
The mysterious gardens were created by the Tremayne family in the mid-1700s and were lovingly maintained until the outbreak of WW1 when the estate's workforce was sent to war. 
By the 1920s, the estate's owner decided to move to Italy, and the estate has passed through various hands since. It was occupied by other tenants, a US Army base during WW2, and then converted into flats and sold, without the gardens, in the 1970s. 
That's how the gardens fell to such a state of neglect that people didn't even realise their magnificence!
The gardens have now been restored to their former glory. It's a paradise of flowers, plants, trees and other greenery, which are not only beautiful but perfect for getting plenty of fresh air on your day out. 
Tickets cost £17.50 for adults and £8.50 for children.
6. Land's End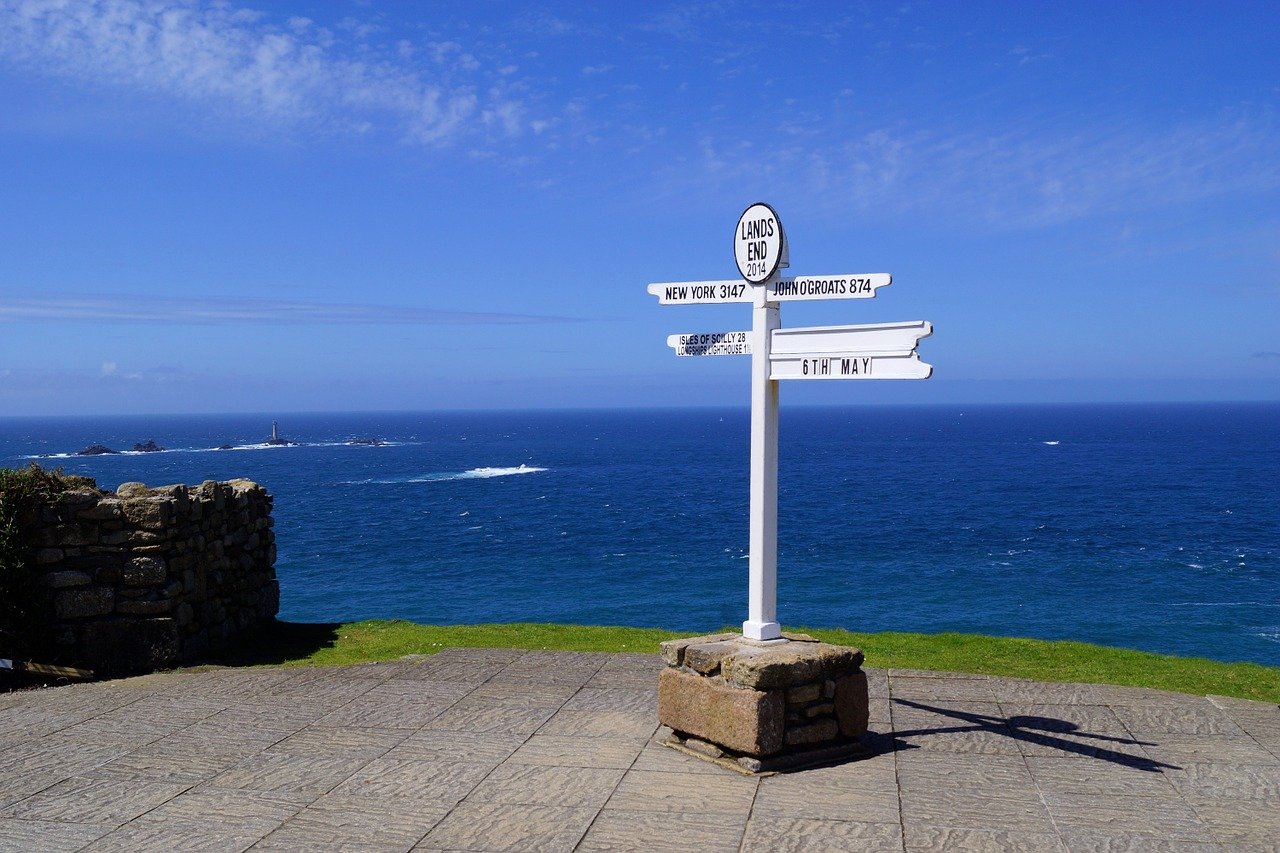 Here's the thing. Land's End is probably the biggest tourist trap in Cornwall. The Land's End sign is actually owned by a local photography company, so you have to stand in a huge line and pay £10 just to get your photo next to the famous "Land's End" sign. 
What's more, it just looks like a cheap plastic sign. You tell the person where you're from, they add your town and its distance from Land's End to the sign, and add the date, you get your photo and you leave.
I don't know about you, but I didn't think that was worth my hard-earned money, so decided not to bother.
That's not the worst part of visiting Land's End, though. Land's End has been transformed into a "shopping village" filled with useless tat, and there's even a Wallace and Gromit (???) attraction there. I just couldn't believe how much of a bare-faced cash grab the entire experience was.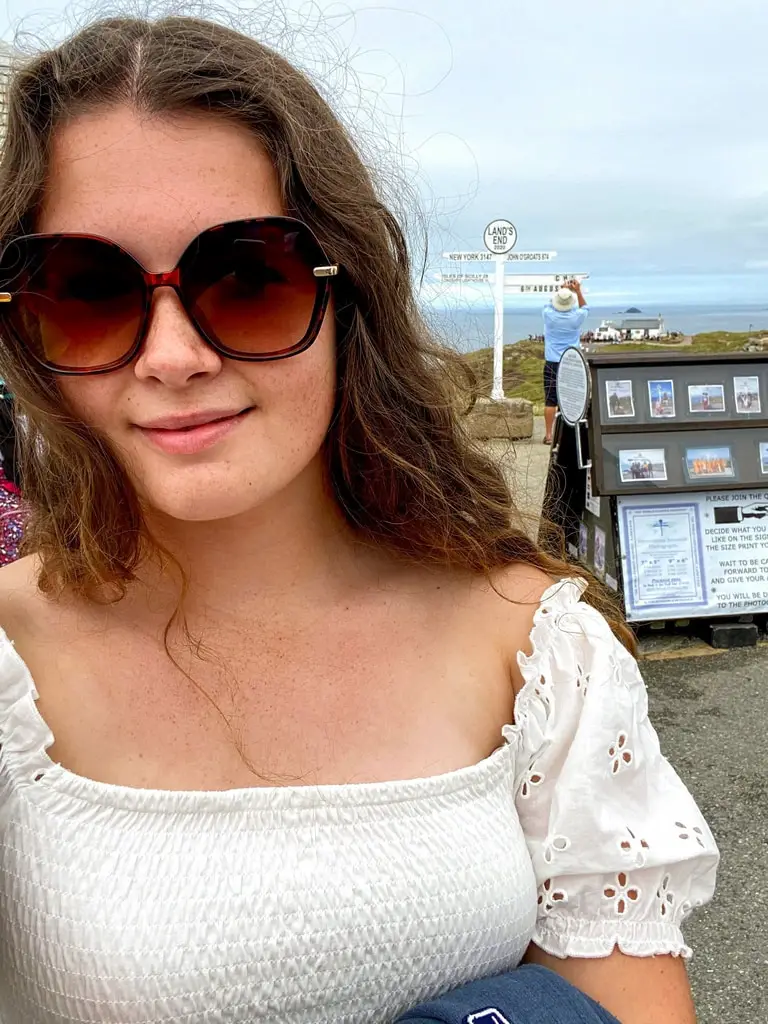 The thing is, though, no matter how much I say it's not worth visiting, the Land's End sign is still an iconic landmark in Cornwall. Ultimately it's up to you to decide whether it's worth visiting or not.
I'm glad I went. My Dad kept telling me before I visited that it wasn't worth it, but I wasn't expecting him to be right. It's not all doom and gloom, though. Here are some good points:
The views at Land's End are incredible, and it feels super special to be on the British mainland's most South-Westerly point.
The pasties served at the Land End "Cornish shopping village" are mouth-wateringly good – surprisingly so!
If you can snag a bench outside the pub overlooking the sea, chances are it'll be the best beer with a view you'll have in Cornwall.
Entry to the area itself is free (though you have to pay for parking and photos with the Land's End sign).
7. Bodmin Jail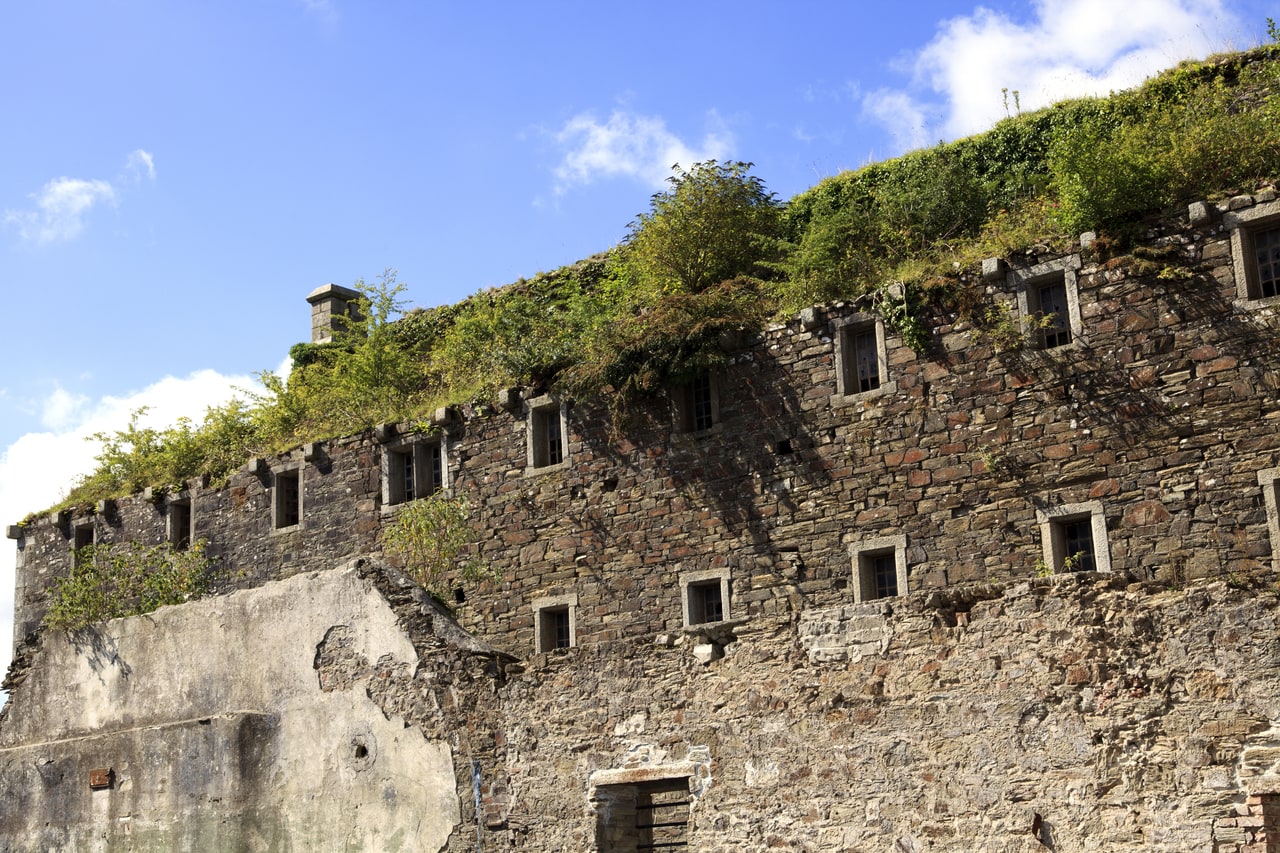 One the edge of the desolate Bodmin Moor you'll find the Bodmin Jail – a haunting Cornish landmark if ever there was one!
The granite-and-stone former prison was originally built in 1779 during the reign of King George III, as part of his sweeping prison reforms.
As you step into the prison you'll be transported to life behind bars in the 18th and 19th centuries. Wandering the five floors of the jail, you'll learn the stories of the robbers, smugglers and rioters of Cornwall. It's safe to say that Bodmin Jail isn't short of grisly exhibits, such as the condemned cell, where prisoners were executed. 
In less grim news, it was at Bodmin Jail that the Crown Jewels and Doomsday book were kept during WW1 for safety.
The prison officially closed in 1927 and nowadays is a firm favourite on the Cornwall tourist trail. It's also very popular with ghost hunters! 
Bizarrely, part of the Bodmin Jail has now been turned into a hotel. At the Bodmin Jail hotel, you can stay in old jail cells which have been converted into luxury rooms. Staying overnight in an old jail is definitely not my cup of tea, but I guess everybody is different!
8. Jamaica Inn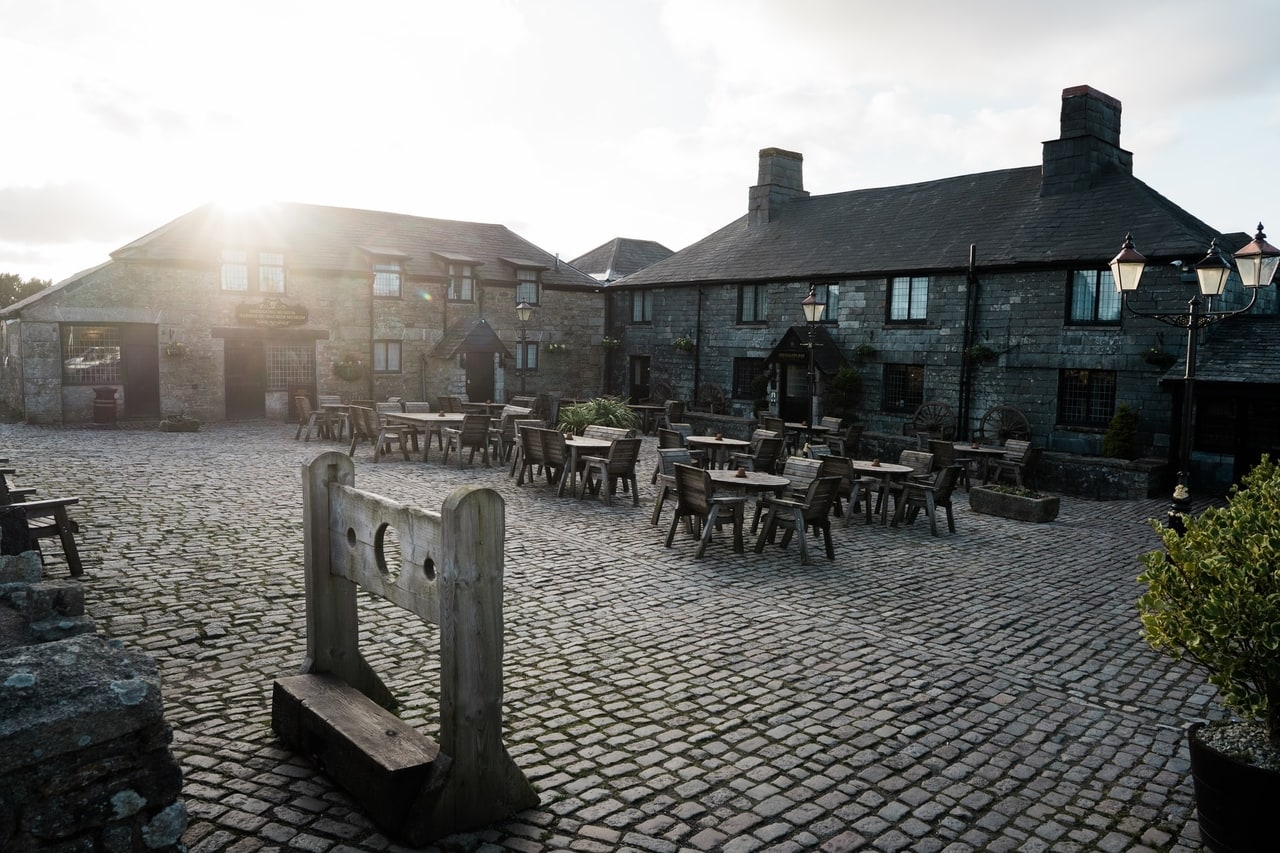 We've all heard of the classic book by Daphne Du Maurier, but did you know that The Jamaica Inn is a real place? This world-famous inn has been standing on Bodmin Moor since 1750 and has seen its fair share of smuggling over the years.
The Jamaica Inn's unique name is rumoured to come from the smuggled rum from Jamaica which was stored at the inn due to its isolated location. Unfortunately, though, it seems that the real story behind the name isn't quite so exciting. 
You see, the original landowners of the Inn, the Trelawneys, had two members of the family serve in the role of the Governor of Jamaica in the 18th century. It's thought the inn is named after this more mundane fact.
I know – smuggling would have been much more exciting!
Nowadays, the inn fully embraces its history and is now home to the Museum of Smuggling. It also has a gift shop that stocks countless editions of Du Maurier's books – it's a great little bookshop!
The Inn is still fully operational as both a pub and accommodation, and it's well worth grabbing a table and enjoying a beer or a rum as you take in your surroundings. Unfortunately, the Jamaica Inn is a popular stop with coach trips, meaning it can get pretty busy if you time your visit wrong (as I did).
The best time to visit the inn is without a doubt in the evening when it's dark. With the wind howling around the isolated inn, and no coach trip groups in sight, you'll feel transported to the haunting Jamaica Inn of Du Maurier's novel. 
9. The Eden Project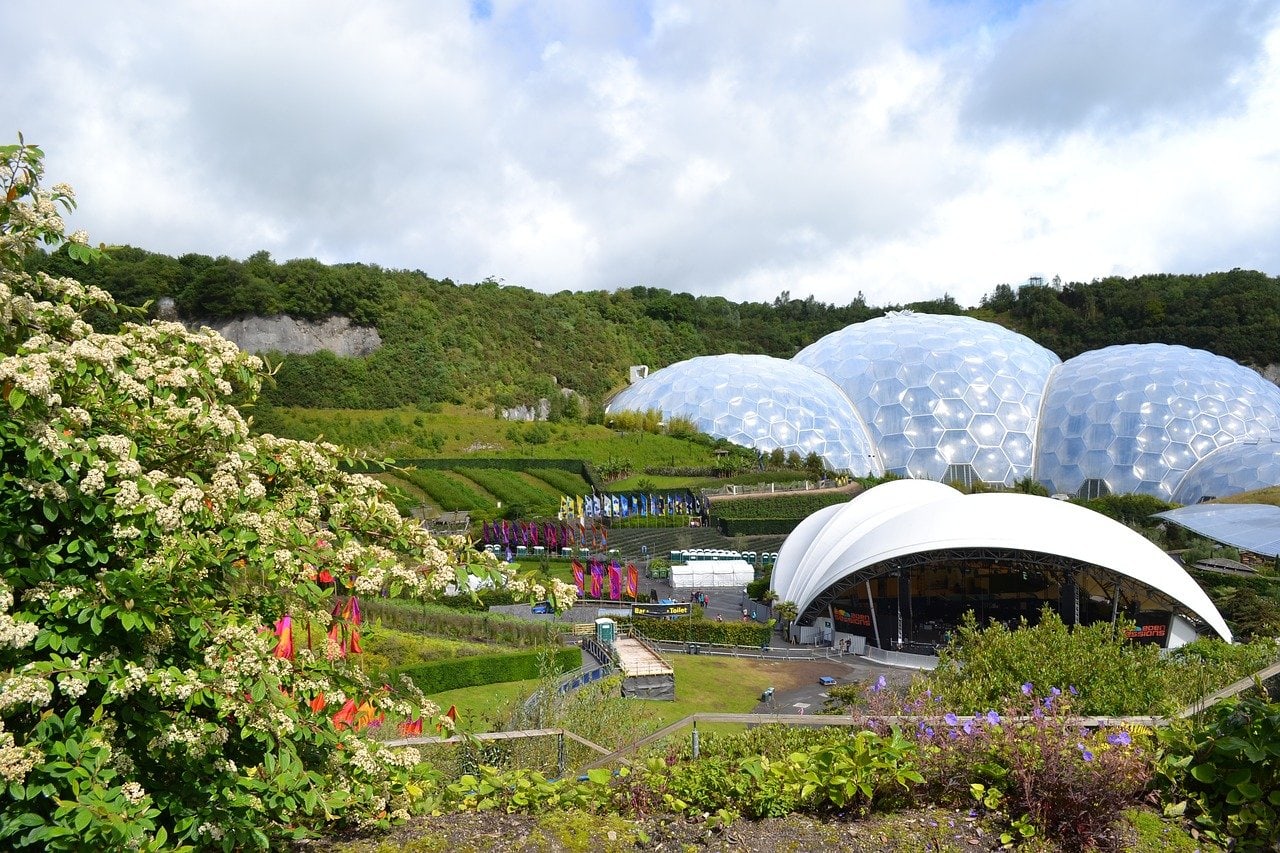 The bubble domed roof of the Eden Project is easily recognisable as one of the most famous landmarks in Cornwall. It is the world's largest indoor rainforest, filling a space the size of 30 football pitches with countless tropical plants and trees. 
Paying a visit to this global garden will be a botanist's dream!
The Eden Project is probably the most popular day out in Cornwall for families, and on rainy days in the summer holidays I've heard it gets absolutely packed! The Eden Project is normally the first place people think to visit when it starts raining in Cornwall.
As well as housing some truly weird and exotic plants, the Eden Project is educational, teaching visitors about mankind's dependence on plant life and the importance of rainforest conservation.
Wandering from the Rainforest Biome to the Mediterranean Biome, you'll feel like you're travelling the world – all inside the Eden Project!
I STILL haven't made it to the Eden Project because it's just so darn expensive! 
I know I need to get round to visiting, and I swear I will do one day, but adult tickets cost £28.50! A child ticket costs £15! If you're visiting as a family, a discounted ticket costing £75 is available, but that still sounds very expensive to me!
10. Minack Theatre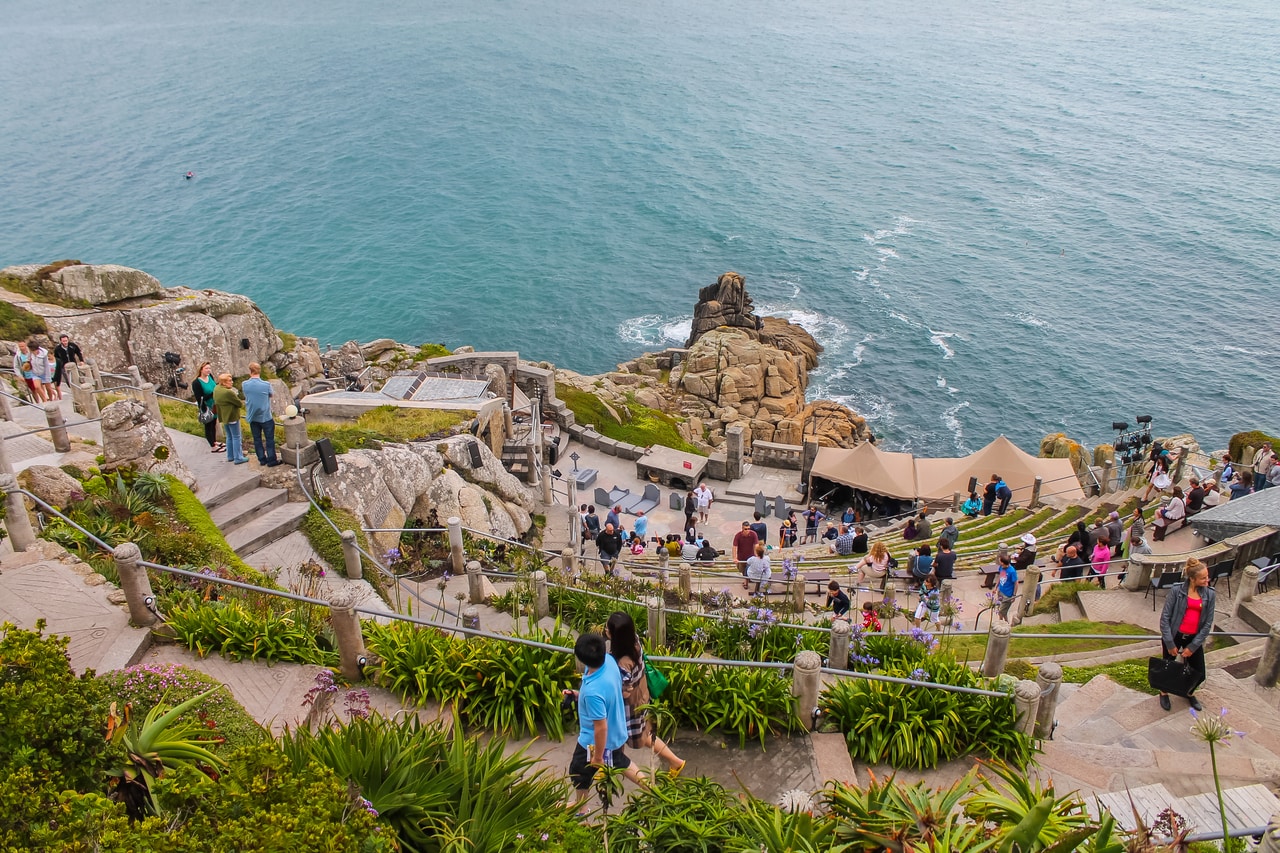 This open-air theatre carved into a granite cliff allows audience members to watch both a play and the glistening coastline. I wouldn't know which one to concentrate on!
Although it looks like it's belonged on the cliff since time began, the Minack Theatre is actually less than 100 years old. It was built by the landowner, Rowena Cade, when she agreed to host an open-air Shakespeare performance on her land. One thing led to another, and the Minack was born!
Nowadays, the theatre stages over 200 plays every year, and, despite its limited seating capacity for audience members, sees over a quarter of a million visitors annually!
Obviously, people head to the Minack Theatre to see plays (a lot of Shakespeare is performed here). But even if there are no tickets left, or plays aren't your thing, you can still visit and explore the theatre whilst there are no performances.
Obviously, the reason the Minack Theatre is one of the most famous landmarks in Cornwall is because of its spectacular setting overlooking Porthcurno Bay. You'd struggle to find a more picturesque theatre, and attending a performance here should be firmly on your Cornwall bucket list. 
Entry tickets (not for performances) cost £4 for adults and £2 for children.
11. Bodmin Moor
Not so much a landmark in the typical sense, Bodmin Moor is a huge, sprawling moorland in northeastern Cornwall. This Area of Outstanding Natural Beauty is actually the home to several landmarks, but it's much more straightforward to group them all together.
Bodmin Moor's remote and bleak landscape (which feels like it's under constant fog) has been inspiring imaginations for years. Take Daphne Du Maurier's Jamaica Inn, for example, which used the moor as its haunting setting. There's also the Beast of Bodmin Moor, a local legend of a phantom wildcat who roams the moors.
If all that sounds intimidating, don't worry! Bodmin Moor is a popular day out in Cornwall, and your chances of coming face to face with the Beast of Bodmin Moor are very low. 
Bodmin Moor is a particular favourite of hikers. This is because it's home to two of the highest peaks in Cornwall, Rough Tor and Brown Willy. On Bodmin Moor, you'll also find some interesting stone circles – the Trippet Stones and the Stripple Stones Henge.
Also on the moor you'll find Siblyback Lake, a great spot for watersports with lessons and equipment hire available. Nearby, you'll also find Dozmary Pool, where King Arthur's sword, Excalibur, is thought to lie.
12. Pendennis & St Mawes Castle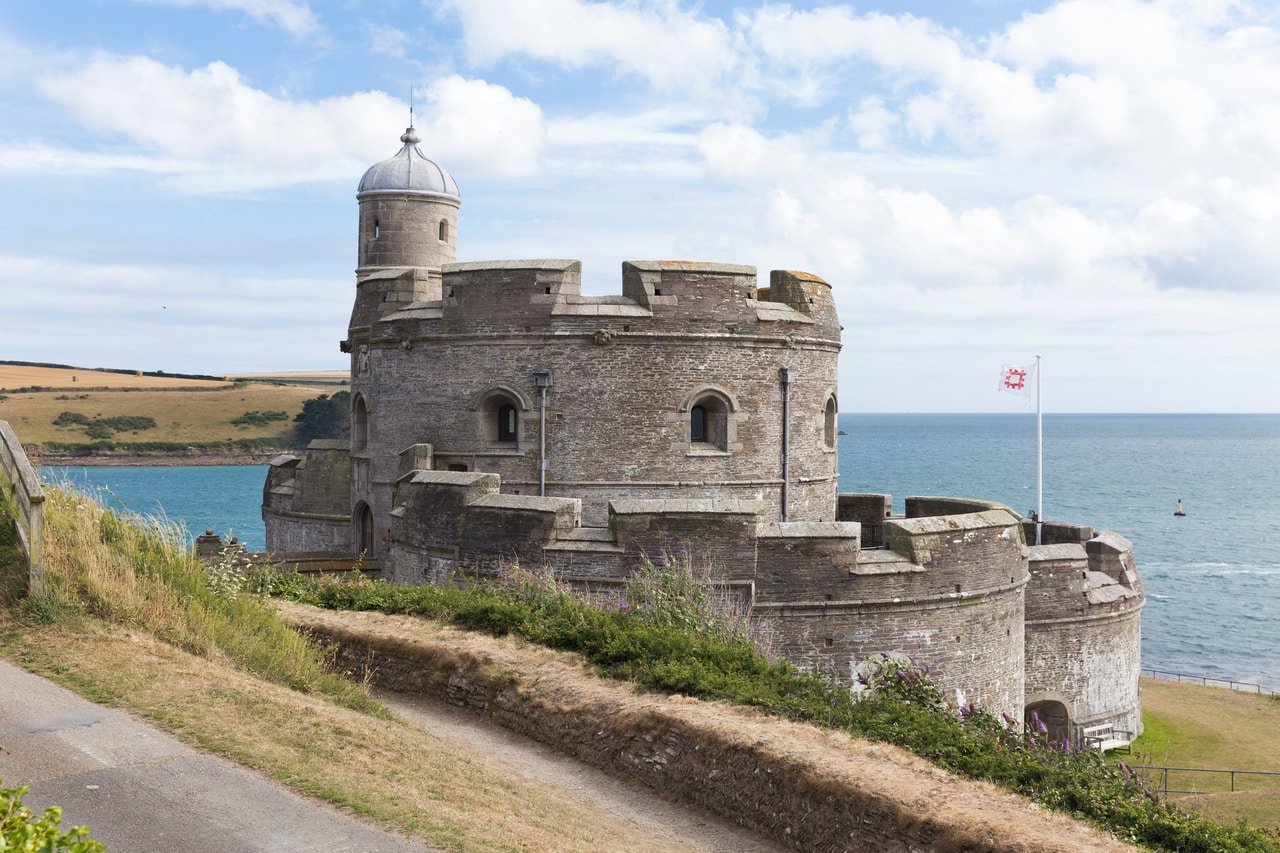 These mighty fortresses in Falmouth were built by Henry VIII to ward off invasions, and have seen their fair share of battles over the centuries.
Pendennis Castle is easily recognisable for everybody familiar with Falmouth. It's also far more 'castle-like' than the ruins of Tintagel Castle. 
Unlike most castles you're familiar with, Pendennis Castle was actually still in use as late as WW2, when it was used as a control centre for Britain's coastal defences.
As well as exploring the castle, be sure to stroll through the exhibitions, which go through the tumultuous history of the castle. You'll also get to see the Tudor Keep, where you'll experience the sights and sounds of the castle under attack in Tudor times. There's also a wartime Cornwall area where you can practice working at the Battery Observation post.
Adult tickets cost £12.20 and children's tickets cost £7.30
13. Lanhydrock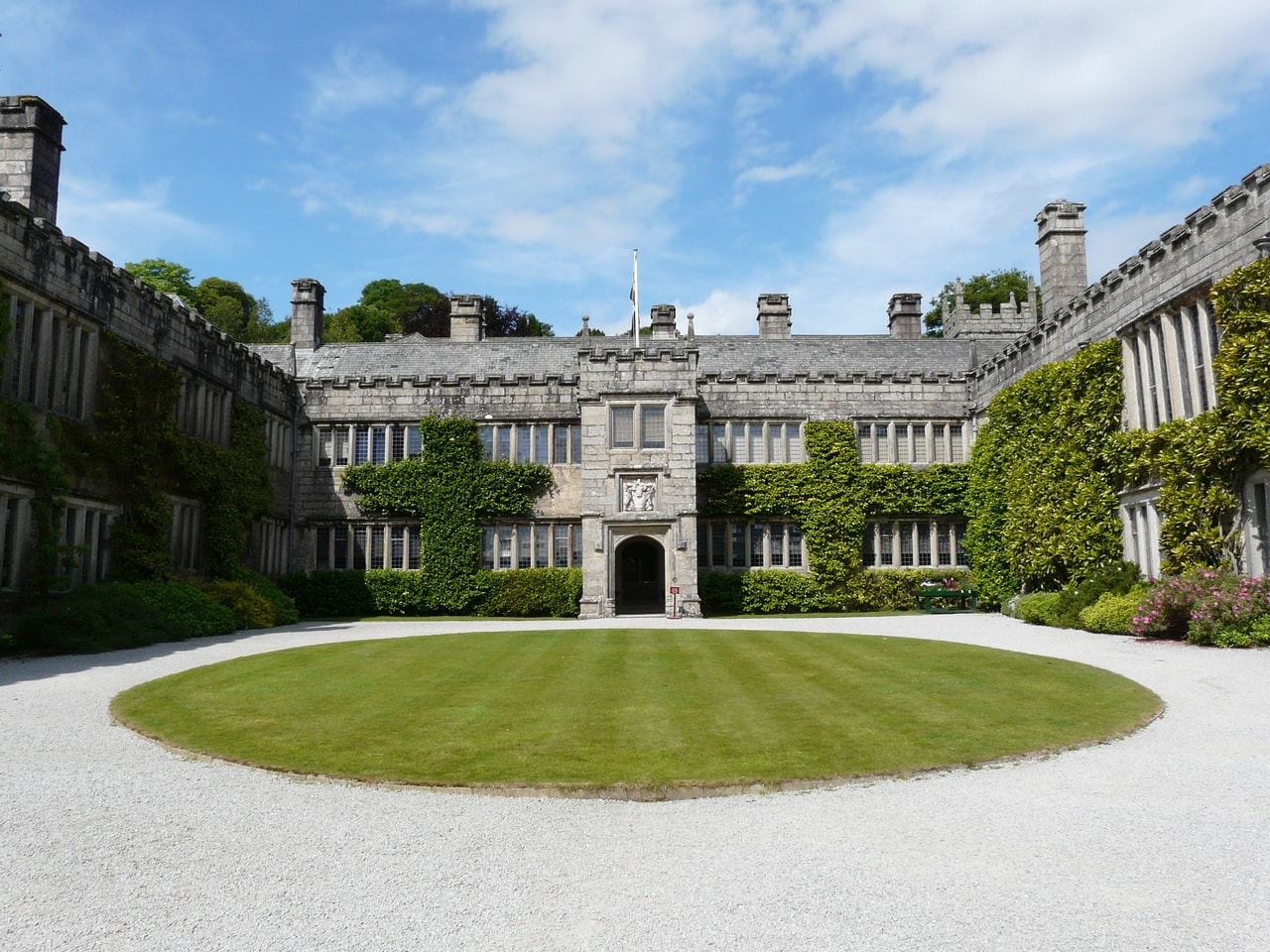 Lanhydrock looks like an Oxford university college transported to the rolling fields of Cornwall! Strolling around this country house and estate will definitely make you feel like an upper-class rich person.
Lanhydrock House was originally built in the 17th century, but the Lanhydrock of today is largely the result of a rebuild in 1881 after a fire badly damaged the property.
I admit it – Cornwall isn't the first place you'd visit to learn about life in a Victorian country house. But Lanhydrock is certainly Victorian, and is great at educating visitors about life at the manor for both residents and servants alike.
Lanhydrock sits in 900 acres of gardens and woodland, stretching to the Fowey River. The grounds are also popular with locals for their hiking and cycling trails, which you can look at here.
Adult entry tickets cost £16.45 and tickets for children cost £8.25. It's located pretty centrally in Cornwall, so it's great if you're looking for things to do near Looe, Padstow or Fowey.
14. The Sloop Inn
The most identifiable landmark on St Ives' harbour is The Sloop Inn. It's also the most popular pub in St Ives.
The Sloop Inn is a Grade II listed building, so it's definitely something special. It's also one of the oldest pubs in Cornwall, so if you want a taste of what a true smuggler's inn feels like, just step inside!
The decor inside The Sloop feels like it hasn't been changed in hundreds of years (in a good way)! It's described in Lonely Planet as "a classic old fishermen's boozer" which hits the nail on the head. 
You'll be spoilt for choice when it comes to the selection of local ales and spirits on offer. Head inside, grab yourself a glass of rum and toast to hanging out at one of the best landmarks in Cornwall!
Rows of benches are on the cobbled road outside The Sloop, and, given their prime harbourside location, getting a seat here can be a tricky business in summer! Your best bet is to hover for a while and then, like the local seagulls, swoop in as soon as you see someone leaving.
15. Godrevy Lighthouse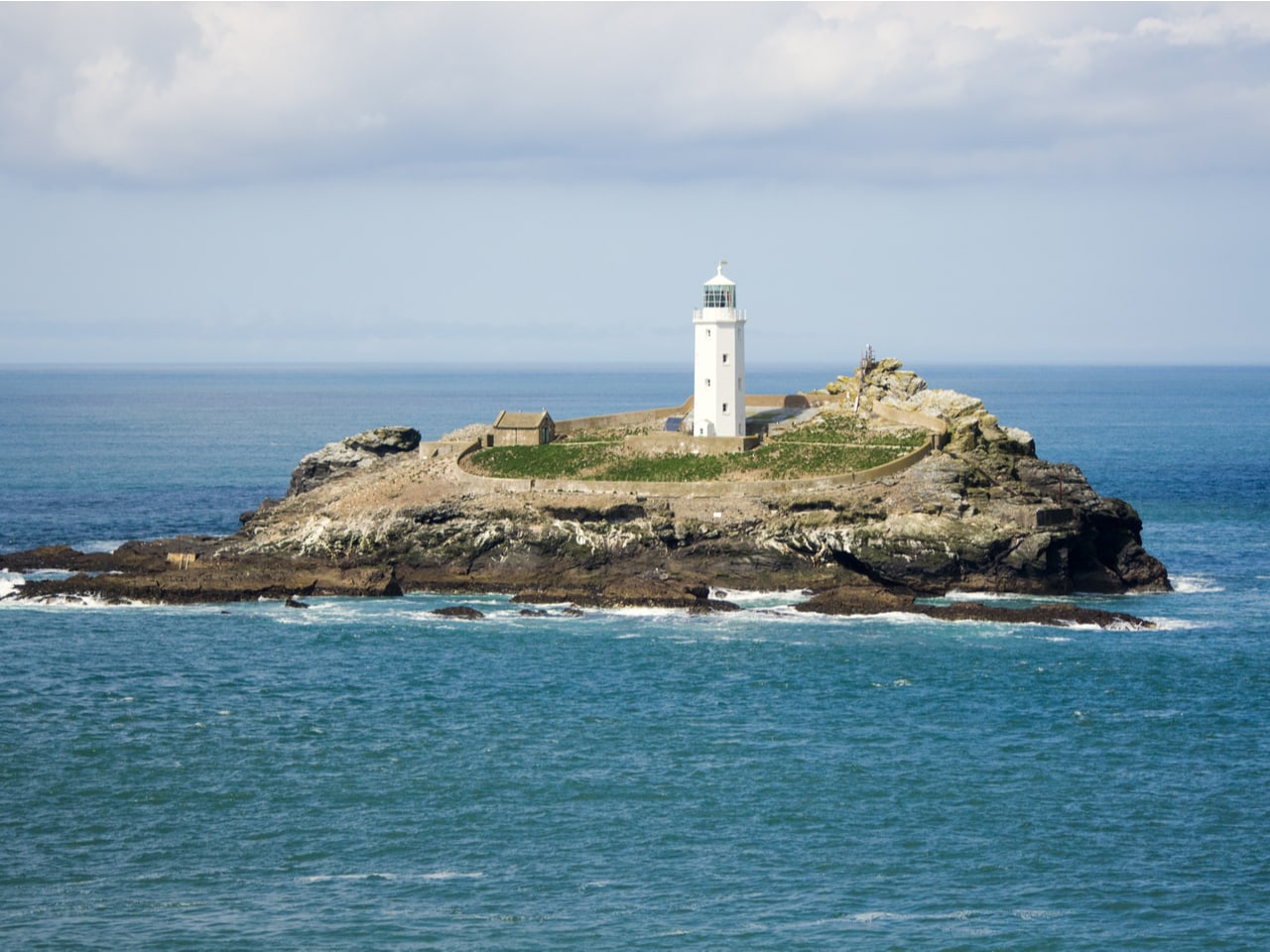 Situated on sharp rocks in the wild Atlantic, the Godrevy Lighthouse was built in 1859 after a series of shipwrecks on the rocks, most notably the wreck of the SS Nile, when all passengers and crew were lost. 
The 26m white tower of the lighthouse warned ships away from the rocks until 2012, beaming its light over 12 nautical miles and undoubtedly saving countless lives.
Nowadays, the lighthouse's role is mostly decorative. the light was moved to a different structure nearby in 2012. 
You can't go inside the lighthouse, but you can get up close to it on a boat tour from St Ives harbour. You can also see it from afar from the National-Trust-Owned Godrevy Beach.
Literary fans may know that Godrevy Lighthouse inspired Virginia Woolf's 'To The Lighthouse' (although she did change the setting from Cornwall to the Scottish Highlands). Woolf spent her childhood summers in St Ives, and her time here is thought to have greatly influenced her writing.
---
Daydreaming about Cornwall? Check out my favourite books set in Cornwall here!
---
For such a sparsely populated county, Cornwall is full to the brim with famous landmarks! Although there are countless things to do in Cornwall, I highly recommend trying to sneak at least a couple of these landmarks onto your Cornwall itinerary!
Obviously, this list of famous landmarks in Cornwall didn't even mention the beaches! This is because there are so many epic beaches in Cornwall that they really do deserve their own dedicated post. Look out for it – it'll be coming soon!