There is a good chance that this post contains affiliate links. If you make a purchase through them, I may receive a small commission at no extra cost to you! As an Amazon Associate, I earn from qualifying purchases. As ever, all opinions are my own.
If you're planning a trip to Cornwall this summer, I highly recommend you stay in Perranporth! It has great surfing conditions, is family-friendly, has countless fabulous pubs, and, of course, Perranporth beach is freaking awesome!
I love this surfing town and have been there almost forty times. Yes, forty!
So it's safe to say I know a thing or two about Perranporth, where to stay there, what you should do there and where you'll find the best pubs and restaurants! In this post, I'll share everything you could possibly need to know to plan the best holiday ever in Perranporth!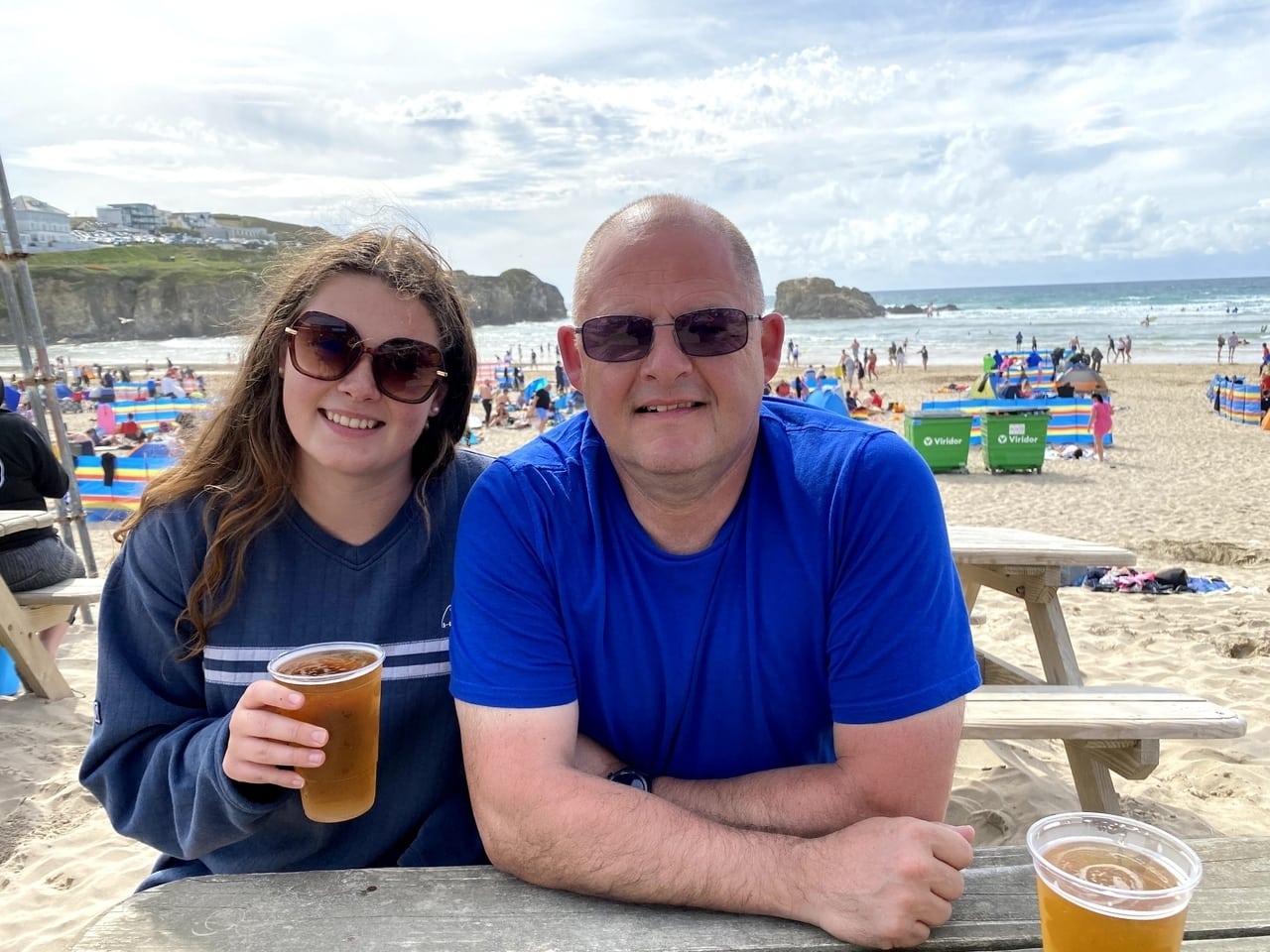 But where is Perranporth?
Perranporth is on the rugged north coast of Cornwall, around 8 miles south of Newquay and 4 miles north of St Agnes. To get to Perranporth, the easiest way by far is to drive. On public transport, you'll have to get the train to Newquay and then a bus or a taxi from Newquay to Perranporth.
History of Perranporth
Not only is Perranporth named after Cornwall's patron saint, Saint Piran, but Perranporth is also the place he is thought to have arrived ashore after crossing the sea from Ireland.
So it's safe to say Perranporth has plenty of history.
Situated just a mile away from the St Agnes Heritage Coast, this area of the country was covered by mines. The area boomed in particular in the eighteenth and nineteenth centuries when copper was discovered in the area. 
It's this mining heritage that inspired author Winston Graham to write and set his Poldark series right here! 
As if that wasn't enough history, Perranporth airfield was built during WW2 as an RAF fighter station. It was used by 21 different squadrons flying Spitfires!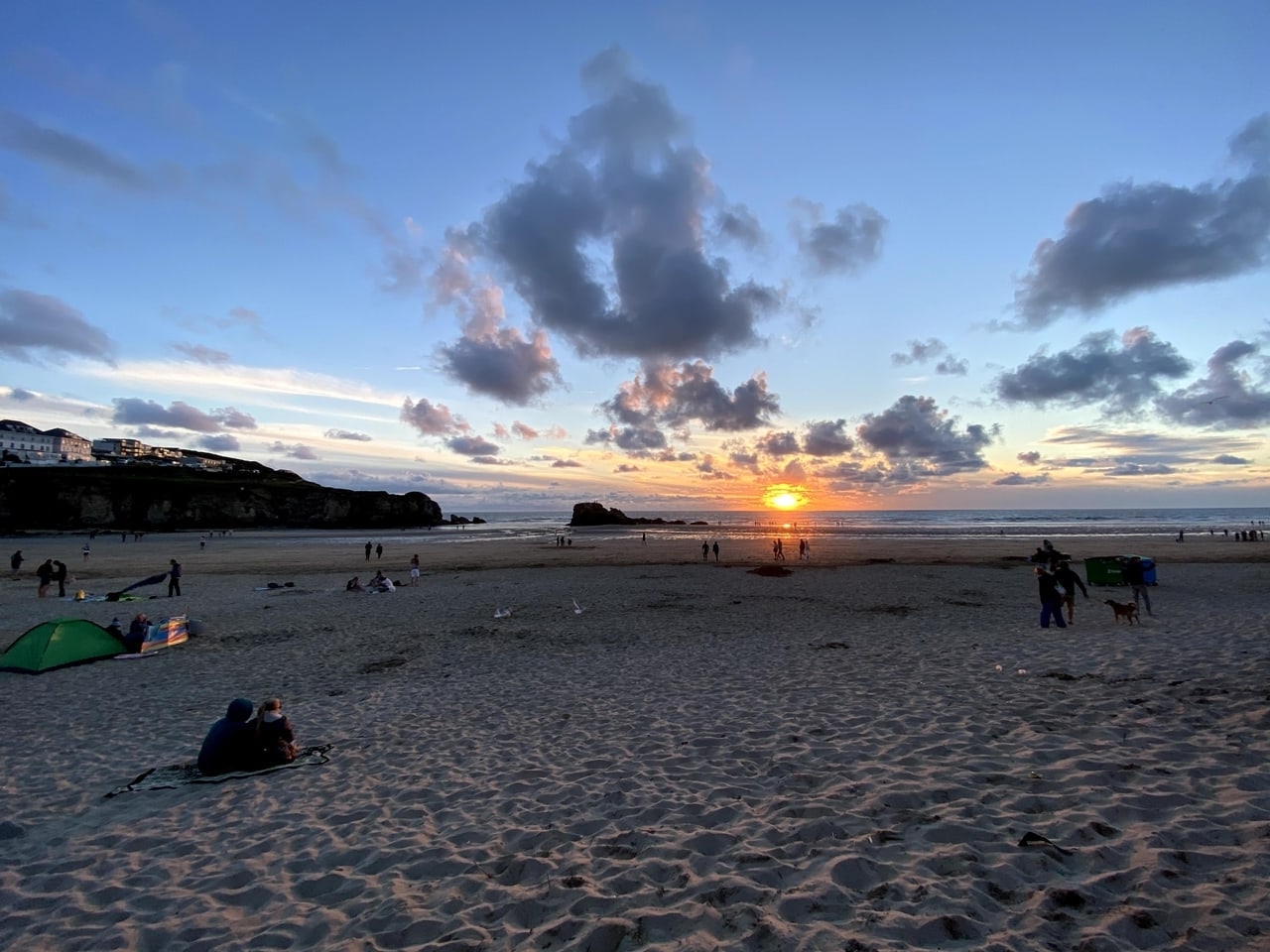 How long to spend in Perranporth?
As long as you like! If you're staying elsewhere Perranporth is a great day out in Cornwall, but you'll have to arrive early to get a parking space. In summer, most people heading to Perranporth usually stay for at least a week, and many people stay for two weeks.
This is because driving anywhere in Cornwall during the summer holidays can take forever! The traffic, for such a sparsely populated county, gets insane. The roads just can't handle the number of cars. By moving around, you lose a lot of time, so people just decide to stay put.
In spring and autumn, Perranporth is one of the best places in Cornwall for short breaks. This is because the summer crowds have gone but businesses haven't yet closed for the winter and the weather is still good.
Where to stay in Perranporth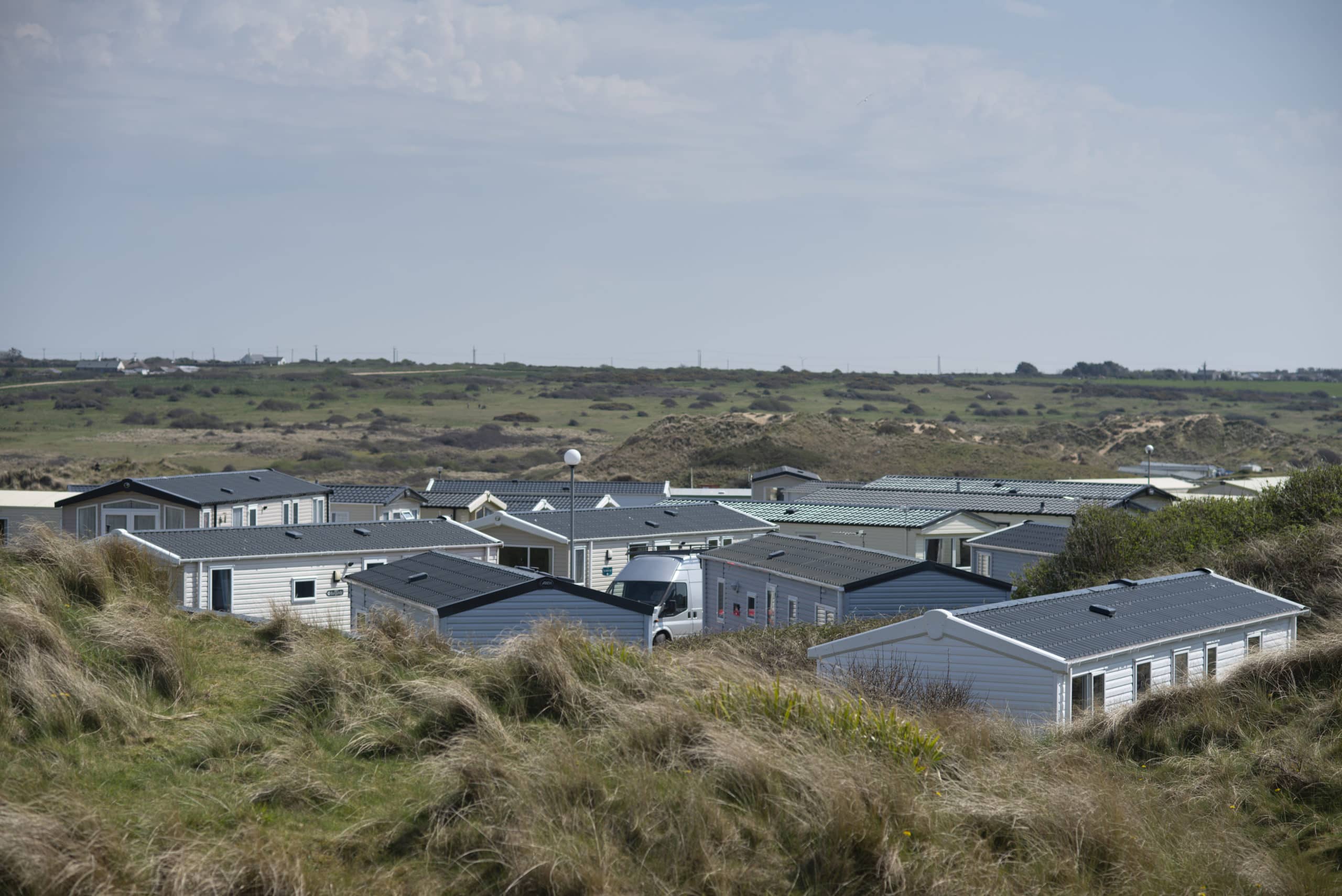 There are accommodation options for all budgets in Perranporth. Whether you're looking for a campsite, a static caravan to hire, a b&b or a charming seaside cottage, my post on where to stay in Perranporth has got you covered. I've stayed in so many of the accommodation options in Perranporth, and if I haven't stayed there, I know somebody who has.
If you're looking for dog-friendly cottages in Perranporth, you'll find my recommendations at the bottom of my post on visiting Perranporth with dogs very helpful.
Things to do in Perranporth
Perranporth beach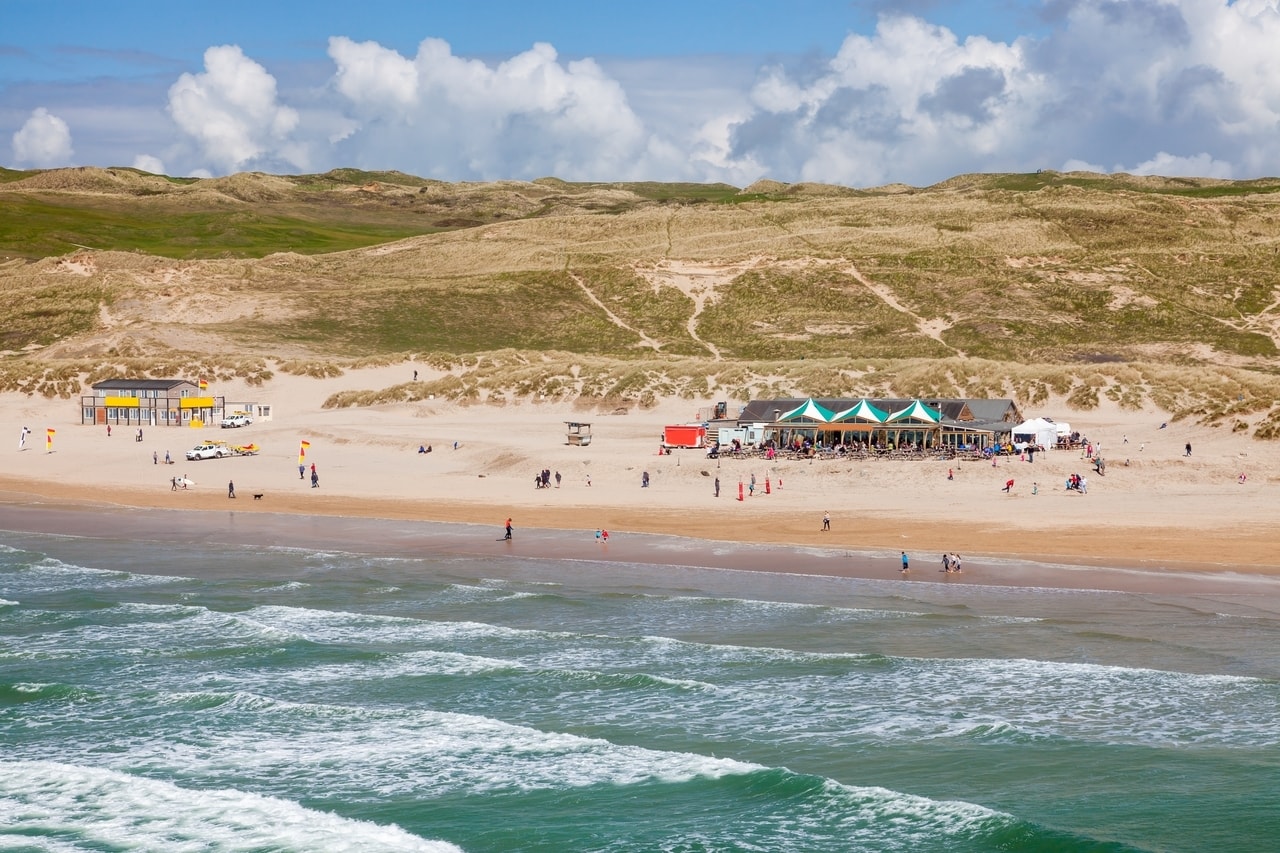 Obviously, the main attraction in Perranporth is Perranporth beach. With 3 miles of golden sand and some of the best surf in the UK, this beach is one of my favourites in the entire world!
Perranporth beach is extremely family-friendly, and there's plenty to do on the beach itself aside from sunbathing. Surf lessons are hugely popular, and the best way to learn how to surf safely. There are also countless places in Perranporth where you can hire wetsuits, bodyboards and surfboards if you already know what you're doing.
Lifeguards patrol the beach daily from 30 May – 1 November. In summer, they patrol from 10am-6pm, with hours reduced in autumn. 
Another unique attraction at Perranporth is the swimming pool at Chapel Rock. The huge rock, which stands out in the centre of Perranporth beach, has had walls added to it. Each high tide, the sea floods it with fresh seawater. When the tide goes out, it leaves a rockpool deep enough to swim in and jump into!
Speaking of rockpools, there are plenty along the cliffs at each side of the beach. They can be a lot of fun to explore and paddle in – especially with kids or dogs! Just be careful and don't climb up the rocks or go inside any caves.
Perranporth to St Agnes walk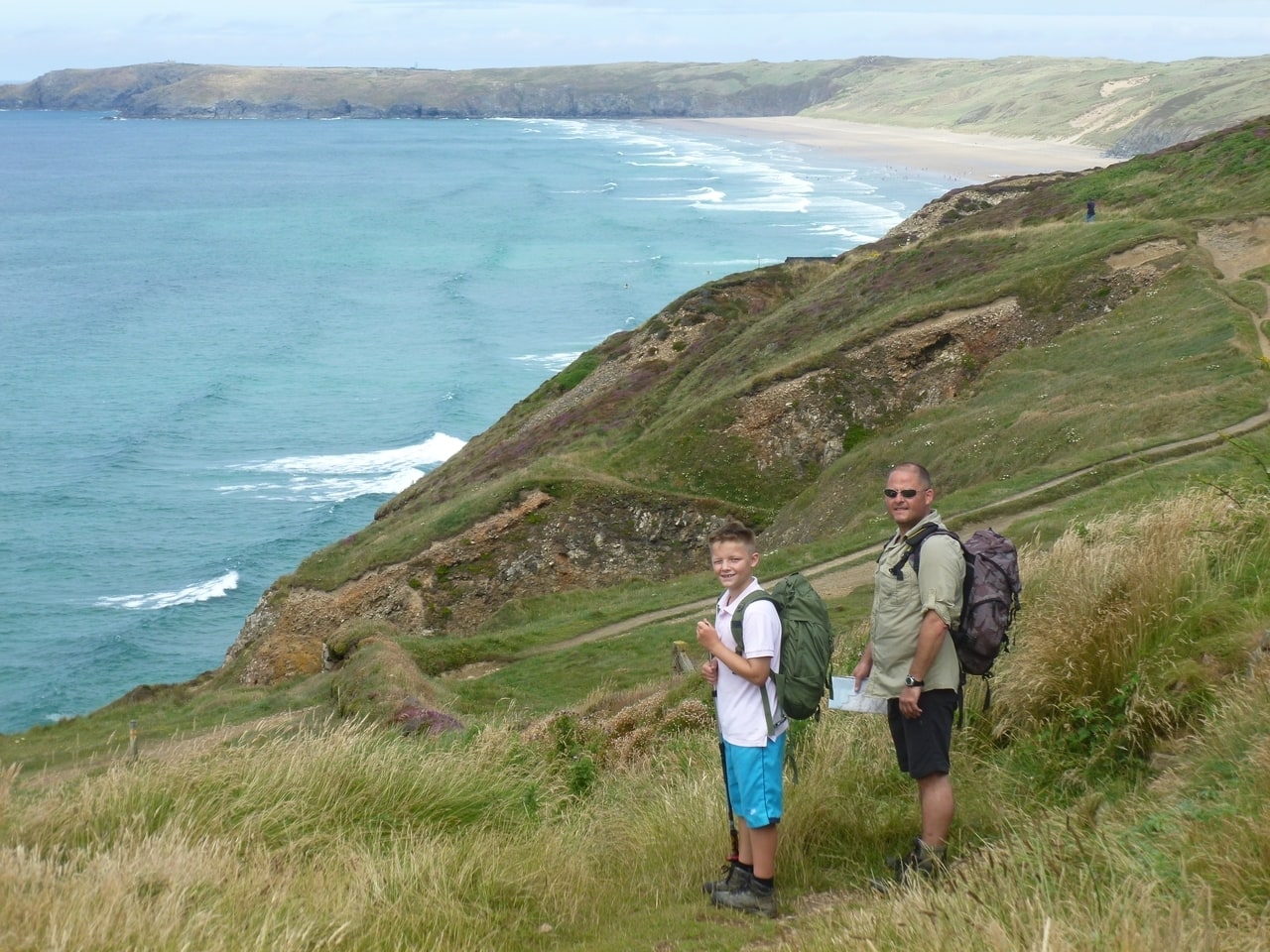 This 3.8-mile chunk of the South West Coast Path offers up world-class ocean views! It starts up near Droskyn Car Park overlooking Perranporth beach, where you'll get the best views of the beach in the whole town. From here, you'll get to experience mining heritage as the walk takes you past old mines and the Perranporth mining landscape. 
The walk is fairly moderate and flat, aside from a short stretch at the end arriving in St Agnes. This coastal walk is probably my favourite thing to do in Perranporth! 
Recover from the walk with a pint or two in St Agnes before getting a taxi back to Perranporth.
Perranzabuloe Museum
If my littler 'history of Perranporth' section earlier in this post had you desperate for more, you're gonna love the tiny but informative Perranzabuloe Museum.
Entry to the museum is free. Inside the museum, you'll learn about the history of farming, mining, the world wars, St Piran and more in Perranporth. You'll even find out about the many shipwrecks in Perranporth's history. 
The museum is off the main street in Perranporth and is easily missed by visitors. It's definitely worth a visit, though! It can be tricky to find things to do in the rain in Perranporth, so this is my top recommendation.
Tunes in the Dunes
Taking place over a three day weekend in June each year, the Tunes in the Dunes music festival is the hottest event on the Perranporth calendar. It sees visitors flock from across the UK to listen to some of the biggest names in music perform on Perranporth beach.
I mean – who wouldn't want to go to a music festival on the beach?
Brought to you by the people who plan the live music at The Watering Hole, Tunes in the Dunes always has a jam-packed lineup. Since it's still fairly new, it's also quite inexpensive as far as music festivals go!
You can find out more about Tunes in the Dunes here.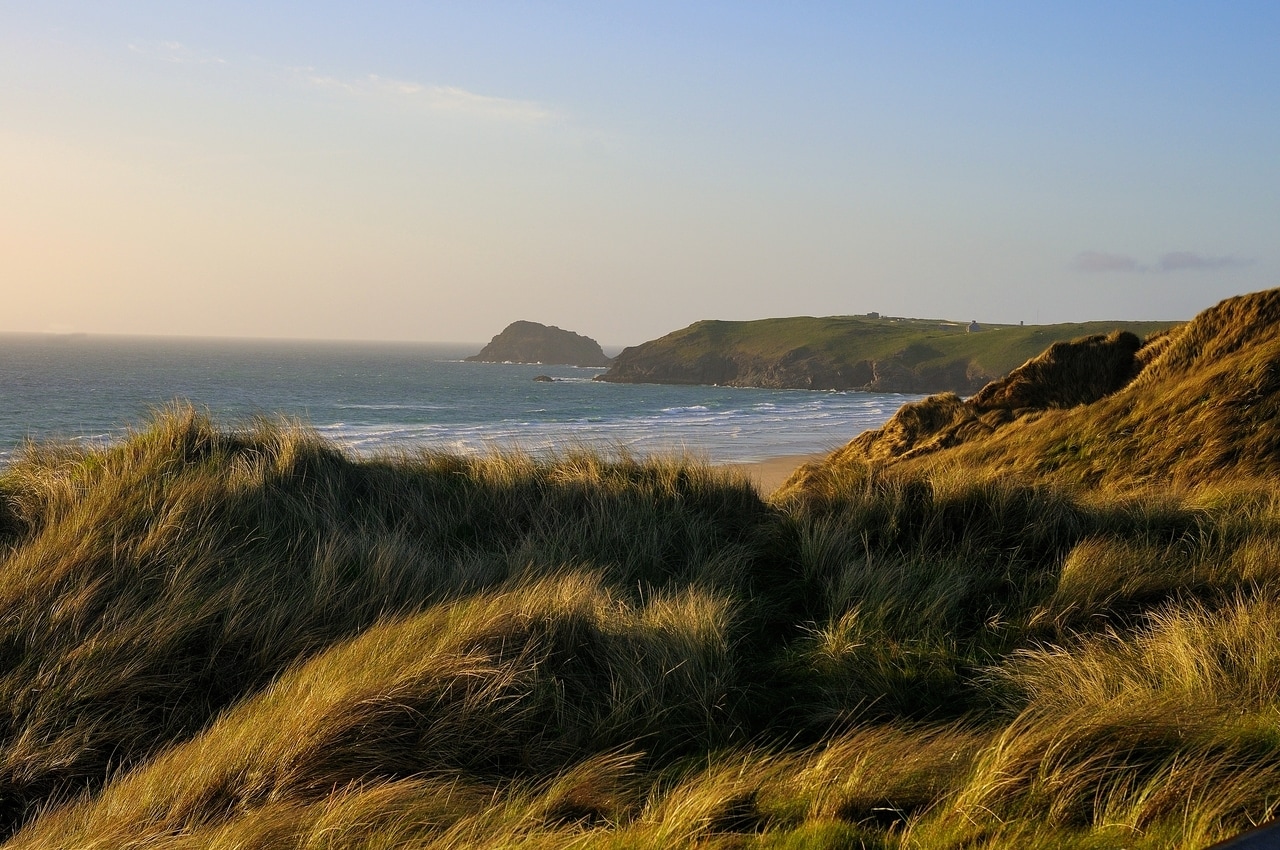 Shopping
I love shopping in Perranporth, and it's the ideal way to while away an afternoon. It's also the perfect thing to do in Perranporth in the rain.
The shops in Perranporth are varied, but there are plenty of awesome gift shops selling local crafts. There are also plenty of surf shops where you can find cool clothes.
Here are some of my favourites:
Sama Sama – my favourite shop in Perranporth, full of awesome beach-inspired gifts and home decor
Noize – similar in vibe to Sama Sama, but this shop sells hippie and alternative clothing perfect for music festivals.
Piran Surf – in my opinion, the best surf shop in Perranporth
Bathsheba Surf – chock-full of cool surf clothing, wetsuits and equipment
Chapmans Family Butchers – a bit of a random addition, but if you're going to have a BBQ you absolutely can't beat purchasing a BBQ pack from here. They also sell the best Cornish pasties in Perranporth.
Perranporth Extreme Surf Triathlon
Recognised as one of the oldest and toughest triathlons in the UK, this triathlon takes things to new levels!
It starts with a 1.5km swim in the sea. Not too bad, you think – until you feel the tug of the currents and feel yet another wave crash over your head! 
The swim is followed by a 38km cycle around the hilly surrounds of Perranporth, and then a 7.5km run on the sand. 
I know – 7.5km sounds like nothing. But running on sand is a different ballgame entirely!
So, if you're a bit nuts, maybe the Perranporth triathlon appeals to you! It usually takes place on a Sunday in September, and you can find out more here. The entry fee is £55, and it's limited to 300 entrants. The money raised goes to the Perranporth Surf Lifesaving Club.
Best restaurants in Perranporth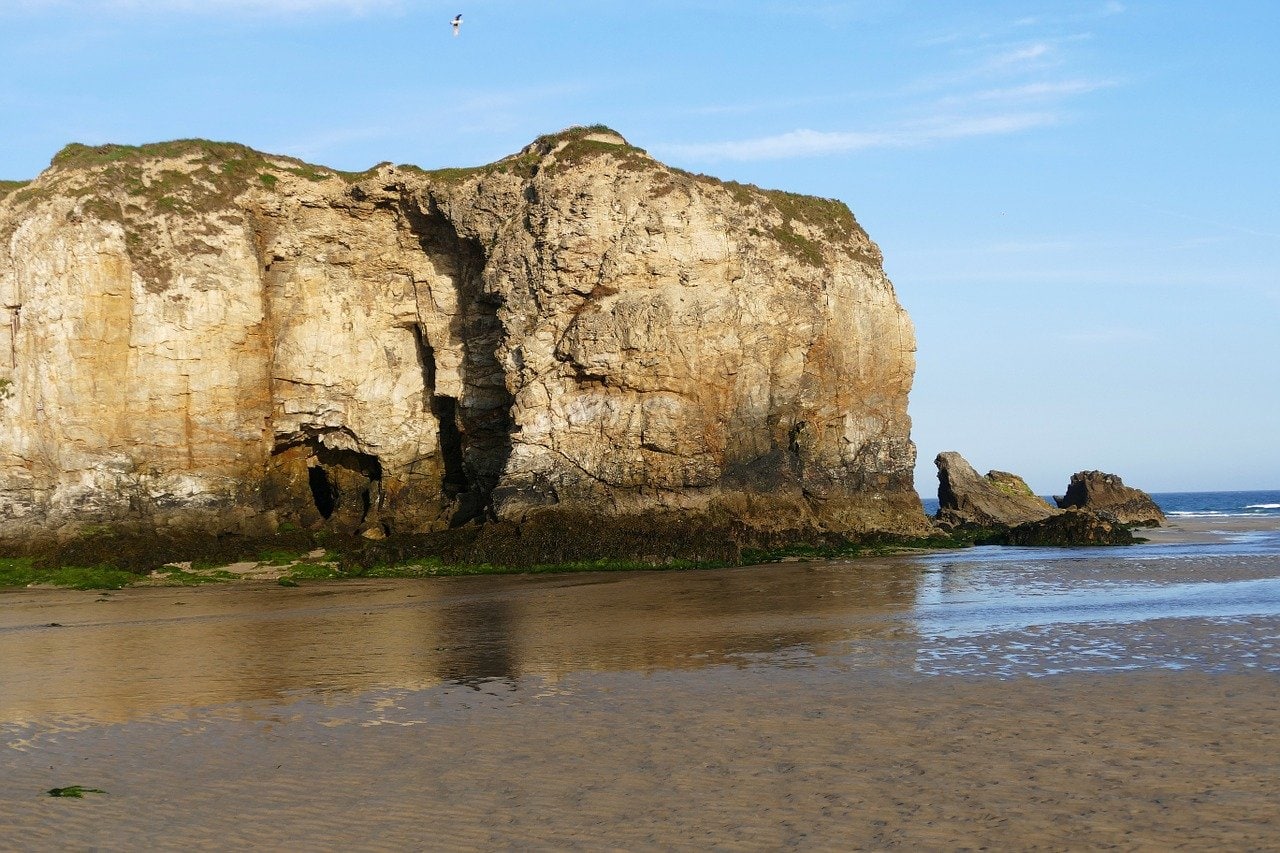 Jaipur Indian Restaurant
I swore by their competitor, Massala Restaurant, for years, but after putting the two to the test in 2020, I was surprised that Jaipur blew the socks off Massala! Their food is unbelievably tasty, and as a curry-fanatic, I know what a good curry is when one is on my plate. Prices are also reasonable. You may need to book a day or so in advance in summer, but in winter you'll be fine walking in.
The Watering Hole
Yeah, the Watering Hole is a pub first and foremost, but it also serves up some of the best food in Perranporth. Their nachos are epic. The cheesy chips will make you want to devour them by the bucketload. Their burger with Cornish blue cheese will have you salivating like a complete animal. Food at the Watering Hole is just so good!
It is expensive, though.
But their portions are huge – their "light bites" can easily be shared, as can the meals, and their food really is worth the price.
At this point I think it's also important to mention a fairly new addition to the Perranporth restaurant scene, The Summer House. In an unbelievably stylish building overlooking the beach, The Summer House is advertised as fine dining, but trust me – it's SO not worth it. 
I ate there in the summer of 2020 when all food was half price, and it still wasn't worth it. The food was just… meh? It felt like all their attention has been put into presentation rather than flavour. And if I'm paying 21 of my Great British Pounds for a hake dish, I expect that hake to, you know, actually taste of something…
Best takeaways in Perranporth
Since there aren't too many restaurants in Perranporth, getting a takeaway to your campsite or cottage is a great way to enjoy some of the best food in Perranporth. I think, by this point, I have tried every single takeaway in Perranporth (don't judge! It's been a journey that's taken me years). Here are the best ones:
Piran Thai (tasty Thai food)
Jade House (possibly the best Chinese takeaway I've ever eaten!)
Pickwicks Fish & Chips (far superior to their rival, Brown's)
Perranporth Kebab (hardly the best quality food in the world, but if you're in the mood for a kebab or a pizza – usually after a long session in the pub! – this is the place)
Best pubs in Perranporth
The Watering Hole
This is undoubtedly the very best pub in Perranporth just because it's so unique! This pub is on Perranporth Beach. Its location is incredible, and you'll be hard-pressed to find a better pub in the whole of the UK! 
Yeah – I went there!
They have a ton of picnic benches on the sand so you can sup your pints and watch the surf as the sun goes down, or break up an afternoon of sunbathing with a swift one.
The Watering Hole also serves up incredible food that goes far beyond pub grub. It's incredibly expensive, but so, so worth it. Their nachos truly are to die for, and every single time I insist I'm ordering an entire portion to myself before crumbling and asking my boyfriend to polish them off as the portions are just so huge!
The Watering Hole is also a live music venue (again, probably the coolest one in Cornwall because of its location), and they have, like, artists you've actually heard of before playing! This isn't a case of Rosie from down the street getting on the stage with a guitar – we're talking Example, Scouting for Girls, Ziggy Marley and The Stranglers!
Don't just take my word for how brilliant the Watering Hole is – check out reviews on TripAdvisor here.
The Tywarnhayle Inn
This pub is in the centre of Perranporth town (and just a short stagger to the beach!) and is another solid option for eating and drinking in Perranporth. Serving up cask ales and a ton of local brews, The Tywarnhayle Inn is much better for your wallet than The Watering Hole. It also has a beer garden perfectly located for people watching as pedestrians pass by.
Don't even get me started on their cooked breakfasts. They didn't serve them in summer 2020, but I'm praying they bring them back for 2021! 
Imagine this: you can fully tailor-make your own cooked breakfast. They charge you by the item (at crazy cheap prices) and you can have whatever you like! My boyfriend and brother, who both eat about 5x more than regular humans, could barely fit all their food on their plates!
Their regular pub grub is nothing to write home about, but it definitely does the job and won't break the bank.
Check out their reviews here.
The Green Parrot 
Everybody loves the prices at Wetherspoons. This branch, tucked away a 5-minute walk away from the beach, delivers on everything you'd expect. The prices are cheap, the food is totally fine, and its outdoor area is surprisingly nice. The inside is two floors and is HUGE, but on a summer evening you'll still struggle to find a table!
The issue is, though, one time when I was a kid I got food poisoning from their chicken noodles. I've never quite been okay with eating there ever since! Obviously, thousands of people have eaten there ever since and it hasn't been closed down, so I must have just been unlucky.
What I commend about this Wetherspoons is they make an effort to make some ties with its Cornish location. Every so often they'll hold a Cornish Cider festival, and there's plenty of Perranporth artefacts and trivia hung up around its walls.
What really lets the Green Parrot down is that they don't allow dogs. Like, not at all – not even outside. For this reason, I haven't been there in two years since we got our gorgeous puppy. We definitely haven't missed it, though, as it feels good to support the locally owned pubs instead.
Check out reviews here.
The Perranporth Inn
On the main street of the town, St Piran's Road, you'll find the Perranporth Inn. They have quite a few big screens and show all the live sports, so my brother and dad always go here to watch football! 
I've actually only eaten here once, in the summer of 2020, but I'm not sure why I left it so long. The food is classic pub grub, but sometimes that's exactly what you want, and their prices are decent. Plus, they're suuuuper dog-friendly, and all the staff behind the bar made a huge fuss of my dog which she loved!
I think this is the only pub in Perranporth which serves cocktails (Wetherspoons aside). So, if that's more your style this is the place for you.
Check out reviews here.
The Seiners Arms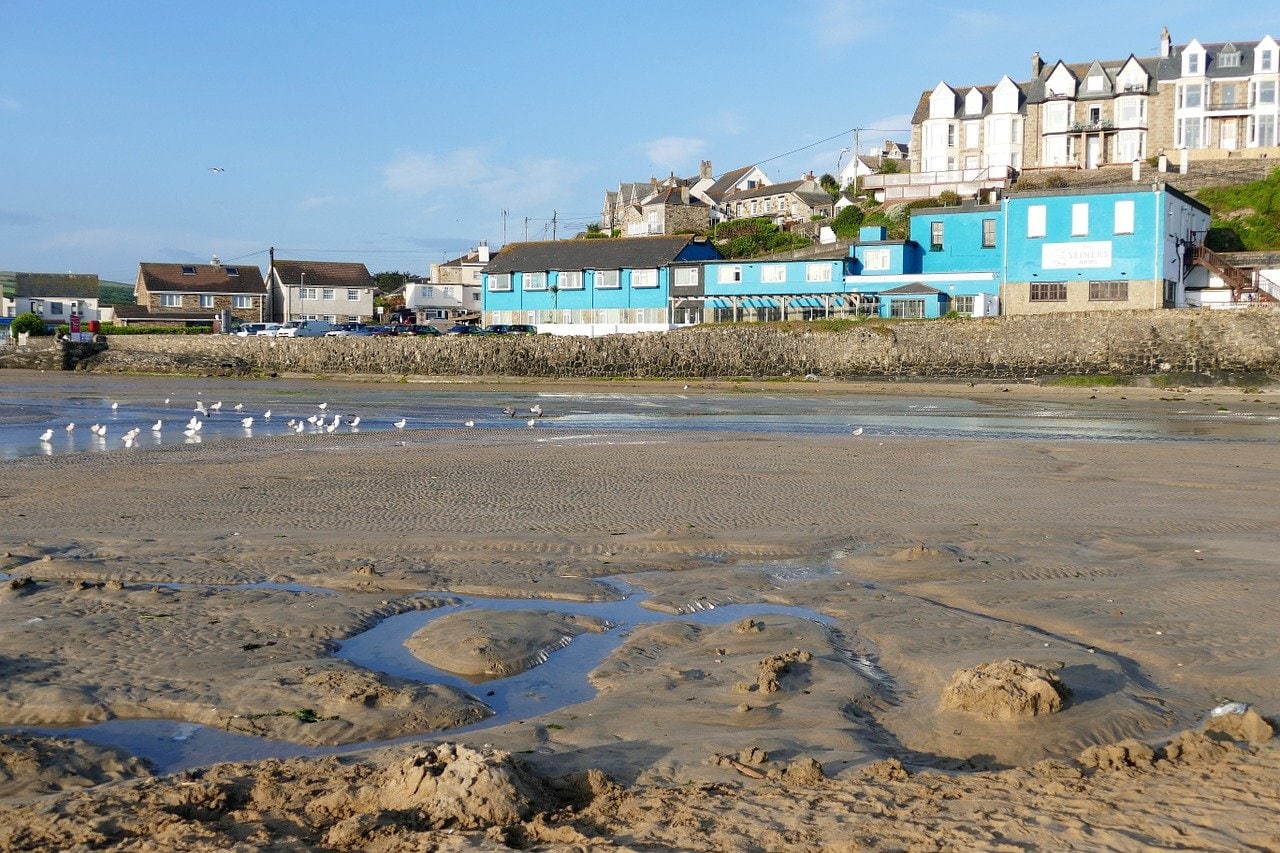 You'll easily spot this pub from Perranporth beach – it's the building painted bright blue!
The Seiners Arms, although not technically on the beach like The Watering Hole, is as close as you can get. Inside, you'll be greeted with an old-fashioned wood-panelled bar area which will make you feel like you're on a pirate ship. It's so cosy and absolutely delightful on a windswept winter day.
Their outdoor area, although often in the shade because of the way the sun falls, boasts unbeatable views over Perranporth Beach. You'll also be able to see the Watering Hole, where people probably paid a lot more for their drinks!
Their menu is quite varied, covering classics such as fish and chips to Moroccan stew, lentil curry and miso noodle stir fry!
Check out reviews here.
Taxi Companies in Perranporth
For a great taxi company in Perranporth, I recommend Droskyn Cabs. You can book a taxi with them at 07815 728378.
If they're engaged, you can head to the Perranporth taxi rank just outside the front entrance of the Tywarnhayle Inn, where there will usually be a taxi or two waiting.
Where to park in Perranporth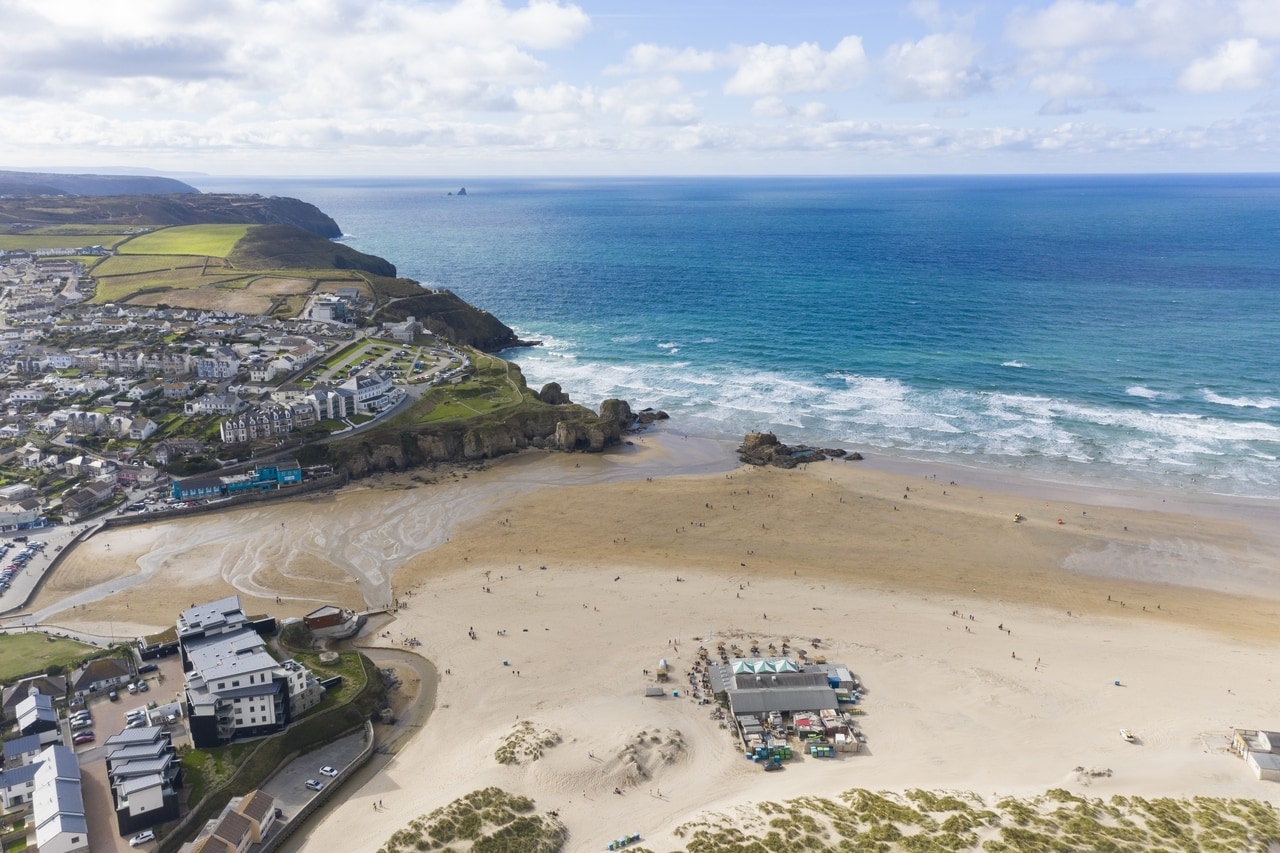 Another reason I recommend staying in Perranporth rather than visiting for the day is that parking in summer can be a complete nightmare!
Car park on the Promenade
The very best parking in Perranporth for the beach is the car park on the Promenade. Parking here is so convenient because you don't have to lug all your beach equipment very far at all.
It's also the hardest car park in Perranporth to get a spot on, though, since it's the best. You'll have to get to Perranporth very early (before 10am) to get a spot here in summer.
Payment is cash only, and prices vary depending on when you're visiting:
From 15 March to 31 October: 1 Hour = £1.00, 2 Hours = £2.50, 4 Hours = £3.50, 6 Hours = £4.50, 8 Hours = £5.50, 24 Hours = £6.60 and Overnight = £1.00 (in after 18:00 and out by 08:00)
From 1 November to14 March: 4 Hours = £1.00, 24 Hours = £2.00 and Overnight £1.00 (in after 18:00 and out by 08:00)
Co-op Parking
There is a large car park behind the Co-op on Station Road. It's pretty easy to get a space no matter when you arrive since it's so large. This parking option is about an 8-minute walk from Perranporth beach and, although I can't remember exactly, to the best of my memory it costs around £4 or £5 for the entire day. You can pay by card here.
Wheal Leisure Parking
This car park is behind the main street of town and gets full very quickly in summer. Unlike the other parking options, this car park has a ticket machine. You can pay at by cash or via the phone.
Droskyn Car Park
Up on the hill overlooking the beach, Droskyn car park is the least convenient Perranporth car park to go for if you want to go down to the beach. It's such a steep trek! The views alone from this car park are fabulous, though! It's also where you should park if you're visiting Perranporth specifically to do the Perranporth to St Agnes coastal walk, as the trail starts up here.
Visiting Perranporth with dogs
Perranporth is an incredibly dog friendly destination. There are a few things you'll need to know before you visit with your four-legged friend, though. Check out this post, where I share everything you could possibly need to know before visiting Perranporth with a dog.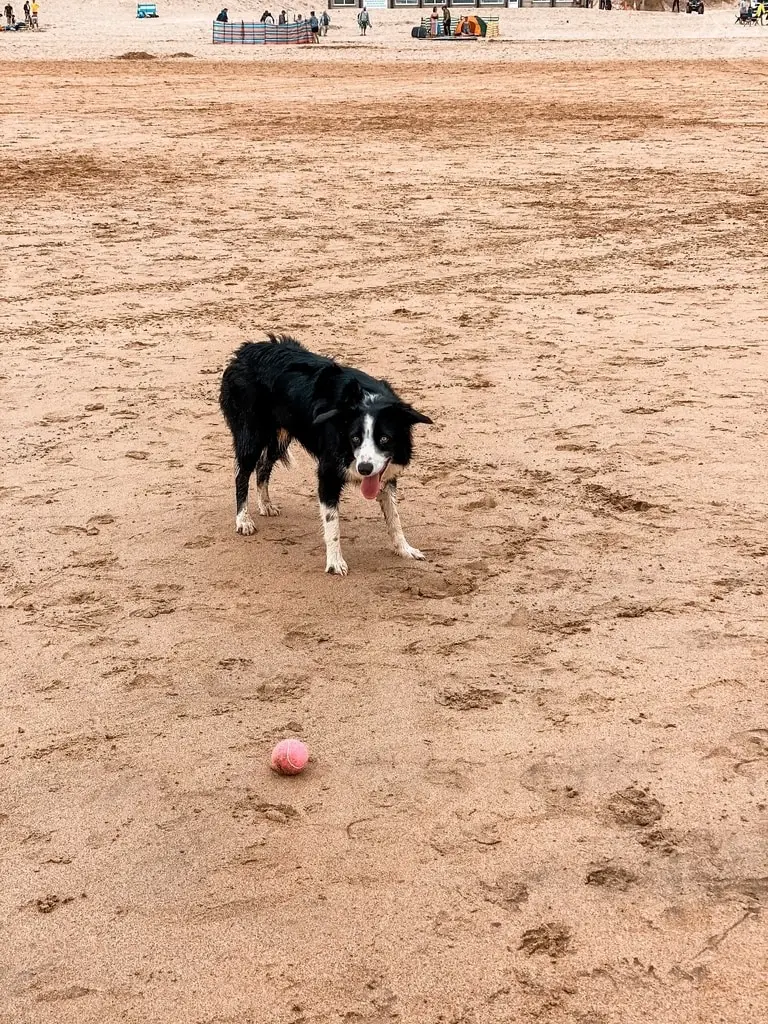 ---
I'm sure you can tell by now, but I'm super passionate about Perranporth! It's my favourite place in the UK, and I just can't keep myself from returning year after year!
I hope this information has helped you to plan your trip to Perranporth – or even just convinced you to visit!
Got any questions? Got any extra tips I missed? Let me know in the comments!
More information about Perranporth:
• Where to Stay (Camping, Cottages & More!)
• Visiting with Dogs – Everything You Need to Know
• The Best Towns in Cornwall for Short Breaks